Breast Cancer Statistics in Singapore 2021
Key Insights
1 in 39 or 2.6% of women will die from breast cancer each year.
1 in 16 Singaporean women will be diagnosed with breast cancer in their lifetime.
In 2020, breast cancer was responsible for 32% of all new cancer cases in Singapore. This translates to 3,662 cases of breast cancer out of a total of 11,436 new cases.
With an incidence rate of 77.9 per 100,000 people, breast cancer has the highest incidence rate out of all cancers in the world.
In Singapore, the current incidence rate for breast cancer is 70.7 per 100,000. This is 197% higher than the incidence rate reported over 40 years ago (in 1979).
Among the 3 cancers most often seen in Singaporean women, breast cancer was by far the most prevalent.
The majority of breast cancer cases were seen in women between the ages of 40 and 69 years old.
With an ethnic incidence rate of 66 per 100,000, breast cancer is more common among Chinese women compared to Malays (60.4 per 100,000) and Indians (58.8 per 100,000).
In 2020 breast cancer was responsible for the deaths of over 900 Singaporeans.
Malay women have a 58.5% survival rate for breast cancer. This is the lowest survival rate among all ethnicities.
Overall, the five-year survival rate for breast cancer in Singapore has improved from 50.2% in 1977 to 79.5% in 2012
In most cases, early breast cancers between stages 0 and 1 will have a 90% survival rate.
As cancer develops into its later stages between stages 2 and 3, the survival rate drops significantly to 70% and 40% respectively.
Early-stage cancer treatments cost up to $100,000 a year. Beyond this, late-stage cancer treatment can run upwards of $200,000.
In 2020 Singapore spent roughly $375 million on drugs for cancer treatment.
By 2030 this expense is expected to rise to almost $2.7 billion
---
Breast cancer is the most common form of cancer among women worldwide, with an incidence rate of 77.9 per 100,000 people. In 2020 alone, there were 2.3 million women diagnosed with it.

At the end of 2020, there were 7.8 million documented cases of women living with breast cancer. In the same year, 685,000 women died due to it.
Unfortunately, for 1 in 16 Singaporean women, this cellular disease is a grim inevitability. Taking data gathered in the previous year, nearly one-third or 32% of all new cancer cases in Singapore were reported as breast cancer.
For comparison, there were over 2,000 more cases of breast cancer compared to colorectal cancer, as seen in the image below. When compared to lung cancer, the difference jumps to 2,712 or more than 3 times the number of lung cancer cases.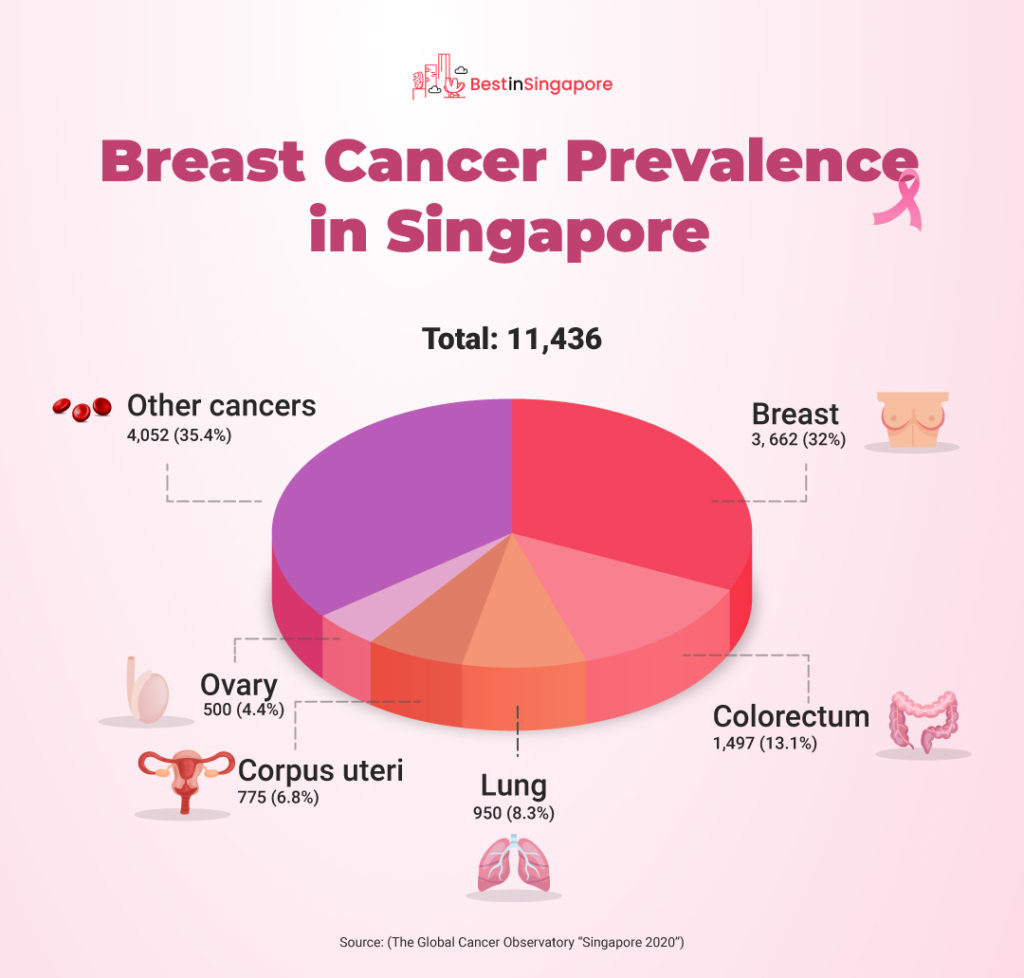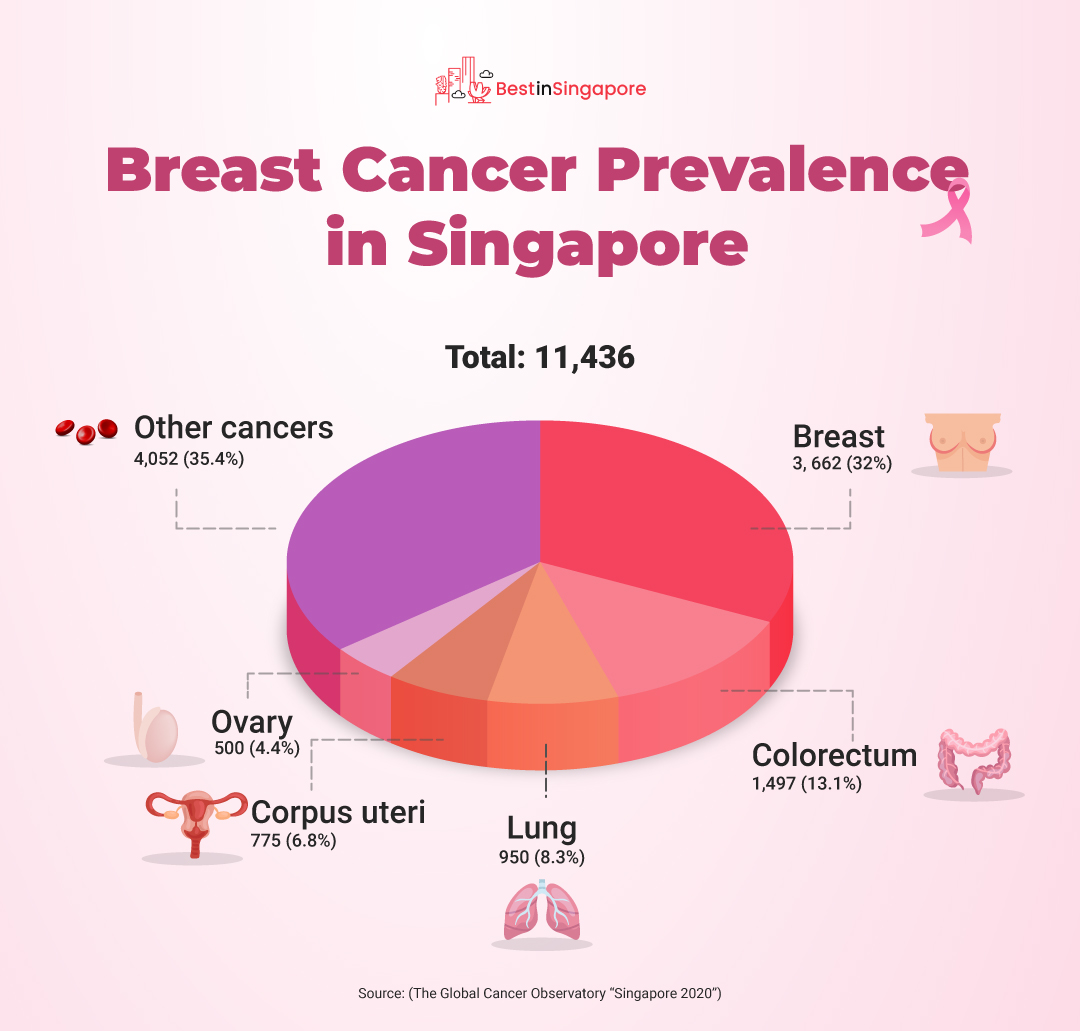 Many researchers have devoted their entire lives to researching breast cancer. As a result, there is an abundance of data available to the public.
Taken together, these statistics may yet offer more insight into this disease, its victims, and its effects on Singapore's healthcare industry
The Prevalence of Breast Cancer in Singapore
The current incidence rate for breast cancer in Singapore is 70.7 per 100,000 people. This is significantly higher than the 23.8 per 100,000 incidence rate seen between 1975 and 1979.
Looking back to more recent years, the incidence rates of breast cancer for 2008 to 2012 and 2013 to 2017 were 63 per 100,000 and 69 per 100,000 respectively. Though not as significant, there is still a prominent upward trend in terms of overall incidence.
As a matter of fact, if we examine the incidence rate from almost 40 years ago the current rate is more than triple the value. Many experts speculate that the serious increase in breast cancer cases is a result of Singaporeans adopting a more westernized lifestyle.
According to Dr. Pavani Chalasani, an oncologist studying breast cancer risk factors, this lifestyle refers to a unique diet that is combined with a relative lack of exercise. When these factors come together, they result in increased body fat and a higher risk of breast cancer.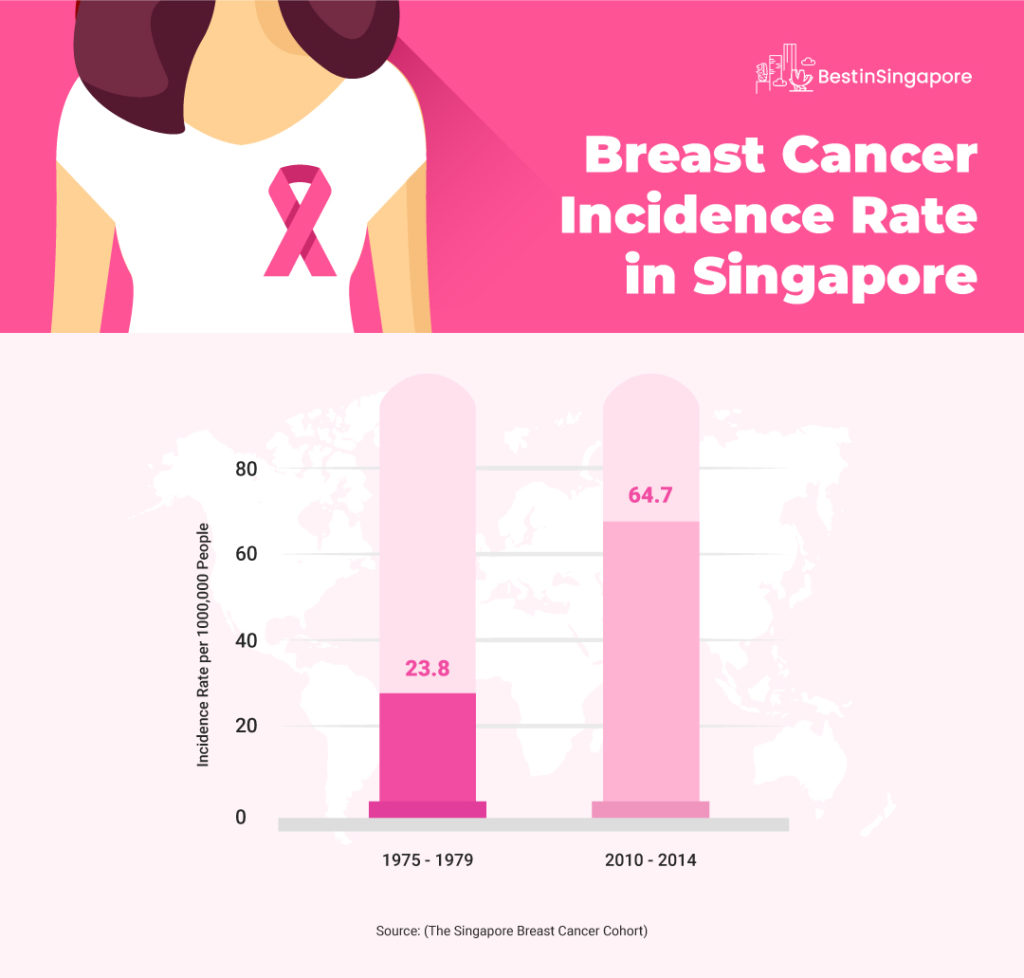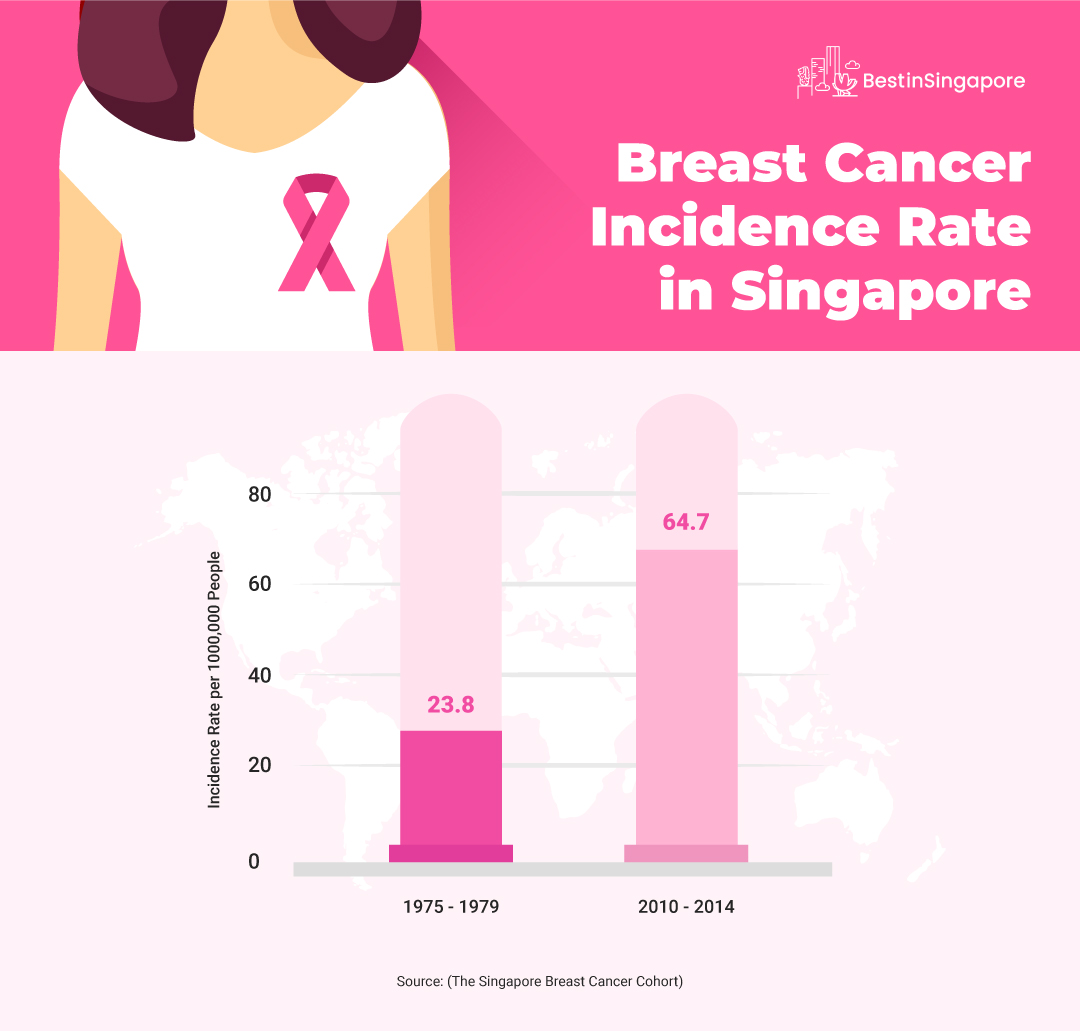 Of the three cancers most commonly seen in Singaporean women, breast cancer is by far the most prevalent. Among other Asian countries, Singapore also retains a particularly large rate of incidence.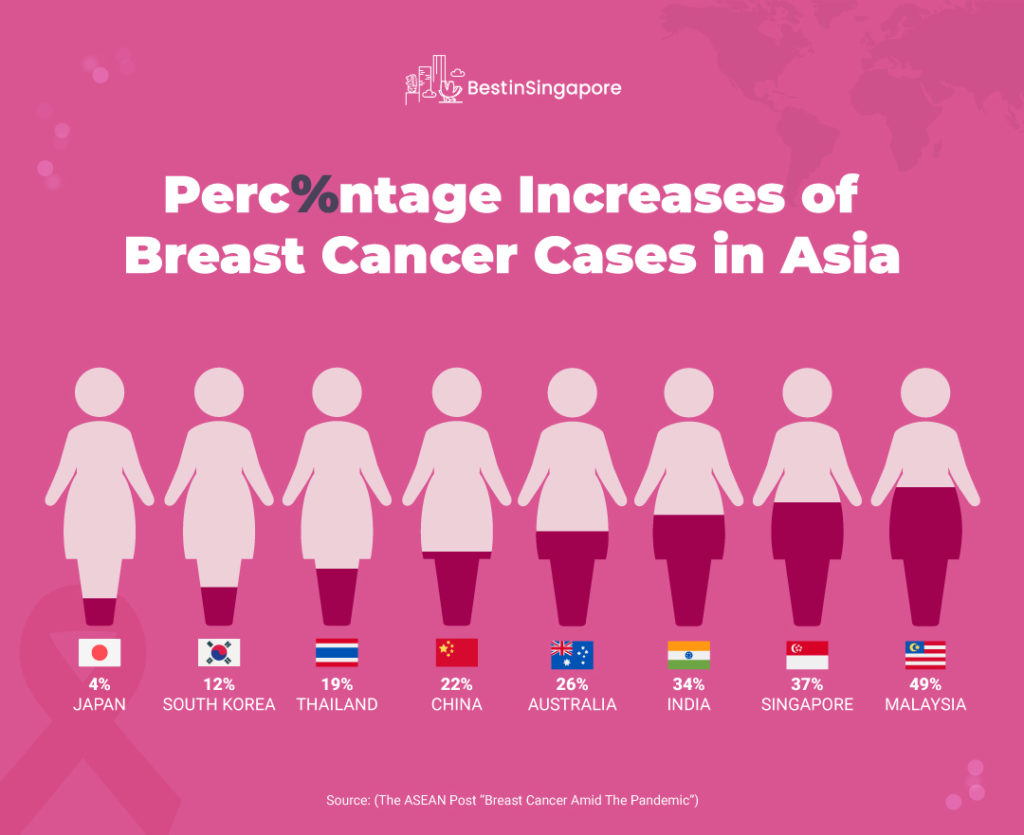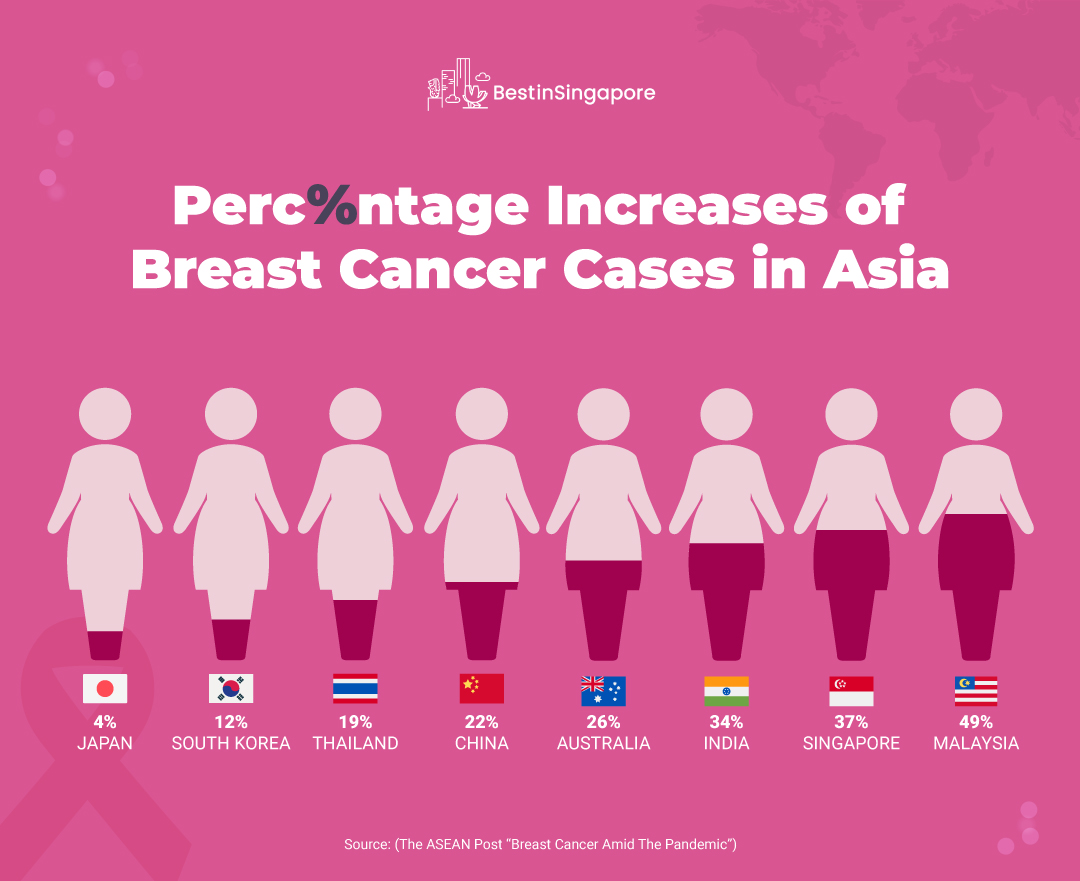 For comparison, the percentage increase in the number of breast cancer cases for Singapore is reported at 37%. This is second only to Malaysia, which has a whopping 49% increase in total breast cancer cases.
Referring to the figure above, Japan has the lowest percentage of increase at around 4%. This is followed by South Korea, Thailand, and China with rates of 12%, 19%, and 22% respectively.
Experts are currently studying Singapore's relatively high percentage increase. Identifying its causes is even more important now, as the COVID-19 pandemic may make treatment more difficult than ever for patients.
This is due to the fact that many patients forgo hospital visits for fear of being infected by the virus. Along with this, countries like Singapore, the US, and India have reported delayed cancer treatments as a result of the recent lockdowns.
Recognizing the significance of continued care for breast cancer patients, Singapore has made various changes to support the health of these individuals. Such changes included reducing non-essential surgery, lowering patient exposure, and reducing inpatient stay.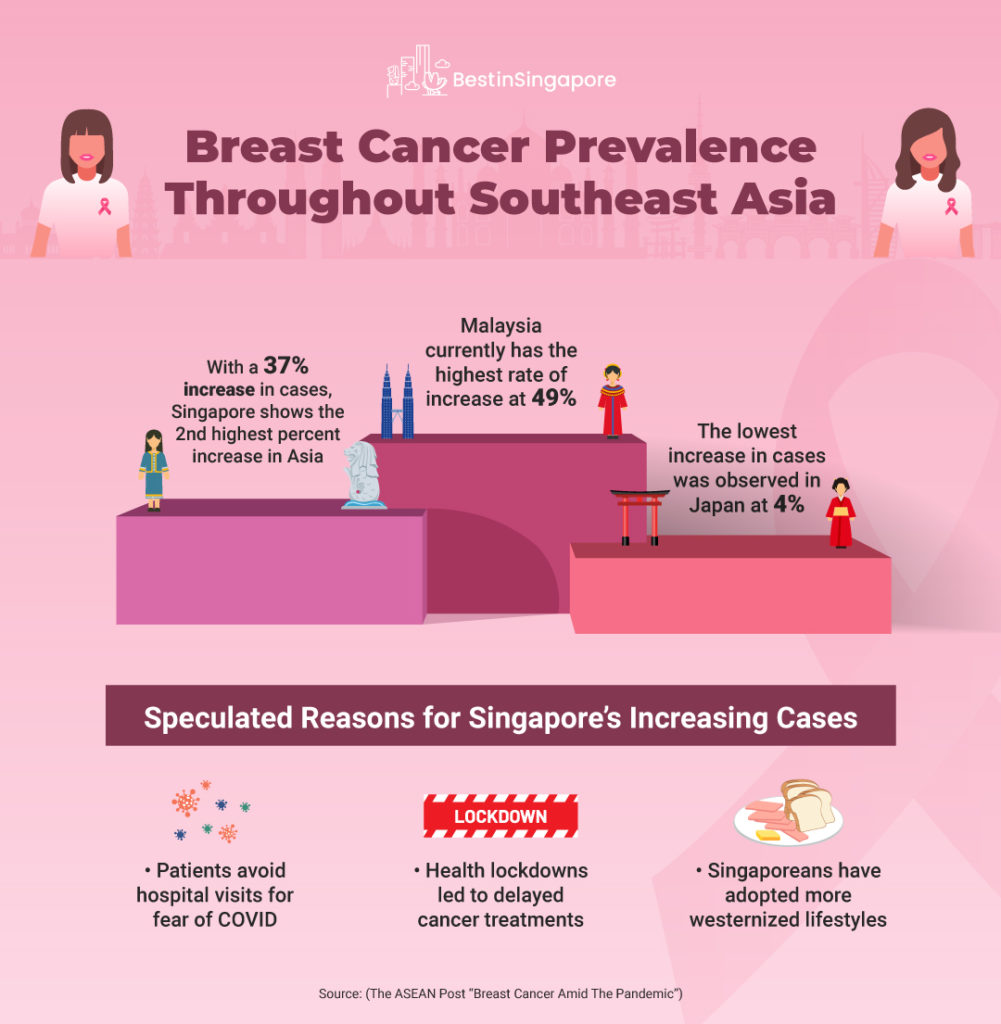 As breast cancer mainly affects Singaporean women, researchers have taken to studying differences in terms of age, ethnicity, and lifestyle among them. These studies offer further insight as to why breast cancer is more common amongst certain groups of women.
Risk Factors and Trends among Breast Cancer Patients
Many experts have yet to determine the specific reason for the uncontrolled growth and division of cells in the body that typifies cancer. But in the time that it has been studied, breast cancer has revealed various trends among the people it is found in.
From previous studies, it has been determined that the majority of Singapore's breast cancer cases occur in women between the ages of 40 and 69 years old. Based on medical research, older women are at a higher risk due to the breakdown of cancer-inhibiting cells with age.
On the opposite end of the spectrum, it is quite uncommon for women below the age of 29 to present breast cancer. Instead, the most common cancer among this age group is actually lymphoid neoplasms, generally known as lymphoma.
To provide a better sense of the likelihood of breast cancer with respect to age, the figure below has been drafted using data from the Singapore Cancer Registry: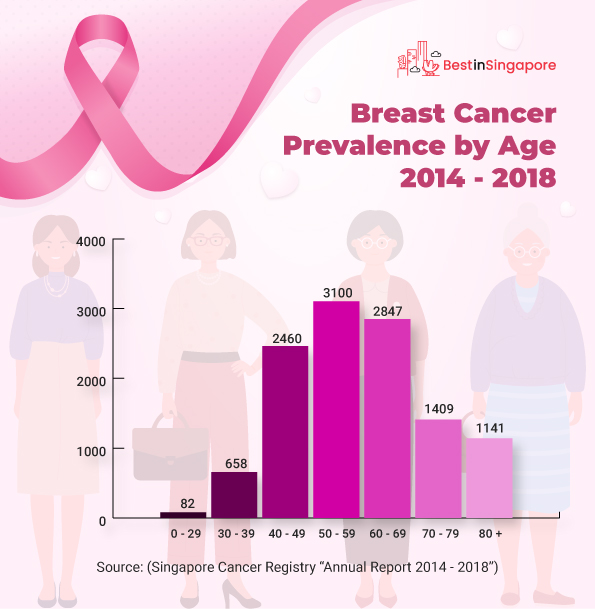 As made evident by the figure, the number of cases in women takes an immediate jump beyond 29 years of age. At the highest point (50 – 59), the number of breast cancer cases is almost 40 times higher than that seen in women below 30.
Beyond the 50s and late 60s, the number of cases drops by almost 50%. This is partly due to the fact that most cases of breast cancer are diagnosed relatively early in life.
Along with age, this disease also shows a prominent trend in the ethnicities of the women diagnosed with it. In the same report published by the Singapore Cancer Registry, it was found that a large majority of women diagnosed with breast cancer were Chinese.
To be more specific, among the 10,906 cases of breast cancer recorded between 2014 and 2018, almost 83% (9,036) were recorded in Chinese women. Malay women followed Chinese women in terms of breast cancer prevalence, with a rate of 10.5%.
Indian women showed the lowest prevalence of breast cancer with an extremely low rate of 6.5%. In order to visualize the spread of breast cancer among these three ethnicities, the following figure has also been created: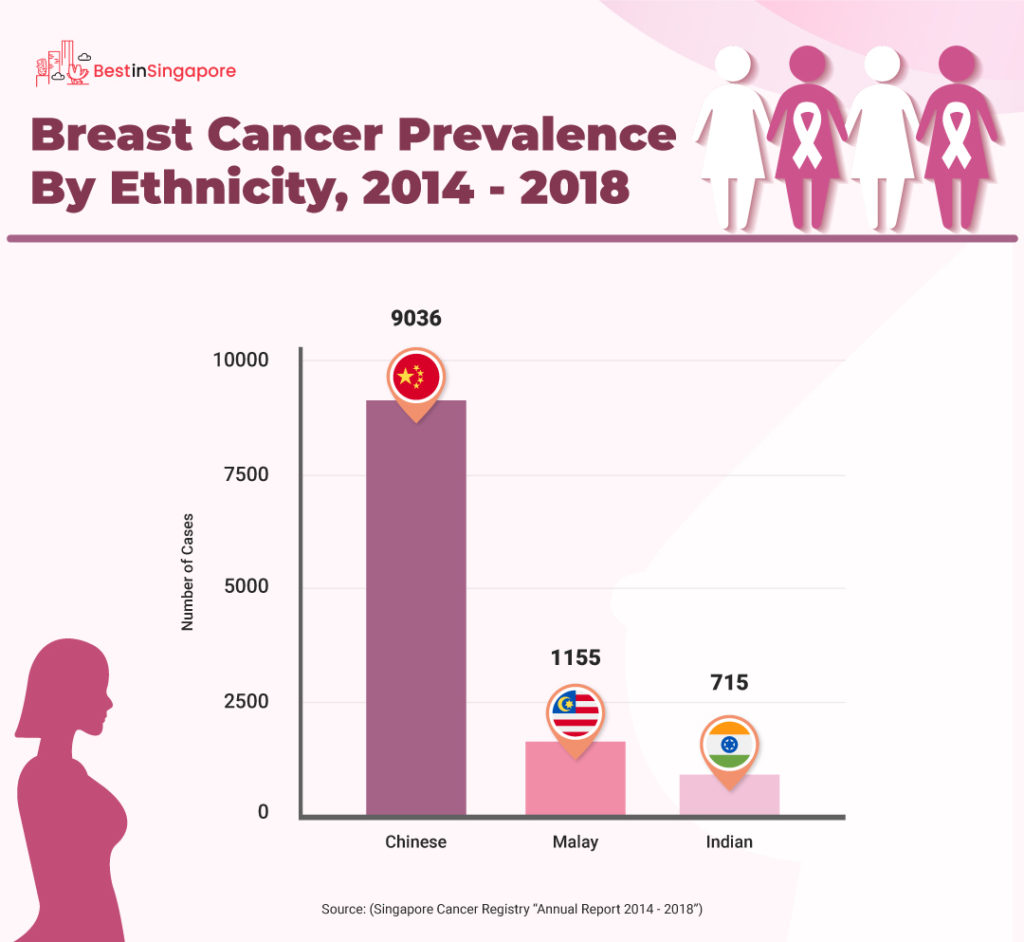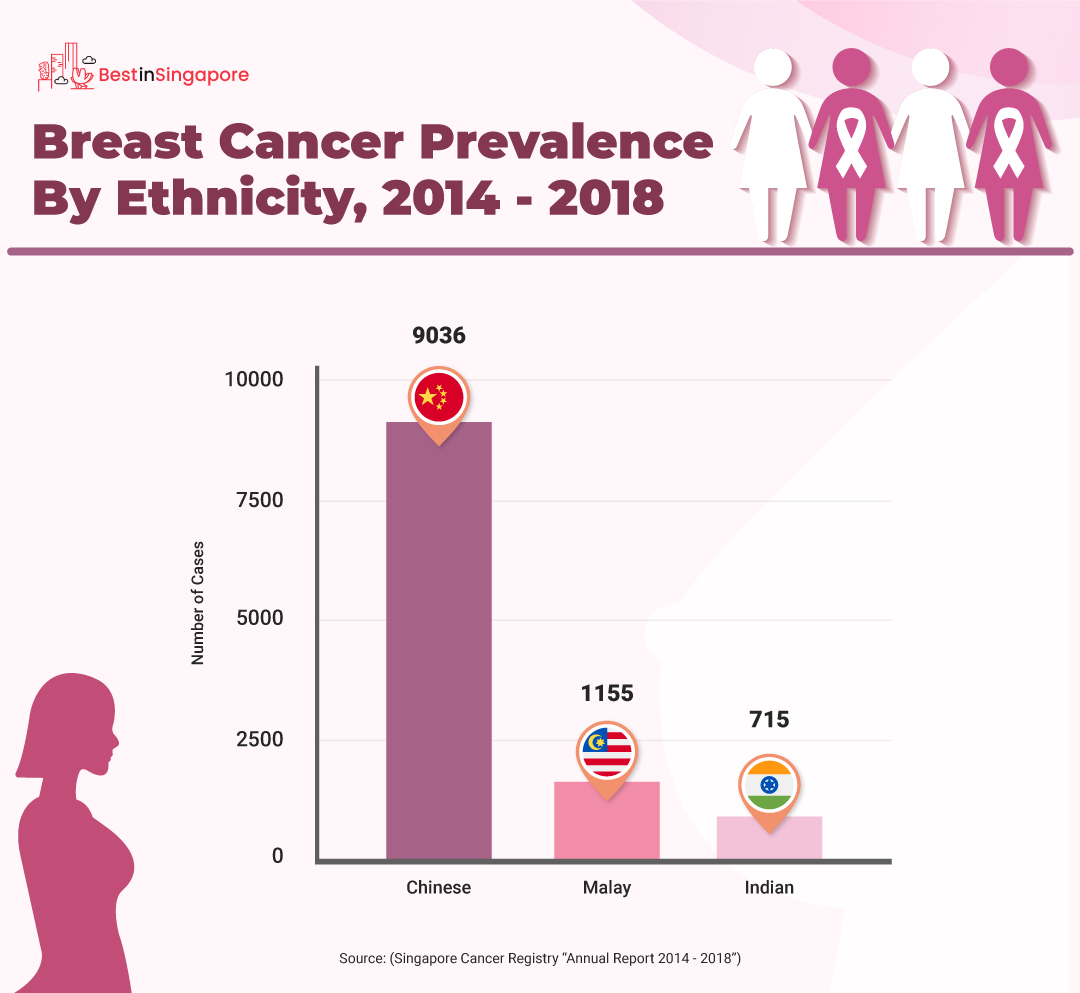 Even when combined, the number of breast cancer cases among Malay and Indian women is still less than 20% of the cases seen in Chinese women. Much like other facets of breast cancer the reason for this rate of prevalence has yet to be determined.
Current speculations point to genetic, socioeconomic, or cultural differences. Despite being more prominent among Chinese women, the highest mortality rate for breast cancer lies among women of different ethnicities.
The Breast Cancer Mortality Rate in Singapore
From the ten most prevalent forms of cancer found among women, breast cancer had the highest mortality rate between 2014 and 2018. With a total of 2,196 lives claimed, breast cancer was responsible for over 17% of all female cancer-related deaths in this period.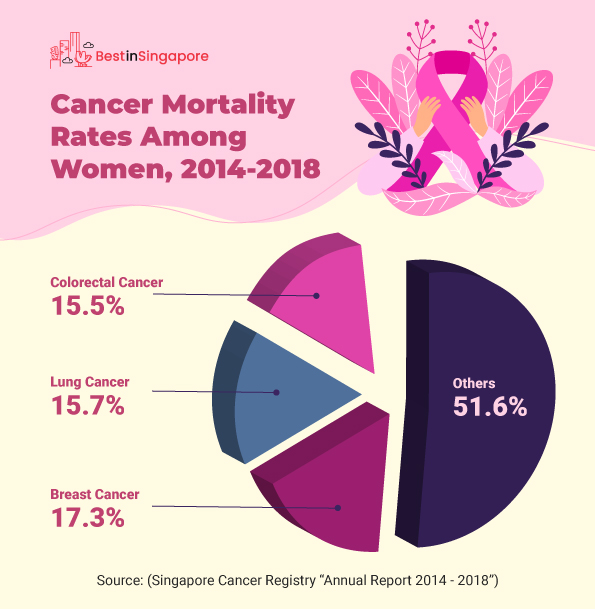 For the previous year, the overall mortality rate of breast cancer actually rose by 0.7%, going from 17.3% in 2018 to 18% in 2020. This rise has yet to be fully explained and may be a result of various factors including late-stage deaths, altered lifestyles, etc.
Returning to ethnicity, the lowest survival rate for breast cancer was observed among Malay women. With a five-year survival rate of 58.5%, Malay women are the most likely to pass away due to breast cancer.
Malay women are said to be more likely to present at a younger age with more advanced cancer stages and much more aggressive cell biology. These factors make treatment extremely challenging and costly.
In terms of overall survivability, however, Singapore provides a near 80% survival rate for the majority of women suffering from breast cancer. This is the 6th highest among countries in Asia.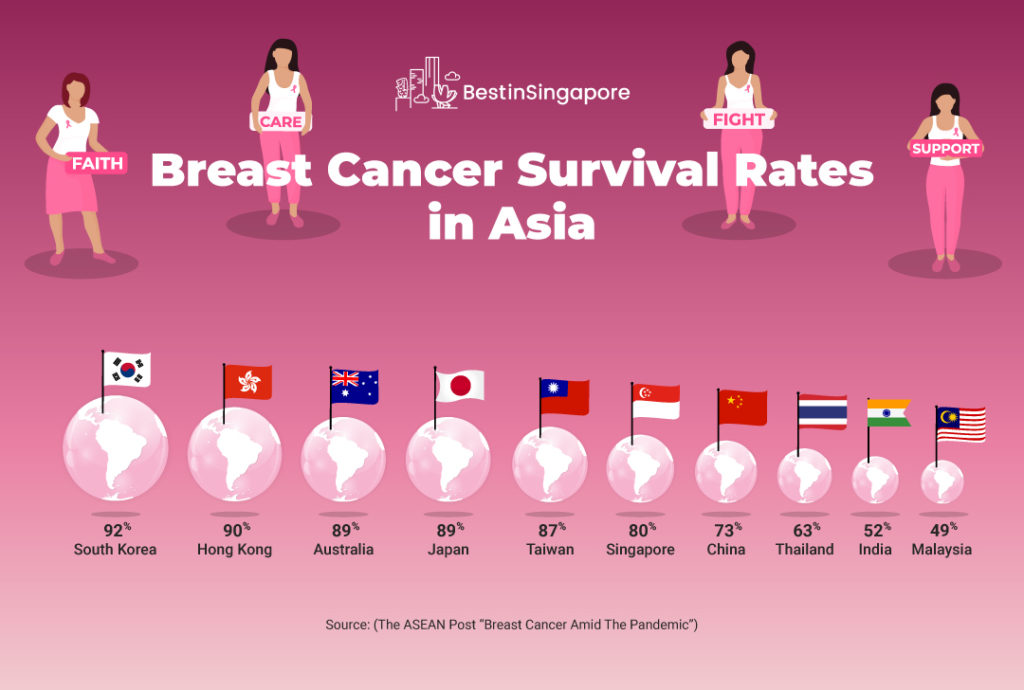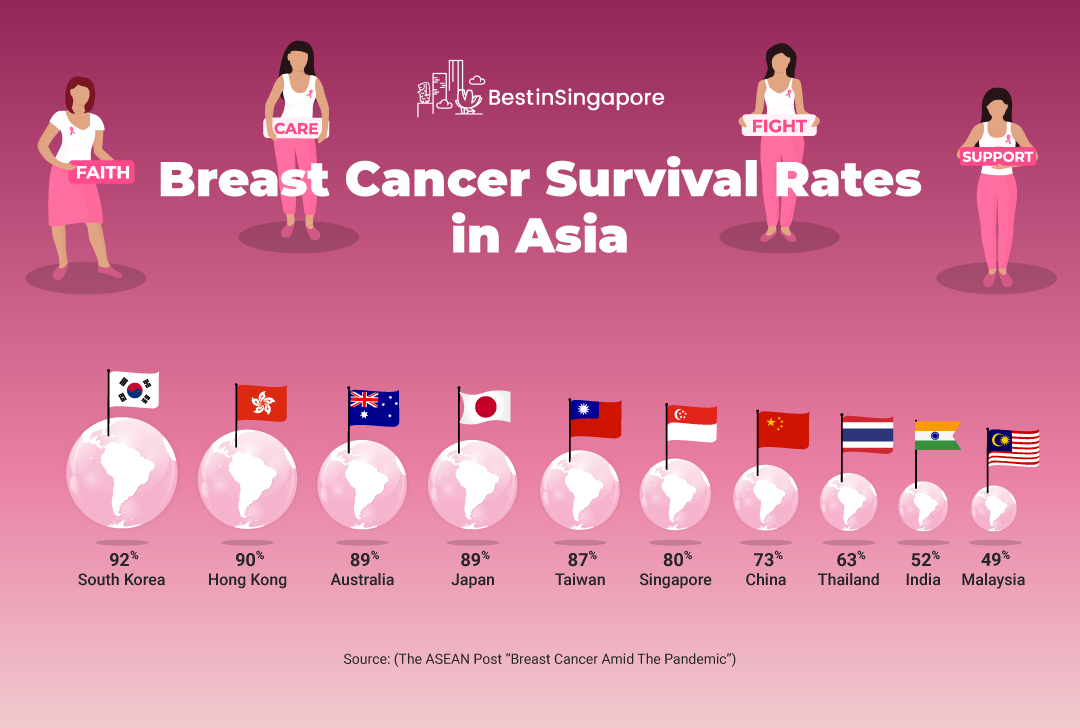 The Cost of Cancer Treatment in Singapore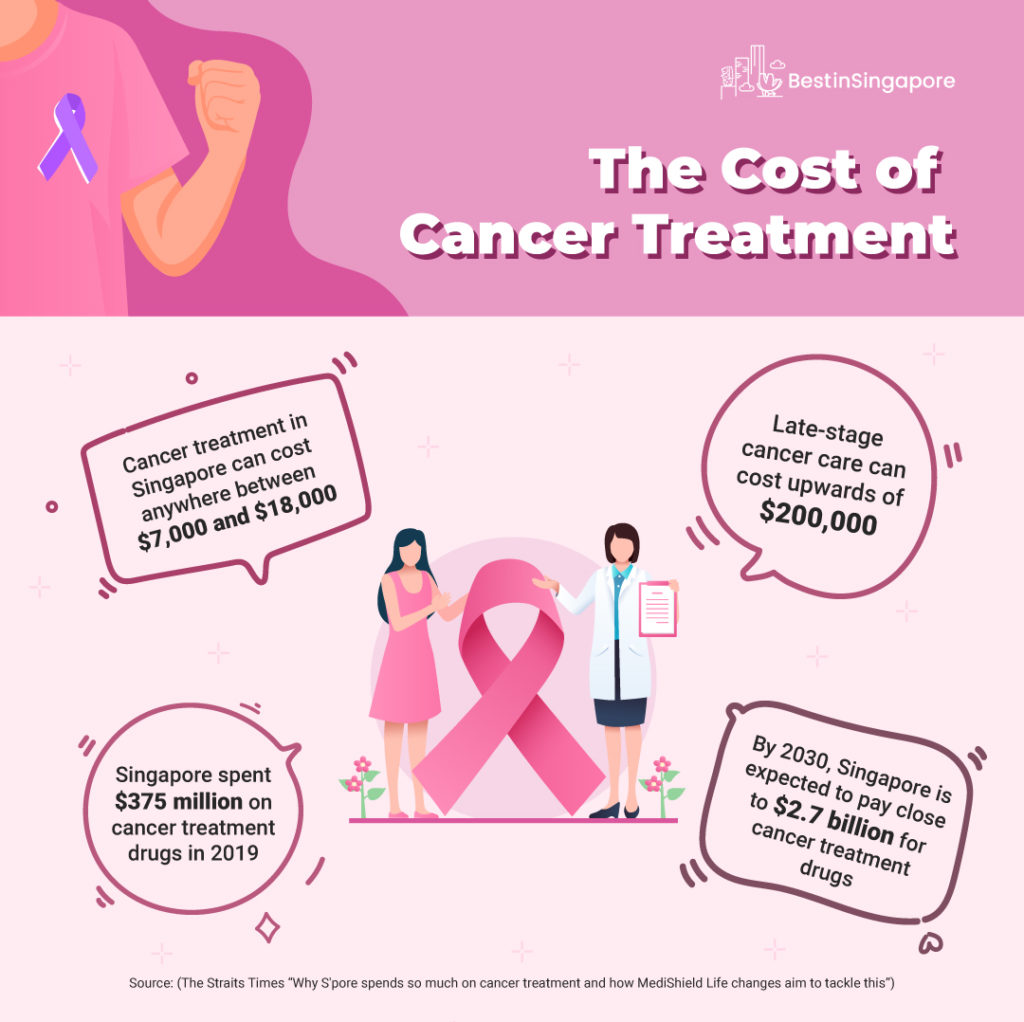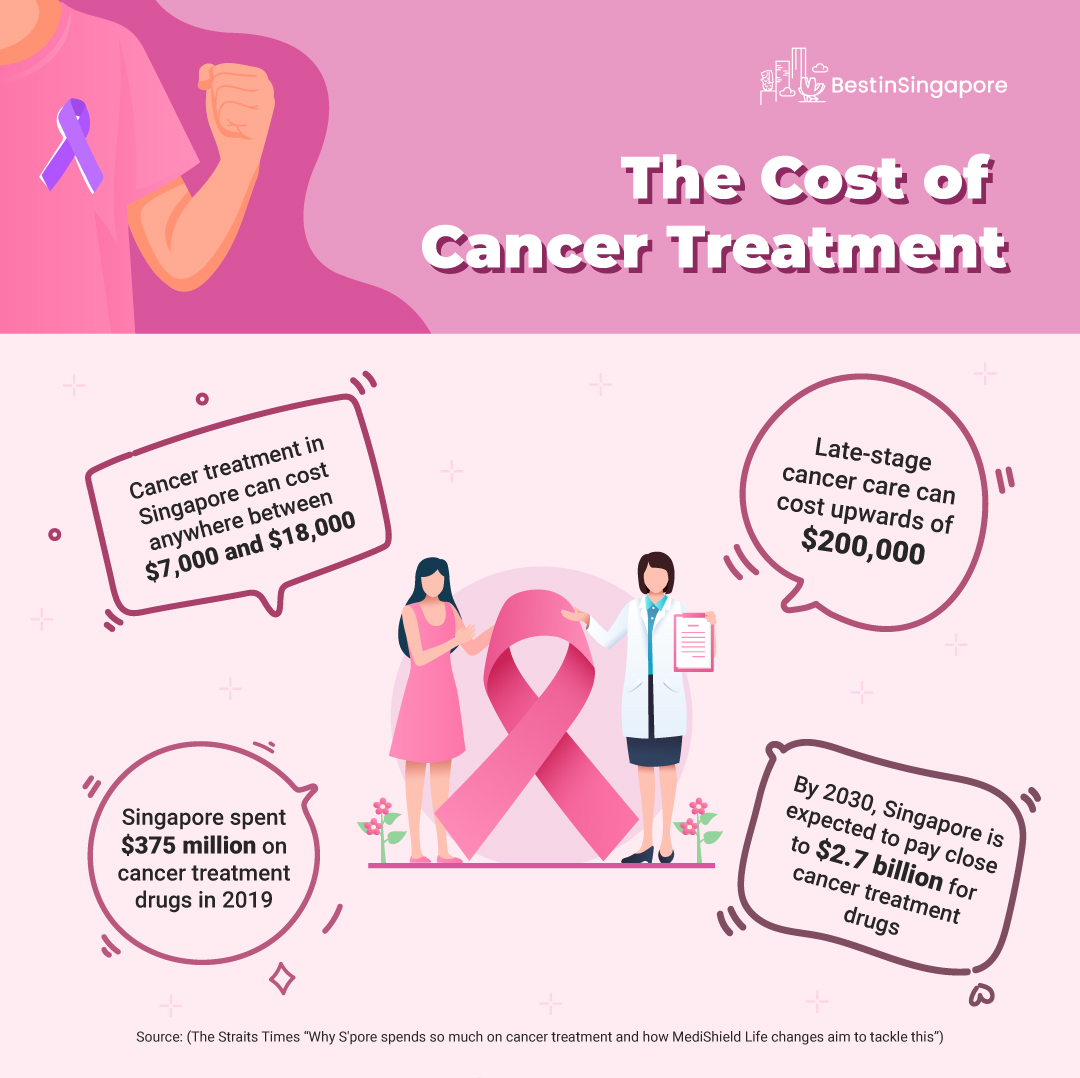 Generally, the cost of cancer treatment in Singapore can run anywhere from $7,000 to $18,000. Depending on the specific form of cancer being treated, this cost can sometimes be even higher.
The notion of higher costs can be especially true for late-stage cancer treatment. For such cases, a Singaporean can spend upwards of $200,000 each year.
These costs apply to targeted treatments, radiotherapy, and even surgery. Even the removal of cancerous growths can run upwards of $18,000. For many, the most expensive part of cancer care is the medication required for treatment.
In 2019, Singapore spent approximately $375 million on cancer pharmaceuticals and various drugs for treatment. Based on previous stats from 2017, this expense denotes a near 20% increase in cancer drug prices.
Compared to the prices of other medical drugs, cancer pharmaceuticals are by far the most expensive. Going back to the statistics gathered in 2017, other medical drugs only showed a price increase of 6%.
If the current trend continues for the prices of cancer drugs, Singapore is expected to spend close to $2.7 billion by 2030. The reason for these extremely high costs is the amount of research and effort that goes into creating cancer treatment drugs and devising medical procedures.
The Future of Breast Cancer Care in Singapore
For the majority of cancer cases, the success of treatments and overall survival rate depends largely on the stage of cancer upon diagnosis. An earlier diagnosis results in a much higher rate of survival.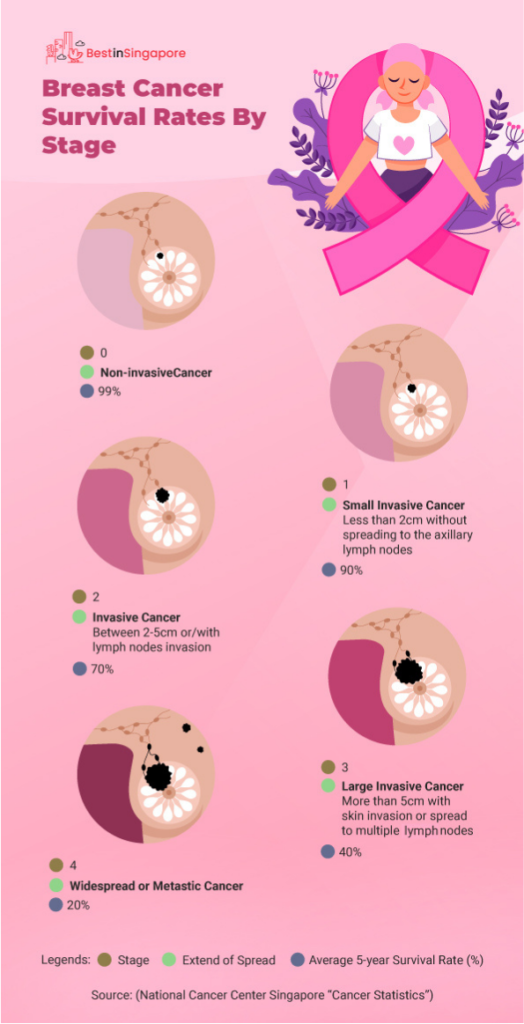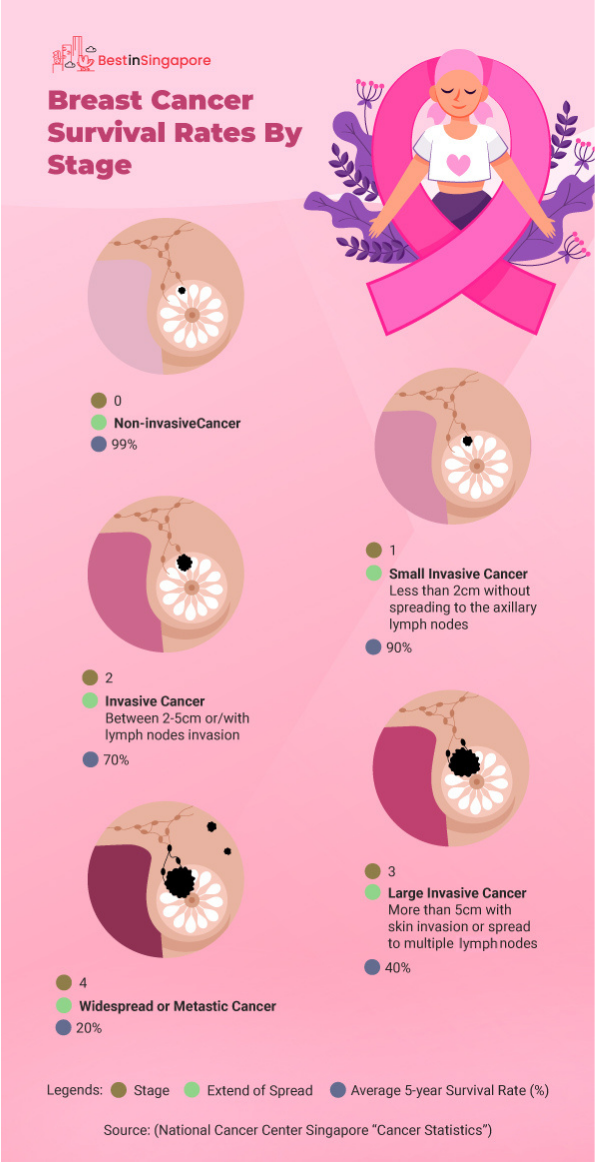 As shown by the figure above, a stage 1 cancer has a 90% survival rate due to the isolated conditions of growth. However, if cancer spreads and progresses into the 2nd and 3rd stage, survivability drops to 70% and 40% respectively.
Part of what helps Singaporean women have a higher chance of survival is the medical industry's ability to detect early-stage breast cancer. As a pillar of medical research in Southeast Asia, Singapore has attracted many oncology experts.
This concentration of cancer research in Singapore has led to much higher survival rates over the years. If this trend of improvement continues, the country may yet see earlier diagnosis times and higher survival rates overall.
When it comes to cancer, an ounce of prevention is worth a pound of cure. Knowing this, Singapore actively encourages women to undergo self-screening and occasional mammogram check-ups.
To date, around 45% of female Singaporean women actively participate in regular mammogram screening. While this is indeed significant, a large majority of women still lack the knowledge to actively participate in breast cancer screening.
If Singapore hopes to create a higher rate of survival, it should continue to encourage breast cancer awareness. Fortunately, given current practices for diagnosis, awareness, and treatment even during the pandemic, the city-state shows much promise for future breast cancer care.
Sources:
Ho, P. J., Yeoh, Y. S., Miao, H., Lim, S. H., Tan, E. Y., Tan, B. K., . . . Hartman, M. (2021, April 26). Cohort profile: The Singapore Breast Cancer Cohort (SGBCC), a multi-center breast cancer cohort for evaluation of phenotypic risk factors and genetic markers. Retrieved from https://journals.plos.org/plosone/article?id=10.1371/journal.pone.0250102