The Top 11 Schools for Best Dog Training in Singapore
As much as we love to play around with our dogs, it can be a hassle when they get too hyped up and cause a bit of chaos indoors or outdoors. And so, to teach them how to behave properly, you might need to look for schools with the best dog training in Singapore.
Each dog is different and the things we learn online or from other fellow dog owners might not be effective with yours. That's why getting professional help can be a great start — after all, the pros have experience working with dogs of all kinds and temperaments!
Come and take a look at our list of schools that offer the best dog training in Singapore! These will surely bring peace and order to every household with fur babies in it.
1. Waggies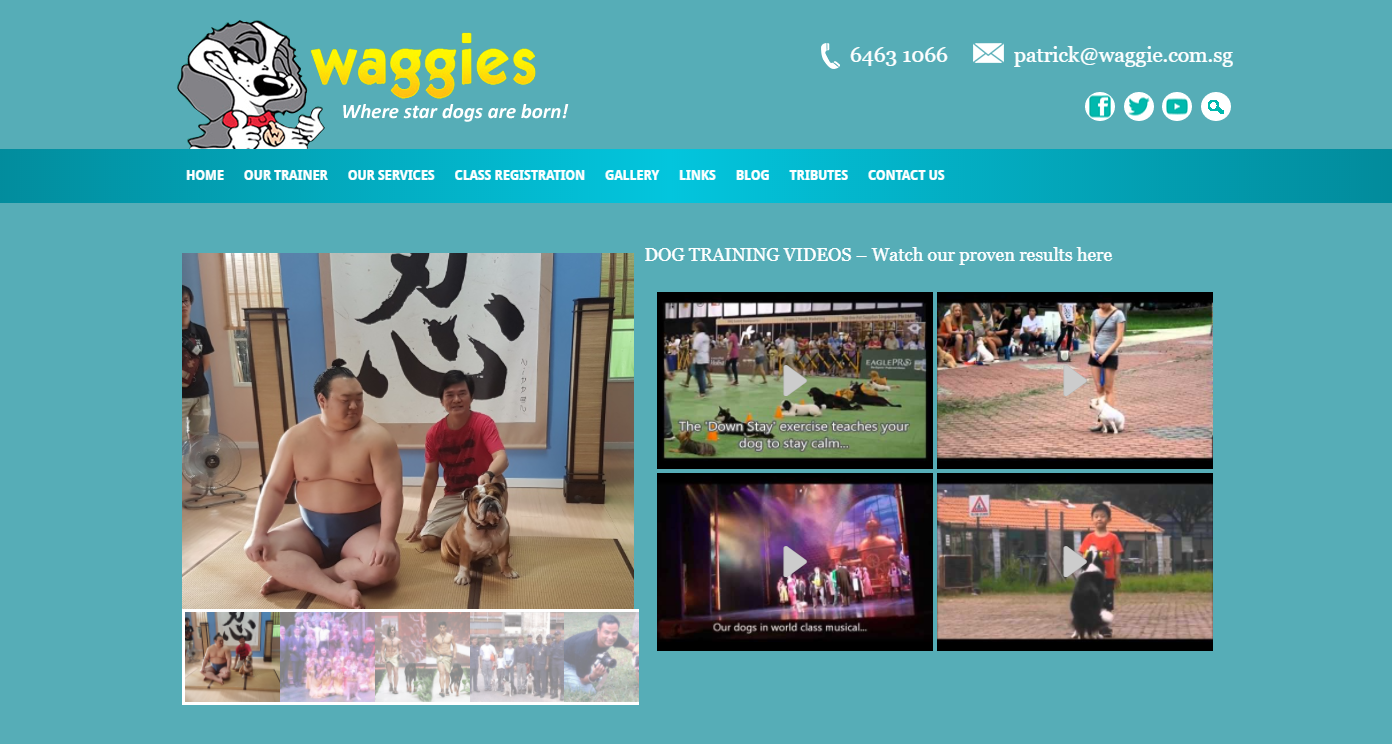 BEST FOR
Private and group lessons
PRICING

Basic group obedience course: $800.00 for 10 weekly lessons

WEBSITE
https://waggie.com.sg/
ADDRESS
25 Moonstone Ln, Singapore 328465
CONTACT DETAILS
96399933
[email protected]
OPERATING HOURS
Monday – Sunday: 9am–9pm
Waggies is a top-notch company to enrol dogs for training. It was established in 1985, and since then has helped thousands of owners train and build rapport with their dogs.
Their team consists of professional trainers that are greatly experienced in handling different breeds and types of pets. They know to expose pets to situations away from their homes and to practice them out of the usual comfort zone.
Waggies has worked with tons of celebrities and helped train dogs for a variety of shows. That's enough proof of how much they can be trusted with your fur babies.
No matter the age of your dog, may it be as young as 4 months, or as old as 5 years, Waggies is sure to be able to handle them. They also guarantee that you and your dog would enjoy the courses, ensuring new learnings as you have fun.
Highlights
Well-structured training exercises
Fun lessons that are easy to follow
Readily available to answer inquiries
Success in training is assured
Customer Reviews
Garnering an average of 4.9 stars from over a hundred of their clients, Waggies is a sure recommendation if you're looking for a dog training company in Singapore. Take a look at some of the written feedback for them:
"Patrick's training is definitely second to none. His effective training methods are very clear and it help turn my stubborn Japanese spitz into an obedient dog.
Now I can go on walks feeling confident knowing my dog will not walk ahead of me and obeying all commands such as down, stay, heel.

Would highly recommend to anyone looking for a dog trainer.

Definitely the best dog trainer in Singapore!"
"My dog is SO WELL BEHAVED and easy to control after just going for the beginner's lesson. Highly recommended!!! Caveat that owners must also do their own due diligence and work on their dog AFTER each lesson."
"This training course has been a great experience. It was enjoyable and we have a far more manageable dog at the end. Will definitely do further courses with Waggies!"
2.  Perfect K9 Dog Training
Are you looking for an effective means of disciplining your fur babies? Doris Lam of Perfect K9, a pet trainer of nineteen years, is here to be your rightful companion!
Doris harbors deep affection for animals and has been working to come up with different techniques to encourage obedient behavior from pets. She believes in making use of positive reinforcement and rewards to achieve this, and also practices methods that promote healing and relaxation for dogs.
It is never too late to bring the best behavior out of your furry loved ones. Perfect K9 will provide you with all the information and skills you need in order to properly communicate and care for your dogs.
Highlights
Excellent dog training services
Trainers are approachable and patient
Customer Reviews
Here are some reviews posted in their Facebook page:
"Doris is a very patient teacher, and never holds back on answering any questions asked during the AC class. she is very positive and encouraging. really learnt a lot from her during the course, and I'd definitely recommend anyone who wants to try, to definitely go for it! ?"
"I can't thanks Doris enough for helping me to communicate with my dog in her final moments. It was urgent and extremely last min and Doris made it back just to help me. Extremely thankful for what she have done for my dog and me. Her passion for animals can be felt and she gives good advises. Her wisdom and words brings a sense of comfort in times of despair. I'm glad that i made the choice and never looked back! It was a fruitful session that i will remember forever. Heartfelt thanks Doris! May you always be blessed!"
3.  Pawrus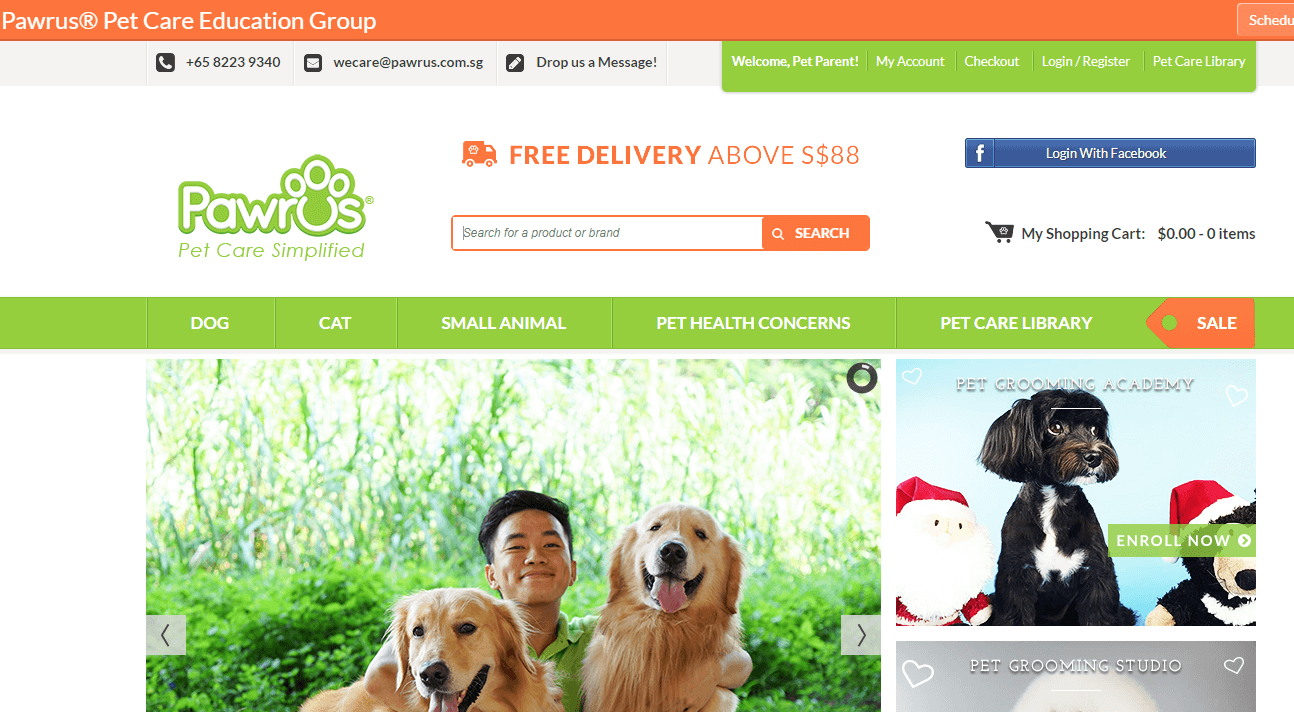 BEST FOR 
Customised speciality programmes
PRICING
Rates
WEBSITE
https://www.pawrus.com.sg/
CONTACT DETAILS
+65 8223 9340
OPERATING HOURS
Mondays to Fridays: 10am – 5pm

 

Saturdays, Sundays & Public Holidays: Closed
Pawrus offers a full range of pet care and training services and this includes their best dog training in Singapore! The training academy houses professional trainers who conduct a variety of courses and programs.
This includes puppy training where you can learn techniques that you can use for years to come. For their dog training, they mostly have advanced courses in which your dogs can learn sports and agility, canine freestyle, K9 nosework, and many more.
Highlights
Seminars and workshops
Companion and intelligence dog training
Customer Reviews
Customers said that they discovered a lot of unique tricks from the dog training supplied by Pawrus. The classes also helped their dogs achieve maximum potential.
A customer gave this feedback:
"Just completed the Puppy Start Right Course with Kevin and Jaslin. Kevin is a dedicated trainer who strive to bring the best out my puppy, Toby. His teaching methods are easy to understand especially for someone who is unfamiliar with clicker training. Also, both Kevin and Jasline are genuinely passionate about the welfare of pets and always go the extra mile to give practical tips to help problem solve the issues that we may be facing. Highly recommend Kevin and Jasline as trainers for the Puppy Start Right course! :)"
4.  Dog Listener Consultancy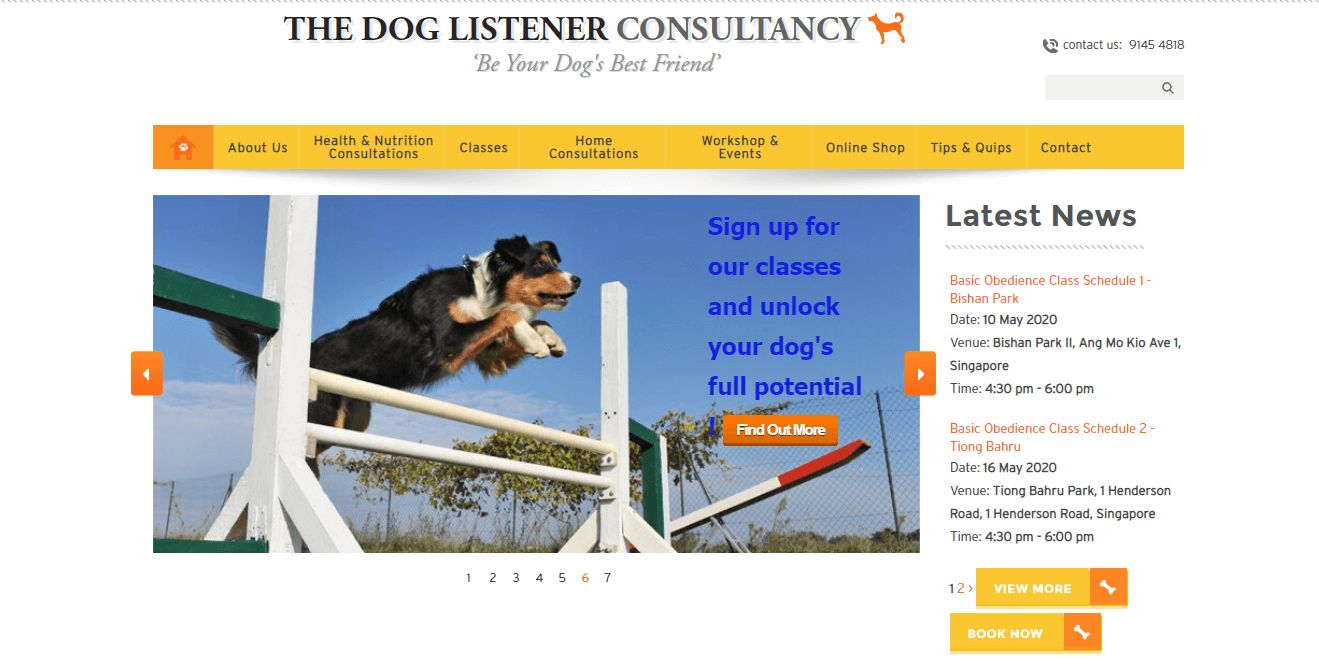 | | |
| --- | --- |
| BEST FOR  | Classes focused on dog-human companionship |
| PRICING | Rates |
| WEBSITE | https://www.doglistenerconsult.com/ |
| ADDRESS | 1 Harbourfront Walk, Singapore 098585. |
| CONTACT DETAILS | 9145 4818 |
| OPERATING HOURS | Open 24 hours |
For those who want their dogs to learn how to behave even without the use of any gadgets or gimmicks, Dog Listener Consultancy can offer the best dog training in Singapore for your pet! Aside from the basic obedience techniques, you can build a stronger bond with your dog using this company's services.
There's a limit of 20 participants in every class, so you can be sure that you'll receive personalised and attentive services. Their classes involve lessons about being a good leader, communication techniques, solutions to behavioural issues, and socialisation.
Highlights
Group training classes
Health and nutrition consultations
Customer Reviews
Most customers stated that they loved the humane and effective training methods of Dog Listener Consultancy. Here's a review from a customer:
" We really enjoyed the lessons. Ricky is very passionate about training dogs! We still have a few issues but generally much improved! "
5.  Woofie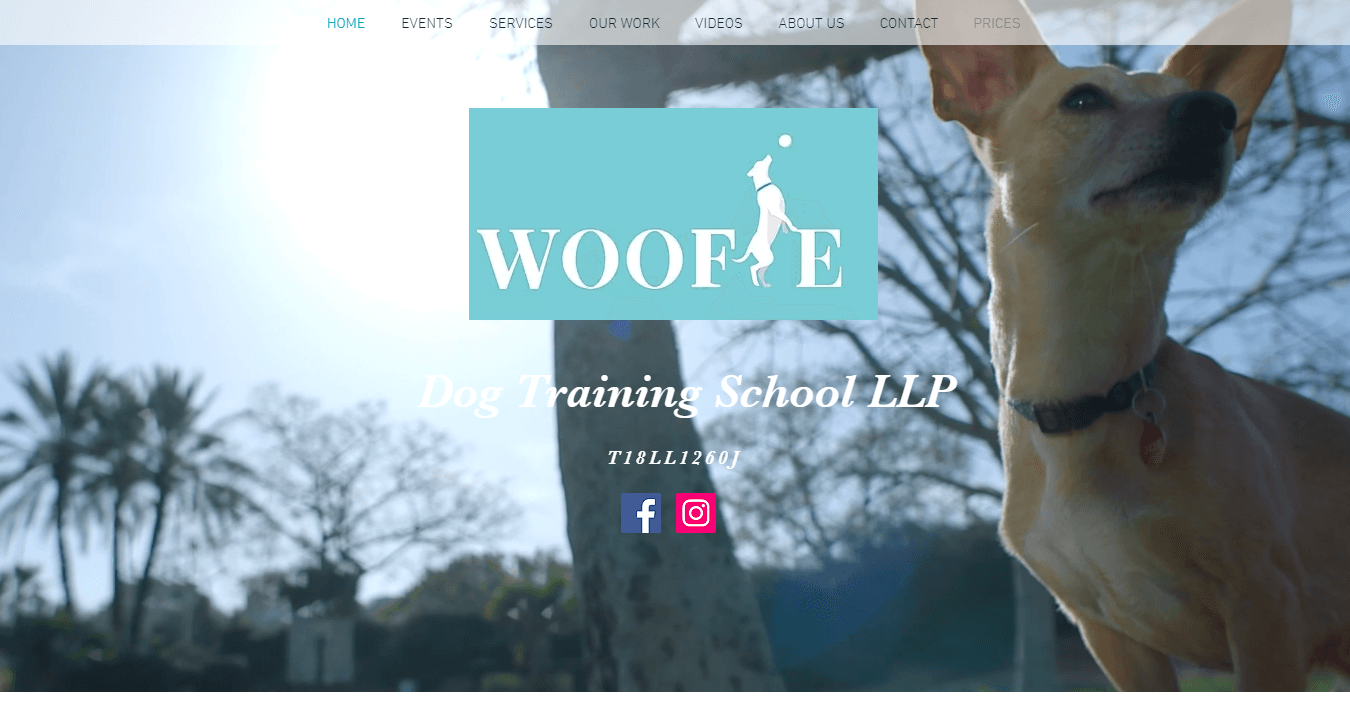 | | |
| --- | --- |
| BEST FOR  | Highly skilled and experienced trainers |
| PRICING | Rates |
| WEBSITE | https://www.woofiesg.com/ |
| CONTACT DETAILS | +65 8588 0034 ,  +65 9028 1389 |
| OPERATING HOURS | Daily, 9am – 9pm |
Woofie specialises in basic obedience training and behaviour training. They only recently started their training academy but due to their qualified trainers, they've already become one of the most well-known places with the best dog training in Singapore.
With their programmes, you'll be able to learn how to lead your dogs in the right manner. They've also been featured on several media publications, proving that they indeed have competent training, despite being a newly established company.
Highlights
Behaviour training
Medical first aid treatment lessons
Customer Reviews
First-time customers were delighted with their experience at Woofie. They said that their dogs enjoyed classes and they also learned a lot of helpful tips.
A customer left this review:
"Chanced upon Woofie's booth during one of their exhibitions a few months back. Their Basic Obedience Training was the first thing that caught my eye as I was having much difficulties in handling my dog's wild behavior at that time. The package they offered was also very attractive and affordable. I was pleasantly surprised to see that it took just a mere few sessions to teach and tame my little furball at home. Big thanks to the professional team at Woofie's for the fantastic job done!"
6.  PokéDog Training School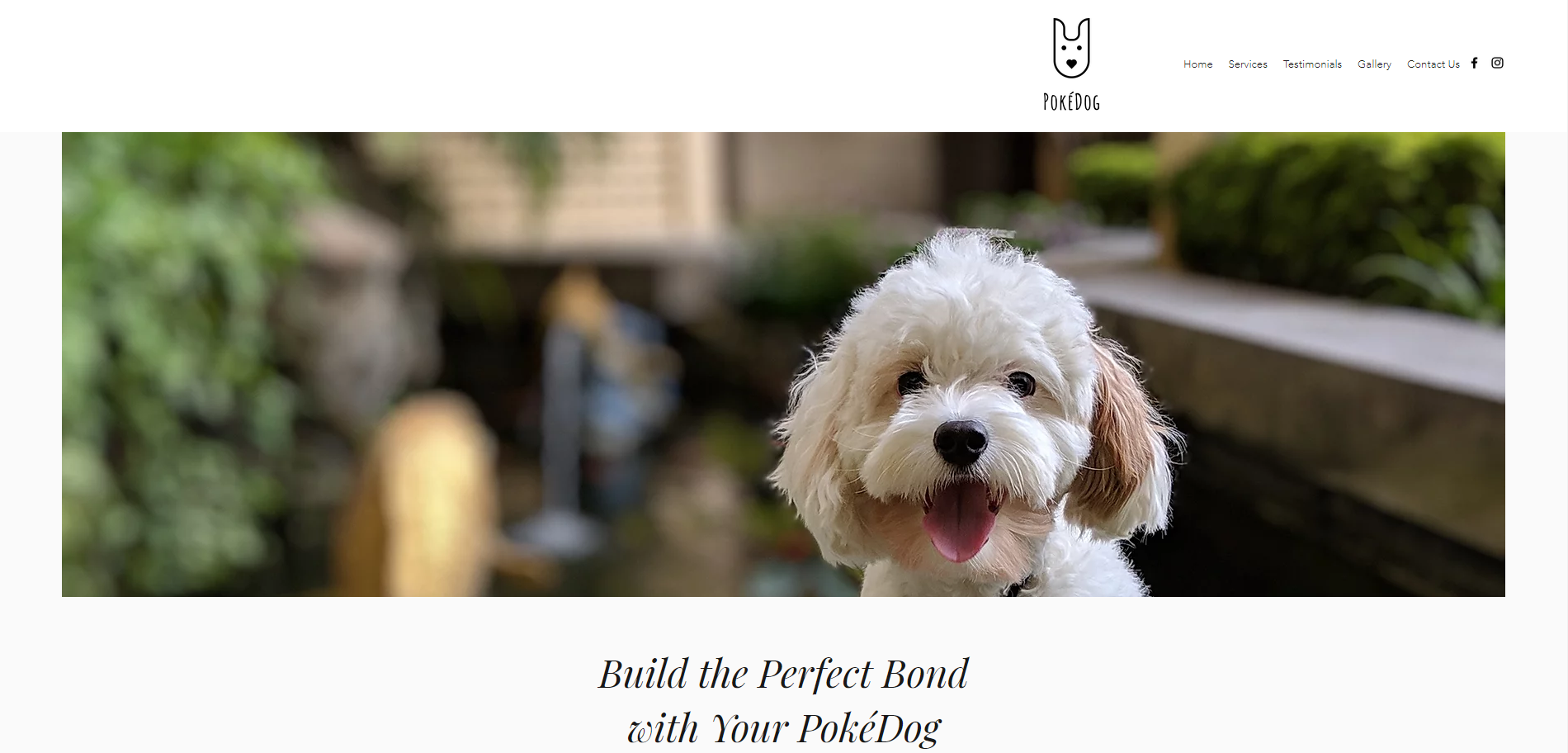 PokéDog Training School is an institution that seeks to help owners improve their bonds with their furry companions.
Clara Jamie Koh, the founder, is more than equipped to guide pet owners throughout this journey. Not only does she hold a Master of Science in Human-Canine Life Sciences, but she's also a Certified Professional Dog Trainer (CPDT-KA), a Fear-Free Certified Professional and a Puppy Start Right Instructor from Karen Pryor Academy for Animal Training and Behavior, USA.
With her education and training, Clara Jamie Koh established PokéDog Training School to provide pet owners with a hassle-free experience when it comes to getting their dogs trained. The four-step process is easy and convenient, and guarantees that pet owners will have behaved dogs in no time.
Highlights
Puppy Training
Teen and Adult Training
Behavior Modification
Compulsory Initial Consultation
Customer Reviews
Here is a review left by a very satisfied client:
"We are super glad that we found Clara to train Latte! Being first-time dog owners, we really appreciate Clara taking the time to answer our (noob) questions and guiding us closely as we adjust to having a new pet in the house. And thank you for being so patient with Charmaine. Many dog trainers would have opted for the easy way out by asking the adults to take over during training but you have been very patient in showing her how to handle her dog. Latte made so much progress within a short course of 8 sessions. And Charmaine is definitely a more confident dog-owner now! Looking forward to playdates with your doggie in the future."
7.  Mutt Matters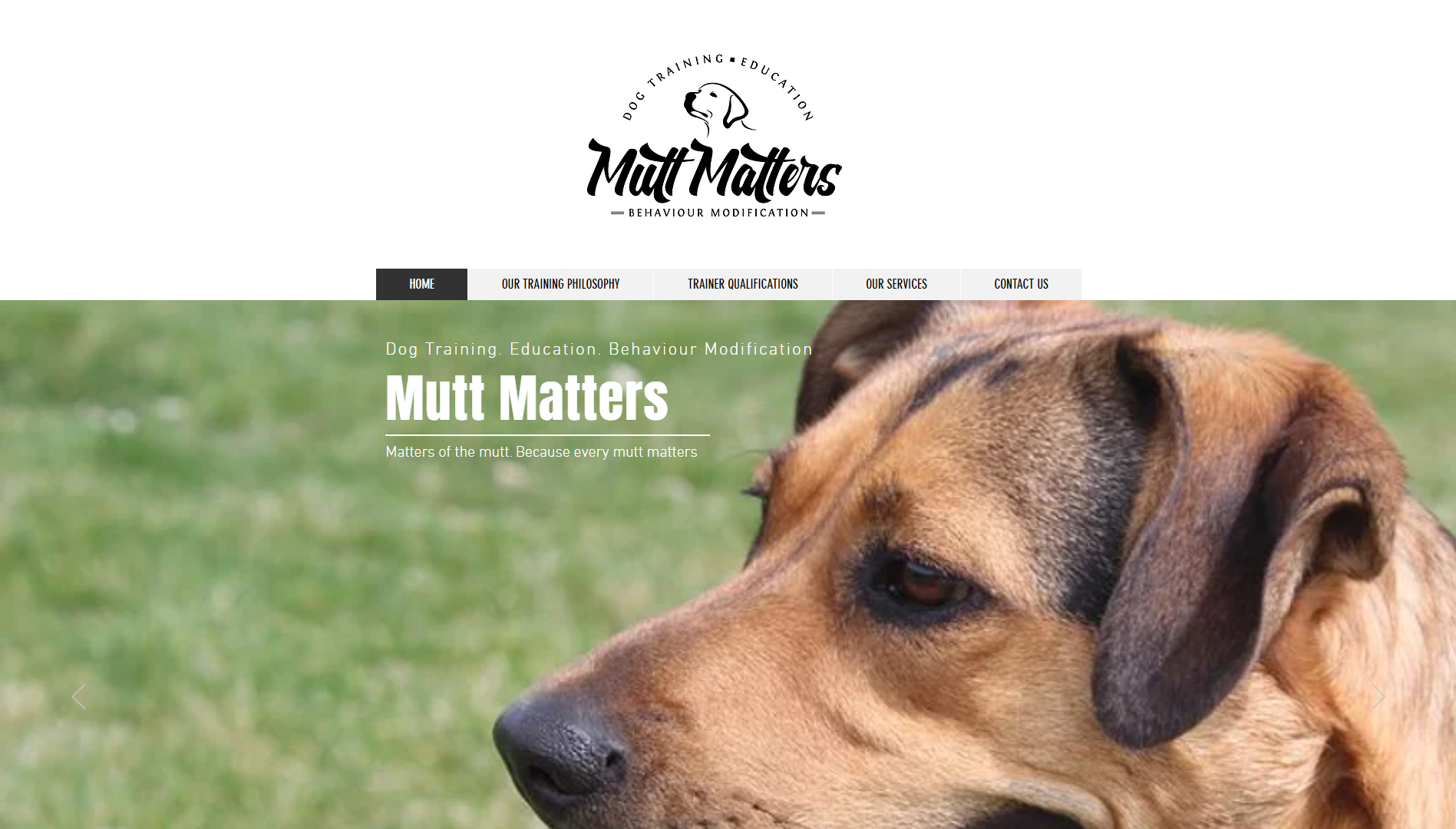 Handled by a highly qualified U.S. certified trainer, it's a no-brainer to approach Mutt Matters if you are encountering training problems for your dog.
Their founder and Chief Trainer, Anna Koo is one of the few trainers in Singapore who have been independently certified as a Certified Professional Dog Trainer (CCPDT-KA) and a Certified Canine Behaviour Consultant (CBCC-KA) by the Certification Council of Professional Dog Trainers (CCPDT). Their trainer has also undergone rigorous education and training on the science of animal behaviour and learned directly from top world-renowned and well-respected international trainers, so you can be assured that your dog is in good hands.
Mutt Matters uses modern science-based and force-free training techniques and only employs kind and humane methods to train your dogs. They customise training plans to specifically address your training goals and help you resolve your dog's behaviour problems.
Unlike other training facilities, the Mutt Matters wants only the best for your dog. They will check everything, from your home environment to your lifestyle, to ensure that your training will succeed.
Highlights
Internationally Certified Professional Dog Trainer and Canine Behaviour Consultant
Behaviour Modification
Basic Canine Manners / Obedience
Workshops and Talks
Day Training
Board and Train
Customer Reviews
Here are some reviews left by their satisfied clients:
"We engaged Anna to help address our dog Sushi's fear aggression towards strangers, and have seen Sushi improve a lot in the last few weeks. We engaged a trainer previously who taught us different methods that did not work, but Anna taught us positive reinforcement which worked very well. Anna helped us understand Sushi's fears and how to change her perception of strangers. We had a number of other behavioral concerns too and Anna managed to help us address these problems along the way."
"We adopted our SS, Horlick, at 6 months old, and we started seeing signs of behavioural issues like nipping, anxiety, reactivity towards strangers and dogs. We began our search for a trainer and after much research, we decided on using positive-only methods to help with his issues as we did not want a quick fix that would only lead to more issues down the road.
We decided on Anna after a phone call with her to explain our difficulties with Horlick, where she also gave us a very good explanation on how she could help us using science-based methods. After some research online, we found out that Anna is one of the only few properly certified dog trainers/behaviour consultants in Singapore. She set up a proper assessment session in person to help us further understand why he was exhibiting those behaviours and we could tell, from her first interaction with Horlick, that she is someone we can trust him with even when we are not around.
Anna came up with a very methodical training plan to help with his stranger/dog reactivity which was our main concern. Her training plan requires a lot of discipline and consistency on our part, and there were times we just fell off the bandwagon after a few bad incidents but she continued to encourage us to work on it. After 2-3 weeks of daily consistent training during the circuit breaker period, we started seeing a great positive change in Horlick. He no longer goes uncontrollable at the sight of other humans and is able to remain calm and happy to continue the walk, without being overly-worried about the environment. This seemingly overnight change took us by surprise and gave us just the encouragement we needed to push on with Anna's plan. Walking Horlick is no longer a stressful event for both humans and dogs anymore!
Anna also worked with us on other issues that she caught watching our interactions with Horlick. We have now learnt to read his body language better and that scared dog that would run and hide and pee each time we wanted to approach him for husbandry chores (like shower, nail trims, or even just a harmless pet on the head) is no more. This has fostered a better relationship between us and our boy too.
We are still a long way to having Horlick as a calm and confident boy, especially around unknown people and environments, but with Anna's guidance, I believe we will surely get there one day! The cherry on top is that we do not have to use aversive tools or force at all for any of that to happen 🙂
After seeing the positive changes in Horlick, I will definitely recommend Anna to anyone looking for a highly-qualified, precise, and systematic trainer to help your dog gain confidence using SCIENCE. Your relationship with your dog will definitely improve to one that is built on compassion, love, and trust too."
8.  Happy-Dog Training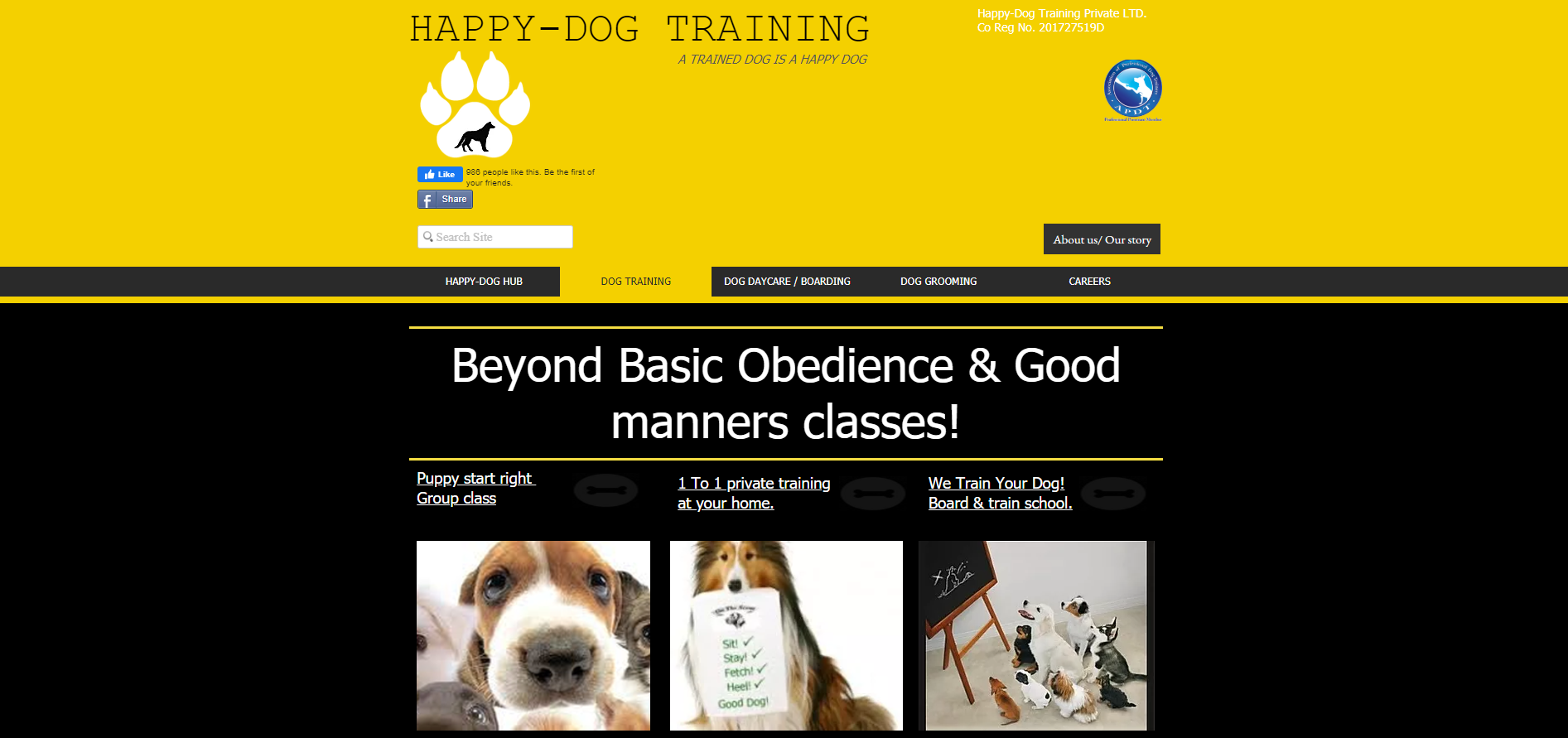 Using his skills for the past 20 years of helping and volunteering in animal shelters, Mark established Happy Dog Training to help other dog owners understand their pets. Having  been around dogs since he was seven,  dogs have a special place in his heart.`
Mark possesses generations of knowledge, and he also has certification as a dog trainer. He is a member of the Association of Professional Dog Trainers and has spent time volunteering in animal shelters in the UK, Singapore and around the world.
With his skills in rehabilitating some of the most troubled, fearful and aggressive dogs, guiding owners and their dogs is an easy task for Mark. You can rest assured that with his expertise. your furry friends are in good hands.
Highlights
Relationship building training
Behaviour training
Board & Train
Customer Reviews
Here is a review left by a very satisfied client:
"Happy -dog training hub are just the best in Singapore. Thanks to their qualified guidance we have a wonderful family dog who is everything you could wish for and more!"
"Highly recommended esp for someone having a new furkid at home. Mark offers a well thought through methodology to condition the furkid to live happily with you."
9. Pawsitive Furkids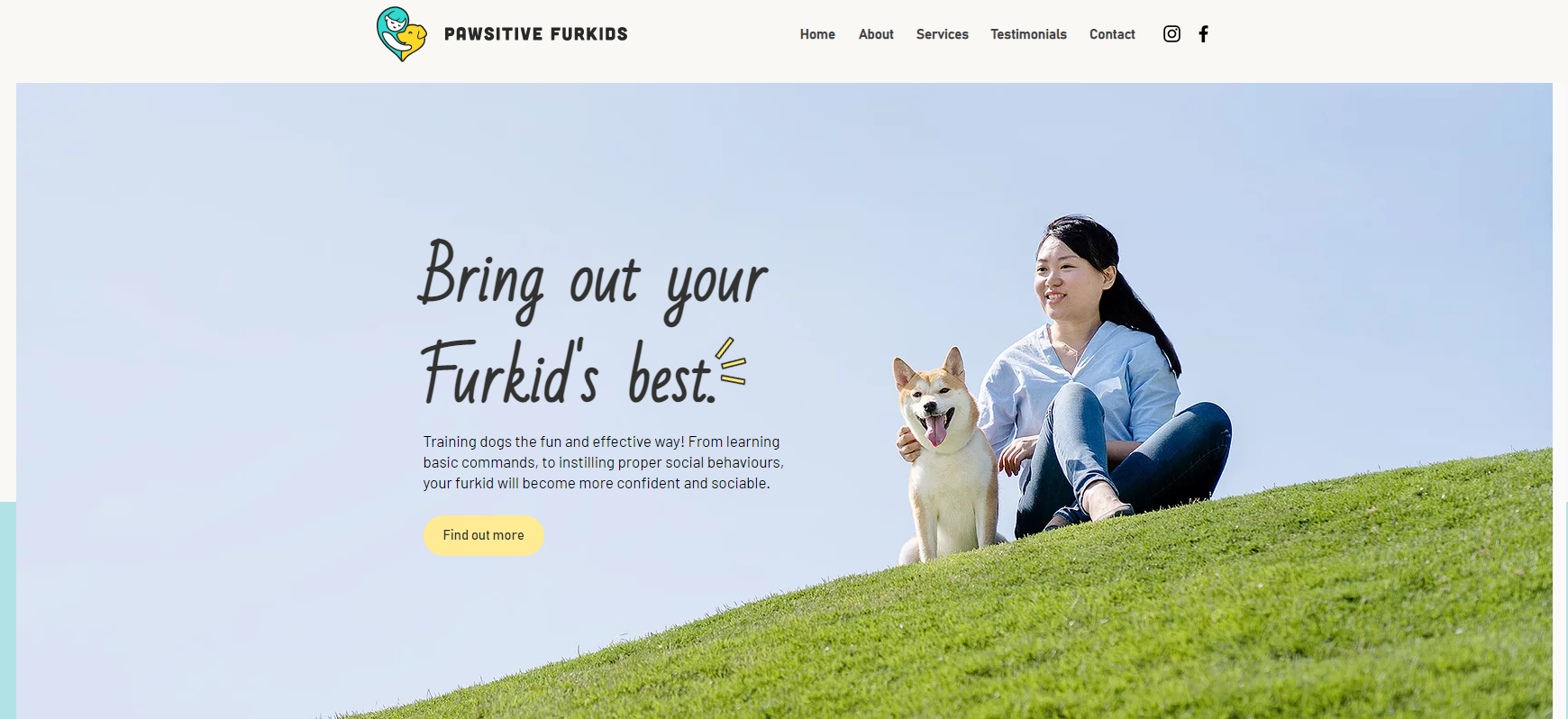 Pawsitive Furkids Pte. Ltd. is a Singapore registered dog training academy. Founded by lifelong dog devotees, accredited trainers Patrick Koh and Veronica Tan provide various services that are highly sought after.
In 2012, their devotion and boundless love for their furkids inspired them to seek out better methods of pet training. Pawsitive Furkids' mission is to transform pet training into a Pawsitive experience for both furkid and human alike.
They are ardent advocates of positive reinforcement pet training methods as it creates a safe, stress-free and happy environment conducive to learning. In their team's capable hands, frightened dogs will become confident, and rowdy pets will be transformed into obedient furkids.
Highlights
Obedience Training
Behaviour Modification
Trick Training
Customer Reviews
Here are some feedback left by satisfied parents of furkids:
"As a result of weekly, systematic group exercises our dog Maia became more responsive to our commands outside, in the presence of different distractions. The instructors, Patrick and Veronica, who most importantly possess valuable dog handling experience, were very supportive and helpful during the training and in solving existing problems that we met with Maia at home."

"Veronica and Patrick were absolutely wonderful! They are patient, they listen carefully, they explain training techniques, and they set very clear weekly goals. Great people!"

"Patrick and Veron are passionate about training dogs using positive reinforcement, and this passion shows in their patience when guiding Bear and I through training! They make training fun and enjoyable too! Highly recommended for anyone with furfriends, be it for behaviour modification or learning tricks! Cheers!"
10. SuperNova International Dog Sports Academy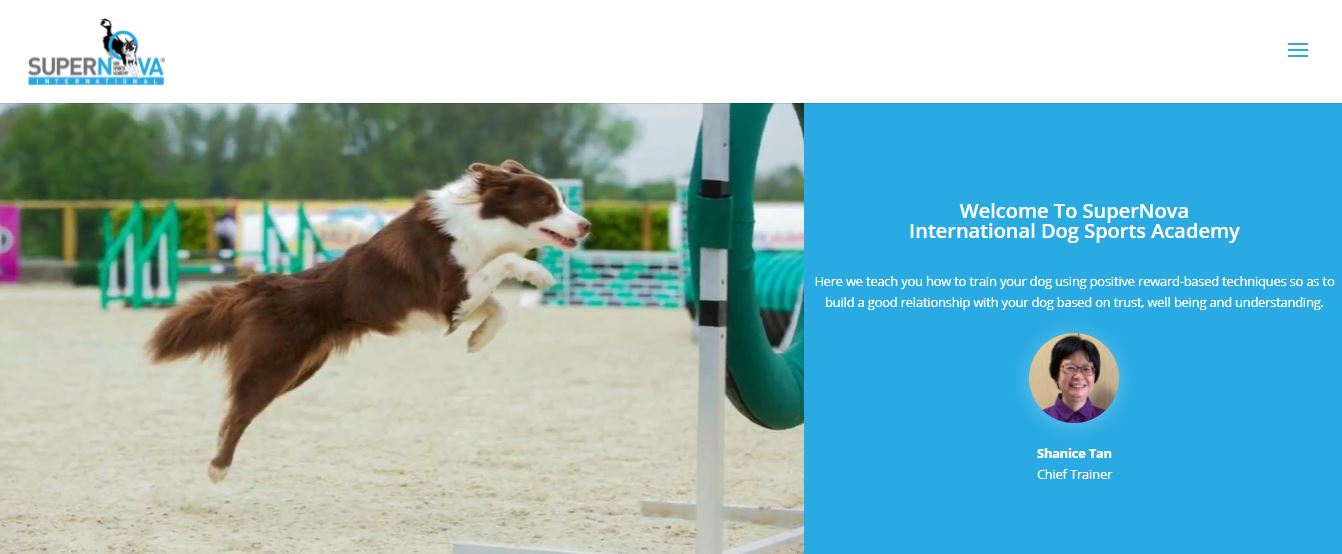 | | |
| --- | --- |
| BEST FOR | Good Quality, Effective, Force Free Dog Training |
| PRICING | Contact for more information  |
| WEBSITE | https://www.supernova.com.sg/ |
| ADDRESS | 1 West Coast Drive, #01-18, NEWest Mall Singapore 128020 |
| CONTACT DETAILS | |
| OPERATING HOURS | — |
SuperNova International Dog Sports Academy takes pride in its positive rewards-based and scientific training techniques. This system helps improve the trust and bond between dogs and humans.
In total, SuperNova has ten certified dog trainers, all led by chief trainer Shanice Tan.
Under Shanice's guidance, this training academy offers all types of courses.  Their most popular courses are:  Puppy Socialization,  Good Canine Citizen ( Group / Private ), Dog Agility,  International Dog Tricks Titling program.   
Aspiring dog trainers can also take courses to realise their dream of becoming professional dog trainers.   Graduates from the dog trainer program have successfully opened their own dog training academy.
With its online courses like the good canine citizen and one-on-one training via Zoom and Skype, SuperNova International Academy is adapting well to these changing times.
Aside from being dedicated dog trainers, SuperNova's staff members are also dog behaviour consultants. So, those who need to consult about dog behaviour issues can approach SuperNova online or in-person for help.
SuperNova agility trainers also represented Singapore competing in World Agility Open Championships in England and Netherlands in the past years.  You can definitely look forward to good quality effective dog training from SuperNova trainers.
And to make these classes even more accessible, SuperNova accepts payments made via Paypal, iBank, PayLah/PayNow.
Highlights
Progressive and competitive obedience courses
Online and in-person training courses
Pet behaviour consultation service available
Dog Trainer courses
Numerous payment options
Customer Reviews
Here are some comments left by previous clients:
"We were so excited to start off this journey with Trainer Joy when she was assigned to us. Every training lessons were filled with Joy and Laughter, training our puppy have never been easier. The importance of positive reinforcement were emphasized and we as owners believed in that as well. Thank you for helping us during her puppy phase and we will continue to use positive reinforcement to train her and be better owners for Luna. Trainer Joy have been nothing but caring towards her clients. She's always so ready to help and so approachable under any circumstance. Thank you so much!"
"My little one has just completed 8 lessons with Shanice from supernova. Shanice is a very patient and knowledgeable trainer! She was very helpful with my dog's obedience training and she offered guidance to me before I even had my little puppy. I would recommend supernova academy to any new or experienced dog owner looking to teach or improve their dogs skills and obedience! My little one is now all set on the right path for life!"
11.  Paw Go School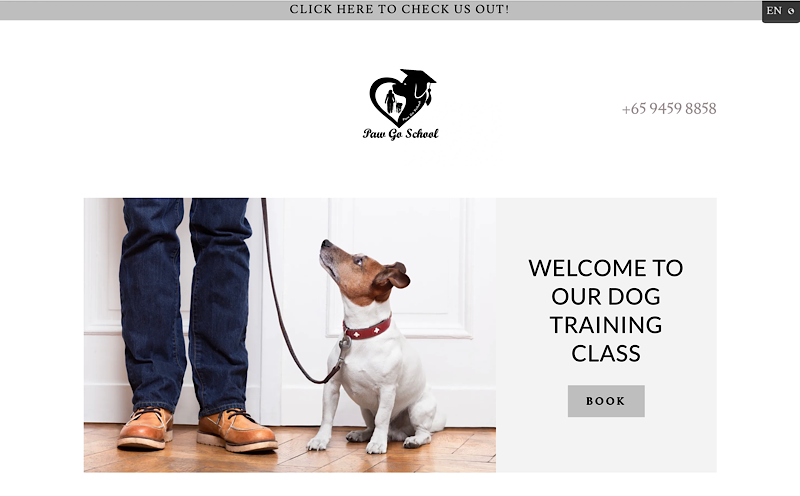 | | |
| --- | --- |
| BEST FOR | Puppy Training and Obedience Training |
| PRICING | Contact for more information  |
| WEBSITE | https://pawgoschool.com |
| ADDRESS | 299b Tampines Street 22, Singapore 522299, Singapore |
| CONTACT DETAILS | |
| OPERATING HOURS | By appointments |
Paw Go School is a dog training company that offers courses for dogs such as pet massage, puppy training, and obedience for new adult dogs and puppies.
Aside from courses, they offer services on aggression/behavior training, behavior modification, potty training, barking issues, and leash training. 
Paw Go School's resident trainer is a Pets & Animals Reiki Master who has been working with pets for over 28 years. She has worked in various settings as a veterinary nurse, home caregiver and trainer, and dog breeder.
So far, Paw Go School's previous clients have been satisfied with their services. They'll be sure to meet your expectations in training your fur babies.
For those interested to know their pricing and other services, we advise that you contact them directly since their website doesn't show much details.
Highlights
Wide array of puppy training services

Trainer with expertise and medical background

Patient dog-trainer
Customer Reviews
Here are some testimonials on its website by previous clients:
"Life saver trainer – saved me hours of sleep after I had trouble training my new Shih tzu puppy. Really thank God that I found this school and the results were immediately apparent. My puppy does not whine the entire night anymore and I could go back to having a sound sleep ! It is amazing. Took a one or two more weeks to toilet train her but it is well now. We could let her run around the house now." – Daryl Tng 

"Pamela, You are the best! Really patient and always here for us, even after training, Can count on you for all puppy-related issues. Thank you for being or guardian angel trainer." – Jamie Jaslyn
And that's it for our list of places where your pet can experience the best dog training in Singapore! Have you already attended a class from one of our picks? If you have, we'd like to know about your thoughts so feel free to share them with us!
Also, after a long day of training, you might want to treat your dog to a nice outing at these best dog cafes in Singapore! They offer all kinds of treats that your pet will surely love!