Where to Get the Best Eyebrow Embroidery in Singapore
Do you want to achieve the perfect pair of thick eyebrows? If so, then we highly suggest dropping by the clinics that offer the best eyebrow embroidery in Singapore for a bolder and more natural-looking pair of eyebrows.
However, keep in mind that even the best eyebrow embroidery in Singapore may require a few days of downtime. That said, once the recovery period is over, you will become more confident with your richer, more eye-catching eyebrows.
So, if you're curious as to where to get the best eyebrow embroidery in Singapore, then worry no more — we have a list of what you're looking for. Check them out below to see which one is closest to your area.
1.  Milly's Singapore

| | |
| --- | --- |
| BEST FOR  | Wide Range of Services |
| SERVICES | Eyebrow Embroidery, Eyelash Extension, Eyeliner Embroidery, Last Life Treatment, Hair Extensions, and Manicure & Pedicure |
| WEBSITE | millys.com.sg/ |
| ADDRESS | 68 Orchard Road #02-11, Singapore 238839 |
| CONTACT DETAILS | +65 6252 6216 |
| OPERATING HOURS | Monday – Sunday, 11:00 AM – 9:30 PM |
Milly's Singapore offers three types of eyebrow embroidery, namely gradient brow, 6D brow, and 6D soft edge brow. Any of these treatments will give you fuller and bolder eyebrows that can last for a long time.
What's more, Milly's Singapore is composed of experienced beauty specialists who are trained in various beauty procedures, so rest assured that you will be in safe and capable hands. This is why we consider it one of the top clinics for the best eyebrow embroidery in Singapore.
If you're in a bit of a rush, then don't fret — it will take only about 2 to 3 hours. You can still run some errands after having your eyebrow embroidery procedure.
Highlights
12 years of experience
Comfortable clinic
Experienced beauty specialists
Customer Reviews
Take a look at what clients have to say about its services:
"One of the staff, Minnie, helped me with my eyelash extension on 22 April. She patiently advised me on the different types of lashes (length, thickness etc.) as I am pretty new to eyelash extension. During the 1hr plus duration, she was very gentle as well and I didn't feel any discomfort as well. Definitely worth a visit again! And I really love how natural looking it is." 
"I have always been a regular in Plaza Singapura outlet and the staff there never fails to make me feel like home! The laughter and happy Vibes of the staff, it's fantastic!!!  I am always amazed at how my therapist (You You) can do my lashes extension perfectly at a fast speed! Her skills are really good! Thanks again Milly for having You You and all the staff in PS!!!"
2.  Jezbrows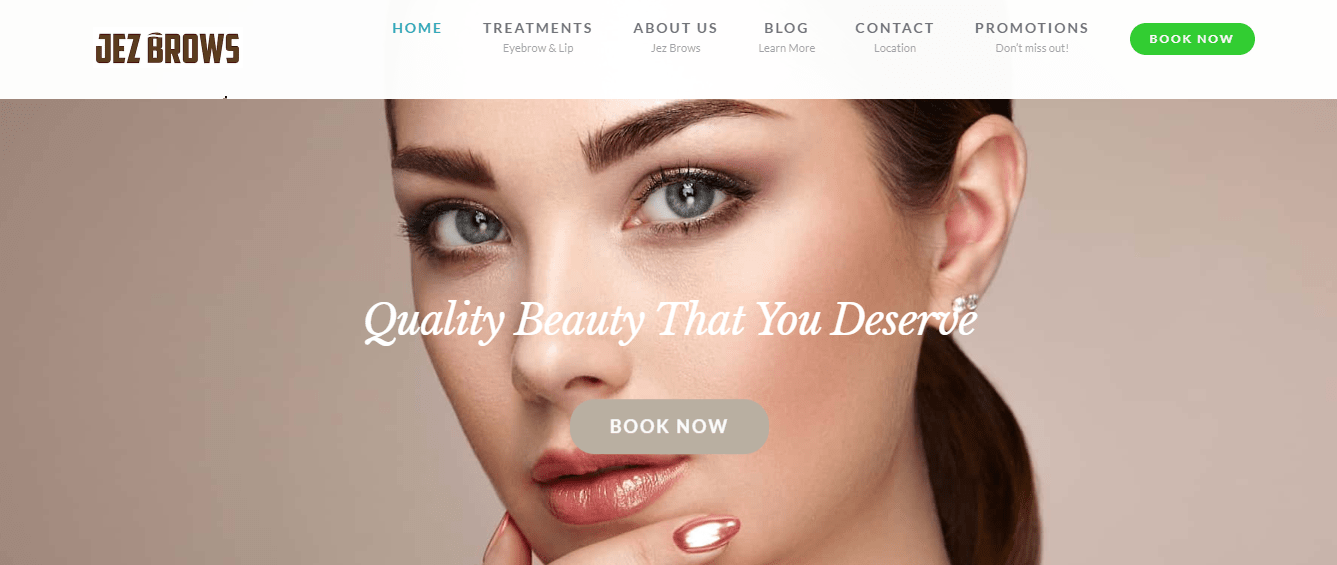 | | |
| --- | --- |
| BEST FOR  | Men and Women |
| SERVICES | Eyebrow Embroidery, Lip Fillers, Eyelash Extensions, Manicure & Pedicure, Make Up, and Tattoo Removal |
| WEBSITE | https://jezbrows.com/ |
| ADDRESS | 21 McCallum St, #01/10, Singapore 069047 |
| CONTACT DETAILS | +65 91390438 | +65 65099770 |
If you're seeking the best eyebrow embroidery in Singapore for both men and women, then Jezbrows is the right option for you! It's considered one of the top aesthetic clinics on the island for its topnotch services.
Some of the services offered by Jezbrows are eyelash extension, tattoo removal, lip fillers, manicure, pedicure, and make up. It boasts a team of professional beauty specialists who have been doing these treatments for quite a long time now.
Since Jezbrows is fully booked most days, customers may book an appointment online to ensure that they'll be accommodated on their preferred dates.
Highlights
Online appointment
Experienced staff
Free consultation
3.  BrowSugar Singapore
| | |
| --- | --- |
| BEST FOR  | Eyebrow Embroidery |
| SERVICES | Eyebrow Embroidery |
| WEBSITE | |
| ADDRESS | Sin Ming Walk, Singapore |
| CONTACT DETAILS | Whatsapp: +65 9011 9067 |
| OPERATING HOURS | 24/7 |
BrowSugar is where you can find some of the best brow artisans in Singapore. They provide top-notch brow treatments that are sure to last a long time. 
Their wide range of services ensure that you'll be able to find the best brow care experience tailored just for you. From microblading to powdering, you won't find what they have to offer lacking in any way.
Highlights
Expert staff
Long-lasting brows
Safe and nontoxic pigments
Short sessions
4.

Perfect

 Beauty 

Brow

 

House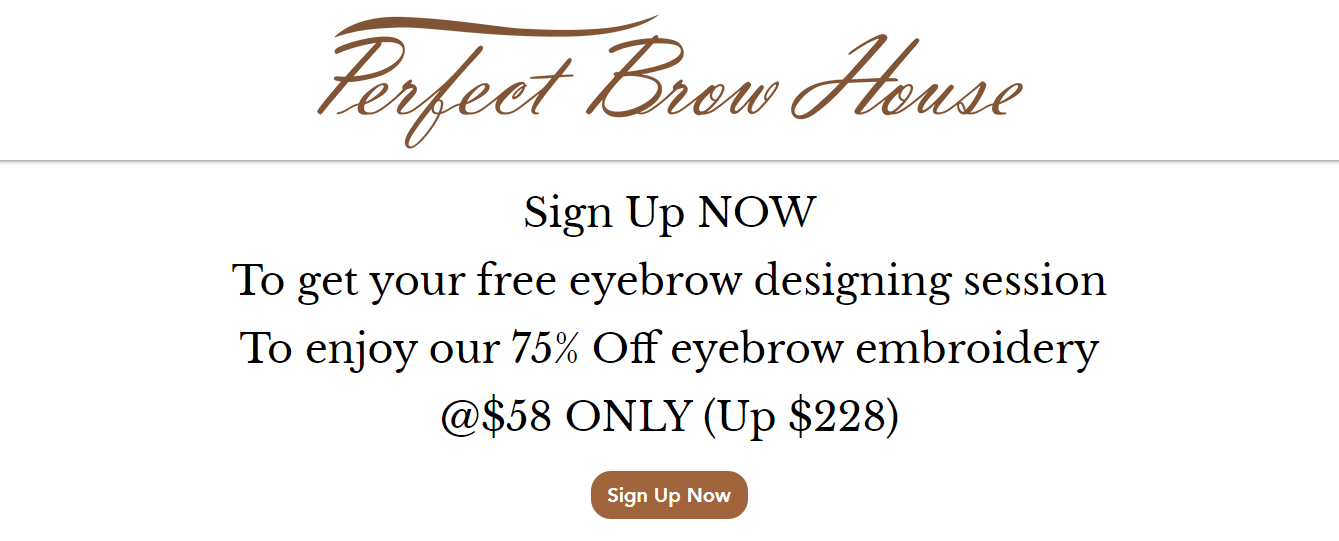 | | |
| --- | --- |
| BEST FOR  | Certified Brow Specialist |
| SERVICES | Eyebrow Embroidery |
| WEBSITE | https://www.sgeyebrowdesigns.com/ |
| ADDRESS | City Plaza Shopping Centre #02-57/87 |
| CONTACT DETAILS | +65 6352 7012 |
| OPERATING HOURS | Monday – Sunday, 11:30 AM – 9:00 PM |
Perfect Beauty Brow House isn't among the top salons with the best eyebrow embroidery in Singapore for no reason. It has a team of trained and certified eyebrow specialists who know how to make your eyebrows look thicker and fuller.
All of its pigmentation products are imported all the way from Korea and are all organic and non-toxic, so you can be assured that nothing harmful will be applied to your body. Plus, your thicker eyebrows will last much longer than when using other products.
On top of this, the Perfect Beauty Brow House has received multiple awards over its years of operation, which is why most people trust their services.
Highlights
Multi-awarded salon
Organic pigmentation products
Customer Reviews
Here are some comments of satisfied clients:
I went to have my eyebrows done and I like the result. Also, I had a terrible pimple breakout, after going there for four sessions, my face has improved a lot. I have started to regain my confidence. I love Ms Linda, her hands are very gentle. I love how Ms Kelly and the rest of the staff showed their concern about me and have given me samples to try on such as their facial mask. I'm planning to go back there for more.
"Coco did my both eyebrows and eyelashes. She did a great job. Kelly was awesome! She is very dedicated and diligent to make sure every brow is drawn perfectly before the technician starts. The eyelashes last for a very long time, and I love how they look. They lasted longer than the ones I got from the U.S. I'd absolutely recommend Perfect Brow House because I trust them. If I ever go back to Singapore, I'll get my brows and eyelashes done from them again. Every staff member is so pleasant and helpful. Thanks. 🙂 my eyebrows are very natural looking."
5.  Lebellbrow Studio Singapore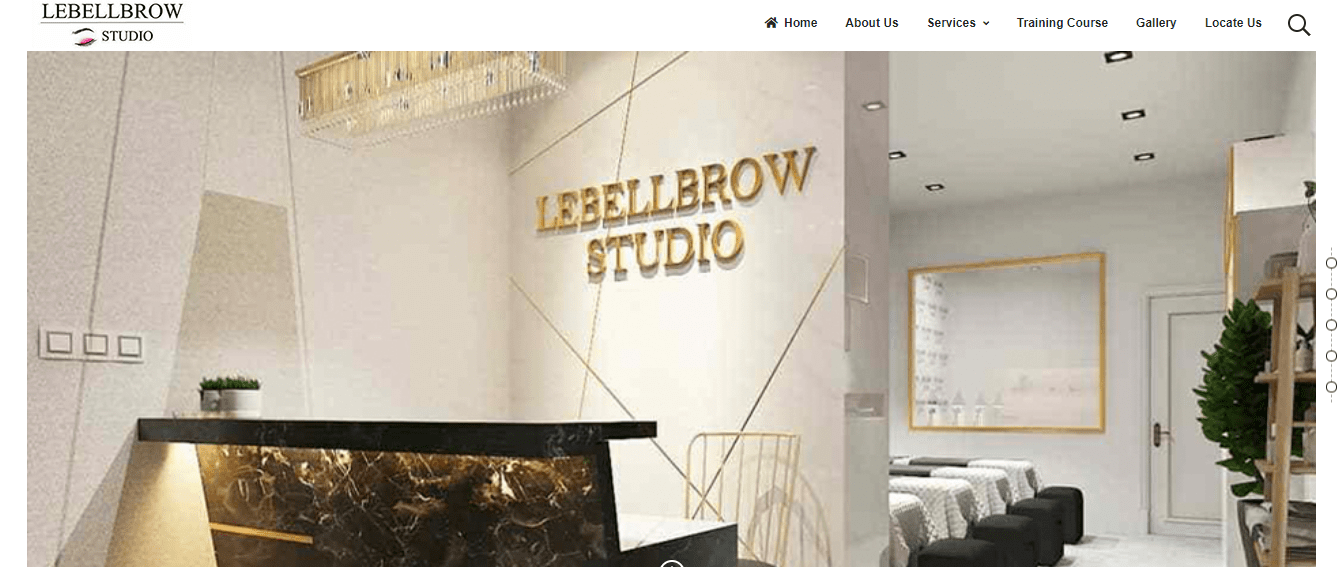 BEST FOR  
Latest Nano Technology
SERVICES
Eyebrow Embroidery, 3D Hairline Embroidery, Eyeliner Embroidery, Korean Facial Treatment, and Eyelash Extension
WEBSITE
https://www.lebellbrowstudio.com/
ADDRESS
9 King Albert Park, #02-03 KAP Mall, Singapore 598332
CONTACT DETAILS
+65 96916050 |

[email protected]

OPERATING HOURS
Monday – Sunday, 10:30 AM – 9:30 PM
Lebellbrow Studio offers a full range of beauty treatments that can boost your overall confidence significantly. Some of these are eyebrow embroidery, eyelash extension, eyeliner embroidery, Korean facial treatment, and a whole lot more.
To ensure the quality of its services, Lebellbrow Studio uses only the most advanced and latest nano technologies. Its beauty treatments are also considered cheaper compared to the rates of other salons and clinics.
Another reason we consider it one of the top salons for the best eyebrow embroidery in Singapore is the natural-looking result. Your new pair of eyebrows won't feel fake and synthetic because they have a team of trained eyebrow-shaping experts. 
Highlights
Affordable services
Eyebrow-shaping experts
Latest beauty technologies
Natural-looking eyebrows
Customer Reviews
Lebellbrow Studio has grown into one of the most trusted salons in Singapore due to its consistent topnotch services. Here are some comments from clients:
"Thanks artist KK for the great work of misty eyebrows on me. A few of my colleagues including my family have given compliments on the neatness of your work as well as the shape of it. Now, i do not have to worry about drawing my eyebrows everyday as it looks as good as having makeup on my face every second. So looking forward to the next touch up."
"Eyeliner embroidery with Jibby was painless! Was so afraid of pain due to feedback from friends who did their eyeliner embroidery elsewhere. But Jibby is super professional, meticulous, patient and friendly. She made sure to put enough numbing cream and that I was comfortable enough before she started the embroidery. Extremely pleased with the embroidery and friends even commented that my eyes looked nicer but it was so natural that they couldn't tell why."
6.  Arch Angel Brow

BEST FOR 
No downtime eyebrow embroidery
SERVICES
Eyebrow Embroidery, Facial Treatment, and Eyelash Extension
WEBSITE
https://archangelbrow.com/
ADDRESS

321 Clementi Ave 3, #01-03/07/08, Singapore 129905

111 Somerset, Somerset Road, #04-16, S238164

CONTACT DETAILS
6250 1151 (Clementi) | 62191151 (Somerset) |

[email protected]

OPERATING HOURS
Monday – Sunday, 11:00 AM – 9:00 PM
With over 10 years of experience, Arch Angel Brow has satisfied more than a thousand clients by providing quality beauty treatments, especially the best eyebrow embroidery in Singapore. Besides eyebrows, it also has treatments for the face, eyelashes, ears, and hair.
One reason it stands out from its competitors is that it uses state-of-the-art technologies and beauty products and techniques from Korea.
Above all, it has a team of beauty specialists who each have years of experience under their belt. Customers can be assured that their eyebrows are being fixed only by the most qualified persons.
Highlights
Advanced technologies
Korean beauty techniques
7. ISABELLA AESTHETICS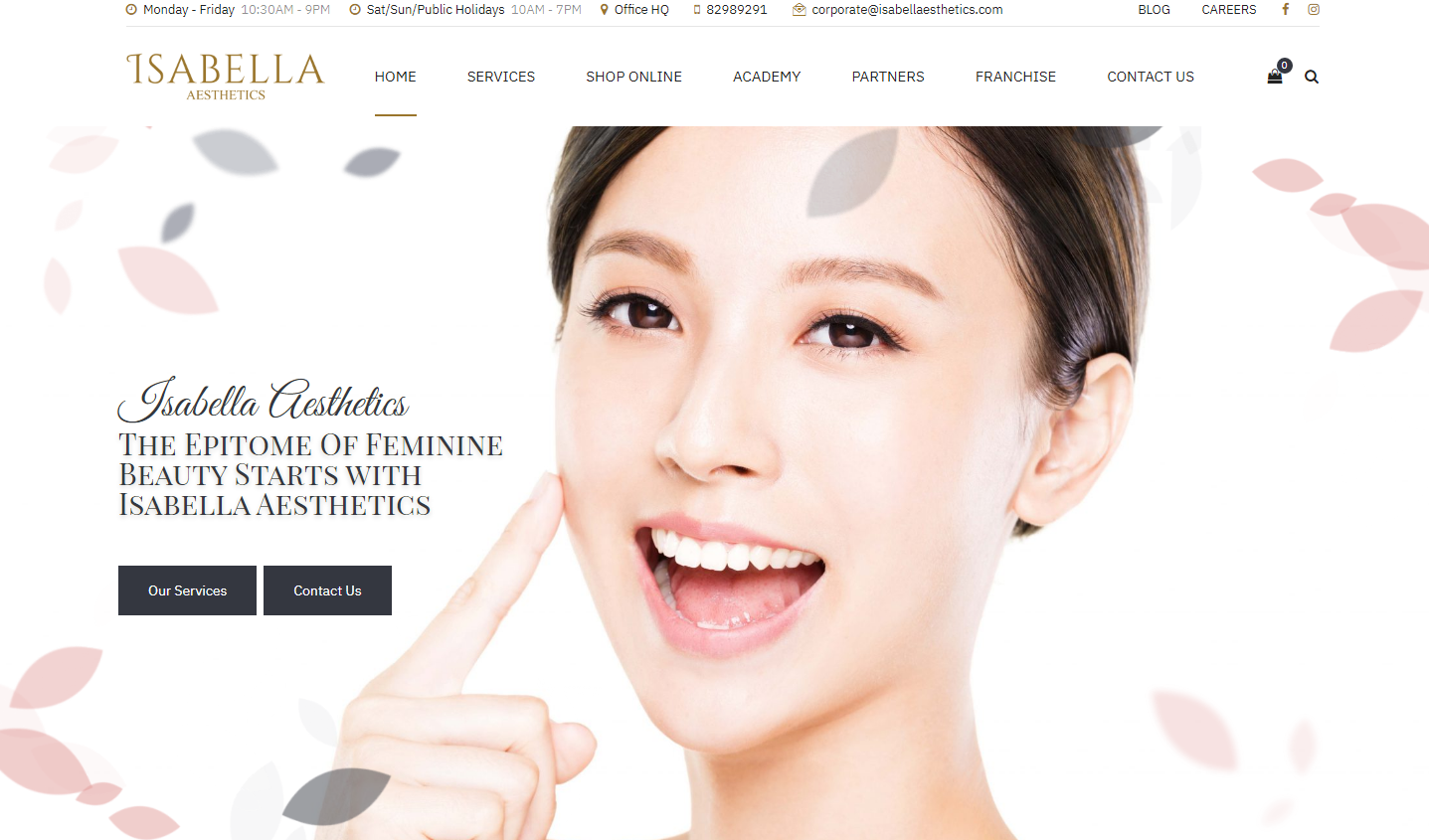 BEST FOR
Eyebrow Embroidery
SERVICES
Service offerings
WEBSITE
https://isabellaaesthetics.com.sg/
ADDRESS

Scotts Square Orchard 

6 Scotts Road, Scotts Square, #B1-24, Singapore 228209

Jurong Point

63 Jurong West Central 3, Jurong Point #B1-43 S648331

CONTACT DETAILS

Scotts Square Orchard 

91880153  / 66948880

Jurong Point

82989291 /68151172

OPERATING HOURS
Sat and Sunday – 10am to 7pm / mon to fri 1030am to 9pm
In Singapore, one of the most popular skin clinics is Isabella Aesthetics. The clinic is most known for their affordable skincare treatments and procedures of the best quality.
However, it doesn't stop there. The clinic also offers other services, like Embroidery Services which includes eyebrow embroidery.
There are five options to choose from, all of which have their own intricacies. What all five share in common, however, is the standards that the clinic has set for each procedure.
Isabella Aesthetics is all about quality, so it wouldn't be surprising if you'll turn out looking good regardless of your choice. If you're stumped, though, you can always consult with their expert staff to figure out which one best suits your face.
Highlights
Needleless procedure
Eyelash extension
Professional staff
Korean skin boost
Customer Reviews
Customers feel warmth whenever they visit Isabella Aesthetics. They loved the accommodating and friendly staff that always give them a smile and warm welcome.
"Their staff was really friendly …and they first did a skin analysis before starting. scan my skin.. my skin has got a lot of acne and i was pretty amazed with what the analyzer could detect.The treatment was good. I slept. i love the massage. just dozed off unknowingly."
"Isabella Aesthetics staff always welcome me with a warm pleasant smile, and display professionalism . "
8. True Eyelash Beauty

BEST FOR
Beauty Services
SERVICES
Eyelash Extension
Eyebrow Embroidery
Eyeliner Embroidery Services                                                                     Nail Art
Spa Waxing
WEBSITE
https://www.trueeyelashbeauty.com/
ADDRESS
CONTACT DETAILS
OPERATING HOURS
Monday- Sunday 11:00am – 9:00pm
True Eyelash Beauty prides themselves on giving excellent customer service to their clients, especially after being in the industry for a long time. A lot of their customers commend them for always going the extra mile.
Most of the time, salon staff tend to forget customers after their work is finished– it's fine as long as the job gets done. Unlike other beauty salons, however, True Eyelash Beauty offers follow up treatments for their clients.
True Eyelash Beauty ensures that every client is comfortable and safe, even after they've rendered their service.
Highlights
Eyelash
Eyebrow
Eyeliner
Nails
Waxing
Customer Reviews
Here is a review left by a very satisfied client:
"Friendly and skillful staff. Did eyelash extensions several times with different salons but this was the only one that took extra effort to follow up on my lashes. Also, they taught me the correct way of washing and taking care of the lashes, making it last longer without any irritation. Thanks and will definitely come again. " – KQ Piano
"My first time to visit True Eyelash beauty Salon . Tried the eyebrow embroidery and eyelash extension . Wow , totally amazed by the softness of the eyelashes . The c curl is really very curly ! Very satisfied and leave not much burning feel on my eyes . The 乌眉 is also special, love the effect and can't wait for touch up time . Haha . Thanks to Peggy and team for being patient and so sweet with their service . Keep up the good works !" – Que Ann Lim
9. Designer Brow Beauty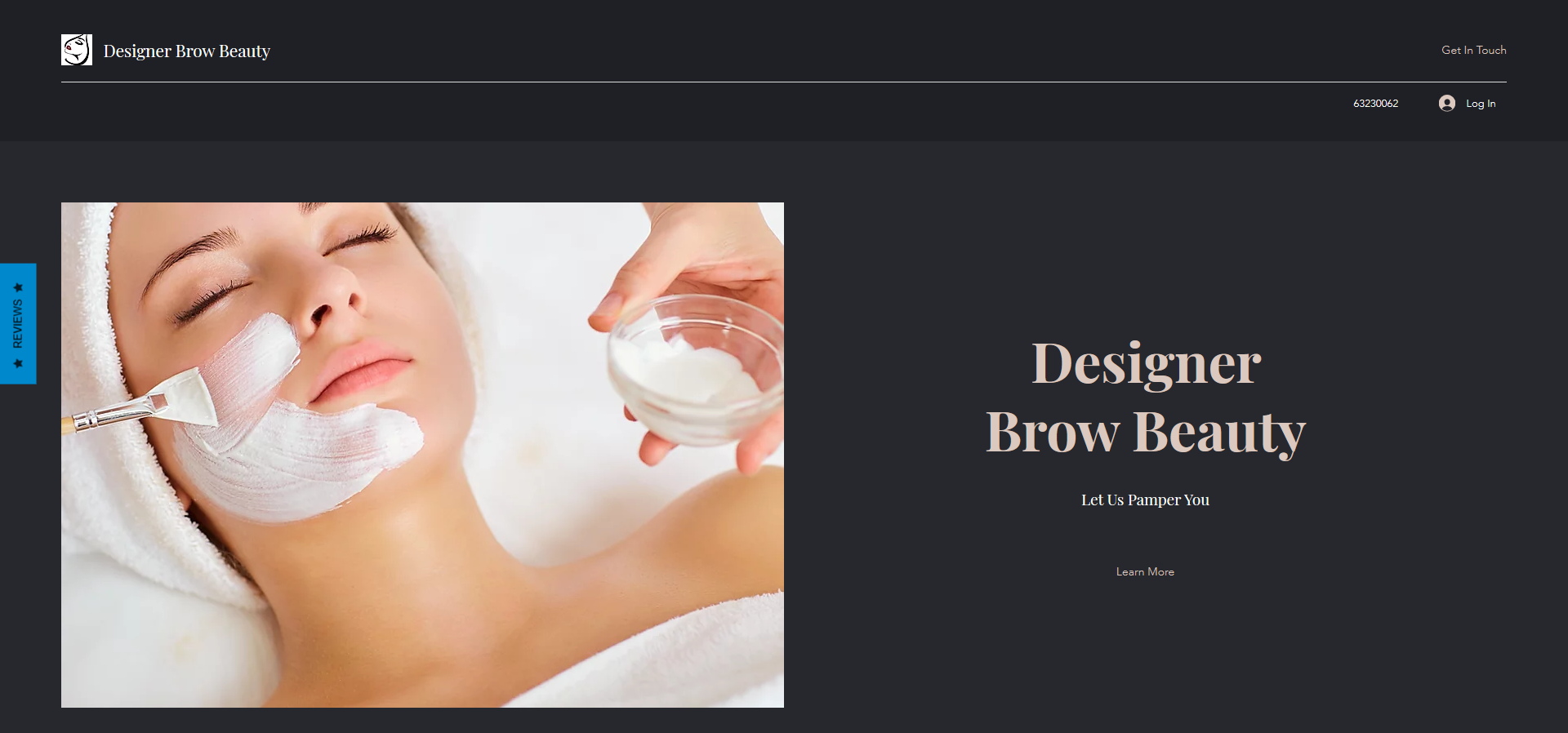 BEST FOR
Beauty Services
SERVICES
Natural Eyebrow Embroidery
Anti-Aging Facial
Detox Program
RF Treatment
Eyelash Extension and Perming
Lip Enhancement and Embroidery
Eyeliner Embroidery
IPL
Manicure & Pedicure
Tailor Made Treatment
WEBSITE
https://www.designerbrowbeauty.com/
ADDRESS

133 New Bridge Road Chinatown Point #02-32 Singapore 059413

CONTACT DETAILS
OPERATING HOURS
10:00 AM – 9:30 PM
Designer Brow Beauty provides their customers with beauty services that suit their specific needs and requirements. They stand by their endless commitment to customer satisfaction by providing a wide range of products and services at an affordable rate.
Their team believes that everyone deserves to be pampered– especially when it comes to taking care of your physical appearance. If you give their store a visit, they will give you the due attention you deserve and take care of you as best as they can.
Designer Brow Beauty's services are recommended left and right by customers. This is proof that as a customer, you definitely won't get disappointed by their services if you feel like pampering yourself. Go ahead and give their services a try!
Highlights
VIP Treatment
Wide Range of New Products and Services
Unbeatable Market Rates
One-of-a-Kind Mini Facials
Custom Makeovers
TOP Services
Customer Reviews
Here is a review left by a very satisfied client:
"I've been there to try one of the facial treatment. It is important to have a good service and very affordable price. I'm satisfied. I recommend this as one of the best Beauty Salon♡"  – Nilam Baiduri
10. Eagle Beauty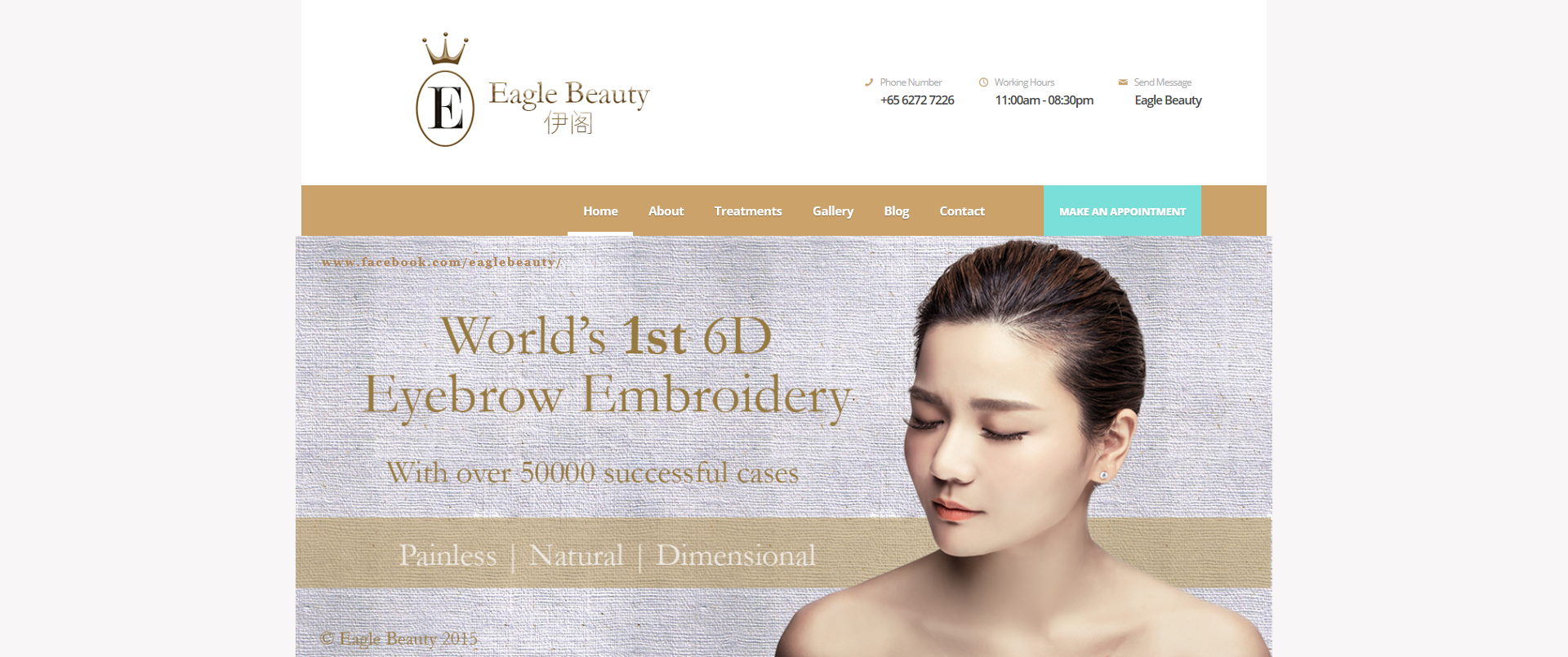 BEST FOR
Beauty Services
SERVICES
Eyebrow Embroidery
Body Wellness and Massages
Facial Treatment
Hair Removal
WEBSITE
https://eaglebeauty.com.sg/
ADDRESS

People's Park Complex, #02-37B (S)059108                             (Chinatown Mrt Station Exit C)

CONTACT DETAILS
OPERATING HOURS
11:00am – 08:30pm
Being led by experts who have more than 30 years of experiences in the field has made Eagle Beauty far superior compared to other beauty service providers. Their variety of services helps create a more comfortable environment for their clients.
With their comprehensive list of treatments, Eagle Beauty connects to their customers on a personal level. You can rest assured with the quality of their services, for their experienced and skillful beauticians were trained extensively to be customer oriented.
By understanding the customer's requirements and needs, they are able to provide professional advice that fulfills their customers' wishes. This extra effort and dedication gives them their competitive edge in the industry.
Highlights
Comprehensive List Of Services
Experienced and Skillful Beauticians
Unbeatable Market Rates
Variety of Beauty Services
Customer Reviews
Here is a review left by a very satisfied client:
"Thanks to Eagle Beauty I love my brows. Thanks to Wenz and her team for their professionalism and customer service. They are so friendly!"  – Missy Elaine
11. Beauty Recipe Aesthetics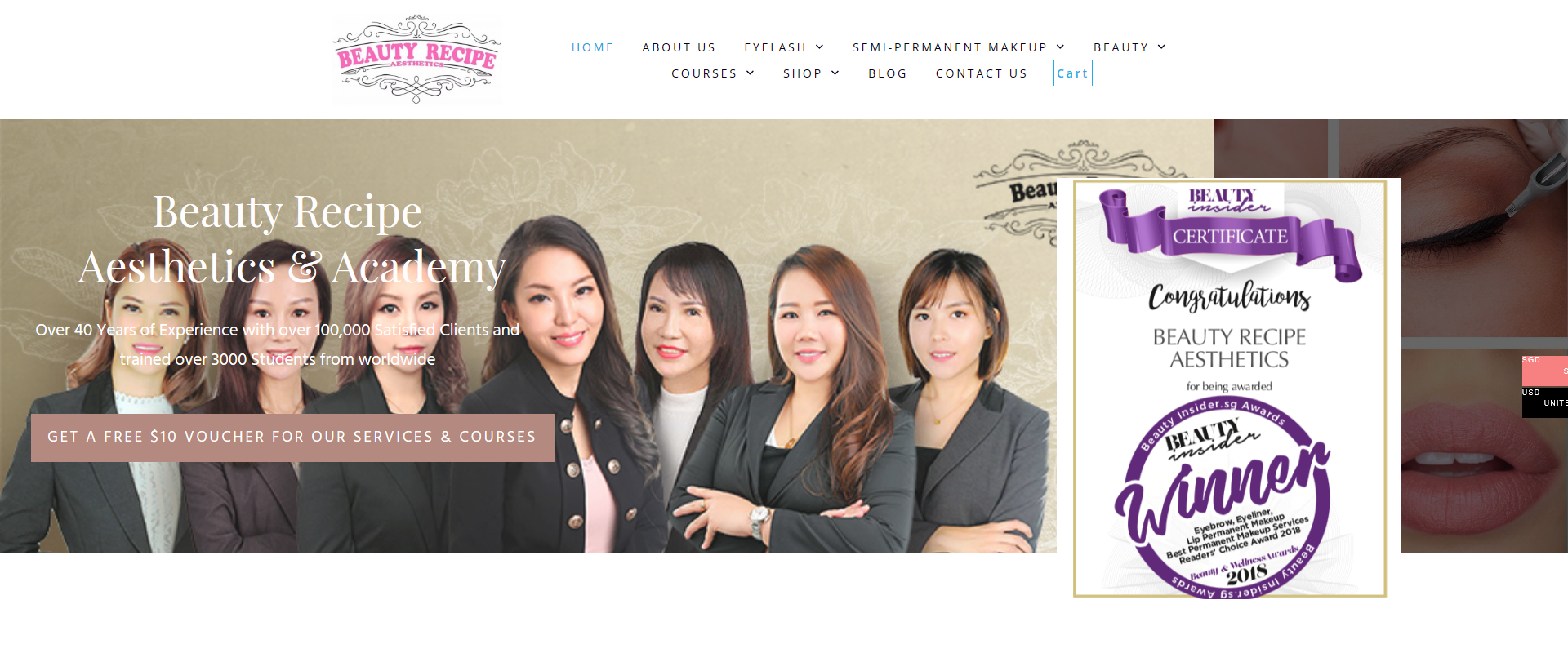 BEST FOR
Beauty Services
SERVICES
Eyebrow or Eyelash Tint
Face & Eyebrow Threading
Semi Permanent Mascara
Keratin Lash Lift Protect
Tooth Gem Swarovski crystals
Japanese Electro Therapy
Organic Pumpkin Peel Treatment
24K Gold Leaf Deep Cleansing Facial
Water Shine Covered BB
Needleless PDO Thread Lift
Stem Cell DNA Skin Repair
Human Hair Korean Eyelash Extensions
Tattoo Removal
6D Nano Eyebrow Embroidery
Powder Gradient Eyebrow Embroidery
3D Creative Eyebrow Embroidery
6D + Powder Gradient Eyebrow Embroidery
Men Eyebrow Embroidery
Inner Lash Line Eyeliner Embroidery
Crystal Lip Embroidery Enhancement
Graduation Korean Lip Embroidery
Eyelash Growth Simulation Treatment
OPT Painless Permanent Hair Removal
Manicure & Pedicure Services
WEBSITE
http://www.beautyrecipe.com.sg/
ADDRESS

277 Orchard Road, Orchard Gateway #B2-01 Singapore

CONTACT DETAILS
OPERATING HOURS
Monday – Sunday (11am – 9pm)
Beauty Recipe Aesthetics continues to provide their customers with the best quality services thanks to their therapists and trainers– they have more than 5-15 years of experience. They value their customers highly, even going the extra mile of offering free consultations.
Unlike other beauty shops, Beauty Recipe Aesthetics develops their own products. This is to ensure that everything is safe for their customers. They also offer a variety of services that are hassle-free, since the materials they need are likely to be in store.
With their skills, Beauty Recipe Aesthetics guarantees that customers will always receive the best service. Worried that your brows are damaged? Give Beauty Recipe Aesthetics a try!
Highlights
Developed Own Products
Reduce Redness, Swelling or Pain
Free Consultation No Hard Selling
Safe Products for all our Services
Customer Reviews
Here is a review left by a very satisfied client:
"I have been to a number of different beauty salons to have my eyebrows done before. So far, this is the best! They are highly skilled and not PUSHY at all! They listen to what you need and get things done nicely for you. Jessie is a very nice lady boss! As I was skeptical and worried finding another salon to get my eyebrows fixed since it was done so badly by another place. " – Evelyn Tan 
12. Cindy Yong

BEST FOR
Eyebrow Embroidery and Enhancement
SERVICES
Eyebrow Embroidery
Tattooing                                                                                            Scaling
WEBSITE
http://cindyyong.com/
ADDRESS

35 Selegie Rd, #04-09 Parklane Shopping centre, Singapore 188307

CONTACT DETAILS
OPERATING HOURS
Monday – Saturday 11:00 AM – 8:00 PM
Cindy Yong is a specialist that focuses on eyebrow enhancement. Be it eyebrow transplanting or embroidery, she guarantees the best service for all of her customers.
Her skills in her craft are sure to be honed thanks to the years of experience on her belt. She was given the alias 'The Maestro of Brow Art' due to her expertise. In 2015, they were given the SME Prestige Award for exceptional accomplishments in the business field.
Cindy also makes sure that every customer remains comfortable– she has trained her staff to practice proper hygiene before every procedure. If you ever try their services, you can be sure that you're in good hands.
Highlights
Professional Eyebrow Embroidery and Enhancement
Customer Reviews
Here is a review left by a very satisfied client:
"I am here first time to meet the Mastreo of brow art! Cindy is such a great artist when her craft is concerned. I was given careful consultation, then draw my brows to perfection. I needed some correction work cos my previous brows were too thin and colour faded. Best of all I DID NOT feel any pain at all! I actually fell asleep when she was working. Mind you, I am actually a Chicken who would scream while my brows are plucked. Couldn't believe I slept thru a 6D brow job."   – Dot Little
13. a2i Makeup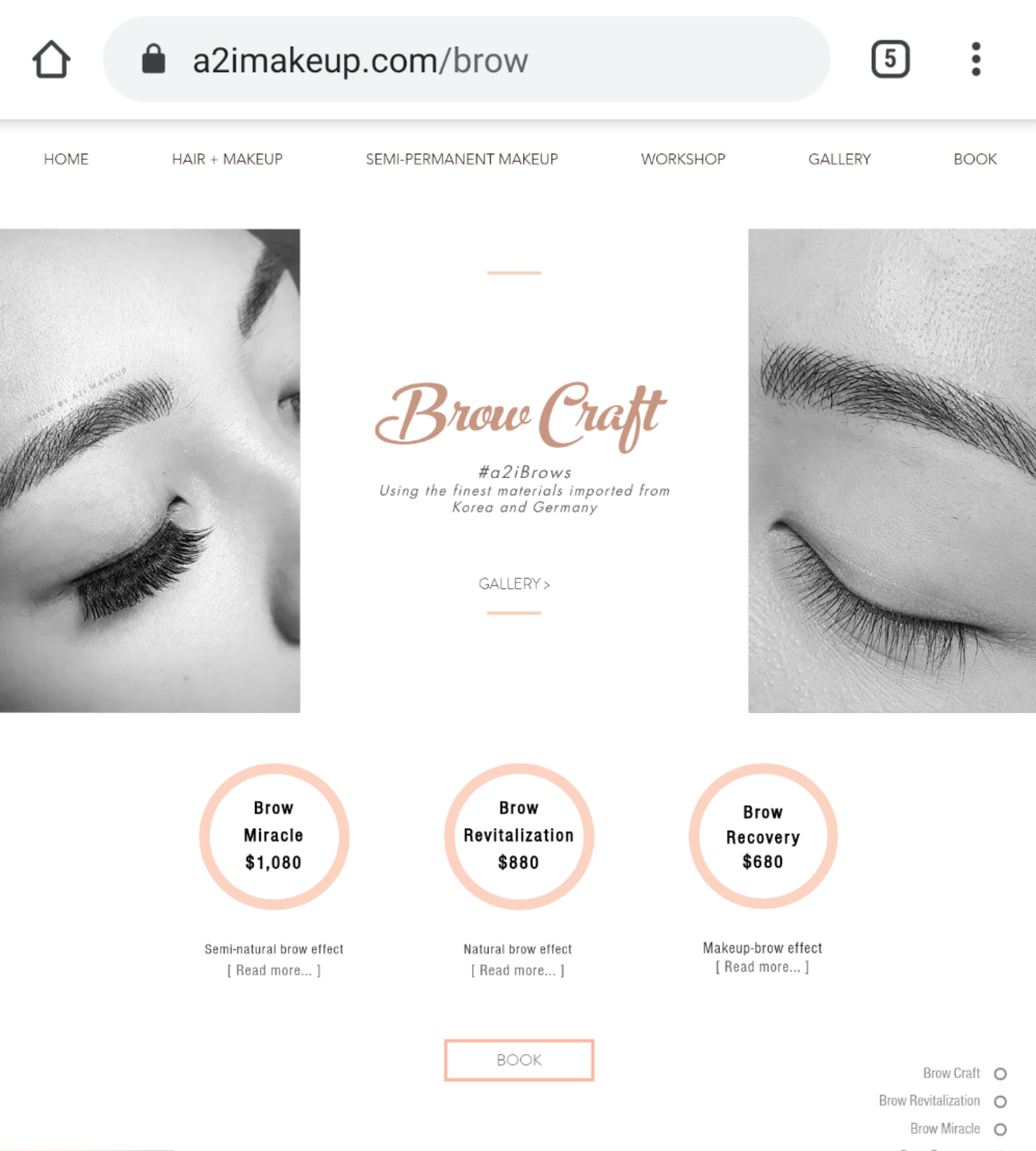 BEST FOR
Beauty Services
SERVICES
Hair + Makeup
Brow
Lash
Face
Eye
Workshop
WEBSITE
https://www.a2imakeup.com/
ADDRESS

42A Joo Chiat Place, Singapore 427766

CONTACT DETAILS
OPERATING HOURS
 
Highly recommended by their customers, the a2i team gives their all when providing the best service to all of their clients. With a variety of services to choose from, customers won't need to look to other shops– a2i will definitely have what they need.
Their friendly staff also contributes to their reputation. They welcoming yet professional, as they constantly make sure that customers are comfortable at all times. A lot of customers say that they've found a new friend every time they've availed of a2i's services.
With their services available for an affordable price, they are the best package for anyone who wants to look beautiful and presentable. What are you waiting for, go and check out a2i now!
Highlights
Customer Reviews
Here is a review left by a very satisfied client:
"I initially had reservation about doing an eyebrow embroidery but I decided to bite the bullet and went ahead instead. After asking around and doing some research, A2i Makeup came highly recommended and I was thoroughly impressed by the services provided by Candy
I received plenty of comments from friends that my brows are looking fuller and they were impressed by the craftsmanship. I was also given plenty of advice from Candy on the maintenance of the embroidery and was told to drop her or her colleagues a message anytime if I were to encounter any issues at all.
I would highly recommend anybody who is on the fence of doing an eyebrow embroidery to drop by A2i Makeup!" – Wen Hao
14. Empire Charme
Blk 203, Hougang Street 21,#01-59 Singapore 530203​
BEST FOR
Hair Services
SERVICES
Ginseng Scalp Therapy
Root Revival Spa
Colour
Creative Colours
Japanese Soft Rebond
Inside-Out Hair Perfector
Haircut
WEBSITE
http://charmegroup.com.sg/
ADDRESS

Blk 203, Hougang Street 21,#01-59 Singapore 530203

CONTACT DETAILS
OPERATING HOURS
11:00 AM – 8:30 PM
Empire Charme is a modern salon that provides full range hair and scalp services. If you want to make your hair look good and keep your scalp healthy at the same time, Empire Charme is the right shop for you.
As they continue to grow in the industry, Empire Charme has eventually developed URBANE, a hair boosting formulation that aims to help maintain good scalp health. They believe that caring for your hair shouldn't stop once you leave the salon.
With their professional creative stylists and scalp specialists, Empire Charme continues to work their magic on their clients to this day. They guarantee the best service, promising to put the charm back in your hair!
Highlights
Hair Salon
Hair Replacement Service
Customer Reviews
Here is a review left by a very satisfied client:
"I just went to their Bukit Batok outlet as a birthday treat for myself and I did not regret going there. I was attended by Kay and she was very patient and friendly. She assessed my hair and suggested the appropriate services I could do to have a great outcome.
During the process, she was very nice and engaged in small talks to fill in the time. They also provide a glass of water while we wait. It was a very pleasant experience for my first time at their salon. I recommend it to my fellow Muslimahs as they have designated booths with curtains so we do not need to worry!"  – Siti Zulaikha Samsol
15. JPro Beauty

BEST FOR
Beauty Services
SERVICES
Eyelash Extensions
Keratin Lash Lift & Tint
Eyeliner Embroidery
Eyebrow Embroidery
Lip Embroidery
Non-Laser Tattoo Removal
Manicure & Pedicure
Face Treatment
Waxing
WEBSITE
https://jprobeauty.com/
ADDRESS

5 Coleman Street, #03-22 Excelsior Shopping Centre, Singapore 179805

 

104 Jurong East Street 13, #01-102, Singapore 600104

CONTACT DETAILS
OPERATING HOURS
Jurong East: 10am – 8pm, last appointment at 7pm (Mon to Sat incl. PH)

 

Excelsior Shopping Centre: 11am – 7pm, by appointment only (Mon to Fri incl. PH)
Starting as a home-based salon, JPro has since then been highly recommended as a beauty destination. The shop wants clients to avail of beauty services at their own convenience, so they decided to learn all the essentials when it comes to beauty.
From Eyelash Entensions to Teeth Whitening, JPro is sure to have the service you need. They always make sure to abide by their goal– to become a one-stop beauty destination for their customer's comfort.
By enforcing strict hygiene standards, the JPro team provides the best service they can for each and every one of their customers. JPro Beauty guarantees quality aesthetic services, but you can also see it for yourself– go and give their shop a visit!
Highlights
Stringent Hygiene Standards
Quality Aesthetic Services
Certified Phibrows Artists
Certified Academy S Artist in Shading for Makeup in Eyeliner, Eyebrow, and Lip
High-Quality Products
Customer Reviews
Here is a review left by a very satisfied client:
"I've been seeing Jade for eyebrow embroidery and eyeliner for about 2 years now, she is seriously underrated as her skills are amazing. She is really very careful and meticulous throughout the session and will keep double-checking with you if you're alright or if you feel any pain. Before she starts embroidery, she is very patient and accommodating and will ensure the brows are to your liking before she gets to work. You will not have to worry about entrusting your brows to her as she will style your brows to suit your face. If you are looking for natural brows that suit your face, do look for Jade, she is really very good!" – Charmaine Lim
16. The Brow & Beauty Boutique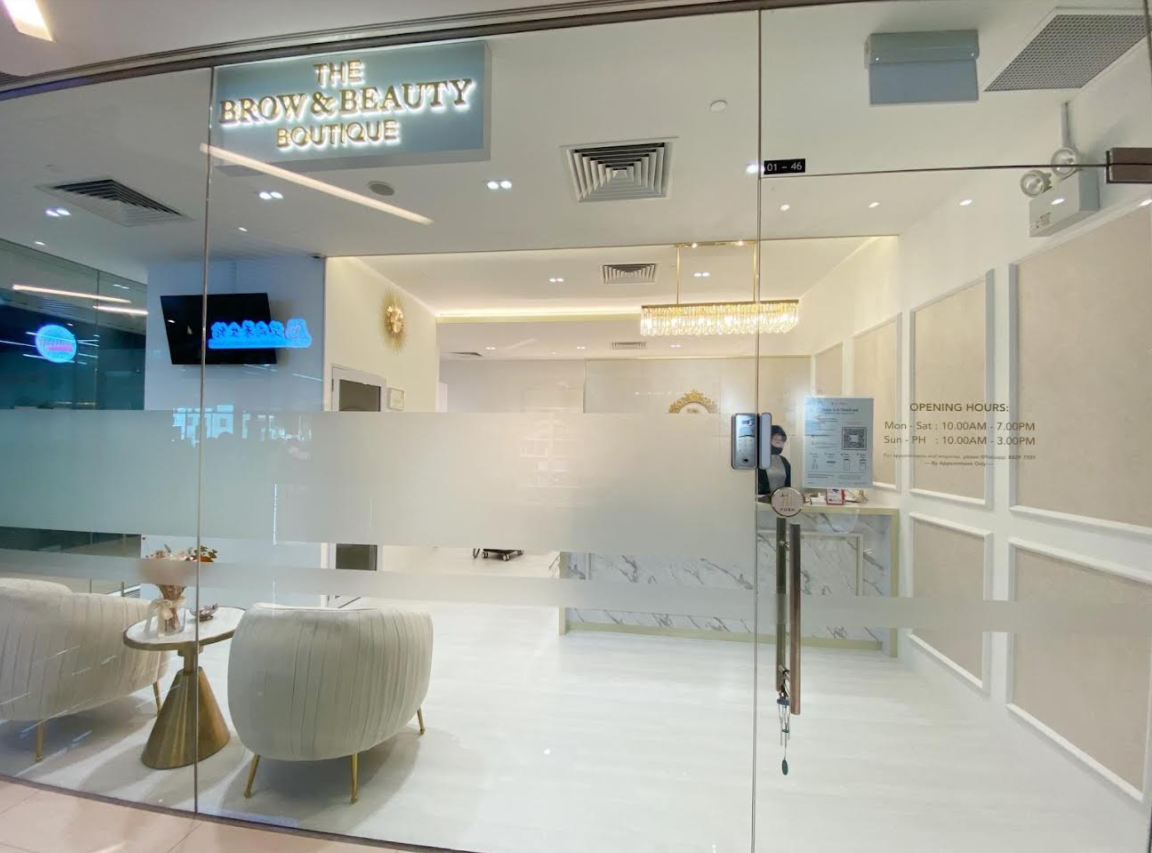 BEST FOR 
Enhanced Aesthetic Appearances
SERVICES

Keratin Lash Lift

Eyebrow Embroidery

Eyeliner Embroidery

Lip Embroidery

Hairline Embroidery

Non-invasive Tattoo Removal

PhiRemoval

PhiLings

WEBSITE
https://thebrowbeautyboutique.com/
ADDRESS
371 Beach Road, #01-46 Singapore 199597
CONTACT DETAILS
(+65) 9233 2543
(+65) 8829 7701
[email protected]
OPERATING HOURS
Daily: 10am to 7pm
Established in 2013, Miss Tiffany Luo of The Brow and Beauty Boutique has numerous years of experience in the field. Her interests involve enhancing the features around the eyes– which of course, involves the eyebrows.
She believes that clean and well-shaped brows complement the eye's natural beauty.
They have a variety of brow services, such as microblading and Brow Correction. Aside from that, they also offer services for one's lips, along with semi-permanent liner for the eyes.
Each of the specialists in the shop has participated in various skill training and worldwide forums, so you're sure to be in safe hands.
Their services are all top-notch and sought after by the people in Singapore, so be sure to book an appointment as soon as you can if you don't want to wait for too long!
Highlights
Highly skilled staff
Precise and detailed brow work
Reasonable prices
Customer Reviews
Read what satisfied customers had to say about The Brow and Beauty Boutique's amazing services and staff:
"Brought my mother here for Lip and brow Embroidery last week.
Tiff is a very humble and nice person. She managed to slot us in last min even though her slots were full on that day. Thank you for compromising with us and extending your work hours to make my mum prettier ?
We didn't expect that she would not ask us to add on any additional service or to top up for coming in at a later time.
She's a real professional makeup artist that do not believe in hard selling, but just being focus on the quality of her work ☺️" – Baer Koh
"I did my eyebrow embroidery with Tiffany! The eyebrows embroidery is very natural and was shaped according to my face. The whole process was painless! Tiffany is meticulous and ensure that my brows were taken care of! Her boutique was very cosy and overall it was a good experience." 
17. Brow Art Studio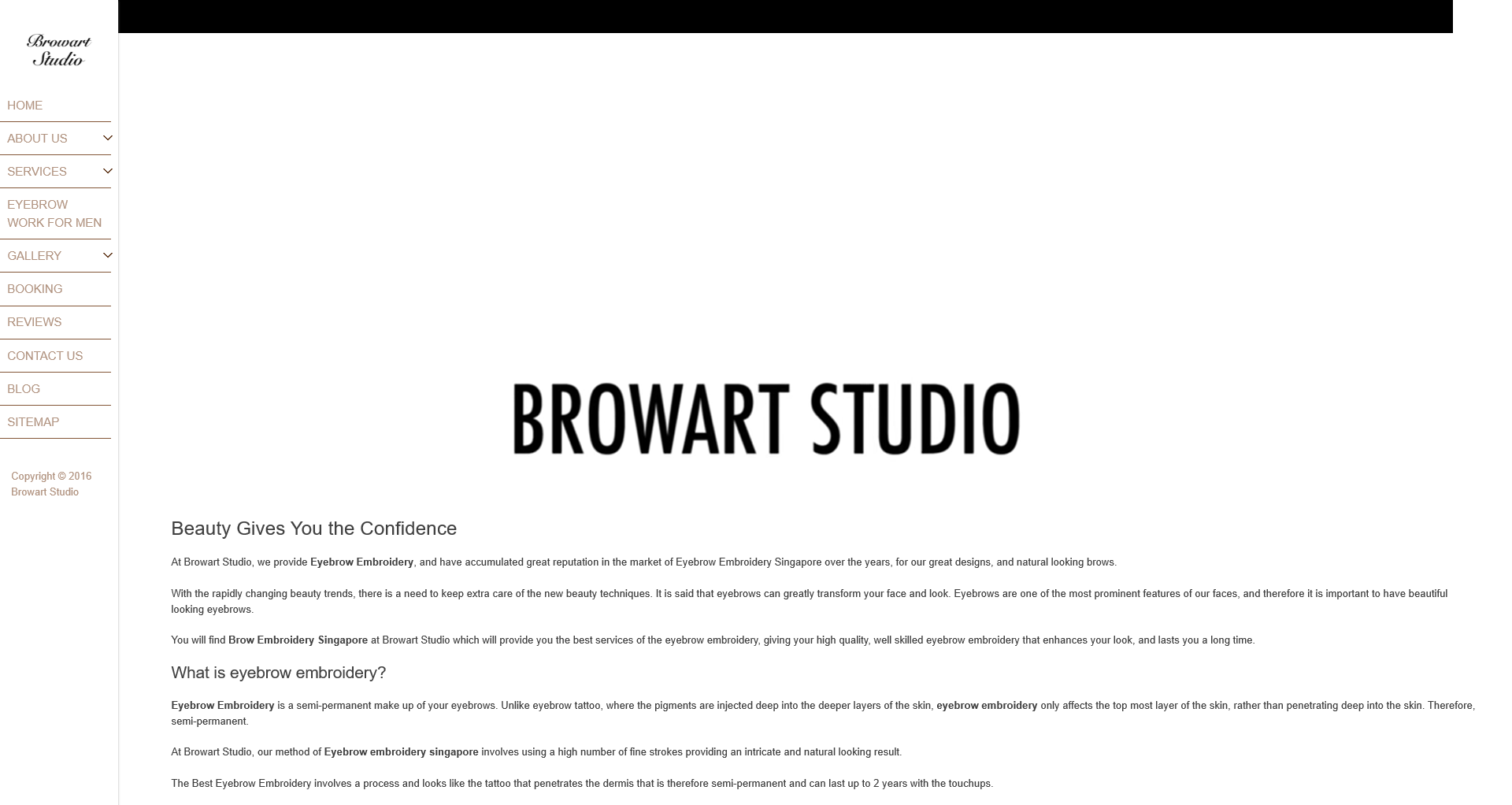 | | |
| --- | --- |
| BEST FOR  | Beauty Services and Treatments |
| SERVICES | Lip, Eyeline, Eyebrow Embriodery |
| WEBSITE | https://browartstudio.com.sg/ |
| ADDRESS | 290 Orchard Road, Paragon Medical Lobby F, #17-11 |
| CONTACT DETAILS | 6702 0768 / 9824 4400  | [email protected] |
| OPERATING HOURS | Monday – Sunday, 12pm – 8pm |
Brow Art Studio is known as one of the leading semi-permanent make-up artist studios in Singapore. Their passion is to produce natural-looking facial features for customers seeking to bring out the best version of themselves. They offer a wide range of beauty services for the body, from makeup services to minor body enhancements.
They specialise in creating, enhancing, and replicating hyper-realistic features for their beloved customers. While taking into account the client's face shape and features, they design and create a suitable look for all of their clients. They've helped many customers enhance their beauty and boost their confidence.
Highlights
Customer Reviews
Here is a review left by a very satisfied client:
"Jenny is a very gentle and soft-spoken lady, who is extremely skilled. You can definitely count on her for the most natural-looking fluffy brows! There are no measurements or markings done. You'll just have to trust Jenny and convey your requests to her with regards to brow shape. I was in and out within 30mins, as for the price, you get what you pay for." 
18. Jo Artysan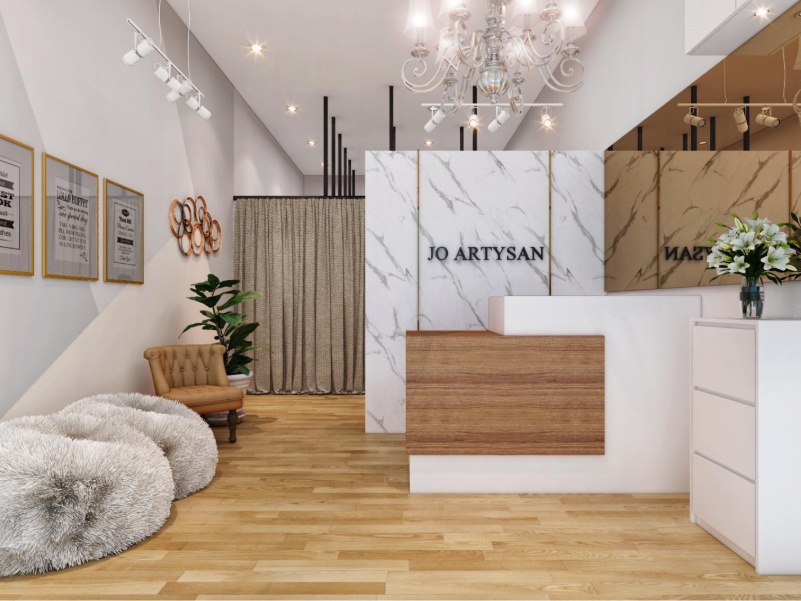 | | |
| --- | --- |
| BEST FOR  | Beauty Aesthetics |
| SERVICES | Eyeliner Embriodery, Lip Blush Embriodery, Hairlone Embriodery, Lash Resurrection, Lash Botox, Eyelash Extensions |
| WEBSITE | https://www.joartysan.com/ |
| ADDRESS | 220 Orchard Road  #01-03 Singapore 238852 |
| CONTACT DETAILS | +65 8889 2880 l [email protected] |
| OPERATING HOURS | Tuesday – Saturday, 10:00 am – 8:00 pm, Sunday, 11:00 pm – 4:00 pm |
Jo Artysan is a beauty aesthetic boutique in Singapore that focuses on specialised, semi-permanent make up solutions– such as microblading, eyeliner and hairline embroidery, and more. They may be small, but they provide only the best bespoke services.
As dedicated, passionate, driven artists, they care deeply about your unique needs. The services they offer are ones they'll use themselves– they guarantee that you'll get your money's worth with them. That's the Jo Artysan promise.
Highlights
Microblading Services
Aesthetic Services
Customer Reviews
Here is a review left by a very satisfied client:
"A pair of good brows really make a difference. And good brow artists are not easy to come by. Thankful to have come across Jo Artysan, and really appreciate the quality work Jo puts in to ensure that her customers enjoy their new brows. Furthermore, it doesn't cost as much as I thought, given the central location of the studio. An excellent investment for anyone looking for great brow artists."
19. Avone Beauty Secrets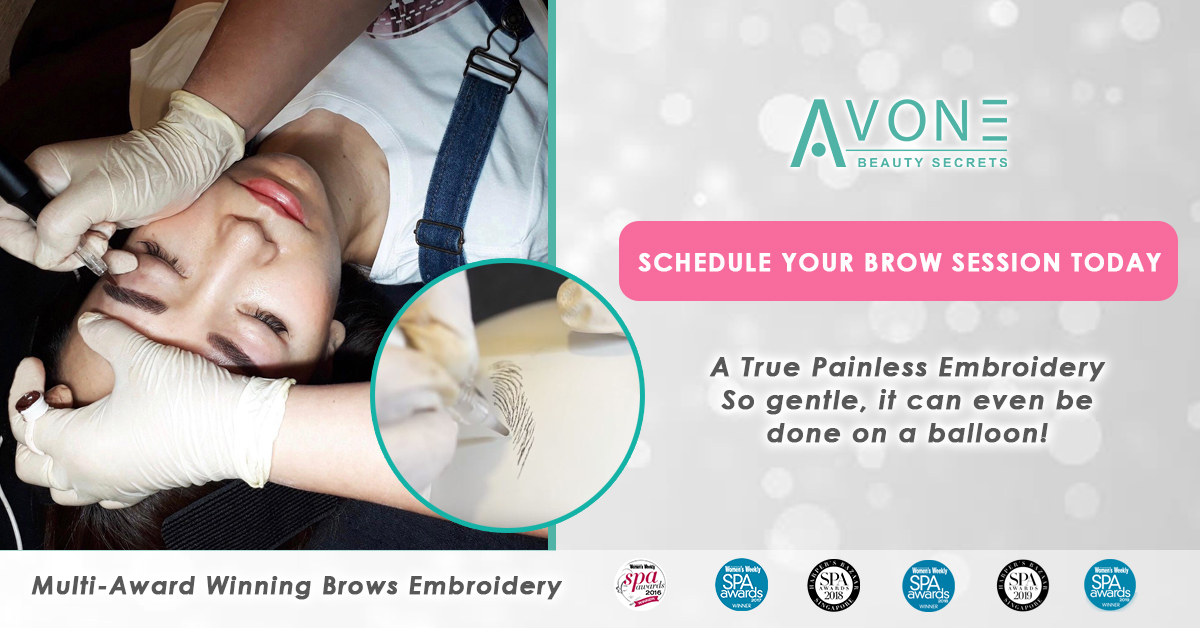 BEST FOR 
Semi-Permanent Makeup, Eyebrow Embroidery, Lips Embroidery, Eyeline Embroidery
SERVICES
AVONE FACE ESSENTIALS
AVONE BODY ESSENTIALS
AVONE NAILS ESSENTIALS
AVONE GROOMING ESSENTIALS
AVONE HAIR ESSENTIALS
BROWS CROWNING ARTISTRY (HENNA STROKES)
RADIO – WAVE MOLE & PIGMENTATION REMOVAL
WEBSITE
https://www.avone.sg/
ADDRESS
11 outlets located islandwide in Singapore. Visit here for full details: https://www.avone.sg/locations/
CONTACT DETAILS
Tel (65) 6224 6268
Fax (65) 6222 4065
OPERATING HOURS
Visit https://www.avone.sg/locations/ to check out individual outlet operating hours.
Avone Beauty Secrets offers a wide range of services from head to toe. They are the only ones to receive recognition from the prestigious International Beauty And Health General Union of Korea, as a Beauty and Embroidery Faceworks Chain.
With their own research, they discovered a new technology that would greatly enhance and take eyebrow embroidery services to the next level– the ABS 9V Ultimate Virtual Brows Embroidery. It was developed with the help of the International Semi-Permanent Association in Korea. The process is pain-free and results in even more natural-looking brows!
Highlights
Signature Embroideries
Grooming Essentials
Each unique embroidery technique uses different (Korean Manufactured) specialized embroidery needle blades specifically designed to enhance the delivered techniques giving amazing results.
Multiple Award-winning and media features – Best Eyebrow Embroidery – Her World Spa Awards 2019, Harper's Bazaar Spa Awards 2019, Most Natural Eyebrow Embroidery – CLEO Beauty Awards 2019, Best Korean Embroidery – Singapore Women's Weekly Spa Awards 2019, 2018, 2017, 2016. Featured by Singapore No. 1 Beauty Media, Daily Vanity
Customer Reviews
Read what satisfied customers had to say about their wonderful experience by Avone Beauty Secrets:
"Having hypersensitive skin that's prone to redness. I never imagined I will be able to have Brows Embroidery and I was truly very excited when I read about the reviews of this 9V Ultimate Virtual Brows Embroidery and how suitable it is for people with sensitive skin.I finally have it done and I am very pleased with the whole experience and my redefined brows! Totally painless and I am told I will not have scabs or peeling like the conventional embroidery! Thanks to Anna Lin's expertise! Many thanks to Avone!" – Josephine Wong, Customer of Avone Beauty Secrets
"There's basically no redness, swelling and no downtime at all. My eyebrow still
Still look so good and natural after 2 weeks and I don't even need to go back to touch up at all." – Elaine Heng, Award-Winning Lifestyle Influencer
Alan wanted a very natural look, something that would add definition and give him a more masculine impression. He was incredibly pleased with his results.
Avone's Specialists Brows Analysis for men is in many ways similar to our ladies: we create definition, add symmetry, fill in gaps, especially in the tail where there's commonly less hair. But men often have a different mapping because their brow shape is totally different. The effects of brows embroidery for men can be very subtle, but still have a profound effect. Both result in well- defined, symmetrical brows that enhances one's overall features. – Alan, Customer of Avone Beauty Secrets
20. Browtisan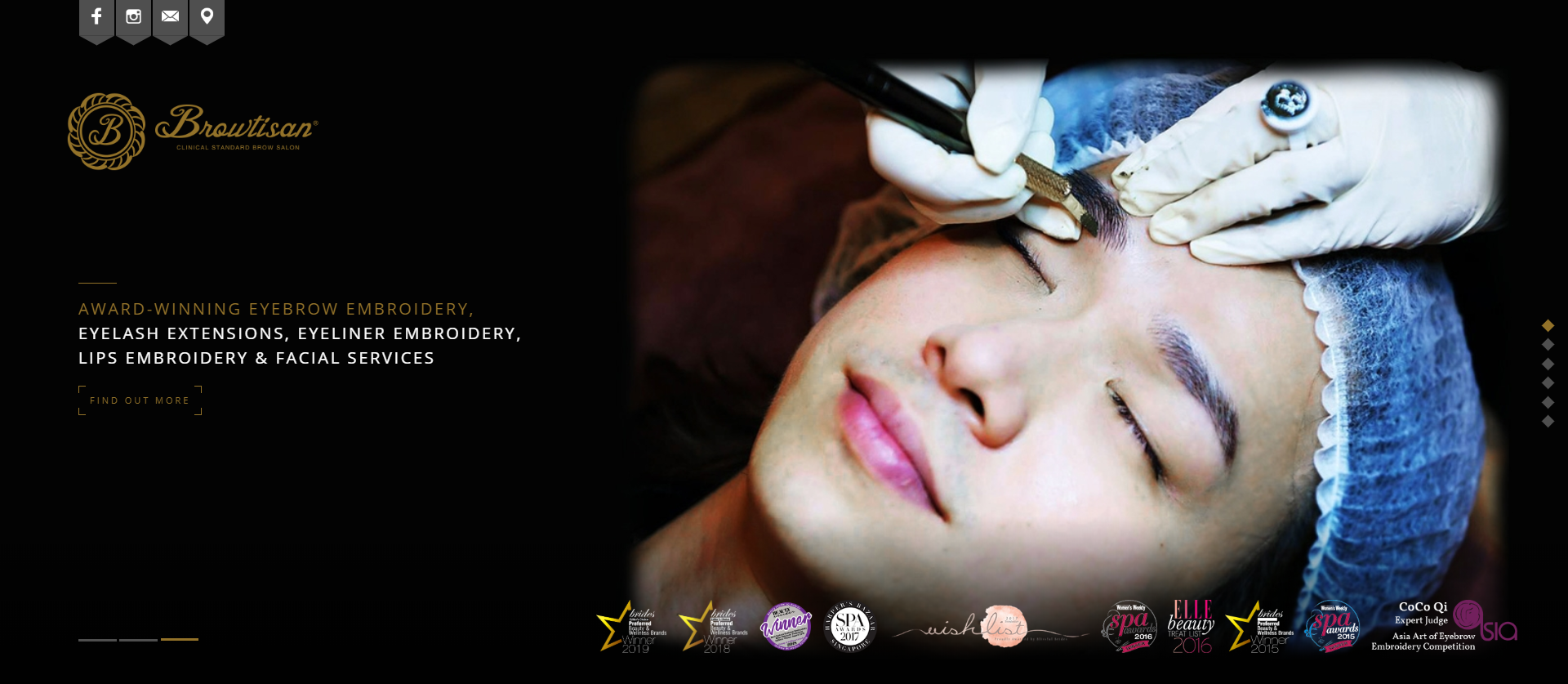 BEST FOR 
Grooming services
SERVICES
EYELASH EXTENSIONS, EYELINER EMBROIDERY,
LIPS EMBROIDERY & FACIAL SERVICES
WEBSITE
https://www.browtisan.com/
ADDRESS
402 Orchard Rd, #03-15/17 Delfi Orchard, Singapore 238876
CONTACT DETAILS
(+65) 6235 2355
OPERATING HOURS
Monday – Friday: 11am – 8pm, Saturday: 10am – 7pm & Sunday: 10am – 6pm
It is the goal of Browtisan to bring out the confidence of any individual, by helping him/her maintain proper grooming in the face and in the body. It stays true to its mission by providing only high-end, aesthetic services, rendered by experienced professionals.
Grooming the eyebrows is Browtisan's specialty. Its aestheticians perform their work meticulously at all times, leaving the brows with a clean, refined shape. The methods they use are painless, accurate, and hygienic.
Artistry is at the heart of Browtisan's efforts. Whether you are planning to go for eyebrow embroidery, eyelash extensions, or any other facial grooming services, you can be sure that it will cater to you with services of excellent standards.
Highlights
Wide Variety of Services
Expert and Careful Team
Customer Reviews
Take a look at what clients have to say about its services:
"Did an eyelash extension at their plaza sing branch. well service by Colynn as she is a very experience beautician who are details and patience at the same time. she will explained to me the after care and advice on what type of eyelash will be more suitable for me. personally I think they are very friendly although they sell me some package but not pushy at all. and i like their service therefore i go for the package."
21. The Asia Beauty-art Experts Association Singapore Chapter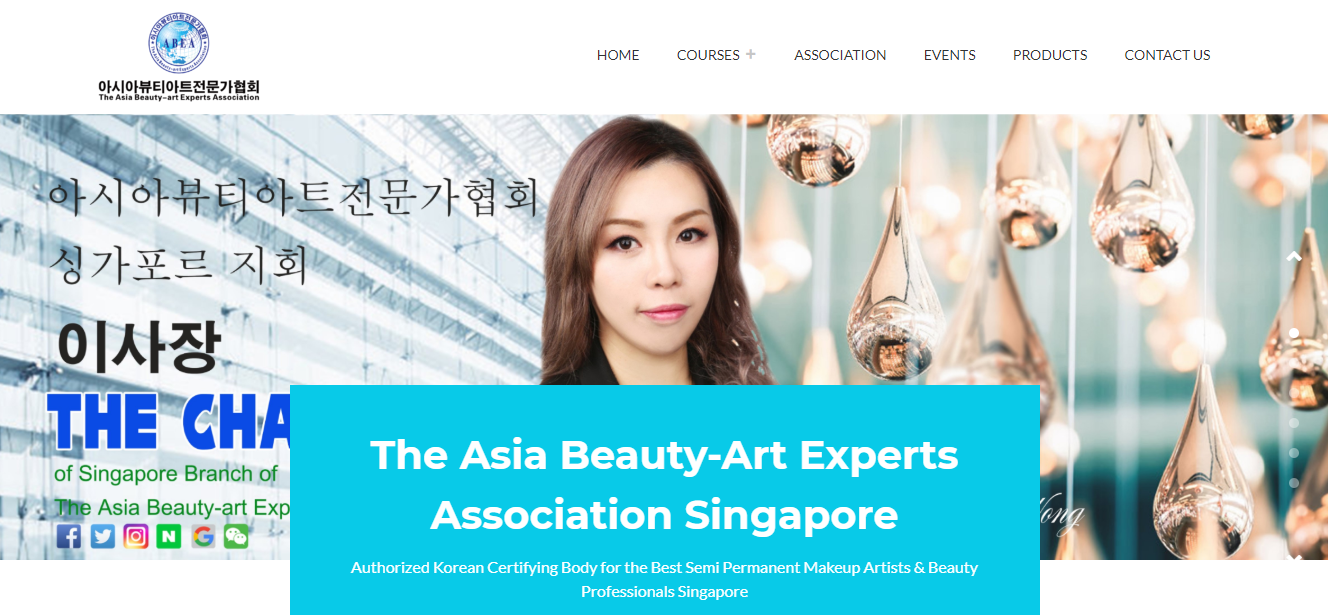 Best For
Korean hair, beauty & semi-permanent makeup education
Services
Eyelash Extension, Beauty Educator, Makeup Masterclass, Skincare Management, Nail Artistry and Permanent Makeup
Website
https://abea-sg.com/
Address
ABEA Singapore Pte Ltd, 82 Lor 23 Geylang #02-05, Singapore 388409
Contact Details
www.abea.co.kr ; www.abea-sg.com ; [email protected] ; +(65)8820 2047
+(65)8201 7007
Operating Hours
Monday to Saturday (11:00am to 8:00pm)
The Asia Beauty-art Experts Association offers a full range of beauty courses that will certainly help you in your journey. With them, you will receive professional training from beauty professionals equipped with great knowledge and skills.
The team at ABEA commits itself to providing you with the highest quality courses available with utmost integrity, quality and professionalism. Thanks to the dedicated efforts of their team, their services are also now extended in Asia, South East Asia, Europe and America.
You can trust The Asia Beauty-art Experts Association as a companion during the entire course of your career as a beauty expert. Contact them now and experience a beauty education like no other!
Highlights
Professional beauty experts
Full range beauty courses
22. Lucky Lash & Brow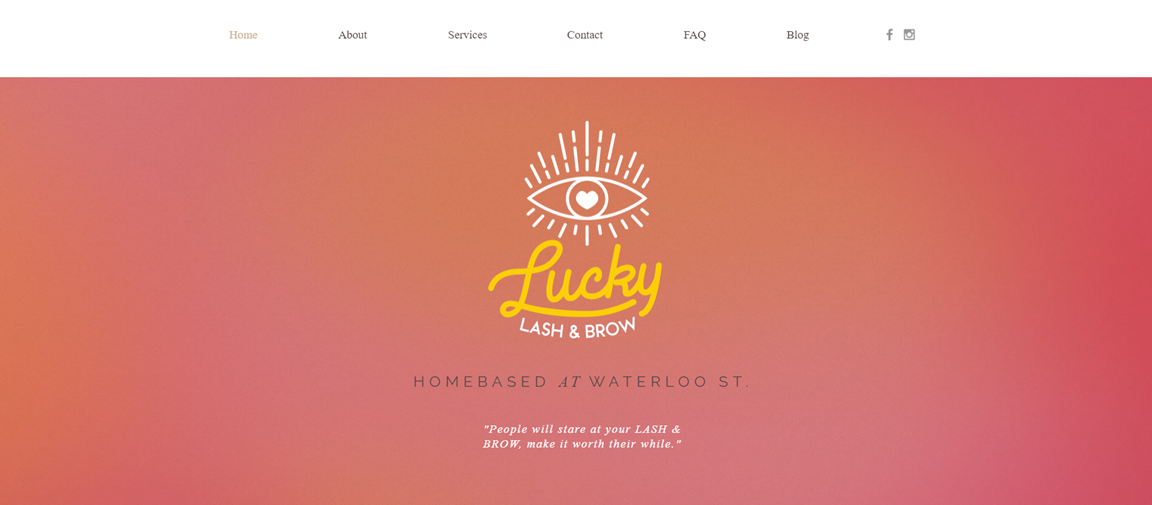 If you're searching for a clinic that does the most natural looking brows, then Lucky Lash & Brow is surely the one you're looking for. They're known in all of Singapore for their advanced technology and procedures in doing brow and eyelash services, which are proven to be both fast and almost pain-free.
The business is headed by Valerie, a highly esteemed individual in the beauty and arts industry for her skills and amazing ideas. She is considered to be a premier eyelash and eyebrow specialist in the country. Most of her clients opt for her services as she's an expert in doing full, natural looking brows that promises precision and aesthetic. It is partnered with the best eye-opening arch.
All in all, Ms. Valerie, along with Lucky Lash and Brow is truly a place you should go for in case you're looking for one of the best in eyebrow embroidery and eyelash procedures. Don't miss out on their groundbreaking services and book your appointment soon!
Highlights
Painless procedures
Highly professional staff
Customer Reviews
Checkout what a customer had to say about Lucky Lash & Brow's amazing services:
"This homebased therapist, Valerie, was the answer to my lash and brow woes. Definitely someone you can trust your lash/brows with!"
23. GTC Beauty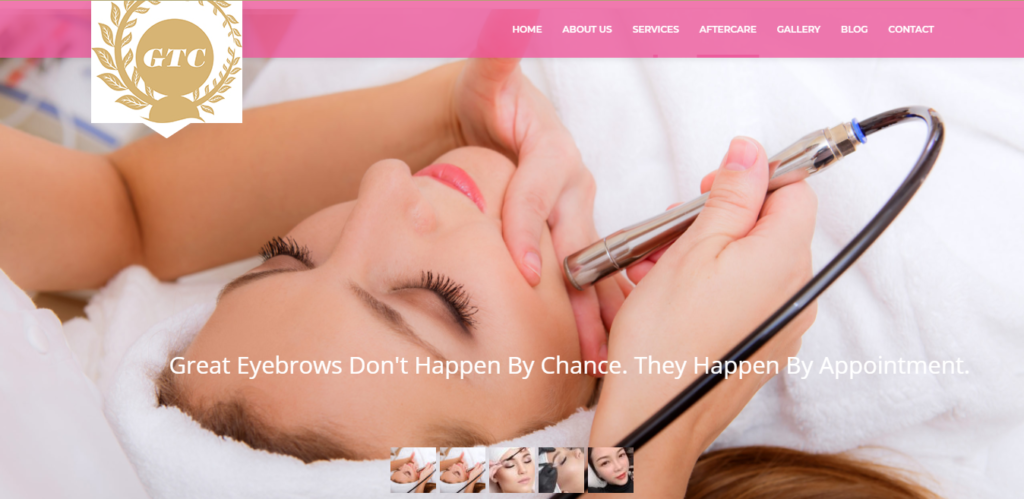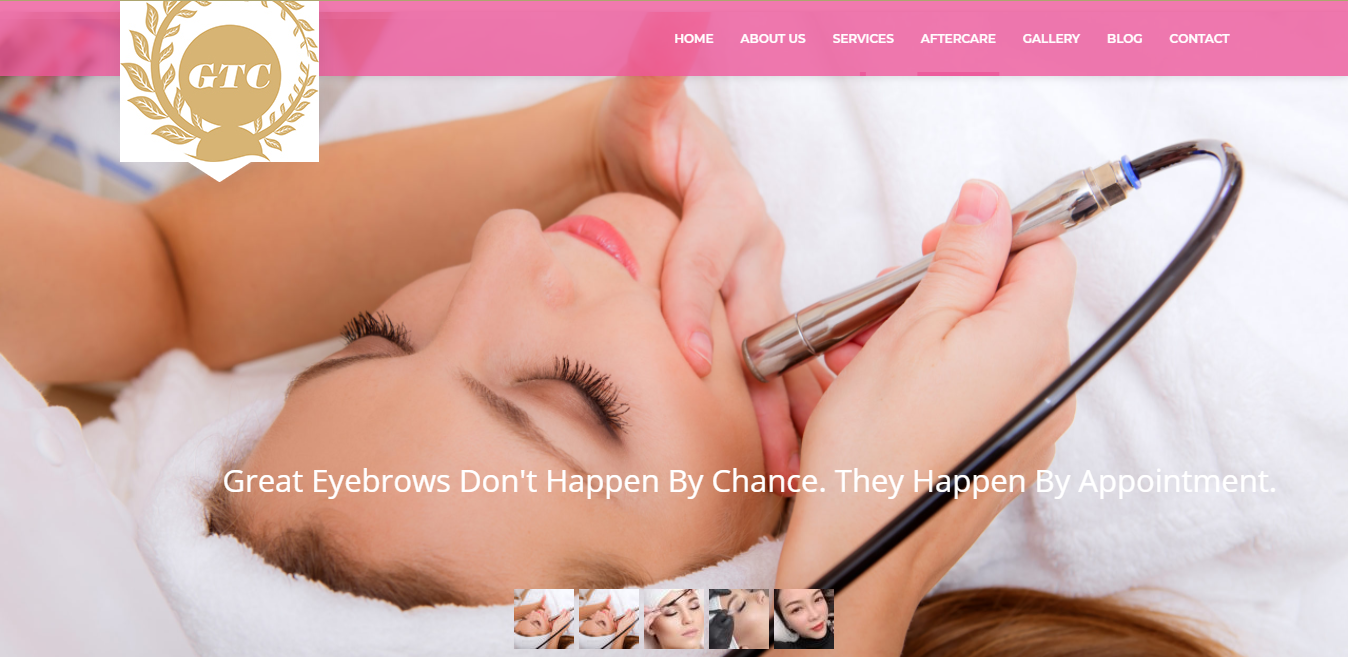 BEST FOR   
6D misty eyebrows
SERVICES
Eyebrow, eyeliner, and lip embroidery
Correct old eyebrow
LED light therapy
Skin rejuvenation
Skin pigmentation & age spots treatment
Mole and skin tag removal
WEBSITE
https://www.gtcbeautyacademy.com/
ADDRESS
170 Upper Bukit Timah Rd, #02-50 Shopping Center, Singapore 588179
CONTACT DETAILS
+65 9066 3232


[email protected]

OPERATING HOURS
Saturday – Sunday: 11:00am – 6:00pm
Monday – Friday: 10:00am – 5:00pm
GTC Beauty is an expert in everything about eyebrows, eyeliners, and lips when it comes to semi-permanent makeup. They offer 3D and 6D eyebrow embroidery to give you the best beauty treatments using the latest technologies.
Not only are they updated with the newest technologies, but they are also in line with the hottest beauty trends. Thus, they also offer the 6D misty eyebrow embroidery to provide you with an on-fleek look, even without makeup.
Besides eyebrow embroidery, GTC Beauty also offers skin procedures, such as mole removals and LED light therapy. They also conduct classes for semi-permanent makeup for aspiring aestheticians.
Highlights
3D, 6D, and 6D misty eyebrows
Eyebrow, lip, and makeup services
Training for semi-permanent makeup
24. Lee Na Young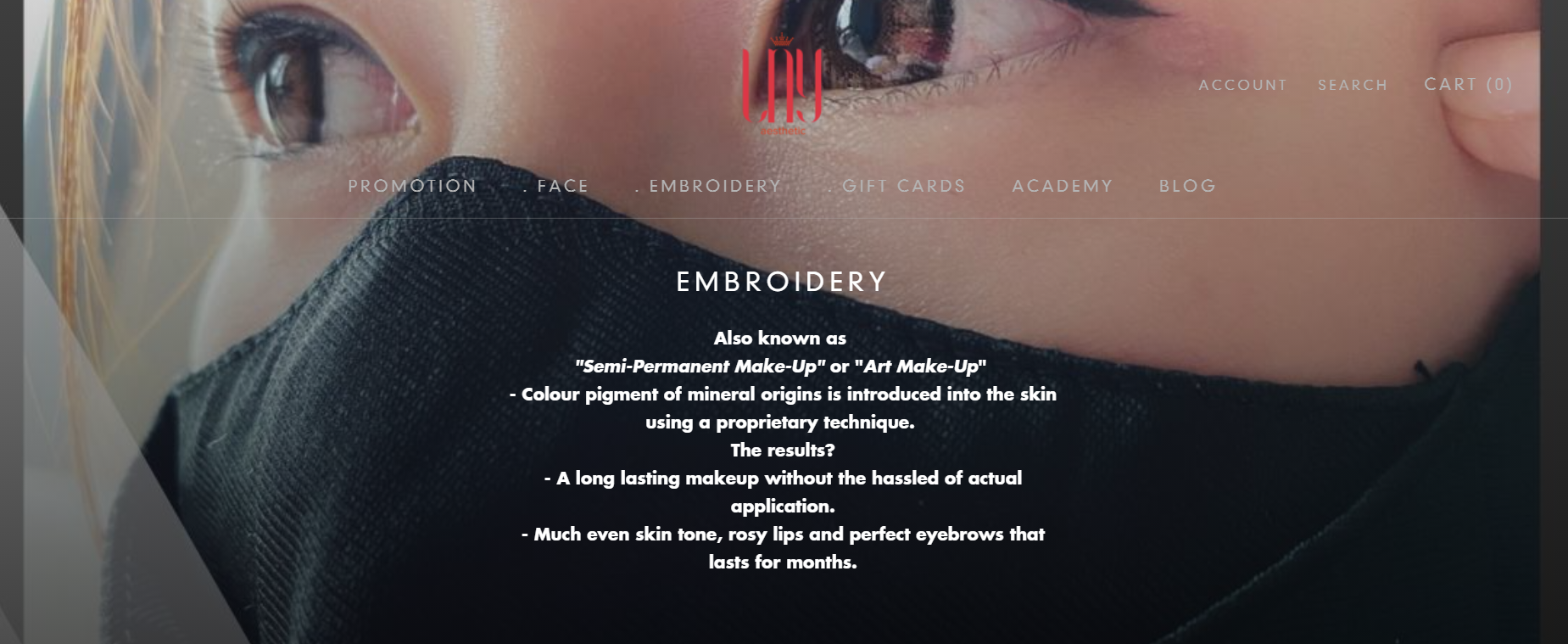 BEST FOR   
Aesthetic Surgery
SERVICES
Facial Treatments, Embroidery Treatments
WEBSITE
https://leenayoung.shop/collections/embroidery
ADDRESS

HEAD OFFICE (Academy)
281 South Bridge Road #03-01 Singapore 058830

ORCHARD OUTLET
360 Orchard Road, #03-18/19, International Building
Singapore 238869

WILKIE EDGE OUTLET
8 Wilkie Road, Wilkie Edge, #01-14
Singapore 228095

CONTACT DETAILS

HEAD OFFICE (Academy)
Phone: +65 6717 8080
Email: [email protected]

ORCHARD OUTLET
Phone: +65 6717 9898

WILKIE EDGE OUTLET
Phone: +65 6222 0331

OPERATING HOURS
24/7
The LNY Aesthetics Club is a club that offers aesthetic and wellness services to their clients. They offer a generous set of benefits to their members.
They provide a wide set of facial and embroidery treatments to their members. All of their services can be tailored according to your skin conditions and skincare goals.
They also offer seasonal promos depending on the occasion. Make sure to take advantage of it if the treatment is fit for your skin.
Highlights
First to introduce K-Beauty aesthetic treatments in Singapore
Team of leading experts in aesthetic surgery
Continuously pursues innovation and the latest technology
3 locations around Singapore
25. DR LASH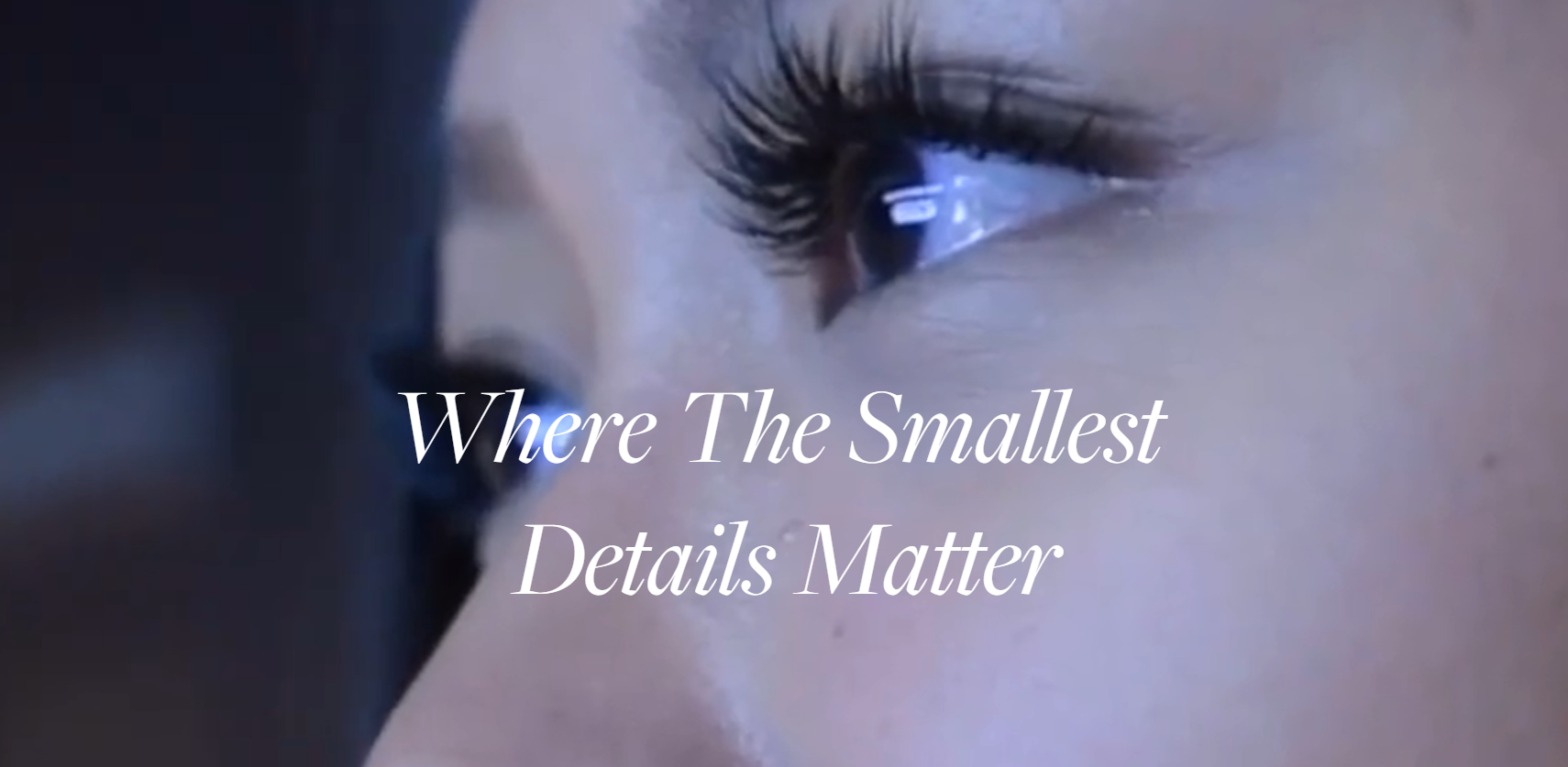 BEST FOR   
Various Eyelash Enhacement Procedures
SERVICES
Lashcraft and Browcraft
WEBSITE
https://drlash.com.sg/
ADDRESS

ORCHARD BRANCH
181 ORCHARD RD, #04-20/21 ORCHARD CENTRAL S(238896), (SOMERSET MRT)

PAYA LEBAR BRANCH
10 EUNOS ROAD 8, #02-127 SINGPOST CENTRE, S(408600), (PAYA LEBAR MRT)

VIVOCITY BRANCH
1 Harbourfront Walk, Singapore 098585,#02-178 VivoCity (HARBOURFRONT MRT)

CONTACT DETAILS

ORCHARD BRANCH
[email protected]
6634 0318
92300732 (WhatsApp)

PAYA LEBAR BRANCH
[email protected]
6741 3018
97250030 (WhatsApp)

VIVOCITY BRANCH
[email protected]
64713018
9236 8072 (WhatsApp)

OPERATING HOURS

ORCHARD BRANCH
MON-FRI(11 AM TO 8:30 PM)
SAT/SUN/PH (10:30 AM TO 8:30 PM)

PAYA LEBAR BRANCH
[email protected]
6741 3018
97250030 (WhatsApp)

VIVOCITY BRANCH
OPENING HOURS: MON-FRI (11 AM TO 8 PM)
SAT/SUN/PH (10:30 AM TO 8:30 PM)
Sometimes, putting on our best face can be a tedious task, especially if we have a full schedule ahead of us. Fortunately, there's a shortcut to putting on our best faces: Semi-permanent makeup.
Semi-permanent makeup has numerous forms, but if we're talking about the smallest of beauty details, then we can't skip over the lashes and brows. And here is where Dr Lash comes in.
Dr Lash was established with one simple goal in mind: To help clients achieve that "Just woke up" look without putting too much effort into it. Dr Lash's main specialty are lashes and brows, more specifically, lash extensions and eyebrow embroidery.
Aside from the simplicity of its services, Dr Lash also comes highly recommended for the quality of their offerings. Their extensions and embroideries are done to provide clients with the healthiest, long lasting and lightest lash extensions.
All of Dr Lash's services are customised to the client's preference, ensuring that the clients will look their best after the services.
So, if you're looking to have that effortless look without having to get up so early in the morning, then you may want to consider Dr Lash and their embroidery and extension services.
Highlights
Personalised embroidery and extensions
Charming and cosy locations
Professional and friendly staff
26. The Prestige Eyebrow & Lash Specialist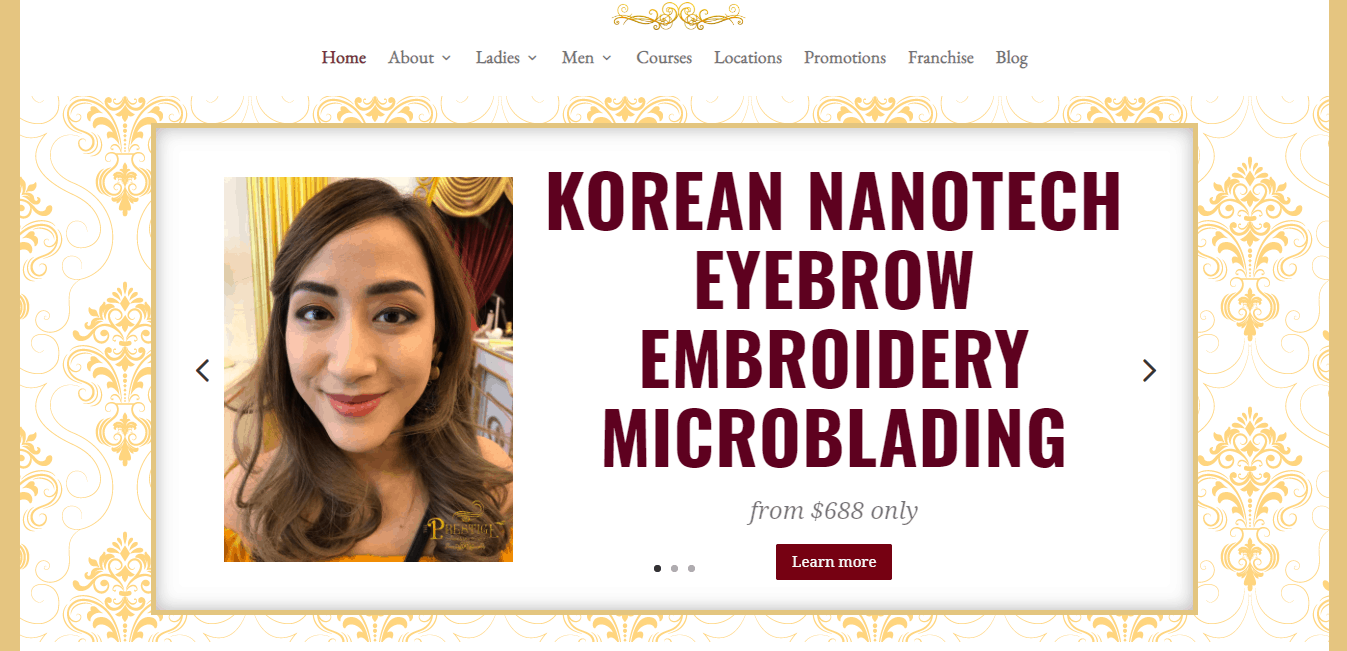 | | |
| --- | --- |
| SERVICES | Eyebrow embroidery, lip embroidery, microblading, lash extension, laser hair removal, laser facial treatment, threading |
| WEBSITE | |
| ADDRESS | Pacific Plaza, Scotts Rd, #03-08 9, Singapore 228210 |
| CONTACT DETAILS | +65 6822 3395 |
| OPERATING HOURS | Monday – Saturday: 10:00 AM – 8:00 PM |
If you're looking for innovative and trendy permanent eyebrow solutions, then The Prestige Eyebrow & Lash Specialist may work for you. This boutique applies the newest technique in eyebrow embroidery, the Korean nanotech embroidery microblading.
With nanotechnology and tools, this technique results in natural-looking brows that can last for months on end. Additionally, this new technology is applicable for all skin types, even sensitive ones.
However, some may look better with other types of embroidery techniques. So, The Prestige Eyebrow & Lash Specialist does one-on-one consultations first.
This boutique also offers eyebrow and eyeliner embroidery, lash extension, and microblading to both male and female clients. The Prestige Eyebrow & Lash Specialist also does slow yet permanent cosmetic treatments like laser hair removal, laser facial treatments, and threading.
The Prestige Eyebrow & Lash Specialist is also home to celebrity technicians, Irene Teo and Jocelyn Wang. So, its clients can also make special requests as to who their eyebrow technician should be.
But before committing to this boutique, make sure you can accept that eyebrow embroidery may not be for everyone. We say this because we've read a few complaints about the poor quality of work from some of The Prestige's technicians.
Highlights
Wide range of lash and eyebrow services

Home to two celebrity embroidery experts 

Natural-looking and long-lasting Korean nanotech equipment

Detailed assessments and consultations
Customer Reviews
Having a clean clinic and punctual staff are just some of the things previous clients really like about The Prestige Eyebrow & Lash Specialist. Here are customer reviews that say the same thing:
"Went to Prestige for eyebrow embroidery after reading so many positive testimonials. I am extremely happy with the service. Peggy is very skilled, professional and friendly. There was no hardselling and the price is affordable.  Love it!"—Jean G
"Chanced upon The Prestige Eyebrow & Lash Specialist on the internet when I was looking for a beauty salon to have an eyebrow embroidery done.I had my eyebrows done by Irene, a beauty professor who have over 30 years of experience and specialized in doing eyebrow embroidery.Being knowledgeable and proactively advise me on which eyebrow shape suitable and the whole procedure running smooth. Also, the environment of the salon, the professionalism and friendliness of the beauticians ensured the session is comfortable and enjoyable. Looking forward to my next visit!"—Suzzie Liu
And that's it for our list of the top places with the best eyebrow embroidery in Singapore. If you've been to any of these salons/clinics in the past, don't forget to share your experience with us.
At any rate, if you're also thinking of having other beauty treatments, you might want to check out our list of the best aesthetic clinics in Singapore before setting up a consultation. These clinics offer a variety of services that may include what you're searching for.