The 9 Places for the Best Birthday Celebration in Singapore
Are you planning on throwing the best birthday celebration in Singapore? Well, the first thing you need is a venue that can accommodate the number of people you're planning to invite.
That's not easy to find, but worry not because we're here to help. Whether you're looking for an exclusive event space or a luxurious restaurant, we listed them here for you!
Let's take a look at how much it costs to throw a birthday celebration on the island first!
How Much is a Birthday Celebration in Singapore?
We're going to preface this section by stating that only the cost of throwing a party for adults will be covered. If you're preparing for a children's birthday party, we recommend reading another article.
The actual cost of throwing a birthday celebration in Singapore largely depends on how large you want it to be. If you want a simple celebration, you're free to throw one at the comfort of your own home for no more than $500.
That's a pretty sweet deal if you ask us, but if you're planning to invite a huge number of guests to a party at a restaurant or hotel, expect to spend more: no less than $4,000 a night.
Here's a breakdown:
All in all, these should be your top considerations when arranging a birthday party in Singapore. There's more that could go into a birthday celebration, but if you're not planning anything grand, then these should do!
It's easy to go above your budget during the preparation stage, but early planning and doing enough research can help you save a lot of money.
The Places for the Best Birthday Celebration in Singapore
Let's now jump into our picks for the best places where you can celebrate your birthday! Continue reading below to see which one matches your ideal birthday party.
1. The Fun Empire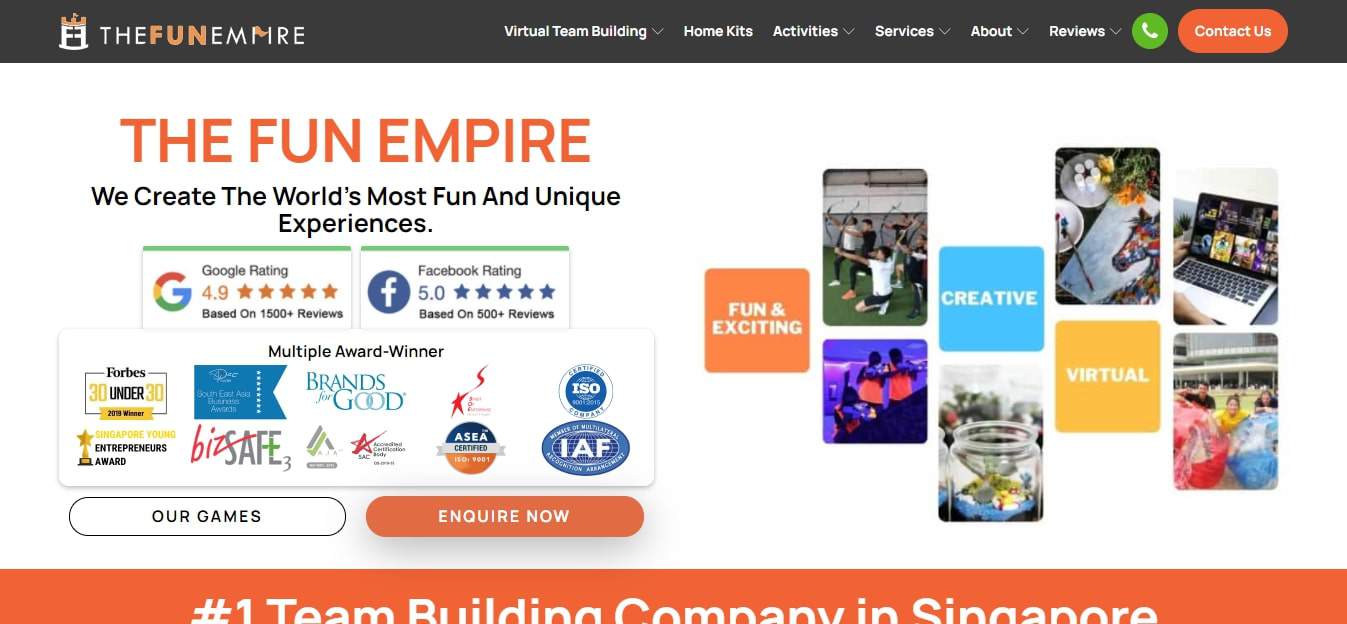 SERVICES
Birthday parties, team building, workshops, escape rooms, art jamming, amazing race, game shows, laser tags, archery tags, and corporate fitness
PRICE RANGE
Call their hotline for more details
WEBSITE
https://www.thefunempire.com/
ADDRESS
5B Guillemard Road, Level 3 Wing Fong Building, Singapore 399685
CONTACT DETAILS
+65 6515 4146
+65 6816 1998
OPERATING HOURS
Monday to Sunday: 9:00 AM – 10:00 PM
As they're one of the leading events and team building organisers in Asia, we couldn't help but add The Fun Empire to our picks. It's worth checking out if you need a hand arranging your birthday party.
We love that it's a one-stop events company, so all concerns related to your birthday celebration will be handled by its team, including venue, manpower, catering, decorations, transportation, and more.
If you end up going with The Fun Empire, that means you won't have to lift a finger as everything will be arranged on your behalf. Isn't that an ideal pre-birthday scenario?
No need to worry about inviting hundreds of people as there's no limit to the number of guests The Fun Empire can accommodate. You even have the option to hold your party at an outdoor venue!
Another thing we love about The Fun Empire is that the celebrant and guests can enjoy a variety of games suitable for everyone! This includes laser tag, pool ball, escape puzzle, art jamming, amazing race, archery tags, and cooking classes.
The games and activities will be hosted by trained facilitators, so rest assured that everything will go as planned! You don't have to think about anything else, but have fun with friends and family.
Lastly, The Fun Empire's birthday packages can be customised according to your budget. If you're willing to spend more money, it can present you with multiple options to bring your party to the next level!
One-stop event organiser
Customisable birthday packages
Certified and dedicated facilitators
No maximum number of guests
A variety of games to choose from
Has received complaints about quotes being slow
Customer Reviews
Many customers said that all their guests were able to have a good time while playing the interactive and intellectual games here.
Here's what some of them had to say:
"Amazing team at The Fun Empire. They are very responsive, and the whole process was seamless. Julia + Abraham are phenomenal! We picked the virtual escape room, it was the perfect way for us to spend an hour together, bonding, and finding out each other's secret talents. Thanks again, we hope to be back in person for games in the future!"
-Elizabeth Chan
"We engaged the fun empire for our team building event and played the virtual escape room. The entire experience was wonderful, from the puzzles that we had to solve to the storyline and surprise twist in the mystery. Booking the event was also very smooth and fast, with the sales staff being knowledgeable about which activity will suit us best. Overall we had a great time and would be back to try their other activities in the future"
-Jonathan Lim
2. The Halia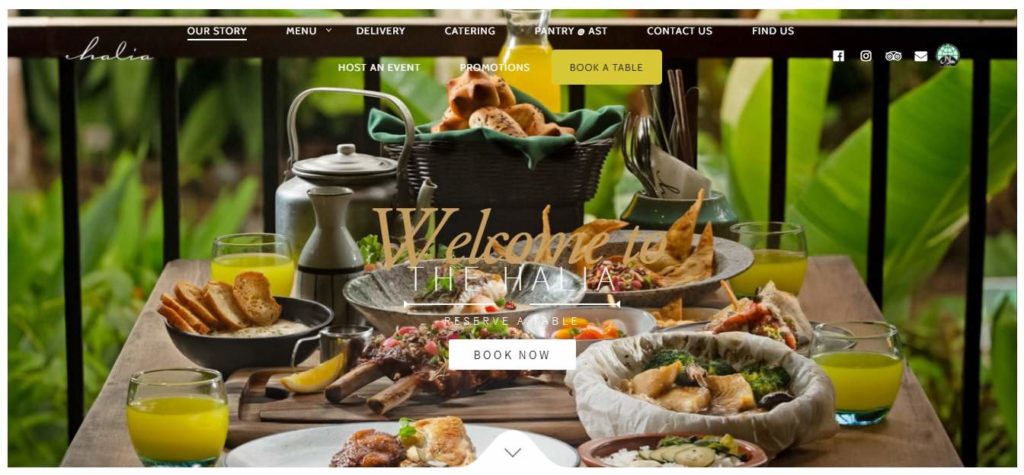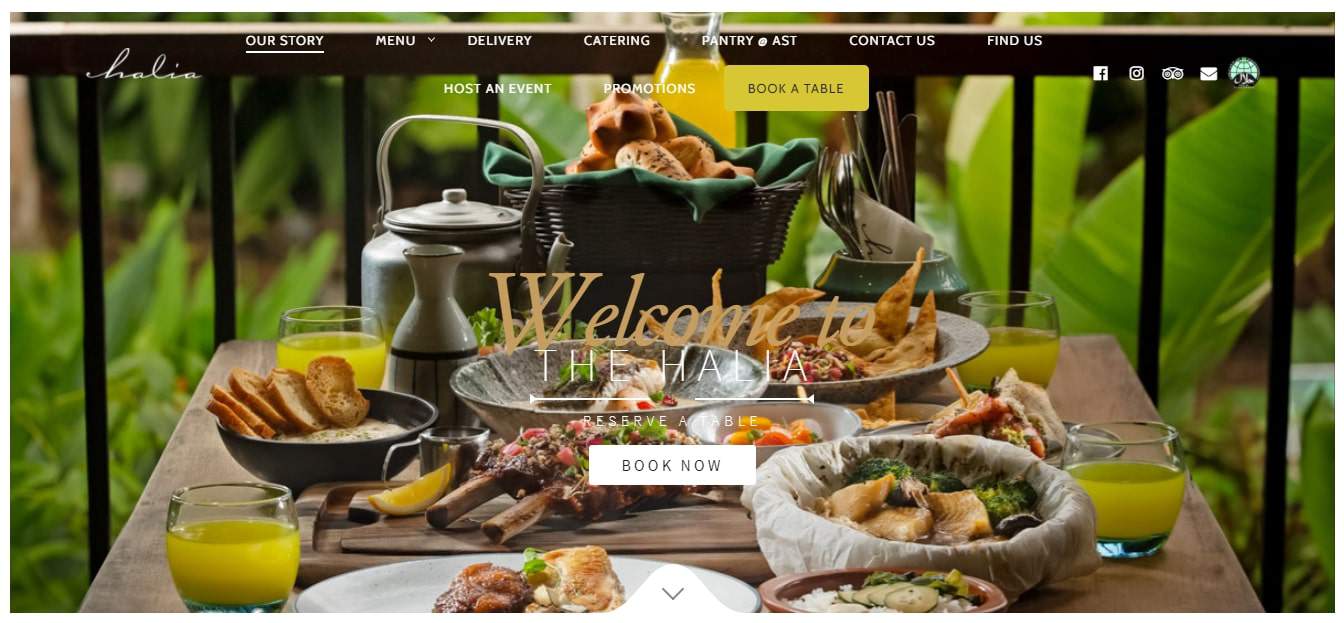 BEST SELLERS
Tomato salad, grilled asparagus, akaroa salmon fillet, wagyu corned beef, crunchy granola, seared yellowfin tuna, grilled chicken sausage, and seafood laksa
PRICE RANGE
$15 and up
WEBSITE
https://thehalia.com/
ADDRESS
1 Cluny Road, Ginger Garden, Singapore Botanic Gardens, Singapore 2595693
CONTACT DETAILS
(65) 8444 1148
OPERATING HOURS
Monday to Thursday: 9:00 AM – 9:30 PM
Friday: 9:00 AM – 10:00 PM
Saturday: 10:00 AM – 10:00 PM
Sunday: 9:00 AM – 9:30 PM
Are you looking for an outdoor birthday venue where you're surrounded by blooming flowers, gorgeous foliage, and tall trees? There may be no better option for you than The Halia, a restaurant housing hundreds of species of gingers and decades-old palm trees.
The Halia is a garden-inspired dining spot where celebrants and their guests will have the chance to get in touch with nature. It's a great place for those who want to keep their special day as quiet and intimate as possible.
Due to the cozy vibe at The Halia, we can only recommend it to those planning a small birthday celebration. A party with no more than 10 guests would be perfect to hold here.
When it comes to the menu, it serves mainly signature fusion dishes inspired by modern European and Asian cuisine, so expect that most dishes will have greens in them. It's a nature-inspired restaurant, after all.
You're free to invite your vegan friends as there's a dedicated menu for them here at The Halia. Unlike in other restaurants, it offers a wide range of plant-based meals, so your vegan buddies will have more than two options.
The best news is that The Halia is open for deliveries. If you find yourself craving its meal days after your birthday celebration, all you have to do is go online!
Intimate and quiet atmosphere
Ideal for small gatherings
European and Asian cuisine
With vegan options
Open for deliveries
Customer Reviews
The Halia has become a go-to restaurant for many locals, especially for those who are planning to organise a personal event. This is because of the peaceful ambience and delightful dishes here that gave clients the best birthday celebration in Singapore.
Here's a review from one of their customers:
"Excellent place to bring your date. Celebrated my birhtday here with my fiancee, great ambiance. Weve tried the chili crab pasta and the wagyu ribs. The food is a bit pricey but its both delicious so its worth it. As we enter the restaurant their staff gives us a warm welcome and is polite and attentive in our needs and request. You will also love the place if your a nature lover since its inside the botanic garden so its good to walk around to relax your full stomach."
3. Kara Moments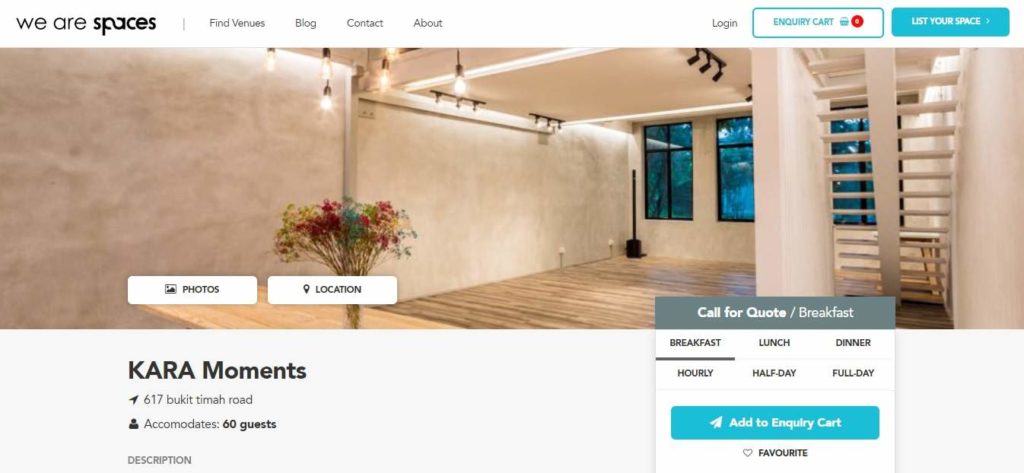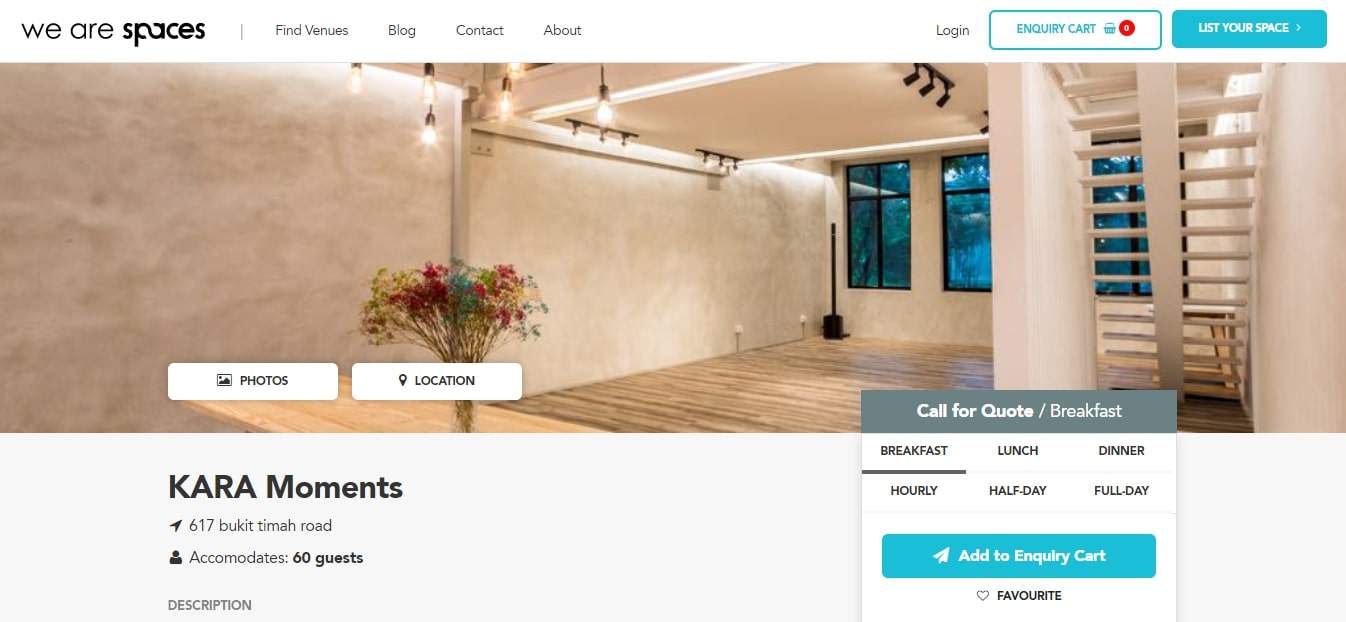 AMENITIES
Wi-Fi, air conditioning, microphone, sound system, projector/screen, stage, bar, whiteboard, and external catering
PRICE RANGE
$101 to $1,500
WEBSITE
https://wearespaces.com/
ADDRESS
Bukit Timah Rd, 617, Singapore 269718
CONTACT DETAILS
+65 6468 8940
OPERATING HOURS
Monday to Thursday: 11:00 AM – 10:00 PM
Saturday to Sunday: 10:30 AM – 10:00 PM
Another viable option if you prefer a simple gathering on your birthday is Kara Moments. It's a cozy private event space where seminars, product launches, off-site meetings, baby showers, and private gatherings are usually held.
It's common for small private event spaces to have fewer than usual amenities, but that can't be said about Kara Moments. Apart from the comfortable atmosphere, it comes with Wi-Fi, air conditioning units, a sound system, bar, stage, and projectors.
There's also no need to hire a catering company because Kara Moments can serve a broad array of food and drink options. Whether you're celebrating during the morning or at night, it can prepare meals that you and your guests will love.
However, there are no Halal options included, so if you have friends who can only eat Halal meals, you might want to look for another event space. In this case, though, you can simply not hire its catering services.
The best thing about it is that it can be rented according to your budget, making it the perfect option if you're gunning for a short but memorable party. If you can only afford to rent it for about three hours, there will be no problem with that!
Can be rented per hour
Complete amenities
Comes with catering services
Accessible location
No Halal options included in the catering
Customer Reviews
Customers said that they felt a sense of home during their dining experience at Kara Moments. They also said that it's the perfect place to spend special time with close family and friends.
A customer gave this feedback:
"We recently had a private event at Kara Moments and we found the place has good privacy and the interior decoration is very cosy and welcoming – to sum it up it feels like home. The event place includes sound system and projector set so it will be handy for those planning to use them. Food wise – we ordered the basic menu catering and it was delicious! Food portions were generous and all the guests thoroughly enjoyed it. Special mention to Hans and Lora (Kara Cafe Manager) for being very accomodating for our event and we definitely recommend the space for those who intend to hold private events."
4. Dusk Restaurant & Bar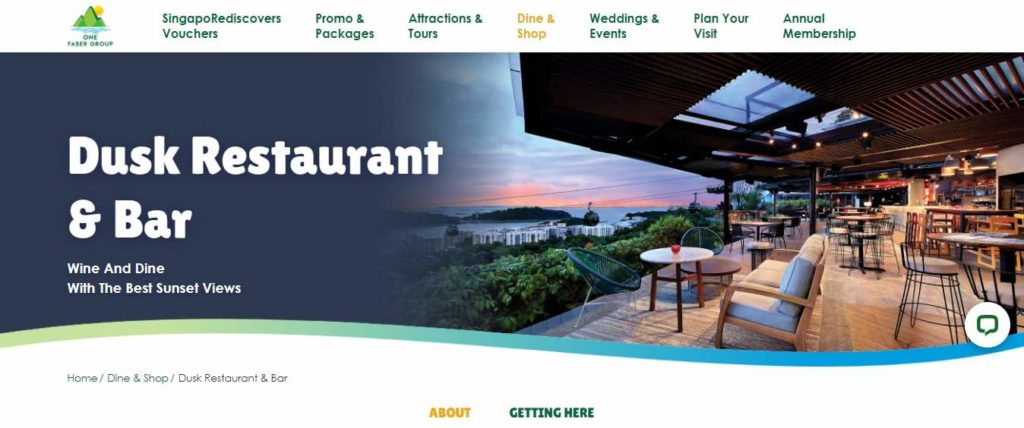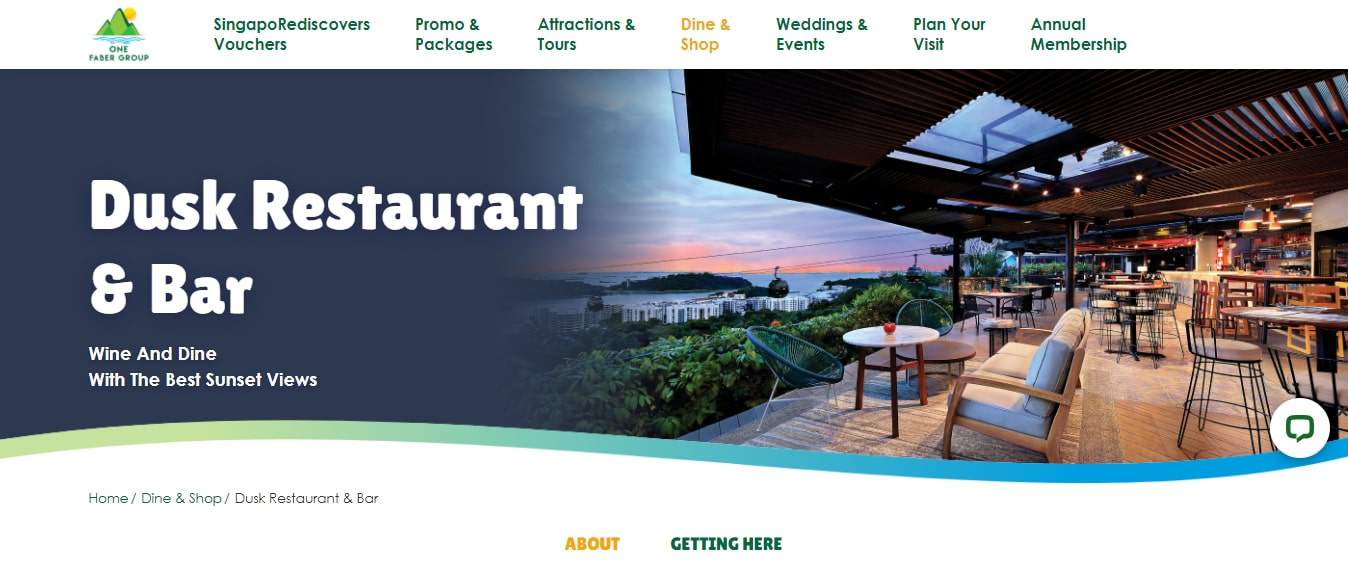 BEST SELLERS
Oven roasted chicken, pork cordon bleu, seafood linguine, lobster capellini, duck confit, cod and fish chips, and tiger prawn capellini
PRICE RANGE
$28 and up for main courses
WEBSITE
https://www.onefabergroup.com/
ADDRESS
Faber Peak Singapore, Level 2 109 Mount Faber Road Singapore 099203
CONTACT DETAILS
(+65) 6377 9688
OPERATING HOURS
Monday to Thursday, Sunday: 4:00 PM – 11:00 PM
Friday to Saturday: 4:00 PM – 2:00 AM
Nothing beats a laid-back birthday party where you can relax and listen to live band performances with your family and close friends. If this is your ideal birthday party, then Dusk Restaurant & Bar might be the place you're looking for.
Dusk Restaurant & Bar is a dining spot located 100 metres above sea level, treating diners to the panoramic, captivating views of HarbourFront and Sentosa Island. It comes highly recommended if you're planning to host an intimate birthday dinner.
Due to the pandemic restrictions, guests can only dine in groups of three to five people. We can't really consider that as a disadvantage considering its atmosphere is more suitable for small, romantic dinners.
Dusk Restaurant & Bar's menu includes Modern European cuisine, signature nitro-frosted cocktails, and specially curated wines. There's no doubt that it's a fancy dining spot suitable for date nights and get-togethers with friends.
Obviously, it's not the cheapest restaurant, but since it's your birthday, we believe that you should be allowed to treat yourself and your family and friends to a fancy dinner once in a while!
Gorgeous overlooking view
Modern European cuisine
Large collection of drinks
Perfect for small gatherings and private dinners
Customer Reviews
Many customers said that they had a relaxing and satisfying experience at Dusk Restaurant & Bar. They also complimented the delightful modern cuisine and refreshing cocktail drinks.
Take a look at these comments shared online:
"Frequenting this place started 2 years ago. Food is good with a very good ambience and view. Most days it is windy and on humid days there is enough ventilation going around. David and his team are also excellent in customer service, they are around enough and will do chats and feedbacks with customers and at the same time he is not intrusive. Will keep coming back." -Zhao Dong Lim
"Went there for birthday dinner. Beautiful view of the bay with cable cars in the background. Since it's outdoor sitting, rain may cause issues. Food is always good. The staff is very friendly. Please book table in advance since the place is always sold out" -Anita Padman
5. Cafe Melba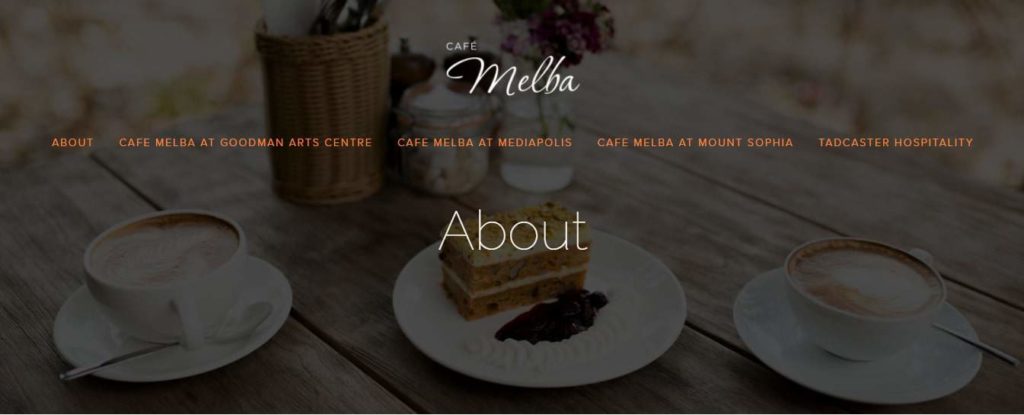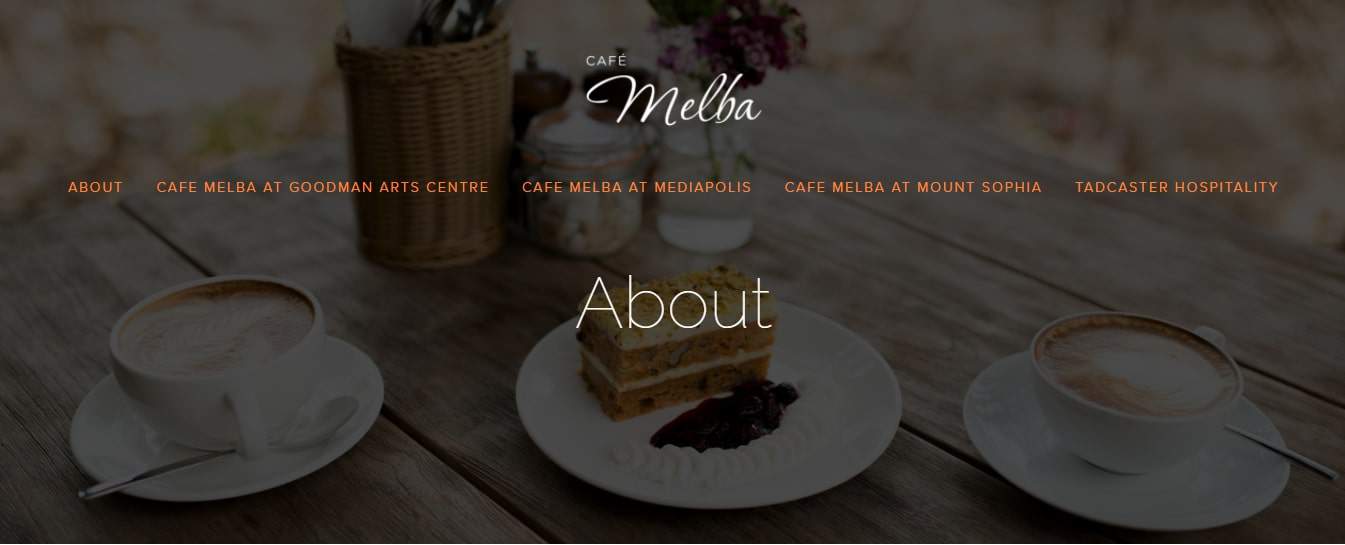 BEST SELLERS
Eggs Benedict, Eggs Florentine, battered fish and chips, chicken parmigiana, rib eye steak and fries, beef bolognese, grilled avocado tomato and cheese sandwich, and beef burger
PRICE RANGE
$12 and up
WEBSITE
https://www.cafemelba.com.sg/
ADDRESS
90 Goodman Road, Goodman Arts Centre, Blk N #01-56 Singapore, 439053
CONTACT DETAILS
+65 6440 6068
OPERATING HOURS
Monday to Friday: 10:00 AM – 10:00 PM
Saturday to Sunday: 8:30 AM – 10:00 PM
Established in 2012, Cafe Melba has become one of the most popular dining posts in Singapore, specialising in all-day breakfast and specialty coffee. Here are the reasons it earned a spot here:
For one, it may not be the first name that comes to your mind when thinking about birthday venues, but we think it makes sense as a place for an intimate gathering with friends and family for its comfortable and child-friendly atmosphere.
On top of that, Cafe Melba has three locations scattered all over the island, all of which are easy to find. You can easily reach it whether you're driving or taking public transportation.
When it comes to the menu, Cafe Melba serves meals that both children and adults love, including all-time favourite meals like Eggs Benedict and chicken parmigiana. Everything is reasonably priced as well!
Overall, Cafe Melba stands as a great option if you're interested only in a simple birthday celebration with a few friends and family members. It's not the most birthday-ready venue, but its hospitality and quality of its food will make up for what it lacks in services.
Family-friendly cafe
Three branches in Singapore
Accessible location
Reasonably priced meals
Customer Reviews
Customers loved the simple and relaxing ambience at Cafe Melba. Here's feedback posted by a customer:
"It's a great place to chill out, outdoor or indoor. When we were there, naturally being in an Arts Centre, there was a great solo guitarist with an awesome voice singing. The staff were also friendly. Food is great although a little pricey. It's right next to the field so our children had a great time running on the grass and playing with the ready footballs as I enjoyed a coffee." –Imran Mohamad
6. Singapore Yacht Charter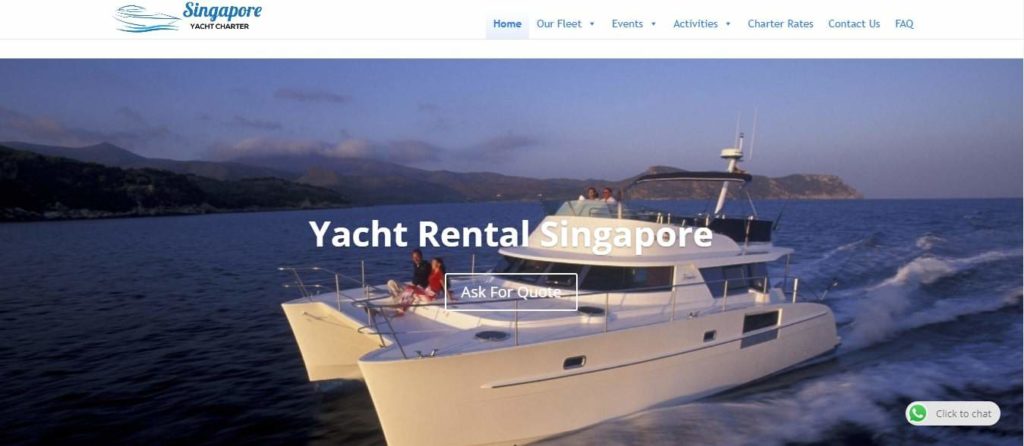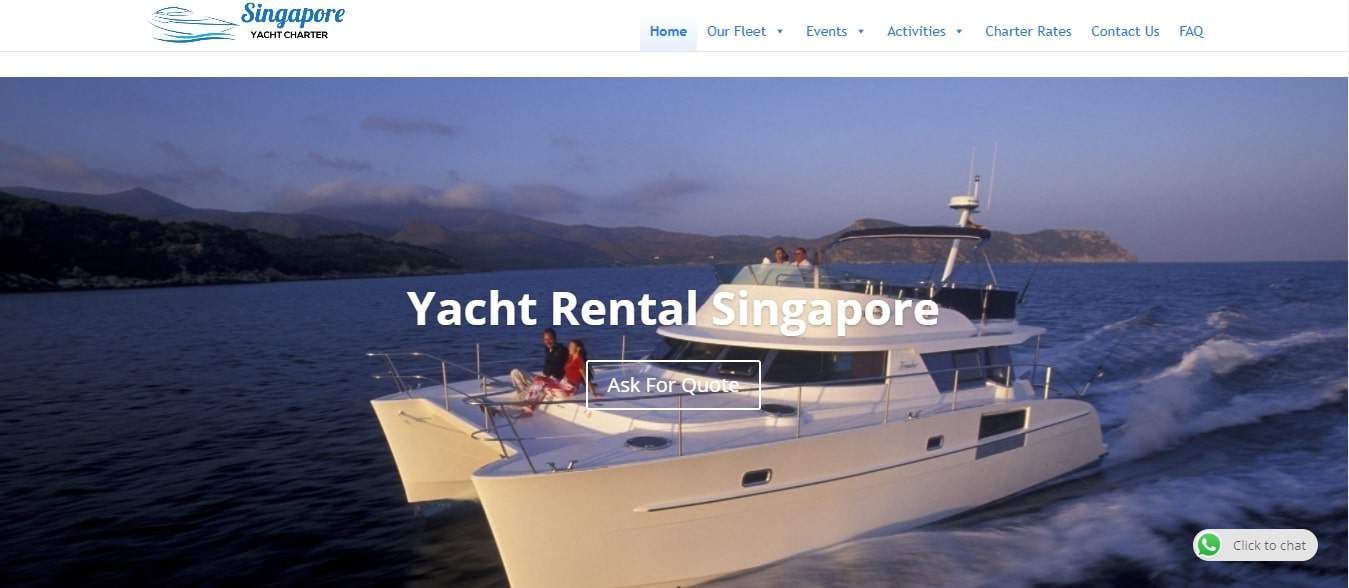 Do you mind spending a thousand bucks on a birthday venue? If not, you might want to consider hosting your birthday on a yacht.
As it's one of the most trusted yacht rental companies on the island, there's no way we're not adding Singapore Yacht Charter here. It's known for its reasonable rental rates that won't make a dent on your savings.
There's no doubt that renting yachts is expensive, but Singapore Yacht Charter makes them more accessible to ordinary people who want to throw an extraordinary birthday.
Its yacht can be rented for different occasions, including birthdays, corporate events, photoshoots, and weekend getaway. Each one comes with different tools as well, like snorkelling kits, fishing rods, and floating mats.
Another reason it landed a spot here is its meticulousness. Not a single yacht handled by Singapore Yacht Charter is left unkempt after use, since the team goes out of their way to clean and maintain all their yachts.
You're free to do whatever you want on its yacht as long as it's appropriate and not prohibited by law. You can even bring your own food and drinks for the birthday for no extra charge!
If you have an event in mind, you can make it a lot better by availing of the services of the best yacht charters in Singapore.
Competitive rental rates
Friendly staff
High-quality and well-maintained yachts
Experienced captain and crew
Despites the competitive rates, it's still expensive for a birthday venue
Customer Reviews
Take a look at some of the reviews detailing the excellent services of Singapore Yacht Charter:
"Great service! Thanks to LeNa for organising and Daniel for making sure we had an amazing time on the yacht and always keeping us safe. We were able to enjoy our own food and drinks as well onboard which was very convenient!'
"We really enjoyed the time on board No Name Two, Great yacht, almost new, clean and spacious. Crew was very service minded and helpful. Also very good information in front of the Yacht office. Recommended!"
7. Marché Mövenpick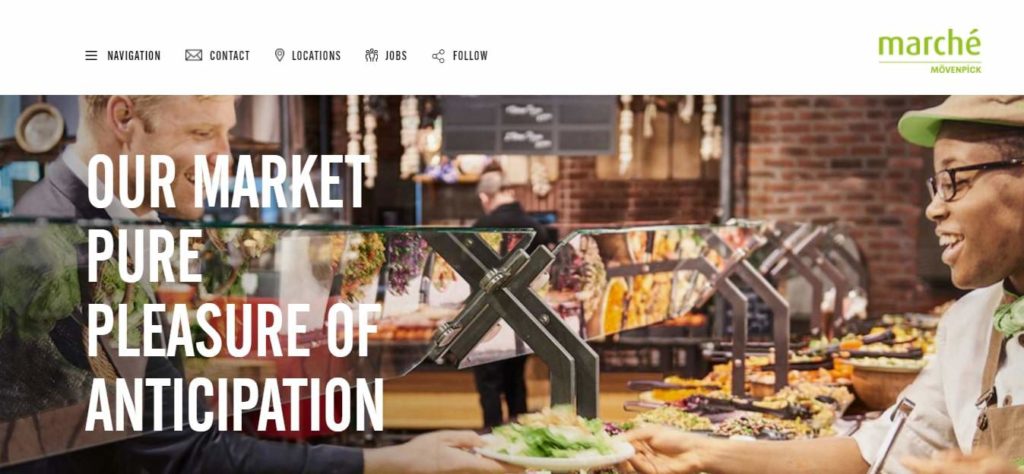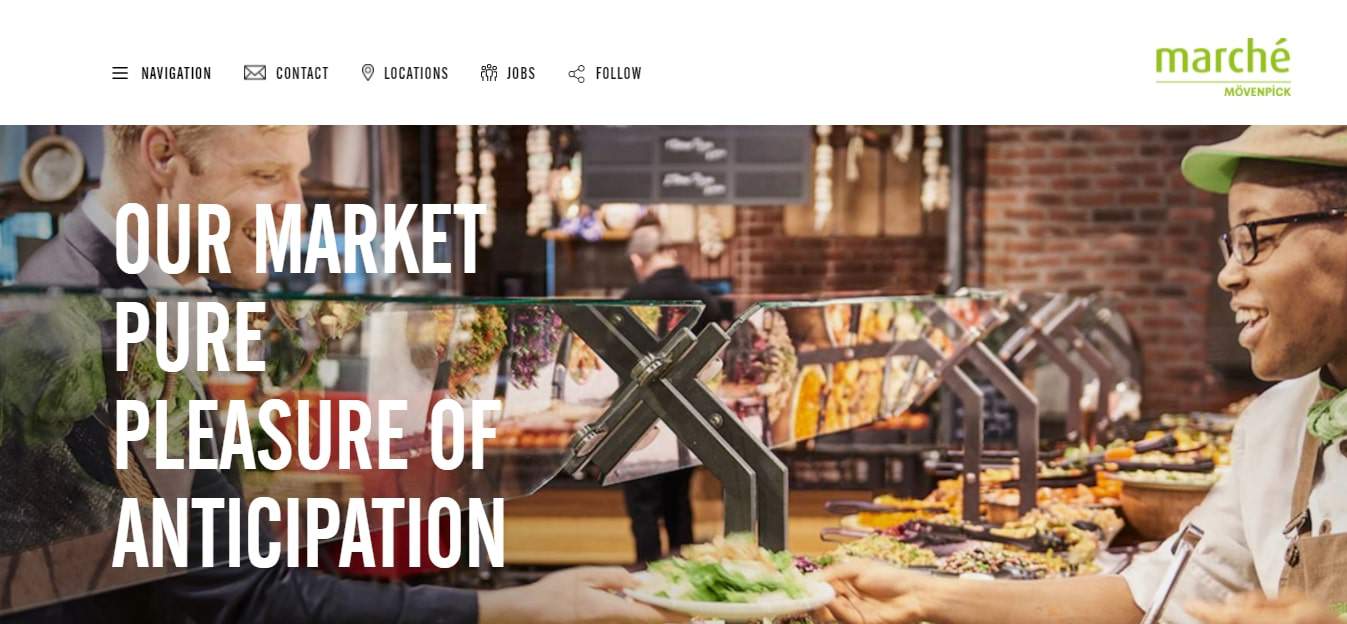 SERVICES
Birthday parties, catering services, market kitchen, and deliveries
PRICE RANGE
Call their hotline for more details
WEBSITE
https://www.marche-movenpick.sg/
ADDRESS
3 Temasek Blvd, #01 – 612 / 613 / 614, Singapore 038983

313 Orchard Rd, Singapore 238895

50 Jurong Gateway Rd, #01-03 JEM, Singapore 608549

1 HarbourFront Walk, #03-14 VivoCity, Singapore 098585
CONTACT DETAILS
+65 8182 8659
+65 9735 8124


[email protected]




[email protected]

OPERATING HOURS
Monday to Friday: 11:00 AM – 9:30 PM
Saturday to Sunday: 10:00 AM – 9:30 PM
(Hour may vary depending on the branch)
If your idea of a perfect birthday party depends solely on the quality of food, then you might want to check out what Marché Mövenpick has to offer.
Marché Mövenpick is the dining spot to visit if you want to treat yourself and your guests to exquisite European cuisine. It's a Swiss marketplace restaurant with a wide selection of fresh, healthy, and authentic European delights prepared right in front of you.
Unlike most local restaurants, Marché Mövenpick prefers to cook for their customers in a warm, open kitchen where everything that happens is witnessed by diners. That's a great way to start your birthday celebration, if you ask us.
That way, every guest is assured about the freshness and safety of the food that they are going to eat.
The only downside with celebrating your birthday at popular restaurants like Marché Mövenpick is the lack of privacy. It's so in-demand that there's always a long line outside, which some diners may find distracting.
As there are always customers coming and going and waiters running around, Marché Mövenpic might not be the right choice for you if you're planning on throwing a private and intimate birthday dinner.
Authentic European cuisine
Open kitchen concept
Multiple branches in Singapore
Made from fresh, local ingredients
Popular restaurant, so no privacy
Customer Reviews
Here's what some customers had to say about their experience with Marché Mövenpick
"Always a joy to dine at a Marche "foodcourt" with a great variety of made-to-order dishes, drinks and desserts. Food is always good quality and the staff are friendly. Coming in a group is always ideal as everyone can pick an item or 2 that they like. The Rosti and grill section always has long queues." -Kevin Ang
"Very nice spread of food! Quality although can be quite costly. The pasta there is very yummy! The fresh oysters are very fresh too. It's different from a buffet. The oysters there are fat and juicy. There's a wide selection of drinks there too. My favorite is the fruit shakes, creamy and good." -Chok Mun
8. Ola Beach Club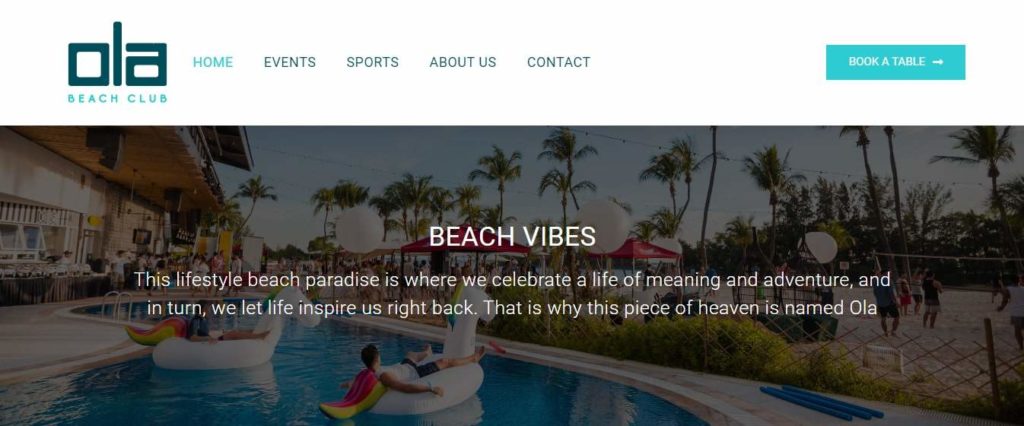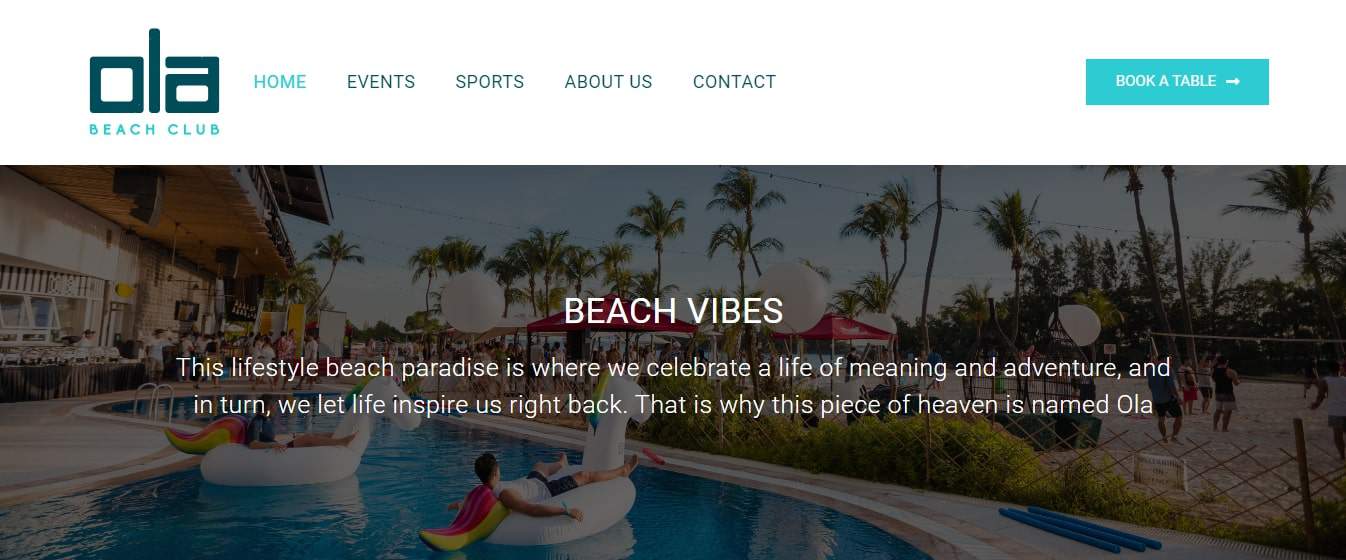 SERVICES
Birthday parties, weddings, private gatherings, corporate events, seminars, and workshops
PRICE RANGE
Call their hotline for more details
WEBSITE
https://www.olabeachclub.com/
ADDRESS
46 Siloso Beach Walk, Singapore 099005
CONTACT DETAILS
+65 8189 6601
OPERATING HOURS
Monday to Thursday, Sunday: 10:00 AM – 8:00 PM
Friday: 10:00 AM – 8:30 PM
Saturday: 9:00 AM – 8:00 PM
Do you want to celebrate your birthday as close to the beach as possible? Well, Ola Beach Club can make your ideal birthday party come to life!
Ola Beach Club is a Hawaiian-themed, two-storey high event space that comes with a private pool that guests can enjoy all day. If your birthday happens during the summer, there's no better place to celebrate it than here!
No guests will run out of birthday activities at Ola Beach Club because paddlesports, kayaking, watersports, and banana boat rides that come with most venue packages.
Ola Beach Club is also home to Singapore's first and only hydroflight sports: the Jetblade and Jetpack. This is something exciting that you and your friends and family can get up to on your birthday.
The thing we love most about Ola Beach Club is that the fun doesn't stop after the sun sets. There's a DJ set every night on the beach, which can be a great way to end your birthday celebration.
When it comes to food, Ola Beach Club surely doesn't fall short. It serves mostly Hawaiian-inspired dishes like Loco Moco and Huli Huli Chicken Plate Lunch, both of which are perfect meals after dipping in the pool.
Can you hear the strums of the ukulele calling out to you yet? If so, contact them now to ask for their birthday party packages!
Great crowd
Multiple water-based activities
Can host different types of events
Perfect for huge celebrations
Weather-dependent event space
Customer Reviews
Ola Beach Club has gathered over 1,000 online reviews, many of them of customers celebrating an event such as birthdays or other special occasions there. Here's a review by Melissa Eisner:
"Nice place on the beach to have a drink and some bites to eat. There was a good beer special on at the time so that was a bonus. The chicken tacos were good, and the nachos were a great pairing with the beer. Friendly service and a view? Sounds good to me."
Here's another comment shared by Victoria L:
"Love the good vibes at Ola Beach Club. Always the place to hang out for me and my family (even before we had a baby!). If you are lucky, some days you will get reggae tunes which are our favourite too. Miss the swing though. Food is good. Haven't been here for a year but I prefer the service staff before this batch. Nonetheless, I am always back because of the good memories made."
9. Here.Sg @Farrer Park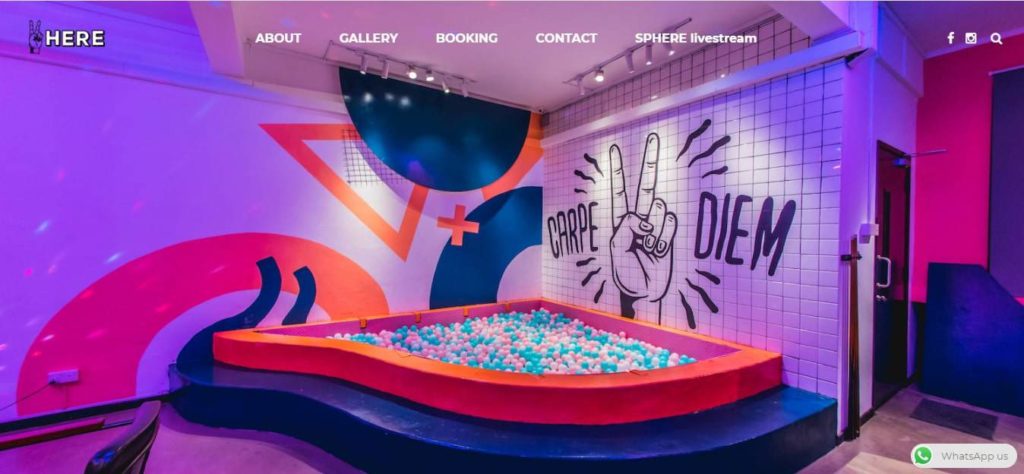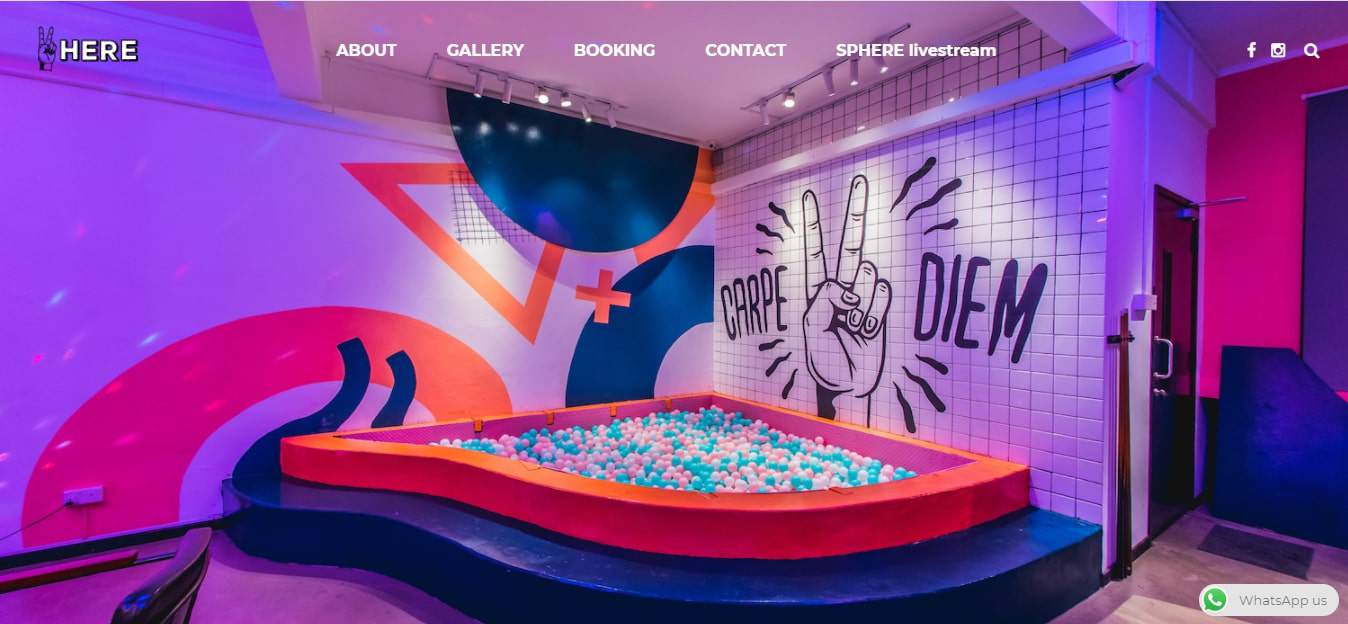 | | |
| --- | --- |
| FACILITIES | Overhead projectors, amplifier and microphones, microwave, water boiler, refrigerator, tableware, gaming consoles, mahjong table, foosball table, beer pong table, board games, basketball machine, and Fibre broadband Wi-Fi |
| PRICE RANGE | Call their hotline for more details |
| WEBSITE | http://wearehere.sg/ |
| ADDRESS | 576A Serangoon Rd, Singapore 218190 |
| CONTACT DETAILS | +65 9181 9140 |
| OPERATING HOURS | Open 24 hours |
If turning a year older has inspired you to bring out your inner child, Here.Sg is the perfect place to unleash all that energy. It's a creative event space with fun activities that will transport you back to your childhood.
Here.Sg functions as an adult playground derived from your childhood memories, where you and your friends can play the games you used to love as children. Isn't that a great way to celebrate being one year older?
There's an elevated stage for a mini rock concert with your friends, a ball pit for adults for you to dive right in, or you can even shoot hoops with their basketball arcade. You won't run out of things to do here.
If you want to bring your birthday celebration up a notch, you may opt to hire a host who can help sustain the vibe of the party for hours, making sure that everyone is energised. You can add photographers and photo booths to your package as well.
Either way, we're sure that you're going to come out of Here.Sg with more than a thousand photos added to your phone as it's an Instagram-worthy space.
Here.Sg is usually booked throughout the year, though, so we recommend booking in advance if you want to secure a slot on your birthday.
Fun games for adults
Open 24 hours
Reasonable rates
Instagram-worthy space
Customer Reviews
Here.sg has amassed plenty of online reviews from their customers. Many of them rave about the unique yet customisable way they were able to celebrate their event or birthday celebration in Singapore.
Here's a review from Hwee Ling Chou:
"Awesome venue to hold ur parties & events! This place have literally everything u need to keep the fun going and have ur friends/guests entertained the entire time! It's amazing that they even got a basketball shooting machine over there! Facilities are great and the staff are very helpful and accommodating!"
FAQs about Birthday Celebration in Singapore
---
And that's our list of venues for the best birthday celebration in Singapore! What do you think about our recommended places? Do you already know which one you'd prefer to visit? Let us know all about it!
And if you'd like to explore and visit more places with affordable menu selections, you may see these best buffets in Singapore! They also cater to birthday celebrations and other personal events, so you may also find the right venue from these options!