13 Top Property Agents in Singapore
Searching for the right property can be hard without the guidance of the best property agent in Singapore. It's best to work with a team of professional property experts so that you will be able to decide which property is the one for you.
If you don't know which are the most-trusted property agencies on the island, worry no more because we're here to help you out. Today, we'll give you our list of the best property agents in Singapore.
1. Propseller
BEST FOR
All-inclusive service with low 1% commission when selling
SERVICES
HDB, Condominiums, Landed Houses
WEBSITE
https://propseller.com/
ADDRESS
380 Jln Besar, Level 5,
Singapore 209000, Singapore.
CONTACT DETAILS
+65 6797 8808
OPERATING HOURS
Mondays – Thursdays: 9am – 9pm
Fridays, Saturdays, Sundays: 9am – 7pm
Propseller is a new generation of Property Agency. Their agents, called Real Estate Consultants, are supported by technology and a team of marketing and operations specialists.
With an average 8 years of experience, their Real Estate Consultants are also highly experienced. They are therefore able to spend more time advising and supporting their clients.
For Sellers, Propseller charges a low 1% commission – half the standard market rate of 2%. Their clients have saved $6,833 on average because of this.
Their fees are all-inclusive with no hidden costs. It includes professional photography, virtual tour and premium listings on 7+ property portals.
All these mean that they can attract more buyer offers and sell your property at a great price.
What identifies Propseller from other property agents is the Owner Dashboard. Sellers and Landlords have a personalised Owner Dashboard which allows them to track the number of viewings, feedback, and offers for the property.
This allows for greater transparency on how the property is performing in the market.
Clients have mentioned that the Propseller agents are professional, responsive and knowledgeable. A previous client mentioned that they would recommend Propseller to their friends because it was a hassle-free experience and Propseller managed to sell their house in 3 days.
Another client said that the other agents they met did not do any research and simply took photos with their phones. But when they met an agent from Propseller, they got a thorough valuation report, professionally taken photos, and weekly updates.
Another Seller client stated on their review that their previous agent got no results for four months. But when they approached Propseller, the agent had an amazing and unique marketing strategy that allowed them to get many viewings within the next week.
Highlights
1% commission – half the standard market rate
Free property consultation
Experienced agents: Propseller agents close 6x more transactions than average Singapore agents.
Owner Dashboard: See viewings, feedback and offers instantly online.
More buyer offers: Premium listings on 7+ property portals, beautiful photos, video, and virtual tour of your property.
Customer Reviews
Here are reviews from Propseller's clients:
"Our house was sold in 3 days, in 1 viewing at a price above our expectation. Moreover, we pay Propseller only 1% for agent fee with NO GST. Sounds like advertising right? No it is not. My wife and I are still in shock. 1 viewing, 1st viewer, sold in 3 days. Above our expected price." – Joseph Choy
"Choosing Propseller is one of the best decisions we have made to sell our property. We have tried selling our property for about a year prior to engaging Propseller. And Propseller managed to close a deal in 1 month especially during the covid period where we thought it is going to be hard." – Wong Kok Woo
2. Coventry & Seah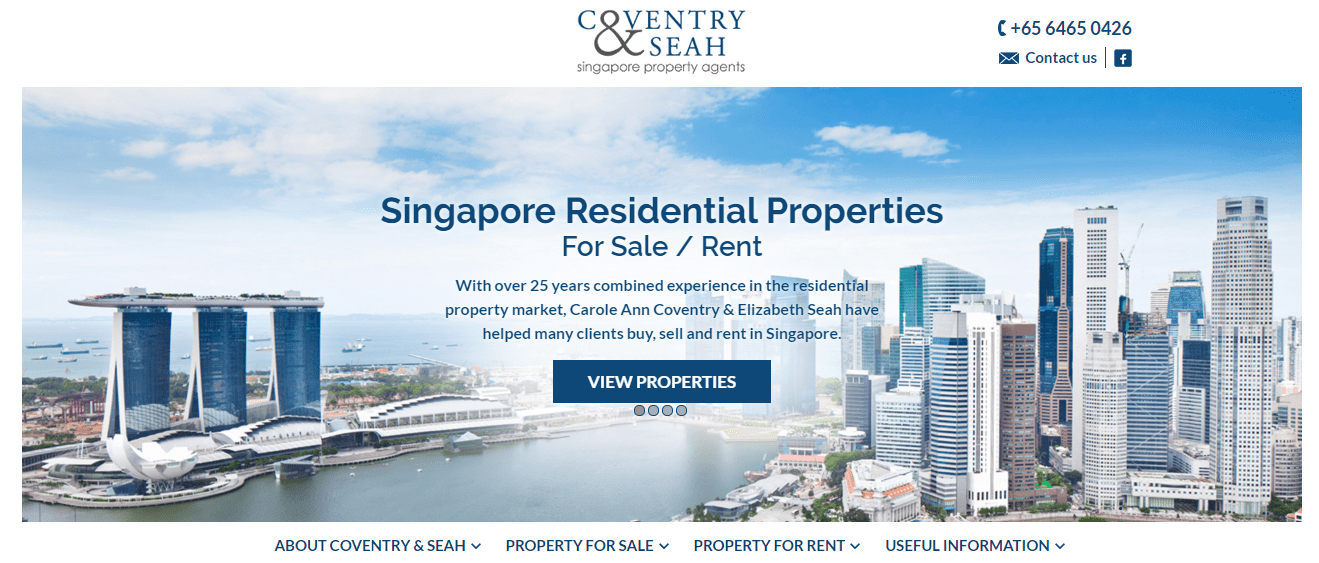 | | |
| --- | --- |
| BEST FOR | Personalised Services |
| SERVICES | Houses, Condominiums, and Commercial Spaces |
| WEBSITE | http://csproperty.com.sg/ |
| ADDRESS | 4 Pandan Valley, Singapore 597628 |
| CONTACT DETAILS | +65 6465 0426 |
| OPERATING HOURS | Monday – Friday, 8:00 AM – 6:00 PM |
Coventry & Seah is among the leading and best property agents in Singapore with both residential and commercial clients. Despite being in the business for only 15 years, it has managed to help a good number of clients find their dream home.
It has a wide range of properties across Singapore that customers can choose from. If you want to be away from the central business district, Coventry & Seah has what you're looking for.
What's more, Coventry & Seah will be with you every step of the way. From fixing legal documents and finding the right home to securing your new home, its team of professional consultants will make sure that you're guided and taken care of.
Highlights
15 years of experience
Family-oriented company
Wide range of properties
3. Huttons Asia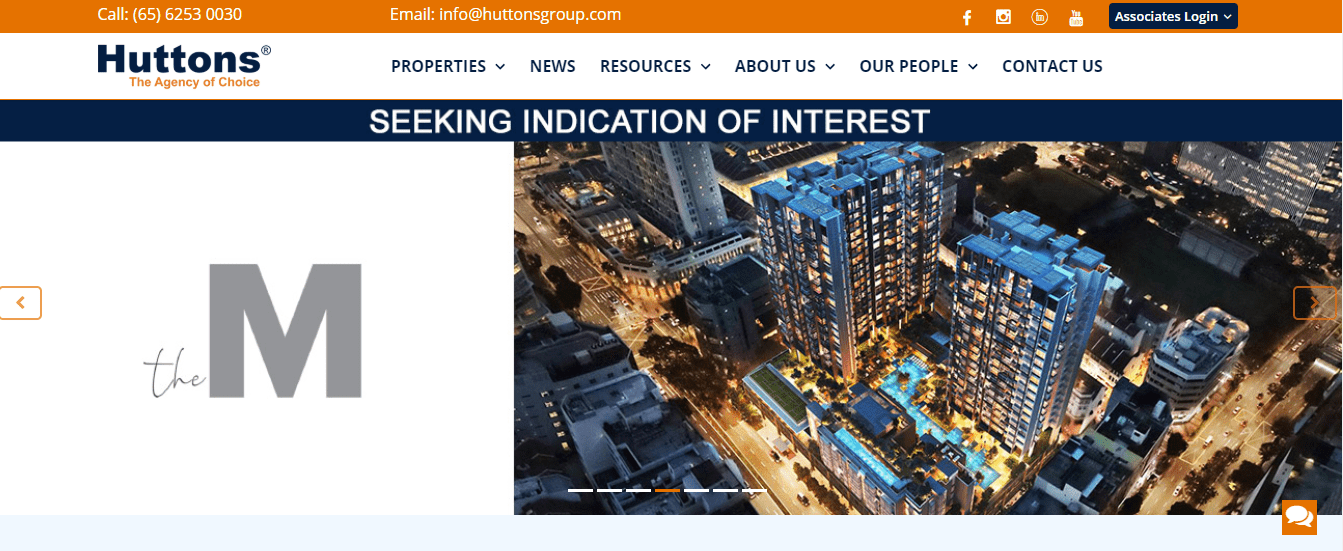 | | |
| --- | --- |
| BEST FOR | Residential and Commercial Leasings |
| SERVICES | Residential, Commercial, Industrial, and Executive Condominiums |
| WEBSITE | https://www.huttonsgroup.com/ |
| ADDRESS | 3 Bishan Place, #05-01 CPF Bishan Building, Singapore 579838 |
| CONTACT DETAILS | +65 6253 0030 |
| OPERATING HOURS | Monday – Friday, 9:00 AM – 6:00 PM |
Huttons Asia has been helping Singaporeans find their dream places since 2002. It's deemed one of the best property agents in Singapore for its wide and fresh leasings that range from apartments to luxury spaces.
If you're looking for a wide, elegant, and lofty space in the middle of the business district, then just give Huttons Asia a call, and they'll show you a string of properties until you find the perfect home for you.
Its services aren't limited to residential spaces either, as it also ventures into industrial and commercial spaces. Huttons Asia will make sure that all your business needs will be covered and accommodated by each listing.
Another thing we love about it is their team of professional consultants who will make sure that you're getting the best deal at the best price. Everyone in their team is determined to give clients the property they want.
Highlights
Collective sales
New properties
International properties
Real estate marketing
4. ERA Realty Network

| | |
| --- | --- |
| BEST FOR  | Project Marketing |
| SERVICES | Residential Leasing, Commercial Leasing, Private and HDB Residential, and Property Management |
| WEBSITE | https://www.era.com.sg/ |
| ADDRESS | 229 Mountbatten Rd, Singapore 398007 |
| CONTACT DETAILS | (65) 6226 2000 |
| OPERATING HOURS | Monday – Sunday, 9:00 AM – 9:00 PM |
 If you're looking for the largest property agency in Singapore, then look no further than ERA Realty Network. It has branches across different countries in Asia, making it one of the few property agencies that have overseas connections.
It has offices in Korea, Japan, China, Taiwan, Malaysia, and many more. So, if you're seeking a property in any of these countries, ERA Realty Network has you covered.
Moreover, its services go beyond buying and selling houses. It's extended its services to project marketing, project management, property auctioning, and even real estate research.
In terms of experience, ERA Realty Network has been around for more than 38 years and has served more than 50,000 customers. If this doesn't convince you that it's one of the best property agencies in Singapore, then we don't know what will.
Highlights
38 years of experience
7018 salespersons
With branches across Asia
Competent property agents
Customer Reviews
Take a look at some comments received by ERA Realty Network's property agents:
"I would like to express my appreciation for the great jobs and the excellent service I have received from Yvonne Wong. This was the first time helping my brother renting his flat and Yvonne patiently guided me through the renting process.The entire process went smoothly and worry free. Thank you very much for your hard work and efforts to help me rented out the unit in one day."
"I'm a first-time buyer so naturally I don't know anything about buying a house. Jeffrey was recommended by a friend. He was very patient with all of my questions and provided a lot of information which is essential for decision making. He's honest and real in giving opinions. I found my dream house thanks to him."
5. SLP International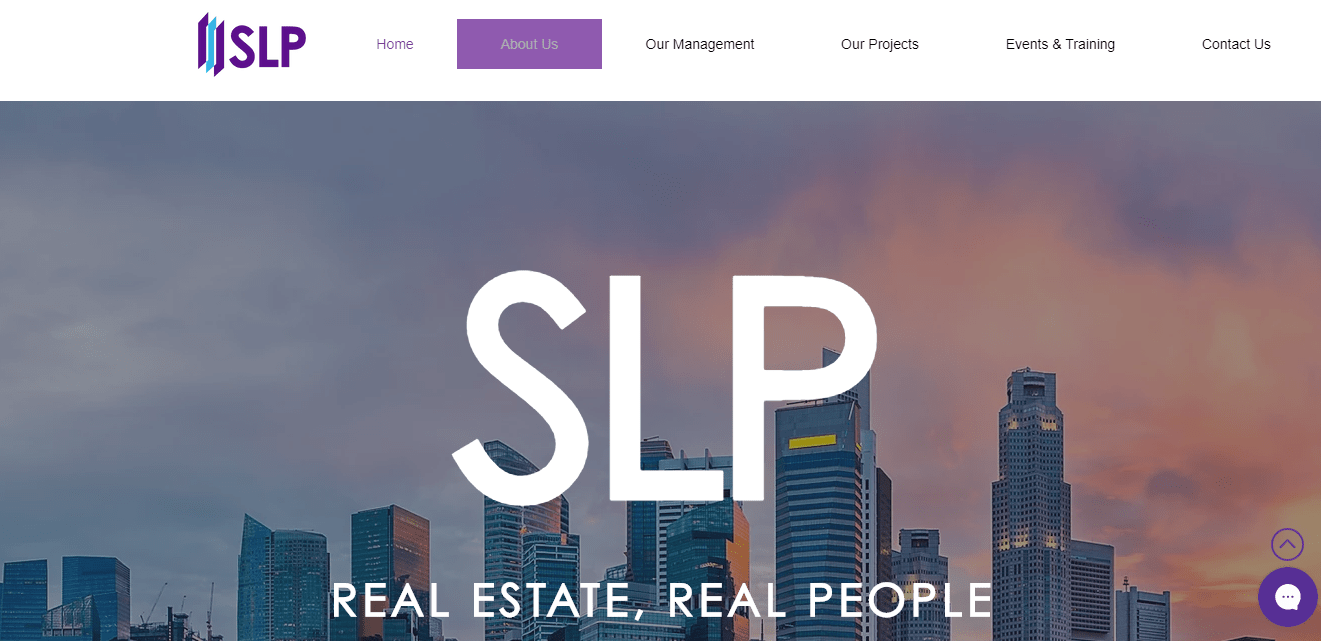 | | |
| --- | --- |
| BEST FOR | International Leasings |
| SERVICES | Residential, Commercial, and Industrial Leasings |
| WEBSITE | https://www.oneslp.com/ |
| ADDRESS | 2 Bukit Merah Central, #03-01, Singapore 159835 |
| CONTACT DETAILS | +65 6866 7366 |
| OPERATING HOURS | Monday – Friday, 9:00 AM – 6:00 PM |
SLP International is rated as one of the best real estate companies in Singapore. It has a competent team of agents who are experts in project marketing and property sales, so you can be confident that you're in good hands.
Despite being in the business for less time than its competitors, it has managed to successfully market 40 residential properties, 40 international properties, and more than 70 commercial and industrial spaces.
Above all, it believes that it can improve the lives of its clients by offering them great and affordable properties. Everyone on its team will ensure that you will be getting your dream property without going beyond your budget and making a lot of compromises.
Highlights
Competent property agents
Wide variety of leasings
6. Savills Singapore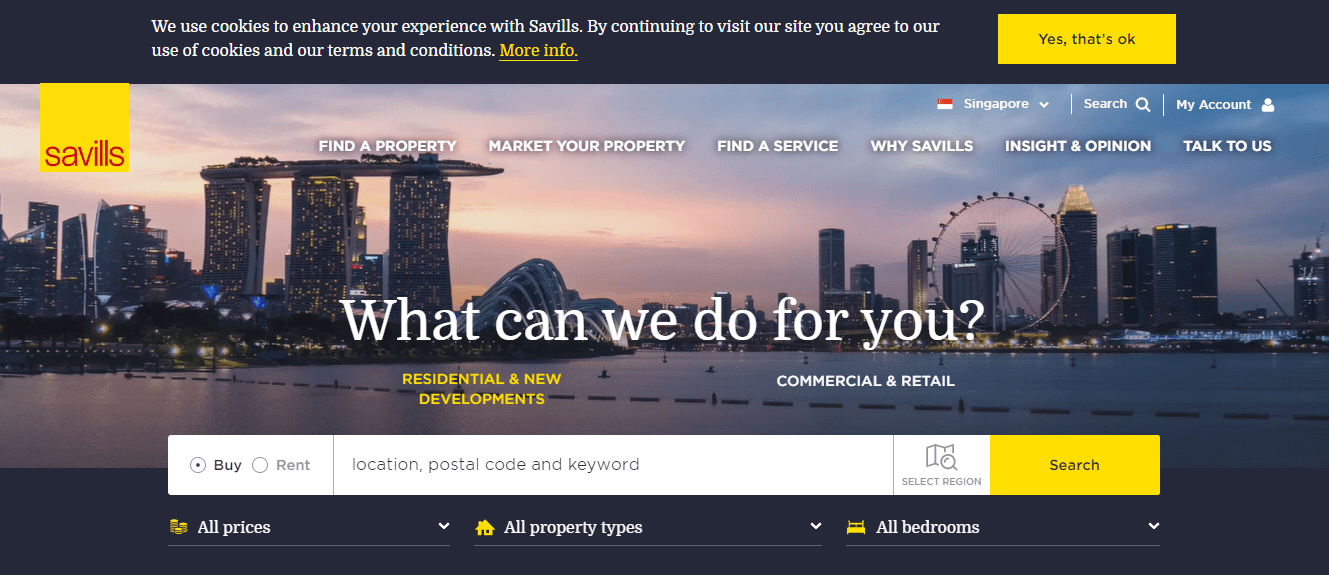 | | |
| --- | --- |
| BEST FOR | Commercial and Industrial Leasings |
| SERVICES | Residential, Retail, Commercial and Industrial Leasings |
| WEBSITE | https://www.savills.com.sg/ |
| ADDRESS | 30 Cecil Street #20-03 Prudential Tower Singapore, Singapore 049712 |
| CONTACT DETAILS | +65 6836 6888 |
| OPERATING HOURS | Monday – Friday, 8:30 AM – 6:00 PM |
Savills Singapore is a top property agent that can help you find whatever you're looking for. Whether it's your own apartment in the middle of the business district or a commercial space that marks the start of your business, they have you covered.
As one of the best property agents in Singapore, Savills Singapore has managed to collect a huge pool of clients from both residential and commercial sectors. It's no surprise given that they've been in operation for more than 160 years now!
On top of this, they have over 40,000 people working for them across different countries around the globe. So, if you also plan to get a property abroad, make sure to hit them up.
Lastly, Savills Singapore is built on the trust of their clients. This is why their team of agents always strive to quality services that help clients make informed decisions.
Highlights
160 years of experience
40,000 staff
Experienced team of property agents
7. MINDLINK GROUPS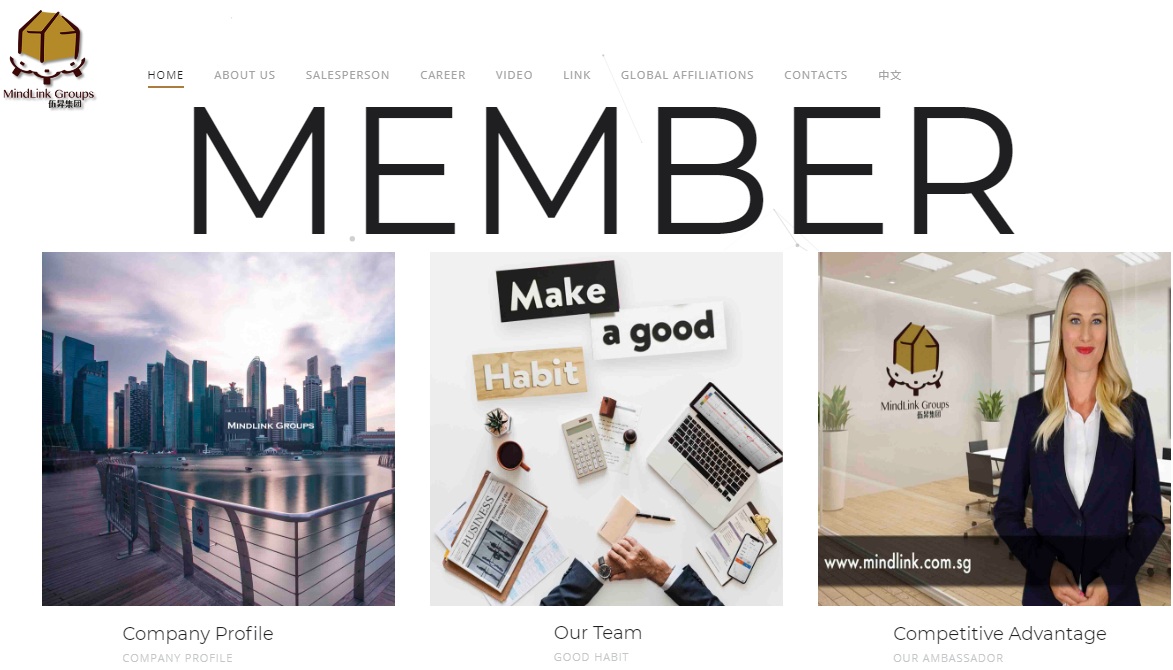 | | |
| --- | --- |
| BEST FOR | Experienced staff |
| SERVICES | Property Estate Agency, Property Management, Property Concierge, Property Investments, Property Consultation |
| WEBSITE | https://www.mindlink.com |
| ADDRESS | 116 Lor 2 Toa Payoh, #01-162, Singapore, 310166 |
| CONTACT DETAILS | +65 6835 9991 |
| OPERATING HOURS | Monday to Friday: 9:00 am – 6:00 pm |
Since 2001, Mindlink Groups has been providing professional and excellent service in the real estate industry. In fact, they have won various awards for their hard work, professional engagement, and many more.
If you're selling, buying or leasing a property, look up Mindlink. They make sure that the whole process would be stress free. They're here to help you every step of the way to ensure that you get the best property or the best price.
Apart from this, they also offer management of your properties to help you in cost containment, industry benchmarking, and others. Moreover, they could also offer property concierge to take care of your most valuable home even when you're away.
Highlights
Property Concierge

Guaranteed best prices

Professional and experienced staff
Customer Reviews
Mindlink Groups have customers that are particularly happy with the services they got from them. Here's what their customers have to say.
"Woah, Didnt know this Real estate agency has been established in Singapore for almost 20 years. Very Down to earth and humble management. Well done."
"Mr. Chow is excellent, professional and very experienced in the real estate industry. Very patient and trustworthy."
8. PROPERTY LIM BROTHERS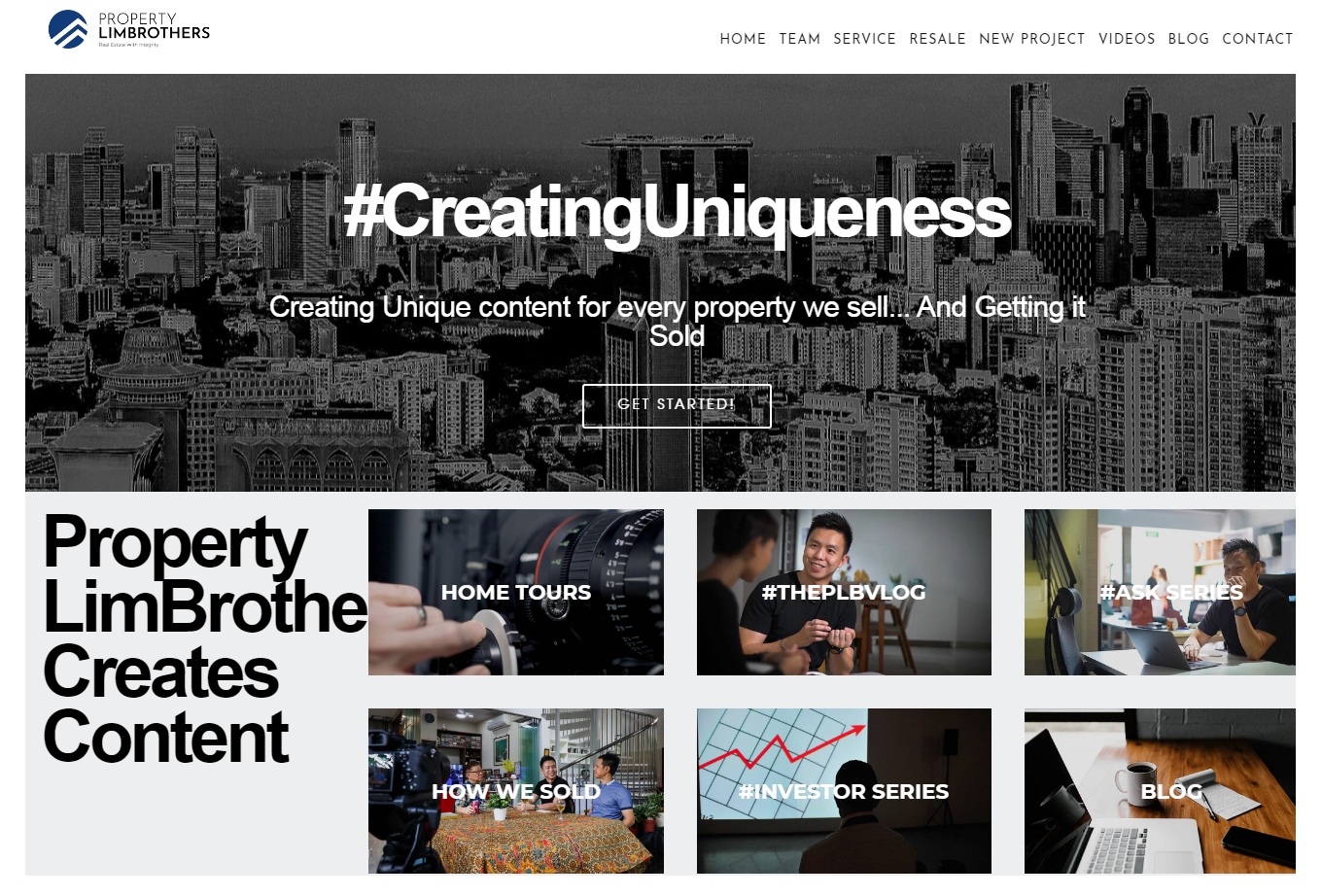 | | |
| --- | --- |
| BEST FOR | Selling Properties Using Creative Marketing Approach |
| SERVICES | Video Home Tours Presentation, Social Media Marketing, Home Styling, Visualization, Digital Campaigns |
| WEBSITE | https://www.propertylimbrothers.com/ |
| ADDRESS | Oxley Bizhub 2, 62 Ubi Rd 1 , Singapore 408734 |
| CONTACT DETAILS | + 659067 6710 |
| OPERATING HOURS | Monday – Sunday: 24 hours |
With the technological changes we are continuously having, Property Lim Brothers is a real estate agent in Singapore that has been using these digital tools to sell properties for their clients
They venture into social media marketing to ensure that the home your selling will reach potential buyers across social media platforms. They analyze the demographics and execute specialized boosting.
They also use 2D and 3D technology to visualize your new home. This gives buyers the ease of scrolling across different potential homes at the click of their fingertips.
Highlights
Use of digital tools in property sales
Creating of Unique Campaign for Each Property they Sell
Home Styling Visualization
Personalized services
Personalized Home Tour
Customer Reviews
Their digital approach to real estate really paid off as their customers were impressed by the ease and stress free environment it's been giving.
"We contacted Adrian Lim from overseas as we work there, everything like viewing and liking of the unit was done through photos and videos Adrian has been very helpful with the process and guided us on every step to purchasing the flat. "
9. NAVIS LIVING GROUP
| | |
| --- | --- |
| BEST FOR | Comprehensive Training, Advanced Technology, Open-Sharing Culture |
| WEBSITE | https://www.navislivinggroup.com/ |
| ADDRESS | 430 Lor 6 Toa Payoh, #08-01, Singapore |
| CONTACT DETAILS | +95 9856 6653 |
| OPERATING HOURS | Monday – Friday: 9:30 am – 6:00 pm |
Navis Living Group, renowned for its family-like environment, training, and technology, is a place where real estate agents in Singapore can call home.
They provide a friendly and vibrant environment for agents to strive in and their open-sharing culture has been the talk of many in the industry.
In total, their training masterplan contains 190 hours of different modules that include classroom-type learning, immersive training, and real-time learning – all for free.
A few of their signature courses are BRAVE – a life transformation journey, Property Wealth Planning – an exclusive framework that enables agents to become highly sought-after consultants. Advisory Sales Masterclass – where they equip their people with secret presentation decks and scripts to become an authority in their business.
They also use the latest technology to aid their agents in streamlining their daily tasks. Link Up – NAVIS' sole proprietary software, is a mobile app that can not only increase their agents' sales and performance but also granting them more time to spend with their loved ones.
Highlights
Open-sharing culture with a family-like environment
Conducting the latest and most relevant training courses
The state-of-the-art technology
Immense project opportunities
Customer Reviews
Their customers were impressed with the training that this group provides.
"It is also an excellent platform for growing salespeople to breakthrough in their real estate business and for leaders to start building teams too."
"Tremendous support and training, state of the art systems and processes, fun and joy and close knitted family of agents! When you are in Navis, you know you are in the right place!"
10. Jack Sheo
Since 2010, Jack Sheo has been known in the property agency industry in Singapore, helping both local and overseas nationals achieve their goals in real estate.
Jack Sheo assists mainly in three categories of real estate, namely Sale and Purchase transactions, Rental and Tenancy transactions, and finally, Real Estate and Wealth Planning. With Jack's experience in his field, clients may rest assured that they will get the best advice when it comes to managing their real estate goals.
Highlights
Ten years of experience in the field

Serving both local and overseas clients

Specializing in sale and purchase, rental and tenancy transactions, and real estate and wealth planning
11. STUART CHNG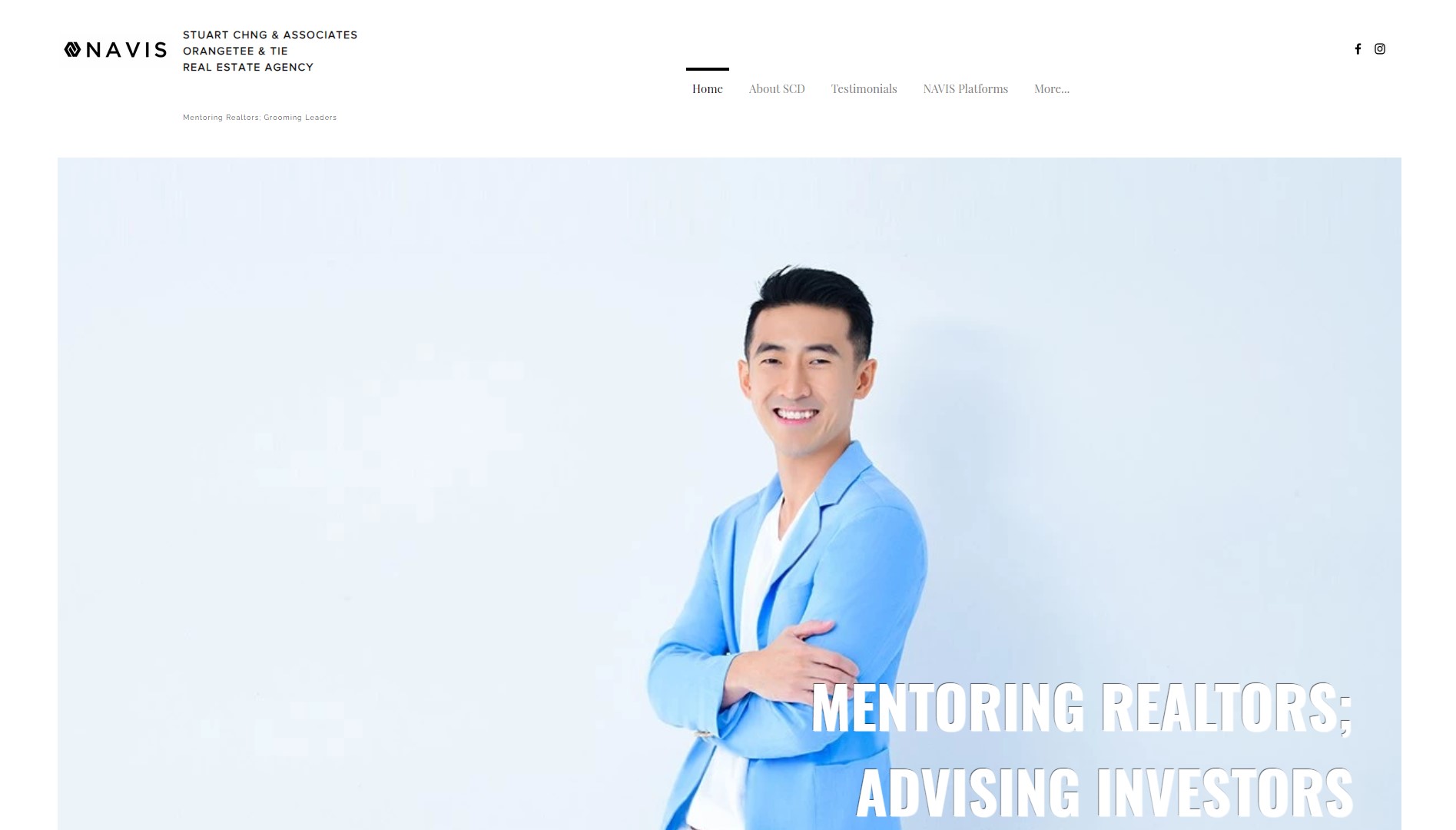 BEST FOR
Mentoring and Property Leasing
WEBSITE
http://www.stuartchng.com/
ADDRESS
430 Lor 6 Toa Payoh #08-01
OrangeTee Building S319402
CONTACT DETAILS
+65 9691 9907
OPERATING HOURS
Open 24 hours
Consisting of 11 divisions and over 280 agents, Stuart Chng Division is truly one to consider when looking for the best property agent in Singapore. They're known as the leading division in Navis Living Group (OrangeTee & Tie) since they started.
Each person in the company is are fully trained professionals, all continuously undergoing seminars and intensive training to further better their skills as an agent. You definitely won't have to worry about anything else but the property in mind and other qualities you might be needing– Stuart Chng will lay all the possible prospects out for you in no time. Trust them to get you all the best deals and flexible terms and leases.
All in all, Stuart Chng has received nothing but good praises and recommendations from previous clients, which proves that their experience and expertise is unparalleled and something you won't find anywhere else. Check out all their features on 16 leading media and investment blogs like The Business Times and Asia One for more information.
Highlights
Experienced agents equipped with training

Team Leaders

Digital services and tools to aid real estate agents
Customer Reviews
Their customers were impressed with the training that this group provides.
12. Auctionjia
Auctionjia is an online-to-offline (O2O) real estate agency with an online property auction platform. Choose to sell your property via online auctions or private treaty.
If you are looking for someone who can expose your property to thousands, then you should look to Auctionjia, who have built up a proprietary list of interested home buyers.
Supported by a team of experienced real estate agents as well as digital marketing experts, they can market your property better than any single agent. And the great thing is, their fees start from only 0.9%, one of the lowest in the country. Save more and get more when you appoint Auctionjia.
If you prefer to sell online and have your property sold via auction, then this could be the best property agent in Singapore for you.
Highlights
Free 3D Virtual Tour
Sponsored Social & Digital Marketing
Great Savings
Dedicated & Experienced Agents
Customer Reviews
"Dear AuctionJia Team
I was very impressed with the sale of my property. AuctionJia workas a team and continuously brought viewer without feeling sick and tired. The agents were fantastic and keep on advising me positively every now and then. They seems to have all the solutions to our problem.
Their commission is reasonable. Even though they have many years of experience in this field, they are not selfish and greedy.
Our family was very happy with their humbleness, professionalism and patience. if you have property to sell, do not hesitate to call them."
"Appointed auctionjia team for my property in Orchard area. Realized they are very very experienced agents. Can see a lot of effort marketing my property online like facebook ads"
13. PropNex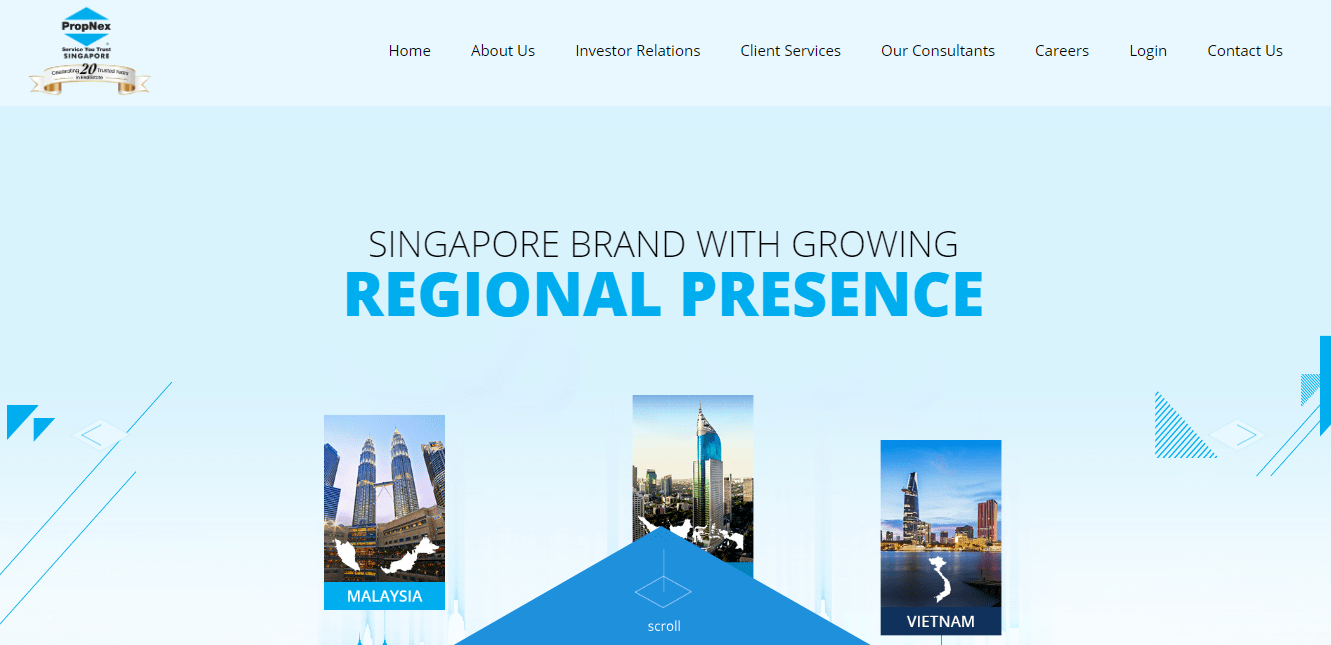 | | |
| --- | --- |
| BEST FOR | Property Management |
| SERVICES | Buy/Sell/Rent Properties, Overseas Properties, and Consultancy Services |
| WEBSITE | https://www.propnex.com/ |
| ADDRESS | 480 Lor 6 Toa Payoh, Singapore 310480 |
| CONTACT DETAILS | (+65) 6820 8000 |
| OPERATING HOURS | Monday – Friday, 9:00 AM – 8:00 PM |
With over 19 years of experience, PropNex has grown into one of the most trusted property agencies in Singapore. It has clients from both residential and commercial sectors who can attest to its dependable and quality services.
On top of selling properties, you can also make a deal with PropNex to purchase your property if you're planning on moving to a different location. It will take the stress of finding a new owner off of your shoulders.
If you're clueless as to how real estate works in Singapore, PropNex's team of professional consultants will make sure that you're educated on the matter and up to date with the best listings. That's only one reason why we put it among the best property agencies in Singapore!
Highlights
19 years of experience
Buys and sells properties
With branches overseas
Competent consultants
Customer Reviews
Here are some reviews left by long-time clients of PropNex:
"They are very helpful, responsive to my queries almost immediately, and offer good advice on rental trends. Which resulted in a swift rental of my unit in North Park. Recently they did a report on my rented apartment to update me on the condition of my North Park Unit which is deeply appreciated by me"
One customer said the following to one of PropNex's consultants:
"Kevin continued to ensure that my dual-key unit at The Orient stays fully tenanted. Most recently, I had to be overseas during a handover, but this was handled impeccably by Kevin on my behalf, even if it meant going beyond his immediate call of duties. Further, he used less than two weeks to reinstate new tenancy. For a studio unit shaped oddly that would not be particularly appealing in light of fierce competition from surrounding projects, Kevin's resourcefulness is commendable."
And with that, we conclude our list of the best property agencies in Singapore! Were you able to pick one that you think can provide you with the best leasings on the island?
If so, tell us about it by commenting below! You're also free to share with us your past experiences with property agencies if you've tried dealing with them before.
By the way, if you can't wait to get your own home but don't have enough savings yet, you may want to read our list of the best housing loans in Singapore. With the right property agency and housing loan, you may be one step closer to getting your dream house!