6 Best Housing Loan Options in Singapore for 2021
Do you want to get your own home in Singapore but don't have enough money for it? If so, then you should avail of the best home loans in Singapore today to be one step closer to having your own place.
We know how complicated the process of applying for a housing loan in Singapore is, though. To make your life a bit easier, we compiled a list of the best options for housing loans in Singapore.
Check them out below to see which home loan in Singapore fits your preferences.
1. PropertyGuru Finance

BEST FOR 
Home Financing and Mortgage Advice
SERVICES
Private property loans
HDB bank loans
Refinancing
Commercial property loans
WEBSITE
www.propertyguru.com.sg/mortgage
ADDRESS
1 Paya Lebar Link, #12-01/04, Paya Lebar Quarter, Singapore 408533
CONTACT DETAILS
Call or Whatsapp +65 8769 5300
OPERATING HOURS
Monday – Friday, 9:00 AM – 9:00 PM
Saturday, 9:00 AM – 1:00 PM
When it comes to finding the perfect home loan in Singapore, you can let PropertyGuru Finance do the heavy lifting for you.
PropertyGuru Finance is more than just a broker. You will get expert advice from Singapore's most experienced mortgage brokers, supercharged by PropertyGuru's sophisticated screening technology and algorithms.
Join thousands of home buyers and owners to find opportunities beyond just immediate savings:
Smart now: They help home buyers find the best housing loan for their financial needs and apply effortlessly; best mortgages and rates guaranteed. 
Smart always: They monitor the market for homeowners daily and notify them immediately on the best time to refinance home loan, switch and save based on their goals.
Highlights
Get objective and personalised advice – no fees, no commitment required!
In partnership with all major banks to bring you the best rates and optimal home loan savings.
They provide mortgage calculator and the use of other technology to simplify your road to home ownership.
Rated 4.9 stars by customers on home loan application process and experience.
Customer Reviews
Some Google Reviews from their happy clients:
"I would recommend these guys for anyone looking to buy a property in Singapore. They made my first purchase a breeze. Rachael from "property guru finance" was very professional right from the start. From giving the right advice about the process, helping to get an IPA to finally getting the bank loan approval, everything was done in a timely manner. Once you know what you want and how much you want to invest, these guys make the rest a very pleasurable and hassle free experience. Well done and keep it up guys!"
— Ashish Satapathy, Successfully obtain an IPA and new home loan.
"The consultation with Property Guru Finance was really useful when I was trying to refinance my hdb flat. Our advisor Mr Axel Koh was knowledgeable and provided clear explanations and detailed refinancing plans to help us kick start our journey. Axel was also very helpful in helping us liaise with our preferred bank and also recommended a trustworthy law firm which helped us save lots of time. Overall, a really good first experience for me and my husband and I will recommend his service to anyone who is interested in learning more about HDB refinancing."
— Tan Si Ying, Refinancing
2.  DBS Housing Loan
DBS has been helping a lot of Singaporeans achieve their dream house since the 1970's. If you're looking for a bank with easy application and less requirements, then look no further than DBS.
One of their requirements for housing loans is that they shouldn't be lower than $300,000. If you opt for their 2-year package, your interest will only go as high as 1.83% for both years so if you are looking for the best home loan interest rates in Singapore, this is worth keeping in mind.
For the third year, you will have to pay the same interest rate on top of the fixed deposit home rate. It's really a lot cheaper compared to other banks, so you might have a good chance of buying your dream house with DBS.
Highlights
Low interest rate
Easy application
Cash rebates for selected customers
3.  Citibank Housing Loans
 Citibank isn't known for affordable housing loans, but they do offer reasonable introductory rates, ideal for people who have extra cash on hand.
However, these rates do increase significantly after 2 or 3 years of payments, so you must prepare yourself… because the increase isn't going to be gradual.
Thus, we can only recommend Citibank to people who are thinking of refinancing their housing loans after every few years. It's not going to be the best housing loan in Singapore for people who are looking forward to having a lower total cost of borrowing because their interest rates are not budget-friendly.
On the other hand, if you really want to get a housing loan from Citibank, then you might want to avail of an offset account prior to applying for a loan. People with history with Citibank are more likely to get better interest rates as long as they're borrowing more than $500,000. In general, we'd recommend them to long-time Citibank members and those who are have good financial security and wanting the most secure and best home loan in Singapore for 2021. 
Highlights
Low introductory rates
Better interest rates for existing clients
4.  Standard Chartered Housing Loan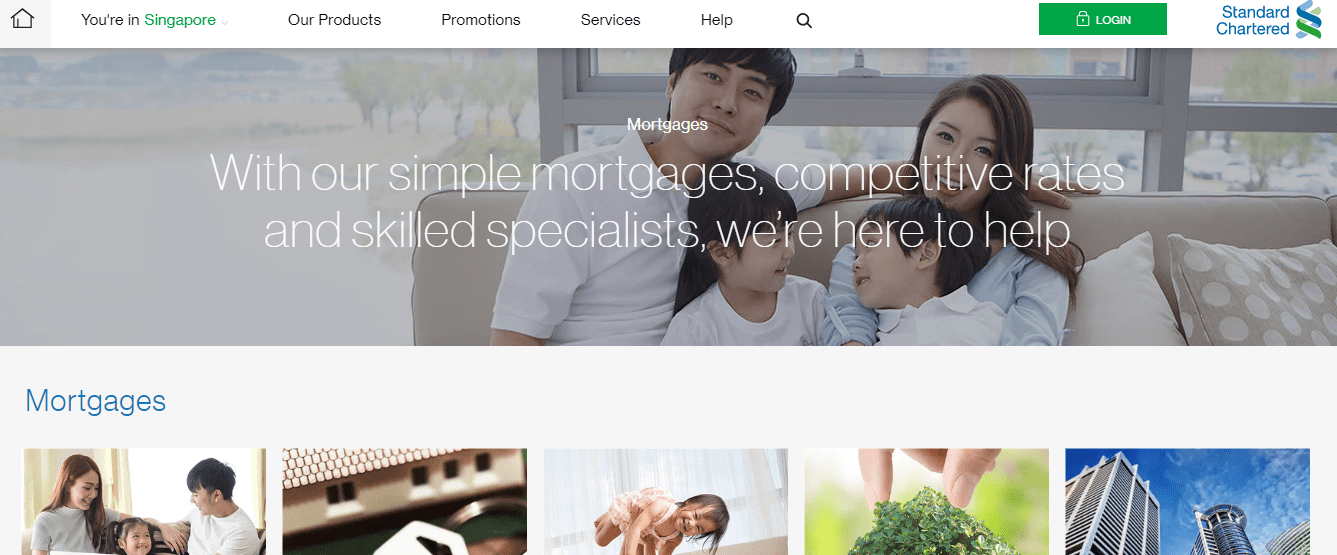 | | |
| --- | --- |
| BEST FOR  | Low Total Cost of Borrowing |
| SERVICES | Home Loans and Personal Loans |
| WEBSITE | https://www.sc.com/sg/borrow/ |
| ADDRESS | 8 Marina Boulevard, Tower 1, #01-01 Marina Bay Financial Centre, Singapore 018981 |
| CONTACT DETAILS | +65 6747 7000 |
| OPERATING HOURS | Monday – Friday, 10:00 AM – 7:00 PM |
 Standard Chartered has a good track record for the best mortgage rates in Singapore, with clients from both the residential and commercial sectors. In addition, people who open a deposit account with them may be entitled to discounts on their housing loans.
If you're looking forward to having a lower total cost of borrowing, then you might want what Standard Chartered has to offer. It can negotiate reasonable and competitive housing loans because its loans have lower floating interest rates.
In terms of their eligibility, applying isn't much of a hassle. As long as you're borrowing a minimum of $100,000 and have a minimum annual income of $30,000, then you're pretty much good to go. This makes them the best mortgage loan in Singapore in terms of hassle-free eligibility. 
Highlights
Lower interest rates
Better deals for clients with deposit accounts
5.  HSBC Home Loans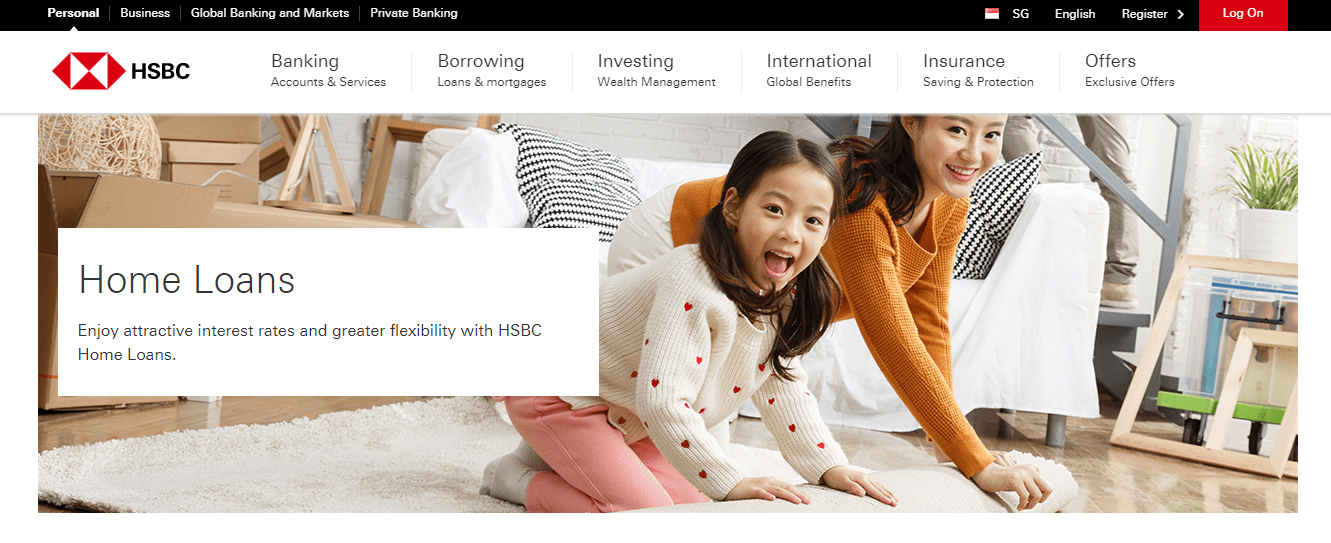 | | |
| --- | --- |
| BEST FOR  | Fixed-rate Packages |
| SERVICES | Home Loans, Personal Loans, Debt Consolidation, Travel Insurance, and Car Insurance |
| WEBSITE | https://www.hsbc.com.sg/loans/products/home/ |
| ADDRESS | 50, #01-03 Raffles Place, Singapore Land Tower, Singapore 048623 |
| CONTACT DETAILS | +65 1800 472 2669 |
| OPERATING HOURS | Monday – Friday, 9:30 AM – 5:00 PM |
 HSBC isn't the go-to bank in terms of housing loans, unlike OCBC and DBS. But now, they're making their housing loans more affordable and accessible, to attract more customers to their competitive home loans.
One of the benefits of having them as your bank is the flexibility of choosing the interest rate package that matches your lifestyle and salary. You have to either go for a fixed-interest rate, SIBOR-pegged rate, or TMDR-pegged rate.
For a housing loan with a lock-in period of 2 years, you can enjoy an interest rate as low as 1.8%. It's almost the same as other banks offering housing loans, with the exception that HSBC's other rates and fees are much lower.
In addition, if you like their housing loans and want to refer a friend, you'll receive a voucher of up to $650 for every successful referral. In general, we'd recommend them to those looking for the lowest home loan interest in Singapore that also has a referral program. 
Highlights
Competitive interest rates
Lower additional fees
Flexible rate packages
Rewards for referral
6.  Maybank Home Loans

 If you want a bank that'll genuinely support your dream of buying a house by giving you the best home loan rates in Singapore, then you have to check out Maybank's Home Loans.
For every housing loan, clients are to choose whether they prefer a fixed rate or a floating rate (which isn't common for banks offering housing loans). And this freedom that they give their customers makes them one of the best mortgage loans in Singapore. 
Another benefit that you may receive from Maybank is the cash gift should you decide to refinance your housing loans. In some cases, clients may also be entitled to an exclusive renovation loan package.
Overall, we think Maybank is a worthy bank to get a housing loan from because they're lenient and don't try to drain their clients through loan interest rate in Singapore.
Highlights
Up to 75% financing
Renovation loan package
Rewards for referrals
And with that, our list of the banks with the best housing loans in Singapore ends! We've done the home loan comparison in Singapore for you so you can choose the best option that works for you.  As long as you're protected by any of these banks, you won't have to worry about fulfilling your dream of getting your own house.
Do you have any experience with housing loans that you don't mind sharing with us? If so, then feel free to tell us by leaving a comment below!
By the way, if you're also thinking of getting a personal loan, then please check out our list of the best lenders in Singapore. These banks and lenders offer flexible payment rate that you'll definitely like!