5 Best Life Insurance Policies in Singapore for 2021 and Beyond!
It's better to be prepared for the unexpected by having the best life insurance in Singapore. If you want you and your family to be financially secure at all times, then we'll help you out with this list of the options for the best life insurance in Singapore.
Finding a company that offers great long term life insurance in Singapore isn't easy. You have to know the benefits and privileges of each life insurance plan to make sure that you're paying for the right services.
If you don't know where to start with that, don't worry. We're here to show which life insurance in Singapore would be great for you and your family.
We've done the nitty gritty of life insurance comparison in Singapore and below are our favourite options for life insurance on the island. Any of these options will definitely help you achieve the life you desire for you and your family.
1.  AIA's Prime Secure

No insurance company protects its clients better than AIA Life Insurance, and that's why it's deserving of a spot on our list as one of the best life insurance companies in Singapore. We believe that the Prime Secure is their best insurance plan to date as it allows clients to secure their life in their own terms.
Clients can choose to pay their premiums over 5, 10, or 15 years, and still enjoy the benefits until the age of 100. What's more, they're even given the option to convert their whole or half coverage into 15 years of regularly monthly income.
In addition, Prime Secure will also help you to stay financially stable while on retirement. It will provide a personal savings account that grows annually until you turn 100.
It also considers some special illnesses that tend to come with old age such as diabetic complications, osteoporosis, urinary incontinence, and many more. If you develop any of these conditions, you'll be entitled to 30% of your coverage amount.
Of course, it also rewards clients that choose to live and stay healthy. They get to enjoy special health screenings and huge discounts on healthy food options.
Highlights
Convertible protection
Disability support
Rewards for being healthy
Support for special illnesses
2.  FWD's Term Life Insurance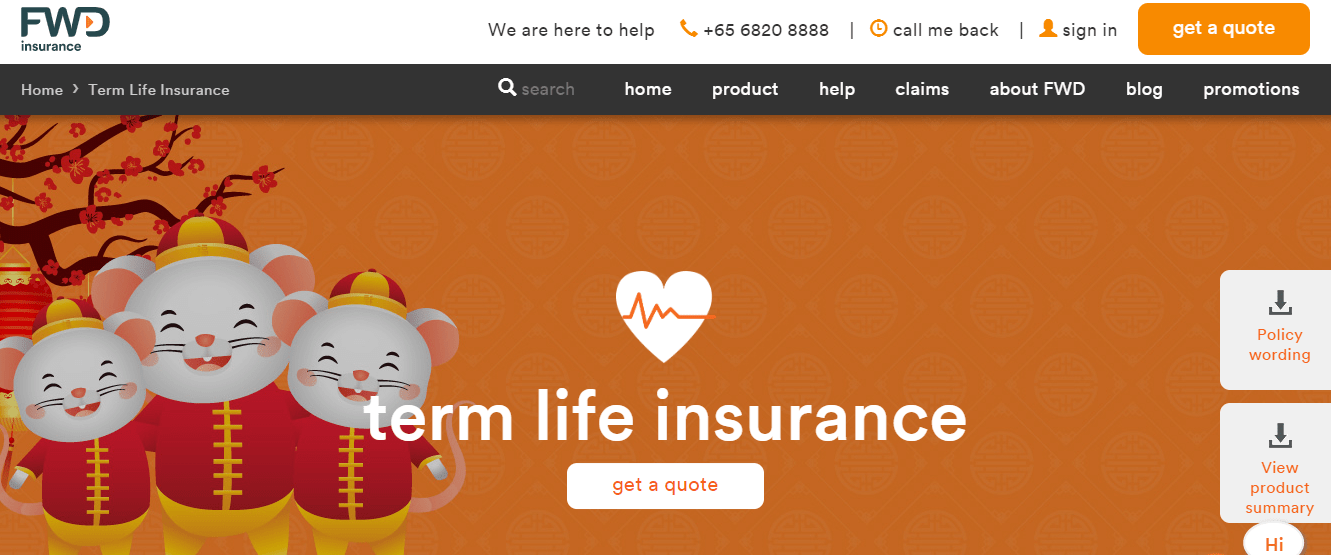 | | |
| --- | --- |
| BEST FOR  | Medical and health benefits |
| SERVICES | Life Insurance, Car Insurance, Travel Insurance, Maid Insurance, Home Insurance, and Group Insurance |
| WEBSITE | https://www.fwd.com.sg/life-insurance/enhanced-term-life-insurance/ |
| ADDRESS | 6 Temasek Blvd, #18-01 Suntec Tower Four, Singapore 038986 |
| CONTACT DETAILS | +65 6820 8888 |
| OPERATING HOURS | Monday – Friday, 9:00 AM – 10:00 PM |
FWD is known to offer the best life insurance policy in Singapore, so their Term Life Insurance will definitely help you and your family prepare for what's next. FWD's Term Life Insurance includes death coverage, terminal illness support, and permanent disability protection.
In addition, we think it's great because the premiums can be adjusted to match your income. You don't have to allocate a huge chunk of your monthly salary towards paying for your monthly premium — everything will be balanced when you sign up for this plan.
It's also ideal for people who don't want to commit too long for insurance. You may get coverage for a year only, and if you end up liking it, you can extend it.
Highlights
Customised premiums
Short commitment
Extended health benefits
Death coverage
Customer Reviews
If you want to know how their clients like their services, take note of the following comments:
"Thankfully never had to make a claim with FWD, but the ease of purchase has meant I've enjoyed all my travels with complete peace of mind. I generally travel solo, and the Premium plan provides sufficient cover at a very affordable price. Plus, the promotions (and cashback when purchasing via ShopBack) help make historically boring products like insurance way more attractive!"

"My experience with FWD on claim was a great experience, my case was a little complicated but yet with the help of an agent Joel Yeo, he did provide good service, ensuring my needs were met. I didn't expect the funds to come in so quickly, he acted promptly without delay, putting our interest upfront.  FWD uses the latest technology to pay out like pay-now service. I will consider buying again."
3.  Manulife's ManuProtect Term

If you want the best life insurance plan in Singapore that won't go beyond your means, then we definitely recommend the ManuProtect Term by Manulife. As one of the most trusted insurance companies on the island, it aims to make life easier for their clients and their loved ones.
In terms of flexibility, clients can choose how long they want to pay for their premiums. It can also be customised to fit your monthly income and specific needs.
It includes death coverage, so you won't have to worry about passing on a burden to your family in case something happens. It will also pay for your protection in lump sum in case you get diagnosed with a terminal illness.
There's also a special premium rate for smokers as long as they quit in the next 3 years. Having a special rate can be extra motivation for you to finally kick off the habit.
Highlights
Flexible coverage terms
Conversion privilege
Special premium rates
4.  AXA's Life Treasure

AXA Life Treasure is the best option for life insurance in Singapore if you want equal protection for you and your family. It's a customisable insurance package that lets you consider your budget, specific needs, and family while planning to make sure all the important things will be covered.
Among the basic inclusions are death coverage, terminal illness protection, and disability. Clients have the option to expand their plan to increase the protection and benefits of their families.
It also comes with a critical illness protection that can help waive the expenses for 132 listed medical conditions. Imagine being this prepared for something that happens to most people in this lifetime!
Highlights
Increased health coverage
Flexible payment terms
Disability cash benefit
Family protection
5.  Prudential's PRU Lifetime Income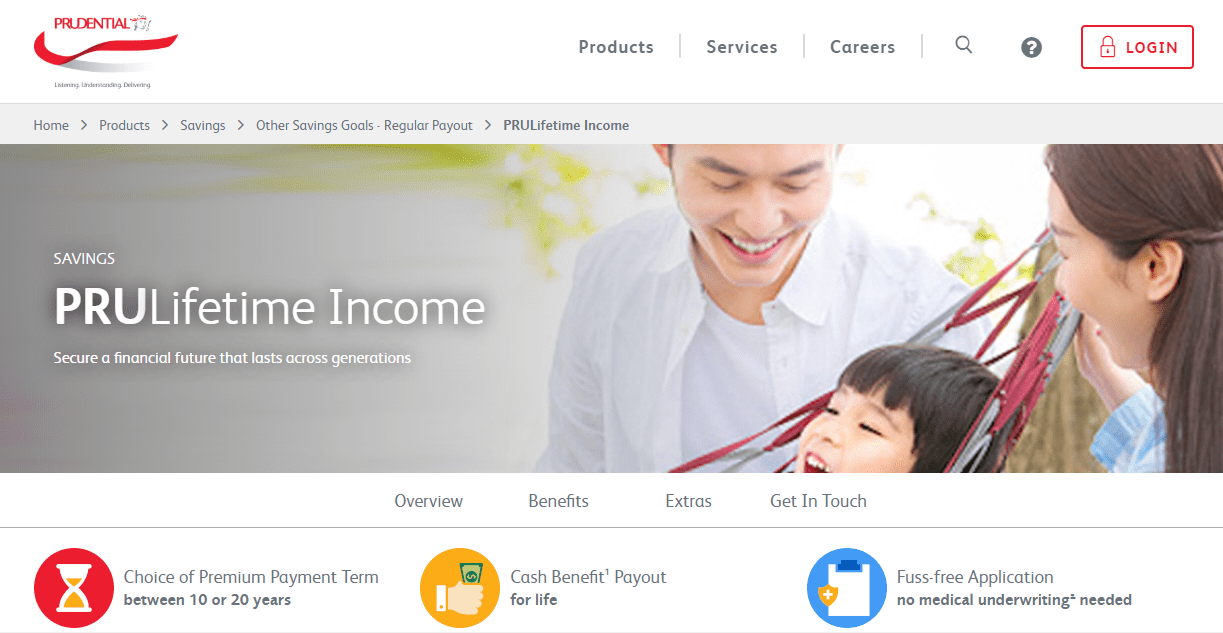 | | |
| --- | --- |
| BEST FOR  | Easy application |
| SERVICES | Life Insurance, Retirement Insurance, Mortgage Protection, Education Protection, and Disability Insurance |
| WEBSITE | https://www.interestguru.sg/prudential-prulifetime-income-review/ |
| ADDRESS | 7 Straits View #06-01, Marina One East Tower, Singapore 018936 |
| CONTACT DETAILS | 1800 333 0333 |
| OPERATING HOURS | Monday – Friday, 9:00 AM – 5:45 PM |
By the time you're 60, you want to be retired from work and just spend your days with your family as much as possible. If you want to remain financially stable after retirement, then you should avail of the PRULifetime Income plan.
What makes this a great life insurance plan is that it saves you and your family from the anxieties of not having a source of income. With this life insurance, you still get to provide the needs of your family even if you're no longer capable of working.
More importantly, your wealth can even be passed on to the next generation to ensure their future and safety. As long as the insurance plan stands, your loved ones will always be taken care of.
In case something happens while you're in the retirement age, there's no need to worry either… because it also covers death and disability benefits.
Highlights
Accident coverage
Family protection
Wealth transfer
Flexible terms
Life insurance plans have become mandatory if you want to have a secure future for you and your family. Good thing there are life insurance plans such as the ones we included on our list.
Have you signed up for a life insurance plan that you think should be on our list? Let us know how it protects you and your family and we'll consider adding it to the roster!
In case you also like travelling and want to feel secure while abroad, then you may want to check out our picks for the best travel insurance in Singapore as well. You can travel without worries and anxieties when you're backed up by any of these insurance plans.