6 Best Savings Account in Singapore with High Interest in 2021
Looking for a good savings account in which to bank your cash for a rainy day? Then we suggest that you try the best savings accounts in Singapore.
Saving money isn't easy, but when you're protected by the best savings accounts in Singapore, you will be more motivated to manage your expenses wisely. With the best accounts, you get a decent interest rate, easy application, and other perks.
If you don't know where to find such savings accounts, you've come to the right place.
We have compared dozens of savings account in Singapore and we're listing down the ones we think are worthy of everyone's attention. 
1.  DBS My Account

If you want a savings account that can be customised according to your preference, then the DBS My Account would be an ideal match for you. It's pretty easy to apply for this savings account as there's no age requirement or minimum deposit.
Ideal for parents, it enables you to connect your account to your child's savings account, allowing them to save their unused allowance. In addition, having access to your account has never been easier with their over 150 digital banking services.
If there's one thing we love about this saving account, it is the daily interest feature. As long as you regularly insert money into your account, your savings can increase almost every day! We think this is one of the best savings account in Singapore for parents and their young children. 
Highlights
No minimum balance
No age requirement
Online banking
Daily interest rate
2.  OCBC 360 Account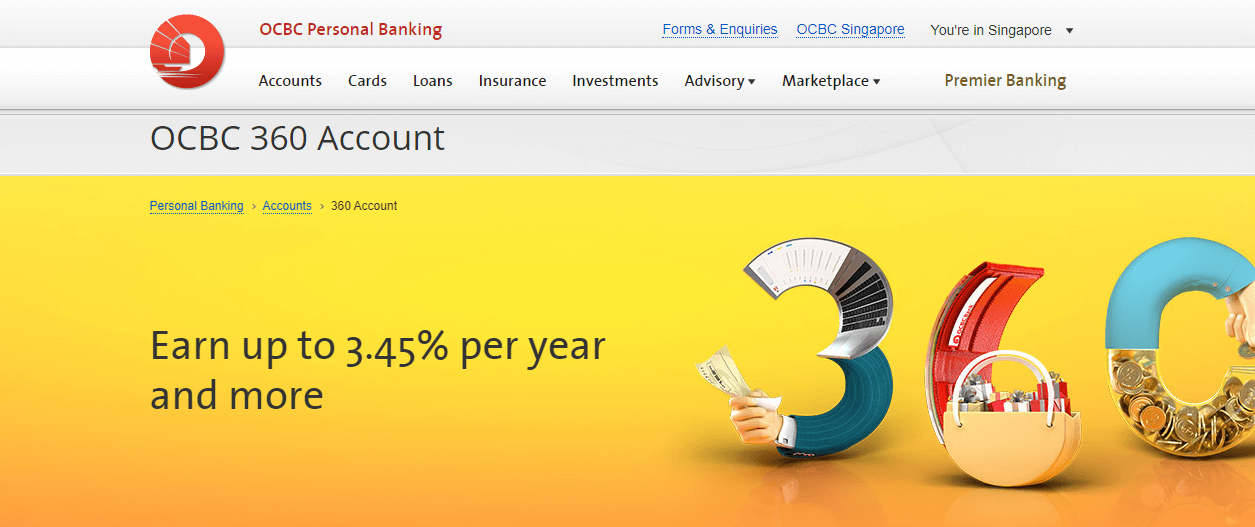 If you have extra cash on hand, and you're not quite sure which bank is best for savings in Singapore then you should definitely consider getting an OCBC 360 Account. 
If you deposit more than $35,000 in cash, then you get to enjoy a higher interest rate. This is because of its tiered interest system, which benefits people who deposit large amounts of cash in their bank accounts in Singapore. 
Applying for this one is as easy as counting to three too. As long you're 18 and above and can prove that you're a Singapore resident, then you're pretty much good to go.
Highlights
High interest rate
Great bonus rates
Easy application process
3.  Standard Chartered Bonus Saver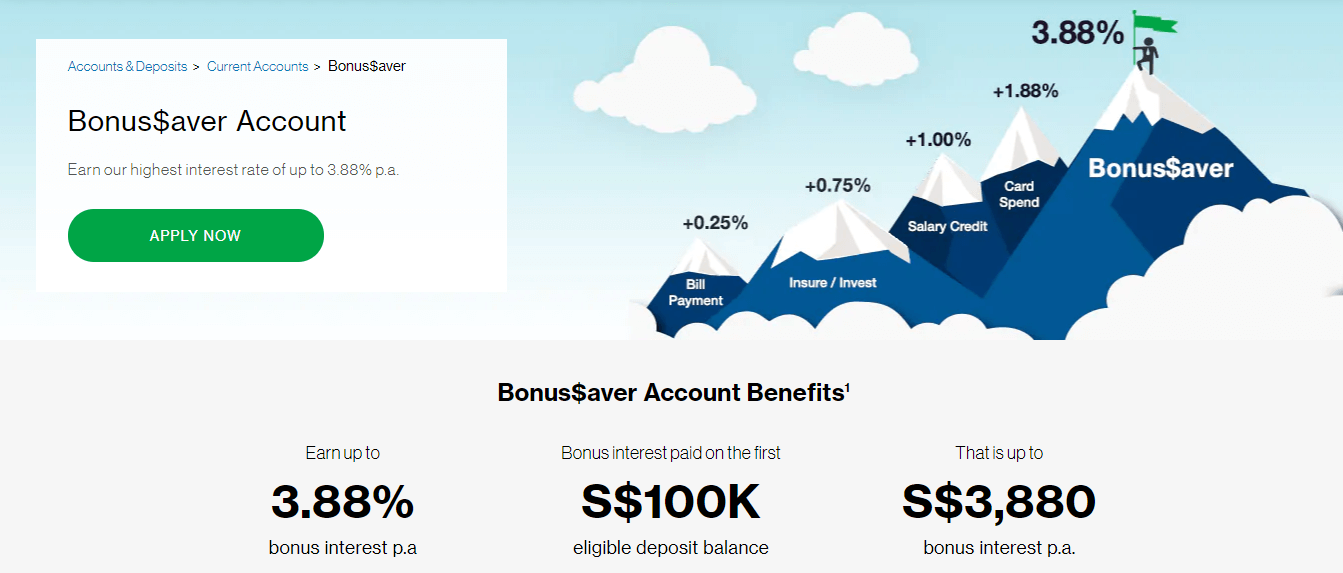 Like the previous option, Standard Chartered Bonus Saver offers higher interest rates to larger depositors. So if you want to know which bank in Singapore has the highest interest rate, well this could very well be one of them. 
If you deposit an amount not less than $100,000, you can earn up to 3.88% interest while you consolidate your expenses, bills, and salary credit using this account.
If you don't like having to use different cards in shopping and paying your dues, then the Standard Chartered Bonus Saver is the best Singapore savings account for you. 
Every time you have a transaction using this card, you receive a bonus to your interest rate. This increases, the more transactions you have.
Singapore residents and even foreigners can easily apply for this savings account. As long as you're 21 and above and can provide proof of stable income, then applying wouldn't be a hassle.
Highlights
Easy application process
Online banking
Convenient withdrawals
Easy account management
4.  Bank of China Smart Saver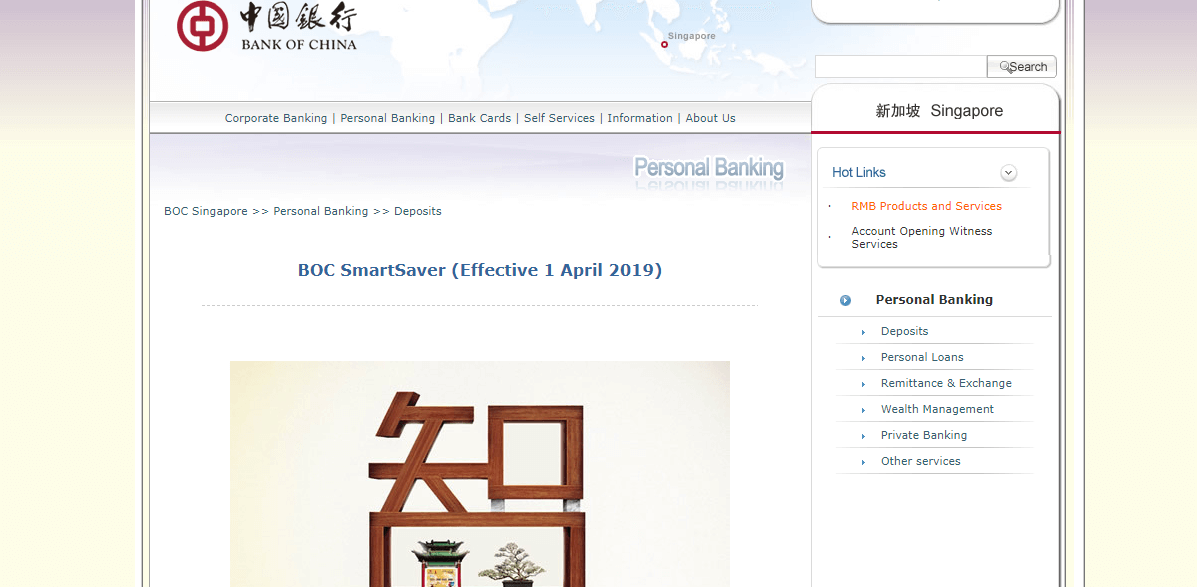 Bank of China may be known as a bank with inconvenient services sometimes… but if you really want a bank that offers interest rates higher than most banks in Singapore, then they might be the one for you. 
You can earn an interest rate of up to 3.55% when you use your account to pay your bills and credit your salary. This rate makes them competitive and one of the best savings account with interest rate in Singapore.
There aren't a lot of special features that go along with this card, but it frequently rewards users with bonus interest rates. For example, you can enjoy a 0.60% bonus interest rate when you've accomplished at least one of their requirements for card spending.
If you complete at least 3 bill payments amounting to $30 each, you're entitled to another bonus to your interest rate of 0.35%. And those are just a fraction of the rewards given to their account holders!
Highlights
Frequent rewards
High interest rates
Extra savings interest
5.  Citi MaxiGain Savings Account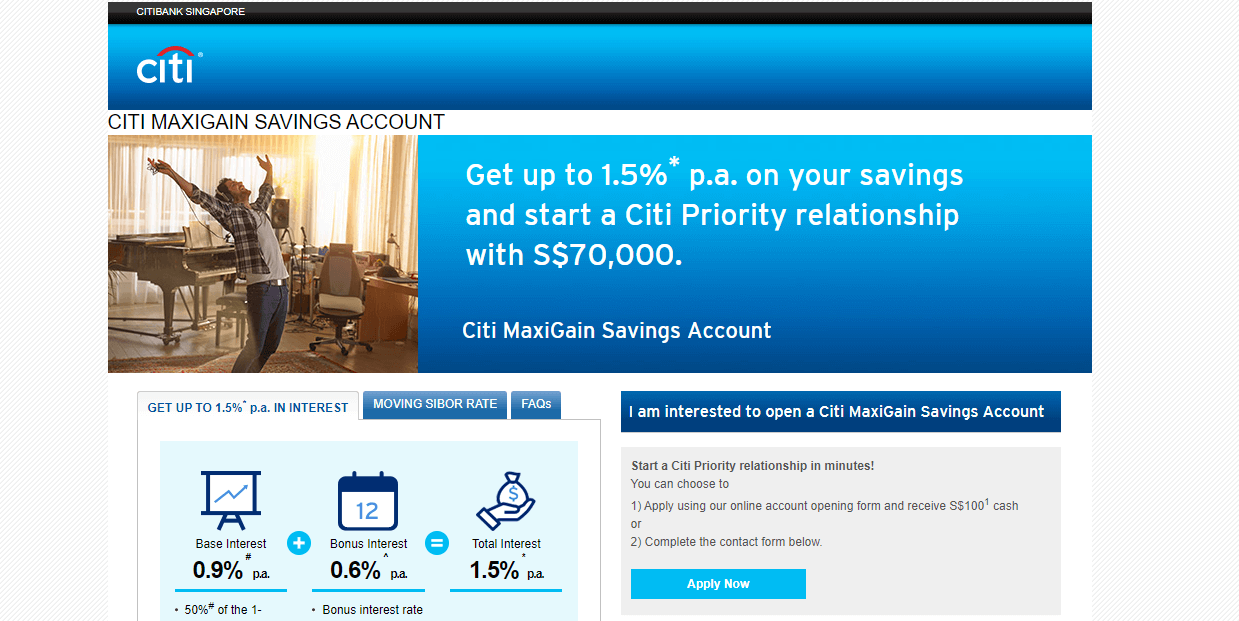 As one of the leading banks on the island, Citibank has various saving accounts but we think that its MaxiGain is the best. It may have a higher initial deposit compared to other banks, but you will get to enjoy a handful of bonus interests and privileges once your account has been completely settled.
Every savings account also comes with a convenient mobile banking app that allows you to monitor your account and do transactions with just a click on your phone. 
One of the things we love about this savings account is that every account holder has global banking benefits too. This means they get to transfer money anywhere in the world and use Citibank's ATMs around the world.
In addition, every account holder is also entitled to various perks and privileges such as discounts to chosen items and restaurants.
Highlights
Easy application
With perks and privileges
Convenient mobile banking
6.  DBS Multiplier Account

With an interest rate that goes as high as 3.8%, DBS Multiplier Account is the savings account to get if you want your money to increase as it sits with your bank. 
Unlike other banks, it doesn't require account holders to have a minimum salary credit or credit card spend as long as your monthly transactions amount to $2,000.
It's also the most convenient savings account to have when making regular transactions overseas. Account holders can save, invest, remit, and transfer funds overseas at zero or lower fees — what's not to love about this savings account?
Highlights
Easy overseas transaction
Zero to low overseas fees
No foreign exchange fees
And that's it for our list of the best savings accounts in Singapore worth checking out. Saving money is now going to be easy when you have any of these savings accounts to help you manage your expenses. 
Do you think that there's another savings account that deserves to be on our list? If so, tell us its name and what makes it a great savings account by leaving a comment below.
Oh, and if you travel regularly and want to keep your savings intact, then you should avail yourself of the best travel insurance in Singapore. As long as you're protected by any of these insurance companies, you don't have to worry about spending beyond your means when something unexpected happens while you're travelling.