5 Options for the Best Business Accounts in Singapore
If you're in the early stages of building your business, having a business account will help make tax work, accounting, and expense tracking easier. Besides, wouldn't it be unprofessional to tell a client or an employee to deposit or cash out from your personal account?
So, if a corporate account's what you're looking for, then this article is for you. We've rounded up our picks of the best business accounts in Singapore to save you some time.
We also added a brief discussion on what you should consider when opening a business account. And if you still have questions afterwards, you can also check out our list of FAQs for more information.
How Much Do Business Accounts Cost in Singapore
Business accounts in Singapore have different investment rates, minimum deposits, and maintaining balance requirements. So, you'll have to enquire about these details directly from your bank.
However, you'll also be spending money while preparing documents for your business account setup. Here are averages for all these costs:
| | |
| --- | --- |
| Types of Cost | Average Cost |
| Registration fee for incorporation | $300 |
| Business name registration for incorporation | $15 |
| Business profile | $5.50 |
| Minimum deposit | $1,000-$10,000 |
| Recurring/monthly fees | $18-$35 |
The Best Banks for Business Accounts in Singapore
Let's take a look at our picks for the best banks for your business account here in Singapore. With these banks, you can easily track the financial inflow and outflow of your company.
1. Aspire Digital Business Account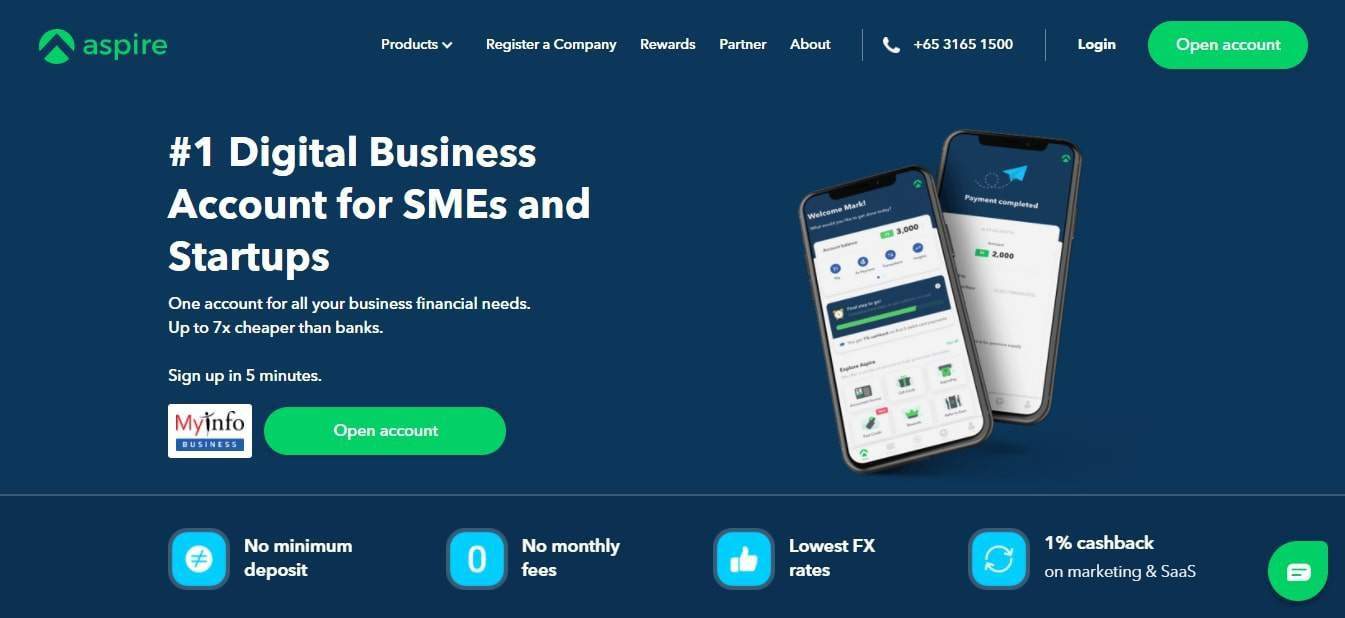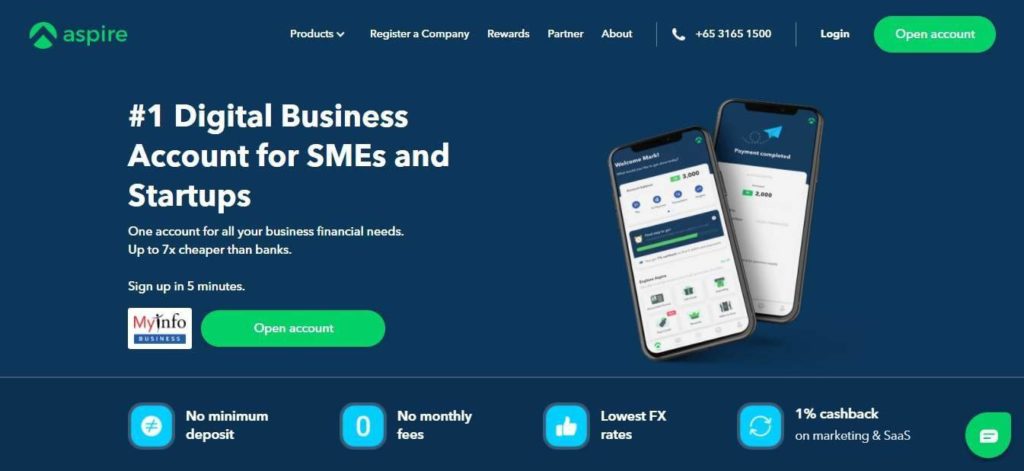 | | |
| --- | --- |
| BEST FOR | SMEs and startups |
| PERKS | No monthly fees, no hidden fees low exchange rates, and cash rebates |
| DEPOSIT | No minimum deposit |
| ELIGIBILITY | All businesses registered in Singapore |
| WEBSITE | https://sg.aspireapp.com/ |
| CONTACT DETAILS | +65 3165 1500 |
Aspire Digital Business Account has excellent business solutions with a dynamic financial flow. It offers a convenient, accessible, and secure digital account from which businesses can send and receive money within an instant, anytime and anywhere.
This digital business account features multi-user access so expense management can be convenient for everyone. Additionally, Aspire also offers an option to set a monthly spending limit to make sure businesses stay within budget.
It also values transparency, thus claiming no monthly fees or hidden fees. Thus, Aspire is a great option for SMEs and startups that are still building their way up.
To add to its transparency, Aspire is also convenient from the get-go up to the maintenance. This is because the application process takes only up to five minutes and because it doesn't have a minimum deposit.
Its ease of access doesn't end with application because Aspire also requires no minimum maintaining balance at all. Additionally, this digital business account is also integrable with accounting accounts like Xero and Quickbooks.
Multi-user access for expense management
Transparent and convenient international transfers
Compatible with third-party accounting apps
Easy signup with no minimum deposit
No option for cheques and cash
Reliant on your technological capability and security
Customer Reviews
Here's what a small business owner had to say about his experience with the Aspire Digital Business Account:
"Aspire gives us the confidence to run our business while on the go. With real-time notifications we know who paid and when, and can make faster and smarter decisions."
2. OCBC Business Banking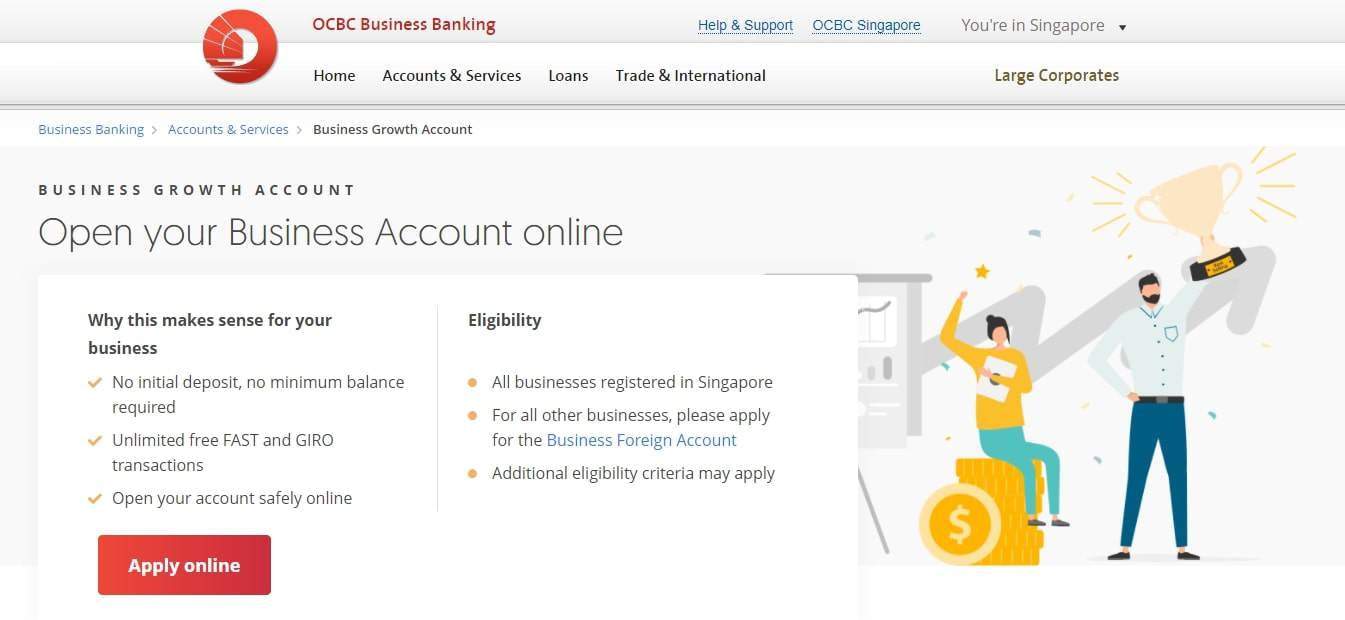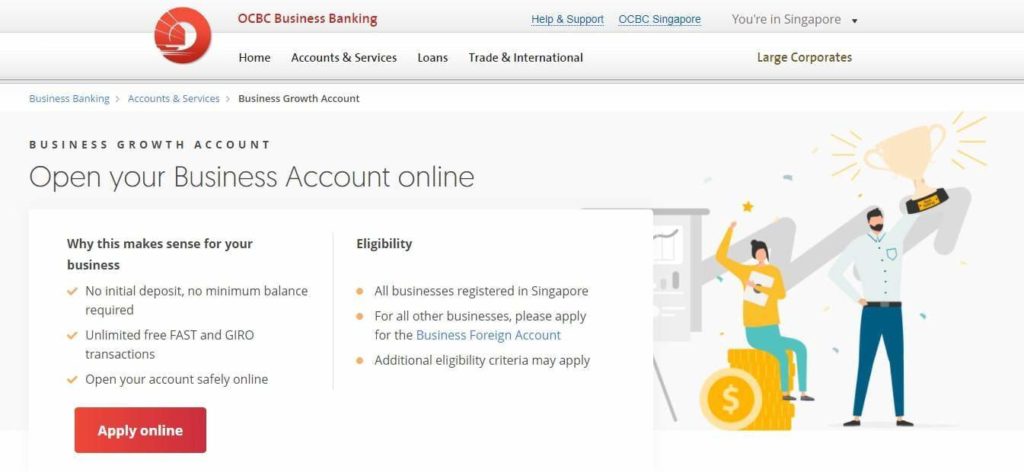 | | |
| --- | --- |
| BEST FOR | Easy application process |
| PERKS | No monthly fees, no minimum balance, unlimited free FAST and GIRO transactions |
| DEPOSIT | No minimum deposit |
| ELIGIBILITY | All businesses registered in Singapore |
| WEBSITE | https://www.ocbc.com/ |
| CONTACT DETAILS | +65 6363 3333 |
OCBC is one of Singapore's large banks, catering to both large corporations and small businesses. This business provides more than just a place to store and utilise your business funds because OCBC also offers investment banking.
With such feature and its industry experience and constant market research, OCBC guarantees to help its clients grow their finances. It also has credit facilities to fund projects.
Another great thing that OCBC features is its vast industry experience. So, it can provide the same quality of services for healthcare, energy, real estate, technology, and other types of industries.
OCBC also caters to SMEs by providing business loans, thus helping them reach goals faster in a more sustainable and cost-effective approach. To sum it all up, this bank can help you handle all financial aspects of your business with minimal to no cost at all.
It is also compliant with the country's deposit insurance schemes. However, foreign deposits, dual currency and other investment products aren't covered by this insurance.
Large sum insurance for investments and deposits
Unparalleled experience across all types of industries
Up-to-date market research for investment growths
Cost-effective and sustainable loans for SMEs
Limited insurance for investments and deposits
Relatively fewer financial services
3. DBS Business Account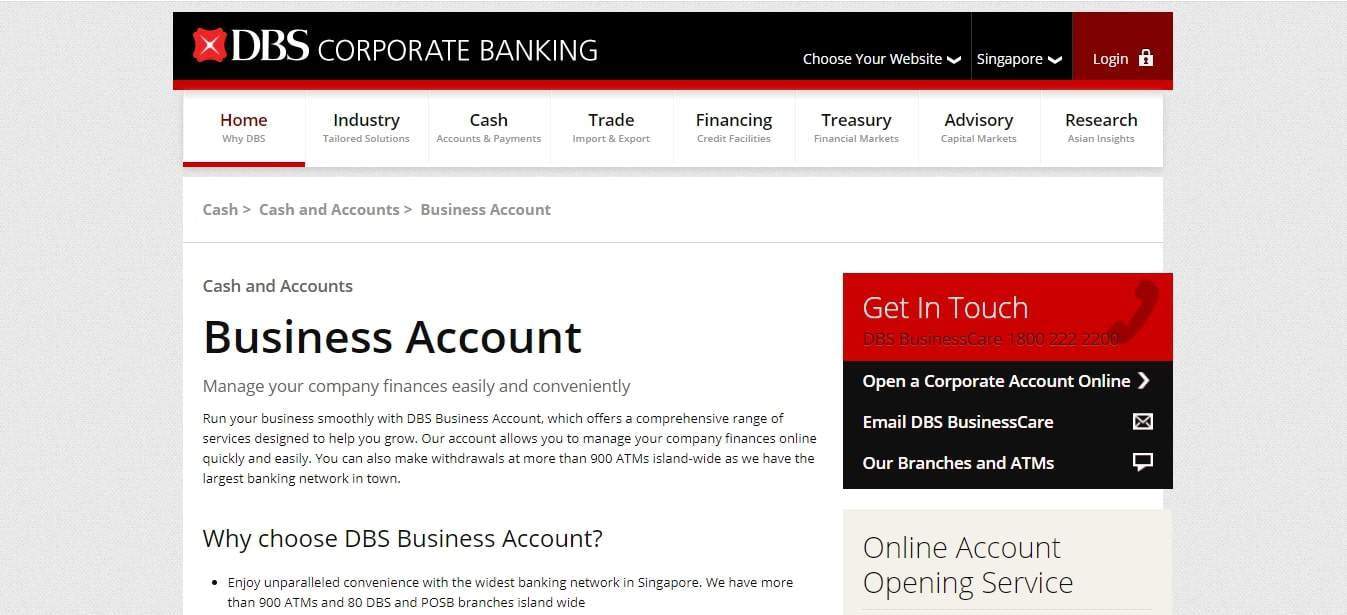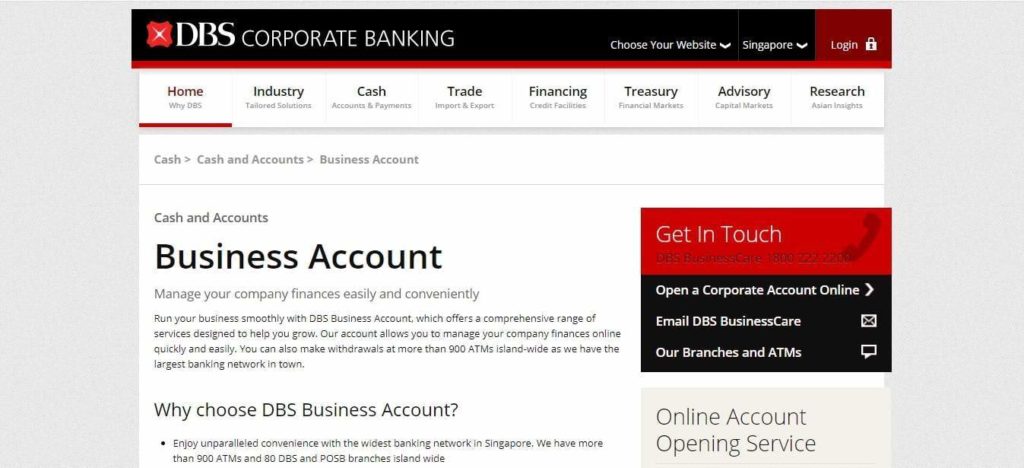 | | |
| --- | --- |
| BEST FOR | Convenient banking |
| PERKS | No minimum balance, no fall below fees, and wide banking network |
| DEPOSIT | $1,000 |
| ELIGIBILITY | All businesses registered in Singapore |
| WEBSITE | https://www.dbs.com.sg/ |
| CONTACT DETAILS | 1800 222 2200 | +65 6222 2200 |
If you're looking for the best business accounts in Singapore that's accessible anywhere, virtually and physically, DBS may be a good choice. This is one of the country's largest corporate banks, with 900 ATMs on the island alone.
It also has a digital and mobile application to make its services more accessible. However, despite this accessibility, some people still find its customer support to be lacking.
Luckily, with the use of KYC platforms, DBS guarantees fast and seamless transactions. This feature is known to enhance security and reduce risks of identity theft, financial fraud, and money laundering.
To further help its clients, DBS offers project and syndicated financing options. DBS also offers fiduciary services and global trade and supply chain so its clients can venture into more projects.
DBS even offers business insights to help its clients improve their businesses in more ways than one. To improve employee retention and satisfaction, companies can also seek out this bank's Holistic Wellness Toolkit and relief programmes.
KYC registry for seamless transactions and added security
Wide range of corporate solutions
Highly-accessible services
Follows and promotes sustainable financing
Not the best customer support
Requires a minimum deposit amount
4. Standard Chartered Smart Business$aver Account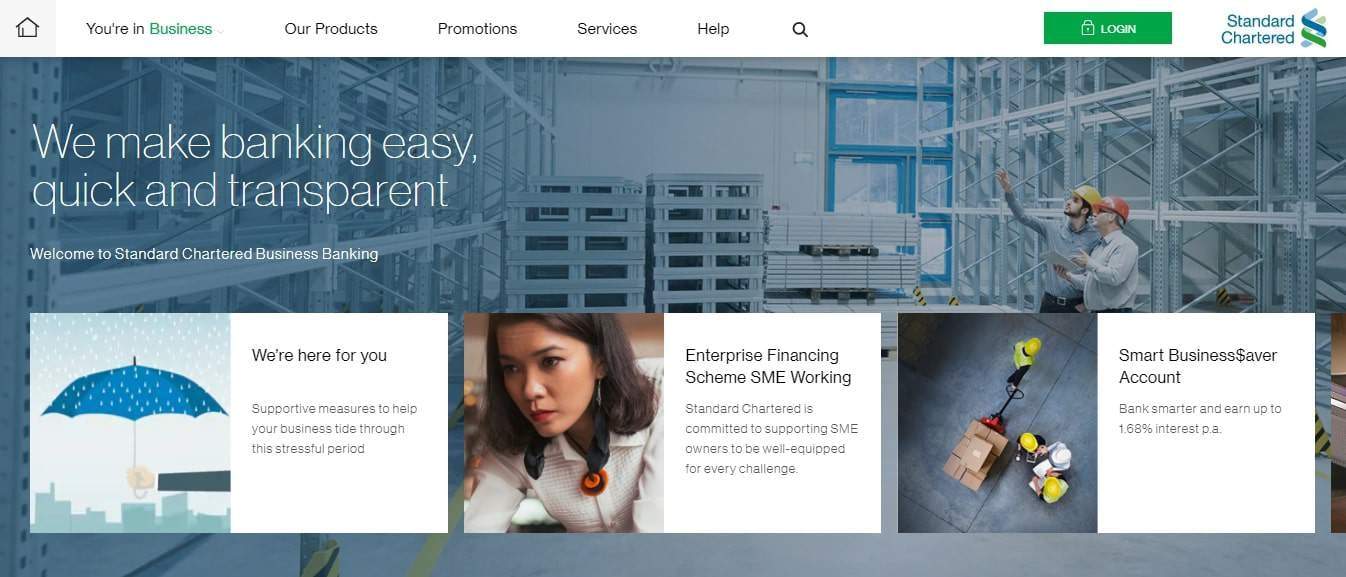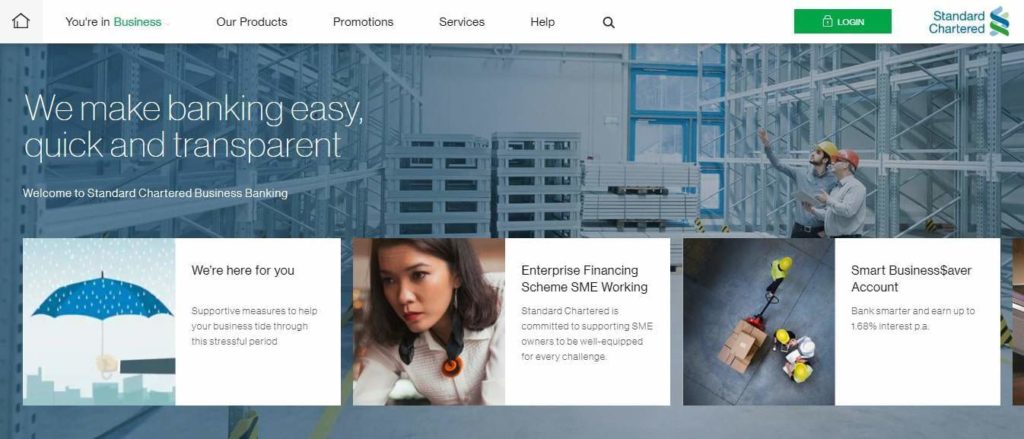 If you're looking for the best business accounts in Singapore to cater to all your financial needs, then you should consider Standard Chartered. It has among the highest interest rates, with up to 1.68 interest p.a.
Standard Chartered even has two types of interest within its accounts, helping time deposits and investments grow for those with excess funds. This feature alone sets it apart from the other business accounts in Singapore.
This bank also offers a diverse set of services, with payroll, credits, foreign exchange, cash management, insurance, and lending grouped in the Smart Bussiness$aver account. Standard Chartered also guarantees transparency through its monthly consolidated statements.
However, since it focuses more on growing your money, Standard Chartered's Smart Business$aver has a minimum monthly average of $50,000. If you fall below this, then you'd have to pay a fall-below fee of $50 per month.
Two different types of interest in one account
High interest rates
Various additional financial services in one account
Low remittance costs
High minimum monthly average
Less applicable for transactional businesses
5. HSBC Business Account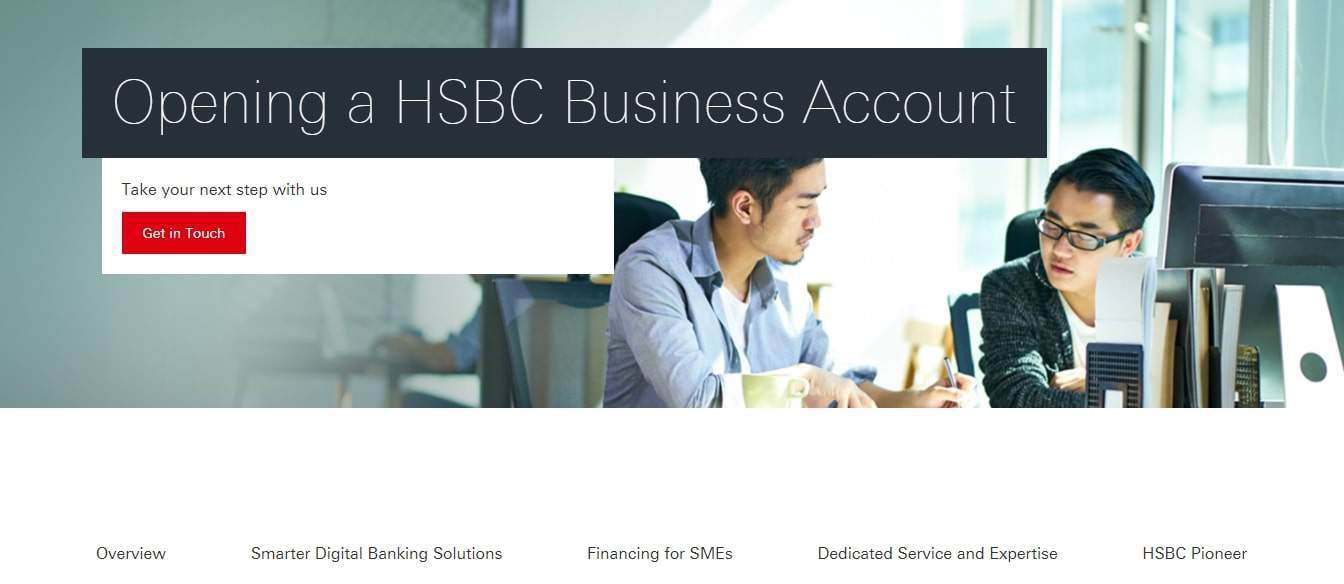 | | |
| --- | --- |
| BEST FOR | Global banking |
| PERKS | Easy access to cash, dedicated service, 24/7 banking |
| DEPOSIT | Check their website for more details |
| ELIGIBILITY | All businesses registered in Singapore |
| WEBSITE | https://www.business.hsbc.com.sg/ |
| CONTACT DETAILS | 1800 216 9008 |
Among the banks with the best business accounts in Singapore, HSBC may just be the oldest and most experienced, with 140 years of services. With its wide variety of services, it can cater to SMEs and large corporations.
HSBC even has branches in over 53 countries, so it can be advantageous to clients looking to expand their business internationally. That said, it also caters to nine other major currencies to minimise any foreign exchange fees.
This bank also excels in customer support, with numerous hotlines for different concerns to accommodate numerous customers without neglecting others. With this service and its paperless transactions, HSBC guarantees convenience and accessibility.
To promote paperless transactions, it even charges fees for paper transactions. Given that, you'd have to avoid using fax or physical documents to submit or claim loans, settlements, and other financial services.
24/7 online banking and paperless transactions
Excellent customer support
Applicable for multinational and expanding companies
3-month fee waiver for first-time business accounts
Applies deposit insurance schemes
Imposed fees on paper transactions
Limited insurance coverage for investments
What to Consider when Choosing Business Accounts
Security. Security is the most important factor to consider. You should only do business with a bank you trust, and not one that has lax security protocols and untrustworthy policies.
Monthly fees. Some business accounts charge monthly fees. However, some banks also have none of that and even provide incentives such as interest rates.
Minimum deposit. Business accounts without a minimum deposit are best for those who are still building a business.
Minimum balance. If you're looking to invest, then this won't be too much of an issue. However, if your business involves constant payments and receivables, then you have to make sure to meet the minimum balance to avoid paying extra.
Limits on transfers. If your long-term plan includes being a giant in your industry, you'll have to set up a business account with a large limit on transfers.
Ease of access. The easier you can access your business account, the easier you'll handle your business transactions and monitor your cash flow.
Customer support. Even the best business accounts can have several issues from time to time. So, make sure you are with a bank that can solve, or at least recognise, your concerns immediately.
Conversion fees. Some banks charge more for international transfers so just make sure you find someone with minimal conversion fees if your clients or partners are abroad.
Frequently Asked Questions about Business Accounts
---
And that concludes our list of where you can get the best business accounts in Singapore. Any of these banks will surely give you peace of mind in keeping your funds and transactions secure!
Do you think we missed any bank or financial firm offering business accounts? If so, let us know so we can also assess them!
Now, if you're also looking for someone to help in starting a company, you may need advice from the best business consultants in Singapore. Our list has trusted financial and business advisors to make sure your business is built on the strongest of foundations.