8 Options for the Best Business Accounts in Singapore
If you're in the early stages of building your business, having a business account will help make tax work, accounting, and expense tracking easier. Besides, wouldn't it be unprofessional to tell a client or an employee to deposit or cash out from your personal account?
So, if a corporate account's what you're looking for, then this article is for you. We've rounded up our picks of the best business accounts in Singapore to save you some time.
We also added a brief discussion on what you should consider when opening a business account. And if you still have questions afterwards, you can also check out our list of FAQs for more information.
How Much Do Business Accounts Cost in Singapore
Business accounts in Singapore have different investment rates, minimum deposits, and maintaining balance requirements. So, you'll have to enquire about these details directly from your bank.
However, you'll also be spending money while preparing documents for your business account setup. Here are averages for all these costs:
| | |
| --- | --- |
| Types of Cost | Average Cost |
| Registration fee for incorporation | $300 |
| Business name registration for incorporation | $15 |
| Business profile | $5.50 |
| Minimum deposit | $1,000-$10,000 |
| Recurring/monthly fees | $18-$35 |
The Best Banks for Business Accounts in Singapore
Let's take a look at our picks for the best banks for your business account here in Singapore. With these banks, you can easily track the financial inflow and outflow of your company.
1. Aspire Digital Business Account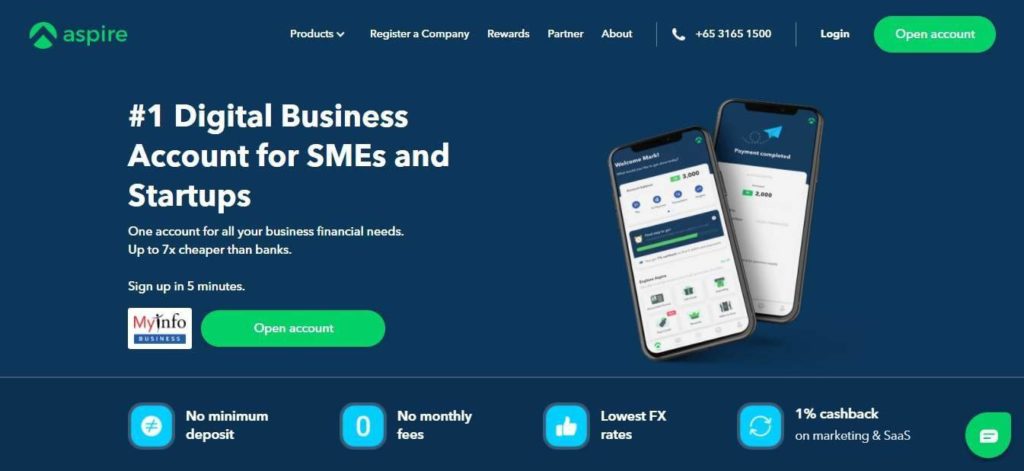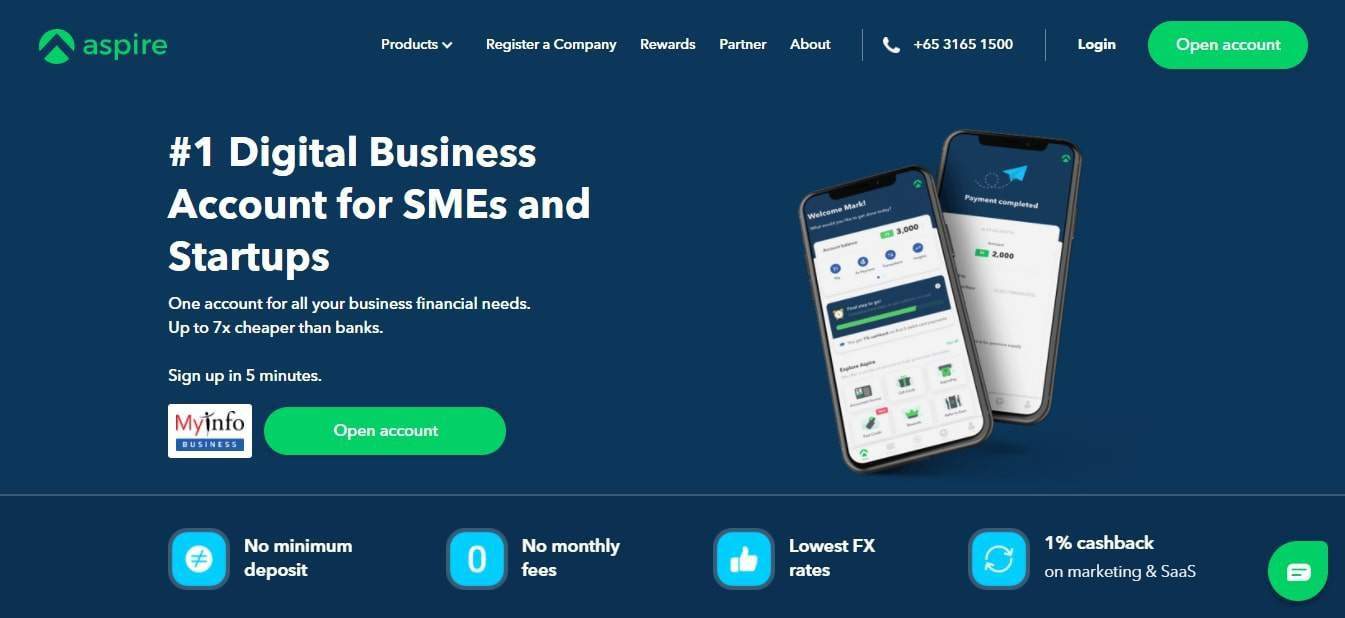 BEST FOR
SMEs and startups
PERKS
100% free, no fees, no minimum balance.
Free local transfers
Low, transparent FX fees for cross border transfers
Multi-user access
Unlimited card issuance
Earn unlimited cashback on digital purchases
Expense Management tools
DEPOSIT
No minimum deposit
ELIGIBILITY
All businesses registered in Singapore
WEBSITE
https://sg.aspireapp.com/
CONTACT DETAILS
+65 3165 1500 |

[email protected]
Aspire Digital Business Account has excellent business solutions with a dynamic financial flow. It offers a convenient, accessible, and secure digital account from which businesses can send and receive money within an instant, anytime and anywhere.
This digital business account features multi-user access so expense management can be convenient for everyone. Additionally, Aspire also offers an option to set a monthly spending limit to make sure businesses stay within budget.
It also values transparency, thus claiming no monthly fees or hidden fees. Thus, Aspire is a great option for SMEs and startups that are still building their way up.
To add to its transparency, Aspire is also convenient from the get-go up to the maintenance. This is because the application process takes only up to five minutes and because it doesn't have a minimum deposit.
Its ease of access doesn't end with application because Aspire also requires no minimum maintaining balance at all. Additionally, this digital business account is also integrable with accounting accounts like Xero and Quickbooks.
Free and easy signup with no fees, minimum deposit.
Free local transfers
Send and receive international payments with low, transparent fees.
Market lowest exchange rates
Multi-user access
Employee claims made easy with one click reimbursement and accounting syncs
Unlimited card issuances with budget control
Accounting integrations to automate your workflow (Xero, QuickBooks, MYOB, Netsuite, Oracle)
No option for cheques and cash
Reliant on your technological capability and security
Customer Reviews
Here's what a small business owner had to say about his experience with the Aspire Digital Business Account:
Aspire was the obvious choice for us. It's easy to use, has low transaction fees, and integrated with platforms that we used."
2. Volopay Smart Business Account and Corporate Cards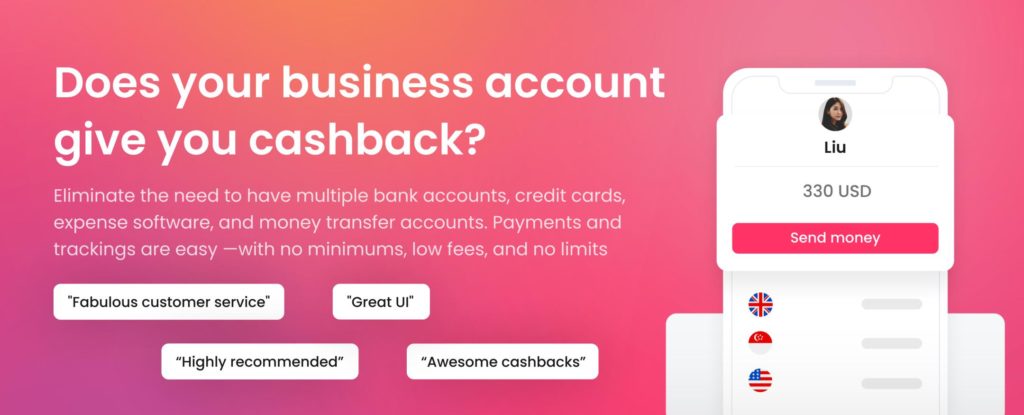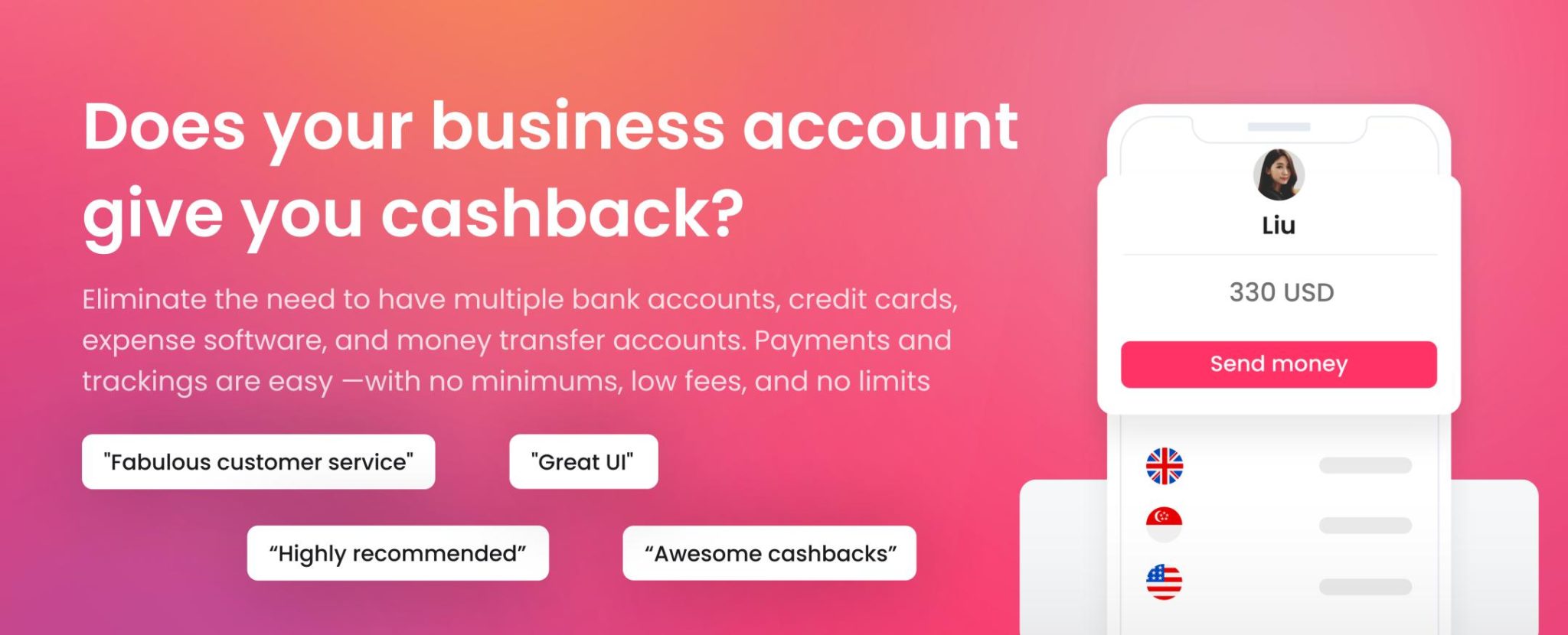 BEST FOR
Startups, SME's and Large enterprises
PERKS
Corporate cards with interest free credit line upto $500K
Super fast approval process
Generous cashback on FX transactions
No monthly or annual fee
Built in flexible approval workflows & budgets
Money transfer with best rates
Accounting Automation
Reimbursement tool included
DEPOSIT
No minimum deposit
ELIGIBILITY
All businesses registered in Singapore
WEBSITE
https://www.volopay.co/sg/lp/business-account/best-in-singapore
PAYMENT NETWORK
Visa
WELCOME OFFER
Get Apple AirPods once you onboard onto Volopay and reach $3k spend mark
CONTACT DETAILS
+65 96236599
Volopay is a smart business account that offers payment cards, credit line, money transfer facilities and accounting automation all on a single platform.
By using this platform, modern businesses of all sizes can avail cashback of upto 2% on all their Fx transactions and save a lot everyday as compared to conventional business bank accounts.
We've included them on our list because Volopay allows you to allocate individual payment cards to your employees, create strategic budgets, allocate funds, create approval policies and sync all your expenses into your accounting software. Thus, acting as a complete business expense management solution tool over an addition to your business account.
Besides this, another pro is they they have a financial software that manages online subscriptions and syncs all the payments automatically into accounting software like Xero, Netsuite, QuickBooks, and Deskera. As a result, this reduces hours of tracing the invoices or receipts and manually reconciling the bank statement helping to close the books 5x quicker than usual.
Virtual cards can also be tagged to Paypal, Google Pay, and Grab.
We consider them as the go-to solution for SMEs looking for credit facilities for their day-to-day expenses with no hidden interest charges and an extremely quick credit scoring process of 48 hours.
Enjoy these distinct benefits today with no annual charges or cap on minimum spendings!
Cashback of 2% on Fx transactions (On all merchants – No Limitation)   
No annual fees or minimum spend
Credit up to $500K 
Expense management software
Real-time spend tracking
Partner benefits up to $35K
Unlimited virtual cards
Accounting automation (Xero, Quickbooks, Netsuite, and custom integrations)
Employee reimbursement tool included
24*7 customer support
Takes up to 2 days for account approval
Customer Reviews
Here's what some people have to say about them:
"We use virtual cards to manage all our marketing and SaaS spends. We now have better visibility and control, while earning 2% cashback." — Mitul Doshi, President Finance & ops – Invideo
3. Spenmo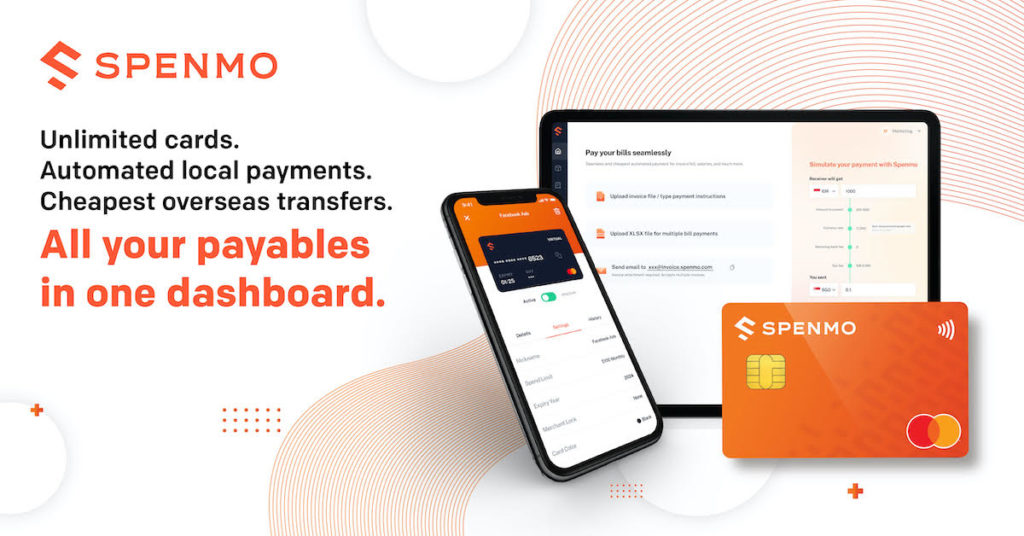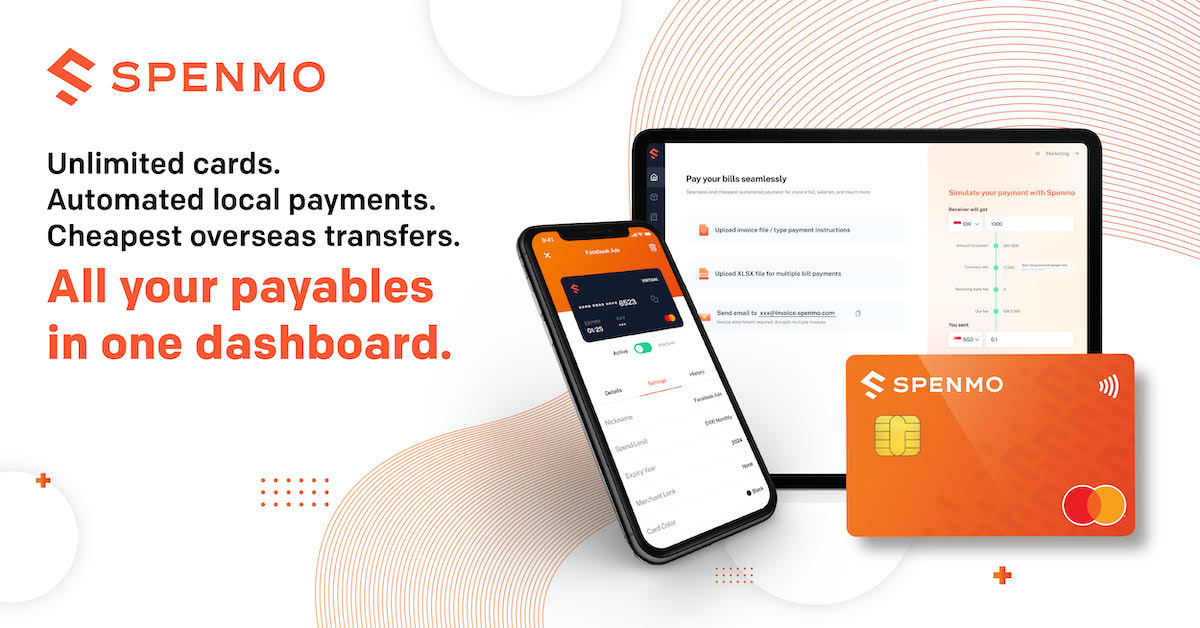 BEST FOR
Startups, SMEs, Modern and Digital Businesses
PERKS
Unlimited physical and virtual corporate cards
Bulk invoice payments
Accounting software reconciliation
Cheapest international transfers
Automated expense claims
DEPOSIT
Contact for more details
ELIGIBILITY
All businesses registered in Singapore
WEBSITE
https://spenmo.com/
CONTACT DETAILS

[email protected]
Spenmo understands that different companies have different spending patterns, which is why they offer a platform that specifically meets your individual needs and preferences when it comes to company spending.
With Spenmo, you can enjoy an all-in-one solution that extracts and uploads bill data, processes employee claims and payroll, and automates payments. They automate all the heavy-work so company owners and their employees can have the head-space to focus on elements of the business that are truly valuable.
On average, business owners save up to 500 hours of manual work and $10,000 per month.
We can recommend them if you're looking for a seamless payables dashboard since it offers an all-in-one software that consolidates corporate cards, multi-currency dashboards, automated bill pay, employee expense claims, and free payroll disbursements into one sleek interface.
Quick and easy signup
Automated reconciliation or accounting integration
Automated invoice payments and bank transfers
Invoice approval workflows
Cheap international transfers
Seamless expense claims
Free and confidential payroll
Instant access to unlimited virtual and physical corporate cards
Limited insurance for investments and deposits
4. Airwallex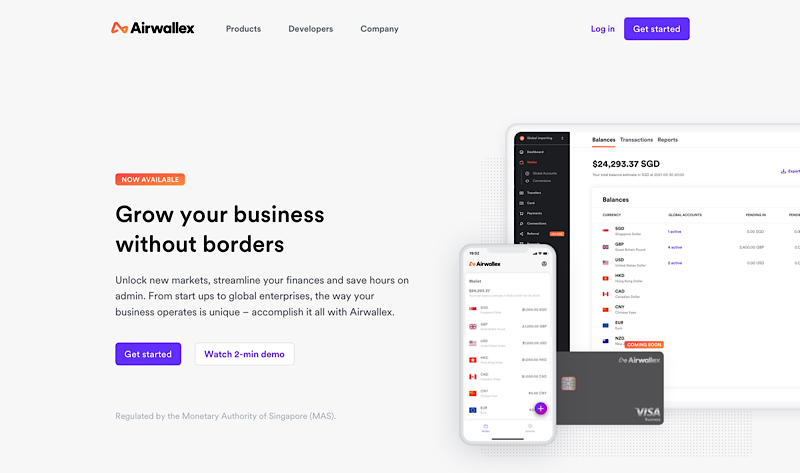 BEST FOR
Start-ups, SMEs, Enterprises
WELCOME OFFER
Sign up now to enjoy your first S$20,000 FREE foreign exchange transfer
PERKS
Open domestic and international accounts in 11+ currencies
Access market-leading FX rates
Make faster, cheaper domestic and international payments
Issue Visa cards to your team with spending limits
Accept card and alternative payment methods on your website
Embed unique payment links in invoices or emails to customers
DEPOSIT
No minimum deposit
ELIGIBILITY
Businesses registered in and out of Singapore 
View the full list of supported countries here
WEBSITE
https://www.airwallex.com/sg
CONTACT DETAILS
+65 3129 4178
Airwallex is an easy to use multi-currency business account that offers payment solutions for start-ups to global businesses.
Regulated by the Monetary Authority of Singapore (MAS), Airwallex is licensed in Singapore as a Major Payment Institution (license number PS20200541).
The Airwallex business account features domestic and international accounts in 11+ currencies. It allows users to collect, hold and payout in multiple currencies with no forced conversions or transfer fees.
Businesses can also issue employees the Visa cards with pre-set spending limits in minutes and pay for international expenses with zero transaction fees.
We like that entrepreneurs can quickly start to use the platform in a matter of minutes by opening an account through their website. They are set up entirely online, which means you won't have to deal with paperwork or branch visits.
So far, their users have commented on their savings brought by the absence of unnecessary international transaction fees & FX. We also love the easy payments and transfer through Airwallex.
Easy sign up process
Good number of perks including integration and zero international transaction fees
Fraud protection and internal dispute management services
Has a global network
High currency exchange rate
Limited insurance for investments and deposits
Customer Reviews
Here are some reviews from their clients:
"Airwallex has been a wonderful partner, supporting our FX needs with its highly digital, friendly user interface and responsive account managers." – Martin Tang
"Airwallex's global payment solutions help us to save costs on international transaction fees & FX, fostering our mission to increase access to healthy period care that's better for our bodies and the planet." – Becks Bradley
5. OCBC Business Banking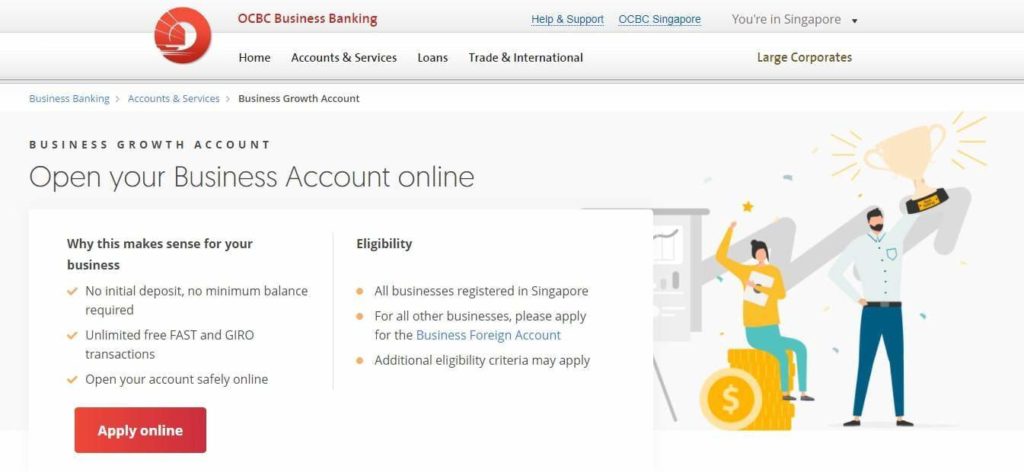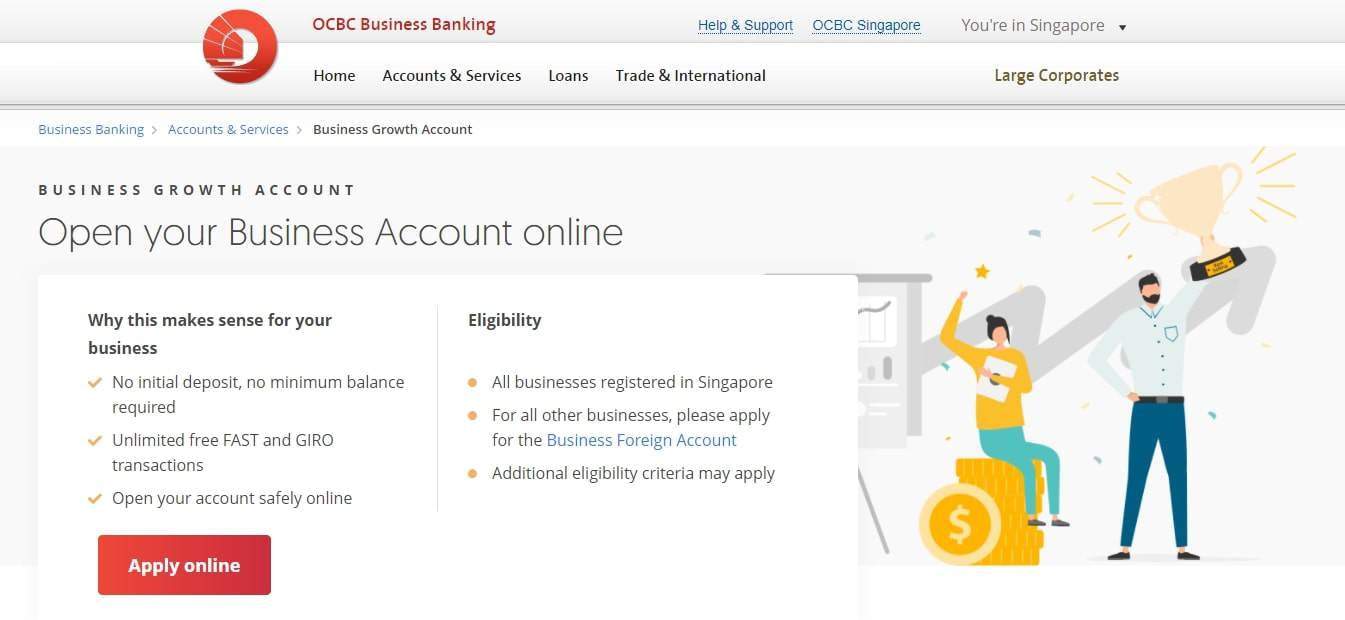 | | |
| --- | --- |
| BEST FOR | Easy application process |
| PERKS | No monthly fees, no minimum balance, unlimited free FAST and GIRO transactions |
| DEPOSIT | No minimum deposit |
| ELIGIBILITY | All businesses registered in Singapore |
| WEBSITE | https://www.ocbc.com/ |
| CONTACT DETAILS | +65 6363 3333 |
OCBC is one of Singapore's large banks, catering to both large corporations and small businesses. This business provides more than just a place to store and utilise your business funds because OCBC also offers investment banking.
With such feature and its industry experience and constant market research, OCBC guarantees to help its clients grow their finances. It also has credit facilities to fund projects.
Another great thing that OCBC features is its vast industry experience. So, it can provide the same quality of services for healthcare, energy, real estate, technology, and other types of industries.
OCBC also caters to SMEs by providing business loans, thus helping them reach goals faster in a more sustainable and cost-effective approach. To sum it all up, this bank can help you handle all financial aspects of your business with minimal to no cost at all.
It is also compliant with the country's deposit insurance schemes. However, foreign deposits, dual currency and other investment products aren't covered by this insurance.
Large sum insurance for investments and deposits
Unparalleled experience across all types of industries
Up-to-date market research for investment growths
Cost-effective and sustainable loans for SMEs
Limited insurance for investments and deposits
Relatively fewer financial services
6. DBS Business Account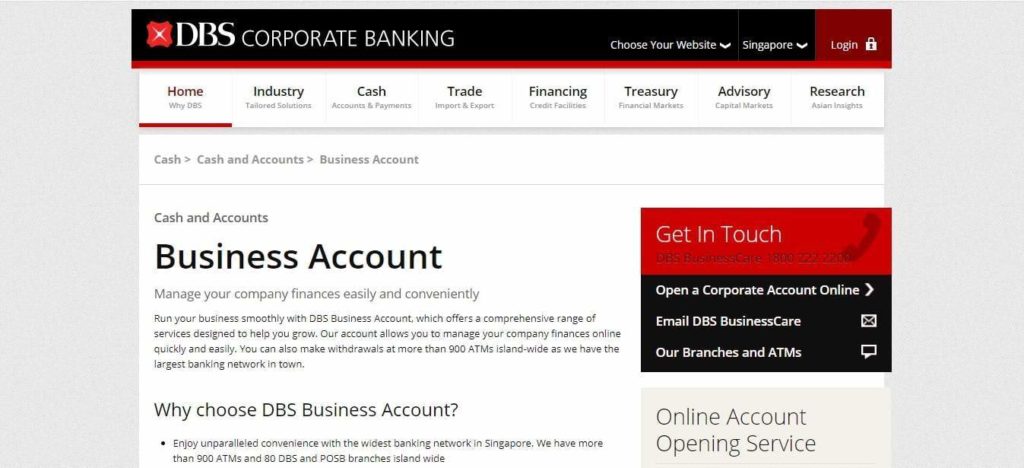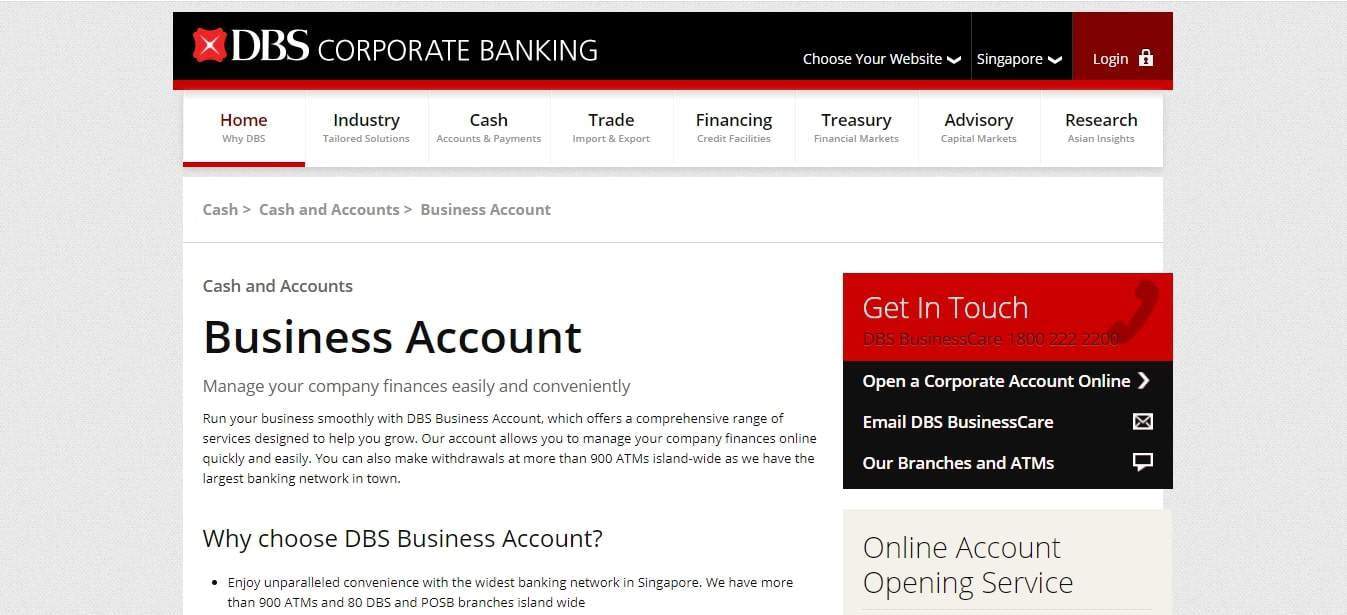 | | |
| --- | --- |
| BEST FOR | Convenient banking |
| PERKS | No minimum balance, no fall below fees, and wide banking network |
| DEPOSIT | $1,000 |
| ELIGIBILITY | All businesses registered in Singapore |
| WEBSITE | https://www.dbs.com.sg/ |
| CONTACT DETAILS | 1800 222 2200 | +65 6222 2200 |
If you're looking for the best business accounts in Singapore that's accessible anywhere, virtually and physically, DBS may be a good choice. This is one of the country's largest corporate banks, with 900 ATMs on the island alone.
It also has a digital and mobile application to make its services more accessible. However, despite this accessibility, some people still find its customer support to be lacking.
Luckily, with the use of KYC platforms, DBS guarantees fast and seamless transactions. This feature is known to enhance security and reduce risks of identity theft, financial fraud, and money laundering.
To further help its clients, DBS offers project and syndicated financing options. DBS also offers fiduciary services and global trade and supply chain so its clients can venture into more projects.
DBS even offers business insights to help its clients improve their businesses in more ways than one. To improve employee retention and satisfaction, companies can also seek out this bank's Holistic Wellness Toolkit and relief programmes.
KYC registry for seamless transactions and added security
Wide range of corporate solutions
Highly-accessible services
Follows and promotes sustainable financing
Not the best customer support
Requires a minimum deposit amount
7. Standard Chartered Smart Business$aver Account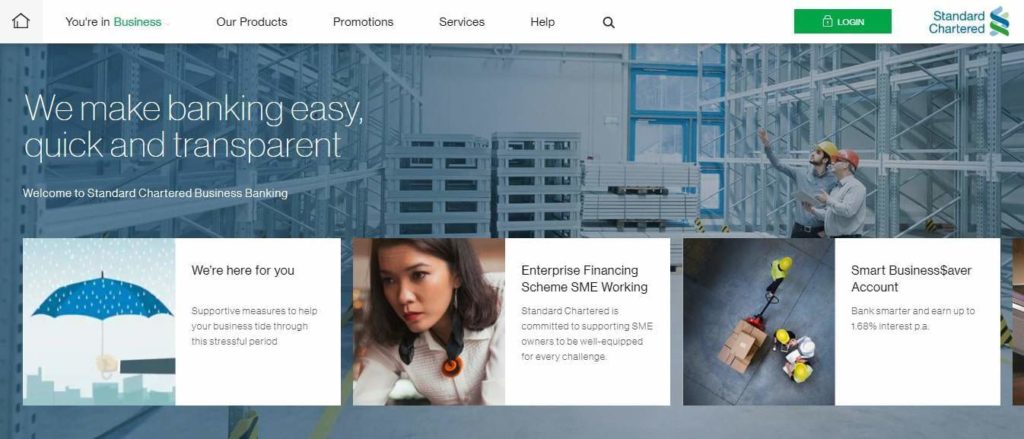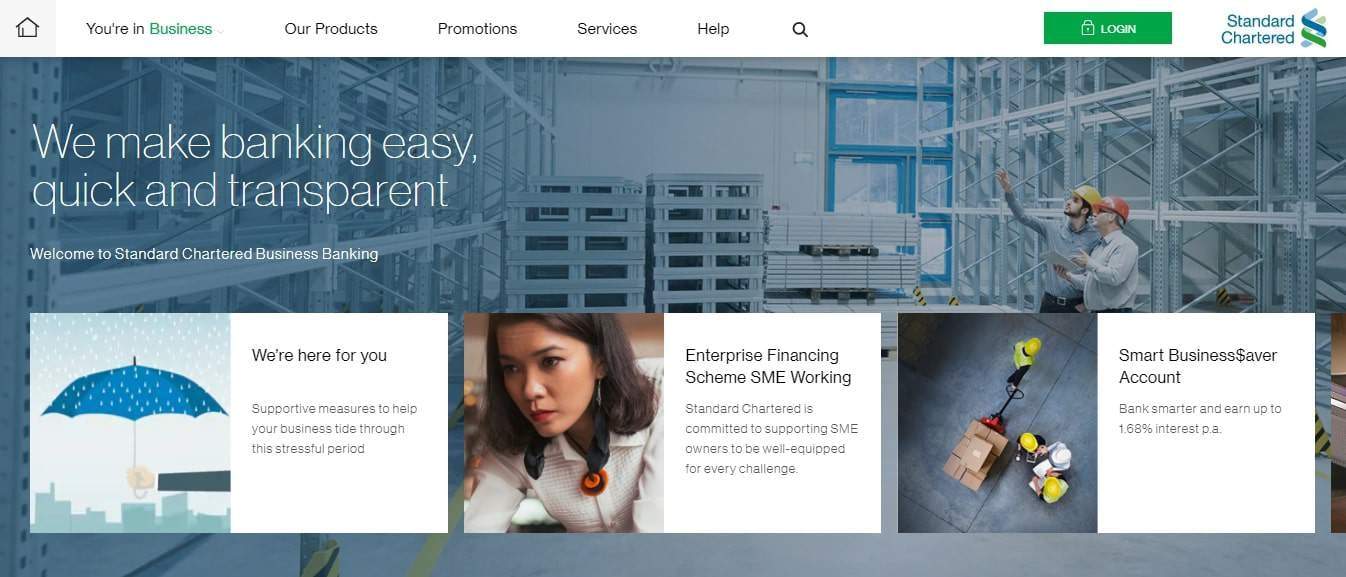 If you're looking for the best business accounts in Singapore to cater to all your financial needs, then you should consider Standard Chartered. It has among the highest interest rates, with up to 1.68 interest p.a.
Standard Chartered even has two types of interest within its accounts, helping time deposits and investments grow for those with excess funds. This feature alone sets it apart from the other business accounts in Singapore.
This bank also offers a diverse set of services, with payroll, credits, foreign exchange, cash management, insurance, and lending grouped in the Smart Bussiness$aver account. Standard Chartered also guarantees transparency through its monthly consolidated statements.
However, since it focuses more on growing your money, Standard Chartered's Smart Business$aver has a minimum monthly average of $50,000. If you fall below this, then you'd have to pay a fall-below fee of $50 per month.
Two different types of interest in one account
High interest rates
Various additional financial services in one account
Low remittance costs
High minimum monthly average
Less applicable for transactional businesses
8. HSBC Business Account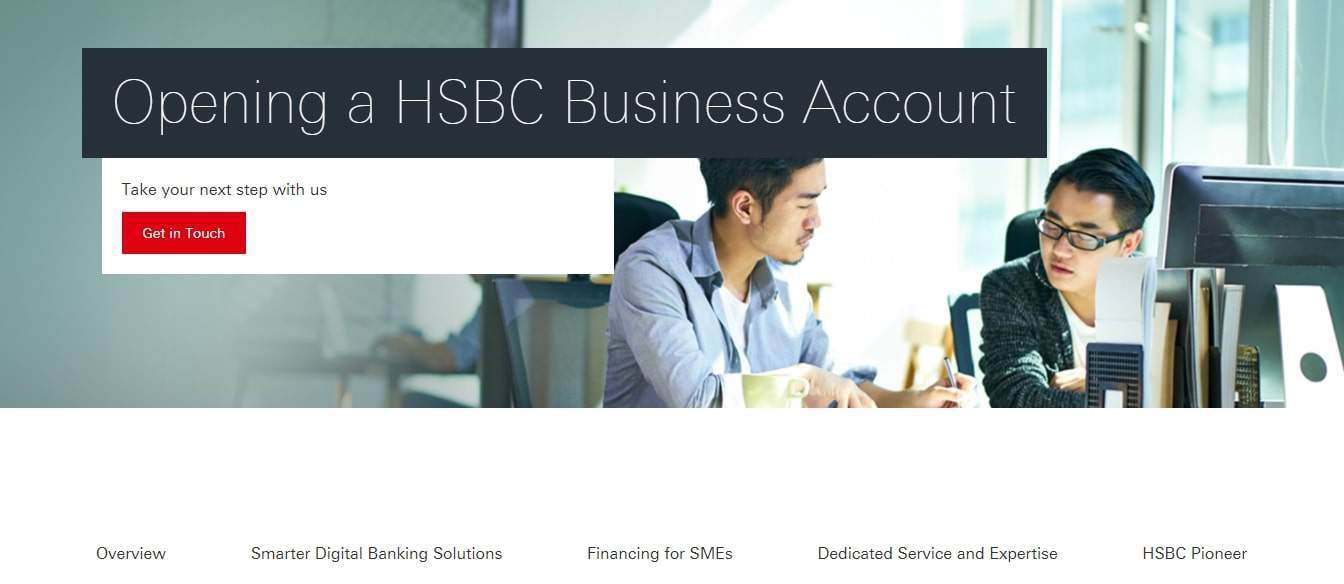 | | |
| --- | --- |
| BEST FOR | Global banking |
| PERKS | Easy access to cash, dedicated service, 24/7 banking |
| DEPOSIT | Check their website for more details |
| ELIGIBILITY | All businesses registered in Singapore |
| WEBSITE | https://www.business.hsbc.com.sg/ |
| CONTACT DETAILS | 1800 216 9008 |
Among the banks with the best business accounts in Singapore, HSBC may just be the oldest and most experienced, with 140 years of services. With its wide variety of services, it can cater to SMEs and large corporations.
HSBC even has branches in over 53 countries, so it can be advantageous to clients looking to expand their business internationally. That said, it also caters to nine other major currencies to minimise any foreign exchange fees.
This bank also excels in customer support, with numerous hotlines for different concerns to accommodate numerous customers without neglecting others. With this service and its paperless transactions, HSBC guarantees convenience and accessibility.
To promote paperless transactions, it even charges fees for paper transactions. Given that, you'd have to avoid using fax or physical documents to submit or claim loans, settlements, and other financial services.
24/7 online banking and paperless transactions
Excellent customer support
Applicable for multinational and expanding companies
3-month fee waiver for first-time business accounts
Applies deposit insurance schemes
Imposed fees on paper transactions
Limited insurance coverage for investments
What to Consider when Choosing Business Accounts
Security. Security is the most important factor to consider. You should only do business with a bank you trust, and not one that has lax security protocols and untrustworthy policies.
Monthly fees. Some business accounts charge monthly fees. However, some banks also have none of that and even provide incentives such as interest rates.
Minimum deposit. Business accounts without a minimum deposit are best for those who are still building a business.
Minimum balance. If you're looking to invest, then this won't be too much of an issue. However, if your business involves constant payments and receivables, then you have to make sure to meet the minimum balance to avoid paying extra.
Limits on transfers. If your long-term plan includes being a giant in your industry, you'll have to set up a business account with a large limit on transfers.
Ease of access. The easier you can access your business account, the easier you'll handle your business transactions and monitor your cash flow.
Customer support. Even the best business accounts can have several issues from time to time. So, make sure you are with a bank that can solve, or at least recognise, your concerns immediately.
Conversion fees. Some banks charge more for international transfers so just make sure you find someone with minimal conversion fees if your clients or partners are abroad.
Frequently Asked Questions about Business Accounts
---
And that concludes our list of where you can get the best business accounts in Singapore. Any of these banks will surely give you peace of mind in keeping your funds and transactions secure!
Do you think we missed any bank or financial firm offering business accounts? If so, let us know so we can also assess them!
Now, if you're also looking for someone to help in starting a company, you may need advice from the best business consultants in Singapore. Our list has trusted financial and business advisors to make sure your business is built on the strongest of foundations.