10 Firms for the Best Property Management in Singapore
Having some difficulty managing your real estate property? If so, it might be a great help to look for a reliable firm that offers the best property management in Singapore.
Property managers are experts in handling everything involved in running in a rental property. This involves screening tenants, settling and collecting rental payments, managing finances, and solving tenant issues as well as maintaining the property.
With this range of services, it'll be easy for you to focus on the core of your business and succeed.
To help you find the most skilled and experienced professionals, here are the leading companies that offer the best property management in Singapore.
1.  CWL Facilities Management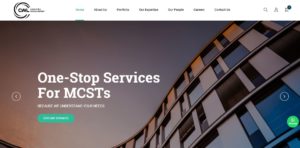 | | |
| --- | --- |
| BEST FOR  | Strata Management, Integrated Facilities Management, Project Management and Consultancy |
| WEBSITE | https://www.cwl.sg/ |
| ADDRESS | 2 Jln Rajah, #02-10 Golden Wall Flatted Factory, Singapore 329134 |
| CONTACT DETAILS | 6547 4828 |
If you're looking for a firm that's trusted by some of the most prominent real estate companies in the city, then CWL Facilities Management is definitely the one for you.
Why? Because some of its clients include Santa Fe Mansion, Central Grove Condominium, The Waterina, Harvest Mansions, and The Quintet Condominium. Pretty impressive, right?
They also offer a variety of services under their integrated facilities management. This includes pest control, electronic security system maintenance, monthly billing and collection, property accounting, and car park management, among many others.
We've also heard that their customer service offers fast and excellent performance. So if you need help with matters like property licenses or liaising with auditors, all you need to do is get in touch with them and they'll handle everything for you.
CWL Facilities Management is also accredited with the Association of Property and Facility Managers (APFM) and the Singapore Institute of Surveyors and Valuers (SISV). So you can definitely trust and count on them to manage your property well.
Highlights
Comprehensive maintenance planning and management services

Offers tenancy management and statutory compliance solutions

Trusted by prominent real estate companies
Customer Reviews
High standards of professionalism
"CWL has been diligently managing our estate at Havelock Road for past years. The Estate Manager, Ms Apple Ching, with the guidance of HQ support from Mr Joel Ong, have demonstrated high standards of professionalism and strong teamwork in the delivery of their services. They have resolved many outstanding issues at the estate and helped us to achieve cost savings since being appointed as our managing agent." – Kenny Tay
Greatly appreciated the condo management
"Greatly appreciated the condo management, esp the manager. Sorry to trouble his team beyond working hours. Professional." – Claire Lim
2.  Abacus Property Management Pte Lt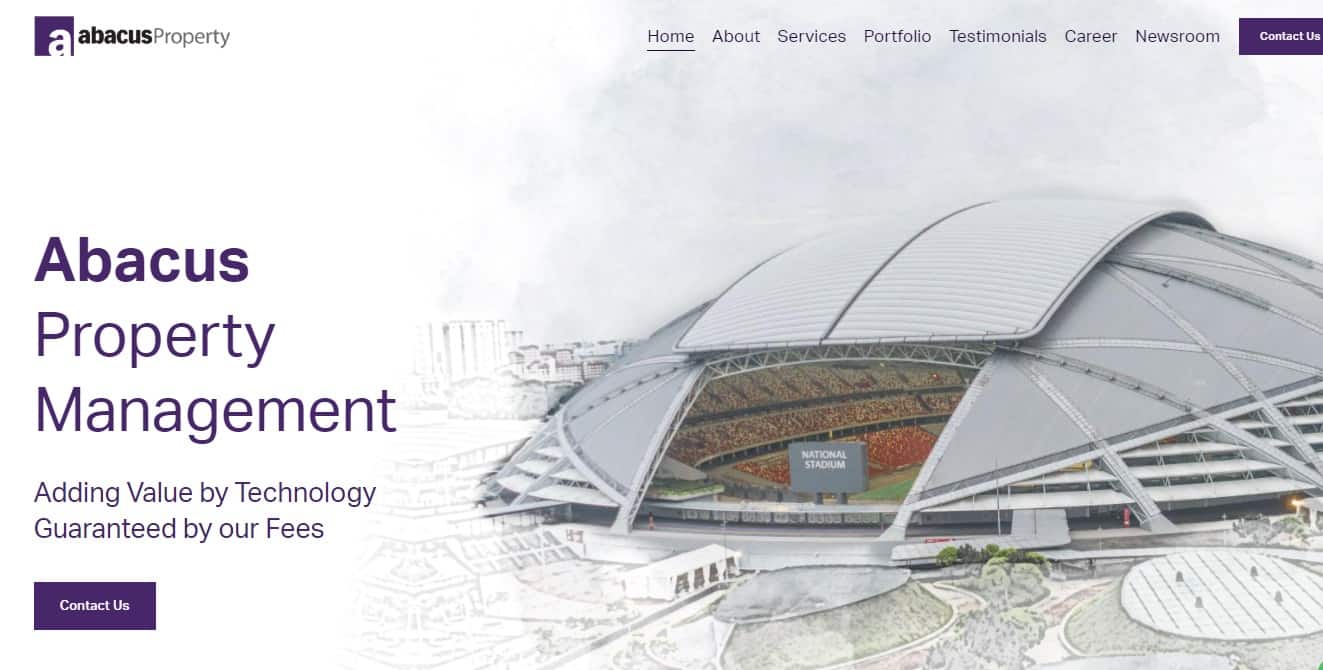 | | |
| --- | --- |
| BEST FOR  | Wide range of financial, property, and maintenance services, Innovative hiring technology |
| WEBSITE | https://www.abacusproperty.sg/ |
| ADDRESS | 1 Scotts Road #22-11 Singapore 228208 |
| CONTACT DETAILS |  65111811 |
| OPERATING HOURS | Weekdays: 9am–6pm |
Abacus Property Management is known to be the first company to charge their clients based on the outcome rather than the service, providing fair and honest pricing.
You can rely on their management services as their staff can be deployed on-site anywhere and anytime. Their staff has also received quality training so rest assured that they can offer excellent workmanship.
Their best property management in Singapore covers residential, industrial, commercial, hostel, and government properties. Aside from property managers, they also assign their client an accounting team that'll take charge of energy, audit, pre-legal advice, and more accounting operations.
Moreover, they use a sustainable approach to minimise maintenance and operating costs as much as possible.
Highlights
Asset management
Corporate tenancy management
Corporate relocation and fit-out projects
Mechanical and electrical services
Franchise management consulting
Customer Reviews
Clients mentioned the professionalism and reliability of the staff. They said that the staff managers were able to ensure that all assets were maintained and kept in the best leasable state. They also ensured that all licences and registrations were done properly.
A client gave this feedback:
"I just want to bring out one of the best points about Abacus management team that many people might not have noticed and that is their communication with us residents. Many condo management teams always wait for the residents to provide feedback passively, but Abacus would actively seek feedback from us about how we felt about the current state of the condo and how they can improve themselves. I think it is really important to have that communication between the management team and the residents so really kudos to you guys! :)"
3.  Citiprop Property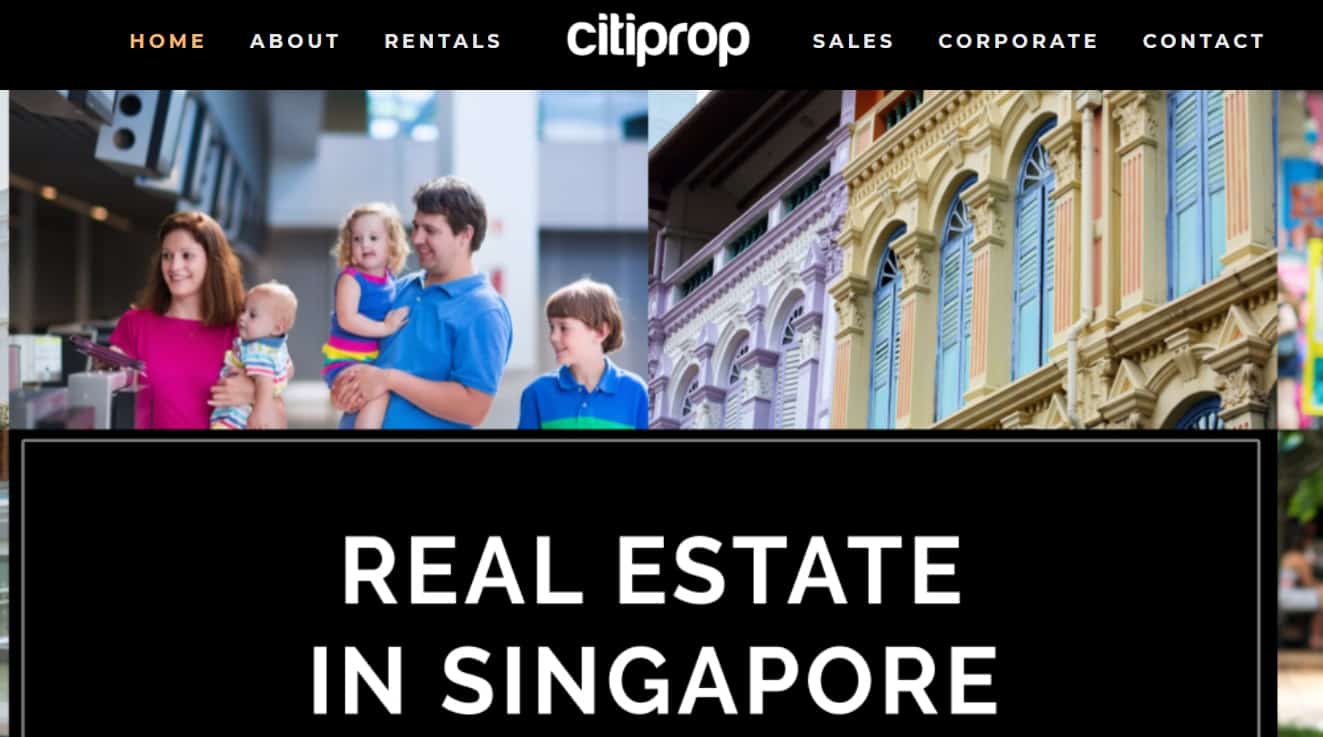 | | |
| --- | --- |
| BEST FOR  | Market analysis, Home finding, Lease and payment management, Relocation services |
| WEBSITE | http://www.citiprop.com/ |
| ADDRESS | 314 Tanglin Road, #01-01 Phoenix Park Office Campus, Singapore 247977 |
| CONTACT DETAILS | +6564732777 |
From tenancy management to relocation services, Citiprop Property will help you handle the operations within your real estate properties. Every lease administration and payment transaction will be managed by their skilled and trained staff.
This includes monthly payments, early terminations, renewals, and lease extensions. They also conduct comprehensive marketing analysis and strategic planning to ensure that all finances are used and spent wisely.
Based on the tailored reports, they'll guide you through housing budgets, costs of living, and relocation costs so you can deliver client-centric services — one of the reasons why they're considered providers of the best property management in Singapore.
Highlights
Multilingual staff managers
Specialised programmes for relocation operations
Policy counselling
4.  Exceltec Property Management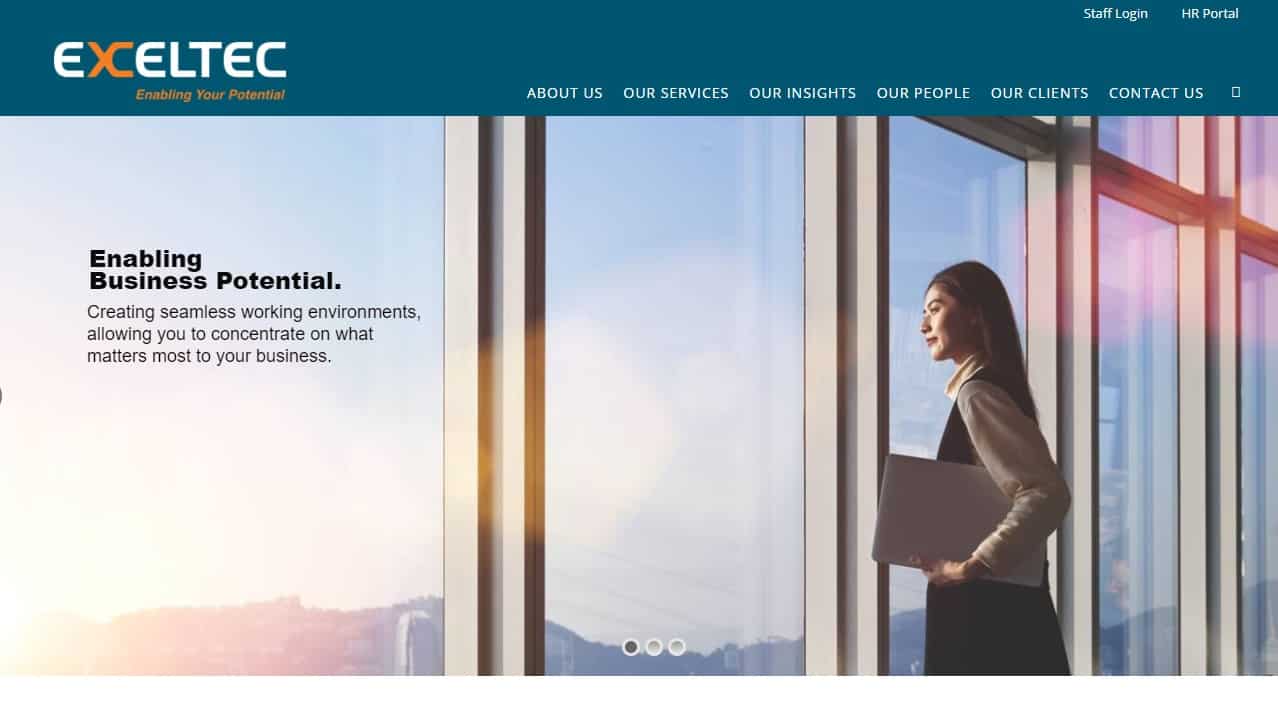 BEST FOR 
Digital management approach, Energy Management and evaluation services
WEBSITE
https://www.exceltec.com.sg/#
ADDRESS
No. 2 Jurong East Street 21 #05-05 IMM Building Singapore 609601
CONTACT DETAILS
(65) 6566 5055
OPERATING HOURS

Weekdays: 9am–6pm

Saturdays: 9am–1pm
Exceltec Property Management focuses on maximising estate potential through specialised management solutions. This includes innovative and digital approaches that include a mobile fault reporting app, digital display boards, and IAQ duct cleaning system.
These technologies have made it easier and more convenient to manage maintenance and repairs needed for each property. They've worked on residential, industrial, commercial, corporate, and estate social events.
Some of their clients are the biggest names in the industry, such as Rosewood Suites, Urban Development Authority, Singapore Tourism Board, Shelford Suites, and more.
Their best property management in Singapore is handled by cross-trained staff who are experts in multiple building and job types — including both technical and soft skills.
Highlights
Project management and consultancy
Environmental and cleaning services
24-hour mobile maintenance board
Annual visual inspection
5.  Asia Properties and Assets Consultancy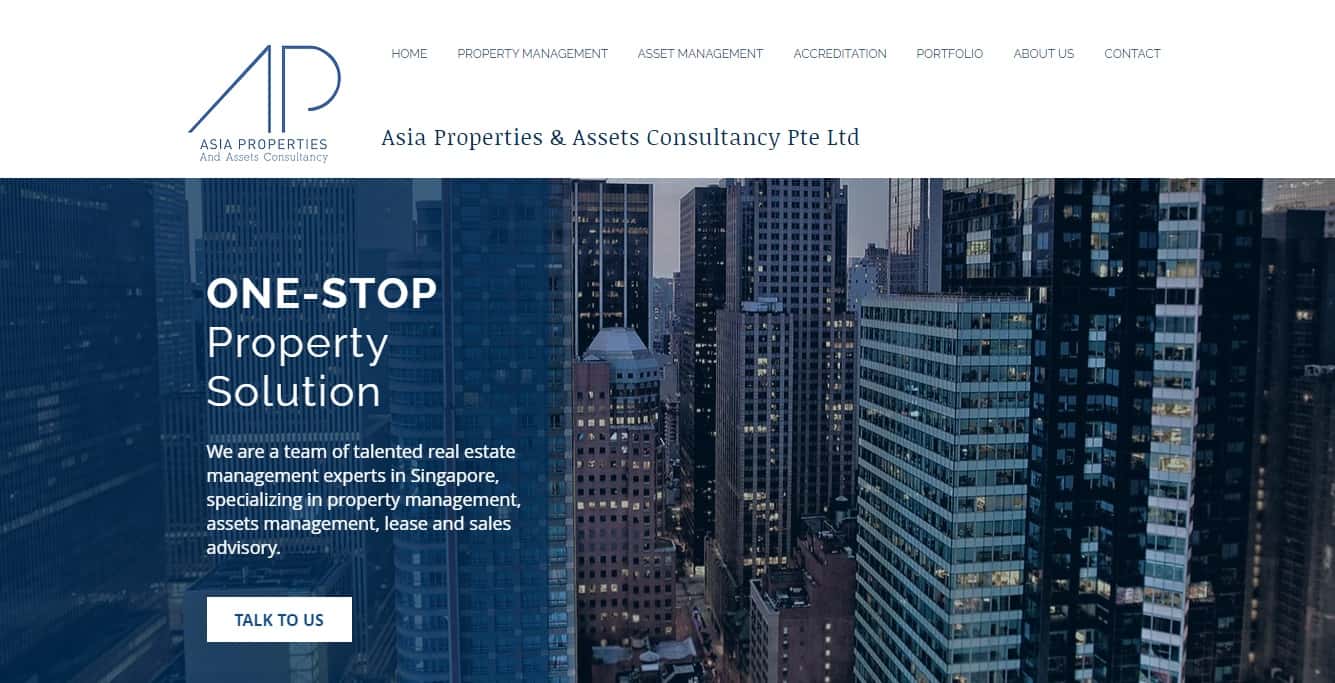 | | |
| --- | --- |
| BEST FOR  | One-stop property management solution |
| WEBSITE | https://www.asiapty.com/ |
| ADDRESS | 33 Ubi Ave 3 #04-13 Vertex Singapore 408868 |
| CONTACT DETAILS | 6802 3129 / 6802 1624 |
| OPERATING HOURS | Weekdays: 8:30am–5:30pm |
Asia Properties and Assets Consultancy offers many property solutions ranging from asset and lease management to sales advisory. They have a team of real estate management experts who know how to determine and plan the best strategies that fit your needs.
Their experienced staff specialise in preparing monthly statement accounts, liaising with appointed auditors, and tax agents. Purchasing insurance policies, arranging annual general meetings, and engaging architects or engineers are also part of their services.
All routine maintenance and repair works are handled by their official suppliers as well!
Highlights
Administrative services
Maintenance management services
Accounting and financial services
Professional Consultancy services
6.  Barringham International
BEST FOR 
Personalised approach, Legal advice
WEBSITE
http://www.barringham.com.sg/
ADDRESS
701, Geylang Road, #03-04, Teambuild Centre, Singapore 389687
CONTACT DETAILS
+ 65 6466 4703
OPERATING HOURS

Monday: 8:30am–5:30pm

Tuesday to Friday: 8:30am–5:00pm
Barringham International has decades of experience in managing commercial and residential properties. This award-winning company provides an extensive range of services including management of operations, legal assistance, financial management, and maintenance services.
They schedule on-site meetings to improve staff services as well as review and evaluate independent contractors and outside service providers.
They also provide monthly financial reports, collect and deposit fund payments, file tax returns, and manage more financial transactions.
Their staff managers also monitor maintenance contractors and repair services to make sure that the clients and tenants will receive quality workmanship without excessive expenses.
Highlights
Provides budgeting and cash flow assistance
Initiates legal actions to recover delinquent amounts
Established safety programs
24/7 response to emergency
7.  Soho

| | |
| --- | --- |
| BEST FOR  | Property Management |
| WEBSITE | https://sohoapp.com/ |
| ADDRESS | Level 4 19/17 Bridge St, Sydney NSW 2000, Australia |
| CONTACT DETAILS | [email protected] |
| OPERATING HOURS | Monday-Friday: 9 AM-5 PM |
Soho is a platform that allows property owners to communicate with each other. They help facilitate property buying, selling, and renting.
To help their users make informed decisions, they make sure to keep up with the market trends in property management. Make sure to check out their mobile app if you're interested.
Highlights
Updated with market trends
Wide community
8. Rhodo Property & Estate Management Services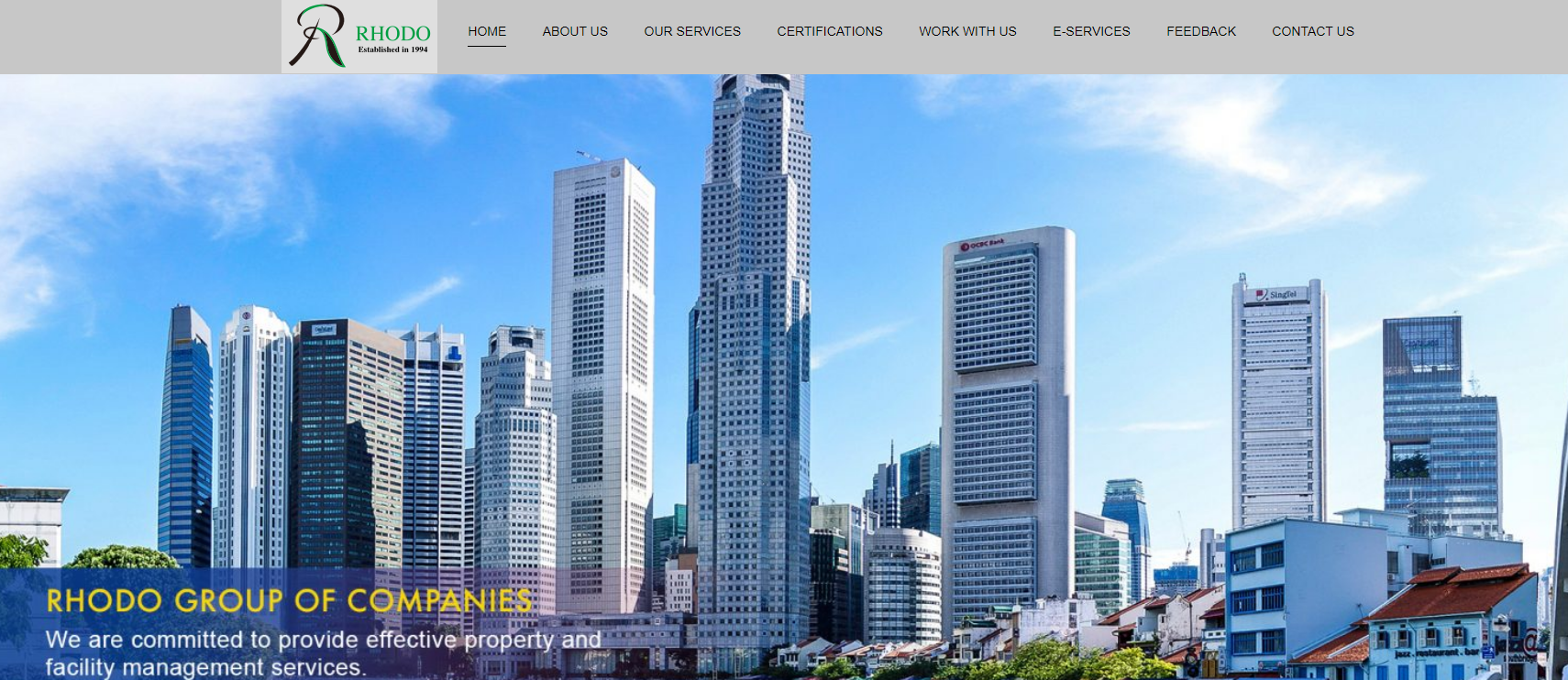 Best For
Estate and Property Management
Website
https://rhodoem.com/
Address
Blk 531 Upper Cross Street,
#03-52 Hong Lim Complex,
Singapore 050531
Contact Details
65 6533 3375 or [email protected]
Operating Hours
Monday to Friday (9 am to 5:30 am)
Saturday (9am to 12:30 pm)
You don't have to worry anymore about preserving and increasing your property's value as Rhodo Property & Estate Management Services Pte Ltd will certainly help you! They are among the best property management firms in Singapore, given their highly certified professionals from diverse backgrounds.
For more than 20 years, Rhodo Property & Estate Management Services Pte Ltd has already helped thousands of individuals with their estates and properties by providing a wide range of estate management services to support their management needs. They are highly dedicated to establishing a strong reputation for customer satisfaction through dedication to quality and service.
Thousands of possibilities are waiting for you. Entrust your estate and properties with them today, and they will be there to assist and guide you throughout the journey to your future.
Highlights
Highly certified professionals with diverse backgrounds

Cost effective solutions

Accredited by Singapore International Facility Management Association (SIFMA)


Well-established firm
9. A4 International

| | |
| --- | --- |
| Best For | Property and Facility Management |
| Website | http://a4international.com |
| Address | 60 Kaki Bukit Place, #02-10 Eunos Techpark Singapore 415979 |
| Contact Details | + (65) 6441 1184 |
| Operating Hours | Contact for more information |
Next on our list is A4 International, a management company with over 20 years of experience handling properties and facilities. Since the time of its first opening, A4 International has continuously strived to provide high standards of property and
asset management services at all times with a focus in meeting and delivering our clients'.
A4 International puts great focus on quality, service, and results. Its expert team comprises of various industry experts, including but not limited to a managing director, accounts team, operations team, and facilities and management team.
The diverse skills and expertise that the A4 team has to offer makes it one of the most capable property management teams in the field. They can handle the needs and upkeeps of clients' estates, keeping each and every one in pristine condition.
With the help of A4 International, you can have little to no burdens when it comes to managing your personal property. Allow A4 International to work on your estate and keep it a safe and secure environment all the while maximising the returns to your property.
Highlights
Handles the management and upkeep of clients' properties

Wide array of services that have to do with property and facility management
Expert and professional staff
10.  Teams Strata Management Services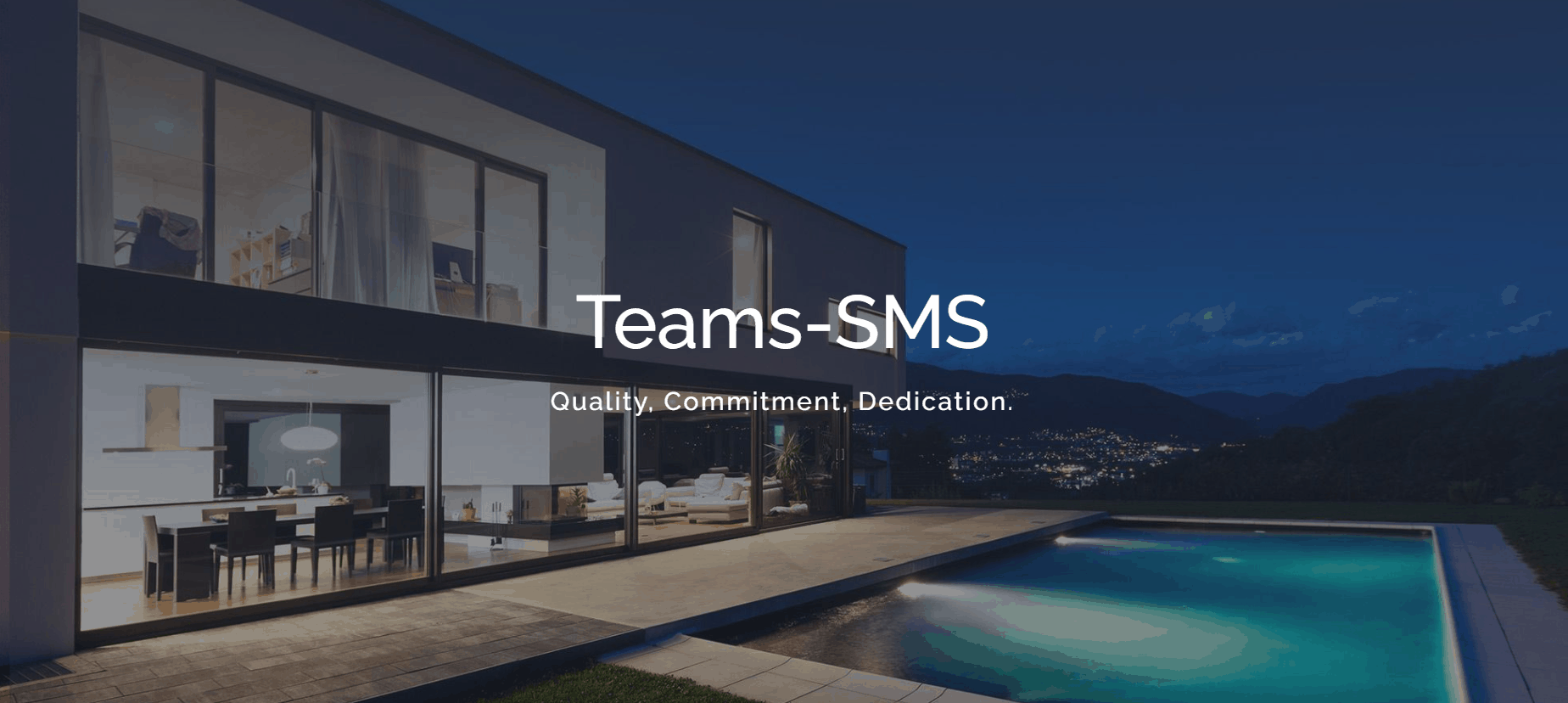 Managing our own properties can get in the way of life sometimes, so it's not surprising when people go out of their way to hire experts at property management. If you're looking for a full suite of property management services, why not consider Team Strata Management when making your list of options?
Established in 2012, Team Strata Management offers three simple things to its clients: Quality, commitment, and dedication. Aside from that, Team Strata Management also offers accounts and financial management, administrative services, defects management, consultancy services, and everything in between.
Now, people may think that have such a wide range of offerings may be detrimental to Team Strata Management's offerings, but it is not. This is because the firm has dedicated itself to maintaining high standards, rarely faltering in between now and the time of its inception.
As a result, Team Strata Management clients can go along their schedules without having to worry about their properties being mismanaged. If you're looking to experience the same ease, we strongly recommend Team Strata Management.
Highlights
Wide range of property management services
Prompt and professional responses
Professional team of experts
And that's our list of companies with the best property management in Singapore! Have you already decided which one you'd like to hire? Let us know all about it!
And if you're also interested in buying a new real estate property, you might want to consult with the best property agencies in Singapore! They're experts in helping you decide which property is suitable for your business needs.