The 7 Best Awning Installers in Singapore
There's no doubt that Singapore is getting hotter each day. If your home or business is still not protected from direct sunlight, this is the right time to call for the services of the best awning installers in Singapore.
Since we want to make your search easier and faster, we went around Singapore and looked for awning installers that can get you excellent outdoor shades. Let's talk about prices and costs you can expect first.
How Much Do Awning Installers Charge in Singapore?
There are several factors that affect the price of getting awnings in Singapore. You'll have to consider the material used, style, size, and installation costs, if applicable.
This is why you won't easily find exact costs of awnings from the get-go. However, we managed to gather estimates of some awning products that should give you an overall idea of how much to expect.
Take note that actual rates may vary per company. To get an exact quote, you may contact your chosen awning installer directly.
| | |
| --- | --- |
| AWNING PRODUCTS | ESTIMATED COSTS |
| Fixed Metal Awnings | $1,500 – $3,000 |
| Retractable Motorised Awnings | $3,000 – $5,000 |
| Retractable Manual Awnings | $1,300 – $3,000 |
Apart from these, we've also noted additional costs such as installation in the table below, courtesy of our friends from Interior Design Singapore.
| | |
| --- | --- |
| SERVICES | ESTIMATED COSTS |
| Installation/Labour Costs | $500 (Per Hour) |
| Side Curtains | $2,000 |
| Cleaning | $400 |
The Best Awning Installers in Singapore
If you're ready, let's proceed to our picks of awning installers on the island!
1. Shadetimes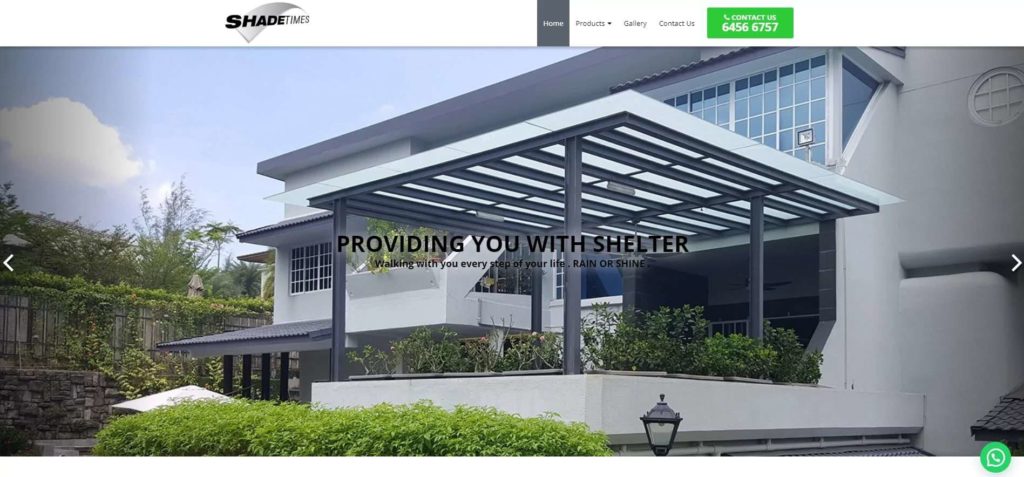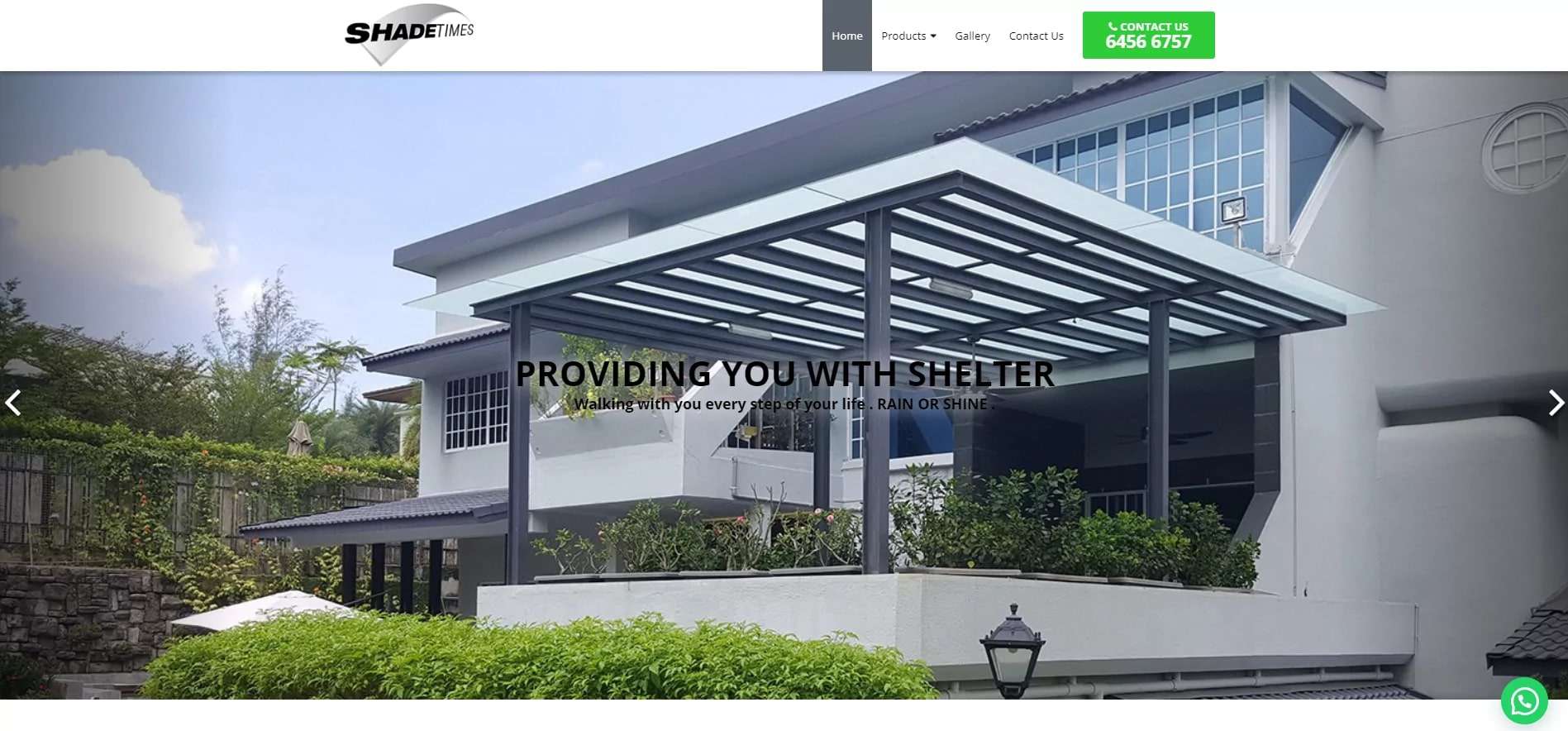 Shadetimes is a roof specialist that you can rely on for all your roofing needs. Whether you're looking for fixed roofs or retractable awnings, their wide range of products can help you find the perfect shades for your home or business.
They're conveniently located right at the heart of AMK Industrial Park, with several hardware and home improvement shops just around the corner. This makes them a perfect choice for those who are also looking to get several services at once.
And when you can come by their shop to see your options for awnings, we highly recommend making the most of their free on-site consultation service. This will allow them to properly survey your home before recommending the most suitable roofing product for your home.
There are no obligations required to avail of this service. You don't have to worry about taking further action should you decide to go in a different direction!
We also love the fact that they have long business hours on Saturdays, which means they can accommodate customers who are busy on weekdays.
Wide variety of awnings
Free site survey/consultation
Long weekend business hours
Convenient location
Price estimates unavailable online
Customer Reviews
Here's what customers have to say about their services:
"Alvin and Team are very professional and will go through extra miles to ensure customer satisfaction. We are very happy with the awesome services rendered to us and will definitely recommend him to everybody! Two thumps up!" —Janet Lew, Google Reviews
"We want you to know that we are very pleased with the quality of service and product your company provides. We sincerely appreciate your responsiveness (Alvin) and the swift installation work by rest of the team. The motorised vertical drop system from Spain that you recommended to us looks and feels very robust unlike other system that we used before. We are glad that we have made the right decision. We look forward to doing business with you for years to come." —stylusyeo, Google Reviews
2. Heng Lip Awning Installation Contractor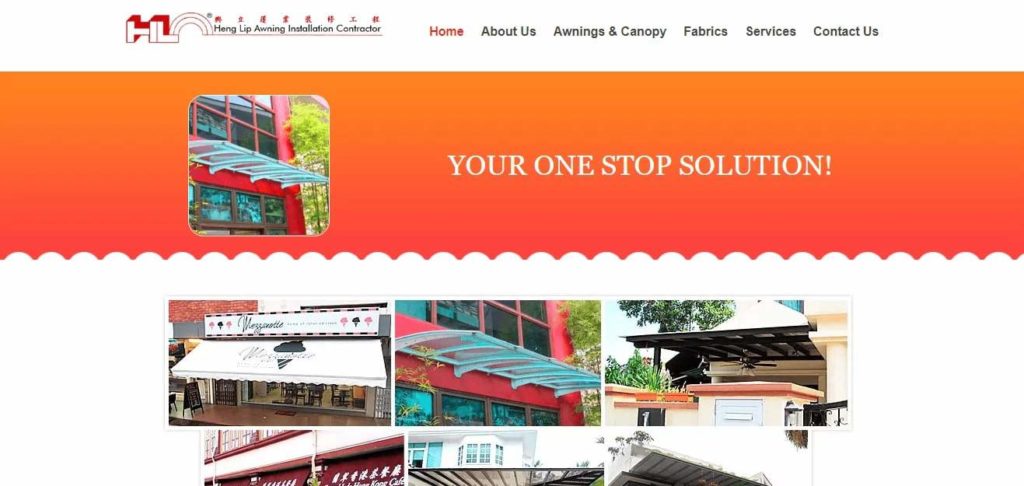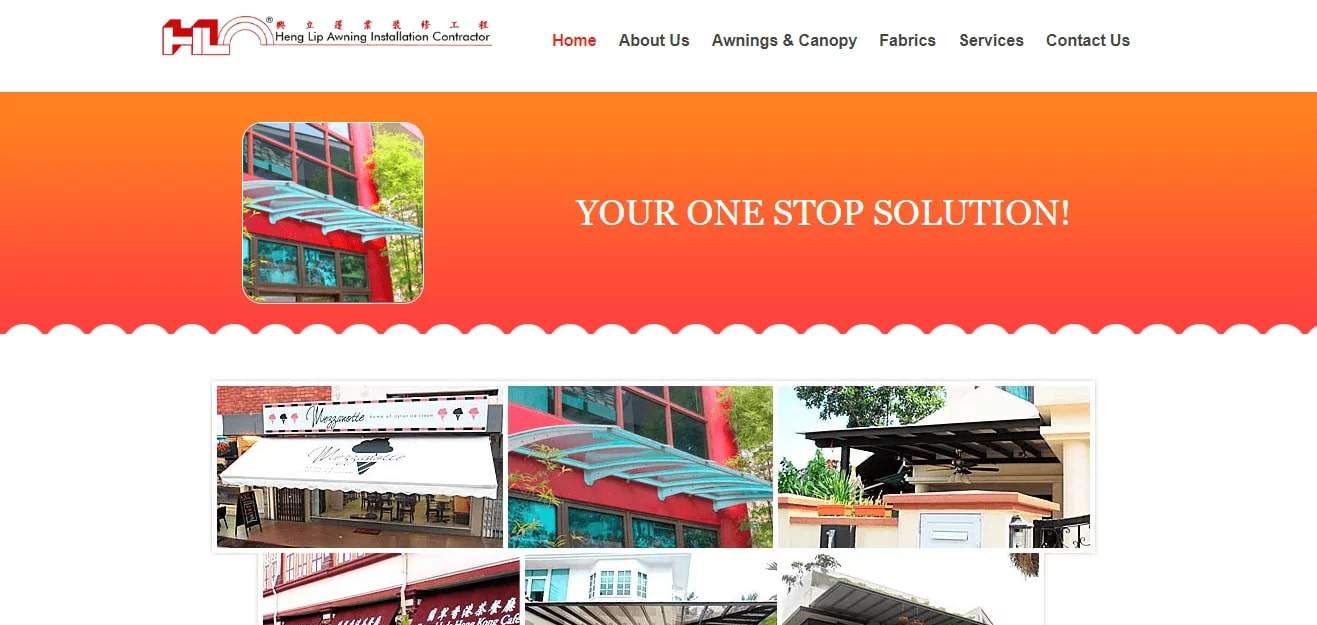 PRODUCTS
Awnings, ceilings, window shutters, canopies, sunshades, tilings, parasols, roofings, waterproofing
WEBSITE
http://www.henglip.com/
ADDRESS
Blk 4003, Ang Mo Kio Industrial Park 1, #01-106, Singapore 569624
CONTACT DETAILS
+65 6741 7370


[email protected]

OPERATING HOURS
Mon to Fri: 8:30 am – 5:30 pm
Sat: 8:30 am – 1:00 pm
Heng Lip Awning Installation Contractor prides itself on being a one-stop solution for all awning installations—and we can't say that we disagree! From metal roofings to canopies, they carry an extensive range of roofs and awnings for residential and commercial properties.
So, if you want a contractor that wants to protect you from direct sunlight as much as possible, consider hiring their services.
On top of their reasonable rates, they collaborate closely with their clients to provide a customised service that meets their preferences. After all, consultations are free of charge—another thing we adore about them!
You can also add them to your list of stops just in case you happen to drop by AMK Industrial Park. Rest assured that their team of experienced workers can bring your dream sunshades to life!
Sadly, their business hours are a bit short on weekends. Hence, you might want to come in early if you want to drop by their store on a Saturday.
Wide variety of awnings
Free consultations
Convenient location
Price estimates unavailable online
Short weekend hours
Customer Reviews
Check out a detailed review by a former customer:
"I was looking for an awning contractor and saw a review about their good service and called them for a quote. Best decision made. They are not your polished contractor/designer sort and are more homely but they give good, practical and cost effective advice and service. Their pricing was not only cheaper than my other quotes but they were more flexible and approachable when I needed changes. When they came onsite to do the work, they were professional and thorough and most importantly experienced. They went beyond the job service to help me check and fix some small faults without us asking – at no extra charge. There are some contractors that are really "ngiao" and will be reluctant or black faced but not the case here. I dealt with Jess and their on ground guy Thomas. I am very pleased with their service and strongly recommend them!" —Sandar Win, Google Reviews
3. Ace Awnings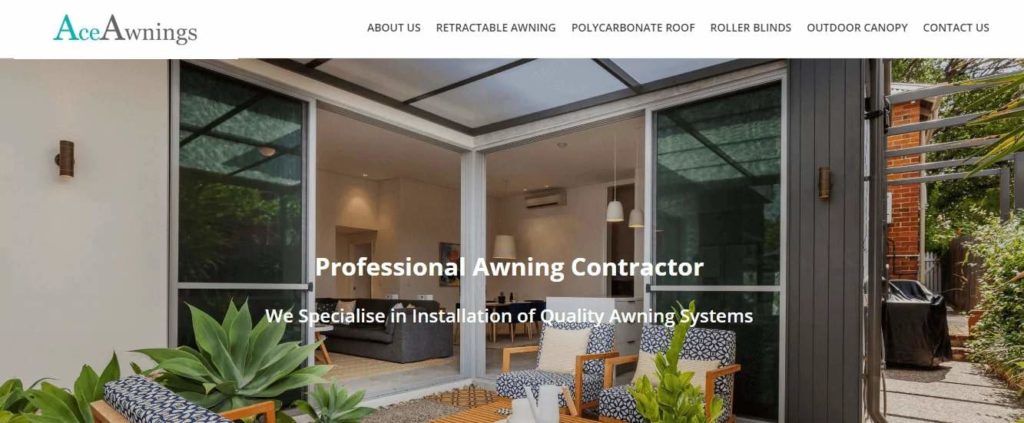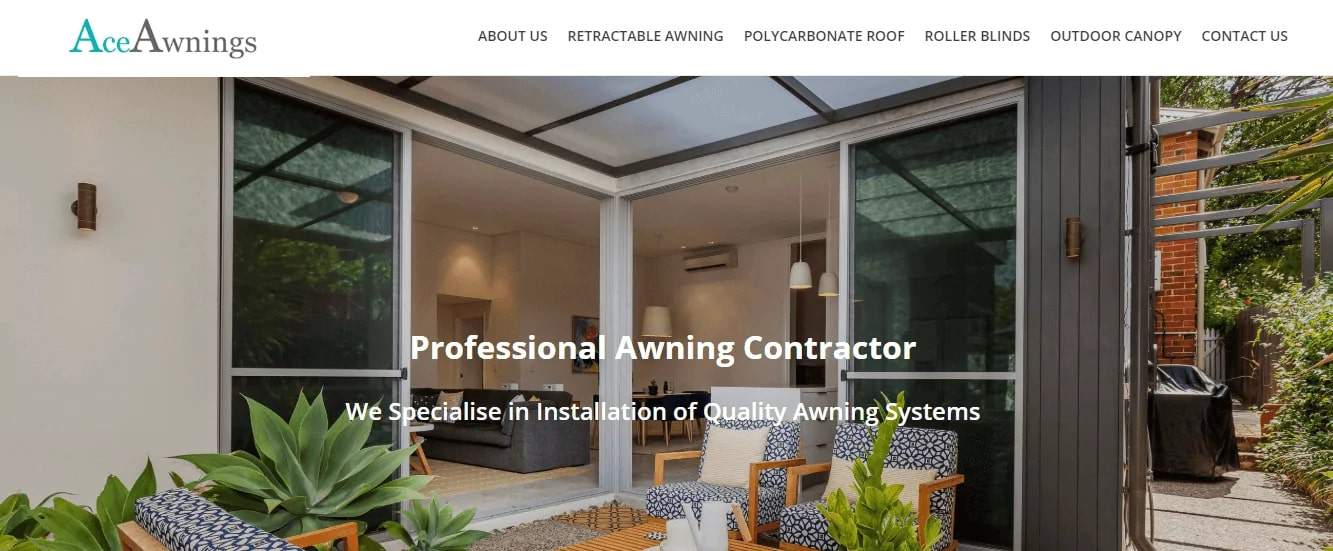 With more than 20 years of experience, Ace Awnings is considered one of Singapore's leading awning installers, specialising in retractable awnings and other roofing solutions.
Their line of retractable awnings is well-suited to Singapore's tropical climate, so you don't have to worry about rain and wind ruining your precious awnings. On top of that, you have the option to choose between manual or motorised awnings in this shop.
That said, we highly recommend getting manual capabilities to go with your motorised awnings. This would allow you to have a back-up just in case your motorised awnings run out of power to operate.
Whatever you decide to go with, Ace Awnings can tailor-fit your awnings according to your needs and budget. That's another point in our book!
We'd like to highlight that they also have a wide range of roller blinds that can help you find the perfect window covering inside your home. So, if you don't have any of those yet, you can get those and more in this shop.
A major downside we're seeing is that Ace Awnings is closed on weekends. As a trade-off, you can schedule an obligation-free site visit on weekdays.
Wide range of awnings and blinds
Free site visits
Central location
Closed on weekends
Price estimates unavailable online
Customer Reviews
Take a look at some comments about Ace Awnings' services below:
"It's been a pleasant experience along the process, started from site visit, quotation, installation. Shawn has been very helpful, accommodating, and professional, and resourceful. Installation has been a breeze and effective, which was led by his PIC, Rashid. I feel grateful that I have came across Ace Awnings and satisfied with the result. Thanks!" —Felix Chen, Google Reviews
"I contacted Shawn Lu recently after browsing the internet for awning and shelter vendors. After discussing with him regarding the construction of a new composite shelter to replace my existing retractable awnings, I have to admit that I have been very impressed with his patience, courtesy, dedication and keen follow-up to my enquiry. I needed to replace my retractable awnings to save the hassle of having to extend the retractable awnings each time when it rains and then having to wait for it to dry before I can retract it back. Furthermore the aluminum composite covers should shield and deflect some heat from the scorching sunlight in the day. He provided me with one of the most competitive quotes and his team of highly professional and skilled workmen were very responsible and careful to carry out the works safely to completion. Overall I have been very pleased with the high quality and fine finishes. Despite there were some minor leakages when it rain, his team was very prompt to get back over to overcome the issues. To me if anyone who wish or intend to have similar work done to their homes, it's absolutely worth the while to contact Shawn and then you analyze and decide for yourself if he's really the trusted and reliable vendor to work with ultimately. Admittedly being an overly careful person like myself, it took me quite a while to be won over by Shawn and his great team's great job. Many thanks Shawn." —James Hue, Google Reviews
4. Creative Shades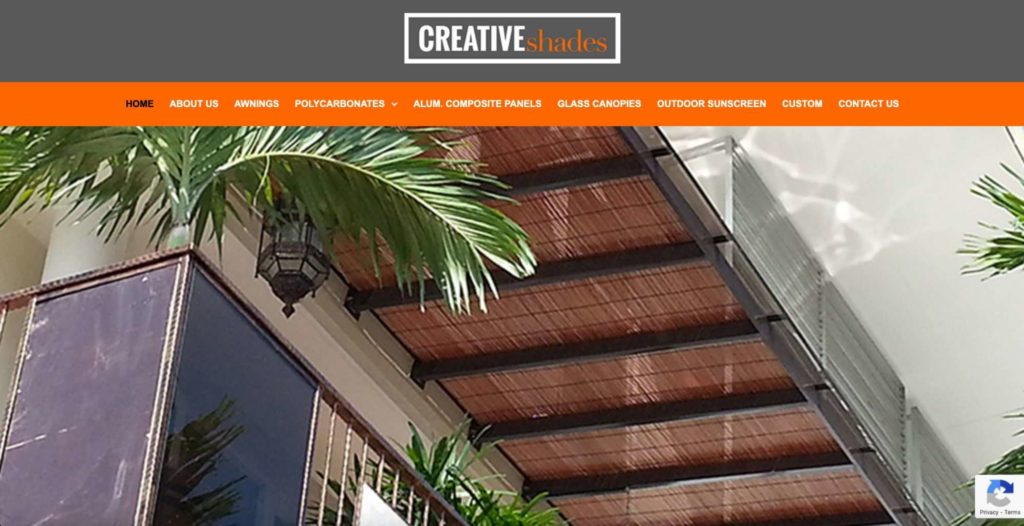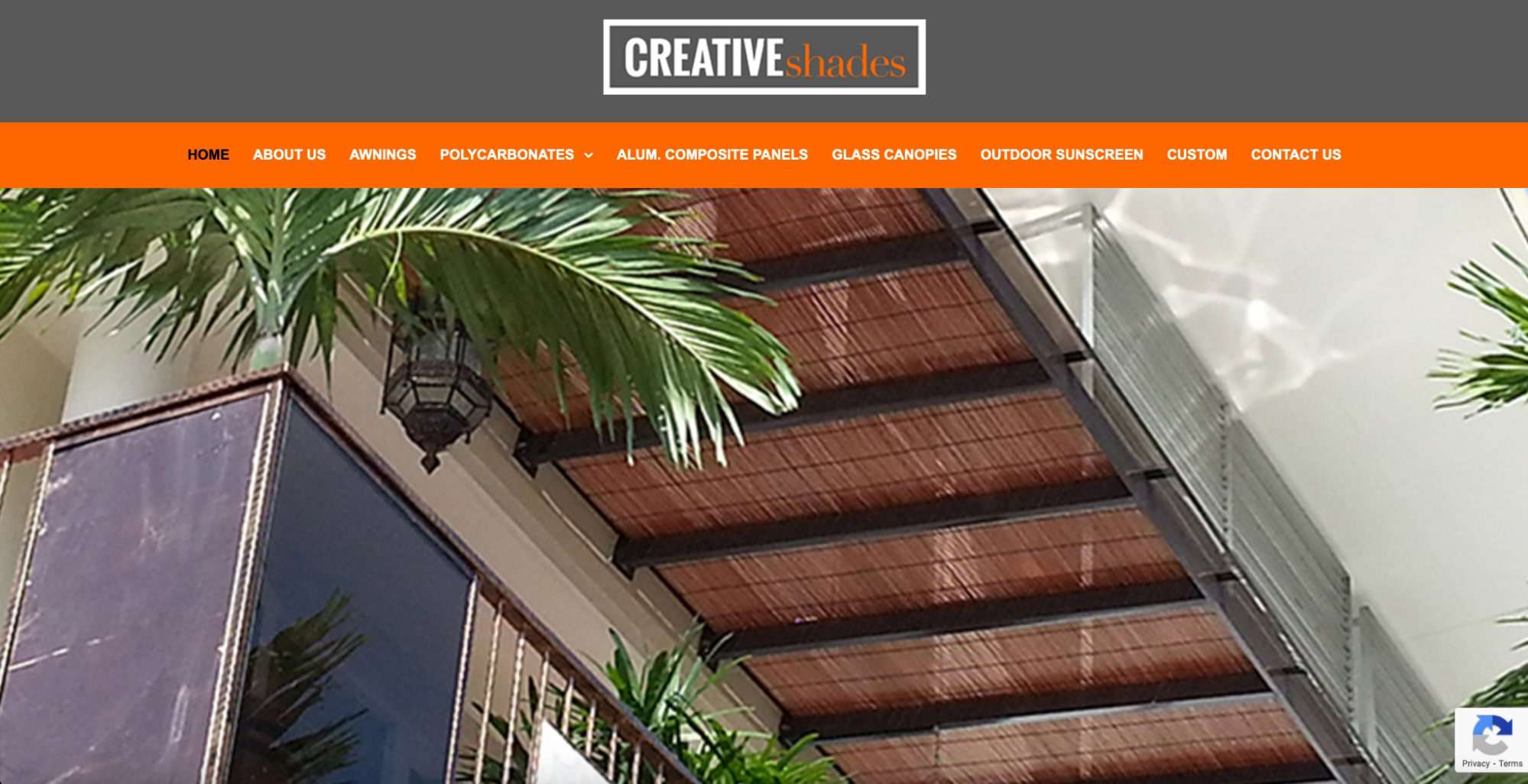 PRODUCTS
Awnings, polycarbonate roofs, aluminium composite panels, glass canopies, outdoor sunscreen, custom awnings
WEBSITE
http://creativeshades.com.sg/
ADDRESS
Empire Techno Centre, 30 Kaki Bukit Road 3, #05-01, Singapore 417819
CONTACT DETAILS
+65 6746 6766


[email protected]

OPERATING HOURS
Mon to Fri: 9:00 am – 6:00 pm
Sat: 9:00 am – 3:00 pm
Creative Shades is another veteran when it comes to awnings and roofs. With over 28 years of experience in the industry, they've become a trusted name among businesses and homeowners alike.
In fact, they've earned a reputation for being professional and fast in responding to enquiries and installations. These reasons alone have prompted our team to check them out, and we can see that these comments weren't wrong at all!
On top of that, they also offer one of the most competitive rates for awnings, glass canopies, and composite panels in the industry today. You can request an obligation-free quote if you're just shopping around for contractors, though.
While they have relatively long hours on weekends compared to other shops, we would've liked to see them offering free site visits. But from what we've heard, their team's quite responsive even after business hours, including weekends.
It's this personal touch that earned them a spot on our list. So, don't hesitate to give them a call to know more!
Wide range of awnings
Free quotes available
Central location
Relatively long weekend hours
Initial site visits may not be free
Price estimates unavailable online
Customer Reviews
Here's what customers raved about Creative Shades:
"Alex was very helpful and he understands my concerns and requirements. I have contacted a few awning suppliers and he stood out. Because he made me feel confident that he can deliver what I want. Before we commit to the order, Alex was willing to come to our place the 2nd time to explain the details. On the day of installation, the installers will very neat and tidy. No trouble and no mess." —Joanne SC Ang, Google Reviews
"We got in touch with Cedric for glass roof+decking+zipscreen quotation for our patio. He was one of the 5 that we approached for a quote. Not only his quote was the cheapest, he was able to provide useful suggestions that proved to work to the best of our advantage. It was brilliant to work with him too, very communicative, and he went out of his way to help us pick up the fans for the patio to fabricate the part to hold the fans to the structure on the roof, and painted the patio railings all the way to the back. Customer service at its best! The installation crew were very professional and courteous too. The patio now is the best part of our home, realising our dream for an al fresco dining and chill area. And the compliments from guests of this space just make this 'investment' very worthwhile. Thank you Cedric & the Creative Shades team!" —Ria Rahim, Google Reviews
5. Best Solution Decor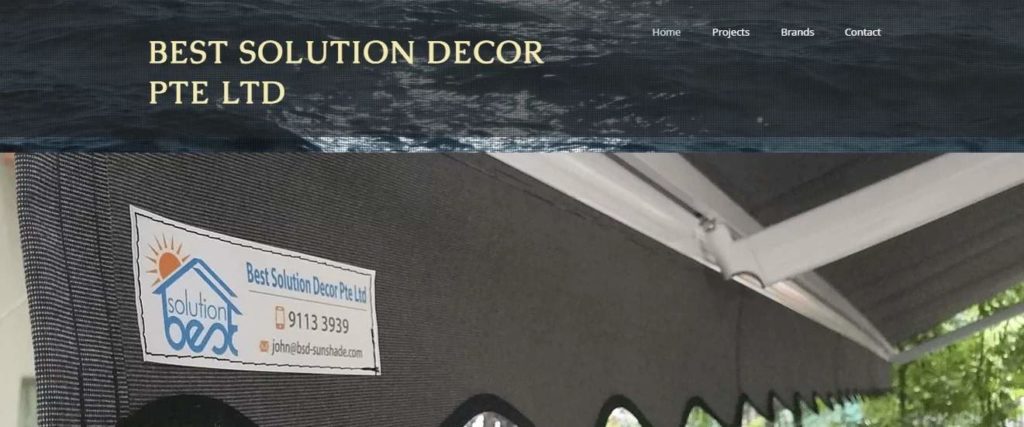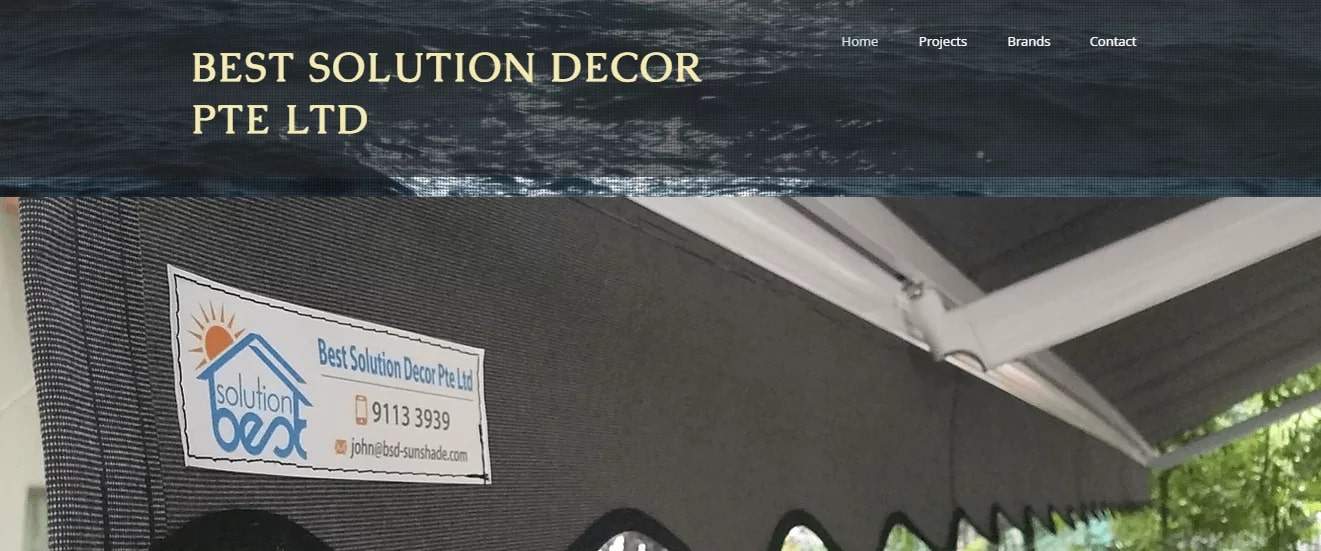 PRODUCTS
Retractable awnings, motorised blinds, polycarbonate roofs, loop blinds, retractable roofs, poly trellis, Trinwall poly, glass roofs, outdoor blinds
WEBSITE
https://bestsolutionjc.wixsite.com/mysite
ADDRESS
50 Chin Swee Road, #09-04, Thong Chai Building, Singapore 169874
CONTACT DETAILS
+65 9113 3939


[email protected]

OPERATING HOURS
Mon to Fri: 9:00 am – 6:00 pm
If you want a great awning installer without going above your budget, then you may want to check out Best Solution Decor. Despite not being the most well-known awning contractor on the island, they've managed to collect a pool of customers who swear by their brilliance.
On top of using quality materials, they also have a team of professional installers who know their way around different types of awnings and roofs.
So whether you need sunshades or actual frames like trellises, they can provide you with multiple options to suit your budget and needs.
As is the case with most awning contractors nowadays, you won't find price estimates on their website. Despite this, you can always request an exact quote—free of obligation!
It would take a bit of exploring to find their shop, though. Seeing that it's the only home improvement shop in the area, you might want to set aside some time if you want to drop by for a visit, especially as you likely won't find similar services in the area to help you shop around for options.
Wide range of awnings
Ideal for trellises
Free quotes available
Closed on weekends
Location may be hard to reach
6. SkyGrilles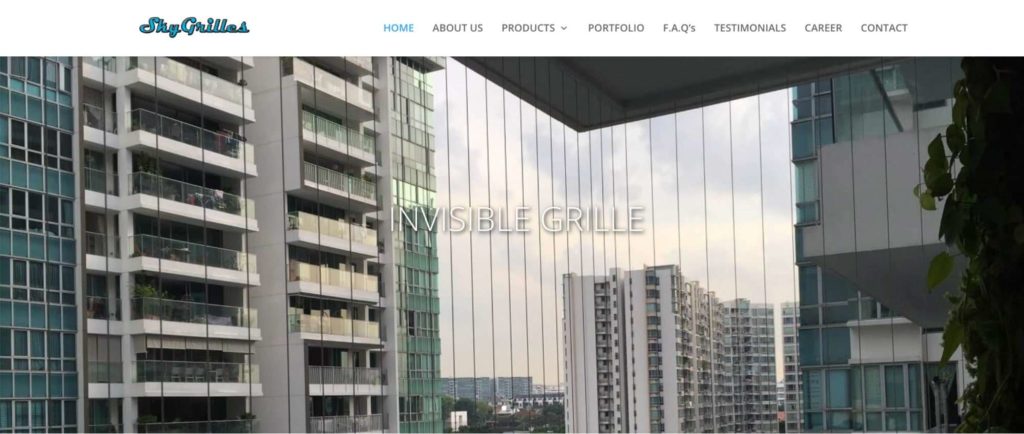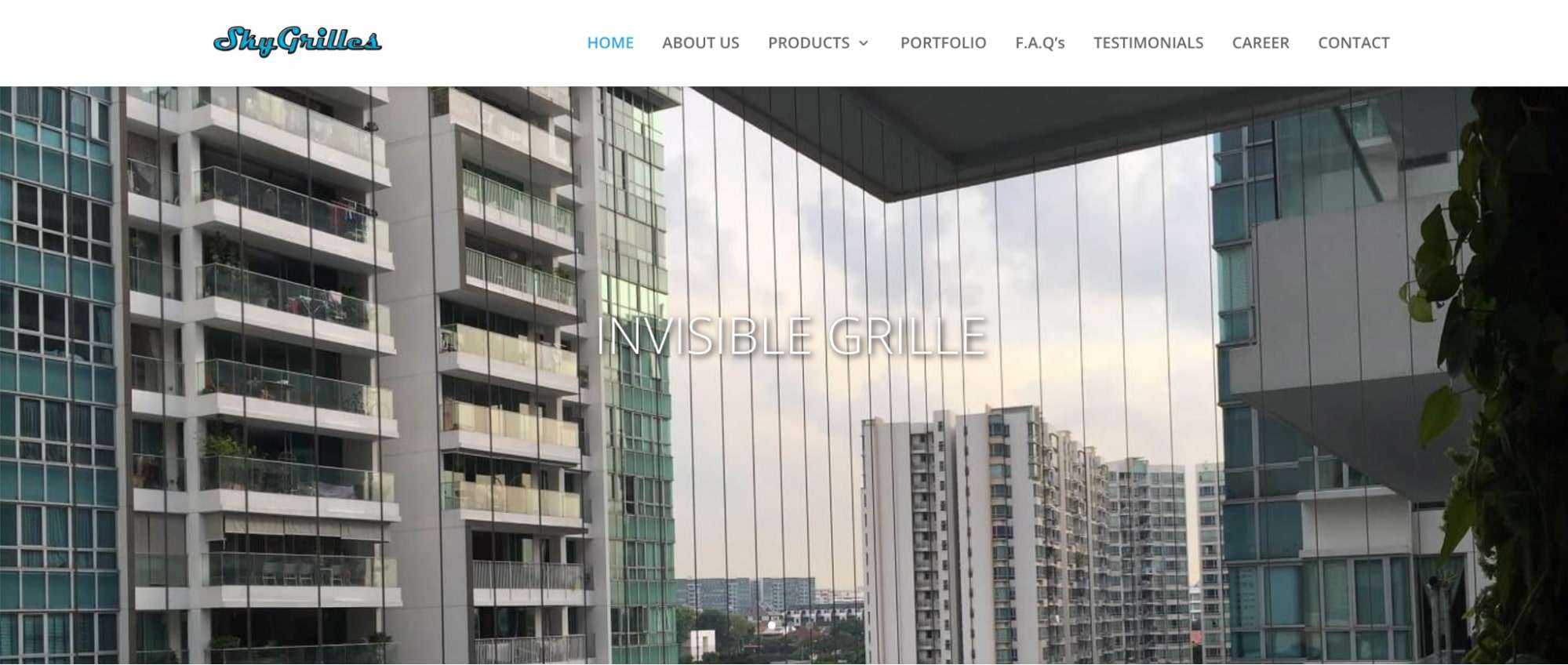 PRODUCTS
Awnings, invisible grilles, cat-proof grilles, aluminium grilles, roller blinds, iron gates, window restrictors, zip track
WEBSITE
https://skygrilles.com/
ADDRESS
4028 Ang Mo Kio Industrial Park 1, #01-217, Singapore 569639
CONTACT DETAILS
+65 9681 4322


[email protected]

OPERATING HOURS
Mon to Sat: 8:00 am – 6:00 pm
At first glance, you might think that SkyGrilles only offers invisible window and gate grilles. But in the past years, they've ventured into selling all sorts of home improvement products like awnings and blinds.
What makes them a company worth hiring is that they only use high-quality awnings and materials. Each awning has an anti-rust and anti-dust technology, so you don't need to regularly maintain and clean your awnings.
In addition, each product passed their quality control, so you can be assured that the awning installed in your home is durable and will last for a long time. If you're unhappy with their services, they promise to give you back your money—that's how confident they are.
The biggest downside with their line of awnings is that it's limited to aluminium composite panels and polycarbonate roofing. So if you're looking for retractable awnings, this company might not provide you with what you're looking for.
But if you're decided on getting either of those kinds, then we highly recommend checking them out for that. You can even schedule an obligation-free site visit so they can take measurements themselves.
Money-back guarantee
Equipped with anti-rust technology
Convenient location
Long business hours
Free site visits
Limited awning products
Price estimates unavailable online
Customer Reviews
Here's a glimpse of what former clients said about SkyGrilles:
"Had invisible grilles and permanent awning installed. Looks like a good job done. The boss himself personally came a couple of days before the appointed installation date to ensure measurements were done right and exact places to which the frames to be mounted was decided on. A team of workers turned up punctually and poor guys were working through the day till night (literally). But end product and price was very satisfactory. The awning, in fact, looked better than I had envisioned." —B Tan, Google Reviews
"Very happy with the completed work. I needed my grilles up on short notice and they were able to slot me in and complete the job on move date. The installation crew were polite, friendly and very helpful. After the installation and clean up, they saw I was struggling with my switches and helped to troubleshoot. Overall, happy experience!" —Winnie Tan, Google Reviews
7. Decorial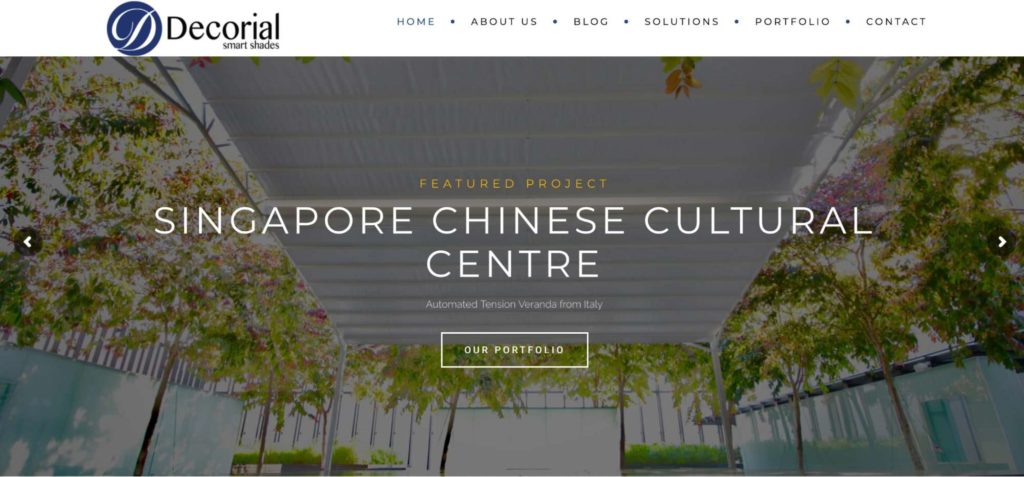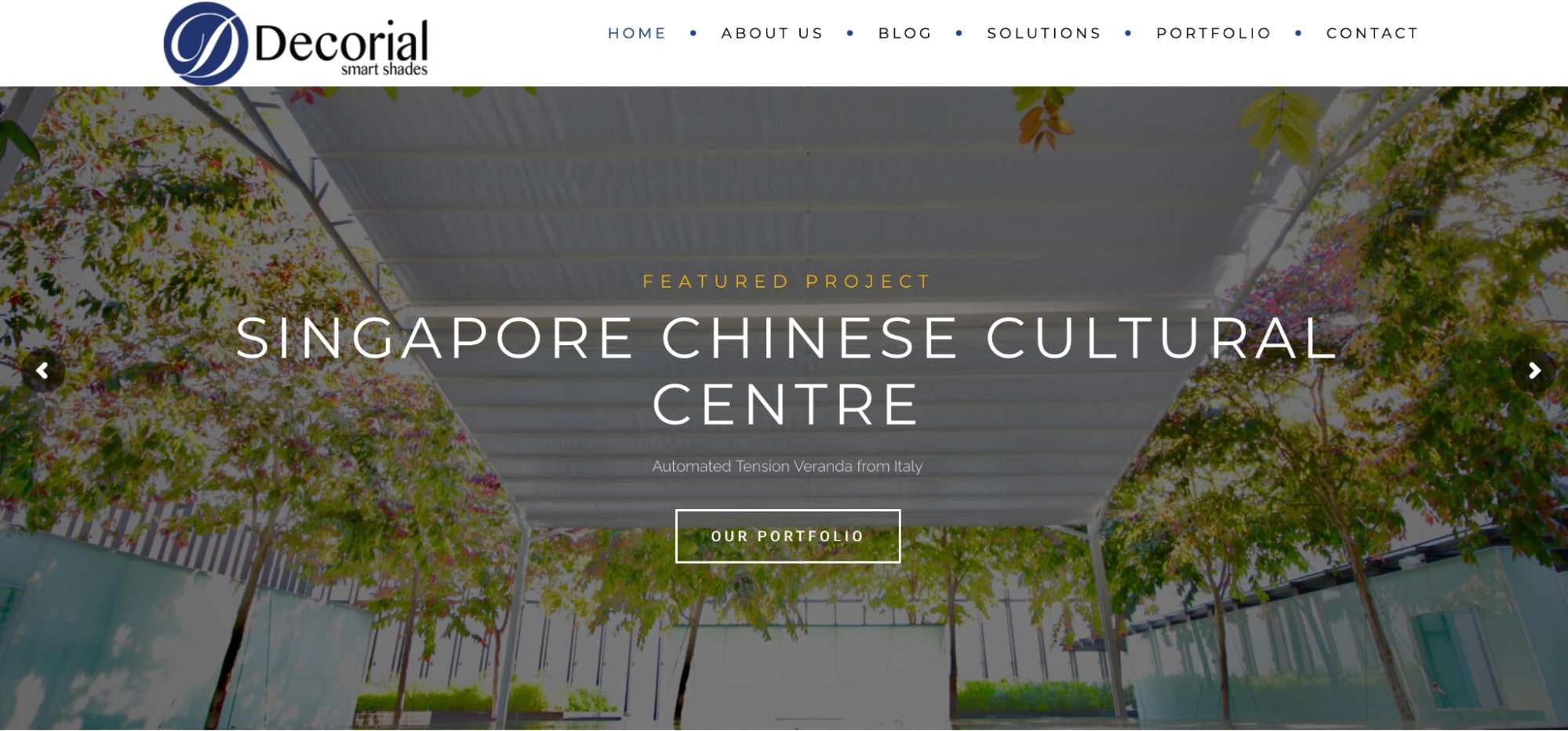 PRODUCTS
SCDF-compliant awnings, automated tension veranda, operable louvres/trellis, outdoor fibreglass sunscreen/blinds, motorised awnings, EVOZIP screen systems, modular gazebo, customised solutions
WEBSITE
https://www.decorialoriginal.com/
ADDRESS
Blk 1077 Eunos Avenue 6, #01-150, Singapore 409633
CONTACT DETAILS
+65 6742 4221 


[email protected]

OPERATING HOURS
Mon to Fri: 9:00 am – 5:30 pm
Consider Decorial another one-stop shop worth checking if you prefer automated systems in your home or business—whether they're awnings or blinds. They may specialise in shades made from European materials, but rest assured that their products are suitable for Singaporean climate.
Now, what's particularly special about Decorial is that they have extensive experience in providing awnings that are compliant with the Singapore Civil Defence Force's (SCDF) fire safety requirements.
In fact, they even have their own in-house expert who welcomes engineers, architects, and home or business owners who wish to consult with them. From this alone, you'll know that their line of awnings have met local standards and thus, are safer than most from potential fire hazards.
Apart from that, what we love about Decorial is their 10-year guarantee for spare parts. This impressive after-sales service isn't something that you find everyday, and it's one of the reasons why we had to include them here!
We're a bit bummed to find out that they are closed on weekends, though. Still, their showroom at Geylang is worth a visit, seeing that there are several home improvement shops within the vicinity!
Specialises in automated awnings
10-year guarantee for spare parts
Compliant with SCDF fire safety requirements
Consultancy services available
Relatively expensive
Closed on weekends
Customer Reviews
Some sample comments about Decorial include the following:
"Friendly and helpful sales team. Really good service during our first business encounter with them." —Yew Hin Chan, Google Reviews
"Professional turnkey project specialists that provide all-rounded management, coordination and detailed consultancy services!" —Rodney Sim, Google Reviews
"Previous Decorial retractable awning lasted close to 12 years. Getting a new replacement with latest technologies and distinctive design!" —Peck Hong Ng, Google Reviews
FAQs about Awnings in Singapore
---
And those are the best awning installers in Singapore! We hope our guide helped you find the perfect company for your roofing and sunshade needs.
If you think there are other awning and roofing companies that are also worth checking out, leave us a message and tell us your experience!
Speaking of roofs, we've also written about the top roof repair contractors in Singapore in case you have leaky ceilings.