The 7 Best Awnings Installers in Singapore
There's no doubt that Singapore is getting hotter each day. If your home or business is still not protected from direct sunlight, this is the right time to call the services of the best awning installers in Singapore.
Since we want to make your research easier and faster, we went around Singapore and looked for the awnings installers that can offer great value for you money. No need to empty your wallet for any of these awning installers!
1. Shadetimes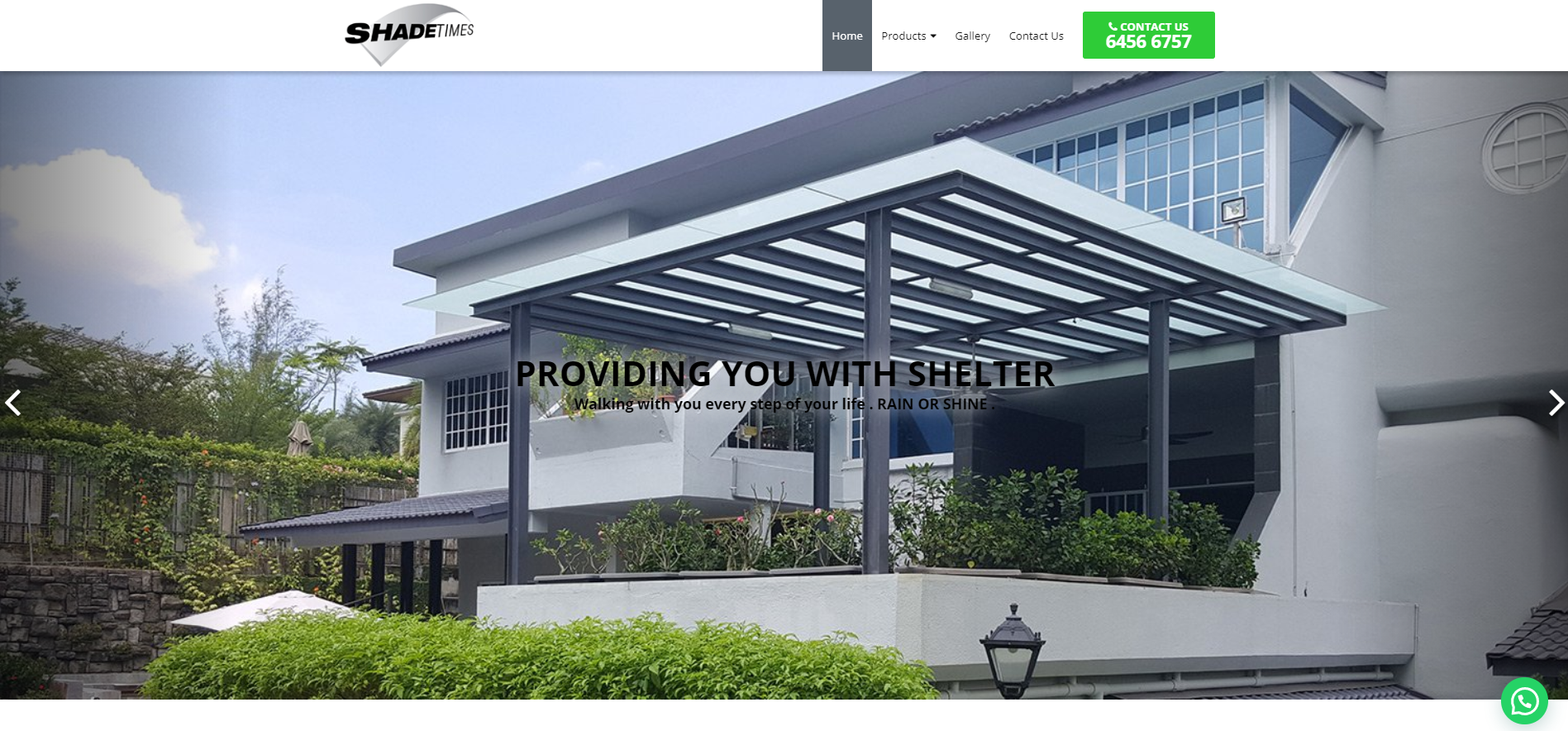 BEST FOR
Broad Selection of Products
SERVICES
Fixed Roofing, Retractable Systems, Other Products
WEBSITE
https://www.shadetimes.com/
ADDRESS
BLOCK 4027 ANG MO KIO INDUSTRIAL PARK 1
#01-241 SINGAPORE 569638
CONTACT DETAILS
+65 6456 6757 (9AM – 9PM)
+65 6456 6752
[email protected]
OPERATING HOURS
MONDAY – FRIDAY 9AM – 6PM
SATURDAY 9AM – 1PM
Shadetimes is one of the leading roofing specialists in Singapore. They offer a wide variety of sunshades and many more products.
With more than twenty years of experience in the industry, there's no doubt that they know what they're doing when it comes to awnings. Contact them now for a free on-site consultation!
Highlights
More than 20 years of experience
Capable of handling different types of projects
2. Heng Lip Awning Installation Contractor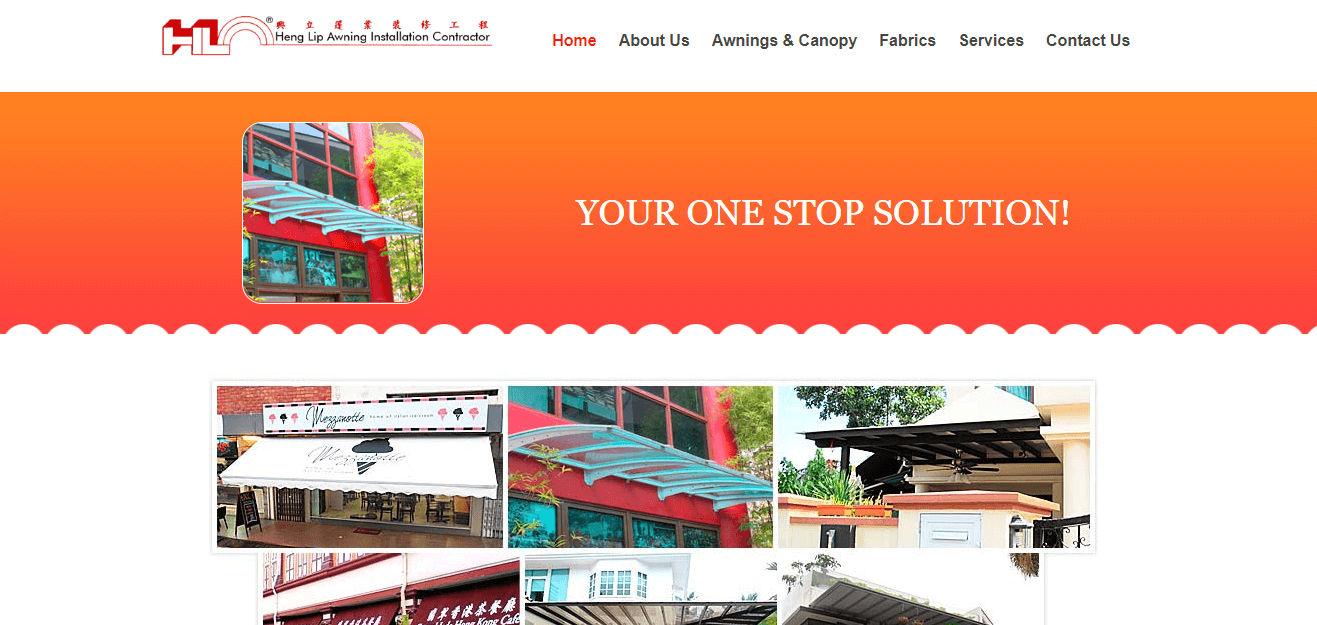 | | |
| --- | --- |
| BEST FOR | Awning and Canopy Installations |
| SERVICES | Awnings, Railings, Ventilator, Waterproofing, Metal Roofing, Parasols, Sunbreakers, and Sunscreens |
| WEBSITE | http://www.henglip.com/ |
| ADDRESS | 272 MacPherson Rd, Singapore 348597 |
| CONTACT DETAILS | +65 6432 8270 |
| OPERATING HOURS | Monday – Friday, 8:30 AM – 5:30 PM |
Heng Lip is an awning and canopy specialist that offers a wide variety of services including aluminum ceilings, aluminum window shutters, metal roofing, sun screens, and many more.
So, if you want a contractor that wants to protect you from direct sunlight as much as possible, consider hiring their services.
On top of their reasonable rates, they collaborate closely with their clients to provide a customized service that meets their preferences. They take pride in their reputation as a one-stop solution for all the needs of homeowners and even business owners.
In addition, they have a team of experienced workers who can be considered experts in their own right. And that's just one more thing to adore about them!
Highlights
Customized services
Team of expert workers
Free consultation
3. Ace Awnings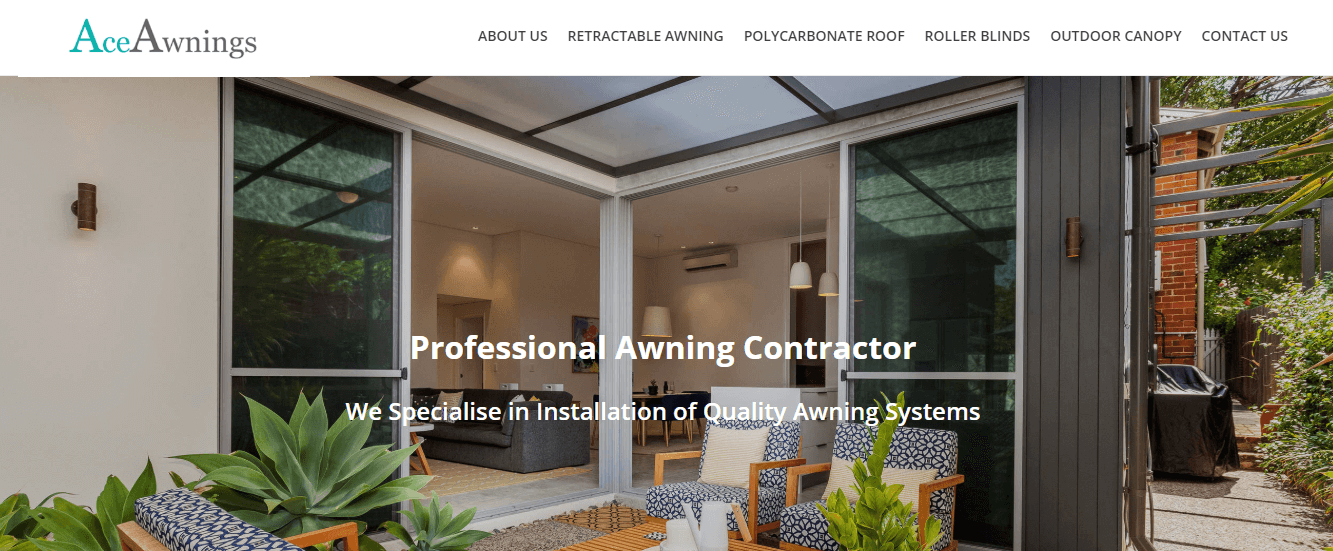 | | |
| --- | --- |
| BEST FOR | Quality Awning Systems |
| SERVICES | Retractable Awning, Polycarbonate Roof, Roller Blinds, and Outdoor Canopy |
| WEBSITE | https://aceawnings.com.sg/ |
| ADDRESS | 5041 Ang Mo Kio industrial park 2 #01-497 Singapore 569544 |
| CONTACT DETAILS | +65 9275 5577 |
| OPERATING HOURS | Monday – Friday, 10:00 AM – 5:00 PM |
If you want an awning installer that's loved by both residents and business owners, then Ace Awnings will be a great match for you.
With more than 20 years of experience, they are considered the leading awning installers on the island, specializing in retractable awnings and roofing solutions.
Some of their services include outdoor canopy, roller blinds, and polycarbonate roofs, all of which are meant to bring some shade into your homes. In line with this, Ace Awnings makes sure to use only materials of the highest quality.
Highlights
20 years of operation
Quality service
Free quotation
Customer Reviews
Here are some comments from their customers posted on their website:
"Ace Awnings impressed me with their quality of work. I had by Polycarbonate roof rebuilt by hem and my wife and I loved the design! The attention to detail was great and now my house's outdoor area looks better than before."
"I had engaged Ace Awnings as for an outdoor canopy for my restaurant. The quote provided by them was very reasonable, and I have nothing but praise for their workmanship. The process was pretty much fuss-free and they delivered everything that was promised."
4. Creative Shades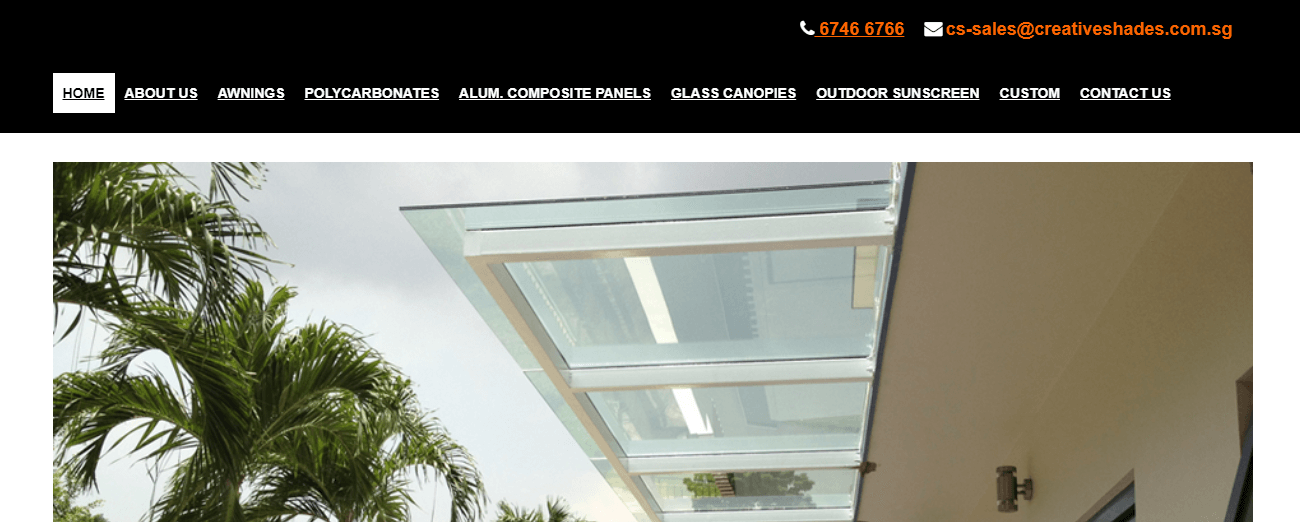 | | |
| --- | --- |
| BEST FOR | Durable Awnings |
| SERVICES | Awnings, Outdoor Sunscreen, and Polycarbonates |
| WEBSITE | http://www.creativeshades.com.sg/ |
| ADDRESS | 30 Kaki Bukit Rd 3, #05-01, Singapore 417819 |
| CONTACT DETAILS | 6746 6766 |
| OPERATING HOURS | Monday – Friday, 9:00 AM – 6:00 PM |
Creative Shades' professionals have been making the lives of Singaporeans cooler through high-quality and durable awnings for almost 28 years now, making them one of the first awning installers and manufacturers on the island. One thing we love about them is that they're committed to creating top-of-the-line awnings that residents and business owners love.
If you regularly have events and celebrations at your backyard, then you will definitely love their awnings. They have a lot of options even for residential projects.
And people who are on a tight budget will love Creative Shades. Despite being a well-established company, their rates remain affordable and reasonable.
Highlights
28 years of experience
High-quality services
Durable awnings
Customer Reviews
With an average rating of 5, Creative Shades is one of the best-reviewed awning installers on Google. Take a look at these reviews:
"Very good service! Much better than the other companies I contacted. Came all the way to Jurong to give a quote without complaint. Impressed with his level of knowledge & professionalism. Gave all the different options and even said I could choose whether I wanted polycarbonate, composite or a mix of the two on the day of installation. The main plus point is that you can really trust this company. The two awnings they put up are very well done and look great! (We went for a combination of alternating polycarbonate & composite panels in the end)"
"Installed a backyard awning at our new place last week and we are very pleased with the prompt delivery and installation. Mr Broncson was very responsive to my enquiries and very reassuring that we could go back to him if there is any help needed on the awning. Will definitely consider Creative Shades again for similar needs in future and recommend it to friends for their good product and services."
5. Best Solution Decor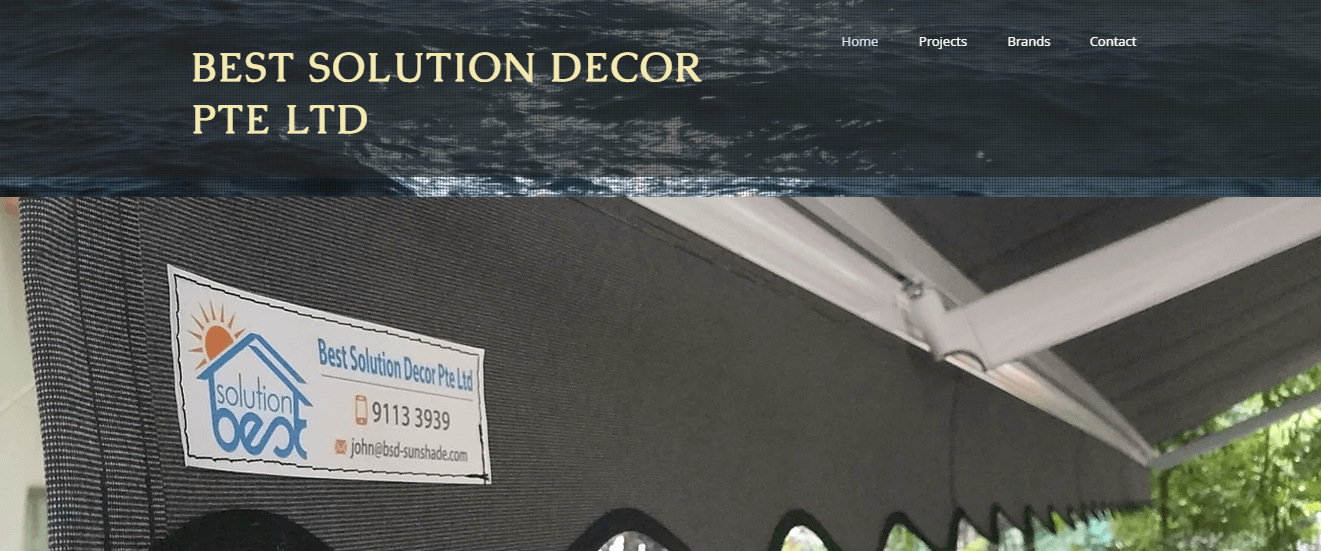 | | |
| --- | --- |
| BEST FOR | Exterior and interior home shading |
| SERVICES | Awnings Installations |
| WEBSITE | https://bestsolutionjc.wixsite.com/mysite |
| ADDRESS | #09-04 Thong Chai Building, 50 Chin Swee Rd, Singapore 169874 |
| CONTACT DETAILS | +65 9113 3939 |
| OPERATING HOURS | Monday – Friday, 9:00 AM – 6:00 PM |
If you want a great awning installer without going above your budget, then you may want to check out Best Solution Decor. As one of the few companies in Singapore that offer affordable awning services, they're a great choice for people who don't want to pay through the nose for a great-looking awning.
Despite not being the most well-known awning contractor on the island, they have managed to collect a huge pool of customers who swear by their brilliance.
On top of using quality materials, they also have a team of professional installers who know their way around different types of awnings.
Lastly, they offer a wide selection of shade designs and custom options with varied prices to match your needs and budget.
Highlights
Affordable rates
Quality materials
Custom shade designs
6. Sky Grilles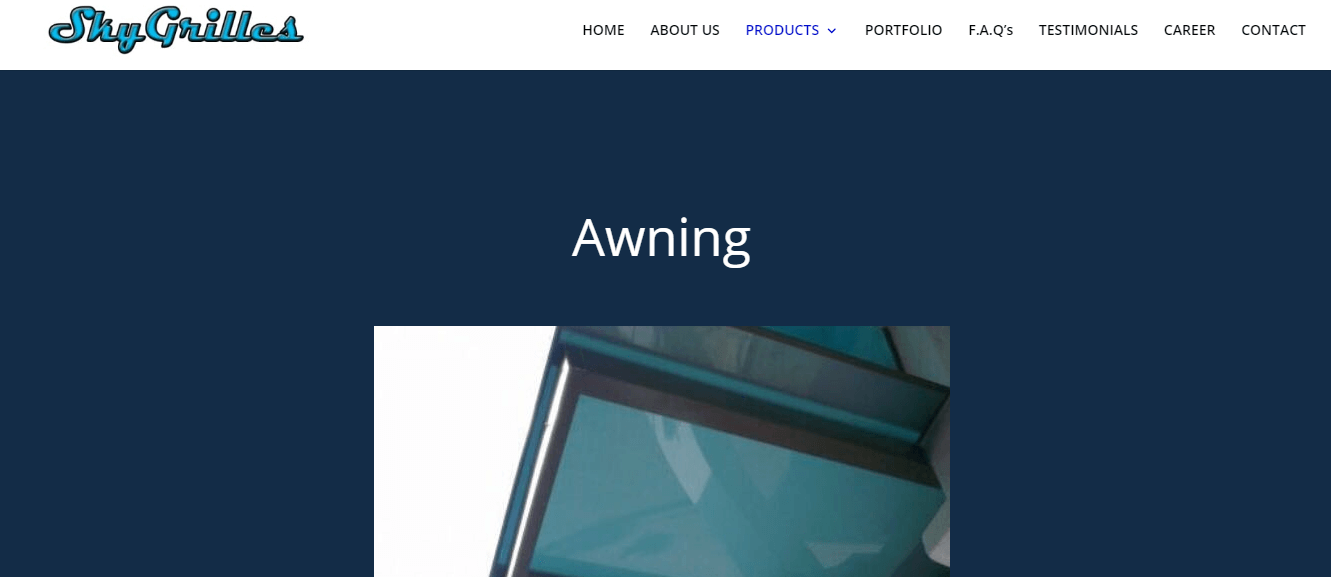 | | |
| --- | --- |
| BEST FOR | Quality controlled materials |
| SERVICES | Awnings, Invisible Grilles, Aluminum Grilles, Roller Blinds, and Main Gates |
| WEBSITE | https://skygrilles.com/ |
| ADDRESS | 4028 Ang Mo Kio Industrial Park 1 #01-217 Singapore 569639 |
| CONTACT DETAILS | |
| OPERATING HOURS | Monday – Friday, 8:00 AM – 6:00 PM |
Whether you prefer aluminum composite panels or polycarbonate roofing, Sky Grilles can get it done and installed for you. As a company, their goal is to provide their clients with shades that protect them from direct sunlight and getting wet while raining.
What makes them a company worth hiring is that they only use high-quality awnings and materials. Each awning has an anti-rust and anti-dust technology, so you don't need to regularly maintain and clean your awning.
In addition, each product passed their quality control, so you can be assured that the awning installed in your home is durable and will last for a long time. If you don't like their services, they promise to give you back your money — that's how confident they are.
Lastly, in case you encounter any trouble with your awnings, they have excellent customer support and will answer all your queries.
Highlights
Durable materials
Secured products
Money-back guarantee
Excellent customer service
7. Decorial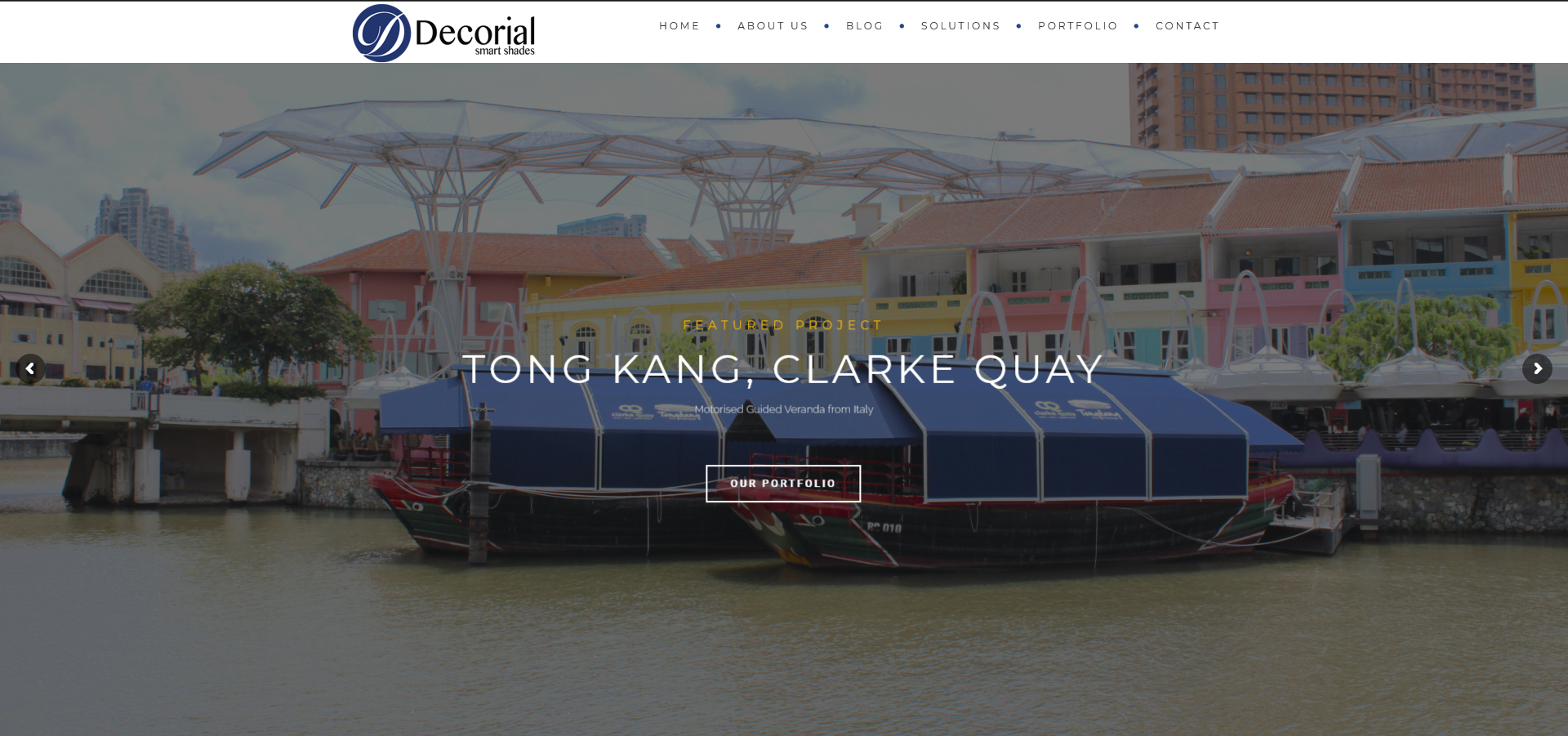 BEST FOR
Custom-Made Innovative Concepts
SERVICES
Automated Tension Veranda-Pergola
Operable Louvres-Trellis
Evozip Screen-Track Guided Blinds
Customized Design
Retractable Awning
Outdoor Sunscreen
Modular Gazebo-Tensile Membrane
Fixed Roof-Linkway Canopy
Loop Blinds
WEBSITE
http://www.decorialoriginal.com/
ADDRESS
Blk 1077 Eunos Avenue 6, #01-150. Singapore 409633
CONTACT DETAILS
+ 65 6742 4221| [email protected]
OPERATING HOURS
9:00 AM – 5:30 PM
Decorial specilises in providing solutions for automated traction systems, rain and sun shading, and various home and building automation upgrades. They are focused on developing custom-made innovations using state of the art European technology.
The firm aims to enhance your property's façade while serving a functional purpose at the same time. With their talented architects and builders, they make sure that your house is well kept and comfortable to live in.
Their products undergo intricate tests to meet strict international standards– as a client, you will never have to worry about their service quality. If you're interested in making your home more safe and comfortable, why not give Decorial a visit?
Highlights
Premium Quality
Innovative Concepts
Reliable and Trustworthy
Professional Team
Regional Presence
After-Sales Service
And with that, we conclude our list of the best awning installers in Singapore! If you want some extra shade in your home, then don't hesitate to call any of these great awning installers.
Have you experienced the services of any noteworthy awning installers in the past? If you have, share your experience!
Keep in mind, though, that an awning can't protect you completely from harmful UV rays. If you want an extra layer of protection on your skin, then you should check out our list of the best sunscreens in Singapore.