6 Best Double Strollers in Singapore Reviewed
If you're expecting twins or have two kids under the age of three, then the best double stroller in Singapore is a must-have item for your parenting!
With a double stroller, it'll be easy for you to bring your kids outside, let them enjoy fresh air, and wander around different places. They can also sleep comfortably and parents can have quick access to diapers, formula, and other essentials.
But double strollers come in different styles and types, so if you're not familiar with them, picking one might be a bit confusing for you. Luckily for you, we've already narrowed down your selections and gathered some of the best double strollers in Singapore.
But before we jump into our list, let's see first which features you must consider before buying a double stroller. That way, you'll know what to look for when buying one for your kids.
How to Choose a Good Double Stroller
As we all know, double strollers aren't cheap. This is the main reason parents must take time considering which one suits their family's needs.
We can help you further with this guide to buying one. Here are some things that must be taken note of while shopping for the best double stroller in Singapore.
1. Types of Double Strollers
As mentioned earlier, double strollers feature various designs and functions. So to help you find which kind mostly fits your needs and preferences, you need to know the differences between your options.
All-terrain
This type can withstand rough surfaces such as cobblestones or hiking trails. So if there's a nearby walking trail from your place but you're hesitating to bring your kids because of the rough roads, then this can be a perfect choice for you.
It's also easy to manoeuvre. However, it's quite heavy and expensive — but due to its strong build, it can be a worthy purchase for everyone.
All-purpose
If you prefer to have more storage for daily essentials, then an all-purpose one is the ideal option for you.
It might not be as rugged as the all-terrain type but it's more lightweight, making it a great travel companion.
Jogger
For the parents out there who'd like to maintain their morning exercise routine and take care of their kids at the same time, this type is a great choice. It's a 3-wheeled stroller that's perfect for a run.
It's easy to push and it has big wheels providing a smooth ride. But it's also not common, so it can be a bit hard to find one. This type can also be pricey, on top of that.
Convertible
With this multifunctional type, you can transform your stroller from a single into a double one and vice versa. You can even switch to a sit-and-stand style.
Despite being heavier and bulkier than other types, it's still the most useful and efficient type as far as most parents are concerned.
Umbrella
If you don't often need a stroller, then you may opt for this one. It's lightweight and it also folds up easily, which makes it good for travel use. It's not usually for daily needs, though.
It can also accommodate a newborn. However, because they're designed to be lightweight, some models may not even carry a preschooler.
2. Ages and Weights of Your Kids
After considering which type you need, you must check the age and weight limit as well. Compare the age and weight of your children to the capacity of the stroller so you know whether it's suitable for your kids or not.
For example, a tall three-year-old might not fit into a standard size, so you might need to look for a larger one. Generally, though, you do want a stroller a bit bigger than your kid needs.
You see, it's better to have a stroller that can grow with your child so you won't have to buy another one as they age. Bigger strollers naturally tend to last longer, as such.
3. Width
You must also look out for the width of the stroller and see if it can fit through the doorways. Some might be too wide or bulky so it's important to consider this, especially if you have small spaces or passages at home.
4. Size of Your Trunk
If you have a large SUV or minivan, then this won't be a problem at all. But if you have a midsize car, you might need to take a quick measurement of your trunk.
Check the folded size of the stroller and make sure that it'll fit in your trunk along with a few shopping bags. After all, you'll surely have more stuff to place in the trunk after shopping or going on a trip.
The Best Double Strollers in Singapore
You may now see our choices for the best double strollers in Singapore! Here are our top picks:
1. Mountain Buggy Nano Duo Stroller
Price: $829.00
The Mountain Buggy Nano Duo Stroller is a wide and large yet lightweight stroller. Once you fold it, it'll transform into a compact form that you can instantly place inside a small car trunk or store at home.
The versatility of this model is what makes it one of the best double strollers in Singapore. There are so many ways to use it!
It's designed with a full-sized seat, suitable for up to 15kg in each seat. It's a great choice for younger kids who liked to wander off on their own when playing outside — this way, you can keep them in one place and let them have fun at the same time.
It also has flat solutions and additional attachments for newborns. With its deep seat recline, your children can have a safe and good sleep during a trip.
To ease the travel hassle, you can pair the stroller with an infant car seat and car seat adapter too.
Pros
Travel system ready
Dep seat recline
5-point safety harness
Full-sized seats
Ultra-lightweight
Two-step compact fold
Cons
Non-adjustable handlebar
Storage basket is not quite accessible
Small wheels are suitable for smooth roads only
Doesn't have a peek-a-boo window
Customer Reviews
Many customers complimented the lightweight and compact fold design of the Mountain Buggy Nano Duo Stroller. They also shared that the seating configurations are truly great for newborns and toddlers.
A customer posted this review:
"This stroller was our stroller of champions during travels to the UK and Portugal. It endured a LOT of cobblestone streets, in the rain, and left us in awe. The storage was amazing. It had the exact range I was looking for in regards to sit/sleep positioning. It was perfect in airports and on subways, in tight European coffee shops and restaurants. It impressed the parents and non parents with its narrow footprint. THANK YOU to the engineers and designers and think tankers for your efforts to define and execute a BRILLIANT stroller."
2. Bugaboo Donkey 2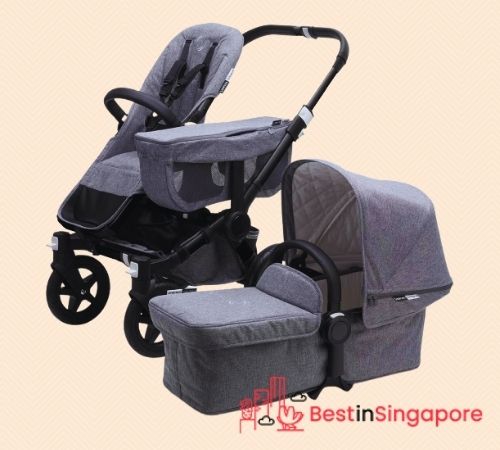 Price: $2,152.00
The Bugaboo Donkey 2 is a convertible stroller that grows with your family! With just a few clicks, you can use it as a single or a side-by-side double stroller with a duo extension set!
It's highly compact and adaptable due to its narrow yet functional design that can fit through any standard doorways. It also features a front swivel wheel and adjustable handlebar so you can easily push and manoeuvre it one hand.
Due to its big foam-filled tires, this best double stroller in Singapore can also give you a seamless ride despite rough roads. You can even move the seat up and shift it into a two-wheel position for a smooth ride through sand or snow.
For naptime, you can simply recline the seat. When the kids are awake and ready to do some sightseeing, just position it upright.
Pros
Expandable chassis
Alternate two-wheel mode
Seat reversibility
Adjustable handlebars
Collapsible bassinet
Cons
Instruction guides are not detailed
Customer Reviews
Most parents loved the stroller because of its convertible and easy to manoeuvre design. A customer shared this experience:
"I absolutely LOVE this stroller, and am so sorry I did not purchase it sooner! With my first kiddo I purchased the Uppababy Vista, and thought I could convert it to a double once my second came along. However, my kiddos were not fans of the "stadium" seating, and always fighting over who would get the "better seat." I finally bit the bullet when my twins came along and purchased the Donkey2 with the Duo Extension Set and I could not be happier! I LOVE that I can use the stroller as a single or double. It out maneuvers any stroller I have ever pushed, and is easy to fold up and down and/or convert from a single to double. While I mostly use it for my twins, my 2 and 4 year old still are able to sit in the regular seats, and love being side by side. I highly recommend this stroller for people with twins, or with kiddos close in age, you will not be sorry!"
3. Phil & Teds Voyager Buggy with Doubles Kit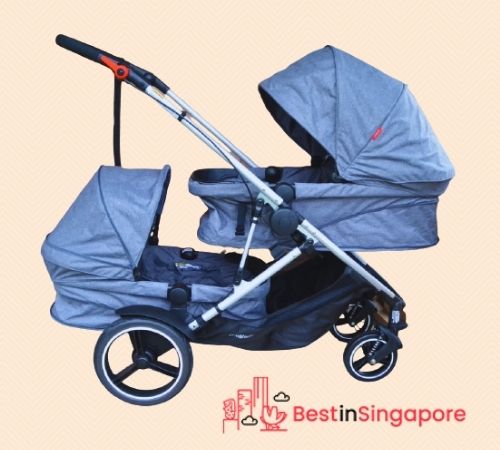 Price: $1,215.44
The Phil & Teds Voyager Buggy with Doubles Kit has multiple modes to choose from, helping you find the most suitable setup for your kids! You can have them faced in one direction or let them chat with a position where they're facing each other.
For the newborns, it has an additional snug carrycot accessory and infant car seat that'll make your outdoor trips much easier and hassle-free!
Its modular seat can also be reversed and reclined at different levels so your child can comfortably sleep and rest as you go on for a walk.
It's also made with puncture-proof tyres and all-wheel suspension, providing a smooth ride while moving through busy streets. For absolute safety, it has a 5-point harness that'll fully secure your child in place.
You can fold it with or without the seat on and it'll also stand upright, keeping the fabrics and handlebar from wet and dirty grounds. This way, you can quickly store it in your car without worrying if it'll fit or not, so this is the best double stroller in Singapore if you're always in a hurry.
Pros
Easy to use footbrake
Extendable sun hood
Multiple recline positions
Lockable front swivel wheels
Multiple position modes
Cons
A bit heavy
Hard to mount raised pavement
No rain cover included
No storage in double seat mode
Customer Reviews
The Phil & Teds Voyager Buggy with Doubles Kit has gained positive responses from parents who were impressed with the durable design and functional attachments. They also said that it's user-friendly and easy to store.
A customer recommended this stroller and were:
"The Voyager Buggy / Stroller has been such a pleasure to use… the quality is superb and it looks so stylish. But the main thing is how functional it is for our lifestyle. I love the huge basket which is so easy to get to because the seat is up high. The accessories that we bought with it were the tote and the igloo which make farmers market trips so easy and because the seat is high it's so easy to get the baby in and out as well as doubling as a high chair when we dine out, it just pulls up perfectly to any table. I highly recommend this product."
4.   Baby Jogger City Select LUX Double Stroller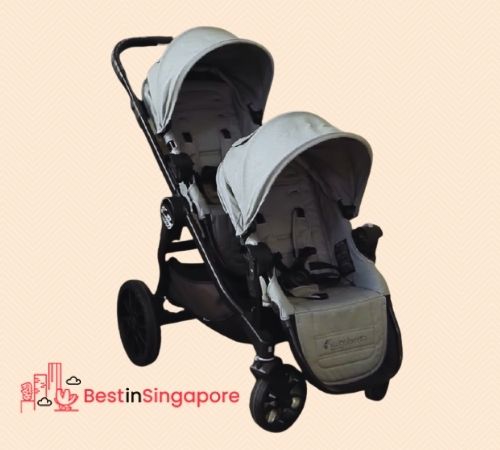 Price: $1,345.00
The Baby Jogger City Select LUX Double Stroller has the most customisable design of our picks. With over 20 configuration setups, you can always be ready for any outdoor adventure!
On this best double stroller in Singapore, you can add multiple attachments such as a bench seat for your older child, an infant car seat for your newborn, or a second seat for up to 2 children.
It's a foldable stroller that automatically locks so you can easily carry it around. This all-terrain stroller is also designed with an all-wheel suspension and decelerating hand brake, giving you full control.
Overall we think this is the best double stroller in Singapore for active families.
Pros
Quick-to-fold stroller
Softer and more plush seat material than most others
Mesh viewer in a canopy with better airflow
Higher handle height than most
Various seating configurations
Cons
Wheels are quite hard
Fixed brake position
Lack of lower seating position
Customer Reviews
Parents mentioned the highly flexible features of the Baby Jogger City Select LUX Double Stroller and the overall comfort that their kids experienced throughout its use. They also say that it has excellent manoeuvrability and a good travel system.
A customer left this feedback:
"I received this stroller as a part of the weespring parent panel. I must say there is nothing about this stroller that i dislike. I've gone through about 3 different strollers already that were either too heavy, to wide or not enough storage space. This stroller has all those features and some of them some. The sleek design makes it easy to maneuver and the best part is that it will grow with your family. I have a 20 month old and a 5 month old and I definitely will be investing in the second seat to turn this ride into a double stroller."
5. Baby Trend Expedition Double Jogger Stroller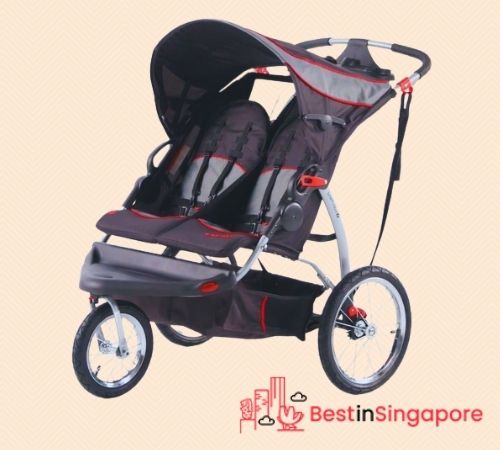 Price: $339.85
Want to take your kids out for a jogging exercise? Well, with the Baby Trend Expedition Double Jogger Stroller, you can now enjoy more bonding time with your kids and maintain your physical fitness at the same time.
This stroller features bicycle tires and locking front-swivel wheels that let you keep the wheels in place while jogging. If you just want to take a leisure stroll, then you can simply unlock the front wheels for easy manoeuvrability.
It also includes 2 cup holders and compartment storage to maximize efficiency during travel. For your kids' safety and comfort, it also offers ratcheting shade canopy, multi-position reclining seats, and adjustable five-point safety harnesses.
If you're very active and want to keep your fitness regimen while taking along your kids, this is the best double stroller for you.
Pros
Lightweight design
Quick-release tires
Bicycle tires
Large storage basket
Multi-position seat recline
Quick and easy compact fold
Durable
Cons
Slightly hard to fold down
Customer Reviews
Customers shared that the BabyTrend Expedition Double Jogger Stroller has truly provided their kids with a comfortable and smooth ride during an outdoor trip. A customer gave this feedback:
"I really like this jogging double stroller! I love that you CAN change it from fixed to swivel wheel easily and it is a very smooth ride. It wasn't that complicated to put together, but it does take a little while especially with children trying to help. My only complaint is that it is hard to collapse. It is annoying to store, but I've had worse especially with jogging strollers! My kids fight over who gets to ride in it and it has great storage and I love the phone and drink spots. Oh, and it does come with a tether for sprinting."
6. Valco Snap Duo Double Stroller


Price: SGD 599.00
Touting your two tiny tots around will be easy with the help of First Few Years' Valco Snap Duo Stroller. This lightweight and compact stroller comes with a variety of features that minimise the inconveniences that comes with caring for two babies simultaneously.
When not in use, the Snap Duo can be folded flat and compacted and kept in storage. Otherwise, it assembles into a double stroller that keeps the kids side-by-side during transit.
With a minimal weight of 9.8 kg, all you need to worry about this stroller becoming added weight to carry. Moreover, its wheels are designed to make to stroller easy to push and spin, to make manoeuveing even in tight spaces hassle-free.
Finally, it comes with individual recline systems that allows one child to sleep while the other doesn't. Given its versatility and ease of use, the Snap Duo Stroller will serve as a reliable babysitting companion if you and your children need to go somewhere.
Pros
3 Stage Hoods
Infinite Belt Recline
Twin Air Vents
Peekaboo Windows
Fits through standard doorways
Removable Bumpers
Adjustable Footrests
Compact Fold
Clean Fold
Suitable for Newborn+
Car Capsule Compatible
Weight Capacity: Up to 22kg per seat
Super Lightweight for Duoble Stroller: 9.8kg
Cons
Comes in color black only
And that's our list of the best double strollers in Singapore! Do you already know which kind of stroller suits your needs the most? Let us know all about it!
You may also be interested in our list of the best infant car seats in Singapore! Check that out, as there are even seats there that you can attach to your stroller.