The 9 Best Infant Car Seats in Singapore
So it's time to babyproof your car and to do that, buying the best infant car seat in Singapore is a must. But choosing a booster seat needs a lot of thinking through if you want to ensure the best for your child.
To make things easier, we've set up this little list of the best infant car seats in Singapore. We've also set up a quick guide on picking car seats for you.
After all, nothing's more important than the safety of your child. You can't possibly settle for a car seat that can't do its job when that might threaten your little one's safety!
So without further ado, let's go into the ins and outs of choosing an infant car seat first. Then, we'll take a look at the best options in the country right now.
How to Buy an Infant Car Seat in Singapore
Since baby seats need to pass safety standards in the country, you don't need to worry too much about lack of security in any of the ones sold here. They wouldn't be sold on the market if they didn't pass muster!
Still, there are some points you can note to ensure the seat you get is ideal for your situation. Other things that should be taken into consideration are your budget, your lifestyle, and the size of your car.
You also need to know some basic pointers to choosing one. For instance, contrary to popular belief, car seats are determined by baby weight and not age — so look at weight ranges instead of age suggestions for car seats.
In any case, we'll go over the most important tips here, one by one.
Inspect Your Vehicle
At any rate, the first thing you need to check out is your car. Is it a minivan or the typical Toyota Vios? How much space can you fit in it? You should also check the car manual to see how to attach a booster seat inside.
Measure the space, and make sure that a car seat sits in there comfortably while giving ample space to the remaining passengers in the vehicle
Another consideration to add is what kind of attachment you'll decide to get, whether via belt or LATCH. If you're getting a LATCH, then make sure you know where it's supposed to be attached to the car.
Usually, the middle rear part is the safest part to attach a seat.
Pick a Convertible Car Seat
There are actually 4 types of car seats: infant car seats, convertible car seats, 3-in-1 car seats and booster seats. As you can see, infant car seats are sized for babies around 1-2 years, i.e. tiny ones.
Convertibles can accommodate growing children, while 3-in-1 car seats can convert into three seats, namely, rear-facing with a 5-point harness, forward-facing with a 5-point harness, and a booster seat. Booster seats are usually for children 5 and up.
It's quite costly to keep buying multiple car seats, so it's better to buy a 3-in-1 or a convertible to accommodate a growing child's needs.
However, another deal to look at is a stroller/car seat combo. Many parents find it taxing to move a sleeping baby from a car seat without disrupting them, so stroller/car seat combos might be helpful if you prefer an infant car seat-slash-stroller over a convertible.
Opt for New Seats
Should you buy second-hand ones or new ones? Buying new seats is a better option, since there's no guarantee pre-loved seats aren't compromised in some way.
And since safety technology is constantly improving, getting a new one is a no-brainer if you want the best in safety for your young one.
Additional shock absorption, padding and higher-quality materials are found in newer ones, so keep an eye out for those as well. And for another tip, any seat 6 years or older should be discarded: it's too much of a risk at that age.
Seek Easy Cleanup
Pick something that can be easily cleaned. To say babies are messy is an understatement.
Getting one with fabrics that can be easily wiped is great, but if the fabric can be removed from the seat and tossed into the washer, that's the one you should get.
Seek a Simple Manual and Easy Installation
Pick seats with simple manuals. Simplifying the installation process is one of the most important things here.
But if it's just too confusing, there's always forums and YouTube, as well as associations and parenting groups online where you can get advice.
But all of those can be avoided in the first place if you just get one whose manual you understand!
Care about Comfort
Take into consideration how cozy it is. It should be comfortable for the baby but not overpadded. It should be comfortable enough that the baby or toddler sleeps through the ride, in fact!
Look for a Safety Indicator
The car seat should have an indicator that it's been installed in the car properly, as one of the main complaints of installing seats is not knowing whether it was installed properly. So, getting a seat with indicators solves this.
Read Product Weight Limits
We already said this earlier: you have to choose a seat based on what weight it can support.
And of course, take into consideration the scaling (note that car seats can usually carry from 20-40 pounds). Knowing how much it can hold is better for those wanting to keep seats for the long term.
The Best Infant Car Seats in Singapore
Now that we know the tips and tricks to picking great car seats, let's go to the list of the best baby infant car seats in Singapore.
We picked ones that we believe to be safe and that passed the standards of many safety associations with flying colors. These car seats are definitely the ones you should pick too in terms of value and comfort for the baby.
1. BeSafe iZi Go Modular X1 i-Size + iZi Modular i-Size ISOfix base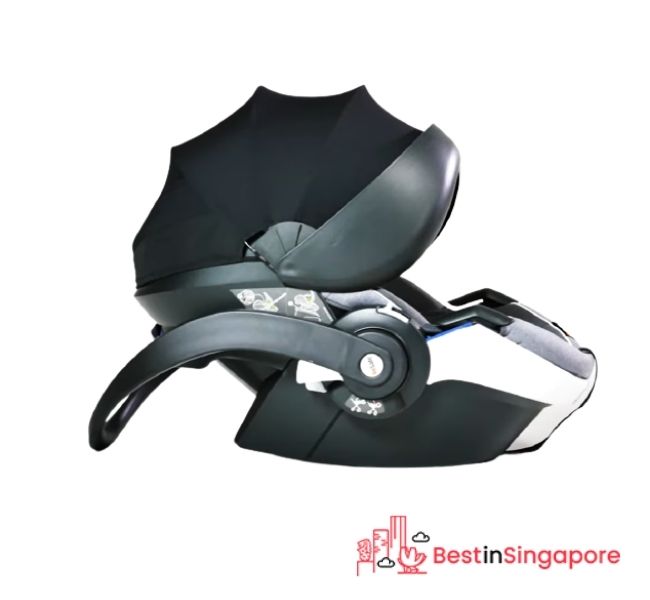 Price: BeSafe iZi Go Modular X1 i-Size + ISOfix base: $827
BeSafe iZi Go Modular X1 i-Size + ISOfix base
The BeSafe iZi Go Modular X1 i-size is perfect for infants up to 12 months of age or 75cm. Voted the best car seat brand in 2018, BeSafe offers superior safety, quick and easy installation and many innovative features for children.
Comfort won't be an issue thanks to the unique combination of EPS and foam in the seat shell, together with soft padding makes the BeSafe iZi Go Modular a very comfortable car seat for your baby.
As your baby grows older with BeSafe iZi Modular ISOfix base you may switch from an infant car seat installation to a toddler car seat installation. It is one complete solution from newborn to approximately 4 years of age.
Pros
Very easy installation
Greatest comfort
Compatible with most leading strollers
A"GOOD" ADAC Safety Score
Approved to the latest UN R129 (i-Size) regulation
5-point harness for added stability
2 Years Local Warranty + 2 Years International Warranty
Cons
2.   Doona Infant Car Seat Stroller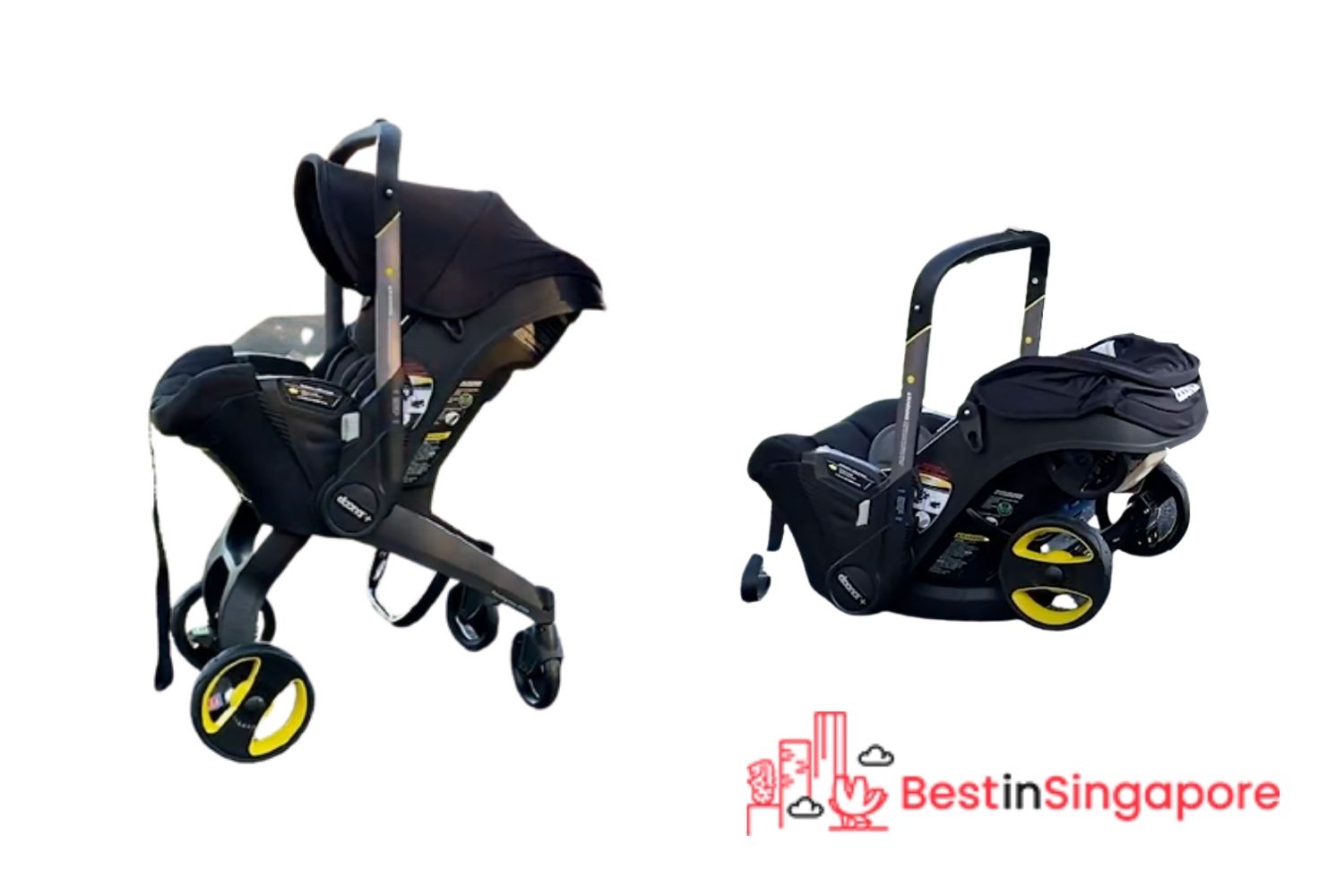 Price: $639.00
Limited Stocks In Shopee, Buy Now
Doona is made for infants from 0-13 kilograms. This is one of the few fully integrated car seats that can be transformed into a stroller. It features a 3-point seat belt that can be installed with a Doona ISOFIX base for easier installation.
It has deep double-walled side impact protection and anti-rebound technology for maximum protection from car collisions, making sure your child is safe. You can easily unfold the stroller with one hand too, which we think is excellent!
But really, there are a lot of excellent things about this seat. For instance, it also comes with a full range of accessories, from rain-covers to matching Essentials and All-Day Mummy Bags.
These features have put it squarely on the list of the best infant car seats in Singapore. We certainly think so!
Pros
Anti-rebound tech
Easily unfoldable
Several accessories available
Cons
Customer Reviews
Here are some reviews from Amazon about the this amazing product:
Pros: What I like about this stroller is the ease of its movements, I can easily maneuver this stroller with one hand.  What I also like about it is, it is very small and since I live in a city where I have to travel and take the bus and the train, this definitely comes in handy. Strollers must be closed before entering the bus so if you have a travel system, that can almost be impossible to do, especially if you have a rain cover over your stroller. With the Doona you can just close your stroller and get on the bus without having to tediously take apart your carseat and frame if you had another stroller. Also on the train it is easier to fit and glide past people.
Cons: The price! I do think that, the price is very high, and although it does that job, 500$ is still too pricey. Another con is that, it is still very heavy! Also you cannot put bags on the stroller as it will tip over, and it is very hard to place your baby bag on this stroller. (keep reading for a tip)
I have a tip for mothers who have or are thinking about buying a Doona stroller, Instead of paying for a pricey Doona bag to place diapers, Buy a bike bag and place it on the handle, I got this bike handle for 5$ on amazon, I am able to store diapers and wipes, and I keep a set of clothes in my purse 🙂
-Kimberly
3 months in so I feel like I can write an accurate review
So convenient, worth every penny.
Yes it's heavy, but so are all the baby carriers. It's worth a little extra muscle power to have the benefit of rolling around 98% of the time.
I found the base much more secure then the other carseats we've tried due to it's unique design.
There may be a bit of a learning curve , just expand and collapse it a few times before attempting to use it. Also there are plenty of videos online
My favorite part about having this carseat stroller is that I can very quickly have a free hand to keep big sister close so I don't have to choose which child to hold onto in public. When there is enough space and time the handle bar can be low enough for big sister to push baby around at the perfect height.
-Sqwerrel
3.   Joie Every Stage Car Seat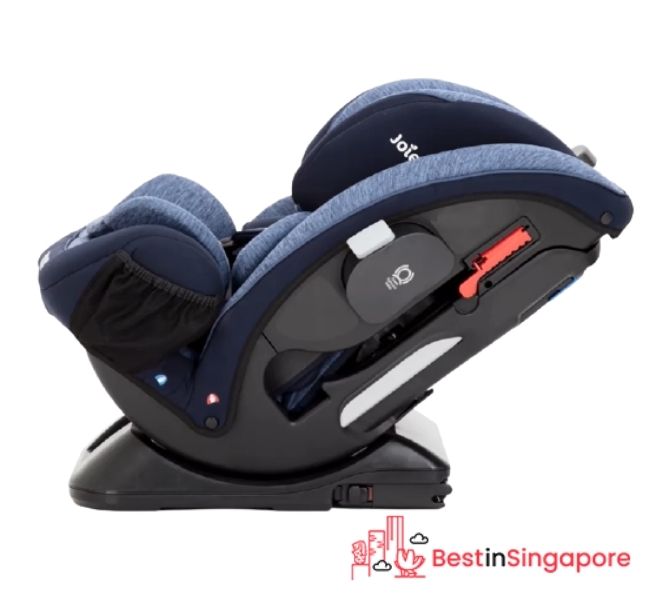 Price:$399.00
Limited Stocks in Shopee, Buy Now
Joie Every Stage is one of those convertible baby car seats that you won't regret investing in.
This car seat accommodates little ones from birth all the way to 12 years old. This means it has around 10 headrest and harness positions, depending on the size of the child.
It can be adjusted rear-facing for babies from birth to 18kg/4 years, or set up forward-facing for those ranging from 9kg to 36kg/12 years.The installation is also easy due to ISOFIX and AutoAdjust™ side wings that can be adjusted for headrest comfort.
It's durable and made of reinforced steel, as well as having a 5-point harness and a dual lock-off for installing with the vehicle's 3-point seat belt.
With heavily customizable features, a durable frame, and fair pricing, this baby (pun intended) is one of the best infant car seats in Singapore.
Pros
Dual lock-off
Easy installation
10 adjustable positions
Cons
Heavy
No indication of washable cover
Customer Reviews
Here are some reviews from Lazada about the this amazing product:
I know this brand well because we have 2 of their cheaper versions of the same seat already so when we were looking for a new one for our third child, this was an obvious choice. Like the others in this range, this is a great car seat. The straps are nice to use and the little one sits nicely in it. It looks comfy and he hasn't complained so far.
People must check their car with the manufacturer guidelines though as it is a very big car seat and doesn't fit well at all in our CMax. It is not possible to have the driver's seat set back at all (whilst rear facing) and it would not suit anyone that needs lots of space in the front.
The colours and material seem of high quality. Definitely a very safe and good quality car seat for your child for all stages so you wouldn't need another seat, but remember that it is a very big seat when using rear facing. 
-Anthemusa Reviews 
the LFC connection appart, which will make up part of the cost of this, it is a really well made and sturdy chair. The material side is very well mad e and stitched and very comfortable ( so I am told by a little someone). After a brief foray into the manual you will get to grips with the instalaition if you have never used ISO fix before and instalation shouldnt take too long. the chair itself is heavy so I wouldnt buy it if you think you are going to remove it regularly from car to car, and its a real shame that it doesnt twist towards teh door. Where it comes into its own is teh expansion through the age groups so you dont have to buy a new chair every couple of years. Its quick and easy to expand as they get bigger and I thinnk thats where the savings will be.
In short its well made, has a few things I would change but overall a great product!
-Mr. Pj Williams
4.   Graco 4Ever DLX 4 in 1 Car Seat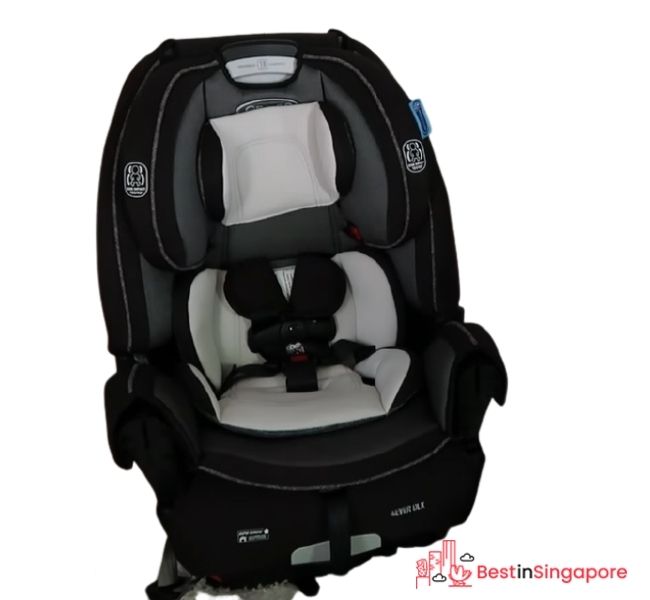 Price:$549.00
Limited Stocks At Shopee, Buy Now
The Graco 4Ever DLX is a great choice for a 4-in-1 car seat. It can be used from birth up until to 12 years of age, making it a good seat to invest in.
Other features include a RapidRemove cover for easy washing, an integrated belt lock-off for easy installation and rubberized harness storage for extra accessibility.
It can hold babies from 18-45 kilograms, and with the 10-position headrest, it lets you adjust the harness and headrest together without any fuss. It also has a 6-position recline to keep your child comfortable in any position, from sitting to  sleeping.
It's installed via the LATCH system, making it easy to put in the car. This product is deserving of a spot in this list due to its amazing features and more, making it one of the best infant car seats in Singapore.
Pros
Removable cover for easy washing
Holds 18-45 kilograms
10 position headrest
Cons
Customer Reviews
Here are some reviews from Amazon about this amazing product:
We were hit with high speed in middle of passenger side and both cars were totaled. The car seat remain in perfect condition and my 16 months old only got 2 minor bruises on her thigh due to the impact. True Shield does make it safer for side impact.
-George Everlast 
Moved out kiddo into this car seat a little over a year old as she was outgrowing her infant seat. The adjustments were super easy to make so it fits her like a glove! We have the non-DLX version as well and the modifications they made to this DLX version are nice, but not a must. The cover does remove much easier, the center strap/button is in a better place to ensure a snug fit and makes releasing the shoulder straps easier. For the easy release and tighten reason, we wish we had 2 of the DLX versions but if your budget is tight the non-DLX is equally secure and easy to manipulate.
-Astro21
5.   Britax Evolve 123 Baby Car Seat SL SICT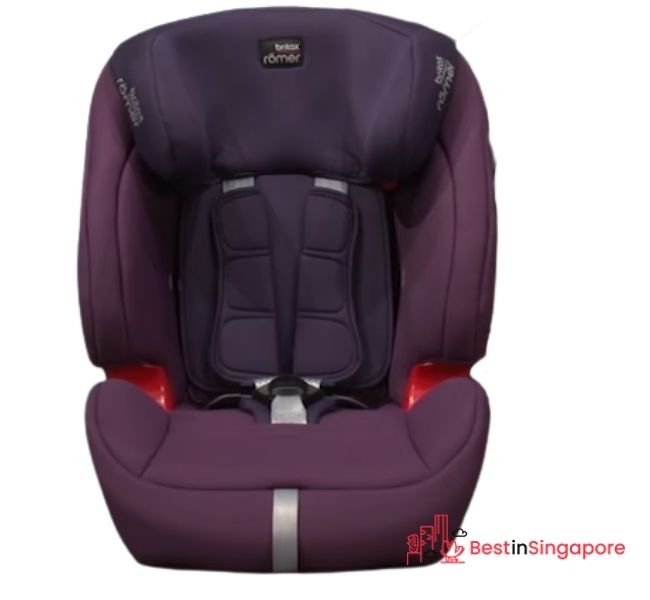 Price: $485.00
Limited Stocks At Shopee, Buy Now
Britax Evolva is a great infant car seat that can be installed via Soft-Latch ISOFIX. Its advanced safety features and stylish looks makes it a prime choice for a car seat.
It has a Side Impact Cushion Technology (SICT) in case a car collision happens, to lessen the impact. It has a 5-point harness and can also be used as a booster car seat for older children.
It's suitable for children from 9kilograms to 36kilograms. It also has a recline position for all ages and an easy adjustable headrest.
All in all, this truly deserves a spot in the list of the best infant car seats in Singapore.
Pros
Removable cover for easy washing
Side Impact Cushion Technology (SICT)
Soft LATCH ISOFIX
Cons
Customer Reviews
Here are some reviews from Amazon about the this amazing product:
My little boy still likes to sleep in his carseat and was getting too big for his old one. I love how this can be reclined (see photo) After watching the video of how to fit and use, it was so easy and quick to fit. It's very secure and I know my little boy is safe and comfortable.
-Emma
We have had this car seat for a year now, it's sturdy and stable.
Excellent car seat, plenty of padding keeping little man comfortable, secure when fitted into position. Comfortable for the little man who regularly falls asleep in it. I find adjusting head rest not as easy as it should be, but not a big issue. It's value for money, much cheaper then on high street.
-Akos
6.   Maxi-Cosi Rubi Baby Car Seat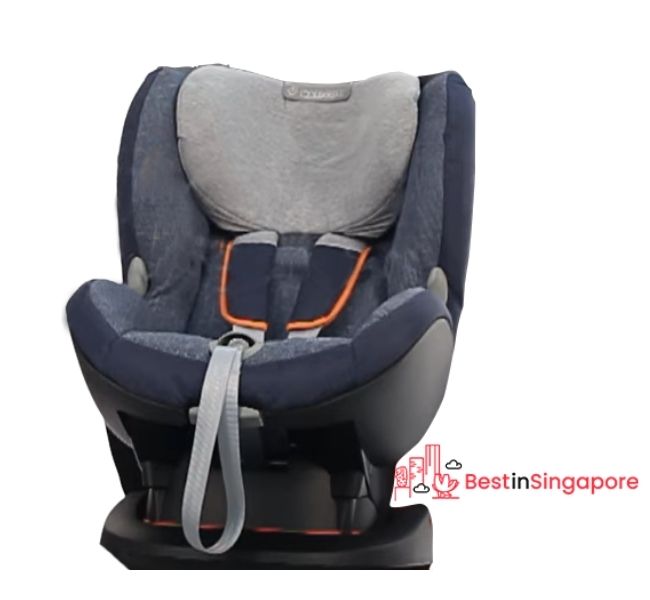 Price:$299.00
Limited Stocks At Shopee, Buy Now
Maxi-Cosi provides a comfortable seat for children of 9 months up to 4 years, so if you're searching for something that can accommodate older babies and children, this is the ideal pick.
It has a unique car installation system that is compatible with plenty of seatbelt systems, so installation is a breeze. It has  ISOFIX, meaning it adheres to the international safety standards for car seats.
It also has adequate, adjustable recliner height, so your child can look out the window. Another bonus this car seat has is that its cover can be washed in a washing machine.
It has 4 adjustable recline positions from sitting to sleeping, and can carry 9-18 kilograms. This makes it one of the best infant car seats in Singapore.
Pros
5-point safety harness
Can carry anywhere from 9 to 18 kilograms
Easily washable
Cons
For older babies and children only
Customer Reviews
Here are some reviews from Amazon about the this amazing product:
First impressions is that it looks compact, sturdy and quite tall. Fitting it to the car was quite easy with the only snag came when fiddling with the seat belt to lock into the two slots at the top of the seat. However, once fitted, the seat looks really secure and a quick test showed it hardly budged. Our 12 month old looks comfortable in the seat at the moment but I can imagine that when he gets bigger, the seat may become a tad snug for him as there is quite a bit of padding on the seat. The seat belt is as expected, easy to loosen via the latch at the front and not that difficult to tighten with minimal fuss. Due to the seats height, our little one can look at of the window with ease and helps to keep him occupied while I'm driving. I like the recline action as it is fairly easy to do so with one hand but takes a little more effect to put back in a sitting position. The only complaint would be it doesn't recline enough and I do worry that our little one's head nodding forward when he's taking a nap. All in all, a good quality car seat with only minor quibbles!
-Mr M Wong
Bought this seat for my eleven month old daughter. As its lightweight it's easy to pop in the boot when I don't need to use it, and the belting procedure is easy. It's not as simple as isofix but the added weight of these seats would make it tricky to keep removing and popping back in. The harness is also very easy and the straps never get twisted.
-Rod Hull
7.  Babyzen iZi Go Modular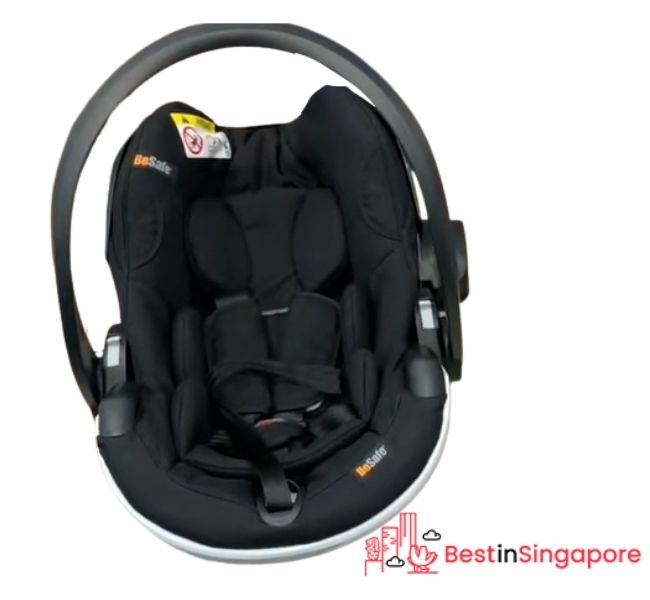 Price:$499.00
Buy It Now from First Few Years
BeSafe iZi Modular is one of the best when it comes to modular car seating systems. It is composed of one ISOfix compatible base and two child seats — both of which conform to the new EU-standard.
It's base can be modified to accommodate your child as they grow, which ensures that you can use this seat for as long as your child needs it. Check it out in First Few Year's website now.
Pros
Safe and comfortable
Carrying handle is ergonomic in design
Extra large integrated sun canopy
Compatible with many stroller brands
Cons
For babies up to 12 months only
8.  Osann ENO360 Convertible Car Seat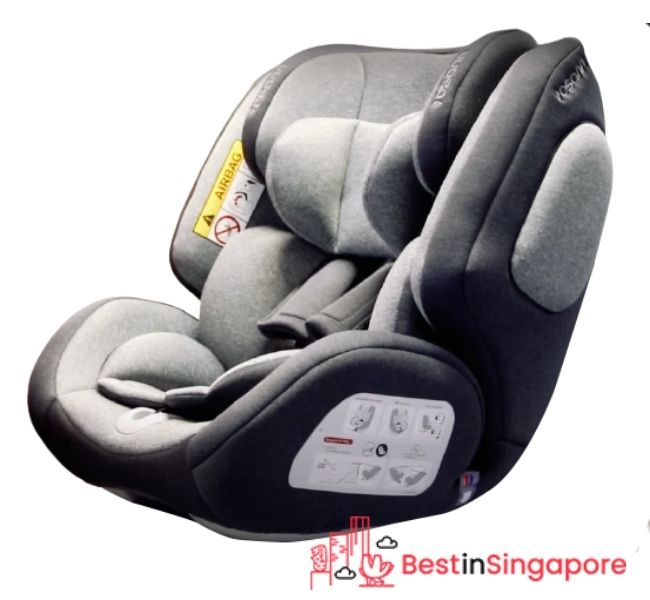 Price: $399
Sale Price: $299
Buy It Now from First Few Years
The Osann ENO360 Convertible Car Seat is designed to keep your baby comfortable without compromising safety. It can accommodate babies of all ages, but only up to 36 kg.
Its 360-degree rotation allows for easier boarding no matter the direction. The 5-point belt restraint ensures that your baby is kept safe and secure in the event of a car crash.
The inlays and head cushions can be removed for more comfortable seating. With its adjustable seat height, you can rest assured that this product can serve you reliably as your baby grows.
Pros
Allows entry from both sides
Individually adjustable isofix connectors
5-point belt system
Usable for all ages
Cons
9.  Poled x Hyundai ALL AGE 360 Swivel Car Seat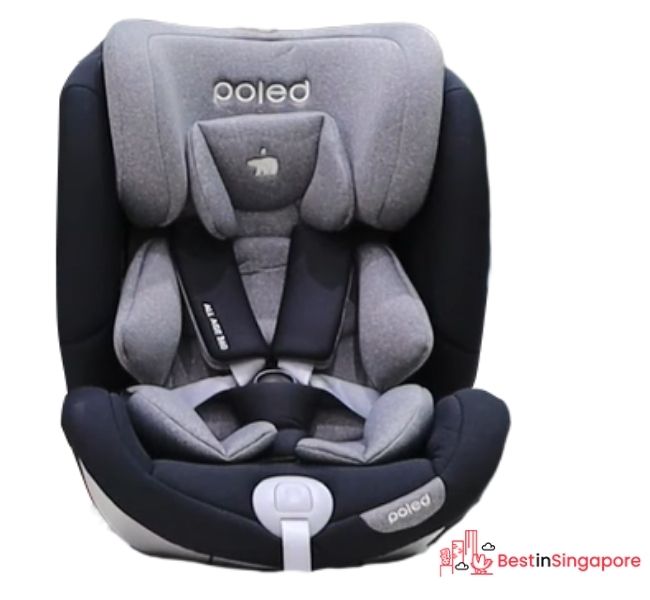 Price:$756.00
Reliability and flexibility is one of the most important aspects to consider when it comes to choosing an infant car seat. If you have the budget for it, you might want to invest in Little Baby's Poled x Hyundai All Age Swivel Car Seat.
This high quality car seat accommodates children from 0 to 12 years, with a maximum weight limit of 36 kg. Children of all sizes can sit comfortably thanks to its plush, strategically placed cushions. 
It  possesses a wide range of safety features, such as its low gravity rebound stopper and seat belt alarm. Moreover, it passes the Euro NCAP's collision safety standards.
The Poled x Hyundai All Age Swivel Car Seat is ISOFIX styled, which means it can be easily attached to your car seat no matter the model. Given its numerous functions and ergonomic design, this car seat is one you can rely on to keep your child safe, no matter their age.
Pros
Usable for all ages of 0 to 12 years
Usable for newborn, infants, and junior with max. 36kg of weight
360-degree rotatable
Adjustable angle in 4 steps
Cons
And our list of the best infant car seats in Singapore comes to a close. We hope this list helped with your search for a safe car seat that will last until your child grows up!
Did we miss a great option, though? Tell us its name and what makes it great in the comments below!
And do you also need to see which physical stores have amazing baby gifts? Then head over to the list of the best baby gifts in Singapore and check out our picks for those.
We can also help if you need something to monitor the baby while sleeping: check out the best baby monitors in Singapore for that!