12 Best Wireless Earphones in Singapore for Everyday Use 2021
Listen to your favourite music minus the pull of cords. Tune in around the place with these wireless earphones in Singapore! Be swaying to limitless beats wherever you go.
1.    Xiaomi Mi True Wireless Earphones 2 Basic
Long Battery Life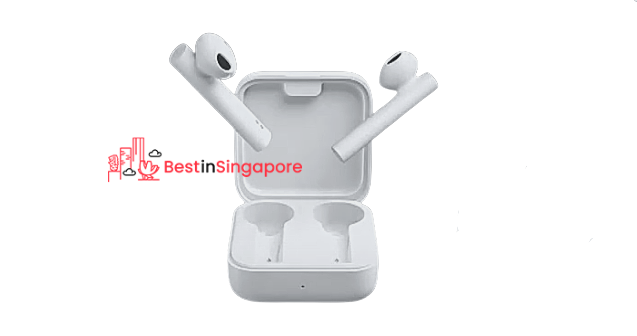 Price: $49.00
Shop Now On Lazada
Xiaomi Mi True Wireless Earphones 2 Basic is one of the most affordable wireless earphones up to this day. In comparison to other brands, it has over 20 hours of total battery life that allows you to use it from day to night.
Another great feature about this is its dual microphones. This reduces the noise during calls and makes sure that there will be no disturbance between you and the person you are talking to.
What's unique about this product is you will simply tap to operate it. You can either play or pause music, answer or end a call, or even wake up the voice assistant.
Lastly, we can recommend this product because of it has a simultaneous transmission for both ears that results in smoother gaming and an enhanced audiovisual experience.
Sound Proof – Essential Info
Weight if 48g
Charging time: 1.5 hours
Batter life ith case is 20 hours
Can work up to 10m apart
The charging port is type C
Bluetooth version is 5.0
Hear this – Customer Review
Here are some reviews left by their clients at their Lazada Page:
"2 working days delivery. great packaging. bought the basic model previous but it wasn't a good ear fit. this is more comfortable and charging is more compatible with current electronic items."
"Good product"
"For what it cost, it does its job well enough, enough for listening to podcasts or audio books. Don't expect great sound quality for this price. The shape is also not good for exercise, it will fall out of your ears. "
2.      Anker Zolo Liberty+ Total Wireless Earbuds
Full Listening at Half the Cost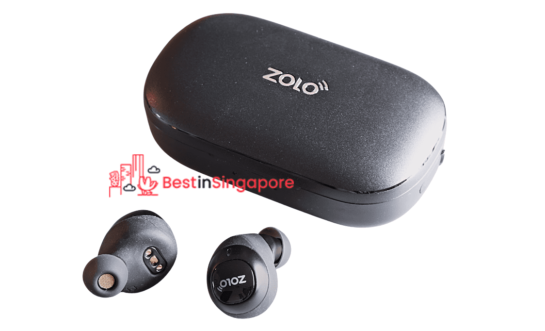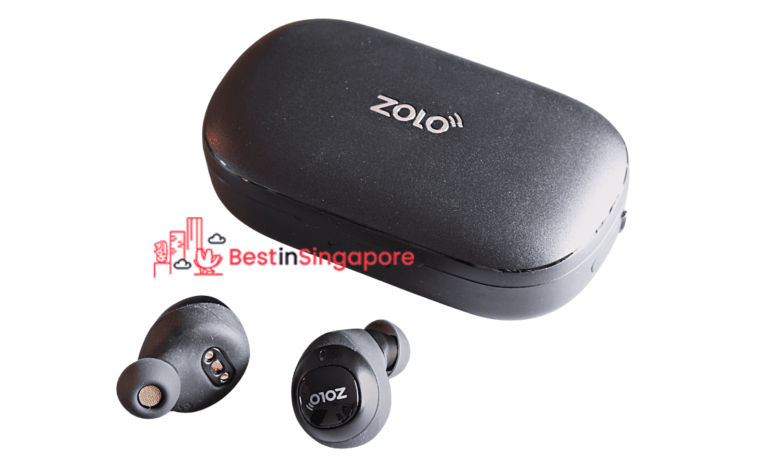 Price: $175.00
The Anker Zolo Liberty+ Total Wireless Earbuds sells for half the price of its competitors. It is renowned for playing rich tunes coated in indulgent treble. Maybe its most shocking asset is the audio sharpness — the earbuds hum with clear symphony. Be free to hear clarity as tuned by Anker Zolo Liberty+ Total Wireless Earbuds.
Sound Proof – Essential Info
Graphene-enhanced sound that emits clear audio
Play eargasmic tunes for 3.5 hours plus 24 hours play time with charging case
PUSH AND GO™ technology for ultra-fast pairing
Earbuds have a cozy fit that vacuums noise to ensure quiet listening
Hear this – Customer Review
Customers are enamored with the melodic revelation that is the Anker Zolo Liberty+ Total Wireless Earbuds. They say it produces quality sound plus eliminates noise successfully. Withal, users strongly recommend the earbuds.
"Would definitely recommend this to anyone, so far so good have been using it for a couple of days. Sound quality is decent, noise isolation is fantastic, I use this for my work outs in the gym. Also way more affordable than other wireless earbuds out there." – Bryan via Lazada
3.      Bose Soundlink Around-ear Wireless Headphones
For Hearing Melodious Calls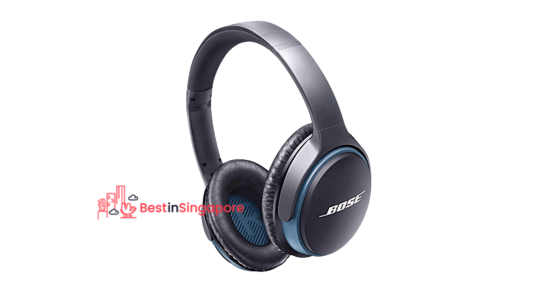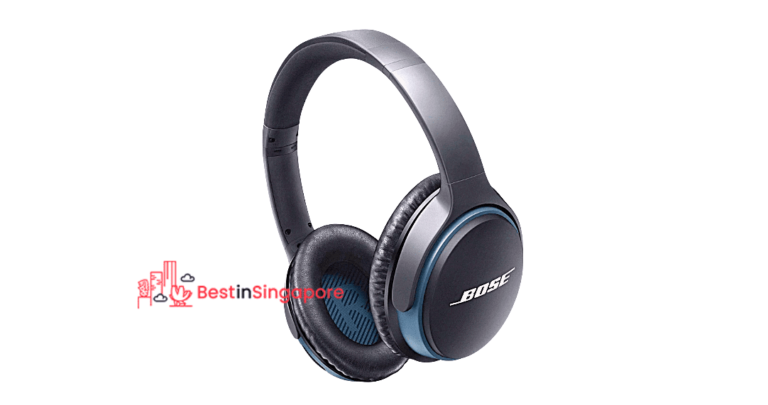 Price: $369.00
Clarity is music to your senses with the Bose Soundlink Around-ear Wireless Headphones. Its microearphone connects calls in clear surround sound for quiet talking even when in boisterous locations. The bass tones emit deep harmony that ignites a dancing mood. Plug the Bose Soundlink Around-ear Wireless Headphones and tune in to crystal calls.
Sound Proof – Essential Info
Bluetooth technology for fast connectivity and audio/video syncing
Advanced microphone system – HD voice for clear calls
Up to 15 hours play time with rechargeable lithium-ion battery,
Strong bass melody
Hear this – Customer Review
*No available review.*
4.      Samsung Gear IconX
Tune in to Running Beats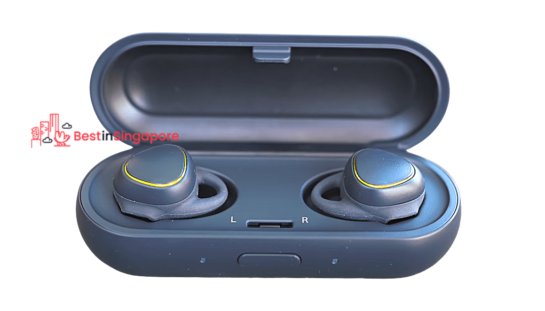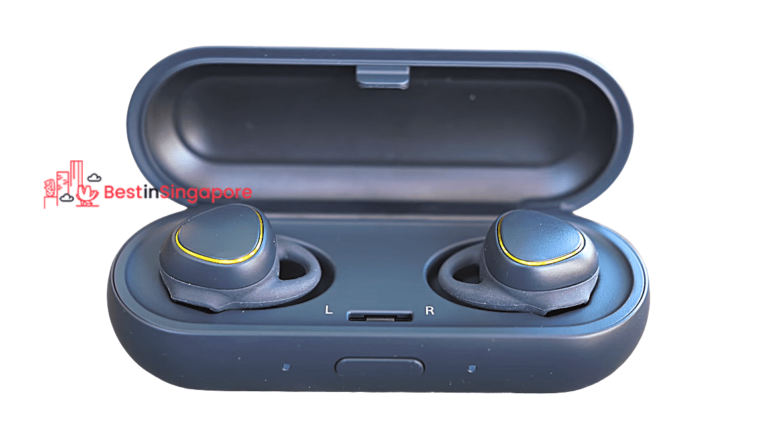 Price: $37.80

For athleisure music lovers, the Samsung Gear IconX is fated to pace the tunes. It can play on its own without bringing the phone plus can store up to 1000 songs. Runs are made light and eargasmic with the highly portable earbuds. Hear the beats running clear as the Samsung Gear IconX plays music en route to fitness.
Sound Proof – Essential Info
Bluetooth 4.2 Technology for easy connection to mobile devices
Comfortable and secure fit for steady tunes on the go
Up to 15 hours play back
Surround sound for enormous music in any surrounding
Hear this – Customer Review
*No available review.*
5.      ZNT SoundBass Wireless Earbuds
Hear Budget Roar Premium Sounds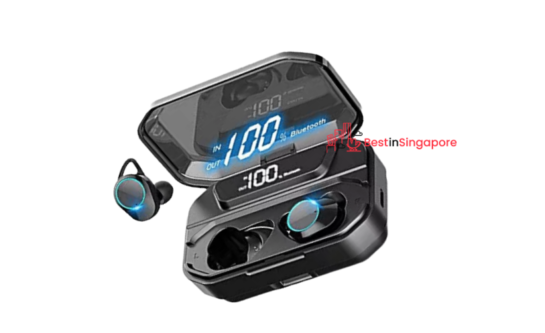 Price: $169.00

It might cost cheap, but the ZNT SoundBass Wireless Earbuds play giant sounds with top-notch clearness. The wireless earbuds have a strong bass that generates heart-pumping beats. Plus, it is water-resilient, so continue streaming wonderful tunes even when it is raining. Surround music on the move and listen through the ZNT SoundBass Wireless Earbuds.
Sound Proof – Essential Info
IPX waterproof certified for non-stop listening under the rain or during showers
Bluetooth 5.0 connects smoothly to play uninterrupted music
3000 mAh battery with charging case
Ergonomically designed earbuds for comfortable tunes
Hear this – Customer Review
The ZNT SoundBass Wireless Earbuds feature a one-touch playback technology which thrills customers. With a single touch on the earbuds, they can control all their music. Customers love the lush quality of its audio.
"All within a finger['s] touch! Play on/off, playback control, volume control all within a finger['s] touch! The sound system good [is] too!" – Anonymous Customer via Lazada
6.      Bose SoundSport Free Wireless Earphones
Audio that Fits Your Tune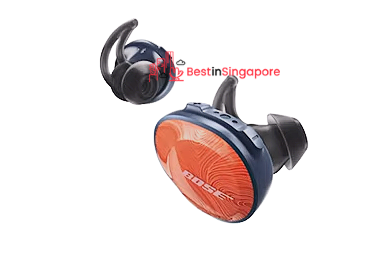 Price: $255.00

Audiophiles, gear up with the Bose SoundSport Free Wireless Earphones. The earphones has a snug fit to the lobes for comfortable listening. It has a rich sound that blends with impact in the bass. Hear the Bose SoundSport Free Wireless Earphones and let music stream the senses.
Sound Proof – Essential Info
Sweat and weather-resistant earbuds for smooth listening
Up to 5 hours of play time + 10 hours including the charging case
The Bose Connect App's "Find My Buds" feature tracks lost earbuds
Comfortable earbuds for relaxed tuning in
Hear this – Customer Review
*No available review.*
7.      Apple Airpods
Move with Music Made Iconic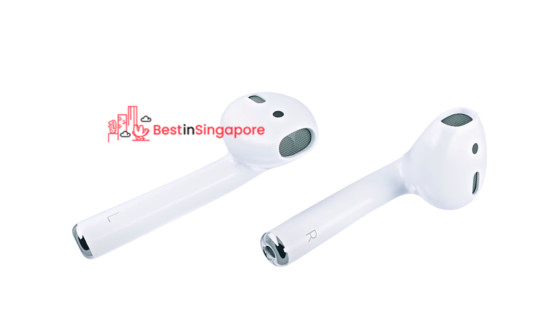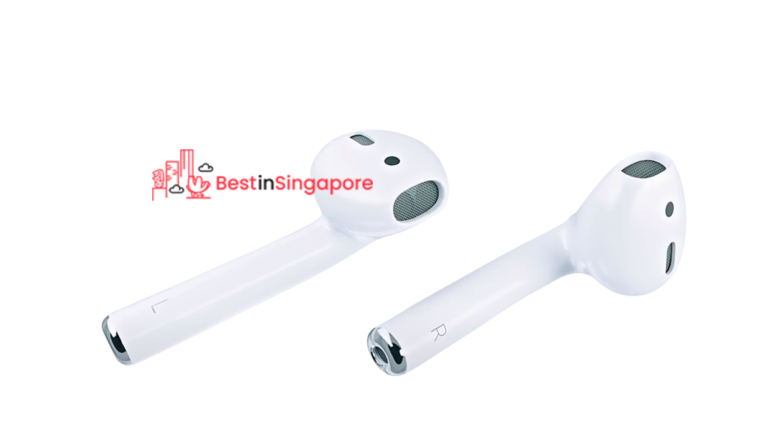 Price: $175.00
The Apple Airpods's design is awesomely recognizable that it has become iconic to audiophiles. It features sound that emits immersive listening across all genres. Though manufactured for iPhones and Mac, the Airpod is compatible with Android phones through Bluetooth tethering. Hear music make movement with the Apple Airpods.
Sound Proof – Essential Info
A Apple-made chip, the H1, which succeeds the W1 wireless chip for instant mobile connectivity
Supports Bluetooth 5.0 for easy tethering to any mobile device
Up to 5 hours listening time, 24 hours with charging case
The two airpods can play two different songs simultaneously for real-time music sharing
Hear this – Customer Review
*No available review.*
8. Onyx Neo True Wireless Bluetooth Earbuds

For Uninterrupted Jamming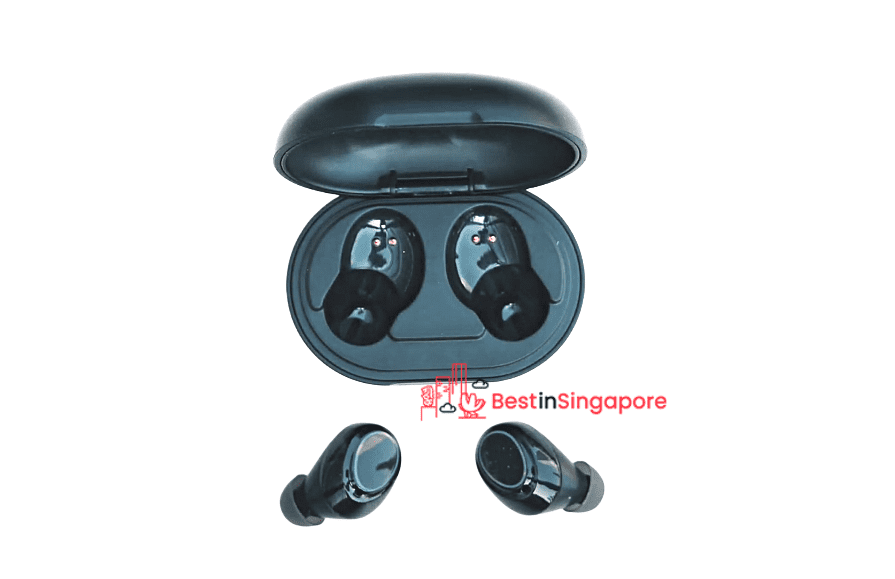 Price: $76.16
If you're looking for an affordable earbuds that functions similarly to expensive ones, you should definitely get Onyx Neo True Wireless Bluetooth Earbuds. It is engineered with the advanced Qualcomm® chip, aptX™ audio, DSP & cVc™ 8.0 noise cancellation technologies so you will definitely enjoy the music of your choice without having to endure unnecessary noises.
You can use this wireless earphone for as long as hours are 50% volume and 7 hours if you use it one a maximum volume level. It also has a transmission distance of 15 meters which is perfect if you are using it at the gym or in a spa.
Sound Proof – Essential Info
Noise cancellation feature

Studio quality audio and ultra-clear calls

Bluetooth 5.0 version

35 mAh earbud battery
Hear this – Customer Review
Customers loved how they get the best value for money because of the earbuds' sound quality, long-lasting battery life, and relatively affordable price.
"For wireless earbuds these are the best I have ever experienced in awesome sound quality. Also, it comes with a bit of bass that can drown out the surrounding environment without ruining the sound quality. For looks, this is a great minimal look that does not pop out of your ears and look weird when wearing it. The earbuds are very comfortable and are great for the price."
9. Jabra Elite Sport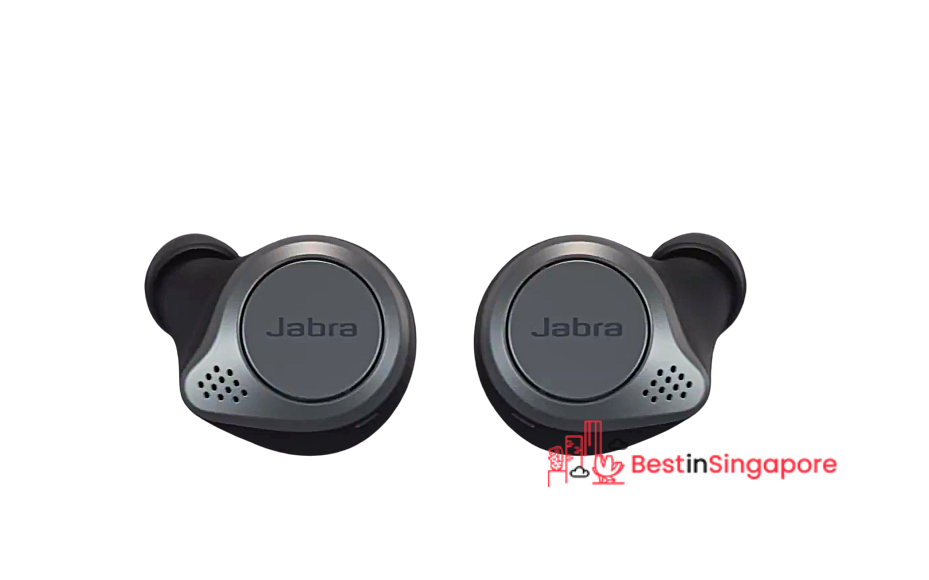 | | |
| --- | --- |
| BEST FOR | Active users / working out |
| WEIGHT | 6.5g each (x2) |
| BATTERY LIFE | Up to 4.5 hours of continuous playtime |
| COST | $227.99 |
| WHERE TO GET IT | Shopee Singapore |
To an active person, wireless earphones are probably the next best thing since the Internet. There have been many earphones (with wire) made that are for running, working out and overall physical activities. But since the advent and normalisation of wireless earphones, many active users have switched to this and their lives have never been the same. 
Among the plenty of wireless earphones for active people, we like the Jabra Elite Sport the best. For one, we like that Jabra really focused on comfort when they came out wit this wireless earphones. It is overall made of silicon rubber with ear gels, ear wings and ear tips included in the accessory so the user can adjust this to their perfect fit, as all ears are created differently.
The user also has the availability to control music , handle calls, activate Google and Siri using these wireless earphones.  The Jabra Elite Sport is sweat and water resistant, but if you register through the Jabra Sport Life App, you get a 3 year extended warranty against sweat damage.
So you can definitely workout and run all you want in full confidence with these wireless earphones.
Pros
Multiple connectivity (up to 8 devices)
You can track your performance 
Provides ambient external noise for safety
Cons
Customer Reviews
The Jabra Elite Sport has been around since 2017 and it's already appeared a number of times in most of wireless earphones in Singapore reviews. Here's one from a customer with a username of honestjoe:
I have been using these for approximately 3 months now. I am very happy with the connection and I haven't had any issues with the earbuds getting out of sync while jogging at the beach or hitting the cross trainer at the gym. The heart beat monitor seems to be accurate and gets a ready relatively quickly after putting them on.
10. Samsung Galaxy Buds Plus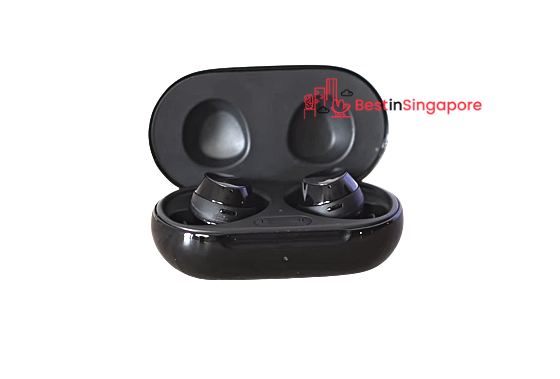 | | |
| --- | --- |
| BEST FOR | Android users |
| WEIGHT | 6.3g each (x2) |
| BATTERY LIFE | Up to 11 hours |
| COST | $129.00 SGD |
| WHERE TO GET IT | Shopee Singapore |
If you're an Android user and wondering which best wireless earphones to get, you can't get any more convenient and better than the Samsung Galaxy Buds Plus. What we like about these wireless earphones is that they're simple to use, intuitive, and most of all, customisable. 
For instance, there's a setting you can opt for if you wish to completely focus on your task on hand and not hear any distraction from the outside world. And if you are using the Samsun Galaxy Buds in a public setting, you can also choose a setting where you can still be aware of the outside world such as public announcements or oncoming traffic and still enjoy your music or podcast. 
And here's the best part about the Samsung Galaxy Buds Plus: the very long battery life. On a single full charge, these buds can give you 11 hours of non-stop music. If you pop them in the Galaxy Buds wireless charging case, you get an additional 11 hours – that's a total of 22 hours.
But wait there's more– if you happen to forget to charge the Samsung Galaxy Buds Plus, just 3 minutes of charge is enough to give you an hour of listening time.
We really can't think of any reason why you shouldn't get these wireless earphones especially if you're an Android user.
Pros
Quick charge
Andoid and iOS compatible
Cons
We really can't think of any unless you're a Mac user all the way
Customer Reviews
The Galaxy Buds Plus came out in February of 2020 so they've been around for close to a year and a half. They've gathered quite a number of reviews and feedback from customers.
Here's one of them from a customer named Kevin:
These are a decent set of true wireless earbuds. I have only had them for one day, so I may need to adjust this review later, but I have tried them in several ways and tried most of the options.

They are comfortable and come with three sets of tips and wings. The wings help to keep the buds in your ear by hooking to the inner fold in your ear once twisted into place — you can't feel them, but if you try to take out the earbuds, they have to be twisted to come out — thus they feel secure in your ear.

I also like that they can be used in either ear a single earbud — you can have one charging in the case and use the other and then switch. It is also nice that when you take both out, it automatically pauses audio (or video). It does not automatically resume audio/video, but you can do that with a single tap.
11. Taotronics Soundliberty 79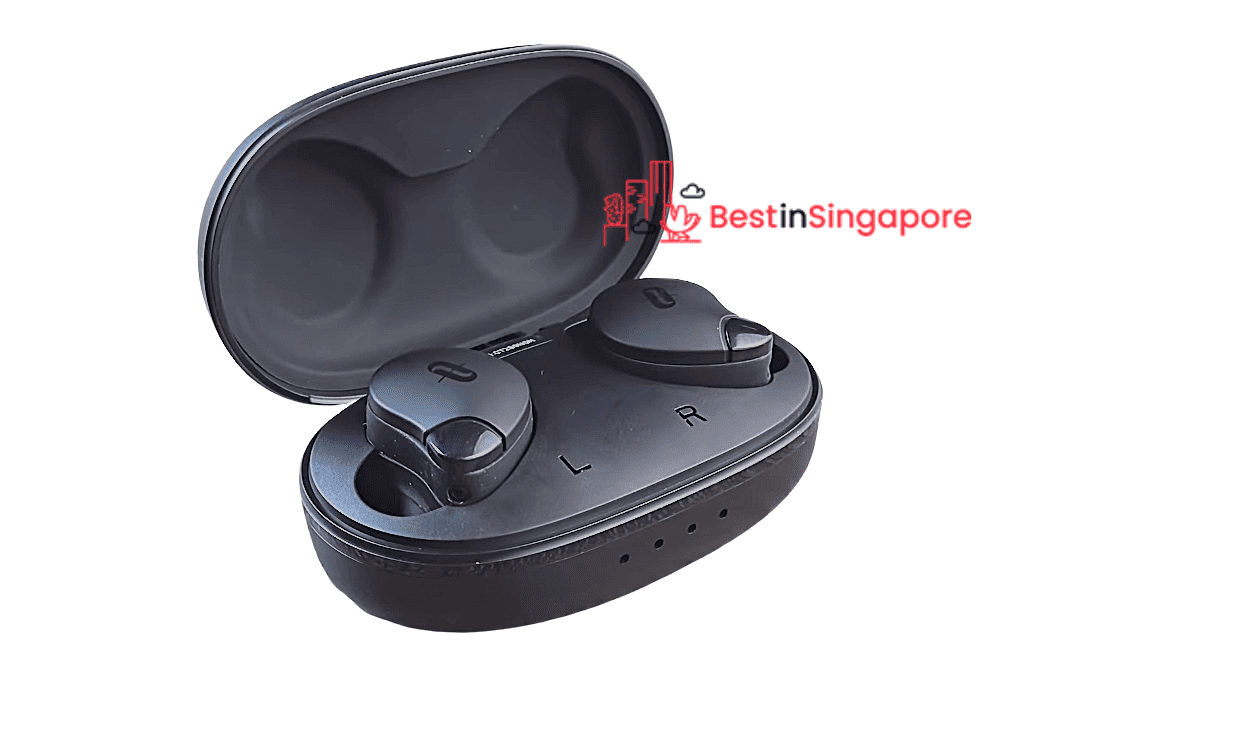 | | |
| --- | --- |
| BEST FOR | Those on a budget |
| WEIGHT | 3.84 ounces |
| BATTERY LIFE | Up to 9 hours on a single charge |
| COST | $38.00 SGD |
| WHERE TO GET IT | Shopee Singapore |
If you're looking for the best wireless earphones in Singapore and you're on a budget, and we mean budget with a capital B, you better take notes: this item is for you.
We could hardly believe that there's actually wireless earphones in Singapore this cheap that does deliver quality. Chinese brand Taotronics' Soundliberty 79 is on sale for $38.00 SGD and this even comes with 6 pieces of ear tips, a charging case, a charging cable and a user guide.
When fully charged, the Soundliberty 79 wireless earphones can provide up to 9 hours of listening time. And like other wireless earphones, you can also control the following without using your device: calls, volume, play and pause, and an active voice assistant. 
The downside of these earphones is that it does not have a dedicated app. But really, for the price, this can easily be overlooked. 
These are perfect for those who are in a rush to get wireless earphones, in a budget, or need a temporary one.
Pros
Extremely affordable
Decent battery life
Simple to use
Cons
Customer Reviews
The Taotronics Soundliberty 79 came out in September of 2020. There are a number of online reviews from customers. Most of them are happy with the product, but majority of the reviews are of that of the actual brand, Taotronics, how some have been pleasantly surprised and impressed by the performance of this new brand.
Here's a review from buyer and user Wong Kuan Suan:
This is my 4th purchase of the Taotronics brand. Having used various brands like Sony and Creative, I have found TT to be my choice well priced and good quality earphones.

With the number of new technology coming out, I can't see myself spending excessively for the higher priced alternatives only to be forced to purchase a new pair just because they added something new, with Taotronics, I can enjoy the new features without breaking the bank.
12. AONIC 215 TRUE WIRELESS SOUND ISOLATING EARPHONES
| | |
| --- | --- |
| BEST FOR | True Wireless Earphones with Sound Isolation |
| WEIGHT | 3.84 ounces |
| BATTERY LIFE | Up to 8 hours on a single charge |
| COST | $359.00 SGD |
| WHERE TO GET IT | Shure |
The Aonic 215 True Wireless Sound Isolating Earphones is one of the best when it comes to wireless, high quality music listening. It features an over-ear design that ensures comfort even during prolonged usage.
It has no wires or cords to connect to your device and instead uses Bluetooth 5 technology. This connection will remain stable for up to 10 metres, ensuring quality sounds even without a wired connection.
Meanwhile, its Sound Isolating technology, as one can see from the name, can eliminate ambient noise from your environment. It can block up to 37 dbs of noise and can be toggled on or off with its Environment Mode function.
It has a battery life of up to 8 hours on one charge, with the carrying case having a capacity for three additional charges as well. All in all, the Aonic 215 Wireless Sound Isolating Earphones may be pricier compared to the other items on its list, but its numerous features guarantee that its an investment worth making.
Pros
No cords or wires
Clear sound and deep bass
Secure, over-ear fit
Sound isolating technology
Cons