4 Best Cross Trainers Machines in Singapore Less than $1000
Attending workout programs regularly can take a lot out of your time and budget… so what if you could do your exercises at home instead? With the best cross trainer machine in Singapore, this becomes possible.
As it's an exercise machine that combines the capacity of a bike, stair climber, and treadmill, a cross-trainer gives you an absolute workout. You can lose loads of calories, improve your physical strength, and maintain your fitness routine.
This equipment ranges in terms of type, features, specs, and price as well. That's why we thought that you need our help to figure out some things before buying one.
We'll give you a primer on how to buy cross trainers, as a result. After that, we'll go through our lineup of the best cross trainers in Singapore.
Factors to Consider When Buying a Cross Trainer
Workout equipment is a big purchase and you don't want to waste your money on something that doesn't fit your needs. That's why it helps to understand each of the factors that go into selection.
1. Type
Some are not aware that a cross trainer machine in Singapore is grouped into different categories. Let us be your guide as we list down the types of cross trainer.
With this type, you can adjust the incline depending on what your body needs. You can change it into walking uphill mode or simply training on the flat mode.
This type is used for improving different muscle areas. It's especially good for the upper thighs and core muscles.
Variable Stride Length Cross Trainer
It's the best choice for those who are looking for a middle ground between walking and running. You can experience a shorter mile for walking or greater distances for a more intensive running marathon.
It also features several stride length settings, which refer to the different heights. Therefore, it can be used by the whole family and even your friends.
Electromagnetic Resistance Cross Trainer
This is the most-recommended type of cross trainer machine, because it has the function to manage the resistance level, providing you with room for growth. As you gain more strength, you can try a higher setting to break a new record.
For those who are just starting, you can also set it to the lowest possible setting to match your own level.
This is the perfect type of cross trainer machine in Singapore for athletes as it offers pinpoint accuracy with its resistance, measured in watts. This will let them monitor their progress with more precise records.
It's not advisable for regular users and it also comes with a sizeable price tag. Remember that it's not necessary unless you're an athlete in need of serious monitoring and maintenance.
Belt Resistance Cross Trainer
This uses a belt and a flywheel to control the resistance levels. It's also not a good option for high-quality equipment, for it's mostly built at a lower standard and offered at a cheap price.
Rear Driven Cross Trainer
This is said to be the type that can provide the smoothest workout because it has a wheel housing at the back of the pedals. which have a longer design as well. There are also machines that have a suspended arm system as a replacement for the wheel housing.
Front Driven Cross Trainers
On the other hand, this type has the wheels placed in front of the machine. It also has a simple but reliable design, which is why it belongs to the mid-range-value group.
Also, it can produce a bit of noise and vibration. So, if you prefer quiet equipment to work with, this might not be a wise choice for you.
This one is the least recommended among the types. It features a strict resistance range, offering you limited exercising options and has an average build that may not last for a long time. 
2. Size
As we all know, cross trainers are designed with a tall and large build, so you need to consider your workout space when choosing the right size. If you are looking to get a cross trainer for home use, this is definitely a factor.
Note that horizontal space isn't the only thing to look at. Make sure that you'll be able to move comfortably and not bump your head into the ceiling once you use it too!
3. Right Stride Length
This specification refers to the gap between the front of your rear foot and the rear of your front foot. The best length is dependent on the range of the movement or the range of your workouts.
A premium-quality cross trainer has a longer stride length. With that, you can do less-restricted exercises such as increased speed and intensified workouts.
A short stride length is only capable of giving you an option for walking exercises, on the other hand. If you opt for levelled-up training, it can cause discomfort.
4. Flywheel Weights
Flywheels are related to the resistance levels and smoothness of movement on a cross trainer. If it contains a heavier weight, it offers better resistance levels.
5. Resistance Levels
It's very important to know that resistance levels do not define the overall quality of a cross-trainer.
A higher number of resistance levels is indeed a better choice, for you can have a broad range of options. But it'd be wise to consider your current level or capacity as you decide which resistance level suits you the most.
The Best Cross Trainers in Singapore
Now that you already know the features that must be taken note of, let's see the best cross trainers in Singapore that we've gathered to match any level and budget.
1. Xterra FS150 Elliptical Cross Trainer
Best for Overall Value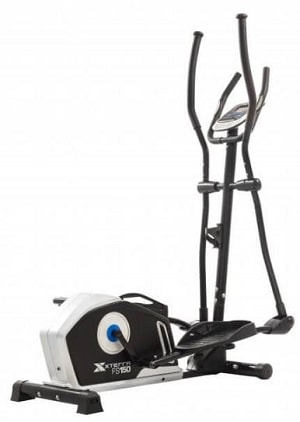 Price: $699.00
The Xterra FS150 Elliptical Cross Trainer helps you have a peaceful and quiet home workout. It features 24 levels of resistance for a wide range of options and oversized foot pedals with a non-slip surface.
Aside from these, it also has hand pulse grips that'll let you monitor your heart rate during your entire workout. It's designed with a combination of rear-drive and belt-drive types, which allows you to move smoothly and do plenty of exercises.
You can easily read the speed, distance, calories, and heart rate details on the blue backlit LCD screen. It can also handle customised settings for a total of 4 users and offers 12 preset programs.
To make it more engaging, it has an audio jack and speakers for you to listen to exciting music while you workout. It also has transportation wheels that'll let you move the cross-trainer without any hassle.
This can truly be the best cross trainer in Singapore for those who are looking for a high-quality one that is offered at a fair price.
Highlights
Rear-drive and belt-drive type
1270 x 585 x1630 mm (machine dimensions)
120 kg (user weight capacity)
13 inches (stride length)
7 kg (flywheel weight)
24 resistance levels
12 preset programs
Customer Reviews
Most customers were pretty impressed with the performance of the Xterra FS150 Elliptical Cross Trainer. Some said that the instructions were slightly hard to understand but they still recommended it because of the sturdy build and compact design.
A customer posted this feedback on the brand's official website:
"The elliptical is excellent. We weren't looking for anything too over the top. For the price and quality I don't think you can find much better. I use it about 2X per week for 30 minutes. If you are one of those people that use it every day, you may want to invest in a higher level machine – but works for my needs and can't beat the price."
2. Sportop E850P Elliptical Trainer
Best for Customisable Settings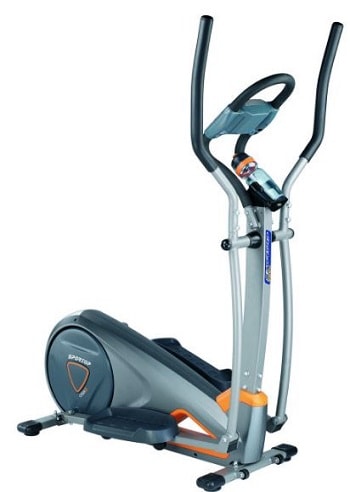 Price: $599.00
An electromagnetic resistance cross trainer, the Sportop E850P Elliptical Trainer provides precise and effective performance. You may consider this the best cross trainer in Singapore because you'll surely be able to move freely and naturally with this one.
It provides a competent number of resistance levels and preset programs for you to try out different ranges. It'll help you to focus on a particular goal including burning calories and other intense training workouts.
It also has non-slip handlebars that feature pulse sensors for heart rate monitoring and for a stable workout. The pedals and stride length are highly adjustable, so you can modify them according to your preference.
All information such as time, speed, distance, calories, pulse, load, and watt are also displayed on the large backlit LCD monitor. Transportation wheels are also included so you can easily transfer it to other rooms.
Highlights
Electromagnetic resistance type
1030 x 535 x 1530 mm (machine dimensions)
90 kg (user capacity weight)
5 inches (stride length)
8 kg (flywheel weight)
16 resistance levels
12 preset programs
3. Xterra FS 3.0 Elliptical Cross Trainer
Best for Long Stride Length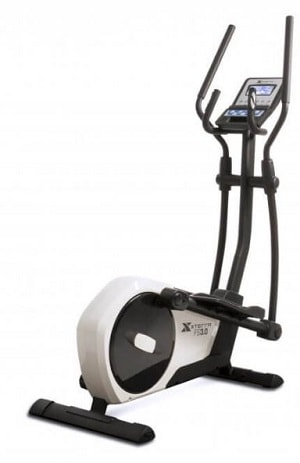 Price: $825.00
The Xterra FS 3.0 Elliptical Cross Trainer is very similar to the previous Xterra model. However, this one has a longer stride length for a more fluid movement.
It also has a heavier flywheel but with lower resistance levels. Nevertheless, it can still accompany you through more challenging exercises.
To help you achieve your fitness goals, it has a heart rate monitoring feature. An LCD display, audio input jack, and built-in speakers are also included.
Highlights
Rear-drive and belt-drive type
1373 x 612 x 1656 mm (machine dimensions)
136 kg (user weight capacity)
16 inches (stride length)
10 kg (flywheel weight)
20 resistance levels
12 preset programs
Customer Reviews
Though a few of the owners said that it causes light noises and it's on the pricier side, they were still satisfied with the Xterra FS 3.0 Elliptical Cross Trainer. Hence, some of them claimed it as one of the best cross trainers in Singapore.
An Amazon customer wrote this review:
"This little machine will give you one heck of a workout. The stride is somewhat shorter than that of an elliptical at the gym, but you can't beat the convenience of having an elliptical in your home. Also the tension is pretty high even on the lowest setting. It took a little while to work up to it. It does make noise, but it's nothing my music and headphones can't block out, and it's not loud enough to annoy the duplex neighbors.
As far as putting it together. The instructions aren't the most clear in the world, but it's pretty well common sense. I was able to put it completely together in about an hour. All the tools needed are included in the packaging which was nice. All of the moving parts are already lubricated, but after reading the reviews I went ahead and added a bit more lubrication to the mix to eliminate the need to take it apart later. Very happy with this purchase. If you are looking for a space saving elliptical that packs a killer workout this is the one for you!"
4. Nordictrack C12.9 Elliptical Cross Trainer
Best for Private Workouts
Price: $2,399.00
Get in the perfect shape even while indoors with Home Gym's Nordictrack C12.9 Elliptical Cross Trainer. This Elliptical Cross Trainer has a customizable setting where you can adjust your stride length, incline, and resistance to achieve your desired results.
You might also want to boost your adrenaline by making use of its built-in bluetooth speaker which you can conveniently connect to your tablet which by the way this equipment has a holder for so you can jam with your favorite music while working out.
Nordictrack C12.9 Elliptical Cross Trainer is also equipped with a 7″ Smart HD Touchscreen to easily adjust settings and monitor your progress. With its one-touch controls, you can quickly shift the inclination and stride, depending on your preference.
If you want gym experience in your workout at home and you have the space for it, the Nordictrack C12.9 Elliptical Cross could very well be the best cross trainer machine in Singapore for you.
Highlights
24 Digital Resistance Levels

Integrated sound system

0-20% OneTouch™ Controls

135kg max load
And that rounds out our list of the best cross trainer machines in Singapore. We're confident you'll find one that you like in these.
If you've already made a purchase from our picks, share it with us and tell us why it's the right one for you. If you have other options that you'd like to add, let us know and we'll consider it putting on our list!
No matter if it's a simple or intense workout, you need reliable footwear to assist you throughout the whole workout, though. These best running shoes in Singapore can help you move naturally and you might as well use it to complete your sporty and stylish OOTD.