The 11 Best Female Running Shoes in Singapore Below $200
Have you been enduring foot pain with your current shoes? If so, it's time to look at the best female running shoes in Singapore!
Whether for your daily jog or a sporting competition, it's very important to have reliable footwear. Good footwear can withstand greater distances, harsher environments, and heavier use.
Fortunately, there are a lot of great running shoes in Singapore now from new women's collections, all efficient and affordable. Sneak a peek at our list of the best ones to see if you can find the best female running shoes in Singapore for you!
1. New Balance Fresh Foam Zante v4
Best for High Speed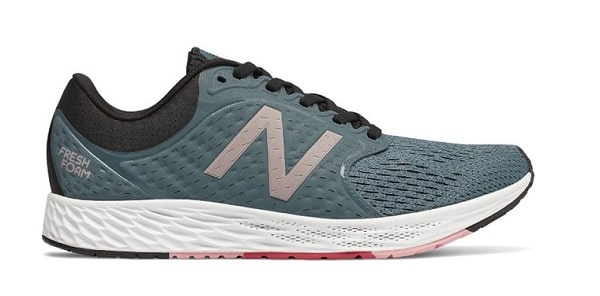 Price: $135.00
The New Balance Fresh Foam Zante v4 is the running shoe that many people have been looking for! It's an upgraded version of the original in their Fresh Foam series, sporting enhanced top speed support.
It features snug bootie fit, a solid rubber outsole, and their trademark, the midsole cushioning for a more comfortable and powerful running experience. This makes it one of the best running shoes for overweight women in our opinion.
With the HypoSkin upper, this breathable and lightweight shoe can automatically adjust to the shape of your feet. So it can help you move freely, naturally, and flexibly.
 It's designed with a breathable structure and a light, fresh colour palette. For it's size, design and breathability, we find this to be the best ladies running shoes in Singapore for the summer. 
Highlights
Great support for high speeds
Breathable, lightweight
Customer Reviews
The New Balance Fresh Foam Zante v4 was reviewed by the Running Shoes Guru and it received positive points for its lightweight, soft, and dynamic design. Hence, it truly deserves a spot on the list of the best running shoes in Singapore.
However, they've also stated that it's a little bit tight on the midfoot part and it might not be the best for durability. Nonetheless, it's still competent and versatile enough to cover long distances and high-speed marathons.
Here's their final verdict, published on their official website:
"The New Balance Fresh Foam Zante v4 is a lightweight neutral trainer that strikes a balance between being a soft cushioned ride and a fast snappy responsive feeling. It is such a versatile shoe that it can be used for racing 5Ks up to marathon distances for efficient runners."
2. Adidas Ultraboost 19
Best for Energy Boost and Flexibility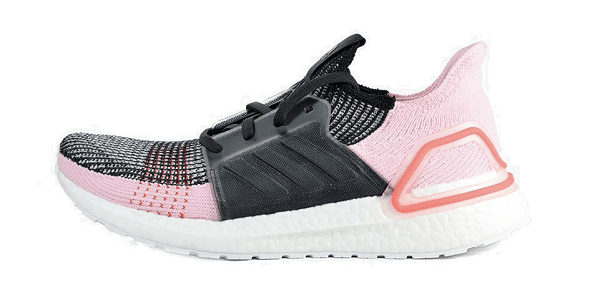 Price: $117.00
Do you sometimes suffer from discomfort when you run? This is often because the shoes you're wearing aren't flexible enough. So if you're here in search for the best female running shoes in Singapore for comfort and flexibility, you won't be disappointed. 
For one, with the Adidas Ultraboost 19, the problem has now been solved as it's one of the best female running shoes in Singapore with great flexibility. This responsive and adaptive running shoe is designed with a seamless knit upper and motion weave technology.
This allows you to stretch your feet, and at the same time, hold it in place while running. Meanwhile, the second-fit skin lessens the pressure points by adapting to your foot's shape.
It's also built with soft textile lining and stretch web outsole flexes. This is certainly among the best running shoes in Singapore if you prioritise comfort over everything else.
Highlights
Superior traction
Responsive boost midsole
Stabilised torsion spring
Lightweight and adaptive
Customer Reviews
According to the review made by the Runner Click, the only downside of the Adidas Ultraboost 19 is its costly price. They said that it might not be on the economical side but the quality and functionality is quite good compared to others in its price range.
For those willing to spend a little more as long as it's worth it, then this would be a good choice for female sports shoes in Singapore. A reviewer wrote this on the official website:
"It's very rare for a company to come out with a shoe that doesn't have a flaw, but the Adidas did it this time – if you take out the price out of the equation. The redesigned Ultraboost is better than the previous version and the updates on the upper and the midsole provide a more secure, bouncier ride that is going to please a lot of runners out there. Of course, the obvious limitations with the Ultraboost 19 is that it's made for road exclusively and that the drop doesn't favour forefoot strikers, but that's not a flaw in and by itself. With the Adidas Ultraboost, you're getting high quality, responsiveness, comfort, and longevity, along with slightly questionable design."
3. Nike Women's Air Zoom Pegasus 36
Best for Breathability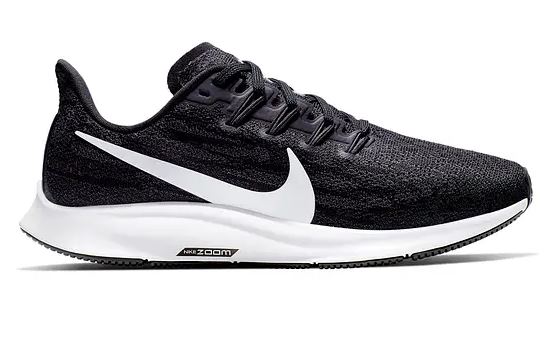 Price: $18.24
Even among the other releases of Nike, the Nike Air Zoom Pegasus 36 stands out because of its high breathability even in intense heat. This makes it one of the best female running shoes in Singapore as it's great for humid weather. 
It achieves this through the additional perforations and full-length zoom air design that provides a smooth ride. If you're going to run even in summer, these may be the best running shoes in Singapore for you.
The slim and snug fit gives you a comfy feeling so you'll be able to enjoy the whole journey. To keep you safe, it also absorbs the impact of your steps and gives you multi-surface traction. Great breathability, great cushioning: absolutely one of the best female running shoes for summer!
Highlights
Soft cushioning
Impact-absorbent
Multi-surface traction
Customer Reviews
The Running Shoes Guru has also published a product review about Nike Women's Air Zoom Pegasus 36. Based on their conclusion, they've complimented the rubber coverage and cosy fit of the shoes.
There might be a slight concern with the unusual folded fabric around the heels but overall, it's a high-quality item offered at an affordable price. Here's their feedback as stated on their official website:
"The Nike Air Zoom Pegasus 36s are a proven shoe from Nike that offer a durable, reliable, and well-tested set of features. With a fair price and smart looks, you're sure to have a good run ahead if you grab a pair."
4. Puma Speed 600 Fusefit
Best for Customisable Lacing System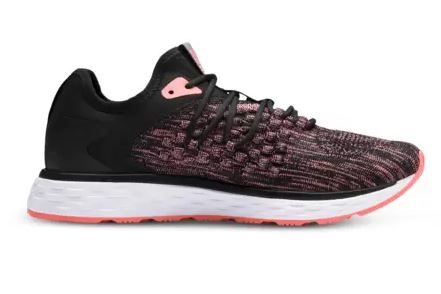 Price: $79.99
In the midst of a long marathon or exercise, have there been times when you were bothered by hanging or unravelling shoelaces? So if you're looking for the perfect female running shoes that won't pester you with that problem, you'll be pleased with this one.
With the Puma Speed 600 Fusefit, there's no need to worry about tripping over laces! These lightweight and resilient shoes let you tie up your laces in your own preferred style so this pair definitely deserves to be in our list of the best female sports shoes in Singapore.
It also supports you when you run at high speed due to the instant cushioning in the midsole and the energy return feature, which helps you make the most of each step. These features have made it one of the best running shoes in Singapore for women.
Highlights
Personalized lace setup style
Promotes faster runs
Customer Reviews
Run Repeat has reviewed the product with a couple of testers. They've praised the features of Puma Speed 600 Fusefit, which they felt complemented each other perfectly.
Some did think it gave the user too much of a ground feel, most especially for those who undergo daily training. However, even these critics felt the shoe's durability and overall performance was impressive.
Here's the summary of the review written on their official website:
"Puma offers a daily trainer in the Speed series in the form of the 600. The moderate cushioning does not hinder the bouncy nature of the Ignite foam while ground feedback remains to be excellent. With good arch support and superior comfort in tow, runners can pile on the miles with this shoe."
5. Under Armour HOVR Sonic 2
Best for Long Distances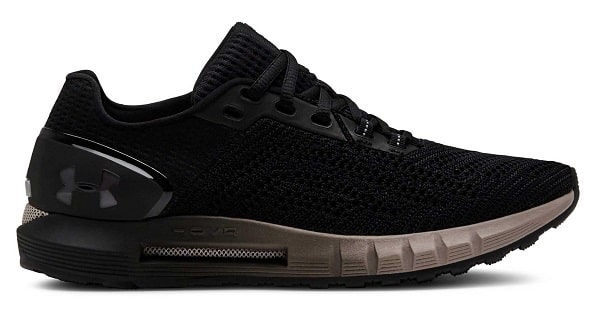 Price: $73.90
The Under Armour HOVR Sonic 2 is one of the best running shoes in Singapore for females if you want top-notch support during your run. It has great cushioning that provides an ultra-smooth performance.
For the runners, it has high flexibility that can help you no matter how long the distance. Aside from the basic features, it has a removable and antimicrobial sock liner for customised comfort.
The most impressive thing about this shoe is that you can connect it to the UA MAPMYRUN app. This allows you to keep track of your performance and work on improvements.
With the high specs and advanced technology combined, it's a worthy entry in the list of the best running shoes in Singapore for women.
Highlights
Can be connected to UA MAPMYRUN app
Prevents impact strain
External TPU heel for additional support
Customer Reviews
Most customers have only praise for the Under Armour HOVR Sonic 2. They're particularly pleased by the fact that it's snug enough to provide comfort yet remains lightweight.
That said, some had issues with the durability and the mobile app. They say the latter can sometimes be difficult to connect to.
A customer left this review on the brand's official website:
"I purchased these right before a half marathon because I was getting blisters with other shoes. I took these right out of the box on race day and my feet have thanked me since. They are snug but not tight and I had zero blisters or complaining about my feet right after this run. I will forever use these shoes. I have had an issue with the mapmyfitness app syncing my run to get splits and staying logged in with the free MVP that comes with the shoes but I blame the app rather than the shoe. I can really see my running improve in the future with these shoes."
6. Asics Gel-Pulse 11
Best for Shock Absorption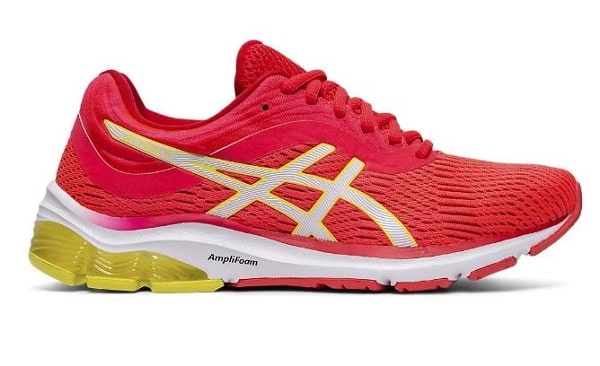 Price: $92.30
If you're a serious and advanced runner and are looking for the best running shoes in Singapore that can keep up with you, this may be for you. You can rely on the Asics Gel-Pulse 11 if you like serious runs that last for hours. So if you're planning to join an intense marathon, these would be the best running shoes in Singapore for you!
The well-built mesh upper keeps your feet cool and dry while you cover the kilometres. It also has an AMPLIFOAM midsole that provides ease and comfort.
Rain or shine, the moulded rubber outsole will give stronger grip for each movement. With these features, you can now put your worries aside and continue to run without holding back. Given its price and quality, we're not too surprised to see that the Asics Gel-Pulse 11 is considered to be one of the best female running shoes in Singapore.
Highlights
Natural gait efficiency
Soft collar comfort
Customer Reviews
Apart from the narrow toe box, every feature of the Asics Gel-Pulse 11 seems to find favour with the reviewers from Run Repeat. They've given this verdict on their official website:
"Overall, the Asics Gel Pulse 11 definitely impressed the majority of the consumers. With its features and technologies, the shoe received positive comments about its comfort level, cushioning, and design. Aside from its design, the snug fit was also agreeable for most of the users. Although some have found toe box issues, a good number of them still lauded the visually-appealing style and excellent performance of the Asics Gel Pulse 11 on the roads."
7. Reebok CrossFit Nano 8 Flexweave
Best for CrossFit Community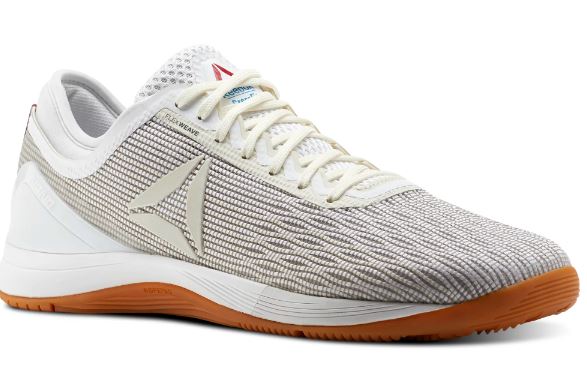 Price: $119.33
Reebok's Nano Series has come a long way since it first launched, providing superior footwear options for both men and women. Recently, they've released the Reebok CrossFit Nano 8 Flexweave for the ladies who go through daily training.
As the name states, it's mainly designed for the CrossFit community. Thus, it caters to comfort, stability, and durability.
It also provides firm support with the Flexweave Technology, where fibres stretch out with every movement. This feature makes it one of the best running shoes for overweight women in Singapore. Meanwhile, the low-cut design helps you get maximum mobility.
For those who enjoy CrossFit training, you may consider these the best running shoes in Singapore!
Highlights
New heel bootie construction
Great durability
Customer Reviews
A reviewer from Bar Bend went into detail about the Reebok CrossFit Nano 8 Flexweave's overall capacity and performance. As mentioned in the feedback, this version changed his negative perspective about the Nano Series (based on the previous model).
Here's what he wrote on the official website. Although he's obviously talking about the men's version of the shoe, the women's version is much the same, so his review applies:
"All in all, I was a fan of this Nano model. For context, I was not a big fan of the Reebok CrossFit Nano 7, but this model has restored my faith in the Nano line-up. I enjoyed the newly constructed separate bootie and wider toe box. Personally, I found both of these features to enhance my performance, as opposed to just acting as another cross-training shoe. The only issue I could see athletes having with this model is how flexible it is, but that's going to come down to personal shoe preference."
8. Brooks Adrenaline GTS 18 Shoes
Best for Great Balance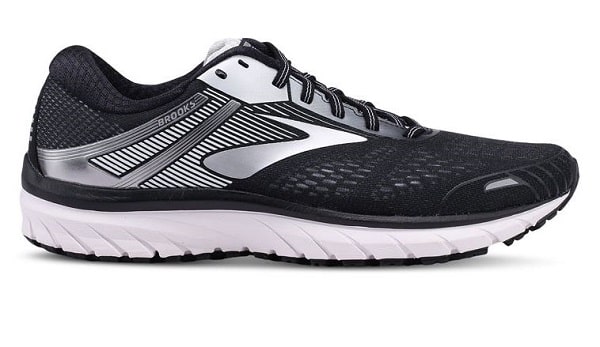 Price: $158.73
If you're finding it hard to keep your balance when you go on a running spree, then you must take a look at the Brooks Adrenaline GTS 18.
The brand takes pride in their Progressive Diagonal Rollbar (PDRB) feature, which provides proper body alignment so you don't lose your momentum… especially when you've been running for a long time.
Similar to the other options, it also has soft cushioning and seamless foot-to-toe transitions. That's why it's in our list of the best female running shoes in Singapore.
Highlights
Sleek mesh upper
Provides body alignment assistance
Customer Reviews
The Brooks Adrenaline GTS 18 has been featured in one of the reviews made by the Running Shoes Guru. They've loved its lightweight design and variation of colours.
They've also said that it's not the best bet for long-lasting use, but maintained that it's nevertheless an improvement compared to the previous release.
Here's the feedback shared on their official website:
"The Brooks Adrenaline GTS 18 is a shoe that continues to improve each year. With a smooth ride and overhauled upper, once again it is a 'Go-To Shoe' for overpronators."
9. Hoka One One Women's Bondi 6
Best for Maximum Comfort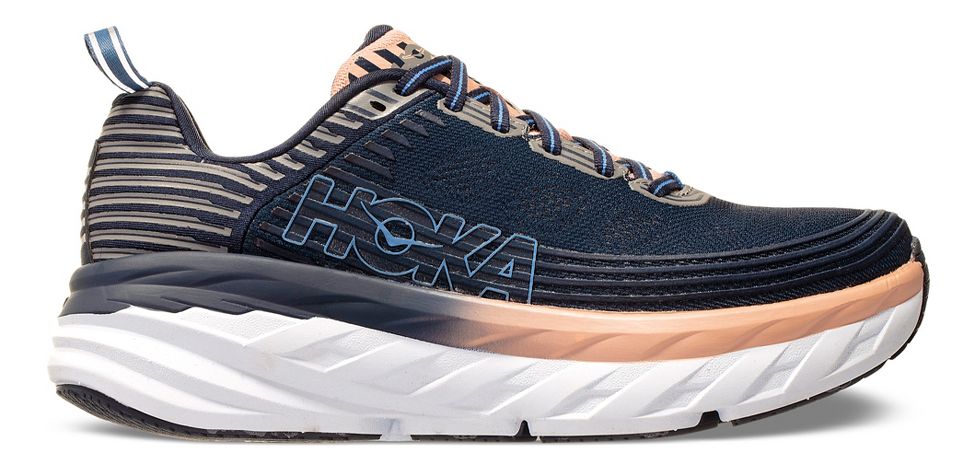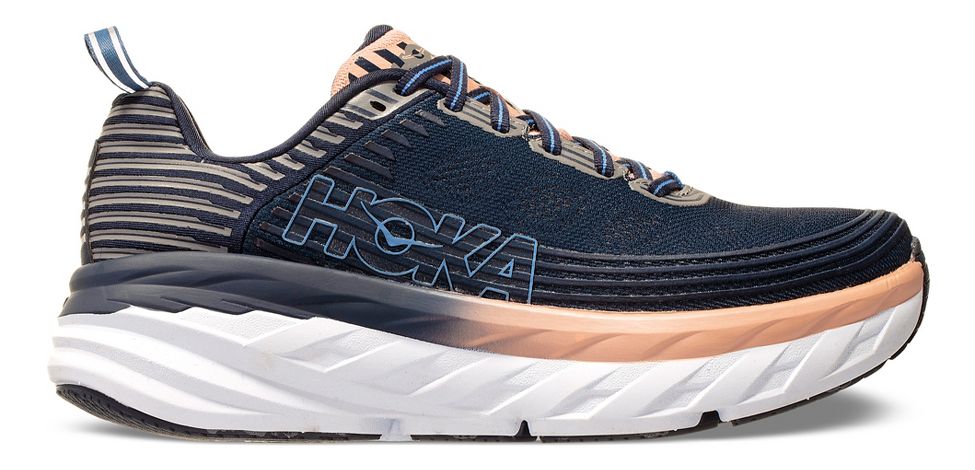 Price: $279.49
Out of all the products of this brand, the Hoka One One Women's Bondi 6 is said to be a game-changer. This is because it has the softest cushioning and the smoothest transition.
All features are enhanced in this version. They even reinvented the rubber outsole design to have less weight and improved durability.
It has an additional internal heel counter to secure a locked-in fit and strong support. If you're not quite impressed with the older releases, this may change your viewpoint, as it's definitely one of the best running shoes in Singapore for women.
Highlights
Comfort frame heel section
Full-length compression moulded midsole
Customer Reviews
The Hoka One One Women's Bondi 6 left a nice impression on users as they've noted the maximum comfort and stability in the shoes. A customer gave this positive review on the brand's official website:
"I had expensive walking shoes but for the money, these blow the competition away. My hip and knew were beginning to ache, which usually means I need new shoes. A friend recommended these and I then searched for other reviews. Everybody else is right. They're amazing and my hip/leg pain is gone. They're" a bit nerdy looking with the high sole but they deliver. Super comfy and stable"
10. Salomon Women's XR Mission
Best for Hiking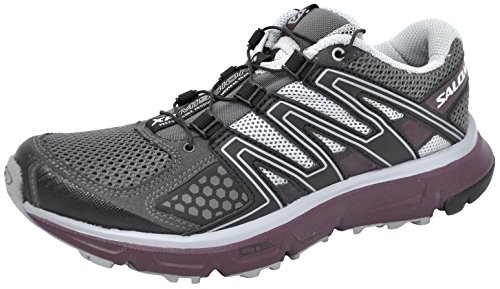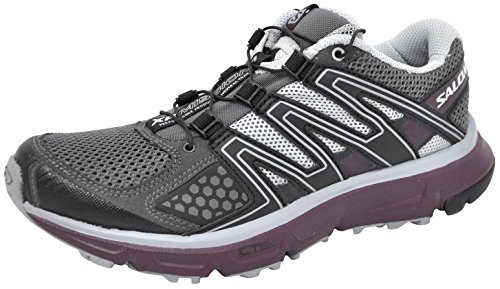 Price: $187.50
If you both run and hike, it would be a wise decision to check out the Salomon Women's XR Mission.
This breathable and lightweight shoe is primarily built for transitions between roads and trails. It has a foam footbed that reduces friction and a mesh upper that gives great ventilation.
It features Sensifit technology for an accurate and smooth rolling motion. It also holds your feet in place with its protective toe cap.
Highlights
Ventilation feature
Traction for slippery surfaces
Customer Reviews
There are rarely negative comments given to Salomon Women's XR Mission. Most customers are pretty satisfied and impressed with it, especially when transitioning from paved to rocky ground and back again.
It may not be an excellent choice for long-distance runs, however. Despite that, it's still among the best running shoes in Singapore for those traversing rough streets or country.
An Amazon reviewer wrote:
"This summer I purchased these tennis shoes to travel the country with me, and it was one of the best purchases I made. At first, I felt like my feet were wearing a chastity belt, because I wasn't used to so much stability. There's no way I was going to twist my ankle in these. The back heel prevents you from doing this with a rubber lip. I also thought un-doing the lace strings was a pain in the butt, but eventually, I realized you can just slip them on and off without undoing the string each time. Now that they are broken in, they fit like a dreamy silk glove. Also very roomy in the toe box, GREAT arch support. I've hiked with these shoes in Aspen Colorado, Arches National Park Utah, Glacier Park in Montana and all through Iceland. Me and these shoes have memories, and as you see by the photos, they are in every single shot. Love the colour, lots of compliments. I walk/run 25 miles a week in these, and they have lasted 6 months and still look new!!!!"
11. Saucony Triumph ISO 2
Best for Stylish-Yet-Functional Design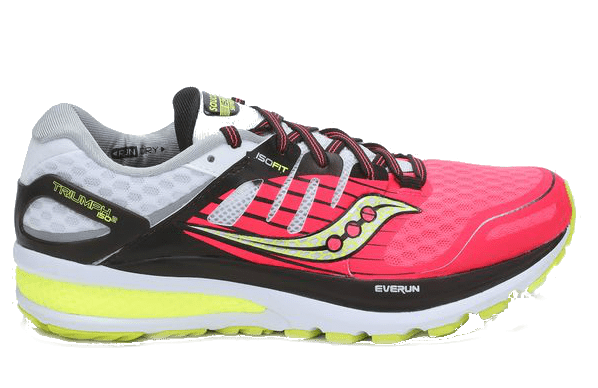 Price: $84.64
The Saucony Triumph ISO 2 is an award-winning running shoe that's built with exceptional structure and design.
The newly added TRI-FLEX outsole configuration provides improved surface contact while the ISOFIT upper brings a complimenting fit.
With the decorative and colourful design, you can now pull off a stylish look and be fully protected during a long run.
Highlights
Impact protection
Colourful design
Customer Reviews
The Saucony Triumph ISO 2 is very popular with younger runners because of its looks. Most users also laud its comfortable fit.
A reviewer from Amazon wrote:
"Let me begin by saying, I have hip, knee, and feet issues; I always have a hard time buying shoes. I never feel like I can simply go to a shoe store and buy tennis shoes, I have to try on several pairs, look for proper arch support without having a shoe that is too heavy. I was precarious about buying shoes on amazon because my feet are tricky about sizing, sometimes I can go up or down a size depending on the shoe. I believe I ordered a 10.5 and it fit perfectly! They are lightweight and have plenty of arch support. I LOVE the color they go with everything and the pop of black, white, and coral/red is perfect to add some pizzaz. I would highly recommend these shoes for walking, running, or everyday use."
You can never go wrong with these best running shoes in Singapore as they give you both quality and affordability. They also come in different styles and sizes, so matching them to your style won't be a problem.
It's worth it to invest in your running shoes because they literally carry the rest of you. If you do end up with one of our picks, let us know which one it was and how you like it!
By the way, throughout your runs, you'll probably need a bag where you can store clothes, drinks, and other essentials for your run. If so, try our list of the best duffle bags in Singapore, many of which can serve as the perfect match for your new running shoes.