11 Best Kids Scooters in Singapore Less Than $200
Enjoying simple outdoor activities is one of the best ways to keep your kids fit and healthy. If you get them the best kids scooter in Singapore, they'll have even more reason to stay active!
That said, safety must still be the first priority when choosing the best scooter for kids. Each one is also designed for a certain age, so make sure that it's suitable for your kid's age and size.
The cost and the design must also be considered, so you can make a valuable purchase. Along with that is the durability — because let's be honest, kids aren't exactly the most careful owners! 
Anyway, we've considered these things for you so that you don't have to. At the end of our deliberations, we came up with these, which are the best kids scooters in Singapore!
1. Micro Sprite Special Edition
Best for School Companion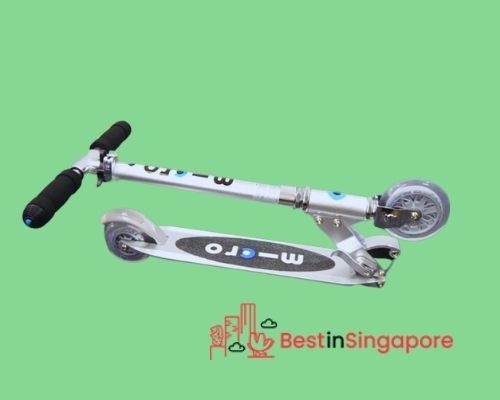 Price: $173.11
If your kids' school is just a few minutes away from home, the Micro Sprite Special Edition is the perfect scooter to ride on!
This lightweight scooter is made of aluminium and can be adjusted to suit a particular height. It's also built with a compact design so it wouldn't be a hassle for a kid to bring it to school every day.
Furthermore, the special edition is designed with an especially modern and fancy look. Consider this if your kid wants not only the best kids' scooter in Singapore but the most stylish one you can get too! This is definitely a kids scooter that's not just for play but great for short distance transport.
Highlights
Modern look
Compact size
Suitable for 5-12 years old and above
Customer Reviews
Most customers loved the overall quality and performance of the Micro Sprite Special Edition. It might be on the expensive side for some but they've said that it's still worth it.
An Amazon customer left this feedback to explain its value:
"I love Micro scooters, my kids and all their friends have been riding their three-wheeler Micros for years, and never had any issues with any of them. My 6 year old felt like she was ready for a two-wheel scooter, so we got her the Sprite model. She absolutely loves it (and so do her mom and dad – it has a weight limit of 220 lb). The folding mechanism and the handlebar adjust are easy; the wheels are nice and large, the ride is very smooth and noiseless. It seems very well made, and virtually any part can be fixed/replaced, so I expect it will last for years. The color is very bright and vibrant, which, while not the most important part, is a big plus in my daughter's book."
2. Razor Jr. T3
Best for Beginners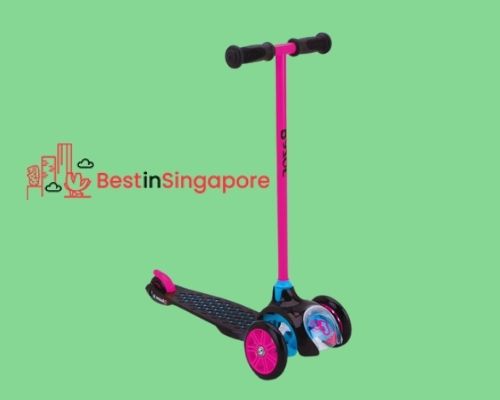 Price: $129.90
The  Razor Jr. T3 is said to be the best kids scooter in Singapore for durability of all the items in this list. Thus, for those who want a scooter they might pass on to the next generation, this could be the best kids scooter in Singapore.
Unlike the Micro model we discussed earlier, this one has three wheels, so it'll be easier for the kids to practice riding it. It also features soft rubber grips so their hands will not slip off during the ride.
It's perfect for beginners because they'll be able to quickly master scooter control, especially when turning around.
Highlights
Three-wheel design
Soft rubber handle grips
Long-lasting built
Customer Reviews
Parents have recommended the Razor Jr. T3 for preschoolers or starters. However, they've also shared that it might not be a great pick for bigger or heavier kids, due to its size.
Nevertheless, many were delighted with their purchase of the Razor Jr. T3. A customer posted this review on the brand's official website:
"The t3 scooter is unlike most scooters for young kids. The tilt to turn aspect makes it so easy for little ones to use. My almost 2 year old has taken it over from my 3 year old and uses it with no problems. I think it is a great scooter to start out on. It has a break on the back. It has a low flexible base to helps make turning even easier. It offers a stable base to help kids learning to balance. It's all around a great little scooter!"
3. Globber Evo Comfort Play
Best for Multi-functionality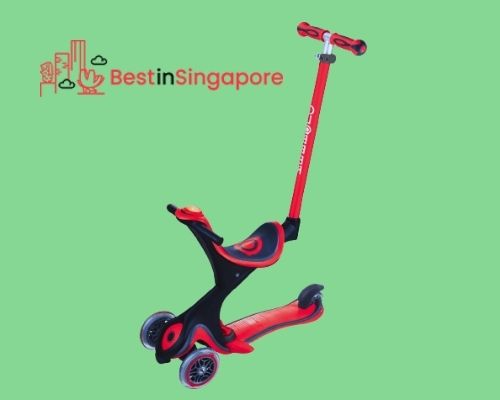 Price: $149.00
 The Globber Evo Comfort Play is entirely different from the previous options because it's a multi-functional ride that you can either use as a scooter or a bike.
It features an adjustable seat bar that you can move up and backwards for greater comfort. The height is also adjustable, so your kids can enjoy a smooth ride. Due to its easily adjustable seat, we think that this is one of the best kids scooters in Singapore for sharing among kids and siblings.
The best feature of this model might be the integrated light and sound modules for a fun and interactive experience. With these qualities, it's indeed one of the best kids' scooters in Singapore. 
Highlights
Adjustable seat bar and a removable footrest
Light and sound modules
Suitable for kids 15 months to 9 years old and above
4. 21st Scooter
Best for Absolute Safety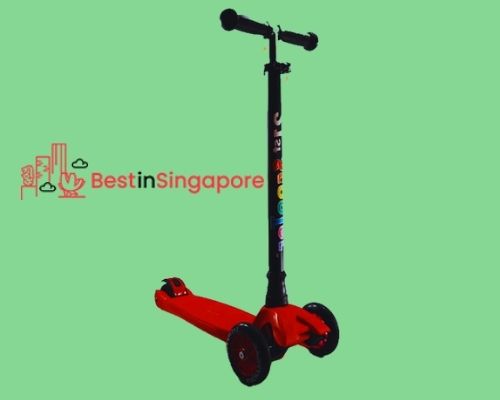 Price: $16.88
If safety is your utmost priority in choosing a kids scooter, this one's for you. The 21st Scooter is another three-wheeler ride that your younger kids can play with. The unique thing about this one is that its wheels have LED lights so you can easily find them during the night.
For easier use and absolute safety, it has a rear step brake at the back that they can simply step on whenever they want to stop.
It also has anti-slip handlebars and deck. That's why compared to the other models, this scooter is probably the best pick for those who put a priority on safety.
Highlights
Extra-wide brake pedal
Adjustable height
Suitable for 2-12 year olds
Customer Reviews
Customers are highly satisfied with the 21st scooter due to its durability and high-quality. They hardly noticed any flaws either, which is why it's part of our list of the best kids' scooters in Singapore.
An Amazon customer shared this experience:
"This 21st scooter is really nice. I've bought the version for the younger children 4 years old and have had it bout 3 years. It really proved to be great quality and lasted as strong as the day I first got it. But now the child has gotten older and I have upgraded to this scooter for older children. I trust this one will be as awesome in years to come as the day it was delivered. I will only continue buying from 21st scooter because I had a fantastic experience with the first one and this 2nd purchase I see they really live up to their product. Also they provide a thank you token in the box, which are extra replacement for the lights. Honestly we don't need the lights in the wheel but it's pretty. The lights flash red, green and I think blue. Thanks again to this company. And I got my package on time." 
5. Fuzion City Glide
Best for Teens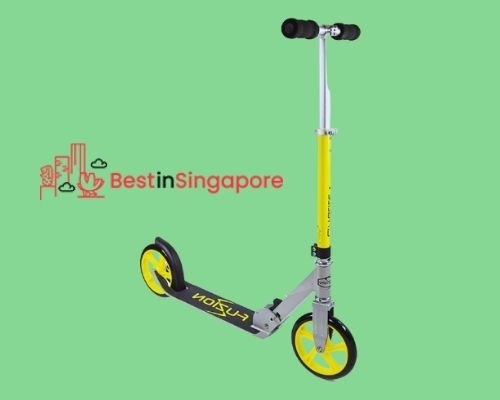 Price: $139.00
If you're looking for scooters that both you and your kids can use, you should take a look at the Fuzion City Glide.
Aside from having a timeless look, it also has a solid build and functional design for daily use. It's also foldable, so it'd be more convenient to bring anywhere.
The low height of the scooter also provides a smooth and stable ride. Moreover, it's adjustable, so you can set the height based on your kid's preference. Overall, this is the best scooter for older kids, teens and even adults.
Highlights
Low-riding body
Folding system
Customer Reviews
Many owners have commended the Fuzion City-Glide for its design, saying it's perfect for a light stroll around the city and for the whole family. They also say it's a great buy even if your kids are already in their teens.
A customer from Amazon wrote:
"Great and sturdy scooter, strong enough to carry a grown man like me. I like the shoulder strap that's included, but it's not quite long enough to use cross-body, but it'll hang on one shoulder just fine. I don't mind that the grips don't detach like other similar scooters, because these feel more reliable, but sometimes they do get in the way. Also, be aware that the rear foot brake should be used mostly for slowing and not for stopping, especially if the ground is wet, as it doesn't have a lot of friction. Bottom line, this is a really good city scooter for the price if all you need to do is get around town." 
6. Genconnect Scooter
Best for 2 Year Olds and Above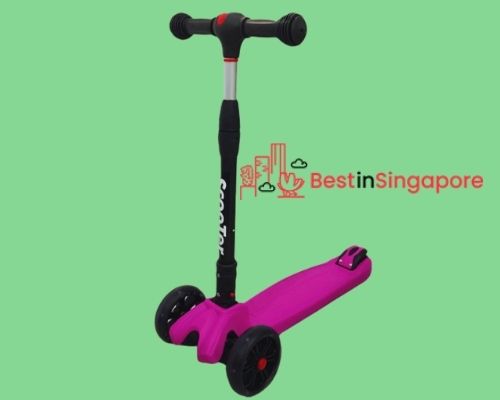 Price: $12.90 – $55.00
The foldable and highly adjustable Genconnect Scooter is suitable for kids as young as 2 years old. If your child is quite active but very young, then this can be a nice gift to give.
It's mainly designed to help the youngest children develop a sense of balance. Therefore, it has a low footrest and an adjustable handlebar height.
Similar to the 21st kids scooter model above, it also has LED lights on its wheels. It's truly the best kids' scooter in Singapore for the kids who want to learn how to ride one at an early age. 
Highlights
Foldable system
LED lights on the wheels
Suitable for 2-10 year olds
Customer Reviews
The Genconnect Scooter has received plenty of compliments from customers. Though some say that the lowest height setting (78cm) may not exactly be suitable for small toddlers, it's still strongly recommended by many for younger users.
7. Yvolution Glider Deluxe
Best for Customised Wheels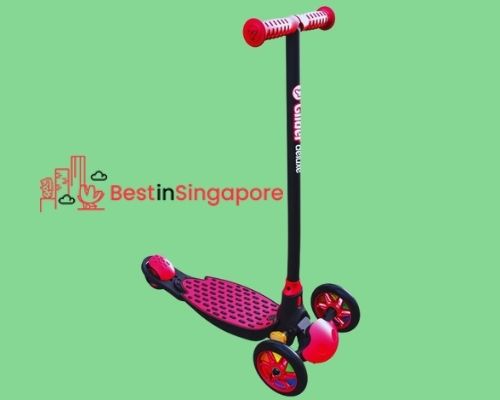 Price: $140.95
It's quite difficult to find a scooter for kids that'll work with the youngest, most rambunctious children. Well, with the Yvolution Glider Deluxe, you can let your little kids have fun with ensured safety.
The scooter is built with three customisable wheel spokes and changeable fender cap for a more personalised experience. For a simple and practical choice, this could be the best kids' scooter in Singapore for you!
Highlights
Customisable wheel spokes
Three-level steering system
And with that, we have the best kids' scooters in Singapore. Offer one of these to your kids and watch their eyes light up!
Whether they're still little ones or going into adolescence, there's something for them here. You might even consider joining them by getting an adult-sized scooter of your own!
8. Mini Micro 3in1 Deluxe
Best for Toddlers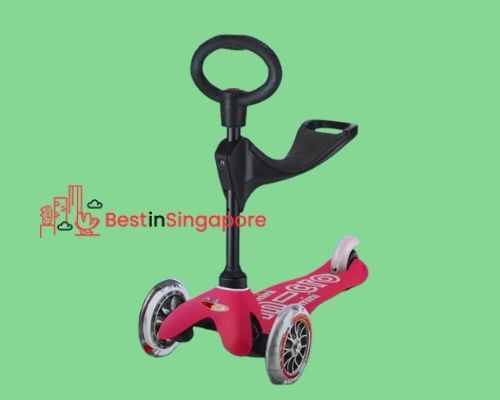 Price: $181.44
Toddler is probably the age where kids are at their most active stage. This is the time that they learn how to walk, run, mingle with other kids, explore new things, etc. It is also the perfect stage to introduce them to toys and activities that will strengthen their minds and body. So if you're looking for a scooter for a 2 year old, one ideal product is this Mini Micro 3in1 Deluxe or commonly referred to as the toddlers express.
One important thing about this scooter is you can maximize its used up to 5 years of age as it can be converted into a walker or a ride-on-toy to help children learn balance, coordination and motor skills.
Let's get the fun started and purchase yours now at Micro Scooters.
Highlights
Multi-functional

Adjustable handlebar

Durable and lightweight
9. Segway Ninebot Max Escooter UL2272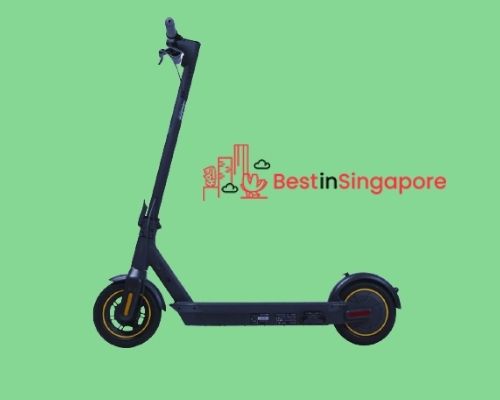 Price: $799
If you are used to getting headaches from travelling on rough roads with your scooter, you won't have to worry about that when you are using the Segway Ninebot Max Escooter UL2272. It is equipped with shock-absorption technology to ensure that your journey will be smooth and headache free.
This scooter also makes use of the one-step folding system for easier storage and portability for people on the go. Aside from this, it also has a built-in charger so you only need to bring a power cord.
Highlights
Equipped with shock-absorption technology for smoother rides

Speed is up to 15.5 to 18.6mph

One-step folding system
10. Minimotors Tempo V3+ PRO UL2272 52v 17.5ah
Best for Heavy-Duty Travel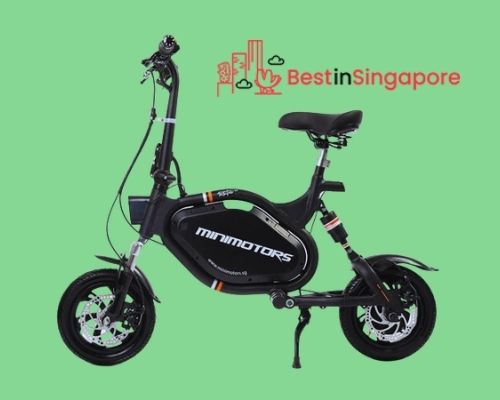 Price: $988.00
For anyone looking for a high-performing motor scooter, check out Minimotors Tempo V3+ PRO UL2272 52v 17.5ah. This one's definitely built for heavy-usage and long-distance. 
A scooter that can travel up to 70-90KM powered by a long-performing Lithium Battery AND can carry a massive load of 120KG? No wonder this model is one of the most popular vehicles to use for food delivery. 
For a heavy-duty scooter with impressive features like this, you might expect a bulky vehicle you'll have problems lugging around. Well, that's where you're wrong. Its compact size is MRT friendly and it only weighs about 19.5KG! Not to mention you'll love its sleek design that comes in Black, Red, Blue, and Grey.
Highlights
Has a long-performing LG 52V 17.5AH Lithium Battery

Can go up to 70-90KM per full charge, depending on load & terrain

Capacity for a maximum load of 120KG

Suitable for food delivery

Compact size that is MRT Friendly
Customer Reviews
Many owners have commended the Minimotors Tempo V3+ PRO for its high performing features that are firmly built for outdoor recreation that you can enjoy for a very very long time. 
A customer from Lazada wrote:
"Very nice and sleek scooter and sleek scooter. The riding experience is smooth and pleasant. The staff is also very nice. He assisted me on the phone to help me find the scooter handle and how to install it properly. Very satisfied with the product and service. Highly recommend." 
11. Micro Mini Deluxe Kids Scooter
Best for Safety Features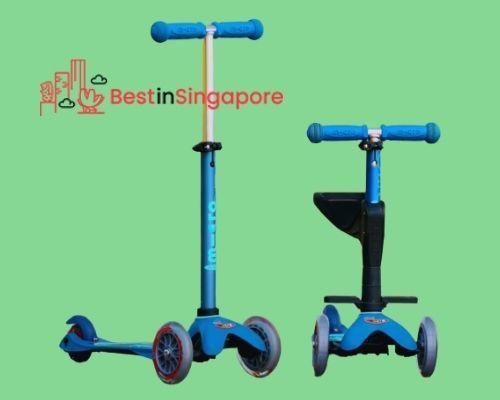 Price: $140.00
Let your kids unleash their inner athlete and have them explore the park and your neighborhood while riding this amazing, kid-safe scooter by Inlinex. 
This Micro Mini Deluxe Kids Scooter is perfect for toddlers who are yet to master their skills in balancing and coordination while still having fun.
As a parent or guardian, you also need not to worry about your kid's safety while riding this scooter because it has a special safety feature, a T-tube handle which has a lock so only the adults can remove it.
Highlights
Non-toxic hand grips

Height-adjustable bar

Patented weight transfer steering
Note that there are a lot of other outdoor activities that you can do with your children on the island, by the way, such as these best kids activities in Singapore. Take a chance to visit these places and enjoy more adventures with the whole family!