11 Best Kids Activities in Singapore: Fun for the Family! (2021)
The wonders of Singapore does not only show their beautiful culture but they also make every family's bond even stronger. As they say, the family that plays together stays together that's why plenty of you want to get ideas for Singapore kids activities.
If you are traveling with your kids or just a local who want to spend the weekends with the whole family, bringing them to places where both parents could bring them to Singapore attractions for kids are a great way to make more memories. Let your children play with these places that offer the best kids activities in Singapore and create your itinerary now! 
1. Universal Studios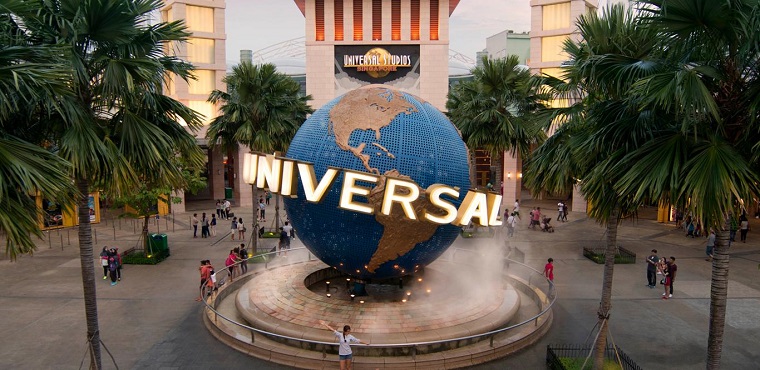 As we all know, Universal Studios is one of the most visited tourist attractions in Singapore because it goes beyond a mere theme park. Without a doubt, since it's opening, this has been one of the best things to do in Singapore with kids. 
You can reminisce about your childhood memories and your kids can enjoy the life-sized versions of their favorite characters as you explore the whole place. It has a total of seven themed zones and 24 thrilling rides. They also feature shows such as Sesame Street and Shrek. For those who are planning to celebrate a special event, they have wedding photography and birthday party packages. Being located in the central business district, you can easily visit the place with accessible transportation.
We're not too shocked that many have considered going to Universal as one of the must-do activities in Singapore in 2020.
Service Highlights
Street entertainment
Meet and greet with most favorite characters
Souvenir shop
Customer Service
Visiting Universal Studios has always been a delight for everyone at all ages as there are a lot of things to do and there will always be a new attraction to look forward to. A reviewer had an enjoyable experience and shared these thoughts on Google Reviews:
"Really love this place. Lots of great rides. Fun for the whole family including young children. The queues to the rides were not very long. I've visited this place at least four times so far and still enjoy it every time! A place that you must visit when you are in Sentosa!!"
2. The Animal Resort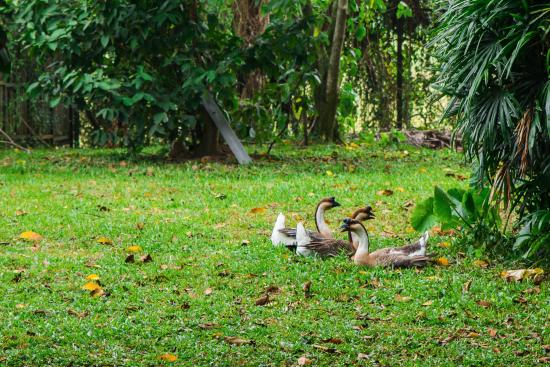 If you want kids activities in Singapore where they can learn about the simplistic life? 
At The Animal Resort, you will surely get to relive the good old days when everything was so simple and there are still some friendly animals running around the backyard. In this place, the kids will not only learn the importance of joy in simple things but they will also get to be close to the animals and have interactions. The area is divided into different facilities for many animals such as horses, birds, chickens, ducks, german shepherd dogs, rabbits, and guinea pigs.
As they offer school tours, this has definitely been considered one of the most informative activities for kids in Singapore.
Service Highlights
Educational tours for school and group bookings
Event venue for birthday, company and family gatherings
Retail shop for pet food & accessories
Customer Reviews
Aside from the several animals that you can see, The Animal Resort also provides pet grooming lessons so that the kids will be able to know how to take care of the pets properly. A reviewer goes into details as he/she shared this experience on Google Reviews:
"Nothing less than Amazing. Highly recommended, especially for "city kids" who has minimal "kampong" experience. Place is calm and relaxed. A variety of Animals to feed and pat. An excellent place to educate kids about animals. From Rabbits, Chicken, Ducks, Goose, Fishes, Horses and the Majestic Cassowary. May be abit tricky to find but once you are there, this small mini zoo is a gem that provides and excellent experience for you and your little ones. A little mosquito repellent may be necessary if you hate getting mozzie itches."
3. The Science Centre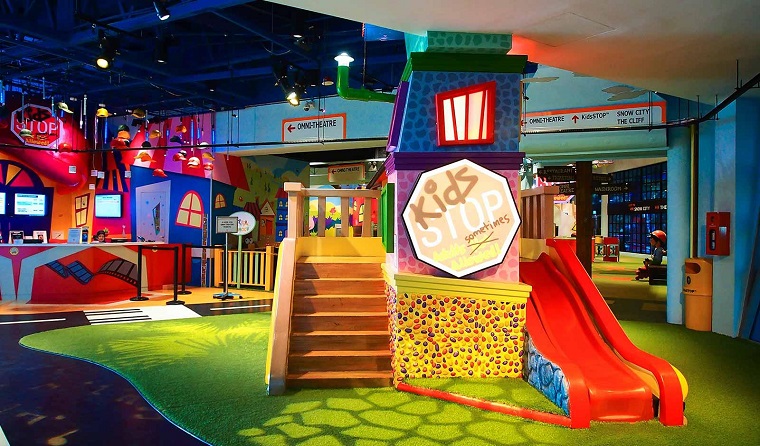 | | |
| --- | --- |
| BEST FOR  | Informative and Entertaining Workshops |
| PRICING | Rates |
| WEBSITE | https://www.science.edu.sg/ |
| ADDRESS | 15 Science Centre Road Singapore 609081 |
| CONTACT DETAILS | +65 6425 2500 |
| OPERATING HOURS | Daily, 10am–6pm |
If you have noticed that your kids are quite interested in the marvels of science and technology, then you should definitely bring them to The Science Centre. They will be able to discover new things and fascinations at the Kidsstop, Snow City, Omni Theater and many more!  They present exhibitions, shows, and demonstrations that display the countless products of science and technology. Competitions are also organized for the public and school participants to become more motivated about learning.
Kids who are into science definitely consider them one of the best activities in Singapore. 
Service Highlights
School programs
Scientific magazines and natural history guide books
Promotional activities
Customer Reviews
With their many engaging activities, they let the children explore their curiosities and be more innovative and creative. Parents are very much glad as they are able to see a glimpse of their kids' potential. The Science Centre received this wonderful feedback on Google Reviews:
"Haven't been here for a long long time and I must say, the place is wonderful. A lot of engaging activities for the curious minds, young and old alike. There are many activities and events going on and there are always new things to cater for repeat visitors. It's very easy to just spend 4 to 6 hours here without any moment of boredom."
4. S.E.A Aquarium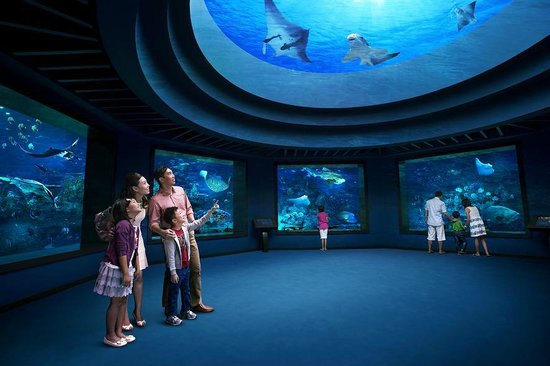 They say life is greener under the sea, and we're beginning to think so too! SEA Aquarium is one of the top kids attractions in Singapore and even adults can't get enough of it. 
S.E.A Aquarium is a magical place where you can see the enchanting world under the sea. They have numerous marine animals in which kids will be able to see them up close and learn more about them. Some of their special offers include the Ocean Dreams where the whole family can spend a night and notice how the nocturnal sharks change during the night. They also have Sea Trek Adventure that gives you a chance to explore the ocean world freely. For those who are marine-life lovers, they have birthday and wedding photography packages!
Service Highlights
Storytelling sessions
Diving programs
Great shopping and dining experience
Customer Reviews
Parents are very impressed by the accommodations at the S.E.A Aquarium. Their kids are fully immersed in the marine attractions and they were able to encounter many unfamiliar ocean creatures. These compliments by a reviewer on Google Reviews earned a top rating:
"One of the cleanest and biggest aquarium in the world. Great exhibits with a wide range of sea creatures from different parts of World. You will see giant shark, full grown Stingray and a lot more. Amazed to see the collection of fish species, few of them are rare never seen before. The jellyfish displays were beautiful. Loved the way they lit those tanks, which is eye catching. Crowds can be extremely ridiculous during weekends. Takes around 3 hours to explore. A must visit tourist attraction in Singapore. Do watch fish feeding as well it's amazing."
5. Rainforest Lumina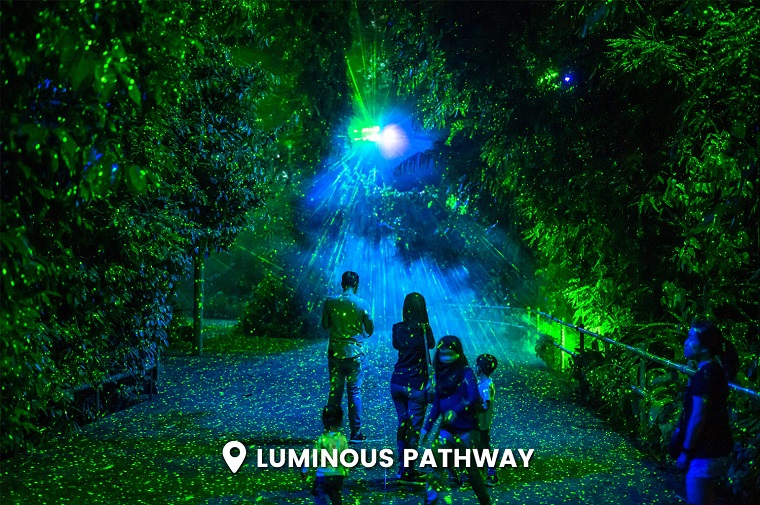 | | |
| --- | --- |
| BEST FOR  | Magical and Luminous Multimedia Attractions |
| PRICING | Rates |
| WEBSITE | https://rainforestlumina.wrs.com.sg/ |
| ADDRESS | Singapore Zoo 80 Mandai Lake Road Singapore 729826 |
| CONTACT DETAILS | +65 6269 3411 |
| OPERATING HOURS | 7.30pm – 12am (Last entry at 10.30pm to 11.00pm) |
Rainforest Lumina has one of a kind attractions that you have never seen before. They feature captivating illuminations that show virtual and interactive animated creatures. Each creature has its own characteristics which will teach the moral values that every kid must have. At the end of the walk, you'll be able to determine which virtue reflects your personality the most. The place is surrounded by luminous displays that can transport you into a whole new world. It consists of ten multisensory zones that bring unity between humans and animals.
As this activity takes place at night we recommend it for weekend kid activities in Singapore. 
Service Highlights
Interactions with nature and animals
Valuable lessons
Multisensory zones
Customer Reviews
Most people who visited the Rainforest Lumina are in awe by the unique and magical experience. Kishanthini left this feedback on the official website:
"This lumina rainforest is one of a kind as we can enjoy the lights and the multimedia character videos. I think this is one of the activity that suits the kids and peoples that love to have a new experiences. As for kids, I think they will love it a lot."
These places are only a bonus for your special escapade. The true value lies within the bond and togetherness of a family. So no matter which place you choose, the only important thing is that you will certainly have a memorable time with your kids.
6. KINDYROO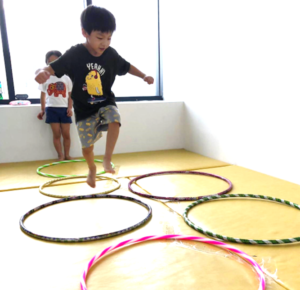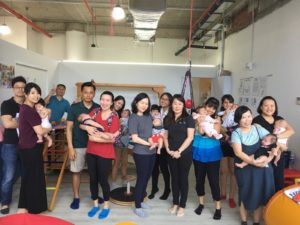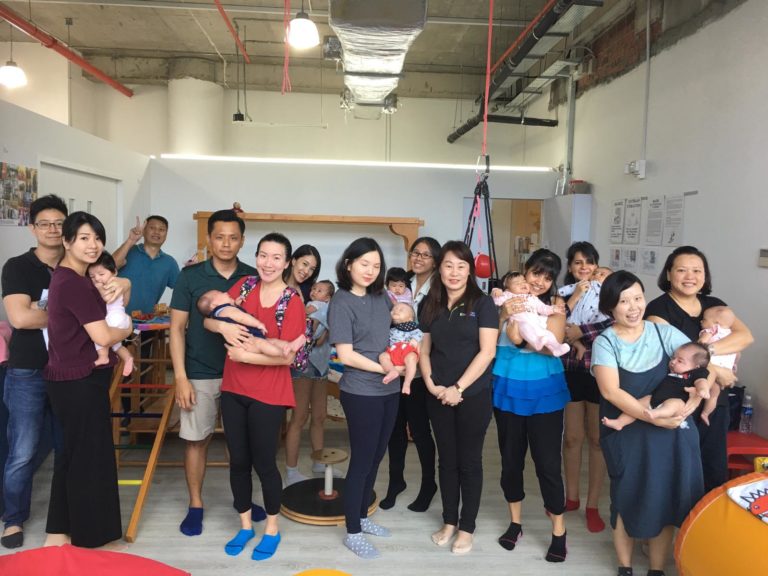 Instead of focusing on fun-only programs for infants and children, you will be glad to know that there is a program that is both fun, and more importantly, developmentally beneficial for your child!
KindyROO is a child development program from Australia that specialises in developing and integrating the 8 core areas of development for optimal learning.
Their fun sensory-movement activities are scientifically structured in accordance to age-appropriate needs of the brain and have helped children get ahead on their developmental milestones and be ahead in learning.
Every move, every sequence and every repetition designed are backed by scientific evidence for optimal development.
If you need a place with activities for toddlers in Singapore, this is the place to be. 
| | |
| --- | --- |
| BEST FOR | Enhancing the 8 core areas of development: Vestibular, Speech, Visual, Auditory, Gross Motor, Fine Motor, Social & Emotional, Cognitive |
| PRICING | Contact shop for pricing |
| WEBSITE | https://www.kindyroo.com.sg/ |
| ADDRESS | 18 Ah Hood Road #11-52 Hiap Hoe Building @ Zhongshan Singapore 329983 |
| CONTACT DETAILS | +65 6262 1017 │ [email protected]  |
| OPERATING HOURS | Wednesdays to Sundays, 9am to 6pm |
Service Highlights
Sensory activities
Movement activities
Conceptual Learning
Customer Reviews
Parents are praising KindyROO for its comprehensive and extensive program for child development. They recognized that learning should start at a young age. Thus, they employed different activities which makes the place appealing to parents:
 "Nowadays there are a lot of classes that offer interesting activities or learning methods for babies. They offer sensory play, music lessons, right brain training, genius babies in the making, you name it… So what makes Kindyroo different?
Kindyroo's activities are backed by neuroscience. It's fun, social and engaging, while helping Peyton achieve her developmental milestones at the same time." –Grace
7. Katapult Trampoline Park 

BEST FOR

Gravity-defying fun

PRICING

Pricing & Hours

WEBSITE

Katapult Trampoline Park

ADDRESS

81 Lorong Chencharu #01-11 Singapore 769198

CONTACT DETAILS

6754 5188

OPERATING HOURS
Monday: 12PM – 7PM
Tuesday – Friday: 10AM – 7PM
Saturday – Sunday, & PH: 10AM – 9PM
*Close at 9PM on Weekdays during School Holidays
If you're on the lookout for your next Singapore family activities, check out the Katapult Trampoline Park!
Katapult welcomes visitors of all ages and fitness levels. Go crazy in Katapult's dodgeball courts, trampolines, wall runs, airbags, and so much more. You can hang out at the on-site café if you're not into that, too.
In Katapult, everyone is sure to have fun. Really, the sky's the limit.
Service Highlights
No age limit

Card benefits and weekday promos

Open for birthday parties, corporate events, and school outings

On-site café
Customer Reviews
This customer loved how affordable and fun the Katapult Trampoline Park is:
The cheapest trampoline park I could find in Singapore when they run promotions. (Was $17 for 2 hrs) The marshals [sometimes] provide tips to enhance your trampoline experience. It was really fun, I look forward to visiting again.
Meanwhile, this customer might have found their new family sanctuary:
"It's good for kids and adults to come spend time here. I come here with my father and my brother to spend time with them. And there are dodgeball areas, a foam cube pit with a trampoline to jump in to it and a cafe upstairs! It should be recommended for people to come here."
8. Trickeye Museum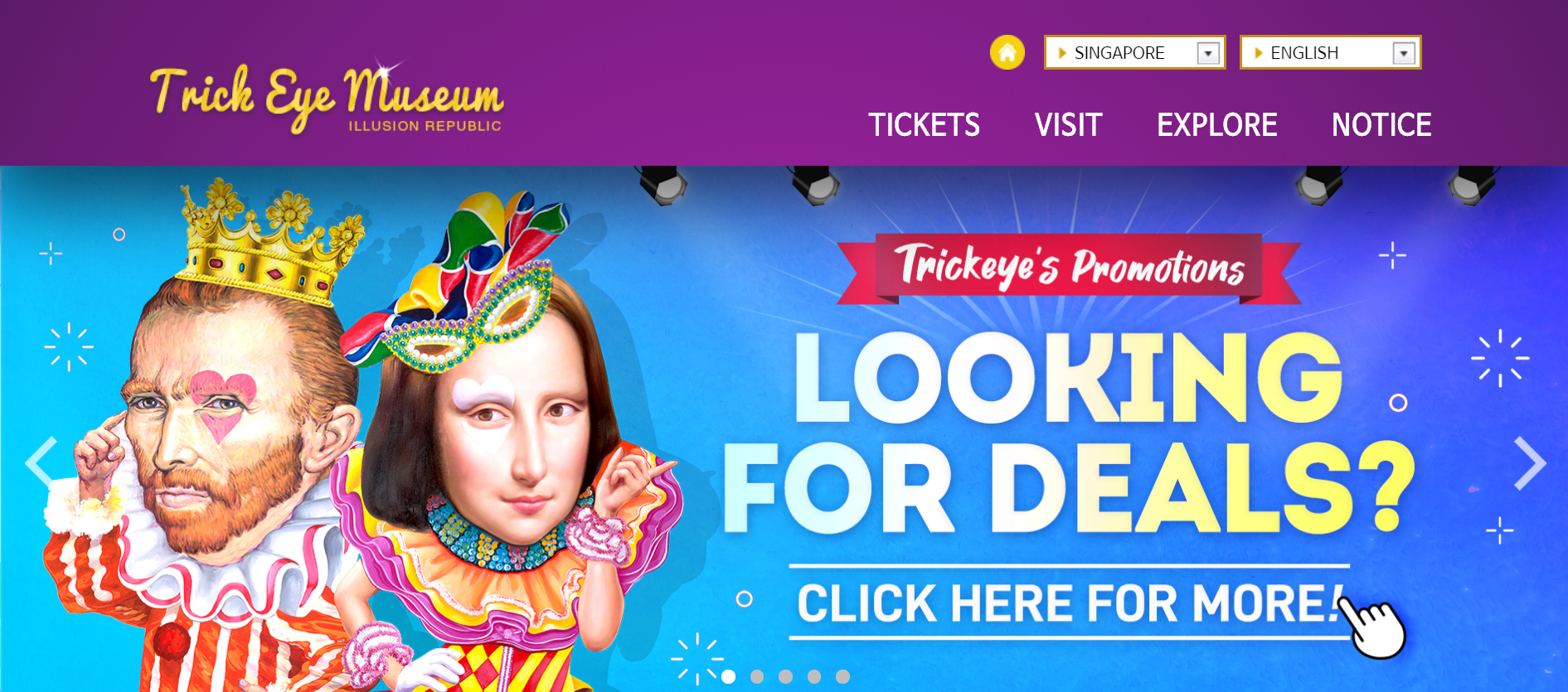 BEST FOR
Optical illusion paradise
PRICING
Ticket Prices
WEBSITE
Trickeye Museum
ADDRESS
Waterfront @ Resorts World Sentosa, 26 Sentosa Gateway, Singapore 098138
CONTACT DETAILS
TEL (+65) 6795 2370/ 2371
FAX (+65) 6795 2364All enquiries at [email protected]
All operation matters at [email protected]
Travel Agents/ Corporates/ School groups at [email protected]
OPERATING HOURS
Daily 10AM – 9PM (Last admission 8PM)
Want something that can be enjoyed by children and adult alike? Enter Trickeye Museum and challenge your perception with this unique museum's mind boggling illusions.
Trickeye is known all over the world for its uniqueness in terms of being a museum. Unlike the traditional sense, you won't ever find a "do not touch" sign in this establishment. In fact, you and many others are encouraged to do so! That's where the fun begins after all.
Service Highlights
World renowned 4D museum
Interactive displays
Open for all ages
9. Singapore Wake Park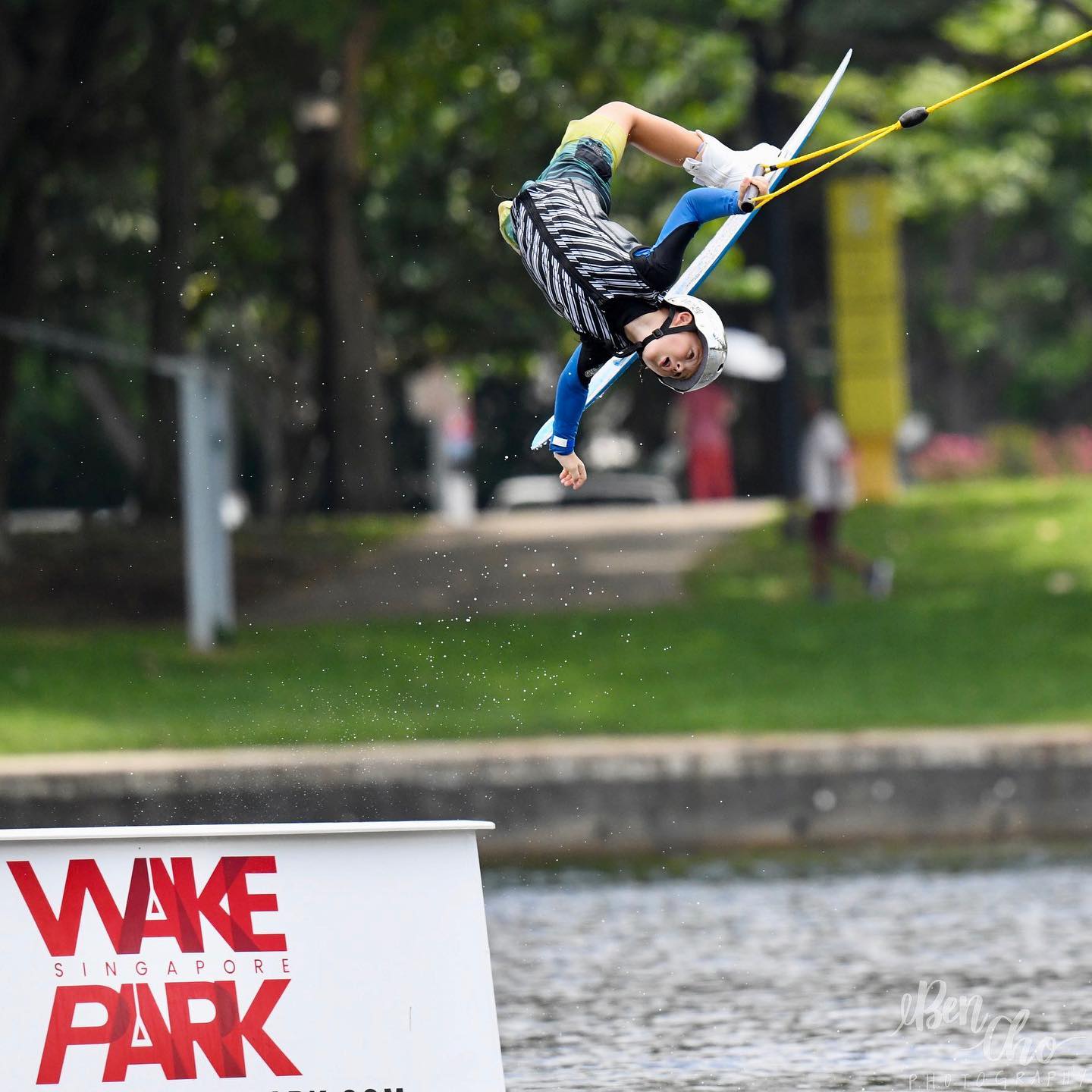 BEST FOR
Learning a new skill ; keeping fit
PRICING
Packages start at $50.00 SGD check full price list here.
WEBSITE
http://www.singaporewakepark.com/
ADDRESS
1206A ECP, Singapore 449891
CONTACT DETAILS
+65 6636 4266
OPERATING HOURS

Monday – Friday: 10:00 AM – 21:00 PM

Saturdays and Sundays: 09:00 AM – 21:00 PM
Whoever said that Singapore was all concrete jungle and indoor fun certainly hasn't been to Singapore Wake Park. This is Singapore's only cable-ski park that wakeboarding and water skiing in a safe space. 
Families no longer need to fly to Bali just for a taste of the outdoors and learn new water skills such as wakeboarding. 
They have day and night cable skiing which means that for those who love being on the water but don't like the sun's harsh rays can play at night. 
They also have programs available for beginners to advanced, so this is a great way for the family to bond, especially when the kids miss beach getaways. They also have wireless connectivity at the park, so that parents can have the option to work while spending quality time with their kids.
Pros
Fun way to learn a news skill
Your tweenagers will think you're cool.
Cons
Slightly more expensive than other kids activities
Customer Reviews
Singapore Wake Park has earned over 400 online reviews, most of them glowing exhilarating reports from people who spent the day. 
Here's one from Nil Kamal Nayak:
I went on Sunday afternoon (booked slot before 15 days) & it was Fun N Thrill experience. . I choose System A(Beginner level) for 50$ for 1 hour session which is full worthy. though i was scared initially, but after couple of try i learn the trick.

Have some energy drink before wakeboarding else you will feel tired after 15-20 minutes. the staffs are really nice.
10. Snow City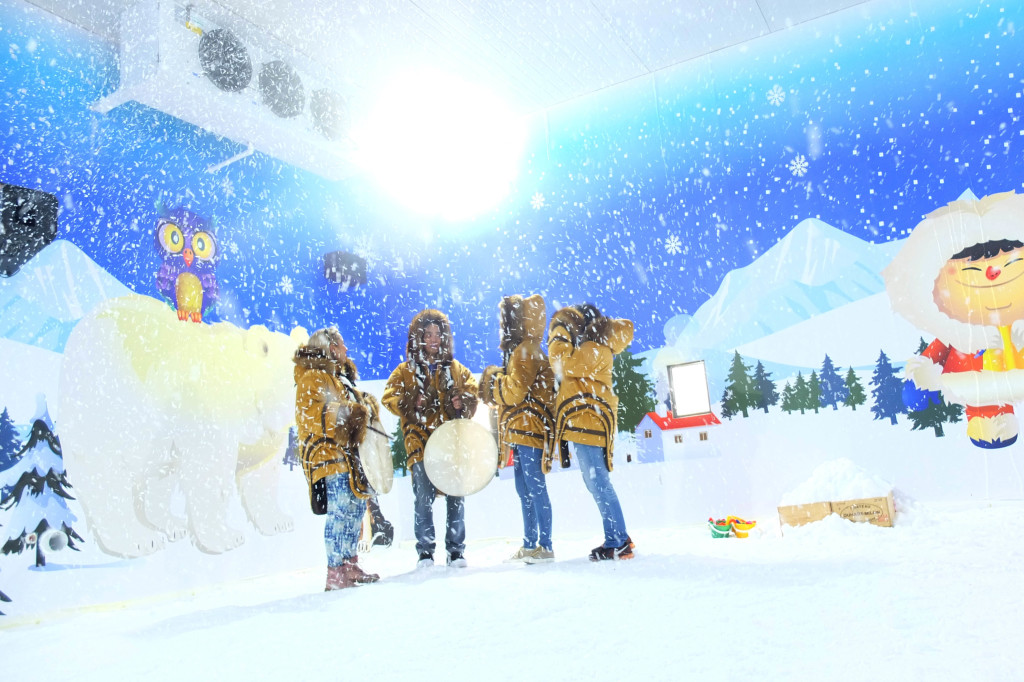 BEST FOR
Unique, indoor snow experience
RATES
rates begin at $17.00 SGD per child / hour
WEBSITE
http://www.snowcity.com.sg/
ADDRESS
21 Jurong Town Hall Rd, Singapore 609433
CONTACT DETAILS
+65 6560 2306
OPERATING HOURS

Monday – Friday : 10:00 AM – 17:00 PM

Saturdays and Sundays: 10:00 AM – 18:00 PM
For families who want a quick and easy fix of snow and cold weather, Snow City is the best indoor playground in Singapore for them. Snow City is Singapore's very first family-centric indoor snow playground centre. 
Popular with both tourists and locals, Snow City has three levels of indoor snow adventure and snow slopes 60-metres long for guests to enjoy sliding down to. 
There are life-sized snow sculptures and different zones and chambers that will delight children of all ages. There are two restaurants inside Snow City so families can easily spend an entire day there.
Pros
Parents can cool off while kids play
Great for kids of various age range
Cons
For toddlers and smaller children, supervised play is a must
Change of clothes may be needed.
Customer Reviews
Snow City has plenty of online reviews given that it was opened in the year 2000 and has been operating for over 20 years. 
Here's one from guest Zackery Zaihan:
A cold spot right smack in the middle of equatorial Singapore? This is the place to be to cool it off anytime of the year. Do book your time slot in view of post-Covid19 safety management procedures. Rental of gears are available from top to bottom.
11. Mint Museum of Toys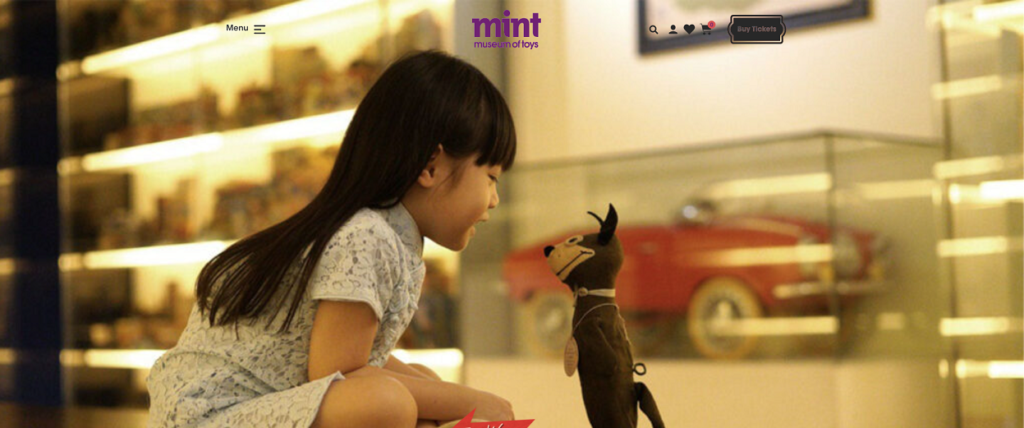 BEST FOR
Toy Collectors and Afficionados
RATES
Contact for more details
WEBSITE
https://www.emint.com/
ADDRESS
26 Seah Street Singapore 188382
CONTACT DETAILS
Phone: 8339-8966
Email: [email protected]
OPERATING HOURS
Tuesday to Sunday: 9:30am – 6:30pm
Last admission: 5:30pm
MINT Museum of Toys is a modern contemporary museum founded by Chang Yang Fa. It showcases a wide collection of vintage toys and specialty collectable items.
Some of the things you might see here include vintage posters, confectionery tin boxes, advertising signs and more. There are items that date back as far as the 1840's coming from over 40 different countries around the world.
There are four themed thematic levels in the museum namely Outerspace, Characters, Childhood Favourites and Collectables. On the rooftop lovel you'll find the enamel sign gallery which is also a bar that offers a fantastic view of the City Centre.
The museum attracts visitors from all walks of life such as foreign tourists, locals, students and those just looking to rediscover their childhood.
Mint Museum of Toys truly lives up to its name, giving visitors a 'Moment of Imagination and Nostalgia with Toys' (MINT).
Pros
Vast collection of toys and collectibles
Open to all ages
Wheelchair accessible
Cons
Customer Reviews
Here's what some people had to say about them:
Absolutely loved my experience here especially since the guided tour (only on Weds for now) which really helped to bring the toys alive – along with an amazing history lesson (with toys from WWII, Communist China, the Slave Trade in America), and much reminiscing of my childhood.

Was nice that there was a craft activity for my kids, maybe one more would be even better.

Would love to get regular updates so that I know when most of the exhibits have changed so that I can plan my next visit.
Images are taken from each company's official websites/social media.