The 7 Best Delivery Driver Jobs That You Can Do with Your Own Car in Singapore!
As there are a lot of business industries that extend their services to improve the employment rates, they have made it easier, more convenient, and more efficient for many people to have work an earn an income. One of these options is to do some delivery jobs using your own car. There are a lot of service provider companies that let personal or private licensed drivers run delivery errands in exchange for reasonable rates. If you are not quite familiar with this kind of setup, see this list of the best delivery and courier service companies in Singapore.
1. Grab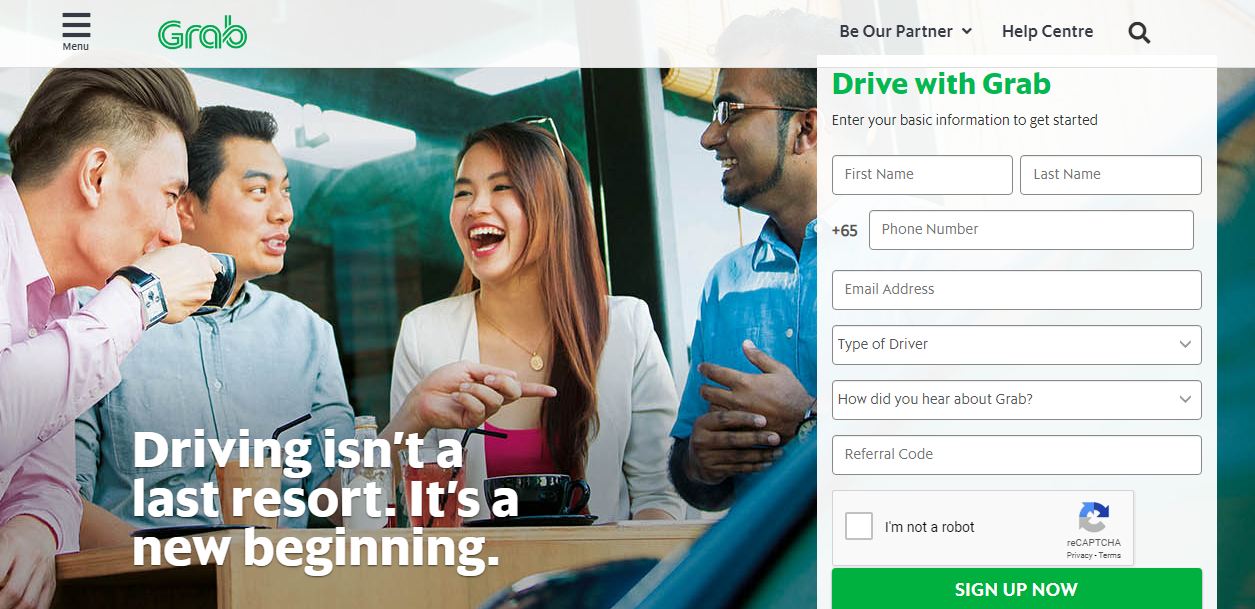 Grab belongs to the group of companies that are most well-known in both local and international scene. With this fact, you can be sure that applications and transactions are highly guaranteed. They ensure that you can use your own for your personal use as well as for a source of income. You only need to be 21 years old and above, Singaporean with valid PDVL / TDVL, at least 2 years of experience, and a 4-door car. The models are yet to be approved. It's quite simple, right? You may also visit their website to know more about applying and getting your registration to be officially activated.
Drivers who have worked for Grab felt very safe and secured with their terms and conditions, which is why they have received several positive feedbacks from them. You can try to work their services such as GrabFood and GrabExpress.
Service Highlights
Commercial insurance
Free activation
Training sessions
2. CarPal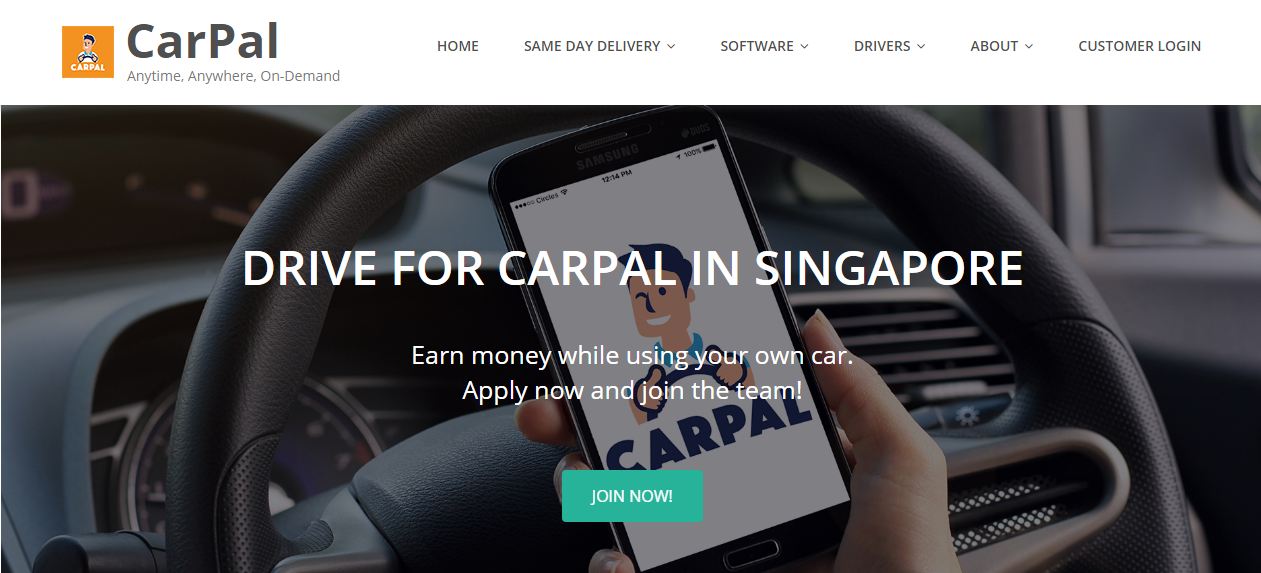 CarPal provides flexible options for their drivers in which they can drive within their means. Despite not having a fixed schedule or not being able to be called on-demand, they still pay you based on how much you've worked. Their deals are fair and square. Applying is also more convenient for you can register through their mobile app. Their requirements include at least 20 years old, valid license, and attendance to their training sessions. They accept car, motorbike, van or bicycle. Their delivery services have a wide range of scope so the items are not specified into one or two categories only.
CarPal is the perfect choice for those who are looking for a part-time job that they can do without having to juggle two hectic schedules at the same time.
Service Highlights
On-boarding training session
Flexible schedule
Reward programs
3. Lalamove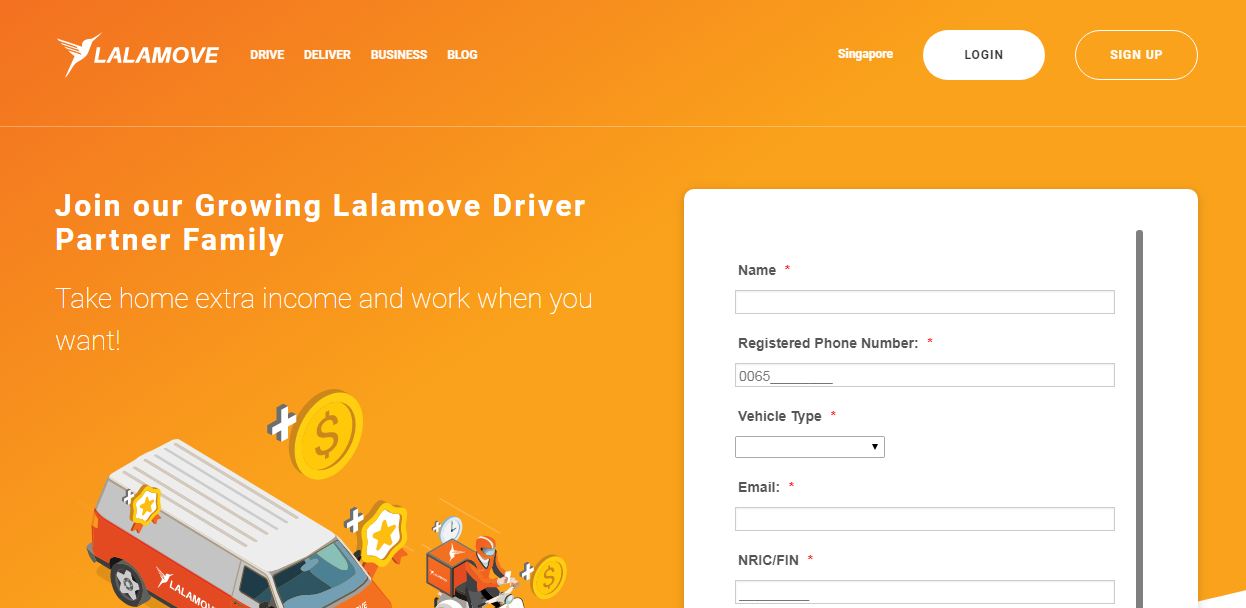 Lalamove also lets you drive without any strict work schedule so if you are saving up some money for an upcoming event or vacation, this would be the perfect choice for you. Compared to other companies, they probably have the most minimal requirements for you do not need to have a PDVL license or any additional license and there's also no personal training sessions. You only need to be a Singaporean citizen or a permanent resident, valid driving license and your own car or you can also rent one. Their approved vehicle types include bike, car, van, and lorry.
Service Highlights
Fuel discounts
Bonus incentives
Driver partner insurance
Customer Reviews
Lalamove has not only been serving their customers with fast and responsive service but they also honor and prioritize their drivers with numerous perks. Pan Yih Woei shared his own experience on the company's official website:
"I enjoy the simplicity, freedom and flexibility of the platform. I get to plan my jobs around my schedule and take charge of my earnings – the more jobs I do, the more I earn. There's a secret bonus too – I get to explore Singapore!"
4. Gogo Van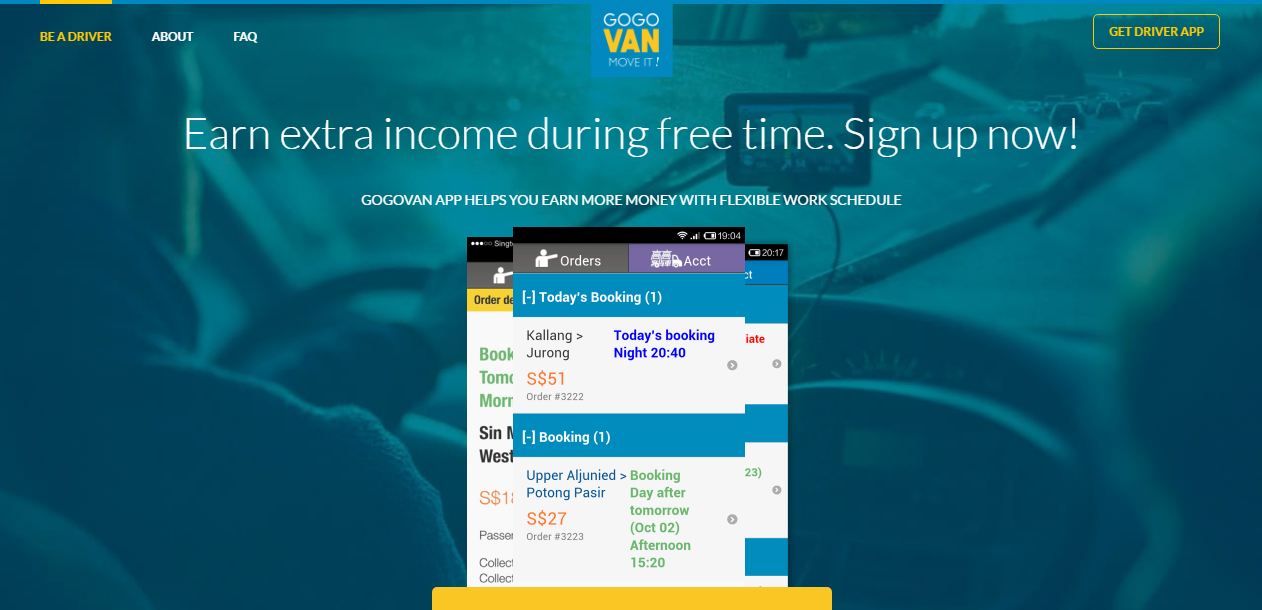 | | |
| --- | --- |
| BEST FOR | Direct Communication With The Customers |
| REGISTRATION | http://driver.gogovan.sg/ |
| WEBSITE | https://www.gogovan.sg/ |
| ADDRESS | 18 New Industrial Rd, #05-17, Singapore 536205 |
| CONTACT DETAILS | +65 6836 1110 |
| OPERATING HOURS | Office: Daily, 09:00am – 6:00pm |
With Gogo Van, you can have a personalized work experience for you get to choose which delivery job is the nearest to your location. The setup will certainly be more efficient and practical. You also have direct communication with the customers if ever you are not familiar with the route. They also make sure that the delivery job will suit your type of vehicle which includes car, van, bike, furniture vehicle, and truck. Just simply download and use their easy-to-navigate mobile app and register! Gogo Van has been truly providing a hassle-free alternative for those who want to have extra earnings and save up for future use.
Service Highlights
Flexible work schedule
Straightforward application process
5. FastFast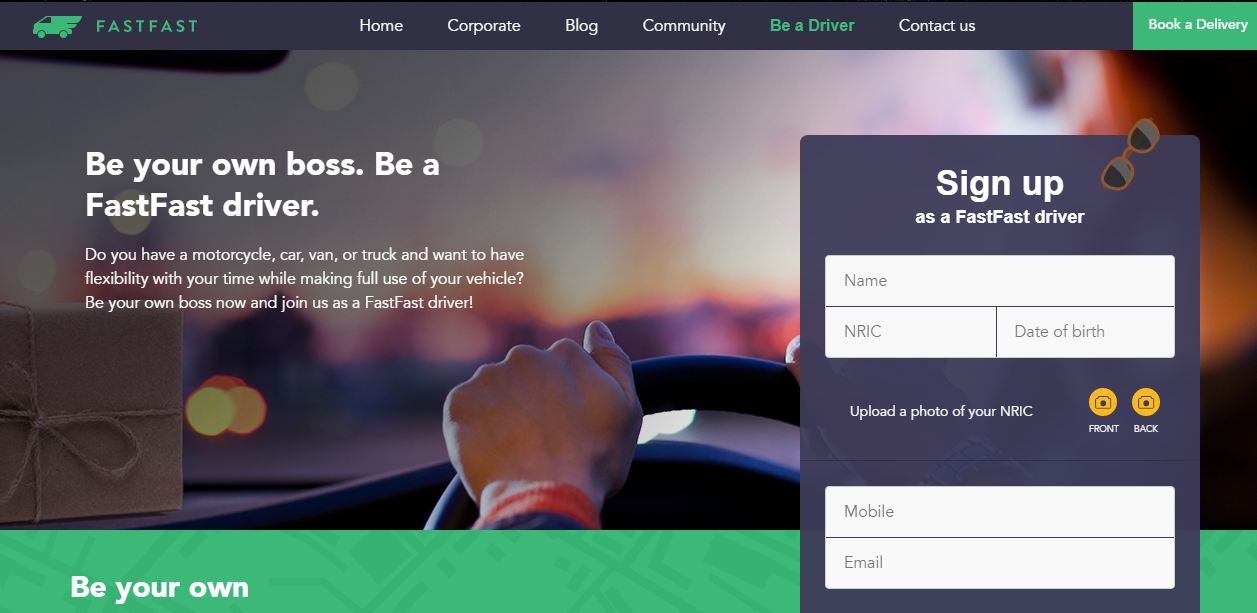 If you are planning to have a sideline job or just simply want to make your asset be more valuable, FastFast offers you the wisest way to make full use of your own car. For those who have car, van, motorcycle, or truck, you can visit their website and apply through their platform. The registration process will only need you to input basic identity information, NRIC, vehicle type, vehicle number, photo of driver's/rider's license and photo of the vehicle and the car plate. The vehicle must come with accident insurance and you also need to attend their training.
Service Highlights
Optimized deliveries
Flexible time
Training sessions
Customer Reviews
Being a renowned courier company, they have never failed to meet with the expectations and demands of their customers and drivers. A FastFast driver was very impressed by how beneficial and dynamic his work experience is as he wrote this feedback on the company's official website:
"Joining Fast Fast not only generates additional income for me, I also get to meet new people."
6. Food Panda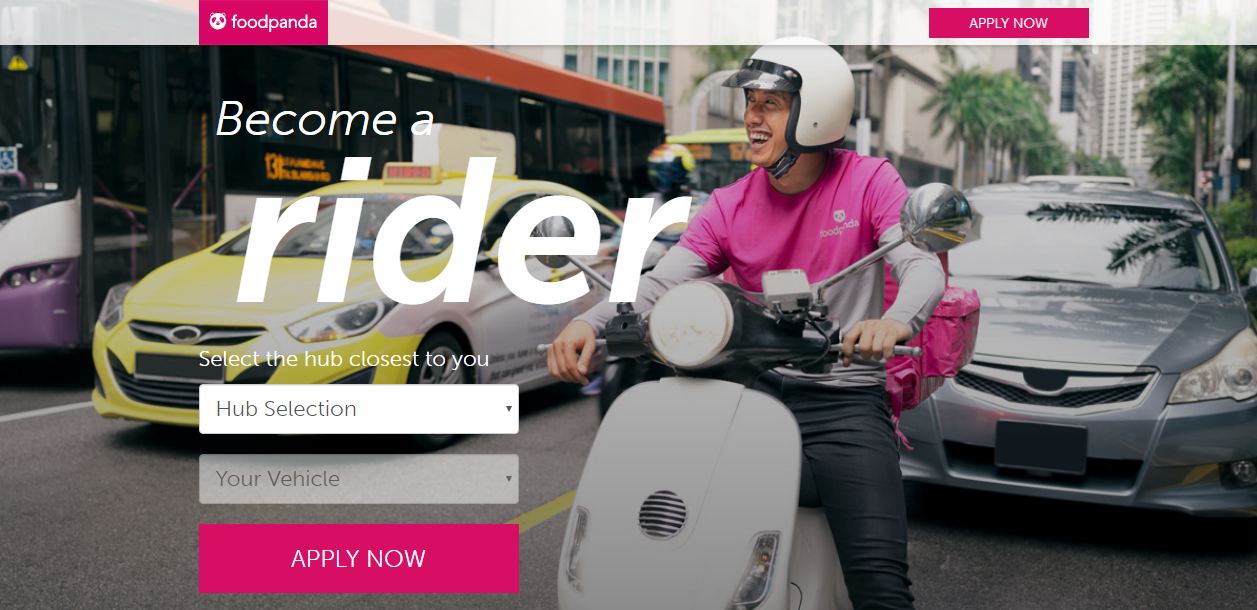 At Food Panda, you can not only earn extra income but you can also meet a lot of new people by communicating with your customers and being able to be close with your co-drives. For the requirements, you will be needing an iPhone 4 or higher versions or Android phone with 4.2 or newer versions. Since they are a food delivery company, they only accept motorbike, electric scooter (PMD), bicycle or walkers. You must also be a Singaporean or permanent resident and be 18 years old and above. They also provide high-quality equipment in case of emergency. They also have specific options for students and part-timers.
Service Highlights
Beneficial incentives
Transparent fee structure
Team events
7. PICKUPP

If you are looking for a company that can offer fast and efficient delivery services, Pickupp can be your best choice. It is best known for their 4-hour same-day delivery, next-day delivery, and 1-3 days door-to-door delivery services.
You also don't have to worry about the journey that your parcel is going through because you can always monitor the delivery status through their tracking page.
Try Pickupp now FOR FREE that comes with these perks: Up to $50 free delivery credits; Live demo of our technology-enabled dashboard; and 1-on-1 consultation with our logistics expert.
You can also get to register yourself to be one of the team. Just simply comply with their needed requirements, fill up a few forms, and you're good to go once approved. Here's some useful information from their website.
Service Highlights
Accessible online tracking system for your packages

Fast and reliable delivery service

Provides flexible schedules for part-time delivery drivers
Nowadays, there are a lot of innovative ways to earn extra income and if you make full use of these choices, you might end up having a great job opportunity.
Images are taken from each company's official websites/social media.