6 Best Places to Buy Refurbished iPhones in Singapore (2021)
With all the latest gadget trends, new features and higher specifications have never failed to excite us that is why we always tend to keep up with the recent releases. However, these upgrades cost us a lot and if we do think of it lightly, we might end up losing our savings. Especially with the Apple products that are mostly exclusive and in premium quality. So to help you use your budget wisely and have the pleasure of using an upgraded and a brand new smartphone, here are the best options to buy refurbished iPhones in Singapore!
1. Laptop Factory Outlet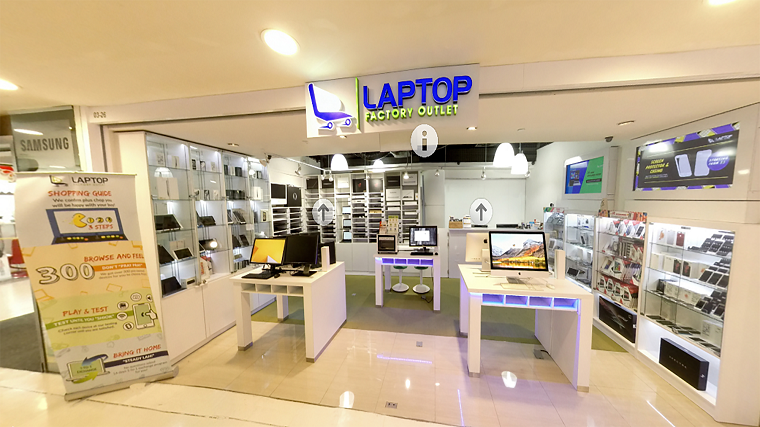 | | |
| --- | --- |
| BEST FOR  | Premium Brand Quality, Affordable Prices, Recycling E-Waste Services |
| PRICING | Rates |
| WEBSITE | https://www.laptopfactoryoutlet.com.sg/ |
| ADDRESS | 200 Victoria St, Bugis Junction #03-26 Singapore 188021 |
| CONTACT DETAILS | +65 6337 3500 / +65 9664 9555 |
| OPERATING HOURS | Daily, 11:00am – 8:00pm |
More than just a store for Apple refurbished iPhone, Laptop Factory Outlet ensures a certified refurbishing process for high-quality products with factory prices of up to 70% off. If you want to trade your current iPhone in exchange for a newer version, they have a 2-weeks exchange program. They have a wide range of refurbished iPhones in Singapore that are all in good condition and come with the original manufacturer's warranty. For those devices that can still be repaired, they also offer practical solutions for permanent fixation. If it is not really functional anymore but some parts of it are still working, you can hand it over to them to lessen the e-waste and put the manageable parts into good use.
Service Highlights
1-month warranty
Membership discounts and additional perks
Repair services
Customer Reviews
Aside from the quality of their products, Laptop Factory Outlet is also being recognized for their accommodating staff who provides excellent customer service. Halley Hoang shared this experience on Google Reviews:
"I live overseas and searched for your business before coming over to Singapore for a holiday. The information on the website is clear and straightforward so I came to the shop for a look. I was served by Sherlyn and she's very patient with my questions. First, I can test on the existing model. Then she explained what was happening to the one I'm going to buy. She also explained about the specs and benefits when I was comparing with other models. Finally she recommends me to sign up for membership for another 5% discount. Before leaving the store she runs through all checking for the new computer to make sure it runs properly. I'm very happy and impressed with her knowledge and enthusiasm for the product and the service. Hopefully I will come back next time for other electronic devices."
2. Moby Shop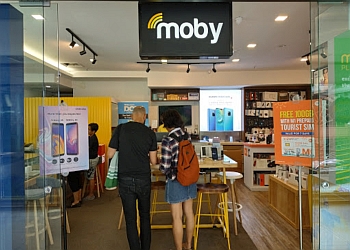 BEST FOR 
Wide-range of Smartphone Brands
PRICING
Rates
WEBSITE
https://mobyshop.com.sg/
ADDRESS
14 Scotts Road Far East Plaza #02-52 Singapore 228213
CONTACT DETAILS
(65) 6733 4110
OPERATING HOURS
Mon – Fri: 12pm – 9pm

 

Sun & Public Holidays: 12pm – 8pm
At Moby Shop, they offer a hassle-free trade-in process by having no exchange purchase, only cashouts, same-day payment, and the prices are certainly based on the given quotation. They have a broad range of brand selections and one of them is Apple in which they sell refurbished iPhones in Singapore. Their products are categorized into brand new which can come from the local and imported source and the preowned ones. Despite being used iPhones in Singapore, they are excellently refurbished that you might not even notice that they have been used before.
Service Highlights
Same day trade-in payment
No purchase required
Special promotions
Customer Reviews
Most customers of Moby Shop have fully trusted their services and been coming back for more apple sg refurbished products. A reviewer was impressed and wrote this feedback on Google Reviews:
"A one-stop shop for your mobile phone and accessories needs. They even offer extended warranty and the staff will provide you reasonable explanations of why the phone that they are selling is the best one for you and for your budget."
3. Mister Mobile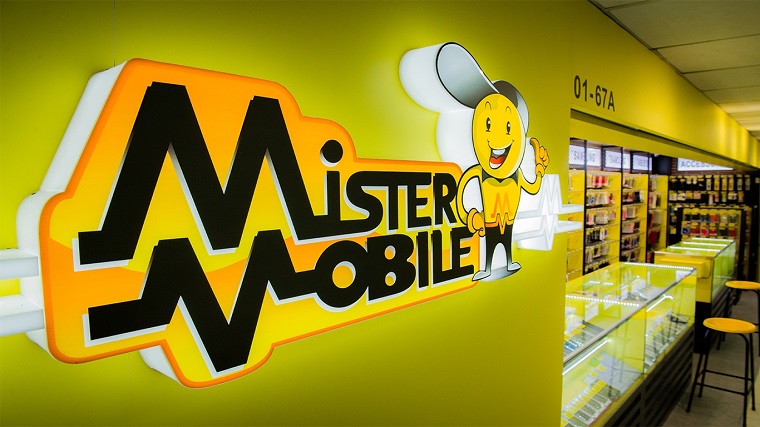 If you need a central and convenient location to buy a used iPhone in Singapore, you should look at Mister Mobile. 
Being located at the City Plaza, you can easily find their shop even with or without a car. The best thing about Mister Mobile is that they have installment plans for both brand new and used phones. They offer 6 months and 12 months. So aside from buying a premium branded phone at a cheaper price, you can also pay for it without having to cash out the whole amount. This is the perfect option for those who are on a tight budget. They provide fixed rates for their trade-in buy-back program so if you are a seller, it would be easier for you to determine if your device is worth selling or not.
Service Highlights
Repair shops
Installment plan
Fixed trade-in rates
Customer Reviews
Mister Mobile has received countless compliments because of their accessible and smooth transactions. A reviewer left this high-rated comment on Google Reviews
"Highly recommend this shop which has great customer service and great price! The staff are friendly and honest and will follow up after your repair to check if your phone has any issue. I will definitely visit Mister Mobile again!"
4. Why Mobile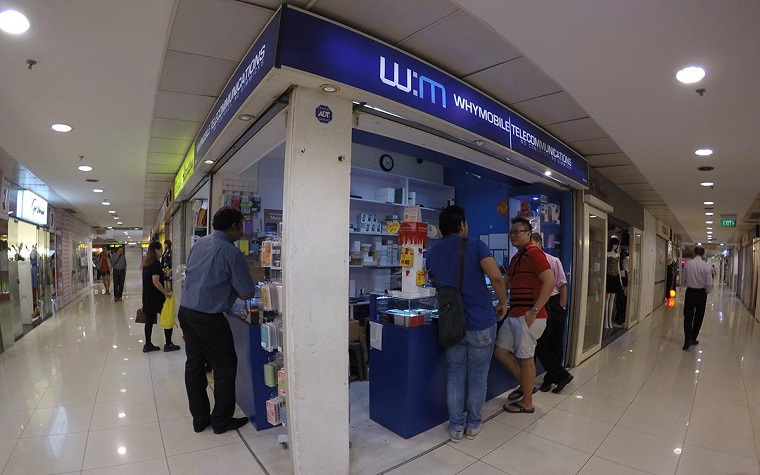 BEST FOR 
Export Sets of Gadgets
PRICING
Rates
WEBSITE
https://whymobile.com/home.php
ADDRESS
14 Scotts Road, #03-126, Far East Plaza, Singapore 228213
CONTACT DETAILS
+65 6733-6881

 

+65 9022-0472 (SMS)

OPERATING HOURS
Mondays to Saturdays: 12 noon to 9 pm

 

Sundays/Public Holidays: 12 noon to 8 pm

Open on most public holidays except for Chinese New Year (see our home page for announcements)
Apart from second hand iPhone in Singapore, Why Mobile offers a variety of brands and different product types. They also have both brand new and secondhand products. The range of their available iPhones is quite large so you have desirable selections to choose from. They also have export sets so if you are looking for a version that has not been yet released locally, you might want to visit their shop and check if they already have it on their options. Aside from Apple products, they have other brands such as Samsung, Oppo, LG, Google, and many more.
Service Highlights
Repair services
Sell or trade-in services
Export sets
Customer Reviews
Why Mobile also sells additional products including accessories and you can even have your broken phone be fixed. A reviewer was very much satisfied with the friendly staff service and gave this positive feedback on Google Reviews:
"Recommended shop to buy used phones. The lady is super patient and very helpful. My niece from oversea asked me to buy used iPhone 7 plus, and I got it with bargain price. However my niece does not like its look (a bit old) and battery capacity (80%), so I went again for exchange. The lady showed me everything she had, suggesting all options and at last, since my niece still doesn't like, she took my number and will find my criteria phone. After 2 days, she called me and I got the one I want, look like as a new, battery is up to 91%. I didn't need to top-up anything. Really thanks to the seller (lady)."
5. iStudio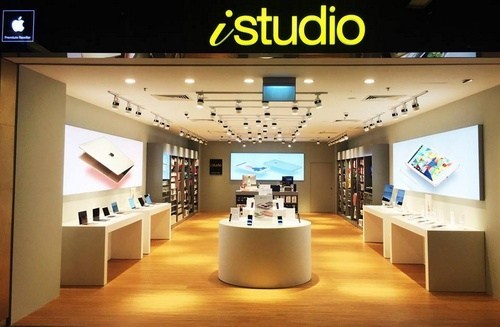 If you are looking for the latest models of apple refurbished in Singapore, iStudio should be in your consideration. 
Most iPhone products at iStudio are new releases so if you prefer the latest versions; you can find it at their shop. Their iPhone second hand Singapore selections might be quite limited compared to the other shops but you rest assured that all of them are in good quality because they are an Apple Premium Reseller. They also provide recommendations to know which iOS device is suitable for your needs. So whether you will use it for professional work, education, games, health and fitness, entertainment, and any purposes, they have everything you've been looking for. If you are a fan of Apple products, this can be a heavenly place for you because they have Mac, iPhone, iPad, Apple Watch, TV, iPod and a wide range of Apple accessories
Service Highlights
Special promotions
Workshops
Tips and tricks events
Customer Reviews
iStudio has gained the trust of many customers for they are certified Apple refurbished sg reseller and they have been earning positive reviews since then. Michael wrote this feedback on Google Reviews:
"I am from Indonesia and I always buy my Apple product in this store. I love their services and products! Appreciate for having such a great store and salesperson as well!"
6. Mobile Square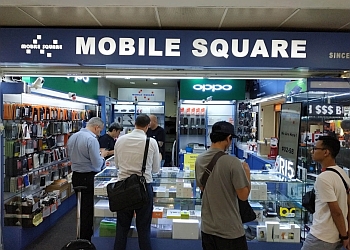 BEST FOR 
Postpaid Plans and Other Great Deals
PRICING
Rates
WEBSITE
https://mobilesquare.com.sg/
ADDRESS
14, Scotts Road #02-98, Far East Plaza Singapore 228213
CONTACT DETAILS
+65 67333 747
OPERATING HOURS
Mon-Sat : 11.00am to 8.30pm

 

Sun : 11am to 8pm

 

Public Holidays:

Refer to announcement.
Mobile Square goes beyond a mere iPhone refurbished Singapore shop due to their various offers that provide great deals for many customers. They have been serving their price quality services for over a decade, making them one of the longest-running shops in the country. They have partnered with redONE to provide economic and convenient offers. When it comes to their Apple products, they have AirPods, iPads, and iPhones. For their buyback phones, they only accept those that come with original accessories and are still in high value. So you can be certain that all of their refurbished Apple Singapore phones are in the best condition.
Service Highlights
Postpaid plans
Smartphone insurance
Affordable and transparent pricing
Customer Reviews
Mobile Square has been featured on many media outlets so you can truly rely on their products and services. A reviewer from Google Reviews wrote:
"Great customer service and of course the prices very competitive. Was attended by Alvin who was very patient and friendly too with all the questions I had. Wouldn't hesitate to go back again if I need a new phone!"
We certainly hope that our list has helped you in knowing where to get Apple Singapore refurbished products in Singapore.
Having functional and updated gadgets are good but if we tend to spend too much on these devices, we might need to take a step back and think things through. This way, we can avoid a tight budget and save up more. So know your alternative options and enjoy shopping!
Images are taken from each company's official websites/social media.