11 Top Rock Climbing and Bouldering Gyms in Singapore (2021)
Aside from going to the gym, there are a lot of other lifestyle activities that we can do to improve our health and this includes rock climbing ventures which are usually found as a part of gym exercise. This activity will not only help us to stay fit but it will also enhance our instincts and body reflexes. Once we have started rock climbing in Singapore, we must know which way to go to reach the top and our body must also be able to support our tactics. Hence, it is not only a matter of physical strength but it is also a battle of the mind. To enjoy adventurous and exciting exercises, take a look at these best bouldering facilities in Singapore!
1. Kinetics Climbing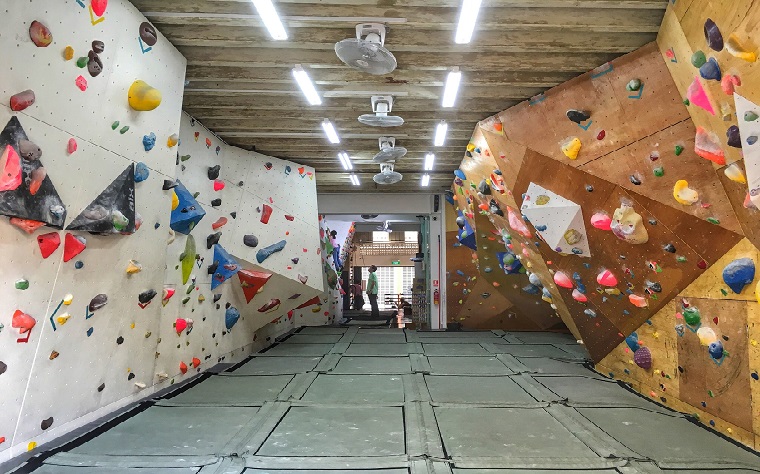 BEST FOR 
Basic and Advanced Climbing Classes
PRICING
Rates
WEBSITE
https://www.kineticsclimbing.com.sg/
ADDRESS
511 Serangoon Road, Singapore 218153
CONTACT DETAILS
+65 6291 5045
OPERATING HOURS
Monday – 4pm–10pm

 

Tuesday to Friday – 1pm–10pm

Saturday and Sunday – 10am–7pm
For those who love refreshing and challenging activities, Kinetics Climbing has all the levels that range from basic up to the most difficult phases. Not being stuck in the same routine over and over again is much more exciting, right? Each course is equipped with top-roped climbing walls for a safe and secured training environment. With their well-trained instructors, both beginners and professionals will be able to learn and improve their tactics. They will also help you determine which route is suitable for your current capability so you can be sure that you'll be able to handle the courses very well.
Service Highlights
One-stop gear shop for climbing equipment needs
Exclusive private coaching
Wall climbing Singapore consultancy including wall design and building services
Customer Reviews
Whether it is a family gathering, friends bonding or a corporate team building, most of Kinetic Climbing customers have been very satisfied with their guidance, facilities, and overall service. A reviewer from Google Reviews wrote this top-rated feedback:
"Took my SNCS Level 1 course here. Instructor Brandon was patient and very detail oriented. He ensured that we were confident and proficient before proceeding with the lesson plan."
2. Climb Central Singapore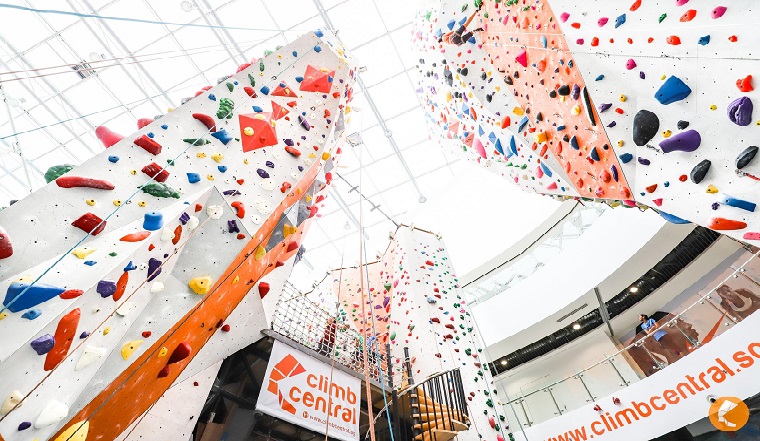 Climb Central is the perfect choice for those who just simply want to try rock climbing and bouldering in Singapore and cross off the activity to their bucket list! In just less than 30 minutes of briefing about the safety procedures, you can now climb your way up to the top and test your abilities. For those who want to learn the techniques properly, they have introductory classes to guide you. Their locations are quite accessible too so you can choose which one is closest to your residence.
Service Highlights
Kids club
Private events for birthday parties and corporate gatherings
Membership perks
Customer Reviews
Climb Central provides its customers with a comfortable ambiance that will help the first-timers to feel relaxed and calm during their sessions. They have a supportive community that will help you achieve more than what you expect. A customer has enjoyed the experience and left this 5-star rated review on Google Reviews:
"I've been here a number of times now with my brother and I thoroughly enjoy climbing here. There are several auto-belay routes and a large range of open routes, all graded. There is a separate wall for lead belays. I've been during the week and at the weekend and whilst it is certainly busier at the weekend, I've never had to wait too long to use a wall. They have also started limiting the number of people in during peak times. A great place to climb."
3. Boulder Movement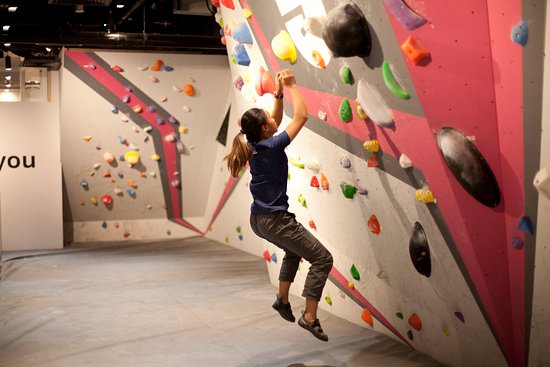 BEST FOR 
Traditional Climbing Classes With A Twist
PRICING
Rates
WEBSITE
https://www.boulderm.com/
ADDRESS
Downtown Gallery 6A Shenton Way #B1-03 Singapore 068815
CONTACT DETAILS
+65 6817 8340
OPERATING HOURS
Monday:

 

5:00pm – 10:00pm

 

Tuesday – Friday:

11:00am – 10:00pm

 

Saturday, Sunday and Public Holidays:

9:00am – 8:00pm
Boulder Movement encourages a lot of people to try indoor rock climbing in Singapore because it is a full-body workout that will certainly lessen your calorie intake in such a short period of time. The introductory climbing Singapore classes include safety instructions, and basic techniques and etiquettes. They also offer personal training if you want to take the activity into a whole new level and learn more new strategies. Great amenities such as showers and changing rooms, free WIFI, charging stations, and even a retail shop are all part of their services. Only 13 years old and above are allowed to register.
Service Highlights
Free introductory session upon purchase of entry
Affordable 2-week trial classes
Convenient amenities
Customer Reviews
Boulder Movement has captured the interests and loyalty of many customers because of their excellent facilities, instructors., and various options for rock climbing in Singapore. 
Licheng Wu is very much impressed with their accommodations and services which made her expressed these thoughts on Google Reviews:
"Great climbing gym with problems for beginners and experts alike! Bought a 2 week unlimited trial pass here and love the vibes of the place. Well-equipped with clean showers and changing rooms. Towels and soap are provided so it's pretty convenient.Also the staff here are really friendly and willing to help if you are facing any trouble!"
4. Boulder World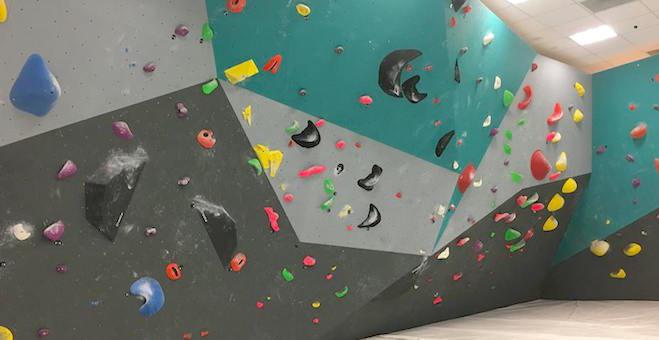 Image Source: Great New Places
BEST FOR 
Bouldering Classes for Adults and Kids
PRICING
Rates
WEBSITE
https://boulderworld.com/
ADDRESS
10 Eunos Road 8, SingPost Centre #01-205, BoulderWorld
CONTACT DETAILS
6917 7783
OPERATING HOURS
Weekdays: 10am-1o:30pm

 

Weekend/Public Holiday: 10am-9:00pm
Boulder World is being managed by a group of Singapore rock climbing professionals who are well-experienced when it comes to actual climbing surfaces. They have offered services for adults and kids. Flash League is the signature competition that they established to motivate the climbers with challenging routes and delightful rewards. Rates will be based on the kind of pass that you have which are all at reasonable prices.
Plenty of customers consider them to be the one of the best rock climbing classes in Singapore for the whole family. 
Service Highlights
Fitness and wellness program
Event planning and management
Customer Reviews
Boulder World is the ideal choice for the whole family for they have all the climbing levels for both adults and kids. You can rest assured that all the ropes and safety instructions are to be managed by professional indoor climbing Singapore instructors. A reviewer from Google Reviews wrote:
"Great place to start bouldering. They offer discover classes, beginner and advanced packs. Teachers are very helpful and the staff super nice. They also have free yoga classes"
5. Onsight Climbing Gym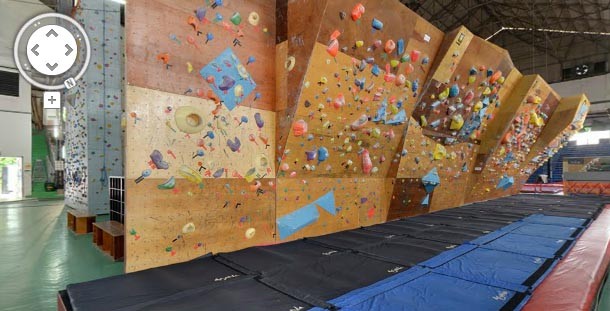 Image Source: The Smart Local
BEST FOR 
World-class Climbing Experience
PRICING
Rates
WEBSITE
https://onsight.com.sg/
ADDRESS
100 Guillemard Road, #01-14, Singapore 399718
CONTACT DETAILS
+65 6348 8272
OPERATING HOURS
Monday to Friday – 11am–10:30pm

 

Saturday to Sunday – 10am–9pm
Onsight Climbing Gym has the largest area for indoor rock climbing sg activities which features a wide range of courses that will hype up your instincts and strengthen your body and mind. Their sessions are for all ages so you can bring your children and let them see a unique type of exercise. Apart from services for individuals, they also offer programs for schools and corporations that want to celebrate the greatness of unity and teamwork.
Onsight Climbing has one of the best rock climbing Singapore prices for corporate and school teams so be sure to contact them!
Service Highlights
Sport climbing courses
Coaching 
and training services
Retail shop for equipment and apparel
Customer Reviews
With Onsight Climbing Gym's many different types of routes, customers keep on coming back for more. A reviewer gave this positive feedback on Google Reviews:
"Great gym with top rope and bouldering options. The place is spacious, clean and has many routes (which are changed pretty regularly) for climbers of all levels. Staff are friendly and really helpful too. One of my fav places to climb and I would definitely recommend it to anyone interested in climbing :)"
6. Let 'em Play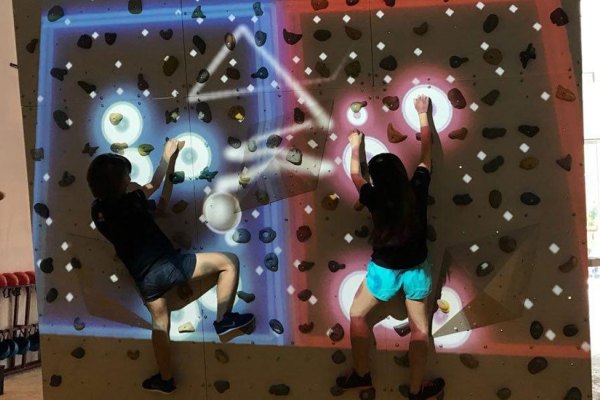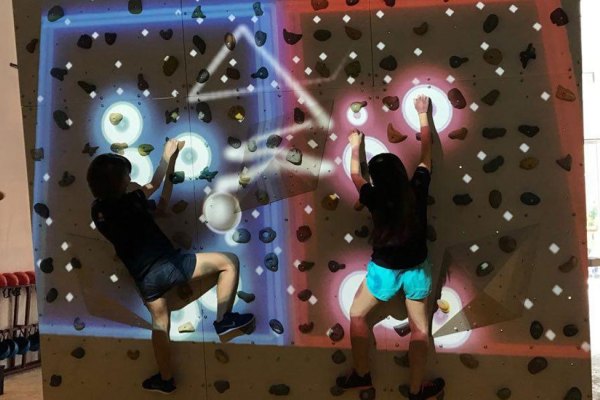 BEST FOR 
Augmented Reality Climbing / Bouldering (AR Climbing)
PRICING
Rates
WEBSITE
https://letemplay.com.sg/
ADDRESS
18 Boon Lay Way, #01-100, Spore 609966. (Behind Tradehub 21 McDonald's)
CONTACT DETAILS
(65) 6266 6125
OPERATING HOURS
Mon ~ Fri: 10:00 am to 6:00 pm

 

* Last entry timing : 5:00 pm

(For visits 6pm to 9pm on weekdays, refer to "Contact Us".)

 

Sat & Sun: 8:30 am to 8:30 pm

* Last entry timing : 7:30 pm
Let 'em Play focuses on bringing excitement for the children to enjoy various activities and let them experience a unique way of having fun even with indoor facilities. They have a total of five fun rock climbing walls that will keep the kids entertained as they climb all the way through the top. The main highlight of their activities is the Augmented Reality Climbing / Bouldering (AR Climbing) which is said to be the first gaming platform for climbing walls. It is an interactive game that combines graphics and body tracking to provide unique and amusing rock climbing lessons in Singapore.
Service Highlights
Holiday camps for kids
Robotics classes
Orienteering games
Customer Reviews
Have been awarded as Best of Best Family-Friendly Products and Services for their activities and programs that make the bond of a family stronger and healthier. A reviewer complimented the thoughtful and attentive staff and wrote this on Google Reviews:
"I was there 28 Dec, 2pm to 3.30 pm with my 2 girls. I wanted to give kudos to the 2 staff there! Because there was a big group of kiddos that came in and required a lot of attention everywhere! And the two guys were climbing and jumping up/down making sure every kid was safe. They were super patient too! Great experience."
7. OYEYO Boulder Home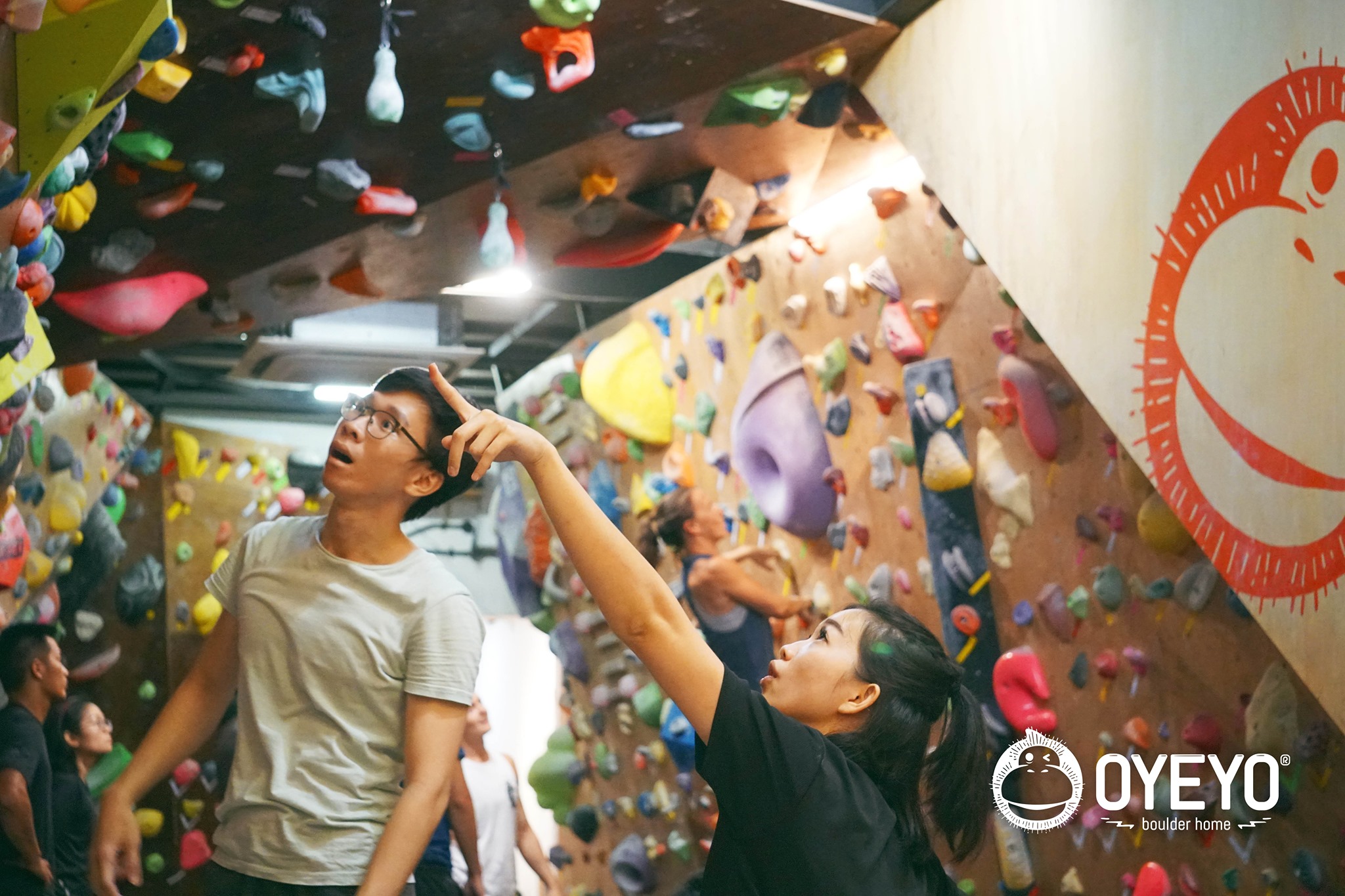 BEST FOR
Quiet and challenging climbs
PRICING
Climbing passes start from SGD $ 16.00
WEBSITE
oyeyoboulderhome.com
ADDRESS
148 Mackenzie Rd, Singapore 228724
CONTACT DETAILS

+65 6996 2095

OPERATING HOURS

Monday – Friday : 10:00 AM – 22:00 PM

Saturdays and Sundays: 10:00 AM – 20:00 PM
If you want your indoor climbing experience to be away from the usual hustle and bustle of Singapore's urbanity, you should consider paying OYEYO a visit. 
Though not as huge as the other rock climbing centres, OYEYO has built a passionate and helpful community of climbers of all levels that help each other. 
It's a compact climbing gym that has 38 obstacles, routes and walls to challenge every climb. They are also one of the most affordable and cheap rock climbing Singapore gyms in the island, making it a good choice for students. 
Pros
They have a supportive community of climbers
Affordable rates
Cons
Smaller than other indoor rock climbing gyms
Customer Reviews
For a small and compact gym, OYEYO has a lot of glowing reviews from happy rock climbing customers. Many praise them for their great atmosphere, community and customer service. 
Here's a review by Simon Velden:
Nice and friendly staff. Got an introduction for the grading (which is quite complicated). The gym has lockers, bathroom and a training area, so basically all you need. The routes are quite hard though, beginners should be aware but for intermediate and strong climbers there are tons of problems to solve.
8. Ground Up Climbing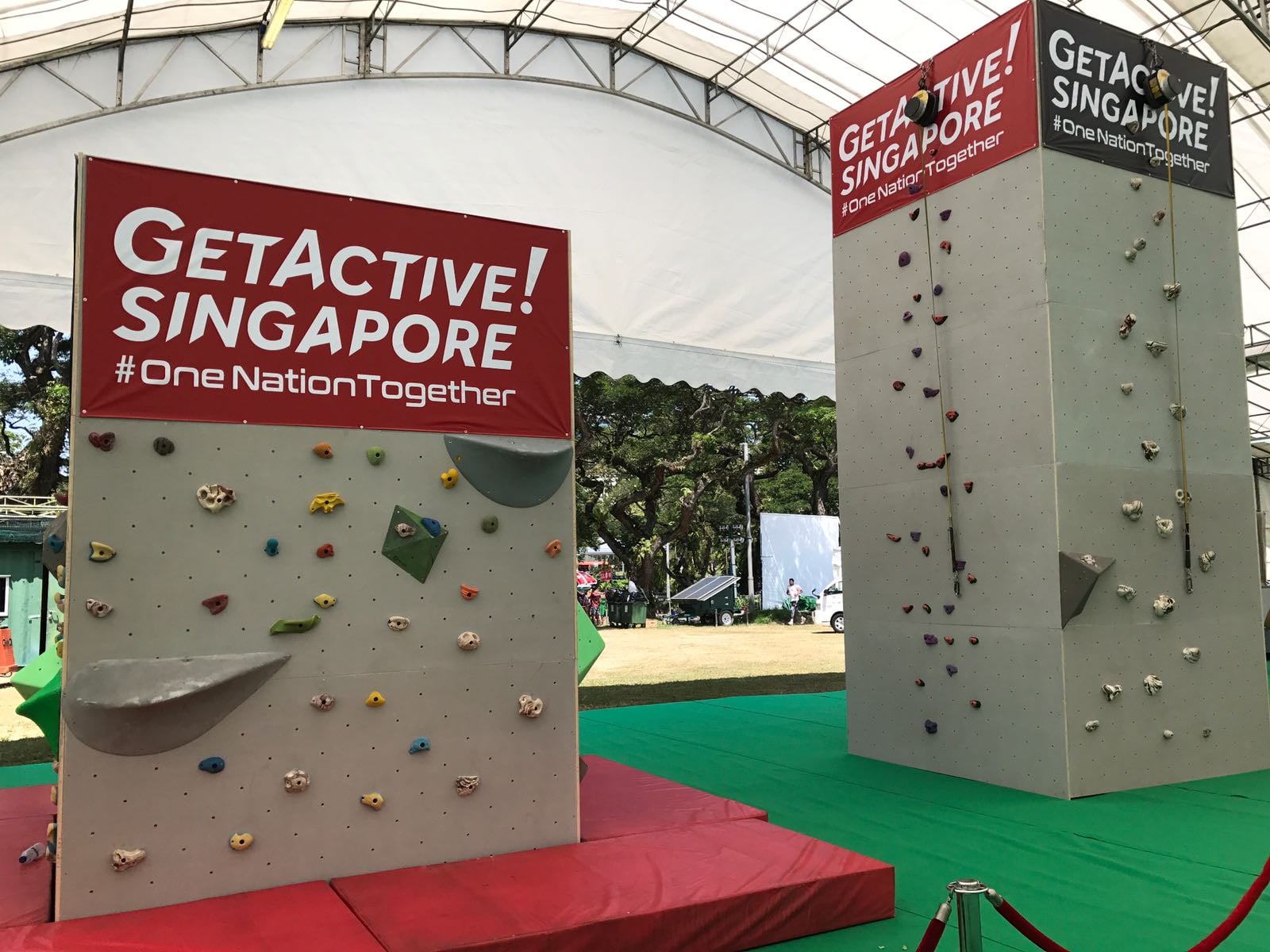 BEST FOR
Group climbing sessions and advanced climbers
PRICING
Rates start at $ SGD 17.00 (promo)
WEBSITE
https://www.groundupsg.com/
ADDRESS
60 Tessensohn Road [email protected] (Level 2, Singapore 217664
CONTACT DETAILS

+65 6292 7701

OPERATING HOURS

Mondays : 17:00 – 23:00 PM

Tuesday – Thursday: 12:00 PM – 23:00 PM

Fridays: 12:00 PM – 22:30 PM

Saturdays and Sundays: 10:00 AM – 21:00 PM
If you feel like spending the weekend rock climbing with a bunch of friends, Ground Up Climbing is one of the best places you can do it. 
Ground Up Climbing is known for their Fun Climb Programme which is a guided climbing session fit for groups of different climbing levels and mixed-age groups. This is great for a unique and adventurous way to spend a birthday, or a team building activity. 
They also have 2 levels of bouldering walls for those who want to advance their rope-free climbing skills. Advanced climbers can also make use of their outdoor lead climbing area, which is made to train climbers to climb in different conditions overseas. 
Pros
Complete facilities
Great for mixed levels and ages
Cons
Opening hours are hard to remember
Customer Reviews
Ground Up has garnered quite a number of online reviews from their customers. Here's an anonymous review from a customer:
Very beginner friendly as well as routes for those who are more experienced. There were friendly employees around to help us navigate. Really enjoyable session and pleasant atmosphere.
9.) Clip N' Climb HomeTeamNS Singapore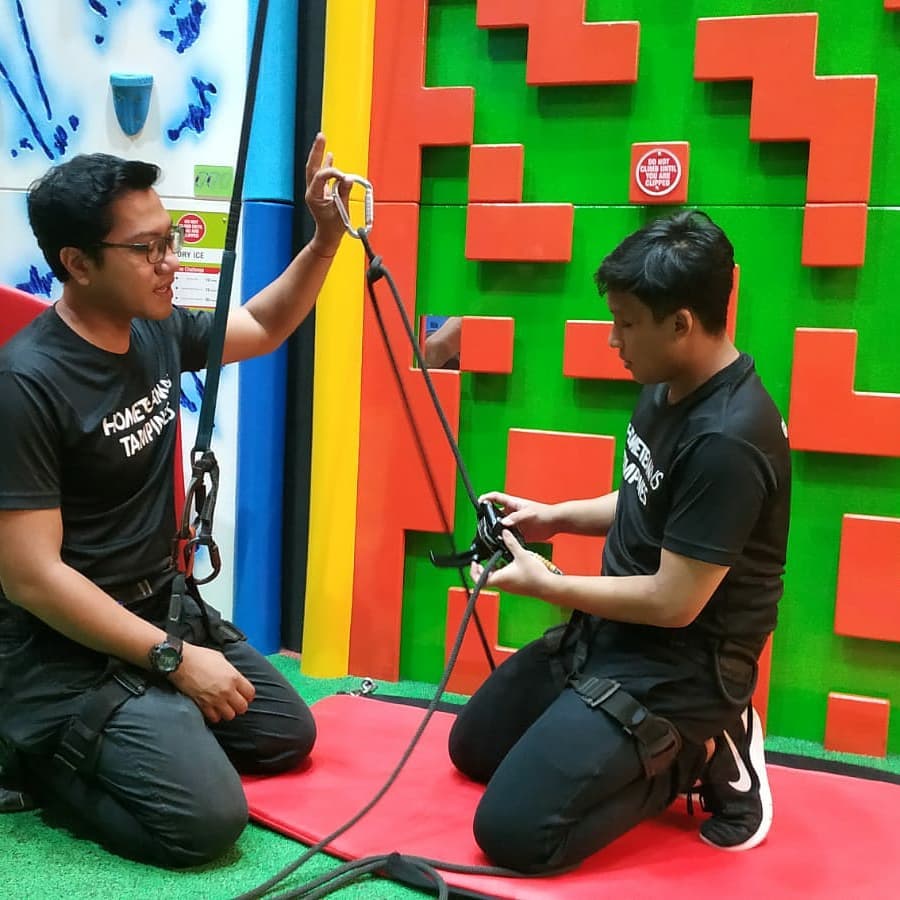 BEST FOR
Beginners / Kids / Making Climbing fun
PRICING
Passes start from SGD $15.00
WEBSITE
https://www.hometeamns.sg/tampines/
ADDRESS
1 Tampines Walk, #03-03, Singapore 528523
CONTACT DETAILS

+65 6705 9410

OPERATING HOURS

Monday – Thursday: 12:00 PM – 21:00 PM

Fridays, Saturday-Sunday and Public Holidays: 10:00 AM – 21:00 PM

 
If you are interested in rock climbing but prefer that it would be more, well, fun and quirky, Clip N'Climb Singapore is the answer to that. Clip N'Climb has created a whole new level of indoor climbing fun, creating tetris-looking obstacles instead of the usual boulders.
Colourful Lego-like blocks build up the climbing walls of Clip N'Climb. It surely makes climbing seem more fun for both adults and kids alike. 
Because of their unusual and fun take on rock climbing, Clip N'Climb is famous for kids' birthday parties and even school trips. Meanwhile, those young at heart can also scale their higher and colourful walls, possibly living out their ultimate gamer scenario. 
Pros
Fun way to start climbing
Fun for everyone
Cons
May not be for advanced climbers
Customer Reviews
Clip N'Climb has gathered over a couple of hundred reviews online. Many rave about how fun the place is. This one is a recent review by Aisyah Rani:

Excellent experience. Staff member, Hanafee was really attentive and friendly. Instructions were clear. He introduced to us the fun elements. Ease online booking. Glad that we booked on a weekday as there were not much people. Definitely would recommend this place. 

 
10. The Rock School Singapore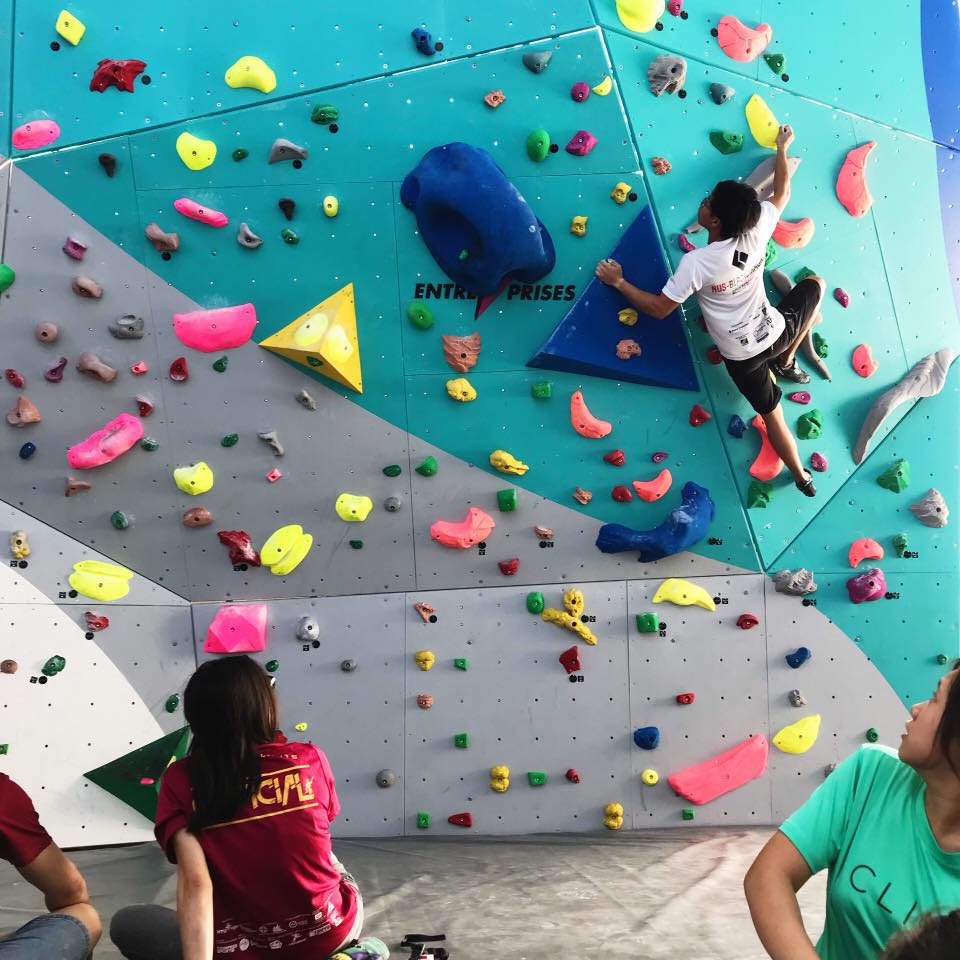 BEST FOR
Kids and the young at heart
PRICING
Passes start from SGD $19.00
WEBSITE
http://therockschool.sg/
ADDRESS

Tampines Hub: 1 Tampines Walk, #02-81, Singapore 528523

Bedok Community Centre: 850 New Upper Changi Rd, Singapore 467352

CONTACT DETAILS

Tampines:

+65 9635 3488

Bedok:

+65 8923 3831

OPERATING HOURS

Monday – Friday : 11:00AM – 22:00 PM / Saturday-Sunday: 09:00 AM – 21:00 PM

Thursday-Friday: 13:00 PM – 19:00 PM  / Saturday- Sunday: 10:00 AM -19:00 PM / Closed Monday – Wednesday
If there was ever an indoor rock climbing academy for young ones, The Rock School Singapore would be it. With two branches in the island, (one in Tampines and one in Bedok), The Rock School runs programmes, schools and camps for kids of all ages for indoor rock climbing. 
They have great packages for school groups and parties, and also have excellent holiday programmes so kids are busy and active when not in school.
The Rock School also has private coaching available as well as ClimbFit program for adults.
Pros
Great for kids and groups
Excellent programmes for learning rock climbing
Cons
Their Bedok branch is open 4 days a week only
Customer Reviews
The Rock School has plenty of reviews online, with many customers singing praises about their coaching styles. 
Here's a review from Adalyn Yeap:
It is easy to book a class directly or through ClassPass. The gym was filled with kids when we went on a weekend. It was much quieter on a Friday evening. There seemed to be more people doing bouldering as compared to rock climbing. The coaches were young and friendly. The Climbing Exploration class is more of a session where you can climb freely with the coach as belayer. If you wish to pick up new techniques, go for the ClimbFIT Fundamental.
11. Upwall Climbing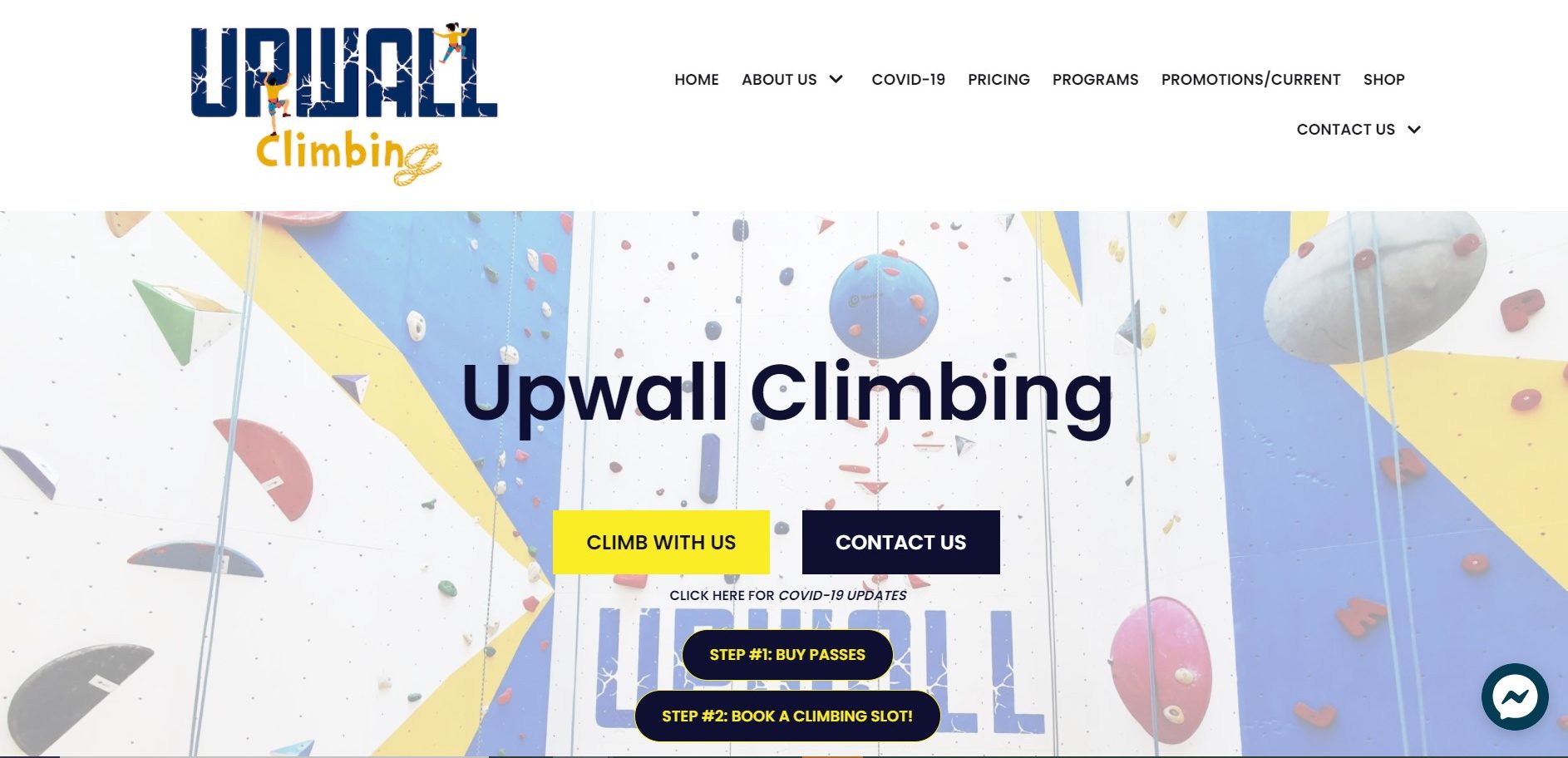 Next on the list is Upwall Climbing. They're one of the facilities open for both beginners and experts of all ages in wall climbing.
Located on the East side of Singapore, Upwall Climbing is accessible to customers and has a huge place that houses different activity difficulty levels.
Another thing that makes them a place to go for is that they're open daily, even on public holidays! It's perfect even for working people as they can enjoy it when they're free, to go with their family, friends, or even alone.
Book a spot for their climbing activities before they get full!
If you are wondering if you are capable to try rock climbing activities or n
Service Highlights
Offers daily and multipasses
Great for beginners and experts at rock climbing
Different gears available
Customer Reviews
Read some of the reviews for Upwall Climbing:
"Always a great time at Upwall! Started climbing here and took my SNCS L1 last week, instructors and staff are super friendly! Definitely will recommend to climbers of any level~"


"Beautiful skylight, bright walls, fun and challenging climbing routes here! Auto belay lanes are good if you are climbing alone:)"


"My son and I took a Level 1 Climbing Certification Class at Upwall. The class was well run, and Felicia and Fang were excellent instructors. They made sure all the students were following instructions and that everyone was safely practicing climbing and belaying.

The gym was very well maintained and in a bright open area. The routes were appropriate for my son and I who are beginner climbers.

I will be going back to Upwall again."
12. b8A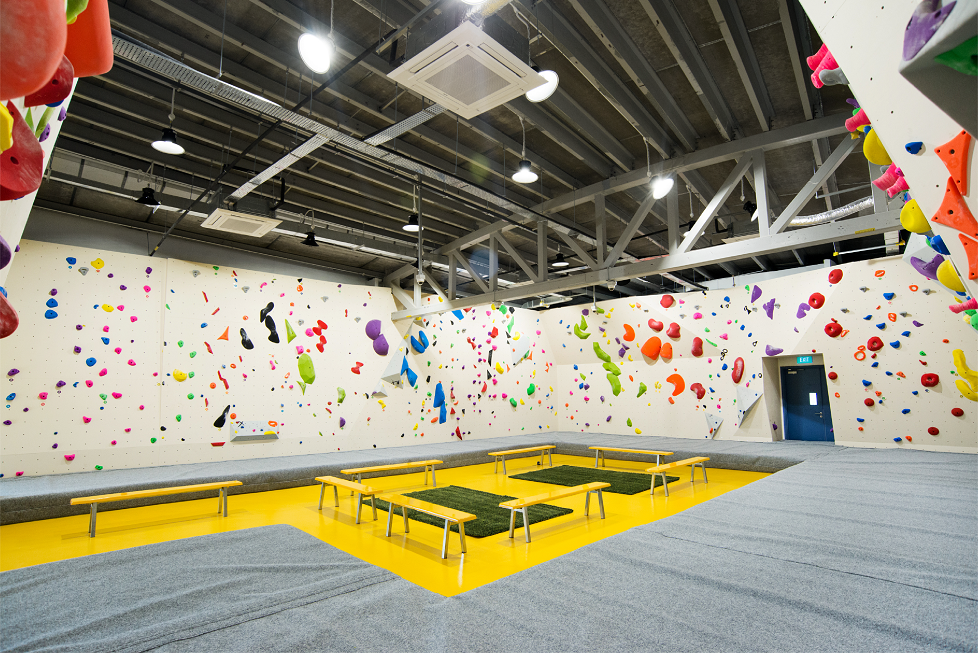 b8A's concept is to essentially create a bouldering gym that could also be a place to just hang out, regardless of your rock climbing skill level. One of their main goals is to make the sport and pastime accessible to everybody. 
You can purchase a single entry pass if you just want to try out the walls, but you may also book a shareable multiple-entry pass that is valid from 6 to 12 months. They also have a special U-21 pass for those that are under 21 years old. 
If you're an airline pilot, a member of the cabin crew, or an air traffic controller, you'll be pleased to know that you get special pass of your own. Although it's only via walk-in, you get a generous discount if you want to try out rock climbing.
Service Highlights
Ideal for any skill level
Offers multi-passes and shareable credits
Offers discounts to aircrew members
If you are wondering if you are capable to try rock climbing activities or not, there's no need to worry for all bouldering facilities have routes for both beginners and professionals. Have a glimpse at the locations, rates, and services of the gyms listed above and choose your best option!
Images are taken from each company's official websites/social media.