10 Best Baby Monitors in Singapore For 24/7 Guidance
Being a parent means you have to keep an eye on your baby at all times. For parents who can't stay in the nursery every second, though, the best baby monitors in Singapore provide a solution.
The thing is, not all baby monitors are made equal. Some come with night vision, some have multiple recording options, some have better cameras than others, and so on.
And with the sheer number of options, it can be overwhelming to sift through them. Luckily for you, we've taken on the job! Let us take you through our list of the best baby monitors in Singapore.
1. Philips Avent Digital Video Baby Monitor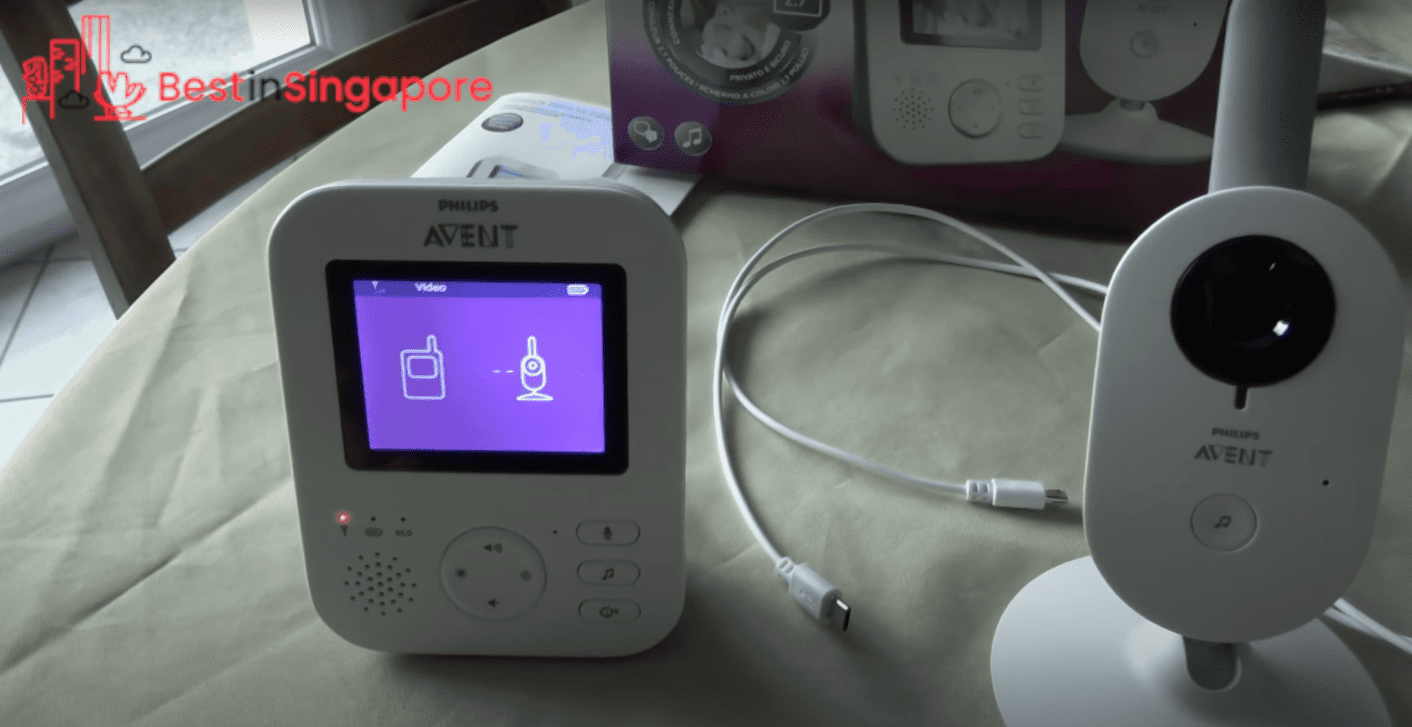 Price: $279.00
Philips Avent Digital Video Baby Monitor is one of the brand's most well-known products. It's regarded as one of the best baby monitors in Singapore because its features overtake those of most competitors.
It has infra-red night vision that will let you monitor your baby for the whole day and night, for example. The screen also automatically activates when there's a noise in your baby's room.
It also features a high-resolution digital-quality colour screen, so you can watch your baby with a clearer and more vivid picture.
For the connection, it has private and automatic channel selection. That ensures a secure connection between your baby and you.
The portable unit for the parent is cordless too, so you can go around your place and do some household chores without ever losing sight of your baby. It can also help your baby sleep soundly with its built-in soothing lullabies and night light.
All of these qualities will surely help you do your duties and responsibilities as a parent. It's the reason so many parents list it as their choice for the best baby monitor in Singapore.
Highlights
Round-the-clock monitoring
High-resolution screen
Customer Reviews
Philips Avent Digital Video Baby Monitor has provided many parents a more convenient way to manage parenthood with a modern lifestyle. The majority of reviews for it are very positive.
Some users have requested a slightly bigger screen, however. Despite that, customers are still very much satisfied with the overall product.
A reviewer from Lazada wrote:
"Free you from watching over the baby all the time. Carry the parent unit and go about doing your own work while the baby is sleeping or playing on his/her own. You will find that you suddenly have much more time on your hands! Product is solidly built and with pretty good quality audio and visual. If the size of the screen can be increased slightly without increasing the unit size will be fantastic."
2. iBaby Care M7
Price: $278.14
iBaby Care M7 offers a total baby care system that monitors your baby 24/7 with their smart features like Wi-Fi enabled baby monitor and built-in moonlight soother. Not only will your child be safe, but this baby monitor will also help ease them into the important early education they'll need.
The soothing lullabies and stunning moon and star projections are the smart features at play when it comes to promoting early education and it doesn't hurt that these will also help in calming your child thus promoting better sleep.
This baby monitor also comes with a free wall mount and Night vision LED lights.
Highlights
1080 high definition video

Moonlight display and lullabies

High quality built-in 2-way audio
Customer Reviews
The 1080 high definition video and high-quality audio together with the moonlight display are what customers are really liking about this product. The smart features, as well as the ridiculously easy setup required for this baby monitor, makes this an easy purchase for parents in Singapore.
3. VAVA Baby Monitor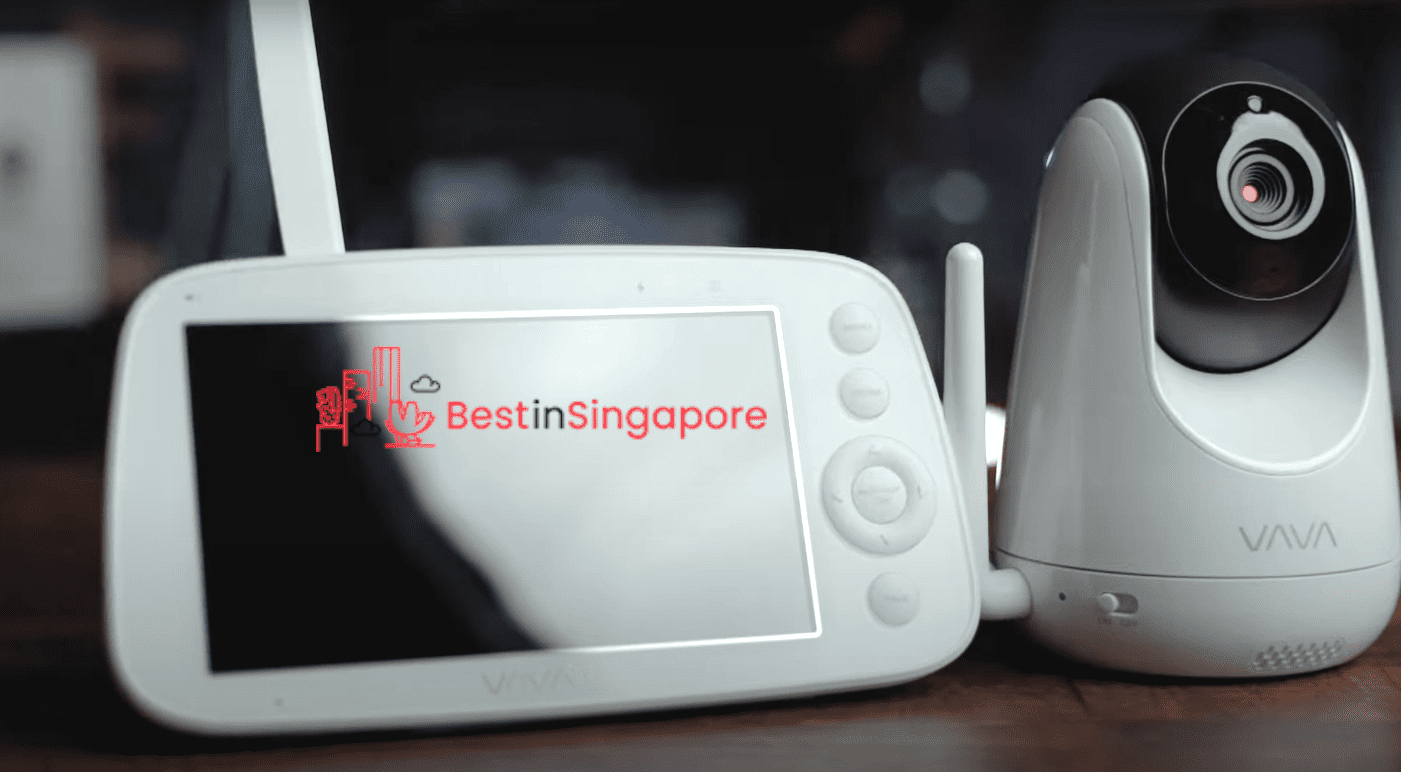 Price: $259.00
Put your mind at ease when leaving your baby alone in a room with the help of the Vava Baby Monitor. Unlike the usual baby monitors in Singapore, this model does not have Wi-Fi access, but this small facet doesn't inhibit how great of a device the Vava Baby Monitor is.
Performance wise, it holds itself well against competitor and is one of the best purchases you can make if you want a device that can help you watch over your baby. This is because the Vava Baby Monitor features a rechargeable large display that only shows crisp and real time images. Alongside this is a panoramic mode that allows you to view much of the room should your baby so much as let out a murmur.
And to top it all off, the Vava Baby Monitor also has night vision and allows its users to use the device for two-way talking. This is surely the most comprehensive model yet!
Highlights
Two Way Talking
480-900ft Transmission Range
Automatic Night Vision
Room Temperature Monitoring
4. D-Link DCS-6501LH 1080P Full HD PTZ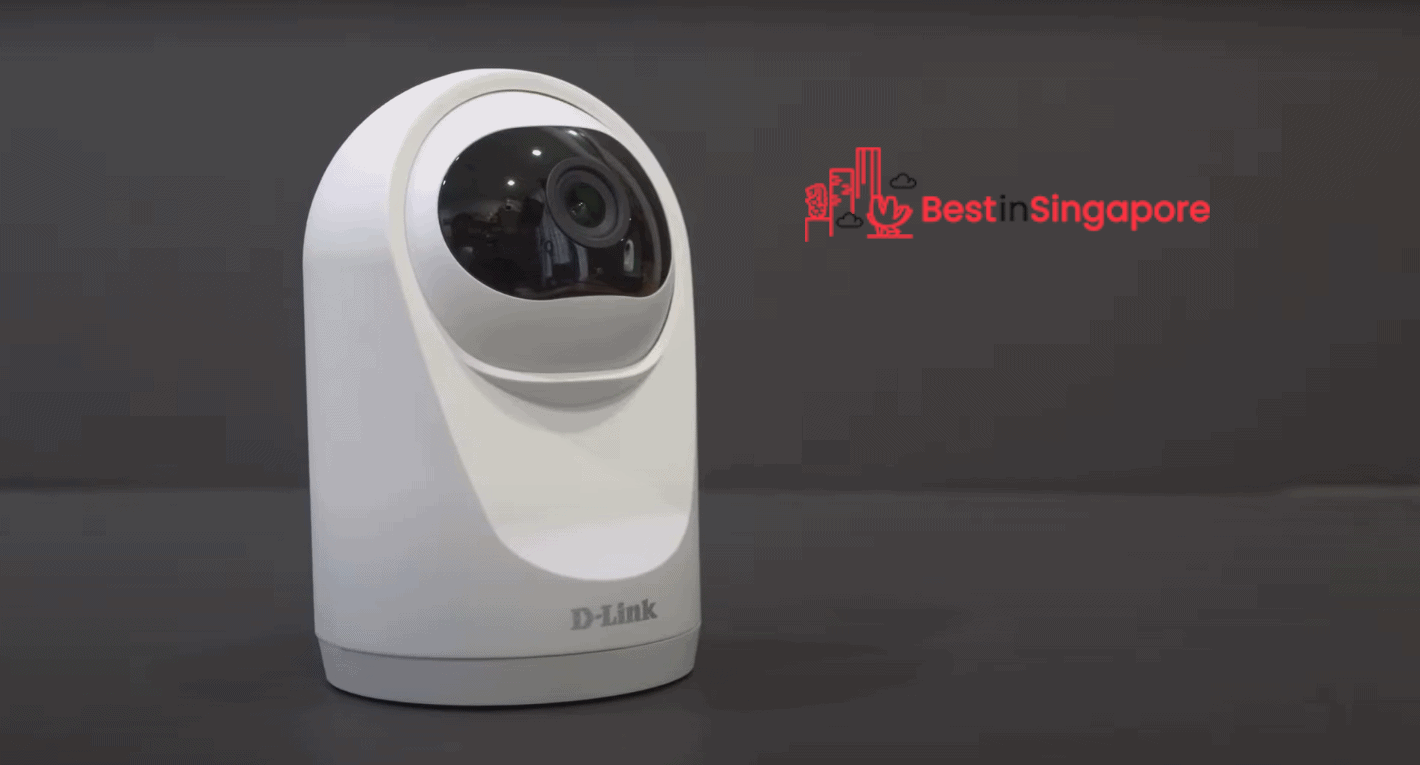 Price: $79.00
One of the requirements we had when seeking the best baby monitors in Singapore was easy setup. After all, you have enough on your hands as a parent without struggling with a thousand cables for your baby monitor.
Fortunately, products like the D-Link DCS-6501LH 1080P Full HD PTZ make baby monitor setup hassle-free. You just need to add a Micro-USB and use one universal cable and power adapters.
It even has enhanced sound and motion detection add new lines of defense to your home surveillance. You can also connect it to the free D-Link app or integrate it to your Google Assistant or Alexa.
The highlight feature is their fully-equipped camera, which has pan and tilt controls as well as built-in IR night vision for night use. Additionally, it supports cloud recording1 for safe video storage and viewing as well as WPA3™ encryption for more protection.
The most important thing is that they ensure a fast connection to provide responsive and timely updates. It's no surprise this is considered one of the best baby monitors in Singapore!
Highlights
Accessible storage options
Fast connection
Customer Reviews
D-Link DCS-5030L is widely recognized for its detailed notifications and fast connection. Despite getting some critiques over the camera quality (which some users note can be caused by incorrect setup), it's still one of the best baby monitors in Singapore.
An Amazon reviewer supplied this feedback:
"Works fine, seems like more than half of the bad reviews are user error. I have 8 Dlink cams throughout the house and have NEVER had a problem with any of them. This one was no different, it was up and running right out of the box in about 3 minutes. I didn't even use the WPS feature which would have been faster. I have a 64g card in it and in 10 days it used about 8 gig by taking a 30-second video if motion is detected. The family room screen cap is using the cam listed here. The other pics are from other Dlink cams. (BTW these are screencaps from my phone with all the cams set on the LOWEST resolution). I think one or two people submitted screen caps showing they didn't bother to focus the camera itself and complained about bad resolution. The ring around the lens rotates and allows you to focus it."
5. Xiaomi Hualai Xiaofang Dafang Smart Baby Monitor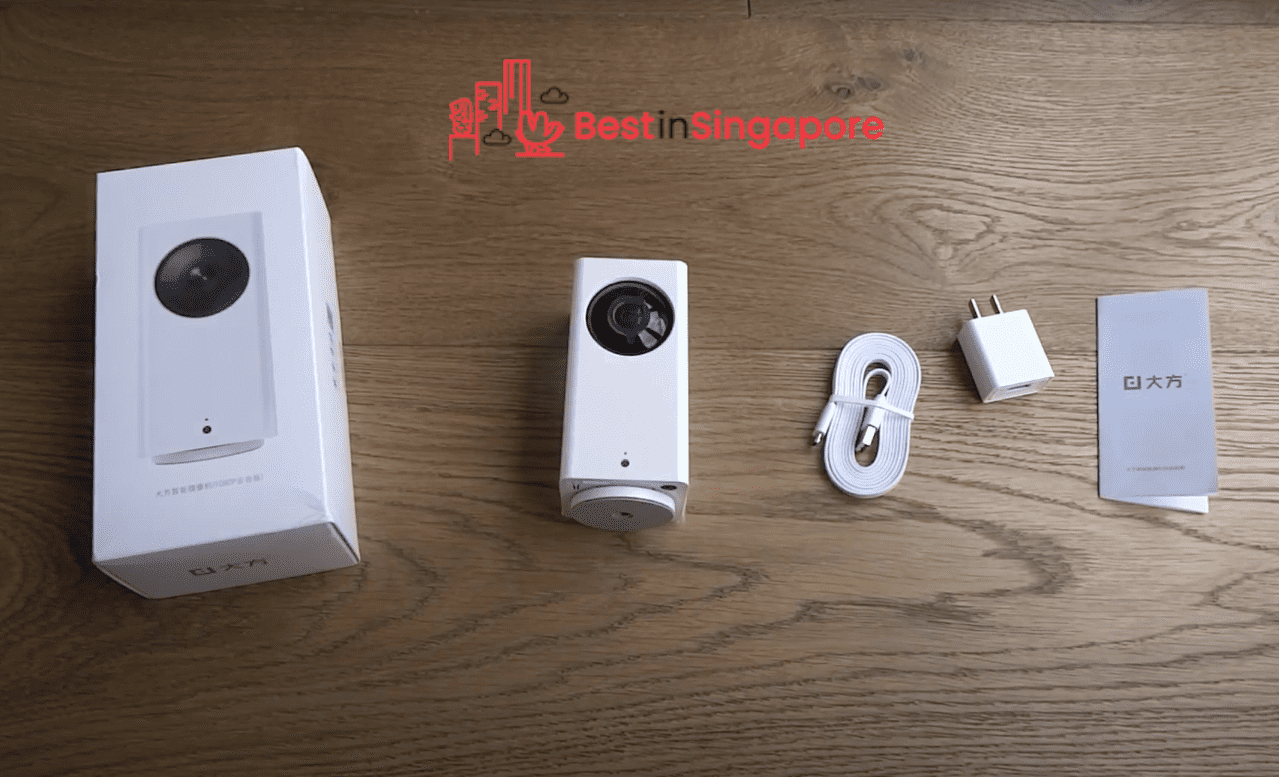 Price: $45.50
The Xiaomi Hualai Xiaofang Dafang Smart Baby Monitor has a multi-purpose USB interface for video storage. You can just insert a flash drive or SD card to store some video clips of your baby.
There's also no need to worry about blurry images during the night when using this monitor.It offers grayscale restoration of night vision that will produce a more detailed image.
What's more, it boasts two-way communication. That's a boon when you see your child awake and bonding with your spouse, and you want to join them even while in another part of the house.
Like many other products in this list of the best baby monitors in Singapore, it also features intelligent motion and sound detection to alert you to activity immediately. Furthermore, it's Wi-Fi enabled, so you connect with your family anytime and anywhere.
Highlights
Multi-purpose USB interface
Grayscale restoration of night vision
Customer Reviews
Xiaomi Hualai Xiaofang Dafang Smart Baby Monitor has been earning a lot of positive reviews because of its easy setup and convenient features.
However, some customers weren't too impressed with the recorded audio. This was a minor nitpick in the middle of a landslide of praise, though.
A reviewer from Amazon wrote this about the product:
"It was pretty difficult to do the setup. But after searching on youtube some guidance I could set it up. The camera is awesome and very responsive. Am very glad to get it up and running"
6. PROLiNK Baby Monitor/ PIC3003WP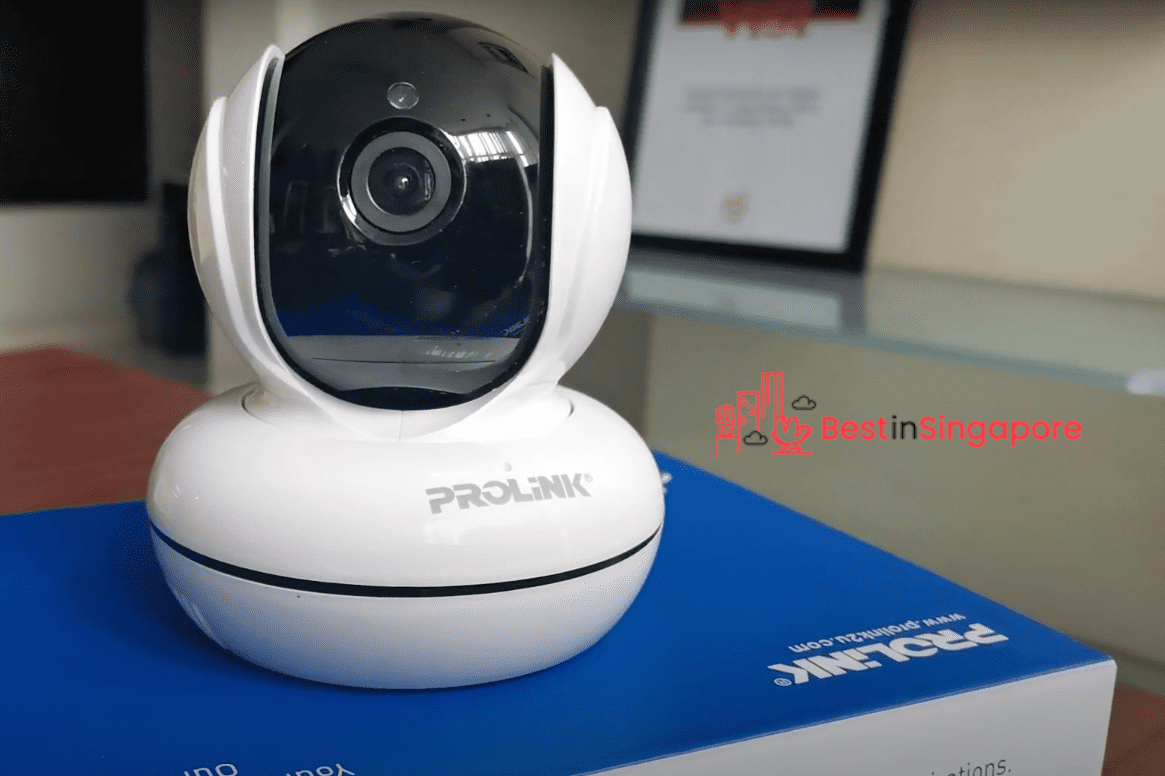 Price: $88.00
The PROLiNK Baby Monitor/ PIC3003WP offers multiple recording methods, like most of the other items in this list of the best baby monitors in Singapore.
Of note, however, is that it pairs hardware-dependent ones with Internet-reliant ones. That is, it lets you save data on a microSD card, mobile phone, or Cloud storage.
It also offers a moving camera. The pan/tilt IP camera provides captures of every angle to monitor the whole room.
The setup is also accessible and you can simply connect the monitor to the wireless network on the PROLink mEzee app. You can also watch the playback through the mobile app.
Highlights
Multiple recording methods
Pan/tilt camera functions
Customer Reviews
The PROLiNK Baby Monitor/ PIC3003WP only launched this year but it already has a slew of compliments from its users.
Here's a detailed review from Lazada that shows you why this relatively new product made it into our list of the best baby monitors in Singapore:
"1) the quality of picture 5/5 – it is much better to compare to my drink camera and generate less background noise. 2) setup is easy, without even going through VPN or port forwarding. you can actually access the camera from the mobile app. however I am concerned about the security and privacy issues if anyone can get a hold on the password of the camera. 3) like all other reviews, this camera cannot be managed through a Web browser. you cannot configure it with a static IP address and etc. 4) recording – my current recording function is configured to the Sd card, however, it stops recording itself after every day at 23:59 hours and the camera at times cannot load the video playback files when it becomes too huge. I haven't yet set up the recording to my nas, but I can see this camera will save a license count if you do record"
7. Angelcare AC310-2 Baby Monitor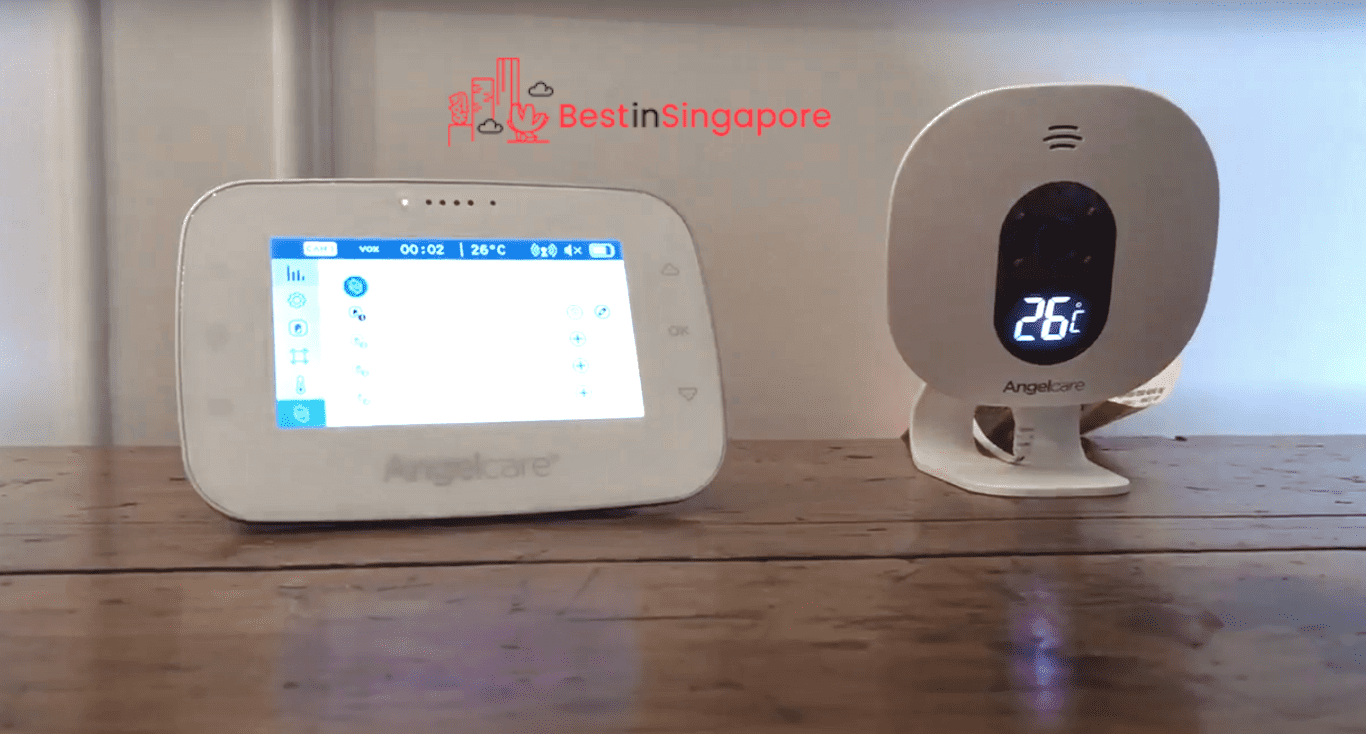 Price: $328.30
Taking care of one baby is hard enough. If you have two, it will certainly double the work.
With Angelcare AC310-2 Baby Monitor, though such hassles and worries can be addressed. It's ideal for two-baby setups as it has two camera units, digital two-way audio, high-quality video, and room temperature reports.
Take note that this doesn't mean it's a niche product. Even if you only have one infant to look over, it's still one of the best baby monitors in Singapore.
In fact, it might be even more so because it offers you two cameras for more comprehensive coverage. Isn't better monitoring a necessity for the best baby monitors in Singapore, after all?
The cameras can be installed through either wall-mount or table-top. They also come with a background-noise-cancelling feature.
Highlights
Two camera units
Wall-mount installation
Customer Reviews
The Angelcare AC310-2 Baby Monitor's tracking reports have helped many parents adjust and improve room temperature settings for their babies' sleep conditions. Most users claim to be completely satisfied with the product, especially in terms of value for price.
One parent left this feedback on the brand's official website:
"The monitor has really great features! The picture quality is good and the sound quality is very clear. It was very easy to set up and I like that comes with both a tabletop and a wall mount that is magnetic so you can easily move the camera between both mounts if necessary. There are so many great features to love (i.e., the VOX feature to get rid of all the background noise, the room temperature display on the camera and the parent unit, the long battery life, parent unit large display to easily see everything)! My only issue with it is the temperature display on the camera it is a little bright. I love this monitor! Thanks to the weeSpring Parent Panel for sending me this monitor!" 
8. Motorola Focus 85 Baby Monitor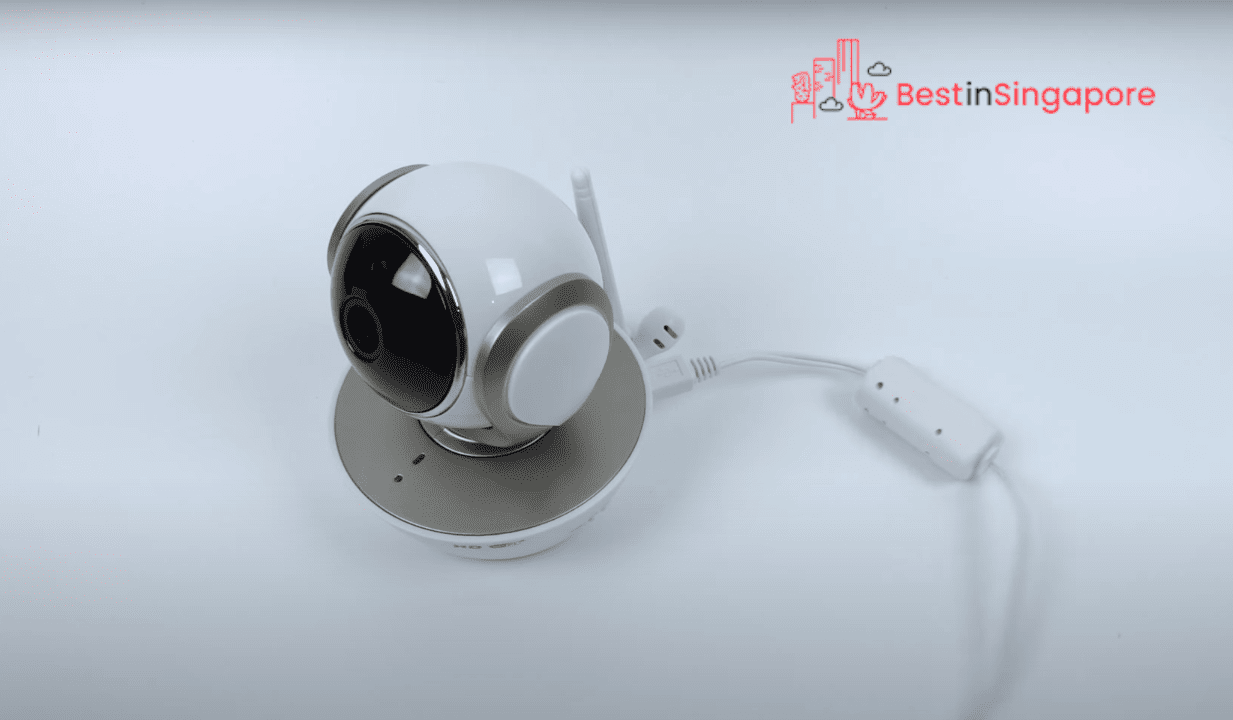 Price: $793.82
Like the previous product in this list of the best baby monitors in Singapore, this is one you can use even when not at home. The Motorola Focus 85 Baby Monitor is built with a Wi-Fi home video camera for the ultimate convenience.
There is a remote digital pan, tilt, and zoom to capture actions from every angle. Hubble's optional Cloud Video Recording (CVR) will also record and store videos in the Cloud.
You can also share the images and videos with family and friends through smartphones, computers, and tablets. Just download the Hubble app to see the various customized options available.
This one of our best baby monitors in Singapore also lets you control camera regardless of your location. You can also set it up to give you remote sound, motion, and room temperature notifications.
Furthermore, it has two-way communication and infrared night vision. Its impressive list of features already tells you why it's one of the best baby monitors in Singapore.
Highlights
Wi-Fi home video camera
Cloud video recording
Customer Reviews
According to the users of baby monitors in Singapore, Motorola stepped up its game when they added a video recording option which allowed the parents to see the baby's growth. Many also praised the option to save data to the Cloud.
Some were not completely impressed by its response time and video resolutions, however. In spite of that, it's still one of the best baby monitors in Singapore, going by what its fans have to say.
Here's a review from Amazon (which is about monitoring a puppy, but hey, furbabies are babies too!):
"Perfect size works great, can view on any cell phone from far away. I got it for the sole purpose to keep an eye on my puppy while I am at work. It gives me peace of mind that he is ok. I can even speak to him (not that he speaks back to me…lol) but he can hear my voice. It is the perfect little camera. The price was right. Thank you!!"
9.KODAK Cherish C220 Smart Video Baby Monitor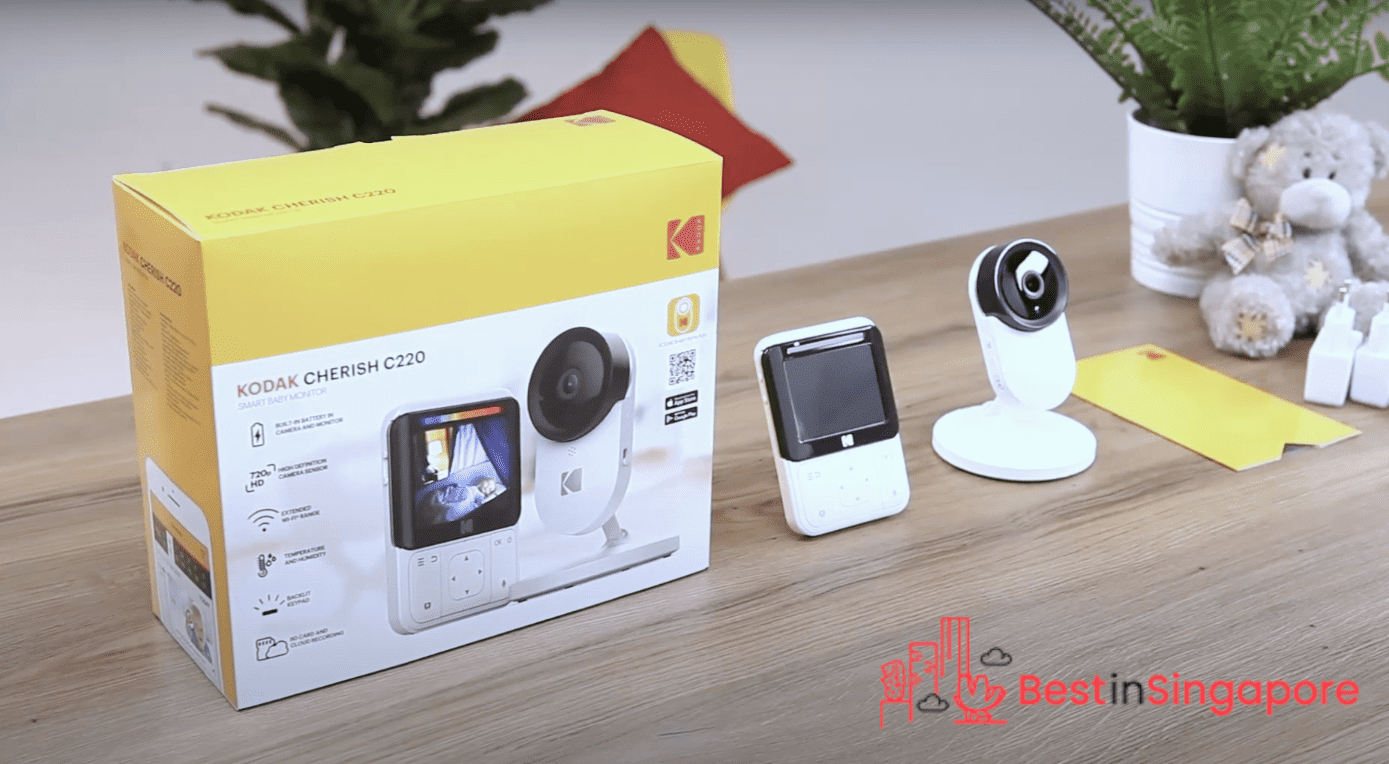 | | |
| --- | --- |
| BEST FOR | Motion and sound notifications / 2-way communication |
| RESOLUTION | 720P |
| COST | SGD 179.00 |
| WHERE TO GET IT | Shopee Singapore |
If you're looking for a baby monitor in Singapore that can provide 2-way interaction and constant motion and sound notifications while you are away, then the Kodak Cherish C220 should be on your list.
With a 2.8-inch screen, images are displayed in 720P HD quality. Motion and sound notifications are sent to you via their Kodak Smart Home App on your smartphone. The best part is that this baby monitor also provides a 2-way communication so you can hear your baby and also give them reassurance through voice messages.
We included the Kodak Cherish in our list as we think it's the best baby monitor in Singapore that can offer 2-way interaction and motion / sound notifications without sacrificing image quality. It also has an IR night vision so you can perfectly monitor your bub even with low to no-light conditions.
Pros
Rechargeable batteries
HD image quality
Night vision ability
Cons
Short battery life (up to 5 hours)
Customer Reviews
As we were going over the reviews of this baby monitor, it's quite evident that many customers have been very satisfied with the Kodak Cherish C220 baby monitor. Here's a quick review from verified buyer and customer with a username of Shopaholic2602:
Item is exactly as described! Loved the quality and quick shipping. Seller was very prompt with replies. The only thing is that the voice on the parent unit is a bit soft but worked well in my 5 bedroom house
10. Lollipop Smart Wi-Fi Based Baby Camera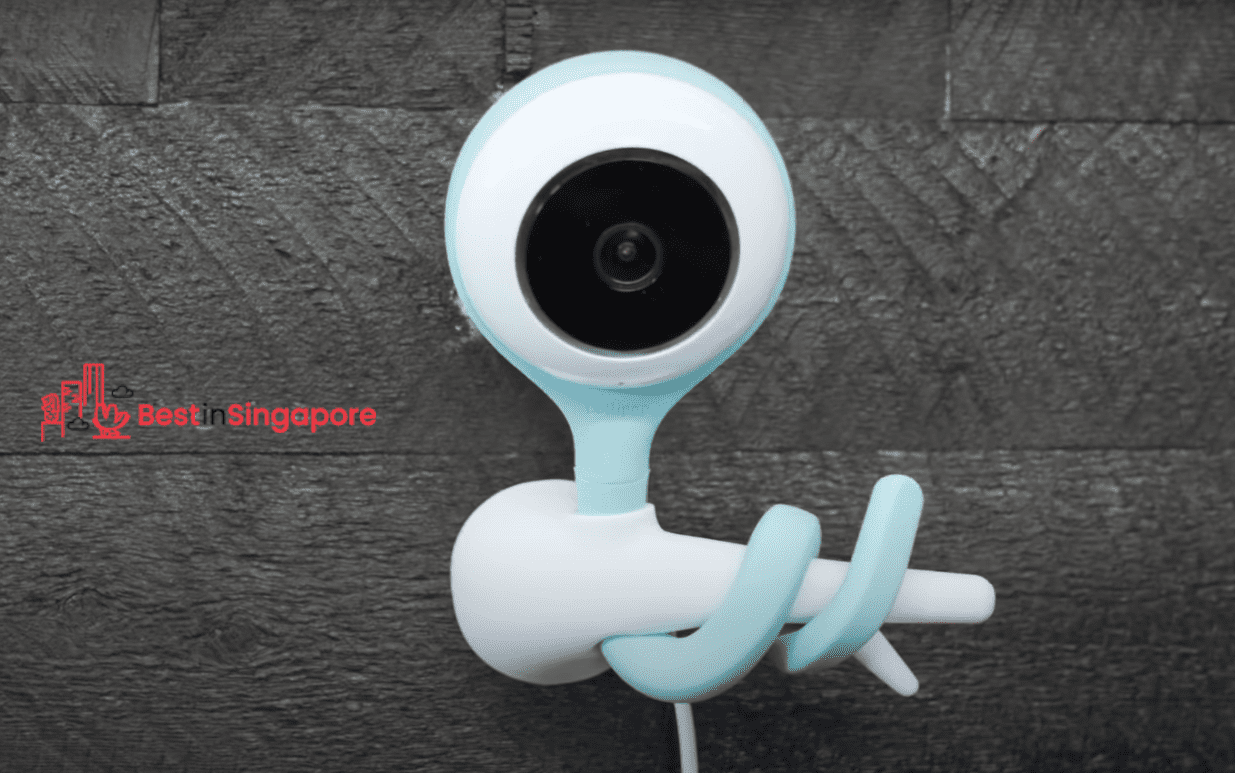 | | |
| --- | --- |
| BEST FOR | Smart baby monitoring |
| COST | SGD 229.00 |
| PRODUCT DIMENSIONS | 11.7 x 3 x 1.6 inches |
| WHERE TO GET IT | Shopee Singapore |
It's true that baby monitors have helped parents throughout the decades. However, if you're looking for a baby monitor in Singapore that will truly revolutionise and help you watch over your babies (yes plural!), you need to consider the Lollipop Smart Wi-Fi Based Camera.
This is definitely a smart baby monitor in that it allows you to control certain settings such as music background while you are away, it is also built for overnight monitoring so there's an option to disconnect the audio at night. However, it's also built to recognise actual cries so the audio restarts once it detects actual cries from the baby.
These monitors are also sleek and designed to easily fit in any corner of the house or bedrooms, so if you have more than 1 bub to look out for, you can order more than 1 'eye' and these will all stream in the same device. It's definitely the best baby monitor in Singapore for a household of many children.
Pros
Advanced night vision
Cloud service included
Multiple devices are allowed in one account
Cons
No actual monitor included
Customer Reviews
There are plenty of reviews of the Lollipop Smart Wi-Fi Based Camera. Customers in general like the design of the cameras, that it can be easily propped anywhere in the room and is not cumbersome.
Here's one review from a customer with a username of Alexandra:
I recently picked up this monitor to replace my old Motorola one which constantly had problems (went through several cameras on warranty and they all broke within a few months)!

I have been very impressed with this camera so far. The packaging was so beautiful and the camera itself is just gorgeous and blends in really nicely with my nursery decor (I got the pink)!

I love how it can be easily positioned to attach to the side of the crib and it comes with little cable rails that you can use to cover the cord along the back side of the crib so there are no strangulation hazards. It can also be wall mounted on a cute "twig" and I was even able to just curl the bottom of the tail to create a little stand and just had it sitting on a dresser. Overall, this product is very versatile with respect to installation methods.

The picture quality is amazing (including the night vision). I can easily tell if my baby is moving or standing up.
In any case, that's it for our compilation of the best baby monitors in Singapore. With the help of these devices, your journey through parenthood should definitely be easier.
To go with these baby monitors, by the way, you might want more tools for capturing your little one's most precious moments. In that case, consider our list of the best DSLR cameras in Singapore for photographing your beloved baby!