The 11 Best Antivirus Software in Singapore
Looking for a way to safeguard your devices against viruses and malware? If so, you should definitely go with the best antivirus software in Singapore!
The best antivirus software in Singapore can monitor your files and guard them so that they don't get infected by viruses and similar malware. They also stay up to date, so you don't have to worry about new threats getting past your barriers.
Anyway, whether it's for personal or corporate use or if you need the best mobile antivirus, the following are the best antivirus programs in Singapore. Check them out!
1.  Norton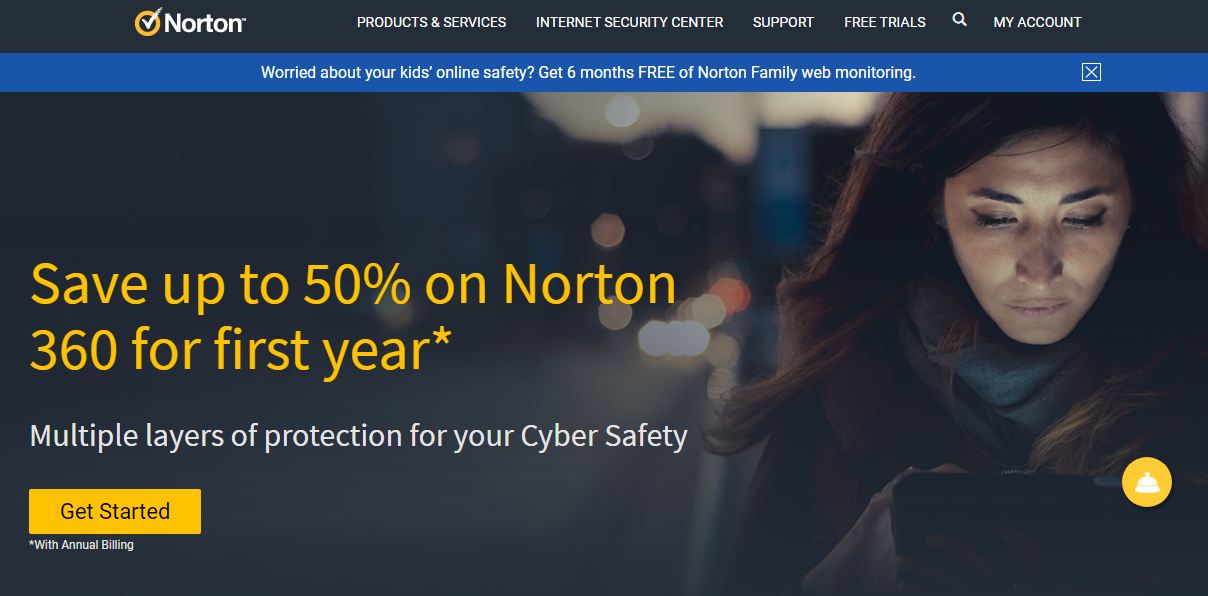 | | |
| --- | --- |
| BEST FOR  | Full protection for your device and online privacy |
| FEATURES | Secure VPN, password manager, Safe cam, firewall |
| WEBSITE | Norton Website |
| DOWNLOAD | Free Trial |
Norton provides an all-in-one solution through which every file and online transaction will be secured. Once you've installed this software, it'll work with multiple powerful layers of protection for your PC, tablets, and smartphones.
It can detect and eliminate all kinds of security threats such as viruses, ransomware, suspicious downloads and more. It can also prevent unauthorized access when connecting your device to home or public Wi-Fi.
What makes it the best antivirus software in Singapore is the capability to provide a preventive measure against data loss because of stolen devices and hard drive failures.
Highlights
Bank-grade encryption
Cloud backup
Parental control
Compatible to Windows, Mac, iOS, and Android
2.  Kaspersky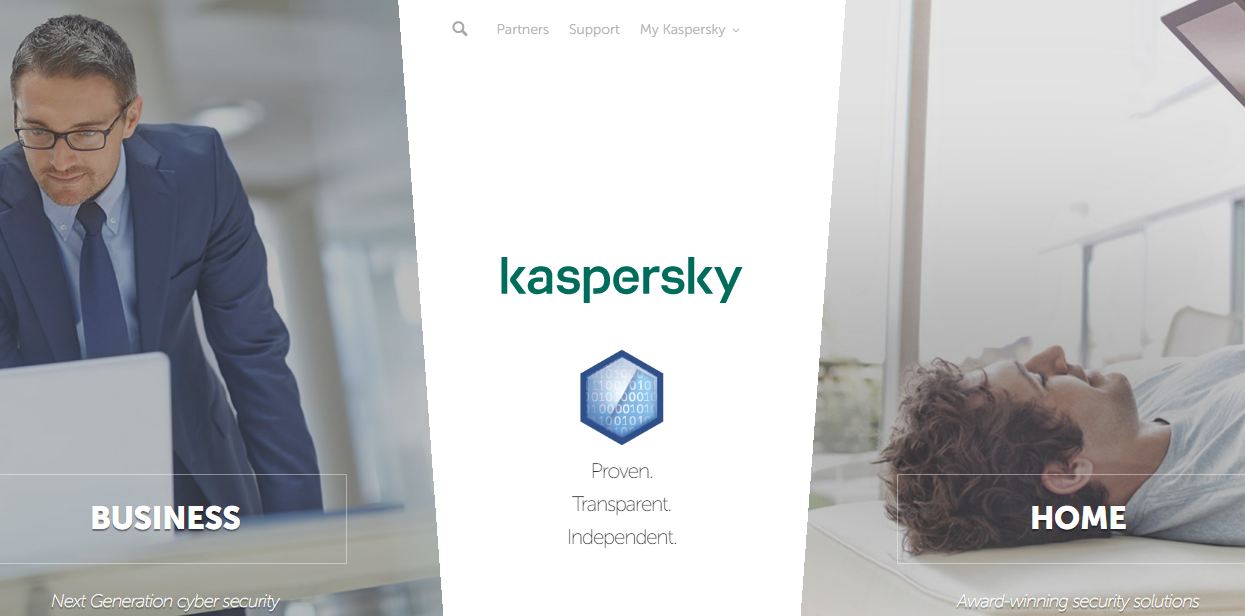 | | |
| --- | --- |
| BEST FOR  | Home and business security solutions |
| FEATURES | Internet security, cloud security, password manager, QR scanner, battery life management, rescue disk |
| WEBSITE | https://www.kaspersky.com/ |
| DOWNLOAD | Free Trial |
Kaspersky is known to feature award-winning products that are mostly used by some leading enterprises. It has helped thousands of companies and individuals protect their devices against malware and cybercrime.
For their business solutions, they offer hybrid cloud security, cybersecurity services, threat management and defense, and many more. They also cater to any business scale and is considered to be one of the best android antivirus. This is why it's the best antivirus software in Singapore for both startups and large corporations.
Highlights
Lost or stolen phone protection
Safe kids feature
Compatible to Windows, Mac, iOS, and Android
3.  Bitdefender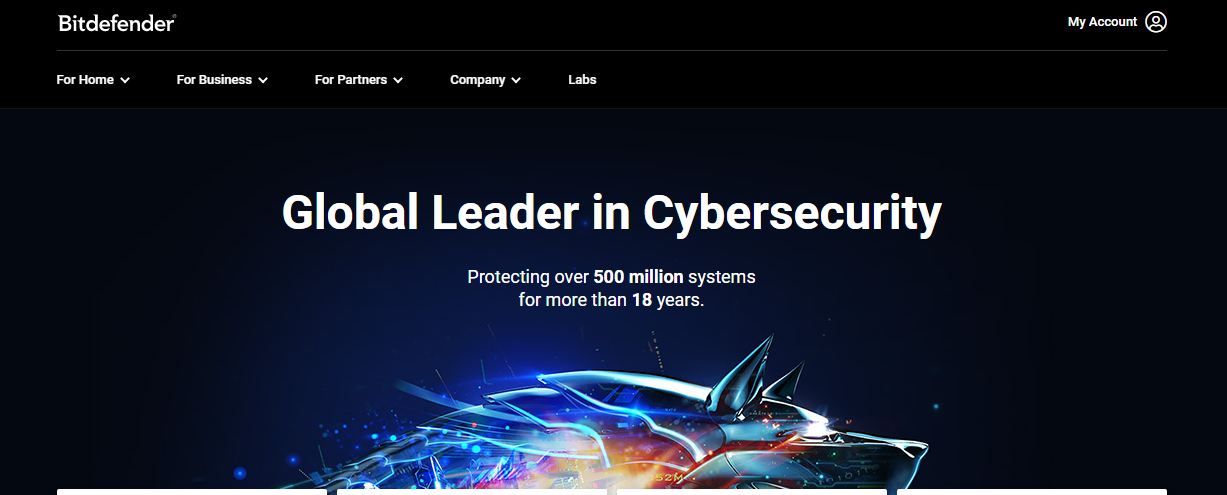 For more than a decade, Bitdefender has been providing excellent security products and threat management for every home and businesses. The offered services are designed with advanced features such as system optimization, enhanced digital identity protection, and many more.
Aside from the basic security elements, it can also secure a wide network through cloud security for MSP, and manage detection and response as well as advanced threat intelligence. These are the reasons it has become one of the best antivirus software in Singapore.
Highlights
Multiplatform products
Managed service providers
Compatible to Windows, Mac, iOS, and Android
4.  McAfee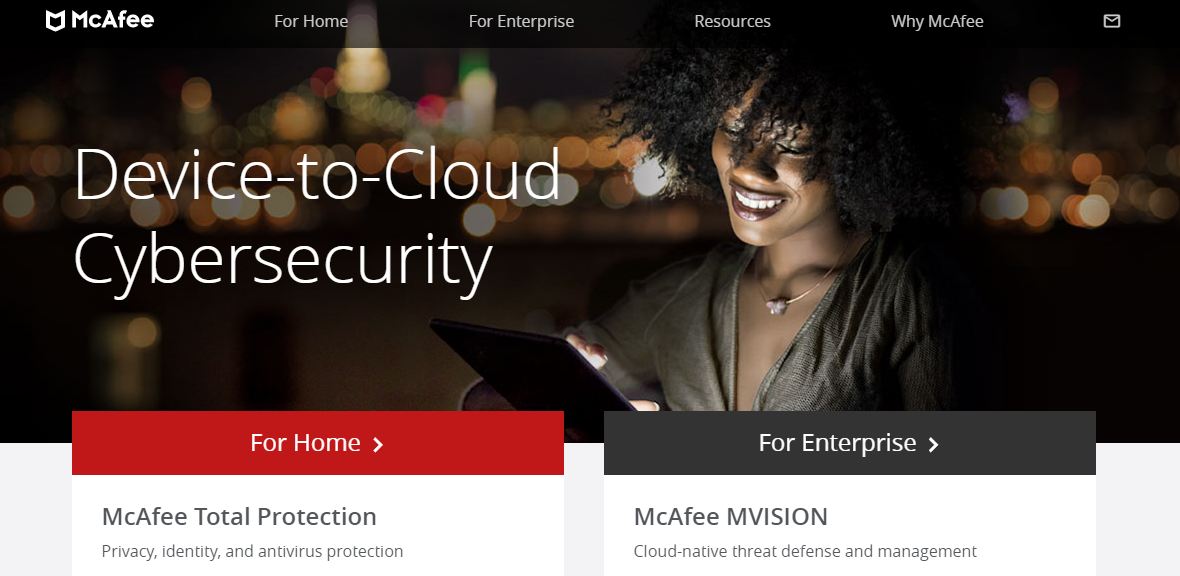 | | |
| --- | --- |
| BEST FOR  | Cloud-based online and offline protection |
| FEATURES | Bank-grade encryption, web and app boost, parental controls |
| WEBSITE | https://www.mcafee.com/ |
| DOWNLOAD | Free Trial |
McAfee offers top-notch security featuring cross-device protection as well as optimization services. One of the most remarkable features of this software is that it helps detect and facilitate OS updates for the latest security patches.
It can shred sensitive files, delete cookies, and more to protect you from digital identity thieves. You can also purchase antivirus packages for small business security — an ideal option for all the startup owners.
Highlights
Multi-faceted privacy protection
Family online privacy
Compatible with Windows, Mac, iOS, and Android
5.  ESET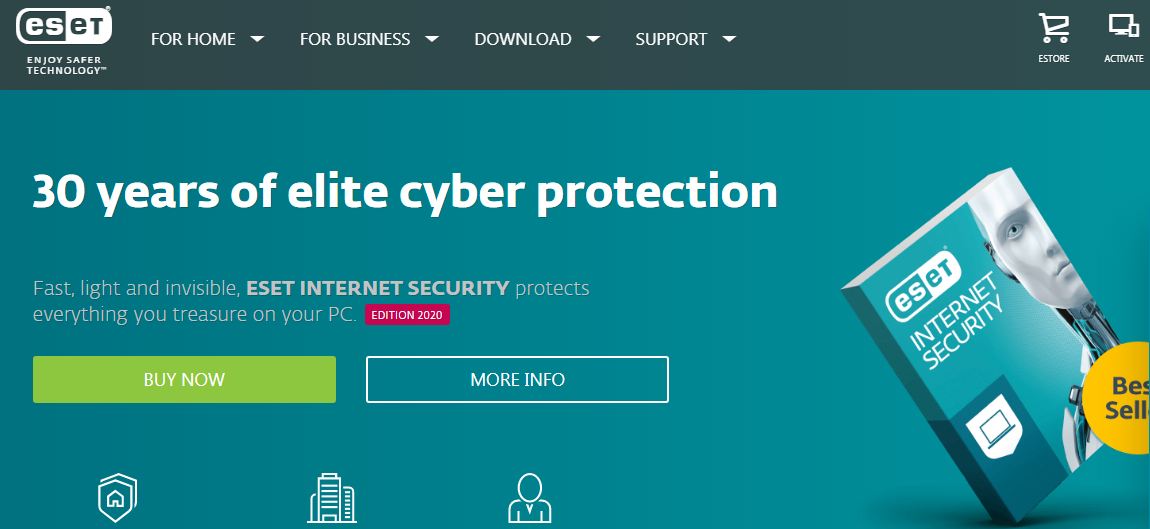 | | |
| --- | --- |
| BEST FOR  | Light yet powerful security solutions |
| FEATURES | Multi-platform protection, banking and privacy security, anti-theft security, battery-saving mode |
| WEBSITE | https://www.eset.com/sg/ |
| DOWNLOAD | Free Trial |
ESET is one of the longest-running companies that provide responsive and highly functional cyber protection. It's built to detect and remove advanced threats, improve the system's speed, and enhance usability.
The best antivirus software in Singapore consists of inclusive but easily managed protection for your identity and other personal data. It features antivirus packages for small, mid-size, and large business users.
Throughout the years, it has secured the digital platforms of prominent enterprises like Mitsubishi, Canon, Allianz, and more!
Highlights
Protection against theft and loss
Multilayered protection from ransomware
Minimal power usage feature
Compatible to Windows, Mac, iOS, and Android
6.  AVG AntiVirus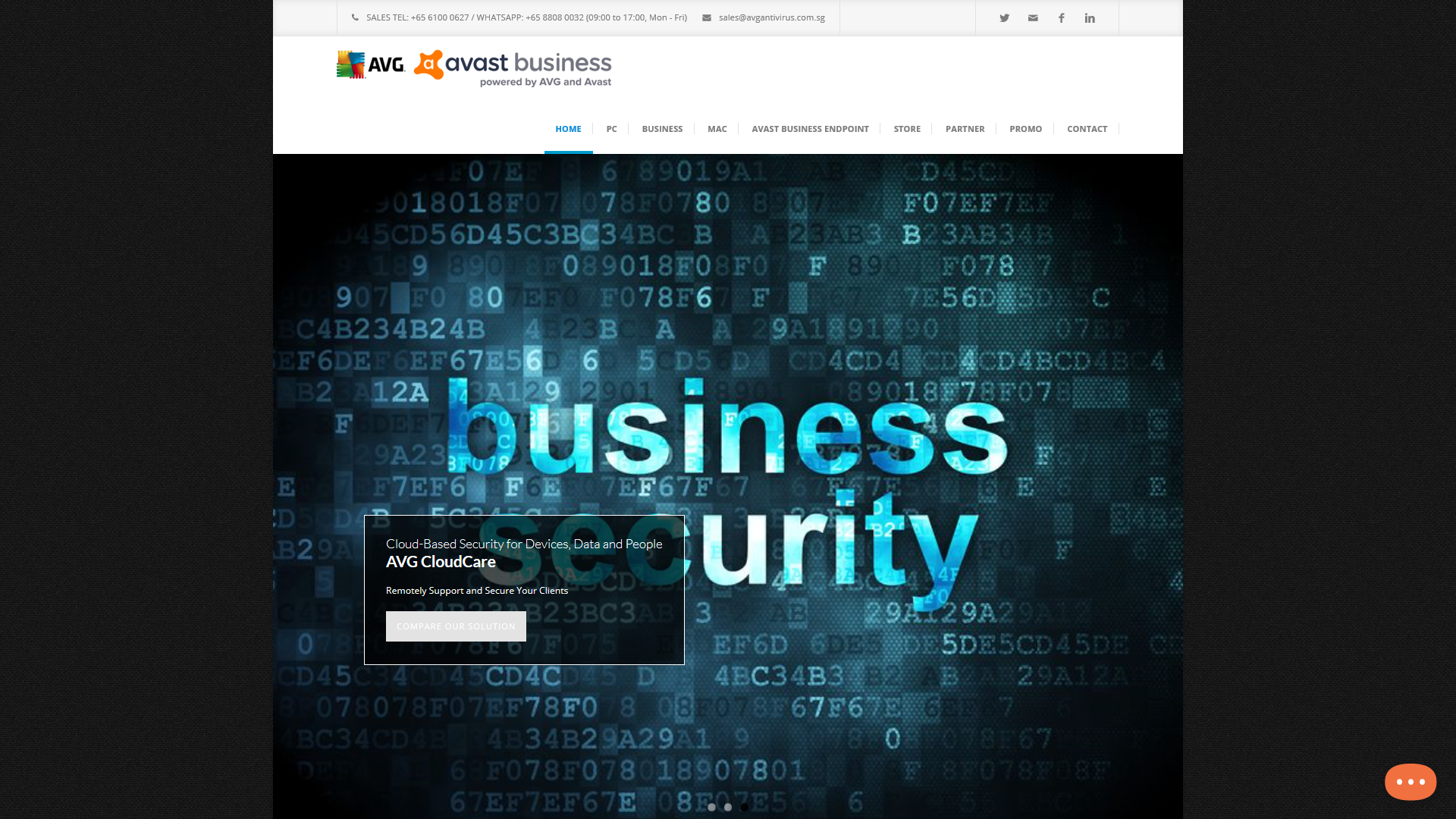 | | |
| --- | --- |
| BEST FOR  | Anti-Virus Software |
| FEATURES | Stop Viruses, Spyware, and Malware. Block Unsafe Links and Downloads. Keep Hackers Away. Block Spams, Scams and Phishing Emails. Securely Shop and Bank Online |
| WEBSITE | https://www.avgantivirus.com.sg/ |
| DOWNLOAD | Get It Here |
AVG Antivirus' software offers you protection from foreign viruses and various other malicious threats. They are powered by the integration of Avast and AVG threat detection technologies, infrastructures, innovation, and SMB expertise.
By acquiring their services, you gain a huge head start from your competitors, for AVG Antivirus has well-integrated global threat detection networks. Easy to deploy and manage, you are delivered the fastest and most comprehensive protection against cybercrime to date.
Their offered programs are able to detect viruses, repair infected files, and provide a quarantine zone for infected files that cannot be repaired– protecting the computer from them before they are deleted. Protect your computer now and start looking at AVG AntiVirus' services.
Highlights
Combined Global Threat Detection Networks
Various Protection Programs
Quarantine Zone for Infected Files
7. Avira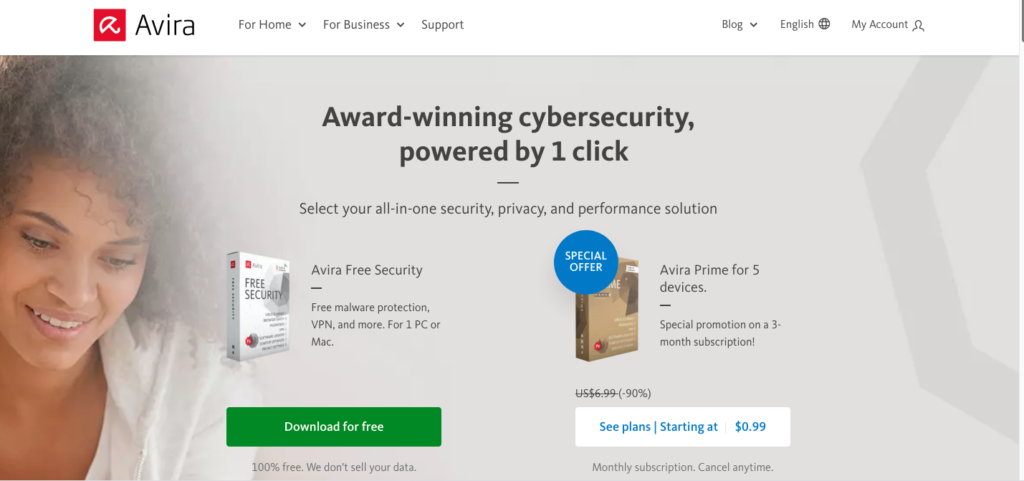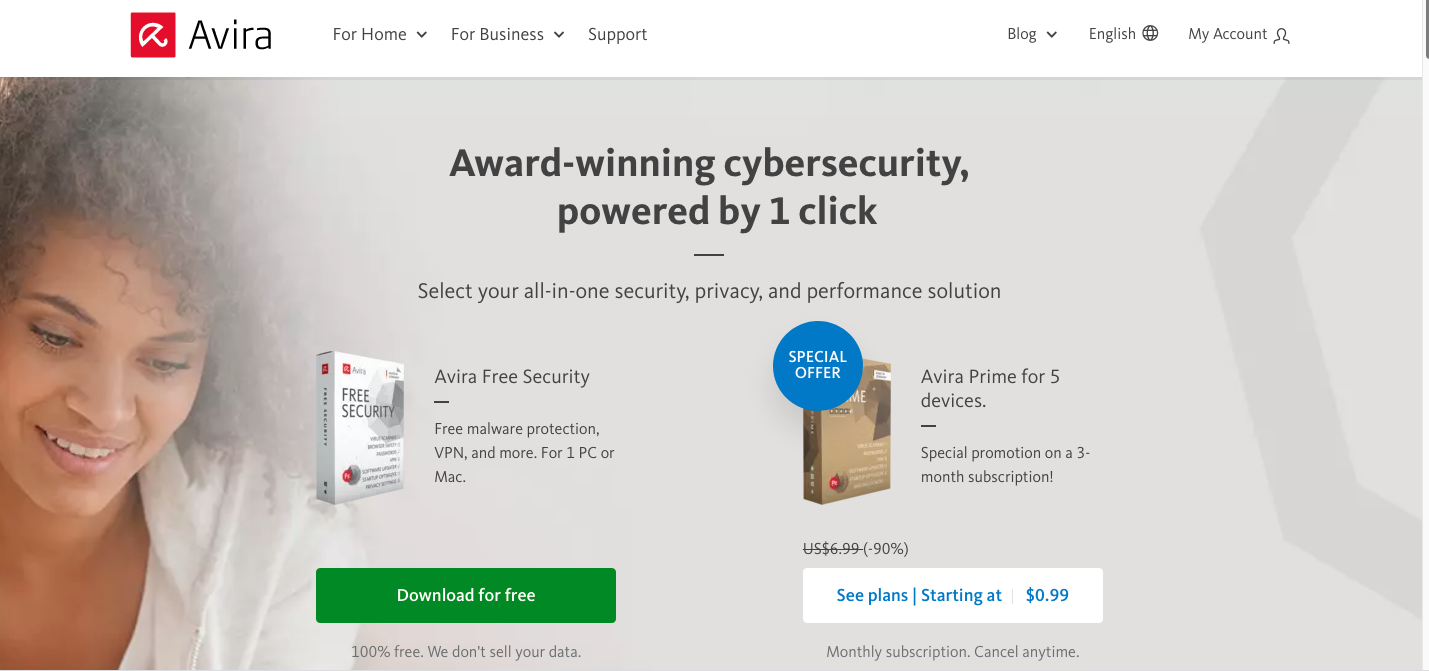 | | |
| --- | --- |
| BEST FOR | Free secured VPN |
| FEATURES | Malware protection, Free VPN, Protection cloud, Password manager, Junk remover, Quarantine management, Configurator |
| WEBSITE | https://www.avira.com/ |
| DOWNLOAD | Free trial |
Avira offers a full range of security protection with its enhanced network scanner that can detect and scan all smart devices connected on your home network. That means every account and all online activities will be protected against cybercrimes.
You can also rely on its on-demand malware scan as well as optimise your system's performance, memory, and storage. With these features, it's indeed one of the best antivirus for Android in Singapore.
Pros
App lock
Camera and microphone protection
System optimisation
Cons
Customer Reviews
Avira is one of the top antivirus software known in Singapore and all over the world. As such, they have garnered hundreds if not thousands of online reviews. Here's one from a verified buyer of Avira antivirus, Kevin, who wrote this online review:
I'm a gray-haired software development professional. Over the years, I've used a plethora of premium (meaning pay-per-play) anti-virus and anti-malware programs. Most have been competent. None have been without drawbacks. My current kit…which I've been using for the past three years on all my Windows 7 Professional computers and Android devices… Is AVIRA Internet Security Pro, Malwarebytes Premium, and Lookout Personal. My experience with AVIRA has been totally positive. I use their Software Updater Pro, Browser Safety, and Privacy Pal add-ins. Because I frequently change computers, I've had several opportunities to completely uninstall the AVIRA product suite… A process that proceeded flawlessly and, verified by an examination of the REGISTRY, cleanly.
I'm sure that AVIRA, like any other protection software, doesn't catch everything. That's why I routinely back up all my data in the unlikely event of ransomware. That's also why I don't go looking for trouble on the type of Websites known for it (laugh). But here's the largest reason for my affinity for AVIRA: Their online control center is well-developed and functions flawlessly.
8. Malwarebytes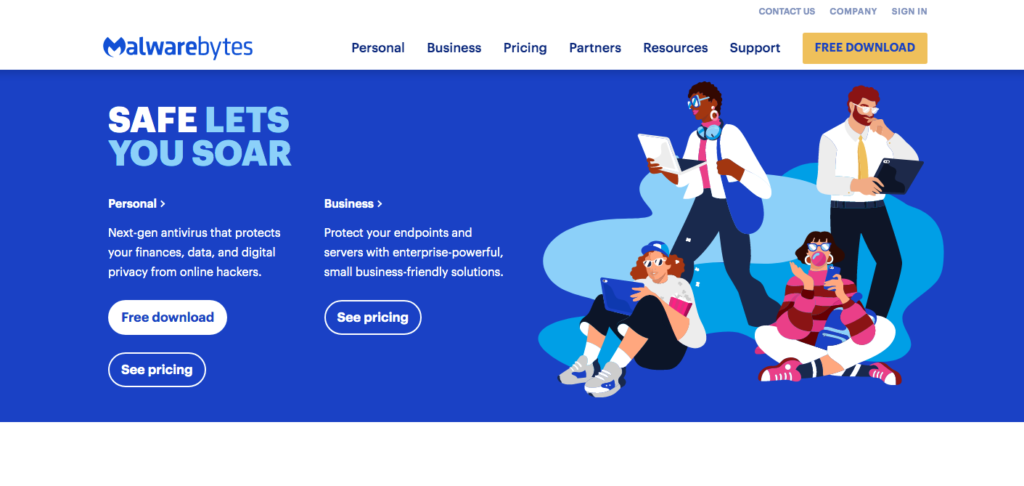 Malwarebytes provides real-time cybersecurity protection to keep your device safe from common and advanced online threats. It features an upgraded detection engine that can find all kinds of threats within a short amount of time and without affecting your system's performance.
It displays detailed information about the virus such as the type and behaviour, so you can fully understand it and make smarter decisions. It can also eliminate existing infections to further optimise your device.
Pros
Faster and lighter performance
Customisation settings
Cons
Doesn't offer real-time protection
Customer Reviews
Many users shared that they were able to schedule scans and have different scan modes for inclusive security protection. This is why Malwarebytes is known to be one of the best antiviruses for Windows 10 in Singapore.
A reviewer wrote this verdict:
"Instead of focusing on full, comprehensive protection against all kinds of malware, it targets the newest online threats. Yes, it is highly capable of detecting the most recent malware that even the best of all existing paid or free antiviruses won't be able to flag. So, is Malwarebytes good? The answer is yes, but only when joining forces with a more traditional antivirus solution."
9. Panda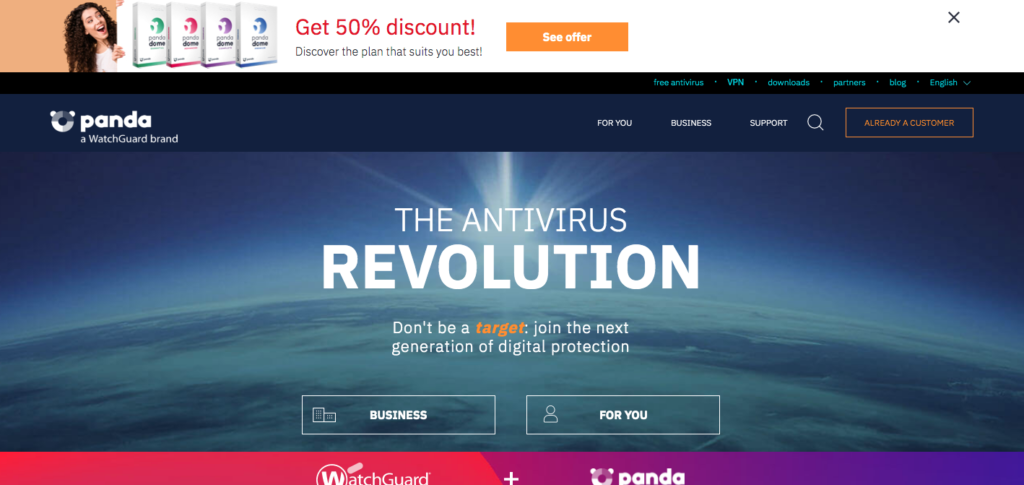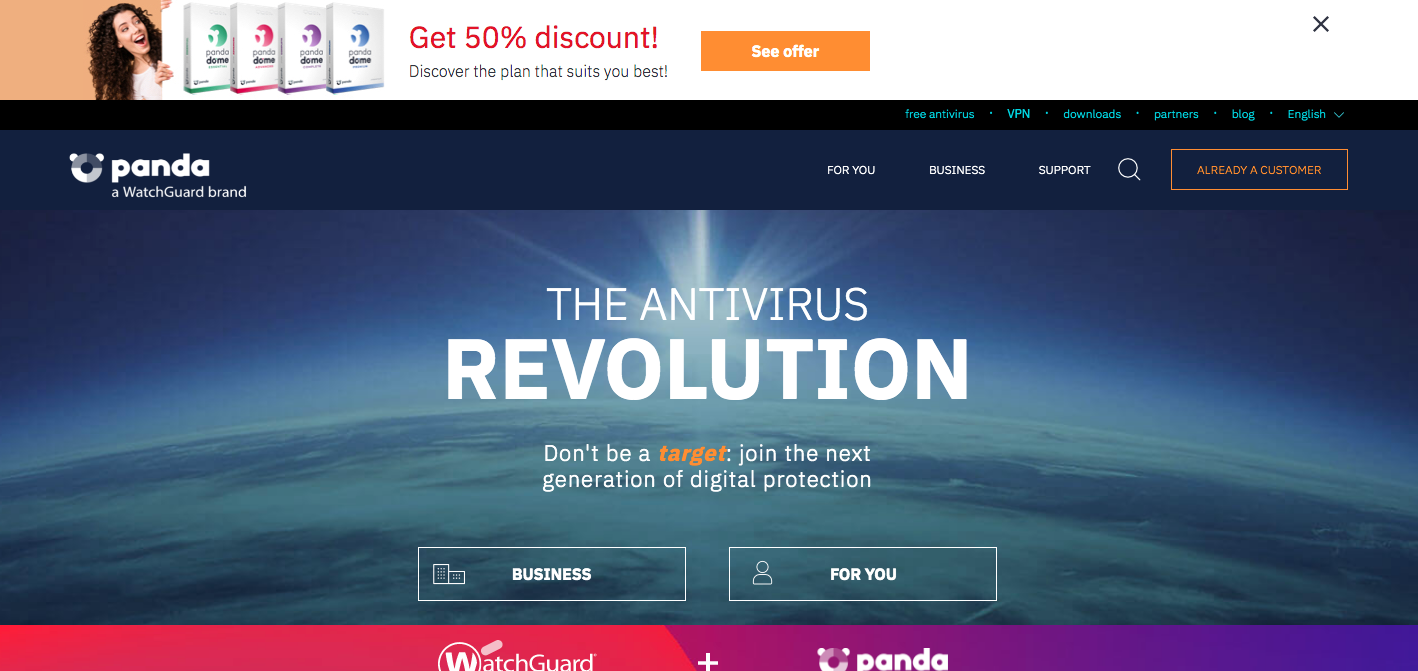 To fully secure your online banking activities and all financial transactions, Panda features a reliable VPN that can protect your privacy from ransomware and Bitcoin mining attacks. Aside from this, it also has a whole set of features like a password manager, file encryption, firewall, and many more!
It also provides anti-theft features, file shredder, and full control access on applications to make sure that every file is protected. These amazing features are the reasons it has become one of the best antivirus for Windows 10 in Singapore.
Pros
USB device scanning and protection
PC recovery system
Parental control
Cons
Pricier compared to some antivirus software
Customer Reviews
Many users have experienced the wide varied features of Panda and they mentioned about the fast detection and scanning as well as the excellent system optimisation features. Here's a review from one of their users:
"While Panda Free Antivirus doesn't outperform the very best commercial antivirus tools, it's way better than the rank and file of for-pay solutions. It remains our Editors' Choice for no-fee antivirus."
10. ESET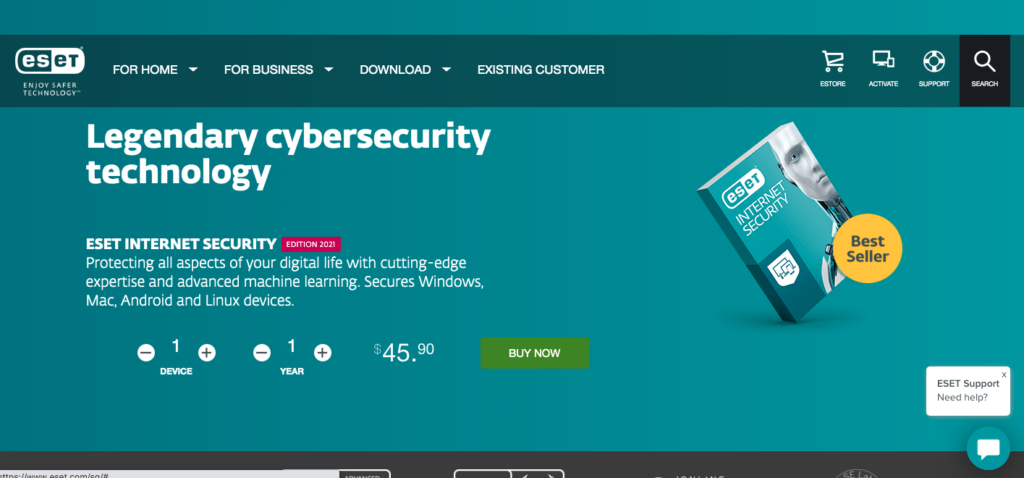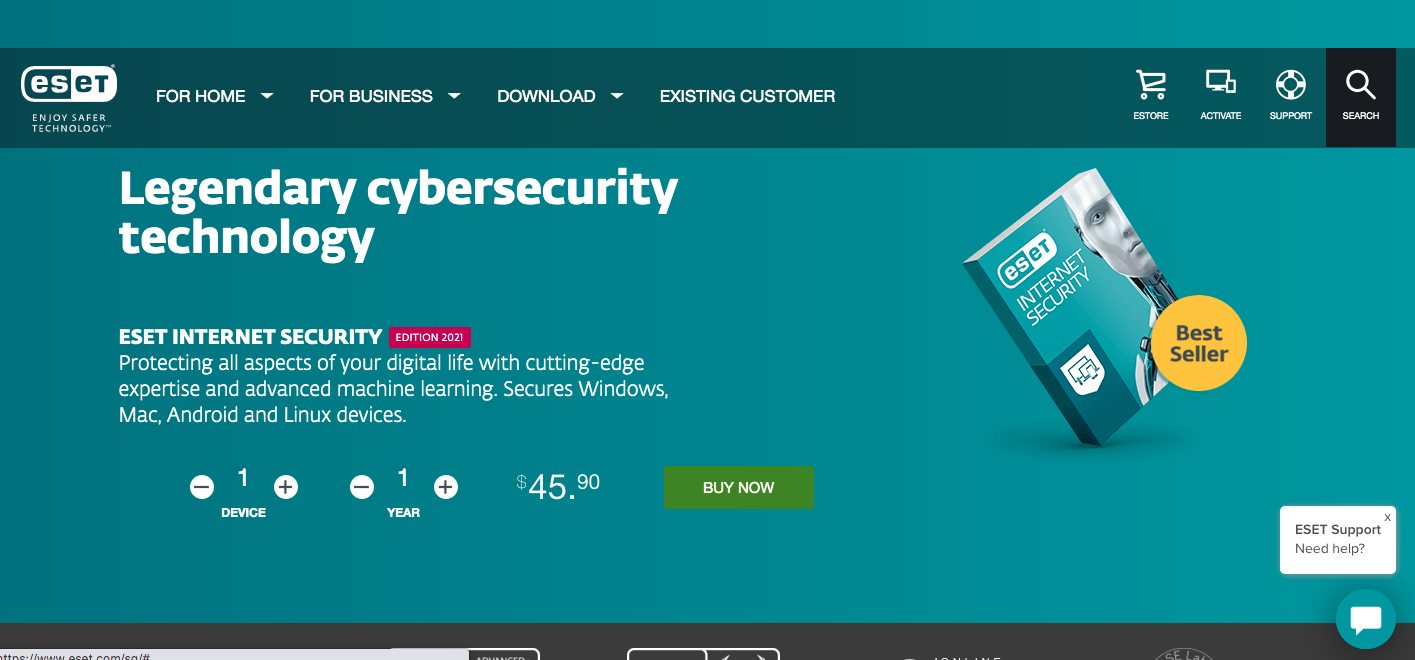 With ESET security protection, you can have a safe and secure Internet banking experience. It can protect all of your stored passwords with strong bank-grade encryption so you don't have to worry about identity theft.
What's more, it's designed with an easy-to-manage interface where you can schedule scans and customise other security settings.
It's built with top-notch protection that'll test your home router and smart devices regularly so any malware can be immediately removed. With this competent range of features, it's truly one of the best antiviruses for Windows 10 in Singapore.
Pros
Anti-phishing
Compatible to all devices
Cons
Beginners / non-techy users may find their system challenging to tread
Customer Reviews
Users were impressed with the high-quality protection of ESET. They said that the software is easy to use and to manage. A user gave this review:
"ESET NOD32 Antivirus gets good scores in lab tests and our own tests, and its collection of security components goes far beyond antivirus basics. ESET's serene cyborg mascot gazes from the main window of ESET NOD32 Antivirus. Big buttons offer quick access to scan the computer or update virus definitions; you reach other options and features through the left-side menu."
11. IObit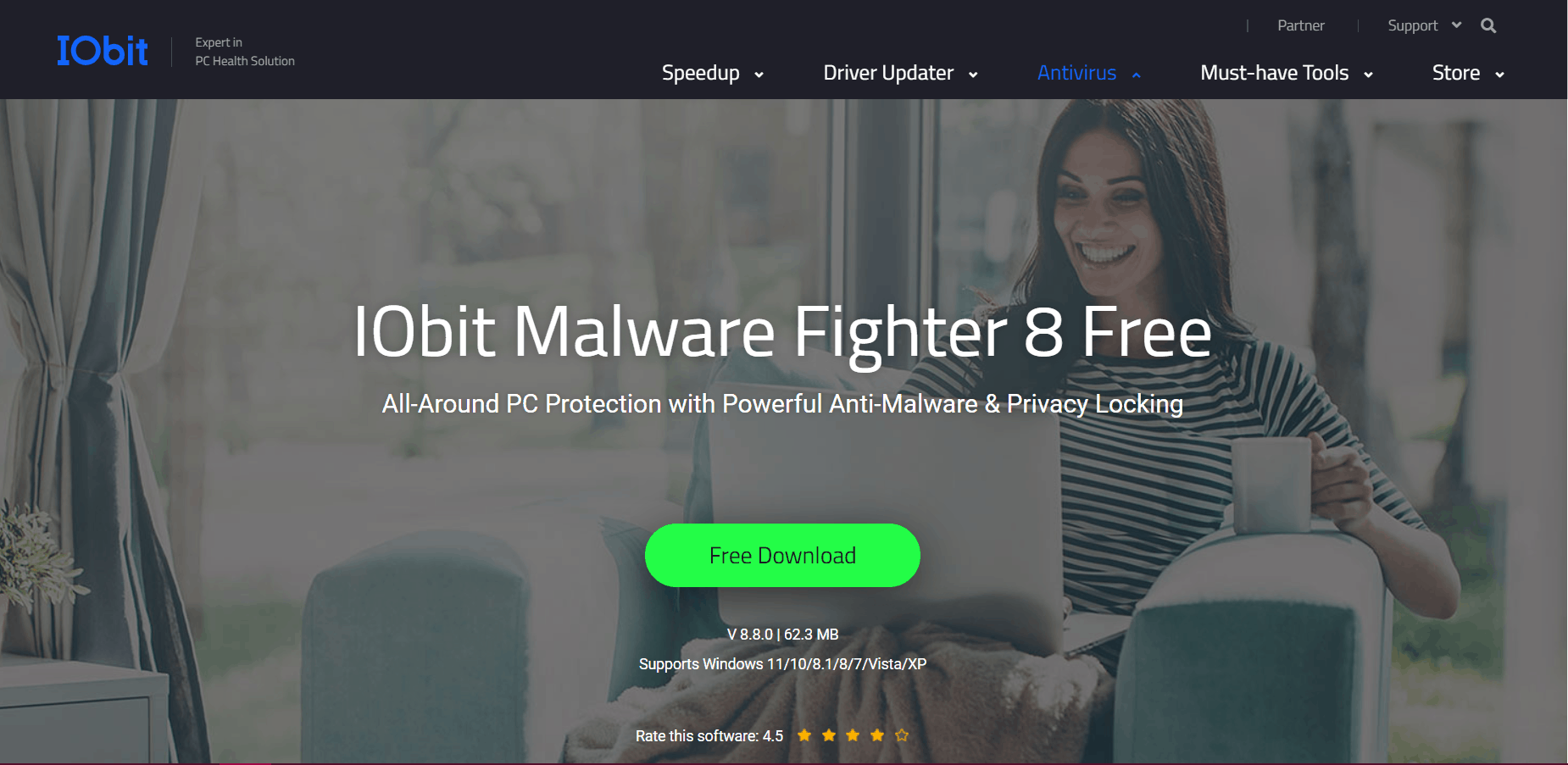 When it comes to extensive PC protection, anti-malware, and data protection software, IObit's Malware Fighter 8 Free is one of the best. It provides real-time threat blocking against most, if not all, threats known to cause extensive damage to your PC.
It detects a wide range of virus variants old and new with speed and accuracy thanks to their New Advanced Heuristics system. Moreover, their state-of-the-art malware engine can do comprehensive scans of your PC quickly and efficiently, ensuring that your PC stays protected at all times of day.
Its browser protection protects you from numerous malicious software online, such as phishing websites, ads, tracking cookies, and more. It works across multiple platforms as well, from startup to shutdown, as it is protected step by step by its security guards. 
These features are available for free, but if you want increased layers of protection then you might also be interested in purchasing their yearly plan, which comes at a discounted price of $19.95 per year. Given its many functions, holistic protection, and reasonable price, IObit's Malware Fighter is an excellent antivirus software to consider.
Pros
Free Download Version available
Wide range of features
Effective for multiple platforms
Discounted prices
Cons
And that's it for our list of the best antivirus software in Singapore. If we missed out on other great security solutions such as the best antivirus for android phones, or the best antivirus for Windows 10,  you may also share with us your recommendations! 
Most of our recommendations feature free trials so if you're after free antivirus software in Singapore they are a good start!
Also, for the business owners, aside from installing antivirus software, you might also need to consult with the best Singapore IT companies. They're equipped with dynamic digital platforms designed to improve management systems and boost online security measures including antivirus for android programs.