12 Best Calligraphy Pens in Singapore for Beginners
Today, we're talking about the best calligraphy pens in Singapore. If you're an amateur calligrapher looking for the perfect tools for training, you're on the right page!
Calligraphy has been seeing a resurgence in recent years, with several social media pages dedicated to the medium. From Instagram videos to Facebook groups, many of them are hubs for aspiring and veteran artists in the art of fancy lettering.
More and more people have shown interest in creating typographical art of late, in short. So, if you're one of those people who want to try out calligraphy, we'll go over some tools of the trade that can help you get started.
Before that, though, we'll talk a little about how you can pick a good pen for your needs. Of course, if you think you already know how to choose one, feel free to skip to our list of the best calligraphy pens for beginners in Singapore!
What Kind of Calligraphy Pen Should I Pick?
If you're going traditional, most hobbyists just start out with brush pens and fine liners. That's before going ahead with the more complicated dip pens and fountain pens.
However, starting out with normal coloured pens and markers is fine too. It usually depends on what you're comfortable with.
When it comes to prices, art pens are usually priced on the higher end of the scale, though. Our advice is to get good quality calligraphy pens that don't blot or dry out easily when you leave them uncapped for a while.
Cheaper calligraphy pens also have the tendency to bleed, blot, or get eaten by acid that's present in most types of paper. So, consider that when choosing a calligraphy pen.
One should also try out different types of tips and bristles, and test them out. Take a look at whether or not their feel works for you or whether they fray easily or not.
Finally, if you're getting some coloured calligraphy pens, make sure to test them on different types of material. Try to see if they're equally vibrant on different media.
The Best Calligraphy Pens in Singapore
Now that you know how to sort through your options, we have some suggestions on what to use when you're starting out.
Here are some of the top picks for the best calligraphy pens for beginners in Singapore:
1.  STABILO Pen 68 Brush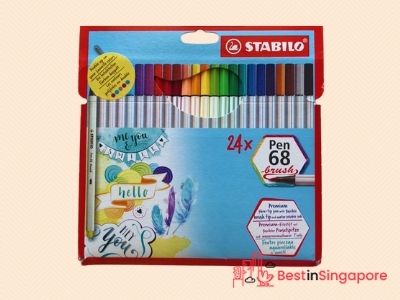 Price: $39.80
This Pen 68 Brush by STABILO is the best calligraphy pen choice for both beginners and advanced artists who would like to explore the creative world of calligraphy or brush lettering. You have 19 colour options to choose from and what's great about this product is it comes in handy for creative techniques such as colour progressions or watercolour effects.
Its flexible brush allows you to draw lines in varying thickness depending on the pressure you put on it which is perfect especially if you are working on crafts like greeting cards, bullet journals, or DIY boxes. Colour blending is also made easy, thanks to its water-based ink.
Thanks to STABILO, a FREE downloadable Hand-and-Brush Lettering Guide designed by Hannah Rabenstein is available for practice:
https://www.stabilo.com/com/stories/handlettering-guide/
Highlights
Up to 24 hours of dry-out protection without cap
Easy to blend
Premium fibre-tip
2.   Artline Calligraphy Pens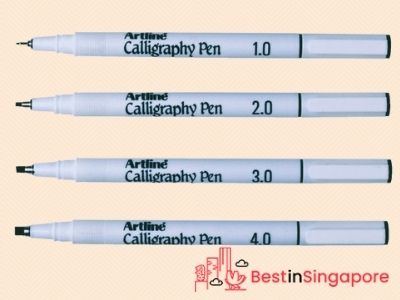 Price: $9.42 (set) $3.41 (individual)
Limited Stocks in Shopee, Buy Now. (Individual)
Artline's calligraphy pens have a warmer black tone than most. This set is ideal for creating straight strokes that are commonplace with Sans Serif types and Old English fonts.
Artline pens have a broad, chisel-shaped nib that achieves pristine straight lines.The ink lasts shorter than the others and the tip frays when it's overused, however.
Also, the cap doesn't stick to the bottom of the pen. But it's fade-proof and smudge resistant, as well as great at keeping up with fast strokes.
This is why so many calligraphers are fans of these pens. They're not perfect, but they are pretty great in some ways — which is why we think they're among the best calligraphy pens in Singapore.
Highlights
Ink that doesn't smudge or fade
Comes in sets of 4 or can be bought individually
Can be used for fade strokes
Customer Reviews
Here's a review from officeworks.com about Artline's Calligraphy pens:
"I've recently gained an interest in calligraphy, and figured to try it out with these pens. Personally, learning the 'Old English' font would be the easiest and quickest way into getting to learn calligraphy, especially with these (flat/180 degree end) pens.
It's got a hefty amount of ink and they do very well on most surfaces. You can use these pens however you want, whether it's for greeting cards, designing, or just for handwriting.
Getting the four pack is great to start with (you can purchase individual ones to replace ones that has run out of ink) as you get four different pen widths to play with.
You can also use these pens for outlining in drawings or paintings (before painting or over dry paint).
Do note that some of these pens, when writing, should be at a slow and steady speed (especially the 1.00mm) as quick strokes lead to a fade stroke, unless it is desired for the effect.
 The 2.00mm, 3.00mm and 4.00mm do well at any speed (unless it's close to running out of ink)."
3.   Tombow Dual Brush Pen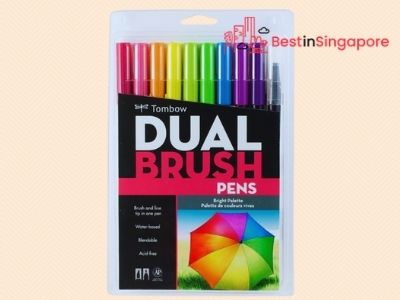 Price: $36.00
Limited Stocks in Shopee, Buy Now.
If your idea of the best calligraphy pen in Singapore is for the pen to be multi-purpose, then this one's for you.
Tombow's dual brushes come with double-ended tips, a brush pen, and a hard felt tip. You get two tips for the price of one. The smaller, fine tip is usually for tiny fonts, while the medium brush is for big, bold strokes.
Thus, using these gives you a variety of pen strokes. Many newbies enjoy that it comes in several colours too.
And since it has a blender included, it's ideal for anyone who wants to try out blending techniques and gradients.
Though it frays easily and doesn't pop out much in some types of paper, it's heavily pigmented enough for those who want a bit of colour in their work. We think this is the best calligraphy pen in Singapore for those with a playful and colourful creative streak!
Highlights
Dual-tipped for variety
Has a variety of palettes to choose from
Blends easily with other colours
Customer Reviews
Here are some reviews from Amazon about Tombow Dual Brush Pen:
I'm just a beginner, and just got my markers today. I've been practicing my lettering all afternoon and while it's challenging, these pens make it very enjoyable and I know show great promise. They brush pen writes so smoothly and the colours are vivid. After reading the reviews it says they will last a long time. I plan to keep practicing my lettering with these and will surely add more sets for even more color options.
These are some of my favorite writing utensils of all time. I like that you can build the opacity of the colour, and the brush tip is perfect for creating modern brush script, which is the purpose I purchased these for. I love the bright colours, and the intensity and saturation of the colours. I will buy more of these in the future, for certain.
4.   Uni Pin Fine Line Drawing Pen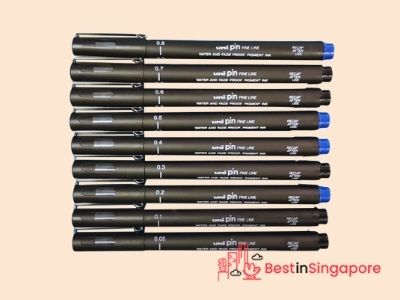 Price: $2.34
Limited Stocks in Shopee, Buy Now.
Uni Pin is the holy grail of fine liners, it has a variety of tip sizes from 0.05 to 0.8. The calligraphy pens can last for years (depending on the usage), and the ink doesn't get smudged even if you accidentally spill water on your work.
These calligraphy pens can be bought individually, but are also available as a set. However, finding a whole set is a rarity.
The Uni Pin has been a favourite calligraphy pen in Singapore for beginners and experts alike for its longevity and reliability. However, this isn't for artists who are heavy-handed, as putting too much pressure on the nib bends it out of shape.
Highlights
Pigment ink is waterproof and fade-proof
Variety of tip sizes, from 0.05 to 0.8
Can last for years, depending on usage
Customer Reviews
Some customers point out that these pens are more of a cool, very dark grey than a black color. It stands out in tan-coloured paper.
But they flow smoothly on paper and don't bleed like other brands. They also dry very quickly.
There are customers who also note that the ink flows at a consistent rate. Most hand-letter writers think this is the best calligraphy pen in Singapore for bullet journaling.
5.   Pentel Aquash Waterbrush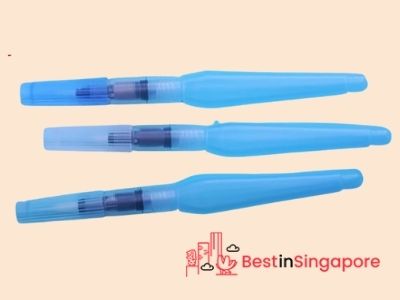 Price: $9.00
Limited Stocks in Shopee, Buy Now.
Want to try your calligraphic hand in watercolour? Pentel's Aquash Water Brushes offer a beginner-friendly water brush option that comes with 2 types, flat and round, and in 3 different sizes.
The cartridge is larger than most brands and is very easy to squeeze, perfect for controlling the amount of water used. Each calligraphy pen has a fine point that holds its shape well when wet.
The caps on each size have different colours for easy identification. However, the medium sized brush doesn't have a breathing hole, so the pigment gets sucked up into the cartridge easily.
Highlights
Has a large cartridge that can carry a good amount of water
Each size has fine, tipped point
Different-coloured caps for different sizes
Customer Reviews
Customers who've used this brush pen like how the brush still stays sleek even when a large amount of water is squeezed into it. They also like the availability of the pens in different stores.
Some customers also point out the ergonomic shape of the pen and the flexibility of the tips, allowing them to create finer details in their lettering and design.
There are also many who like the compact size of the pen and how lightweight it is. Another feature is its easy-to-fill reservoir. But some customers warn not to leave it uncapped… for obvious reasons.
6.   Pentel Pocket Brush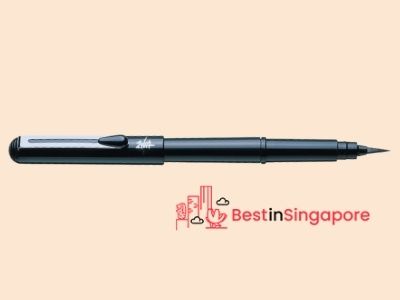 Price: $13.17
Limited Stocks in Shopee, Buy Now.
If you're always on the go or just looking for the best calligraphy pen for travel, you need to check this one out.
Another great choice from Pentel, the Pocket Brush Pen is a compact writing instrument that you can carry anywhere. The nib is pressure-sensitive, which achieves different kinds of effects in hand lettering.
The flexible nibs are soft and a bit difficult to control, but all it needs is some getting used to. The ink is waterproof, so it can be mixed with watercolours too.
The bristles are synthetic but mimic natural hair pretty well. This is another of the best calligraphy pens in Singapore for those who want to do brush lettering.
Highlights
Replaceable cartridges
Pressure-sensitive brush point
Vibrant waterproof ink
Customer Reviews
Customers who've used this brush pen says the ink doesn't bleed when applied to most paper, which is always good. Furthermore, grainy paper brings out an interesting effect.
Other users say that this pen is incredibly tactile and fun to write with. Though a few attest that that it's a bit difficult to control due to the soft nib, it tends to be more appreciated by those who want a variety of details.
There are others who say the tip is not easily damaged, but there were some reviews that say that because of it softness, it damages quickly. We think it may boil down to how heavy your hand is when using it.
7.   Tombow Fudenosuke Brush Pen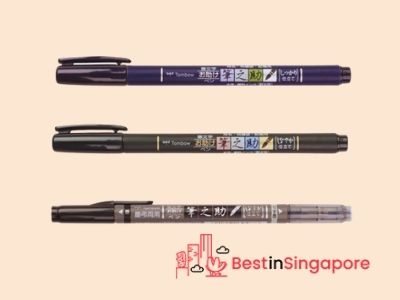 Price: $5.32
Limited Stocks in Shopee, Buy Now.
A favourite of calligraphers for its versatility, this brush pen comes in two nib variants: the soft tip and the hard tip. It can also come in a set with different colours or a dual black ink one.
These pens have nice black pigment, and even with the hard tip, are pliable to hand pressure. Testing one shows it has good leverage and works smoothly on most paper.
Its being less chunky than the previous examples may also help the newbie calligrapher get used to brush pens. Its size is easier to write with in smaller notebooks.
Highlights
Normal-sized to help beginners get used to brush pens
Hard tip can be pliable to pressure
Has bright pigments (for the set)
Customer Reviews
Users of these pens like how they give consistent, fine lines and still has ease of variability. However there are others who mention that it dries out pretty quickly when used on copy paper.
Other users comment on how it doesn't bleed into other pages. There are users who are divided on whether this pen is waterproof or not due to their different experiences with this pen.
But they all agree that the tiny tip is a great feature, especially when writing in tight spaces. Customers also commented that the coloured set only comes in hard tips.
8. Pitt Artist Pen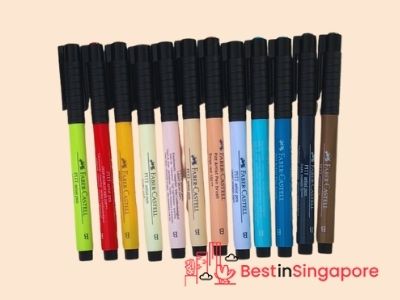 Price: $36.00
Price per piece: $4.50
In a wallet of 4: $18
In a wallet of 6: $27
In a wallet of 8: $36
Available for sale at Faber-Castell Shop at Marina Square
Shop address: Marina Square, 6 Raffles Boulevard, #02-190A, Singapore 039594
Faber-Castell is one of the most renowned brands for any product related to writing and drawing. Their calligraphy pens, for example, are some of their best sellers. This is because the brand has combined all the advantages of artist's inks with the benefits of a modern, easy-to-use pen – the Pitt Artist Pen.
Pitt Artist Pen typically comes in black but it is also offered in various colors for creative approach.
While this pen is highly pigmented, it is guaranteed to non bleed through paper. It also comes in a variety of nib sizes and very lightfast drawing ink, truly perfect for calligraphy work, sketches, drawings, layouts, fashion design and illustration.
Highlights
High lightfastness
Waterproof, permanent, does not bleed through paper
Ideal for calligraphic work
Odourless, acid-free, pH neutral
9.  TWSBI Eco
Limited Stocks in Shopee, Buy Now
Price: $50.82
TWSBI Eco has another variant – namely ECO-T, features a rounded triangular shape that encourages you to hold the pen at the optimal angle. Further, that allows one to correct their writing posture.
Highlights
More pronounced grip area

Sleek design

Economical
Customer Reviews
Customers loved how the pen is economical yet providing high quality outputs. Here's one satisfied buyer of TWSBI Eco:
This is my first experience with TWSBI pens and I am pleasantly surprised by its writing quality. It is smooth, great ink capacity and nicely balanced when posted. Overall a good buy for its price.. – Lee Fun Y.
10. Kelly Creates for American Crafts Small Brush Pens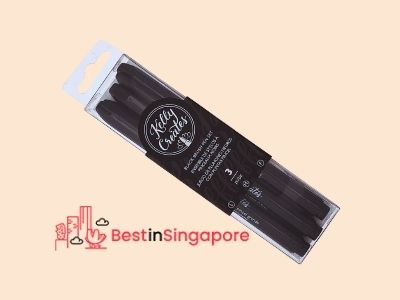 Price: $12.57
Limited Stocked in Amazon, Buy Now.
Kelly Creates for American Crafts  Small Brush Pens are must haves for beginning calligraphers. Offering three basic tips (fine, medium and large), this set will be very useful for basic lettering.
Kelly Creates uses non-toxic and acid-free materials for your comfort. The small tips are easy to hold and control, which are perfect for novices.
They are durable and are in for the long haul. These calligraphy pens will give a great value for your every buck.
Highlights
Ergonomic design

Durable

Great for beginners

Non-toxic
11. STABILO beFab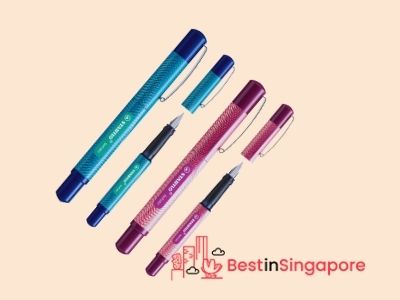 Price: $26.00
Fountain pen beFab is one of the latest issued calligraphy pens in Singapore from the renowned brand STABILO. It has a stylistic design which makes it perfect for fashionistas and artistic individuals. It comes in different colors and various patterns; so, you'll have many to choose from. 
This pen utilises the standard ink cartridges which makes it easier to find replacement. Which makes it a good one is it has a comfortable and soft grip unlike other fountain pens. 
Highlights
3-barrel designs to choose from

Soft and comfortable grip

Nib width: 1.4mm

Erasable blue ink
Customer Reviews
Customers are in love with the new design of their calligraphy pens. Further, they note its performance and quality. Here's what their customer says about the product: 
I wasn't expecting a lot when I ordered this, but I like Stabilo pens, so I thought I'd take a chance. This is a nice lightweight pen and right out of the box, it writes beautifully. It has a very smooth nib, not scratchy at all. I would highly recommend this as a reasonably priced italic pen. – Jen
Considering the price this is a very smooth and easy flowing pen. Its nice and comfortable in the hand. I would recommend this product .Arrived very quickly , well packaged and ready to go. – Mr K. Birchall 
12. Zig No. 22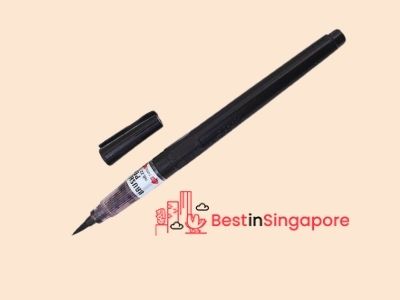 Price: $11.60
Limited Stocks in Shopee, Buy Now.
A choice from beloved brand Zig Kuretake, Zig No. 22 is a brush pen mostly made for cartoonists but has found itself a favorite among letterers. It has an intense black ink that doesn't blot or fade away.
The brush doesn't easily fray or break either, so you won't have a problem practising strokes on this pen. It gives out a lovely variation of multiple brush strokes, a great pick for letterers. We think this is the best calligraphy pen in Singapore for heavy-handed writers.
Highlights
Black ink that pops out
Refillable cartridge
Flexible bristles
Customer Reviews
Several customers loved this pen for its pressure sensitivity and stroke speed. The ink is opaque and vibrant.
The squeezable body can give out copious amounts of ink, and the flexible bristles help in experimenting with many stroke types.
However, since the instructions are in Japanese, many of the consumers were confused on how to open the pen or replace the cartridge. Another thing that customers observed is that the tip becomes leaky when left in the open.
To sum it all up, these pens offer great value for their prices. We hope you get to pick out a nice set of pens to start out your journey in learning calligraphy!
And when you're done trying out calligraphy in the traditional way, how about trying out digital typography? There are great drawing tablets in Singapore that you could help you practice.
But in case you want to stay on the traditional route and piled up too much waste paper from practising calligraphy, you can easily dispose of them with a shredder. Take a peek at our picks for the best paper shredders in Singapore.