8 Best Dish Racks in Singapore for Your Home Kitchen
So, you're here looking for the best dish racks in Singapore because you finally have your own space to live in! You've made your first steps into adulting. Good for you!
But there are so many factors to weigh when picking a dish rack. You might not know which rack to pick, as a result, because there are so many choices available now.
Don't worry, though! We'll take you through some of the things you should know about buying one.
After that, you can take a peek at the choices we gathered for the best dish racks in Singapore!
So What's in a Dish Rack?
Buying dish racks isn't rocket science. You just have to know what you're looking for.
First, think about the material. Typical dish racks are usually made of bamboo, plastic, silicone, or stainless steel.
Steel is obviously the most durable, so it's not surprising that many look for the best stainless steel dish rack in Singapore. However, it's also heavy and costly. The other options can be good too, but may be a bit less robust.
Be wary of cheap stainless steel disk racks, though. Racks made of it have a tendency to rust quickly.
Plastic is prone to breakage, or sometimes, closed plastic dish racks are prone to mould when dishes are left to air-dry.
Also, keep in mind that a rack needs to be easy to clean. In that sense, we'd prefer good-quality steel ones, as they're less likely to form pits or micro-cracks that could trap dirt.
After that, we'd pick silicone and bamboo options. Plastic comes in last — although high-quality ones are fairly easy to clean and sturdy too.
What's more, an ideal dish rack should have enough space to fit in several utensils… but mustn't consume a lot of space on a counter.
Best Dish Racks
With these tips in mind, we now present quality racks that will help air-dry your plates and store some utensils. Here are the top picks for the best dish racks in Singapore for all spaces.
1.   Camco Mini Dish Drainer and Rack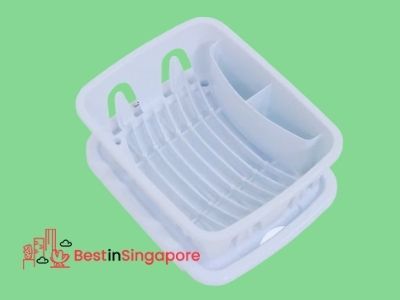 Price: $12.79
Limited Stocks in Amazon, Buy Now.
If your idea of the best dish rack in Singapore means it's compact, durable, and reasonably-priced, then this one's for you. A compact, plastic rack, this Camco rack has 4 giant holes in the sides to help with water drainage for drip drying.
The sloped catching tray doubles as a lid that you can just slide off and snap on after use. It can come in white, black, or translucent.
Don't be fooled by its size, as it can fit large plates and several utensils. The prongs in the holes are used as cup holders.
Made out of durable plastic, this rack is also fairly heavy-duty and will last long. The manufacturer states that it's ideal for marine sink usage. This is probably the best dish rack in Singapore for small to medium sized kitchens.
Highlights
Heavy-duty plastic
Compact, can fit into cabinet, sinks, and campers
Drainage holes by the sides
Customer Reviews
Here are some reviews from satisfied customers from Amazon:
"This dish drainer is exactly that we needed for our camper. It is VERY compact and fits in our cabinet neatly. The top is a great feature to hold in such things as sponges and a small bottle of dish detergent. There is a lip on the front edge that fits perfectly over the sink to drain."
This is a great addition to our small kitchen with limited counter space. It supplements the dishwasher and the large dish drainer next to the sink, which is usually full. It's small and portable and the attached (detachable) tray allows it to be used anywhere. I use it mainly for cat food can lids–with 4 cats these pile up quickly–and the design is perfect for that use. It's also handy for drying items like the coffee pot filter and bottles and cans for recycling. Highly recommended.
2.   OXO Good Grips Convertible Foldaway Dish Rack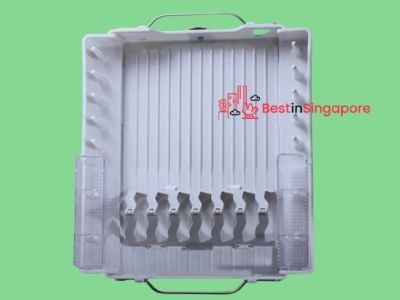 Price: $55.71
Limited Stocks in Amazon, Buy Now.
OXO is a good choice for a customisable type of dish rack. It has a variety of legs and smaller racks that fold out to make way for bowls and larger plates.
There are also tines that can be arranged inside to hold glasses and mugs. Assembly of this rack for storage is no problem either.
In fact, you can assemble it vertically or horizontally. The inner racks have holes for drainage and a tiny plug at the bottom.
This is the best dish rack in Singapore for those who want the compartments customisable. Flexible and works well with different kitchen types!
Highlights
Rust-free wire
Customisable assembly
Foldable inner racks
Customer Reviews
Customers comment on how many bulky items they can fit inside this dish rack. However, there were several complaints over the drainage plug, stating that it leaks whenever even a tiny bit of food gets caught in it.
There's also the matter of the drain angle, which sometimes gets water on the counter top.
One user stated that it's difficult to dry if one utensil is not propped up properly, but it wasn't a problem for her due to it being easily shuffled and fixed.
3.   PremiumRack Professional Dish Rack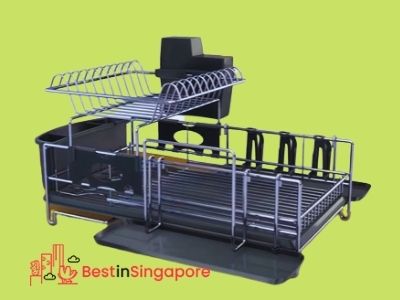 Price: $84.06
Limited Stocks in Amazon, Buy Now.
This dish rack has ample space for different dishes, two different drain boards, 3 separate cup holder attachments, & a cutting board attachment.
In other words, PremiumRacks is a dish rack in Singapore that has just about everything. From a top shelf to a knife holder to three cupholders and more.
The top rack is adjustable, as it can be removed or placed in a different part of the rack. It also has a microfibre mat underneath to catch the excess drippings.
Organising this rack is a cinch for those who have an array of silverware that they can't seem to fit in one place.
However, this dish rack is not made for modest kitchens. That said, there were a fair number of customers that said that the mat is short and the rack is prone to leakage
We think this is the best dish rack in Singapore for bigger families or if you love entertaining, have a big kitchen, or both!
Highlights
Dual-style drainboards
Has a variety of storage units
Adjustable top rack
Customer Reviews
Here are some reviews from Amazon about PremiumRacks:
Had it for a couple of months now. It holds a boatload of dishes. love the knife block feature on the side. Comes with an absorbent mat for underneath if you want to use it freestanding. Really, I am sure I am overloading it every day but this really holds an amazing amount of dishes. Love the cutting board rack (I use one nearly every day). It lets it dry completely on all sides. I am super impressed.
My wife and I looked for months for a decent rack in many stores. We always walked away saying to each other, "Forget it, let's just find a good one on Amazon" Well I did just that and my wife was amazed how much weight and items could be placed on this rack. I have never seen a design like this. I don't think there is a better one out there, but I could be wrong.
4.   Joseph Joseph 85071 Extend Expandable Dish Drying Rack And Drainboard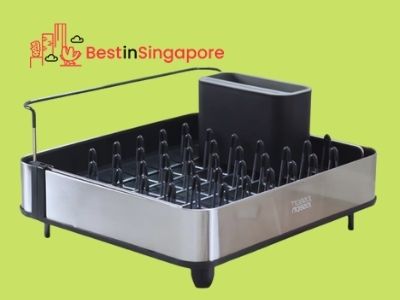 Price: $69.88
Limited Stocks in Amazon, Buy Now.
The most annoying thing about most dish racks is when water pools at the bottom tray. Well, this rack's defining feature is the spout drain that has a plug. This dish rack is suitable for tiny kitchens and is tractable to accommodate a variety of items.
The tray extends to almost twice its size when needed, in fact, so don't be fooled by its compact looks. This is a very capable little rack that can store more than you may think.
Its non-skid design ensures it doesn't slip or tip over. The metal rack and cutlery holder can be removed for cleaning and the ridges inside the tray make for a great surface when drying saucers and cups.
We think this is the best dish rack in Singapore for those who are busy and won't have time to clean their kitchen every single day.
Highlights
Plugged water spout, controllable drainage system
Scratch-resistant design
Tractable tray for larger plates
Customer Reviews
Here are some reviews from Amazon about the Joseph Joseph:
FINALLY! A good sized dish rack that's not ugly as sin. It holds a lot of dishes which is important, we have no dishwasher. We had our previous dish rack by Joseph Joseph for years so when we needed to upgrade we knew what brand we wanted. We are very happy with it. It looks great nad holds a ton.
I really like this dish rack. The only problem I had was that the turnable drain spout doesn't sit high enough to go over the lip edge on our sink. We have a surface mounted drop in sink. So I just got a little creative to raise the dish rack and that solved it. I love the expandability and the rubber grips on the pegs keep things from clanging around and firmly in place. It's a well thought out design and it shows in its form and function.
5.   Umbra Sinkin Mini Dish Drying Rack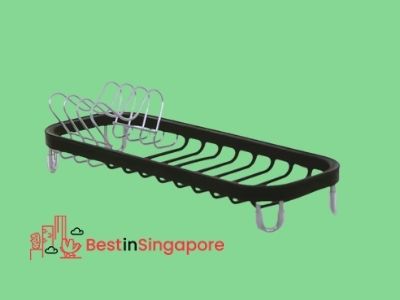 Price: $17.90
Limited Stocks in Amazon, Buy Now.
If you live solo, or live with one other person at the most, this is the best dish rack in Singapore for you. The Umbra Sinkin's sleek, minimalistic design is perfect for those who want to save space. Umbra's philosophy is to produce a design for the modern kitchen, so if you dislike bulky dish racks, this is the pick for you.
This pint-sized powerhouse can hold up to 5 large-sized dinner plates and has a non-slip design. Due to its size, you can easily store it when it's not in use. The best dish rack in Singapore for minimalists!
Highlights
Fits easily in sinks
Doesn't take up much space
Barely noticeable when filled with cutlery and dishes
Customer Reviews
Customers who used this dish rack commented on how it has a perfect fit when stored inside their sink. This item gives them a lot of counter space, and the rubber feet keeps the sink from being scratched all over.
However, there were several reviews that claimed that it rusts. And that not all of the dishes stored in the rack will stand up straight, but bending it slightly helps.
The reviews also stated that the silverware holder is secured, but can be moved to accommodate more space.
6.   Simplehuman Steel Frame Dish Rack With Wine Holder
Price: $199.00
Limited Stocks in Shopee, Buy Now.
Simplehuman's dish rack is made to hold large amounts of dishes, with 2 cutlery holders, 2 sides that can hold mugs and wine glasses, and a lot of room for big dinner plates.
The stainless steel design is rust-proof and fingerprint-resistant, giving it a sleek look even if you've touched the sides. Its swivel spout efficiently drains water and has no leakage problems.
The drying tray has a hydrophilic coating that helps dishes dry. However, some of the spaces in this rack can be quite difficult to clean. The rubber trim is also susceptible to damage.
It may not be the cheapest dish rack, but we really recommend this dish rack for those whose kitchens are really busy, or if you have plenty of cutlery and dinner plates.
Highlights
Rust-proof and corrosion-resistant
Hydrophilic coating on tray to help dishes dry faster
Spacious enough for several dishes
Customer Reviews
Here are some reviews for the Simplehuman Steel Rack on Amazon:
I decided to splurge on this dish rack because my old one from Bed Bath & Beyond was rusting and would get rust on my clean dishes. I bought this Simple Human dish rack 4 months ago and have been using it daily. I'm pleased to say that after 4 months of daily use this Simple Human dish rack has still not rusted at all. The disk rack is of standard size (that's a 32 oz stockpot in the photos for reference). I also love the spigot feature which drips water into the sink. All in all, very pleased and worth the extra $$!
This dish rack has a functional, sturdy and beautiful design. It is compact yet spacious; well-built (solid); very easy to clean; has a tongue, which directs water right into the sink where it belongs; AND has great eye appeal. I receive compliments on this dish rack often. My only suggestion…it should be offered in various colors. Nevertheless, I would purchase it many times over again!
7.   Umbra UDRY Drying Dish Mat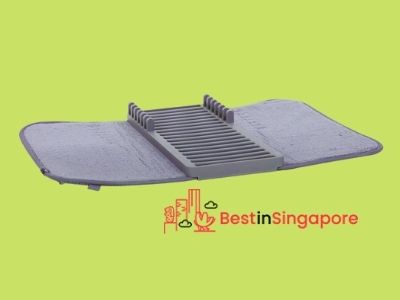 Price: $27.89
Limited Stocks in Amazon, Buy Now.
Another product from Umbra, this dish rack consists of a drying rack and a mat combo. This is ideal for those who want a dish rack than can be of use during travel or who just want a copious amount of space in their countertop.
The rack has 19 slots in which you can fit small saucers to larger plates. The microfibre mat is absorbent, so one doesn't need to worry about dripping trays.
Because of this dish rack's simple design, it's foldable and can be kept away and taken away as needed. It's a good alternative for those who constantly use kitchen towels.
Definitely the best dish rack in Singapore for those who want a minimalist design but functional in all levels.
Highlights
Minimalistic design that saves space
Microfibre mat is absorbent
Sturdy dish slots
Customer Reviews
Here are some reviews from Amazon about Umbra UDRY
I love this drainer/mat. It is low profile and easy to store. When my brother visits he likes to clean up after himself and always throws a dish towel on my counter, washes his dishes and sets them there to dry. This works much better. Love it. I had to go through several pages of dish drainers before I found it, well worth the search.
I really like this drying rack. It absorbs water quickly and the rubber utensil area is very handy for nice knives. It is a nice size as well which is why I gave it a 3 in small space. I prefer it larger since space is not an issue where I use it. Like the grey color as well.
8. Song-Cho 15331S 2-Tier Dish Rack w/Ladders (MT)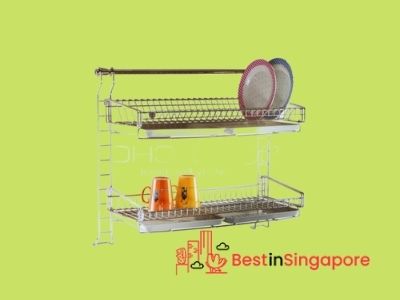 Price: $182.25
Song-Cho's' 15331S 2-tier dish rack has dimensions of 665mm x 260mm x 560 mm with full-length ladders for additional surface area. It also comes in smaller sizes, with the heights becoming lesser at 540mm and 460mm.
This dish rack is wall-hung, so you can place it on top of the sink or someplace for draining. Song-Cho even offers installation services for a considerable additional fee.
Song-Cho uses only stainless steel materials for its dish racks. So, you can trust its products to maintain their shine and prevent rust with minimal maintenance.
To clean the Song-Cho dish rack, you need only a wet cloth with some mild detergent.
What we like the most about this 2-tier dish rack is that both tiers have draining pans. So, you can still put wet dishes at the top rack without adding any moisture to the dishes or mugs in the lower rack. We think this is the best dish rack in Singapore for big households.
Highlights
4 melamine trays, 2 per tier
2-tier dish racks
Stainless steel material for durability and anti-corrosion
Comes in three sizes
Wall-hung installation from Song-Cho
Anyway, that's our list of the best dish racks in Singapore, especially for those with small kitchens!
When you're done shopping for a new dish rack, you may want to take a gander at some other kitchen appliances that save space — like these mini fridges in Singapore.
Or, in case you need an extra table for those sudden family gatherings, maybe check out these space-saving foldable tables in Singapore. These can also help you make the most of your space!