6 Best Sports Watches in Singapore for an Active Life
Becoming fit through an active lifestyle isn't going to be easy if you're alone. But instead of hiring the services of a personal trainer, getting your hands on the best sports watch in Singapore can also help you work towards your goals.
Sports watches can get a bit expensive, depending on the features… but there are cheaper options out there that still get the job done. Whether you're already a fitness enthusiast or just starting to get physically active, there's a sport watch for you.
If you don't know where to find the best sports watches in Singapore, we've got you covered! But before that, we'll tell you the things to consider before buying one to make sure that your money will be worth it.
However, if you already know what you want, feel free to skip ahead to our list of the best sports watches on the island.
Things to Remember Before Buying a Sports Watch in Singapore 
As we've mentioned earlier, sports watches aren't cheap. It's your job to carefully look into a product to ensure that your money's not going to be wasted.
There are a lot of things to consider here. One of the first things you should take note of is the built-in GPS, for example.
On top of this, the battery life, app-syncing ability, daily activity tracking, water resistance, and durability are some of the other things worth inspecting in a sports or fitness watch in Singapore.
Once you're familiar with these things, picking out the right sports watch will become easier. So, let's take them up one by one!
1. Built-in GPS
If running and hiking are your favourite workouts, then a sports watch with a built-in GPS is a must have. But this shouldn't be a problem as most sports watches today have this feature already.
These usually have a tracking function to go with the GPS. It provides an accurate result about your workout such as the number of steps, distance travelled, and sometimes, even the calories burned.
Obviously, that's great because it allows you to track your progress. However, most sports watches tend to lose battery charge or power faster when the tracker is on.
2. App-syncing
A sports watch with its own mobile application will allow you to view and monitor your fitness activities even more easily. Since most sports watch can't display your fitness history, that can be accessed instead through a smartphone application.
After working out, the app can display your average heart rate, distance covered, and even pace. On top of this, you can also sync the app to your music library so you can listen to music while working out at the gym or running a trail.
3. Daily Activity Tracking
A sports watch isn't only useful during workouts. Some sports watches in Singapore can also track your daily activities such as wake-up time, total steps daily, heart rate, and total hours of sleep.
With this feature, you get to monitor daily activities that can say a lot about the status of your health. If it notices that you aren't getting enough sleep, then it will remind you to get some extra sleep on some days.
4. Battery Life
Sports watches are mostly rechargeable. Ideally, you should pick out a sports watch that can last for multiple days and endure regular workouts.
Now, a sports watch's battery life is its most important feature, in a sense. That's because it can't be used properly if it keeps running out of battery power.
An ideal sports watch can last for 2 to 3 days, depending on how many features are turned on and how often you workout.
You must take note that there features that can drain out its batteries faster, though, such as the GPS tracker and notification sounds. Make sure these features are off when the battery is already running low.
5. Water Resistance
Since you're going to be covered in sweat while working out, your sports watch must be water-resistant to some degree. Although most sports watches are water-resistant, they differ on how deep into water they can be submerged.
To give you a perspective, most standard sports watches can resist water up to 30 meters, while there are some that can go as deep as 200 meters.
If you don't know the water resistance level to consider, we believe that 30 meters is ideal for regular workouts and hikes.
6. Durability
Durability is something that one must consider before buying any item, especially electronic items like sports watches. Of course, no one wants to spend their hard-earned money on something that won't even last for a long time.
If you plan to use a sports watch for casual events, then you really have to look into the materials of a sports watch. You must pick out a sports watch made with quality materials that can handle long hours and regular usage.
The Best Sports Watches in Singapore
Now that you're familiar with the factors to consider before buying a sports watch, you're now ready to see our picks of the best sports watches on the island.
We hope that by the end of this article, you will have chosen one that can complement your active lifestyle. Check them out below.
1.   Apple Watch Series 5
Best for Fitness Tracking
Price: $570.00
You probably have seen a lot of people at the gym sporting the Apple Watch Series 5… and we can't blame them.
It's a great and multifunctional sports watch. If you're looking for one that can be used outside workouts, then you'll definitely love this one.
One of its special features is that it's always on — basically never sleeping. It lets you see the time easily and access important information quickly.
Like most sports watches, it can be synced with the app on iPhone, allowing you to see your workout history in detail. It can also do a quick reading of your heart and heart rhythm, in case you want to know how healthy your heart is.
It also comes with an activity ring that monitors your progress, motivating you to spend more time at the gym, walk more, and sit less. If you want more motivation, you can even use this to compete with your friends in different challenges!
As a plus, runners who love going to different places will no longer get lost because this one has an excellent compass that will guide you wherever you are. All of that tells you why this is one of the best sports watches in Singapore.
Highlights
Apple Pay
100 watch faces
Heart rate tracker
Cycle tracking
Water resistant
Detachable straps
Customer Reviews
Since Apple is one of the top tech brands in the world, it's no surprise that this sports watch has received mostly praise. Here are some comments from customers:
"Everything about this watch is wonderful. I went from the series one to this one (series five). There's a major difference in speed as there should be. Very comfortable. Comes with 2 bands, charger cube and cord. I bought a protective case for the watch face since I'll be using my watch while I work. Absolutely No complaints about this watch."
"Love this watch, it has changed my life! A must have for all apple device users. Also it incorporates most of your apps from your phone to the watch very cool. Also on texts you can text and talk or write the letters individually or hot key emojis. I use this a lot when im busy walking around or running errands or driving. The best watch ever! There is also a ton of free fun games, my favorite is Kepiek Attack like space invaders but for the watch. I also recently hooked up apple pay and now I don't have to bring my wallet anywhere so easy!"
2.   Samsung Galaxy Watch Active 2
Best for Running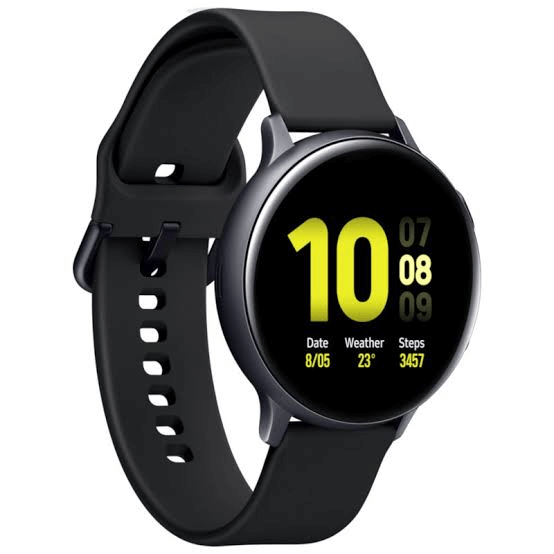 Price: $298.00
Ideal for runners, the Samsung Galaxy Watch Active 2 comes with a fitness coaching feature that keeps track of the user's running history. It can also encourage users to set new goals by challenging them with a new pace, duration, and distance.
After workout, it will provide an analysis and suggestions on how to improve the workout next time. You don't have to pay for the expensive services of a fitness coach when you have this sports fitness watch in Singapore!
It also comes with a stress tracker that constantly monitors your stress level. Sometimes, we no longer realise how stressed we are, so it's nice to have a watch that will remind us to stay cool and breathe.
Unlike the previous version, it now has a larger screen that lets you see your workout stats clearly. In terms of battery life, it can last for more than a day without a recharge.
Highlights
Stress tracker
Health tracker
Fitness coaching
Customisable screen
Customer Reviews
With an average rating of 4.7 on Best Buy, the Galaxy Watch Active 2 stands out for it sleek and durable design.
Customers also loved that it's not that expensive compared to other brands, so it's one of the best sports watches in Singapore if you're on a budget. Here are some reviews:
"Love it, easy to use. Great workout programs available on the play store that are free. Very accurate heart rate monitor. I like better than an apple watch at a fraction of the cost. Another great feature is they offer different faces u can download. Over all happy with this product. Great value"
"Purchased this watch around Christmas,  so far very impressed with it. Easily changed to fit your style and comfortable to wear. Battery lasts over 2 days depending on use. I could probably go 3 maybe more if needed. Several activities to choose from for short cuts."
3.   Xiaomi Amazfit BIP
Best for Battery Life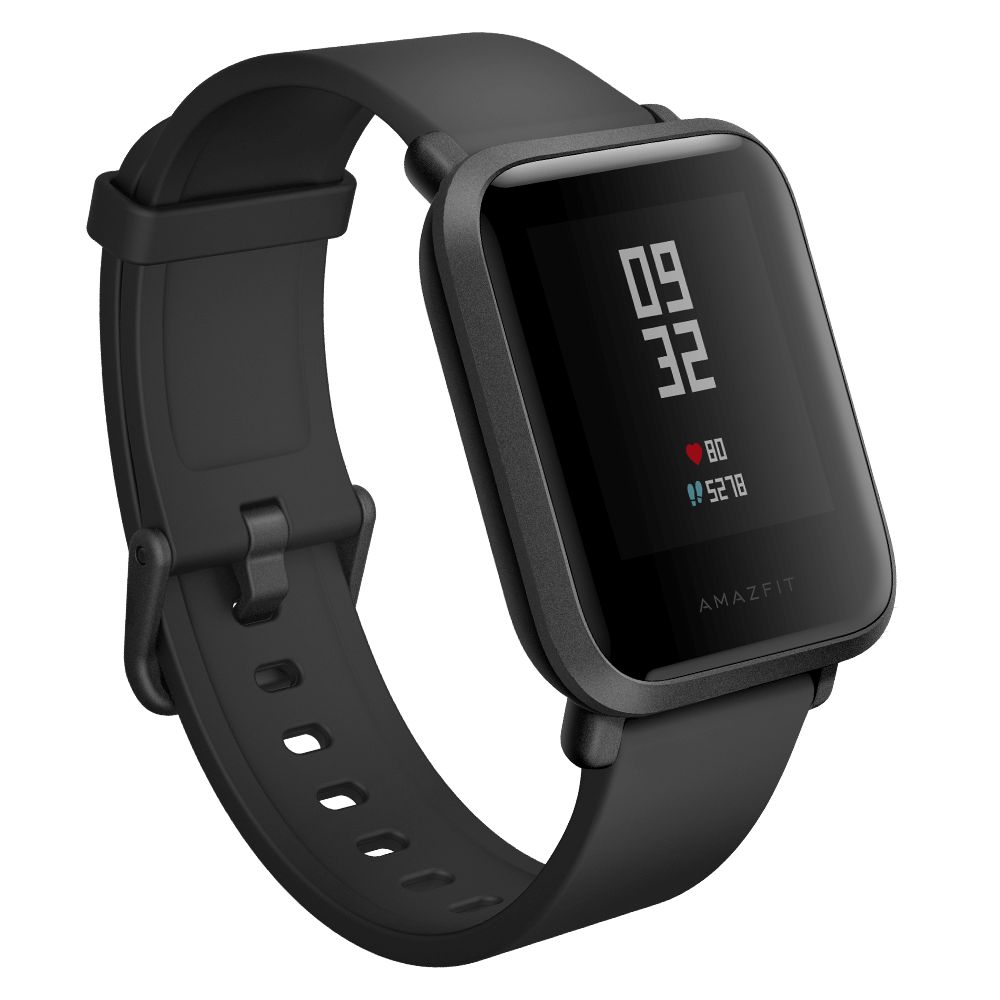 Price: $69.00
If you want an exceptional sports watch in Singapore for an affordable price, then the Xiaomi Amazfit BIP is the perfect one for you. Without draining your wallet, you can get a sports watch with the same look and features as the Apple Watch.
What makes it stand out from other options is that it has a battery life of 5 days, significantly higher than most sports watches. You will never have to worry about running out of battery while on a hike or at the gym!
It also has a built-in Sony GPS that keeps track of your distance and location while running. It can also serve as a guide so you won't get lost in case you want to reach places you've never been to before.
And you never miss out on any important text or call with its notification feature. If there's an incoming text or call, the Amazfit BIP will vibrate to inform you.
All in all, this makes our list of the best sports watches in Singapore because it offers so much at such a reasonable price. And with that battery life, we know it'll be at the top of the list for a lot of users!
Highlights
Cheap price
Longer battery life
Water resistant
Built-in GPS
Detachable straps
4.   Fitbit Versa Watch
Best for Compatibility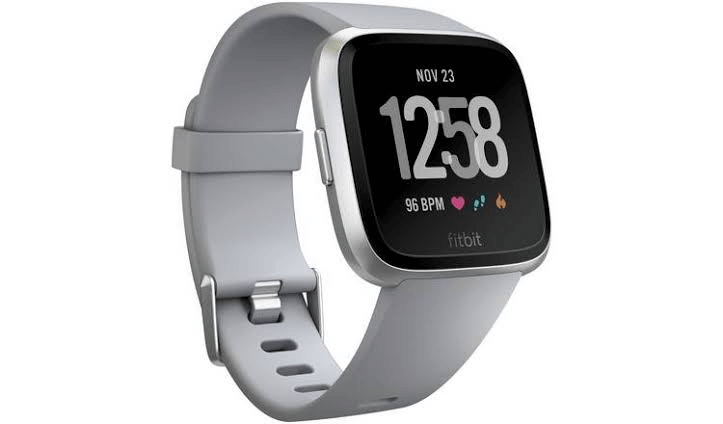 Price: $260.00
The Fitbit Versa is known for its fitness and sleep tracking that guides users towards living a more active and healthier lifestyle. If it notices that you aren't getting enough sleep or exercise, it will remind you to hit the gym and get more sleep.
It has a battery life that can last for 4 days, so no more running out of battery while running or at the gym. In addition, it has a hip and cool design that can be used for casual events.
What we truly like about the Fitbit Versa is that it's compatible with Apple, Android, and Windows phones, making it a sports watch for everyone. It can also be used in planning your schedules, so you won't miss out on any important things and events.
Above all, it knows when you're starting to get stressed. Once it feels your stress level rising, it will remind you to stop what you're doing to do some breathing exercises to calm you down.
It's the best fitness watch in Singapore to have if you want those daily and regular reminders to live a healthier lifestyle. 
Highlights
Longer battery life
Stress tracker
Sleep and fitness tracker
Female health tracking
Customer Reviews
Take a look at these reviews from satisfied customers on Amazon:
"The watch is super light and feels great on the wrist. I like it better than the Apple watch and I like the fact it has less apps and so easy to operate. As per the wrist heart rate performance, it is very accurate. I am getting the same readings of my usual runs and cycling workouts without the need of a chest heart rate receiver. I emphasize the value of having an accurate readings from your wrist only. The sleeping readings also are of great value (give resting hr) and give you a better understanding of your sleeping patterns."
"I am on day 4 with the new Versa and I absolutely love it. I have gone swimming with it, the main reason I got it in parallel with the fact that my old Fitbit wasn't holding a charge anymore. I can see the integration of the acquired Pebble team which I was a huge fan of. This marries the best of both worlds and puts it into (in my opinion) the most beautiful design. It's not a blocky, gooby, and awkward looking Apple Watch, nor a clunky large workout watch. This watch, I think, is literally my favorite watch both design and function. Thank you Fitbit for getting it perfect! Can't wait to use all the other amazing features this watch has!"
5.   Huawei Watch GT2
Best for Elegant Design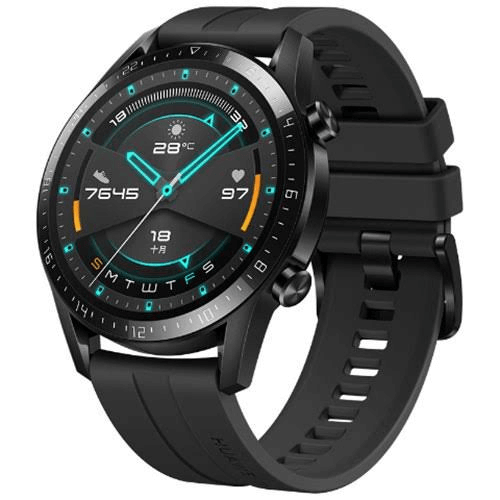 Price: $239.00
If you want a sports watch that mixes fitness with elegance, then you'll definitely like the Huawei Watch GT 2. It has an effortlessly cool and sophisticated finish… and is made from durable and high-quality materials.
It may look like one of those classic watches we all know, but we promise that it's a great partner for workouts. It comes with a fitness tracker that monitors your workouts and heart rate using the TruSeen 3.5 technology, providing you with accurate stats.
If you like counting your steps every day, then the Huawei GT 2 can do that for you. On top of that, it can keep track of your calories and how many times you stand up.
Since it has a classic look, this sports watch can be used beyond running and working out. You don't need to buy another watch for casual or formal events.
Highlights
Sleek yet durable design
Daily activity tracker
Stress tracker
Built-in GPS
Customer Reviews
Most customers agree that the Huawei GT 2 has a great look and can even be considered the best looking sports watch available today. Here are some of their comments attesting to how great this sports watch is:
"Best looking and longest battery life on the market. Even though it's a larger size, feels very comfortable even on my slim wrist, very light and relatively slim. After 4 days of heavy use with outdoor cycling tracking and GPS and display always on still have 61% battery. On bicycle ride every 3 miles reads out update on speed, averages, heart rate etc, and does it pretty loud startling me first time. Speaker is amazing for a watch, on par with most phone speakers, well hidden and seems to have a concealed sound chamber for better fuller sound. Seems it might be actually stereo or Dolby Atmos like Huawei uses on phones making them sound awesome. Display is beautiful with great color and clarity"
"It's stylish, glitch free, lightweight, and superbly power efficient. Been using moderately for two days on a single charge and battery life is at 83%! The only downside is the lack of customizable faces. However, I am quite satisfied with the stock options! Huawei GT 2 wins across the board! Kudos Huawei!"
6.   Xiaomi Amazfit Stratos
Best for All Types of Sports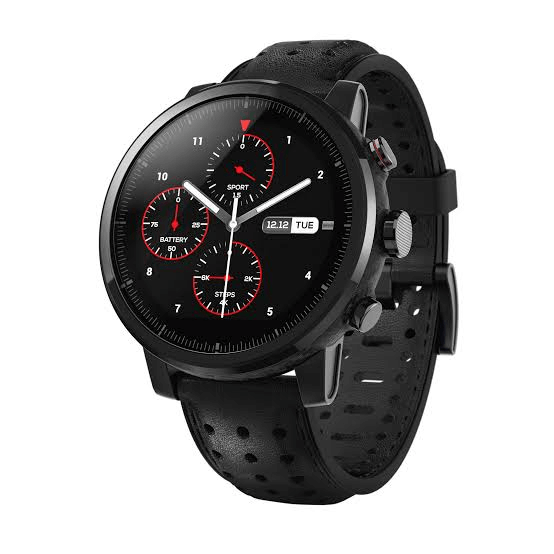 Price:$250.00
If you're into a variety of sports, then we suggest that you get yourself the Amazfit Stratos. It has a total of 11 sports patterns — including running and hiking — to monitor your progress and challenge you to hit your goals.
Another thing we love about it is the music player feature that lets you enjoy music while working out. Gone are the days of boring workouts: you can easily listen to your favourite songs while breaking a sweat now.
It also has a long battery life that can last up to 5 days even when the GPS is on. Additionally, it's waterproof up to 50 meters, making it ideal for swimmers.
Highlights
11 sports pattern
50 meters waterproof
And that's our list of the best sports watches in Singapore right now! These are the top sports watches in Singapore this year, for looks and durability as well as sheer utility.
Have you decided which sports watch can go with your active lifestyle? Let us know which one you liked the most by commenting below! 
While this list focused on sports watches, you may also be looking for other types of wristwatches. In case you are, you may want to read our list of the best men's watches in Singapore, for example or if you want to know the best Seiko dive watches in Singapore let us know!
Alternatively, you may be interested in the best smart watches in Singapore. Either way, we should have a watch in our lineups that fits your needs, so just take a look!