The 13 Best Mens Watches in Singapore: Top Brands
Whether to put the finishing touch on your ensemble or as a way of keeping yourself on schedule, a great watch is a must-have. We're assuming you already know that — otherwise, why would you be on an article about the best mens watches in Singapore?
The thing is, different men may want different things in a watch. Some want a particular style, others another, some may prefer digital to analogue, or vice-versa.
That said, there are some things that run through all tastes, we think. These are durability and quality, for instance.
We've considered all of those things while also trying to ensure there's something for every type of man in our lineup today. So, without further ado, here's a list of the 9 best watches in Singapore for men:
1. Seiko Criteria Men's Quartz Chronograph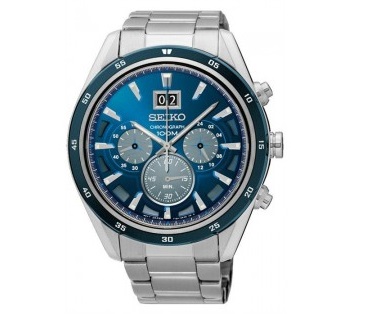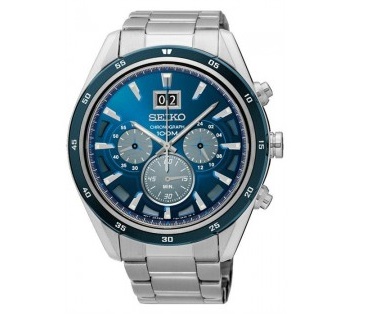 Price: $309.00
Some might prefer digital tech but analogue watches are still the choice for those who prefer something classic and (ironically enough) timeless. That's why watches like the Seiko Criteria Men's Quartz Chronograph will never go out of style.
If you're a fan of watches for men with traditional analogue designs, this is one of the best mens watches in Singapore. It might be simple but you can be sure that it'll last for a very long time thanks to the sturdy engineering.
Detailed time information is also provided with its chronograph feature. It even has a large date display so you can easily check the time and date at a glance.
It also sports some of Seiko's classic design elements at their most elegant. It has a stainless steel case, sapphire crystal, and a three-fold clasp with a push-button release.
Highlights
Chronograph up to 1 hour in 1 and a half seconds
Large window date display
Water-resistant
Customer Reviews
Most customers are very satisfied with the looks and quality of the Seiko Criteria Men's Quartz Chronograph. Since it's an analogue watch, they've also claimed that what you see is what you get.
Many also praise the quality of this mens watch, which claim to be typical of the brand. In addition, a number of owners strongly urge future buyers to see it in person, as the colour (particularly the clock face) is even more striking then than in photos.
2. Casio Digital Watch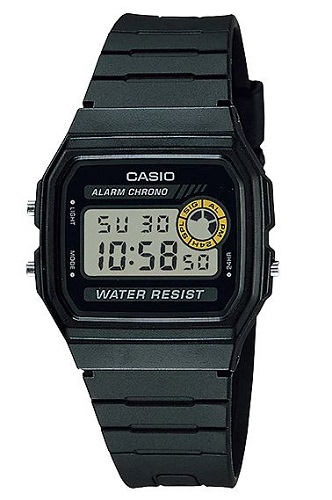 Price: $12.20
Casio is known for its huge digital time display, which has been a trademark in every collection they release. This can be a relief, if you prefer quick (numeric) readouts when checking the time.
The Casio Digital Watches are either paired with a stainless steel or resin band. This one is built with resin glass and a resin band that can withstand a surprising amount of abuse.
It also has a stylish appearance so you can use it on just about any occasion. Even with its cheaper price, it can still compete with the luxurious watches style-wise, as you'll see once you start pairing it with different outfits.
For those who are more fond of looking at a digital display rather than the traditional ones, this is the best mens watch in Singapore for you!
Highlights
Easy-to-read time display
1/100-second stopwatch
Daily alarm
3. Daniel Wellington Classic St Mawes Watch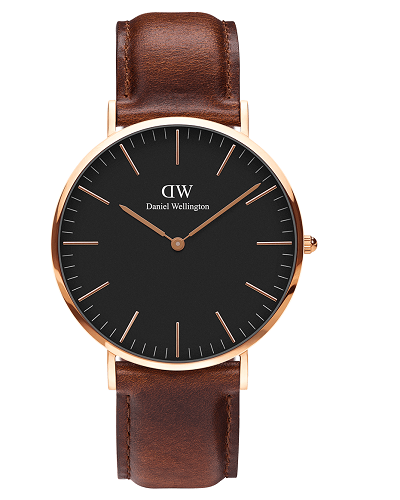 Price: $279.00
When looking for a timepiece that can complement any outfit, you could never go wrong with a designs like these. The Daniel Wellington Classic Black St Mawes Watch is another analogue watch clearly made for lovers of a classic aesthetic.
This is an even more sophisticated-looking piece than the Seiko we mentioned earlier, though. It pairs soft golden tones with a black clock face and a genuine leather strap that's warm and soft on the wrist.
The result? A watch you can wear for your dressiest events. Hands-down one of the best watches for men in Singapore with a minimalist style.
This is already a well-made watch, function-wise, but its looks take it to the next level. That's why it's one of the best men's watches in Singapore.
Highlights
Classic design
Genuine leather strap
Black dial
4. Fossil Flynn Black Sport Chronograph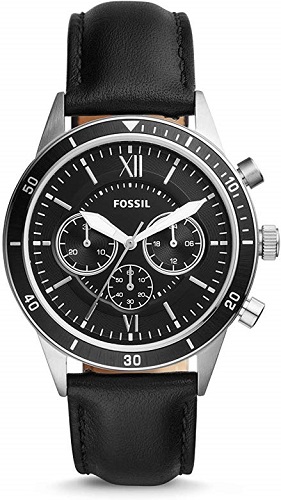 Price: $269.00
The Fossil Flynn Black Sport Chronograph provides precise time information with its chronograph feature and quartz crystal. It's also very striking, what with the sharp contrast of its silver-against-black design.
The best thing about this mens watch is that the strap is interchangeable. This means you can swap it anytime to match your mood of the day.
Similar to the previous option, it's also designed to go with a leather strap. You may also customise the size to get a better fit for your wrist. When it comes to sleep and customisable designs, we consider Fossil to be one of the best options for mens watches in Singapore.
Highlights
Chronograph feature
Interchangeable straps
5. Fitbit Versa Watch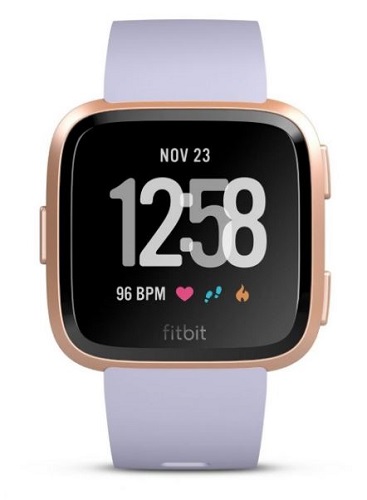 Price: $318.00
Smartwatches are the ultimate trend in this digital age. Almost everything is becoming automated and much easier to manage, as a result.
If you're the type who wants even your watch to be "smart", this is the one for you: a watch for men that looks after your heart. With the Fitbit Versa Watch, you can monitor your heart rate and manage daily activities besides telling the time.
This is one of the top selections if you prefer multitasking and multifunctional items. If you have an active lifestyle and a busy schedule, this can be the best men's watch in Singapore for you!
This watch actually has so many features that it's a little mind-boggling. It has sleep tracking, music libraries, GPS, online payments, and more!
Note that when it comes to the interface, you can personalise your clock face with your own choice of theme and the accessory bands are also customisable.
Highlights
Smartphone notifications
On-screen workouts
Lightweight design
Customer Reviews
Most customers who have purchased the Fitbit Versa Watch shared that it's mainly for those who are into sports. Many were pleased by its many smart functions and praised its apps.
Unfortunately, it's "smartness" may also be a downside in that it demands more power than your average watch. A fair number of users have also stated that they wish its battery lived longer.
Regardless, this remains one of the best mens watches in Singapore. Here's some feedback from Lazada customers:
"The delivery was fast, prompt replies with good service when you asked for a question. The condition of the box and the device were good. So far, I'm quite pleased with the Fitbit Versa. The downsides are the device with no build-in GPS but I am awake of that before purchasing, also the battery does not last long if all the features are on. Yesterday night fully charged but after 12 hours of using, it drops to 85%. What I did was to off some of the features in order to save battery. Overall, the item was good."
"I've used apple watch and Fitbit on and off and the last watch I used was an HR and I can't decide between changing to a versa or an apple watch. What made me decide to give versa a try is because I like the Fitbit app and its more targeted to those who actually want a sports watch. I know definitely the Versa can be better but so far this suffice."
6. Garmin Fenix 5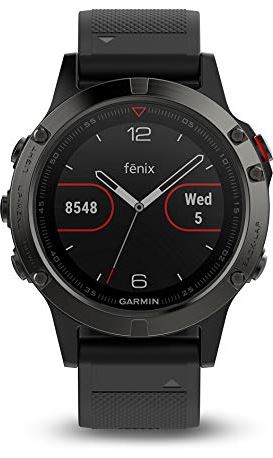 Price: $629-699.00
The Garmin Fenix 5 is a multisport watch for men that can measure and monitor your heart rate as you go on with your daily activities. In every workout, you'll also be able to keep track of your progress and improve your health.
You can receive smartphone notifications and use a variety of apps from their Connect IQ™ store, to go with this watch. It's also made of sturdy stainless steel, which can help if you're about to go on an off-road adventure.
This is a rather stylish watch if you prefer a stealthier look for your accessories. The predominantly-black design makes it understated — but never unattractive.
Highlights
GPS sensors for on-the-go location tracking
Heart rate monitoring
Tie-in to Garmin's apps and other offerings makes it appealing for active users
Customer Reviews
Customers loved the durability and long battery life of the Garmin Fenix 5. Some felt that it was a little expensive, but agreed that the quality of the watch itself couldn't be faulted.
Tom's Guide gave this review:
"With more than 20 hours of battery life, the ability to track almost any activity and durable design, the Garmin Fenix 5 is the outdoor GPS watch to get." 
7. SKMEI Digital Watch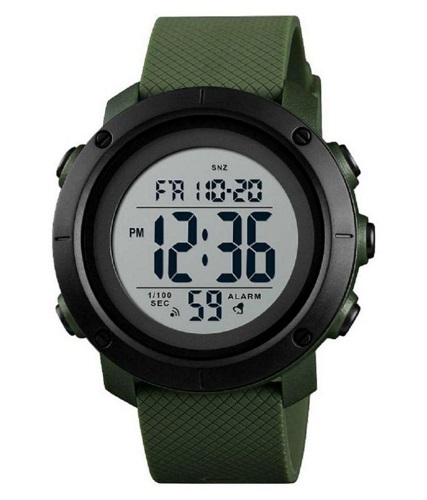 Price: $7.49
Compared to the other options, the SKMEI Digital Watch is vastly more affordable… yet it's built with surprisingly sturdy materials.
The brand caters to middle-class consumers or those who would rather not spend too much on a watch. In spite of that, this watch isn't short of features.
For instance, this watch can serve as a stopwatch, alarm, calendar display, EL light, and more. The strap is also available in different colours, so you can choose which one you'd like to wear.
It can be both classy and sporty too, design-wise. With that much value for money, should it be any surprise that this is one of the best men's watches in Singapore?
Highlights
Multifunctional
Water and shock-resistant
8. Stuhrling Luciano 371B Automatic Skeleton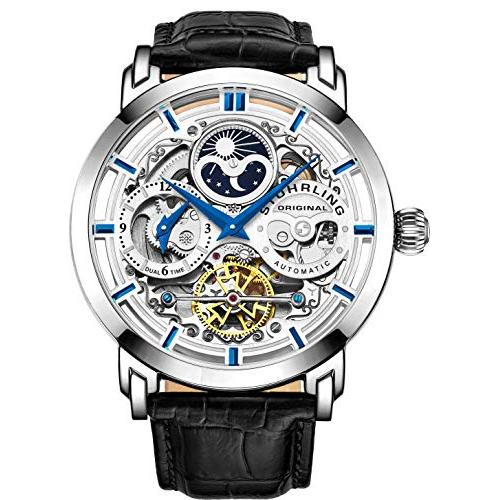 Price: $734.48
The Stuhrling Luciano 371B Automatic Skeleton may be the fanciest-looking of our picks for the best mens watches in Singapore. It's a watch you'd only pick if you're comfortable standing out.
It features an automatic dual time function and an AM/PM indicator. This is paired with a comfortable strap made of soft, smooth leather.
The true reason to get the watch is its unique look, however. This is a watch that will leave others in awe, thanks to its "unmasked" design.
The skeleton style shows off the watch's internals in stunning steampunk style. The polished bezel only enhances its glamour, and will be sure to get you compliments.
Probably the best thing about this watch is that it's a conversation piece in itself. You'll be likely to strike up dialogues with others merely on the basis of their interest in this watch!
Highlights
Automatic mechanism technology that winds itself
Dual time feature
AM/PM indicator
Striking, attention-getting design
9. Maserati Legend Chronograph Watch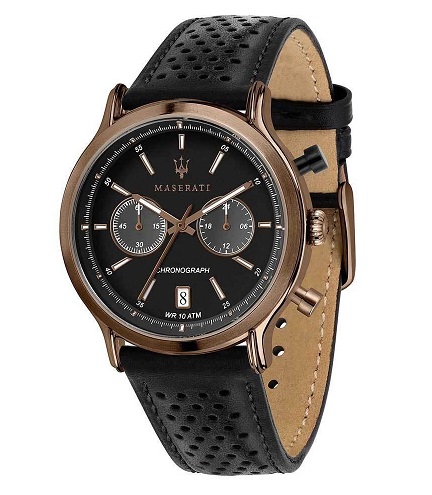 Price: $555.00
As the brand focuses on luxury, style, and sport, the Maserati Legend Chronograph Watch shows these three elements. This is another stunning watch perfect for finishing off nearly any ensemble.
The leather strap shows a casual and classic look, as does the handsome clock face. Its functions feature a chronograph, quartz, and 3 hands for more accurate time display. It's the best watch in sg for men who are really particular with their style.
Highlights
Chronograph feature
Waterproof
And with that, we have our best men's watches in Singapore!
We've tried to cover every preference we could, as you can see from the diversity of our picks. There's no denying these are the best men's watches in Singapore in terms of value for price, though.
10. EGARD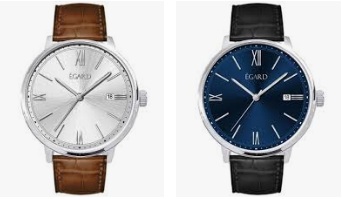 Egard does not only produce watches but masterpieces to celebrate time and life. Their history started when a father and son decided to create a watch that embodies the bond between each other. This is one of the best mens watches in Singapore made for men, by men.
The shop only adopted the finest and most technical specs and materials to incorporate on your clock. Throughout its years in the industry, it has already gained recognition from different actors and artists.
Highlights
Offers return of products (15 days, unworn and unwashed merchandise)

Custom watch builder

Provides different modes of payment for online transaction

Uses premium and fine materials
Customer Reviews
If you want to shop for stylish watches, then this is definitely the shop for you. Here's a comment from one of their buyers:
"I have purchased several of your watches and I've never been disappointed and as a matter fact I purchased one for my wife." James H.
11. Baume & Mercier Classic 14K Gold Automatic Watch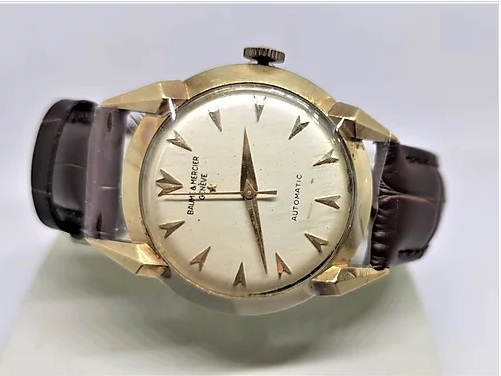 Price: $800
If you love collecting vintage clocks, then you can find many pieces at Lu-Ann shop. One rare timepiece from their collection is the Baume & Mercier Classic 14k Watch.
This is an automatic mens watch with golden markers and slugs. The numbers are replaced by gold arrows which are placed delicately and precisely on the watch. You can wear it with any outfit that you want and it will match your look. However, if you want to be sentimental, you can also go with classic or vintage look with this watch.
Highlights
Plexi-glass

Gold arrow marker

Automatic swiss movement
12. 1947 Dress Watch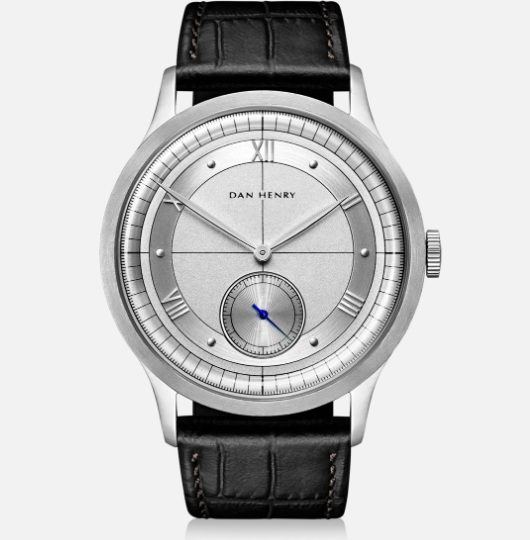 Price: $190
Another vintage watch to look for is the Dan Henry's Collection. They have different watches available on their site. What's good with this is that their selection is arranged in a timeline; so, you can choose what specific era you want to get. Their pieces start at the year of 1939 up to 1972.
Their bestseller is the 1947 Dress Watch. This is a mirror of elegance and civilian lifestyle as it's a product of the search for peace and recovery after the war. As such, it is one of the best watches for men who have varied schedules: It goes well with the everyday life of a 'gentleman.' It goes perfectly with a suit or any casual clothing.
Highlights
Water resistant

1 year warranty

Free shipping worldwide
Customer Reviews
Dan Henry's Vintage watches are on point and very classy as compared to other collections. They have minimal design, elucidating the era it represents. Here's one good review from their site:
To me, this timepiece is the standard for the gentleman's wristwatch, with a refined flair that I often seek. The perfect companion watch to accompany a dress jacket, it wears just as well with more casual attire. With a combination of a flat bezel, cross-hair dial, and applied indexes, I am always impressed with how craftsmen of that era got it so right. – DH
13. SEVENFRIDAY's P3C/09 "ORANGE CARBON"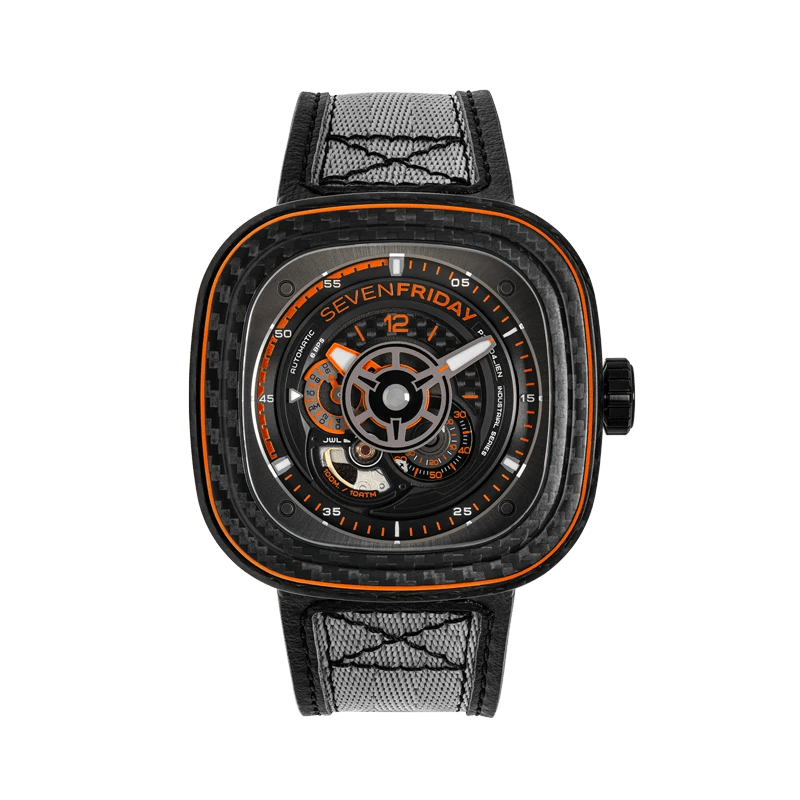 Price: $2,650
Make a bold statement with your timepiece with SEVENFRIDAY's P3C/09 "Orange Carbon," a watch that possesses a numerous useful features for those who like to keep active. Unlike most watches on the market this watch is NFC embedded, which is proof of its authenticity and also allows it to connect to your phone using the SEVENFRIDAY app.
With a caliber of MIYOTA 8257, this watch has accuracy of -20 to +40 seconds per day. Moreover, it also has a 40 hour power reserve.
The dial is protected by sturdy, scratch-resistant glass, so there's no need to worry about it becoming damaged or unreadable. It's also 10 ATM water resistant, meaning it can withstand pressures up to a depth of 100 meters underwater.
It comes with a three year warranty if you connect it to your phone using the SEVENFRIDAY app. While P3C/09 "Orange Carbon" can admittedly be pricier compared to other watches, its numerous functions and long-term reliablity makes it well-worth the price.
Highlights
Automatic MIYOTA 8257
Visible balance wheel
40 hours power reserve
10 ATM water resistance
Have you already chosen from the watches listed above? Let us know which one you think is the most suitable for you by leaving a comment below.
Furthermore, don't be afraid to give our other roundups a try if you haven't found what you want yet. For example, if you'd like to know more about different types of smartwatches, you might want to look at our list of the best smartwatches in Singapore!