The 10 Best NATO Straps in Singapore Reviewed
Looking for a watch strap that doesn't stick on sweaty skin? With the best NATO strap in Singapore, you'll feel more comfortable wearing your favourite watch even during the summer season!
The best NATO straps are designed with nylon material that absorbs the moisture from the skin, providing absolute comfort. A NATO strap can also prevent the skin from having direct contact with the metal watch case, reducing the risk of metal allergy.
Though all can offer certain comfort, they still vary. Since watch straps aren't something that we buy regularly, most of us may not know how to choose the right one.
And so, to help you find the one that best suits your needs, we've listed some of the key factors to look out for. This way, you'll know how to pick one from our list of the best NATO straps in Singapore.
Things to Keep in Mind When Buying a NATO Strap
The most obvious area of variation for NATO straps in Singapore is design, of course. Different straps have different colors, prints, and patterns.
But there are actually other aspects in which NATO straps differ from each other. Let's go over them here to help you select a strap from our list of the best ones:
1. Width<
For NATO straps, it's important to find the right width for your choice of watch. In doing so, you need to measure the distance from lug to lug.
The 18-22 millimetre wide band is the common size for most watches. You need to make sure that the given width fits with your watch's lugs.
2. Thickness
Having a thicker strap can fully secure your beloved watch. You can also rest assured that the watch head will not fall even when doing outdoor sports or any physical activities.
The usual minimum is 1.5mm. However, most advise looking for straps that are about 2mm.
This may be dependent on the size of your wrist and watch too, though, so take those into account.
3. Buckle and Keepers
Low-quality buckles will easily become loose, causing your watch head to possibly fall when you're using it. Most especially when doing physical activities, there's a high tendency of detaching itself from the Nylon band.
This is also true for the keepers. Therefore, you should look for a durable and quality stainless steel material for buckles and keepers that's rust-resistant and non-corrosive — so you can avoid additional costs for repair and replacement.
Both buckles and keepers must be strong and thick enough to withstand heavy-duty use as well.
Best NATO Straps in Singapore
If you've already decided which style you like the most, let's now see which brands offer the best NATO strap Singapore! We've listed the ones that feature excellent quality and affordable prices as well!
1.   Breitling NATO Strap
Best for Simple yet Stylish Look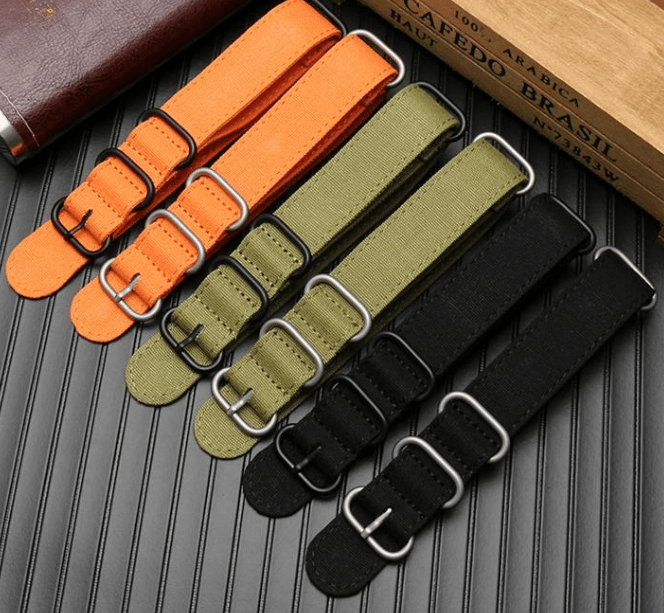 Price: $16.00
The Breitling NATO Strap is designed with a matte hardware and canvas material. So, if you prefer a sporty style, this can be the best NATO strap in Singapore for you!
The buckles and keepers are built with high precision steel that'll certainly last for a long time. It's also available in various colours for a more stylish look.
This is the best NATO strap in Singapore for the minimalist.
Highlights
20-26 mm width
Moderate thickness
High-quality steel material
Canvas strap
2.   IWC NATO Strap
Best for Light and Flexible Design, Casual Look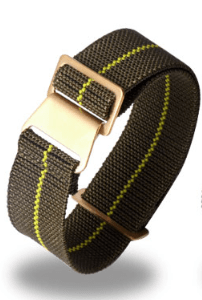 Price: $55.10
The IWC NATO Strap is another canvas strap; however, this one comes with stripes. It also features a thinner band so it's more suitable to wear with a casual office look.
When it comes to the buckle style, it has a wider and thicker design, so despite the thin band, it can still secure your favourite watch. With its light yet flexible design, it's truly one of the best NATO straps in Singapore!
Highlights
20-22 mm width
Thin band
Thick steel buckle and keepers
Ultra-flexible carbon material
3.   Tudor NATO Strap
Best for Durability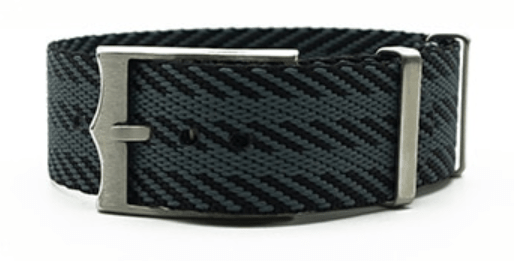 Price: $38.54
The Tudor NATO Strap is similar to the previous option but its design includes more variation in the stripes.
It also features a thicker band with a slightly thinner buckle and keepers. However, both features are made with high-grade steel, so there's no need to worry about loose straps.
Due to the combination of tough band design and quality material, many have considered the watch band to be the best NATO strap in Singapore.
Highlights
20-22 mm width
304L stainless steel quality
Double layer thickness
4.   Langley NATO Strap
Best for Smart Look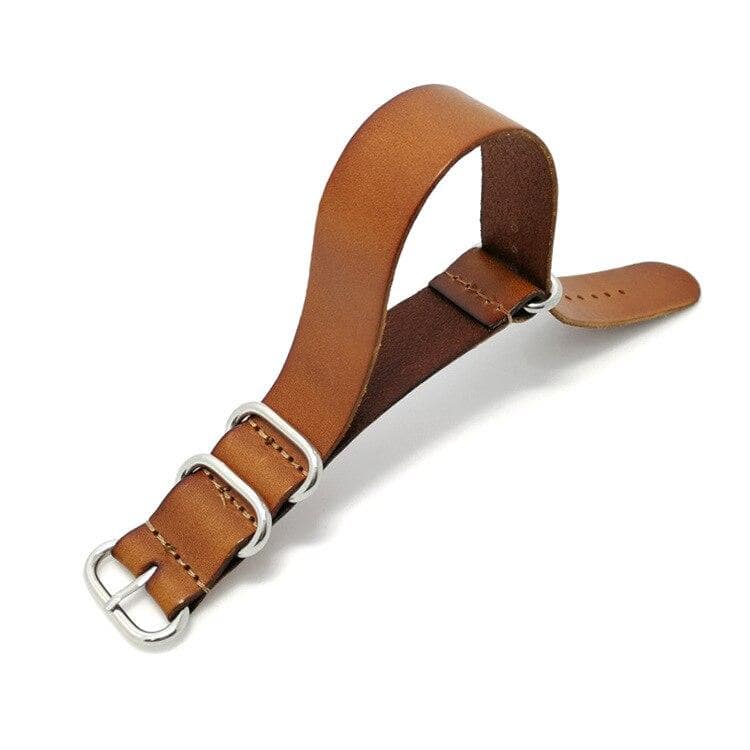 Price: $7.77
For those who are aiming for a smart and classic style, you should try the Langley NATO Strap. It's designed with genuine leather material, perfect for formal or casual attire.
It also has thick and round buckles and keepers, ensuring a perfect fit on your wrist. It's easy to attach to the watch head, making it one of the best NATO straps in Singapore!
Highlights
18-22 mm width
Genuine leather material
Moderate thickness
5.   Cozy Classic II Vintage 406 Nato Strap
Best for Handmade Leather Material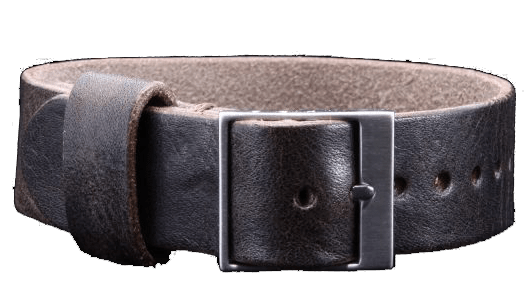 Price: $52.00
The Cozy Classic II Vintage 406 Nato Strap features an Italian veg-tanned leather with a natural texture, giving your watch a timeless look. The best thing about this one is that'll get even better with time so you can still wear it for several years and it'll still be stylish!
The keeper is also made of leather while the buckle is made of a brushed steel ladder. Since the leather strap is handmade, there'll be slight variations across units, as there are no two pieces of leather that look identical — this is the main reason why it's known to be one of the best nato straps in Singapore.
Highlights
8 – 2.0 mm thickness
280mm length
Italian veg-tanned leather
6.   Vario Escher Crates Nato Strap
Best for 2-piece Design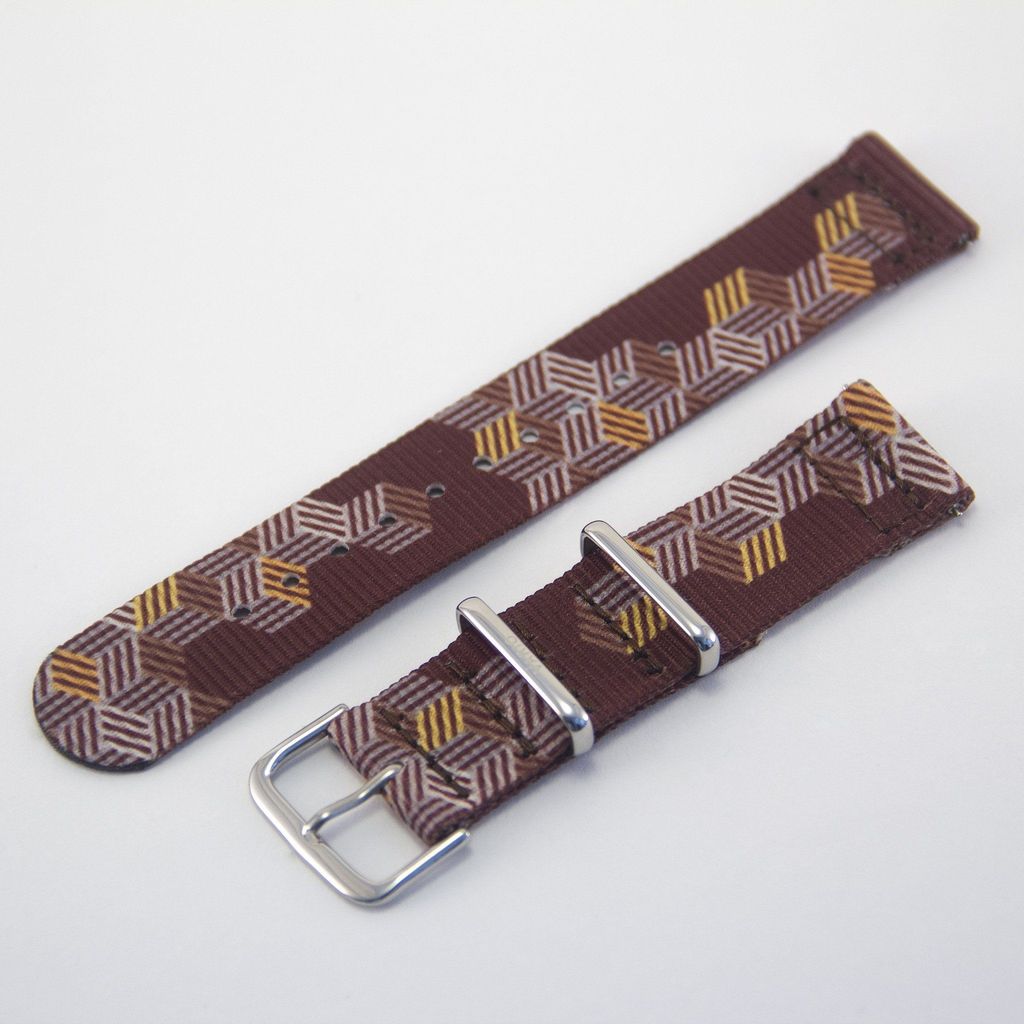 Price: $37.00
Unlike other options, the Vario Escher Crates Nato Strap is a 2-piece watch band that's designed with stylish graphics. If you want to add more character to your OOTDs, this can be the best NATO strap in Singapore to complete your look!
It features different printed graphic designs for a unique style. It's also the ideal strap for smartwatches!
Highlights
18-22 mm width
Machine-washable strap
Vegan friendly
7.   Sky Watches 20ASBNATOH7 Nato Strap
Best for Vibrant Strap Design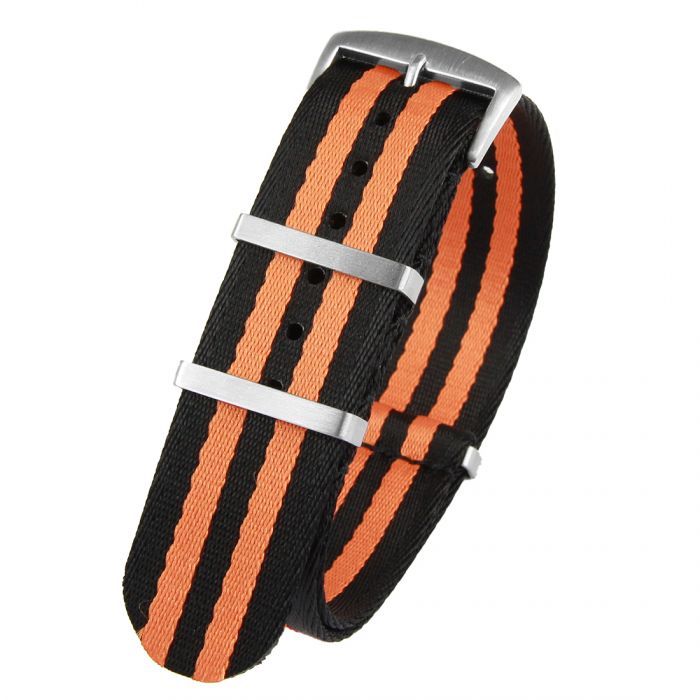 Price: $20.00
If you'd like a strap with a more vibrant look, the Sky Watches 20ASBNATOH7 Nato Strap is a great option for you! It has a double-strap with a combination of lively colours.
It also has a stainless steel buckle that's nickel-free to avoid skin irritation. The band contains a total of 12 holes, so it can fit into any wrist size.
Highlights
20 mm width
Nickel-free buckle
8.   22mm Black Leather Watch Strap
Best for Simple Leather

Price: $49.00
Everyone has a certain style when it comes to buying watches. It can be based on one's personality, favorite color, or the activities one does in their daily routine.
Now, if you're an avid collector of watches, their straps can also be a huge factor when buying specific watches. A watch must have the perfect strap, to finish the final look with a sophisticated touch.
Luckily, Coup D'Coeur is there to supply all of your demands when it comes to watches. Their Black Leather Watch Strap is made with genuine leather, which will not only snugly fit your wrist, but also complement your overall style at the same time.
Highlights
Genuine Leather Watch Strap with White Stitches
Length is 115/75mm
22/20mm width
2.5mm-4mm thick
9.   Apple Watch Nylon Zulu Strap
Best for Apple Watches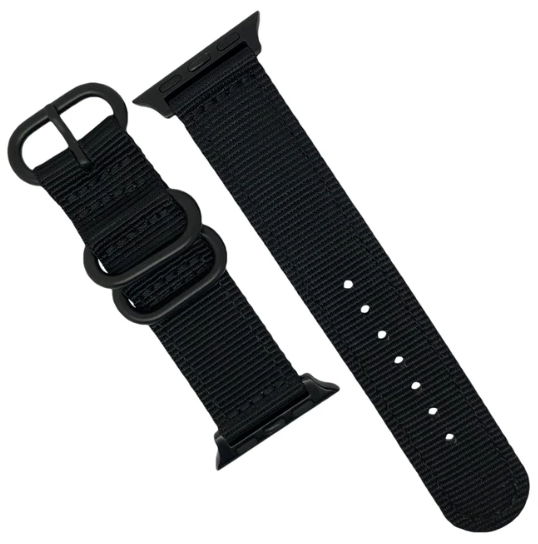 Price: $20.00
If you're looking for a reliable and minimalistic strap for your Apple Watch, try out Nomad Watchworks' Nylon Zulu Strap. This strap is made from tight weave nylon, which makes it sturdy and comfortable to wear.
Nomad Watchworks also offers other colors and styles on their website. Make sure to check it out!
Highlights
Stitched construction
High-quality stainless steel hardware
10. Bond Nato Strap
Best for Classic Design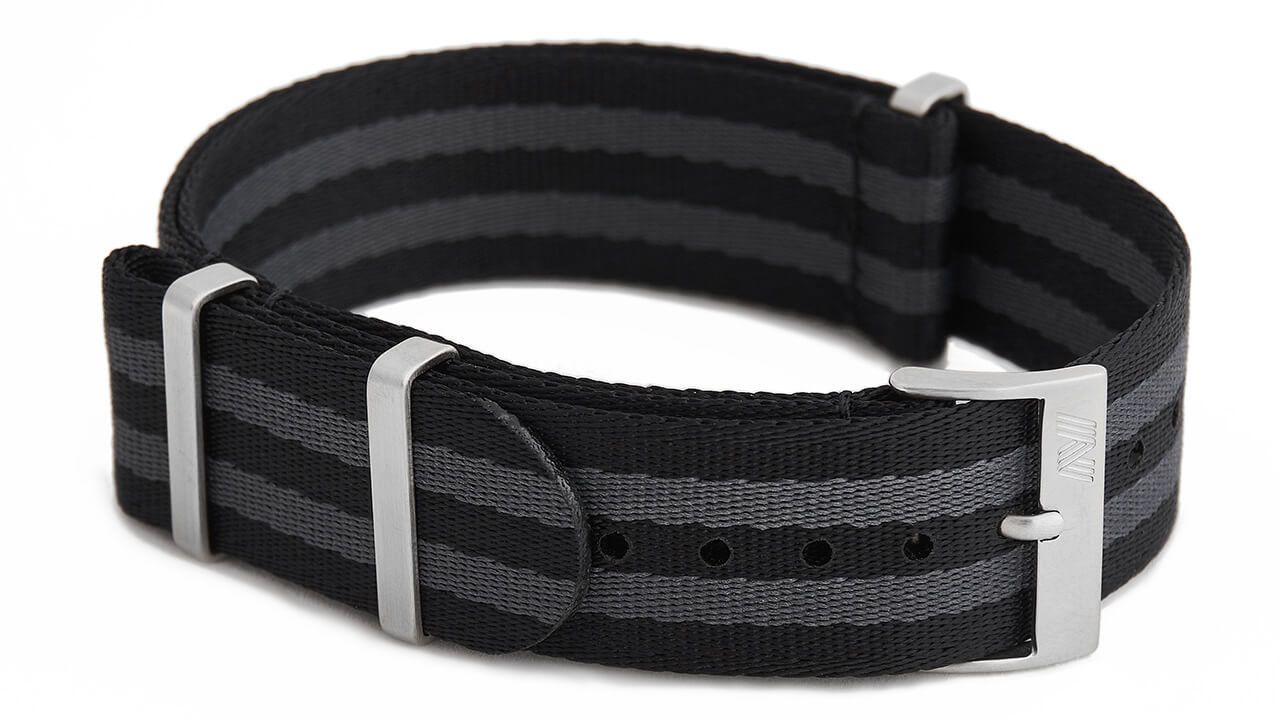 Price: $40.00
Next on the list of NATO to consider is Phenomenato's Bond NATO Strap. It offers a sleek look with stripes design in black and grey and a study solid steel keeper and buckle.
These NATOs have three widths available, 18mm, 20mm, and 22 mm. At the same time, there are two variations of finish to choose from, one being polished and the other being brushed.
Rest assured that whatever specifics you decide on, Phenomenato's Bond NATO Strap will be valuable and worth the price.
All straps are made to order and may take a week or two to finish, so take a look at it on the website today and order yours soon!
Highlights
Offers the best comfort
Smooth webbing
Fine woven
Stainless steel
And that's our list of the best NATO straps in Singapore! If you've got more options in mind, you may also share them with us!
And for all the gentlemen out there searching for a classic or sporty watch style, you'll surely love these best men's watches in Singapore! These selections include manual/automatic watches and even smartwatches!