An Overview of Statistics on Supermarkets in Singapore – 2021
Key Insights
As of 2020, Singapore has 577 supermarkets nationwide. This shows an almost 4% increase compared to 2019's total of 555 supermarkets.
Supermarkets & hypermarkets contributed 14.4% of the total online sales for Singapore's retail trade industry in June 2021.
Compared to the previous year's contribution of 7.7%, the sales of supermarkets and hypermarkets have almost doubled.
Overall, the island nation's online retail trade industry is worth approximately $3.3 billion. As an alternative perspective, $432 million of this total was directly contributed by supermarkets and hypermarkets.
In June 2020, supermarkets & hypermarkets saw year-on-year growth of 74.6% and a month-on-month growth of 30%.
The following year, June 2021, supermarkets & hypermarkets saw a year-on-year reduction in sales by 4.5% and a month-on-month reduction in sales by 0.6%.
According to a recent report by YouGov, 3 in 5 Singaporeans have altered their shopping habits significantly in response to the recent pandemic.
Based on a similar study, 34% of Singaporeans admitted to panic buying as another response to the pandemic.
The majority of the population (84%) tend to shop for groceries in person, but two in five Singaporeans have already begun shopping for groceries online.
---
During the pandemic, many Singaporeans found themselves scrambling for basic necessities and household goods. Prior to this outbreak, there were endless aisles of groceries, but afterward, shoppers were met with row after row of barren shelves.
Thankfully, this situation improved considerably as preventive measures were implemented and vaccinations became more prevalent. But even so, this occurrence was not without its repercussions.
To fully realize the impact of the pandemic and the current state of Singapore's supermarket industry, one must look to statistics and surveys. On the entire island of Singapore, there are approximately 577 supermarkets for consumers to choose from.
In 2019 the number of supermarkets was slightly lower at 555, denoting a 3.8% increase from the previous year. Overall, the number of supermarkets in Singapore has been increasing at a constant rate as far back as 2011, as depicted by the graph below: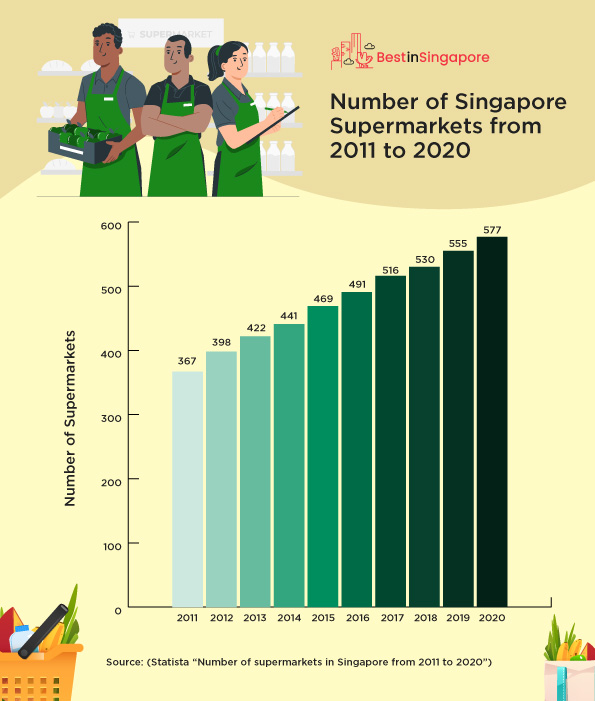 When you compare the number of supermarkets to the island's population, it becomes clear that both share an upward growth trend. This is to be expected since the population can directly affect the success of retailing businesses.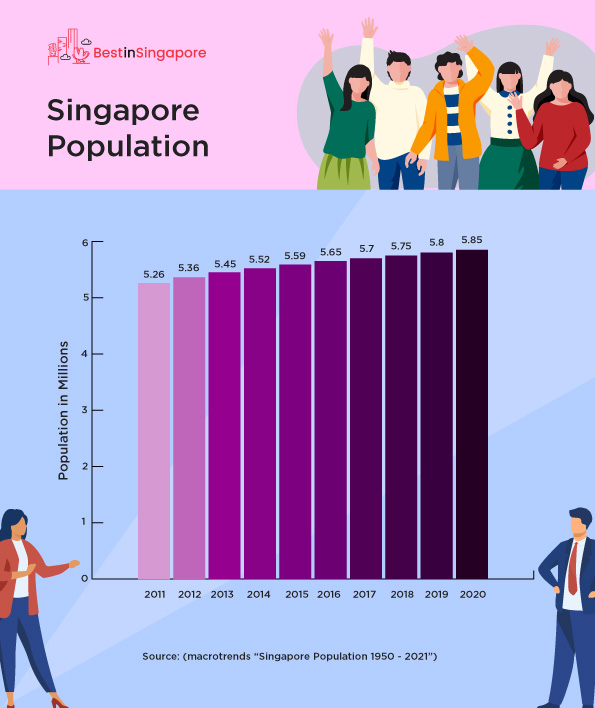 Ultimately, it appears that the steady increase in the number of supermarkets is a partial result of retailers striving to meet the growing demands of a larger population. But as we will see later on, there are many other factors that can contribute to the development of such businesses.
Singapore's Most Popular Supermarkets
Learning to identify and adapt to market growth factors is essential to a business's success. In accomplishing this, Singapore's most prolific supermarket brands have effectively distinguished themselves from other competitors.
To visualize this distinction, this bar graph shows a side-by-side comparison of each brand's collective outlets: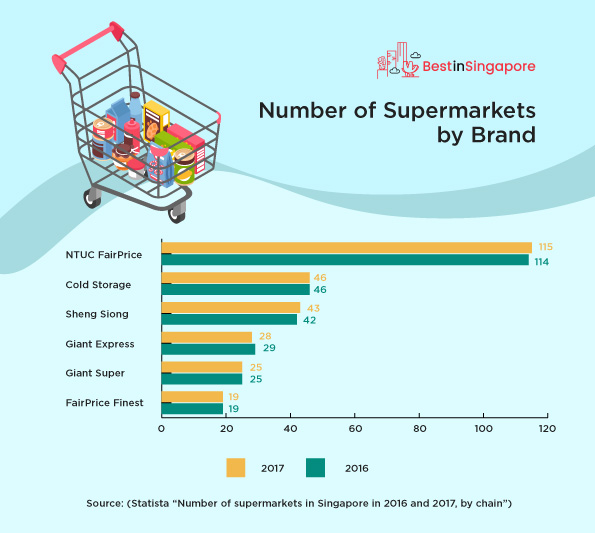 a single glance, it becomes apparent that NTUC FairPrice is the clear favorite among Singaporeans. With approximately 115 supermarkets, FairPrice has more than triple the number of outlets of the 2nd and 3rd most popular supermarket brands.
If the total number of FairPrice retailing establishments is included, the total number of outlets soared from 115 to a whopping 200+ establishments. This brand's popularity is such that its outlets cater to almost 400,000 Singaporeans each day.
When compared to the smallest supermarket brand, Giant Super, FairPrice has almost five times as many individual outlets. To put this dominance into perspective, with its two closest competitors put together, FairPrice still maintains an impressive 22% lead.
What's less impressive is the physical growth of each specific supermarket brand between 2016 and 2017. In this span of time, FairPrice only added a single outlet to their total while other brands like Giant Super and Cold Storage didn't add any new outlets whatsoever.
However, despite not growing physically, all of these supermarkets have seen significant financial growth in recent years as a result of the mad dash for groceries spurred on by the pandemic. In addition, these businesses have also seen considerable growth in the digital sector.
Supermarket Industry Growth
One of the more astonishing changes brought about by the pandemic is the increase in e-commerce and online grocery shopping. As of June 2021, Singapore's total online retail sales reached a value of $3.3 billion.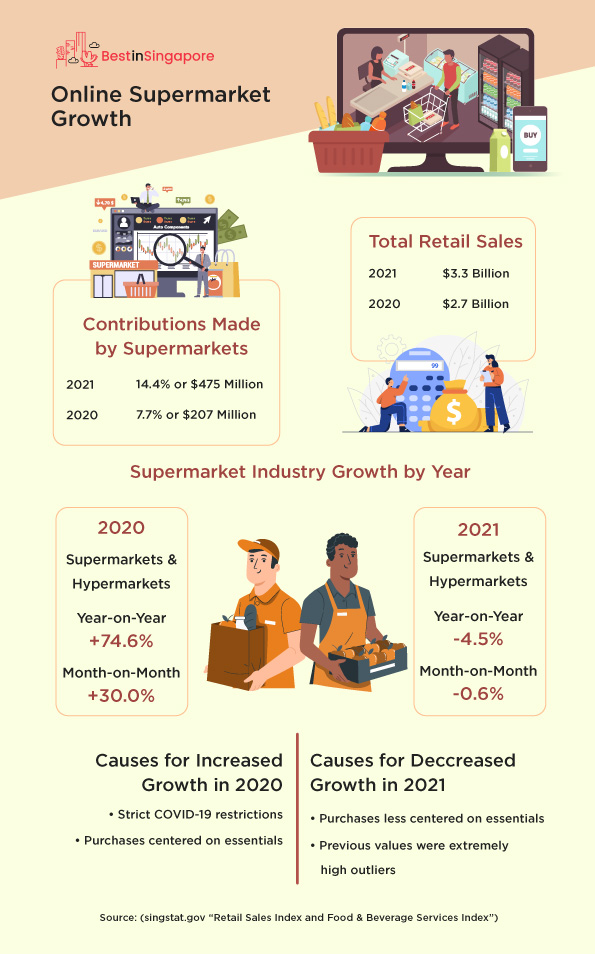 This number is significantly higher than that of the previous year which only amounted to $2.7 billion. In many ways, this reflects a shift in consumer behavior and shopping processes that reduce overall exposure to other people.
Of the $3.3 billion sales for 2021, 14.4% was directly contributed by online supermarkets & hypermarkets. If we translate this percentage into monetary sales, then the contribution made by supermarkets becomes $441 million.
In line with the lower total retail sales for 2020, the contribution in sales made by supermarkets is also significantly lower at just 7.7%. Once this is applied to the total previous revenue of $2.7 billion then Singapore's supermarkets and hypermarkets were only able to add $207 million.
With a contribution of $475 million for 2021 and $207 million for 2020, Singapore's supermarkets were able to double their online revenue from the previous year. This wide gap is largely due to the enhanced preventive measures issued by the island's health authorities.
Many of these measures encouraged citizens to stock up on essentials and avoid leaving their homes. In turn, this inadvertently increased the usage of online grocery services, leading to higher online retail revenue.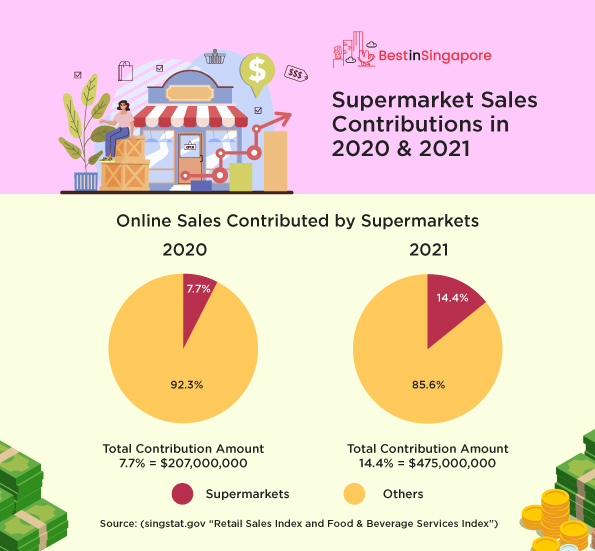 Taking on a more time-specific approach, we see year-on-year growth of 74.6% in 2020 for the supermarket & hypermarket industry. Following this is a month-on-month growth of 30%, which further denotes a sizeable increase in online grocery shopping.
In contrast, almost every other industry saw significant year-on-year decreases with the exception of mini-marts & convenience stores. The heaviest of these decreases were seen in department stores and watches & jewelry with values of -84.6% and -85.3% respectively.
These decreases are the result of a consumer crowd that was mainly focused on securing essential items and household goods as opposed to lavish objects. This lines up relatively well with the items that many Singaporeans were advised to purchase amidst the lockdown period.
Looking at this year's numbers, we see an odd change with supermarkets & hypermarkets actually experiencing a decrease in sales. Conversely, we also see serious upticks in all other industries with the exception, once again, of mini-marts & convenience stores.
The year-on-year decrease in supermarket & hypermarket sales was about 4.5% while the decrease in mini-marts & convenience stores was 7.9%. While this may seem concerning at first, these numbers are not indicators of a recession — at least, not one in the economic sense.
These numbers are actually indicators of the decrease in panic buying and pandemic lockdown preparation. As a result of the more relaxed COVID-19 restrictions, Singaporean consumers no longer need to focus exclusively on purchasing groceries and household goods.
Excluding motor vehicles, the industry that has shown the highest increase in sales is watches & jewelry at 78.4%. This is followed by department stores and clothing retailers at 61.8% and 60% respectively.
Along with more relaxed COVID restrictions, the decrease in supermarket and convenience store sales is also due to the large values seen in 2020. When being compared to the previous year's sales, these decreases are more representative of a return to normal sales values.
Though these values have begun to return to standard averages, the buying habits of Singaporeans have retained significant changes in response to the pandemic.
Singapore's Supermarket Spending Habits Then and Now
Now that the effects of the pandemic on the supermarket industry are clear, it's time to explore the unique behaviors adopted by consumers. By analyzing new consumer behaviors, we may yet gain a better understanding of the industry's past, present, and future states.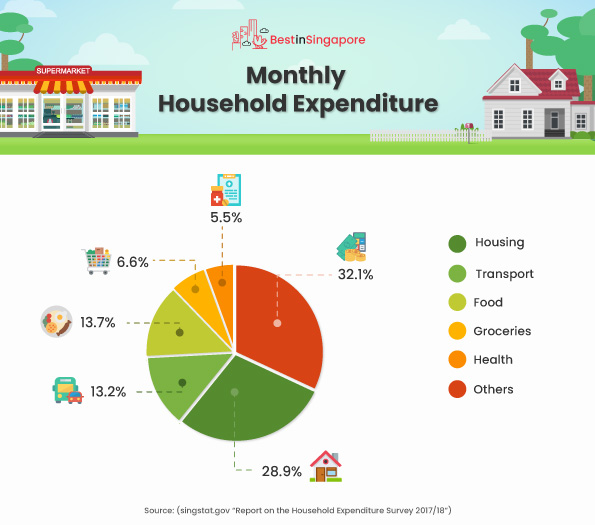 Prior to the pandemic, the average Singaporean household, made up of about 4 people, spent about $388.70 each month on groceries. This accounts for 6.6% of a household's total monthly income.
For comparison, these households also spent about 13.2% of their monthly income on food. From this figure, it becomes clear that groceries were nowhere near as important as they are now.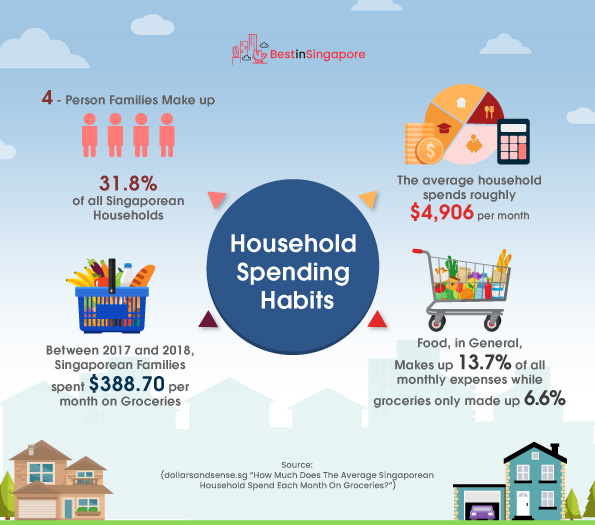 This is due to the fact that before the rise of COVID, many households preferred to eat out as opposed to cooking meals at home. To gain a unique perspective on grocery expenses, consumers can also be grouped according to age.
Based on another expenditure survey, the amount of money spent on different goods and services changed depending on the age of the household's head. This is largely a result of different responsibilities existing among different age groups.
To give you an idea, household heads below 30 years old usually spent 300 dollars less on food and groceries when compared to household heads between 30 to 39 years old. In contrast, elderly heads over 60 years old often spent about $200 less than other heads.
Now, with the rise of the pandemic, the most common behavioral change seen in Singaporean consumers was the prevalence of panic buying. In a broad sense, this behavior is defined as the excessive purchasing of various essentials and household goods.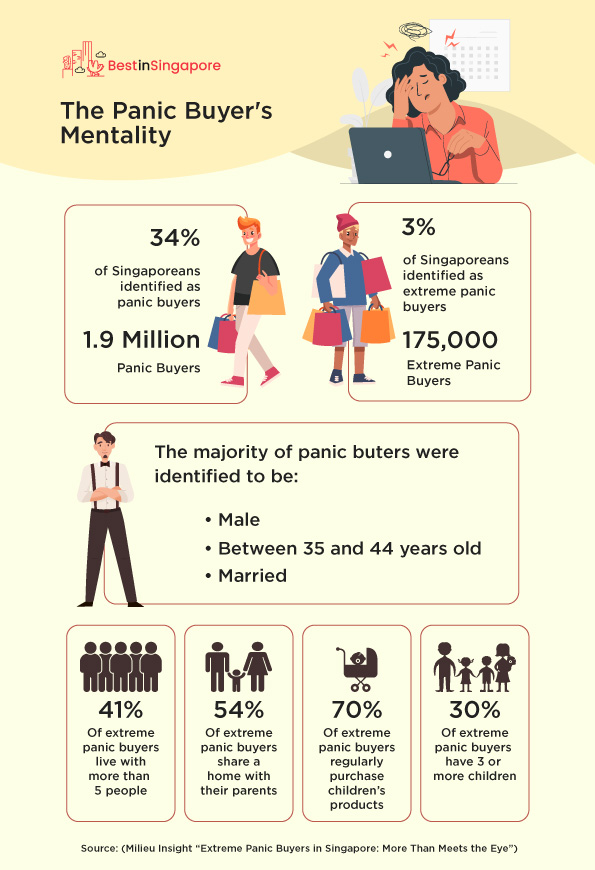 To better quantify just how many Singaporeans adopted this behavior, Milieu Insight conducted various surveys among a population of 5,402 respondents. From this survey, it was found that 34% of the Singaporean population purchased groceries in excess since the pandemic began.
Beyond this, 3% of the total population stated that they purchased a grossly excessive amount of groceries and household goods. Given the fact that this survey was conducted in 2020, this translates to 1.9 million moderate panic buyers, and 175,500 extreme panic buyers.
Now, while panic buying may seem like a selfish act, Singaporeans do not do it without good reason. In the same survey, the majority of panic buyers were identified to be male, between 35 to 44 years old, and married.
Beyond this, 41% of all extreme panic buyers were likely to live with more than five members in a single household. As these findings emerge it becomes clear that there's more to panic buying than a need for self-preservation.
If we dig deeper, we see that 54% of extreme panic buyers share a home with their parents, and 30% are likely to have 3 or more children. Last but certainly not least, 70% of all extreme panic buyers regularly purchased children's products.
These statistics show that extreme panic buyers are often responsible for purchasing groceries for a large household. Along with this, many of these households are composed of elderly individuals and children.
While the practice of panic buying certainly can't be condoned, the act itself is usually not committed for personal gain. With this new knowledge, consumers may yet adopt better practices to avoid shortages in the aftermath of the pandemic.
Panic buying aside, popular grocery items and the channels used to purchase them have also undergone various changes. Many of these changes took place both during and after the initial onset of the COVID-19 lockdowns.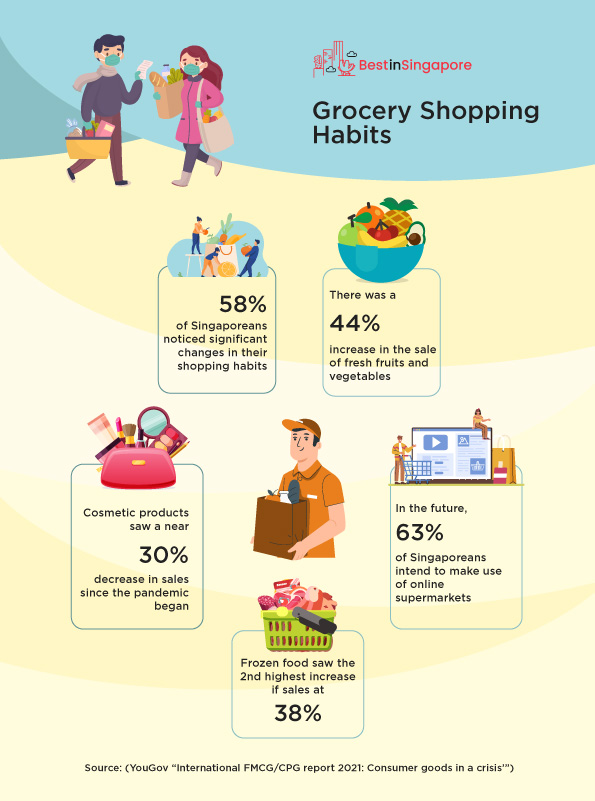 Based on a global report by YouGov, 58% of Singaporeans have noticed significant changes in their grocery shopping habits. Chief among these changes is the 44% increase in purchases of fresh fruits and vegetables.
On the other end of the spectrum, purchases of cosmetic products saw a decrease of over 30%. From another perspective, this translates to three in ten Singaporeans spending significantly less on cosmetics.
Though many consumers still purchase groceries at their favorite supermarket, around 38% or two in five, buy groceries online. Generally, online grocery shopping is expected to increase as the year goes on, with 63% of Singaporeans planning to use online supermarkets.
It is worth noting that many prominent grocery brands in Singapore also sit atop the online market. Unsurprisingly some of the largest online platforms include NTUC FairPrice, Cold Storage, and Giant.
Now, though these brands perform strongly through both physical and online platforms, they do lose out in some areas to strictly virtual companies. For example, Amazon Fresh offers more efficient delivery methods, while Shoppee Supermarket is generally cheaper than other brands.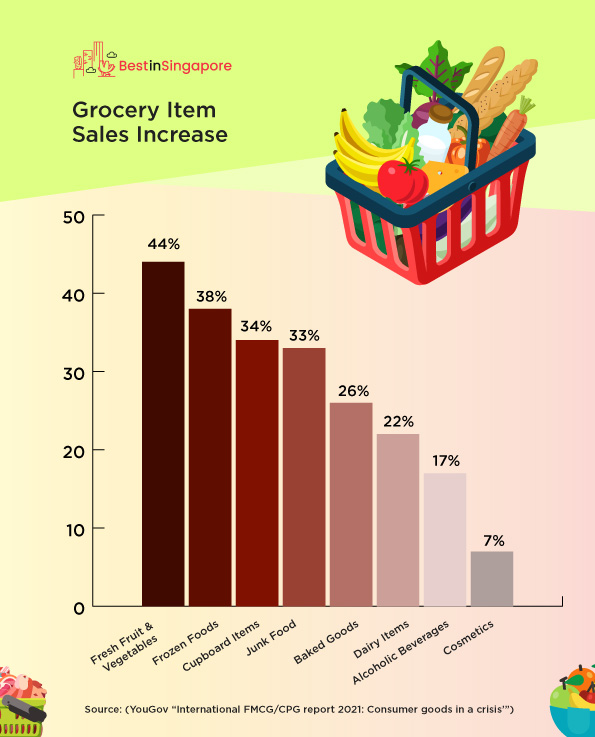 Despite the sudden appearance of such changes, only time will tell whether these buying habits will become common consumer practices. But one thing is certain, both consumers and retailers have learned valuable lessons from all of these occurrences.
Looking towards the future, experts like Olivier Gergele of Ernst & Young, have commented on the likely shift from physical retail outlets to virtual platforms. While this shift is strongly expected, consumer behavior, at the moment, will remain relatively unchanged.
In Mr. Gergele's own words "They (consumers) still want to be able to quickly find and buy the product that they want, at the right price and at the right time.". So long as retailers meet these needs, Singapore's supermarkets can certainly flourish.
If properly utilized, this data and the previous shortages caused by the COVID19 pandemic may yet offer insight on how to deal with similar problems in the future.
A Few Final Real-world Figures
On average, Singaporean households spend about $400 each month on groceries.
Globally, the prices of food products shot up by 5.5% in 2020.
The global supermarket industry was valued at 11.7 trillion USD.
The global hand sanitizer market was valued at 1.2 billion USD in 2019.
From December 2019 to February 2020 the demand for hand sanitizers increased by 1400%.
Sources: