The 7 Best Foldable Tables In Singapore For Every Function
The best foldable tables in Singapore offer sturdy practicality with the convenience of portability. What's more, they can even look pretty attractive.
Don't believe us? Well then, just take a look at these:
1. OEM Anti-slip Foldable Laptop Table
The Perfect Laptop/Breakfast Table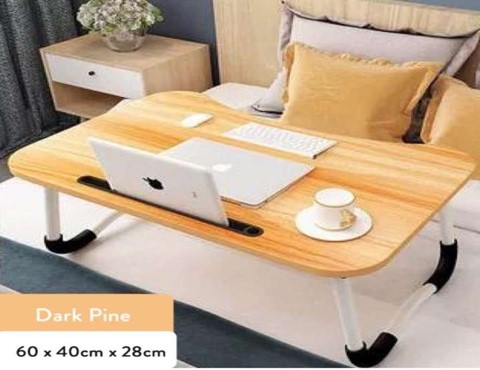 Price: $16.91
Need a handy laptop table for when you're working in bed? Try the OEM Anti-Slip Laptop Table.
With it, you can work anywhere, as it is ergonomically built, compact for carefree carrying and set-up. Regardless of the incline, computers are held in place on it too, thanks to the anti-slip feature.
On top of it all, the OEM foldable table is surprisingly roomy. You can definitely fit more than just the laptop on this.
Essential Information
SGD 19.90
60 x 40cm x 28cm
High holding power
Made of wood and aluminum alloy
2. RuYiYu Square Dining Table
For Snacking, a Picnic, or a Simple Date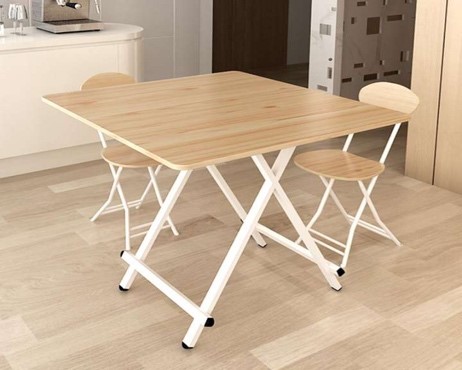 Price: $82
Taking the meal elsewhere? The RiYiYu Square Dining Table is what portable table dreams are made of.
Ridiculously roomy albeit with a compact design, it unfolds easily for a picnic or a outdoor brunch. This is a simple, attractive table most people will love.
Essential Information
SGD 82
Made of compliant composite wood
80cm x 80cm x 75 cm
Especially designed foldable feature for easy storage
3. JIJI Portable Aluminium Folding Table
Heavy-Duty Functionality, Lightweight Portability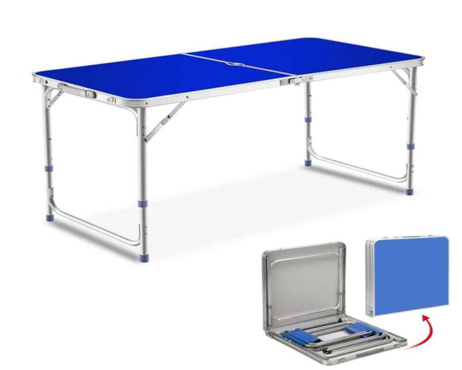 Price: $24.90
With its aluminium, JIJI's folding table is sturdy enough to withstand unpredictable occasions. It's thus ideal for things like parties, outdoor dining, and sports like ping-pong.
Generously size, it is built for portability while easy to assemble. You can even carry it around in style since the table can be folded into a briefcase.
Essential Information
SGD 25.90
120cm x 60cm
Made of wood with aluminium alloy
Adjustable height
4. Li Fan 1843EB-180CZ Foldable Table
Unfolding Function and Fashion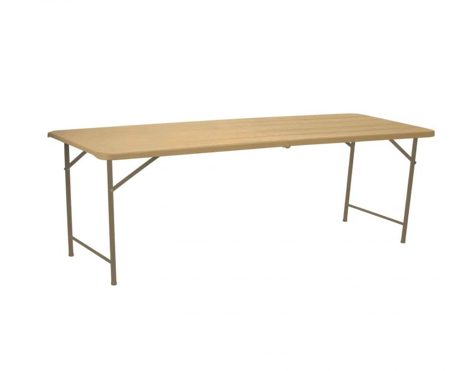 The Li Fan 1843EB-180CZ Foldable Table is an impressive piece of engineering. For its size, it is shockingly light.
Plus, the table unfolds into a massive structure to hold full course meals or for use in the office. The table has a pretty finish for an awe-inspiring aesthetic too!
Essential Information
SGD 90
180cm x 70cm x 74cm
High-density polyethylene
Steel structure
5. LCF Butterfly Folding Table
For a Sturdy Study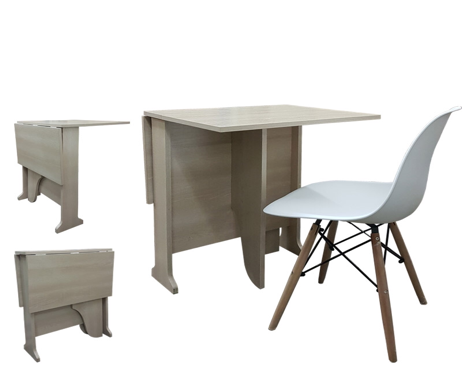 From renowned Singapore furniture supplier LCF Home & Office Furniture comes a stylish folding table designed for tiny spaces.
The LCF Butterfly Folding Table is best for studying and for freelancers working in the comfort of their home. It has a small footprint whether folded or unpacked, yet should offer sufficient tabletop space for most single users.
Essential Information
SGD 158
*Visit website or contact the seller for table size.
Space-saving
Made of wood with light oak finish
6. Soon Chew Enterprise Foldable Table with Castor Wheels
This is How Tables Roll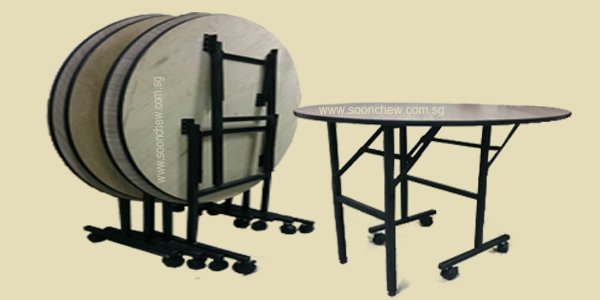 Soon Chew Enterprise provides innovative furniture… and you can definitely see that in this product. Their foldable table with castor wheels is great because it makes the item even easier to move than other foldable tables.
You can set up the table for any function while the wheels allow for hassle-free moving about. Note that Soon Chew Enterprise also customises tables for customers, so you can get the exact table you prefer.
Essential Information
*Visit website or contact the seller for price and table size. They can be reached at

[email protected]

Sturdy metal frame
Lightweight
Tables can be made/customised upon order
7. Foldable Bar Table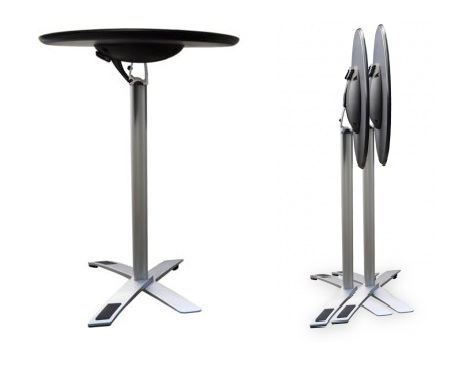 Price: $170
This foldable bar table is perfect for clubs or bars with limited space so they can easily keep vacant tables into their stock rooms without clumping the area. Conversely, they quickly set it up if more guests arrive.
It's size can accommodate up to 2 persons and has an ideal height of 113 cm. It has a durable table top so it lasts longer than expected.
You can choose from the round or square foldable bar table.
Essential Information
SGD 170

60 cm diameter

113 high (147cm high when folded)
That wraps it up for our list of the best foldable tables in Singapore. If you think we missed one, though, let us know — we'll review it and see if it should be added to the list!
In case you're looking for other furnishings, by the way, consider our other roundups.
For instance, we have a list of the absolute best office chairs in Singapore too. We even have a list of the best foldable mattresses in Singapore, if you want even more foldable furnishings!