10 Best QR Barcode Scanner Apps in Singapore
With all of the fraud afflicting many business industries, it's becoming harder and harder to validate authenticity. However, having the best scanner apps in Singapore will help you differentiate the authentic from the false.
Apart from checking different validation credentials, there are a lot of apps for barcode scanners in Singapore that offer an easier way to manage transactions and other activities. In short, these apps can be very practical utilities for the digital age.
Today, we'll go over the best QR code scanners we found to be most useful as well as reliable. They cater to different purposes, but are by and large the most practical as well as dependable ones to have.
All you have to do is download and install them on your smartphone. So, without further ado, here are the best scanner apps that you can use in Singapore!
1. SGWorkPass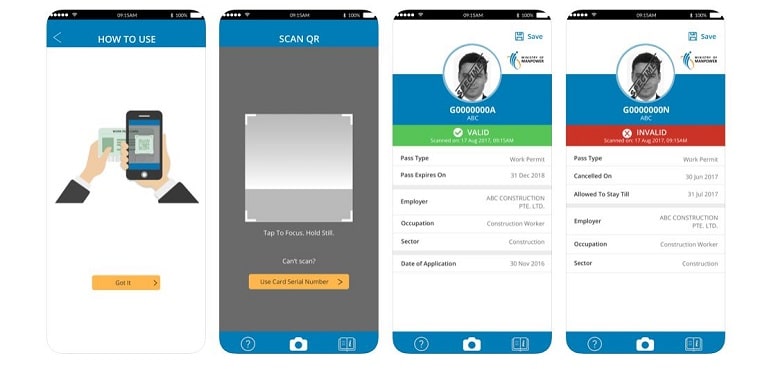 Download Now on Google Play or Apple Store
For the employers and agents who need to validate their foreign employees' passcards, SGWorkPass is what you need.
It's considered the best scanner app in Singapore for checking if an employee has a Singapore work pass or long-term pass. Both Android and iOs users can install the app.
It's very easy to use, for you only need to scan the QR code of the work pass and the result will immediately be shown. If there's no QR code, you can use the unique Card Serial Number for verification.
Whether its for a start-up or mid-sized company, we think that SGWorkPass is one of the best barcode scanners in Singapore for corporate use.
Highlights
Check the validation of employees' passcards
Open-source app
Customer Reviews
Users guarantee that SGWorkPass is highly credible. In fact, it's widely known and used in Singapore already.
There have been some issues after a few updates, however. Fortunately, given that this scanner app is managed and was created by a team working for the government, fixes and improvements have generally been quick to arrive.
Users at Google Play gave these high-rated reviews:
"There is no reason giving less than five stars, I'm using this app for quite a long time; for me working fine."
"Works fine, but 65 megabytes seems a bit too much for visible functionality. Plus why require phone number?"
2. QR Code Reader & QR Scanner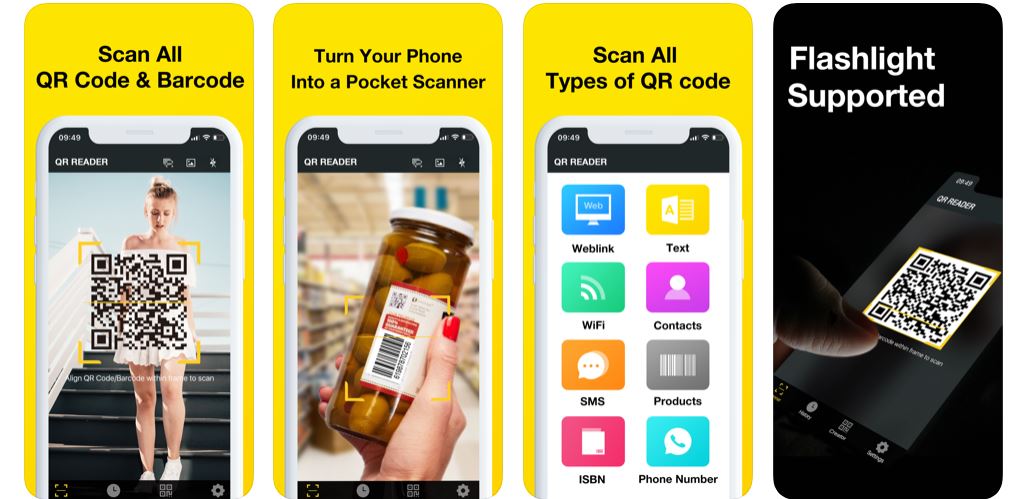 Download Now on Apple Store
The QR Code Reader & QR Scanner in Singapore is mainly for iOS users who want to verify the authenticity of a specific brand product.
When buying luxurious bags, shoes, or other expensive things, it's very important to know the full product details first. This app can scan all QR codes and barcodes that are in standard 1D and 2D code types.
Using this QR code scanner in Singapore is so simple too. Just scan the barcode and the information will be shown in Google and Amazon within a few seconds.
You can also keep track of all the products you've scanned. There is no need to connect to the Internet when you use the app, for it'll still be able to operate even when you're offline.
A flashlight is also provided if you're having difficulties with the light while capturing the product.
Highlights
Verify the brand's authenticity
Offline iOS app
Customer Reviews
Despite the limited accessibility of QR Code Reader & QR Scanner, many iOs users still recommend this app, which is why we've listed it among the best scanner apps in Singapore. Here are some reviews from the Apple store:
"Small file and no ads! Stores history and scans QR and barcodes!"
"Great! No ads do what it says it does. Can scan from the photo library, too."
3. ActiveSG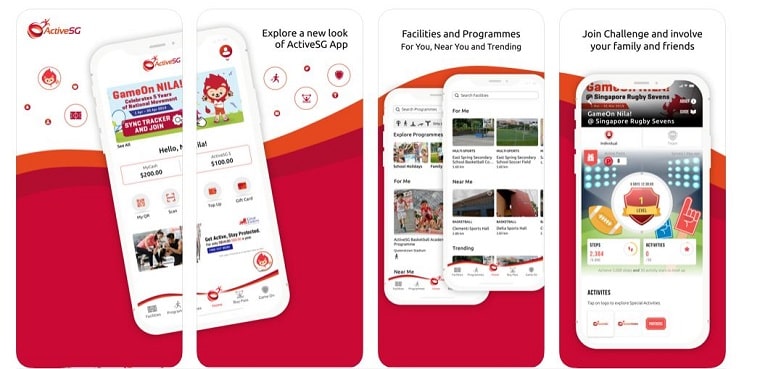 Download Now on Google Play or Apple Store
If you're looking for a safe entry QR code scanner, this will be of interest to you. For the members of the ActiveSG gym facility, installing the ActiveSG app can be very helpful. With this app, you can make the most of membership benefits such as fitness class registration, sports facilities booking, entry pass purchase, and more.
It also makes investing in your wellness so much more convenient. If you have a hectic schedule but still want to maintain a healthy lifestyle, after all, wouldn't it be better if you could manage everything from a single app?
You only need your smartphone and SingPass/phone number/email address to register. You will be able to access its key features including an active wallet, steps tracker, smart search, and virtual ID.
This can be the best scanner app in Singapore for those who want to stay fit and healthy. It makes doing so much easier, thanks to its practical features.
Highlights
Virtual ID with the QR code
Fitness class registration
Facility booking
Customer Reviews
Aside from being an alternative way to see classes and access facilities, the ActiveSG app also has games and challenges in which you can win prizes.
Customers stated that elders might find it hard to use the app. However, they still feel that it's a great app to have on the mobile phone.
Users from Google Play gave these relevant reviews:
"Easy to use apps. I think need to have a simplified version for the elders. Had some difficulty finding my exit ticket. Please rectify the issue. Overall, great experience!"
"Vast improvement. Allowing for fingerprint authentication. showing information in a comprehensive format. Thank you."
4. SingPass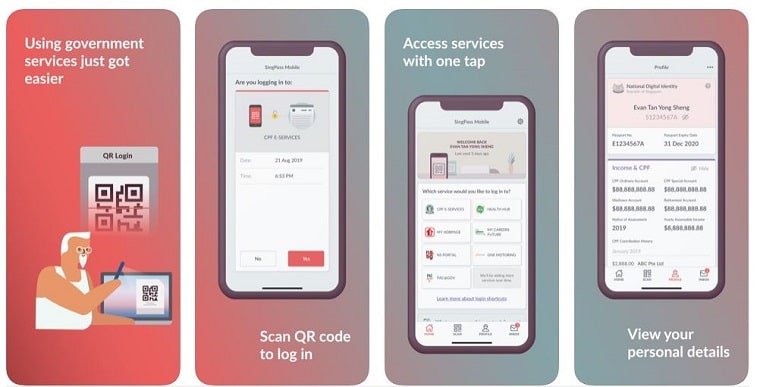 Download Now on Google Play or Apple Store
SingPass was made by the government to help Singaporeans access digital services, receive messages from government agencies, and prove their identities.
Once you've installed the app, there will be options of digital services displayed on the homepage. Simply choose the one that you need and after verifying your identification, you can access the service.
Government-verified data can also be viewed on the app. Furthermore, you can customize the displayed data.
This app's main value, for many, is that it will help you prove your identity to various employers. It also lets you read and receive messages from government agencies. SingPass is one of the most essential and best barcode scanners in Singapore that you must download if you are living here or staying for a few months.
Highlights
Digital services access
Display of Government-verified data
Customer Reviews
Since it's made for all citizens of the country, SingPass is available on both the Apple App Store and PlayStore.
Most users say that it's very simple and easy to use. The only complaint is that sometimes, the notifications might not show up on the lock screen.
Even so, the consensus is that it's still the best scanner app in Singapore to use when you need to immediately prove your identity.
Reviewers gave these reviews and recommend the app at the Google Play and Apple Store.
"It's a great app. Very convenient to use, scan and log in. Highly recommended to download. No more worries that I forgot my password."
"This app is useful and convenient. Just one feedback: Notification on the lock screen doesn't seem to work anymore. Already checked my settings and tried uninstalling and reinstall, the notification on lock screen still not working. Would appreciate the developers to look into it."
5. SG TOTO 4D Sweep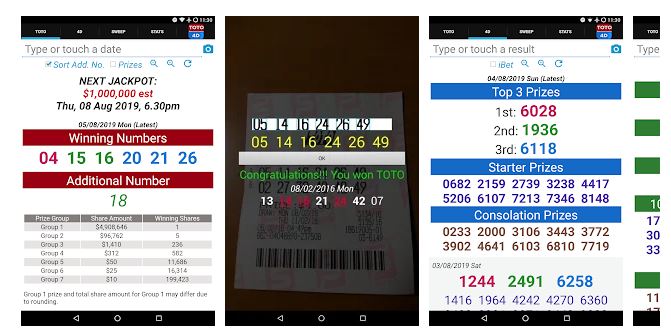 Download Now on Google Play
Are you one of those people who like joining the lottery but are tired of the manual process of checking the results?
SG TOTO 4D Sweep is the answer. This app will let you scan the numbers and check the results of the new TOTO 6/49 rule, 4D iBet, and more.
It features a TOTO keyboard and 4D Sweep smart manual input that will help you type the numbers with rapid speed.
Many more functions are included, such as a QuickPick generator, frequency tables, TOTO common Triplets, and statistical charts.
As soon as the results are out, you will immediately receive a notification. It's one of the best barcode scanners in Singapore for those who are active in the TOTO lottery.
Highlights
Scan the numbers and check the TOTO results
Up-to-date notifications
Customer Reviews
 Many users who are fond of participating in the lottery are very impressed with SG TOTO 4D Sweep's features.
Some users expressed their wishes to have it available on the Apple Store as well. Here are a few of the reviews from Google Play:
 "Much better guide for us to Trackback previous numbers."
 "The good thing is just scrolling up and can see the previous result up and down."
 6. ScanBizCards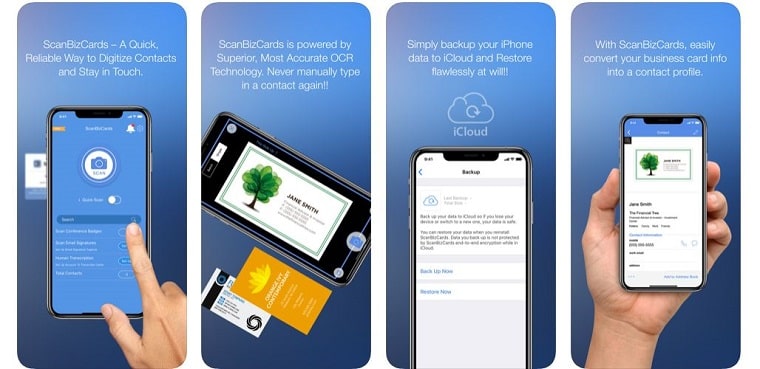 Download Now on Google Play or Apple Store
ScanBizCards is an award-winning app where you can store and organize your business cards all in one place. It gives you the option to scan the card and automatically add contacts to your phone.
It's the perfect choice for those employees who are in charge of presenting the business in conventions and trade shows. They can export cards and contacts to Salesforce and SugarCRM platforms.
Just capture a photo of the business card, scan it, review the information, then add the new contacts to the contact list on your phone. If you want to lessen the load of your wallet due to the thick deck of cards you need to carry, this is the best qr scanner app for you.
For the customisation settings, you can make personal notes and folder names, submit cards for precise annual transcription, send an email with the contact details, merge with the existing contacts, scan double-sided cards, and have a backup or restore option via Google Drive. 
Highlights
Scan the card and add it on the contact list
Google Drive backup
22 scanning languages
Customer Reviews
Customers shared that you can only use the full features by installing and buying the premium version. Nevertheless, they still highly recommend it even for those using the free (limited-feature) version.
Users say that this app is very efficient and functional for business users. A reviewer from the Apple Store wrote:
"I have downloaded this program as I have tonnes of business information to be input into my new phone, pad, and notebook. I did some basic comparison and decided to give this a try. To my surprise even I did download the lite version for trial, the full version it's amazing. It's easily enabled me to input the data and export to my contact, then via iCloud, all m i8y other devices are then filled with the data. Well, much more functionality the has been stated and discussed on the forum, I am looking forward to exploring and made the most out of this little investment. Overall I would say it is a good app which is a handful for business people who travels much. I have already recommended the app to Few of my friends. Awaits or their soon review."
7. NLB (National Library Board) Mobile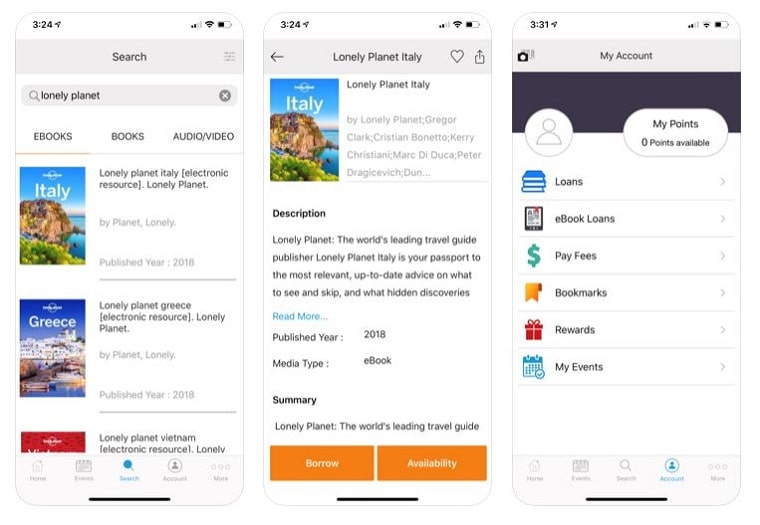 Download Now on Google Play or Apple Store
Going to the library and waiting in line just to borrow some books can be a little tiring. But what if you could simply borrow your desired book through a mobile app?
With the NLB (National Library Board) Mobile, you can do just that! You only need to use their qr scanner app in order to acquire the book.
Aside from this, you can also search the library selections, keep track of loans and reservations, be updated of the events, pay library fees, bookmark your favourite books, and more!
The most impressive feature of this app is that it lets the users read ebooks as much as they want. The newer version even has improved function by providing interactive stories and audiobooks for children.
Highlights
Scan barcodes to borrow books
Pay library fees
Customer Reviews
As it's a service of the Singapore Government, users of the app say you can be assured that every transaction is processed properly.
However, some of the customers shared their experience of not receiving notifications when the due dates are near. Some also said they could not connect easily through an Internet connection.
Regardless, it's still one of the best scanner apps in Singapore for library users. Here are some reviews from Google Play:
"Great to use to borrow books, look up the title and borrow e-books. Able to reserve books and has e-card making it easy to collect the reserved book. Amazing and Great app! Love it!!!"
"really great but one feature that needs to come to the next iteration is push notifications when due dates of paper books are nearing."
8. Scanmarker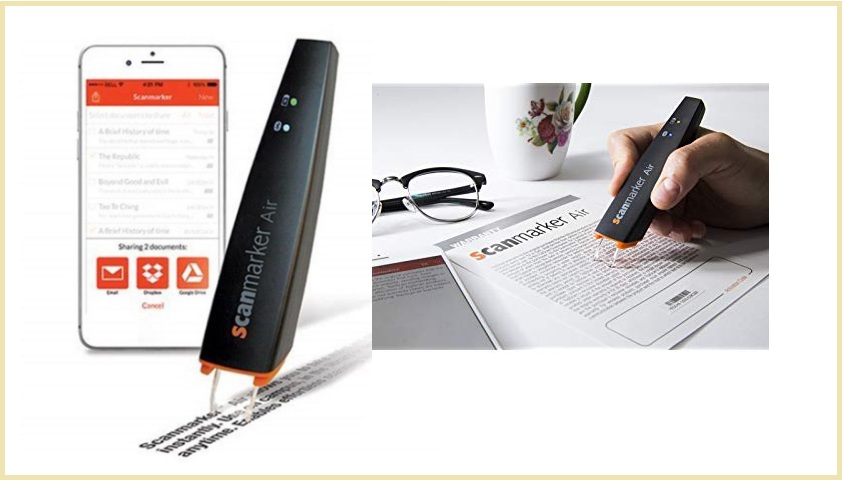 Download now on Play Store or Apple Store
Finish your work faster and easier with Scanmarker. With this truly amazing tool, you no longer need to retype every single word from your textbook.
All you have to do is slide it across any printed text like how you would use a highlighter, and the system will scan the texts, convert them into high quality raw image, until it is ready for recognition by OCR software.
The digitally restored text will then be transferred to any of your available mobile applications where you can easily edit and share. Plus, Scanmarker Air version is compatible with all mobile devices!
It is also very useful for those who are having troubles reading texts because it also translates and allows you to hear the scanned text read aloud to you.
Amazing, isn't it? So what are you waiting for? Scan your documents now with Scanmarker.
Highlights
Easy to use

Compatible with any mobile devices

Mobile and handy

Translates over 40 languages in a matter of seconds

Barcode & BVR recognition
Customer Reviews
Scanmarker is surely a helpful tool not only to students but to a lot of working professionals as well. It has made their work so easy and fast. One of the comments from a mobile user has left this review on Apple Store Preview:
"As a lawyer I have to read and analyze volumes of text. Scanmarker is an amazing tool that drastically improves my efficiency. Being able to carry Scanmarker in my pocket and scan text directly to my cell phone is invaluable, particularly when my laptop isn't on hand. As for functionality, hardware and software have always run smoothly and without hiccup. I would highly recommend this product for every professional and student alike."
9. Photomyne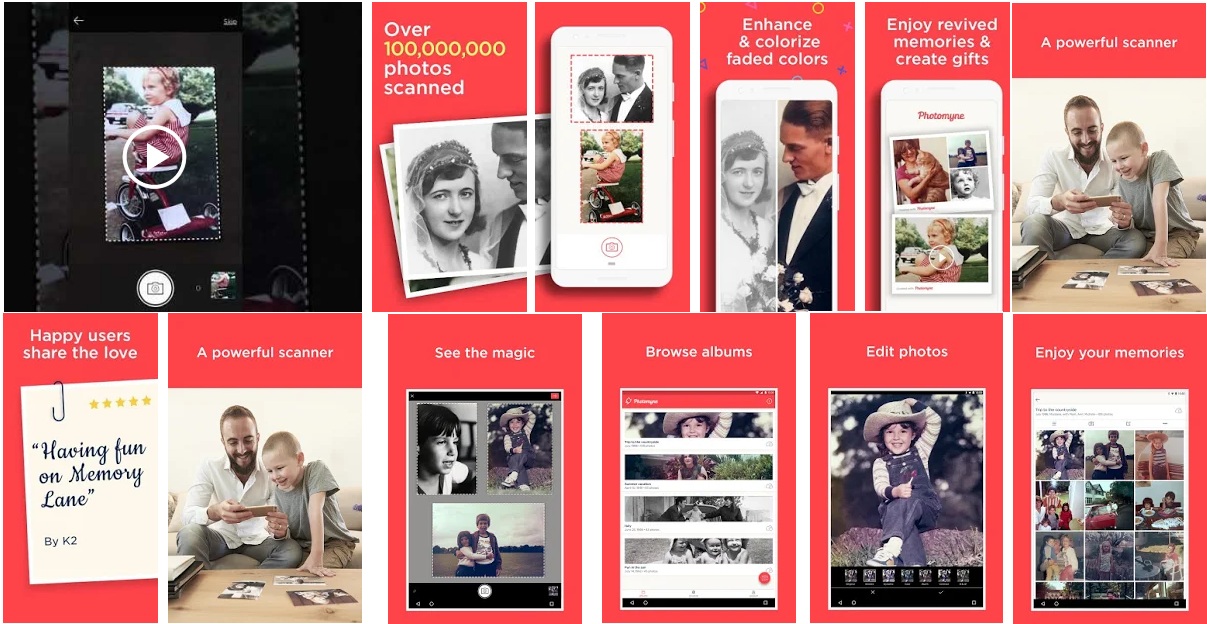 Download Now on Google Play or Apple Store
Photomyne allows you to keep your memories alive for generations by scanning them in high definition quality and saving them directly to your mobile phones through Photo Scan, Colorize, Slidebox, and Filmbox.
Unlike other scanning apps and devices, Phoyomyne guarantees a fast scanning time of 100 photos in just 10 minutes. It also has the capacity to colorize black and white photos and even add some effect.
Photo collages, video slides, and photo cropping is also easier done with the app, plus everything is for free! Just simply download the app in your smartphones and you're ready to go and preserve those delightful captured memories of yours.
Highlights
Free use of app

Fast scanning

Online access/backup
Customer Reviews
Photomyne has scanned over 100 million images and over 200 countries have downloaded the app. Here are some of the reviews from their delighted users.
"I never thought that taking photos of my old albums was so fun.. very simple and easy."
"I spent days scanning photos using a little Kodak scanner. Oh, if i had only known about this wonderful app! I'm telling all my friends about it!"
"Fab way to save and preserve all those old photos in boxes, taking up valuable storage space."
 Many users who are fond of participating in the lottery are very impressed with SG TOTO 4D Sweep's features.
Some users expressed their wishes to have it available on the Apple Store as well. Here are a few of the reviews from Google Play:
 "Much better guide for us to Trackback previous numbers."
 "The good thing is just scrolling up and can see the previous result up and down."
 10. Accurascan
Download Now on Google Play or Apple Store
Accurascan was created by Accura Technolabs, which are pioneers of scanning technology. The company provides innovations and technologies to their clients, suitable for their needs.
Features of Accurascan include the scanning of documents in just milliseconds, working in real time even without an internet connection, not requiring an expensive reading device for scanning, integration to third party applications, and availability for Android, iOS and Web platforms.
Additionally, Accurascan products include OCR, Face Match, Liveness, AML, Video KYC, and ID Forgery. It can be used for account opening, age verification, customer onboarding, fraud prevention, and investor verification.
The app does not only cater to individuals but to those in travel and tourism, airlines, banking and finance, car rental services, hotels, immigration and border control, security, and telecommunications as well. 
Accra Scan is trusted by the Commercial Bank of Dubai, Ahli United Bank, Oney, T Mobile, Noubelair, and other prestigious institutions.
Highlights
Digital KYC, AML Screening, Face Biometrics, Video-based KYC, Document Authentication

Works real time even without internet

Can be integrated with any third-party application
Customer Reviews
Accura Scan gained a rating of 4.7 on Google Play. Here are some of the reviews of its users:
"Works very well. Scans quickly and provides all information. Accuracy is good" – Darma Gunadi
"Great MRZ scanner app. Works good on my device, I like the Export function" – Liliana Saunders
Anyway, as you can see, the apps we've listed in this list are the best scanner apps in Singapore for a simple reason. All of them can make your life so much easier!
If you've already installed one of these apps, tell us your experience with it. We love getting further feedback on our top picks, so we can update our assessments of them.
Note, of course, that practically all of these applications require you to use an Internet connection. To keep these apps connected, you might need these best Wi-Fi extenders in Singapore for a faster and reliable connection.