The 9 Best Mini Fridges in Singapore Less Than S$300
Have you recently moved into a new place and realised that there's not enough space for a full-sized refrigerator? If so, then you might want to look for the best mini fridge in Singapore.
Mini fridges come in handy for smaller living areas such as dorms, studio flats, and even office pantries. They can even be handy for those who are going on a picnic or outdoor adventure, but with a source of power ready.
They're designed in different sizes and with different features as well. So to find the right one, it'd be wise to consider things like size, temperature consistency, capacity, durability, etc in your search for the best mini fridge.
If all of that sounds overwhelming, don't worry. We're here to make the task much simpler, because today, we have the best mini fridges in Singapore! 
1. LG GL-131SQW Mini Fridge
Best for Storage Capacity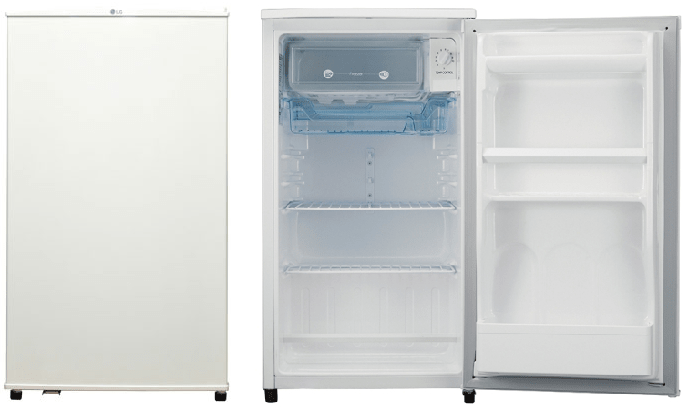 Price: $289.00
Searching for a mini fridge in Singapore that can fit in weekly groceries? The LG GL-131SQW Mini Fridge is an excellent choice for you!
It features a whopping capacity of 90L capacity, which is almost on par with a standard-sized fridge. The compartments are made of steel shelves too, so they'll be able to hold plenty of food and drinks easily.
For the frozen foods, you can keep them in the built-in freezer compartment, which includes an additional ice cube tray and a compact freezer door.
To prevent mould, the door seals are made with Bioshield, an anti-microbial agent that ensures long-lasting use.
On the whole, this is a solid small fridge in Singapore, with a lot going for it. With the capacity of the LG GL-131SQW Mini Fridge, most families consider it as one of the best mini fridges in Singapore.
Highlights
Built-in freezer
Large capacity
2 years warranty
2. Haier HC27SW20RB 2.7 Cu. Ft. Refrigerator
Best for Flexible Food and Drink Storage
Price: $134.79
Looking for a small fridge in Singapore with a roomy interior? Compared with the LG, the Haier 2.7 Cu. Ft. Refrigerator HC27SW20RB has more compartments. Of note to those who love their big beverage bottles is that it provides room for a 2L bottle.
Despite its compact design, it features a spacious interior. It's built with a full-width freezer compartment in which you can store meats, lunch boxes, and more frozen foods.
Highlights
Full-width freezer compartment
Adjustable thermostat 
Customer Reviews
Customers were impressed by the removable can and wire shelves of Haier 2.7 Cu. Ft. Refrigerator HC27SW20RB, saying they appreciated its customisability. This is also a big part of why we listed it as one of the best mini fridges in Singapore.
That said, some owners did note that it'd be more suitable for those who prefer canned drinks. Some also noted that the bottom shelf keeps drinks colder than the upper shelf.
An Amazon customer stated the pros and cons based on his experience and gave this feedback:
 "As I mentioned above, if, like me, you prefer bottled drinks to cans, those can holder shelves will just be in the way and a waste of space. HOWEVER, I did find a unique use for them. By removing the top two, and reconnecting one of them upside down, I found I could store wine bottles that way. The bottom holds the bottles up, while the upside-down one above it holds them in place so they don't fall. Depending on how fat the bottles are, I can usually get two in there that way.
 I have found that this fridge works a bit more efficiently if you have a small fan behind it, blowing fresh air around the cooling system to get rid of extra heat.
 Overall, I'm glad I got this fridge. Between the two of us, I find that the main kitchen refrigerator just wasn't quite big enough to accommodate some of my tastes. With this, I can keep my drinks as cold as I want, and free up more space for food in the kitchen.
 The only other advice I can offer is to make sure you get a fridge the right size to serve your needs. This one just JUST about right for mine. But I could easily see how someone buying it for a dorm or office might want something slightly bigger. So, for dorm or office, you might want to think about a model with more volume." 
3. Danby Designer 4.4 Cu. Ft. Refrigerator
Best for the Whole Family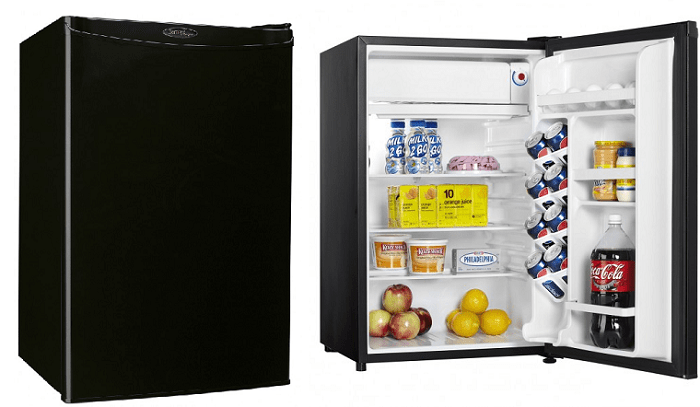 Price: $191.99
The high-quality and energy-efficient Danby Designer 4.4 Cu. Ft. Refrigerator has so much to offer for the bigger families!
Along with its compact design is a larger capacity of 126L that's perfect for those who need a lot of storage space and the ability to fit different types of food and drinks.
It also features advanced functions including a mechanical thermostat, semi-automatic defrosting system, and a beverage dispensing system.
This also has a full-width freezer compartment. In addition, you get an egg tray container in the door shelf.
The reversible door hinge provides easier opening while its basic colour elements can complement any style of kitchen decor.
From the functions to the classic design, it's indeed one of the best mini fridges in Singapore for families.
Highlights
Semi-automatic defrost
Energy efficient
Reversible door hinge
Customer Reviews
A lot of customers recommended the Danby Designer 4.4 Cu. Ft. Refrigerator for its spacious storage. Yet, some of them said that the maximum cooling temperature of the freezer could be better.
Regardless, most owners still agreed that it was a worthy purchase. A reviewer from Amazon wrote:
"This refrigerator has plenty of room. In our space, we don't need the freezer, and mini-fridges that have freezers are never that great, what's in the freezer isn't cold enough and they tend to frost things that are near them. The compartments are great, it has curves on the door shelfs so you can stick things in like cartons of milk or juice containers. The shelves are sturdy and I've got one shelf holding a 24-pack of water bottles without any problems. So far this has been a great fridge for us. I've included a picture that shows you how tall it is, when I was shopping I had no idea how tall it'd turn out." 
4. Midea MS50 Mini Bar Fridge
Best for Practical Use

Price: $178.00
This might not be the best in terms of volume or capacity but the Midea MS50 Mini Bar Fridge delivers a satisfying cooling temperature and also creates minimal noise. This is quite rare for a mini fridge, so they're definitely points in its favour.
Though it's much smaller than the previous fridges in this list, it has decent compartments where you can store a fair amount of food and drink. A separate chiller compartment is also provided.
What's more, if the Danby model earlier had a slight issue with cooling for its freezer, this one doesn't and has better cooling capacity.
It also features a reversible door together with an adjustable leg. In short, you can have a more convenient setup.
With these features and design, it can truly be the best mini fridge in Singapore for those who prefer a very small yet still-functional food storage solution.
Highlights
Adjustable leg
Minimal noise
Higher cooling capacity
1-year local warranty
Customer Reviews
Customers were very pleased by the great cooling temperature and compact design of the Midea MS50 Mini Bar Fridge. Here are some reviews from the Lazada customers:
"Love the fridge! It is way better than the Europace fridge that I bought a year ago. Though the compartment is lesser but it could make ice! The temperature is way better too."
 I don't usually write reviews on lazada but i am so compelled to for this buy! Fantastic, excellent service by Goh Sin Huat staff! Called to arrange urgent delivery. Really went the extra mile to accommodate my needs as a mother of a newborn! i bought this fridge to store thawed breast milk. very compact and handy. Also cheaper than retail. will always make purchases for electronics from Goh Sin Huat in future! i'm so impressed by their service quality!" 
"fridge is cool enough to chill drinks. ice doesn't really freeze too well. good for general use."
5. Europace ER 9250 Bar Fridge
Best for Energy-Saving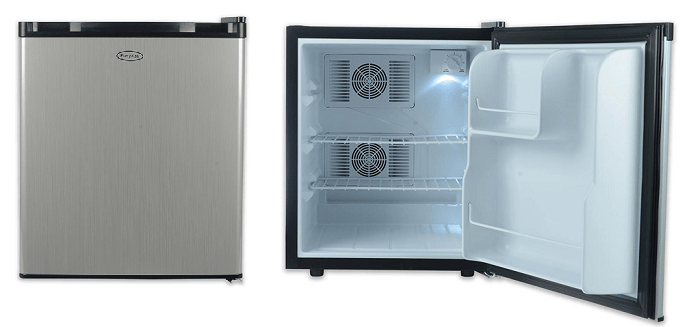 Price: $163.00
The Europace ER 9250 Bar Fridge is another silent mini-fridge that features energy-saving design with its dual cooling modules. Seems like you can have the best of both worlds with this one!
Along with this is the thermo semi-conductor, ideal for storing medicine, wine, and more. Its design is quite simple but it still has sufficient storage for all of your groceries. The best mini fridge in Singapore that's silent and holds a lot of storage.
Highlights
Thermo semi-conductor
Energy-efficient
1-year local warranty
Customer Reviews
Most buyers who have tried the Europace ER 9250 Bar Fridge are pretty much satisfied with the overall functions and design. A customer from Lazada left this review:
"Tall, spacious, with many layers to store plenty of things. The bottle-compartment may appear to be weak because it is moveable, but it actually allows for two 1.5 bottles to be arranged properly to be snuggly fitted."
6. Tecno TFR 48 Mini Bar Fridge
Best for a Travel Companion
Price: $184.90
If you're looking for a  lunch box in Singapore with a much more compact and simpler design than the Europace model, the  Tecno TFR 48 Mini Bar Fridge is the ideal pick for you!
Don't underestimate its build, as it has a total capacity of 47L. That's the perfect size for an average quantity of food.
It has all the basic elements including 2 layers on the main compartment, an ice tray container, temperature-setting options, and bottle storage.
Additionally, a drip tray and wire shelf are provided. It's also known for not causing noise when in use.
For those who are planning a short-term trip with a small group of friends, this can be the best mini-fridge in Singapore!
Highlights
Sturdy stainless steel design
1-year local warranty
7. EdgeStar CRF150SS Fridge
Best for Absolute Insulation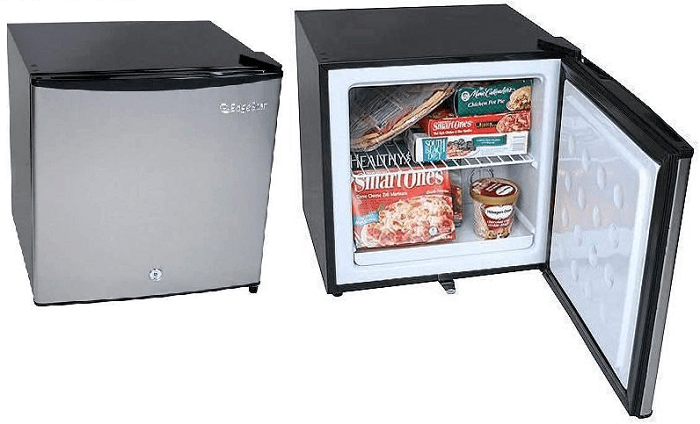 Price: $189.00
The EdgeStar CRF150SS Fridge is also a travel buddy that you can bring during a trip. It comes with a lock and two keys to keep your food safe and secured.
It might not be the ideal choice to store big and tall bottles, but it has a full-range thermostatic feature. That means you can use it for meat, ice cream, and other foods that must be kept very cold.
It's also designed with a stainless steel reversible door, recessed handle, and modern look. Most importantly, it has lower-than-average energy consumption for more efficient use.  
Highlights
Door lock
Full-range thermostatic temperature
Customer Reviews
Most users complimented the EdgeStar CRF150SS Fridge, saying that it doesn't take much power to operate and it's also very insulated and quiet.
They've also shared that since it has a manual defrost function, you must monitor it regularly to prevent too much frost. A reviewer from Amazon wrote this feedback:
"I purchased this mini freezer because I didn't really need a large one. It freezes items more coldly than my Kenmore full size freezer! I purchased this mainly to preserve vegetables that can't be canned andit takes two days to defrost a one quart bag! I have placed chicken of the woods mushrooms in it and they freeze wonderfully and stay fresh. The unit freezes quickly, doesn't seem to take much power, is very well insulated and quiet. I could not have made a better freezer purchase, the price was right and he size is perfect. The only thing to be aware of is I is not a self defrosting freezer. I have had it for about nine months and there is some frost building up which I think comes from when I am placing new items to be frozen in the unit. It looks pretty easy to defrost. I will place a puppy pad under the unit and leave the door open with a towel. Then I can wash it out with cleaner and it will be ready to freeze items within an hour. This was a great investment as all of my vegetables have stayed fresh and don't have that freezer burn or taste."
8. Stylux LH-JY4AD Mini Fridge
Best for Extensive Temperature Selection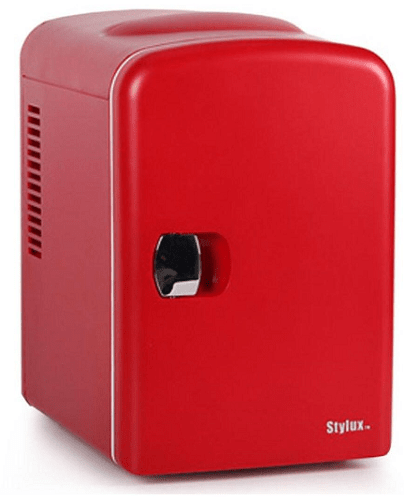 Price: $69.90
The Stylux LH-JY4AD Mini Fridge features a modern, chic and stylish look combined with a durable design.
Its compartments can be separated into two with the detachable divider and it's also scratch-resistant. Thus, you don't have to worry about possible damage to its appearance.
It offers wide-range temperature selection, which allows you to store a variety of goods. A removable power cord is also provided, making it easy to bring anywhere.
Highlights
Durable design
Scratch-resistant
9. JVD 30L Minibar Fridge
Best for Additional Bottle Storage
Price: $268.00
If you like to keep your drinks or little snacks separated from the main goodies, then the JVD 30L Glass Door Silent Minibar Fridge might be the best mini fridge in Singapore for you!
It has a 30L capacity and is built with magnetic door insulation to ensure consistent temperature control.
It is also designed with a tempered reversible glass door and an adjustable shelf so that you can customize your storage.
Highlights
Magnetic door insulation
Tempered reversible glass door
10. Beko TSE1283
Best for compact storage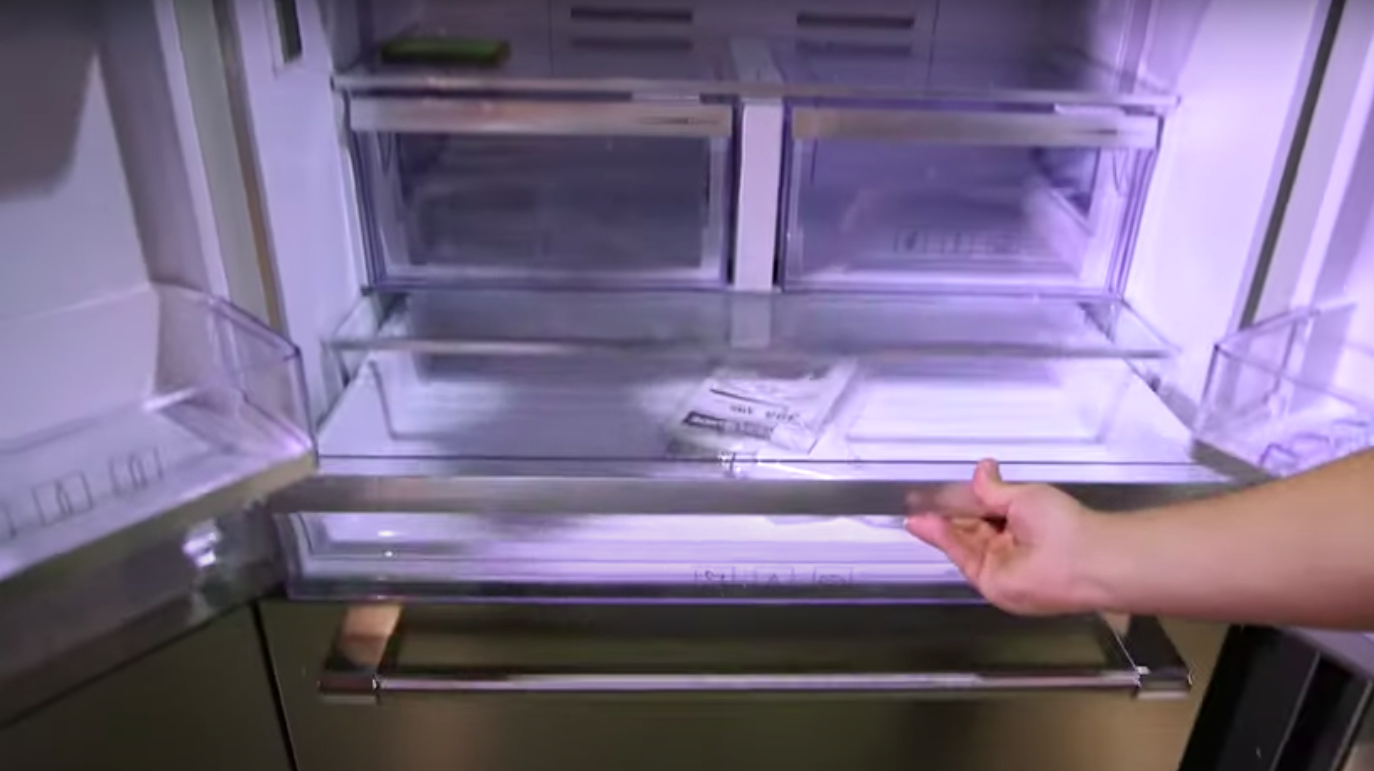 Price: $369.00
The Beko TSE1283 is a tabletop fridge that offers plenty of features considering its size and affordability. It has 101 liters of space to store all your food, beverages, and condiments, which is more than enough for the essentials. 
If you've struggled with fridges that are hard to see inside, the TSE1283 may be what you're looking for. It has LED illumination featuring chains of lights on the top and each shelf so you can see clearly inside, even in the corners. 
It also comes equipped with MinFrost technology, which uses a specialized evaporations system to reduce ice build up. This means that frozen food will be preserved better and you'll need to defrost less frequently, thereby saving more energy.
With reversible doors to adapt to your kitchen layout, the TSE1283 is versatile. Plus, you can double your cooling capacity by placing two fridges side by side and reversing the doors of one.
It's greatest feature though is the durable glass shelves, made of tempered glass that can withstand a weight of up to 25 kg. They are scratch and crack resistant as well, so you you don't have to worry about placing a heavy stock pot inside.

Highlights
Durable glass shelves
Reversible doors
So there you have it! These best mini fridges in Singapore have every size, feature, and design that you might expect from your ideal mini fridge.
Make sure to take your time in choosing one and let us know which one you ended up picking. You can also let us know which one you'd prefer to have and why!
Oh, and if you ever have issues with your refrigerator, these best fridge repairs in Singapore will help you fix them! No matter how big or small the problem is, they'll surely be at your service in no time.