The 8 Best Tricycles in Singapore for Kids
Engaging your kids to do outdoor activities can be tough, especially when they prefer to play at home and with their gadgets. A good way to try and bait your child out of the tech cave may be to give them the best tricycle in Singapore for kids!
But of course, as much as you want them to be fit and healthy, you also want them to be safe at all times. Therefore, you have to ensure that the kids tricycles you pick meet certain standards.
That means checking if it's suitable for their age, comfy enough for a ride, and highly durable. And that's just the tip of the iceberg!
We've come up with a list of the absolute best ones on the island to make your choice a little bit easier. So, here are the best tricycles in Singapore for kids!
1. iimo #02 Foldable Tricycle (Classic)
Best for Indoors and Outdoors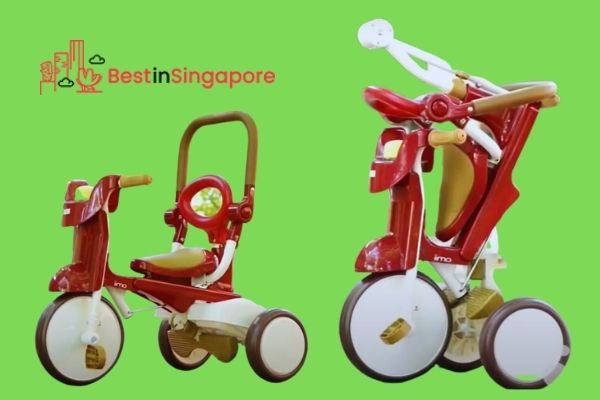 Price: $198.00
If you want a kids tricycle that can be used indoors and outdoors, you should see the award-winning iimo #02 Foldable Tricycle (Classic).
Besides its stylish design, it also boasts a frame of durable materials paired with excellent features. This includes the shock absorption wheels to ensure safety and one-handed steering control mechanism for easy turning.
For a comfortable ride, a soft leather seat and baby footrest are also provided. Since it's lightweight and foldable, it's also convenient to bring during travel.
The most impressive function of this tricycle is that your kids can still use it as they get older. Just detach the safety bar and steer handle, and it'll transform into a hand or paddle tricycle.
If you want your little one to have some activity rain or shine, this is the trike in Singapore that we'd recommend for you.
Highlights
Suitable for ages 18 months to 60 months old
Convertible to a hand or paddle tricycle
Lightweight and foldable
Shock absorption wheels
One-handed steering control mechanism
2. SmarTrike 300 Plus
Best for Babies and Toddlers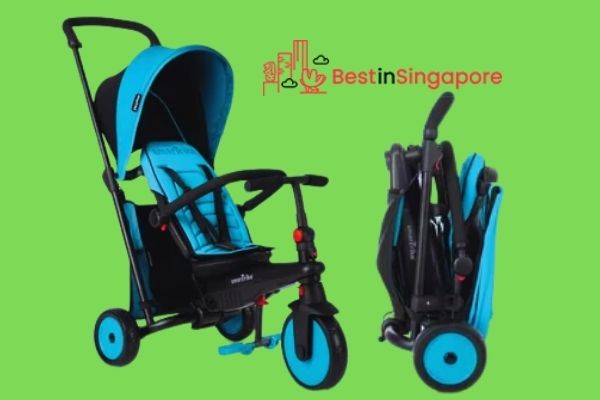 Price: $299.00
Now if you're looking for a baby tricycle in Singapore that's safe for those little legs and feet, check this one out. When it comes to safety, the SmarTrike 300 Plus goes beyond the norm by having innovative parent/child control features.
Once you've pressed the red button attached to the front wheel mudguard and twisted it, you can switch control. It comes in handy when you're at a public place and prevent possible accidents.
For the toddlers, they can place their feet on the foldable footrest. Once they get big enough to pedal by themselves, you can just fold them back in.
Another thing is the reclining seat that'll let your kids take an easy nap. It's designed with a safety belt so you can rest assured that they're secured while you're on the go.
The pedals are also removable, making it the best tricycle in Singapore for babies and toddlers!
Highlights
Suitable for ages 10 months old and up
Parent/child control
Adjustable parent handle
Reclining seat
Removable pedals
Customer Reviews
Most parents and their kids loved the SmarTrike 300 Plus and they complimented the tricycle as a great travel buddy.
Some also shared their concerns such as the handle sometimes sliding down and it being slightly hard to fold. Despite this, they still recommend it to other parents, especially for travel use.
An Amazon customer wrote this review:
"I have a 9 month old and he loves the tricycle very much it actually makes him feel like he's riding a bike along with his older sister who's 6. He fits comfortably and right under his feet are the foot rests but he still doesn't quite reach it so I didn't take them out (as you can see in the picture) . It has a pouch in the back of it where it fits anything you will need to go out for a walk with your baby. The pouch also has pockets on the side to store the pedals whenever your baby is ready to ride the tricycle by his/herself. Oh and I also LOVE the fact that the tricycle folds up like a luggage and comes with it's very own bag. Makes it so much easier to travel with it. Overall great product. Definitely would recommend it for your child or even as a gift."
3. Zycom zTrike
Best for Step Up Ride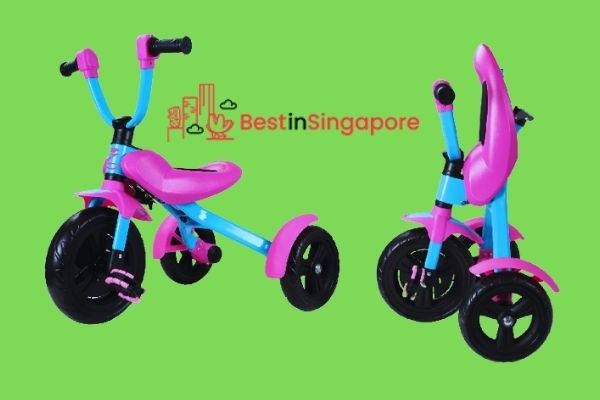 Price: $128.00
For the parents who have kids with an age of 5 years old and below, the Zycom zTrike might be the best tricycle in Singapore for you.
This is a nice step up for your children who want a more challenging activity. This tricycle is designed to help them develop a sense of control, coordination, and even self-confidence.
It's built with a wide wheelbase, freewheeling switch, and lightweight wheels for maximum stability and comfort. It's also foldable, so you can easily carry it and store it inside the car, so it's advisable for those looking for a kids tricycle in Singapore that's portable.
Highlights
Suitable for 18 months to 5 years old
Foldable
Stable wheelbase
Customer Reviews
Many customers were very satisfied with their purchase of the Zycom zTrike. They said that their kids had an enjoyable and safe ride, and also liked that it's offered at a cheaper price.
When it comes to assembling the parts and its foldable feature, they said that it may take some time to get those right, however. Nevertheless, they maintained that both were still manageable.
A customer from Pupsik Studio shared this experience:
"My girl loves it. Took me half an hour to assemble slowly (cos i'm in my 3rd trimester) but it's doable alone. We love the sturdiness of this trike, and so happy with its foldable feature (the first few times might need practice after that it's a breeze to fold and unfold). I've seen shops selling less sturdy plastic trikes for $118, so this price is good for a foldable, sturdy trike."
4. Doona S1 Liki Trike
Best for Compact Folding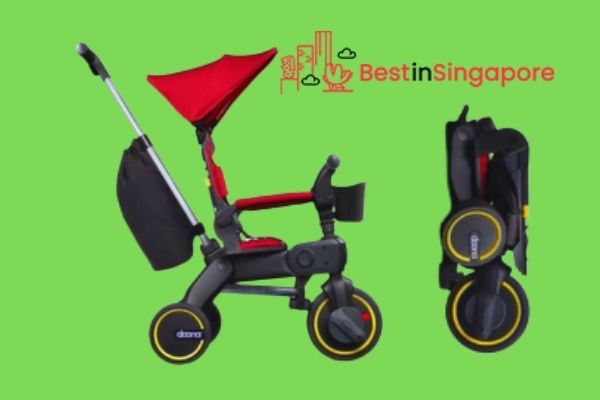 Price: $329.00
The Doona S1 Liki Trike has a design slightly similar to the SmartTrike model's. However, this one comes in different modes to accompany kids through various phases of their early lives.
When they're still very young, you can set it on parent mode. As they grow up, you can convert it into a tricycle and bike mode.
Once you've folded it, it's more compact compared to others too, which makes it space-efficient and easier to bring along trips than your average tricycle. You can also fold it with just the click of a button.
It's also highly durable with its rust-free, robust wheels. Those who hate to do assembly for products can rejoice in the fact too that this comes fully assembled.
Now this is a baby tricycle that will be with your child from 10 months until they're 3 years of age so you'll definitely get a lot of worth from this little foldable tricycle in Singapore!
Highlights
Suitable for 10 months – 3 years old
Parent/child control
Reclining backrest
High durability
Quick-release pedals/footrests
Customer Reviews
The Doona S1 Liki Trike has impressed many buyers with its practical and easy-to-use features. That said, some owners did say they wished it offered more storage options onboard.
Nonetheless, they still claimed it as one of the best tricycles in Singapore due to its multi-functional and convenient design. A customer posted this feedback on the brand's official website:
"This is a fantastic little trike, I had the Doona buggy and was gutted when my little one outgrew it … this trike has filled the void ! Its compact, smart and easy to use, and is a proper head turner !"
5. Little Tikes My First Trike 4-in-1
Best for Food Compartment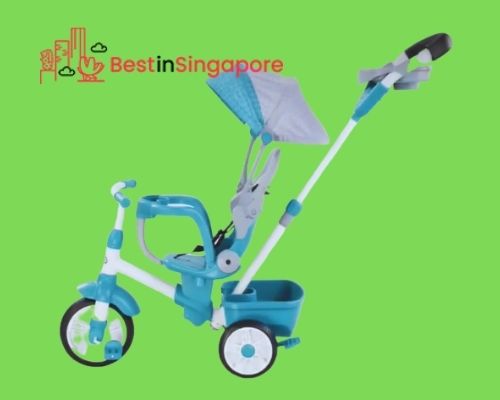 Price: $203.20
The Little Tikes My First Trike 4-in-1 is another model that can accompany your children as they grow up. It starts from a stroll mode with parental control and goes to ride mode where kids can finally steer and pedal on their own.
It's built with the safety essentials too, including an adjustable seat, non-slip pedals, seat belt harness, and foldable footrest. The push handle is also adjustable for easy steering.
Furthermore, this tricycle comes with some nice storage solutions. For example, it has a storage bucket at the back and beverage holder at the front.
Though it's not fully foldable, it's still considered one of the best tricycles in Singapore because of its multiple uses and practically designed compartments.
Highlights
Suitable for ages 9 months – 5 years old
Adjustable shade canopy
5-point seat belt harness
Storage bucket and beverage holder
6. NaVa Children Tricycle
Best for Durability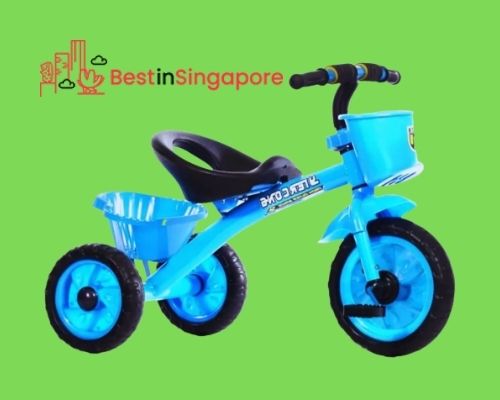 Price: $46.24
Are your kids asking for an upgraded ride? Then the NaVa Children Tricycle might be a good choice for you!
This model is designed with a tear-resistant tyre, sensitive double brake, and a leather seat, which makes it highly durable and safe.
Unlike other options, it also has a larger and longer build, which is why it's the best tricycle in Singapore for some parents.
Highlights
Front and rear baskets
Anti-slip pedal
Handle cover with a sponge
7. Chillafish BMXie Balance Bike
Best for Decorative Style, Functional Tyres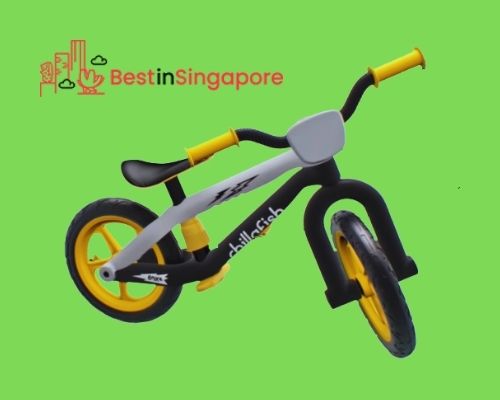 Price: $179.00
You kids will absolutely love this cool and stylish Chillafish BMXie Balance Bike. It features a detachable front number plate that they can even decorate with their own stickers.
Aside from giving them an option to customise their ride, this tricycle can also help keep them safe. The entire tricycle has a foam core, airless rubber-skin tires, and steel glider.
An adjustable seat and removable footrest are also included in the design. With these features, it's truly one of the best tricycles in Singapore if your kids want a delightful ride!
Highlights
Suitable for ages 2 – 5 years old
Airless rubber-skin tires, no need to inflate
Removable footrest
Personalised number plate
Customer Reviews
Parents who bought the Chillafish BMXie Balance Bike shared that it may be slightly small for some. Still, they stated that their kids had a truly wonderful experience with this bike.
An Amazon customer wrote:
"We have actually had this bike for almost 2 years now. I bought one for my 2 yr old grandson at the time. He LOVES it still! When we first got it, it took him very little time to figure it out. (Maybe a few hours). With the seat in the lowest position it was the perfect size for him. Fast forward 2 years and he still rides it every week. He is starting to finally outgrow it, so I've ordered a 16″ balance bike for him because hes still not comfortable with pedals. Now he has a little brother though who next year will be ready for this bike so it worked out perfectly! It's still like brand new, and he has not been easy on it. He likes to ride it through the sand, the yard, up curbs in the neighborhood, etc. Hes so fast on it, the neighbors dont realize at first there aren't pedals. We have to mention it and then they're fascinated! Best gift we've bought him to date."
8. Micro Trike
Best for Park Strolling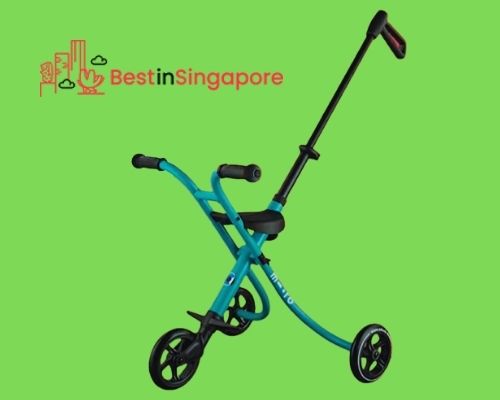 Price: $145.00
Taking short walks at the park or strolling at the mall with a toddler will be a lot easier now that Micro Trike is available in the market. This mini tricycle is perfect for toddlers who enjoy riding trikes yet too lazy to use the pedals.
Micro Trike actually works by solely pushing it like a cart while your kid is on board. This way, they won't have tired legs after the day but get the same enjoyment as with the regular trikes.
This trike is also perfect if you are constantly travelling because it is easy to keep due to its lightweight, foldable, and compact built.
Micro Trike comes in different colors so you can have your child select which one pleases her eyes more.
Highlights
Foldable and lightweight

Suitable from 1 to 5 years old

Parent control
Regardless of which one you choose from these best tricycles in Singapore for children, make sure to accompany your kids as they learn to use their new rides. That way, you get to bond with them while having fun!
Apart from these tricycles, you may also want to take a look at the best kids scooters in Singapore. These are especially good for helping them learn a sense of balance and coordination.