5 Best Balance Bikes in Singapore For Kids
Want to teach your children how to ride a bicycle while ensuring their safety throughout the learning process? If so, then you should get them the best balance bikes in Singapore!
Balance bikes offer a pedal-less riding experience where the children will only need to push the bike along on their feet — this way, they're able to learn how to balance on 2 wheels without any safety risks. That's why most parents prefer to start with balance bikes before trying the actual bike.
But with thousands of brands and models of balance bikes in Singapore, how will you determine which one is most suitable for your child? To help you out there, before we head on to our list of the best balance bikes in Singapore, we'll go over some things that you must know first!
Factors to Consider When Buying a Balance Bike in Singapore
It's extremely important to make sure that your child feels comfortable and safe while riding a bike, which is why you must find the right fit. There are different styles, sizes, and other features out there!
That's why we'll go over those points below. This way, you'll know what to look for when you get your kids a balance bike:
1. Size
When it comes to size, you have to check the seat height and compare it to your child's inseam. This is to make sure that your child will be able to ride the bike properly.
To get your child's inseam measurement, you may measure the distance from your child's crotch to the floor. It must be at least an inch taller than the minimum seat height so they can put both feet flat on the ground and walk while riding the bike.
It'd also be better to have a bike with an adjustable seat height and handlebars to ensure comfort.
2. Weight
With a lightweight balance bike, it'll be easy for your child to carry, move, and turn the bike around. A good balance bike must NOT weigh more than 30% of your child's weight.
Besides, when you're outdoors and the kids don't feel like riding, the parents will be the one carrying the bike — so a lighter bike is indeed a wiser option.
3. Material
To ensure durability, you must choose the one that's made with the finest-quality material. For balance bikes, there are 3 main materials and each one of them has pros and cons:
Wood
Balance bikes that are made of wood are light and eco-friendly. They're also known for having trendy styles.
However, wooden bikes might not be highly adjustable compared to metal bikes. They may also be a bit less durable.
Metal
A metal balance bike typically comes with an adjustable seat, a perfect choice that your child can grow into. It will typically be of either steel or aluminium.
The steel ones are quite heavy, unlike the aluminium bikes that are lightweight yet less durable. They're also both prone to rust when often used outdoors.
Composite
This material is the most recommended among the types. Composite bikes are built with heavy-duty composite plastic, featuring a highly durable design that won't easily crack, rust, or rot.
They're also more expensive than the other materials but it's a long-lasting purchase that you can pass down from child to child.
4. Brakes
Deciding whether the hand brakes are necessary or not will depend on your child's age and preferences. For younger children aged 2 years old and below, they won't have the coordination to use the hand brakes and it's their natural instinct to use their feet to stop instead.
For the older children who are likely to go faster, a balance bike with hand brakes will be a safer option. This will help them make a quick stop and it'll also prepare them for larger pedal bikes.
5. Safety
Safety is the top priority of every parent. To make sure that it's absolutely safe for your child to ride a bike, there must be rounded or recessed bolts on the bike — so it won't cause any leg scratches.
You also need to check if the handlebar grips have rounded rubber on the ends. This will help protect your child's hands during a fall.
6. Tire Type
With the right tires, your child can have a smooth and comfortable ride. It's advisable to choose tires with air because they offer more cushioning, bringing absolute comfort and traction.
Air tires may require an occasional pump, of course, and may also have additional weight and cost. However, we still think they're worth it.
Another type of tire is the EVA Foam Tire that's lightweight and never goes flat. However, they're fully solid and might not provide any cushion or traction at all.
Best Balance Bikes in Singapore
It's now time to see our selections for the best balance bikes in Singapore! We've gathered the top picks on the market, looking for ones with great functionality and durability as well as safety for your kids.
Check them out here:
1.   Early Rider Bonsai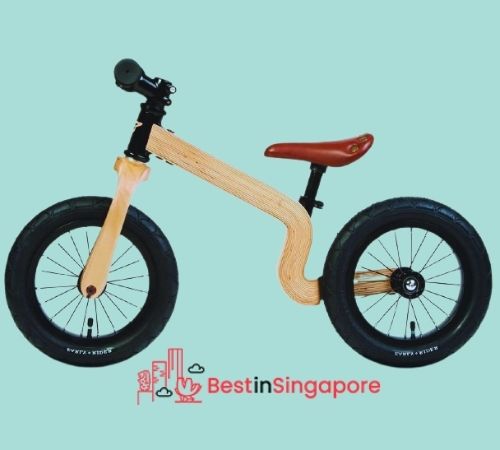 Price: $217.35
The Early Rider Bonsai features a great combination of birch wood and aluminium material that boost durability and functionality. For those who are looking for a bike that can last for several years, this may be the best balance bike in Singapore for you!
It's a lightweight balance bike that can be controlled easily by kids. It also has soft-touch handlebars for a comfortable grip and a Ritchey stem for a smooth ride.
It's suitable for children ages 2 – 4 years old. It might not have an adjustable seat height but it will surely last longer than most other bikes on the market.
Pros
Wood and aluminium
Ritchey stem
Soft-touch grip
Durable and lightweight design
Cons
Seat height is not adjustable
2.   Joovy Bicycoo Balance Bike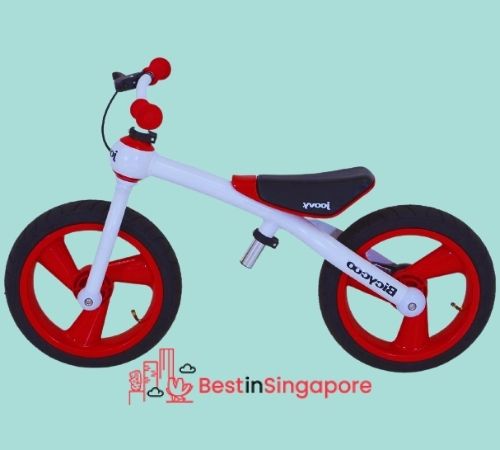 Price: $210.83
The Joovy Bicycoo Balance Bike is the best for older kids who are getting ready to ride a pedal bike! With this bike, they'll be able to fully focus on learning how to steer, balance, and even brake!
There's no need to worry if your child is a wobbly rider because it's designed with extra-wide and sturdy air-filled tires. This will help the kids to find their balance and have a smooth ride.
It also comes with an adjustable seat height so it can be used by all of your kids. It's made of strong yet lightweight aluminium material so it'll be easy for the kids to manoeuvre.
Pros
Lightweight design
easy to steer
easy to assemble
Durable
Cons
Grips are quite small and made of foam instead of rubber material
Limited range of seat heights
Customer Reviews
Many customers were satisfied with the overall features of the Joovy Bicycoo Balance Bike. They said that their kids had a smooth and comfortable ride due to the impressive build and performance of the bike.
A customer wrote this feedback:
"Super easy to assemble – I was able to do it myself within 5 minutes. Immediately I noticed that the bike felt really sturdy and I could tell it was made from high-quality materials (as opposed to some cheaper version I've seen). I absolutely love the modern, clean look of this bike. The air-filled pneumatic tires are another impressive feature of this bike. They provide a smooth and stable ride. There's an adjustable seat so it will grow with your child and there's a great hand-brake that's pretty unique to the Bicycoo – you don't see that on many other brands of balance bikes, but it will come in handy as your child ages. Overall, I think this bike will last for years! I'd definitely recommend it! Thank you to Joovy for facilitating a sample for my review."
3.   Bammax Baby Balance Bike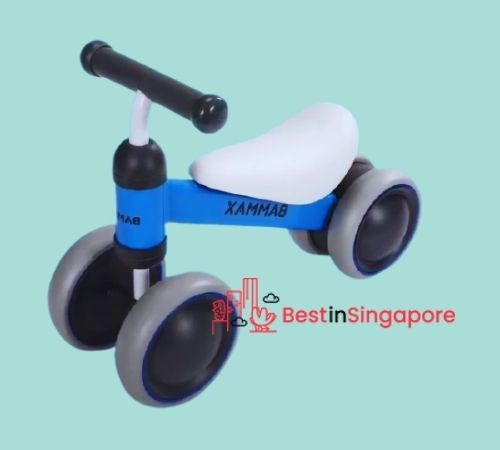 Price: $144.71
For all the parents out there who are searching for the best balance bike in Singapore suitable for kids aged 1 to 2 years old, you absolutely must see the features of the Baymax Baby Balance Bike!
This bike is also known as a baby walker that features limited steering function and anti-slip and wide wheels to prevent possible falls.
Your child can comfortably sit on the large leather seat pad while enjoying a ride. It's also a strongly built yet lightweight bike that's perfect for both indoor and outdoor use.
With these features, it has truly become one of the best balance bikes in Singapore for toddlers!
Pros
Easy to assemble
Perfect size for toddlers
High-quality material
lightweight
Cons
Can't be used when the child grows older
Customer Reviews
The Baymax Baby Balance Bike has earned a lot of positive feedback from customers saying that their younger children were able to walk and ride with the bike without any slips or falls.
A customer gave this review:
"Okay, I got this bike for my 14 month year old niece and I couldn't be more pleased! The assembly consisted of about three steps so I could do it on my own, and he loved it!! She's been walking for about a month now, but this bike is the perfect mix between walking and riding it. Easy to keep indoors and just fine to go outdoors! The back wheels are perfect in that they allow a toddler to walk with the bike without knocking the wheels with their legs which happens often. I am so happy with my purchase!"
4.   Joystar Balance Bike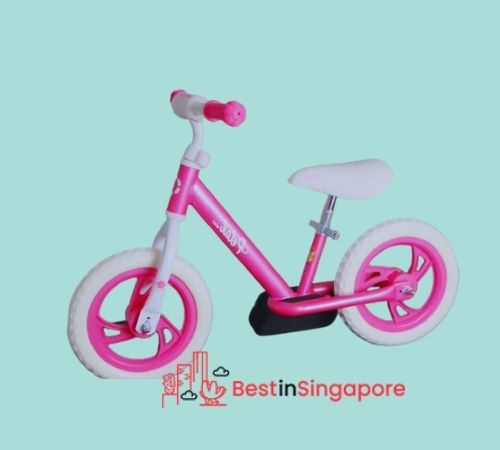 Price: $93.75
The Joystar Balance Bike features a footrest, similar to what a pedalled bike has, helping the kids to find balance and learn coordination at such a young age. Both the seat and handlebars are adjustable for a more comfortable ride.
Unlike previous options, it has a higher and classic triangle design, ensuring solid support even during bumpy rides. For hassle-free tire maintenance, it has air-free tires made of EVA polymer foam that also minimise the weight of the bike — so children can easily manoeuvre it.
This best balance bike in Singapore comes partially assembled too, so it'll just take you a few minutes to set it up. It's also a good option for children aged 2 to 4 years old.
Pros
Soft padded handlebars
Quick assembly
Lightweight and slide frame
Durable tires
Small footrest
Cons
Customer Reviews
Most parents shared that their kids had a fun experience with the Joystar Balance Bike. They said that the bike was able to provide reliable support that made them feel reassured as to their kids' safety.
A customer left this feedback:
"We found the bike easy to unpack and assemble. The instructions (photos mostly) were good enough for us. Comments have mentioned the composition of the tires. They are made of a dense, sturdy material. Our kid weighs 31 pounds thus we have no concerns about sturdiness. The bike is built for toddlers/young children. The price is reasonable. We can modify this if anything should change."
5.   Cruzee Balance Bike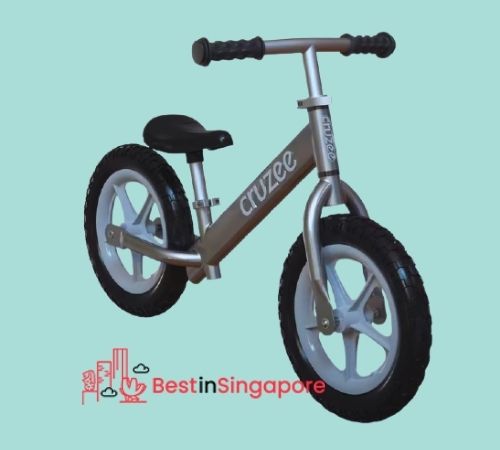 Price: $215.00
The Cruzee Balance Bike features an ultra-light design that kids can easily use and carry. We like that it also has an extra-low seat position, providing a comfortable design for all young riders.
You can also adjust the height and size of the seat post, making it the best balance bike in Singapore that your children can grow with. It's even made of aluminium for a strong and rust-free frame.
Moreover, the tires are fully sealed so it can withstand any stumbles or rough roads.
Pros
Super lightweight design
All-weather frame
Minimal maintenance
Footrests
Different colours available
Cons
Customer Reviews
The Cruzee Balance Bike has received great feedback because of its simple yet highly customisable features. A customer posted this review:
"Perfectly simple, the Cruzee Ultralite Air is an amazing bike for ages 18-months to 4 years. Its lightweight construction makes it especially ideal for petite, timid, or hesitant riders. With cushioning air tires and fast spinning metal wheels, the Ultralite Air was well-loved by parents and our testers alike. The lack of handbrake, however, makes it less ideal for really ambitious riders."
And that's our list of the best balance bikes in Singapore! Feel free to recommend more options if we've missed some great bike brands/models that you know of.
And as soon as they're old enough to ride pedalled bikes, they can finally try these best kid tricycles in Singapore! With these, they can have even more exciting cycling experiences!