8 Best Drawing Tablets in Singapore for All Skill Levels
Whether you're a professional digital artist or an art hobbyist, you need a reliable tool that'll help you express your creative ideas and bring them to life. In other words, you should have the best drawing tablet in Singapore!
However, with the many drawing tablets now available, it may not be that easy to find the right one to buy. Particularly for the beginners who've just begun to take an interest in using a drawing tablet.
That's why we're here to help you figure out the things that you should bear in mind while exploring different sizes, features, and styles. After that, we'll go through a list of the best drawing tablets in Singapore today.
If it's not your first time getting a drawing tablet, though, feel free to skip straight to the list of best tablets. If, on the other hand, you prefer a laptop for drawing, head straight to this link! Otherwise, read on.
Things to Consider When Buying a Drawing Tablet
Similar to a standard tablet, drawing tablets in Singapore are built with varying functions depending on the type of user. Sure, all of them are for drawing… but some may have tilt support, others are better for mobile use, etc.
So, if you're a beginner, you should be aware of your current skills first. For the professionals, determine which features are necessary for your line of work.
You should also be aware of the following things:
1. Screen Size and Active Area
When it comes to choosing the perfect screen size, a larger active area would be better. It gives you more space for each project, making it easier to enhance details and work seamlessly.
For the actual size of the tablet, the bigger ones tend to have more shortcut keys for efficient use. On the other hand, smaller drawing tablets tend to be better for portability.
2. Resolution
Tablet resolution is generally identified in LPI or lines per inch. The higher this figure is, the better for your artwork's clarity and accuracy.
Most drawing tablets at the moment come with anywhere from 4,000 to 5,080 LPI. You certainly don't want anything lower than that if you want to produce professional art.
3. Pressure Sensitivity
Most art programs now make use of brushes whose thickness variations are expressed through pressure. Hence, when you press on a pen while drawing with those brushes, the line gets thicker.
This is why high pressure sensitivity is an essential feature. Of course, this is largely dependent on you too — how heavy is your hand while drawing?
You can test this by getting a regular notebook or writing pad and drawing on it. The heavier your hand is — the more it "digs into paper" when drawing — the lower the pressure sensitivity you actually need.
For example, if your hand is heavy enough to impress several sheets of paper on a pad, the tablets with pens sporting pressure sensitivity of 2,048 levels will usually be enough for you.
But if you have a light hand or are a professional artist, we suggest settling for nothing less than 8,192 levels.
4. Controls
For an efficient setup, you should consider a tablet that features functional shortkeys.
These keys stand as shortcuts so it'll be easier for you to repeat certain commands on a program. For example, if you find yourself saving your work often, you can just map the "Save" command to one of these keys.
They're either placed next to the drawing area or on the pen. Usually, they're on both — around 2 buttons on the pen and the rest on the tablet.
5. Wired or Wireless
Wired digital drawing tablets in Singapore give a stable connection to your computer, allowing a more organised workspace. Mobility is limited with them, though.
With a wireless digital tablet, you can freely move it around without minding if the cord is getting tugged or pulled. However, the connection might be a bit unstable compared to a wired option.
The Best Drawing Tablets in Singapore
Now that you know which features to look out for, let's take a look at some of the best drawing tablets in Singapore. All are chosen based on qualities and practicality so you can be sure that there's an ideal pick for you.
1. Wacom Intuos Pro (Medium)
Best for Professionals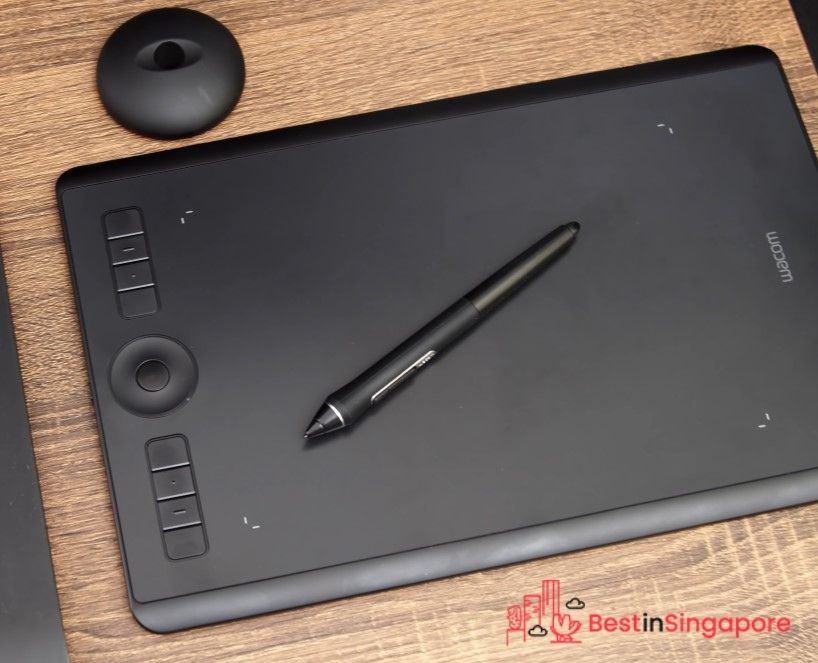 Price: $499.00
Being one of the most well-known releases of the brand, the Wacom Intuos Pro is also widely recognised in the professional field.
It features superior pen technology that provides high pressure sensitivity, giving you a smooth, natural, and responsive experience without no lag. It's not battery operated either, so you can have a continuous drawing experience.
At the side of the drawing tablet, there are functional keys that are also customisable for more efficient use. The screens are available in small, large, and medium sizes, so you can choose which one best suits your needs.
Moreover, it has a Paper Edition where you can start your work on paper first. It'll convert your sketches into digital files for more precise editing afterwards.
It can be connected through a USB cord or Bluetooth and is compatible with both Windows and Mac. It also has several sizes, but we recommend the medium as the perfect option for most users, striking a balance between usability and portability.
Highlights
338 x 219 x 8 mm (tablet size)
224 x 148 mm (active area)
5080 LPI
8192 pressure levels
Battery-free pen
Windows- and Mac-compatible
Bluetooth connection and USB cord connection
Paper edition accessory
Customer Reviews
Many reviewers praised its large active area and shortcut keys. Though a few of them found it a bit hard to get a solid grip on the pen due to its shape, they still admired its overall functionality.
Some also said that it's one of the best drawing tablets in Singapore because of its Paper Edition feature.
Creative Bloq published a review about this model and wrote:
"The medium version sports a slightly smaller physical footprint than its predecessor and yet gains a larger active area. Depending on your desk size you could place it alongside your keyboard if you prefer not to use the ExpressKeys and touch ring. However, taking advantage of these time-saving features and shortcuts is far more productive. It's also wireless, with Bluetooth 4.2 helping you to declutter your desktop and work from your sofa."
2. Huion Inspiroy H640P
Best for Travel Use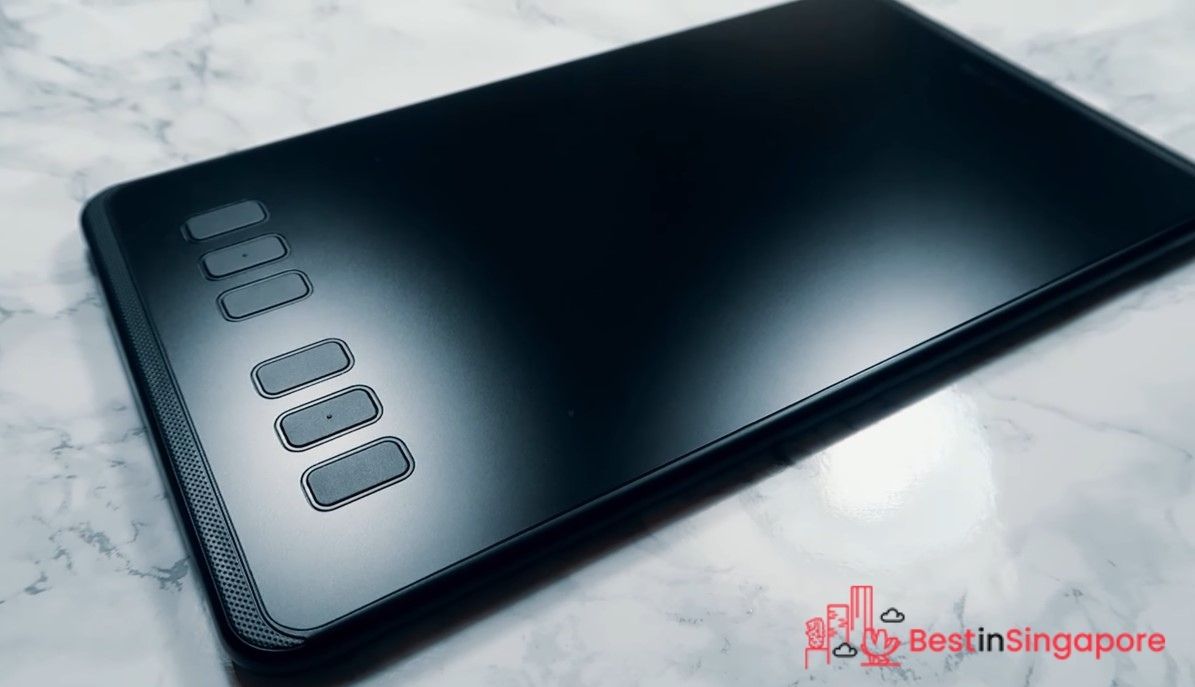 Price: $104.00
Are you looking for the best drawing tablet that you can bring during a long trip? If so, the Huion Inspiroy H640P can be the best drawing tablet in Singapore for you!
Due to its compact and ultra-slim design, it has become a travel buddy for many artists. The pen is also durable and battery-free so there's no need to worry about interrupted work.
The pen pressure level is similar to the previous option, providing vivid and precise lines and strokes. It also has a high resolution for clear display.
The functional keys on the pen and tablet are also programmable and you can even deactivate them if you prefer to work without them. The most impressive thing about this one is that can be connected to both desktop and mobile platforms.
Highlights
260 x 147.7 x 8 mm (tablet size)
160 x 100 mm (active area)
5080 LPI
8192 pressure levels
Battery-free pen
Slim and compact design
Compatible with Android as well as Windows and Mac
Programmable keys
High resolution
Customer Reviews
The Huion Inspiroy H640P has mostly received positive feedback from the customers. They shared that it's very simple to use, has a sleek design, and responsive interface.
An Amazon customer posted this review: 
"For any first time digital artist or animator, an inexpensive, quality tablets that helps expand your abilities is a must-have. Much like products of equal quality for MUCH more, this tablet is perfect! I honestly wish I had purchased it when I was starting out. It is convenient, durable, has a very sleek design, and now that I have one, I probably will not let it go. It's definitely my new favorite thing to use as an art tool. I am able to work faster with higher quality, thanks to the key buttons. The tablet pen has a very sleek design and is long, which is a very nice asset. I love the design of them. Although you can't flip the pen around and use the other end as an eraser like you can with Wacom, this tablet makes up for it with the tablet keys and allows with multiple interchangeable customization. Although I had a couple difficulties with syncing the tablet to my desktop at first, I thoroughly enjoyed this product and what it has to offer. Thank you, Huion, I'll definitely be using this tablet a lot more than my others"
3. Huion Inspiroy H610 Pro
Best for Value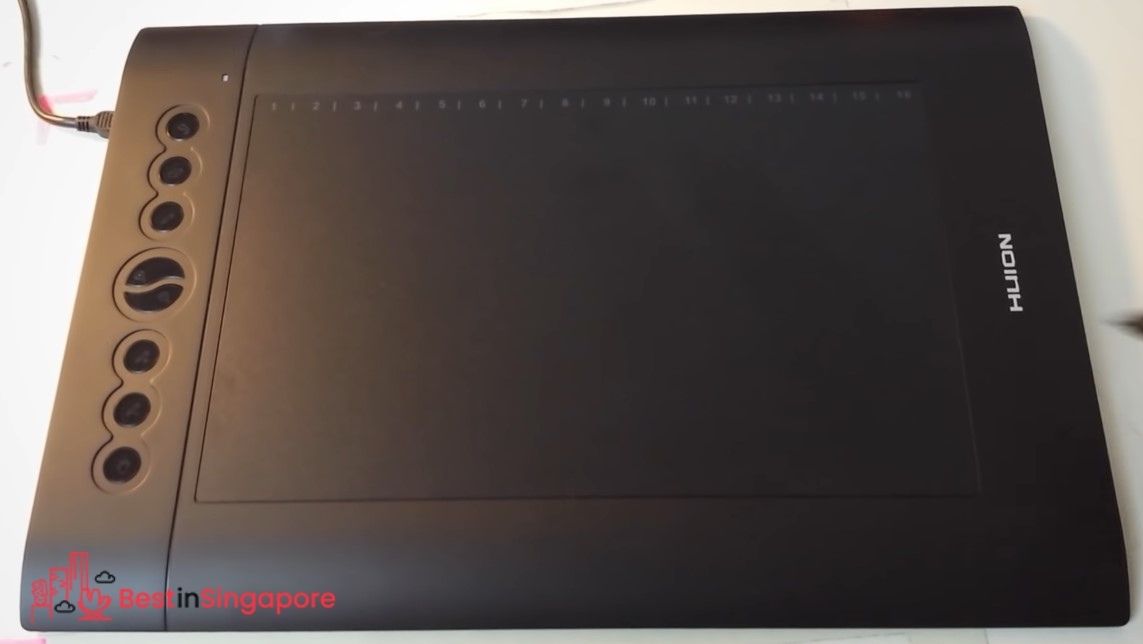 Price: $80.37
Unlike the first two options, the Huion Inspiroy H610 Pro has thicker edges and it features more functional keys.
The keys are divided into press and soft keys. All of them are customisable so you can manage your shortkey settings.
It also has a large active area so it's the best drawing tablet in Singapore for limitless creations and it displays an impressive resolution. The pen is rechargeable and it also has great pressure sensitivity.
Highlights
352 x 238 x 12 mm (tablet size)
254 x 158.8 mm (active area)
5080 LPI
8192 pressure level
Compatible with Mac and Windows
Rechargeable pen
Customisable soft and press keys
Customer Reviews
Customers loved the large drawing area, build quality, and most especially, the affordable price. They said that despite being a non-wireless device, it's still one of the best drawing tablets in Singapore.
Art Ignition wrote this verdict included on their review:
"If you thought you'd be unable to find a good drawing tablet because of a limited budget, consider yourself proven wrong. The Huion h610 pro has a lot of features that aren't common on affordable tablets, at least not with this level of functionality. With its amazing price-to-value ratio, this drawing tablet is a great option for both beginners and experienced artists with a smaller budget."
4. Ugee M708
Best for Paperlike Screen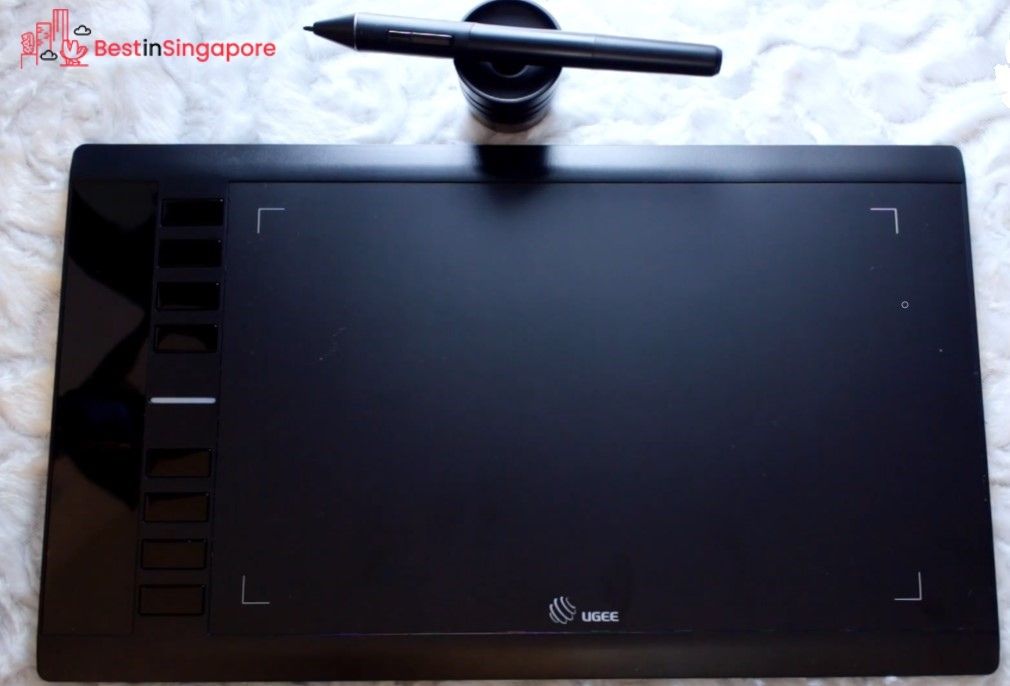 Price: $76.01
The Ugee M708 is a good choice for illuminators, image editors, designers, and many more. This lightweight tablet features an amazingly paperlike surface for a smooth drawing experience.
Exceptional resolution, pressure level, and active area are also included in this model. Unlike others, its pen has an eraser function that works just like an actual one, which can be very handy for a lot of illustrators.
It's also known to have a sturdy build with its wearable and heat-resistant design. Programmable function keys and compatibility with Windows and Mac platforms are also part of its features.
With this tablet, you can use various drawing software such as Adobe apps, Autodesk, and many more.
Highlights
360 x 210 x 0.8 mm (tablet size)
254 x 152.4 mm (active area)
5080 LPI
8192 pressure levels
Paperlike surface
Rechargeable pen
Pen has an eraser function
Wearable and heat-resistant
Supports a lot of drawing software
Customer Reviews
Reviewers loved the durability of the tablet as well as the practical design of the rechargeable pen. They praised the inclusion of an eraser function, for instance, as well as of a battery status light on the implement.
The manual was a bit of a problem for several, though, thanks to the broken English in it. Still, they said they enjoyed their experience with the Ugee M708, which is why we're listing it as one of the best drawing tablets in Singapore.
A reviewer from Photoshop Tutorials gave this feedback:
"I really enjoyed setting up the defined shortcuts on the tablet. For example, when working in Photoshop, you can simply set the shortcuts on your tablet to zoom in & zoom out, erase or undo. Adding costume shortcuts was easy and came in really handy, especially when I zoom in and out quite a bit when creating effects. You can customize 8 different buttons in total. The tablet comes in two different colors which are black and white."
5. XP-Pen Artist 15.6 Pro
Best for Graphic Designers/Illustrators
Price: $619.90
If you're an aspiring illustrator or a professional graphic artist, the XP-Pen Artist 15.6 Pro is a must-have drawing companion for you. It might be the most expensive item on our list, but there's a reason for that.
First, this isn't just a drawing tablet. It's a drawing tablet with a screen, which means you can look directly at it to see what you're drawing, instead of looking at your computer's monitor.
The highlight of this particular tablet is the innovative Red Dial interface that lets you have a fluid workflow, providing smooth control over the settings. The shortcut keys are also ergonomically designed for faster work progress.
The 15-inch full-laminated display is nicely spacious, so you should feel fairly comfortable using it. It offers you a wide view and colour accuracy to achieve your ideal illustrations.
It features a complete drawing setup with its protective film, portable stand, and pen holder. With these qualities, it's truly the best drawing tablet in Singapore that you could ever dream of.
Highlights
443 x 280 x 12.6 mm (tablet size)
16 x 193.59 mm (active area)
5080 LPI
8192 pressure levels
Full laminated display
60-degree tilt support
Battery-free stylus
Portable stand and protective film
Connects via USB cord to your computer
Customer Reviews
The XP-Pen Artist 15.6 Pro has earned a lot of compliments from many reviewers. They were pretty satisfied with its tilt support, matte and laminated display, and overall performance.
They also stated its downsides, saying that there's only a single adjustment angle for the stand and that there's no eraser included in the stylus. Yet, they still receommend it for serious artists.
Fstoppers wrote this review:
"Because the XP Pen Artist 16 Pro works as a pen display and has the same functionality as a graphics tablet, it's like having the best of both worlds. I can look up at my larger monitor when I need to, or work directly from the screen. When doing fine detail work (outside of dodging and burning) or drawing on an image, the Artist 16 Pro really shines. The unit feels well-made and is simply designed. Having two pens lets one charge while I use the other, and the ability to adjust pen pressure in the software menu seems like it will make it easy save nibs in the long term. While using a laptop, having the larger display to work from makes retouching much easier."
6. One by Wacom
Best for Beginners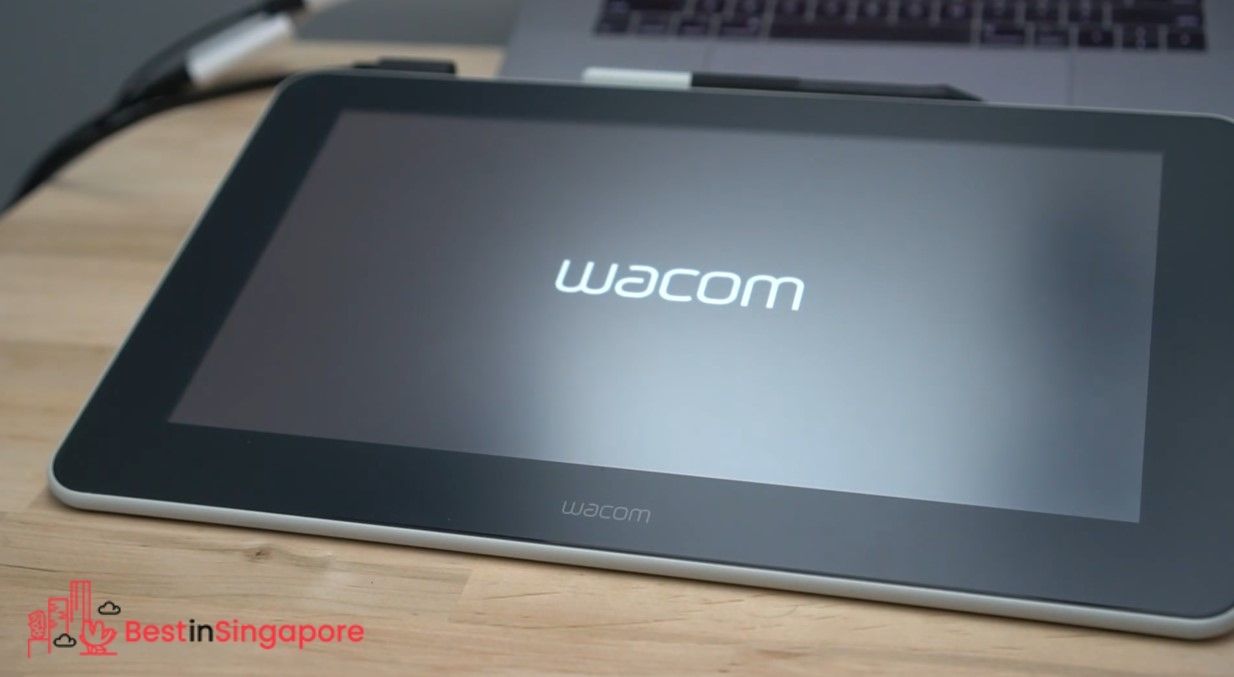 Price: $119.00
For the digital art newbies who want to take their creations to a whole new level, the One by Wacom tablet could be the best drawing tablet in Singapore.
This easy-to-use tablet has a very simple interface and setup that you can quickly get used to. It has a lightweight, ergonomic, battery-free, and responsive pen that you can use for long hours of improving your drawings.
Note that this one comes in 2 sizes. You may want to take a look at both before deciding which one fits you best (we've listed their dimensions below).
Highlights
277 x 189 x 8.7 mm (medium tablet size)
210 x 146 x 8.7 mm (small tablet size)
152 x 95 mm (active area for small tablet)
216 x 135 mm (active area for medium tablet)
2540 LPI
2048 pressure levels
Simple interface and setup
2 tablet size options
Lightweight and battery-free pen
7. Huion Inspiroy Ink H320M
Best for Multipurpose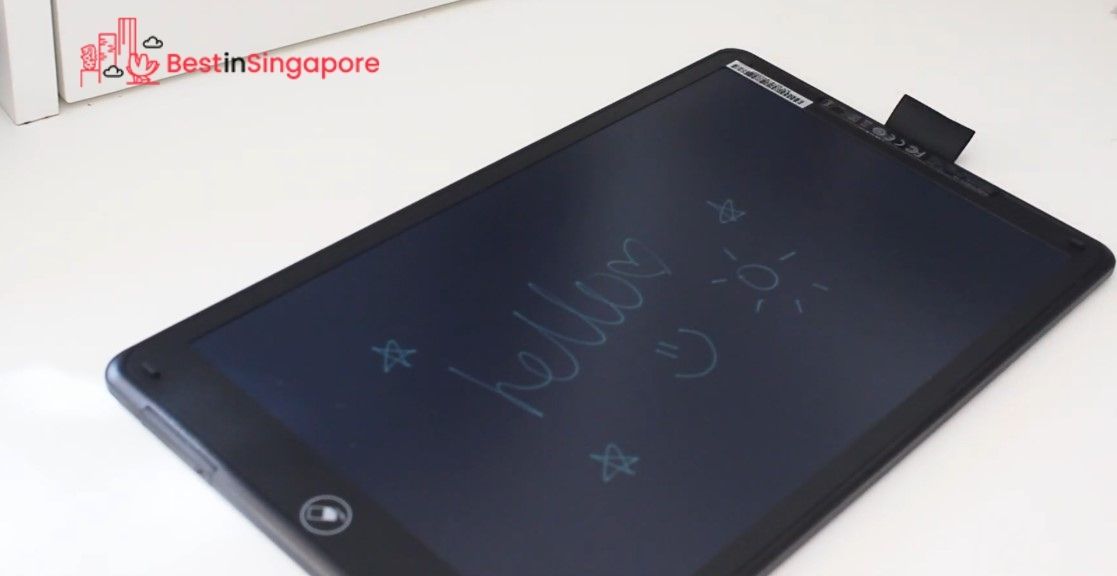 Price: $93.09
The Huion Inspiroy Ink H320M has a unique design that serves 2 purposes — to function as a writing tablet and as a pen tablet. On the front side, there are programmable keys on the panel, provided for your artistic illustrations.
On the back, there's another active area with E-paper technology where you can do some doodles and writing for quick notes. A clear-all button is included on this side of the panel so you can easily renew your workspace.
The powerful and battery-free stylus works on both sides, supporting tilt effect and high pressure levels.
Highlights
4 x 179.6 x 9 mm (tablet size)
6 x 142.9 mm (active area of pen tablet)
2 x 157.4 mm (active area of writing tablet)
5080 LPI
8192 pressure levels
Acts as a pen and writing tablet
Multipurpose stylus
Anti-slip rubber feet design
Compatible with desktop and Android platforms
8. A640 V2 by Parblo
Best for Pressure Sensitivity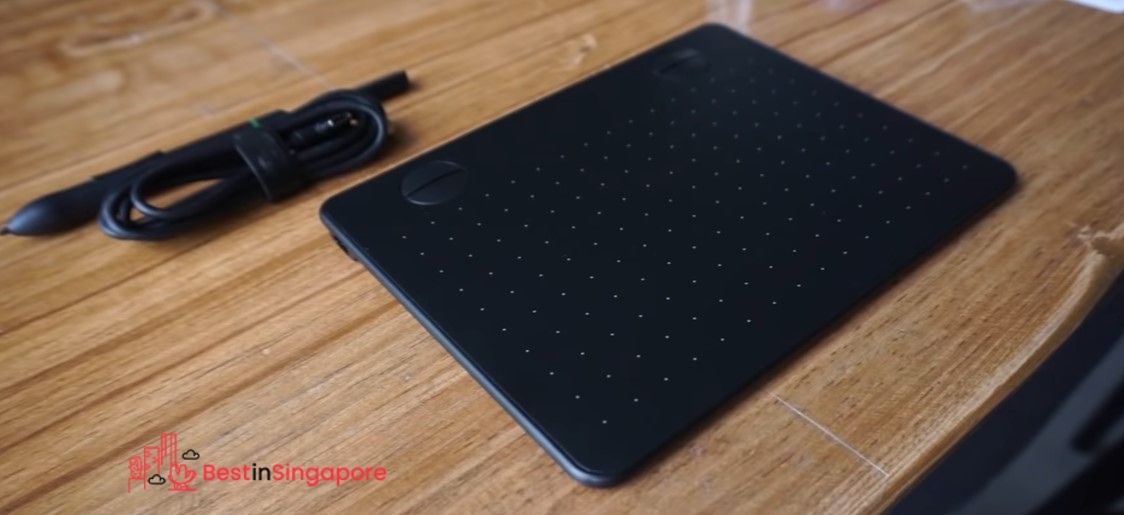 Price: S$64.00
The A640 V2 by Parblo is one of the best choices for beginners to digital art because of its relatively low price and high number of features.
At a lightweight, portable size of 6 x 4 inches, this ultra-thin device can be one of your best companions both inside and outside your home..
Your medium of choice won't be an issue for this tablet, as it can connect to Windows, macOS, and Android devices. You can easily hook up to any of the aforementioned gadgets with its USB-C port with no fuss, no confusion.
With 8,192 supported sensitivity levels, you can work on your art down to the most intricate details.
Moreover, it's compatible with most drawing software on the market, such as Photoshop, SAI, Painter, Illustrator, and more.
No matter what software you choose, its four customisable express keys will ensure that you have a smoother and more efficient drawing experience. You can configure the keys to your preferences, for quicker access to the eraser tool, undo or redo, brush, or other functions.
Highlights
Supports Windows/ macOS/ Android
8192 Sensitivity Levels Battery-Free Pen
6*4inch small size, very convenient to take
USB-C interface
4 customisable express keys
Compatible with most drawing software
And that's it for our list. With one of the best drawing tablets in Singapore, you can learn how to create more masterpieces with your digital art programs.
Have we missed out a great tablet on our list? Let us know about it and share with us why it's a good pick for you.
If you're having trouble connecting your tablet to your computer, by the way, you might have an incompatible cord. Take a look at these affordable and best micro USB cables In Singapore to find out the most suitable connector for your device.