16 Places for the Best Laundry Service in Singapore (2021)
It's perfectly understandable to seek the best laundry services in Singapore. Given how busy most Singaporeans' lifestyles are now, who really has time to wash, hang, dry, and iron their whole wardrobe now?
Or, even if you do have the time, what if you just don't have the facilities? It's not easy to find space for items that need to hang-dry or for a good washing machine, given how precious real estate is on the island.
Fortunately, there are a lot of laundry services and laundromats here to solve the problem. We went looking for the best ones… and at the end, we came up with these laundromats and washers.
So, if you're ready, let's take a look at them and why they should be your top choices too. These are our picks for the best laundry services in Singapore:
1. Cleaning Compare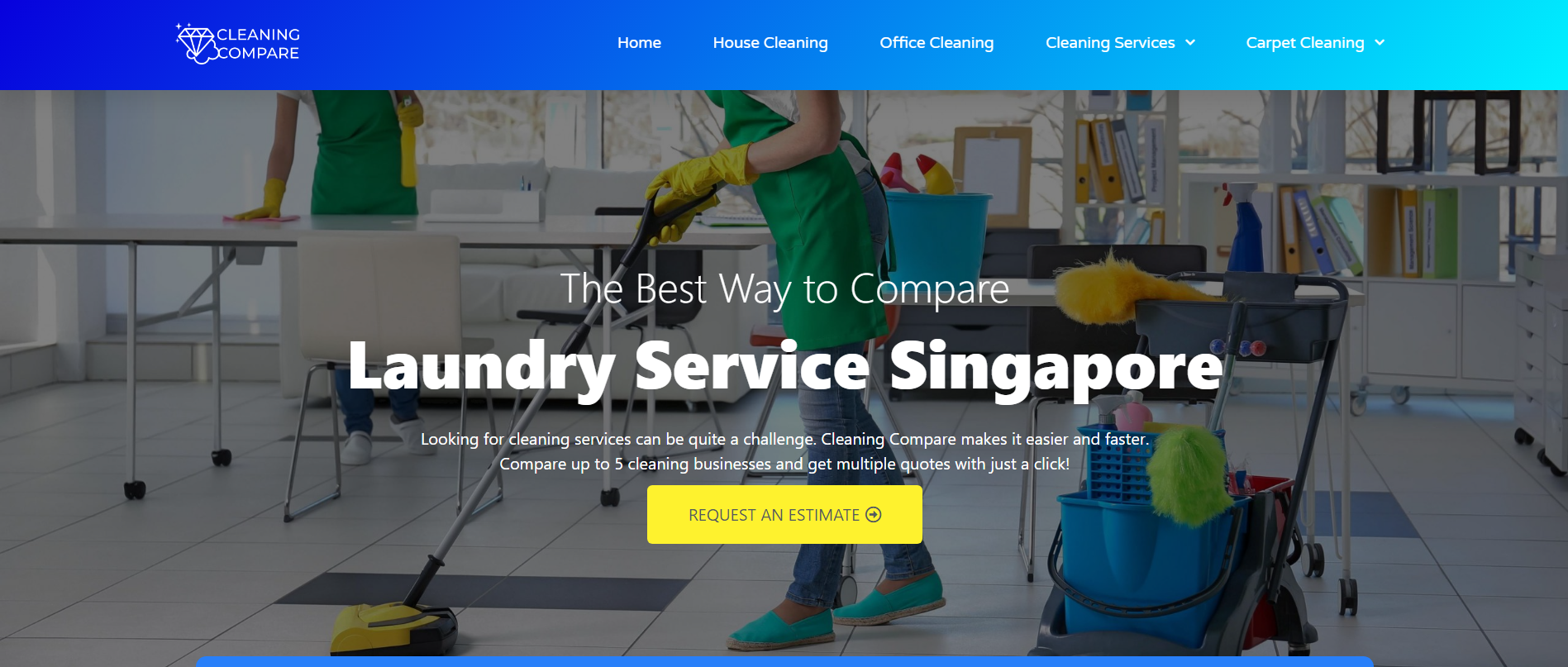 BEST FOR:Professional Cleaning Services at Affordable Rates
PRICING:Residential, Commercial, and Industry Specific Cleaning
WEBSITE: https://www.cleaningcompare.com/mattress-cleaning-singapore/
ADDRESS: Singapore
CONTACT DETAILS:   Visit their website to learn more
OPERATING HOURS: N/A
Cleaning Compare can connect you to a wide array of cleaning companies worldwide. Whether you simply want a laundry shop near me or a trusted franchise, you can compare their prices and services on their site.
You don't even need to wait a long time for an estimate. Once you're done filling up our form, you get sent a price list and you can compare cleaning service prices as soon as possible.
Service Highlights
Reasonable rates
Helps you look for the best professionals
Gives you a wide range of options
2. A&B Professional Dry Clean & Laundry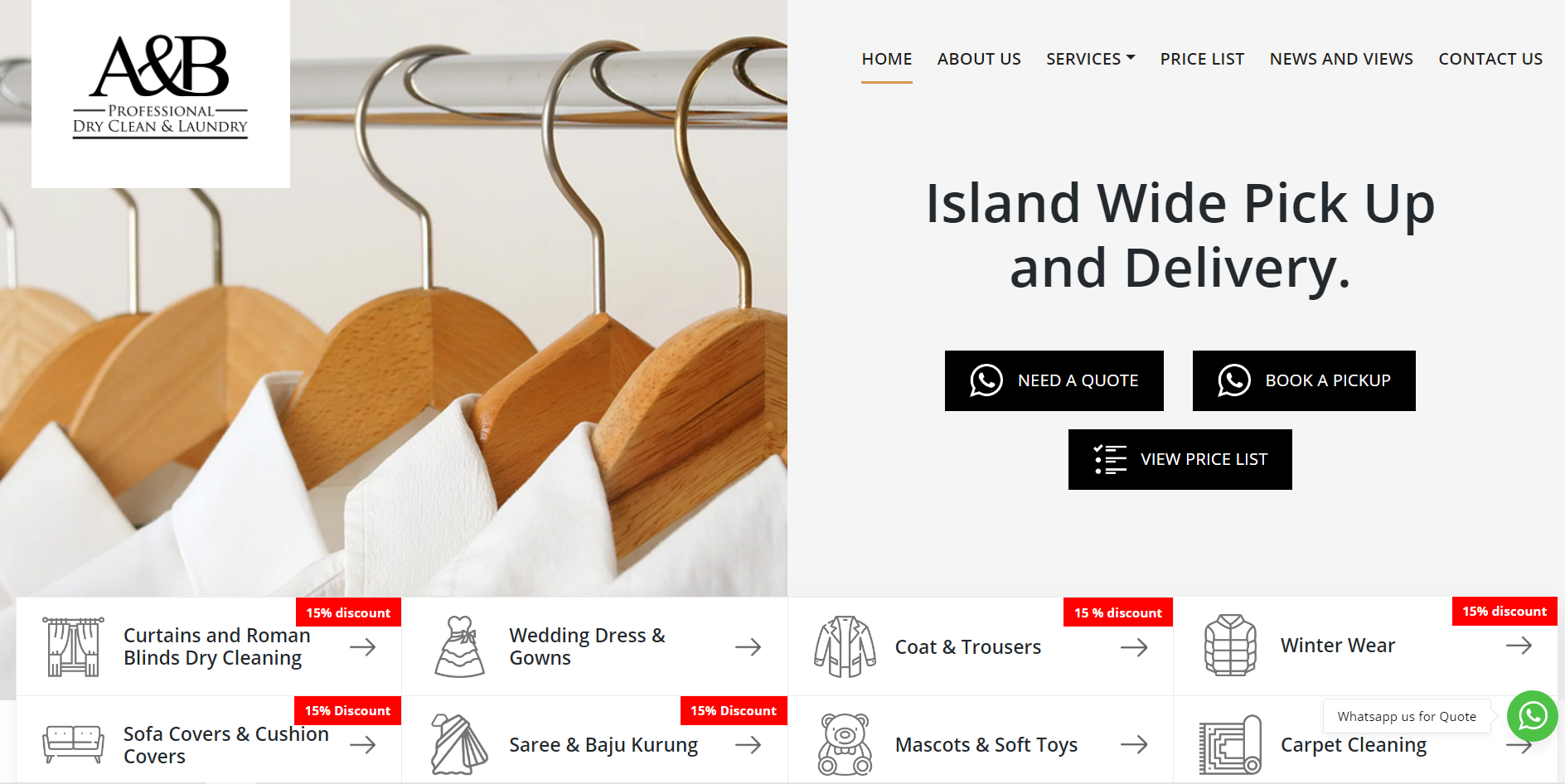 BEST FOR: Island-wide pick up and delivery laundry and dry cleaning services
PRICING: Rates
WEBSITE: https://www.abclean.sg/
ADDRESS: 8 Kaki Bukit Ave 4, #03-07/08, Singapore 415875
CONTACT DETAILS:  3129 2312
OPERATING HOURS: https://www.abclean.sg/contact-us/
A&B Professional Dry Clean & Laundry is a laundry service in Singapore that ensures that their team handles each of your items with care. Trust that they will follow each item's washing methods meticulously.
And if you can't go to their shop to drop off or pick up what you had washed, then you won't even have to worry!
They have friendly drivers who would be more than happy to go to where you are and handle everything for you. Absolutely no need to frantically find a laundry near me.
Having your clothes or household items washed has never been this easy!
Service Highlights
Competitively priced laundry and dry cleaning services
Friendly drivers
Quick turnaround time
Customer Reviews
A&B Professional Dry Clean & Laundry is loved by many for the quality of their work as well as their team's efficiency.
Miley Xia gave this 5-star review on Google Reviews:
"Good laundry service! Driver very polite!"
3. LaundryMart
BEST FOR: Self-service coin laundry services
PRICING: Rates
WEBSITE: http://www.laundrymart.com.sg/
ADDRESS: http://www.laundrymart.com.sg/contact.php
CONTACT DETAILS: http://www.laundrymart.com.sg/contact.php
OPERATING HOURS: http://www.laundrymart.com.sg/contact.php
Laundrymart is a self-service laundromat in Singapore.
This is a great place to go if you're willing to do your own washing but don't have a washing machine. It's particularly appealing because it's open 24/7.
The company also provides services such as dry cleaning 24/7. They can be a major lifesaver when you have an urgent formal event but your only suit is dirty!
They also have several franchises around Singapore, so you can easily find a branch in your area. With less then $10 in your pocket, you can have your clothes completely clean here in no time.
Because of their 24/7 service and professional dry cleaning services, they are considered the best laundry in Singapore for people in uniform.
Service Highlights
Affordable professional dry cleaning services
24-hour services
Free detergents
Customer Reviews
Both locals and tourists recommend LaundryMart for its great accommodations, variety of options, and excellent services at a cheaper price than average.
Peter Brand gave this 5-star review on Google Reviews:
"Great Laundry Service. Gave rehearsal nice lady our big Laundry sacks and paid 20$ for up to 10kg… Around 4 hours later we could pick up the laundry washed, dried and folded. Everything went perfectly smooth. Highly recommend. You can also do the laundry by yourself at this place. The lady was very helpful! We will come back, when we're coming back to Singapore!"
4. Ultimate Laundry

BEST FOR: Free pick-up services, all-around cleaning services
PRICING: Rates
WEBSITE: http://ultimatelaundry.sg/
ADDRESS: 37 Kallang Pudding Road #06-0 Tong Lee Block B (S)349315
CONTACT DETAILS +65 9857 3303
OPERATING HOURS: http://ultimatelaundry.sg/contacts/
At Ultimate Laundry, a skilled and trained laundry crew will serve you with the utmost professionalism. They can guarantee you that every piece of clothing you own will be taken care of.
Prices vary based on the type of clothing. They also offer an all-around cleaning service that may be of help when you need to do spring cleaning or general chores but don't have the time or energy.
Whoever knew that paying for laundry in Singapore comes with plenty of rewards?
Service Highlights
Pickup and delivery services
Responsive personnel
5 days return delivery
Customer Reviews
Most customers are highly satisfied with Ultimate Laundry's time-efficient and organised management. They praise the company for its excellent dry-wash-fold services.
Here are some reviews from Carol Lai and Alsong Jong, their satisfied customers:
"I will definitely come back to Laundry needs on all my laundry needs. They did a great job, and I come back, why not? It's hard to find a laundry company that is able to provide these services well these days.
 Just had the greatest experience engaging Ultimate Laundry, I am amazed that they only took 5 days to clean them up and return to us!"
5. Pressto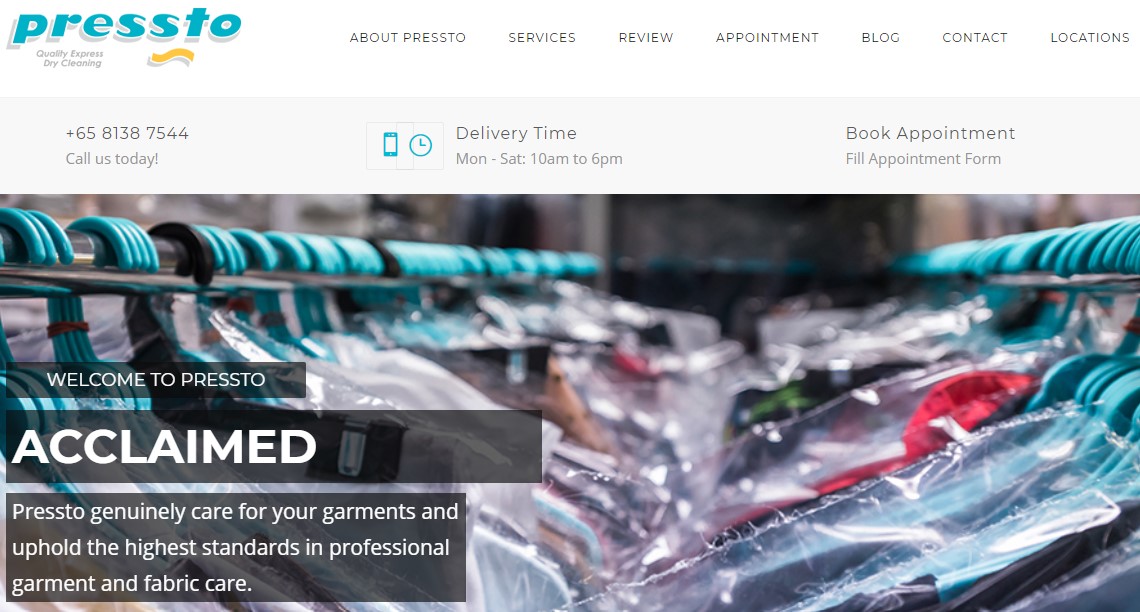 BEST FOR: Quality Express Dry Cleaning
PRICING: Rates
WEBSITE: http://www.presstoasia.com.sg/
ADDRESS: http://www.presstoasia.com.sg/locations/
CONTACT DETAILS: +65 8138 7544
OPERATING HOURS: http://www.presstoasia.com.sg/locations/
Coming all the way from Spain in 1994, Pressto is today the world's largest chain of quality express dry cleaning with more than 500 outlets in over 22 countries, including Singapore.
Pressto has redefined dry cleaning by assuring the best in garment handling and delivering excellent service using the latest dry cleaning and laundering technologies for finest results.
As Pressto has been around for more than 25 years (27 to be exact!), they are unsurprisingly considered to be one of the most trusted laundry services in Singapore. 
Service Highlights
World's largest chain of quality express dry cleaner
"In-Store Boutique" cleaning concept
Express Service
Ecological friendly state-of-the-art equipment and products
Hygienic dry cleaning
Stain removal specialist
Experienced and well-trained staff
No garment is too difficult for them
Pick up and deliver to your home or office
Customer Reviews
Owen Jones's 5-star Google Review:
"Excellent job, cleaned some old stains where other cleaners had failed."
6. Sunday Laundry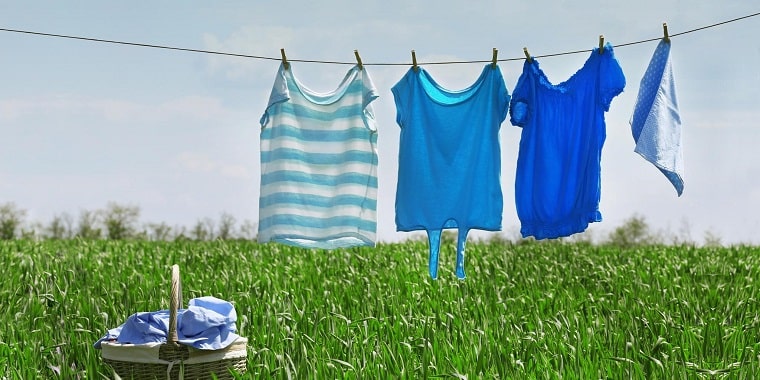 BEST FOR: Upholstery cleaning, stain removal
PRICING:  Rates
WEBSITE: http://www.sundaylaundry.sg/
ADDRESS: Sunday Laundry Pte Ltd 53 Ubi Avenue 1 #03-43 Paya Ubi Industrial Park  Singapore 408934
CONTACT DETAILS: 62554222
OPERATING HOURS: https://account.sundaylaundry.sg/
If you've been looking for a Singapore laundry service that absolutely knows how to remove even the nastiest stains, Sunday Laundry has the answers to all of your problems!
Their skilled laundry team will help you find the most suitable method for dealing with any stain. They also have the best promotions for those who have a tight budget.
They have a mobile app that lets customers do online delivery booking for convenience. They also have a shorter-than-average turnaround time, with laundry being processed within 4 days.
Service Highlights
Special promotions
Mobile app services
Timely updates
Customer Reviews
Sunday Laundry earned their customers' trust because of their reliable and friendly team, reasonable prices, and high-quality dry cleaning services. Mrs. K.K. Goh, and Christine, Sunday Laundry customers, gave positive reviews for the company:
"Prompt pickup and friendly service. I always look forward to collecting my cleaned and fresh clothing from Sunday Laundry.
Convenient & quality service at reasonable prices that relieves my weekly laundry chores."
7. Astoria Dry Cleaning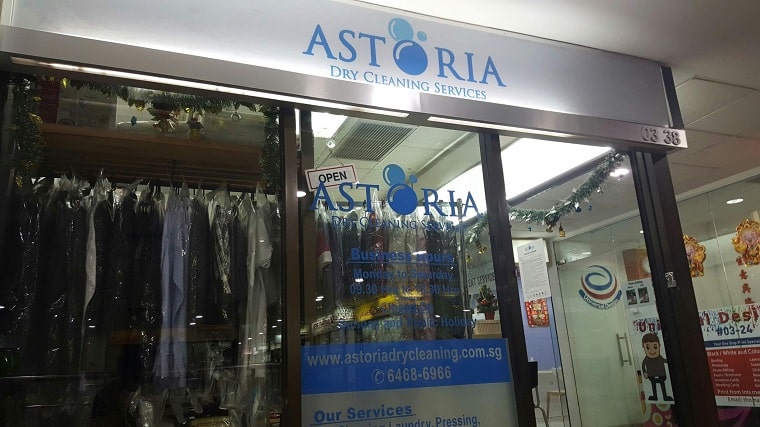 BEST FOR: Alteration/mending services
PRICING: Rates
WEBSITE: http://www.astoriadrycleaning.com.sg/
ADDRESS: 17 Defu Lane 10, #01-342 Singapore 539198
CONTACT DETAILS: +65 8338 5131
OPERATING HOURS: Monday to Saturday – 9am to 5pm (Closed on Sunday & Public Holidays)
Astoria Dry Cleaning goes beyond mere clothes washing. Apart from having your clothes washed, ironed, and folded here, you can also ask them to mend a broken zipper or fix the length of your pants.
They also offer exclusive services such as cleaning your luxurious bags and shoes. With their manual inspection before the cleaning process begins, you can rest assured that all of your clothing will be properly cleaned.
Service Highlights
Cleaning and restoration services for bags and shoes
3 days working process
Free collection and delivery
Customer Reviews
Astoria Dry Cleaning, a family-owned business, has been receiving wonderful compliments throughout the years due to their progress in combining both old and new cleaning methods. Customers also like their organisation, pointing to the fact that they make sure to tag bundles to keep track of them.
Elizabeth, a reviewer from Yelp,  shared her own experience with the company:
"I am writing this review because I happened to stumble upon this wash n fold/dry cleaners and have found this to be such a friendly place. I am new to the area and if you are staying in the Orchard area, this is a hop, skip and a jump for your dry cleaning/laundry needs. Located on the second floor of Ochard Towers. Prices are comparable to other like businesses. 5Kg of clothes is $20 SGD and they are ready in 4 days all nicely folded and no fading, even placed in a handy bag to take away. The ladies that run this place are very friendly and I will continue to do business here."
8. 24 hour Laundry Room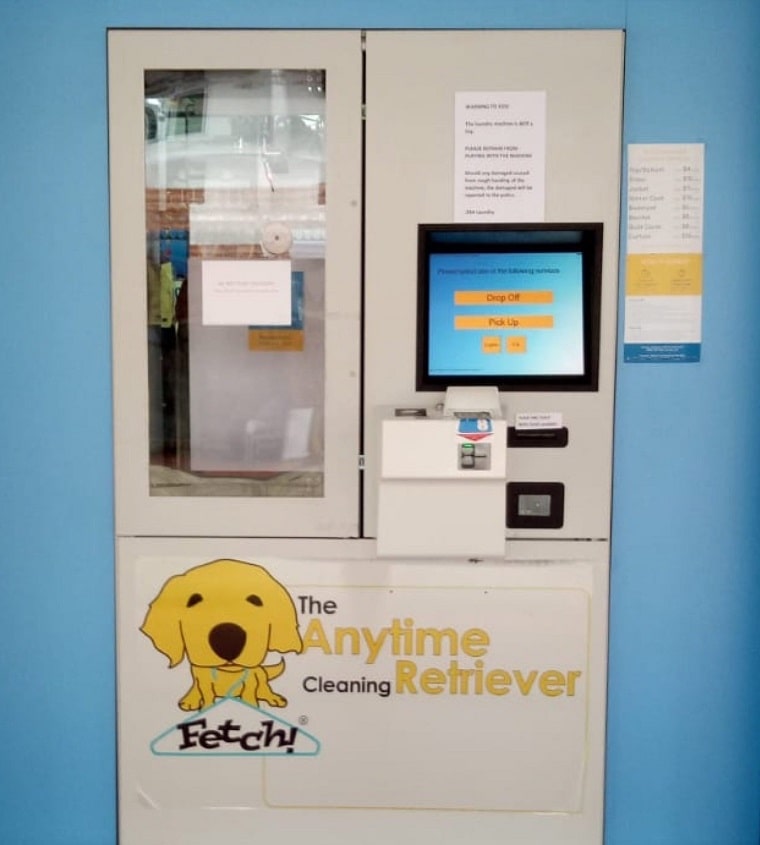 BEST FOR: 24-hour drop-off and pickup
PRICING: Rates
WEBSITE: https://24hlaundryroom.com/
ADDRESS: Blk 354, Clementi Ave 2 #01-177 Singapore 120354
CONTACT DETAILS: 6779 4178
OPERATING HOURS: Mon to Thu 10-2pm / Mon to Thu 5-7pm / Fri 10-2pm / Sat 10-4pm / Sun 10-2pm
24 Hour Laundry Room is another of the best laundry services in Singapore with a varied range of washing and cleaning services.
Probably the best thing about their services is the safe and secure drop-off and pick-up kiosk that provides an easier and faster way for you to manage your laundry.
You don't even have to schedule a certain time — you can leave and pick it up anytime from the kiosk.
Service Highlights
Ethnic, household and other miscellaneous items cleaning services
Affordable dry cleaning and laundry services
Ironing only services
Customer Reviews
In addition to their kiosk machine that provides a more convenient way of passing laundry duties, they are also equipped with trained professionals that will wash, remove stains, and press on your clothing and other items. Here are some reviews from their satisfied customers:
"Using the machine to drop off and to collect is very convenient. Good customer service too. Highly recommended."
A friendly, timely and efficient place that cater to the customer's satisfaction at all time. Highly recommended.
"Customer service is very good, staff calls or text to collect laundry when ready."
"Very easy to use, can come anytime after work and not worry about opening hours"
9. Orchid Laundry

BEST FOR: Multi-cleaning Services
PRICING: Contact for more information
WEBSITE: http://orchidlaundry.com.sg/
ADDRESS: No. 1 & 3 Gul Link Singapore 629373
CONTACT DETAILS: +65 6861 5933
OPERATING HOURS: Contact for more information
Orchid Laundry together with DrycleanExpress and DryclynExpress are part of a group wholly owned by Tohly Investments & Holding Pte Ltd. Since 1973, they've been providing the best dry-cleaning and laundry services for the nation, high-quality chemicals and up-to-date machines are used.
Service Highlights
Their very broad and diversified clientele base includes airlines, high-end restaurant chains, hotels, banks, fitness clubs, petrol-chemical companies, laboratories, serviced apartments, spas, and others.
Linen & Uniform Leasing
Laundry Retail & Home Services
Industry Garment Cleaning
Premium Fabric Care
Customer Reviews
No reviews yet
10. Cloud Story

BEST FOR: Affordable and proficient cleaning services
PRICING: Rates
WEBSITE:  https://www.cloudstory.sg/
ADDRESS: https://www.cloudstory.sg/locations
CONTACT DETAILS: +6564498726, +6596896045
OPERATING HOURS: https://www.cloudstory.sg/locations
If you have a special occasion to attend and you need a costume cleaning, Cloud Story is the ideal option for you. Aside from laundry services for the usual shirts, pants, and other garments, they also offer cleaning for traditional costumes & gowns.
They can have your clothes or costumes cleaned and delivered to you as soon as possible. Exclusive offers such as leather care, carpet, mat, and curtain cleaning are also available.
Service Highlights
Accessible locations
Online booking
Expert laundry team
Customer Reviews
Cloud Story has received a lot of positive appraisal from customers because of their perfect stain removal services, dry cleaning, and door to door services. A customer, Samantha Chow, left a remarkable review on the company's official website:
"Highly recommend Cloud Story due to the following reasons:
– Affordability (prices are reasonable as compared to dry cleaners in shopping malls)
– Great service (communicated via WhatsApp and they replied me promptly. They're also friendly)
– Pick-up and delivery service available (maybe it's my location but I'm really happy they offered to pick-up my gown and deliver it back to me at no additional costs)
Overall, I really am very pleased with their service. Would contact them again for dry cleaning services in future"
11. Super Clean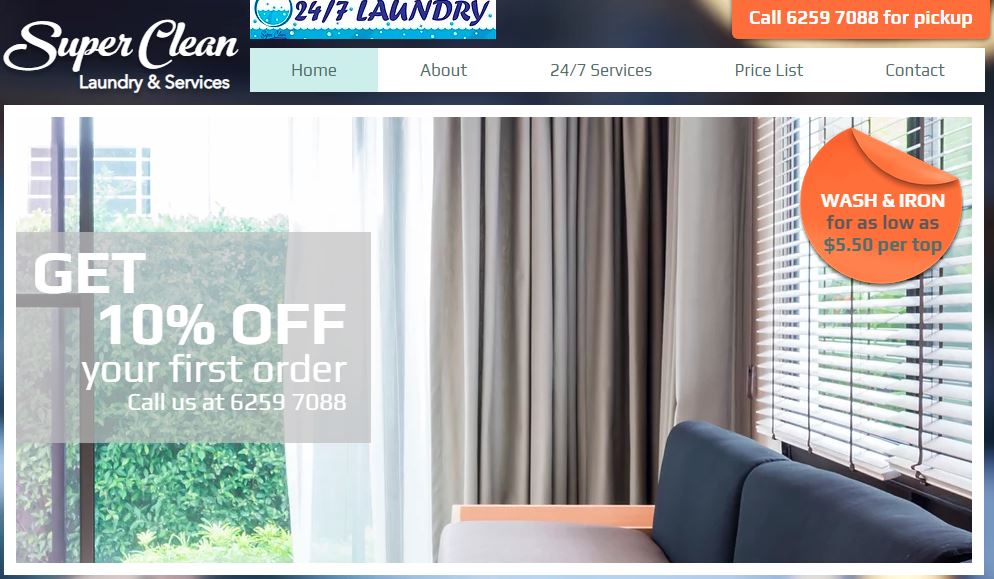 BEST FOR: 24 hours Laundry Service
PRICING: https://www.superclean.com.sg/price_list
WEBSITE:  https://www.superclean.com.sg/
ADDRESS: 1 Claymore Drive #02-13 Orchard Towers Singapore 229594
CONTACT DETAILS:
6259 7088 (Shop)
9830 1854 / 98159457 (Mobile)
OPERATING HOURS: 
Mon – Fri 10.00am – 6.00pm
Sat 10.00am – 2.00pm
Sun/ PH Self Service – 24/7 Drop Off Box & Collection Locker
Super Clean Singapore's is your one stop laundry solution to meet the needs of busy individuals and families. Through their drop off boxes, our pick up and delivery services, they're at your service 24 hours a day and 7 days a week, wherever you are, with a personal service at their shop.
Service Highlights
Curtains and household cleaning
Dry cleaning
Wash and iron
Drop-off and collection locker services
Customer Reviews
No reviews yet
12. Mr. Dobi Laundry

BEST FOR: Laundry and carpet cleaning services
PRICING: Rates
WEBSITE: http://mrdobilaundry.com.sg
ADDRESS: Blk 848 Yishun St 81, #01-128 Singapore 760848
CONTACT DETAILS: 96236201 / 91764012
OPERATING HOURS: Mon to Fri @ 10.30am – 7.30pm / Sun and Public Holidays @ 10.30am – 5.00pm
If you're opting for laundry services that can help you clean your clothes as well as a variety of other items such as bed sheets, blankets, and floor mats, then you must try Mr. Dobi Laundry Services.
A lot of people actually go to them for washing carpets and curtains. Of course, they also offer dry-cleaning services for suits, dresses, and gowns.
In short, they have all the things that you may be looking for in a laundry company. Who doesn't appreciate a one-stop shop for fabric cleaning?
Service Highlights
Up-to-date laundry equipment
Accessible coin laundry service
Long hours of operation
Customer Reviews
Mr. Dolbi, the longest-running company in the Singaporean laundry industry, has been serving their customers for literal years. Hence, they have a strong base of loyal consumers who have been with them for a long time and who speak of their services with approval.
A reviewer from Google Reviews wrote this positive feedback:
"My first time using a dry cleaning service. Read the good reviews here and wanted to give it a try. They only accepted cash but I didn't have enough then. The lady boss was so nice and allowed me to pay a 65% down payment. $8 for a large cardigan (fleece material) and $20 each for an overcoat (fleece with padding inside) and an overcoat with hood (a Vince Camuto down)"
13. Absolute Cleaning

BEST FOR: Multi-cleaning Services
PRICING: Rates
WEBSITE: http://www.absolutecleaning.com.sg/
ADDRESS: 61 Kaki Bukit Ave 1 #03-05 Singapore 417943
CONTACT DETAILS: 8488 8444, 6844 8444
OPERATING HOURS: 24-hour service
Absolute Cleaning is a one-stop solution that includes upholstery, laundry, dry cleaning, and — hang on to your hat — even aircon cleaning services!
The last isn't a thoughtless addition, by the way, as their aircon cleaning is actually pretty good. In fact, it's so good that they nearly made our list of the best aircon servicing companies in Singapore… but then, they don't do aircon repair yet.
Their professional services are always available, even during the holidays. Therefore, this company is the best choice if you have to do some general cleaning before the holiday celebration starts.
Service Highlights
Customer Reviews
The consistent hard work and professionalism of Absolute Cleaning have rewarded them trust and loyalty from their long-time customers. According to their patrons, they've never failed to deliver on a task.
Cindy Rivera wrote this feedback on Google Reviews:
"Dear Sir/Madam, Just to say thank-you for the good service I received. You have efficient staff working for the company. When I gave the feed-back that cleaning of my carpets was not satisfactory, a re-cleaning was offered immediately w/o additional charges. That is excellent service to your customer. I shall with no hesitation have the confidence to recommend your Services to friends"
14. Laundry Cares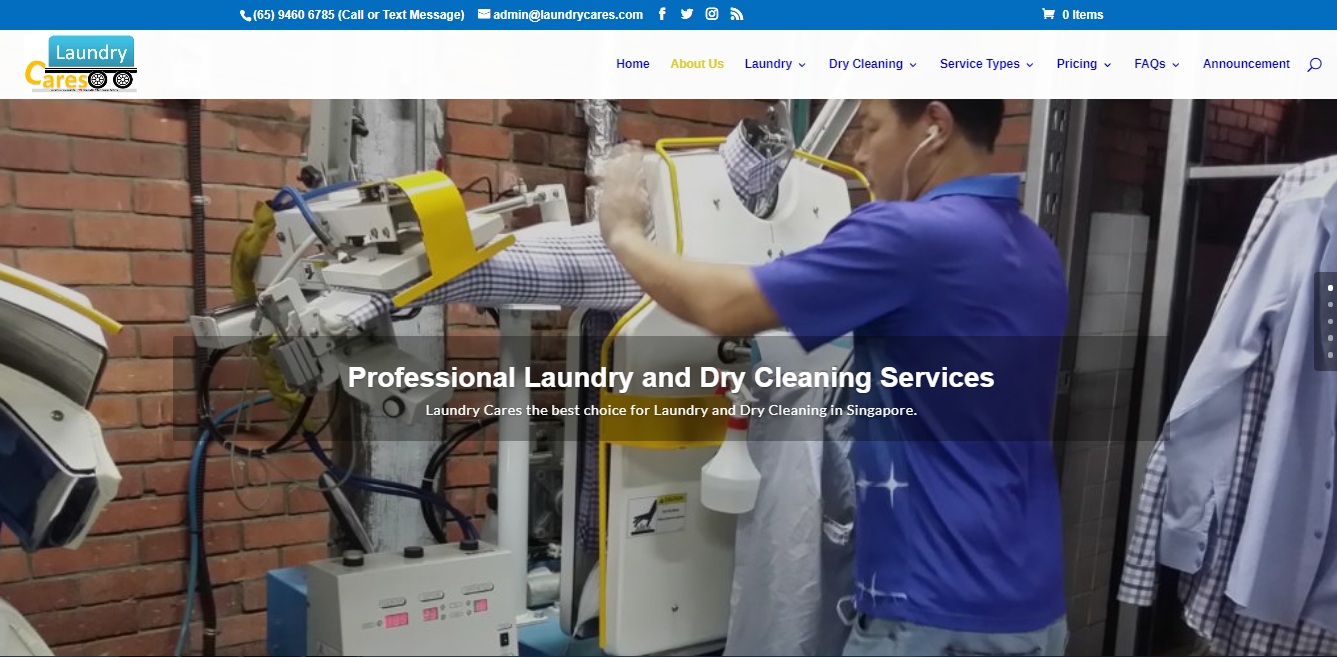 Laundry Cares is your Professional One-Stop Dry Cleaning and Laundry Service in Singapore. From residential laundry to hotel laundry, their premium services never fail the standards of their clients. While the shop accommodates tons of laundry orders everyday, they are still able to offer express laundry where you can get your washed clothing and garments in just 24 hours.
For those who have a pile of laundry to be done, you might want to avail their packages instead especially for curtains and other similar fabrics.
Service Highlights
Free island-wide delivery

Offers express laundry services

Easy to book
Customer Reviews
Reliability, efficiency, and attentiveness are the common words the clients of Laundry Cares use to describe their laundry services. Kenny Wong recently availed their service and here's what he wrote as a feedback:
"Fast and efficient with Laundry Cares Services, my wife does not need to rush home from work to do washing and ironing . Everything is arranged online and via SMS with precise and clear information. Even no hassle of calling , really like the system its almost remote control laundry service. Now we could live without worrying on laundry and we will continue to hire Laundry Cares every week for my laundry service as it make our life easier."
15. Curtain Cleaning
Got some old curtains and blinds that badly need deep cleaning? Leave it to the pro and bring them to Curtain Cleaning. They specialize in drapery-related cleaning services across Singapore.
Curtain Cleaning, however, does not limit their services to curtain cleaning alone. It also gives them pride and joy to offer home cleaning services tailored to your specific needs and budget. 
Service Highlights
Comprehensive price plans

High quality and efficient cleaning services

Uses advanced cleaning technologies and products
Customer Reviews
Curtain Cleaning is praised for their prompt response and efficient cleaning services designed to suit their clients' specific needs. A client gave this wonderful review.
"Was recommended Curtain Cleaning from my neighbours who have been using their curtain washing services for years. Their competent and friendly service is applaudable and I would definitely return! Delivery service is on time as well."
16. Fresh & Clean Laundry Services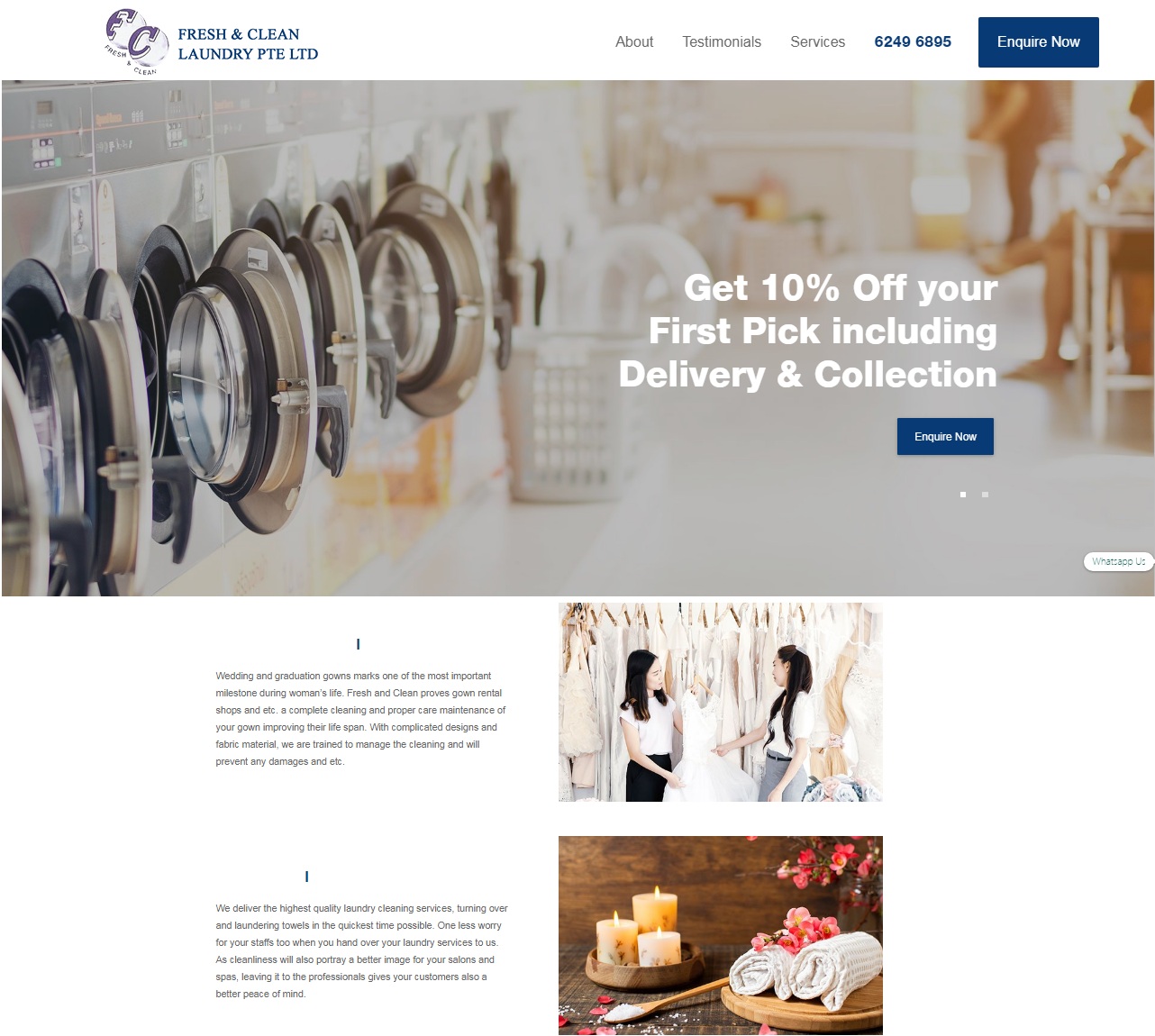 BEST FOR: Latest laundry and dry cleaning machines
PRICING: Pricing Chart
WEBSITE: http://www.freshnclean.com.sg/
ADDRESS:5 Yishun Industrial Street 1, #01-23 Singapore 768161
CONTACT DETAILS:+65 6750 4781
Fresh & Clean Laundry Pte Ltd was founded in 2014 and has been providing the locals with quality service in terms of laundry and dry cleaning.
Since they have proven their work, different restaurants, spas, gyms, hotels, and even residential houses rely on them for dirty clothings, blankets, etc. 
This laundry shop uses the latest and modern equipment or technology.
Further, they utilize the best solvents and chemicals so that your dresses are well-taken care of. Partnered with staff that are responsible, friendly, and approachable, the business continues to garner loyal customers. 
Service Highlights
10% discount for first time clients

Professional laundry service

Affordable pricing
Customer Reviews
I got them to help with my mums flat after the HIP upgrading works which was really messy.The cleaners were friendly,obliging and were very patient with my 77 year old mothers requests.Would recommend anyone to use Fresh and Cleans services! – Nanan Wang
---
As you can see, the laundry services we've rounded up are your perfect partners in freshness and neatness. But of course, if you don't feel like using a laundry service, you can also just get a maid or cleaning service to handle your washing personally.
If you want to go with a maid, try our list of the best maid agencies in Singapore. If you'd rather have your cleaning service include it in their tasks, though, you can try our list of the best cleaning services in Singapore instead.