Is your home suffering from a leak? If you need it treated immediately, we'll help you out with this list of the companies offering the best waterproofing in Singapore.
The businesses offering the best waterproofing in Singapore offer fast and meticulous service for their clients. We went all over the island looking for the best ones, whether for commercial or residential projects.
Below are our favorites among all the options on the island. We hope that by the end of this list, you will have chosen one to trust your home leaks with.
1. Proof Tech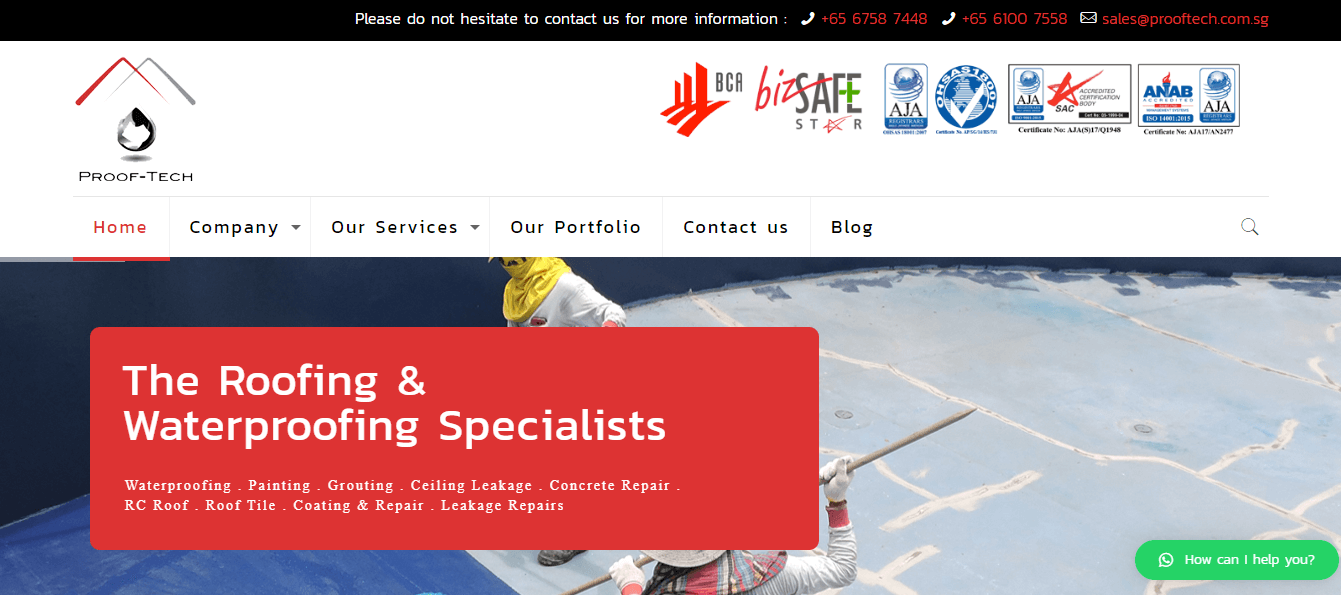 | | |
| --- | --- |
| BEST FOR  | Waterproofing Contractor |
| SERVICES | Waterproofing, Painting, Grouting, Ceiling Leakage, Concrete Repair, RC Roof, and Roof Tile |
| WEBSITE | https://prooftech.com.sg/ |
| ADDRESS | 6 Yishun Industrial Street 1, #04-17 North View Bizhub, Singapore 768090 |
| CONTACT DETAILS | +65 3138 9006 |
| OPERATING HOURS | Monday – Friday, 9:00 AM – 6:00 PM |
With over 20 years of experience in the industry, Proof Tech has become staple name in waterproofing all around Singapore, with clients from both residential and commercial spaces. If there's one thing they're known for, it's their commitment to improving the lives of their clients through quality services.
To ensure that customers receive the best results, they use only the latest and most effective waterproofing technologies on ceilings, walls, and even roofs.
Another thing we love about them is that their rates remain affordable because they believe that everyone should have access to quality services.
Despite having cheap rates, they never compromise on the quality of their workmanship. And that's one more thing to love about them!
Highlights
Uses the latest technologies
Cost-effective
Affordable rates
Experienced technicians
2. Prima Seal Waterproofing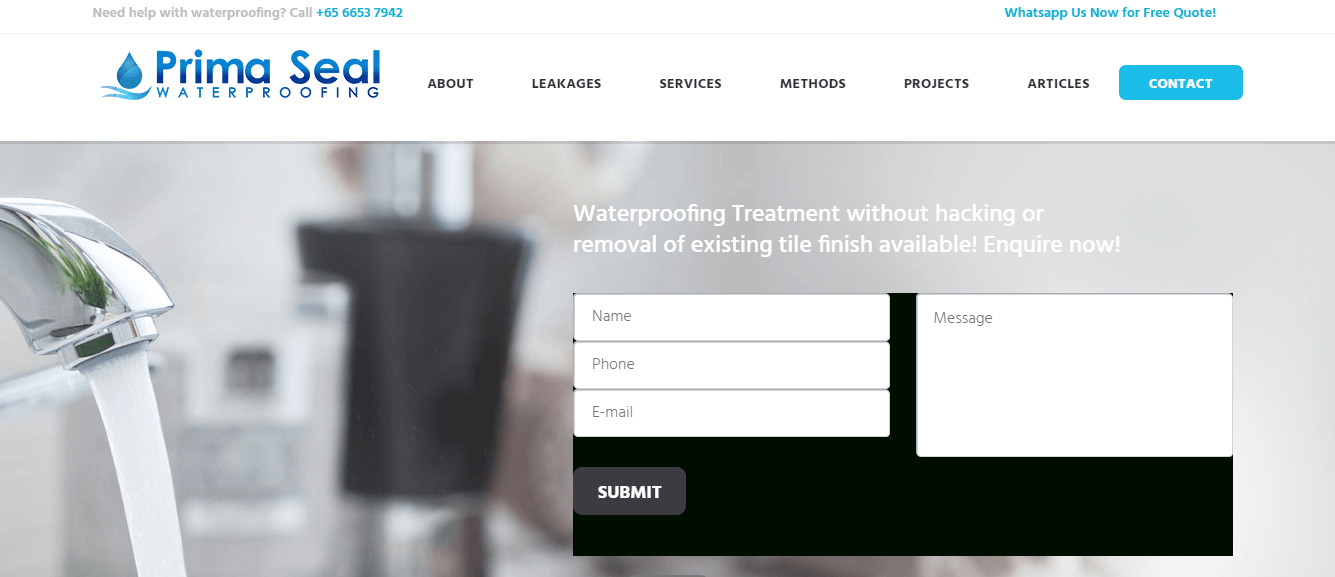 BEST FOR 
Bathroom and Ceiling Leaks
SERVICES
Bathroom Waterproofing, Balcony Waterproofing, Roof Waterproofing, and Floor Waterproofing
WEBSITE
http://www.primaseal.com/
ADDRESS
34 Boon Leat Terrace #04-12 Singapore 119866
CONTACT DETAILS
[email protected]

+65 66537942

OPERATING HOURS
Monday – Friday, 9:00 AM – 6:00 PM
If you want a waterproofing treatment that doesn't involve hacking or removing tiles, then look no further than Prima Seal Waterproofing. They offer waterproofing treatments for you roof, bathrooms, ceilings, and even balconies, making them an all-around treatment company.
In addition, their team of treatment specialists offer free on-site consultations and estimates, unlike other companies that already charge as early as the consultation stage.
Apart from this, they're known for having affordable rates for all their waterproofing services.
In terms of their waterproofing treatment, they use at least 4 methods: flood infusion, PU Grouting, Fibreglass System, and Torch on Membrane.
All of these are proven to be effective in fixing all types of leaks and are to be expected from a company offering some of the best waterproofing in Singapore.
Furthermore, while other companies take more than a day to finish waterproofing work, Prima Seal can finish everything within a day. All thanks to their team of efficient and professional technicians!
Highlights
Warranty provided
Free on-site consultation
Professional customer service
Customer Reviews
With an average rating of 4.7, Prima Seal is one of the best-reviewed waterproofing services on the island. Here are some reviews:
"My water leakage problem was a bit challenging and it took three treatments to finally rectify it and help me pass the HDB HIP water test.  Throughout the process, Jason and his team were patient, committed and provided professional advice and competent service.  The workers who carried out the treatments were polite and efficient, and always kept the place clean after finishing their work. I would highly recommend Prima Seal if you need a reliable company to help you with your water leakage problem!"
"Professional and good job done by Michael and his team. Keep my kitchen area clean after the waterproofing. Achieved the result we want by passing the HIP water-retest. Will not hesitate to recommend their services to others. Thank you."
 3. SWC Construction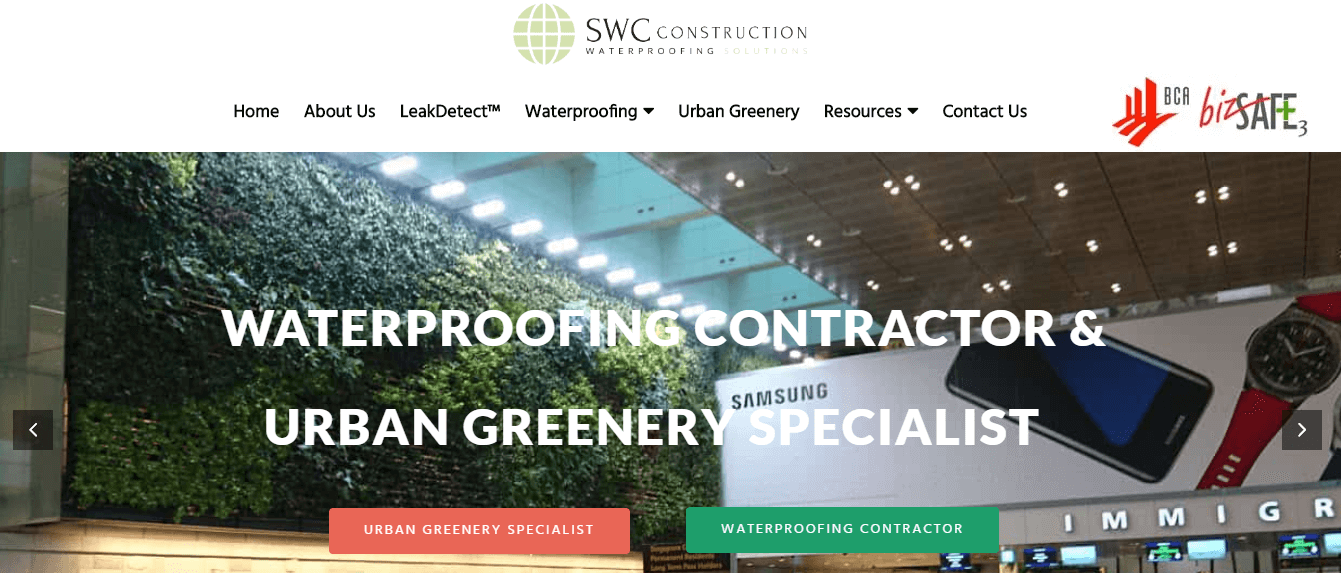 | | |
| --- | --- |
| BEST FOR  | Waterproofing and Urban Landscaping |
| SERVICES | PU Grouting, Clear Penetrative Treatment, Roof Leakage, Balcony Leakage, and Swimming Pool Leakage |
| WEBSITE | https://www.swcconstruction.com.sg/ |
| ADDRESS | 7 Gambas Cres, #04-12, Singapore 757087 |
| CONTACT DETAILS | +65 8754 4058 |
| OPERATING HOURS | Open 24 hours |
SWC is a construction company with over 20 years of experience that offers waterproofing and urban landscaping services. If you want a company whose skills have been proven and tested, then SWC would be perfect for you.
Each of their waterproofing treatments includes leakage inspection, assessment, repair, and maintenance. Without hacking away at your space, they can get rid of the leak that's been ruining your home.
Another thing that makes them worthy of hiring is their team of experienced and professional technicians who can deal with all types of leakage.
What's more, they are also committed to improving their work by being open to different technologies. That's one of the things that puts them in our list of the companies with the best waterproofing in Singapore.
Highlights
Efficient technicians
Warranty included
Excellent track record
Free on-site consultation
Customer Reviews
SWC Construction has received a lot of praise from their clients. If you're still not convinced by their great reputation, consider reading the reviews below:
"SWC Construction is reliable and trustworthy! I recently engaged the company to fix leaking problems with my roof, kitchen ceiling and exterior walls. Its workers were very professional; they practiced fine work ethics and processes. The company's after sale service is also commendable – equally responsive and prompt! I am pleased with the job done. If you need a responsible and dependable contractor for your home repairs and solutions to overcome leakages, you should try SWC Construction!"
"SWC conduct a complete water leakage checks of my terrace. Going the extra mile out of their scope to provide a complete waterproofing of my ceiling, roof and walls. Happy that they are able to solve my house water leakage pain other contractors are unable to solve."
4. Hydro-Seal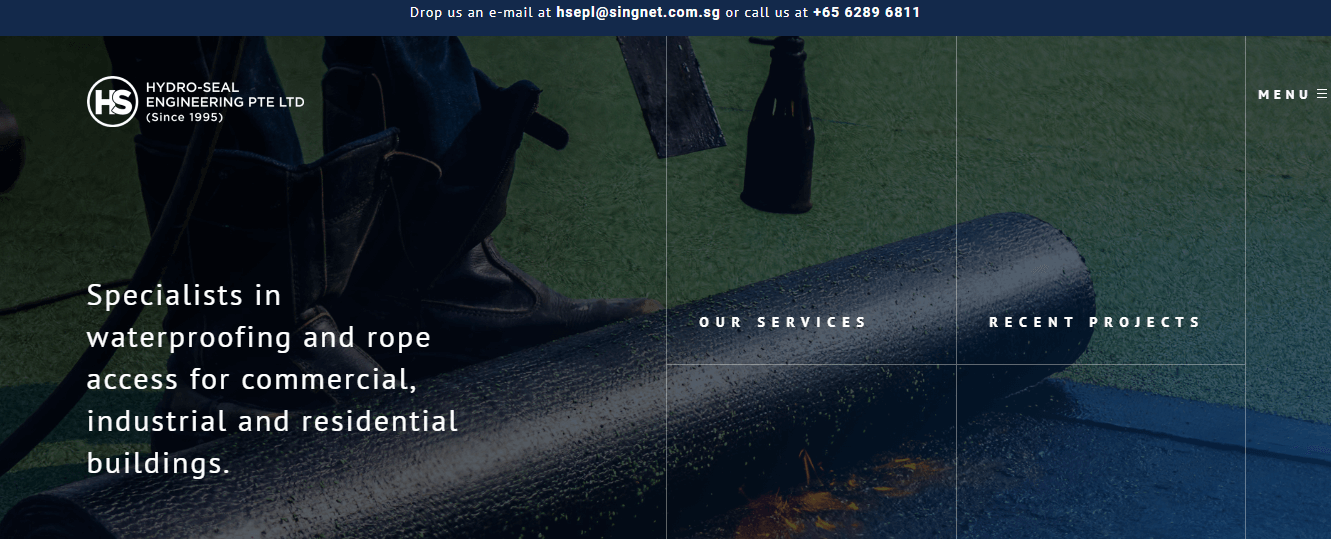 | | |
| --- | --- |
| BEST FOR  | Residential and Commercial Services |
| SERVICES | Roof Water Leakage, Rope Access, External Wall Seepage, and Concrete Repair |
| WEBSITE | https://www.hydroseal.com.sg/ |
| ADDRESS | Block #03-78, 30 Defu Lane 10, Singapore 539211 |
| CONTACT DETAILS | 6289 6811 |
| OPERATING HOURS | Monday – Friday, 9:00 AM – 5:30 PM |
Established in 1995, Hydro-Seal is a waterproofing service that specializes in treating residential and commercial roof leakage. So, if your home has been dealing with water seeping through the roof every time it rains, then you'd better call their hotline now.
One of their missions as a company is to provide their clients with effective and innovative solutions, so they make use of 4 methods in treating roof leakage to ensure that all forms of leakage will be fixed.
As a way of making themselves accountable to their own work, their offer a service warranty that ranges from 1 to 10 years. We believe that there's no other company that provides warranties that last this long!
Highlights
1 to 10 year-warranty
Trained team of technicians
Free consultation and estimate
Customer Reviews
While Hydro-Seal isn't the most famous waterproofing service in Singapore, they have managed to build a clientele that trusts in their service.
"I would like to thank Hydro-Seal Engineering Pte Ltd for their wonderful waterproofing service. They were not only attentive when it came to details, their attitude towards their work is also highly commendable. I could see that the staff and workers were all committed to their job and were very thorough in their workmanship."
"I would like to share a quick note to let you know that we are very happy with the sealant work that Hydro-Seal Engineering Pte Ltd has provided for us. You and your operation team finished the project in a very efficient manner. Everyone was very committed to the job, displaying responsibility and professionalism throughout the entire assignment."
 5. Flux

| | |
| --- | --- |
| BEST FOR  | Residential Waterproofing |
| SERVICES | Toilet Waterproofing, Basement Waterproofing, Shower Waterproofing, and Floor Waterproofing |
| WEBSITE | https://flux.com.sg/ |
| ADDRESS | 55 Serangoon North Ave 4 #02-11, S9, Singapore 555859 |
| CONTACT DETAILS | 65 6226 6116 |
| OPERATING HOURS | Monday – Friday, 9:00 AM – 6:00 PM |
The team behind Flux knows too well how much of a hassle waterproofing can be, so they try to make this task less stressful on the part of their customers by working as quickly as possible. If you don't want your day-to-day operations to be disturbed, then make sure to hire their services.
Above all, they offer premium services for a budget-friendly price, allowing everyone to have access to their services.
Highlights
Warranty included
Affordable rates
Innovative treatment methods
Customer Reviews
Flux has total rating of 5 on Google based on 10 reviews. Here some of the comments:
"Highly recommended, They did the waterproofing for the toilet for my parents' place, they change the pipe and did touch up by painting the pipes and ceiling. Harry is very prompt and patient to our enquiries as we keep changing the waterproofing date. Their pricing are reasonable too."
"Very responsive. Called a few well known waterproofing contractors on a holiday eve and this is the only contractor who has responded within one hour and continued to provide prompt advice on the next day which falls on a weekend and even late at night. Much appreciated as mine is the inter floor water leakage problem and a few parties are affected and involved. Also understand my requirements and proposed a non-hacking solution. The price is reasonable and the leaking pipes are replaced within a day."
 6. Le Fong Building Services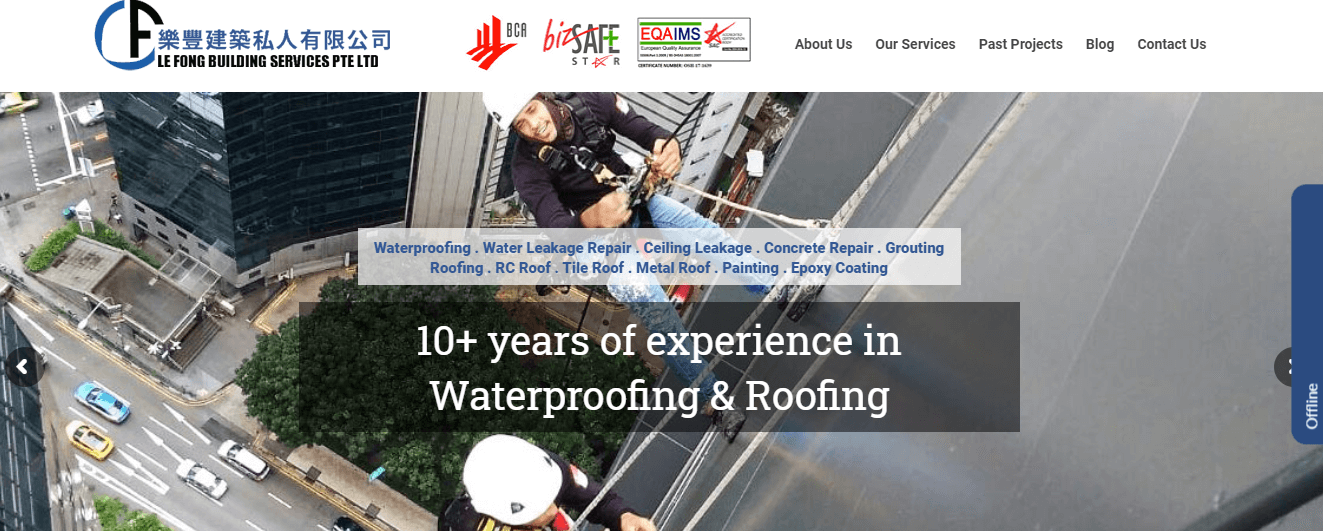 | | |
| --- | --- |
| BEST FOR  | Commercial Waterproofing |
| SERVICES | Waterproofing, Roofing, Concrete Repair, Grouting & Injection, and Wall Crack Repair |
| WEBSITE | https://lefong.sg/ |
| ADDRESS | First Centre, #05-03, 50 Serangoon North Ave 4, Singapore 555856 |
| CONTACT DETAILS | +65 8333 7667 |
| OPERATING HOURS | Monday – Friday, 9:00 AM – 6:00 PM |
While most waterproofing services in Singapore cater to only residential spaces, there are a few that specialize in commercial services like Le Fong Building Services.
Considered the top option for building owners, they offer a wide range of services that can make your building a much safer place for everyone.
With only 10 years of experience, they have managed to collect top business clients who go to them every time their building needs repair. Aside from waterproofing, they can also work on pipelines, roofs, and electrical lines.
Highlights
Team of professional technicians
Free consultation and estimate
Uses quality materials
7. NANO-STAR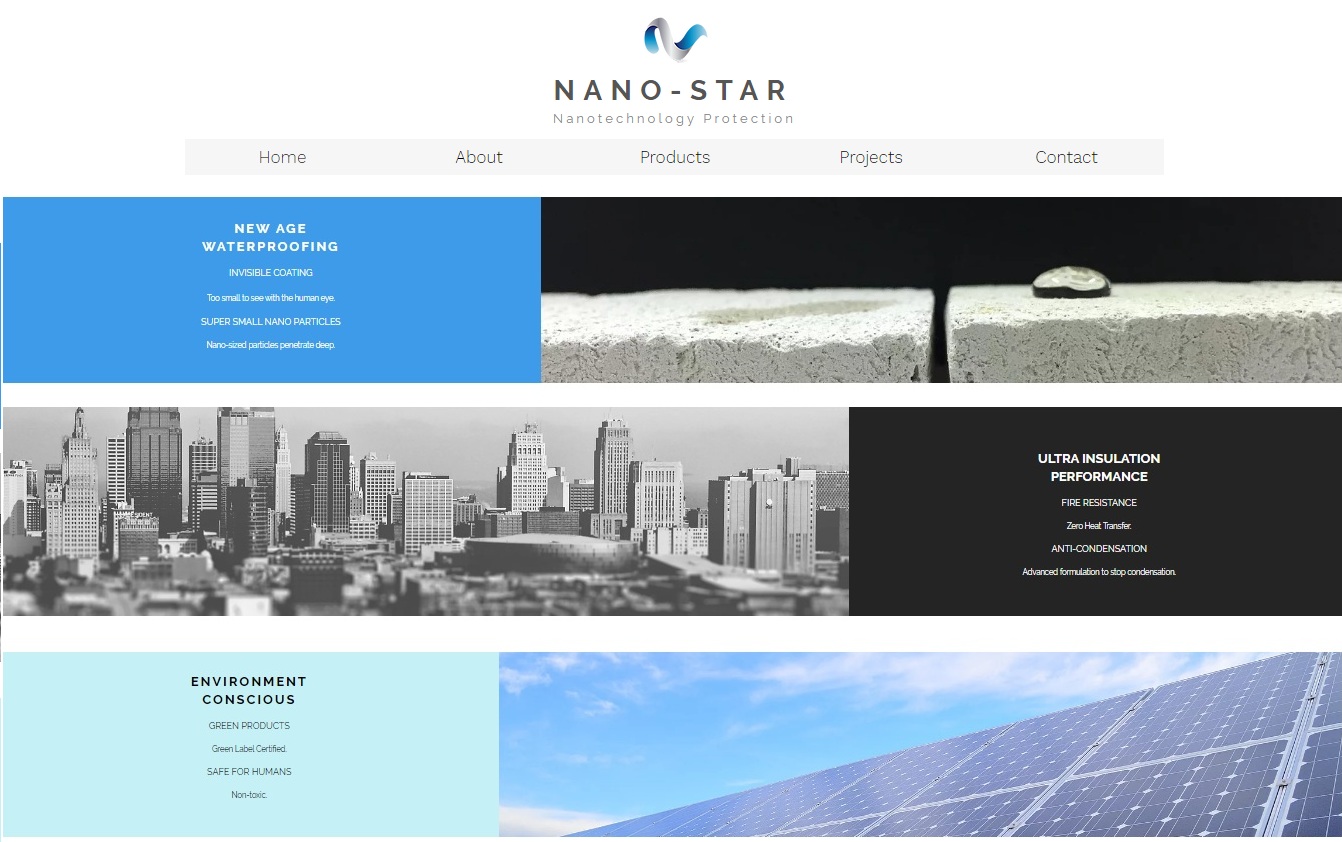 BEST FOR
Quality waterproofing products
SERVICES

HDB, Private, Commercial, Global

WEBSITE

https://www.nanostar.sg/

ADDRESS
48 Toh Guan Rd East #04-98 S(608586) (not 22 Chiku Rd)
CONTACT DETAILS
[email protected]

/ + 656469 3748

OPERATING HOURS

Monday – Friday: 9:00 am – 5:00 pm
Nano-Star provides waterproofing services to different establishments. In fact, their last projects show versatility as they already worked with HDB, private, commercial, tunnels, and even theme parks. 
Moreover, they only use quality products to ensure that the waterproofing could last long and really protect your establishment. They even create advanced construction supplies to back up their goal as a company. 
They utilize technology and engineering in construction and construction materials. They only use advanced materials and develop effective engineering ways to apply waterproofing. 
Highlights
Quality Products

Carefully engineered products

Skilled workers
8. M3 Multiservices Pte Ltd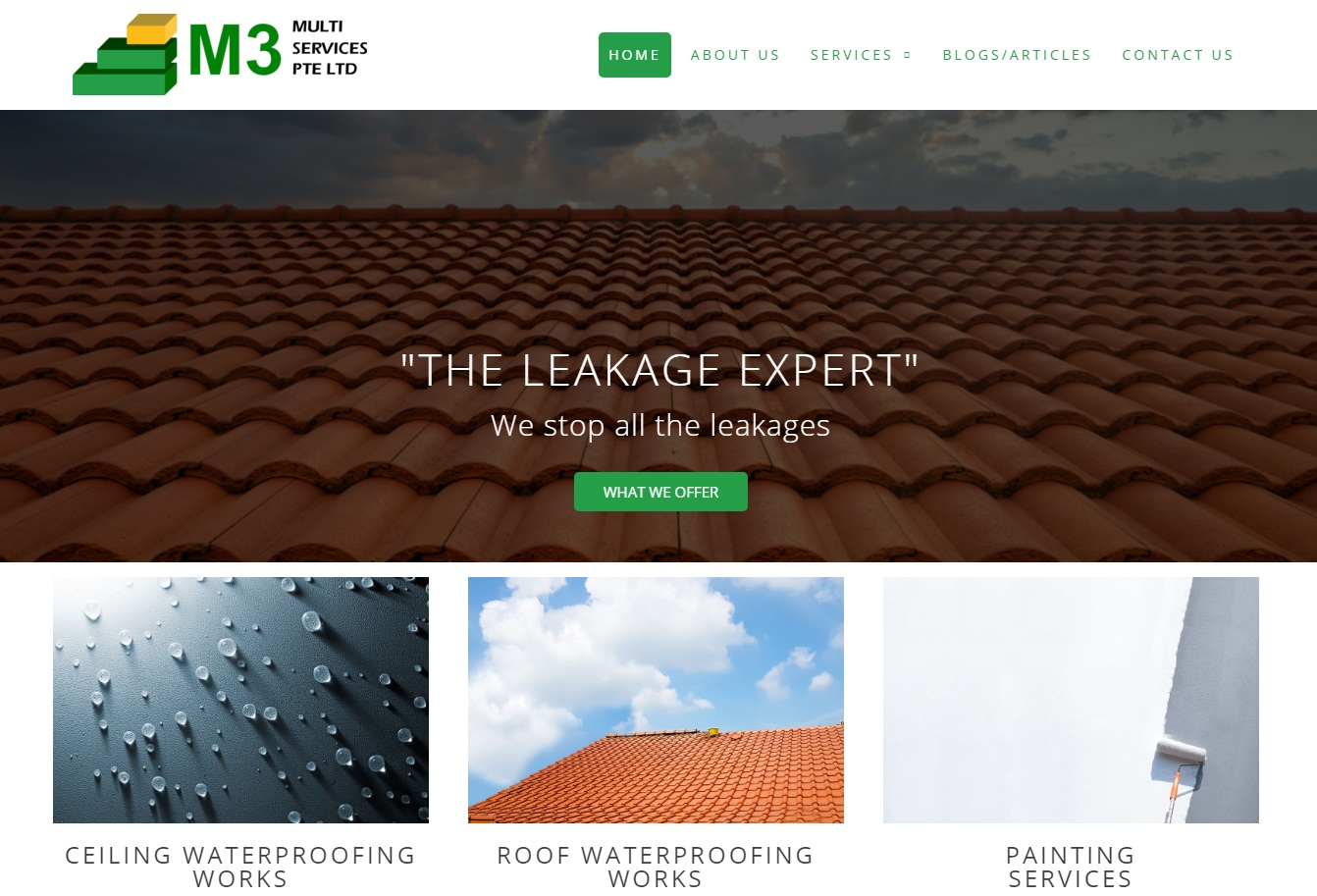 | | |
| --- | --- |
| BEST FOR | Professional waterproofing and coating  |
| SERVICES | Ceiling Waterproofing Works, Roof Waterproofing Works, Painting Services |
| WEBSITE | http://m3m.com.sg/ |
| ADDRESS | 65 Chulia Street OCBC Center #46-00 S049513 |
| CONTACT DETAILS | +65 9789 3563 /+65 6917 4966 | [email protected] |
At M3 Multiservices Pte Ltd, they promise to resolve your waterproofing issues with their premium quality solutions backed with their team of highly-qualified and well-trained staff. 
Aside from waterproofing and coating, the company also caters to a wide range of house interior and exterior services like concrete repair works, painting works, and general contracts work.
Their waterproofing solutions are customized for each of their clients so you are guaranteed that the work they provide perfectly suits your needs.
Highlights
Efficient and expert technicians

Guaranteed customer satisfaction

Customized waterproofing systems
And with that, we wrap up our list of the companies that do the best waterproofing in Singapore! Expect that no more leaks will damage your home once you let them take care of your Singapore waterproofing.
By the way, in case your bathroom also needs a total makeover on top of the waterproofing treatment, then you may want to read our list of the best toilet renovation services in Singapore. All these contractors offer great value for your money, based on their track records.