The 9 Options for the Best Waterproofing in Singapore
Is your home suffering from a leak? If so, you better have it checked by waterproofing specialists as soon as possible instead of waiting for things to get worse.
So here, we came up with the list of companies that offer the best waterproofing in Singapore after combing through the entire island. We included those that are open to both residential and commercial spaces.
Before we proceed to our picks, we'll look into the cost of waterproofing on the island. This will help you decide which waterproofing company from our list to go for.
The Cost of Waterproofing in Singapore
The estimated cost of roof waterproofing in Singapore is somewhere between $3 to $10 per square foot measure. It's common for roofing services anywhere to be charged based on the size of your roof, so the larger it is, the more expensive it is to repair.
However, based on our research, it's better to take this average with a grain of salt considering that there are multiple factors that dictate the actual cost.
Aside from the experience of the waterproofing company, the other two factors that play a huge role in determining the price are the type of roof and waterproofing materials.
Let's take a closer look into how these two factors affect the cost of waterproofing services on the island.
Type of Roof
The three common types of roof found in Singapore are metal, RC, and pitched roofs. Since it's a tropical country, these are the roofing materials that can protect our rooms during summer months.
Metal is the most common out of all three because it's cheap, lightweight and easy to install. The only problem with it is that it's more prone to corrosion and leaks because of its composition.
The extreme weather in Singapore can easily weaken the quality of a metal roof, so you'll definitely end up spending money for its maintenance.
RC, which is commonly found on HDB flats, is also prone to leakage because of its flat structure, so it's more likely to have puddles of water.
Its porous nature makes it even more prone to leaks because the concrete expands due to the heat and cold, which may lead to cracks.
Lastly, a pitched roof is less likely to have leaks because its overlapping structure allows water to slide down the drainage easily. When it gets damaged though, the cost is higher than repairing a metal or RC roof because of its structure.
Waterproofing Materials
There are multiple materials a technician can use to waterproof your roof. Some materials are more expensive than the others.
The cheapest material used in waterproofing is foil. It's a specialised waterproof foil that can keep water from penetrating into the roof.
Other cheap waterproofing materials are joint sealant and waterproof paint. Joint sealant is an elastic material that's plastered on a roof to seal gaps and cracks, while waterproof paint needs to be applied at least four times for durability
If you want more durable waterproofing materials, then go with waterproofing membranes. These are thin, water-tight roof layers that can completely prevent water from seeping through the roof.
The two most common types of waterproofing membranes are torch membrane and liquid membrane.
Torch membrane is a solid material made of modified bitumen and designed to withstand punctures. It's flexible and resilient enough to go against the harsh weather in Singapore.
Meanwhile, liquid membrane is applied on the surface of the roof using either a brush or a spray equipment. It then solidifies upon drying, giving the roof extra protection from cracks and leaks.
What makes waterproofing membranes the perfect choice is that they can not only repair leaks and cracks but prevent them from appearing in the first place as well. However, they're more expensive compared to the others.
The Options for the Best Waterproofing in Singapore
Now that you know more about the cost of waterproofing on the island, it's time to go over which waterproofing companies are worth hiring.
Check them out below to see which one can best address your concern.
1. Hydro-Seal Engineering Pte Ltd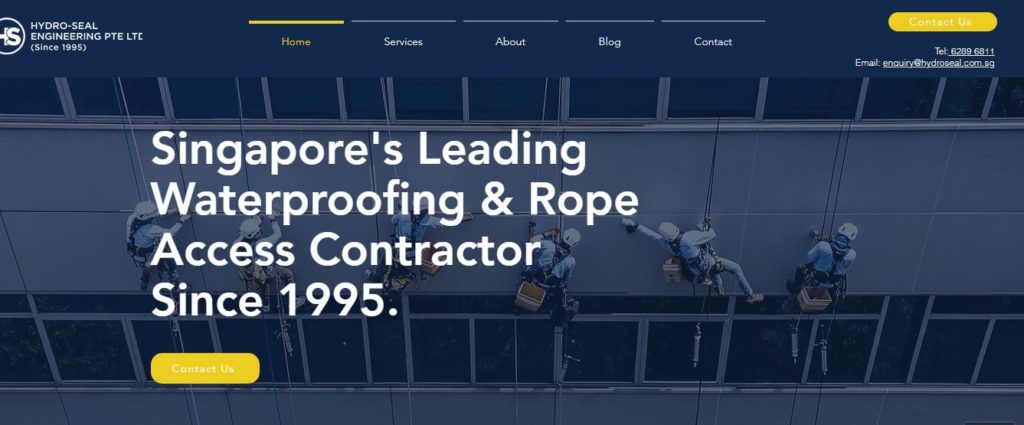 Hydro-Seal Engineering Pte Ltd is a company that provides a variety of waterproofing packages that are flexible and suited for various settings such as businesses and residences. Founded back in 1995, they are among Singapore's leading figures when it comes to waterproofing services and rope access contractors as well.
We find commendable their extensive experience of over 1000 projects that they have completed which ensures that they are able to give clients practical advice no matter what setting they require the said service.
Another thing we find notable is the impeccable customer service that not only helps inform clients of the progress of their projects but also empowers them toward proactive collaboration.
They also employ a warranty in all projects that they work on which can range up to 10 years which is excellent for both short-term and long-term client usage.
Overall, with professional advice and quality project management methodology, we recommend their services to clients in need of waterproofing solutions.
Variety of warranty ranges
Experienced and diverse staff
Quality products used
Rates unavailable
Closed on weekends
2.   Asia Tech Roofing and Waterproofing Pte Ltd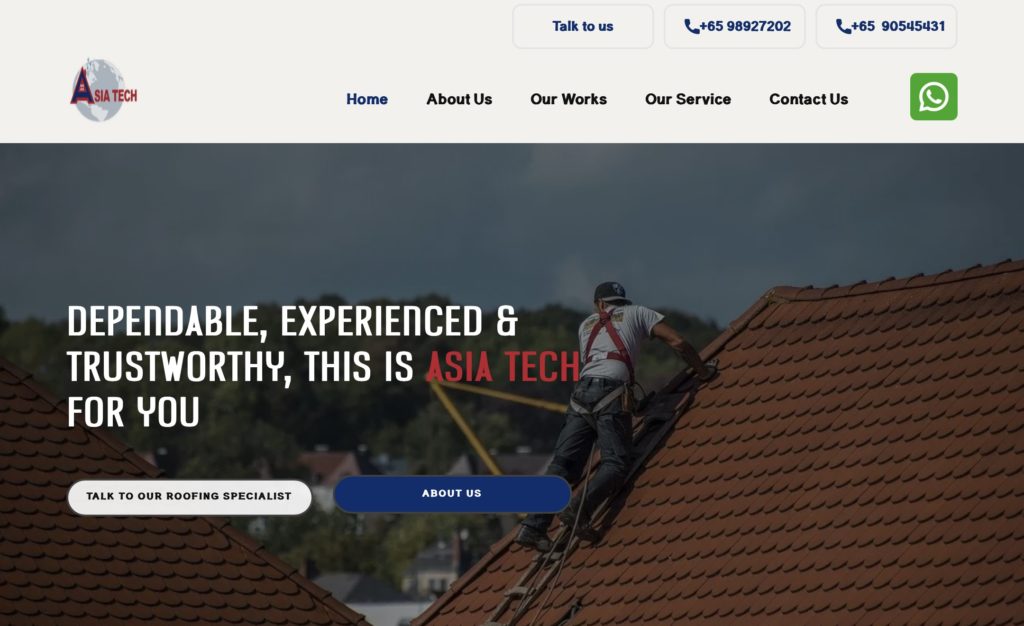 | | |
| --- | --- |
| SERVICES | Roof Repair, Leak Repair, Structural Works, and Water Proofing |
| PRICE RANGE | Check their website for full pricing |
| WEBSITE | https://asiatechroof.sg/ |
| ADDRESS | Asia Tech Roofing & Waterproofing ​Pte Ltd 10 Raeburn Park #02-08 S(088702) |
| CONTACT DETAILS | +65 98927202 |
| OPERATING HOURS | 24/7 |
AsiaTech Roofing has truly exceeded our expectations in the realm of water-proofing roofing. Their services are a testament to their unwavering commitment to excellence.
From the moment we engaged AsiaTech Roofing, their efficiency shone brightly. Their team arrived promptly, with the precision of a Swiss watch, and worked diligently. They left no room for procrastination or errors, and our roof was sealed with the utmost expertise.
The quality of AsiaTech Roofing's work is simply unparalleled. It's as if they've made a pact with perfection itself. The seamless waterproofing job was like a work of art, with attention to detail that Leonardo da Vinci would have applauded. Our roof now stands as a testament to their craftsmanship.
When it comes to cost, AsiaTech Roofing offers the kind of value that makes you want to do a happy dance. They provided a quote that was not only competitive but also transparent, with no hidden fees or unpleasant surprises. Our bank account remained blissfully intact.
However, they don't offer promos at the present. We advise checking their website for other affordable deals.
Variety of warranty ranges
Experienced and diverse staff
Quality products used
3. Renovation Contractor Singapore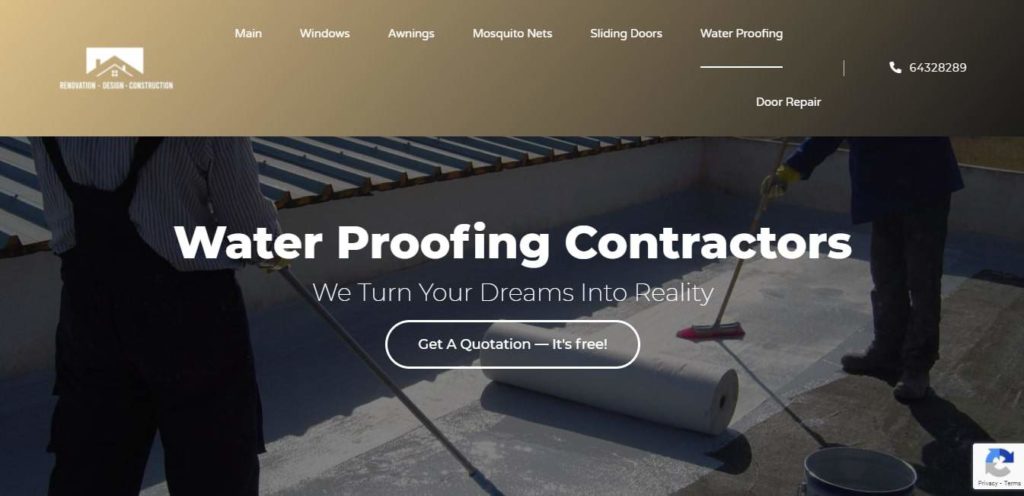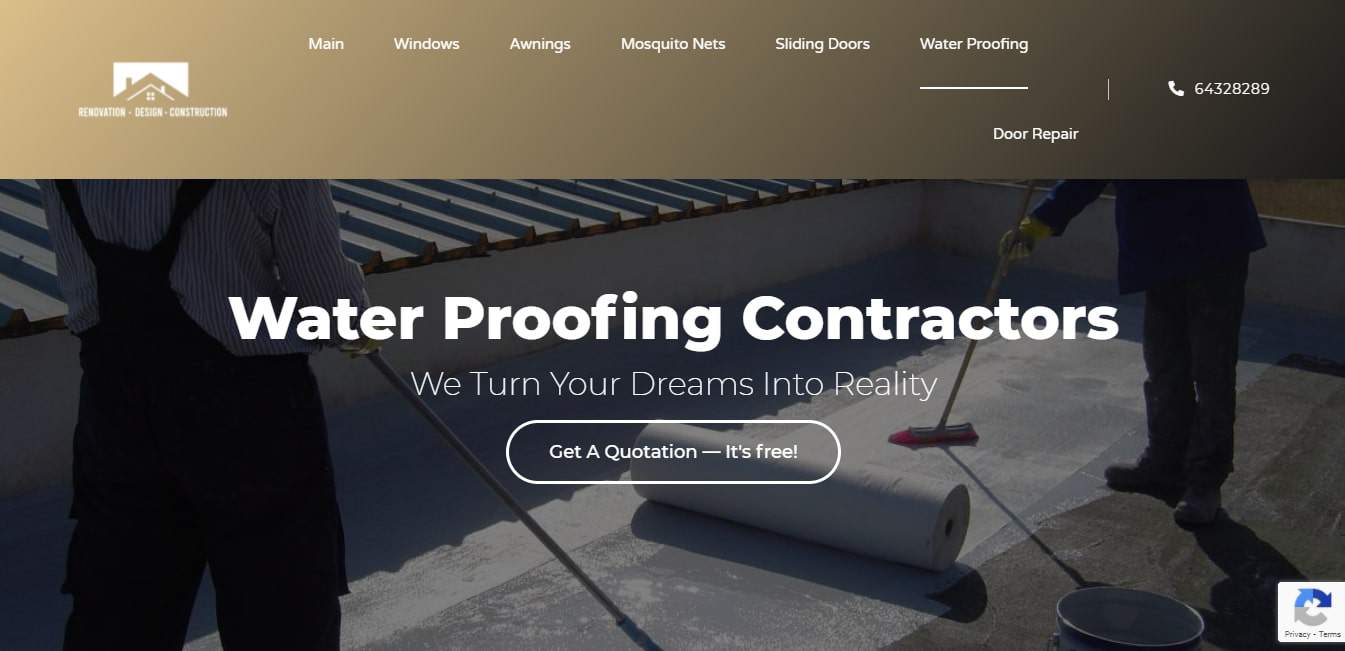 SERVICES
Waterproofing, modular work, furnishing and decor, furniture sourcing, window installation, sliding door installation, electrical works, and home improvement services
PRICE RANGE
Call their hotline for more details
WEBSITE
https://www.renovationcontractorsingapore.co/
ADDRESS
Singapore
CONTACT DETAILS
+65 6432 8289


[email protected]

OPERATING HOURS
Monday to Sunday: 9:00 AM – 9:00 PM
In terms of full-range home improvement services, there's no better company to hire than Renovation Contractor Singapore. It can deal with almost every form of home structural issues, from broken doors and windows down to roof leaks and cracks.
Its renovation team includes professional and skilled waterproofing specialists who have years of experience in waterproofing all types of room, including metal, pitched, and more.
Renovation Contractor Singapore may not be the first option that comes to your mind when looking for a waterproofing service, but we've tried it ourselves and we weren't disappointed with the workmanship of its specialists.
It doesn't fall short when it comes to answering queries of customers as well. It employs a competent after-sales team who can respond to questions as soon as possible.
Apart from waterproofing, you can also hire its expertise to repair broken sinks, repaint your walls, and even pick the right furniture for your home.
Full-range renovation company
Operates 7 days a week
Longer operating hours
Prompt after-sales support
Some issues with booking of appointments
4. General Waterproofing & Service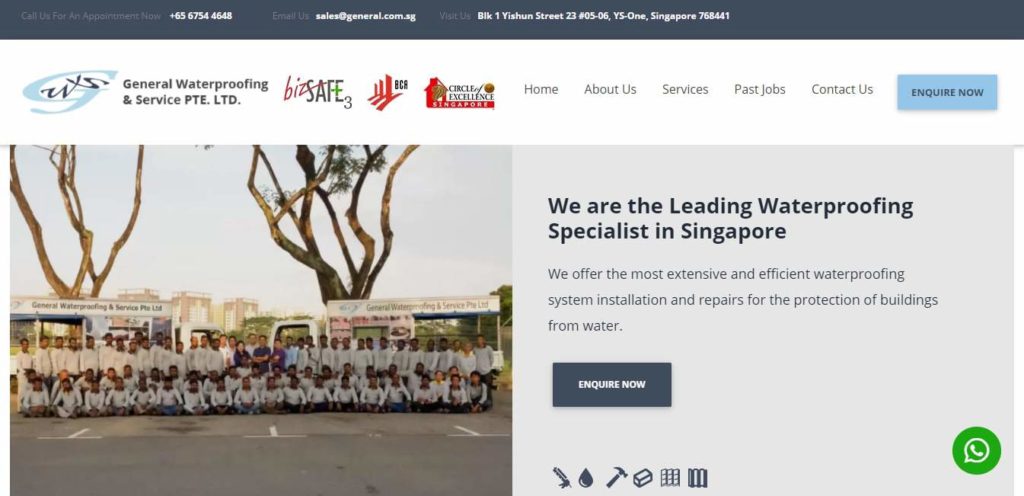 | | |
| --- | --- |
| SERVICES | Waterproofing, concrete repair, crack line repair, facade roof re-sealant, facade cleaning, and leak repair |
| PRICE RANGE | Call their hotline for more details |
| WEBSITE | https://www.general.com.sg/ |
| ADDRESS | Blk 1 Yishun Street 23 #05-06, YS-One, Singapore 768441 |
| CONTACT DETAILS | +65 6432 8256 |
| OPERATING HOURS | Monday to Sunday: 8:00 AM – 7:00 PM |
General Waterproofing & Service is considered one of the leading waterproofing companies on the island mainly for its expert diagnostics and long-lasting solutions. It earns a spot on our list for two main reasons.
First, there aren't a lot of waterproofing contractors that are open to residential, commercial, and industrial customers, as most of them can only handle residential roofs. It's safe to say that it's not a one-trick pony of a company.
Second, its waterproofing services can do more than just conceal cracks and leaks, they can improve the overall structural integrity of your home or building as well. It's a highly recommended option if you're living in an old house or establishment.
Other services provided include concrete repair, facade and roof re-sealant, facade cleaning, wall leak repairs, and crack line repair, among others.
In its 30 years in the business, General Waterproofing & Service has looked after thousands of households on the island, making sure not a single one of them deals with leaks ever again. This alone reveals so much about the quality of its services.
General Waterproofing & Service operates from Monday to Sunday, making it a perfect option for customers who only have free time during weekends.
More than 30 years of experience
Specialises in waterproofing
Open from Monday to Friday
Questionable customer service
Customer Reviews
Here's what one satisfied customer had to say about General Waterproofing & Service:
"Thank you for a job well done. Workers arrived early. Managed to find the source of leakage straightaway. Ensured that the work area was property covered in plastic sheets and cleaned the place upon completion of work." – Dheera Chatterji
5. Revoseal Waterproofing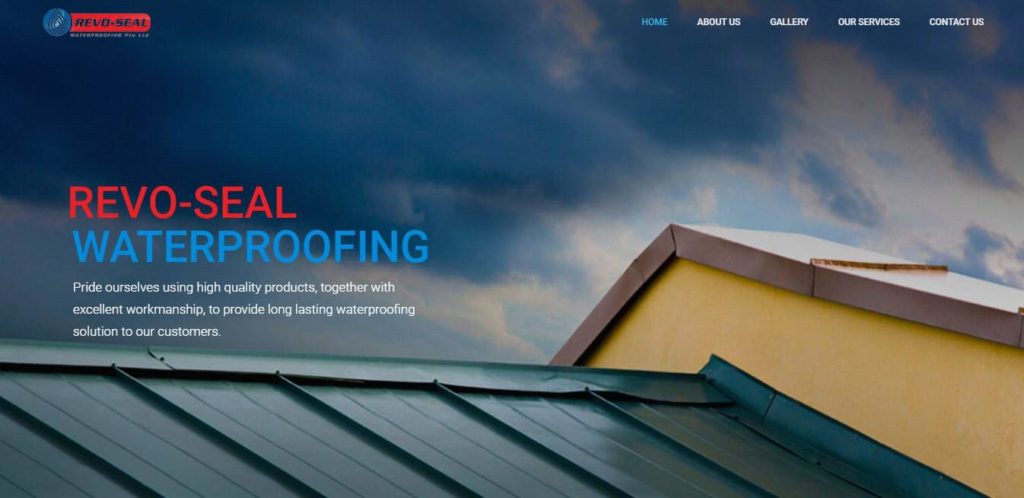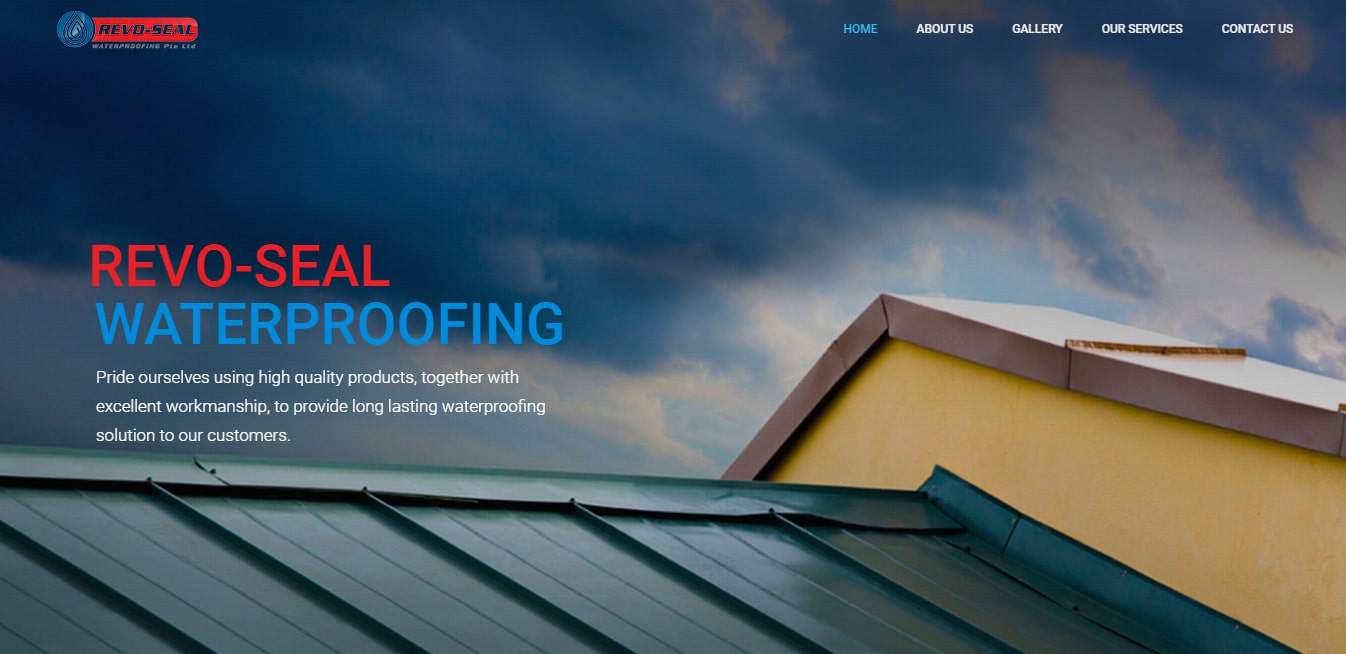 SERVICES
Waterproofing, concrete roof acrylic, rope access and sealant works, external wall acrylic, court acrylic, metal roof acrylic, and polyurethane injection grouting
PRICE RANGE
Call their hotline for more details
WEBSITE
http://www.revoseal.com.sg/
ADDRESS
10 Anson Road #10-11 International Plaza, Singapore 079903
CONTACT DETAILS
+6564328298
OPERATING HOURS
Monday to Friday: 9:00 AM – 5:00 PM
Saturday: 9:00 AM –12:00 PM
If there's one thing to know about Revoseal Waterproofing, it's that you will never catch it using substandard materials to waterproof and repair the leaks on your roof. It prides itself on its long-lasting waterproofing solutions partnered with high-quality products.
Some of the waterproofing materials it uses are Sika, Mapei, Nippon Paint, Normet, and Parex, all of which are trusted names in the business. That also means that customers can choose whether to have waterproof membranes or waterproof paint.
The expertise of most waterproofing companies on the island only extends to metal and pitched roofs, but Revoseal can also deal with external wet areas, tile roofs, concrete roofs, and even external walls.
In terms of punctuality, Revoseal doesn't fall short. According to customers, its waterproof specialists arrived and finished the task on time.
However, unlike the previous two picks, it doesn't operate seven days a week, but it makes up for that by providing dependable customer service.
Reasonable rates
Prompt and punctual workers
Uses high-quality waterproofing materials
6. Prima Seal Waterproofing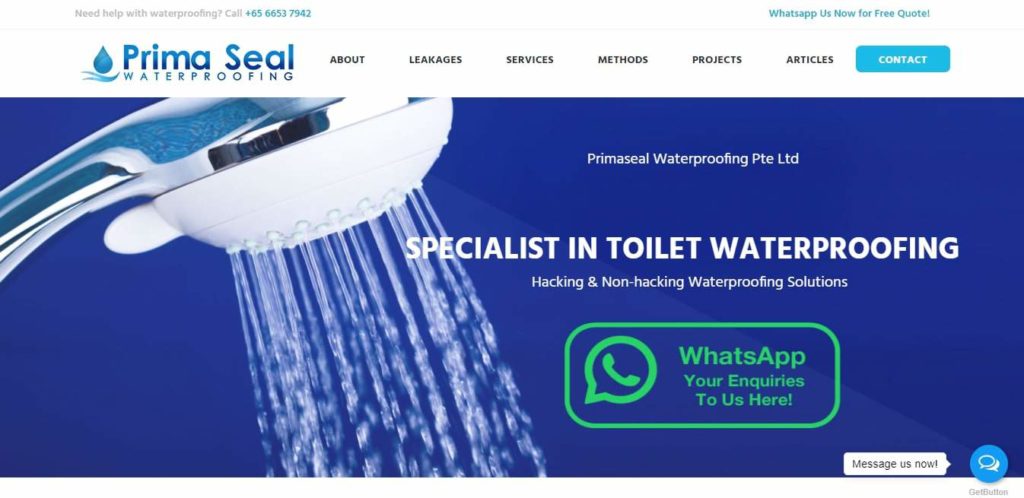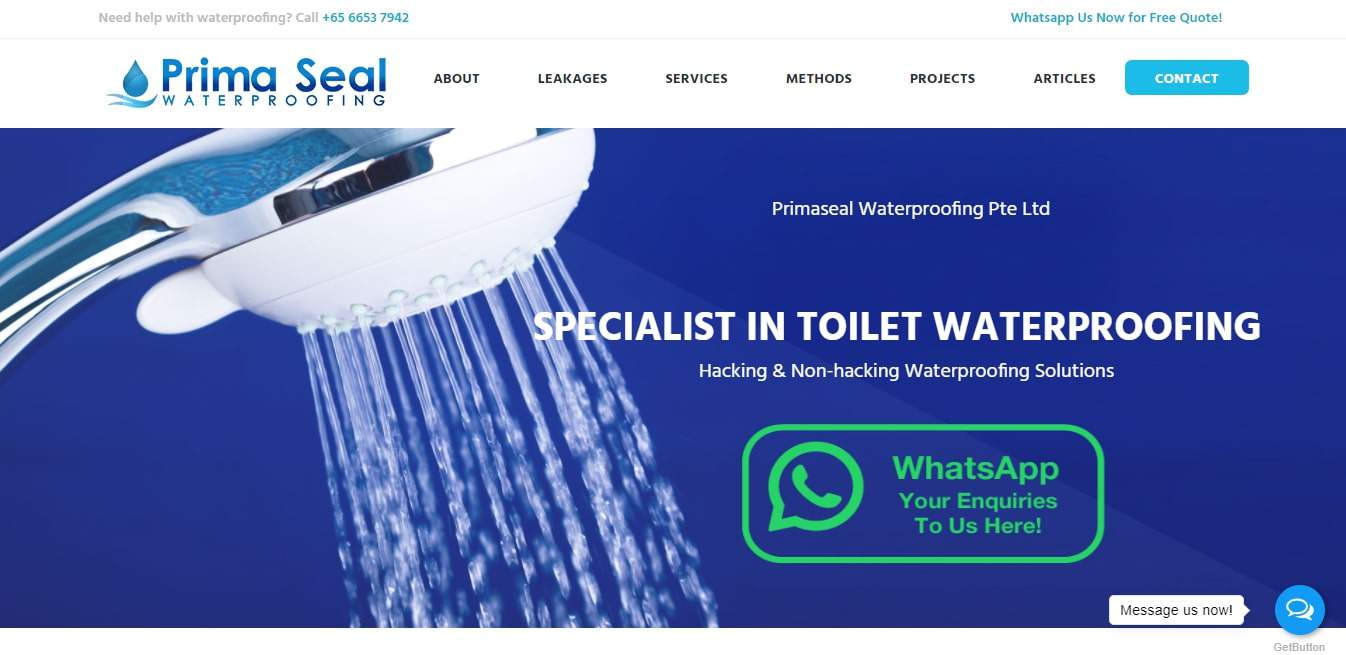 | | |
| --- | --- |
| SERVICES | Ceiling leak repair, bathroom waterproofing, balcony waterproofing, floor waterproofing, concrete waterproofing, wall water seepage repair, and plumbing services |
| PRICE RANGE | Call their hotline for more details |
| WEBSITE | http://www.primaseal.com/ |
| ADDRESS | 34 Boon Leat Terrace #04-12 Singapore 119866 |
| CONTACT DETAILS | 6653 7942 |
| OPERATING HOURS | Monday to Friday: 9:00 AM – 6:00 PM |
If you're looking for a waterproofing treatment that doesn't involve hacking or removing tiles, then we recommend Prima Seal Waterproofing. It's a full-range waterproofing company that repairs roof, toilets, showers, ceilings, walls, and even balcony.
The fact that Prima Seal can handle more than just roofs and ceilings is enough reason for us to add it to our picks. There aren't a lot of them on the island, so we're glad to have found this well-rounded waterproofing company.
Speaking of being well-rounded, Prima Seal uses at least four waterproofing methods: flood infusion, PU Grouting, fibreglass systems, and torch on membrane. This means that customers can choose which method complements their budget and preference.
All of these are proven to be effective in fixing all types of leaks and are to be expected from a company offering some of the best waterproofing in Singapore.
Additionally, its treatments specialists offer free on-site consultations and estimates, unlike other companies that already charge as early as the consultation stage.
In relation to that, Prima Seal is the go-to waterproofing specialists because of its budget-friendly and transparent rates. You can expect that what appears initiality on the quote will be close to your final bill.
Furthermore, while other companies take more than a day to finish waterproofing work, Prima Seal can finish everything within a day. All thanks to their team of efficient and professional technicians!
Warranty provided
Free on-site consultation
Professional customer service
Competitive rates
Different waterproofing methods
Customer Reviews
With an average rating of 4.7, Prima Seal is one of the best-reviewed waterproofing services on the island. Here are some reviews:
"My master bathroom failed HDB's water test. The 2 options I had was to accept the Home Improvement Program's (HIP) upgrading for only $250 or get my own contractor to waterproof it. I decided on Prima Seal Waterproofing after googling because their website explained in detail the whole process of chemical infusion treatment without hacking existing tiles. Made an appointment for site inspection prior to the fixing date for treatment. The treatment and cleanup took 5 and a half hours. Most importantly, it passed the water re-test 2 weeks after treatment. And saves me the hassle and inconvenience of having to undergo hacking and dust for 10 days if I were to accept HDB's HIP. Great job and service by the Prima Seal Waterproofing team!" -Errol Lim
"My water leakage problem was a bit challenging and it took three treatments to finally rectify it and help me pass the HDB HIP water test. Throughout the process, Jason and his team were patient, committed and provided professional advice and competent service. The workers who carried out the treatments were polite and efficient, and always kept the place clean after finishing their work. I would highly recommend Prima Seal if you need a reliable company to help you with your water leakage problem!"
7. Le Fong Building Services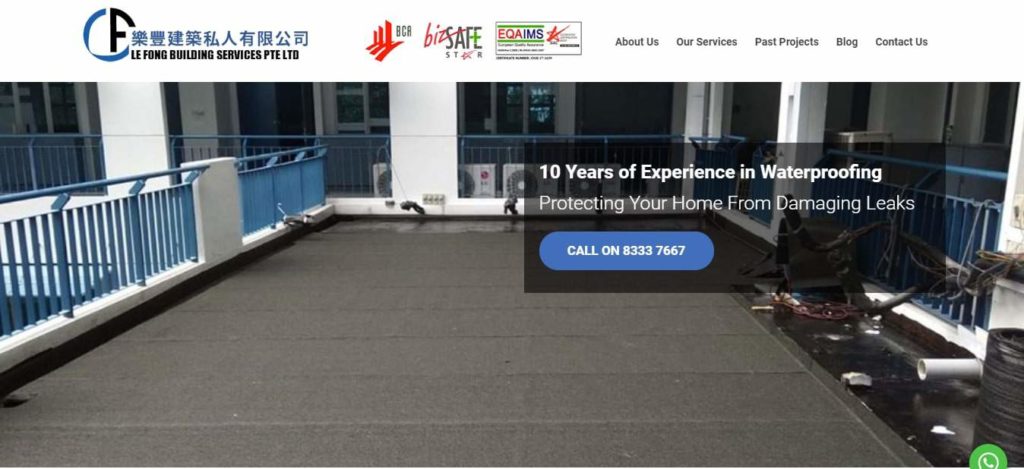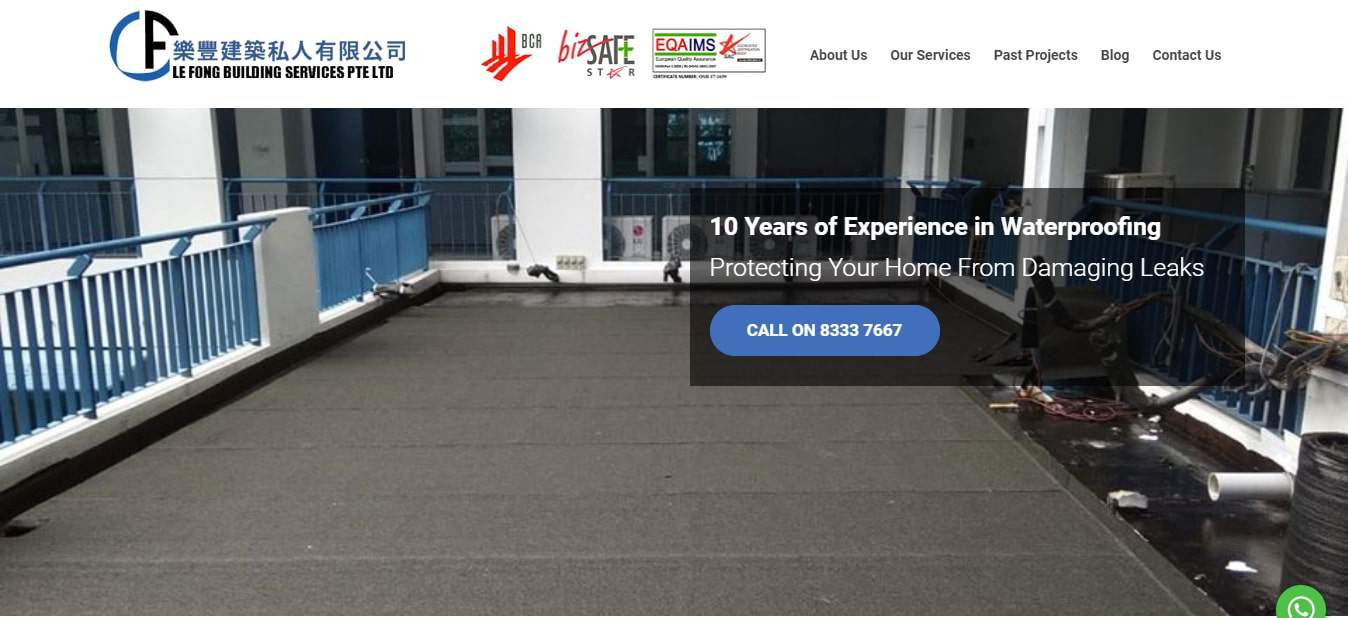 SERVICES
Waterproofing, roofing, grouting, water leak repair, concrete repair, structural repair, blast mitigation, thermal insulation, awning and canopy, thermal imaging, and rope access works
PRICE RANGE
Call their hotline for more details
WEBSITE
https://lefong.sg/
ADDRESS
First Centre, #05-03, 50 Serangoon North Ave 4, Singapore 555856
CONTACT DETAILS
+65 8333 7667


[email protected]

OPERATING HOURS
Monday to Friday: 9:00 AM – 6:00 PM
While most waterproofing services in Singapore specialise in residential spaces, there are some that focus on commercial spaces like Lee Fong Building Services, so we couldn't help but add it to our list.
It's only been around for around a decade, younger than most of our picks, but it's managed to earn the trust of prominent businesses on the island. That alone says a lot about the quality of its services.
As one of the top options for commercial building owners, Lee Fong offers a wide range of structural repairs aimed at improving the overall condition of your property. This includes thermal imaging, roof repair, grouting, water leak repair, and concrete repair, among others.
One thing we like about Lee Fong is that it uses different waterproofing methods such as torch-applied membrane, liquid-applied membrane, cementitious brush-applied coating, self-adhesive membrane, and PVC membrane, among others.
We admit that Lee Fong doesn't have the most budget-friendly services considering that its target arem mostly commercial establishments, but it does provide free on-site inspection and troubleshooting.
All in all, Lee Fong is a superior choice if what you're after is top-notch commercial waterproofing services. It's equipped with the right skills, equipment, and experience to make sure that your building doesn't encounter leaks ever again.
Free consultation and estimate
Full-range structural repairs
Different waterproofing methods
Caters mainly commercial buildings
Rates are above average
Closed on weekends
8. NANO-STAR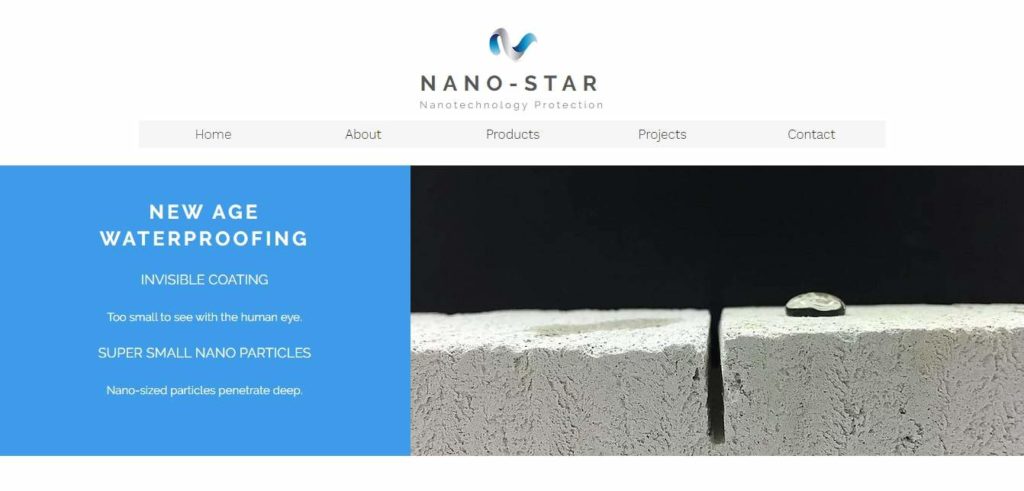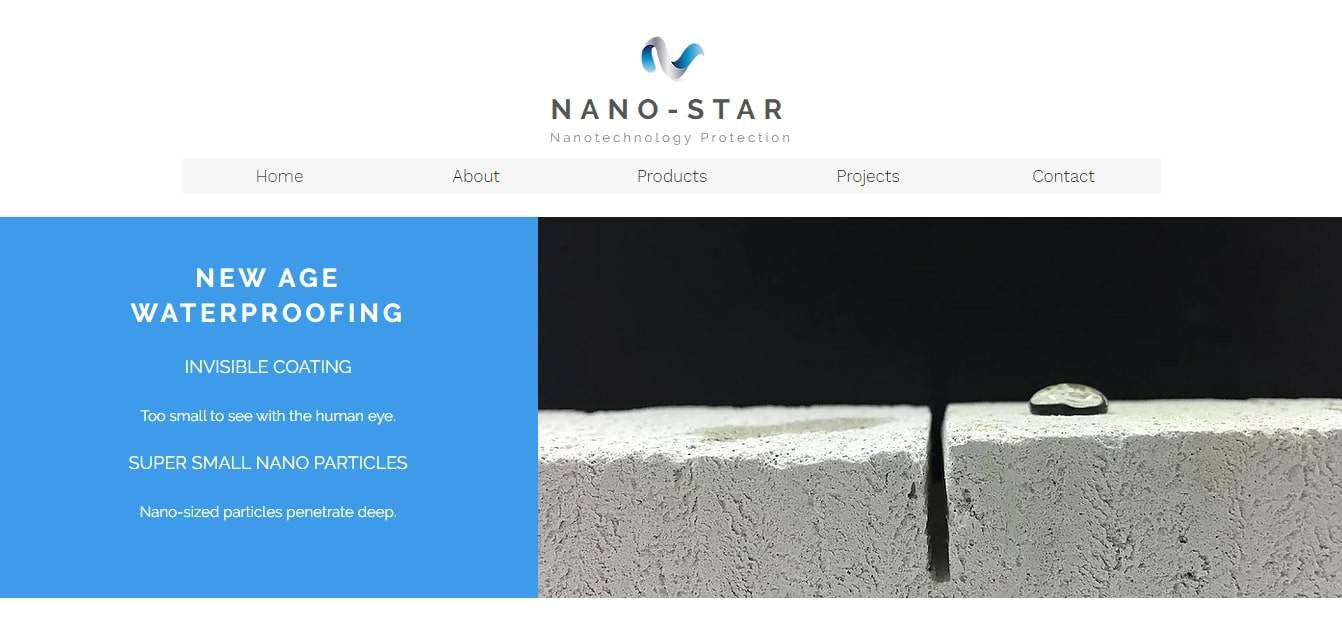 SERVICES
HDB waterproofing, commercial waterproofing, private waterproofing, and global waterproofing
PRICE RANGE
Call their hotline for more details
WEBSITE
https://www.nanostar.sg/
ADDRESS
48 Toh Guan Rd East #04-98 S(608586)
CONTACT DETAILS
+ 65 6469 3748


[email protected]

OPERATING HOURS
Monday to Friday: 9:00 AM – 5:00 PM
NANO-STAR is primarily known as the source of top construction and waterproofing materials in Asia, but we added it here because its waterproofing services are worth checking out as well.
First of all, it provides waterproofing services to different establishments, not just residential spaces. It's open to churches, bungalows, airports, hospitals, ministry buildings, banks, hotels, and even theme parks.
Its resume includes places like Disneyland Shanghai, Dalian Metro, TPI Creative Workshop & Gallery, and Singapore Turf Club to a Community Recovery Facility. If what you're after is a trusted waterproofing company, then you're not going to be disappointed with this one.
Since it produces its own waterproofing materials, NANO-STAR is capable of waterproofing a wide variety of surfaces, including concrete, wood, marble, fabric, glass, and more. Its waterproofing products are fire resistant and can insulate heat as well.
Lastly, NANO-STAR is an environmentally-conscious company, so expect that all materials to be used are eco-friendly and non-toxic.
Eco-friendly company
Open to all types of commercial spaces
High-grade waterproofing materials
9. M3 Multiservices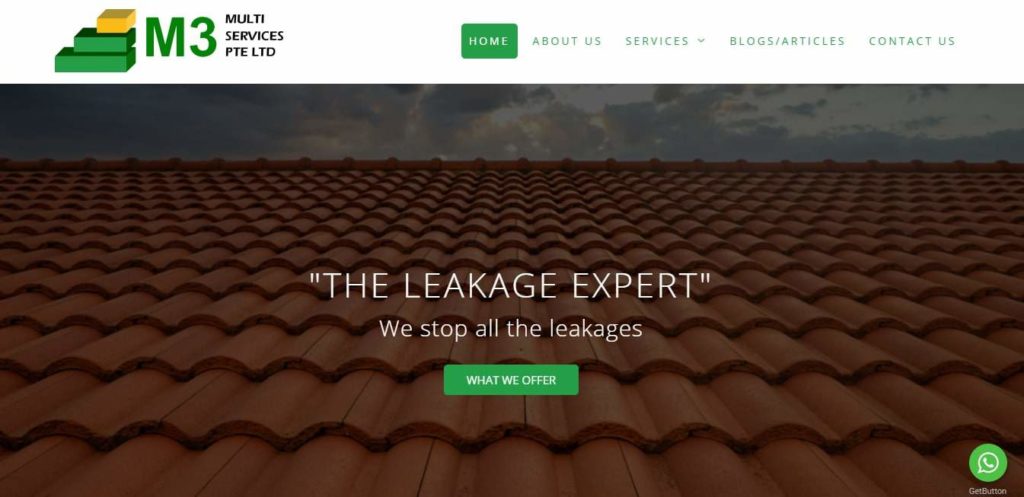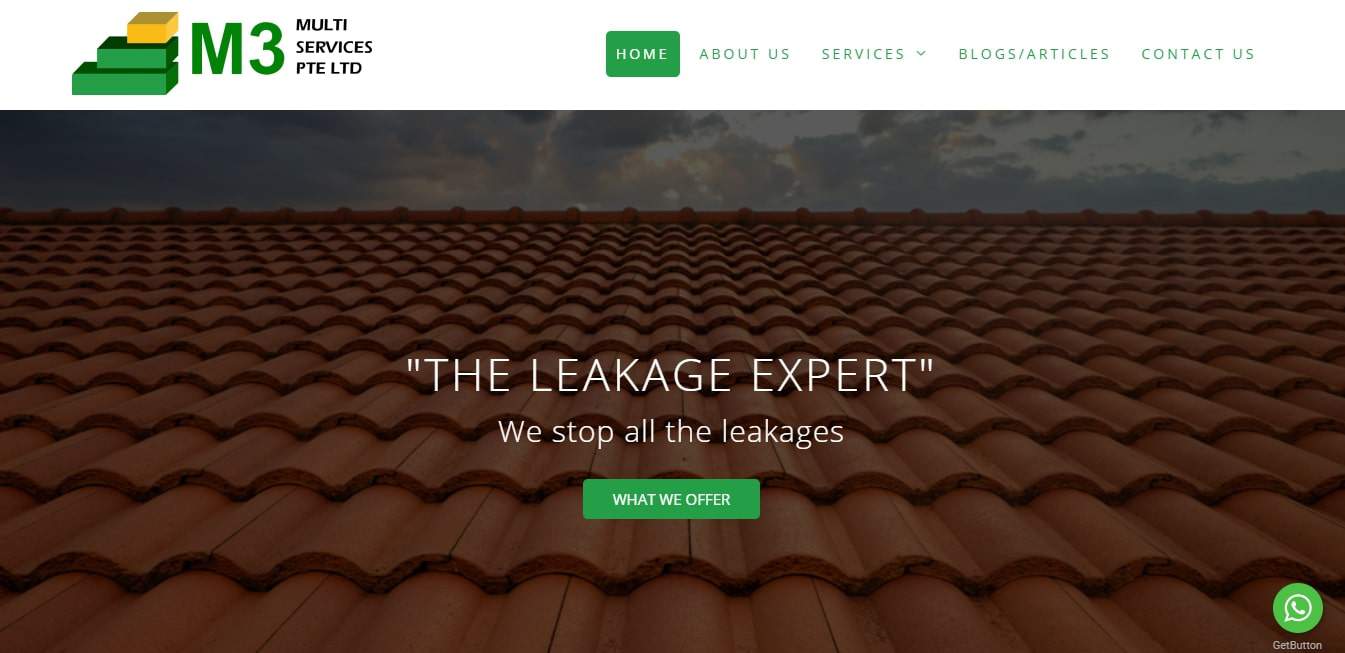 | | |
| --- | --- |
| SERVICES | Ceiling waterproofing, roof waterproofing, painting services, and minor construction services |
| PRICE RANGE | Call their hotline for more details |
| WEBSITE | https://www.m3m.com.sg/ |
| ADDRESS | 65 Chulia Street OCBC Center #46-00 S049513 |
| CONTACT DETAILS | [email protected] +65 9789 3563 +65 6917 4966 |
Established in 2012, M3 Multiservices is a waterproofing company that has rightfully earned the name of "leak expert" in Singapore. Here are other things you should know about it:
M3 Multi Services employs a huge team of highly trained waterproofing specialists who handle all roofing and ceiling materials, so there's no need to worry about hiring under-qualified people for the job.
Unlike most waterproofing companies, it offers a comprehensive, no-obligatory on-site inspection that includes non-destructive testing, destructive testing, special equipment scanning, and direct inspection.
You aren't obligated to proceed with its services in case you're not convinced with its approach. However, we doubt that you would because almost every customer has no problem with its waterproofing services.
Another thing we like about M3 Multi Services is the customised waterproofing solutions to make sure that the preferences of each customer are accommodated. As a result, you only pay for the services that your home needs.
Aside from waterproofing and coating, M3 Multi Services also offers a variety of home interior and exterior improvement services like concrete repair works, painting works, and minor construction work.
No-obligation inspection
Reasonable rates
Customised waterproofing solutions
FAQs about Waterproofing
---
And with that, we wrap up our list of the companies that do the best waterproofing in Singapore! Expect that no more leaks will damage your home once you let them take care of your Singapore waterproofing.
By the way, in case your bathroom also needs a total makeover on top of the waterproofing treatment, then you may want to read our list of the best toilet renovation services in Singapore. All these contractors offer great value for your money, based on their track records.