The 5 Best Grout Services in Singapore
To keep home tiles looking and functioning their best all year round, you'll need the best grout services in Singapore.
For your convenience, we gathered info about the typical rates of these services and rounded up reliable companies providing them in Singapore!
How much do grout services in Singapore cost?
It admittedly took some time to review the following grout services in Singapore. The main reason is that we don't live in homes with multiple bathrooms and tiled areas needing professional cleaning or repair.
So what we did was pool together our immediate grouting needs based on our current living and housing conditions. Some of the staff needed their bathrooms serviced, while others wanted their kitchens inspected.
As a result, we came up with the following estimated costs for grout treatments and cleaning services that we believe represent Singapore's average rates.
| GROUT SERVICE DETAILS | ESTIMATED COST |
| --- | --- |
| Epoxy grout treatment for the master bathroom (around 43 square feet) in a 2-bedroom HDB | S$129 to S$215 |
| Grout sealing for 2nd bathroom (around 51 square feet) in a 3-bedroom HDB | S$128 to S$230 |
| Marble gum grout treatment for the kitchen flooring (around 62 square feet) of a 2-bedroom HDB | S$248 to S$310 |
| Wall and floor grout cleaning for a bathroom (around 55 square feet) of a 1-bedroom condo | S$300 to S$380 |
Please note that most professional grout services will conduct an on-site assessment before they can give clients a price quote.
A lot will depend on different factors, including the grouting material, the kind of grouting service required, the type of residence, the total area in square feet, and how long the procedure will take.
The Best Grout Services in Singapore
We delved deeper into what we want in a professional grout service in Singapore and came up with the following non-negotiables:
After coming up with this list, we then researched and hand-picked the companies that we think reflect them best before reaching out to them for quotes and assessments.
1. Grout ProTech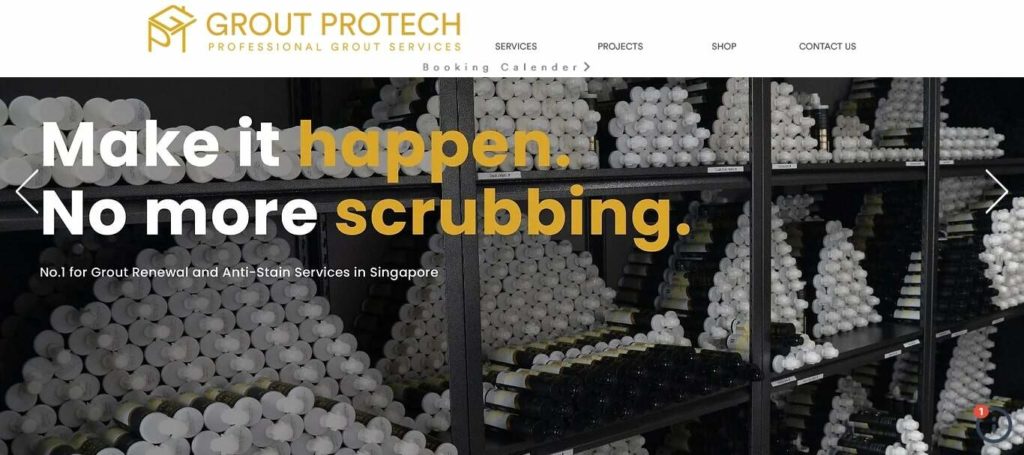 Title
Info
SERVICES
Acrylic grouting, epoxy grouting, and grout sealing, online shop, group buy services and demo
WEBSITE
https://www.groutprotech.com/
ADDRESS
21 Woodlands Close #09-38 Primz Bizhub Singapore 737854
CONTACT DETAILS
+ 65 6970 2820
OPERATING HOURS
(Strictly by appointment)

Monday to Friday: 9 AM to 6 PM

Saturday: 9 AM to 1 PM

Closed on Sundays
Grout ProTech is the first Singaporean company to introduce both acrylic (Epoxy hybrid) grouting and polyaspartic grouting with the largest finishing surfaces. Why is this a big deal, you ask?
For starters, the traditional sanded grout is quite porous and is thus prone to staining. Acrylic grouting is professional-grade, premixed, and resistant to stains, mold, bacteria, and mildew.
It also doesn't require an extra sealant, significantly reducing the time it takes to install it.
But beyond being hybrid epoxy and polyaspartic grout pioneers, Grout ProTech offers clients a free site assessment to carefully gauge the suitability of materials, grout colour, schedule, and final quotation.
Another thing we like about this company is that it doesn't push certain grout and sealant brands to its customers. Its technicians are trained to work with different brands, products, and solutions that best suit the situation.
So while it takes pride in being the first to offer acrylic grouting, Grout ProTech is also well-versed in other grouting materials and techniques. They're first and foremost service providers and not brand ambassadors, after all.
The downside? Grout ProTech's grouting services can cost you S$600 for eight hours (which is definitely higher than national averages)!
Offers free site assessments
2-year warranty for acrylic grout treatment
Isn't tied to particular grouting brands
Singapore Trusted Enterprise awardee for 2017–2018
Closed on Sundays
Costlier grouting rates compared to national average
Customer Reviews
Matched tiles and made them look brand new
"Awesome service by the professionals! The team matched my tiles and made them look brand new! Would recommend them if you are looking to regrout your place!" – Kate Lim
Very responsive, good customer service
"Henry and Sam were very responsive and provided good customer service. The works were completed to expectations. Overall, great job!" – Iren IsMe tan
2. Clean Circle Singapore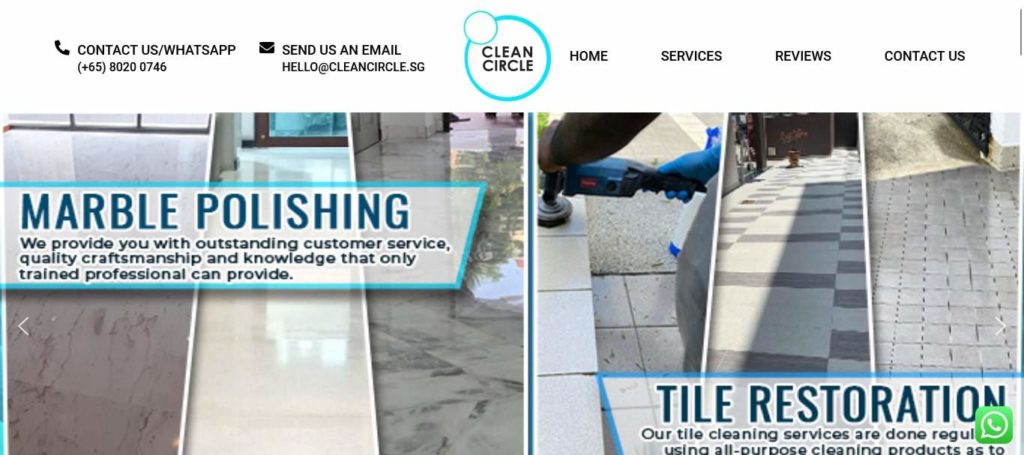 Title
Info
SERVICES
Grouting, tile restoration, marble polishing, deep chemical cleaning, disinfection, carpet washing
WEBSITE
https://cleancircle.sg/
ADDRESS
42C Horne Road, #04-00

Singapore 209066

CONTACT DETAILS
6744 7335
OPERATING HOURS
Monday to Saturday: 9 AM to 9 PM

Closed on Sundays
You might be surprised to find a professional cleaning service in this listicle. However, Clean Circle Singapore impressed us with its verified client testimonies, particularly on how reasonable its pricing scheme is.
The company also offers grout cleaning services to refresh tiles and keep the grout bacteria and mildew-free.
However, because it's more of a "rejuvenation" service, you can't expect Clean Circle to have a range of grouting materials and brands to choose from. There are no other grouting services offered aside from cleaning.
Instead, its specialisation is on maintaining and restoring stone floors for residential, commercial, and office spaces using eco-friendly solutions. To underline its efficiency, clients can request mockups or demos for any kind of stone floor free of charge!
So those with marble, ceramic, or homogenous tiles can rely on Clean Circle for thorough cleaning and polishing. The company also offers promos and discounts to make booking worth your while.
Offers free inspection and estimates
Gives regular promos and discounts
Serves residential, commercial, and office clients
Free mockups/demos
No specialised grouting services offered
Closed on Sundays
Customer Reviews
The results speak for themselves
"Joyce is truly a gem to the company. Had already committed to another grout cleaning company until she won me over with her patience, follow-up on my concerns, verified reviews & warm sincerity. The results speak for themselves. No questions asked when there are areas to touch up, next day appointment is immediately scheduled." – Raphael Chong
Good job removing all scratches from the floor
"Good job removing all the scratches on my parquet floor and polishing my marble flooring as well. Professional job." – Richard Sim
3. Le Fong Building Services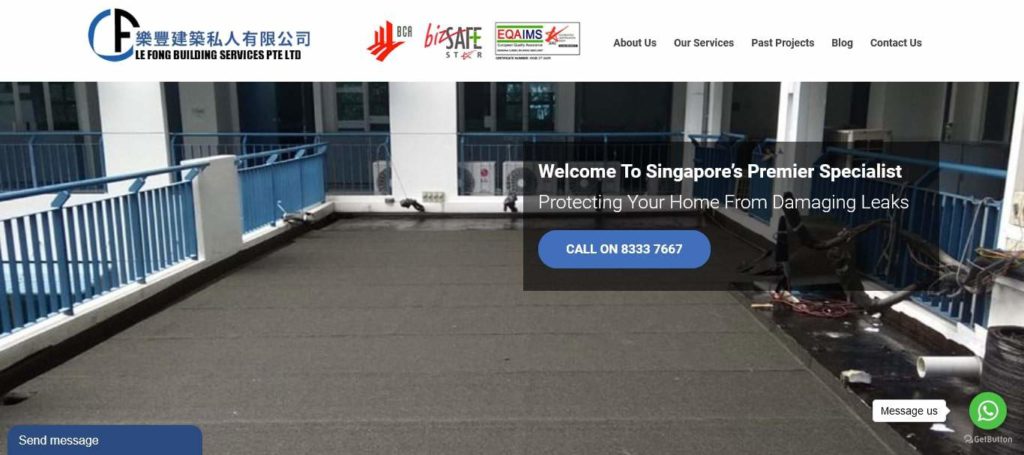 | Title | Info |
| --- | --- |
| SERVICES | Waterproofing, roofing, grouting and injection, repairs on concrete, wall cracks, and structural, water leakage, thermal imaging and insulation |
| WEBSITE | https://lefong.sg/ |
| ADDRESS | 50 Serangoon North #05-03 S555856 |
| CONTACT DETAILS | +65 8333 7667 |
| OPERATING HOURS | 9 AM to 6 PM daily |
Le Fong Building Services is a waterproofing specialist company serving residential and commercial clients. But it also offers a wide range of grouting services, which is quite impressive.
Clients can ask about Le Fong's foam, PU, epoxy, and cementitious grouting. The company also offers acrylic gel grouting for soil reinforcement as well as chipping concrete pressure grouting.
We did check with past clients of Le Fong and determined that some were unhappy about how long it took to reply to their initial queries.
But what makes Le Fong Building Services stand out from other grouting professionals is its in-house grouting techniques. Its team can address under-slab grouting and re-levelling and even industrial-level structural steel and foundation grouting.
Its technicians are willing to explain all the features, benefits, and applications of grouting to clients, which is always welcome. Plus, all of Le Fong's works are backed by a minimum two-year warranty!
Free on-site check
Offers free quotes
Good range of grouting services
2-year service warranty
Price-match promise
Open daily
More of a waterproofing specialist
Some complaints about slow response to queries
Customer Reviews
Prices are reasonable
"It is a pleasure to get service from them. Their service is great. The prices are reasonable too. It's highly recommended!" – Stella Maria
Team worked fast, responsive, professional, and patient
"We would like to thank Jo, Janine and the team for the excellent work and services. From enquiry to completion, both have been responsive, professional and patient. The scope of work was clear and detailed. Both Jo and Janine assisted to help customers understand the requirements and services rendered to deliver the best outcome. The team worked fast and we did not experience delays except due to the weather. Thank you. Hope to work together again." – Siewmeng Cheong
4. SWC Construction Singapore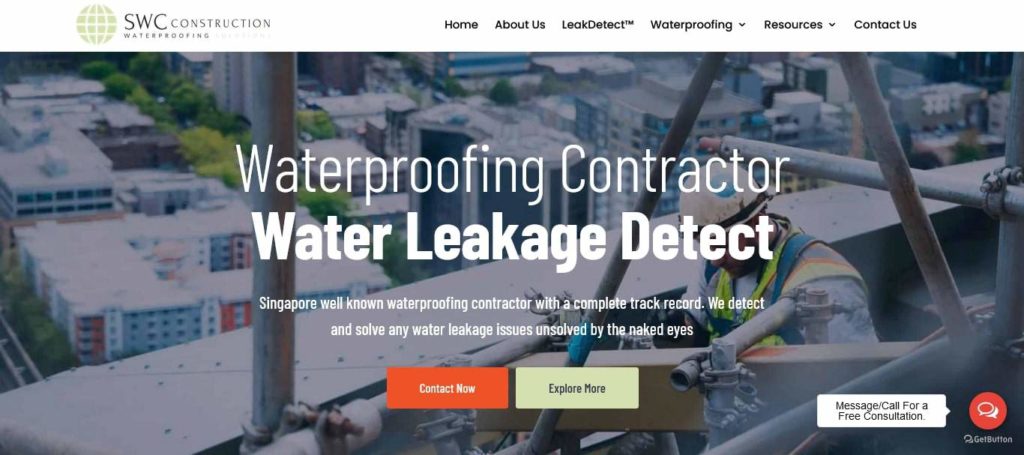 Title
Info
SERVICES
Leak detection, waterproofing, PU injection grouting, leakage repair for swimming pools, bathrooms, balcony, roof, and basement
WEBSITE
https://swcconstruction.com.sg/
ADDRESS
7 Gambas Crescent, #04-12, Singapore 757087
CONTACT DETAILS
+65 8754 4058
OPERATING HOURS
Monday to Friday: 8:30 AM to 5:30 PM

Saturday: 8:30 AM to 12:30 PM

Closed on Sundays
SWC Construction has been specialising in water leakage solutions for over two decades now. And it does so with a trademark LeakDetect system that gives an accurate and unbiased diagnosis of clients' leakage problems.
It's another waterproofing specialist that proudly offers polyurethane injection grouting and PU injection grouting on its menu of services. If you're wondering why, it's the best grouting solution for serious leakages like ceilings, joints, slabs, and floors.
So yes, SWC Construction is the company to call for crack lines and seepage that require injecting resin rather than traditional grouting methods.
The company takes care to explain its steps to potential clients so they can understand the process of PU injection grouting. It starts with a careful water leakage inspection, followed by an assessment and proposed solutions.
The final steps involve closing up the cracks and making them waterproof by injecting PU grouting. A maintenance step follows after the grouting has cured to ensure that the crack is sealed and 100% waterproof.
We like what SWC has to offer but would love it more if there were more grouting options and solutions on the menu aside from PU injection.
Uses high-tech leak detection methods
Offers free consultations
Good range of waterproofing services
Serves residential and commercial clients
Closed on Sundays
No other grout solutions offered
Customer Reviews
Easy to reach and quick to reply
"Engaged SWC for my office. The quote was done professionally and quickly; viewing on a weekend at my convenience. Easy to reach and quick to reply. Top quality!" – Goh Jian Kai
Reasonable quote, one-year warranty
"I would like to commend the excellent services provided by SWC. Their staff Esther and Sebastian provided very prompt and reliable services. Their responses to my requests and queries were fast. Also, both were very understanding of the urgency of my leakage problem and promptly arranged to undertake the rectification works early despite their very tight schedule. Works were completed on 6 May 22. The warranty is for one year. The quote given by SWC is also very reasonable compared to the other specialist contractors.." – LPK Tan
5. Grouting Contractor Singapore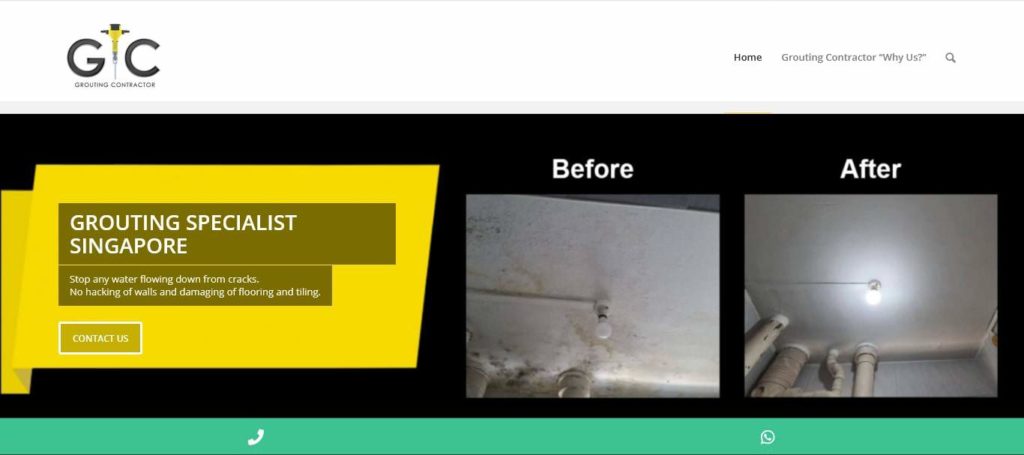 Title
Info
SERVICES
Crack and seepage repair, bathroom ceiling leak repair, pipe leakage repair, residential and commercial grouting services
WEBSITE
https://groutingcontractor.sg/
ADDRESS
31 Bukit Batok Crescent #01-39

Singapore 658070

CONTACT DETAILS
(65) 9337 4383
OPERATING HOURS
Open daily

By appointment only
We know we focused on mostly residential grout services in Singapore. But it's also nice to come across some companies with portfolios reflecting decades of great work on industrial and commercial grouting.
Grouting Contractor Singapore has been around for over 30 years. It offers concrete repairs, waterproofing, and general works but specialises in both PU grouting and epoxy grouting for various cracks and leaks.
What's impressive is how it not only addresses homeowner needs but also provides industrial and commercial grouting solutions.
A quick look at GCS' portfolio reveals an awe-inspiring array of torch-on-membrane waterproofing for building rooftops and PU grouting for huge basement car parks!
The company also offers free quotes and product warranties that can last up to a decade.
Still, it would be phenomenal for GCS to offer emergency grouting services, as it's currently on an appointment basis only.
Offers free quotes
Open daily
Over 3 decades of grouting expertise
Product warranty for up to 10 years
Strictly by appointment only
Customer Reviews
Professional assessment, responsible in following up
"Liaised with Wei Jie. He helped to assess and fix the waterproofing on my balcony – gave a professional assessment of the problem and was responsible in terms of follow-up with the unit below. Also helped to fix a burst pipe in a bathroom, sending his workers down very promptly once he pinpointed the issue, and was very helpful in ensuring that everything was resolved ASAP. Keep up the good work!." – Kimberly Tan
Made sure the job was properly done at the right time
"My roof leakage problem was not able to be solved by the first contractor and Wei Jie from Grouting Contractor took over the issue. He was patient in dealing with the problem and did not rush the job. He made sure the job was properly done at the right time. He's responsible and also responsive to messaging. He's the kind of contractor which I feel I can trust." – Sue C.
FAQs about Grout Services in Singapore
Home Repair and Maintenance Resources