The 8 Best Eye Masks for Sleeping Singapore
Sometimes it's hard to sleep when there's light in the bedroom: a sleeping eye mask is our best bet then if we want to block out all the light from our eyes. They're small products, but the best sleep masks in Singapore can enhance the quality of your sleep because of how they work.
Investing in one means investing in a good night's sleep. To help you make the most of your investment, we've gathered a list of the best eye masks for sleeping to help you get a good snooze.
This list of the best sleep masks in Singapore will help introduce you to the most effective options on the market. We'll start with some notes on how to pick the right sleep mask for you, though.
What's In Sleeping Eye Mask?
When you go around looking for a sleep mask, a good quality one, there are many factors to consider. So, we've compiled quick protips to help you determine what qualifies for a good sleeping mask for your individual situation.
Whether it's for material, fit, and pricing, we're here to guide you on what to choose to block light from your sleepy eyes.
1. Material
First off, you need to sort out what kind of material you want to use. Different fabrics have different benefits for the sleeper.
Silk is comfortable and smooth on the skin, so it's ideal for people who enjoy a good-looking sleep mask, as well as feeling comfy.
Cotton is also a very reliable pick if people want a safe choice, it's comfortable, soft, and is cheap.
Polyester is a synthetic material that can be a more affordable alternative to silk. It's good for those who like lightweight masks.
Foam is a good choice for those who like something soft and contoured around their face. There are many domed foam masks that are popular choices in the market.
Bead masks are weighted and perfect for those who want a little pressure on their face. Another feature of bead masks is that they can be heated or cooled.
2. Fit
When trying on a sleeping mask, it's essential that you buy something that is snug enough to block out the light in the room. Loose garters can be quite a nuisance because the mask can slip down your face while sleeping.
Getting a mask with an adjustable strap is you best bet to make it fit your face.
3. Sleeping Position
Another factor in the equation is how you sleep.
If you sleep on your side, you might want to avoid bulky sleep masks to avoid discomfort. Back sleepers should get eye masks that are properly contoured around the face to block out light at any angle.
Meanwhile, stomach sleepers should choose a lightweight, thinner mask, so the face doesn't get any creases upon waking up.
The Best Eye Masks for Sleeping in Singapore
With all those things in mind, let's now go over the most amazing sleep masks you can buy in Singapore for a good price. We've gathered the sleep masks that have helped many people achieve a restful sleep and blocking light out completely.
Without further ado, here are our picks for the best sleep masks in Singapore that'll help you get a good night's sleep.
1.   Bed Tribe Bamboo Deep Sleep Mask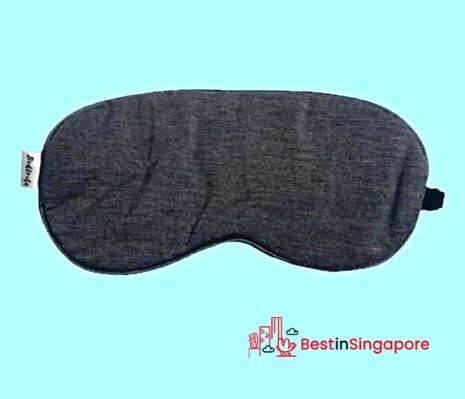 Price: $15.00
Among the products on this list, Bed Tribe Bamboo Deep Sleep Mask is the most affordable sleeping mask in Singapore. Plus, it comes in three different colours, black, grey and rose!
What makes this product the best sleeping mask is its 95% natural lightweight iced bamboo fabric that no other masks have. You can ensure complete darkness that can help make your sleep more deep and soothing.
A factor why people prefer to buy this is because it is the only mask that has an elastic band with an adjustable buckle. This was intentionally designed like this so that it can fit all sizes.
Even though it is the cheapest sleeping mask, Bed Tribe does not compromise on its quality. Along with the mask comes in a storage pouch so that it would be easier to bring on your trips.
Highlights
Length 21cm
Width 10cm
Can request to return within 30 days of purchase
Customer Reviews
Here are some reviews from their previous buyers:
"Super Soft and Comfy! Love this sleep mask and it's helped me have better sleep by blocking out the light. Highly recommend!: 
– Audrey Low
"Best Sleep Mask. The most comfortable sleeping mask ever. Provide me with the best sleep i ever need."
– Cheryl Kok
2.   IMAK Pain Relief Mask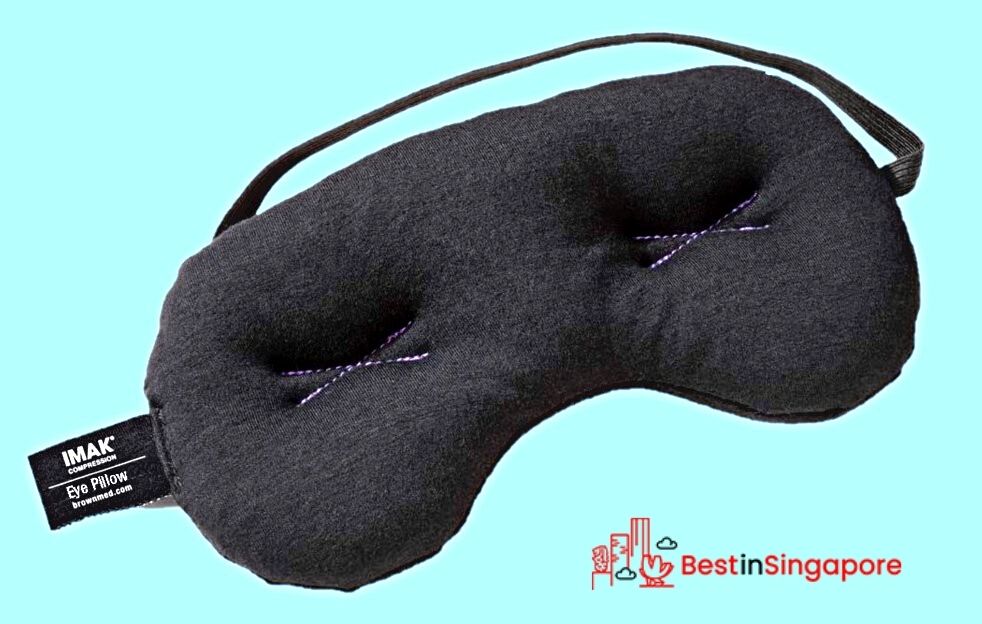 Price: $33.99
Limited Stocks At Amazon, Buy Now
The Imak Pain Relief Mask is a bead-filled mask that can be cooled and can retain the temperature for around 20-30 minutes. It's ideal from those suffering migraines or headaches since its weighted design puts pressure on points of your forehead and surrounding areas, as well as helping it stay in place.
It's made out of comfortable lycra material, and the part where the eyes rest have contoured spaces to help your lids and lashes blink. This sleeping eye mask is definitely a great pick for those who enjoy a little heaviness.
Highlights
Weighted design
Can be cooled
Contoured spaces around the eyelids
Customer Reviews
Here are some review from Amazon about the Imak Pain Relief Mask:
This mask is simply amazing. I mainly use it to block out light when I have a migraine and it does a great job. The little beads inside allow it to contour to your face and add the smallest bit of weight to relieve eye pressure from a headache. The only downfall I have found is with the single strap. It's adjustable, which is great, but it's a single strap which can make placement tricky if I am wearing my hair up and doesn't stay in place while I'm sleeping. Could definitely benefit from a double strap. I haven't stuck it in the freezer for fear of the soft cloth soaking up weird smells, and if you've had a migraine, you know how smells can affect you during a headache! However, aside from not getting to experience the full cooling action of this mask, the beads stay cool on their own and I am always pleasantly surprised how cool they are when I put the mask on. I may have to buy another because my husband enjoys the feel of this mask, too. Definitely a great purchase if you suffer from any type of headaches.
-Christie L. Bowman
I love this product for migraines, tension, headaches. It cools the eye area. It's incredibly soft if you can't stand to feel texture while experiencing a migraine. I keep it in a plastic bag in the freezer so it won't pick up smells. I thinks it's filled with gel beads to hold the coldness in. It has two hooks to make it tighter if needed. The minute I put it on, I have relief. I don't take meds for my migraines yet. I am hesitant to go trust route. I turn of the lights and put headphones on and have to lay down. This keeps out all light even near the nose area. It's hands down a miracle.
-Jenn A.
3.   Nidra Deep Rest Eye Mask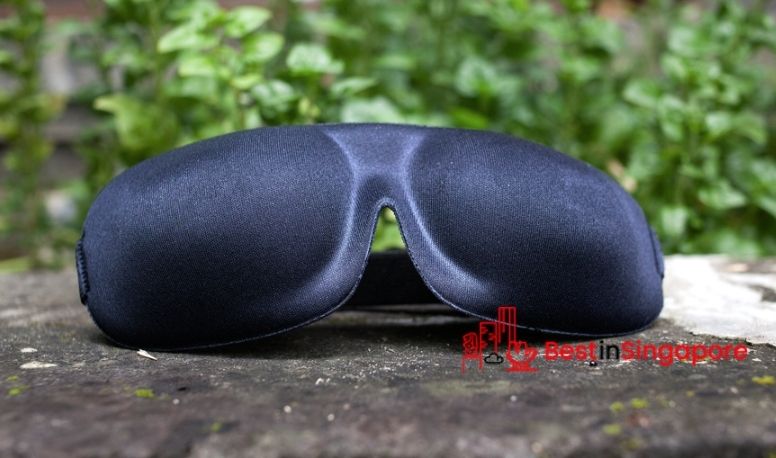 Price: $24.00
Limited Stocks At Amazon, Buy Now
Nidra Deep Rest Eye Mask is described by one of its users as the sleeping eye mask equivalent of noise-cancelling headphones. It's ideal for the frequent traveler since it's lightweight and can be carried around anywhere.
The contoured shape helps it fit around your head no problem, and it has adjustable Velcro straps. The mask is also domed, which gives the eyes ample space to blink.
And the best part? It's design allows maximum light blockage despite being one of the more affordable masks on the market.
Highlights
Maximum light coverage
Hollow design to help eyelids blink
Affordable
Customer Reviews
Here are some reviews from Amazon about the Nidra Deep Rest Eye Mask:
This sleep-eye mask does the trick. It fully covers the eyes and is thick enough so that barely a photon of light enters in. There are two different nose sizes/shapes from which one can choose, by simply turning it upside-down. the elastic band in the back can easily be adjusted for any head size. my only complaint about this is that the two sides of this elastic band come together right at the back of the skull, so that, if you sleep on your back, it will push into the back of your head. i tilt my head so my nose and chin are up in the air (my perfect solution to snoring) and that pretty much solves the problem. i was going to cut it and resew it, but never bothered. i just think a better design would be to have the two segments of elastic meet somewhere between the back of the ear and the back of the head. All in all, this ensures a deep and complete night's sleep. p.s. if you need to awak at a certain time, you can't rely on sun pouring in your window. this makes it feel like night, even at day break!
-Grace Weaver
I've tried so many different brands of eye masks including Bedtime Bliss, Bucky 40 Blinks, Cabeau, and many others, so when I saw the rave review on wirecutter, I was skeptical. But it was cheap, so I tried it, and, yes, this one is the most comfortable. The difference between the Bucky 40 Blinks one and this one wasn't huge, but it made a big difference. On this one, the mask is much smaller so when I sleep on my side, it doesn't push into my cheek as much. It's also loose enough that it doesn't feel tight, which was a problem with the others. The strap isn't scratchy and rough against my ear like some of the others – that was a dealbreaker for me. The Bedtime Bliss one had fabric that would just peel off after a few months, and this one doesn't do that, thank goodness. It's not perfect – the velcro still catches on my hair sometimes (but not as badly as with the other ones), but it's so comfortable and feather light that I can sleep all night with it on and forget it's there. That's the first time that's ever happened with an eye mask. This is my new go-to mask for travel.
-Jane
4.   Mavogel Cotton Sleep Eye Mask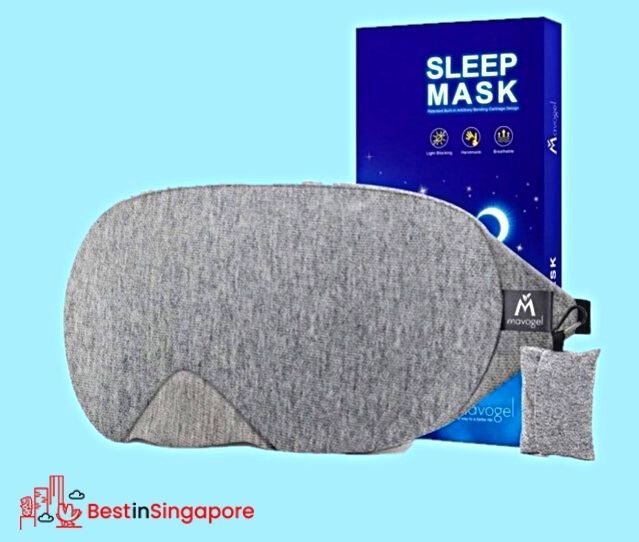 Price: $21.01
Limited Stocks At Amazon, Buy Now
Mavogel has long been a popular pick for side and back sleepers. Its large size with the flexible nose piece and flaps on the side blocks out light from any angle.
Many users also comment that even if you sleep on the side with this sleeping eye mask in Singapore, it doesn't bunch up. Its cotton material is absolutely smooth and comfortable against the skin; it's also very soft and breathable as well.
It also has a wide, adjustable strap that can be fixed to fit any size, they recently fixed the strap's buckle so it won't hit your ears when napping. This makes it one of the best sleep masks in Singapore!
Highlights
Flaps and nose piece blocks out light
Fits any kind of sleeping position
Breathable
Customer Reviews
Here are some reviews from Amazon about the Mavogel Cotton Sleep Eye Mask:
I had been using the Drift to Sleep mask. It's a good mask with that "3D" structure which just means it bulges out over your eyes so they don't feel any mask pressure. Trouble with the Drift to Sleep is that I'm a side sleeper. Side sleeping causes the 3D masks to bend just enough to allow light in around the bridge of your nose. This Cotton mask, though, is soft and floppy so it does not bend when you side sleep. On top of that, they've sewn in a stiff but flexible wire where the mask contacts the bridge of your nose. As long as you gently squeeze form that wire into place across your nose (sometimes after your head hits the pillow) no light will get through. You will experience total blackness or something very, very close to it. My eyelashes do contact the inside of the mask. But as long as I'm not blinking while wearing the mask (and I'm not) it is barely noticeable. One other important feature of this mask is the adjustable strap. It really works and it is does not use Velcro. I've used the mask everyday for about 6 weeks. And I've traveled with it. It still looks and works great. It should last for a long time. 
The mask does come with a case. I don't like the case because it's to small for the mask unless you really fold it small.
-S. Potter 
This is probably not the eye mask I would have bought because the price point is a bit higher than I would want but decided to give it a chance because of the reviews. I must say that it's really the best eye mask I've ever used tho. Most eye masks are flimsy and doesn't really keep out light. Not this one! Because this eye mask is padded, light really does not get through at all. The adjustable nose bridge also helps in making it comfotable to wear.
The best part is for me is that IT DOES NOT MOVE through the night! Other eye masks I've used have always slid off my head sometime during my sleep. I usually even put the band under my hair, by the nape of my neck, just to try and get the sleep mask band to stay put while I'm sleeping. It's never worked, I always wake up with other sleep masks long gone and light streaming through the windows waking me up. This is the first sleep mask I've used that I just put the band behind my head and it's stayed on! I was actually a bit worried the first time I used it and had the band too tight–my eyes felt flat the next day. I loosened the adjustable band to make it more comfortable and it still stayed on. I also liked that the material that touches the eyes is like a very soft t-shirt fabric, it's very comfortable to wear and does not scratch or irritate my skin.
Shipping was fast as well. It came well packaged and the mask had a carrying case for travel (which was a nice surprise). All in all very happy with my purchase.
-Nalani
5.   Alaska Bear Natural Silk Sleep Mask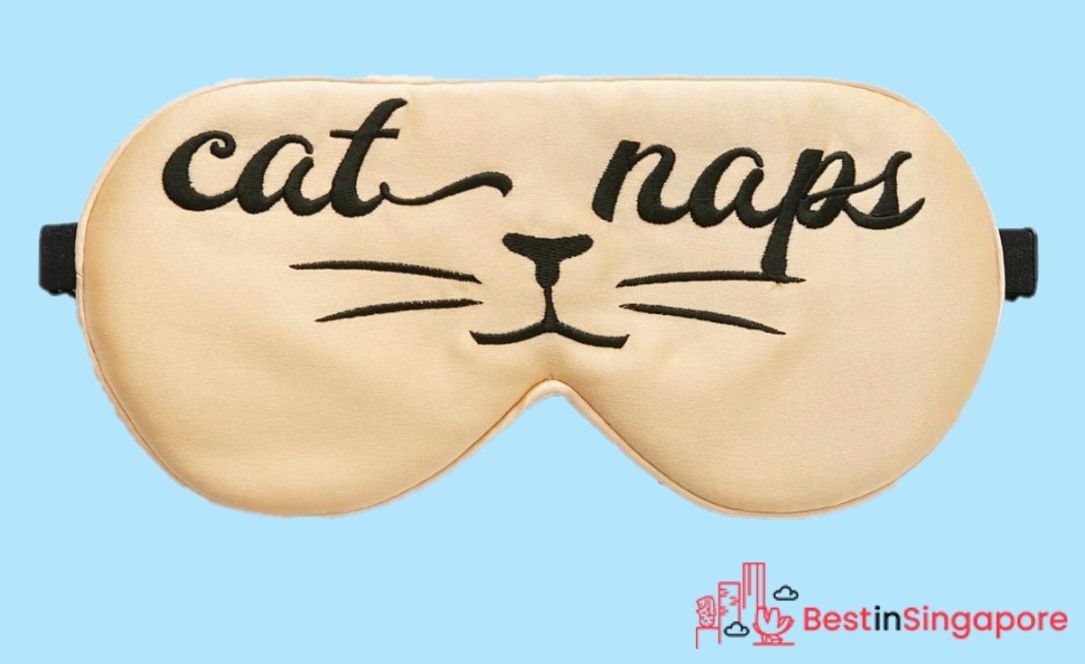 Price: $34.03
Limited Stocks At Amazon, Buy Now
Alaska Bear is the most popular pick for a natural silk mask due to its breathability and comfort. It boasts an easy-to-adjust strap that won't snag on your hair or your pillows.
The best part is it comes in both single-strap and double-strap versions that will definitely stay on your face while you snore the night away. Many attest to how amazing these are, so much so that these masks have earned a spot on this list as one of the best sleep masks in Singapore.
Highlights
Hypoallergenic
Affordable
Comes in single or double strap version
Customer Reviews
Here's a review from Amazon about the Alaska Bear Sleep Mask:
Never thought I'd love a sleep mask. Got it to try several months ago and now own several of these. Very soft, smooth, breathable, fits perfect and blocks light 100%. Easy clean, hand wash with baby shampoo. Works well under Cpap (nose pillow ) strap.
-C. Forrester
I absolutely love my sleep mask ! I think the real test was when I took a nap in the middle of the day in bright sunlight … full makeup and false lashes still on. I awoke looking refreshed and ready for date with my sweetheart. The adjustable strap makes it very comfortable. I wash it in a pillowcase along with my lingerie and it's held up perfectly! I purchased this mask because Alaska was in the name and I was searching for something to block out the light completely . I'm 100% satisfied ! I'm thinking of buying more as gifts.
-Martha Gonzales
6.   Mzoo Sleep Mask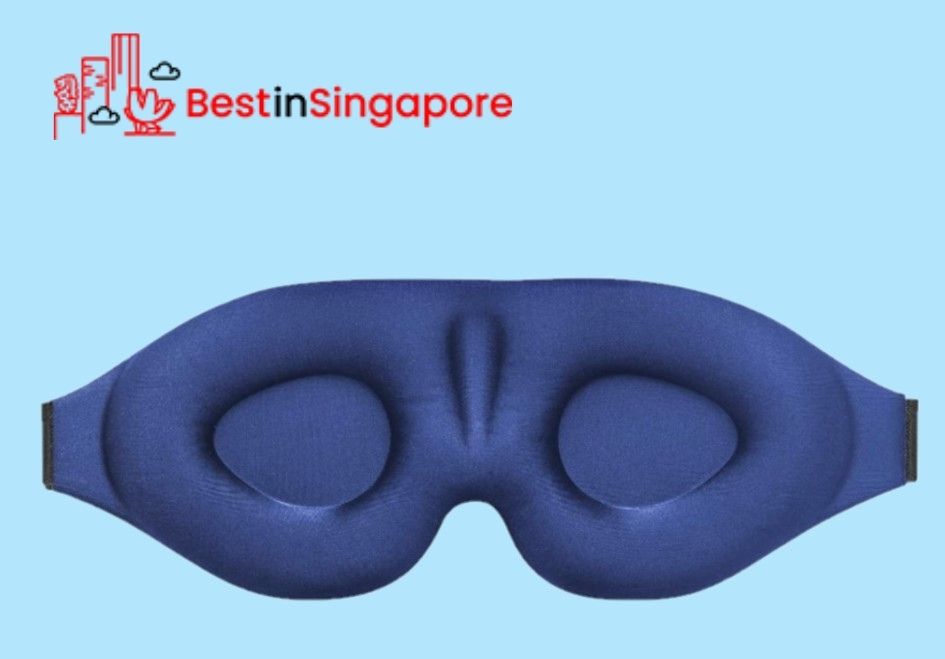 Price: $41.99
Limited Stocks In Amazon, Buy Now
Mzoo has an all-black design reminiscent of goggles, but this look helps them achieve an efficient way to help people sleep. It's one of the best contoured sleep masks out there, and has plenty of space for you to blink.
The material is comfortable and breathable, as well as cushioned with memory foam to add extra softness. It blocks out light effectively even if its design means it may not be ideal for side sleepers; nevertheless, it gets its job done.
Highlights
Memory foam
Not for side sleepers
Clean and refreshing
Customer Reviews
Here's a review from Amazon about the Mzoo Sleep Mask:
This eyemask is perfect if you like to have total darkness when you sleep. It is so comfortable around my face and the mask even comes with adjustable straps so you don't wake up with sleep lines. Included are cute ear plugs enclosed in their own case and a silk draw string bag to carry your things in. To add, I was also impressed with how aesthetically pleasing the packaging was. I totally recommend.
-Bill Curtis
I've purchased several different sleep eye masks over the years. Some have been better than others with the fit, comfort and durability. With my previous pair finally breaking down, I decided to splurge for a nicer pair that included form-fitting padding integrated into the contoured mask. I was a little concerned the mask might warm up, as with some foam pillow. To my delight, the MZOO mask is exceptional. No only does it fit very comfortably, the foam padding around the edge creates a nice cushion when sleeping on side or stomach. Unlike other masks that press into your eyes if you sleep with your face partially on the pillow, the foam cushion provides a very comfortable and contoured fit around your eyes. The mask also provides a very good seal for blocking light. Overall, an outstanding design for a very reasonable price!
-Doug
7.   Van Gogh Sleep Mask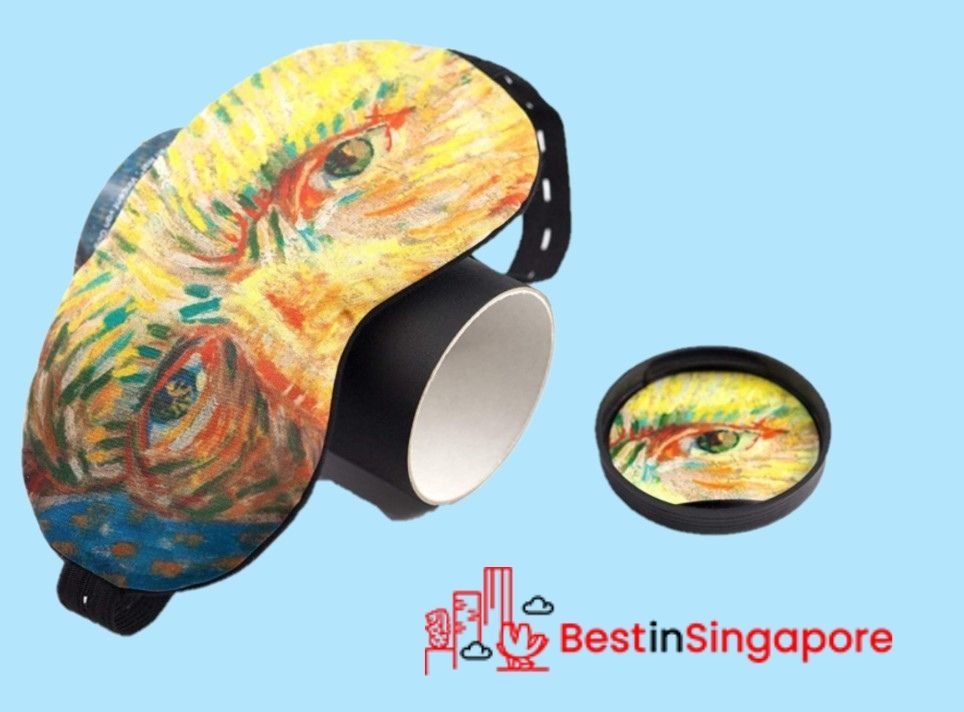 Price: $22.99
Buy It Now in Shuba Gift Factory
Once created for a specific project, the Van Gogh Sleeping Mask has won several international awards for its splendid structure and design. It was a project founded by Lesha Limonov.
Known as the 'mask with the masterpiece's eyes', it has amazed everyone with its design of the famous Van Gogh– specifically, the eyes of the picture "Self-Portrait".
Made from environmental friendly materials, the mask is not just beautiful, it is also created without harming the environment. As it is made of 100% cotton, you will surely have no problem sleeping at night.
Highlights
Made from environmentally friendly materials
Inside is 100% Cotton
8. Airportag Sleep Mask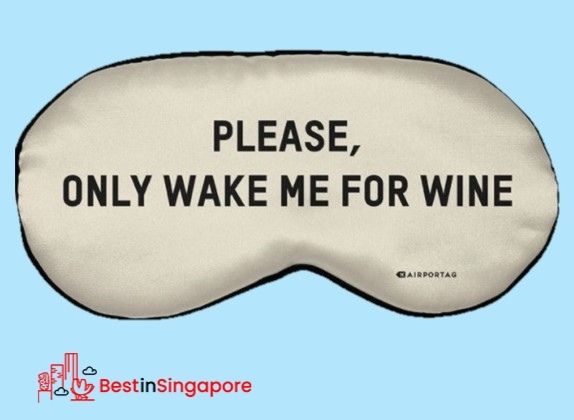 Price: $19.90
Having trouble sleeping on flights because you'd like to stay alert when it's time to eat or time to land? If you answered yes to these then the best sleep masks for you may be in Airportag. 
Airportag's sleep masks combine humour and comfort as it has witty statements on one side and a soft microfibre surface at the back. So, if you like to make a statement even when you're asleep, then any of Airportag's masks can surely be a great pick.
Its sleep masks only come in one size. But each mask already has adjustable elastic bands to fit anyone, of any age and head shape.
And the best thing about them is that they're available at an affordable price of $19.90. You can even customize your own sleep mask, from the colour to the statement, for $29.90.
Since Airportag has all types of aviation products, you can also buy neck pillows and blankets to make your flight sleep as comfortable as ever.
Highlights
Affordable

Funny and witty statements

Customizable sleep masks

Large selection of aviation needs
Customer Reviews
Here are some customer reviews to tell you more about Airportag's sleep masks:
"LOVED THE MASKS I ORDERED AND DELIVERY WAS VERY QUICK! WILL DEFINITELY BUY AGAIN…SOON!!!"—Mary Anne Meier
"The Charging mask Is a perfect gift for people who need their sleep but still want to make a fun statement."—Angela R
"Wake Me In Paris – Sleep Mask (Lovey's) These masks are GREAT!! I like to wear mine at the beginning of all online meetings that I attend. My friends and family call eye masks "Lovey's" , named after Mrs Howell III."—Chris M
And that ends our list of the best sleeping eye masks in Singapore. Turn off the lights, and take a long, well-deserved, restful sleep with these amazing choices that will get you through the night uninterrupted.
Did we miss any great masks, though? Tell us its name and what makes it great in the comments below!
And if you need a mattress instead so you can sleep comfortably head on to the list of the best seahorse mattress in Singapore and check out our picks for those.
Need a topper for the mattress instead? We have a list for that too: check out the best mattress toppers in Singapore.