The 5 Best Mascaras in Singapore Reviewed
Tired of wearing heavy falsies just to achieve fuller and longer eyelashes? Well, instead of looking for weightless falsies, you must consider using the best mascara in Singapore!
Mascaras are much easier to apply and they can also last longer than false eyelashes. Whether you need some volumizing or lengthening, mascaras can instantly give you natural drop-dead lashes with just a few swipes.
But with the countless cosmetic brands that produce mascara collections, how do you know which one to choose?
Well, before we go to our list of the best mascaras in Singapore, we'll help with that. We'll take a look at the key factors that you must consider first so you can easily figure out which mascara suits your needs.
What to Look for When Choosing a Mascara
Mascaras come with different types, wand sizes, thickness, and many more features. To determine the right mascara for your preferred style, here are some things that you need to keep in mind when buying mascara:
1. Type of Mascara
As mentioned earlier, the best mascaras can either boost the length or volume of your lashes. You can achieve any look as long as you've got the mascara that fits your needs.
To determine whether the one you're looking at is the right mascara or not, you should know first which mascara type suits you the most.
Lengthening Mascara
For those who have short eyelashes, this type would be a perfect choice. The brushes of lengthening mascaras often have comb-like bristles that contain a formula for adding length and fullness.
They give a clump-free effect too, letting you have natural-looking fluttery lashes.
Volumizing Mascara
This type of mascara features a thicker and buildable formula that plumps up the lashes, giving you bigger lashes needed for a dramatic look. Unlike the other types, the brushes are denser for a more effective application.
To add more volume, you may simply apply more coats while the mascara is still wet.
Curling Mascara
Curling mascaras can help you shape up your lashes, so they are best for those who have fully straight lashes.
This type might be a bit difficult to use and to remove but it's still a better option than pinching your lid!
Waterproof Mascara
This is the most suitable type to use during special occasions where you might find yourself getting a little emotional. This is a good choice while doing gym/physical activities as well.
They're also known as non-smudging mascara, which means that they repel moisture. Your makeup will not be ruined as the tears or sweat run down your cheeks.
They can also be a bit hard to remove, though. That's why it's advisable to wash this mascara off with a cleansing balm or oil-based cleanser before rinsing.
2. Wand size
Even the best mascaras have different wand sizes. Some may be too small or big for you so you must find the one that fits right in your hand.
In this way, you can use the mascara with even application and without causing yourself any discomfort.
3. Brush type
Most mascaras have big and round brushes, the ideal brush type for those who have thick lashes.
However, there are also mascaras with skinny little brushes. This is the right type if you have thin and short lashes.
4. Colour
Some people assume that mascaras only have one colour, which is classic black. Little do they know that they're available in various colours.
You can find brown, green, blue, and even purple. If you'd like to try a whole new look, you may use other colours to have a new and refreshing style.
Best Mascaras in Singapore
Let's now see which products are the top picks in the market. We've rounded up the best mascaras in Singapore right here:
1.   Lancome Monsieur Big Waterproof Mascara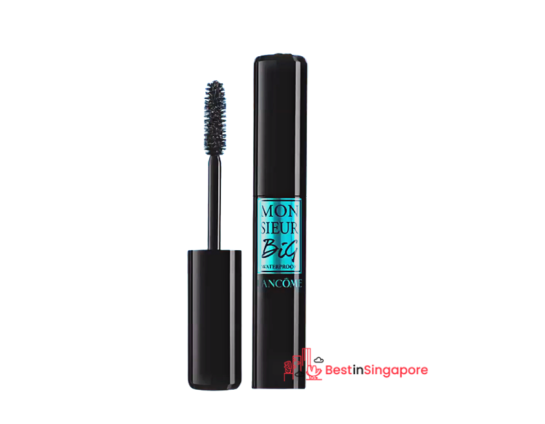 Price: $51.00
The Lancome Monsieur Big Waterproof Mascara can make your lashes bolder and fuller for a whole day! It has a creamy and smudge-proof formula that provides great volume, making it the best mascara in Singapore for those who have thin lashes.
Its brush has soft and wavy fibres so you can apply the exact amount that you need. With this mascara, you don't have to do frequent touch-ups as it doesn't flake too much, unlike other mascaras. 
So this is the best mascara in Singapore for those who don't want touch-ups and have long-day events.
Pros
Comfortable to wear
Doesn't smudge or flake
Long-lasting wear
Cons
Doesn't keep the curl for too long
Dries too fast
Customer Reviews
Beauty enthusiasts were impressed with the Lancome Monsieur Big Waterproof Mascara because of its full coverage in just a couple of strokes. A customer posted this feedback:
"I love waterproof Monsieur Big! It makes my lashes look huge. It builds so you can seriously make them even look like fake lashes ( the professional kind).
I recently went into a lash salon just to enquire about the cost, etc.
The lady said your lashes look great. I told her it was b/c of M. Big. She thought it was my natural lashes!"
2.   Urban Decay Troublemaker Mascara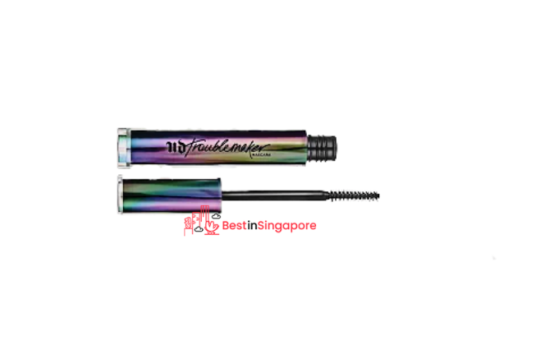 Price: $41.70
If you'd like to have long, fluttery, and intense lashes for a glamorous look, you'll love the Urban Decay Troublemaker Mascara! It features a formula that can lengthen your lashes and custom brush that produces a curl as it coats.
It also has ultra-black pigments, giving a darker intensity. No matter how many coats you add, it'll stay on for a long time without clumping too.
So if you're looking for something that will give your eyes that oomph without the clump, this could be the best mascara in Singapore for you.
Pros
Lengthens, thickens, and curls the lashes
No flaking, smearing, or smudging
Sweatproof
Cons
Customer Reviews
Many customers said that the Urban Decay Troublemaker Mascara is so easy to use and they can instantly have thicker and longer lashes with just a few coats. Some also claim the beauty item is one of the best mascaras in Singapore!
A customer gave this review:
"This is honestly the best mascara I have ever used! My eyelashes are barely existent. They are thin and light but with Urban Decay Troublemaker Mascara my eyelashes are full and long. I honestly can not believe the difference this mascara made on my eyelashes. It also made my eyes pop ! UD went on easy and did not smudge. It stayed on all day. This is by far my favorite mascara !"
3.   Hourglass Caution Extreme Lash Mascara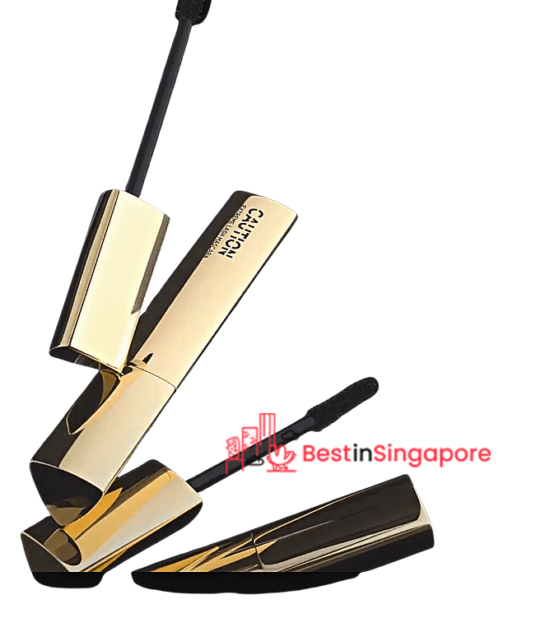 Price: $48.90
The Hourglass Caution Extreme Lash Mascara features a unique 4D amplifier brush that goes beyond the capabilities of a traditional mascara. With this all-in-one mascara, you can add length and volume as well as lift your lashes!
If you have short and thin or almost invisible lashes, this can be the best mascara in Singapore for you! It can even reach the smallest lashes in the corners of your eyes.
Its formula fills the lashes from root to tip, giving full volume in just a single stroke. It's wonderfully dark too, so you know you'll get amazing depth from it.
Pros
Smooth ultra-black formula
No smudging
Not too dry on the lashes
Cons
Customer Reviews
Most customers loved the natural full volume that the Hourglass Caution Extreme Lash Mascara gives to their lashes. They also said that it might be a little clumpy but it's still a worthwhile purchase.
A customer recommended this mascara and gave this feedback:
"I recommend this mascara to anyone because I love it. This mascara makes my eyelashes look amazing. The formula is great because it is not too dry on my eyelashes, but it also doesn't smear which is a big problem that I had with mascaras. I have curly eyelashes and it definitely makes them more curly without having to curl them myself. However, I would also recommend this to anyone who has straight eyelashes because my sister who has straight eyelashes tried it and she loves it as well. The only thing I would keep in mind when buying this product is that the scent is not the greatest and your eyelashes do get a little bit clumpy if you put on too much product at once. These things are not that big of a problem to me but I want to let others know that these are some things that I have encountered along the way. Overall, I recommend this product, I have already bought it 3 times and I am going to continue to use it."
4.   L'Oreal Paris Lash Paradise Mascara
Price: $18.32
With the ultra-soft brush of the L'Oreal Paris Lash Paradise Mascara, you can have fully volumized eyelashes with a feathery and soft look. It's a good option to use for casual or daily wear.
It also has a smooth-glide formula that can be easily absorbed and that lasts for a day. This waterproof and smudge-proof mascara can also lengthen your lashes without any clumping.
We like its longevity so if you know you'll be out the whole day, we think this is the best mascara in Singapore for you. 
Pros
Flexible bristles
Real falsie effect
Waterproof
Holds a curl well
Long-lasting
Cons
Thick and large wand
Bulky applicator
Customer Reviews
Customers were satisfied with their overall experience of using the L'Oreal Paris Lash Paradise Mascara. They also said that though the wand might be too thick for some beauty enthusiasts, it's still one of the best mascaras in Singapore!
A customer left this feedback:
"This mascara has such a great formula since it definitely meets its claim of being waterproof, smudge proof, and lasting all day. I would use this before exercising and sweating like a pig, but my lashes would remain intact with no fall out or smudges. Beware though: sweating profusely can make the product enter the eye, which can cause a slight burning sensation and irritation. Aside from that, my only negative comment would have to be the wand. Although it does a spectacular job at making my lashes look thick (and yes, voluminous) in one swipe, the application is always so messy. The wand is so thick and it always picks up way too much product, which makes my lashes clump together if not applied super carefully. I almost always have to get a spoolie to separate my lashes after. Perhaps there's a learning curve to this since I'm used to using mascara with very thin wands. Again, great formula but I wish the wand were thinner."
5.   Heroine Make Super Waterproof Volume & Curl Mascara in Black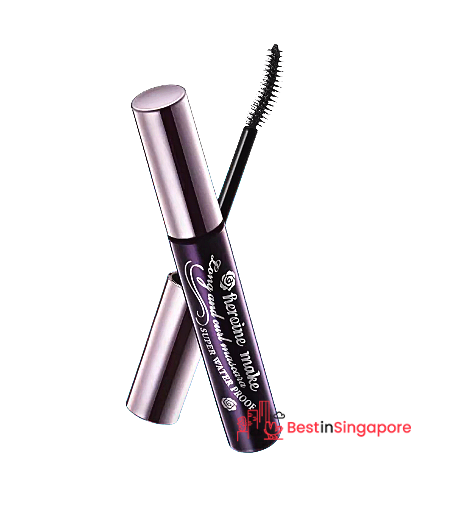 Price: $17.90
To achieve a natural and long-lasting curl, you must try the Heroine Make Super Waterproof Volume & Curl Mascara in Black! It serves full and flirty lashes through the extra fibres on the brushes, perfect for those who have straight strands.
It gives a glossy finish and lifted curls that can stay in place for several hours. This best mascara in Singapore is highly resistant against water, tears, sweat, and oils, leaving you with a smudge-free look!
Pros
Long-lasting curls
Doesn't clump or flake
Waterproof
Cons
Customer Reviews
Some said that compared with the other mascaras, the Heroine Make Super Waterproof Volume & Curl Mascara in Black might take a longer time to take off, especially without a cleanser. Despite this, they still recommended the item for its long-lasting falsies effect.
A customer wrote this review:
"It is a very heavy-duty mascara. I would recommend it very highly for those times when you want to make sure your mascara stays put no matter what. I like to use it everyday personally. They are not joking around when they say this is super waterproof and it is on #1 spot on Cosme for a reason. It is truly amazing and I would say run out and buy it!"
Do you already know which one from our selected best mascaras in Singapore you'd like to try? Let us know as we'd also like to hear about your thoughts!
And to further enhance your eye makeup look, you may also use the best eyeliners in Singapore! Whether you want to try a fierce, sophisticated, or casual look, these selections can help you achieve any style that you want!