10 Best Recruitment Agencies in Singapore: 2021 Trusted List
There are many reasons you might be looking for the best recruitment agency in Singapore.
You could have recently graduated from college or resigned from your previous job. Or you might be tasked with recruiting new talent or personnel for your company.
Whatever the case, the top recruitment agencies in Singapore are capable of finding and matching the perfect employee to the perfect job. That makes a great recruitment agency in Singapore indispensable to both job-seekers and companies alike.
Fortunately for you, we've already gone through the options for recruitment agencies in Singapore to see who ranks best. At the end of our research, these are the best candidates we found to be worthy of the title of the best recruitment agency in Singapore.
1. Randstad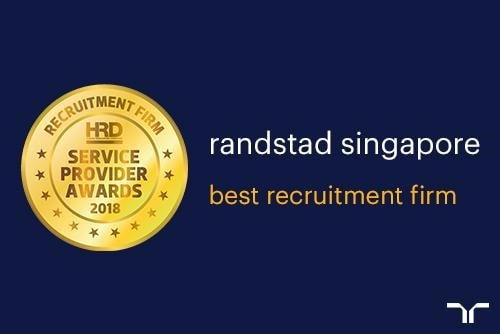 BEST FOR: Dynamic Human Resources Services and Solutions
WEBSITE: https://www.randstad.com.sg/
ADDRESS: 50 Raffles Place, Singapore Land Tower, #17-02, Singapore 048623
CONTACT DETAILS: +65 6510 1350
OPERATING HOURS: Monday to Friday, 9am to 6pm  
Randstad has been providing recruitment and HR services for more than a decade. Whether it is a startup company, public or private organisation, or even an international enterprise, their years of experience as an agency in Singapore will provide you with a well-managed on-boarding process.
You can use their platform as a job seeker or an employer. Aside from the actual employment, they also offer solutions such as payroll and outplacement.
Just key in the exact area of expertise that you are looking for and you will be introduced to a range of options.
Service Highlights
Wide range of specialisations
Managed programs
Payroll services
Customer Reviews
Randstad is one of the longest-running agencies on the island. According to their clients, the main reason behind their success is their use of strategic methods that keep up with the changing market.
2. Manpower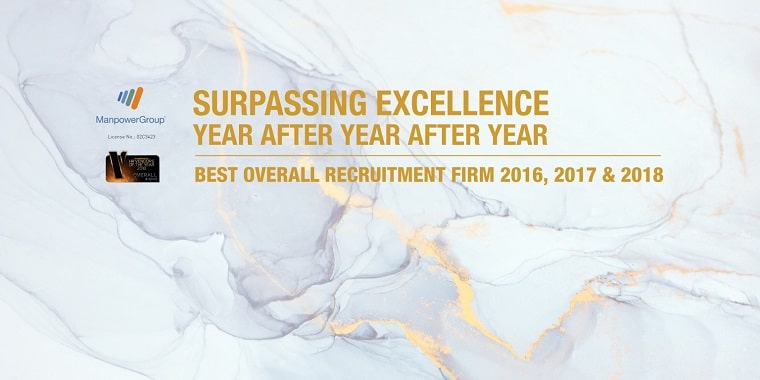 BEST FO: Time-efficient and Proficient Talent Resourcing
WEBSITE: https://www.manpower.com.sg/
ADDRESS: 1 Wallich Street, #09-02 Guoco Tower, Singapore 078881
CONTACT DETAILS: +65 6232 8811
OPERATING HOURS: Monday to Friday, 9am to 6pm
Manpower is a Singapore job agency that has gained family brands that help various organisations find skilled talent on any expertise and ensure career/partnership longevity and sustainability.
With their professionalism and HR solutions, employers will surely be delighted as they obtain better matches and outcomes. For the job-seekers, they guarantee career growth and permanent employment from techniques that lead personnel to the ideal job.
Service Highlights
Detailed background of the company and job description
Workforce solutions
HR assessments
Free skills training
Customer Reviews
Manpower also offers special programs that will benefit the development of potential employees. This includes advising on resume writing and interview skills, as well as career direction for those who are not yet certain about their path in life.
Hence, they have earned the trust of employers and job seekers. Ayodele Marshal shared this experience on the company's official Facebook account:
"My girlfriend secure job through Manpower Singapore and she speaks very good about the service. I will like to try my luck too to secure job through your good service."
3. Phoenix Recruitment Pte Ltd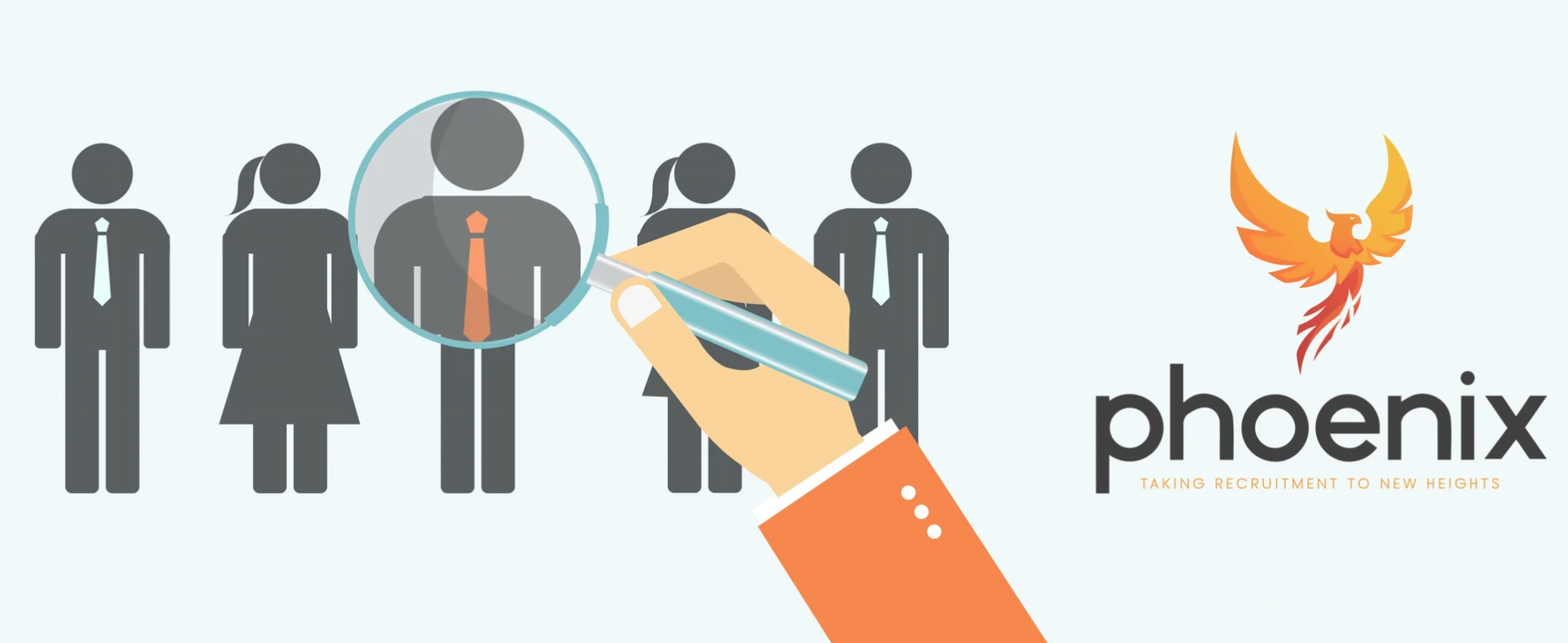 BEST FOR:  Specialist Recruiter within the Construction, Engineering & Built Environment Industry
WEBSITE: https://phoenix-recruit.com/
ADDRESS: 10 Anson Road, #10/11 International Plaza, Singapore 079903
CONTACT DETAILS: +65 6463 4941
Phoenix recruitment was formed in 2020 in Singapore off the back of over 35 years combined Real Estate, Construction, Engineering, Architecture & Design experience in Singapore, Hong Kong, UK & the wider APAC region.
They service the Construction and Real Estate sector, working on Civil, Infrastructure, Commercial, Residential, Hospitality, Mixed-Use, Marine and Energy projects across Asia. They will assist their clients from investment feasibility and design stage, through to design, build, completion, and handover of the project.
Phoenix may be one of the newer Singapore recruitment agencies around, but their founders have over 35 years of combined experience in the placement field that they specialise in. 
Service Highlights
Market Specialists within the Built Environment, Construction & Engineering sectors handling technical positions.
Contingency Search, Retained Search & Tender Search solutions offered
Specialist Market Mapping & Headhunting techniques applied
Customer Reviews
Robyn Thomas Project Director of Gammon Construction.
"I first worked with Babs in 2009 when starting a new venture in Singapore and I can safely say that those early candidates that Babs screened and introduced which we went on to employ formed a solid foundation for what was and continues to be a successful business. Babs was able to immediately grasp the essence of what calibre of personnel was required and unlike many others in the recruitment business would always ensure that what was presented as possible candidates had been carefully reviewed/interviewed and considered so that for both myself as the prospective employer and the candidate being interviewed we knew exactly what to expect and everyone's expectations were in line. I would have no hesitation in recommending Babs to fulfill your recruitment requirements whether it be singular requirements to replace and or enhance an existing team or the whole team from a standing start. Outstanding service from start to finish!"
4. Sciente International Pte Ltd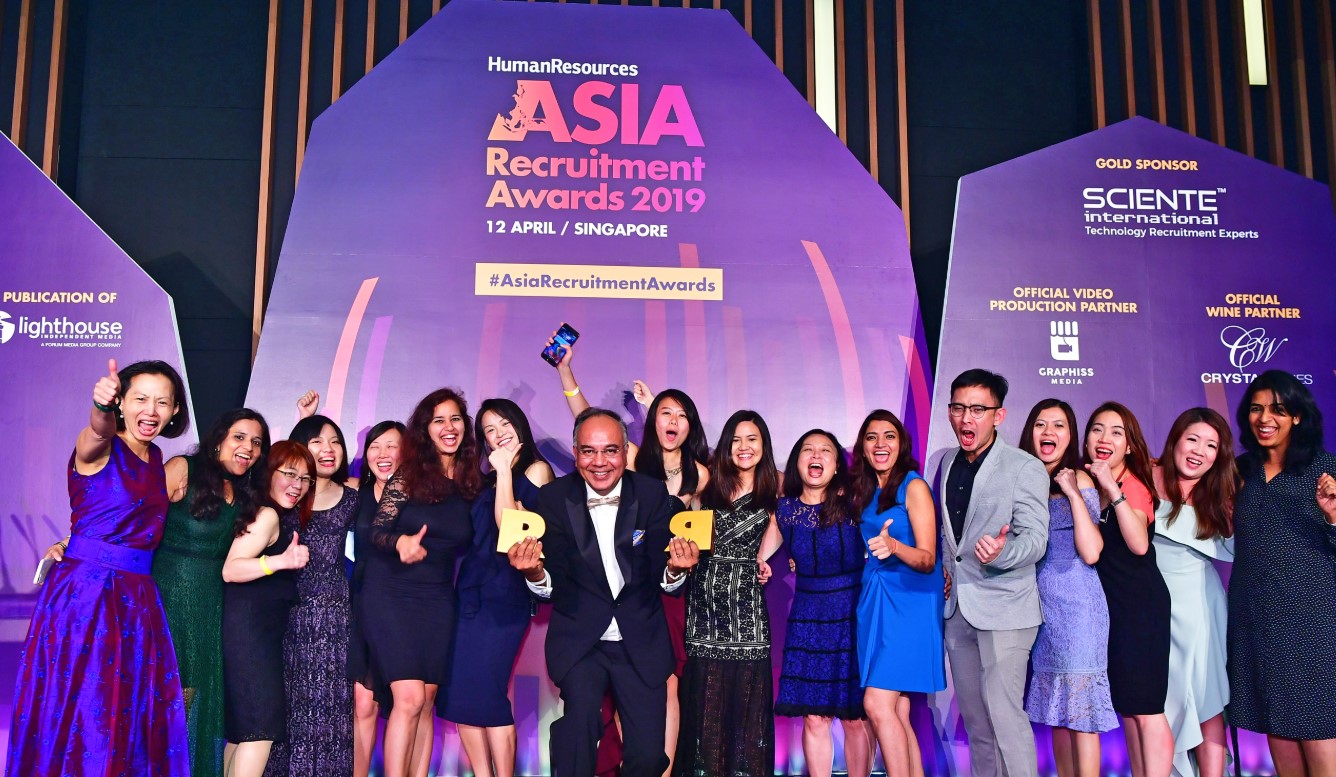 BEST FOR: Recruitment consulting services
WEBSITE: https://www.scienteinternational.com/clients/it-recruitment-services-singapore
ADDRESS: Unit 09-06, 51 Changi Business Park Central 2, The Signature Building, Singapore 486066
CONTACT DETAILS: +65 6635 3888
Sciente International is a Singapore recruitment agency that helps clients through their diverse range of experience and insights gained in addressing talent management problems. Their consulting teams comprise a synergetic mix of business and technology competencies as well as a deep understanding of the financial services industry and the issues that are relevant to it.
With their unique approach of working in partnership with our clients, Sciente can help plan and manage the design of the most optimal teams and organizations, and of course, staff them as well with the right people at the right time and at the right cost.
If you're looking for a recruitment agency in Singapore that focuses on team optimisation, Sciente International should be on top of your list. 
Service Highlights
Technology Career Transition
Contingent & Retained Search
Onboarding Outsourcing
Rapid Team Formation
IT Recruitment Process Outsourcing
Customer Reviews
Thadi Mattiah's Google Review:
"I recommend Sciente, as they are specialists in IT recruitment in Singapore. The consultants are very professional in their approach and one such experience I had is with the consultant who was in contact with me regarding a job opening, she not only advised me of the market conditions in Singapore, but kept me in loop with all the updates. "
5. Garner International

BEST FOR: Executive Employment Search
WEBSITE: https://www.garnerintl.com/
ADDRESS: 100 Beach Road #21 – 04/05, Shaw Tower Singapore 189702
CONTACT DETAILS: +65 6338 9119
Garner International is an employment agency in Singapore that's equipped with an experienced team that provides accurate and compatible HR insights. In order for you stand out as a qualified candidate, they provide various options to promote your profile to potential employers.
For the clients aiming to start a team for a newly-launched business or replace a whole team for improved management, they also offer customised solutions to meet your goals and deadlines.
If the sound of a job agency in Singapore that combines modern and traditional approach to skill placement sounds appealing to you, Garner International should be a consideration. 
Service Highlights
Career assessment and planning
Online self-promotion and networking
Combination of classic and modern talent search
Customer Reviews
Both employers and job hunters are impressed by Garner International's excellent research team, particularly their facility at providing long-term workforce solutions. Ingmar Salim shared this experience with a 5-star rating on Google Reviews:
"I received some incisive insights on improving my prospects in search of my next career move, from working on my CV to my Linkedin profile, amongst other things."
6. Frazer Jones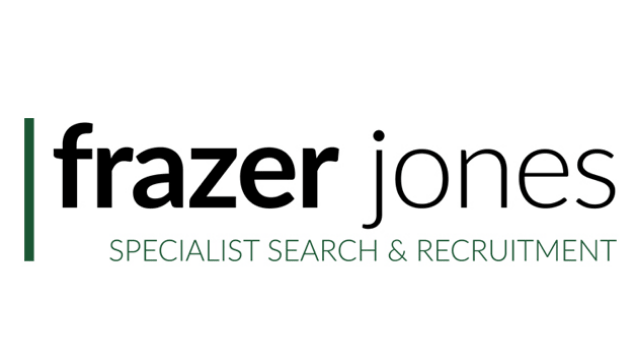 BEST FOR: Specialist HR Search & Recruitment
WEBSITE: https://www.frazerjones.com.sg/
ADDRESS: 30 Cecil Street, #21-03/04 Prudential Tower, 49712, Singapore
CONTACT DETAILS: +65 6420 0515
OPERATING HOURS: Contact company for more details
Established in 1996 in the UK, Frazer Jones offers job consultancy in Singapore and is now a global specialist leader in HR search and recruitment. They work exclusively within this market where we have become firmly established as the market leader.
The people at Frazer Jones are the driving force behind the business. Their global team of HR and specialist function recruitment consultants are expertly networked within their markets, delivering thought-leadership and networking events.
Frazer Jones deliver the highest levels of service in their recruitment and search assignments, going beyond the functional to provide a truly business advisory service.
Service Highlights
Balance between geographies served, specialist disciplines covered and a broad sector focus.

Tailored services based on our clients' needs with regards to specific requirements, sensitivity, market insight and benchmarking

Host a wide range of executive forums, seminars and online roundtable events designed to challenge the functional and geographic status quo
7. DP Search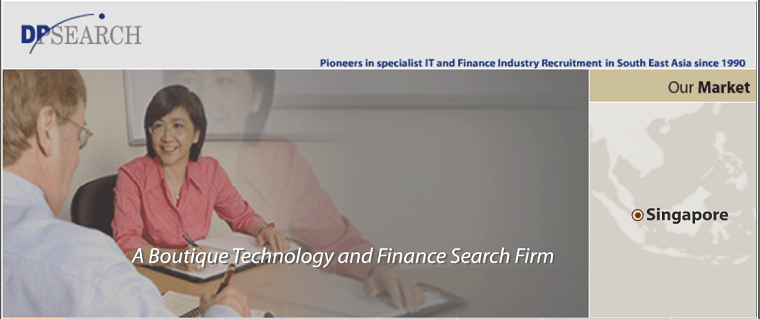 BEST FOR: Technology and Finance Talent Search
WEBSITE: http://www.dpsearch.com.sg/
ADDRESS: 7500A Beach Rd #11-323 The Plaza Singapore 199591
CONTACT DETAILS: +65-6339-3935
DP Search may be a Singapore job consultancy that focuses on specific industries, but their clients include several leading corporations in the country.
If your earned degree and interests fall in line with the IT and Finance industry, then this would be the best option for you. You can be sure that they will focus on giving you the ideal career opportunity.
Service Highlights
Recruitments for senior managerial, sales and marketing, operational and technical levels.
Different approaches to job searching
Focuses on preferred location and particular job category 
8. 3C Synergy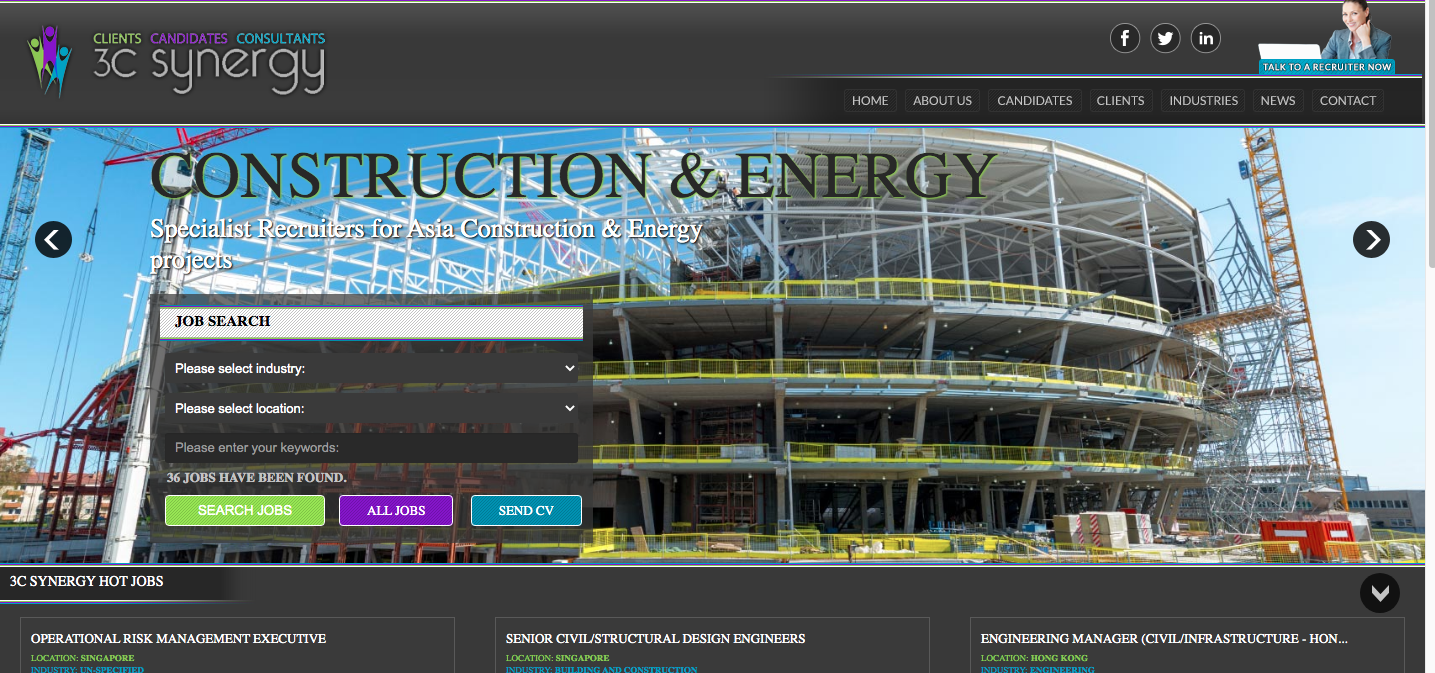 | | |
| --- | --- |
| BEST FOR | Construction, oil & gas, energy, real estate and finance |
| WEBSITE | https://www.3csynergy.com/ |
| ADDRESS | 1 Neil Rd, Singapore 088804 |
| CONTACT DETAILS | +65 6225 5404 |
| OPERATING HOURS | Monday – Friday 08:30 AM – 18:00 PM |
Established in 2007, 3C Synergy has made its name in the industry for filling manpower and recruitment needs in the construction and real estate sectors.
Living up to their company name, 3C Synergy prides themselves in placing these 3C's in the forefront of their business: Candidates, Clients and Consultants. They firmly believe that a balanced marriage of those three elements are what makes a successful placement in the recruitment business.
3C Synergy allows a trial chat with one of their consultants for a quick initial job appraisal. Being able to communicate with a company's consultant certainly helps in determining whether they are the best recruitment agency in Singapore.
Outside of Singapore, 3C Synergy also has an office in Hong Kong.
Pros
Free resources available online for applicants
Referral programme available
Community-centered approach
Chat for initial assessment available
Cons
Customer Reviews
Although there are reviews of 3C Synergy online, all of them are ratings and not written reviews. Their official Facebook Page shows that they have an average rating of 4.2 / 5 stars, and Glassdoor, a site where current and previous employees of a company can rate, shows a 3.8 /5 star rating.
9. Kelly Services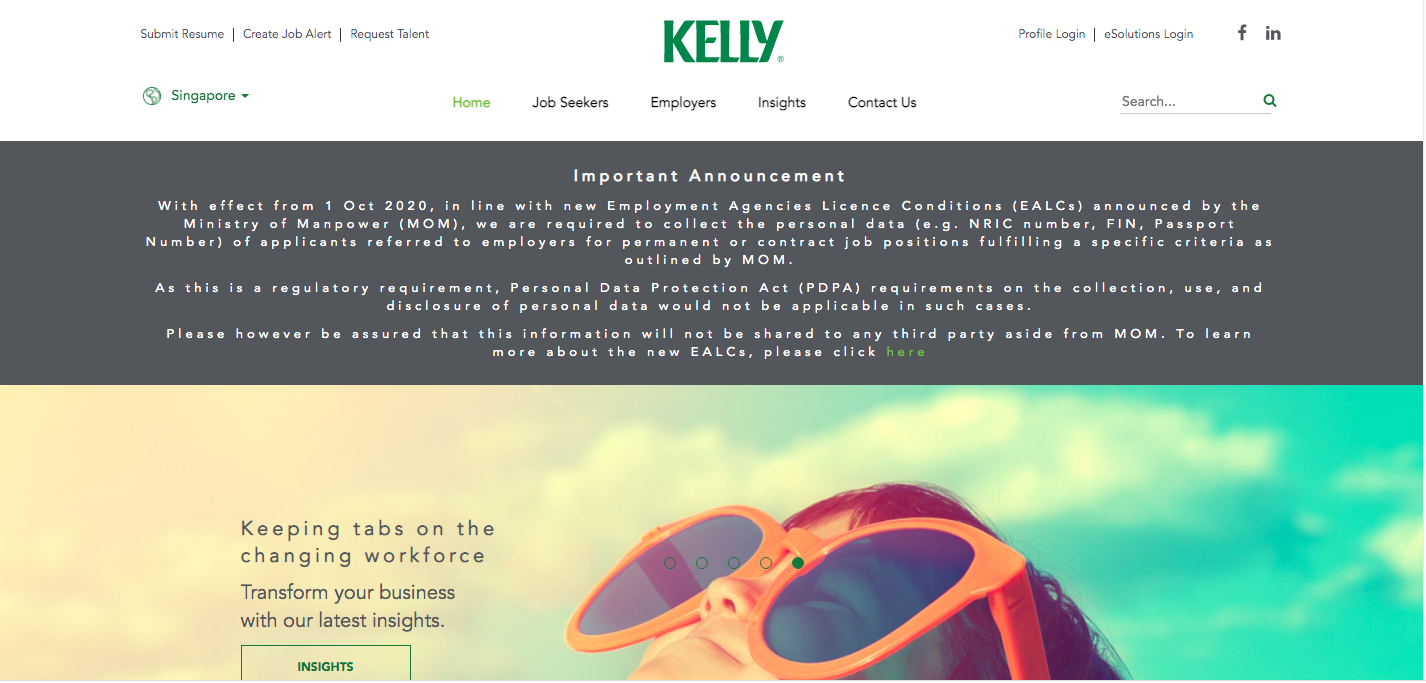 | | |
| --- | --- |
| BEST FOR | Banking, finance, engineering, events, HR, IT |
| WEBSITE | https://www.kellyservices.com.sg/ |
| ADDRESS | 8 Marina View, #11-01 Asia Square Tower 1, Singapore 018960 |
| CONTACT DETAILS | +65 6709 3388 |
| OPERATING HOURS | Monday – Friday 08:30 AM – 17:30 PM |
Whether you're seeking employment or looking for manpower, Kelly might be a familiar name to you. That's because Kelly Solutions has been providing workforce services since 1946, and has proven to be one of the most recognised recruitment agency in Singapore.
They are indeed a recognised global name in the recruitment industry. In the Asia Pacific region alone, they have more than 10 offices. 
Kelly Services has a broad range of specialisations, including banking and financial services, engineering and IT.  Their global site proudly claims that they connect over a million people to jobs each year and that 90 of the Fortune 100 trust them for talent solutions.
Pros
Wide global presence
Extensive career guide articles online
Have been in the business for over 70 years
Cons
Customer Reviews
Having been in the business for over 70 years, Kelly Services has gathered plenty of online reviews. Here's one of them from Eugene Tan, a satisfied client:
Spoke to Andreas and was very impressed with his dedication on bringing my profile to the hiring manager. He is very dedicated and ensures that he follows up with the hiring manager and also updates me.
10. Adecco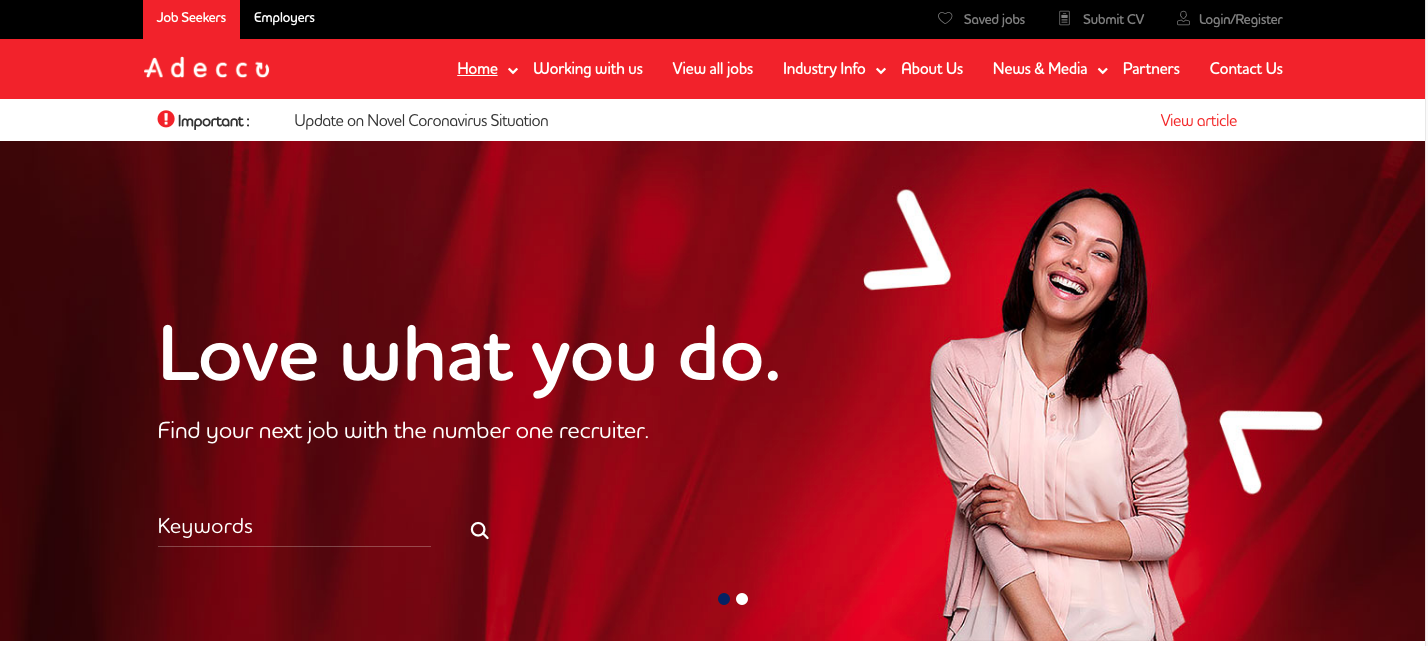 | | |
| --- | --- |
| BEST FOR | HR solutions, payroll, contact recruitment, talent acquisition |
| WEBSITE | https://www.adecco.com.sg/ |
| ADDRESS | 1 Scotts Rd, #18-08 Shaw Centre, Singapore 228208 |
| CONTACT DETAILS | +65 6835 3400 |
| OPERATING HOURS | Monday – Friday 09:00 AM – 18:00 PM |
With a global headquarters in Zurich, the Adecco Group is the world's 2nd largest HR provider and temporary staffing firm. They have over 5,000 offices and more than 33,000 employees worldwide, and is considered to be a trusted Singapore employment agency.
Adecco proudly claims that in Singapore alone, they help over 1,400 people get new careers each year. 
Those seeking either temporary placements or want to be connected to a global employment network will have quite a lot to gain from Adecco. 
Pros
Wide global network
Site allows online chat with their consultants 
Plenty of programmes and partnerships available both nation and global wide
Cons
Customer Reviews
With over 100 reviews on Google alone, Adecco has an overall impressive rating of 4.5 / 5 stars. Here's one review from Le En Tan, a satisfied client:
I'd like to commend Jason for his superb service as a recruiter.

Throughout the application and interview process, Jason has been extremely patient and dedicated, offering good advice and insights to help me prepare for the interview.

He has also been very upfront and transparent in all of our interactions. While I did not take up the job offer in the end, I am very appreciative of all of his efforts and support. Thank you Jason and Adecco!
10. Kerry Consulting

BEST FOR: Human resource services for various fields
WEBSITE: https://www.kerryconsulting.com
ADDRESS: 6 Temasek Boulevard, #31-05 Suntec Tower 4, Singapore 038986
CONTACT DETAILS:+65 6333 8530 | [email protected]
OPERATING HOURS: Monday to Friday, 8:30AM – 6:00PM
Kerry Consulting is one of Singapore's top search and selection firm, boasting the largest, and most experienced consulting team in South East Asia.
With Kerry Consulting, clients can expect detail oriented consultants that have market knowledge and business understanding. Moreover, these experts specialise in recruiting for a wide array of fields, some to note are Compliance, Engineering, Finance & Accounting, Front Office, Human Resources, IT, Legal, and Marketing.
The team at Kerry Consulting promises thoroughness in every search, resulting in high-quality selections for clients. 
Service Highlights
Extensive and thorough selection process
Large team consisting of experts from different fields
Professional and courteous team members
Customer Reviews
With a 4.8-rating on Google, Kerry Consulting has been commended for its utmost professionalism and expertise. See what previous clients have to say about the firm:
"Had the privilege to work with Warren on an opportunity. It was a great and positive experience. Warren was professional and courteous throughout the journey, giving good advice and tips on what to work on, while providing me periodic updates."
"I would highly recommend anyone to work with Kerry Consulting. It's one of the very few firms within the industry that I would actually recommend to anyone. I've worked with Cheryl Siah who has an incredible attitude! She is very professional, hardworking and detail-oriented. She truly has your interests at heart and she's been a huge pleasure to work with. She is also very respectful and does not push you against your wishes, while trying her best to help you achieve your desired outcome. I hope Kerry Consulting continues to provide such quality service and nurture professional consultants like this. Please keep it up!"
That concludes our roundup of the best recruitment agencies in Singapore right now. Whichever of these you choose, you should find the assistance you need to locate the perfect job, candidate, or team.
By the way, if you're a job-seeker looking for ways to strengthen your resume before you approach a recruitment agency, we also have some resources you can try. For instance, take a look at our list of the academic institutions with the best MBAs in Singapore.