Top 16 Firms for the Best Divorce Lawyer in Singapore (2021)
When a marriage comes down to a moment where everything doesn't seem to work out, the relationship will eventually end with a separation. Amid the emotional impact, legal conflicts inevitably exist… and that's why having the best divorce lawyer in Singapore can guide you towards a wise and fair settlement.
With the endless options laid out in front you, it's not easy to find the most reliable one. Hence, we're here to help you find notable and trustworthy professionals with our comprehensive list of the best divorce lawyers in Singapore.
1.  Law Advice Now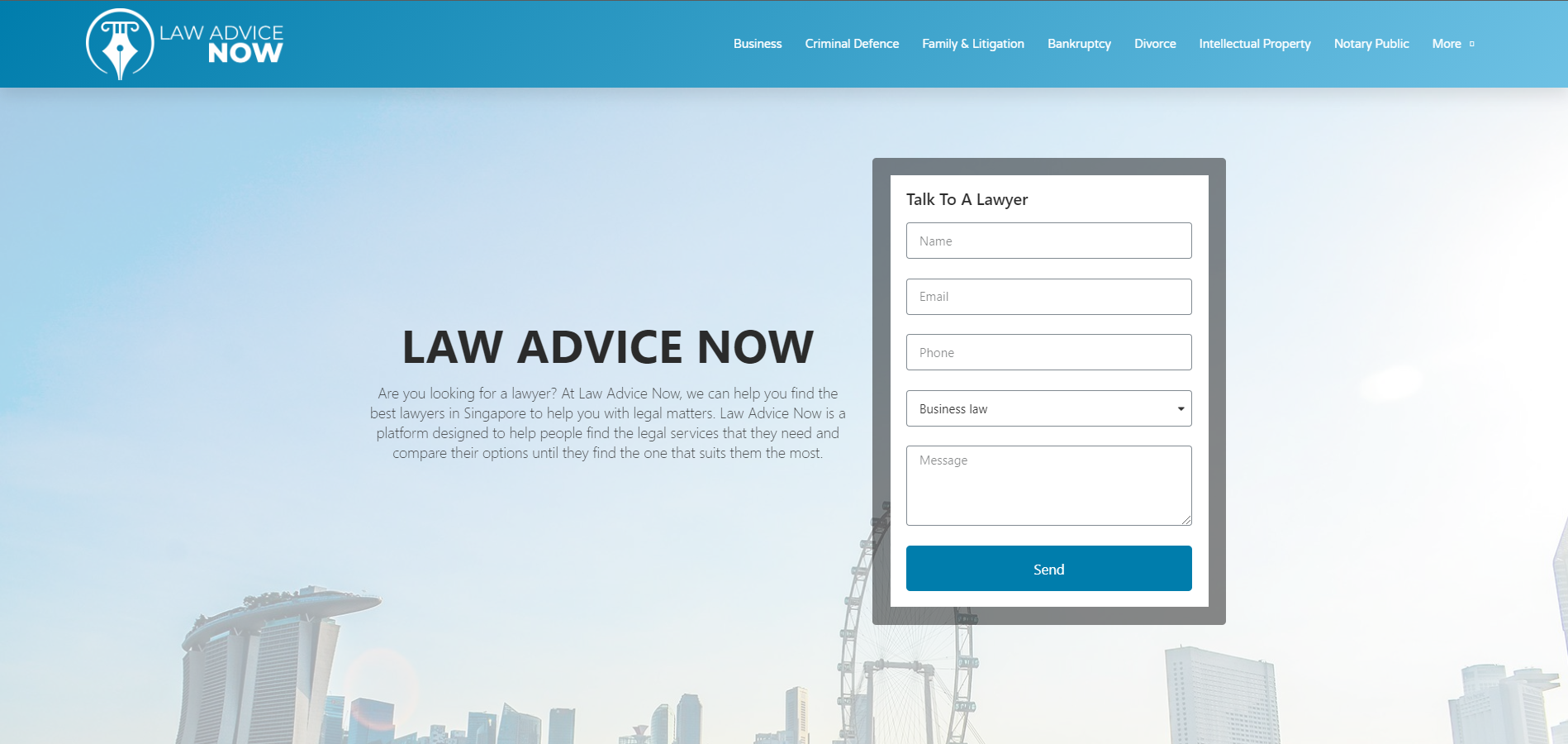 EXPERTISE
Business
Criminal Defense
Family & Litigation
Bankruptcy
Divorce
Intellectual Property
Notary Public
Conveyancing
Civil Litigation
Probate Law
WEBSITE
https://www.lawadvicenow.co/family-law-and-litigation
ADDRESS
11 Keng Cheow St, #02-05 The Riverside Piazza, Singapore 059608
CONTACT DETAILS
[email protected]
OPERATING HOURS
Monday – Friday: 9am – 5pm
Law Advice Now is one of the best law connection services to choose from when you're in need of legal aid. The portal gives clients the opportunities to connect to numerous lawyers — up to five — at a given point in time.
Aside from that, Law Advice Now's reach is extensive as well. Regardless of the field of law that you're concerned with, Law Advice Now can help connect you with an expert lawyer who specialises in that field of law.
If you are ever in need of legal services, you can always turn to them for reliable, trustworthy help. They also have a wide range of legal services so if you also need divorce solicitors in Singapore, we suggest contacting them. 
Highlights
Wide array of services
Easy Access
2. Populus Law Corporation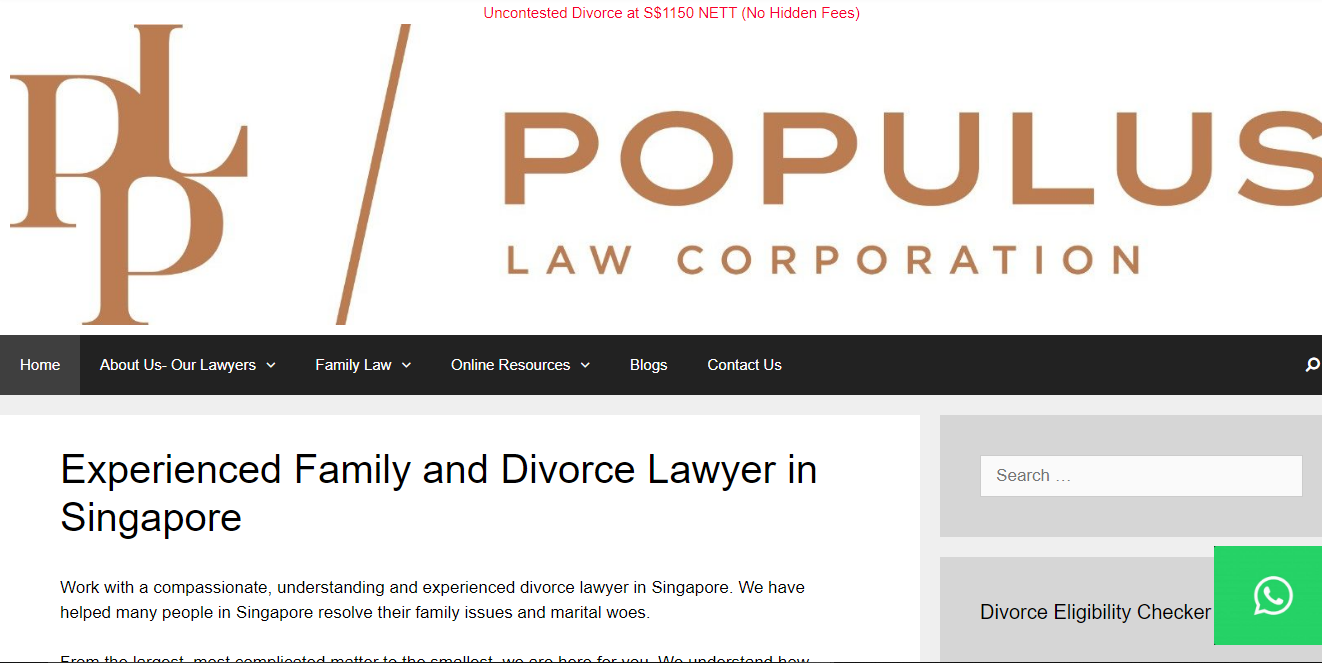 When it comes to dealing with legal concerns involving the family, Populus Law Corporation is the most trustworthy partner. It recruits the best lawyers from all over Singapore to attend to your needs with integrity and discretion.
The process of filing for a divorce, annulment, or complaint against domestic violence could be incredibly long and taxing. The Populus Law Corporation have a team of divorce lawyers in Singapore who are wholeheartedly inclined to lend you an attentive ear and helping you get through every complex procedure. They will make sure to give you all the counsel and support you need until the entire process has been taken care of.
The Populus Law Corporation possesses extensive experience and knowledge in the field of family law. By seeking their assistance, you can be sure that your matters will be addressed by one of the best divorce lawyers in Singapore.
Highlights
Expert Family Lawyers
Family and Divorce Cases
Good at giving family advice
3. Trident Law Corporation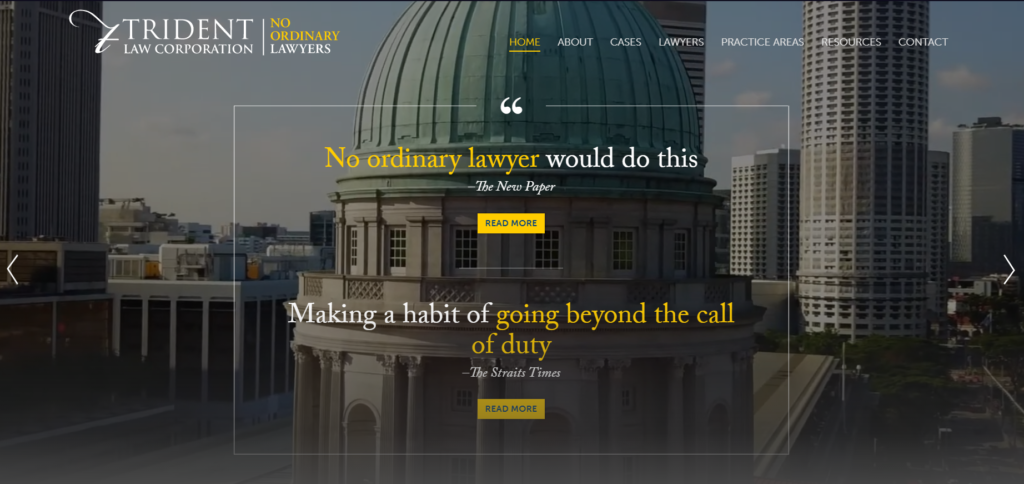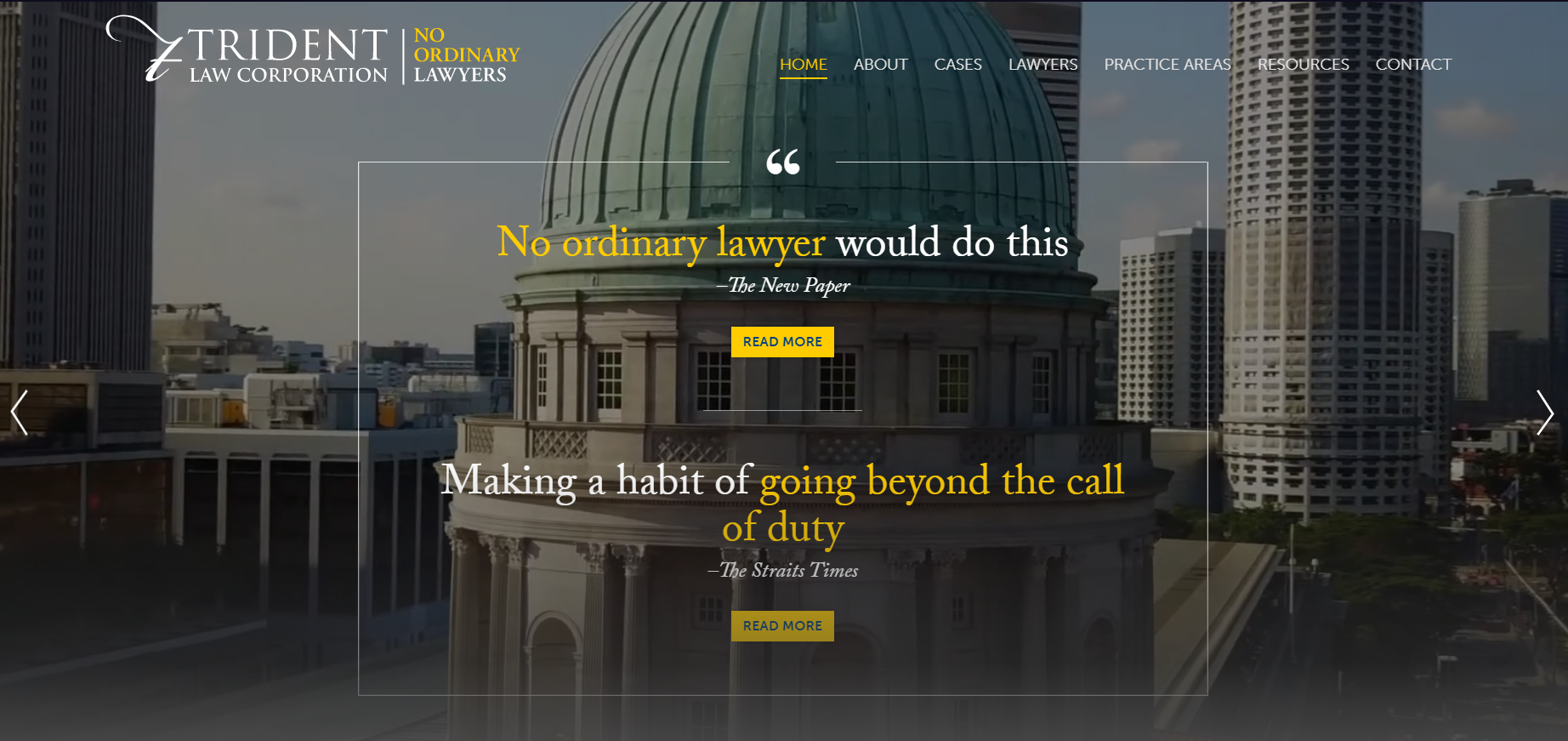 The Trident Law Corporation has a reputation for going above and beyond for their clients. They have an extensive experience with major and minor cases so those looking for a good divorce lawyer in Singapore are likely to find them here. 
Their team of lawyers are knowledgeable in various areas of law. They strive to improve themselves and learn more despite being considered experts in their field.
If you are looking for a straightforward divorce lawyer in Singapore, we suggest that you consider Trident Law. 
They won't be afraid to tell you the cold hard facts about your case, even if it's something you won't want to hear. This is one of the things you need to look for when searching for the best divorce lawyer in Singapore.
This transparent communication is what puts them above and beyond most law firms.
Highlights
Experienced with high profile and landmark cases
Client-oriented mindset
Expert lawyers
Transparent communicators
4.  Gloria James-Civetta & Co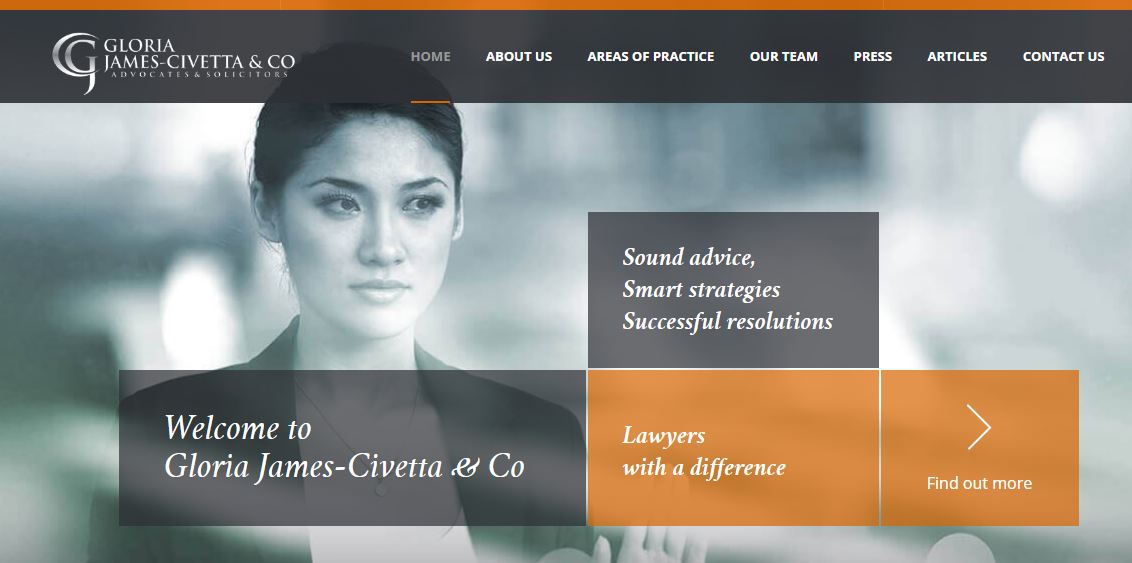 | | |
| --- | --- |
| BEST FOR  | International divorce |
| WEBSITE | https://www.gjclaw.com.sg/ |
| ADDRESS | 3 Church Street #15-04 Samsung Hub Singapore 049483 |
| CONTACT DETAILS | +65 6337 0469 |
| OPERATING HOURS | Weekdays, 8:30am–6pm |
How does a complimentary consultation from one of the top divorce lawyers in Singapore sound?
One of the most impressive things about Gloria James-Civetta & Co is the free initial consultation that they allot for those who want to know more about the divorce process.
You can guarantee that they'll fully analyse the situation before proposing an agreement and you can also truly rely on their professionalism and skills.
Also, if the other party is currently living in another country, they can still process the divorce with their services. It's a part of the many reasons why they have the best divorce lawyers in Singapore, as most locals would claim.
We're not very surprised that many consider Gloria James – Civetta & Co to be the preferred lawyer for divorce in Singapore for couples who work overseas but have assets in the country. 
Highlights
Adoption
Prenuptial and marital agreements
Free initial consultation
Customer Reviews
The former clients of Gloria James-Civetta & Co have mentioned the expertise and smart strategies of the divorce lawyers. A client wrote this review on Google Reviews:
"A divorce can never be a pleasant. However, my lawyer at GJC, Yvonne Schelkis-Sweeney, made the experience more bearable and less stressful, with her professionalism, empathy, and responsiveness. Although my particular case was not complex, it took a long time. Throughout the process, Yvonne was there to guide, and advise, and even cheer me up when I needed it. What I most valued was her ability to balance representing my interests firmly with the need to show sensitivity to other other party's concerns."
5.  Godwin Campos LLC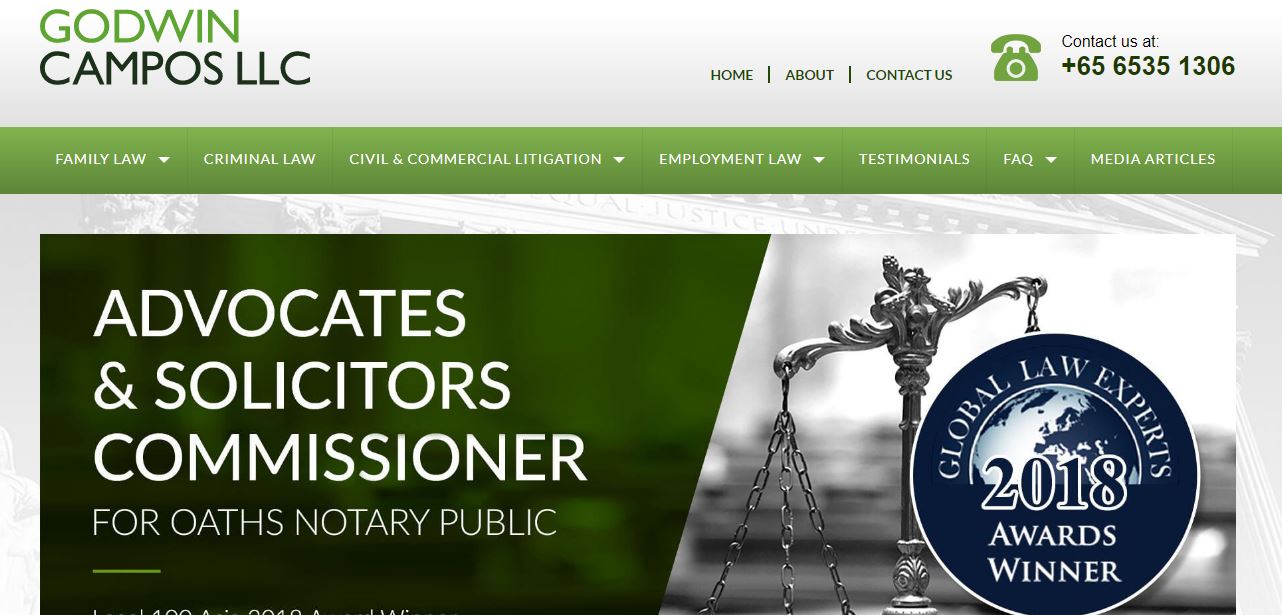 BEST FOR 
Expert legal services
PRICING
Starting Fees of $1.6k for Divorces
WEBSITE
https://www.godwincampos.com.sg/
ADDRESS
160 Robinson Road #14-06 SBF Center Singapore 068914
CONTACT DETAILS
+65 6535 1306
OPERATING HOURS
Weekdays, 9am–5pm

 

Saturday, 10am–12pm
Godwin Campos LLC is also an award-winning firm that has helped countless families and individuals reach an equal settlement from their legal cases.
With their expertise in family law, they provide help for divorce cases, maintenance and division of assets, child custody, separation deed, and annulment.
Additionally, they offer expert legal services and this includes personal injury, defamation, contract disputes, and property disputes.
With this wide range of services, they've been recognised as one of the firms that have the best divorce lawyers in Singapore.
Highlights
Expert legal services
Criminal law
Employment law
Customer Reviews
Many clients recommended Godwin Campos LLC because of its good-natured lawyers and staff, well-managed proceedings, and overall assistance. A client shared this story on Google reviews:
"It's never easy, physically, mentally and emotionally, to go through a divorce, and I'm grateful for the support and guidance of Mr. Godwin Campos and his staff (in particular Yee Chong), I was able to breeze through the application process and court proceedings. Mr. Campos's years of expertise on family law shone through by way of his professional dealings and assistance with my contentious divorce and child custody case. His efficiency and skill as a lawyer, plus great patience and concern, gave me assurance that I will be represented fairly and have nothing to fear. Thanks to him, I am now given a new found freedom to enjoy life with my son. I will definitely recommend Mr Campos to anyone in need of family law advice and representation."
6.  YEO & Associates LLC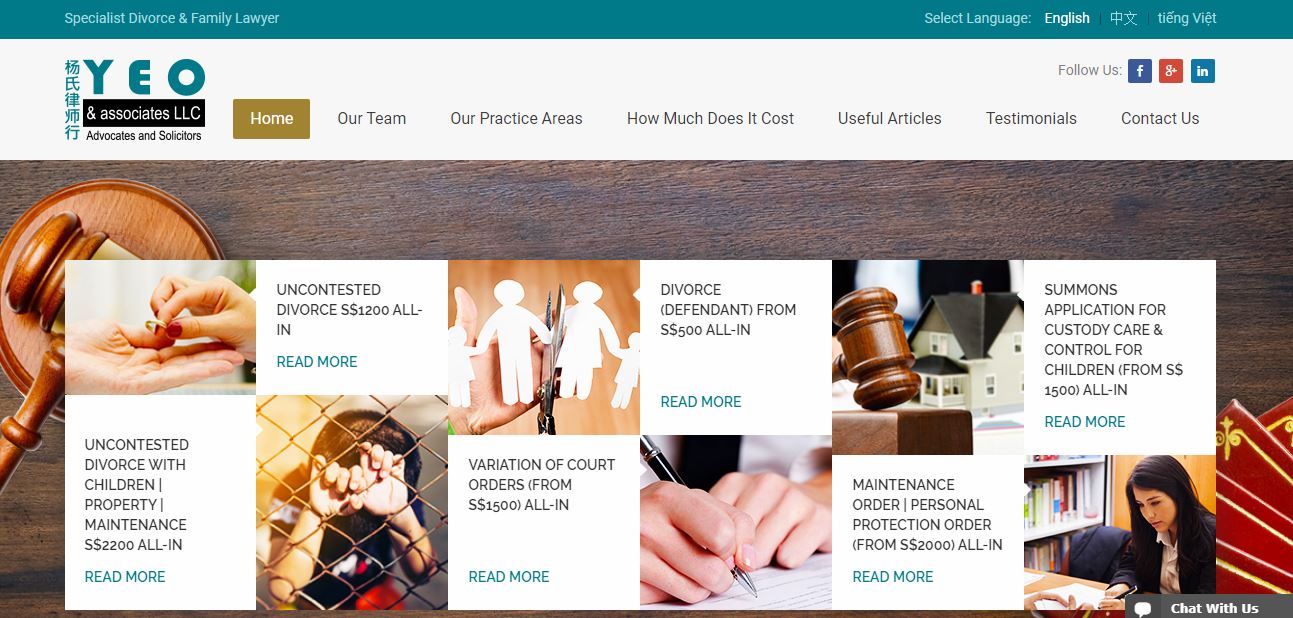 YEO & Associates LLC has full-range family law services with comprehensive solutions. The best thing about this firm is that their services are all offered with practical options.
Their practice areas include divorce, child custody and maintenance, financial settlement, prenuptial agreement, wills, and more cases.
They are considered to be the best divorce lawyer in Singapore for cases involving child support, custody, etc. 
They're very generous and detailed when it comes to their fees — that's why you wouldn't have to worry about the financial impact of your divorce case.
Highlights
Full-range services
Family law service packages
Customer Reviews
YEO & Associates LLC has successfully assisted their various clients, making them well-known as having some of the best divorce lawyers in Singapore. Due to the expertise, knowledge, and moral values of the team, they're able to capture the trust of many locals.
A former client gave these compliments on Google Reviews:
"Ms Yeo and her able team has helped me not only through my uncontested divorce but also with my conveyancing matters. They are professional, thorough and extremely knowledgeable. Highly recommended for anyone looking to have an honest and pragmatic lawyer to represent them."
7.  SG Divorce Lawyer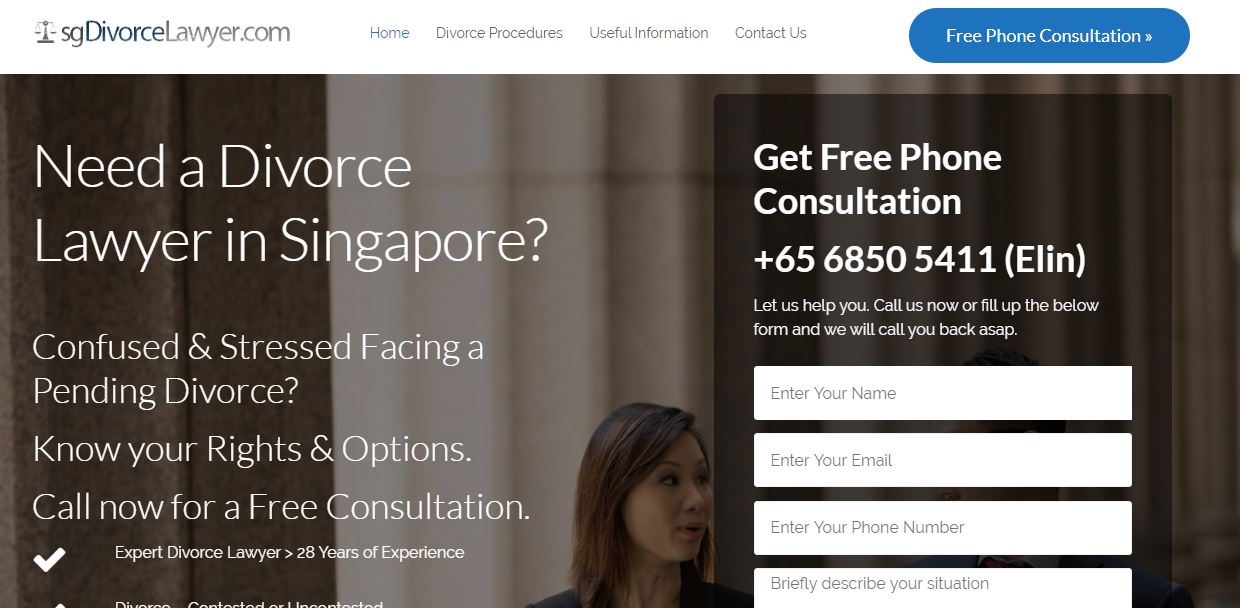 | | |
| --- | --- |
| BEST FOR   | Free consultation |
| WEBSITE | https://sgdivorcelawyer.com/ |
| ADDRESS | 133 New Bridge Road, #23-06/08, Chinatown Point Singapore 059413 |
| DETAILS | +65 6850 5411 |
| OPERATING HOURS | Weekdays, 9am–6pm |
The divorce procedures of SG Divorce Lawyer involve a three-step process and each phase is securely guided by some of the best divorce lawyers in Singapore.
Their area of practice ranges from divorce, child custody, financial settlement, and other family law services. With their free phone consultation, you get to inquire and know more about the process without having to visit their office or pay any charges.
Those needing a complimentary consultation with a top divorce lawyer in Singapore should definitely consider SG Divorce Lawyer.
Highlights
Easier divorce process
Free phone consultation
8.  R Kalamohan Law LLC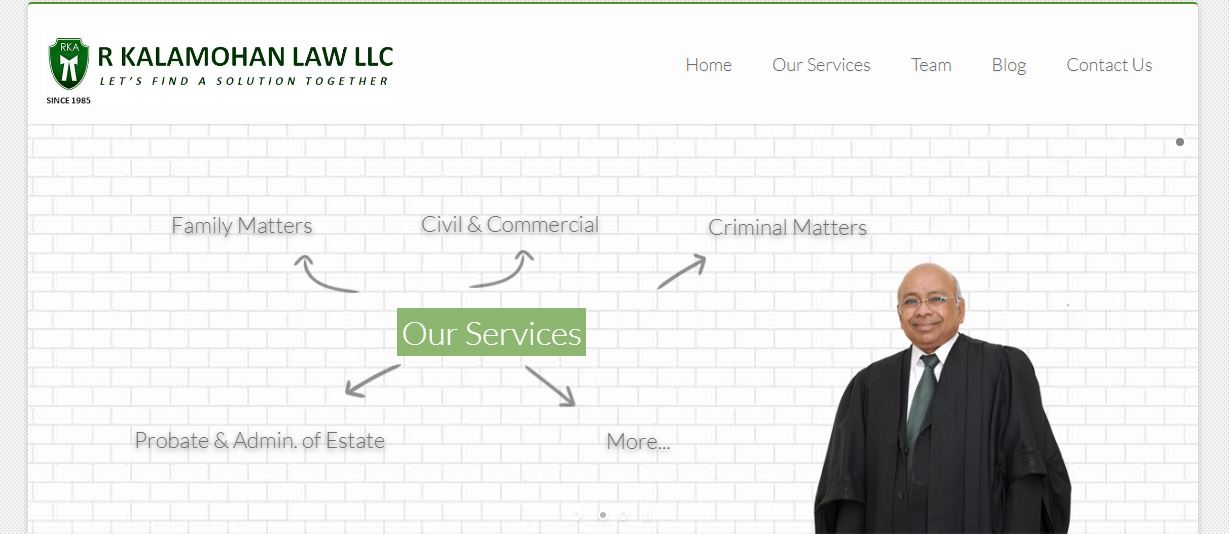 | | |
| --- | --- |
| BEST FOR  | Full range of law services |
| WEBSITE | http://kalamohan.com/ |
| ADDRESS | 101A Upper Cross Street #09-17 People'S Park Centre Singapore 058358 |
| CONTACT DETAILS | (+65) 6227 9377 |
| OPERATING HOURS | Weekdays, 8:30am–5:30pm |
R Kalamohan Law LLC  is a widely recognised law firm in Singapore, covering the areas of family, criminal, and civil law.
When it comes to family law, their expertise falls into both types of divorce cases, maintenance orders, personal protection orders, mediation, prenuptial and post-nuptial agreements, and more.
Highlights
Full range of law services
Notary public
9. Grace Law LLC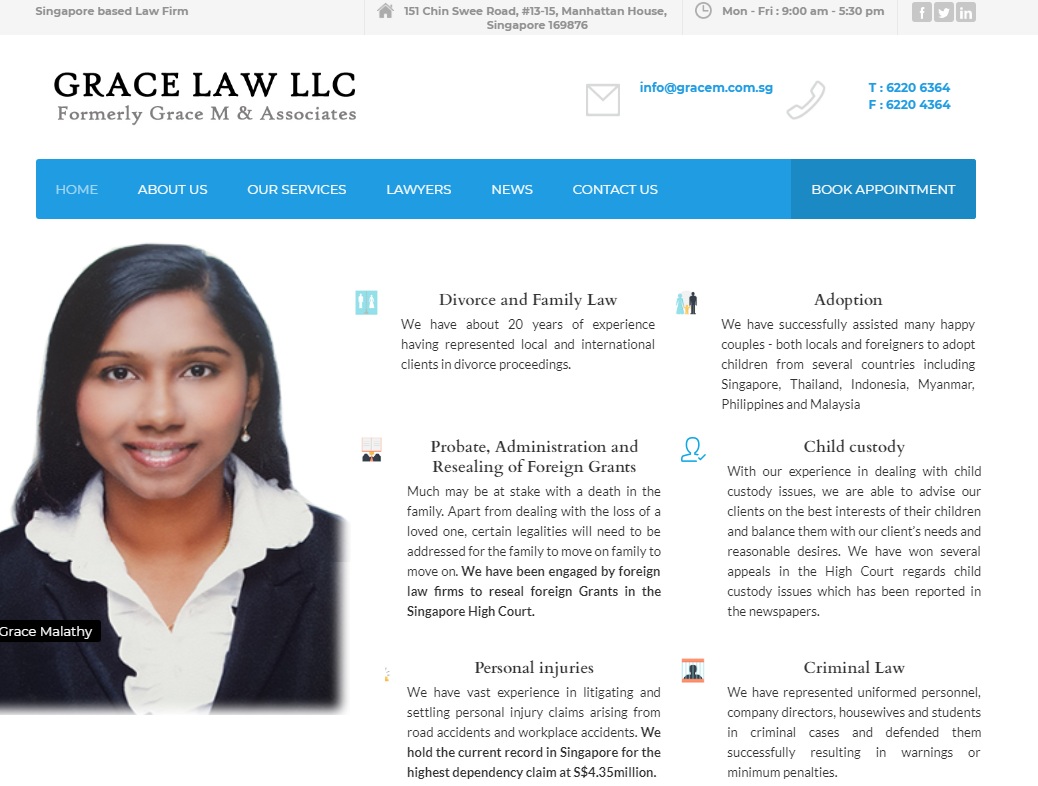 BEST FOR

Full range of legal services

WEBSITE

https://www.gracelaw.sg/

ADDRESS

151 Chin Swee Road, #13-15, Manhattan House, Singapore 169876

CONTACT DETAILS

6220 6364 |

[email protected]

OPERATING HOURS

Mon – Fri : 9:00 am – 5:30 pm
Grace Law LLC is a boutique law firm which offers a wide range of legal services at affordable prices. We specialise in Divorce and Family law, Child Custody, Adoption, Personal Injury claims, Criminal law, Probate and Administration, Will and LPA drafting, Commissioning and Notary services.
As top-notch lawyers with a combined experience of almost 40 years, we are committed to providing excellent legal services and the support our clients need regardless of case size or client profile.
Grace Law LLC has successfully represented many individuals and corporate clients and notable cases have been reported in the newspapers. Grace Law LLC currently holds the record for having fought for the highest dependency claim in the history of Singapore.
Highlights
2018 – Boutique Family Law Firm of the year in Singapore
2015 – Boutique Personal Injury Law Firm of the year in Singapore
10. Crossbows LLP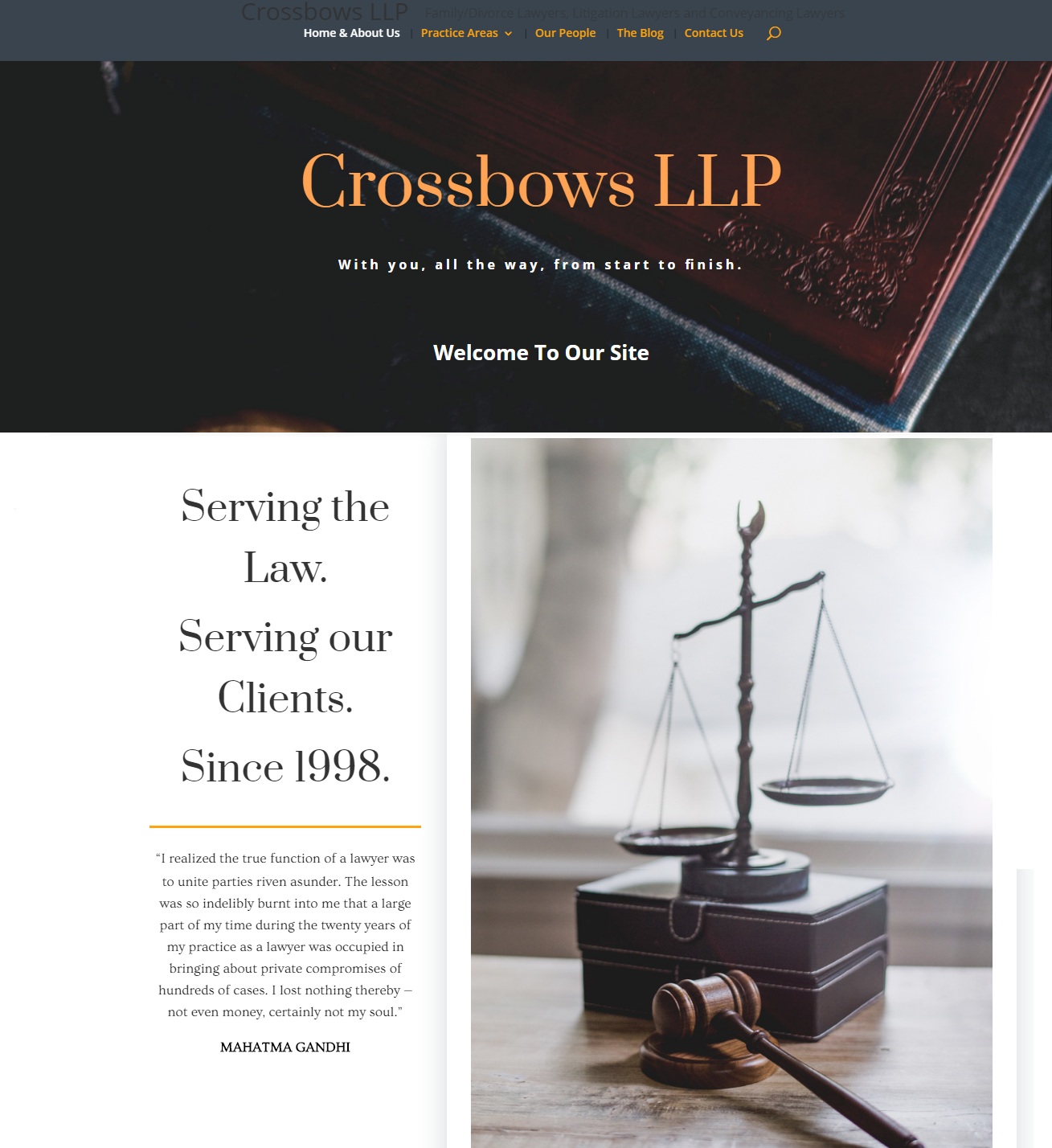 Crossbows LLP is a law firm with 4 core partners who have been practicing  law for more than 20 years and partners who have 90 years of experience combined. 
The firm mainly specialises in four practice areas which are Family & Matrimonial Law; Wills, Trusts & Probate; General Litigation; and Conveyancing & Property Law.
This client-oriented law firm is highly dedicated to helping their clients overcome the tedious process of divorce so to ease their burden they offer to discuss your case with them without any charges at all. 
More than just the profit earned, what they really wanted to achieve is for you to understand the direction that your case is going through the help of their trusted experts.
Because of their specialty in Family and Matrimonial laws, those who have children and assets shared should consider them as their Singapore divorce lawyer.
Highlights
Long years of experience in the industry

Large scope of law practices

Free initial consultation
11. Lie Chin Chin Family Practice Team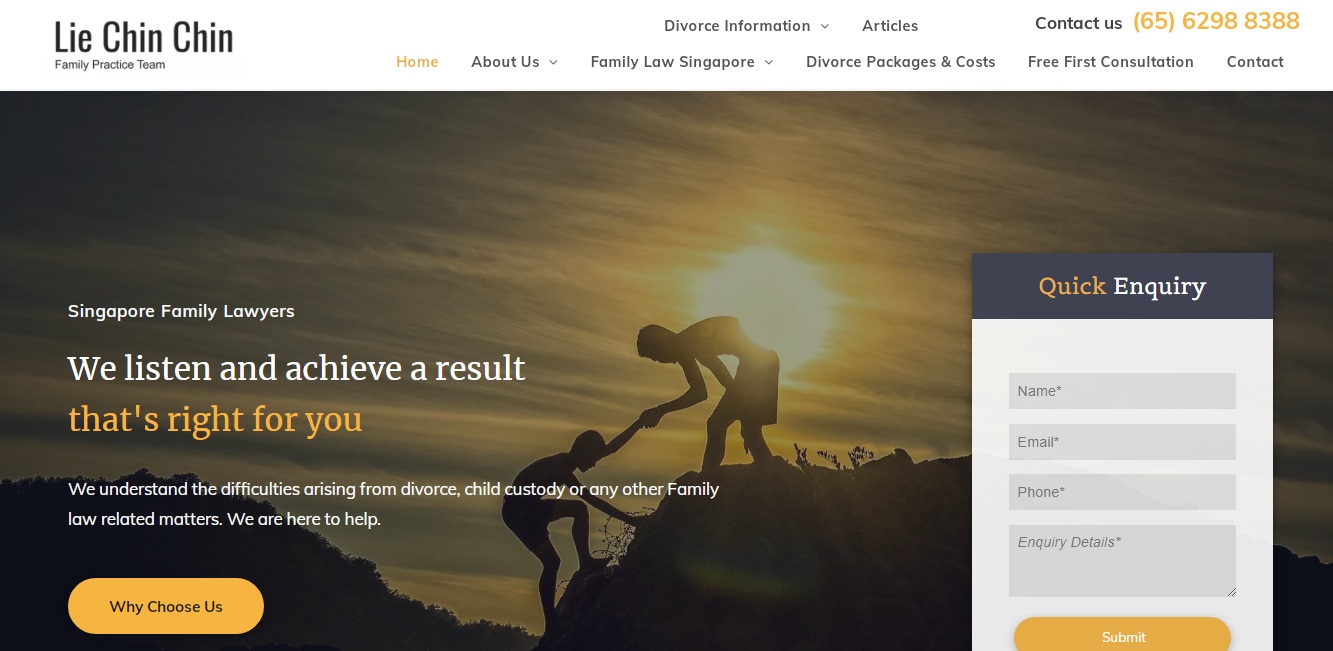 Lie Chin Chin Family Practice Team, as the name suggests, specializes in family law. Thus, they are confident that they will be able to give you legal solutions on your family issues. Years in the practice allow their lawyers to provide legal aid to those individuals who need to know what the law says or how it works. 
The law firm believes that it is not enough that one knows the law. But also, one should have the character of a good person. Thus, they chose lawyers who are compassionate, talented, responsible, and competent. So, you won't have to worry about speaking with their members and asking for advice as to your situation. 
As for divorce, you can check out their site for their packaging and pricing. They offer different packages according to your needs and preferences. There is also an estimated cost if you are to choose from their options. 
Highlights
Free first consultation 

Over 25 years of experience in family law

Transparent with cost or charge

Open communication with clients
Customer Reviews
This law firm is well-known for their excellent legal service to their clients. Here's a review from their site:
Chin Chin has strong knowledge in the area of advice and is very experienced. She is able to provide good advice and explain legalities in simple layman terms. She is professional and gives a sense of reliability. Kok Toong Keong
Another one for you to read:
My family has been consulting Characterist LLC for generations. I am grateful for the available help .The professional and sound advice given comforts and settles us. I appreciate how Chin Chin is consistently present, available and ready to help me whenever I reach out to her. Such great service that gives me a peace of mind! I am also grateful that she ensures to put my needs first and cares to thoroughly understand my situation in its entirety before giving me the relevant advise. Josephine Lam
12. DMO Law Corporation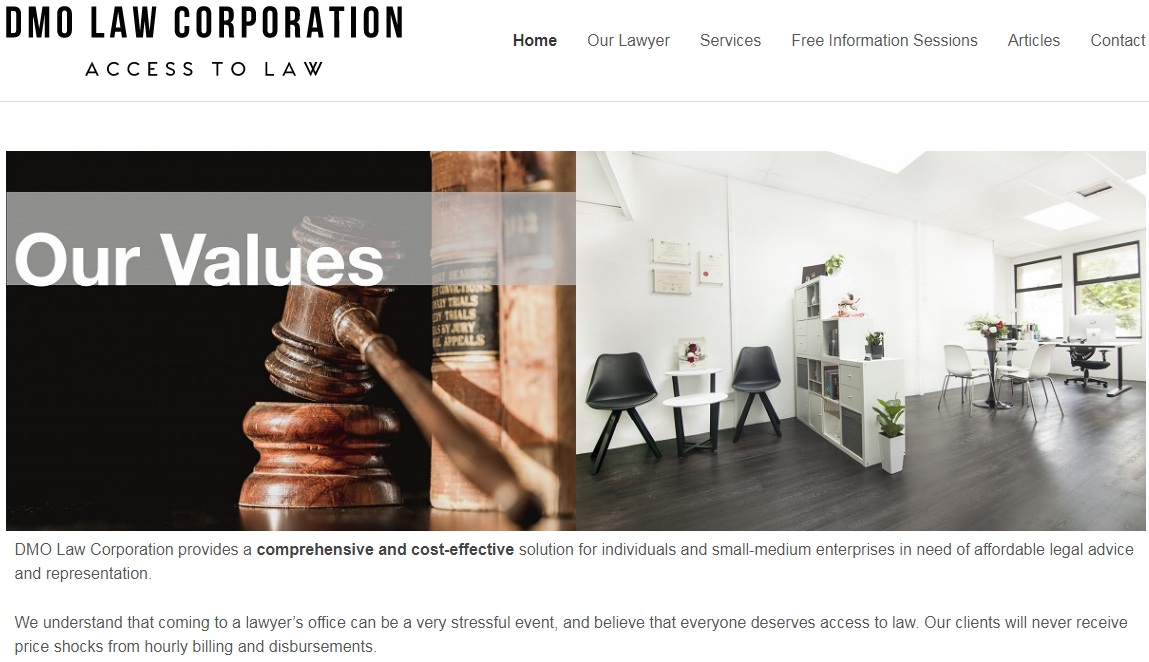 BEST FOR

Legal Services

PRICING

Service Fee

WEBSITE

https://www.dmolaw.com.sg/

ADDRESS

5 Coleman Street, Excelsior Shopping Centre, #03-10, Singapore 179805

CONTACT DETAILS
Email Address: [email protected]

 

Whatsapp/SMS: (+65) 8518 4238

OPERATING HOURS

Monday – Friday: 11am – 5pm

 

Saturday: 11am – 2pm
DMO Law Corporation is one of the law firm offices in Singapore which was incorporated on 25th day of June, year 2018. It offers an affordable cost for legal procedures with fixed price in each service. They practiced four values when assisting their clients namely Integrity, Effective, Respect and Experienced. 
Desmond Ong, the head lawyer of the firm, is responsible for giving his best when it comes to legal services. He fully understands how hassle it was for some people. As such, he shows compassion when dealing with his customers' needs and gives his full support to help his client understand the situations. 
Although they have been in the business for a short period, they already provide numerous kinds of legal services such as Commercial Litigation, Debt Enforcement, Personal Injury, Divorce, Protection from Harassment Act (POHA), Criminal Law, Wills and Probate, Appointment Deputy, Inspection of Case File, Employment Claims Tribunal and Defamation which can be seen on their site.
Highlights
Fixed and Affordable Cost 

Experienced on Legal Services

Transparent dealing with clients
Customer Reviews
Lawyers professionalism and sincerity in work are the characteristic describe on the feedback provided below by the satisfied customer: 
My experience with DMO Law Corporation has been a most pleasant one. Desmond has demonstrated commendable professionalism and sincerity in every aspect of his work. Throughout the entire duration of engagement, he worked closely with his capable team to consistently provide me valuable insights and practical advice. I would strongly recommend DMO Law Corporation, and in particular Desmond, to anyone who is looking for dedicated, conscientious and knowledgeable lawyer. – Leon Tay, Civil Litigation client
13. Tembusu Law LLC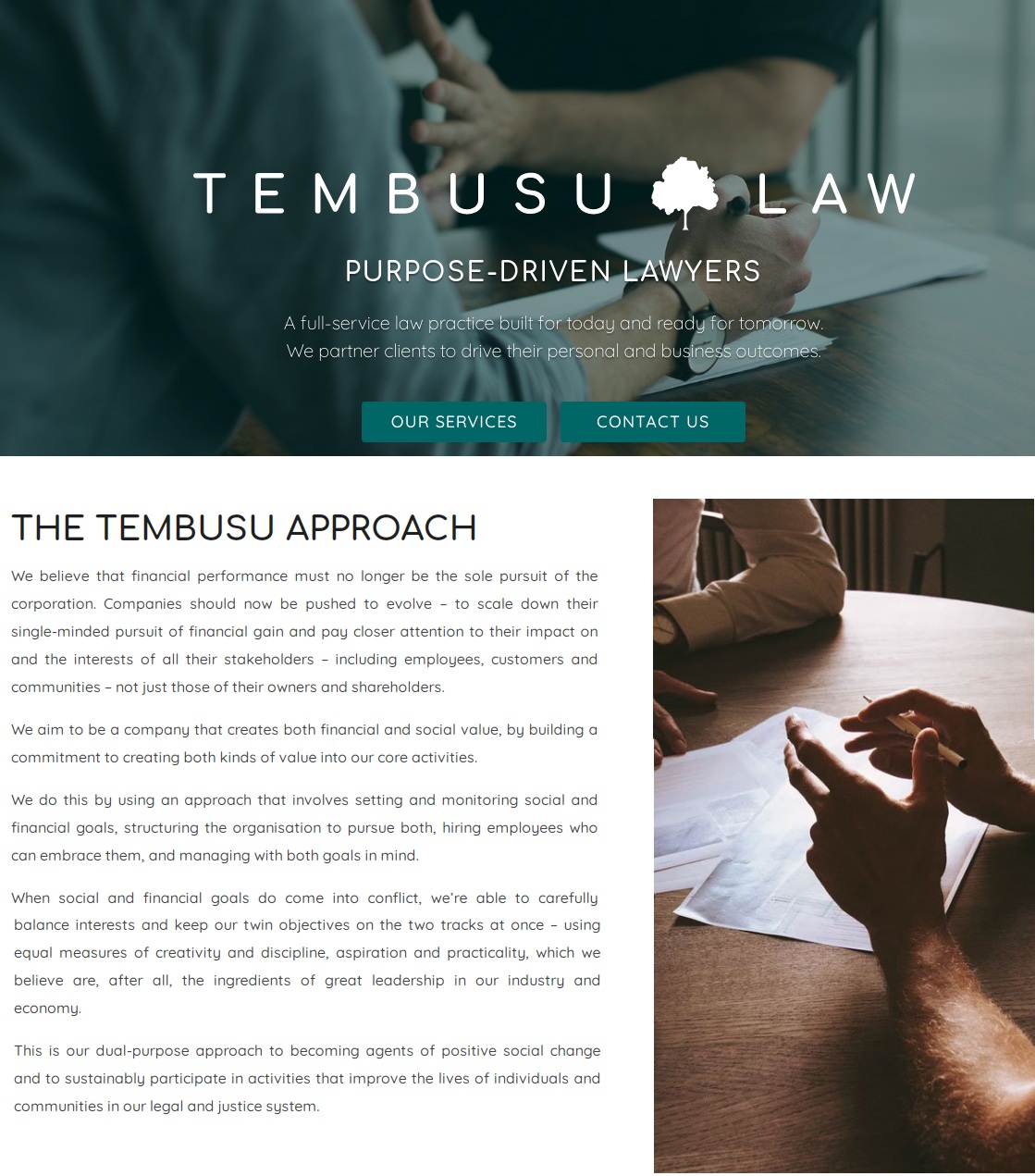 Tembusu Law LLC is known for their full range law services that are custom tailored according to their clients' needs and requirements. 
While each of their clients has a different set of cases, therefore receiving personalized services, the firm guarantees that all of their legal solutions are pragmatic and cost-effective.
The firm accommodates an extensive array of law services including but not limited to Probate & Administration, Family & Matrimonial Law, Civil & Commercial Litigation, Private Equity & Venture Capital, and Criminal Law & Regulatory Offences.
Highlights
Personalized legal solutions

Reputable lawyers

High level of integrity
14. Ray Louis Law Corporation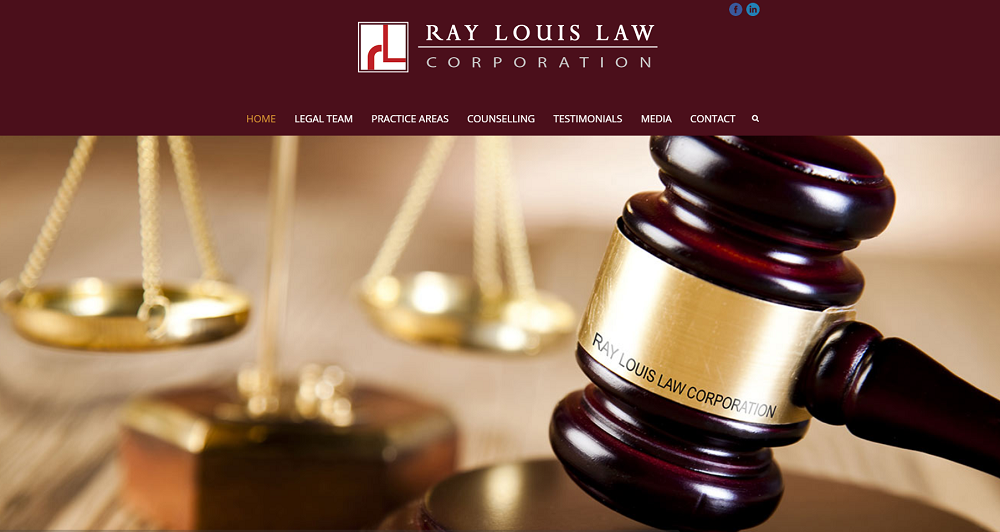 EXPERTISE
Wide range of legal services
WEBSITE
http://www.raylouis.com.sg/
ADDRESS
133 New Bridge Road, #16-08, Chinatown Point, Singapore 059413
CONTACT DETAILS
Mobile: +65-9090 8288
Office: +65-6557 2725
Fax: +65-6532 0023
If you're looking for someone who's well-versed with all the in-and-outs of every rule in the rule book, someone who's always one step ahead and always prepared with backups, then you're lucky to have found Ray Louis Law Corporation!
Ray Louis Law Corporation has a team of professional legal team that has a high rate of winning, so you need not worry about anything else as the corporation is willing to help you in anyway they can.
The corporation is led by Raphael Louis a lawyer who is advocated by the Supreme Court of Singapore. Known to be one of the best in the field, he has proven himself continuously, with the string of thankful and satisfied clients that commend him for his great work.
Their field of expertise include Divorce and Family Law, Divorce Procedure Infographics, Criminal Defense, Accident and Insurance, and Civil Litigation.
Highlights
Transparent fees
Excellent Service
Attention to Detail
100% Effort
15.  Rajan Chettiar LLC
| | |
| --- | --- |
| BEST FOR  | Family law and personal law |
| WEBSITE | https://www.rajanchettiar.com/ |
| ADDRESS | Found8 (Formerly known as Collision 8) 1 North Bridge Road High Street Centre #08-08 Singapore 179094 |
| CONTACT DETAILS | (65) 6533 6451 |
| OPERATING HOURS | Weekdays, 9am–6pm |
Rajan Chettiar LLC mainly focuses on family law and personal law, so rest assured that you'll be given a certain resolution regarding your legal case. They give reliable emotional support in every divorce case that they take and this has earned the trust of many clients.
This firm consists of excellent specialists who cater to specific areas such as child custody, adoption, divorce, domestic violence, financial and property settlement, legal wills, and more.
Highlights
Specialises in family law
Free consultation
Customer Reviews
Rajan Chettiar LLC has gained a lot of positive responses from the clients who shared that they've witnessed responsive lawyers, faster and hassle-free process, and even transparent pricing.
Therefore, they've become one of the leading law firms that have the best divorce lawyers in Singapore. A reviewer left this feedback on Google reviews:
"Beyond impressed with Rajan Chettiar LLC, they helped me through what should have been a very difficult time and made it a very seamless process to go though. Thank you so much for everything. I would recommend them to anyone, if you're going through a divorce and need things taken care of, give Rajan Chettiar a call."
16.  I.R.B. Law LLP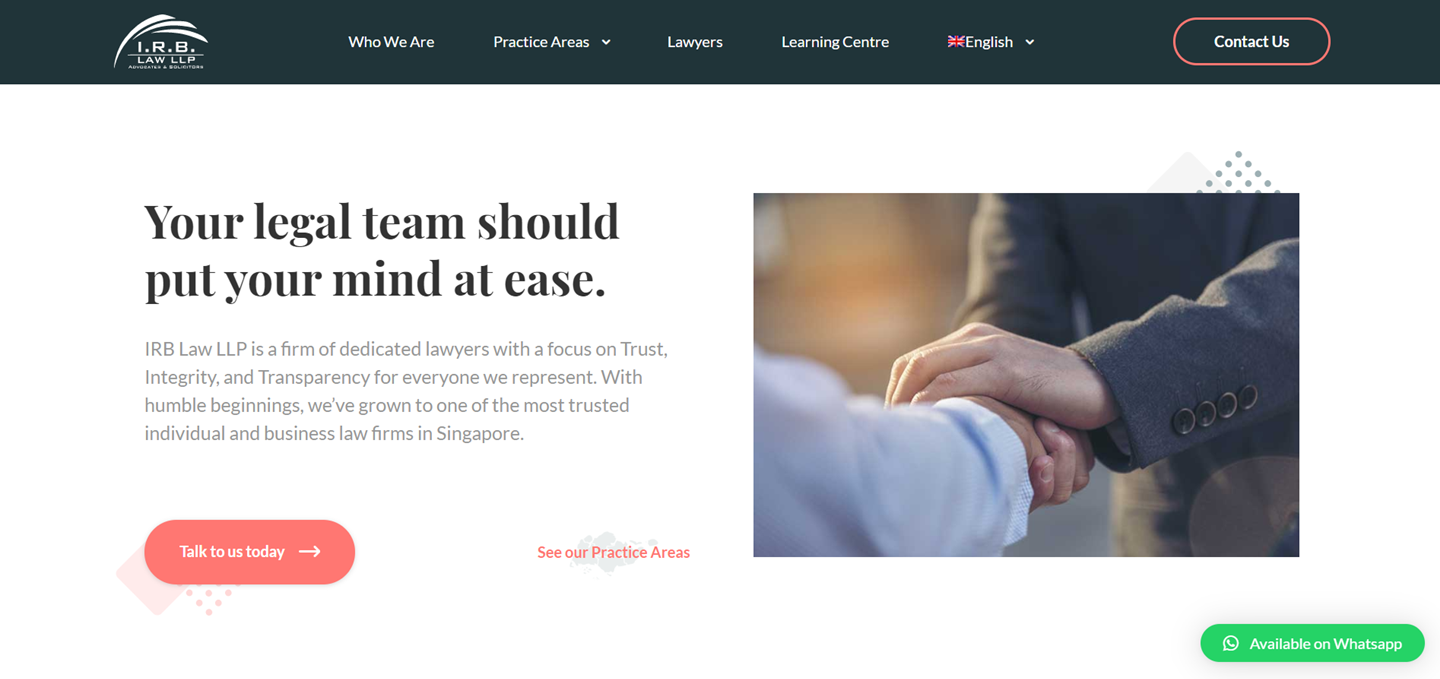 BEST FOR 
Multiple Law Specialisations
SERVICES
Family Law, Estate Law, Litigation & Dispute Resolution, Personal Legal Procedures, Syariah Law, Bankruptcy, Restructuring & Insolvency, Corporate & Commercial Law, Criminal Defense, Conveyancing & Real Estate, Due Diligence
WEBSITE
https://irblaw.com.sg/
ADDRESS
Collyer Quay
20 Collyer Quay, #17-05, Singapore 049319Jalan Sultan
119 Jalan Sultan, Singapore 199007[email protected]
116 Changi Road, #02-14, Singapore 419718Sam Leong Road
42 Sam Leong Rd, Singapore 207932Sultan Plaza
100 Jalan Sultan, #02-09/10 Singapore 199001
CONTACT DETAILS
https://irblaw.com.sg/contact-us/
OPERATING HOURS
Mon – Fri: 9:30am – 6pm
Sat – Sun: 9:30am – 1pm
I.R.B. Law LLP is law agency well-known for practicing various specialisations of law. They have almost 50 employees under their care, allowing them to provide personalised services to each and every one of their clients.
Their lawyers are also proficient in Family Law, so you can rest assured that they will handle your divorce case with skill and expertise. In addition, these high quality services are available at an affordable price.
If you're looking for a proficient Divorce lawyer, turn to I.R.B. Law LLP. You won't be disappointed.
Highlights
Wide range of legal services
Internationally appraised company
Highly knowledgeable and skilled lawyers
Very affordable
That's it for our list of the best divorce lawyers in Singapore.  Make sure to take your time in deciding which one you'd prefer, as your comfort with your lawyer's style can also affect your case.
If you'd like to recommend other services, share them with us and tell us about your experience with them.
And if you're currently battling with other family law cases, you may see these best family lawyers in Singapore. They'll be able to help and guide you in every process that you need to take and arrive into a decent settlement.