The Best Divorce Lawyers in Singapore
Did you know that on average, the country has witnessed an increase of over 4% in divorce rates for the past year? So, if you're about to initiate proceedings yourself, you're far from alone!
To help you out, we've written a complete guide on divorce, from how you can choose a lawyer up to a list of firms with the best divorce lawyers in Singapore.
We also answered some frequently asked questions about the topic to help you out. But before you choose a divorce law firm, you first have to prepare yourself for the costs you may face.
Where to Find the Best Divorce Lawyers in Singapore
Now, let's take a look at the top divorce law firms. Most of these entries already provide free initial consultations, so feel free to choose any entry here that suits your needs.
1. Populus Law Corporation
Now if you want a divorce that's done peacefully and efficiently, then Populus Law can be of service. It handles uncontested divorces and contested divorces with negotiations.
This law firm also has certified mediators on its team so clients can have a less aggravated case despite any initial disagreements. Besides, Populus Law is also one of the few law firms that offer help for online divorce.
That said, it doesn't cater to clients who require personal protection orders. And you should know that while its prices are transparent, they are only available for uncontested divorces.
Luckily, Populus Law makes things for its select clients more convenient by offering free consultations any day of the week.
Another great guarantee Populus Law provides is its affordable services without any hidden fees or GST. From its price list of divorce packages, it offers rates as low as $875 for an uncontested divorce and $2,000 for contested negotiations.
Customer Reviews
Here are some reviews to help you decide if Populus Law has the best divorce lawyers in Singapore for you:
"This Singapore law firm is the finest legal aid in divorce litigation and manages matters effectively with the spouse counselling session. Extensive family conflict experience
They helped me with ease to end a dispute."
"They are very helpful and give practical and suitable advice. They address every concern quickly and make sure all our problems are solved in due time. I will highly recommend them."
2. Trident Law Corporation
Trident Law Corp lives by three main values: Ingenuity, Rigour, and Tenacity. So, it strives to find innovative and creative ways to arrive at results that are in its clients' best interests.
The best thing about Trident Law Corp is that it approaches divorce cases with the whole family in mind. So, people say they're a good choice if you want to maintain a good relationship not only with your children but also with your ex.
Past clients say the firm's lawyers are straightforward to work with. We particularly like that they're reported to avoid giving clients false hopes or agreeing to harmful tactics.
Among its eight lawyers, however, only two of them have a focus and expertise on family disputes and divorce. That may be an issue at times when those two have a high caseload.
3. Godwin Campos LLC
With over three decades of experience in its hands, Godwin Campos LLC boasts of its high success rates in divorce cases. It also prides itself on being a multi-awarded boutique law firm.
Godwin Campos leads a large team of seven divorce lawyers who offer flexible problem-solving skills. Aside from these, the law firm also guarantees to create individualized strategies to match a client's situation, budget, and preferences.
This law firm negotiates child custody and matrimonial assets division disputes. While it also helps you secure your assets, Godwin Campos's law firm also minimises joint obligations for these assets.
With its large team of lawyers, it can take on just about any divorce case, whether domestic or cross-border or contested or uncontested.
The only thing we found difficult with this law firm is that it doesn't really accommodate weekend appointments. And while it does offer 2 short hours on Saturdays, these are only for appointments.
We also read about complaints regarding the lack of proper communications when paralegals are involved. So, if you deal with this law firm, make sure you consult with lawyers directly to avoid any miscommunication.
Customer Reviews
Clients have continuously praised Godwin Campos for its good-natured lawyers and well-managed proceedings, just as these reviews have said:
"It's never easy, physically, mentally and emotionally, to go through a divorce, and I'm grateful for the support and guidance of Mr. Godwin Campos and his staff (in particular Yee Chong), I was able to breeze through the application process and court proceedings. Mr. Campos's years of expertise on family law shone through by way of his professional dealings and assistance with my contentious divorce and child custody case. His efficiency and skill as a lawyer, plus great patience and concern, gave me assurance that I will be represented fairly and have nothing to fear. Thanks to him, I am now given a new found freedom to enjoy life with my son. I will definitely recommend Mr Campos to anyone in need of family law advice and representation."
"After a tedious divorce process, we came to an outcome that I was very satisfied with. Mr Godwin Campos and his team have been nothing but supportive, detailed and frank in everything they do, which I deeply appreciate. Thank you for guiding me through this difficult process and making it an easier one."
4. YEO & Associates LLC
Yeo Law is yet another law firm that offers its legal expertise for all types of divorce. It even offers some of the most affordable services, with its uncontested divorce package at $1,200.
All of its services are also packaged into divorce packages. And the prices for these services are conveniently displayed on its website.
This law firm can also cater to a large audience as its divorce lawyers have experience in handling both under-privileged and high net-worth cases alike. Additionally, its large team of eight family lawyers is skilled not only in litigation but also in mediation.
It can take up just about any request, including family law mediation, spousal and child maintenance, and even personal protection orders. Besides, some of its lawyers can also handle international divorce and family disputes born out of business problems.
Because of all these benefits, Yeo Law has even received numerous awards and has been interviewed by numerous national publications.
Customer Reviews
Due to YEO & Associates LLC's expertise, knowledge, and moral values, many previous clients have dubbed it as the best divorce law firm in Singapore, just as this review has:
"Ms Yeo and her able team has helped me not only through my uncontested divorce but also with my conveyancing matters. They are professional, thorough and extremely knowledgeable. Highly recommended for anyone looking to have an honest and pragmatic lawyer to represent them."
5. SG Divorce Lawyer
SG Divorce Lawyer has the best family lawyer in the country for mediations and litigations alike. This law firm has one divorce lawyer who already has about three decades of experience in family litigation and mediation.
This lawyer is also skilled and knowledgeable in commercial and civil law. So, it may be more difficult to book its services given that it only has one lawyer who caters to lots of people.
Nonetheless, it offers a wide range of divorce services, from financial settlements with your ex up to child custody agreements.
The best thing that SG Divorce Lawyer has to offer is its free phone consultation. With this added service, this law firm can accommodate urgent matters and provide some solid advice wherever their clients may be.
That said, if you're one of those people who doesn't like discussing serious matters on the phone, then you may want in-office consultations. Sadly, SG Divorce Lawyers doesn't offer these consultations for free.
6. R Kalamohan Law LLC
R Kalamohan Law has spent the past 25 years catering to the Indian community, specifically to the Tamil community, right here in Singapore. Its two lawyers tackle everything when it comes to family law, criminal law, commercial law, and estate law.
While this range may seem too wide for only two lawyers, clients say they still manage to deliver good and focused service. However, you will have to really compete with others for a slot in R Kalamohan's list.
When it comes to divorce and family law, R Kalamohan offers everything from amicable uncontested divorces up to cases involving personal protection orders and maintenance complaints.
Additionally, this law firm offers its services to those going through high-net-worth divorces. Aside from these services, R Kalamohan's divorce lawyer also has the skill and experience for mediation for a friendly resolution of matrimonial issues.
To find the best course of action among its flexible approaches, R Kalamohan conducts a 30-minute free initial consultation for each client too.
7. Bonsai Law Corporation
If you're looking for a divorce lawyer, then you've come to the right place. Bonsai Law Corporation is known for their high quality service at competitive rates.
They utilize resources given at their maximum, all while letting you in on the process real-time. They work in a simple manner, but you can rest assured that they'll get the job done.
They are experts in handling family law, so divorce cases are right up their alley. Bonsai Law Corporation can be trusted to handle these issues, and assure great results for their clients.
In case you are interested and are considering them to assist you in your case, they're open for consultations. You can contact them or head to the website for more details.
8. Crossbows LLP
Crossbow is home to four partners who have been practising together ever since 1998. With its many years of expertise, it has developed a system that many have reported very effective in practice.
First, Crossbow has a large team of three dedicated divorce lawyers to provide nothing but full attention to its clients. All three of these lawyers are also accredited practitioners of collaborative family law.
It's also worth noting that the firm has a reputation for trying to avoid escalation of costs. Crossbow does so by going through all the amicable routes of divorce instead of jumping ahead to heated and costly trials.
But despite being all for friendly divorces, Crossbow sadly doesn't have accredited mediators on its team. That's probably our biggest gripe with them.
Even so, clients say the firm tends to do very well at minimising acrimony in cases. They're also known for suggesting counselling and other peaceful solutions in divorce.
That said, those whose situation can't be helped by negotiations and would rather go straight to court may end up spending more time and money with this law firm.
9. Lie Chin Chin Family Practice Team
Now, if you want a law firm that offers flexibility with its approach, then Lie Chin Chin Family Practice may be a good option. This law firm takes into account its client's comfort and preferences and can thus adapt any type of tactic, whether amicable or aggressive.
Aside from catering to its customer's convenience and preferences, Lie Chin Chin also makes its approach cost-effective and tailored to the client's budget.
Another benefit that this law firm provides is excellent communication. Additionally, Lie Chin Chin also ensures transparency by giving regular statements and having pre-set divorce packages.
With these reports, clients can see just how much they need to pay for each phase of divorce. That's a big plus for a lot of people, especially those on a budget.
Lie Chin Chin also offers numerous ways to book appointments as it even accepts walk-ins. All these services may help explain its high client satisfaction rate.
However, Lie Chin Chin Family Practice is a part of a larger firm, so bear that in mind. So, you may find yourself competing with other clients when requesting an appointment.
Customer Reviews
Read these reviews to know more about what Lie Chin Chin Family Law:
"Chin Chin has strong knowledge in the area of advice and is very experienced. She is able to provide good advice and explain legalities in simple layman terms. She is professional and gives a sense of reliability."
"My family has been consulting Characterist LLC for generations. I am grateful for the available help .The professional and sound advice gives comfort and settles us. I appreciate how Chin Chin is consistently present, available and ready to help me whenever I reach out to her. Such great service gives me peace of mind! I am also grateful that she ensures to put my needs first and cares to thoroughly understand my situation in its entirety before giving me the relevant advice."
10. DMO Law Corporation
DMO Law seeks to provide effective and respectful legal services to individuals and small businesses alike. Its fields of practice range from commercial litigation, criminal law, divorce, and wills.
When it comes to divorce, DMO Law provides fast and pain-free services by drafting divorce papers and finalizing the process. So, this firm may be among your best options if you're facing an uncontested divorce.
DMO Law also caters to those with contested divorces. For transparency, the prices for each of these services are posted on its website.
However, its prices end at the assumption that contested divorces end after mediation. So, this may not be the best bet for those looking to really fight with their ex in court.
But while DMO's lawyer, Desmond, is certainly a man of many fields of expertise, his wide range of services also means a bigger target market. Thus, you may find yourself competing with others, especially businesses in need of commercial litigation, for its legal services.
Customer Reviews
Professionalism and sincerity are the characteristics that clients like the most about DMO Law. Here's a review that echoes this thought:
"My experience with DMO Law Corporation has been the most pleasant one. Desmond has demonstrated commendable professionalism and sincerity in every aspect of his work. Throughout the entire duration of engagement, he worked closely with his capable team to consistently provide me valuable insights and practical advice. I would strongly recommend DMO Law Corporation, and in particular Desmond, to anyone who is looking for dedicated, conscientious and knowledgeable lawyer."
11. Tembusu Law LLC
Tembusu Law brands itself as a modern-day law firm by using the latest technologies to make things convenient for its customers.
Probably what put them on our radar first is that Tembusu Law gives its customers the freedom to control their case's elements, including costs, timelines, and approaches. This is great modularity, again ideal for those on a budget.
Among its four lawyers, only one has experience in divorce and family law, though. Nonetheless, this divorce lawyer is skilled in handling financial disputes, child custody, Muslim divorces, and cross-border jurisdiction.
It's also worth noting that Tembusu Law provides pro bono services. So, Singaporeans who are in desperate need of divorce but don't have any means to do so can still rely on this firm.
All these benefits make Tembusu Law one of the most sought-after law firms, which is its own drawback. You may find them often rushing consultations and phone calls just to accommodate their growing clientele, just as others have.
Customer Reviews
Here are some reviews to tell you more about Tembusu Law:
"Spoke with Jonathan to understand a bit more about the divorce process. He was very patient in explaining the details, and shed light into areas that I had not thought of previously. Thank you team!"
"Just a quick call to understand with regards the maintenance issue. Given a quick reply and good advise even without a meet up session. Thank you once again for your advise I will proceed with necessary issue at my end. Have a great day ahead!"
12. Ray Louis Law Corporation
Now, if you're looking for another firm with the best Singapore lawyers for an uncontested and amicable divorce, then Ray Louis Law Corporation may be the one for you. This law firm is home to Ray Louis, a collaborative divorce lawyer and mediator.
His experiences include international divorces and even division of high-net-worth assets. Despite being an expert in collaborative divorces, Ray Louis Law still accepts requests and cases with complex matters, like PPO, involved.
Like many other law firms, this firm recognizes that divorce is an emotionally draining process. But unlike other law firms, Ray Louis Law takes its services up a notch with its in-house counselling services.
By the way, Ray Louis Law is another firm that offers pro bono services. And the thing is, all the aforementioned benefits are also available to pro bono clients.
However, these pro bono services can only benefit the underprivileged while others have to avail of Ray Louis Law's more expensive services.
Customer Reviews
Now, read these reviews to determine whether or not Ray Louis Law has the lawyers you need for your situation:
"Hi Mr Ray and team, I would really like to thank you for all the help that you have provided to me. It was a long journey of 4 years and a difficult one indeed, but worth the wait. Although there were numerous ups and down along the way, I'm glad it finally came to an end and a happy one as well. My greatest gratitude goes to you and team, for all the support, advice, updates and most of all, winning the case ultimately. I will definitely recommend you to my peers, should they need any legal assistance. Thank you and god bless. :)"
"Ray is a lawyer with the utmost of honesty and integrity. It was clear to me within a few minutes of meeting him that Ray was going to give me honest feedback, which was exactly what I needed to fully understand the situation I was in. Ray did not hurry me with time, he was there to listen and understand the situation as best he could, so he could give me the best advice possible. When I had to follow up with Ray later by What's App, he was so responsive, I didn't expect him to get back to me so quick. Again his honesty and transparency shone through. I was concerned that he might look to charge me for some more services but the opposite was true. If there was something I didn't need then Ray told me so. I'm sure other lawyers would have sold me services I didn't need.
Thank you Ray for the excellent service. It was so good to feel that I had a trusted lawyer supporting me. Keep up the amazing work!!"
13. Rajan Chettiar LLC
If you're still undecided on the approach you want for your divorce, then Rajan Chettiar should be among your top choices. It offers numerous options since its family lawyers are experienced in litigation, mediation, and collaborative law.
Its founding lawyer, Rajan Chettiar, is even one of the earliest trained mediators in Singapore. He has a lot of experience in handling amicable divorces.
The firm also has excellent price transparency. But while Rahan Chettiar provides a comprehensive costing report, some people still complain about costs, so keep that in mind.
Additionally, this law firm offers free initial consultations but given the current set-up, Raja Chettiar only offers them online or via telephone. That said, you'd have to find another firm if you want immediate in-person consultations.
Customer Reviews
Customers have continuously praised Rajan Chettiar LLC for its fast process, responsive lawyers, and transparent pricing. At least, that's what reviews like these have said:
"Beyond impressed with Rajan Chettiar LLC, they helped me through what should have been a very difficult time and made it a very seamless process to go though. Thank you so much for everything. I would recommend them to anyone, if you're going through a divorce and need things taken care of, give Rajan Chettiar a call."
"I was so depressed from the burden of my departed marriage that I desperately needed a good counselor or a hand holding else. Having lived for almost 5 disastrous years of my life with a man who had brought nothing but, misery. I was completely blown up and this is when i happpened to google online and found Mr. Rajan Chettiar. His wise solutions and counseling while the separation really helped me to the core and I could successfully avoid all kinds of depression and obstacles that could come my way. His expertise in his field has rewarded him as one of the finest divorce mediator cum divorce lawyer in Singapore. Thanks to Mr. Rajan Chettiar to guide me through this bitter phase of my life."
14. I.R.B. Law LLP
I.R.B. Law is a law firm with numerous fields of practice, ranging from family law up to employment law. It seeks to solve divorce cases in a non-confrontational and amicable manner.
Aside from its wide service range, this law firm provides other benefits to make itself accessible. First, its lawyers are fluent in a total of four languages, namely Chinese, English, Malay, and Tamil.
Next, I.R.B. has the most Syariah Law lawyers in Singapore and can thus accommodate Muslims who are to undergo divorce.
Third, I.R.B. offers accessibility by having five convenient locations spread around the city. It also has convenient opening hours so busy clients can book their consultations even on weekends.
Lastly, I.R.B.'s online request forms lets its clients choose what time the law firm can call back. It even has an option for clients to upload necessary documents.
But many previous clients have also confirmed that I.R.B. Law seemed to lack urgency as many messages, emails, and queries remain unanswered. This issue, along with the uploading of documents, can be a problem for those who need immediate help.
Customer Reviews
With its expert services, I.R.B. Law has received numerous 5-star reviews, including the ones below:
"It was a privilege to had IRB Law represented me in my Divorce. My lawyer went extra mile and I am comfortable with her. She meticulously worked on my matter. I would like to share my appreciation also for being responsive to my questions. I acquired too much knowledge during the proceeding. From the consultation up to rendition of judgment you assisted without hesitation. You are recommendable. May you prosper in your profession."
"I am glad that I chose IRB Law to manage my divorce case. I was very lost on how to go about my divorce at the beginning, they explained and made me understand the divorce procedures. They handled my case smoothly and professionally. I would like to thank all the legal associates and lawyers for attending to my divorce case from the beginning till the end.
15. Grace Law LLC
As a full-service law firm, Grace Law LLC offers its lawyers' expertise to commercial giants and individual Singaporeans alike. For over 20 years, this law firm has been handling both local and international divorces.
For divorce cases, Grace Law is reputed to put clients' and their children's interests first. You should know, Grace Law's divorce lawyer, Grace Malathy Ponnusamy, has experience in many types of claims and in winning child support cases in high court.
It also offers convenient appointment booking via phone or online forms. However, its site's terms and conditions clear Grace Law of liability for any potential security risks on its website.
But while Grace Law has very deep knowledge and focus on divorce and child custody cases, its services are limited to these two. So, if you're someone who seeks help to gain back assets or sue an abusive ex, then this may not be your best bet.
Customer Reviews
Here are some reviews that are grateful for Grace Law's expertise, patience and compassion:
"Grace LAW has been incredibly helpful dealing with my case. This was a complicated situation as I'm not physically located in Singapore. Grace was professional, and expert in her field, responsive and informative and she continuously managed to calm me down in times of uncertainty. Thank you Grace LAW and especially Grace herself who has taken this case upon herself and has done an amazing job."
"No words can describe how thankful I am towards Grace & team. You guys are superb. The process for my divorce was tortuous but despite the challenges Grace did everything smoothly. The dedication they put towards my case truly shows how professional they are especially when you see the results. Grace is a positive and thoughtful lawyer who will advise and guide you throughout the case. I am thankful that I choose the right lawyer"
16. AC Shone & Co.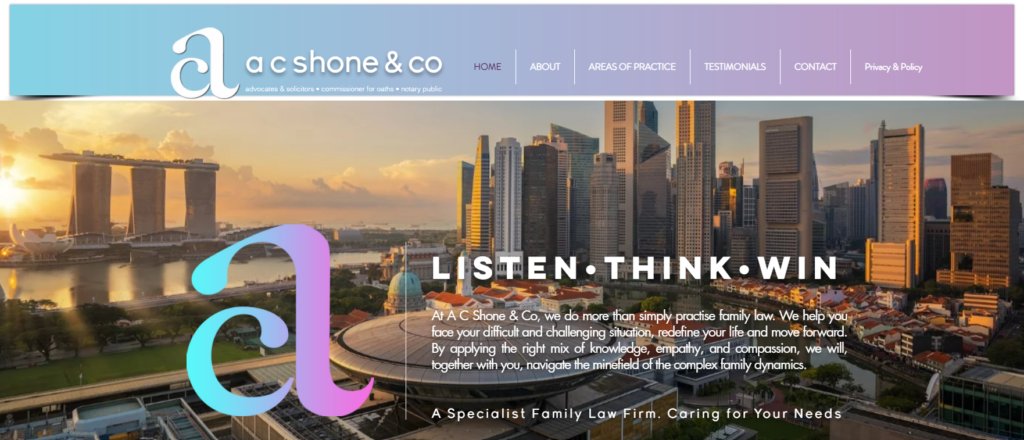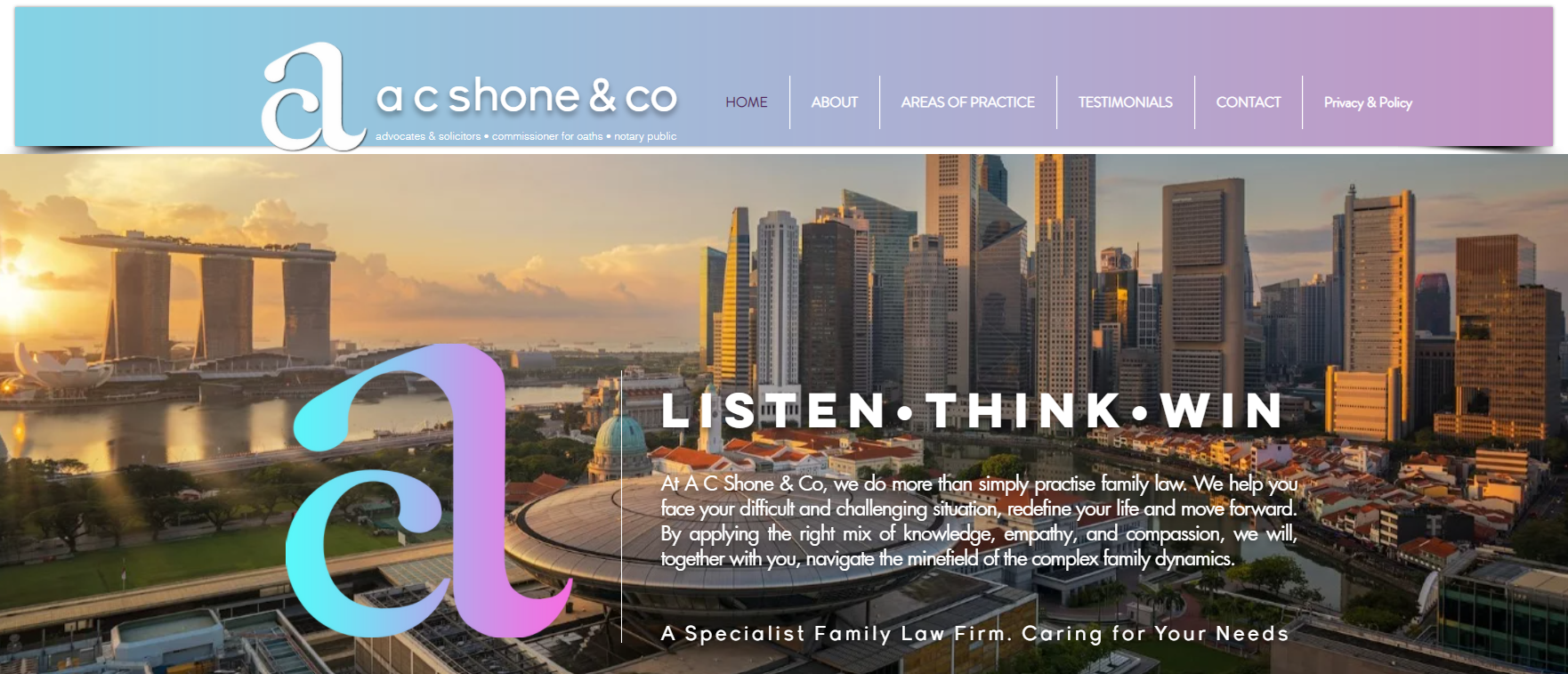 A C Shone & Co. knows how complex family dynamics can be. Several problems may arise, and although clients may not be as familiar to what they can do, the lawyers in the firm are definitely equipped to assist them.
Throughout A C Shone & Co.'s years in the field. they have experienced handling a multitude of cases, from adoption and children disputes, to divorce and annulment. They also assist in wills & probate, and even property settlements.
Rest assured that all cases handled at A C Shone & Co. are handled in a professional and timely manner. Confidentiality is guaranteed, and they make sure to bring the best solutions to the table and give their clients the maximum benefits in each situation.
Consultations are free for the first 20 minutes, and is highly encouraged by the lawyers at A C Shone & Co. for them to gauge the extensivity of the case. It can be booked through the website or via email.
What to Consider when Choosing a Divorce Lawyer
Now that you know just how complicated divorce can be, make sure you consider the qualities of the lawyer you're hiring. Here's a comprehensive guide to help you choose from our list of the best divorce law firms.
1. Expertise
Divorce is a complex matter so you should choose a lawyer dedicated to this field of practice. So, family lawyers who are specialised in divorce and other aspects of the split should be your go-to lawyers.
2. Experience
Experience can also go a long way in and out of court. If you're planning on getting a reasonable portion of your shared assets, then you have to choose a lawyer who's good in negotiations.
Now, if you need help with complex matters such as child custody, then you'll need someone with experience and previous successes on the matter.
3. Communication
Divorce is not just complex, but it is also an emotional legal dispute so you should find a lawyer you can communicate with comfortably and effectively. Choose a lawyer who is ready to listen to you and support you while still being frank and practical.
You should also choose a divorce lawyer whom you trust. The more they know about your role in the marriage, your motivations, and your reservations, the more they can help you both in and out of the court.
4. Costs
Lastly, make sure your lawyer offers hourly rates or lump-sum costs that you can afford, especially if you're facing an uncontested divorce.
Frequently Asked Questions about Divorce
---
And that's it for our list and complete guide of the best divorce lawyers in Singapore! If you're still having trouble deciding which to pick, you can simply go back to our guide for the factors to consider.
Divorce is such a complex family law matter, so if you have any feedback for your experience with any law firm listed here, please keep us in the know. You can also message us if you have any other recommendations.
If you're looking for other law-related lists and guides, then you may find our list of the best family lawyers in Singapore helpful. These lawyers will guide you in every step of the process so you can get the best settlements and results out of your situation.