The 6 Best MIDI Keyboards in Singapore for All Levels Reviewed
If you're thinking about testing your skills on other instruments, then we suggest getting hold of the best MIDI keyboards in Singapore. A lot of musicians these days are using MIDI keyboards to compose their own music, so having one will surely lead you to the right path in your own musical journey.
Since there are lots of MIDI keyboards sold on the island, looking for the right one may not be easy. But we're here to offer some help the best way we can with our list of the best MIDI keyboards in Singapore.
To make things a bit easier for you, we've also gathered good intel on how to look for the best MIDI keyboards in Singapore. That way, you'll know which one matches your musical skills and preferences.
Anyway, let's get started!
How to Pick the Best MIDI Keyboards in Singapore
The best MIDI keyboards in Singapore have been around since the 80's, but there's no doubt that their popularity has skyrocketed in previous years, especially with younger and entry-level musicians.
That being said, it's not easy to come by the best MIDI keyboards in Singapore, as there are lots of factors to remember. You want to avoid the pitfalls of underbuying, or worse, overbuying more/less than what your skill can handle.
To that end, let's go over some of the considerations every buyer needs to take note of.
1. Number of Keys
Your choice of the number of keys for your MIDI keyboard will boil down to your piano and keyboard skills. It can range from anywhere between a single octave to a full-range piano with 88 keys.
If you've played a piano before but are new to MIDI keyboards, then we're sure that 88 keys might be the right option for you. It will allow you to use your piano skills and test it on MIDI keyboards.
On the other hand, if you haven't tried playing any instrument before, then going for single-octave MIDI keyboards is the most practical option for you. You're free to go for full-range keyboards once you've gathered enough experience playing with the single octave.
2. Action
After deciding how many keys you need, it's time to consider the action of the keyboard, or how its keys feel.
If you're a pianist by heart, then you'd know that going for weighted hammer action keys is the only option. It's the most comfortable option too, as it would feel like you're just playing the acoustic piano, although with different sounds.
3. Key Size
You have to consider your piano skills when choosing the right key size — in some cases, even the size of your hands.
If you're clueless about the key sizes of MIDI keyboards, most of the weighted ones have full-size keys like a piano. We highly recommend going for full-size keys if you have played a piano or other instrument in the past.
For those who are just starting out, you can choose between semi-weighted or unweighted keys. Both of these come in a wide variety of sizes, from medium-sized to mini, allowing beginners to be acquainted with how MIDI keyboards work first.
4. Pressure
Pressure refers to the ability of a pad, key, or other MIDI device to continuously send a stream of data control once anything gets pressed.
It's the pressure sensor of the MIDI keyboard that sends a corresponding line of MIDI information that can be passed on to different MIDI devices to make a sound or add variety to it.
5. Pedals
Pedals are the least of your worries when looking for the best MIDI keyboards in Singapore, as even standard models now come with at least one pedal input for a sustain effect. If it comes with a 2nd pedal input, it's most likely an expression pedal.
The Best MIDI Keyboards in Singapore
Anyway, now that you're aware of what to look for when shopping for the best MIDI keyboards in Singapore, you're probably ready to see our picks!
So, without further ado, let's look at our picks for the best MIDI keyboards in Singapore.
1. Worlde Easykey MIDI Keyboard
Best for Portability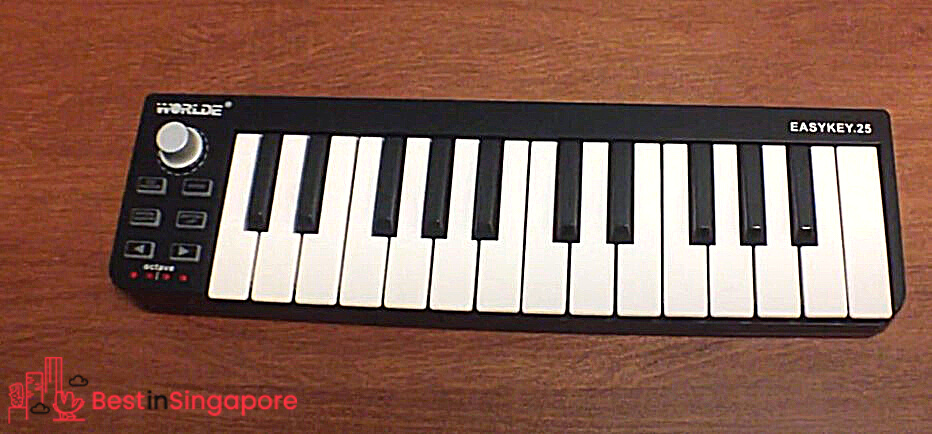 Price: $48.08
Who wouldn't love to bring their MIDI keyboard everywhere and play whenever they want? If this is what you want as well, then we recommend checking the Worlde Easykey MIDI Keyboard.
We call it one of the best MIDI keyboards in Singapore for its portability and amazing features despite its affordable price. It comes with 25 velocity-sensitive mini-keyboard keys, a feature ideal for beginners and entry-level musicians.
What's more, the Worlde Easykey MIDI Keyboard has 6 control buttons: edit, mod, pitch down, pitch up, octave down, and octave up, allowing users to be creative and play around while composing music.
In terms of key action, we admit that it's not the best choice as its keys are not weighted. However, if you're a beginner, you won't need to settle for a weighted MIDI keyboard right away, so it's still a more-than-decent option.
Pros
Affordable
Portable and compact
Suitable for beginners
Cons
2. Worlde Tuna Mini MIDI Keyboard
Best for Cool Design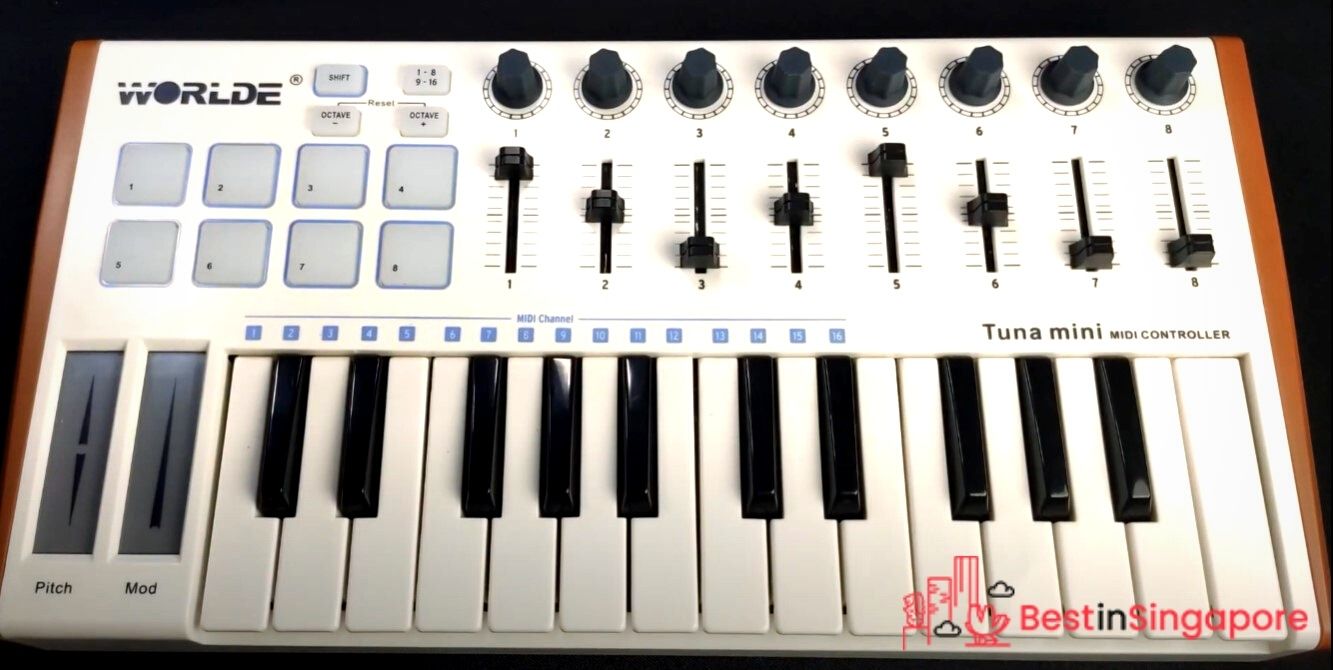 Price: $87.78
If you want to do away with the black, standard appearance of MIDI keyboards, then the Worlde Tuna Mini MIDI Keyboard comes highly recommended. It features a refreshing, contemporary design punctuated by the faux wood sides and white panels.
On top of that, the Worlde Tuna Mini MIDI Keyboard comes with amazing specs too like the 25 weighted mini keys, 8 control knobs, and 8 faders, all of which allow users to be more creative while composing music and playing musical pieces.
Another reason we consider it one of the best MIDI keyboards in Singapore is its compact and lightweight design, weighing approximately 1 pound. So, if you're looking forward to playing and composing music at different venues, then you will surely love it just as we do.
It's also one of the few MIDI keyboards that support a wide range of connectivity technologies, even hot plugging. This means that users will be able to connect and disconnect it without losing the power supply.
Pros
Lightweight and compact
Supports hot plugging
Can be connected to Garage Band, Music Studio, etc.
Cons
Durability is questionable
Customer Reviews
Take a look at some of the comments posted by customers on Amazon:
"This is a great little midi keyboard with 8 pads. The keys are a little smaller than full size, but larger than the keys on the mini Korg keyboards. Touch sensitive keys and pads. 8 slider controllers and 8 continuous rotary controllers. It also has ribbon sliders for pitch and modulation similar to what Moog did.. The unit is well programmed and works with Reason and numerous keyboard software. The quality is quite good, as is the price! Highly recommended"
"I've been playing nonstop since I got it and I love it!! It is small, lightweight and handy like I wanted. It comes with an USB cable to plug it to the computer and it has a lot of functions to play with and the sound is great too. I 'm teaching myself to play some easy songs from YouTube and have great fun so far. It is so small and Lightweight I can take it with me when I am traveling to see my niece to play with her or just to keep me entertained in the hotel. I think the quality is great for its size and specialty for its price."
3. WORLDE Panda MIDI Keyboard
Best for Beginners
Price: $138.00
For those wanting to dip their toes into music, then using the WORLDE Panda MIDI Keyboard might be the best option for you. It's a keyboard designed to cater to the needs and skills of beginners who haven't touched any musical instrument before.
For one, it comes with 25 velocity-sensitive keys that make it easier to acquaint yourself with the tones and sounds of each key. No need to press harshly on each key to get the sound you're searching for.
Some other features of the WORLDE Panda MIDI Keyboard that convince us it's one of the best MIDI keyboards in Singapore are the 8 trigger pads with RGB-backlit, 8 assignable knobs, 8 control buttons, 10 data entry buttons, and 2 pedals.
Above all, the WORLDE Panda MIDI Keyboard is compatible with a wide range of computer operating systems, from MAC OSX to Windows 10, so beginners can use a computer as a guide while learning how to play.
Pros
2 pedal inputs
Velocity-sensitive keys
Compatible with MAC and Windows
Can be used with music softwares and applications
Cons
Heavier than most entry-level MIDI keyboards
4. KORG nanoKey
Best for Composers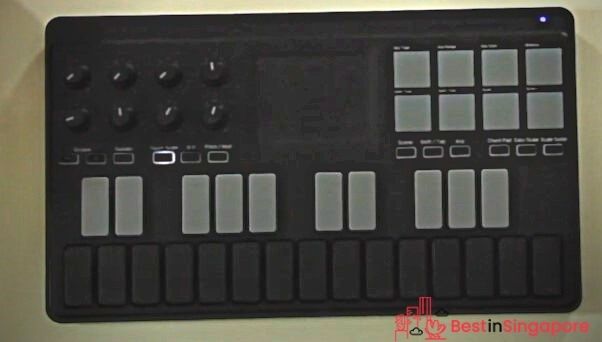 Price: $195.00
If you're looking for a MIDI keyboard that allows you to create music without a complicated setup, then look no further than the KORG nanoKey. It's considered one of the best MIDI keyboards in Singapore.
For one, it's tagged as an all-in-one musical setup because it comes with a keyboard, knobs, trigger pads, and touch pads, among others, making it easier for composers to turn their inspiration into sound.
Users can even bring it everywhere they want because of its lightweight and portable design. Power source won't even be a concern because it comes with a battery, one that doesn't drain too quickly, no less.
Another feature we love about the KORG nanoKey is the scale guide function that lights up to show recommended notes in the scale, making it easier to play and create music.
It can also be connected to your mobile devices via Bluetooth, so playing with musical applications will become more convenient than ever.
Pros
25 backlit keys
Scale guide function
Bluetooth connectivity
Lightweight and portable design
Cons
Not suitable for beginners
Customer Reviews
As one of the best MIDI Keyboards in Singapore, it's no surprise that it's received mostly praise from its buyers. Here are some of the feedback:
"Wow, I love this thing! Using it with an iPad and the Korg Gadget app was the first time I actually enjoyed making music on an iPad! It just works. (You do have to install a separate app on a Mac to connect – but once you do, you are good) I have many other synths and MIDI keyboards, but I still love this thing! I use it for travel and for working with Korg Gadget. The other keyboards control my DAW/Plug-ins when working in my home studio."
"I think this is a fabulous piece of kit. Truly. But I supposed you need the right use for it. If you use a DAW at home (I use Logic Pro btw) then this gives you a physical mixer/looper and jog wheel. It works a treat. The Bluetooth never cuts out and it leaves your USB ports free. No latency either! NOW, I bought it to use in a live rig and it's brilliant for that too. I run Logic for live performance of drums and backing and play along on MainStage. This Korg 'sticks' to Logic, lets me control it while MainStage dominates the screen. For that purpose it is an absolute boon. Well done Korg!"
5. Akai MPK Mini Play Compact Keyboard
Best for Extra Features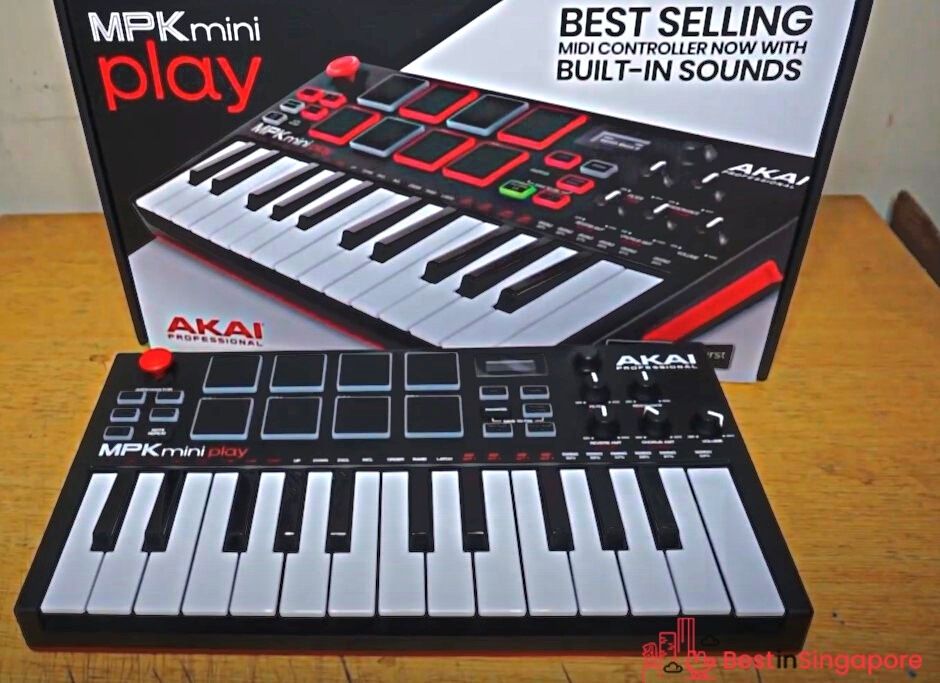 Price: $252.63
If you're willing to spend on a MIDI keyboard just to learn how to play, then we suggest getting your hands on the Akai MPK Mini Play Compact Keyboard. Even if you're the most experienced player on the island, you can still enjoy what it has to offer.
One reason we consider it one of the best MIDI keyboards in Singapore is that it can be used by both beginners and experienced musicians, constantly adjusting to the skills of the users.
It might have fewer keys compared to what should be the standard for advanced MIDI keyboards, but it does the job well, if not better.
What it lacks in keys it makes up for in extra features, which include 128 demo sounds, built-in synth and speakers, drum pads, OLED displays, and a 4-way joystick for pitch and modulation control.
Pros
Built-in speakers
OLED display for browsing
Suitable for beginners and experienced players
Cons
6. Novation Launchkey 37 MK3 USB MIDI Keyboard
Best for Ableton Live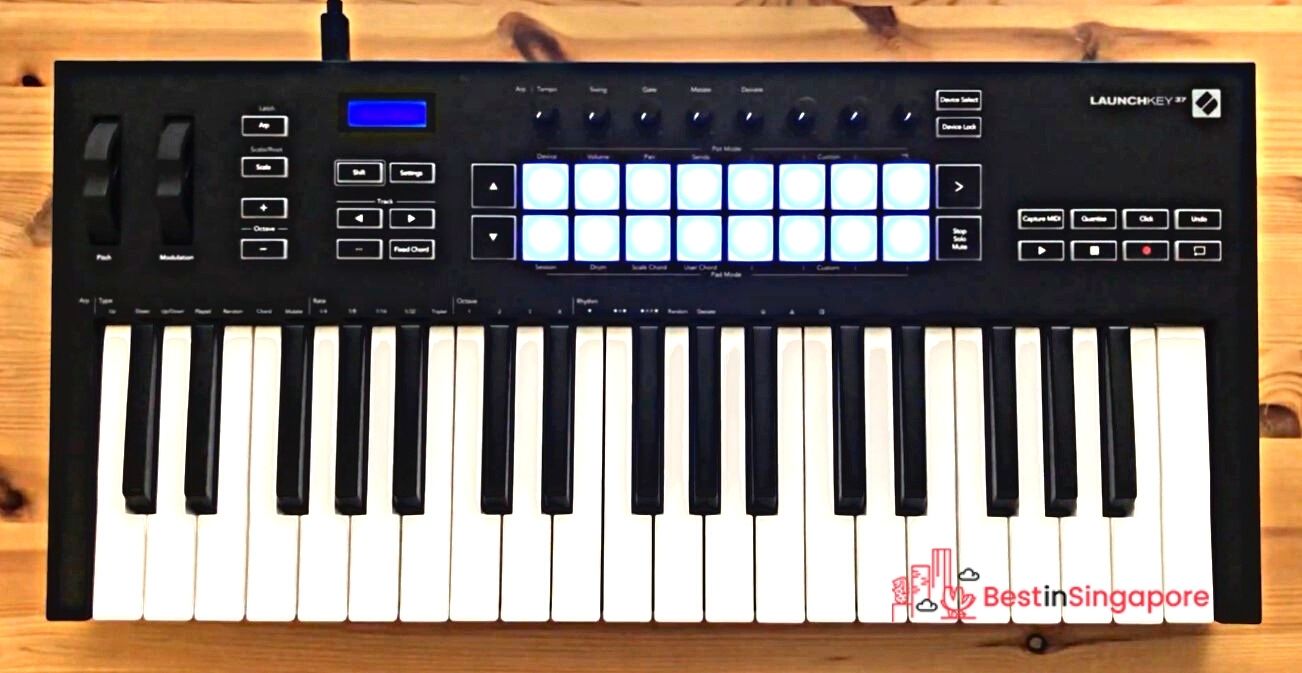 Price: $290 (excl. GST) | #310.3 (incl. GST)
The Novation Launchkey MK3 is a MIDI keyboard perfect for making tracks in Ableton Live. It contains a wide range of features for any music creator, from scale & chord modes to an arpeggiator push.
The Launchkey can be connected to any MIDI-compatible device. As a plus, it can work standalone– perfect for any music-making setup.
Pros
Three chord modes
Minimal setup needed
Cons
Mostly suited for Ableton Live
And with that, we conclude our list of the best MIDI keyboards in Singapore. If you were able to choose which one to get, share your pick with us and what features convinced you to buy it!
If you know other MIDI keyboards in Singapore worth checking out, tell us their names and we'll check if we can add them to our list.
By the way, if you're looking for other instruments perfect for beginners, we recommend checking out our list of the best acoustic guitars in Singapore. Our list contains some of the best and cheapest guitars that beginners would love to get their hands on!