5 Best Co Sleepers in Singapore for Babies and Parents
Keeping your baby safe and comfortable while sleeping can be hard, especially if you have to go back and forth just to check the crib. That's why having the best co sleeper cot in Singapore is one of the most recommended solutions for every parent.
With a co sleeper directly attached to the parent's bed, babies can sleep faster and longer and parents can feel more reassured. It also promotes a stronger connection between the baby and the parent.
It's clear that co sleepers are must-haves for most parents in Singapore now. Unfortunately, if you try to buy one, you'll probably be overwhelmed by the range of brands and models available on the market.
To save you from long hours of browsing, we've already done the research and listed some of the best co sleepers in Singapore! But before we jump into the list, let's check out the factors that you must consider when buying a co sleeper cot in Singapore first.
How to Choose the Right Co Sleeper
Since your baby needs at least 12 hours of sleep a day, it's extremely important that they have a bed that perfectly fits with them. And what suits one baby doesn't always suit another, does it?
That's why it pays to know what to check when buying a co sleeper. Here are some things to look out for when choosing a high-quality co sleeper for your baby in particular.
1. Safety
A good co sleeper must have a solid frame and secure walls to protect your baby against any possible harm. A firm mattress pad will also prevent the baby from sinking into the bed.
Also, check if the sheets are made with the right fit because loose sheets can lead to a risk of suffocation. These pointers are applicable regardless of your baby's age, by the way — safety is a universal consideration for co sleepers!
2. Versatility
You need a bassinet in Singapore that fits your baby. Unfortunately, babies grow pretty quickly, so buying a right-sized co sleeper can be a pain.
To ensure a perfect fit, choose a co sleeper cot that has adjustable height settings instead. You must also see if the side walls are adjustable so you can simply lean over and check on your baby during the night.
Most co sleepers can be transformed into cribs as well — this way, you won't have to buy a new one when your baby grows older.
3. Visibility
With a co sleeper in Singapore that has net/mesh around it, you can be sure that your baby will get enough air while sleeping. A transparent net can also help you monitor your baby from time to time.
4. Easy to Clean
Babies can get easily affected by dirt and dust particles so you must make sure that your newborn will always sleep with a clean bed.
Choose a co sleeper in Singapore that you can easily wash without the need to use extra cleaning solutions or any harmful cleaning agents.
The Best Co Sleepers in Singapore
As you take the given factors into consideration, it's now time to see our selected best co sleepers in Singapore! We've carefully chosen the ones with excellent functionality and durability so you'll certainly find the right co sleeper for your baby!
1.   BabyBjorn Cradle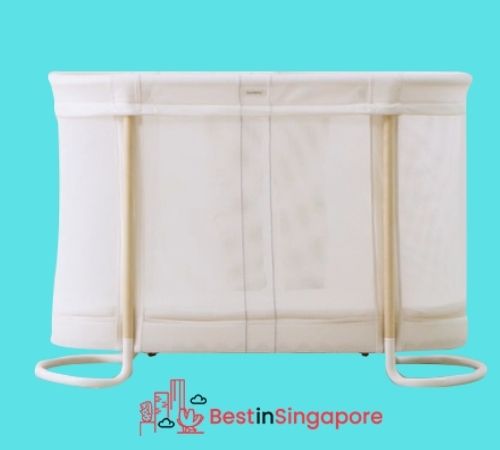 Price: $503.10
The BabyBjorn Cradle is a simple yet well-made co sleeper with a gentle springy movement, helping your baby fall peacefully asleep. It's a good choice for newborns in the early months – when they alternate short periods of sleep and awake time.
You can simply rock the cradle with your hand and foot for a soothing motion. The cradle is strongly built and has non-slip feet to fully support the gentle rocking movement – so there's no need to worry about possible fall or any incident.
It has soft and airy mesh fabric for a secure and safe sleep. Due to its lightweight and portable design, you can also easily move it around the room and fold it up for storage.
Moreover, the cradle's mattress is machine washable so you can maintain its cleanliness without any hassle!
Pros
Easy to fold and move around
Sturdy wood and steel design
Ventilated mesh
Waterproof design
Gentle rocking motion
Sheets are easy to fit in
Cons
Customer Reviews
Many customers recommended the BabyBjorn Cradle because of its solid construction and gender-neutral design. They also said that the cradle is truly made with great features that kept their babies comfortable and safe.
A customer shared this experience:
"We wanted to have a lightweight crib to use on our main floor. Looking at the various other cribs on the market, the Baby Bjorn crib was the best design both aesthetically and practically. After having our baby, we scrambled to put together the crib but was pleasantly surprised to see that all you need to do is unfold the legs, attach the base with the supplied hex key and then put on the fabric. The fabric seems to be the same light weight, strong and breathable fabric used for the sport carrier. We like the gentle rocking motion, light weight (so it can be moved to different floors of the house when needed) and touch of wood for a "warm" look. Great design!"
2.   Arm's Reach Concepts Clear-Vue CoSleeper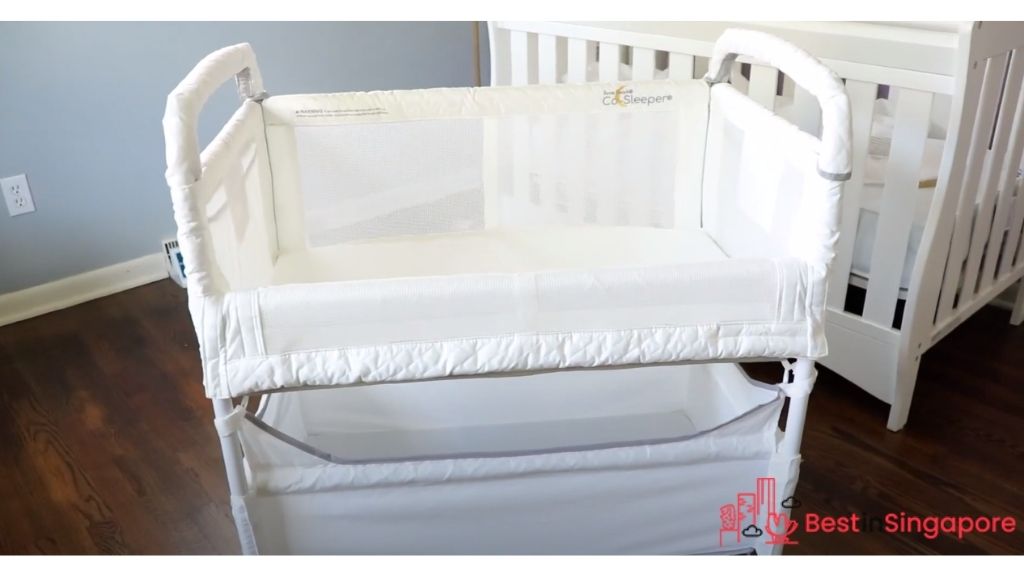 Price: $350.90
With the visible net of the Arm's Reach Concepts Clear-Vue Co Sleeper, you can watch over your baby at all times as well as move it closer for feeding and bonding. Unlike the previous option, it has built-in leg extensions so you can set a specific height setting based on the bed's height.
This best co sleeper in Singapore can either be used as a stand-alone or be attached to a bed. It also has castor wheels so you can stroll it around the house and place it wherever you need it.
The breathable mesh sides allow sufficient air for a good and comfortable sleep. It's also built with a patented attachment strap to keep your baby safe.
To store the baby's daily essentials in a convenient space, a large storage basket is included beneath the bassinet.
Pros
Breathable mesh sides
Solid build
Large storage tray
On castors for mobility
Attaches to bed with the side down
Cons
Mattress can be replaced with a more suitable one
Customer Reviews
The Arm's Reach Concepts Clear-Vue Co Sleeper has gained positive reviews from the customers due to its versatile functions, breathable sidewalls, and machine washable lining/sheets. A customer posted this feedback:
"I'm so happy with my recent purchase of the Clear-Vue co-sleeper. My husband was able to assemble it quickly with no issues. We ordered the grey and it looks great. The co-sleeper fits perfectly next to my bed and I love that all 4 legs have wheels, which do lock. The storage below is an added bonus along with the pockets on the ends which will come in handy. I can't wait to put it to use with my little one. Having this co-sleeper will make things much easier during those middle of the night feedings and diaper changes. My sister had one with her last 2 kids and couldn't imagine having anything else. If you're on the fence about the purchase definitely buy, these are great to have your baby in."
3.   BabyHome Air Bassinet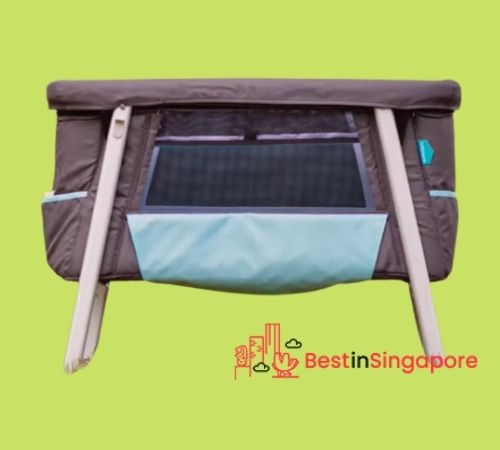 Price: $499.00
The BabyHome Air Bassinet features an attachable changing pad, which is quite rare for co sleepers. It also comes with easy-to-reach side pockets for storage of diapers, wipes, and more essentials.
It's designed with a mesh window so you can always see your baby and it also helps provide better ventilation. The best thing about this one is that it has interchangeable positions where you can move it around or use it as a rocker.
With this multifunctionality, it can truly be the best co sleeper in Singapore.
Pros
Good ventilation and visual contact
Light and easy to fold
Adjustable leg positions
Changing pad
Side pockets
Cons
Lack of net cover over the top for bug protection
Takes time to set up
Customer Reviews
Parents loved the soft and durable fabric, specially-made mesh sides, adjustable frame, and changing station of the BabyHome Air Bassinet. A customer gave this review:
"Your little angel is so precious and, as a parent, all you want to do is give her the best. So, when it comes to sleep, safety, and comfort the BabyHome Dream Air bassinet definitely takes a front seat to the competition. It's a uniquely designed bassinet and the fact that it can do multitask as a diaper changer actually saves you money. Plus, the built-in technology that converts it into a rocker provides your precious little one with constant soothing movements. But there's still more, you can wheel the bassinet around the house and go about your daily chores while still keeping a constant eye on your baby."
4.   DaVinci Baby Kalani 3-in-1 Convertible Crib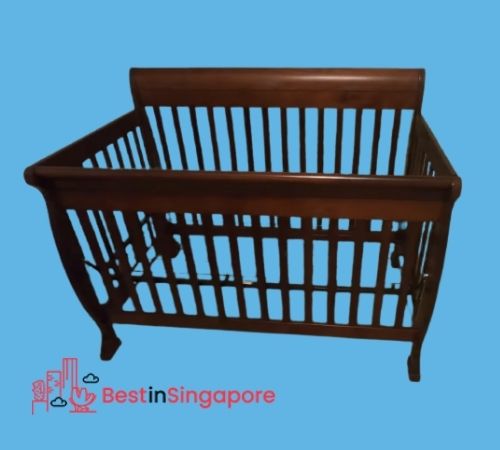 Price: $841.49
The DaVinci Baby Kalani 3-in-1 Convertible Crib is one of the best-selling products of the brand because of its great functionality and eco-friendly design. It's made with natural solid wood for stable and long-lasting build.
With this crib, you can avoid buying multiple beds while your little one grows, for it has a convertible design. You can use it as an infant or toddler bed. It can even be transformed into a daybed!
Additionally, this best co sleeper bassinet in Singapore has 4 adjustable mattress positions, giving you the option to lower it as your baby begins to sit and stand.
Pros
Long-lasting build
Grows with your child
Adjustable mattress positions
Cons
Low construction makes it hard to bend down and reach into it
Customer Reviews
Customers were impressed with the versatility and cost-effectiveness of the DaVinci Baby Kalani 3-in-1 Convertible Crib. They said that it's a worthy investment because it can be used as the baby grows older.
A customer gave this feedback:
"There are a considerable amount of benefits that you're going to be able to take advantage of when you invest in the DaVinci Kalani convertible crib, but the most impressive of these benefits has to be its ability to convert easily from a crib to a toddler bed, a daybed, and a full-size bed – all without any real extra effort on your behalf whatsoever. This guarantees that you'll be able to purchase a single piece of furniture for your child when they are born, and then continue to use that same single piece of furniture for years and years to come before they eventually outgrow it. By that time, you'll have no doubt recouped the initial investment and then some – making the DaVinci Kalani convertible crib one of the smartest purchases out there today."
5.   IKEA Sundvik Cot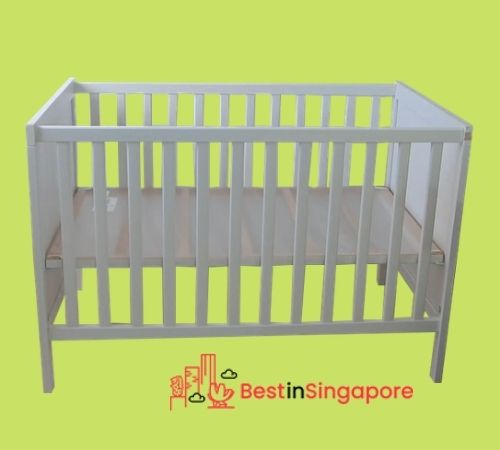 Price: $264.57
The IKEA Sundvik Cot features a timeless style with a safe and durable design. This best co sleeper in Singapore offers flexible settings to provide certain stability and comfort throughout the night.
This includes the adjustable base of the bassinet that you can set at 2 different heights to find the right fit. It also has a well-ventilated design to ensure good air circulation.
You can also remove one cot side when your child becomes big enough to climb into/out of the crib. In short, this is a great buy if you want something that'll last for quite a while as your baby grows!
Pros
Simple and lightweight design
Sturdy build
Easy to assemble
Well-ventilated
Cons
Two height levels only
Slightly hard to take the sides down
Customer Reviews
Most customers complimented the strongly built structure of the IKEA Sundvik Cot. They also shared that it only takes a few minutes to assemble it.
A customer wrote this review:
"The cot is easy to assemble and is a simple style in a nice colour which is exactly what we wanted. We chose not to get a cotbed as we didn't have the space for it, however this cot can be converted to a smaller version of a cotbed when the side is taken off so will last until we need to move our baby into a bigger bed. I would say that the highest setting is still quite low for a yiung baby going into the cot but i might be greatful once our little girl starts trying to stand."
And that's our list of the best co sleepers in Singapore! If you'd like to recommend more options, feel free to share them with us!
And if you're also looking for a stroller where your child can sleep comfortably even during outdoor trips, see these best double strollers in Singapore!