5 Best Headphone Stands in Singapore for Better Organisation
If you can't stand the sight of your headphones just lying around the room, then it's high time to buy one of the best headphone stands in Singapore.
Headphone stands are a great accessory, and can help with storing your headphones and extending their warranty. And we've gathered the best ones into a neat little list where you can pick out the ones that suit your needs.
But before that, we've set up a quick guide that can help you figure out what kind of headphone stand you can afford without sacrificing quality. In any case, let's start!
Headphone Stands: A Quick Primer
Headphone stands are no-frills, straightforward products with one purpose: to keep your headphones standing while keeping you desk free of clutter.
Aside from the balance, headphones stands are usually a matter of preference. One of the most important factors is how it matches your set up.
1. Types of Set Up
There are 2 types of headphone stands: the desktop one, and the mounted one.
The desktop stand can be placed on your desk. The hanging one can be installed on your desk or wall.
Again, picking one of them is a matter of space and preference. If you want more space freed up on your desk, though, the hanging one is ideal.
2. Price Range
The price range depends on the materials used. Some are made of plastic, wood, and metal. If you're feeling fancy, there are those that spice it up with additional LED lights.
In fact, some even add USB ports to double as a dock, or even add 3.5mm analogs in it.
Prices usually range from $14-$100. With this wide range, you'll be able to find some that fit your budget.
The Best Headphone Stands in Singapore
Now that we know the tips and tricks to picking a good headphone stand, let's go to the list of the best headphone stands in Singapore. These picks vary in type and cost, but all of them definitely offer quality.
1. NZXT Puck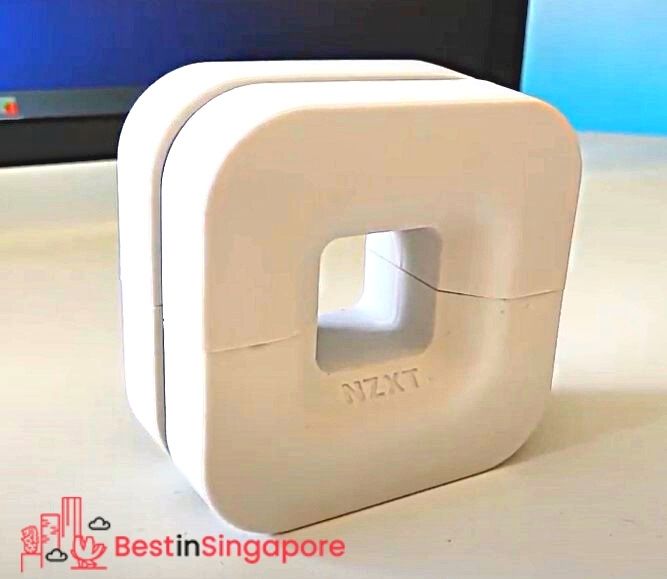 Price: $31.81
Limited Stocks In Shopee, Buy Now
The has a unique look that makes it stand out above the rest: it may look like a puck, but it can be mounted. It's mounted via powerful magnets that cling to the metal parts of your desk.
This avoids the need for adhesives, and the non-conductive and hazardous-free silicone can split into two halves to store cables. It can also be cleaned easily and it will last fairly long, we think.
This small, mounted headphone stand can help you with storing your headphones while taking up very little space in your desk. Anyway, it's convenient and pretty high-quality, so it makes the list of the best headphone stands in Singapore.
Pros
Lightweight
Space-saving
Durable
Cons
Silicone has a tendency to sink in
Customer Reviews
Here are some reviews from Amazon about this amazing product:
I'm going to be honest here…I originally thought this was one of the stupidest PC accessories I've ever seen in my life. I mean…it's a rubbery magnetic puck that comes apart. However, if you've ever taken a look at the headphone stand offerings in the market right now, it's amazing how terrible most of them are. I don't like to hang stuff below my desk, so the puck seemed like an interesting option.
I decided to give it a chance (mostly due to how excited NZXT seems to be about this puck) and I was pleasantly surprised at both the quality and usefulness of the puck. It slaps right on the front of my h500i case and hangs my headphones easily. It's surprisingly attractive and works really well for what it is. The rubber is very good quality, and the item is packaged tastefully. The puck actually comes apart in two pieces, so you can loop cables around it if you want.
I can't believe I'm writing this, but I would recommend the puck to most people that have headphones and are annoyed with the overpriced and flimsy headphone stand offerings on the market right now. At around twenty bucks, it's the best solution next to a dedicated hook underneath your desk.
-Sneaky Potato
The Puck is a nice solution for storing headphones, especially if you don't have a lot of desk space or already have an NZXT case.
The blue matches my case perfectly (NZXT S340), and keeps my headphones and their 9 ft cord from cluttering my room. The overall quality is high; it sticks to the front of the case firmly (with magnets), and the slick silicone they use is easy to wind cables around without risk of damaging them.
$20 felt pricey to me when I first bought it but I've been impressed by the quality, and it keeps my headphones safe and sound. Would recommend, particularly if you already have an NZXT case.
-Zack
2. Omega Wooden Headphone Hanger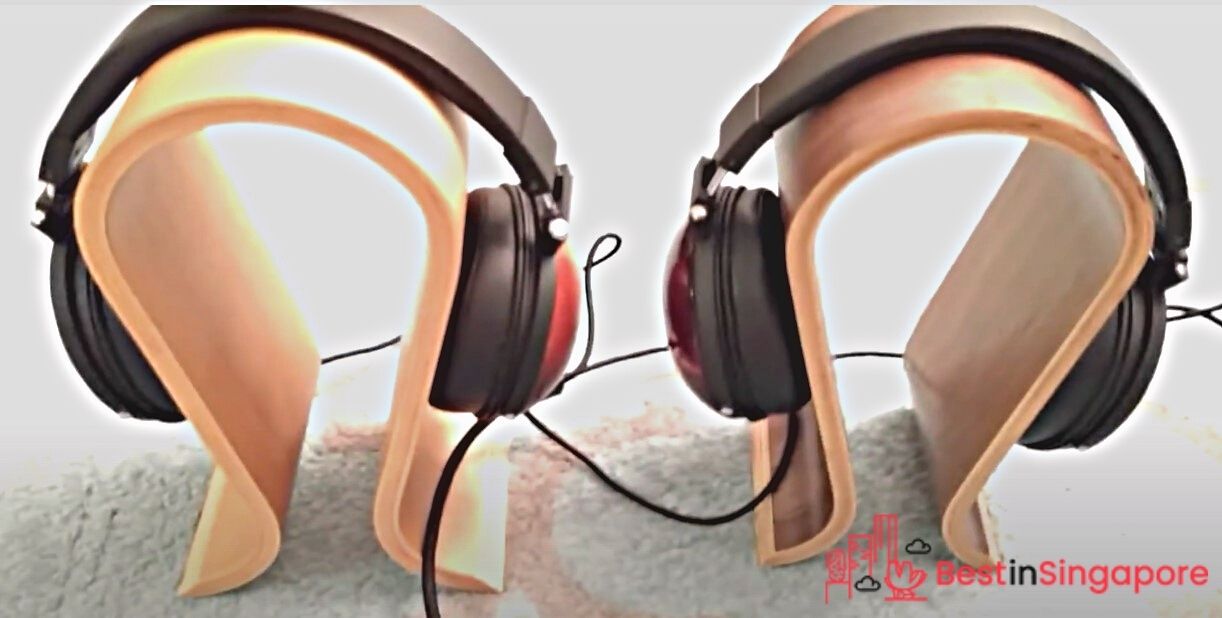 Price:$20.15
Limited Stocks At Lazada, Buy Now
Omega offers a gorgeous wooden stand that "stands" out within the sea of metal and plastic designed headphones stands. The sleek look of the walnut finish adds a contemporary yet homey look to this stand.
It's durable, stable, and works with almost all on-ear headphones, headsets, and earphones. They're a commonly suggested gift to plenty of audiophiles who want a natural yet modern touch to their set up.
It stands at nine inches and with its wooden block design, it doesn't tip over easily. All in all, these features make it deserving of its spot here as one of the best headphone stands in Singapore.
Pros
Wooden design
Compatible with any size headphones
Affordable
Cons
Might not be for those who prefer more techy aesthetics
Customer Reviews
Here are some reviews from Amazon about this amazing product:
I really like this wood arch headphone stand with a walnut finish. If you are looking for a walnut finished headphone stand with an arch and all made out of wood, this wood arched headphone stand with a walnut finish is for you. The product is a wood arch made of walnut wood and it perfectly fits your headphones for a nice headphone stand. I will definitely buy this wood arch headphone stand with a walnut finish again if I need another headphone stand shaped as an arch and with a walnut finish. Came exactly as described with a really nice arch and a walnut finish. Oh, I'm using it as a headphone stand.
-Waxon 
Nice headphone stand. As others have stated, it's a bit wobbly due to it being a bit uneven stand wise, but I can easily fix with some extra rubber pads that I have (like the ones used on cabinets so they don't slam). Outside of that, it was in good shape, looked good, and is sitting next to my Eames lounge chair. They have the same curved plywood build, so it matches well.
I am using the cloth bag for other things, but it does come with it as well if you wanted to cover it and your headphones. My attitude is dust once in a while, and if my headphones are gathering too much dust, then I need to go sit for a while and use them!
-person in co
3.   Avantree Universal Wooden & Aluminum Headphone Stand Hanger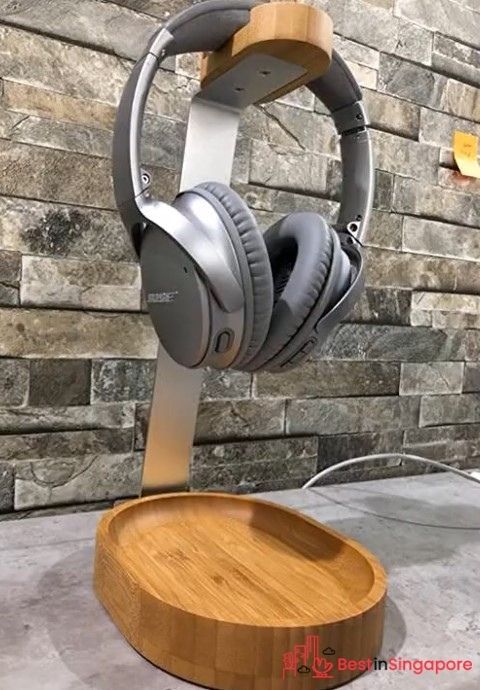 Price: $45.90
Limited Stocks in Lazada, Buy Now
Avantree's minimalistic headphone stand is made of sturdy aluminum and has a wooden base to give it more weight. The tray below doubles as a cable holder so it doesn't just hang off the sides, especially when the headphones are unplugged.
It's not a very complicated piece, and it doesn't have to be. It serves its purpose well and can fit a number of brand earphones such as Audiotechnica, Bose, Sennheiser, Shure, Jabra, JBL, AKG, Sony and more.
The stable, anti-slip design keeps it on the desk, and it's ideal for headsets measuring 5cm at the headband and 30.5cm tall.
I's gorgeous design as well as amazing features makes it worthy of being on this list of the best headphone stands in Singapore.
Pros
Minimalistic design
12 inches
Universally compatible
Cons
Customer Reviews
Here are some reviews from Amazon about this amazing product:
I ordered this to keep my headphones and cords organized. It came unassembled, but it was a simple matter of sliding the upright portion into a slot on the back of the tray and it took less than a minute to put together. I am using this with a set of Steelseries Siberia gaming headphones and there's plenty of space for the headpiece to fit in the cutout area, so there's no worry about the headphones sliding off the holder.
I like the tray idea, too. It's big enough for the cord, and even though I have an extension cord on the phones it still fits in the tray. There's enough space that a shorter cord from my JBL Bluetooth speaker has also taken up residence there, so I like that I have one place to corral these cords. They don't particularly look pretty, but you can curl them up in the tray and at least make it look artsy.
The stand has a rubberized mat on the bottom that keeps the holder from sliding around, and I have had no problems with it topping over. The base is heavy enough to keep that from happening, and the rubber mat is cut back from the edge of the tray so that you don't see it. Because the mat makes the tray sit a little bit above the desk (maybe 1/16″), this small area might become a dust magnet (but then what doesn't?).
-Karen S. Garvin
I was looking for a headset stand to go along with some of my new purchases. The RGB stands are tempting of course, but costly. I kept scrolling past those and the plain black plastic stands. Then I came across this. I knew it was the one, because not only does it look stunning, the reviews are fantastic! And it's no wonder why. Read on:
Assembly is a no brainer. It comes in 2 pieces, the base and the stand. All you have to do is push them together! Boom, done! Ready to go! Takes 2 seconds.
The top part of the stand where the headband rests is curved which I loved! I thought it was just a square and I thought I might need to modify it. But it fits my headset perfectly! The edges don't dig into it at all. Pictures of this curve included.
The bottom of the base is covered with a big grip.
The metal is beautiful! It feels very sturdy. Excellent quality.
My only, very minor complaint is that my bamboo pieces are 2 different shades. Not a huge deal, I'll probably be the only one to notice. But I would've liked it to be matching.
5 stars would recommend to anyone!
-Jeanette
4. Elevation Lab The Anchor Headphone Stand Mount
Price:$36.99
Limited Stocks At Lazada, Buy Now
Elevation Lab's headphone stand is meant to be mounted underneath a desk. It has a fairly simple design that doesn't complicate things. It's made from silicone, making it easy to clean as well as durable.
As it's made from silicone, you won't have to worry if your knees bump into it because it was made with that in mind.
The hanger can be mounted easily with its 3M adhesive on top, reinforced by steel pins so it can hold itself. The best part is that it can hold 2 sets of headphones. Talk about convenience!
According to manufacturing, it takes around 40 pounds of adhesion. If you need to remove the adhesion or move the mount to another position, just heat it up with a hair dryer and the adhesion will soften.
This impressive little powerhouse is deserving of a place in this list of the best headphone stands in Singapore
Pros
Sturdy adhesive
Soft silicone
Can hold 2 headphones at once
Cons
Takes 24 hours to fully stick
Customer Reviews
Here are some reviews from Amazon about this amazing product:
I didn't really have room beneath my desk to hang a set of headphones … so I just stuck it on the side of the desk (see photo). I can only hang one set of headphones, but that works for me.
The Anchor is high quality … it looks like it will be around for a good long time. The material is soft and flexible … so gentle on the headphones. The anchoring tape is really strong … it appears that it will stay put as long as I want it there.
This is a very useful item … really nice to get the headphones off of the desk! It would be perfect if you have a large desk with room to hang a set or two of headphones beneath the desktop … but even without that space I find The Anchor a good place to park my headphones on the side of my desk.
-Tim O'BOYLE
Pros: very soft "rubber like" material. Flexible. Should be easy on your cans padded head support. Easy to install. Holds 2 sets of cans (or cans a some wires, etc).
Cons: mine used pre-installed 3M VHB tape, which may or may not prove a problem in the long term.
Be sure to prep your surface correctly (clean with Isopropyl alcohol and a dust free towel; let it thoroughly evaporate); some surfaces may need to be scored with a fine sandpaper cleaning; then clean again with Isopropyl alcohol after scoring. A light pressure needs to be applied for a good amount of time in order to allow the 3M VHB tape to bond with the surface it's being mounted on. I used wood clamps to adhere mine for about an hour or so.
-DJDDay
5. Satechi Aluminum USB Headphone Stand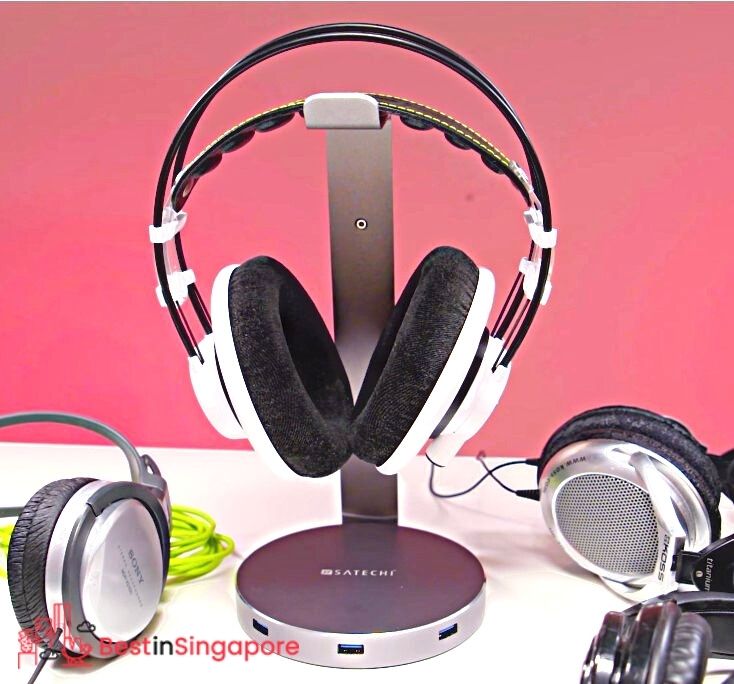 Price: $57.99
Limited Stocks At Amazon, Buy Now
Satechi's Aluminum USB Headphone Stand is a sturdily built headphone stand that is compatible with all headphones. These include Bose, Beats, Sony, Panasonic, AKG, JBL, Audio-Technica, Sennheiser, Shure and more.
This headphone stand also doubles as a USB dock, with 3 USB 3.0 ports for transferring files or back-up data, with speeds up to 5 Gbps.
It stands 10 inches high, and has a rubberized grip to securely hold your headphones in place without scratching or damaging it
All in all, this one product truly deserves a spot in the list of the best headphone stands in Singapore.
Pros
Doubles as a USB dock
Universally compatible
Backwards compatible with USB 2.0 and 1.1 devices
Cons
Can't charge high power items
Customer Reviews
Here are some reviews from Amazon about this amazing product:
After using it for a couple of months, I'd say it's one of the top ten of headphone stands available. It doesn't hold your headphone well but it also gives you 3 USB hubs, so you can plug in your devices to charge or even to transfer data if connected to PC/Mac. The stand is definitely designed for latest MacBooks due to its color scheme. Mine is Space Grey, however it doesn't match perfectly with my MacBook Pro 15 2016, the color is lighter a little, but it's no biggie for me, just want to point it out.
I'm not planning to connect the stand to Mac, you know, it requires a dongle or USB type A – type C cable. Plus MacBook is supposed to be portable, I don't like cables hanging around everywhere. So, I basically use it as a dock by connecting it to power with a charging brick. Said that they don't give the brick in a box. What is also convenient is an LED indicator built-in and lightning blue when connected. I'm going also to use it as a power for my LED strip for a desk setup which I ordered lately.
In a box you basically had 3 pieces – stand's base, the stand and USB type A – type A cable. You just push the stand into base's slot till it clicks, and you're all set.
By the way, it also has cable management thingy at the stand's back to roll your cables there, but I never use it and didn't find its purpose in my setup.
To the downsides beside the color mismatch I'd add slight sharpness of aluminum edges. It would've been nice to have them rounded and more polished.
Either way, the price nay seem to be higher than others but considering all features you can use it with, it worth it's money for sure.
-Mad Max
This is admittedly a bit pricey for a can stand, but it has a nice clean appearance that goes well with the rest of my PC setup and incorporates a handy USB 3.0 hub (perfect for charging wireless headsets!) in the base. It arrives well-packaged and after slotting the upright into the base and connecting the provided USB 3.0 cable, you're good to go. The base has a lot of weight to it, preventing the stand from tipping over even with a fairly heavy headset perched on its padded arm. I didn't pay much mind to it in the product picture or description when I ordered it, but I also appreciate the built-in loom on the back of the arm, which allows you to wind up unused cable largely out of sight.
-Mr. N
And our list of the best headphone stands in Singapore has now come to an end. We hope this list helped with your search for a headphone stand.
Did we miss a great option, though? Tell us its name and what makes it great in the comments below!
And do you also need to look for good noise cancelling headphones? Then head over to the list of the best noise cancelling headphones in Singapore and check out our picks for those.
We can also help if you want Bluetooth earphones instead, so go check out the best Bluetooth earphones in Singapore for that!