The 28 Best Limousine Services in Singapore
Have you ever had dreams of being inside a fancy car like those you see in movies? With the best limousine services in Singapore, your dreams of riding a luxury car with your own chauffeur will finally come to life!
If you don't know where to find the companies that offer reliable limousine services on the island, then stick around because we have exactly what you're looking for. Check them out one by one below to see which one best matches your ideal limousine experience.
1. Sunlimos Service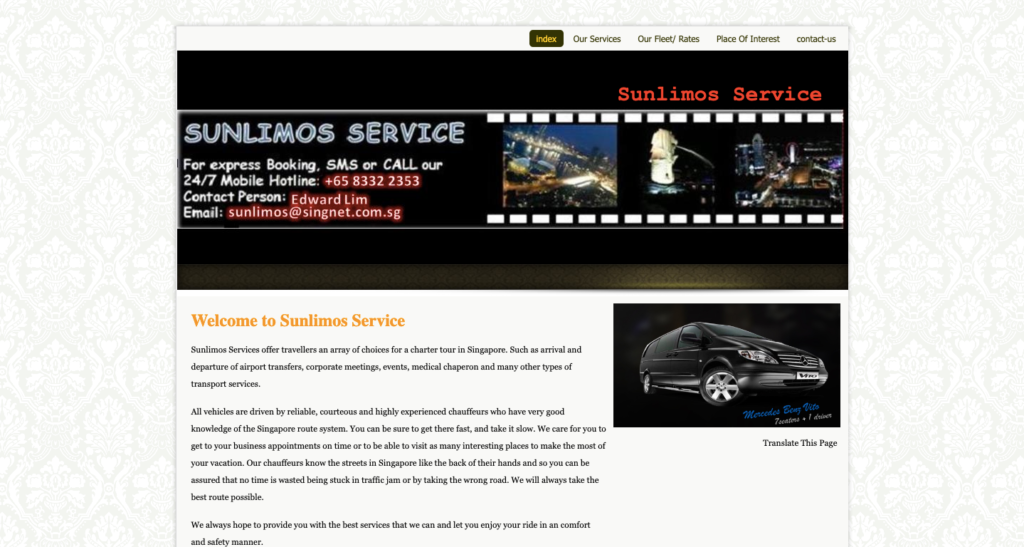 BEST FOR
Maxi Cab/ Combi Limousines
SERVICES

Booking Types

Point to point
Hourly Booking
Half-day Booking
Full-day Booking

Airport Transfer Services


Arrival Transfer
Departure Transfer

Corporate Services


Business Transfer
Meeting Transfer
Client Pickup
Corporate Road-Shows

Tourists Services


Food Hunting
Sightseeing and city tour

Wheelchair Service
Specialized Services


Wedding Transportation
School children transport
Graduation, Proms, and Party
Family outing
Goods Transfer
Celebrity Chase

WEBSITE
http://www.sunlimos.com/
ADDRESS
Contact for more information
CONTACT DETAILS
Contact Person: Edward Lim
Contact No: 86989636
Email:

[email protected]

OPERATING HOURS
Contact for more information
First on our list is Sunlimos Services.

They provide various charter tour options in Singapore, like airport transfers, corporate meetings, events, medical chaperoning, and various other transport services.

We are impressed as you won't worry a thing about their drivers as they are dependable, courteous, and highly experienced chauffeurs who know the Singapore route system inside and out.

You can be confident that you will arrive safely and for sure, they will always take the best route possible to not waste your time getting stuck in traffic.
They always hope to provide you with the best service that they can and let you enjoy your ride in a comfortable and safe manner.
Highlights
No restrictions on the time of the tour or its duration
Can customize tourist attraction destination
Their tour guides has a high level of fluency in English, Mandarin, Malay and even dialects
2. Prime Aces Limousine Services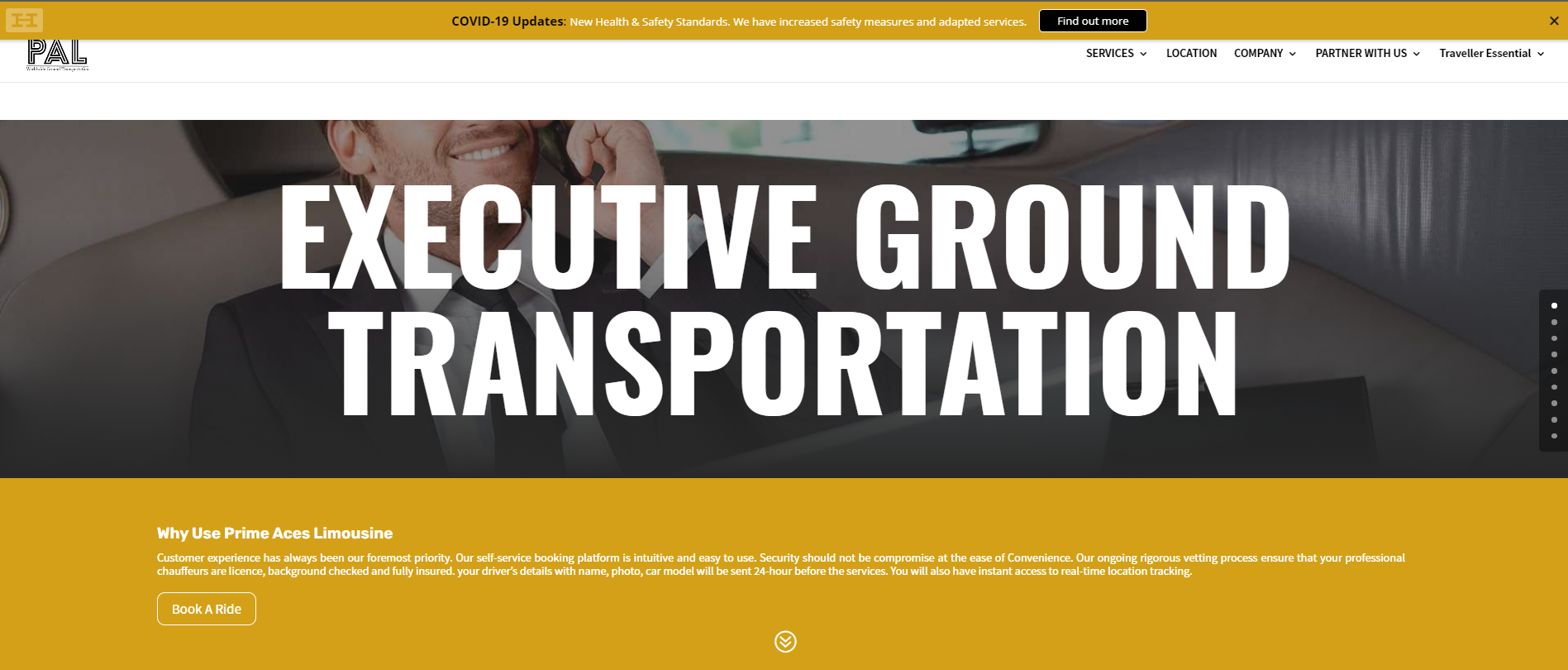 BEST FOR
Quality Ground Transportation
SERVICES
Service option, Fleet, Booking Option, Corporate Meetings & Events, Roadshows
WEBSITE
https://www.primeaceslimousine.sg/
ADDRESS
65 CHULIA STREET
LEVEL 46, OCBC CENTRE
SINGAPORE, 049513
CONTACT DETAILS
(65) 6100-5959
OPERATING HOURS
N/A
Prime Aces Limousine Services is a company that aims to provide efficient ground transportation to their clients. Customer satisfaction is one of their biggest priorities.
As one of the leading provider of limousine services, there's no doubt that they're the one of the best in Singapore. If you decide to make use of Prime Aces Limousine Services, there's no doubt you'll get your money's worth.
Highlights
Complimentary Meet and Greet services
Free cancellation
3. Limo Service Singapore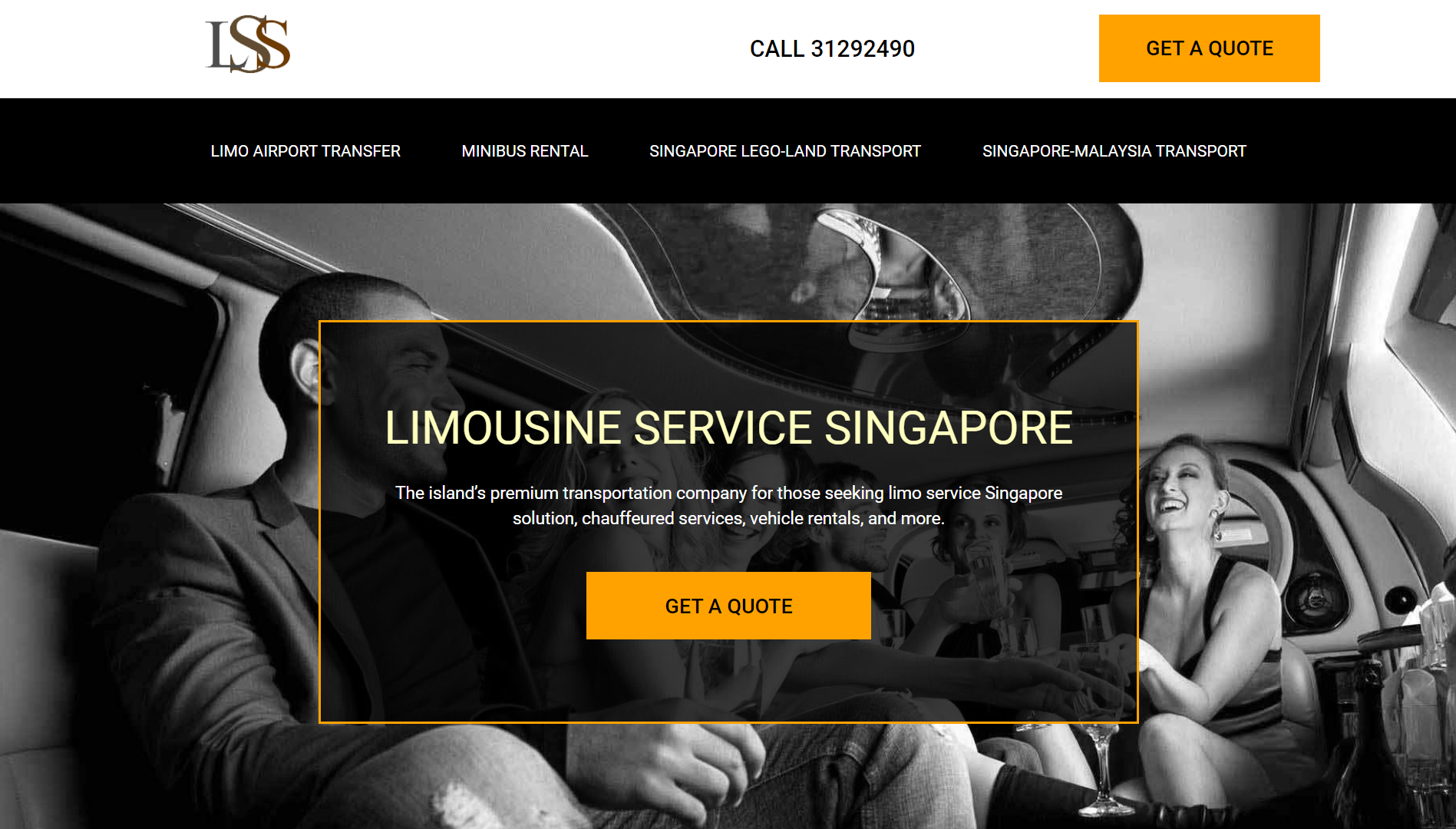 BEST FOR
Limousine and Other Transport Service
SERVICES
LIMO AIRPORT TRANSFER
MINIBUS RENTAL
SINGAPORE LEGO-LAND TRANSPORT
SINGAPORE-MALAYSIA TRANSPORT
WEBSITE
https://www.limoservicesingapore.co/
ADDRESS

350 Orchard Road

CONTACT DETAILS
+65 6432 8266
OPERATING HOURS
Open 24 Hours
It is quite hard to look for transportation services that caters to all of your needs. Not a lot of companies are able to offer diverse kinds of services.
Now if you ever need transportation services in Singapore that provides everything you need, from normal transportation to the lavish kind, Limousine Service Singapore will get it all ready for you. It is a transportation company that offers limousine and other transport service in Singapore and Malaysia.
You don't need to worry about incompetence, for their professional crew can reliably handle all of your transport and limousine Singapore requirements. When in need of transport services, don't worry and stress yourself out– check out their services now!
Highlights
Professionally trained, licensed, and insured drivers

Multilingual staff available for international clients

Flexible ride schedule and routes

Wide array of limousine, minibus, and vehicle options

National network and coverage of transport services

Dedicated account managers

Field manager foe special transport plans

Back office staff coordinating team and itineraries

Customize billing (for corporate accounts)


Expertly chauffeured tours of the country 
4. Strides Transportation Pte Ltd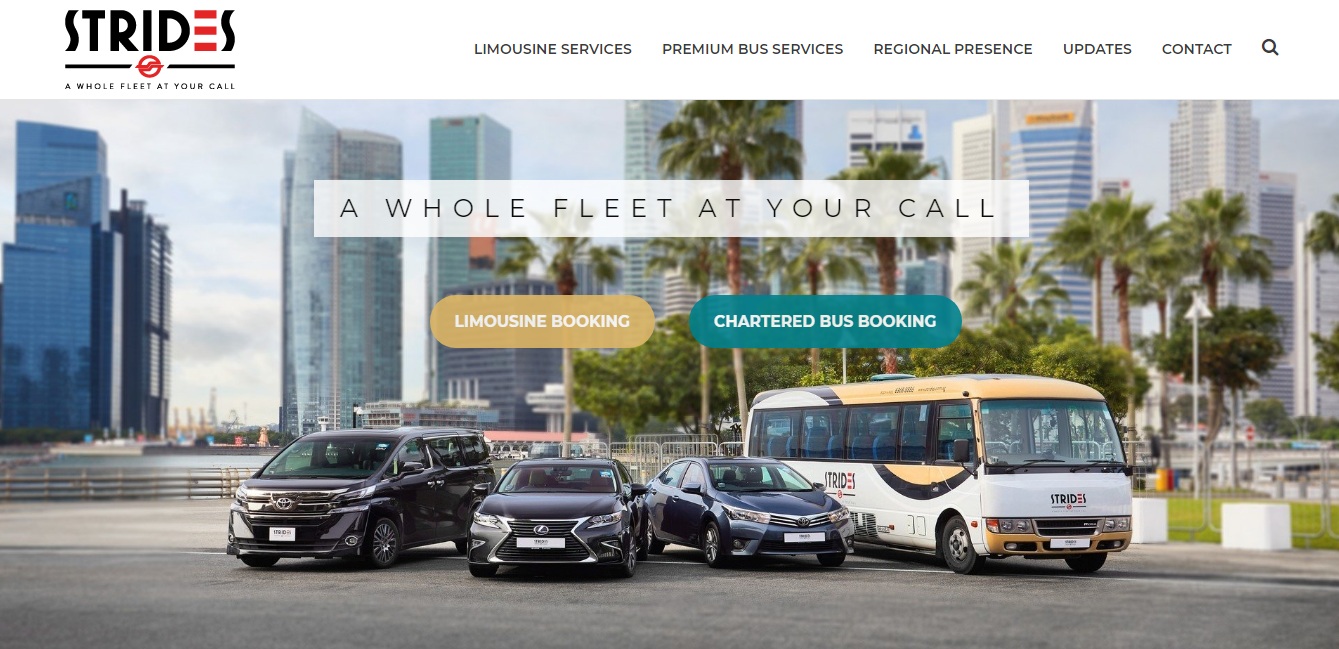 Glamour, comfort, and safety are the prime priorities of Strides Transportation Pte Ltd. Their limousine services are designed to provide convenience while you're touring around Singapore.
Whether you are a local or a foreign client, the team makes sure that you are in your most comfortable state while riding any of their luxurious limousine selection.
You may easily book them for when you need a service to and from the airport, going anywhere around the country for a business meeting, or special occasions services for you and your family.
Highlights
Licensed and professional drivers

Well-groomed and maintained fleets

Transparent and competitive rates
5.  Singapore Limousine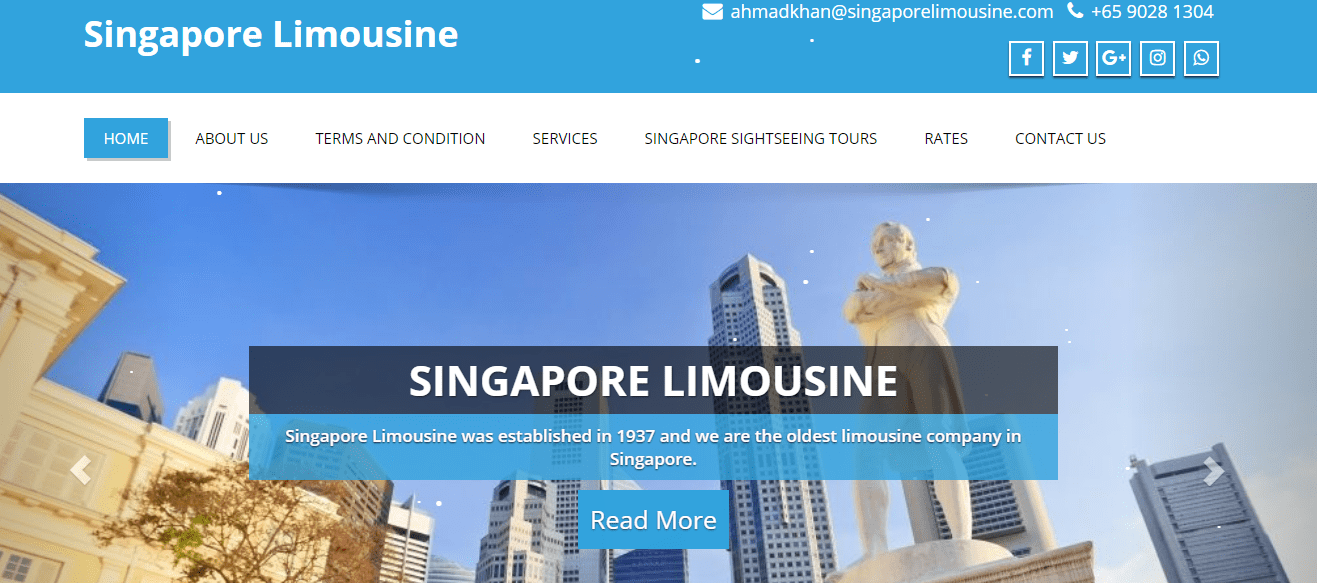 BEST FOR 
Formal Events
SERVICES
Wedding Cars, Sightseeing Tours, Airport Transfers, and Conferences
WEBSITE
http://www.singaporelimousine.com/
ADDRESS
Rivervale Walk, #03-74 Block 103, Singapore 540103
CONTACT DETAILS
+65 9028 1304

 

OPERATING HOURS
Open 24 hours
Established in 1937, Singapore Limousine is one of the oldest operating limousine services in Singapore. It's become one of the staple names in transport and limousine services on the island, with clients from across different sectors.
If you're planning to fly out of the country and don't have a car, then Singapore Limousine has you covered. You may also ask for its services to pick you up at the airport after your flight back home.
What's more, its vehicle can also drive all the way to Malaysia if you want to have a short sightseeing trip there. Tourism is one of the industries it caters to, and that's why we think it's among the best limousine services in Singapore
It's also known for employing friendly, approachable, and punctual drivers. Its team of drivers know the way around different areas and cities in Singapore, so you can expect that your trip to be quick and hassle-free.
Highlights
More than 80 years of experience
Travel and sightseeing packages
Customer Reviews
Singapore Limousine has an average rating of 5 on Google Reviews, making it one of the best-reviewed limousine services on the island.
One of the recurring comments about Singapore Limousine is that it's the best travel and sightseeing tours service provider. If you hire its services, you won't have to worry about a single thing because everything will be taken care of by its efficient team.
6.  Exclusive Limo & Cars Rental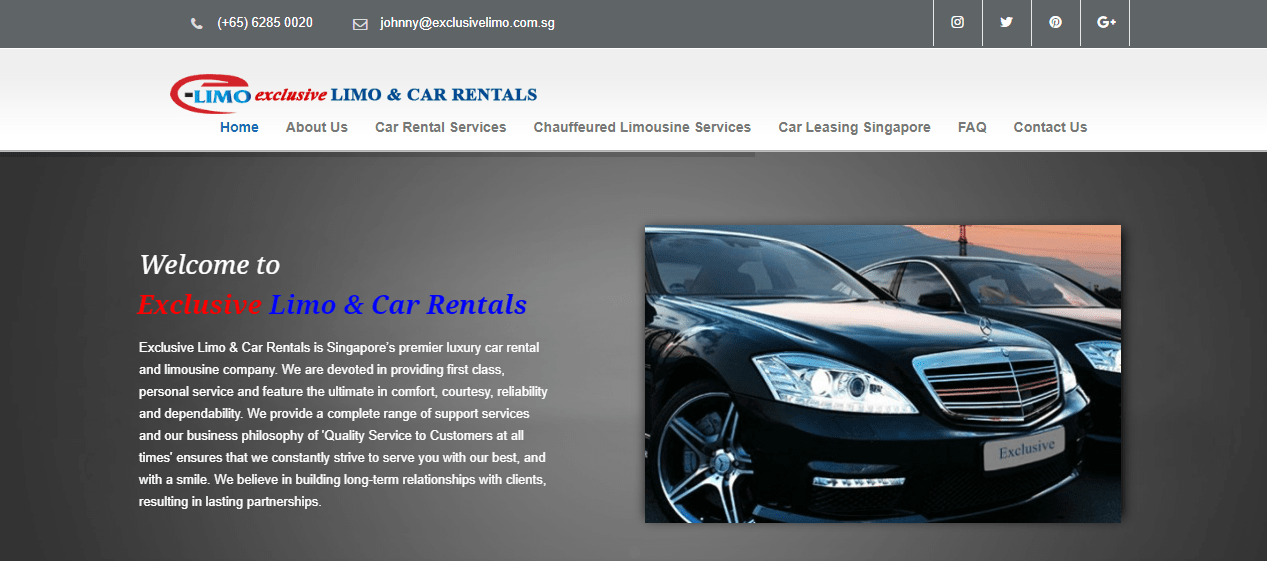 BEST FOR 
Chauffeured Services
SERVICES
Car Rental, Chauffeured Services, Car Leasings, and Airport Transfer
WEBSITE
https://www.exclusivelimo.com.sg/
ADDRESS
435 Orchard Rd, 11 Floor Wisma Atria, Singapore 238877
CONTACT DETAILS
(+65) 9101 8983

 

OPERATING HOURS
Open 24 hours
Despite being more famous for its car rental services, we believe that Exclusive Limo's chauffeur and limousine services are also worth checking out. It's been known as one of the premier and luxury transport service providers since it started operating on the island.
It has a team of committed individuals who all share the same goal of making life easier for all its clients. Some of its services include airport transports, private limousine, luxury buses, and even hourly pickups.
Above all, it also has a wide range of luxury vehicles such as Mercedes and BMW models, so if you've ever dreamed of being inside one of these, then make sure to hire its services!
Highlights
Experienced chauffeurs
Luxury vehicles
7.  LIMO Z

BEST FOR 
25-Hour Limousine Service
SERVICES
Airport Transfers, Corporate Limo Service, City Tours, and Wedding Cars
WEBSITE
https://limo-z.sg/
ADDRESS
1 North Bridge Rd, #01-02 High Street Centre, Singapore 179094
CONTACT DETAILS
65 6633 8815

 

OPERATING HOURS
Open 24 hours
As one of the best limousine services in Singapore, LIMO Z offers a wide variety of luxury vehicles that all customers want to be in, such as BMW, Lexus, and Mercedes.
One of its goals as a company is to make every client's travel plans easier by offering reliable services at an affordable price. Among the services offered are city tours, wedding cars, airport transfers, and many more.
Moreover, every luxury vehicle provided is properly maintained and operated by its experienced chauffeurs.
In addition, it's also the ideal limousine service if you need to squeeze in some work while inside the car. Every vehicle comes with fast and stable Wi-Fi and plays soothing background music.
Highlights
Luxury cars
Professional Chauffeurs
Competitive Rates
8. Prestige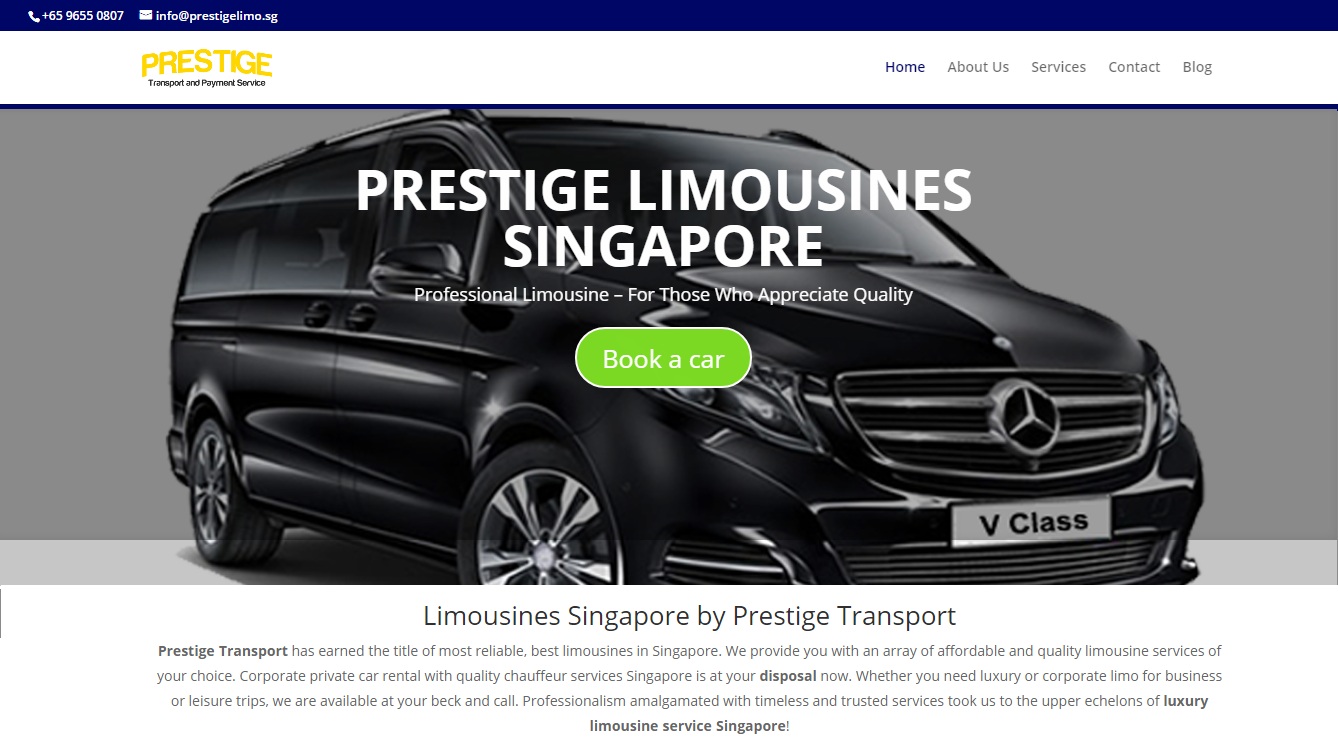 Offering a wide array of affordable and quality limousine services, Prestige has earned its name in the limousine service industry and has earned its title as the most reliable and best limousine service in Singapore. They are accepting bookings for corporate, leisure trips, and whatever chauffeuring needs clients may have. 
Hiring Prestige as your limousine service, you may rest assured that the drivers they will provide you are courteous, experienced, and professional. Any trip booked with Prestige is sure to be a smooth and enjoyable one.
Highlights
Luxury limousine services
Airport transfers
Corporate limo car rentals
9. Sixt Singapore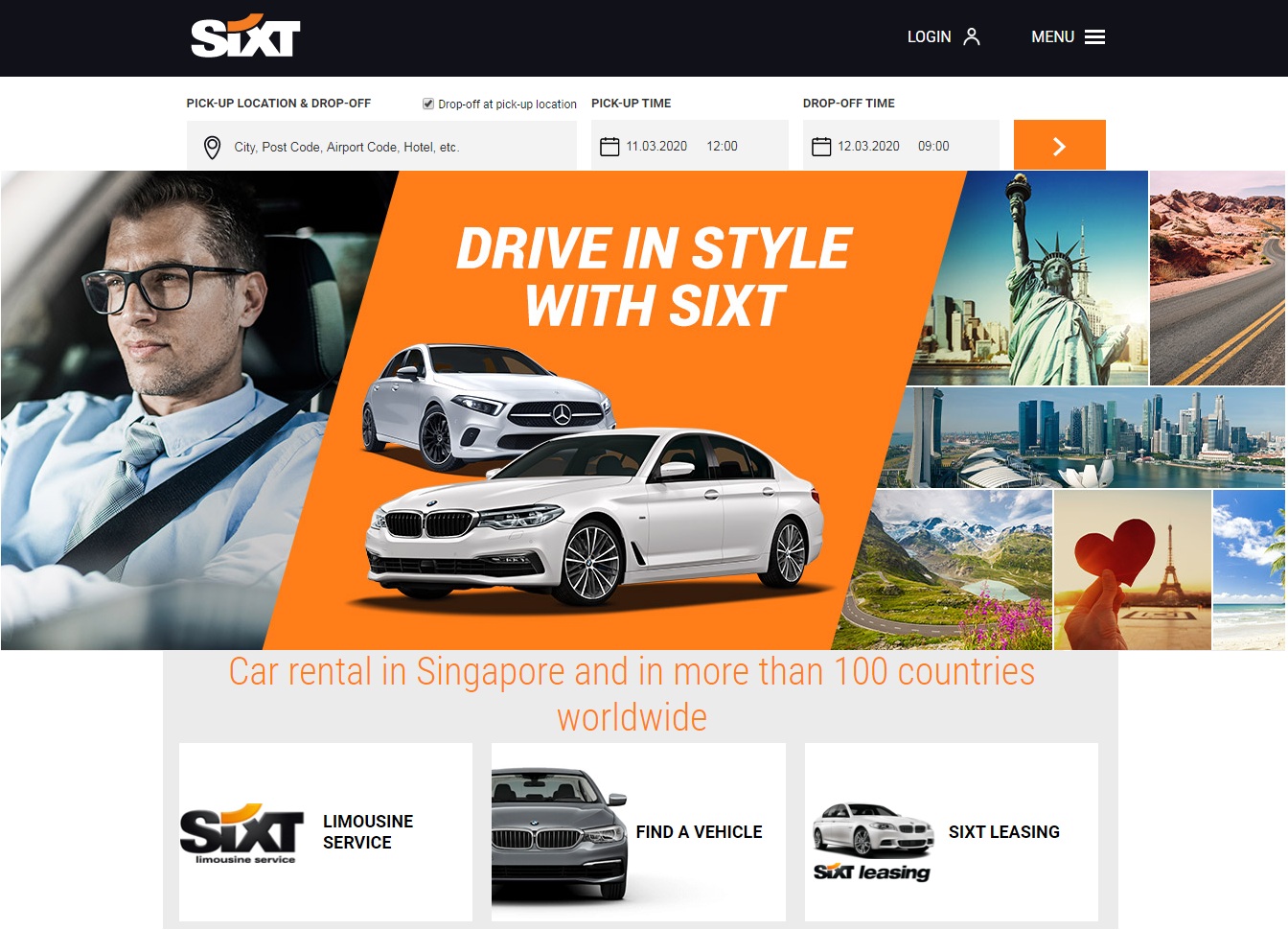 Do you need a chauffeur for an event you're attending? Let Sixt Singapore handle that for you. Not only will they provide you a limousine service but they also guarantee it to be your most luxurious drive.
Their limos are regularly checked for maintenance and repairs and made sure to be well groomed so it would perfectly go with your stylish events attire. They also secure you that their chauffeurs are well-experienced and properly identified for your safety.
Whether you need a ride going to and from the airport, a business meeting within the city, or a tour across the country, Sixt Singapore promises to offer your the most elegant limousine ride experience you'd ever have.
Highlights
Singapore's youngest and largest fleet of luxury chauffeur driven cars.
Instant confirmation when booking online
10. Alliance Transportation Service Pte. Ltd.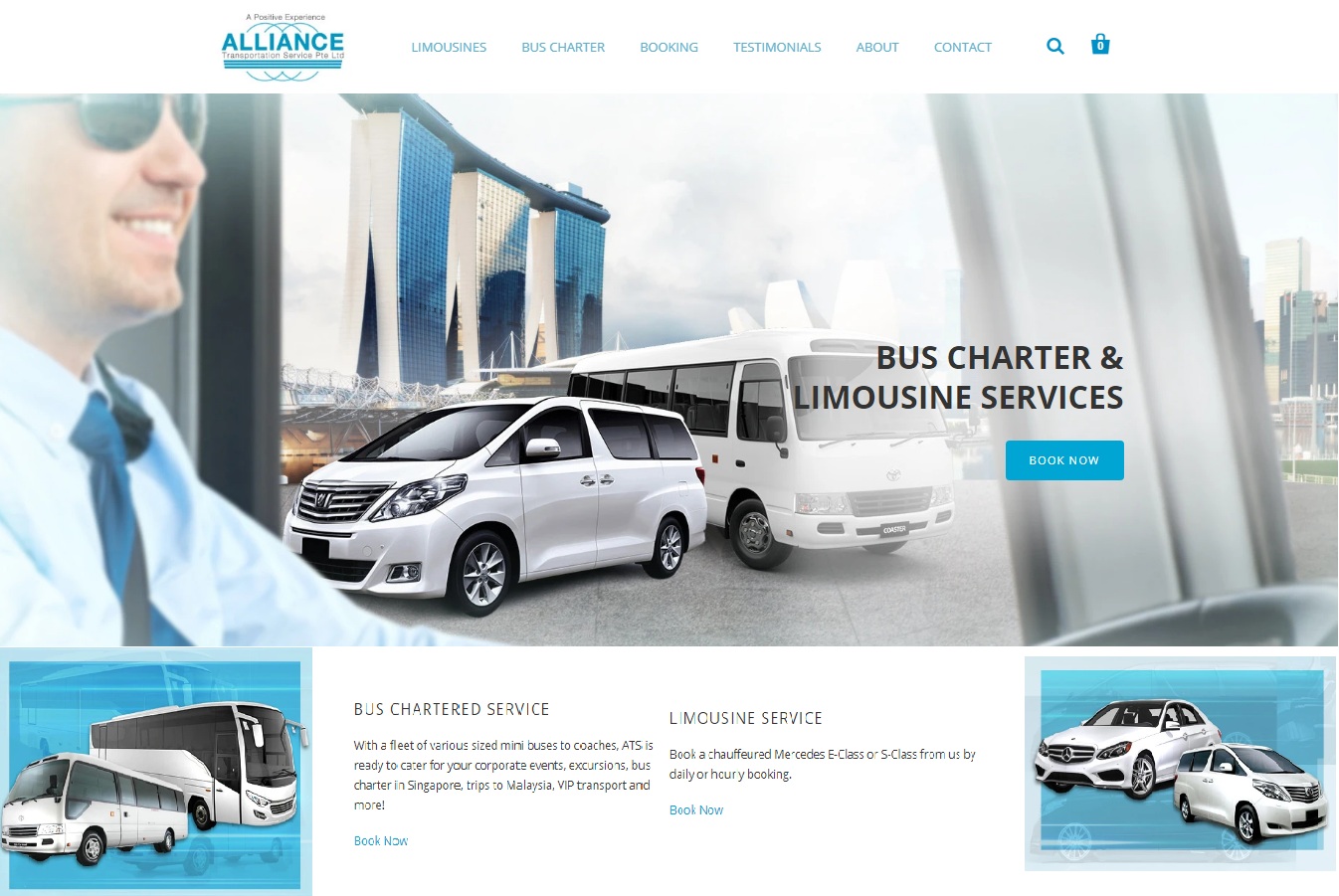 Alliance Transportation Service Pte. Ltd. has been successfully providing premium quality limousine services across Singapore since 2001. 
They offer a wide range of fleet of vehicles ranging from the luxurious Mercedes S Class, and the 7-seater MPVs to the comfort of private bus charter that comes in the 10, 13, 19, 23 & 44-seating capacity.
Over the years they have established their name in the industry, hence their stable and loyal high-end clients who continue to avail their services from then on such as Singapore Tourism Board, National Research Foundation, Singapore Sport Council, Singapore Health Services, and a lot more.
Highlights
Wide selection of fleet

Transparent rates

Guaranteed safe and professional chauffeurs
Customer Reviews
The company has gained a lot of well-known clients over the course of 20 years and they never fail to provide them with first-class limo experience.
"We are particularly pleased with your shuttle-bus drivers and your limousine chauffeurs for their prompt and professional approach. They were punctual in the assignment given and never fail to fulfill our last-minute requests. We also found your team of drivers and chauffeurs very courteous, attentive and cooperative in working with us to get the job done within our expectation."
11. Singapore Maxicabs 
BEST FOR

Large capacity fleets

SERVICES

6 SEATER TAXI

 

7 SEATER MAXI CAB

9 SEATER MAXI CAB/MINIBUS

13 SEATER MINIBUS

WHEELCHAIR MAXICAB

EXECUTIVE MINIBUS

WEBSITE

https://www.singaporemaxicabs.com.sg/

ADDRESS

45A Campbell Lane Singapore 209917

CONTACT DETAILS
(+65) 8800 6006 | [email protected]
Are you travelling in big groups and want to spare yourselves from the hassle of taking public buses while touring around the area? No worries, you can always contact Singapore Maxicabs for your private car and limo services.
They have a wide range of fleet types that can accommodate 6 up to 13 passengers and should you need a PWD-friendly service, you can always avail their wheelchair maxicab for your convenience.
Move with style and in comfort at Singapore Maxicabs.
Highlights
Luxury car services

Trusted and licensed chauffeurs

Easy and secure payment options
Customer Reviews
Singapore Maxicabs is always after the comfort and safety of their clients hence a high rating from them. Here's one of the reviews posted on Google.
"excellent service. Dave was very understanding and was extremely professional in handling my last min photoshoot request. With good customer services, clean van and most importantly SAFE driver.  Will recommend them to anyone and other corporate company to engage their services. Extremely realiable 10/10 !"
12. Romaeus Limousine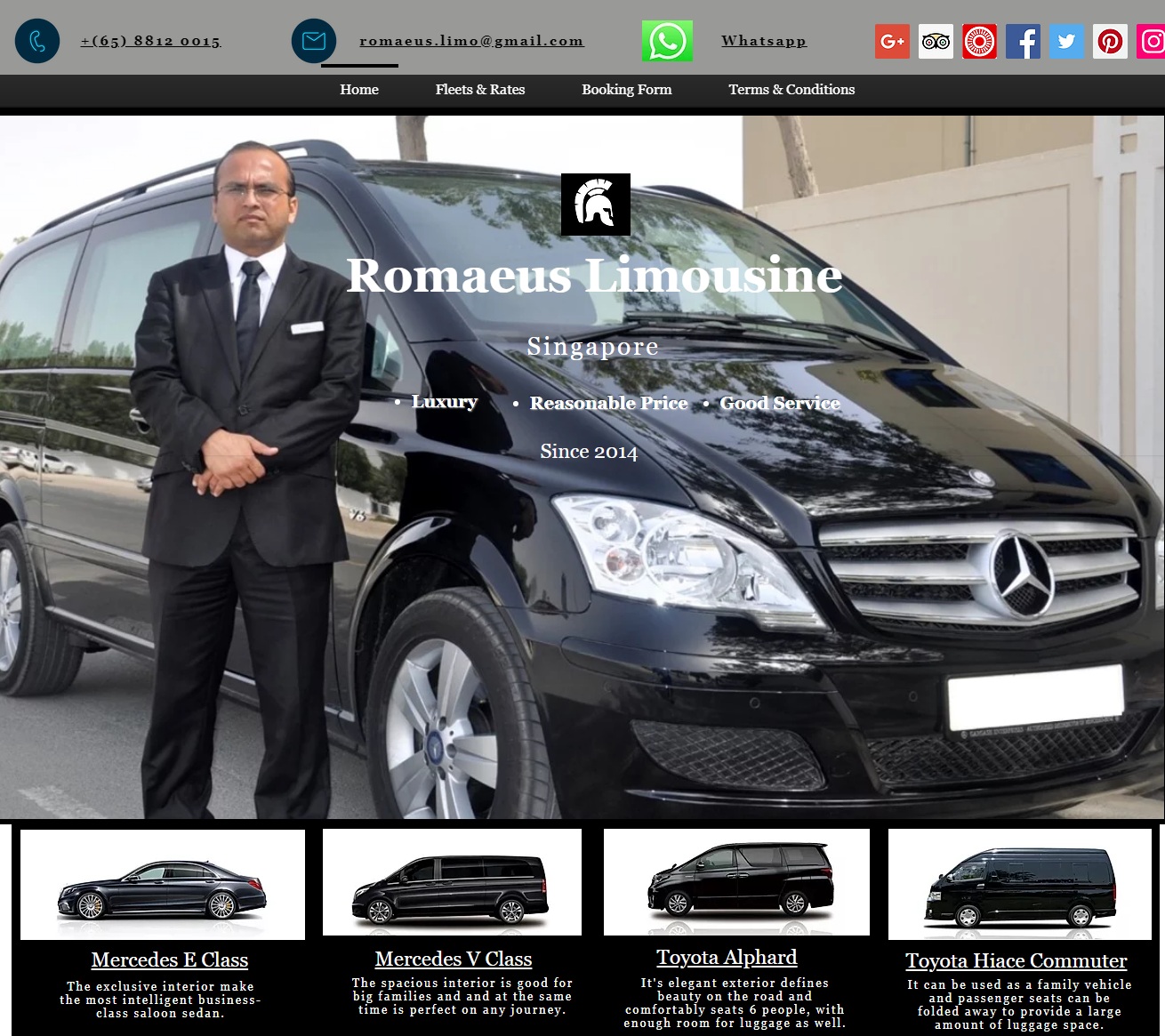 Whether you are looking for a limo service to send you to and from the airport or to an elegant event within Singapore, Romaeus Limousine promises you a first-class experience with their limousine services.
You can choose from their 3 to 13 seater fleets, all are equipped with WiFi, bottled water, umbrella, phone charging cable, etc.
Just let the team know what kind of service you'd like to avail and they will prepare the most suited fleet for your appointment, whether it's a corporate meeting, private party, or wedding.
Highlights
Properly dressed drivers

All-in rates

Complimentary waiting time
13. WeddingCarriages Singapore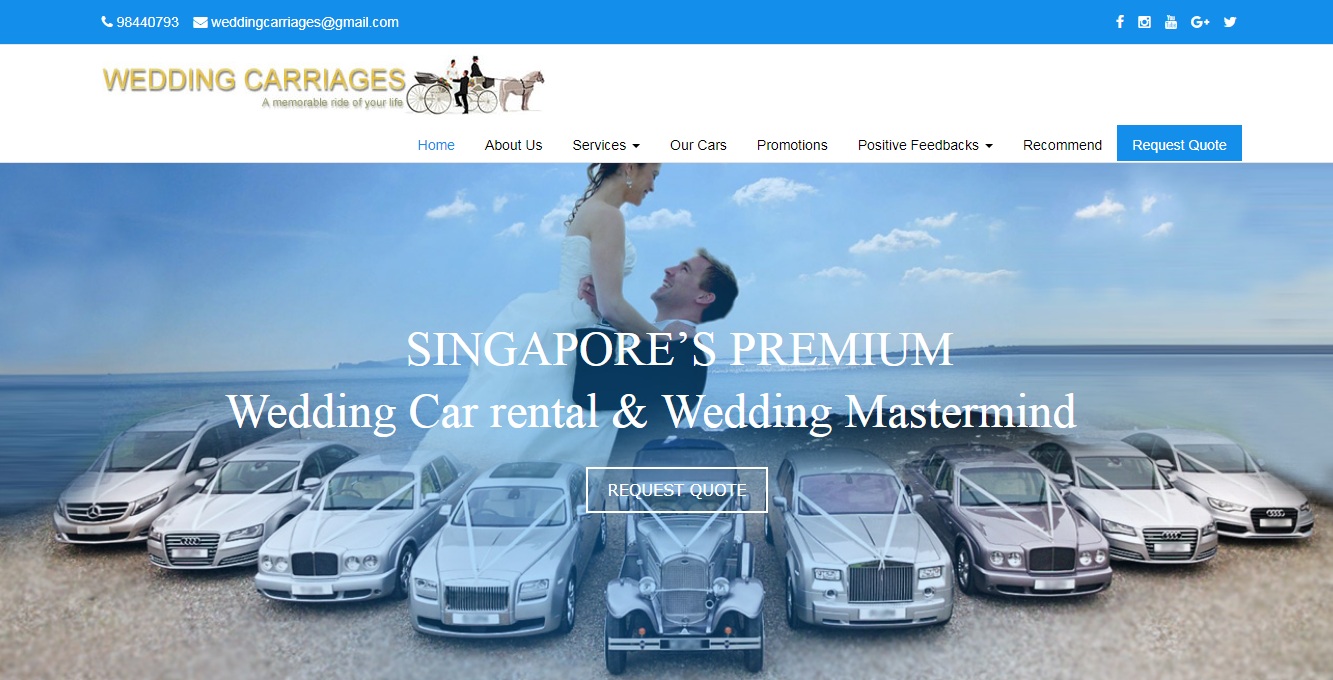 | | |
| --- | --- |
| BEST FOR | Elegant bridal car rental |
| SERVICES | Limousine Service, Wedding Car Rental |
| WEBSITE | https://www.weddingcarriages.com.sg/ |
| ADDRESS | 22, #06-76 Sin Ming Ln, Midview City, Singapore 573969 |
| CONTACT DETAILS | +65 9171 1868 |
| OPERATING HOURS | Open 24 hours, daily |
The extensive range of luxurious fleets offered by WeddingCarriages Singapore will make any wedding extra special and will definitely complement the elegant beauty of the bride. 
You can choose from their Rolls Royce Phantom, Bentley Continental Flying Spur, sports convertible, Premium BMW7series, Mercedes S400 series, Audi and many more.
Aside from weddings, you may also avail their limo services for various activities within Singapore. Whether you need an airport transfer service, city tour, meetings, private parties, etc WeddingCarriages Singapore promises a first-class ride experience.
Highlights
24/7 Service

Elegant selection of fleets

Servicing Singapore & Malaysia areas
Customer Reviews
WeddingCarriages Singapore has a 5.0-rating on Google and most of the kind words given to them by their clients is their punctuality, reliability, and professionalism.
"Driver was extremely kind and helpful. An experienced and safe driver. Punctual and offered superb services with thoughtful choice of song playlist. He even offered to help take pictures of me and my wife. I'm glad to have booked with Wedding Carriages. Thank you for everything, Jeremy!"
14. Knight Limousine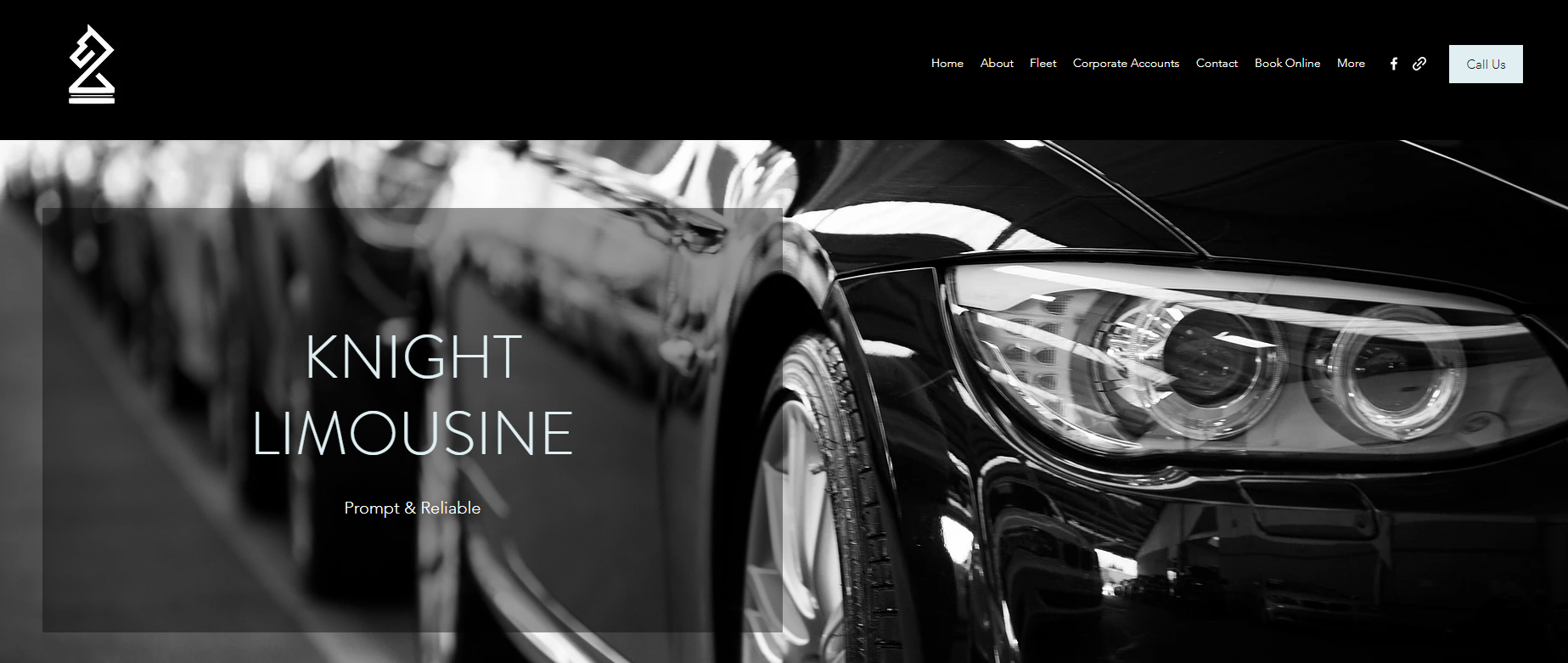 | | |
| --- | --- |
| BEST FOR | Large capacity fleets |
| SERVICES | Airport Transfers, Chauffeurs, VIP Transfers, Local Sightseeing, Point to Point Transfers |
| WEBSITE | https://www.knightlimousine.sg/ |
| CONTACT DETAILS | (+65) 93660336 | [email protected] |
| OPERATING HOURS | 24/7 |
Knight Limousine truly invests in premium quality fleets that are both luxurious and economical so you'd have the most comfortable ride while touring around the country. Their car services can accommodate up to 13 passengers so they'd be a perfect choice if you are travelling in groups or you have with you some huge, bulky baggages.
Although it is a relatively young company who has its inception in 2018, Knight Limousine never cease to amaze their clients with their top quality service that can be lined up with the veterans in the industry.
Highlights
Properly groomed and well-experienced chauffeurs

Family-friendly vehicles

24/7 concierge available
Customer Reviews
"Excellent service! Adam was extremely professional and super friendly. The vehicle, ride and general experience was top of the line. If were to find myself in the area again I will without a doubt be using his services again"
15. Star Travels Limousine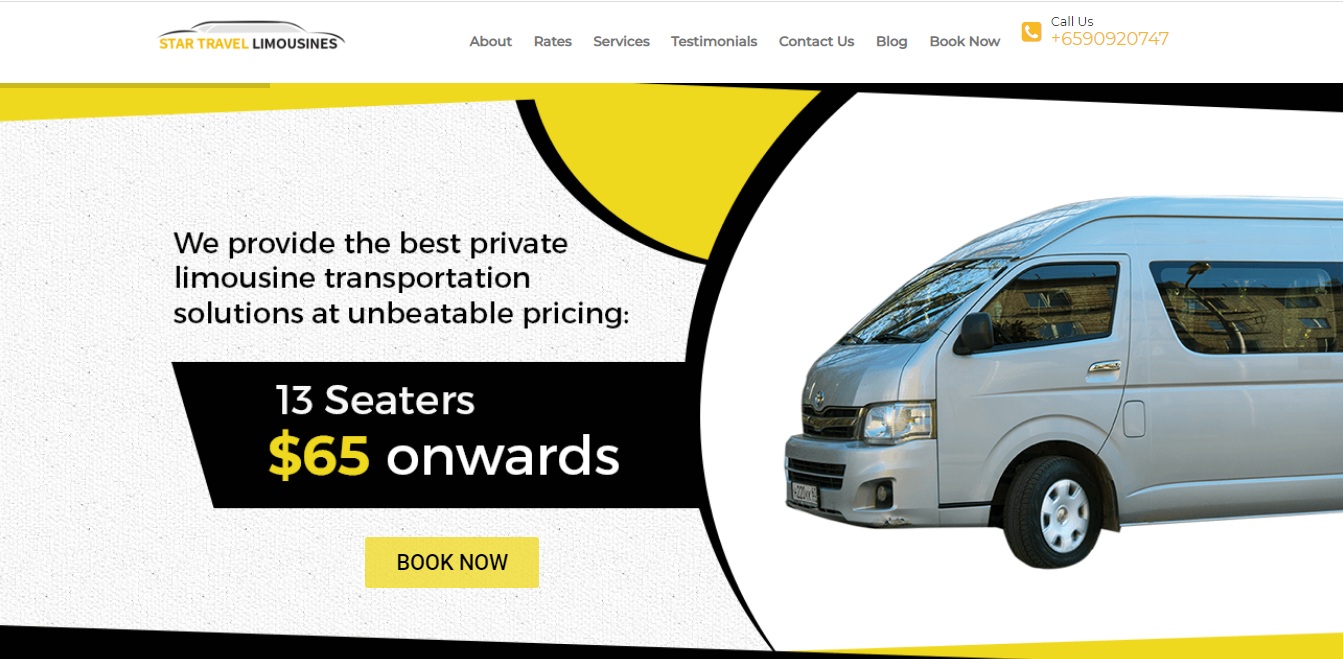 BEST FOR

Modern, luxurious limos

SERVICES
Airport Arrivals with meet and greet, Departures from hotels and residence, Corporate events, Private tours, Hourly charters
WEBSITE

https://www.maxitaxisg.com/

ADDRESS

Block 973, Hougang Street #15-218 

CONTACT DETAILS

(+65) 90920747/(+65) 84819737 |

[email protected]
If you want to experience having a luxurious limousine waiting for you in the lobby yet without spending way too much money, Star Travels Limousine is one of your best options. Their choices of fleets are undeniably modern, luxurious, and well-maintained.
You can hire their vehicle services for various events like airport transfer, private event service, city tour, etc.
Their choice of fleets come in various capacities which start from 4-seater to as huge as 13-seater class.
Highlights
Competitive rates

Available 24 hours a day

Reliable and well-groomed drivers
16. LimoCars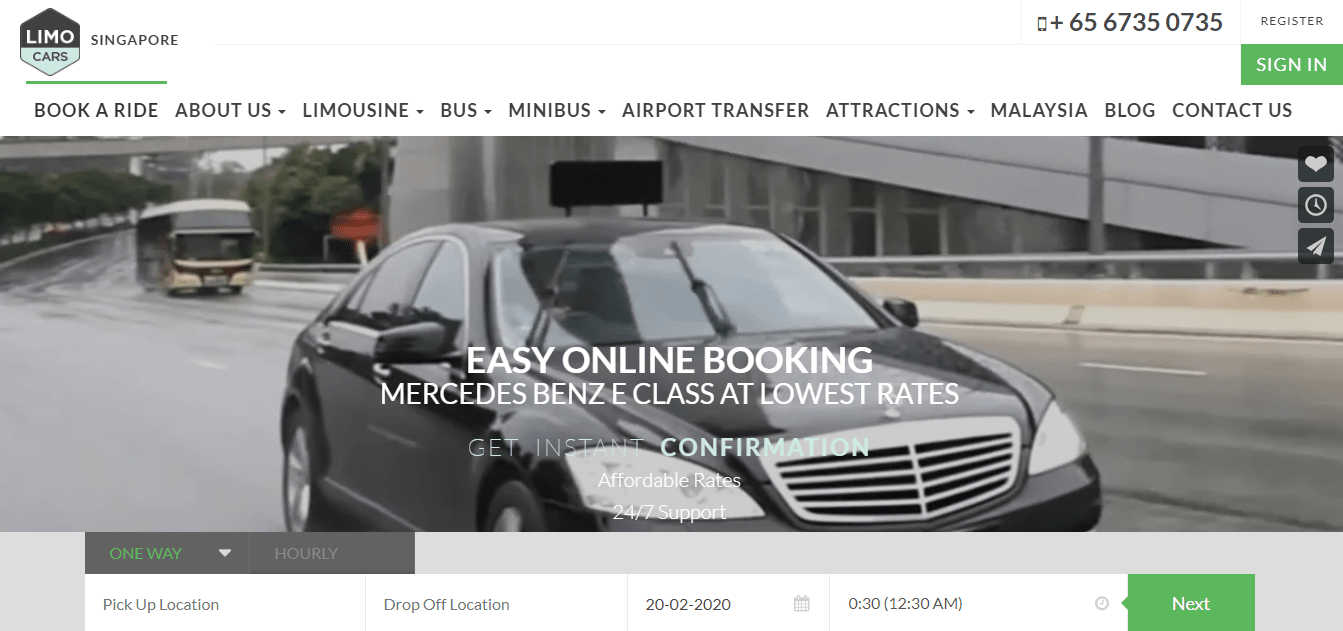 | | |
| --- | --- |
| BEST FOR  | Affordable Rates |
| SERVICES | Point to Point Car Services, Airport Transportation, Hourly Car Service, and Corporate Limo Service |
| WEBSITE | https://limocars.com.sg/ |
| ADDRESS | 20 Sin Ming Ln, #06-51 Midview City, Singapore 573968 |
| CONTACT DETAILS | + 65 6735 0735 |
| OPERATING HOURS | Open 24 hours |
If you're looking for a limousine service that can fetch you anywhere, anytime of the day, then LimoCars is the perfect match for you. It's an all-around transport service that fits all types of occasions — from casual night outs to formal business events.
Among the vehicles it offers are luxury limousines, executive limousines, minibuses, travel buses, coach buses, and a whole lot more. Moreover, it's also known for its affordable rates, on top of operating for 24 hours a day.
If you're curious about booking a ride with LimoCars, just go to its website and pick your desired date and time –it's that easy! That's why we consider it among the best limousine services in Singapore.
Highlights
24-hour services
Wide variety of cars
Online booking
Customer Reviews
Most customers liked how every ride they've had with LimoCars has always been smooth and convenient. On top of this, customers also noted that every limousine arrives on time and at the perfect spot. 
"I would like to extend my sincere thanks to Adrian who was an extremely careful and 'patient' driver when faced with nine 10 year old girls who were all very excited. Adrian found the perfect music for them – which they all loved! Adrian's driving was impeccable and so smooth. The car was magnificent and the girls haven't stopped talking about it. I can honestly say, you made my daughter's birthday extremely special and I can't thank you enough. I won't hesitate in recommending you to friends."
17. Maxicab Singapore Limousine Services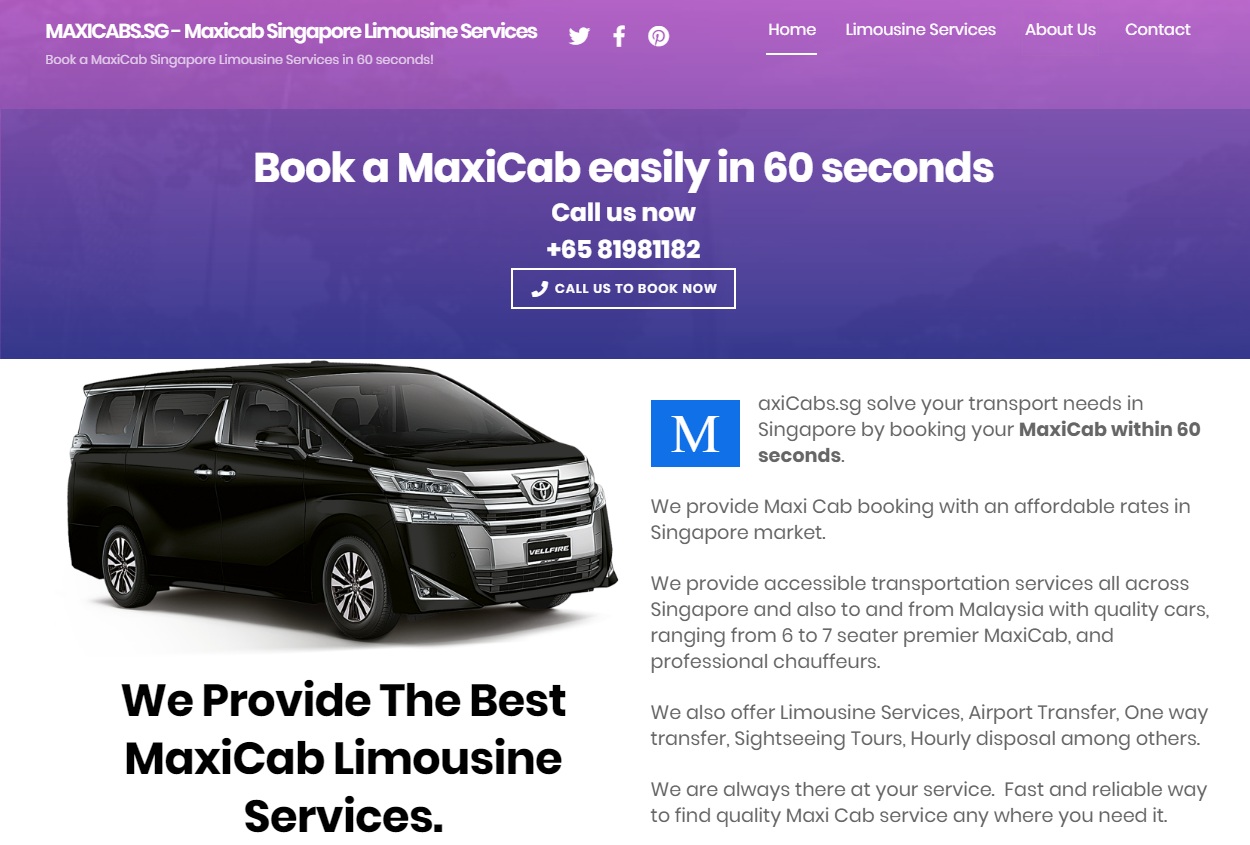 BEST FOR

60-second cab booking

SERVICES

Airport transfer, Business Limousine Services, Special Occasions Service, Hourly and Daily Booking

WEBSITE

https://www.maxicabs.sg/

ADDRESS

Bishan Street 24 Singapore

CONTACT DETAILS

[email protected]

/ +65 8198 1182

OPERATING HOURS
Monday – Sunday:

5:00 am to 12:00 pm
If you're looking for an easy booking company, you can try at Maxicab. This company is known for providing cars or limousines to its customers within 60 seconds. Further, they offer affordable and cheap rates as compared to their competitors. 
Maxicab also provides sightseeing trips to tourists or visitors of the city. Taking into consideration the preferences and needs of their customers, they make sure to deliver excellent transport service. Thus, you can always rely on them if you want to go to Singapore for a tour. 
The company believes in four things: quality, safety, efficiency, and accessibility. These standards made them who they are today—best cab service provider. 
Highlights
Fast booking system

Neat and clean cars

Offers transport to and from Malaysia
18. Singapore Cab Booking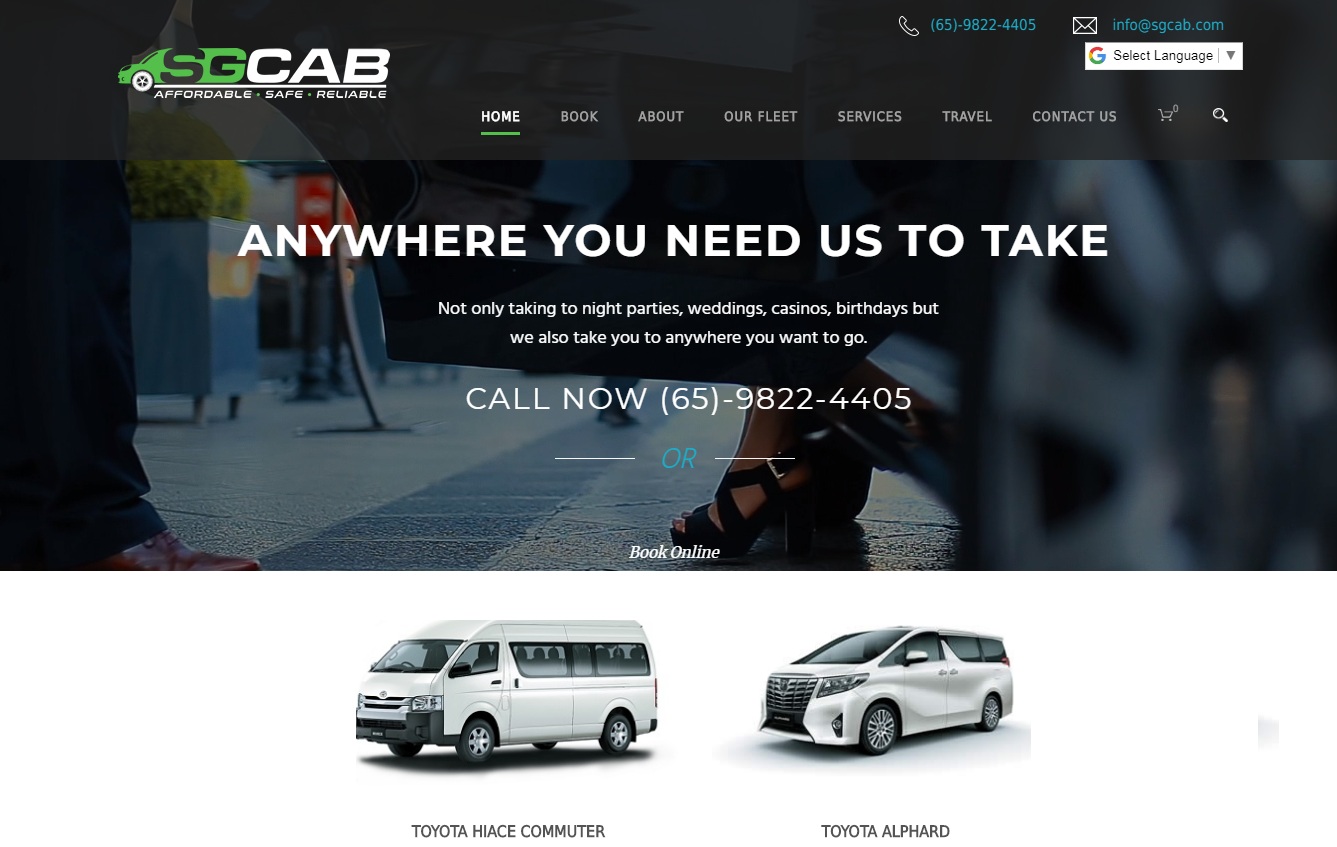 Singapore Cab Booking offers a large inventory of fleet services from 6-passenger capacity limousine to 40-seater bus charter. Wherever you want to go within Singapore, you can easily contact the company to serve you with some of the most affordable and safest rides.
Whoever their client is, they make sure to always treat them as VIPs and make them as comfortable as they could. They constantly check the condition of their vehicles as well as carefully grooming them to avoid unwanted smell.
Highlights
Extensive options of vehicles

Affordable rates

Reliable services
Customer Reviews
"Driver arrived early for our booking. He was well mannered and even offered help to my parents. Had a great conversation the rest of the ride. Price is also reasonable. Thank you so much Mr Farid"
19. Prestige Premium Selection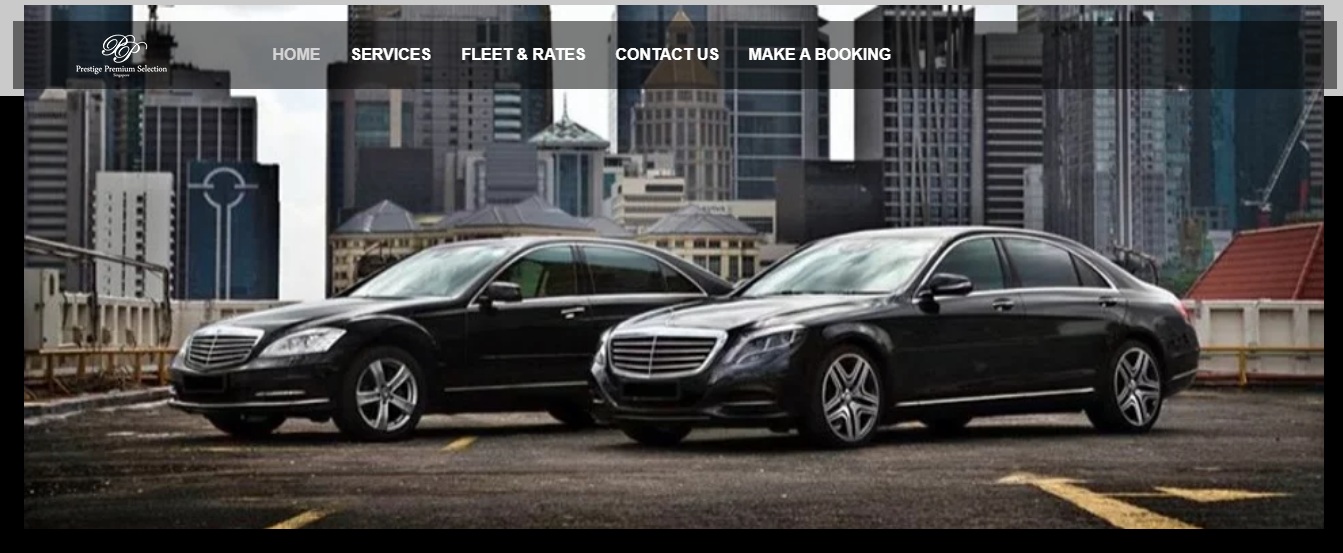 Prestige Premium Selection was established in 2005 with the aim to become one of the best car providers in the city. Through time, their humble beginning expanded into something grand—starting from 2 vehicles and ending with limousine service. This is for the reason that their service is reliable and trustworthy. In fact, they have been working for several corporations, government agencies and tourists. 
Since its expansion, the company has ventured into leasing cars as well as selling pre-owned vehicles. Thus, if you want to find a good car of any kind, you can rely on Prestige Premium Selection. 
Highlights
Partners with various organizations and businesses

Punctual and professional drivers

Neat and clean cars
Customer Reviews
Having a company that provides well-maintained cars is a relief to the community as well as tourists. Here are some testimonies from their customers: 
Such an eye opener for the guests… Really great driving skills by your drivers… Even though it was cramped due to guests cars… Thank you so much for your great service, I would definitely recommend it, thank you so much. – Ms Sarah
Excellent service rendered, driver was not only punctual and drove safely throughout the journey. The staff were accommodating as well to each request, will definitely recommend their service. – Mr Wei
20. Auto Exchange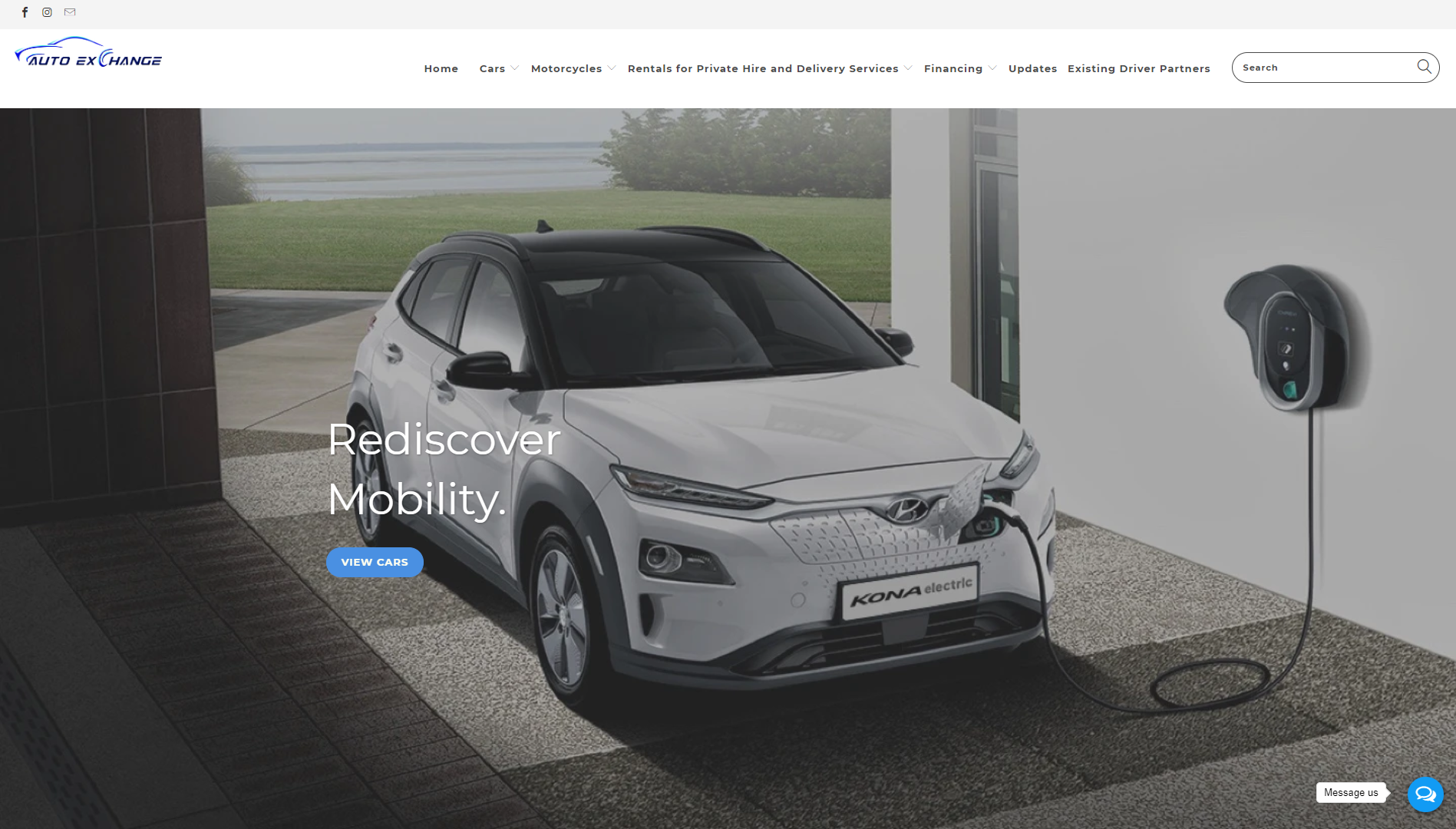 BEST FOR
Short Term Ad Hoc Rental
SERVICES
Car & Motorcycle Leasing, Fleet Vehicles for Sale
WEBSITE
https://autoexchange.com.sg/
ADDRESS
81 Ubi Avenue 4, #01-16

 

UB. One

Singapore 408830

CONTACT DETAILS
WhatsApp Message : 87795339
OPERATING HOURS
Mondays to Fridays : 9 am – 6 pm
Saturdays : 930 am – 1230 pm
If you' re looking to lease a car, Auto Exchange offers many vehicle options for you to choose from. Their platform also allows you to connect with various prominent and reliable driver partners around Singapore.
They also offer lease to own vehicles for those who are interested. With Auto Exchange, your car lease and purchase experience will always be a pleasant one.
Highlights
Many classes of cars available
Offers personal and corporate leasing
21.  EHB Limousine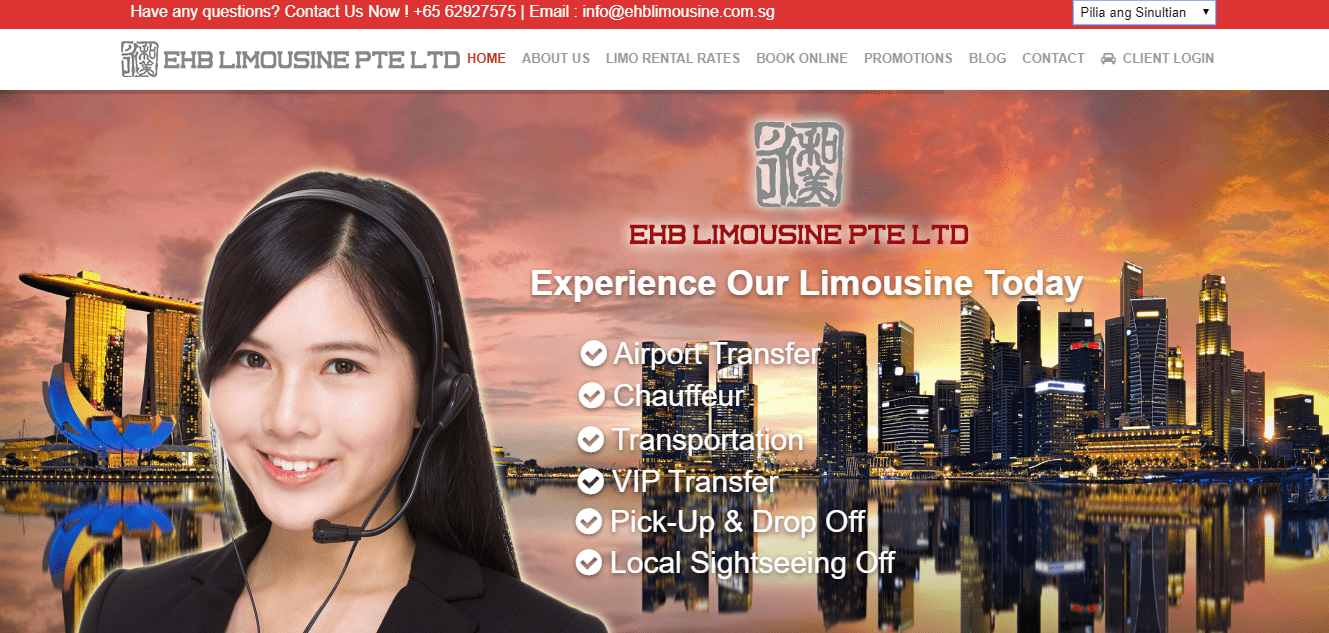 BEST FOR 
Easy Online Booking
SERVICES
Airport Transfers, Chauffeurs, VIP Transfers, Local Sightseeing, Point to Point Transfers
WEBSITE
https://ehblimousine.com.sg/
ADDRESS
70 Ubi Crescent #01-12, Ubi TechPark, Singapore 408570
CONTACT DETAILS
+65 62927575

 

OPERATING HOURS
Open 24 hours
If you're looking for a chauffeur and limousine service that has an excellent track record, then consider checking out EHB Limousine. It offers a long list of services including airport transfers, sightseeing tours, VIP transfers, and a whole lot more.
To ensure the satisfaction of all customers, EHB Limousine makes sure that it employs only the best and experienced drivers. It also guarantees that all vehicles are properly maintained, thoroughly cleaned, and always in perfect condition.
If you're travelling to Singapore for either work or leisure, then we highly recommend its private limousine services. Previous customers have noted that their entire ride was smooth and comfortable, on top of the shorter waiting time.
Highlights
Well-maintained car
Experienced chauffeurs
Shorter waiting time
22.  Limo Maxi Cabs Singapore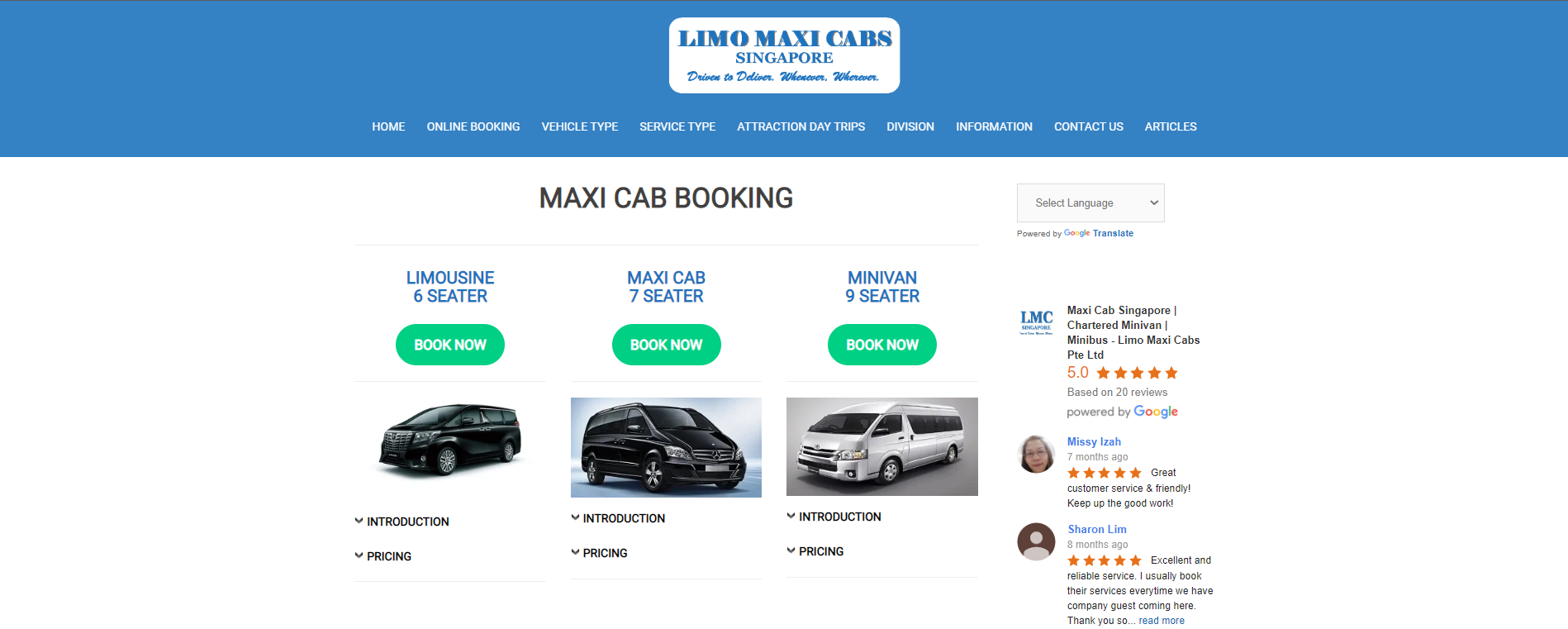 Limo Maxi Cabs is the best solution provider for people traveling in large groups. They offer numerous seating options, from 9 seaters to 13 seaters.
Their drivers are experienced locals who are great at navigating Singapore. With Limo Maxi Cabs, you can travel in style and convenience.
Highlights
Large transport fleet
Airport meet and greet service
Chartered minivan and van
23. Citi-Lux

Established in 2010, Citi-Lux offers topnotch luxury chauffeur services to their ever-growing customer base.
Aside from expert navigation of Singapore's streets, Citi-Lux also guarantees comfort and style when it comes to their transport services. Their drivers are well-adept at serving not only corporate clients, but other VIPs as well.
Contact them today to ride through Singapore with the best chauffeurs.
Highlights
5-star luxury transport services.
Well-maintained vehicles
Distance-based limousine services
24. Limousine Transport Group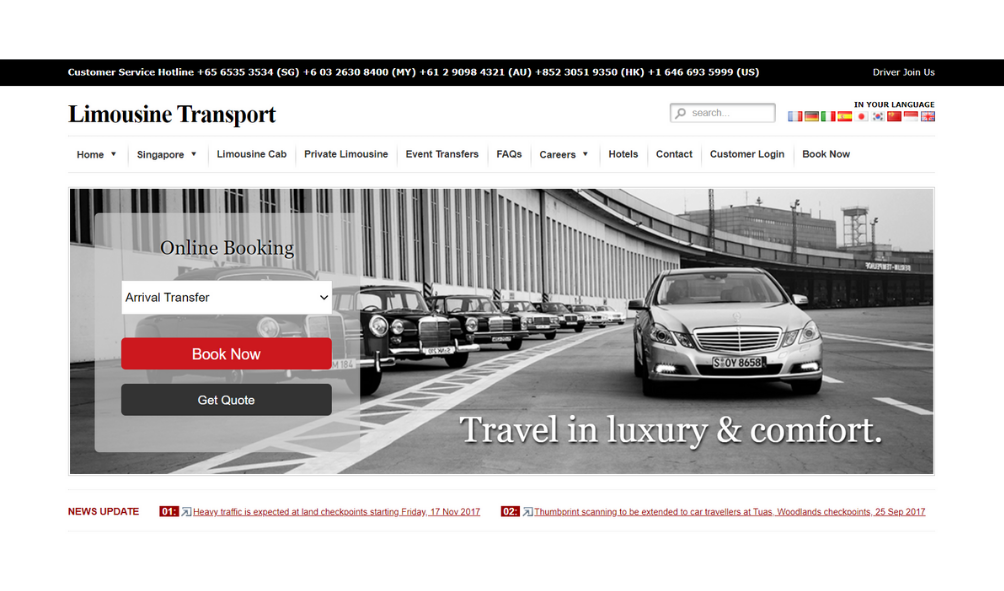 BEST FOR
Luxurious rides
SERVICES

Service option, Item Transport, Corporate Meetings & Events, Roadshows, Limousine Cabs, Private Limousines

WEBSITE
https://www.limousinetransport.com/
ADDRESS
Singapore
CONTACT DETAILS
OPERATING HOURS
6am-11pm (GMT+8)
Monday to Sunday
Since 2007, Limousine Transport Group has become one of the most established limousine service in Singapore. They're known to be one of the companies with the highest number of vehicles to rent, and the highest number of events and destinations covered.
No matter where, when, or why you need a limousine, the Limousine Transport Group will make sure to cater to each of your needs. Offering tailored-fit solutions, you're sure to get the best possible service at the best price.
Highlights
Limousine cab
Event transfers
World's most respected transport companies as members
Smooth travel experience
25. Maxicab Transfers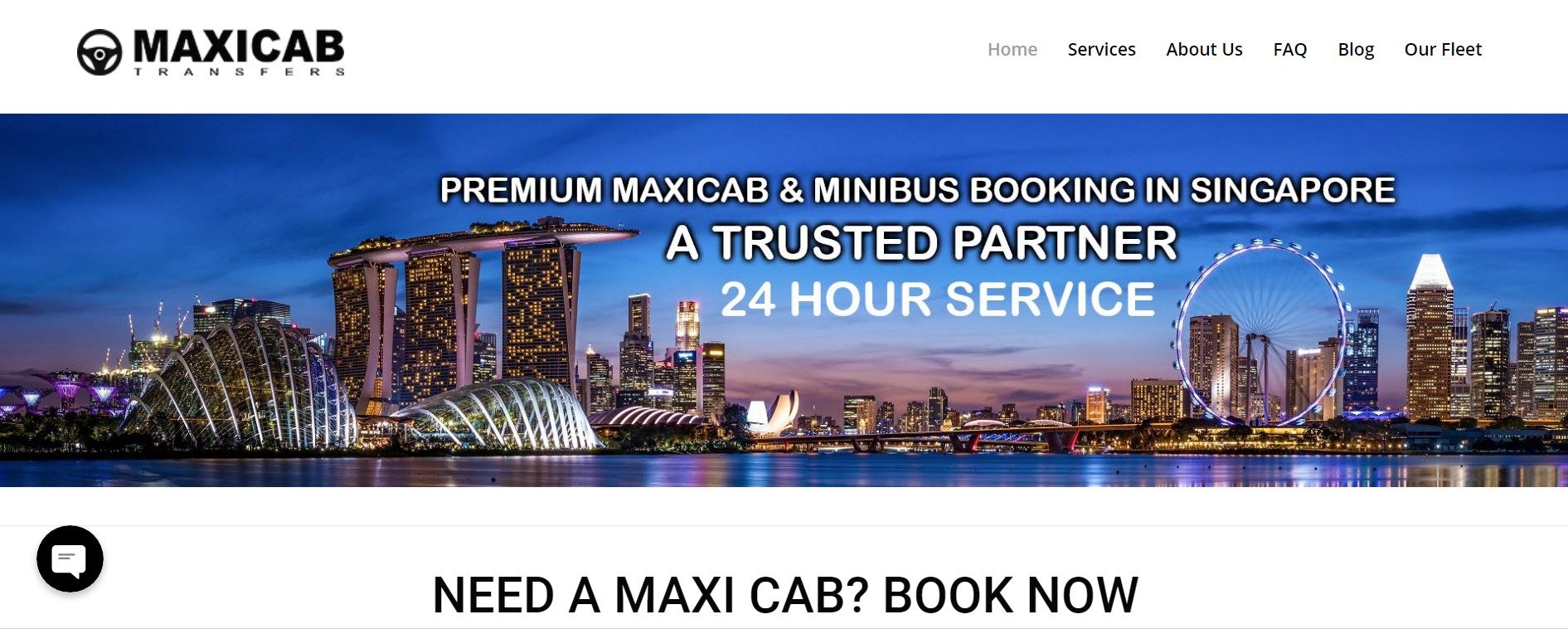 | | |
| --- | --- |
| BEST FOR | 24 hour service |
| SERVICES | Airport transfer, City tours, One-way transfer |
| WEBSITE | https://maxicabtransfers.sg/ |
| ADDRESS | Monday – Friday, 9:00 AM to 6:00 PM |
| CONTACT DETAILS | (+65) 8749 7077 | [email protected] |
| OPERATING HOURS | 24 hour service |
Maxicab Transfers is a trusted service provider that only offers premium vehicles for the most comfortable service experience. Their choices of vehicles include a 6 seater Toyota Alphard, 7 seater Maxi Cab, and their greatest seating capacity is a 13 seater Minibus.
You can get the best kind of service and comfortability all for an affordable price ranging from $50-$70. There are also no hidden charges, communication and payments are fully transparent.
The best part is that they offer services 24 hours a day, with a response time of 30 minutes island wide. All this is possible because of their outsized fleet that allows them cater to eleventh hour orders everywhere in Singapore.
Highlights
24 hour service
Premium vehicles
6 – 13 overall passenger capacity
26. Speedzone Limousine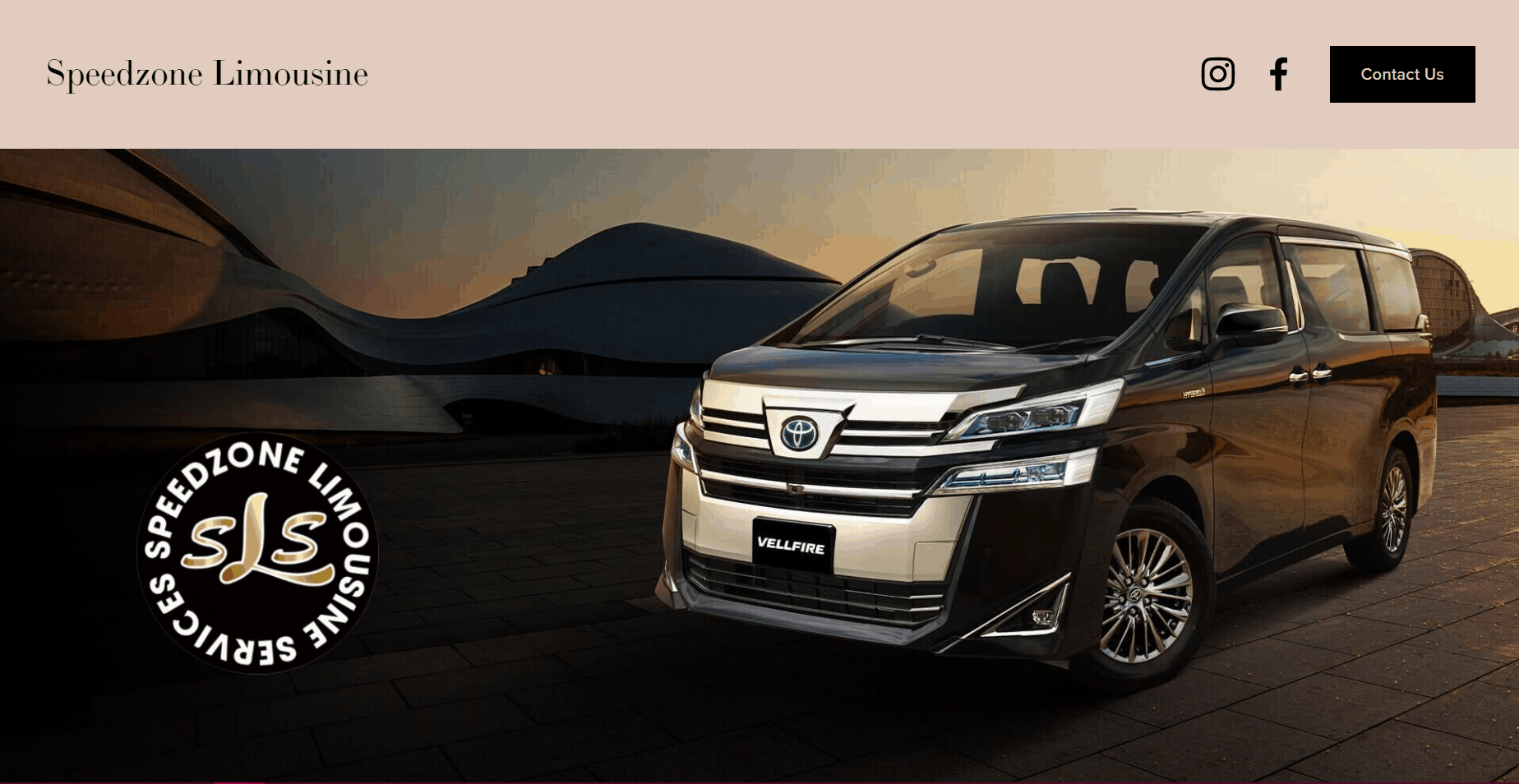 BEST FOR
 24 hour limousine service
SERVICES
Airport Transfer
Fleet
Chauffeur Service
Weddings
Corporate Meetings & Events
WEBSITE
https://speedzonelimosg.com
ADDRESS
66 Kampong Bugis Singapore 338987
CONTACT DETAILS
Telephone: (65) 87518644
Email: [email protected]
OPERATING HOURS
24/7
Try as some people might to deny it, but arriving or travelling in a limousine is one of the most stylish choices someone can make. Unfortunately, numerous limousine and chauffeur companies are too expensive for the average joe.
Well, not the next company on our list.
Speedzone Limousine is a locally owned and operated limousine company that strives to provide first-class chauffeured transportation with value-based pricing and best customer service. The company has been operating for over 10 years, and many have commended them for constantly giving their best and going out of their way to attain that sweet 100% customer satisfaction rate.
Now, how does one company achieve such a feat on a regular basis?
Well, for one, Speedzone Limousine is one of the most affordable limousine companies on this list, with rates starting at $65. This fee also guarantees the aid of professionally trained chauffeurs who are courteous, discrete and attentive to the clients' needs.
So, if you're looking for limousine services for your next business trip, or simply want one out of pleasure, we strongly recommend Speedzone Limousine for the outstanding service they have to offer.
Highlights
Operates 24/7
Trained, professional chauffeurs
Competitive rates
27. Maxicabnow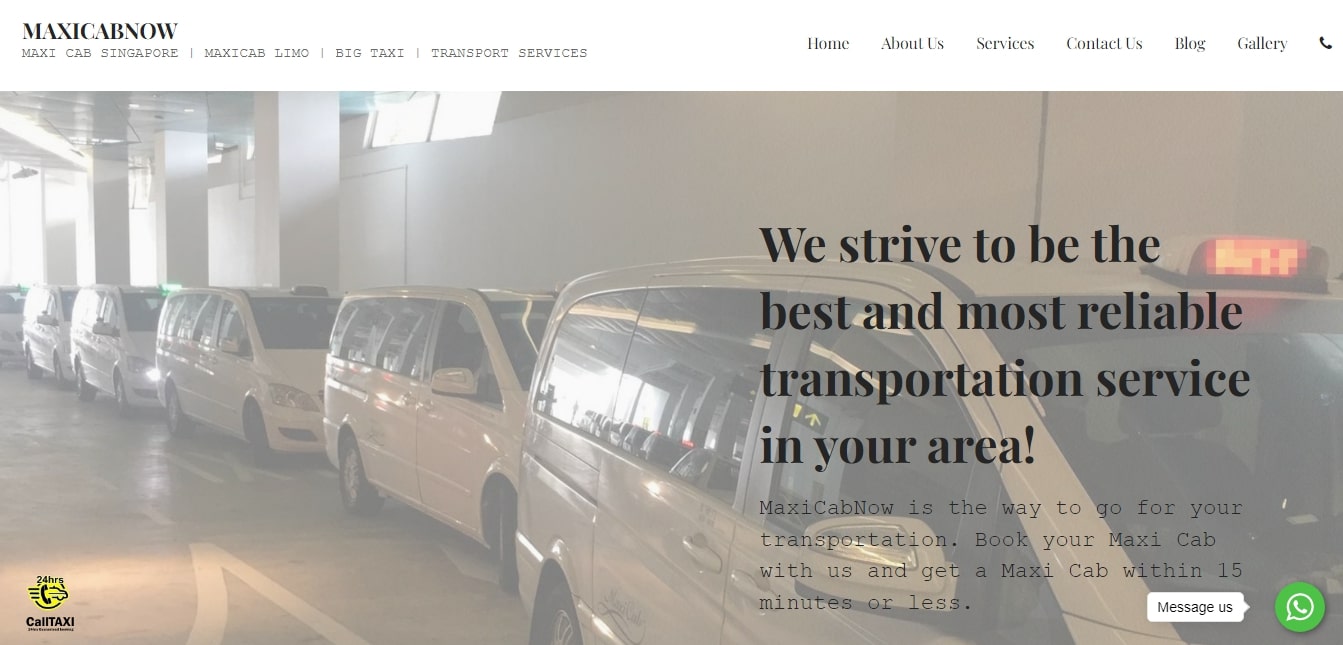 Maxicabnow is an agency that offers a wide range of transportation vehicles and packages for comfortable and luxurious transfer services. Among one of the leading figures in the industry, they are able to offer various packages and vehicles that best suit the needs of the clients.
Since they were founded back in 1993, we find their services up to date to the needs of clients such as airport transportation packages and taxi services as well.
We also find it impressive that they are able to accommodate all individuals and settings may it be casual or corporate in nature.
Clients can also be assured that their drivers are adequately certified and trained in the field so that they can stick to their schedule in a timely manner if not as soon as possible.
Overall, since they are able to accommodate solo or large group rides, their cabs are available 24/7 and can ensure all their passengers of comfortable and safe transport.
Highlights
Certified drivers
Accommodates group packages
Easy booking feature
28. Mr. Limousine LLP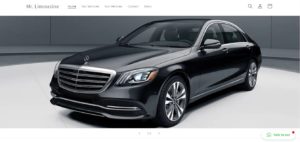 Mr. Limousine LLP is a company that provides a wide plethora of luxurious car and limo rentals in the area for a variety of purposes. May it be an hourly limousine service, or point-to-point transfer to airport travel, they have adequate packages and rates readily bookable on their website.
With a mission to offer hassle-free transportation solutions to clients in Singapore, they are able to offer rentals of premium brands such as Toyota and Mercedes Benz.
Though it can be noted that their brands can be slightly limited to various car models and they may not have some cars and limousines for clients who have a specific one in mind.
However, clients can be sure that their services are safe, secure, and transparent from start to finish due to their variety of payment methods and comprehensive inquiry forms should there be any immediate concerns.
Overall, with their extensive experience servicing clients such as the Orchard Hotel and Old Habits Boutique & Café, we highly recommend them to clients looking for professional and convenient limousine booking services.
Highlights
Transparent and secure payment methods
Hasslle-free booking
Flexible packages
And with that, we conclude our list of the best limousine services in Singapore! We hope you were able to pick one for your next trip to the island or night out with friends!
Do you know other limousine services in Singapore that offer quality and affordable services? Share their names and we'll check if we should add them to our list!
By the way, if you're also planning to rent a car for travel or work purposes, then we'd like you to check out our list of the best car rental services in Singapore. Any of these options will guarantee a hassle-free and comfortable trip!