The 38 Best Tutors in Singapore for Your Kids
Have you been noticing that your child is struggling to catch up to school lessons? If so, then maybe it's finally time to find the best tutors in Singapore, especially if you don't have the time to teach the kids by yourself.
Don't worry because we've already done the research and rounded up the most recommended and best tutors in Singapore. With a professional and skilled tutor, your child can gain more knowledge and learn faster with proper guidance.
See our list below to know more about them.
1. My Quality Tutor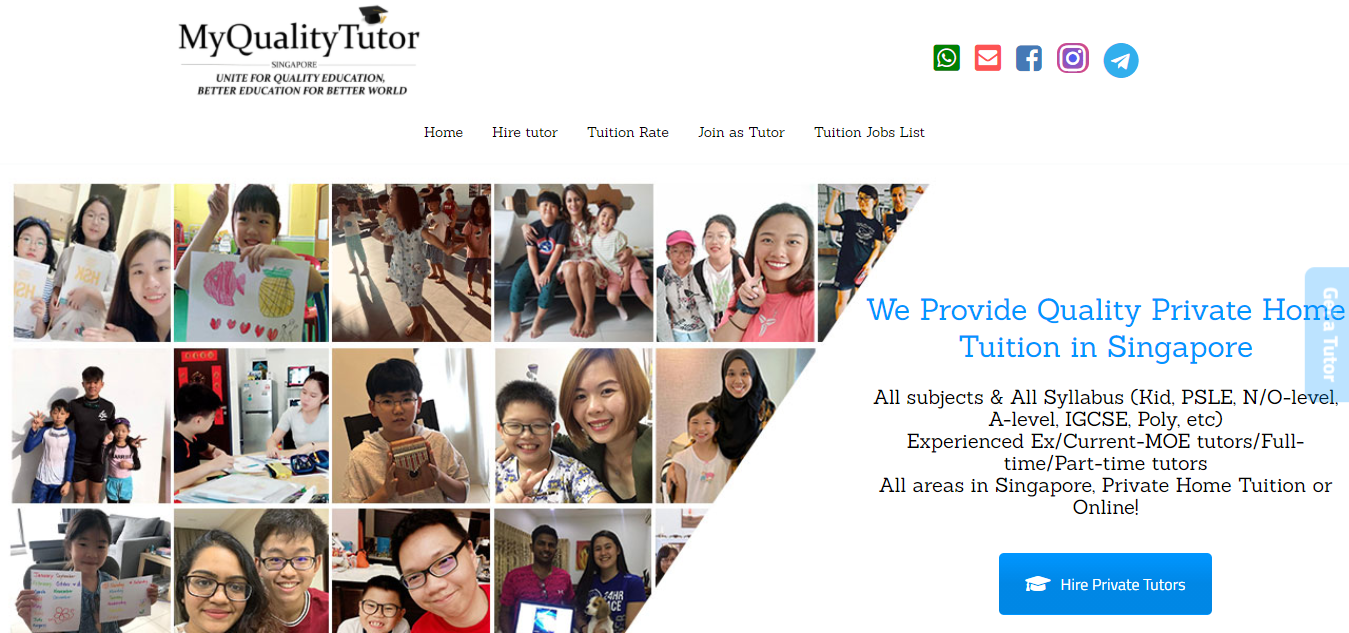 BEST FOR
Private Home or Online Tuition (All Subjects & Syllabus)
PRICING
Rates
WEBSITE

(To request tutor or join as tutor)

CONTACT DETAILS

Whatsapp: +6586223075

Email: [email protected]

OPERATING HOURS
8AM to 11PM
TUTORS CHANNEL
FREE LEARNING RESOURCES
https://tinyurl.com/4vdrz328
My Quality Tutor is one of the most trusted tuition providers that provide private home tutoring or online tutoring in Singapore.
Clients like how they can build an excellent relationship with their students. 
Another thing that people love about them is they can teach all subjects and all syllabus.  In line with this, their tutors are professionals and filled with a lot of experience.
With their matching service, My Quality Tutor will filter out suitable and qualified tutors based on students' requirements and allow parents or students to pick for home or online tuition. It aims to save parents' times by finding the right tutors with a great reviews system on tutors so that My Quality Tutor knows which tutor is best for the student in all areas of Singapore.
In comparison to other tutors, their services are pretty affordable and convenient. They provide a complete package of Pre-school, PSLE, N/O-level, IB, Poly, IGCSE, University, and A-Level subjects & Others, with different time slots that comprise Chemistry, Biology, Additional Mathematics, and History for all levels and ages.
With so much client satisfaction and positive reviews, My Quality Tutor's credentials surely makes them qualified to take the top spot on this list.
Highlights
Free matching service
Focus in providing quality tuition with selective pool of tutors
Filter qualified tutor profiles for you to pick and start the class
Subjects: Mathematics, Science, Mandarin, English, Combined Science (Physics, Chemistry, Biology), etc
Syllabus: PSLE, N/O-level, IGCSE, IB, SAT, A-level (JC), Poly, etc
Customer Reviews
Here are some reviews from  My Quality Tutor's clients:
"Very grateful to have found My Quality Tutor as I managed to engage a few tutors for my son smoothly. The tutors are experienced and well-versed with MOE-syllabus and after a few months of tuition, my son's grades improved a lot. Thank you so much, highly recommended!" – Joey (Tiong Bahru)
"Ms Valley Tay is patient. She always makes the tuition interesting. My 10-year-old girl is always looking forward to having lessons with her. Well done and thank you so much" – Jomis Chu (Online class)
"Prompt response and quick processes to find A-level tutor for me which is very much appreciated. Aaron as tutor was very helpful and flexible in his teaching process and timing. He managed to break down certain formulas etc into simple explanations. Overall a pleasant experience." – Zheyee Lim (Bishan)
2. All A's Tuition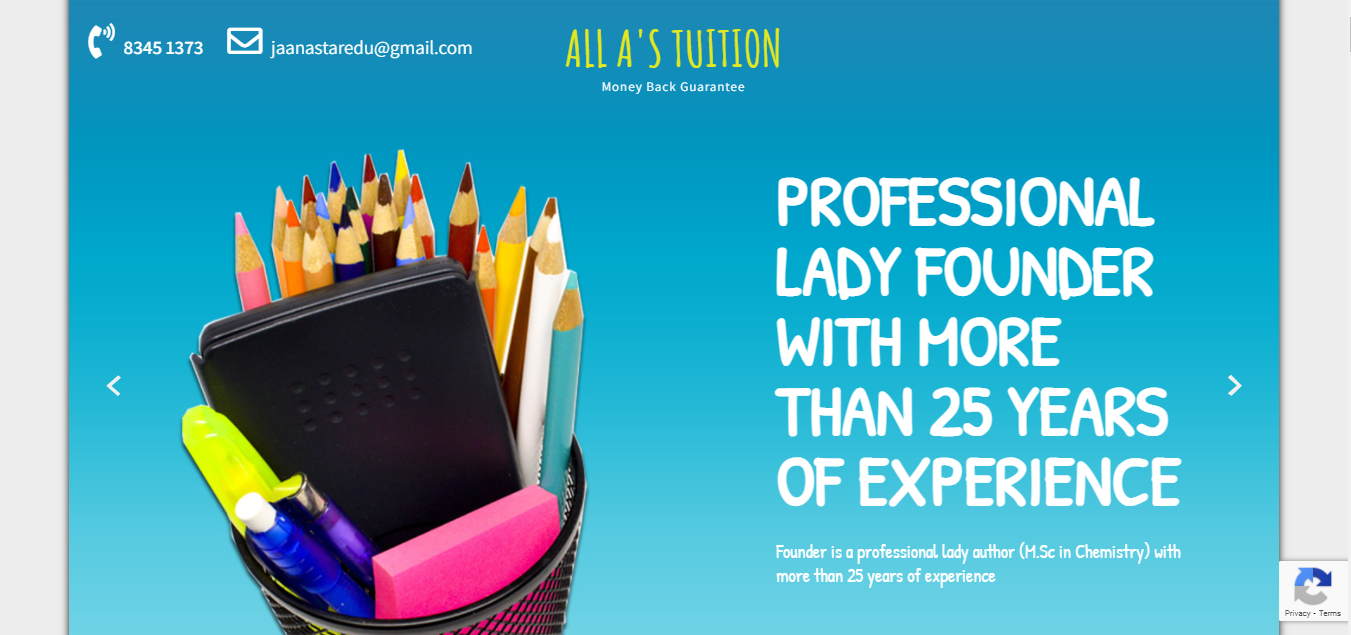 BEST FOR 
Chemistry and Math tuition
WEBSITE
https://aatuition.net/
ADDRESS

Bukit Timah Shopping Center
170 Upper Bukit Timah Rd, #02-26
Singapore 588179

Telok Blangah
93A Telok Blangah Street 31, #27-155
Singapore 101093

Kensington Square
(near Bartley MRT)
2 Jalan Lokam #01-35
Singapore 537846

City Square Mall
(near Farrer Park MRT, opposite Mustafa Centre)
180 Kitchener Road #09-10
Singapore 208539

CONTACT DETAILS

[email protected]


8345 1373
OPERATING HOURS
Contact for more information
All A's Tuition is not your ordinary tutor. Their founder, Ms. Sultana, is a postgraduate of Master of Science in Chemistry and has more than 25 years of experience!
People know her as one of the best tutors in Singapore. Her reputation as a tutor is that she gives all her attention to students since her teaching style is 1 on 1 with the child.
Another thing why people prefer to contact her rather than other tutors is because she has a money-back guarantee. Do not fret since your money will never be wasted with All A's Tuition.
The parent of one of their previous tutee left a review on their website. They said that their son joined All A's Tuition Center with very poor grades in Math, and right after 2 months with All A's Tuition, he started to make some remarkable improvement.
Highlights
Easy to understand teaching techniques
Patient with her tutees
Customer Reviews
Here are some reviews from the parents of  their previous students:
"We are grateful to sister Sultanah for tutoring my son Thulasiram from Geylang Metthodist Secondary School, in physics. He was getting F9 for the last one and a half years. Now he just received his prelims result for pure physics and he has got a surprising A2 after going to her tuition for just 12 lessons. Thank you sester"
"Dear Ms. Sultana, Thank you for assisting my daughter Lya Syakira for her recent Pri 5 final year exams. She scored an A after failing her mid-year Maths. We appreciate your effort and patience guiding our daughter. Furthermore, it was done within 3 months. thank you once again."
3. Learner Net
BEST FOR 

Online school with a wide range of academic and non-academic classes for all ages

E.g. Psle, O level, IGCSE, Drama, Art, Coding, Floral Arrangement

PRICING
As little as $16 per hour
WEBSITE
ADDRESS
#03-08 Katong Plaza, 1 Brooke Road
Singapore 429979
CONTACT DETAILS

Tel: +65 31294377

Email: [email protected]

Whatsapp: https://wa.me/6531294377

Live chat: https://bit.ly/learnernetsg_live_chat

OPERATING HOURS
Hotline and Live Chat: Monday to Friday (excluding Public Holidays) 9:00 AM to 10:00 PM
Learner Net started as a project between educators and software developers. They are one of the best home-grown companies in Singapore that are sourcing dedicated teachers from all over the world.
In comparison to other tutors, they empower their students to get inspired, learn more effectively, and most importantly, have fun while gaining new knowledge. They are the only company where parents can be involved in their child's learning, plus, they have the freedom to choose from a variety of quality classes and teachers.
Unlike others, they have small class sizes. This is to ensure that no learner gets left behind and each one of them gets the right amount of attention.
One of their features is to learn on the go. No matter where you are, you have instant access to lesson playbacks, class notes, and resources at any time.
Highlights
Affordable online classes for as little as $17 an hour

MOE teachers, international school teachers, Master's degree and undergrad teachers 

Digital classrooms to save lesson resources

Unlimited lesson replays

Free trial classes for all new class trials
Customer Reviews
They have a number of satisfied students and parents, here is a feedback from some:
"The teacher was very patient and helped my son when he needed assistance. My son enjoyed the coding (Python) class very much and always shared his experience on what he had learnt in every session." – Ges Gwee
"Chinese teacher was kind and knowledgeable. My daughter liked the class." – Vanessa
"I acquired the knowledge right after Isaac Quek's teaching and was able to identify my own errors. Understanding the rationale behind the English rules and their relationships is a new learning dimension for me. It was the "AHA" moment many spoke about in the LEARNER NET. I felt empowered to learn confidently and was pleased to know that LEARNER NET and the teacher were able to cater to my learning needs." – Lok Qiu Yin
4. Premium Tutors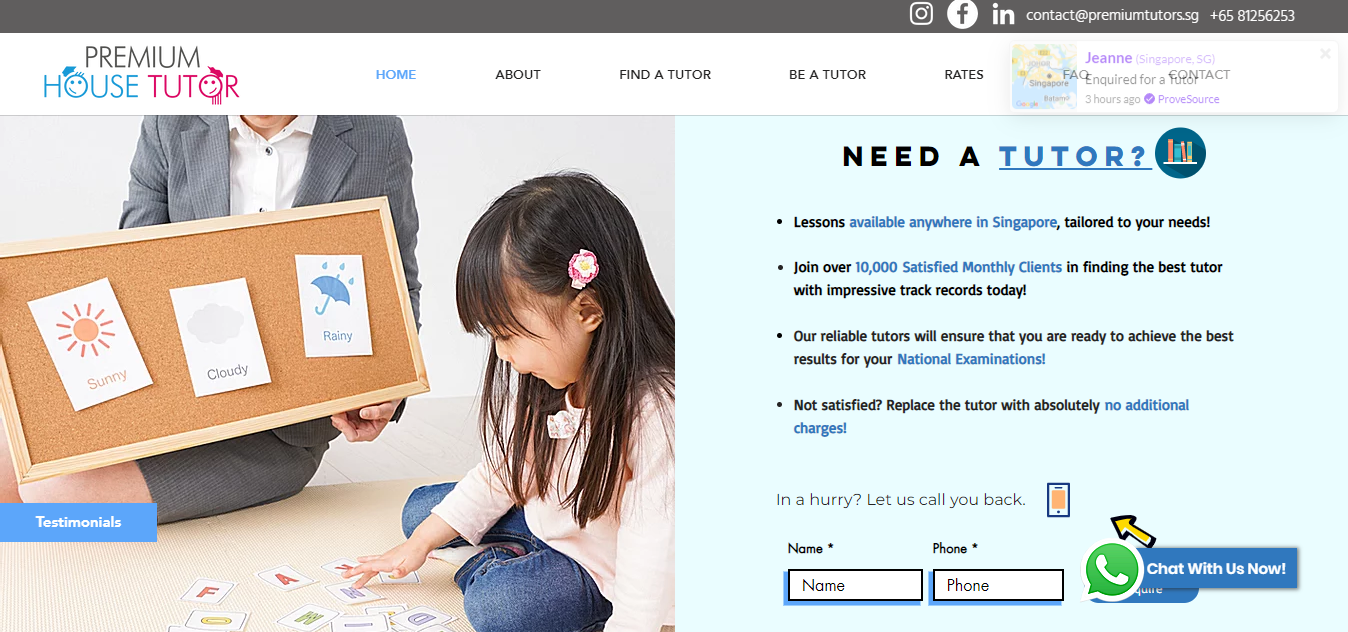 Premium Tutors is a Singapore-registered tuition agency founded by a group of Full-Time Tutors.
We have observed that they are one of the best tutors in the country because they have tutors for different levels. The levels they offer are Preschool, PSLE, O Level, A Level, Diploma, ITE, Degree, Adult Courses, IB, IGCSE, and IP.
We also personally think they are great because they can cater to a wide range of subjects. Whether you are looking for a tutor in basic subjects like English, Maths, and Science or more complex ones like Creative Writing,  Economics,  and Accounting, you can find one with them!
In 3 simple steps, you will be able to find the perfect tutor. Just contact them, wait for the tutor's profile, and confirm the lessons where you or your child needs guidance.
We recommend them because they reply very fast. Plus, they are also able to locate and match the tutor in a short period of time.
Highlights
Professional staff
Competitive prices
Tutors are engaging
Customer Reviews
Here are some reviews left by the parents of their tutees:
"I engaged Premium House Tutor to look a piano teacher. Tuition centre is understanding, negotiable and reasonable unlike some "bigger" centre who claimed they have 100s of piano teachers to choose from and demand up front payment upon confirmation despite my start date was 2months time. When asked more details refused to let parents know. Definitely will look for Premium House Tutor again if my son need a private tutor!"
"We engaged private tutor for my daughter who has taken Mandarin as her second language in school. I got the contact of Premium house tutors from the internet. And we engaged Ms. Antonia who helped my daughter immensely. No one in my family could help her out or see her progress but within first few sessions I got to hear appreciation in (Parent's Teachers meet)from my daughter's school teacher for Manadarin language. She had improved by leaps and bounds. I am fully satisfied parent and would recommend their good service to all looking for academic coaching classes😊"
5.  The Learning Lab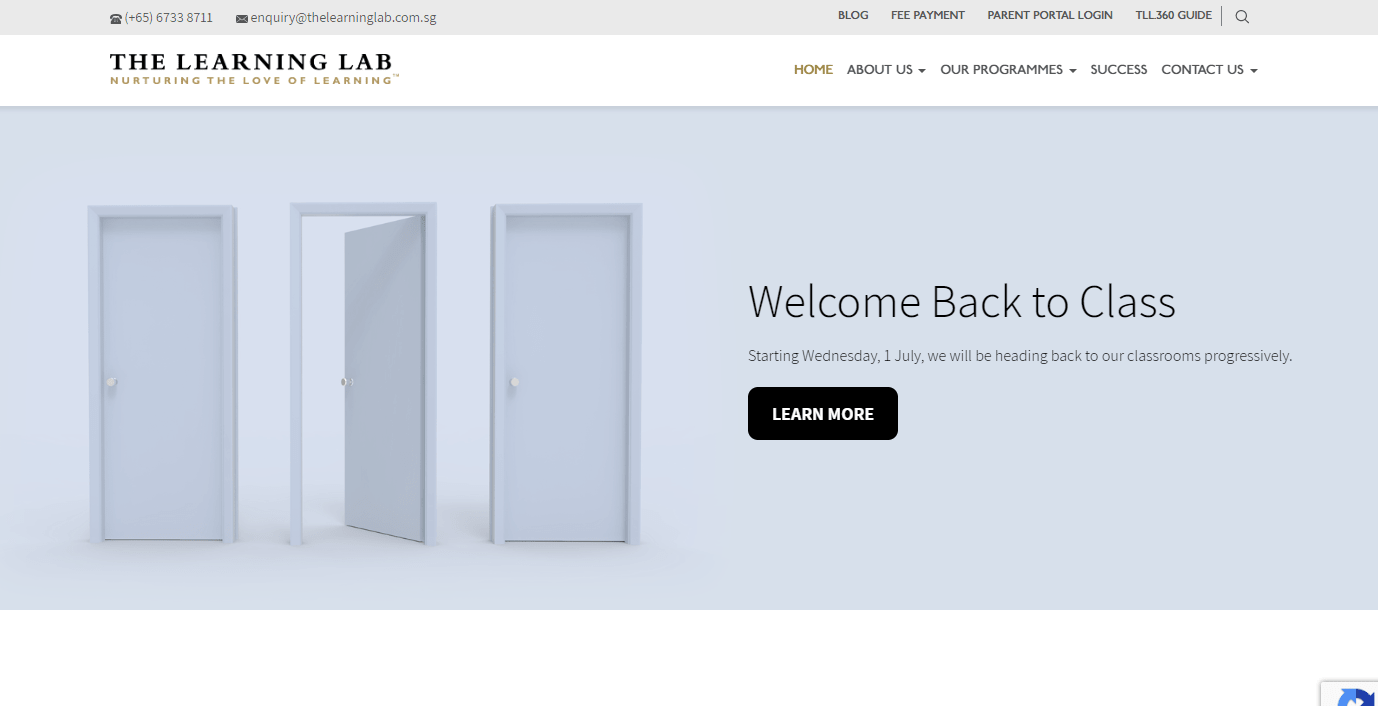 BEST FOR 
Early school preparation, Optimal classroom experience
PRICING
Rates
WEBSITE
https://www.thelearninglab.com.sg/
ADDRESS
Locations
CONTACT DETAILS
(+65) 6733 8711
OPERATING HOURS
Hotline:

 

Mon to Fri: 10am to 8pm

Sat & Sun: 9am to 6pm

Closed on public holidays and observed public holidays.
At The Learning Lab, certified instructors offer a comprehensive curriculum where children can gain the right knowledge and skills needed for school preparation.
For the parents who want their children to take primary classes so they can be familiar with the classroom setup and learning environment, they have the best tutors in Singapore, suitable for all needs.
That said, their programmes are mainly designed for preschool, lower and upper primary, secondary, and even junior college levels. They're perfect for students in those educational levels.
Every lesson is relevant to the school syllabus so you can be sure that your child is learning the right topics. All activity booklets and handouts are adapted to the recent examination and question trends to ensure high-standard service.
With their comprehensive curriculum and best tutors in Singapore, there's no doubt that your child will be eager to discover more things outside the house if you hire them as tutors.
Highlights
Thoughtfully designed classrooms
Engaging activities
Hands-on experiments
Holiday programmes
Customer Reviews
Many parents stated that their child had a fun learning experience at The Learning Lab. They also said that the tutors are attentive and that they know how to properly motivate the children to learn.
A parent shared this experience:
"One of the tutors that I trust my kid with. My kids started lessons with them since primary 3. He doing well in school with a pretty good attitude to school work. I think the tutors download their work attitude and temperament to their students during class interaction, and the tutor has a hardworking and organized approach to work, so my kid have a mentor they look up to."
6. EduZ Tuition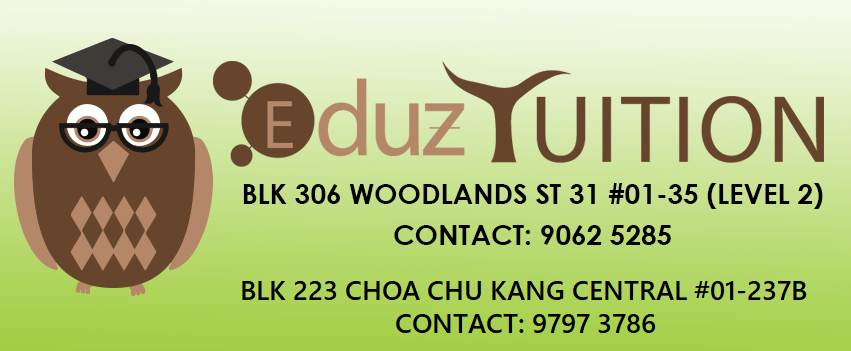 BEST FOR
Small class size for both Centre & Online Classes
CLASSES
https://www.eduztuition.com/academic-courses
WEBSITE
https://www.eduztuition.com/
ADDRESS
WOODLANDS – 5 minutes walk from Marsiling MRT

 

CHOA CHU KANG – 5 minutes walk from CCK MRT

CONTACT DETAILS
WOODLANDS – 90625285

 

CHOA CHU KANG – 97973786

OPERATING HOURS
Monday – Friday: 2:00 pm to 10:00 pm

 

Saturday – Sunday: 9:00 am to 7:30 pm
What's good about EduZ Tuition is that they give you the option to attend your class virtually through their online sessions. While they have physical branches, they also extend their reach to those who do not have the means to travel back and forth to the tuition centre and would rather take their classes online.
Nonetheless, they guarantee that the quality of lessons provided online is never compromised. In fact, it even gives you the convenience and ease of access to resource materials that can help you with your lessons.
All of the lessons are live-streamed so you can interact with your tutor on a real-time basis which is very helpful especially if you have more in-depth questions.
Highlights
Ex-school 

tutors

 with more than 8 years of teaching experience
Small class size or one-to-one interaction
Online and physical classes are available
Competitive fee
Customer Reviews
"I have attended math and science lessons in the centre through my secondary and JC years. Throughout the years, I have seen great improvement in my results. I am very thankful for the two tutors Mr Dave and Mr Johnathan for patiently guiding me throughout the journey, clarifying my doubts even after classes and making the extra effort to ensure that I am doing well in school."
7. Economics at TuitionGenius Academy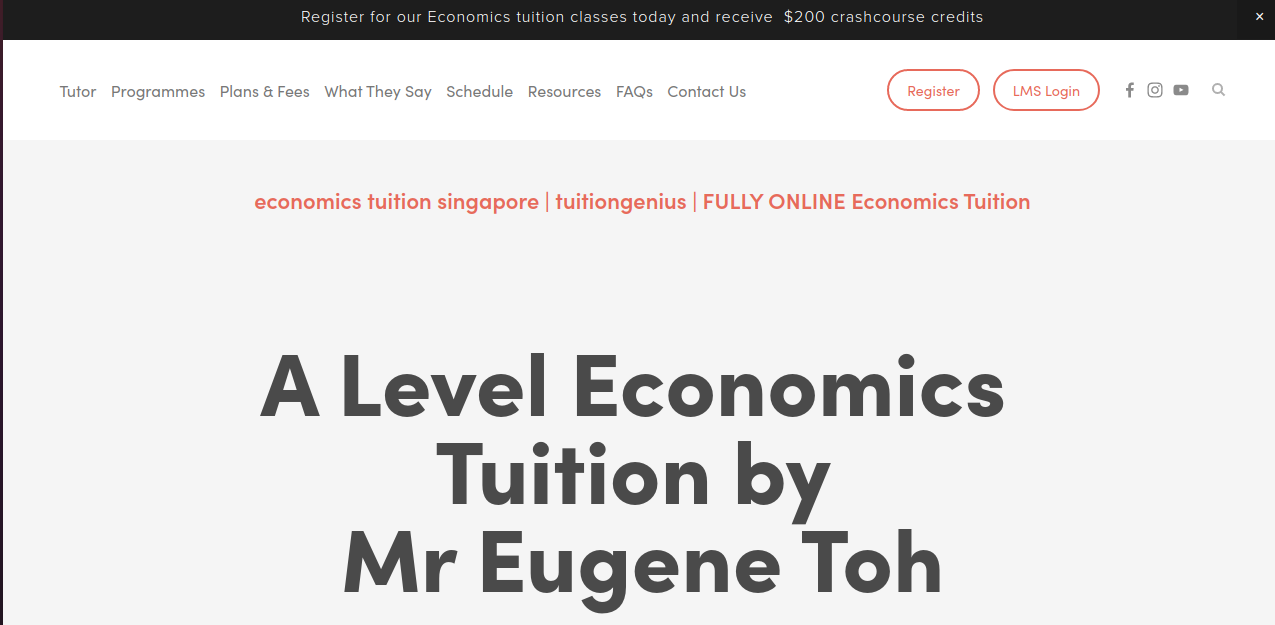 Economics in all its aspects can be a tough and complex subject for many. It's a good thing that Economics at TuitionGenius is here to provide easy-learning tuition for this course!
Students enrolled will be taught by Mr Toh who is a renown Economics tutor. He teaches complex concepts in such a way that students can understand easily. Students will also have additional learning resources that can also be accessed through their vast library such as books, diagrams, essay series and even cheat sheets!
Learning with Mr Toh is both fun and engaging. The best part is that the learning plan includes both physical and digital learning to explore and adapt to different learning environments.
Highlights
Physical and Digital Learning
Livestream Lessons
Discounts for Crash courses
Customer Reviews
"His lessons are fun and interesting and they keep me engaged! Usually econs may be boring but Mr Toh makes it so wholesome. I have definitely improved from his lessons and I feel better about Econs when I learn from him."
"Mr Toh sets himself apart from a lot of tutors as he focuses a lot on logical thinking and question analysis. His lessons bring in a lot of content from the real world and they're very well structured and planned. There's also free food, wifi and good lesson materials."
8. Miss Loi's Temple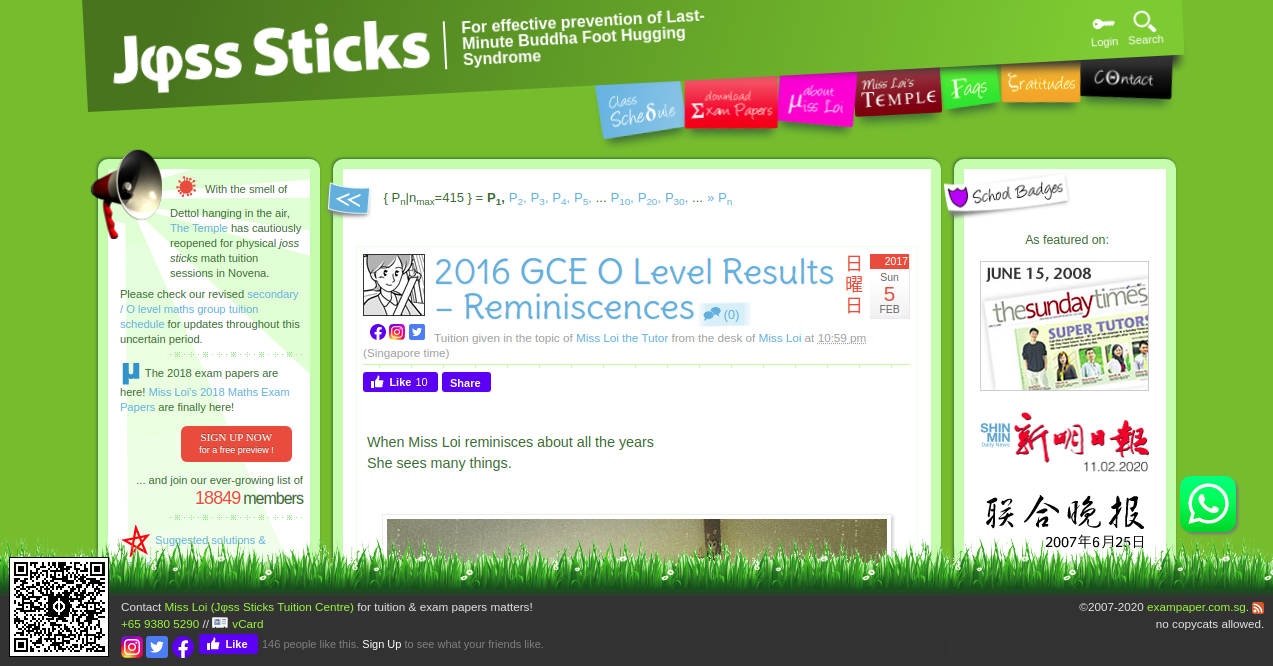 BEST FOR
Secondary Math, Intimate learning
PRICING
 
WEBSITE
https://www.exampaper.com.sg/
ADDRESS
157A Thomson Rd, Goldhill Shopping Centre, Singapore 307610
CONTACT DETAILS
(+65) 9380 5290

OPERATING HOURS

Thursday
3:30 – 6:30pm
Friday
3:00 – 7:30pm
Saturday
10:00 am – 7:00 pm
Sunday
10:00 am – 7:00 pm
Monday
2:00 – 6:00 pm
Miss Loi Temple understands that there are some students who find Secondary Math a little too challenging to keep up quickly. This is why her temple is holistic tuition that specifically believes in learning at one's own pace.
Many students have individual styles of learning and Miss Loi believes in adjusting in the teaching style, learning environment and patience. With a class consisting of only 5-8 individuals per session, students will definitely get a better understanding of the subject.
Miss Loi is here to offer enlightenment for the students in need in a manner that they may be cleansed their low confidence & careless mistakes and achieve those O Level grades.
Highlights
5-8 students per session
Holistic learning
Learn at own pace
Customer Reviews
Here are some examples of the feedback posted by customers on Google Reviews:
"Ms Loi is a very passionate teacher who really looks out for her students. She thoroughly prepares each lesson, pointing out questions & concepts and tips on exam strategies & answering techniques. She always clarify doubts and with patience. She identify individual's weakness and improve on it in an enjoyable manner. Really appreciated her effort and encouragement. A big thanks to you Miss Loi."
"Clear teachings that resulted in great improvement from an E to an A in a short 4 months time. My child has also surpassed many of her classmates who once performed better than her and surprised her Maths teacher in school with her clear understanding within the short period of time. Most importantly, my child has gained much more exam confidence and had also cultivated much interest in Maths. Thank you Ms Loi."
9. Drum Tutor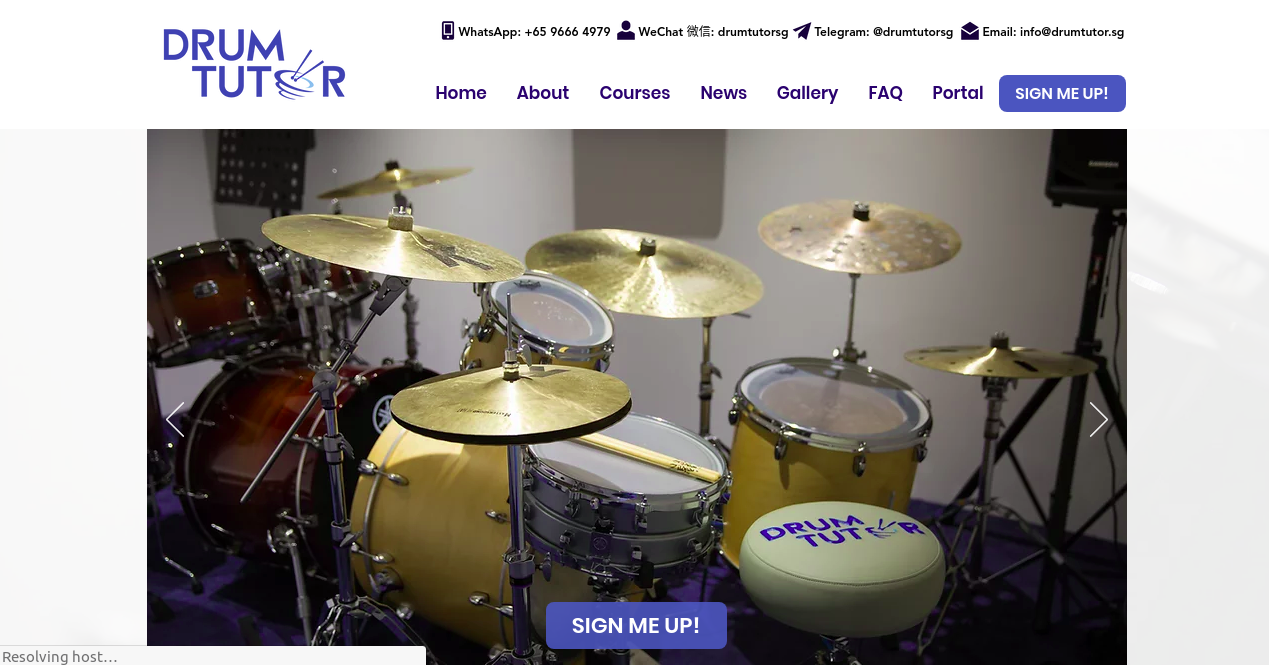 BEST FOR
Drum Tutor, Rythm and Beat Compositions
PRICING
Rates
WEBSITE
https://www.drumtutor.sg/
ADDRESS
200 Turf Club Rd #04-13 Singapore 287994 Take Lift 2 located at North Grandstand
CONTACT DETAILS
(+65) 9666 4979 | [email protected]
OPERATING HOURS
(Via Appointment)
Monday – Friday, 10:00 AM to 9:00 PM | Saturday – Sunday, 10:00 AM to 8:00 PM
Playing musical instruments is a talent that can be seen from an early age in childhood. But for Drum Tutor, age is just a number, and learning music is what matters the most.
Drum Tutor is a tutor dedicated to learning the drums that is based on a student's pace and learning ability. They provide top-notch facilities with a variety of complete set of drum kits. To help students further, they also provide customized song transcriptions for the students to easily understand and practice.
At the end of the program, there will also be recitals and showcases. The best part of it all is that if one is interested in continuing playing the drums, they can get discounts on drum equipment from the centre!
Highlights
Kids and Adults
Discount on Drum Equipment
Customised Song Transcriptions
Customer Reviews
Here are some examples of the feedback posted by customers on Google Reviews:
"Very professionell and customer- oriented studio, flexible and reliable. Our son, who enjoyed his classes a lot, did have classes with Amir who is calm and patient with kids. Sad that we have to leave. Can highly recommend Drum Tutor."
"Great place to get started on your drumming journey. Patient and friendly environment for people across all ages to learn!"
10.

TUTOROO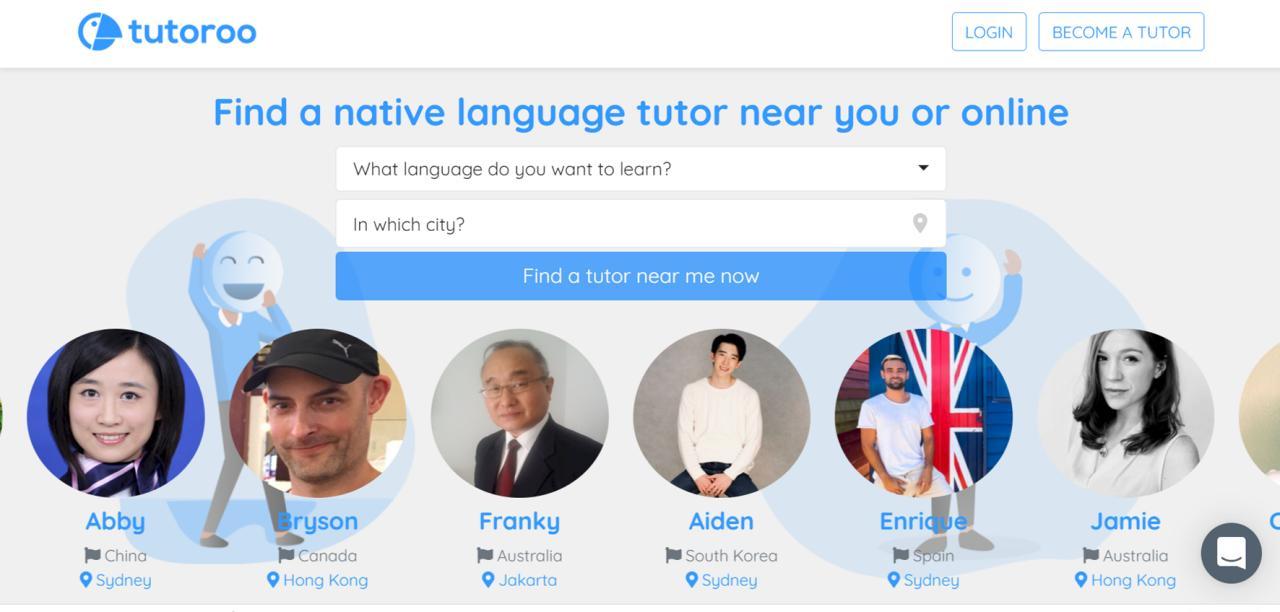 | | |
| --- | --- |
| BEST FOR | Language tutors |
| PRICING | Visit TUTOROO website to find out about tutoring rates. |
| WEBSITE | https://www.tutoroo.co/ |
| ADDRESS | Singapore |
| CONTACT DETAILS | +65 9246 1794 (WhatsApp) |
| OPERATING HOURS | Open Daily |
Consider TUTOROO if you're looking for private language tutors who are native speakers in the language they teach. TUTOROO now works in Singapore with private Chinese tutors, and also Spanish, French, Japanese, Russian, Vietnamese, Korean, German, Italian, Thai or even, of course, English teachers.
Thanks to a private tutor in Singapore, you'll be able to learn how to read, write and speak the language you chose allows you to fully maximise your money spent. What's more is that you can find a TUTOROO tutor in other cities across the world, not just in Singapore!
So wherever you are in the world you can surely rely on them for the best language tutoring services. And this is a proud Singaporean startup!
Highlights
Over 216,000 private language teachers
Branches in other countries
Multiple languages available
You only pay for the lessons you take, no agency fees to be paid by learners
11.

Mindworks Tuition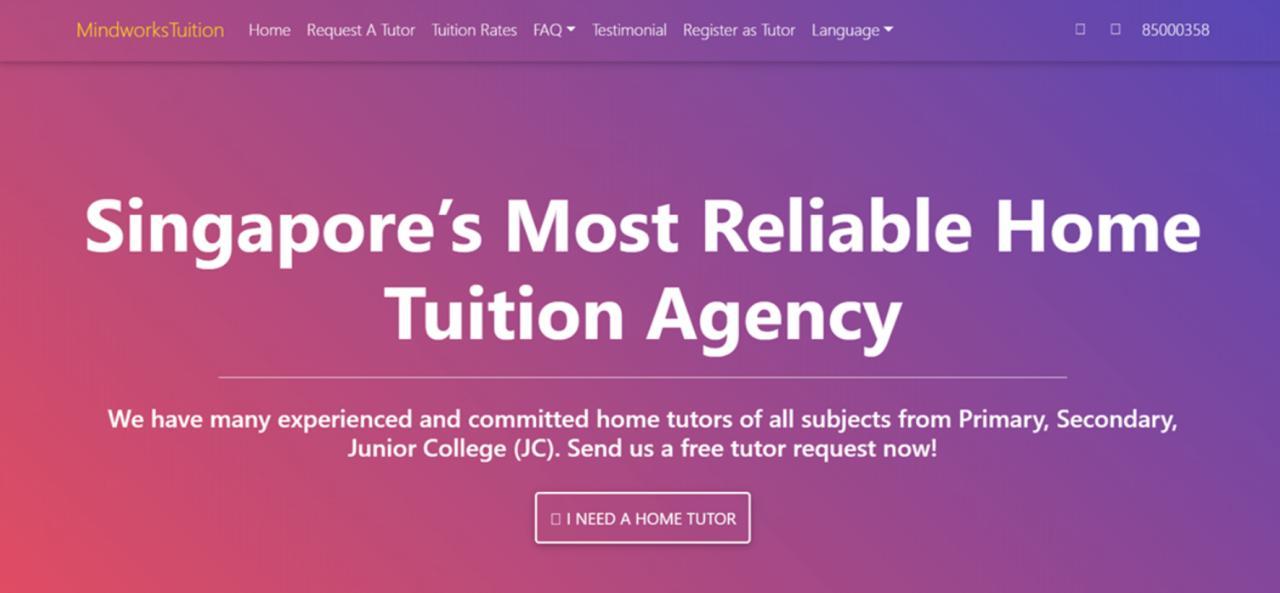 BEST FOR

1-to-1 private tuition for all subjects and levels

PRICING
WEBSITE
https://mindworkstuition.com/
ADDRESS
CONTACT DETAILS
[email protected]
+65 85000358/ +65 86000848
OPERATING HOURS

Monday-Friday 9am-5pm & Saturday 9am-1pm
Mindworks tuition is the go-to tuition agency to acquire for almost any subject in need of extra teaching. Learn new things about Science, Humanities, Language, or Math, in the comforts of your home.
Known to be one of the leading home tuition agency in Singapore, their tutors are all proven to be reliable in their field of expertise. With a large tutor database and a team of dedicated tuition coordinators, they aim to help every client find a suitable home tutor within 24 hours. 
Look more into their available subjects and the rates, all on Mindworks Tuition's website!
Highlights
Free consultation

Affordable tuition rates

No agency fee
Customer Reviews
Checkout parents' feedbacks on the website.
12.

Power Physics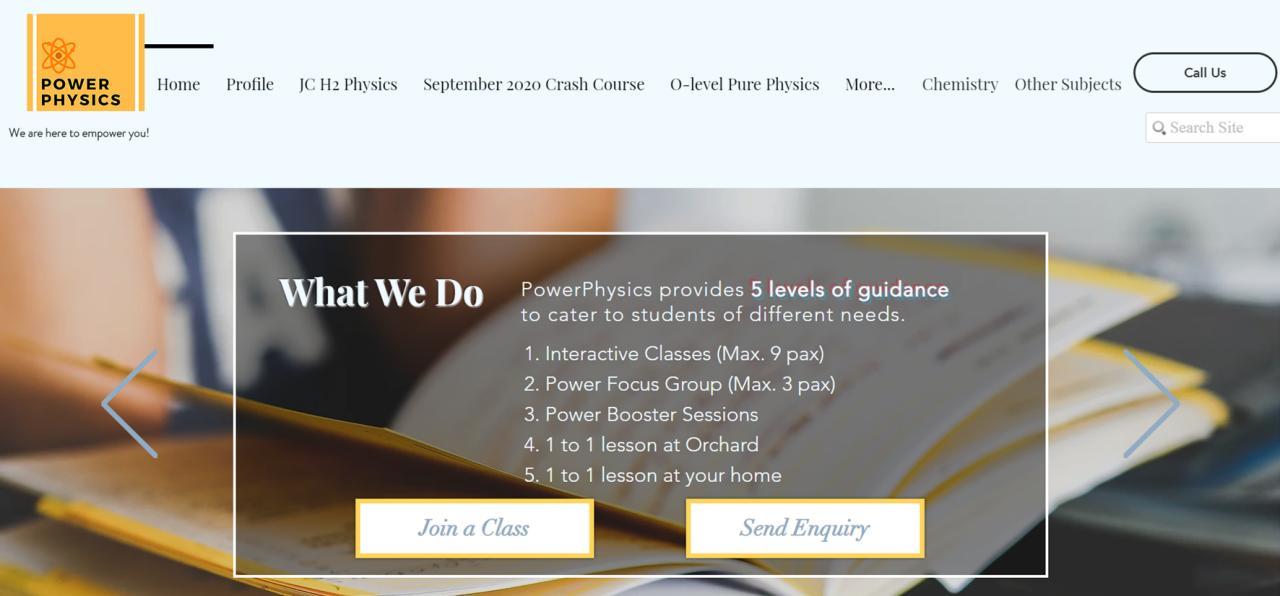 Physics can be an easy subject if you let Power Physics guide you. With valuable experience accumulated over the decade, Tutor Young will help you to get an 'A'! 
He can show that you don't need to be a PhD or a scholar to understand Physics. Tutor Young will help you to excel in Physics, not by merely memorizing, but through understanding. Instead of remembering hundreds of formula, you can score well by just knowing a few.
To add on to it, they offer different levels of guidance, depending on the student's needs. You can choose among many options of tutoring, from online interactive classe and one-on-one sessions, to power focus groups and booster sessions.
Know more about their tutoring sessions and call them to book a class!
Highlights
One-to-one tuition

Group lessons

Crash Courses available during holidays for intensive revisions
Customer Reviews
"I'm Aryan from Raffles Institution, batch of 2019, and what I liked about Mr Young's teaching is that he's passionate about physics, ever willing to go the extra mile to explain a concept or solve a problem in class. He doesn't just tell you the answer, rather he explains the concepts behind the formula and tries to let you work it out by yourself before stepping in to give more advice if needed. Being tutored by him, my grade in physics saw a dramatic leap from a C in prelims to an A in A levels."
Read More on https://www.powerphysics.com.sg/profile
13.

Power Chemistry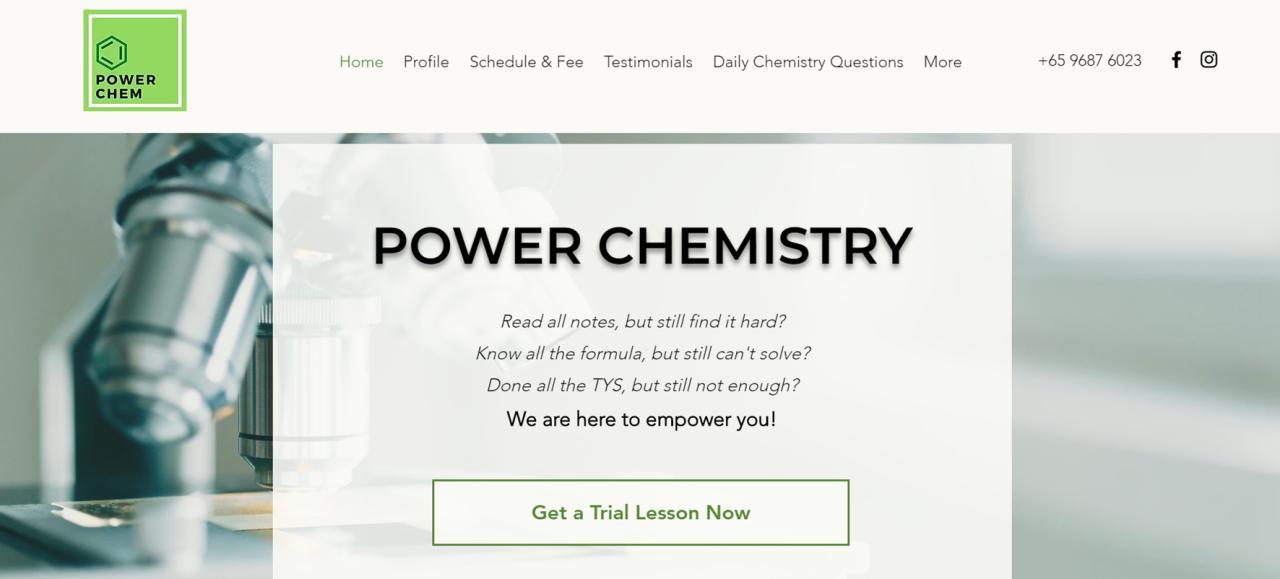 BEST FOR

 JC Chemistry Tuition

PRICING

Group Tuition Pricing

$320/month (JC2)
$300/month (JC1)

WEBSITE
https://www.powerchemistry.com.sg/
ADDRESS

Orchard Plaza #04-43, 150 Orchard Rd, Singapore

CONTACT DETAILS
+65 9687 6023
[email protected]
OPERATING HOURS

Flexible (Class Schedules to be discussed)
Power Chemistry lessons are led by Ms Alice, who specialises in 'A' Level Chemistry. With over 12 years of experience in the industry, she has spent years condensing the syllabus into concise notes and mind-maps to help students understand and remember the concepts easily.
Her passion in guiding students can be seen from her patience and the extra time she puts in for each student. Through the years of teaching, Ms Alice understands that some students face some roadblocks in life (emotional/life problems) that might affect their academic performance and such students are recommended to have 1-1 consultations with Ms Alice to seek help or guidance as she has a methodology to help her students.
To her, every student is unique and has unrealised potential. She will help to unearth the potential and hone their skills till they shine! Just choose the schedule you're free to take, as well as the level of difficulty, then you're good to go!
Highlights
Customer Reviews
Read what Cherie from Raffles Institution had to say about Alice's tutoring in Power Chemistry:
"My chemistry used to be very unstable such that my lowest grade was S and highest was B. However they tend to fluctuate at the lower grades (C-S) as I was not clear with the concepts. Nearing A levels, I decided I needed help and Alice was my lifesaver. She helped me to be more consistent in my work as well as explained all that I didn't understand simply. What I liked about Alice is that she is patient with explaining concepts that you do not understand. Her teaching style was very compatible with me as her constant paper practices helped me to be more confident in tackling various types of questions. With constant drilling, I eventually got an A for chemistry in A levels. Alice was a very bright and patient teacher and I would definitely recommend her if you need help in chemistry."
Read more on https://www.powerchemistry.com.sg/testimonials
14. Trust Tuition Agency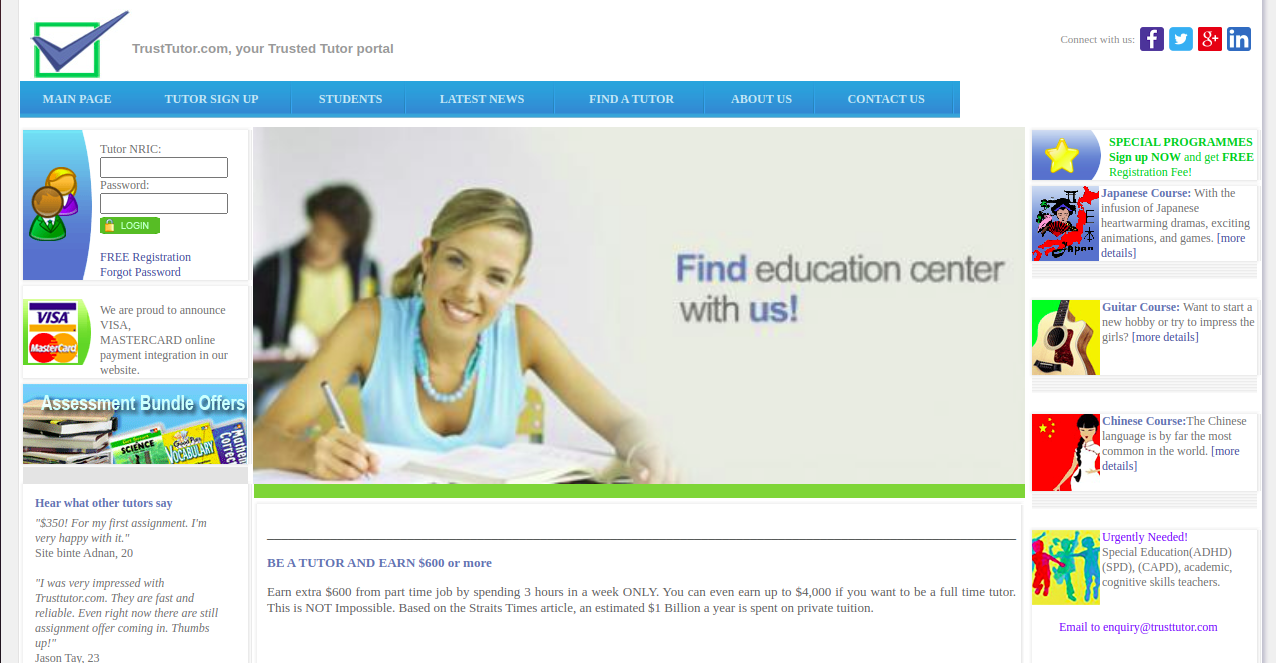 | | |
| --- | --- |
| BEST FOR | Finding tutors near your location |
| PRICING |   |
| WEBSITE | https://trusttutor.com/ |
| ADDRESS | Wcega Tower 21 Bukit Batok Crescent #15-70 Singapore 658065 |
| CONTACT DETAILS | (+65) 6734 9101 |
| OPERATING HOURS | Monday – Friday, 10:00 AM to 6:00 PM |
Some people need tutoring and some people need extra income. Thankfully, Trust Tuition Agency caters to both!
Trust Tuition Agency uses an easy process for both tutoring applicants and those in search for the right tutor. Anyone with the right credentials can apply, and anyone looking for tutors can find one in a location near them through this agency.
Using Trust Tutor Agency can also be good for your wallet because it offers free signup and you can also get 20% discount on the assessment books.
Highlights
25 Years Experience
Free Signup
20% discount on assessment books
Customer Reviews
"The tutor coordinator job is great. It's really simple to source and pair tutor and tutees from various social platforms such as Locanto. Definitely recommended!"
15. Stag Match Tuition Centre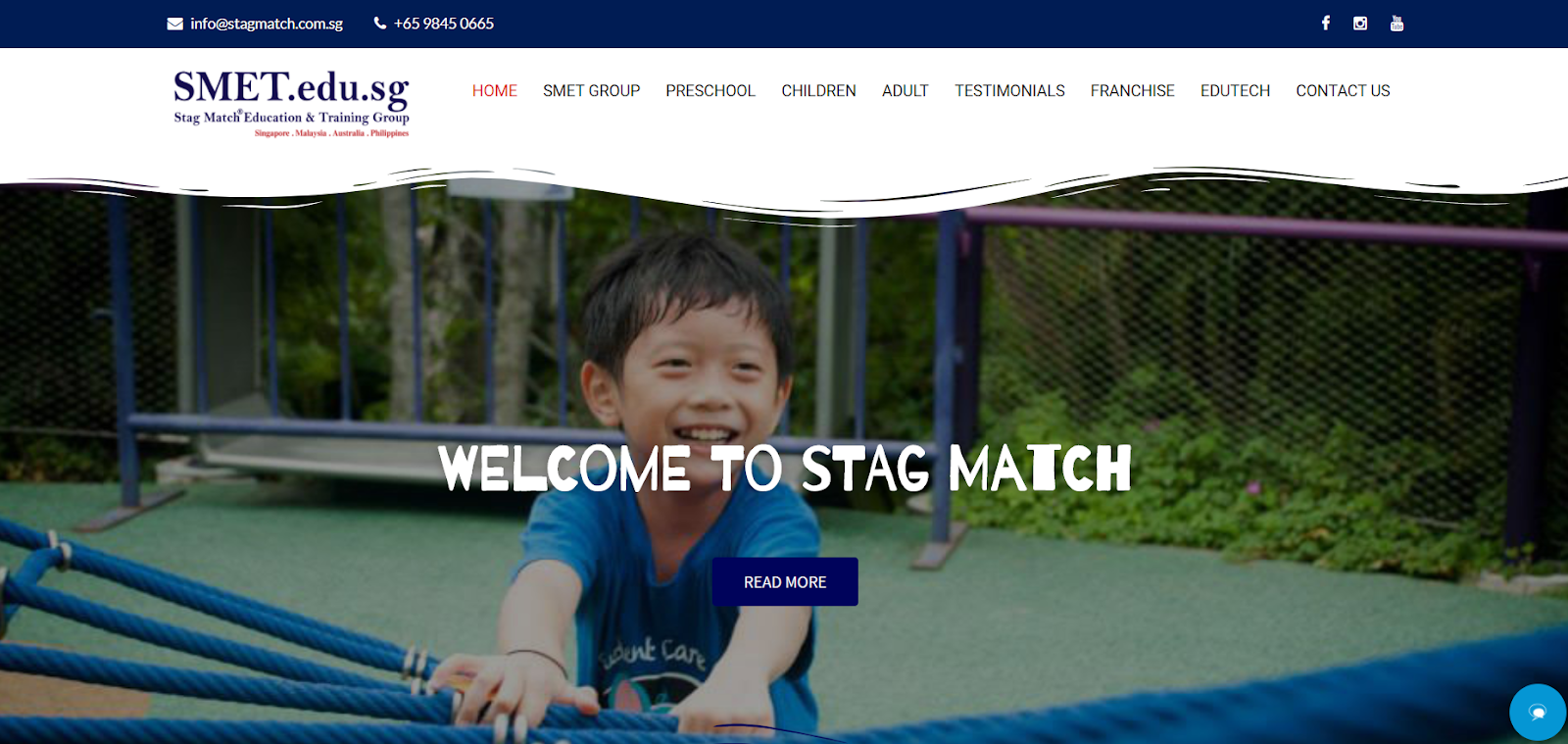 | | |
| --- | --- |
| BEST FOR | Language, Science, Maths, Robotics |
| PRICING |   |
| WEBSITE | http://smet.edu.sg/ |
| ADDRESS | 1 Woodlands Road #02-10, Singapore 677899 |
| CONTACT DETAILS | (+65) 66127165 / (+65) 98450665 | [email protected] |
| OPERATING HOURS | Monday – Sunday, 10:00 AM to 10:00 PM |
You wouldn't go wrong with Stag Match with their 100% dedication to educate and award-winning services. They not only improve the academic skills of their students but also increase their concentration span.
The best part of Stag Match is that it accepts a wide age range of students. Their tuition caters to pre-schoolers to adults and many have accomplished their sessions with improvement.
Stag Match is recognized for their integrity and superior customer services. This is it what makes them one of the top at our list of best tutoring services in Singapore.
Highlights
Adult Training Centre
Science Centre Enrichment
Best Enrichment Experience 2015
Customer Reviews
"Stag Match is a good tuition centre. The teachers put in efforts to teach the students well. They use Diagrams, PowerPoint slides and other mediums, which make us understand better. The teachers are also very professional."

"I have been studying at Stag Match since 2011. During my tuition with Stag Match, I have excelled a lot in my academics and achieved scholarship in my school. I am proud of myself and Stag Match has been a contributing factor to my achievement."
16. Tutor City Home Tuition Agency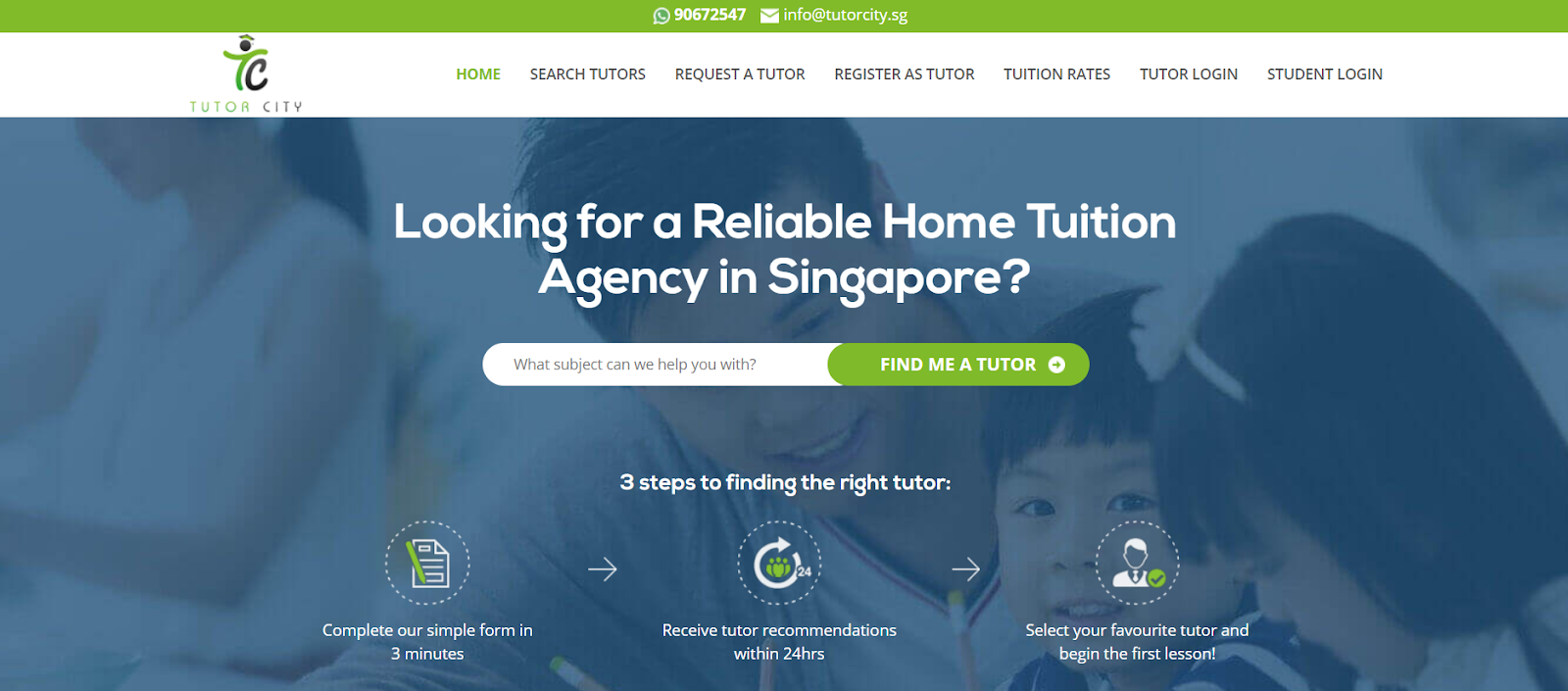 Tutor City Home Tuition Agency is the way to go if you're looking for fast turnaround, qualified teachers and the greatest customer care. You can get all of this at an affordable price.
Past clients have commended this agency for their attentive customer care and efficiency. Quality is also their top priority as their database of 20,000+ tutors consists of school teachers, part-time graduate tutors, full-time tutors and university students!
And if you're still hesitant, you can phone in to have an interview with the matched tutor. Tutor City Home Tuition Agency is truly attentive to their customers' needs and it's the reason they have claimed a spot on our list.
Highlights
Affordable tuition rates
Certified tuition teachers
Fast Turnover
Customer Reviews
"Tutor City is fast and attentive in their service and provides a comprehensive choice of tutors for your selection. I recently engaged a music teacher for my girl and teacher is responsible, proactive and polite. Thumbs up!"

"My girl has been taken by NUS law and business +law double degree, Hong Kong University of Science and Technology Business school and Hong Kong Chinese university Business school have all accepted her application. Very appreciated for your help for the past few years!"
17. POA Tutor Singapore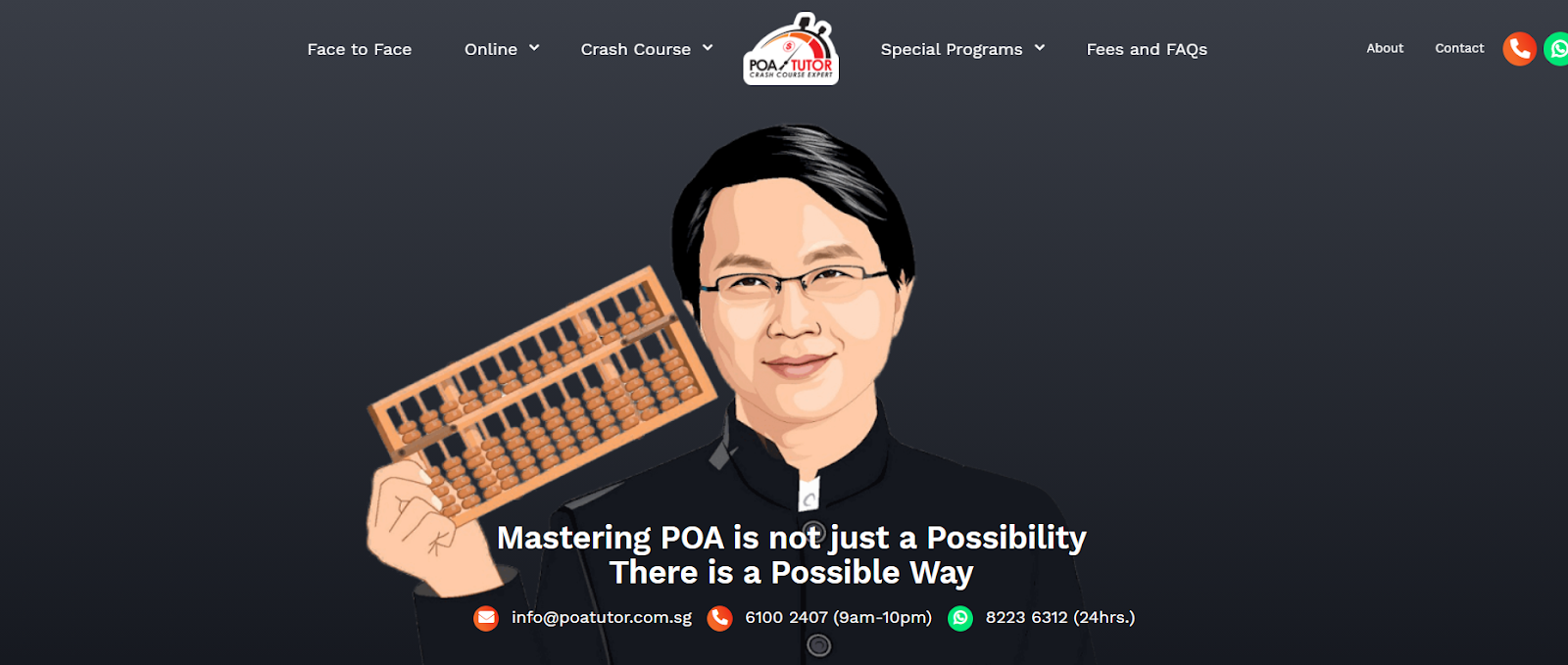 | | |
| --- | --- |
| BEST FOR | Mastering POA for Exams |
| PRICING | Rates |
| WEBSITE | https://poatutor.com.sg/ |
| ADDRESS | 226 Lor 8 Toa Payoh, Singapore 310226 |
| CONTACT DETAILS | 6100 2407, 8223 6312 | [email protected] |
| OPERATING HOURS | Monday – Sunday, 9:00 AM to 10:00 PM |
Accounts is a course that is helpful in one's everyday life, and it's also a tricky subject to fully excel in. With POA Tutor Singapore, mastering POA is not just a possibility, but a reality.
This tuition focuses on preparing students for their Accounting exams to the best of their abilities. They do this by having diagnosis, being time-efficient, provide progressive learning and allow all the online resources to be available.
POA Tutor Singapore believes in being able to learn using different means. This is why they offer both physical and digital learning, one-on-one sessions and even crash courses.
Highlights
Trial Lesson
Online Resources
Physical or Digital Learning
Customer Reviews
Here are some examples of the feedback posted by customers on Google Reviews:
"Best Tuition center in Singapore for Accounts."
18. Tutopiya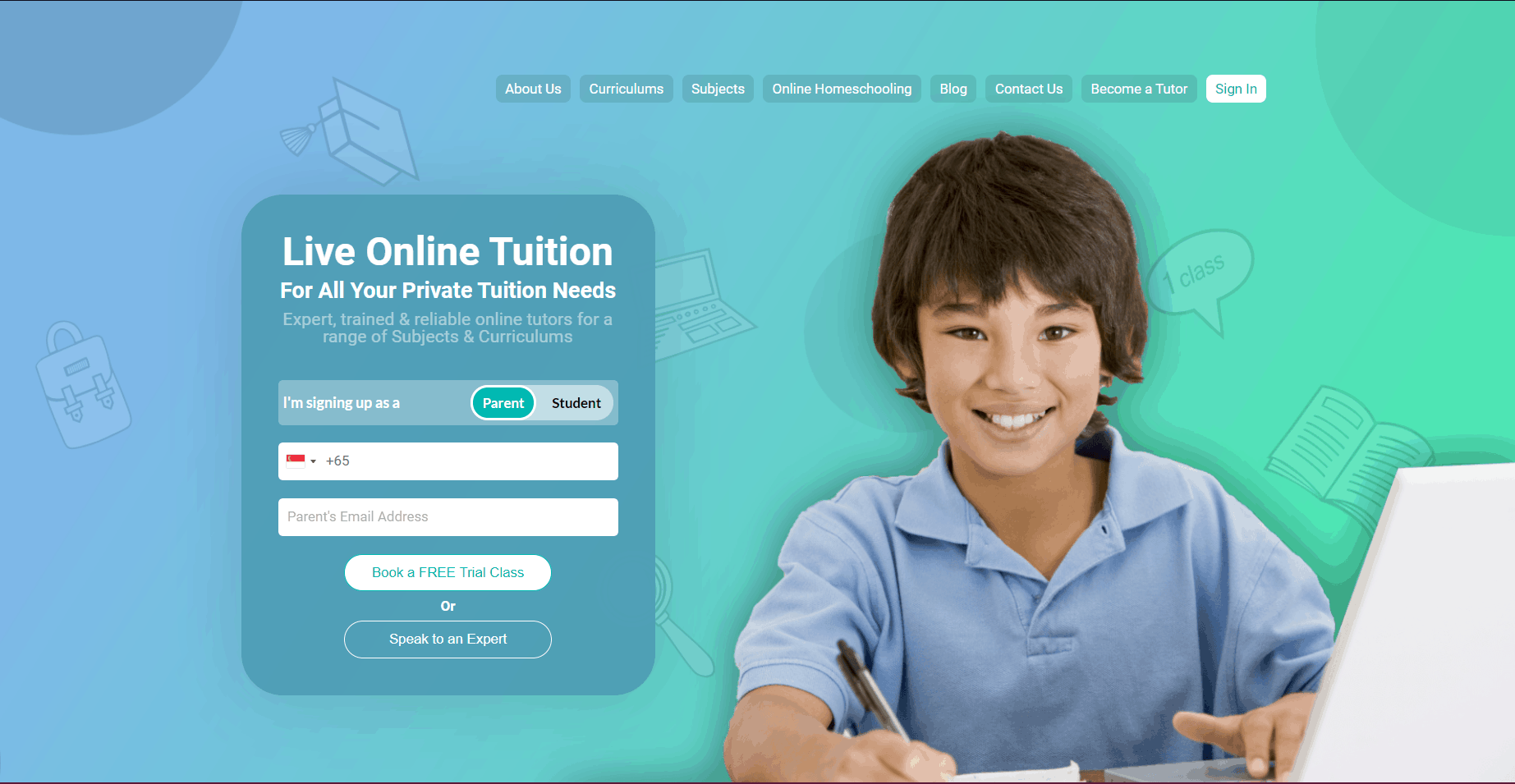 BEST FOR 
Tuition for Grades 1-12
WEBSITE
https://www.tutopiya.com
ADDRESS

22 Changi Business Park Central 2, #02-08, Singapore, 486032

CONTACT DETAILS
[email protected]
(+65) 69788459
OPERATING HOURS
Always Open
If you're looking for a home tutor, Tutopiya is a tuition centre you should consider. They offer interactive and personalised tutoring services for Grades 1 to 12. 
One-on-one tutoring is where they excel the most. They can accommodate a wide range of subjects for their students, depending on the school's curriculum.
Results are guaranteed with their tutors as each one is more than qualified in their profession. Moreover, they individually specialise in a specific subject, making it easy to find a tutor for your child's academic problem areas.
Finally, you can access their resources, such as homework, papers, assessments, and more from their portal. With Tutopiya's holistic lesson plans and customisable sessions, any subject your child learns will become a breeze.
Highlights
Spans across the globe
Same tutor for long term
One-to-one personalised tuition
Certified subject-specialist tutors
19. Happy Tutors Learning Centre

BEST FOR
 
PRICING
Enquire for more information
WEBSITE
https://www.happytutors.edu.sg/
ADDRESS
Jurong West Tuition Centre
519 Jurong West Street 52 #01-169 Singapore 640519Bukit Batok Tuition Centre
132 Bukit Batok West Ave 6 #01-318 Singapore 650132Bukit Gombak Tuition Centre
523 Bukit Batok St 52 #01-732 Singapore 650523Paya Lebar / Tanjong Katong Tuition Centre
11 Tanjong Katong Road #03-02 Singapore 437157Bedok Reservoir Road Tuition Centre
609 Bedok Reservoir Road #01-646 Singapore 470609
CONTACT DETAILS
Jurong West Tuition Centre
+65 6565 9126
+65 6520 6146 (Whatsapp)
[email protected]Bukit Batok Tuition Centre
+65 6563 0672
+65 9855 1173 (Whatsapp)
[email protected]Bukit Gombak Tuition Centre
+65 6612 0314
+65 6612 0314 (WhatsApp)
[email protected]Paya Lebar / Tanjong Katong Tuition Centre
+65 6904 8716
+65 6904 8716 (Whatsapp)
[email protected]Bedok Reservoir Road Tuition Centre
+65 6802 7696
+65 6802 7696 (WhatsApp)
[email protected]
OPERATING HOURS
Monday – Friday: 3 PM-9 PM
Saturday & Sunday: 9 AM-3 PM
Happy Tutors Learning Centre utilises a combination of formal and informal learning to educate their students. As a result, many parents enrol students in their various programmes.
They focus on providing holistic and individualised support for their students. Their enrichment programs and facilities are arranged with that goal in mind.
Small group classes are where their instructors excel. If you're interested in their programmes, check out their site for more!
Highlights
Excellent track record
Individualised programs
20. Perceptum Science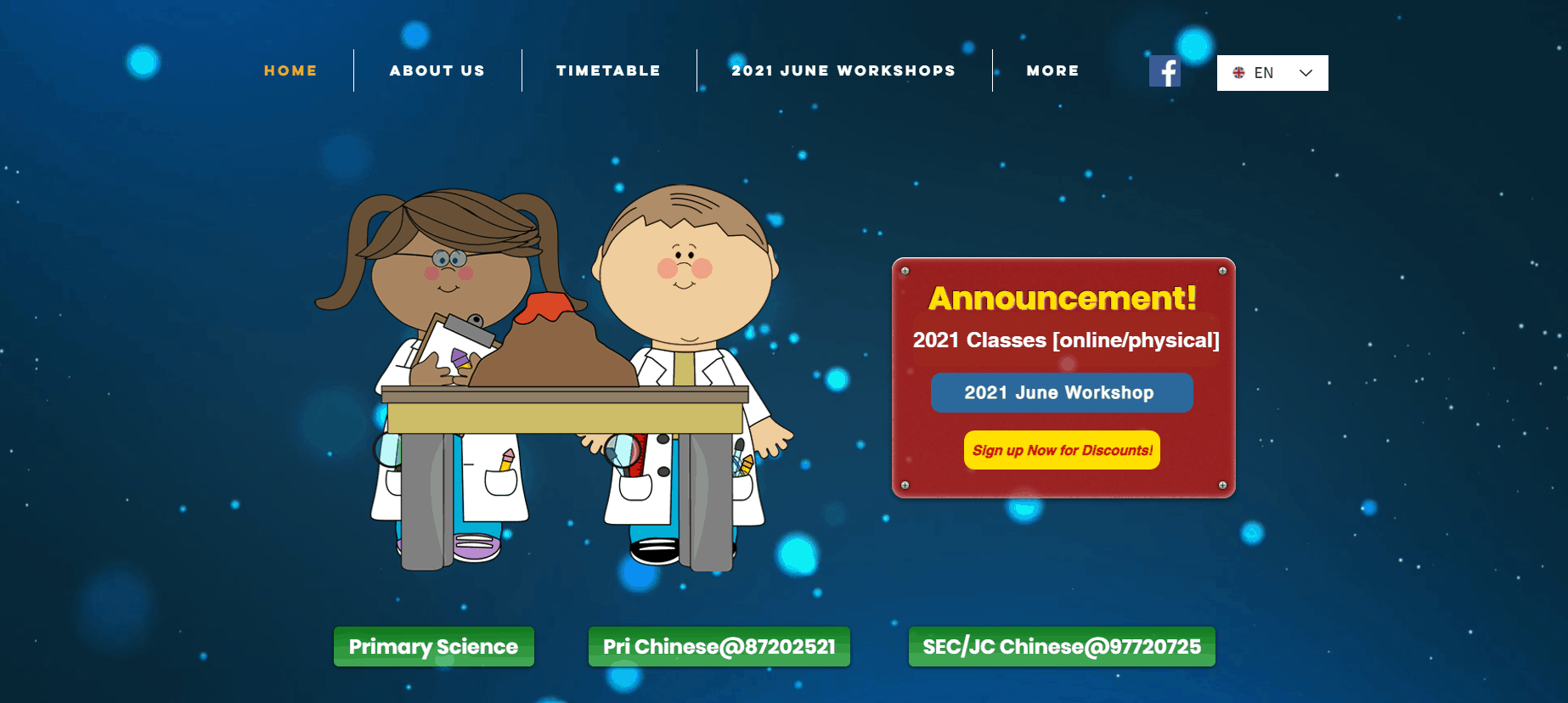 BEST FOR

Primary Science Classes

PRICING

Contact for more information

WEBSITE

ADDRESS

Tiong Bahru View #02-12, 11A Boon Tiong Road
Singapore 161011

CONTACT DETAILS

E-mail: [email protected]
WhatsApp: 91990073

OPERATING HOURS

Contact for more information
A tuition centre should be one of the many places where children are not afraid to make mistakes. After all, making mistakes is an integral part of the learning process, and helps nurture children's resilience and promotes critical thinking.
The centre adopts a holistic approach to the learning of science. Carefully planned activities make scientific concepts come alive and help learning make sense. This is the mindset that runs through all the classes at Perceptum Science. 
The thoughtfulness and adaptability of the teachers, together with well-planned lessons and the much sought-after resources are tweaked so that students can gain more confidence in the subject and experience success continually.
So, if you're looking for extra help for your child, why not consider Perceptum Science in your search?
Highlights
Saturday sessions available

Offers both online and offline classes

Most classes, especially P6 and P5 classes are fully taken up most of the time once the registration is opened in late September of each year. A lot of the new pupils have waited for years to join the classes.

Much sought after in-house resources
21. Mindlab International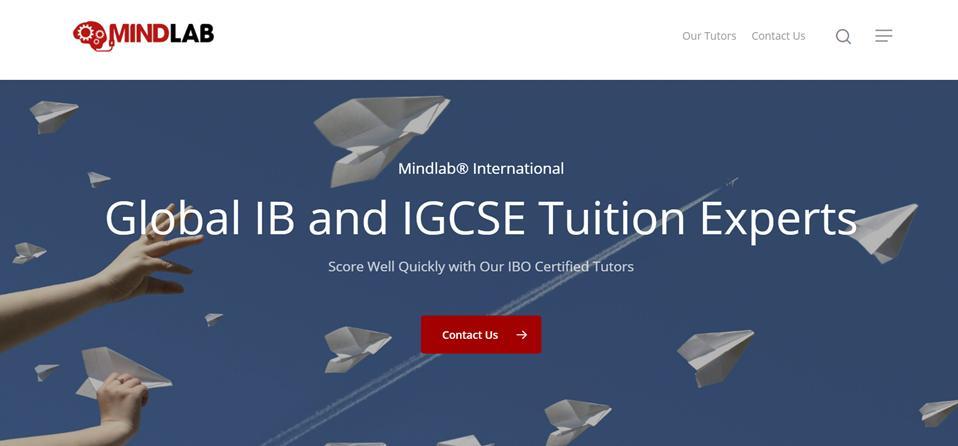 BEST FOR
World-class standard of service
PRICING
Contact Mindlab for precise tuition rates
WEBSITE
https://www.mindlab-international.com/
ADDRESS

545 Orchard Road, Far East Shopping Centre, #15-01, Singapore 238882

CONTACT DETAILS
(65) 6341 9618 / (65) 9711 6839
OPERATING HOURS
Monday: 12–9pm
Tuesday: 1–10pm
Wednesday: 1–10pm
Thursday: 1–10pm
Friday: 1–9:30pm
Saturday: 8:30am–6pm
Sunday: 8:30am–6pm
A company you should consider for tutorial services is Mindlab International. They're equipped with only the best and the brightest teachers, all screened and handpicked to ensure that they're fit for their field of teaching.
What's more is that most of the tutors in Mindlab have already received their IB certificates, proving their skills and expertise.
Experience only the best and most efficient tutoring service when you decide to hire a tutor from Mindlab's trusted diverse range of people. Contact them now for more information!
Highlights
Experienced subject specialists
IBO Certified tutors
Results-Driven & Effective Tuition
22. Tutor Suzanne

Tutor Suzanne is a Math and Science specialist dedicated to teaching primary and secondary school students. They take pride in their structured programme and top-notch learning materials, which consists of regular checkpoint quizzes, revision packages, mock exams and even cheat sheets.
Despite a long waiting list, Tutor Suzanne believes in keeping the class size small to 6-8 students to ensure optimal learning. Students get more individualised attention and find it more comfortable to ask questions.
If you're looking for a tutor that you can rely on, you should go to the best. Contact Tutor Suzanne now!
Highlights
Well-designed materials
Small group setting
Free consultations
Customer Reviews
"Tutor Suzanne is an amazing teacher, she explains very well and has everything planned very very well! I really like her notes and worksheets they are very helpful.. thank you teacher Suzanne for helping my daughter and for making her ready for psle! Really appreciate your efforts "
"Best Teacher ever!!! She had helped me alot as my grades weren't that good and i have difficulties understanding most of the topics that were being taught in school but after attending this tuition, my grades started to improve and i could understand alot better on those topics that i was previously weak in:) definitely recommended!!!"
23. Master Principles of Accounts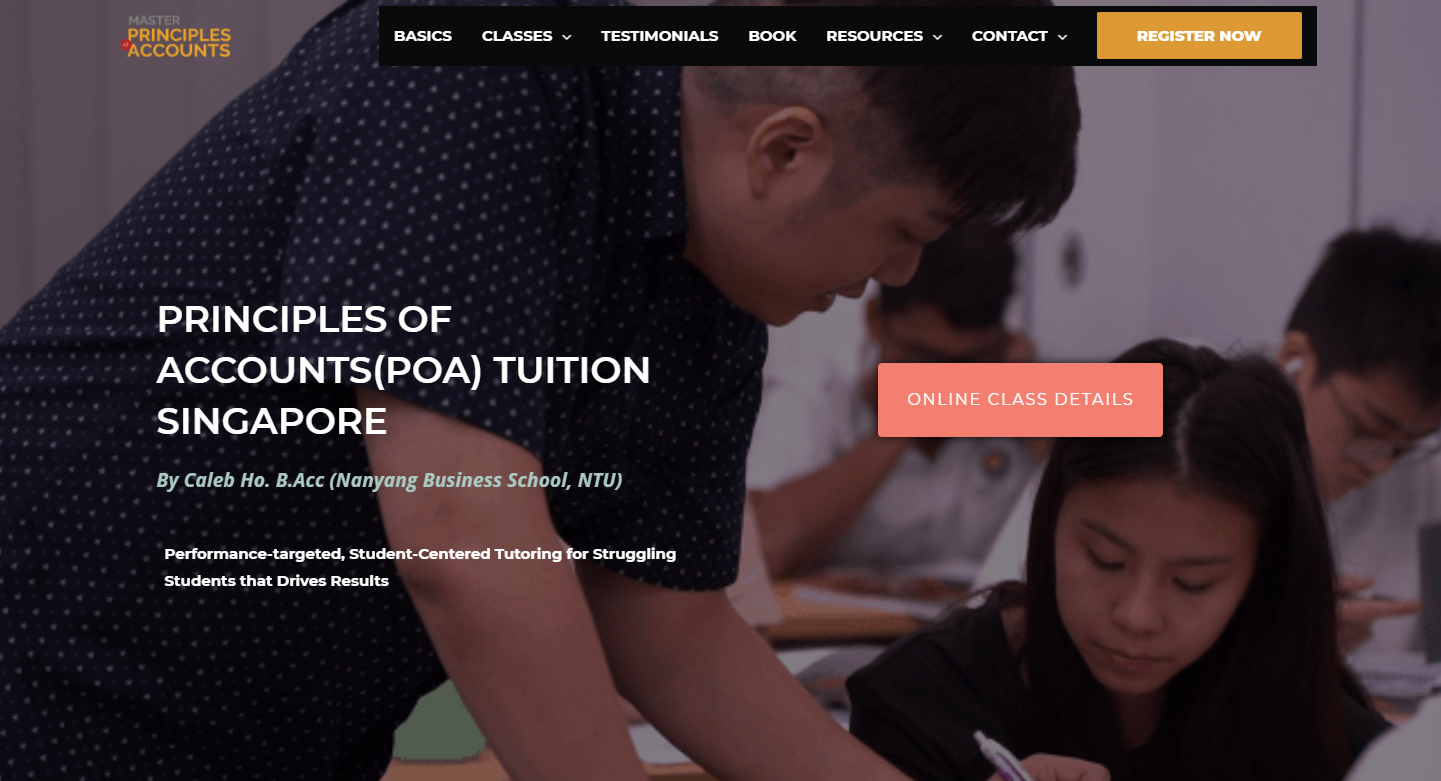 Principles of Accounts isn't an easy subject to grasp. Fortunately, the Master Principles of Accounts is a full-time tutor that offers their services to whoever may need it.
They're capable of teaching Principles of Accounts at both N and O levels. With their experience, you can rest assured that you will be able to learn better under their guidance.
Highlights
Full-time tutor
Experienced in Principles of Accounts for N and O levels
24. BrightTutor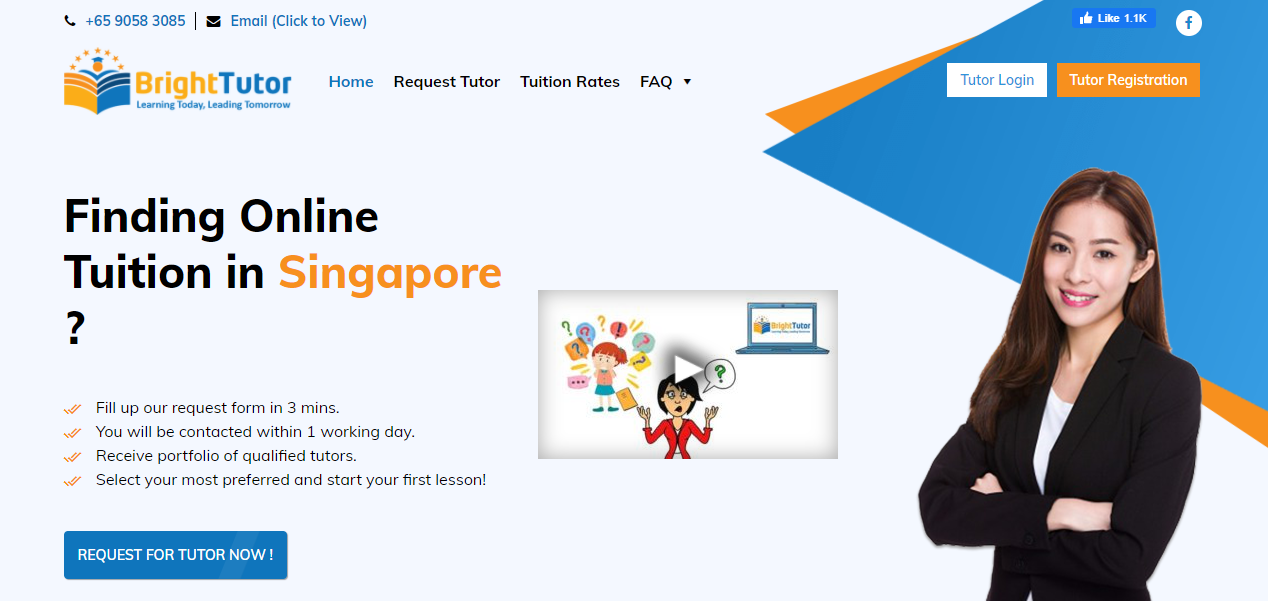 Unlike other firms on this list, BrightTutor acts more like a hub for qualified tutors rather than an actual centre. They help enhance student's learning experience by providing a quick and efficient way of finding tutors that fit certain criteria, such as subject competencies and credentials.
With BrightTutor's aid, you won't have to worry about finding a tutor for you or someone you know. Nor do you have to worry about finding a tutor that doesn't fit the bill. This is because BrightTutor's catalogue features both language and non-language subjects covered. Same goes for examinations for various levels.
Highlights
Experienced consultants
Easy to navigate site
Fast recommendations
No agency fees
25. Our Learning Loft

Our Learning Loft is a tuition centre whose teachers are highly qualified and experienced in teaching. The centre offers O-Level, Primary School, and Integrated programmes, with a strong focus on English and various Science and Math subjects.
Curriculums are specially designed, and are taught in a hands-on manner. Classes also come in small sizes, with only a few students at a time to ensure that they receive the proper attention from the teacher.
It's also worth noting that Our Learning Loft offers a holistic learning experience, helping students develop other skills while attending classes. For example, students learn to communicate better thanks to the Peer-Based Learning structure applied in each class.
Overall, Our Learning Loft endeavours to provide a space where students can learn from from passionate teachers who will stop at nothing to prepare them for life's journey.
Highlights
Small class sizes
Free trial classes
Currently holding virtual sessions
26. FamilyTutor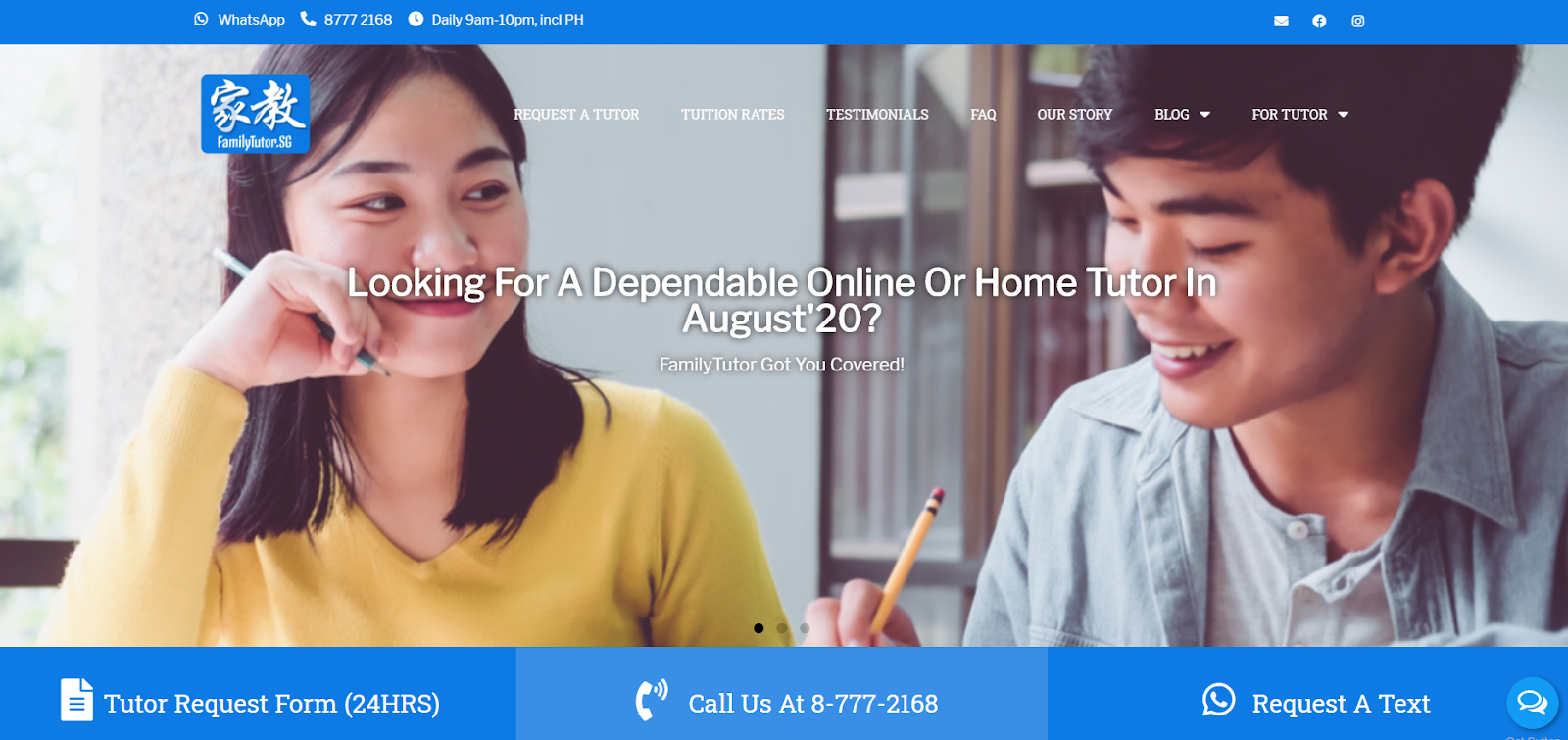 FamilyTutor has sent thousands of private tutors to all 28 districts across Singapore, benefiting countless families by offering high quality home tuition to students for hundreds of subjects. Without a doubt, they will help you match the best private home tutors for you and your children! 
FamilyTutor's slogan is "Putting Every Singaporean Son & Daughter In Good Hands". A great education means a lot to them, so they do not compromise the quality of their matching service for you, your son, or your daughter.
With so much client satisfaction and positive reviews, FamilyTutor's credentials definitely take the top spot on this list.
Highlights
$0 Agency Fee
High Average Grade Improvement
Personalized Learning
Customer Reviews
Here are some examples of the feedback posted by customers on Google Reviews:
"FamilyTutor provides the most reliable and professional tutors for all academic levels. I am truly impressed with the pool of dedicated tutors. I have engaged a few of the tutors for my daghter and they are well-versed in the MOE syllabus. Kudos to Tutor Anna (Combined Chem/Bio), Tutor Winnie (Chinese Language) and Tutor Esther (Literature Elective). All 3 tutors showed great initiative and dedication in their teaching. My appreciation to Lauren as well for the fabulous matching. A highly recommended tutor agency for your children." – Bernadette Chang, Parent (Serangoon)
"Professional and reliable service provided with great quality tutor. Pleasant experience first time engagement with FamilyTutor. Highly recommended tuition agency." – Angeline Lee, Student (Yishun)
"Jay was able to help me source for 2 tutors for my son who will be sitting for O Levels with 4 weeks left, within 2 days of my request. The tutors he recommended met my requirements and they are professionals who take their jobs seriously about helping their tutee. Before their 1st lesson, they asked for my son's exam results and papers to analyse his weakness. They are also prompt in updating me on my son's learning gaps after their 1st lesson with him."– Ng Hui Ping, Parent (Bukit Panjang)
27. Punggol Tutor

Looking for the right tutor can be an arduous task, especially with so many options to choose from. Fortunately, there are tutors out there that have proven track records, such as the excellence that their students display after attending their sessions.

One such tutor is the Punggol Tutor, or Mr. Khalid as he is known by the students and parents.

Mr. Khalid has been teaching for over seven years, but before that, he earned his Masters Degree In Education (M.Ed) from the Nanyang Technological University (NTU) in 2015. Two years prior his completion of his masters, Mr. Khalid was an education researcher who developed a research on the academic development in Singapore children and presented his research at an international conference in 2013.

Currently, Mr. Khalid is teaching students in small batches, with a maximum of seven students in each class. Having a small class size allows him to give adequate attention to each student, ensuring that they are keeping up with his lessons and learning at a pace that suits them.

While we commend the small class sizes, what's most notable about attending the Punggol Tutor's classes is the centre's classification.

Mr. Khalid takes the time to study each student's backgrounds, carefully classifying them into groups where they will thrive most. Oftentimes, the classification is based off the students' skill levels, but some differences may arise depending on the students at hand.

Overall, Mr. Khalid shows competence in teaching and a great passion for imparting knowledge onto his students. Patients looking for a tutor to help their child improve should consider the Punggol Teacher for its highly proficient teacher and positive, collaborative and engaging learning community.
Highlights
Small class sizes
Students are grouped according to learning abilities and academic banding
Proficient, professional, and personable teacher
28. IB Lounge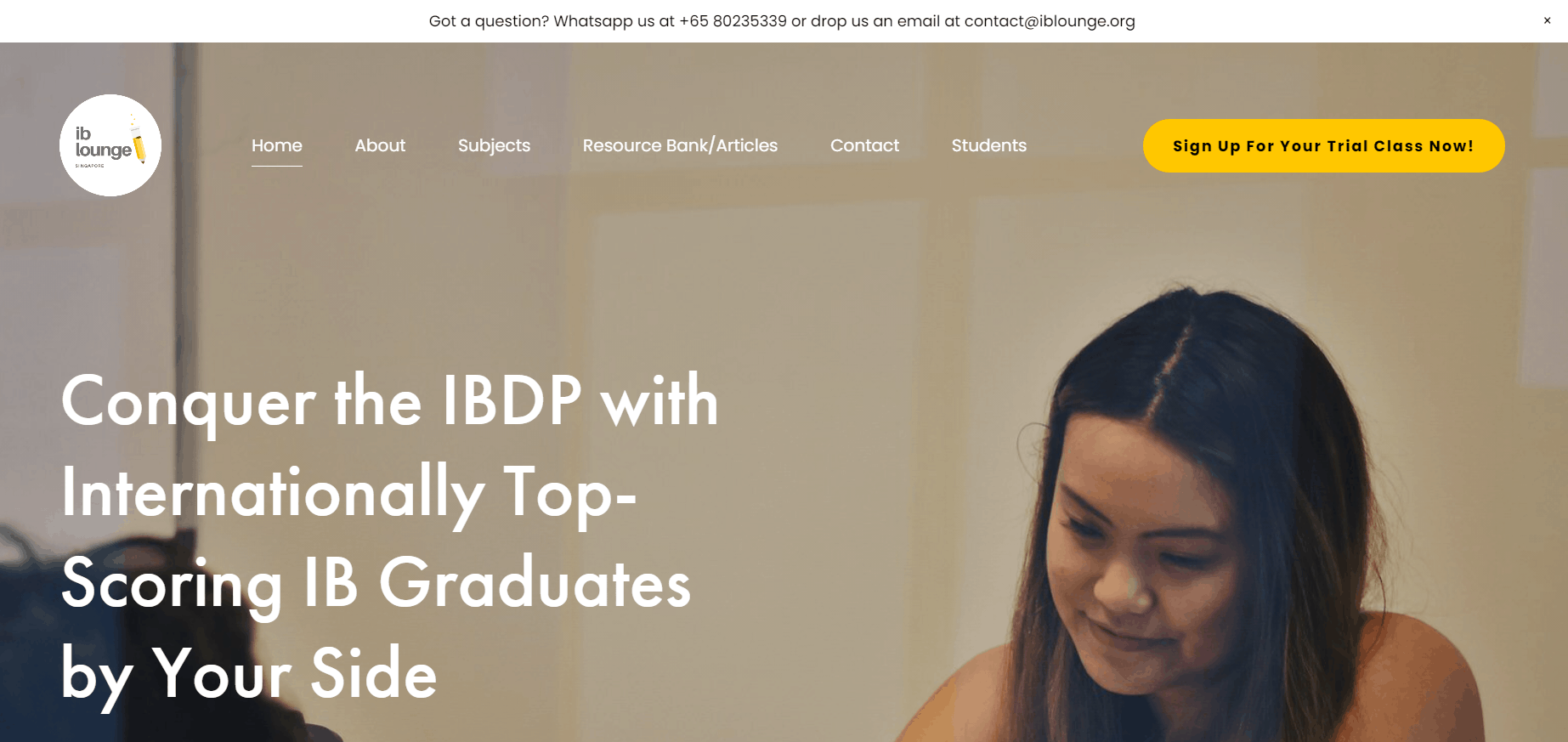 BEST FOR
Tutorial for the IBDP
PRICING
Contact for more information
WEBSITE
https://www.iblounge.org/
ADDRESS
20 Kramat Lane, United House #02-07 Singapore 228773
CONTACT DETAILS
[email protected]
+65 80235339
OPERATING HOURS

Contact for more information
Finding the right tutor that can help you prepare for the IB program can be strenuous work. After all, not every tutor has taken the IB, so it's likely that they only have a vague idea of what's to come.
Fortunately, that isn't the case for the IB Lounge.
The IB Lounge was established by individuals who found that there is a need for quality and suitable external assistance for those who are taking or about to take the IB. Unlike other tuition centres, instructors at the IB Lounge have taken the IB themselves, so they can properly prepare students in a way that is most beneficial.
Aside from taking the IB, the IB Lounge instructors are the same age if a little bit older than the students. While it may not mean much to most, the similarity in age helps the instructors relate and even create a setting that inspires learning in a collaborative and creative way.
Now, one may ask, how can it be creative?
Well, for one, the IB Lounge has an exclusive online forum for their students. The forum is open to teachers and students alike, allowing both to post and answer questions that may be helpful to the community at large.
So, if you're looking for such a well-connected community with instructors that know what you're going through with IB, then we strongly recommend the IB Lounge for your tutorial needs.
Highlights
Trial classes available
Excellent student improvement rate
Instructors have experienced IB themselves
29. Lessons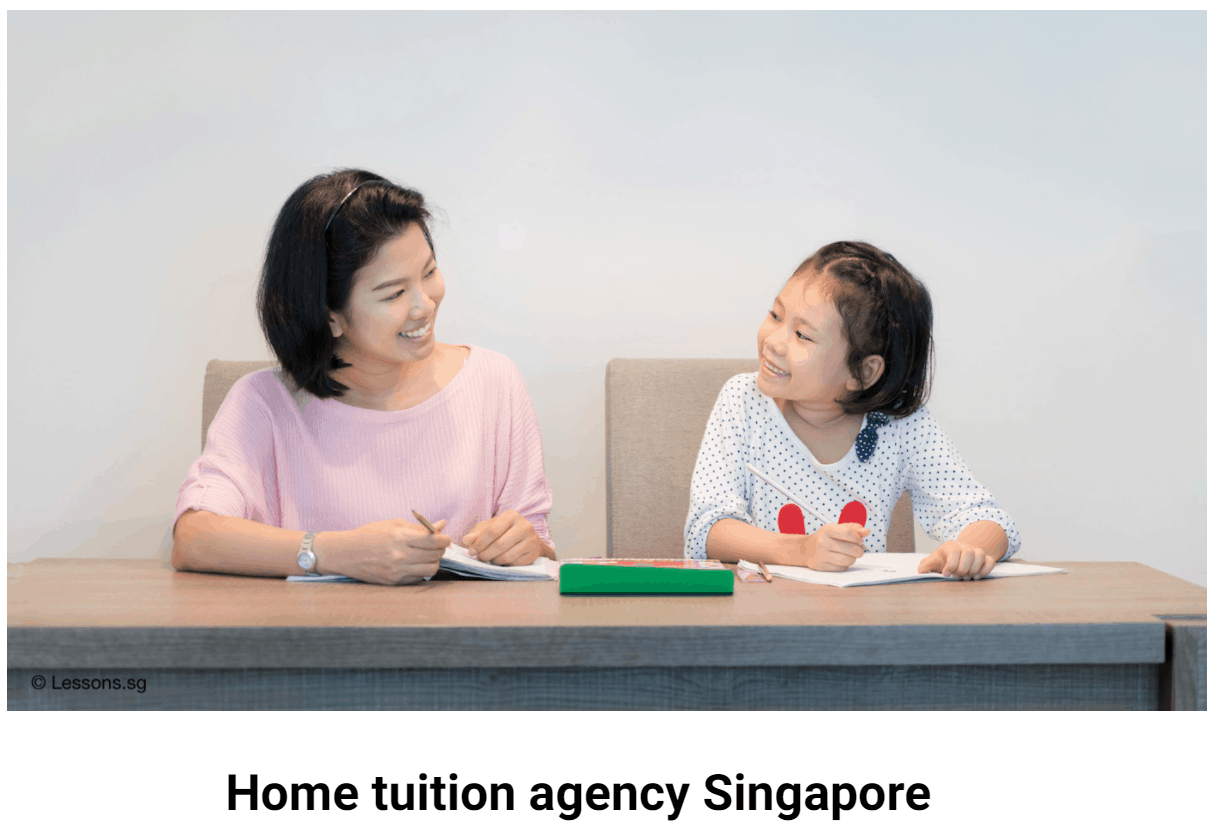 Finding the right tutorial centre can be difficult, if not impossible. Fortunately, the people of Singapore can turn to another tutorial option, which is home tutors.
Home tutors can dedicate their full attention to the student, curate a syllabus that addresses all the student's weakness, and even curate a schedule and system that works best with the student's daily life. If you're interested in home tutoring after this short explanation of what it is, then you may want to look into Lessons.
Lessons is an online platform that strives to connect students with home tutors. Working with Lessons is as easy as 1, 2, and 3, literally.
First, those who are interested only need to reach out to the website, followed by a conversation that details what subjects need to be addressed immediately.
The final step is up to Lessons: The website and the people behind it will find appropriate tutors, and the student (and their parents) can take their pick on which one fits them best.
All in all, finding a home tutor has never been this easy. 
Highlights
Connects students to home tutors
Can help address a wide range of subjects
All academic levels accepted
30. Glenn Lee Learning Centre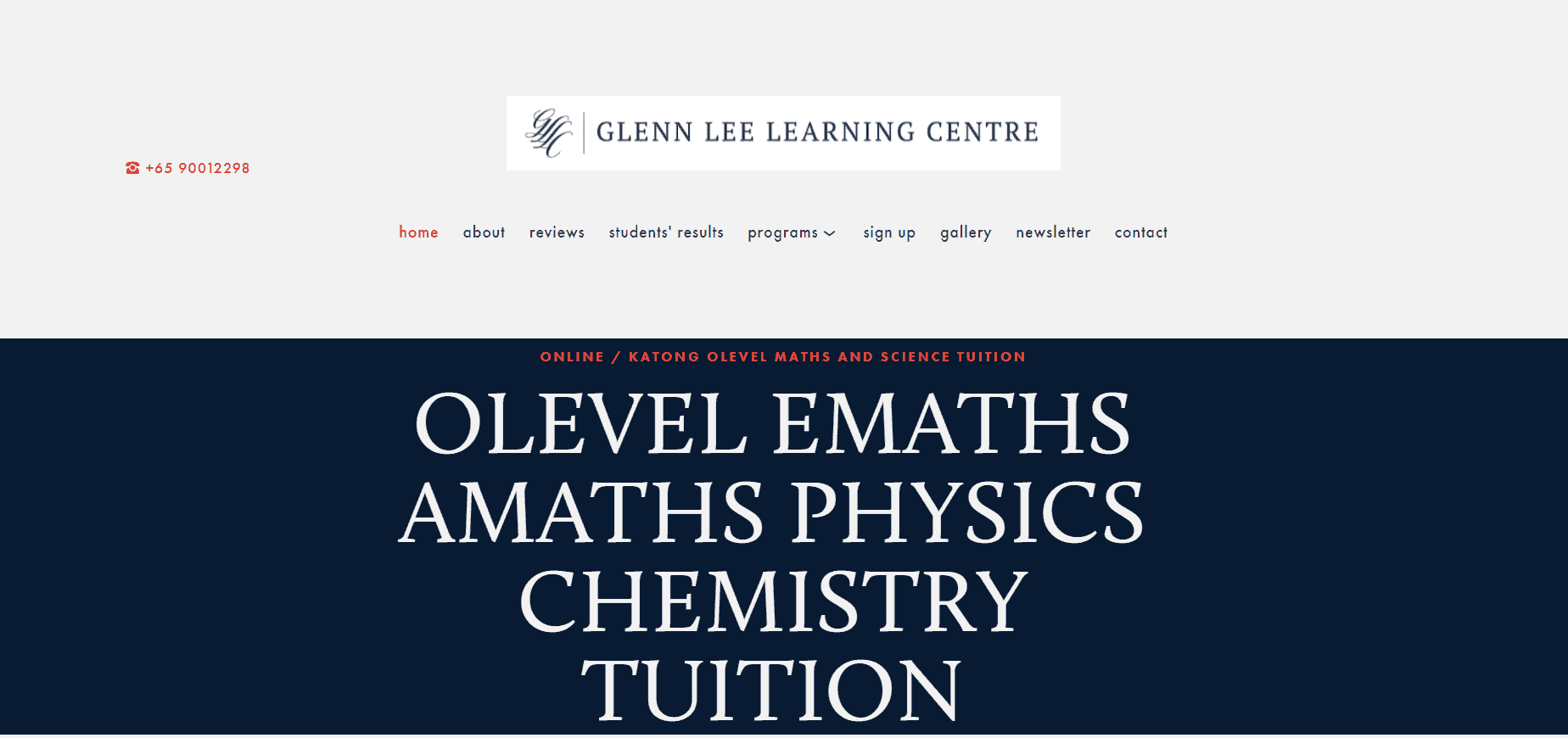 "Everyone has the potential to excel as long as they are willing to make the change." This is a guiding principle at GLLC, where students from all calibers are welcome to challenge themselves academically.

On top of an impressive 10-year-experience, Glenn Lee is a dedicated and passionate tutor who prioritises his student's wellbeing, along with their studies. Every tutorial with Glenn seems like a stark contrast to what the education system offers students these days. Instead of the usual stress-filled, results-based environment, GLLC operates on positive continuous improvement and aims to cultivate a space for learning without judgement.

GLLC provides classes for PSLE Math, 'O' Level E Math and A Math, as well as 'O' and 'N' Level Physics and Chemistry. Plus, under GLLC's special ACE (Assesment, Customization, Execution) Teaching Methodology, each student will be receive a tailor-made study programme that will best fit their personal learning styles.
Highlights
Offers both online 'zoom'classes  and offline lessons  at Toa Payoh and Katong Shopping Centre 
Max up to 5  students per offline session (Home tuition option at Toa Payoh and Centre at katong)
Specialises in Math and Science with >10 Years of Experience
Customised study plans
Highly recommended for struggling students
31. My Savvy Tutor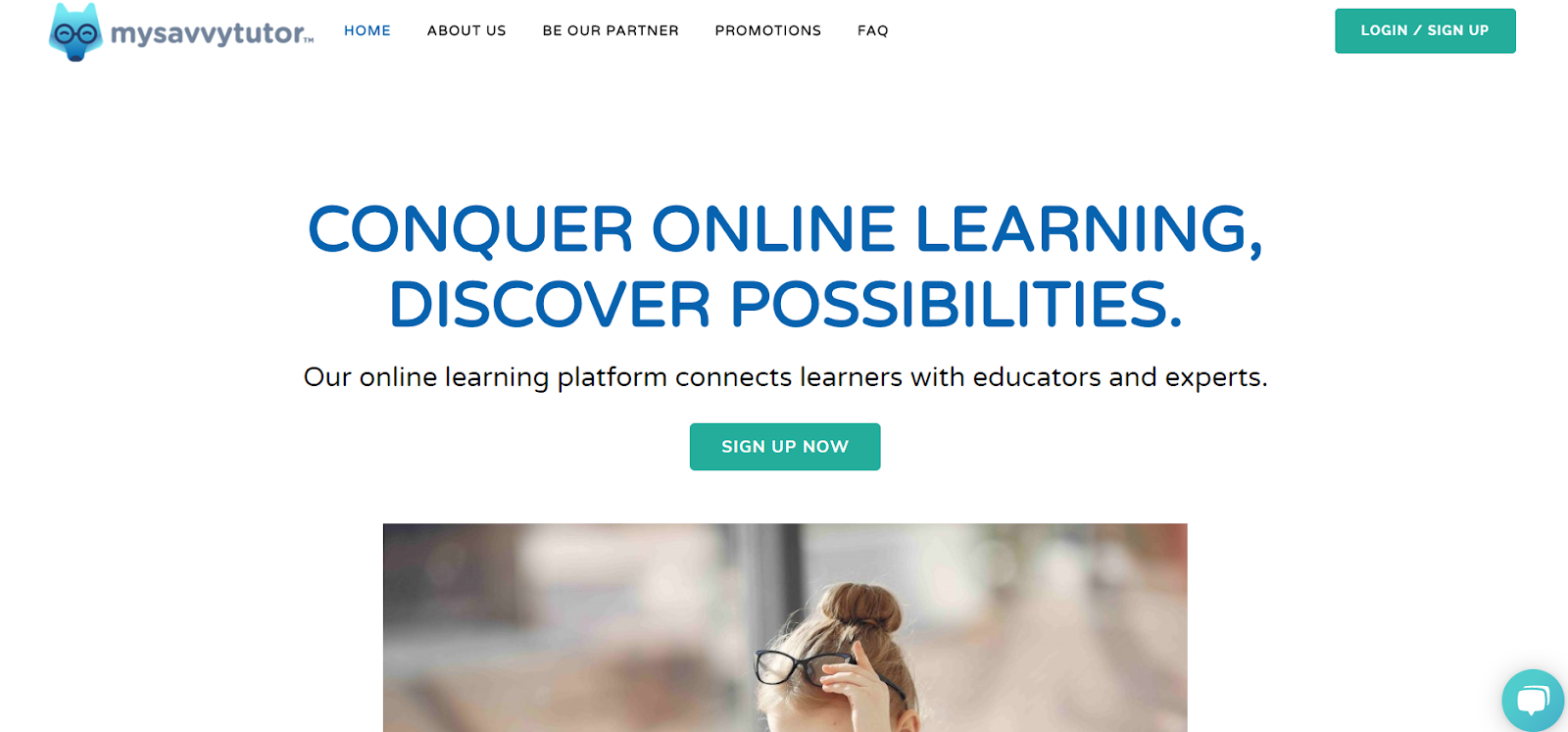 | | |
| --- | --- |
| BEST FOR | Online learning network |
| PRICING | N/A |
| WEBSITE | https://mysavvytutor.com/ |
| ADDRESS | 350 Orchard Rd, #15-08, Singapore 238868 |
| CONTACT DETAILS | (+65) 9670 7326 | [email protected] |
| OPERATING HOURS | Monday – Sunday, 9:00 AM to 10:00 PM |
With the fast pace of technology, our lives have been shaped by the convenience of finding everything with only the touch of our fingers. My Savvy Tutor emphasises on this kind of convenience by having their educational network online.
It is a network where people can find tutors and apply as a tutor as well. Applicants for tutors can be provided with training and support for educators, as well as a digital toolbox to ease their adjustment to the job.
While students can get instantly connected to high-quality tutors in no time, and all this can be done through virtual learning. Training and learning is made virtually accessible and affordable by My Savvy Tutor.
Highlights
Training and support for educators
Live learning and virtual classrooms
Transparent pricing
Customer Reviews
"My son really enjoys the lessons done through MST as they're always fun and interactive. It is also easy to navigate the platform, and lessons can be scheduled at our own convenience."
"Convenient way of finding students and to teach from the comfort of one's home. Scheduling a teaching session has never been easier. Extra money in exchange for my free time is a big plus."
32. Tuition Family Singapore
Next on our list is Tuition Family Singapore, an online hub that connects students to tutors.
Tuition Family Singapore comes highly recommended for a number of reasons.
First, this online hub caters to students of all levels from all over Singapore. Not only that, but the subject is no trouble as well since Tuition Family Singapore has connections to full-time and part-time tutors that teach different levels.
Another reason why we recommend using Tuition Family Singapore is their "No Minimum Lessons" rule. Many online hubs have a certain number of lessons required, but Tuition Family Singapore can connect you to a tutor even for a single session.
All in all, Tuition Family Singapore offers a convenient way of getting in touch with tutors, an excellent choice for students who are having difficulty with schooling.
Highlights
No minimum lessons required
Caters to all subjects and levels
Students from all over Singapore are welcome to try
33. All A's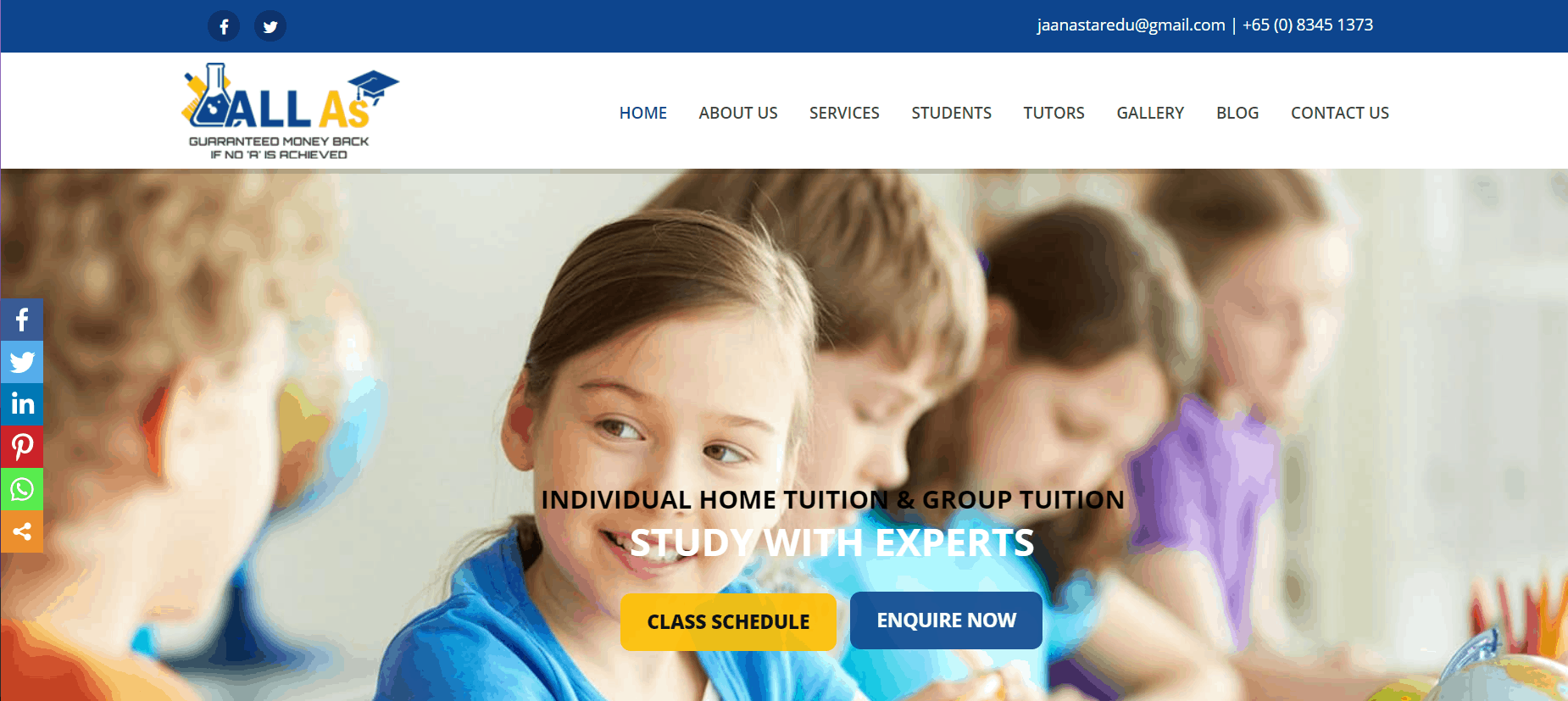 BEST FOR

Individual Home Tuition

PRICING

Contact All A's Tuition Centre for specific rates and pricing.

WEBSITE
https://www.aatuitioncentre.com/
ADDRESS
Katong Shopping Centre
865 Mountbatten Road
Singapore 437844

Parcview
Telok Blangah At 31, BLK 93 A, #27-155
Singapore 101093

Kessington Square ( near Bartley MRT)
2 Jalan Lokam
Singapore 537846

City Square Mall
#09-10 Avanti Holding room #01-00
Near Farrer Park MRT, opposite Mustafa Centre
180 Kitchener Road
Singapore 208539
CONTACT DETAILS
[email protected]
+65 (0) 8345 1373
OPERATING HOURS

Monday – Sunday: 8am–8pm
All A's Tuition Centre offers result-driven tutorial services in multiple branches scattered all over Singapore. Their individualised approach allows them to cater to each of their students' needs and obtain the best outcomes.
They focus on areas of Biology, Chemistry, and Mathematics, but can help in the overall preparation of exams for primary, secondary, and even college students.
They know they can help your kid and bring out their fullest potential with amazing curriculums and teaching methods to boot. In the small chance that their grades don't result in an A, All A's Tuition Centre guarantees your money back. 
Highlights
Highly experienced and professional tutors
Excellent courses
Goal-oriented tuition
34.  Tutor Chen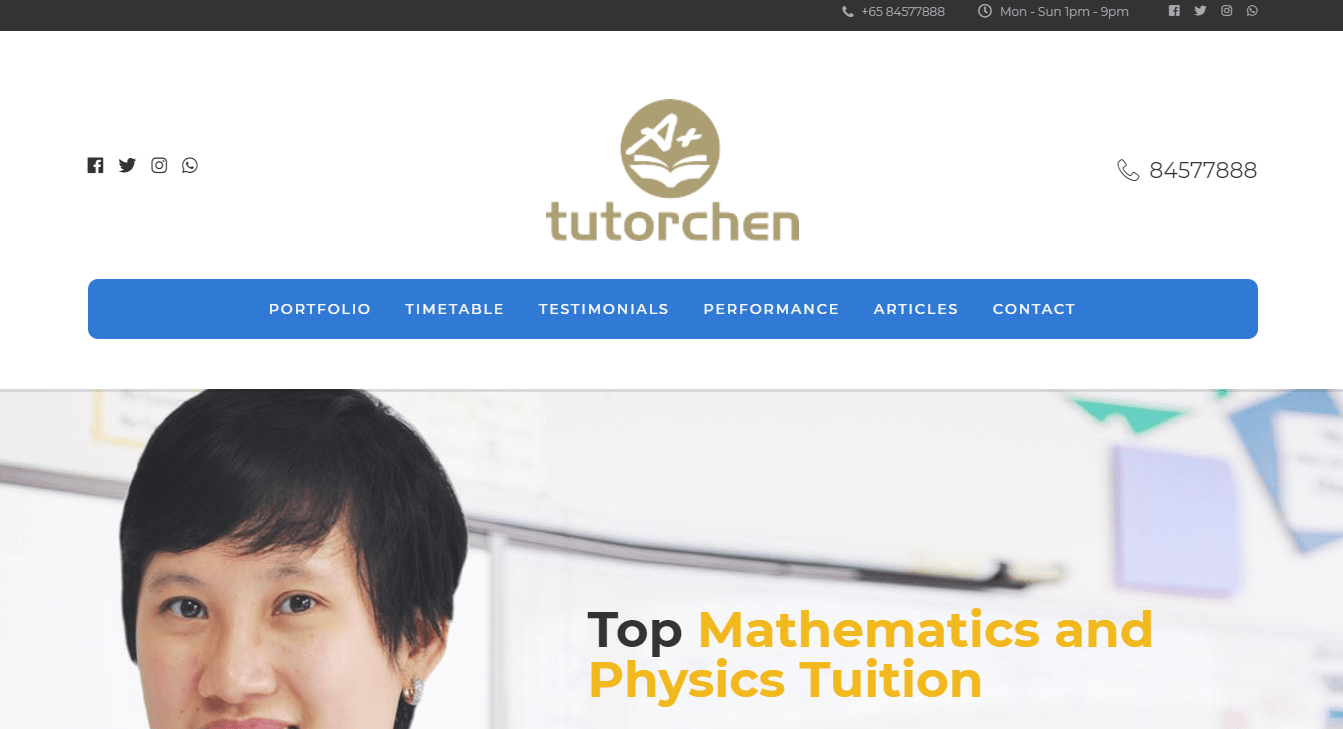 Mathematics has always been the most hated subject for many students and if your child is one of these, Tutor Chen might be the best option for your child.
Unlike the previous option, there's only one tutor here and your child can join a small group class for more concentrated learning. The class consists of a maximum of 6 students, allowing your child to focus and learn more at his/her own pace.
Aside from Math, the tutor also teaches Physics, which is another difficult subject for most students. Tutor Chen has also been featured on various media publications, recognising the quality lessons and services provided for the educational enrichment of the children.
Highlights
Small group tuition
Physics tuition
Secondary, IP & JC students
Customer Reviews
Being a Math Olympus Gold Medalist. Tutor Chen has proved herself to be one of the best tutors in Singapore. Therefore, a lot of parents have consulted with her and hundreds of students were able to excel in academics with her help. A parent wrote this review:
"Ms Chen has been tutoring me for nearly three years now ever since my psle years back in 2012 after a recommendation from my neighbor. Starting with mathematic, I have not only improved academically, I have also gained confidence to challenge myself to even more strenuous questions which has allowed me to easily score an A in most of my topical tests. This was something I could only dream for before Ms Chen's coaching. Not too long ago, Ms Chen has also begun teaching me physics. With her guidance and concise teaching, I have cultivated a greater understanding for the subject allowing me to be in advantage compared to my other peers. Mis is indeed an amiable teacher who is truly passionate in teaching. She is sincere in helping and bringing education to others."
35. Champion Tutor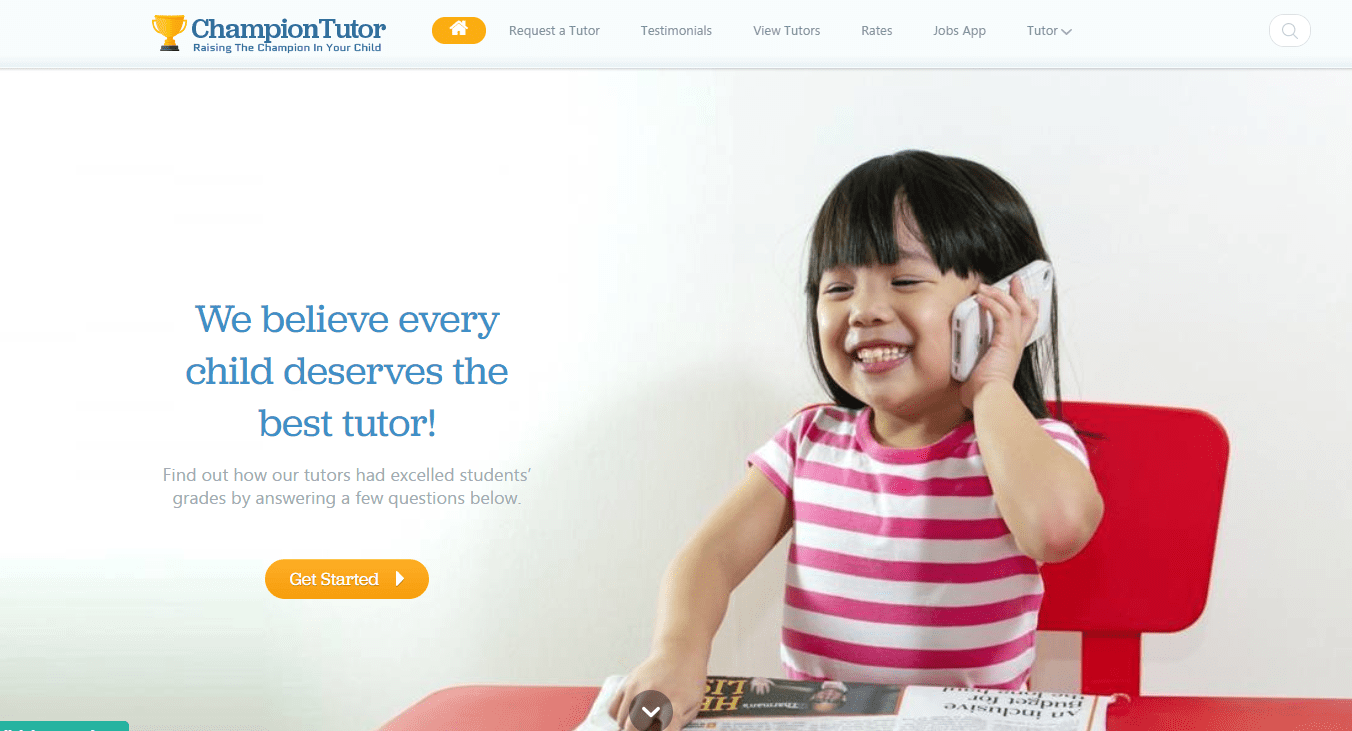 | | |
| --- | --- |
| BEST FOR  | Home tuition for all levels |
| PRICING | Rates |
| WEBSITE | https://www.championtutor.com/ |
| ADDRESS | 22 Sin Ming Lane, #06-76 Midview City, Singapore 573969 |
| CONTACT DETAILS | WhatsApp:+65 9039 3163 Phone:+65 6850 5040 |
| OPERATING HOURS | Mon-Fri (9am-8pm) and Sat (9am-6pm) |
Champion Tutor is one of the most trusted tuition agencies on the island, having provided Singaporeans with highly committed home tutor services for over a decade.
They have experienced professionals who teach Math, English, Tamil, Chinese, Malay, Phonics, and even Creative Writing.
Through the comprehensive search engine on their site's platform, you can easily find the best tutor in Singapore who perfectly matches the needs of your child. For a more personal approach, you can also submit your own queries.
You can view the profile of each tutor on their site, including the educational levels, experience, and more. Their services are available nationwide so all you need to do is get in touch with them and they'll immediately find the most suitable tutor for your child.
Highlights
Assignment tutor
Languages, Sciences, and Humanities tuition
Examinations tuition
Customer Reviews
Parents shared that they saw improvements with the academic performance of their child after starting the tutor services of Champion Tutor. A customer left this review:
"Champion Tutor is a great place to find a comprehensive list of qualified tutors. Any requirements you have for the betterment of your children's studies can be achieved through Champion Tutor. Highly recommended for all!"
36.  Smile Tutor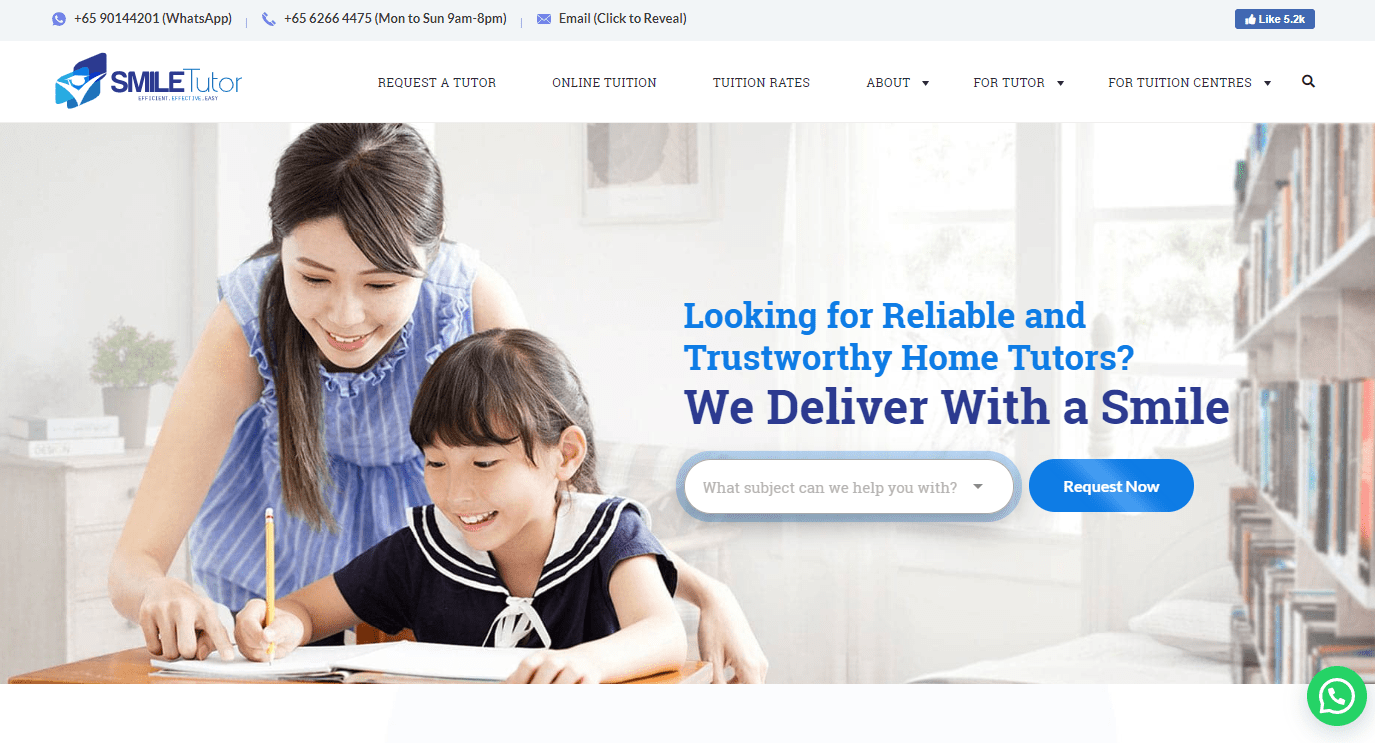 BEST FOR 
Official and updated test paper resource, Extensive database of home tutors
PRICING
Rates
WEBSITE
https://smiletutor.sg/
ADDRESS
WCEGA TOWER 21 Bukit Batok Crescent #22-76/77 S658065
CONTACT DETAILS
Phone: +65 6266 4475

 

WhatsApp: +65 90144201

OPERATING HOURS
Monday to Sunday 9am-8pm (including PH)
With Smile Tutor, you can instantly find a tutor who fits your criteria. After a 3-minute call, you'll receive tutor recommendations, then you can select the ideal one for your kid.
Their home tuition services are dedicated to all subjects, levels, and examinations. They also have one of the largest portals for private home tutors where each is personally interviewed by a professional coordinator, ensuring efficient and effective results.
They even provide free test papers as an online resource for exam preparation, made for all levels and subjects. The exam papers are officially from the top schools in Singapore and international academies as well — rest assured that you'll have updated and relevant resources.
Highlights
Thousand of tutor selections
No agency fees
Affordable tuition rates
Free consultation
Customer Reviews
With thousands of satisfied students and parents, Smile Tutor has truly the best tutors in Singapore. A client wrote this feedback:
"Thank you for understanding our requirement and having the commitment and patience to search for a suitable tutor for my child. Your agency is definitely more professional than others. Thank you."
37. Nanyang Learning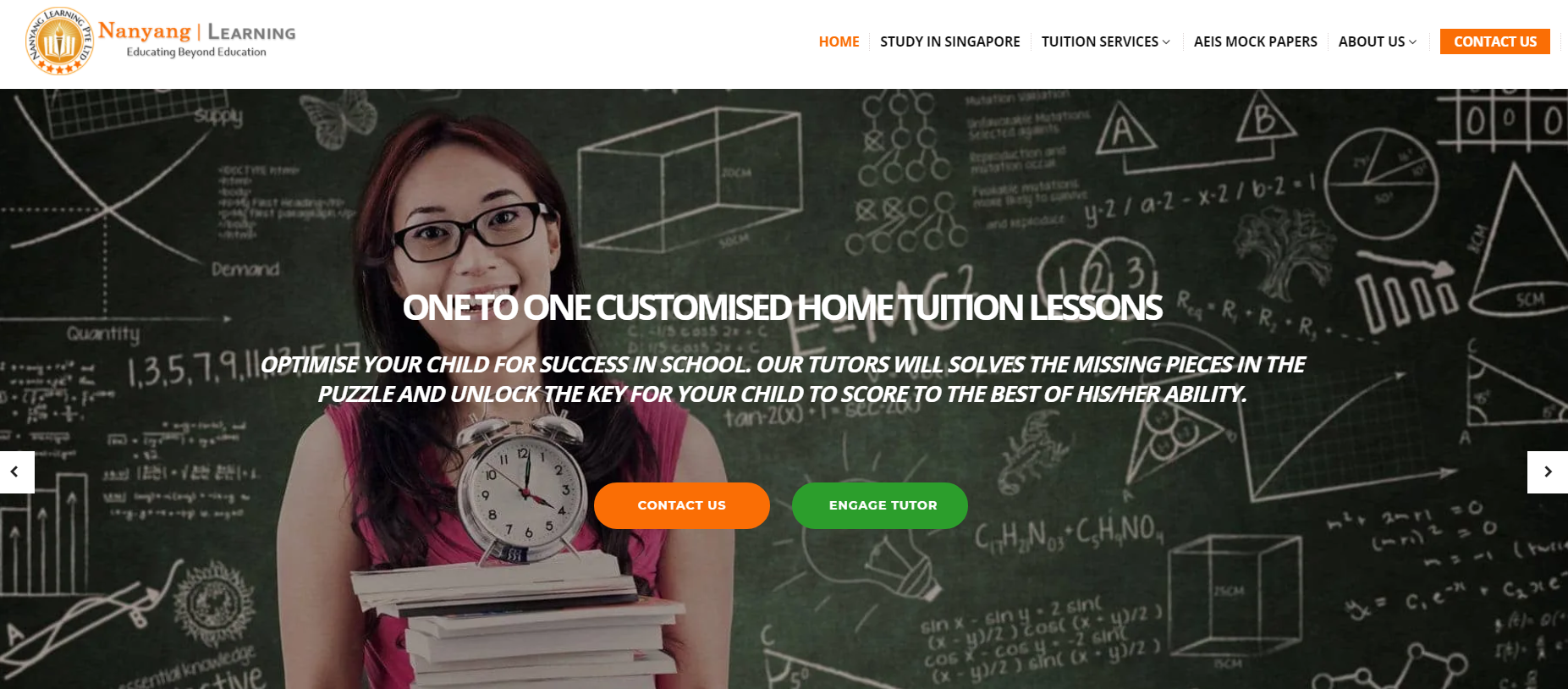 Next on our list is Nanyang Learning, an education consultancy firm that first opened its doors to the public in 2005. Since then, it has unfailingly served the people of Singapore, helping parents of students or the students themselves find tutors that fit them best.
Nanyang Learning offers free consultations, which gives the firm the opportunity to learn about the students' needs. Here, areas of improvement, additional educational needs, and even exams to take are discussed.
After which, Nanyang Learning endeavours to locate the tutors that will help the students best.
The process is one of the quickest and most efficient we have seen so far. This is thanks to Nanyang Learning's professional team as well as its catalogue of tutors, all of whom are highly qualified and experienced in various subject matters.
It's also worth noting that Nanyang Learning's services don't end with the students meeting their tutor-match. Nanyang Learning also takes the time to check up on each student, ensuring that they are growing and improving under the care of their tutor.
Highlights
No agent fees
Wide range of experienced tutors
Post-paid payments
Excellent customer service
No Contract Binding Policy
38.  Learnable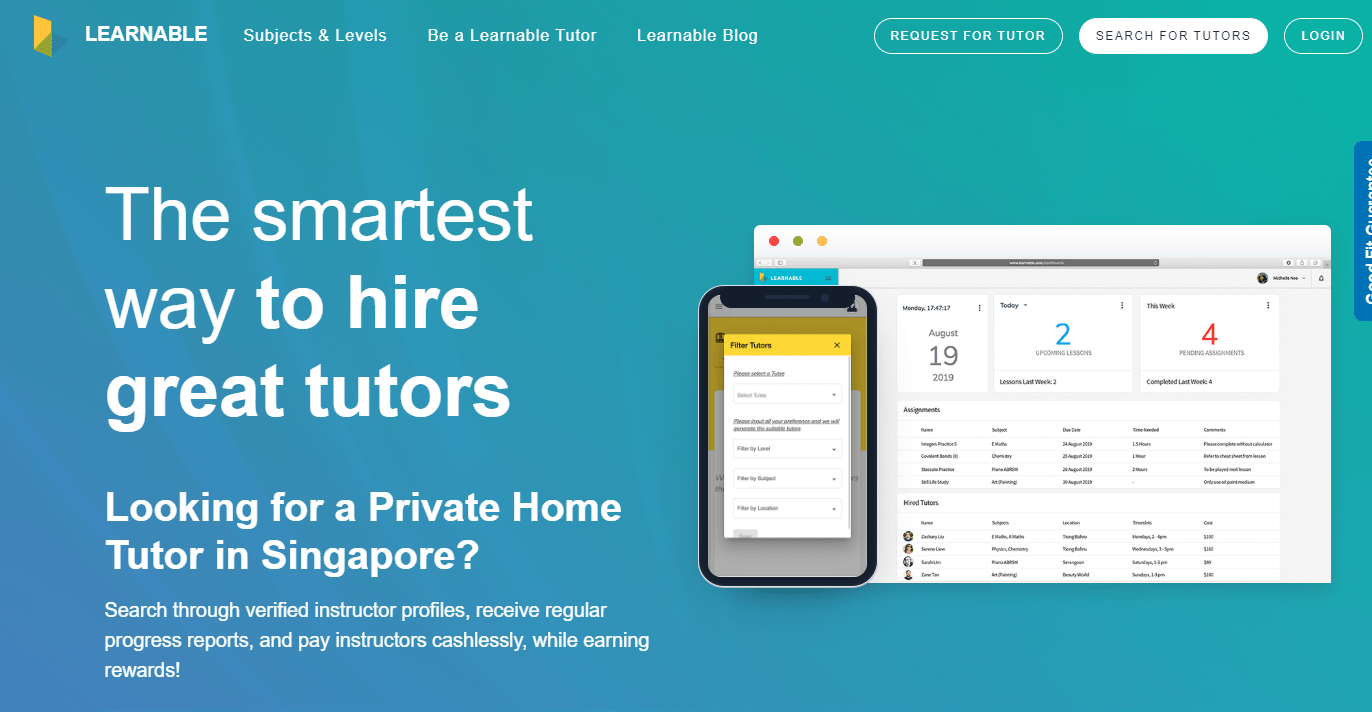 | | |
| --- | --- |
| BEST FOR  | Nursery and kindergarten tuition, Progress reports |
| WEBSITE | https://www.learnable.asia/ |
| ADDRESS | 280 Woodlands Industrial Park E5, Harvest @ Woodlands, Singapore 757322 |
| CONTACT DETAILS | +65 9800 9331 |
| OPERATING HOURS | Open 24 hours |
With Learnable's services, both parents and students can earn benefits! On their platform, you can see verified instructors' profiles, showcasing credible and qualified tuition services.
Their search engine automatically filters and ranks educators based on the teaching ability that your child needs, preferred budget, as well as designated location.
For the parents, regular progress reports are provided to monitor the academic performance of the child. Rewards can also be earned for acquisition of tuition services, giving you some perks on your next transaction.
Highlights
Academic certificate verification processes
Full refund policy
Rewards and rebates
And that's the end of our list of the best tutors in Singapore! Have you already decided which one you would like to hire? Tell us all about it!
And for more options, you may see these best tuition centres in Singapore, providing quality lessons for all levels!