The 37 Best Tutors in Singapore
Have you been noticing that your child is struggling to catch up on their school lessons? If so, then maybe it's finally time to find a good tutor, especially if you don't have the time to teach your kid by yourself.
Not to worry because we've already done the research for you, and rounded up the most recommended and best tutors in Singapore. Everything you need to know about them is in this article, from contact details to teaching expertise.
Before anything else though, let's discuss their rates first so you know how much to expect.
The Best Tutors in Singapore
Alright, let's dive right into our picks of the top tutors in Singapore!
1. My Quality Tutor
As a major educational hub, you won't find a shortage of well-educated tutors in Singapore, and My Quality Tutor is a perfect example of this.
Out of our other entries, they have one of the most comprehensive services available, covering all major subjects like Math, Science, History, Languages, and more. They can also accommodate students of all levels, from preschool to A-levels—that's a huge plus in our book!
You have the option to choose between 2 set-ups: online tutoring or face-to-face home tutoring. And with a network of over a thousand private tutors, you're sure to find one that best fits your budget and your child's needs, all from the comfort of your home.
Not to mention that their schedule is pretty flexible, too. They can come by as early as 8:30 am or even late hours until 12 midnight, from Monday to Sunday.
But what truly makes them unique is that they can also provide tutoring services for language assessment exams like IELTS, PTE, and TOEFL. Whatever your needs are, you'll likely find a great home tutor with My Quality Tutor who will guide you to get the results you're aiming for.
Customer Reviews
Check out some reviews by happy parents below:
"Great selection of tutors, efficient service. Thank you for assisting to find private home tutors for my kid in Singapore." —Nilesh Upadhyay, Google Reviews
"Great service and teaching. Found tutors via My Quality Tutor for my siblings for Math, English , Science. They have since improved a lot. 👍" —Shaila Nair A/P Amaraj, Google Reviews
"Ms Valley Tay is patience. She always make the tuition interesting. My 10 yrs old girl are always looking forward to have lesson with her. Well done and thank you so much." —Jomis Chu, Google Reviews
2. The Learning Lab
At The Learning Lab, certified instructors offer a comprehensive curriculum where children can gain the right knowledge and skills needed for school preparation. This makes them a great choice for parents who want to enroll their children in enrichment classes.
That said, their programmes are mainly designed for preschool, lower and upper primary, secondary, and even junior college levels.
Every lesson is relevant to the school syllabus so you can be sure that your child is learning the right topics. All activity booklets and handouts are adapted to the recent examination and question trends.
Important to highlight that The Learning Lab isn't like most tuition centres where tutors help students with ongoing schoolwork and lessons. If this is what you're looking for, The Learning Lab may not be a suitable place for your child.
As of writing, The Learning Lab only conducts online classes. From what we've seen, there are technical complaints about the centre's online platforms, so you might want to take that into consideration prior to signing up.
But with a comprehensive curriculum, there's no doubt that your child will be eager to discover more things outside the classroom.
Customer Reviews
Many parents agreed that their child had a fun learning experience at The Learning Lab. Check out some comments here:
"One of the tutors that I trust my kid with. My kids started lessons with them since primary 3. He doing well in school with a pretty good attitude to school work. I think the tutors download their work attitude and temperament to their students during class interaction, and the tutor has a hardworking and organized approach to work, so my kid have a mentor they look up to." —Jennifer Tan, Google Reviews
"A leading and excellent tuition centre in 🇸🇬! Facilities are fashion-forward and classrooms are air conditioned. Teachers are passionate, caring and encouraging. Staff at the counter were very polite and helpful when I approached them, to make enquiries about The Learning Lab. The materials and revision notes are well-prepared and exam-centred. The Learning Lab is indeed a wonderful place that cultivates the love for learning in the children." —Nindy Peng, Google Reviews
3. Lisa Tutor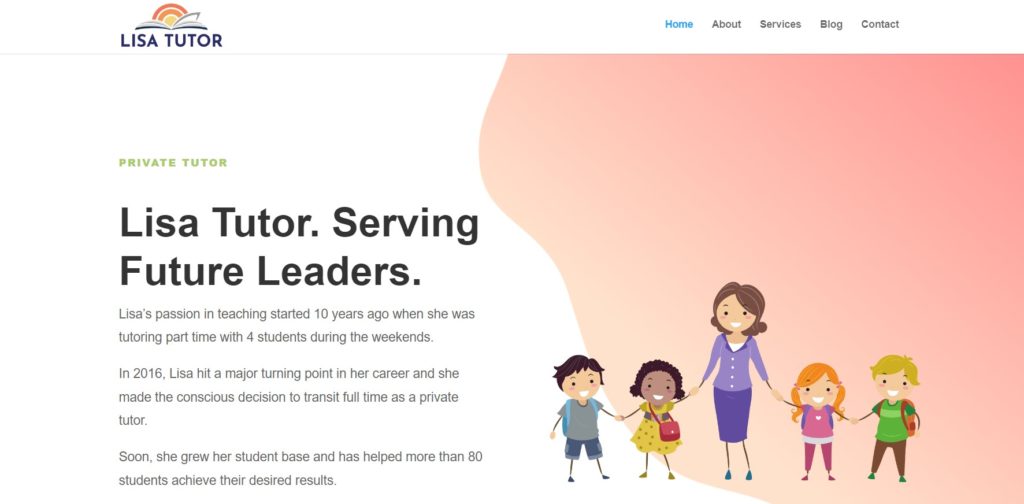 Lisa is a tutor that offers a variety of educational programs, including math, science, and English lessons to students starting at the age of 6/7 (primary 1) and above.
Regardless if your child was never one to sit still, you can be sure that Lisa can be very patient and understanding. She always puts her students first, making sure that they are first and foremost comfortable before the session even starts.
She's also very knowledgeable and has an excellent command of the English language as well as math and science concepts. With her great personality, Lisa is a tutor we can recommend to anyone looking for help with anything related to the aforementioned subjects.
Lisa is even well versed in music. In fact, she was a soprano in the Singapore Symphony Chorus from 2012-2016.
4. Economics at Tuition Genius
Economics can be a tough and complex subject for many. If your child's having troubles in this subject specifically, there's no better way to review the subject other than with Economics at Tuition Genius!
Their founder Eugene Toh is a holder of 2 master's degrees, actually: one from Singapore Management University and an MBA from Quantic School of Business & Technology in the United States.
He even writes his own textbooks and learning materials to make sure that they're student-friendly. These qualifications will prove that he's more than qualified to teach your child the basics and nuances of economics.
We love the fact that this tuition centre has different programmes to suit various junior college students. Classes are pretty flexible, too, seeing that students can choose to take onsite or online classes, and even a mix of both.
Regardless of your chosen plan, students will have access to livestreams and video recorded lessons so they can conveniently attend classes from home.
Apart from homework feedback, enrolled students will be glad to know that Mr. Toh is only a text away via WhatsApp for any burning questions they might have. We've heard that he even responds to questions as early as 2 AM!
This flexibility and hands-on approach are exactly the reasons why he deserves to be on this list, and why we think students and parents will appreciate him, too.
Customer Reviews
See what students have to say about this tuition centre:
"Economic At Tuition Genius is definitely one of the best tuition centre I have ever been so far. Mr Toh's class is engaging and fascinating as he is always able to relate economic contents with the things that happened around us in a humorous way. This makes the theory part so much easier to understand and enjoyable to learn. Beyond our usual classes, he also makes an extra effort to give consultation and prepare extra resources such as compiling the latest economic news for his students." —Wu Yi, Google Reviews
"Mr Toh is a great tutor that helped me get a B for my A level H1 economics. Our batch had been affected by the pandemic, despite that, he did his best to teach us, and went the extra mile to check in on us and encourage us constantly. With his help I attained a B which I am quite happy with." —Branson Ho, Google Reviews
5. Joss Sticks
Founder of Joss Sticks Miss Loi brands herself as a "math grades saviour," and we've found plenty of reasons to agree with her, actually!
As a full-time O-level math tutor, she's set up her own temple-slash-tuition centre for students to attain "mathematical nirvana." Her newly-renovated tuition centre at Novena makes a cosy learning environment for secondary students who will be taking their O-level exams.
Many students have individual learning styles and Miss Loi believes in adjusting lessons and learning materials based on your child's needs.
Despite their small class sizes, you don't have to worry about your child lagging behind because the tuition centre actually encourages students to learn at their own pace. On top of that, worksheets are also constantly revised depending on your child's progress.
This approach has led to many students receiving improved math grades, as proven by her student testimonials and reviews.
Because Miss Loi does most of the teaching and tutoring herself, you won't find any trial lessons in her tuition centre, sadly. Due to her busy schedule, she also stopped offering one-to-one private sessions.
Despite these minor setbacks, we still think that her holistic approach in teaching makes her one of the best math tutors in Singapore.
Customer Reviews
Here's a glimpse of what happy parents said about their services:
"Miss Loi is a very dedicated teacher that provides effective methods in helping the students learn important concepts well. I highly recommend attending lessons here!" —Keanne Tan, Facebook
"Ms Loi is an amazing teacher and she really cares. She will continuously challenge and test your concepts till you fully understand. My daughter went to her with scores of E8 & F9 initially. Under Ms Loi's tutelage, she scored A1s during her O levels. She now likes maths so much that she is considering to study maths at university in future. We are so grateful to her!" —Charmaine Lilac, Facebook
6. Drum Tutor
It's no secret that learning how to play musical instruments is good for children. But for Drum Tutor, age is just a number, and learning how to play the drums is actually an activity for all ages.
Because there's no age limit at this drum school, we highly recommend this centre for kids and adults alike who want to pick up on a new hobby. If you have a child, you can even take lessons here together, regardless of your skill level.
There's nothing to worry about if you don't own a drum set, as their drum schools are fully-equipped with the latest equipment available in the market. In fact, students can even rent their studio for $12 an hour, subject to availability.
But of course, the best way to learn a new instrument is by having your own at home. If you want to invest in your own drum set, you'll be glad to know that Drum Tutor also offers discounts exclusively for students!
During classes, students may also request to be video recorded so they can evaluate their posture, sound, and grip during a performance. At the end of the year, Drum Tutor also holds their own recitals so students can develop their confidence in performing!
Sadly though, recitals are postponed for the time being due to COVID-19.
Still, that doesn't mean that you can't come in for a lesson or two. Alternatively, you can also take their online courses from the comfort of your home—even international students are welcome!
Customer Reviews
Take a look at some reviews about Drum Tutors:
"A friend of mine decided to sign us (two 30-year-old female professionals) up for a trial drum lesson on a whim – the joys of Covid meaning that we were searching for a socially distanced hobby we could pick up together. We decided to continue and see how it went … and it was the best decision we made last year! (to be fair we generally make terrible decisions). We would come in every week for an hour of fun, accompanied by Rino, our drum tutor, whose wisecracking wisdom extended beyond the drums, to politics, current affairs and any number of topics. We learned the basics of drumming through a structured programme, that slowly got us to baseline proficiency at drumming. Despite the fact that the students before and after us always seemed to be four years old as well as being about four times better than us at the drums, we had a great time. I highly recommend Drum Tutor, and Rino in particular. Learning to play the drums is a lot of fun, as well as being helpful in terms of general coordination." —Hosni Manouk, Google Reviews
"My 4-year old attended drum lessons at the Kinex branch with Instructor Lolita, and she was incredibly patient with him. I personally feel that the lesson was suitably timed to hold his attention and interest. By the end of 4 lessons, he could play to short excerpt of a pop song! Administrative wise, the team is extremely responsive, and information regarding class cancellations etc due to covid measures were always promptly disseminated to us. Thanks for the pleasant experience!" —Anarane Thng, Google Reviews
7. Tutoroo
Itching to pick up a new language? Think of Tutoroo as an actual online marketplace of native language private tutors who can help you speak fluently in no time!
Despite being a Singapore-based start-up company, Tutoroo has gained a wide network of native language tutors all over the world. So whether you want to improve your Chinese or learn how to speak French from scratch, you'll find plenty of tutors at Tutoroo to suit your needs.
Now, what makes Tutoroo great is that you have the option to find a tutor near your location. This means that you can also have face-to-face language lessons with tutors who are open to meeting.
Otherwise, most classes are conducted online, giving you more tutor options that will best fit your requirements.
But if you find that your first lesson with your tutor isn't working for you, Tutoroo will help you find another tutor at no additional cost—that's another point in our book!
Their standard rate is SGD40/hour. However, do take note that this can vary per tutor and the frequency/duration of lessons.
Tutoroo's interface mostly caters to adults, though. Therefore, if you want to get a tutor for your child through Tutoroo, we highly recommend supervising the entire process so your chosen tutor can understand your goals and requirements for your child—apart from safety purposes, of course.
Customer Reviews
Check out some reviews by former students below:
"They are very professional in their job. They took a little time to make me expert. And my money wasn't go in vein. I'm happy with the English tutor. I recommend them." —Fatema tuz ZaHra Shova, Google Reviews
"Great school that offers great knowledge. My daughter struggled a lot with her English language, a friend recommended TUTOROO for me and decided to check it out. She has been having classes for 3 months now and I see an enormous difference in her speaking and writing skills! Highly recommend it." —Meri Ceceva, Google Reviews
8. Mindworks Tuition
Mindworks Tuition is another go-to agency for parents requesting for home tutors. Whatever subject your child needs extra help with, Mindworks Tuition will come up with a shortlist of appropriate tutors as soon as they can.
We like the fact that they're relatively fast with their matching service, with an average turnaround time of 24 to 48 hours. Not only that, but they're pretty prompt in responding to enquiries, too, which means that you can find a tutor on short notice.
At Mindworks Tuition, there are no hidden charges nor agency fees. You simply need to pay for the lessons your child took—no questions asked.
Another thing worth highlighting is that they also have tutors for children and adults with special needs. Their skilled tutors have hands-on experience in tutoring people with various conditions including ADHD, Asperger's, dyslexia, autism, and many more—talk about inclusivity!
While there aren't really any free trials, you can always request for another tutor, just in case the one you booked isn't working for your child.
Customer Reviews
Some comments about Mindworks Tuition are as follows:
"I was able to find a S4 Maths tutor for myself within the span of two days as the agency worked very fast and gave speedy replies. They were able to accommodate to my hectic schedule and provided tutor profiles that were clear and provided all the information I needed to make the best choice. A Maths improved from a C6 to a B3 and E maths from C5 to A2 in O Levels. Highly recommend their services and would definitely tell my friends and family about it!" —Dea Zhao Qian, Google Reviews
"Initially was looking for A-maths tutor and after receiving a prompt and swift response from Mindworks I also asked them to look for phy/chem tutor for my Sec 4 child. Very happy with Mr. James service from Mindworks. My son is coping very well with the tutors. Thanks guys :)" —Nisha Balachandra, Google Reviews
9. FamilyTutor
Family Tutor is another crowd favourite among parents who prefer home-based tutoring services for their children. When we've heard how parents raved about their prompt services, we just had to check them out ourselves, and we didn't regret it one bit!
As a tuition agency, they're quite known to be very meticulous when it comes to their matching services. They make sure to really look for the best tutors according to your requirements, no matter how detailed they may seem.
From what we've seen, parents all around seem quite happy with their pool of tutors. Even if there are free replacements for students who aren't happy with their chosen tutor, it seems to be a service that's rarely used.
Most parents and students usually find their ideal tutor on the first try, which should tell you that the agency takes their job seriously. Furthermore, there are no agency fees involved since you'll only be paying for lessons you requested.
The only minor drawback with Family Tutor is that their line of special education tutors isn't as extensive as other tuition agencies.
Still, it doesn't hurt to ask them if you have special requirements. Rest assured that they'll do everything they can to help you find the right tutor.
Customer Reviews
Family Tutor has received a perfect 5.0-star rating on Google. Some sample reviews include the following:
"I really like this tuition agency. They don't judge you for asking for certain requirements (I'm actually a tutor myself so I know if the tutors recommended are bogus) and are very accommodating. The tutors were carefully sourced by FamilyTutor and the consultants were patient and hardworking. Unlike plenty of agencies, they are NOT pushy and the consultants really understand the clients needs and i am very pleased I'll continue to support the agency and to recommend to people who need to find tutors. Overall great experience!! ️️️️️" —GW, Google Reviews
"The Family Tutor team was quick to respond to my needs and look for suitable profiles. Even when I had further questions about each candidate or if timings needed to be changed in arranging the first session, they've been very prompt. I also like that they provide substantial information about each candidate so that we are able to make a more informed decision. Through them, I've been able to find a Math tutor each, for both my Pri 5 and Sec 3 boy. The lessons have been going well so far and both my sons like their new tutors. Highly recommend Family Tutor. Very professional through and through." —Pearl Tang, Google Reviews
10. All A's Tuition
All A's Tuition literally promises to guide your child to get A's in their Math and Chemistry subjects. What sets them apart from our other entries is that they have a money-back guarantee in place in case your child doesn't get A's.
In fact, founder Ms. Sultana isn't your average tutor, either. She holds a Master of Science degree in Chemistry, and has over 25 years of teaching experience in many places like Singapore, Hong Kong, Dubai, and even the UK.
This means that she, along with her team of tutors, can teach students of different levels, from primary to junior college students.
While they don't really provide home tutoring services, their several tuition centres scattered all over the island make up for it.
Another thing that makes them stand out from others is that they also offer guardianship services for international students aged below 18. You don't have to worry about your child's accommodation, food, and well-being while they're studying in Singapore, thanks to this service.
Since tuition and guardianship rates aren't published online, you'll have to contact Ms. Sultana for more information.
Customer Reviews
Check out what clients had to say about All A's Tuition:
"My son Indrajeet joined All A's Tuition centre with poor grades in maths exam. He always scored 40 plus marks in school exams. However, he started to make remarkable improvement after 2 months joining the tuition centre. He scored 70/100 for his year end maths exam. Thank you Ms. Sultana for guiding and teaching him." —Eswari, Email Testimonials
"My teenage son, Colby, who's in year 4 IP, ACS Independent started both chemistry and A Math tutorial lessons with Ms. Sultana last year (2019). His results are always above average and under Ms. Sultana's tailored guidance, he managed to maintain his score and hit the top. Ms. Sultana is a kind, helpful, and understanding tutor. My son and I have never encountered any unpleasantness with her. Her knowledge and patience have made me switch my younger daughter's math and science tutorial lessons from another tutor to her. So far, I'm satisfied with my kid's results and will continue to engage with her." —Fantastic, Email Testimonials
11. Power Physics
At Power Physics, Tutor Young will show you that you don't need to be a PhD holder or scholar to understand the intricacies of physics.
Through interactive lessons, he's helped so many secondary and junior college students get high marks in their O-level and A-level examinations, respectively.
Their programmes are quite simple, really. You have the option to take classes at their tuition centres or you can get one-to-one lessons with Tutor Young—either through online or face-to-face means at your home.
Moreover, your child can also join an "online power focus group," where they'll learn alongside 2 other students who have the same pace and topic as theirs. This is also a great way for your child to make acquaintances and even study groups outside of tutoring hours!
We're really impressed with this flexibility in offering different tutoring arrangements. It's the main reason why we had to include them on this list, anyway!
Customer Reviews
Here's a comment from one of the tuition centre's former students:
"I am Jden from Eunoia Junior College(J2 in 2019). Mr Young is a patient and detailed teacher who takes prides in his teaching. Under his guidance, my grades have drastically improved from U in my mid year exams to B in my promotional exams. During lessons, Mr Young not only goes through the basic formulas and concepts, he breaks it down for us so that we understand how we can derive the formula easily rather than memorising each of these formulas. He also goes through more in-depth concepts which are usually not covered in school notes and techniques that can help tackle harder questions that appears in exams. He make sure that we understand the underlying concepts of each questions so that we are able to apply the same concepts on similar questions in the future." —Jden, Website Testimonials
12. Power Chemistry
As you can already guess, Power Chemistry is Power Physics' chemistry counterpart. Run by Tutor Alice, she specialises in A-level chemistry for junior college students.
With over 12 years of teaching experience under her belt, she's helped countless students struggling in chemistry. Under her tutelage, it isn't uncommon to find former students who got A's in their A-level exams.
From what we've seen, she's gained a reputation for being understanding and encouraging to her students—exactly what we're looking for in a tutor. Your child's free to schedule one-to-one consultations with Tutor Alice should they need extra guidance.
Classes at Power Chemistry are quite straightforward. Students may only take monthly classes to ensure long-term progress, seeing that chemistry isn't exactly a simple subject.
Hence, we only recommend Power Chemistry to students who can commit to this tuition centre for at least a month. The tuition centre is also open on weekends only, which may be a bit limiting to some students who need extra guidance.
Still, Tutor Alice has helped many students achieve their academic goals. So don't be shy to give them a try!
Customer Reviews
Take a look at what a former student said about this tuition centre:
"My chemistry used to be very unstable such that my lowest grade was S and highest was B. However they tend to fluctuate at the lower grades (C-S) as I was not clear with the concepts. Nearing A levels, I decided I needed help and Alice was my lifesaver. She helped me to be more consistent in my work as well as explained all that I didn't understand simply. What I liked about Alice is that she is patient with explaining concepts that you do not understand. Her teaching style was very compatible with me as her constant paper practices helped me to be more confident in tackling various types of questions. With constant drilling, I eventually got an A for chemistry in A levels. Alice was a very bright and patient teacher and I would definitely recommend her if you need help in chemistry." —Cherie, Website Testimonials
13. Stag Match Tuition Centre
If you want to enroll your child in enrichment classes, you can also consider Stag Match Tuition Centre for that. Apart from major subjects like English and Math, they actually offer highly-specialised subjects like coding and robotics for children.
In fact, these unique classes deserve their own spotlight here. For kids aged 6 to 17 years old, they have a myriad of coding and robotics programmes to choose from.
Whether your child's interested in developing a mobile game app or functional robots made from Lego bricks, your child can explore their interests here. That said, this tuition centre makes a great choice for students who are interested in these subjects.
Otherwise, Stag Match runs like your typical enrichment centre. They have their own curriculum that's in line with Singapore's education system.
Hence, you might want to take that into consideration prior to enrolling your child. They may not provide what your child needs, especially if they have problem areas that need extra attention.
Customer Reviews
Here's what some of their previous students have to say about their experience here:
"I have been studying at Stag Match since 2011. During my tuition with Stag Match, I have excelled a lot in my academics and achieved scholarship in my school. I am proud of myself and Stag Match has been a contributing factor to my achievement." —Lutfi Hakim, Website Testimonials
"I find Stag Match has helped me to understand the topics of the subjects well and helped me in improving my results with the well planned materials given to us." —Avreena, Website Testimonials
"Stag Match is wonderful tuition centre which helped me to improve my English and Chinese subject." —Go Peishan, Website Testimonials
14. Tutor City
Tutor City is all about matching you with a reliable home tutor suitable to your needs and budget. With a pool of over 20,000 tutors on their database, you surely won't find a shortage of part-time and full-time tutors at Tutor City.
What's worth highlighting is that they have a fast turnaround time for their matching service, with an average of 24 hours. Once you receive your shortlist of tutors, you can set phone interviews with them to reinforce your confidence that the tutor can do the job.
Alternatively, you can also search their database yourself so you can easily scan for tutors based on your preferences. You can even add them to your own shortlist of tutors, which you can then submit to Tutor City for review.
We also like the fact that they cover a comprehensive range of levels, subjects, and examinations. They even have highly-qualified tutors dedicated to children and adults with special needs!
You don't have to worry about paying agency fees as those aren't included in their rates. Rest assured that you'll only pay for the lessons you requested.
Customer Reviews
Tutor City has received good reviews across Singapore. Check out some of them below:
"It was a great experience enlisting Benson's help and we found a suitable tutor in just one day's time. He is a very proactive and efficient agent who continued to suggest numerable potential tutors throughout the day even when we were still unsure about our searching criteria. Very quick in responding too which was very helpful!" —Shiyun, Google Reviews
"I was recommended to Tutor City by my aunt. Ben Sen was able to provide me a list of biology tutors within a short period. Not to mention, my tutor was able to explain the various concepts well. A big thank you to Ben Sen!" —Grace Ng, Google Reviews
"Tutor City was able to give me tutors for Chemistry and Geology for my JC1 daughter asap. I would say that the 2 tutors are very good and can explain the subject clearly not to mention that they speak English clearly." —Carmie Tamayo, Google Reviews
15. POA Tutor
It's no surprise why many students find Principles of Accounts a tricky subject. If your child's worried about their next big accounting exam, POA Tutor can help put those worries at rest.
Founder of POA Tutor Mr. Chong specialises in making accounting easy to understand. Although he accommodates students taking their A-levels, his lessons are primarily geared towards secondary school students who will be taking their O-levels.
Students can either take face-to-face classes at their tuition centre or they can take online lessons instead. Unlike other tutors, his online tutoring services are purely one-to-one, meaning that your child gets undivided attention.
You'll be glad to know that your child will also get access to a collection of learning materials and resources. They can even send Mr. Chong a quick text message via Telegram for quick questions.
We're also impressed with his low rates, in comparison to other tutors teaching highly specialised subjects. If that's not enough to entice you, he also offers free 15-minute online demonstrations for students and parents who are interested in his services.
Customer Reviews
We've handpicked some comments about their services. Check them out here:
"Patient teacher, simplify difficult concepts to easily digestible bits." —Don Smith, Google Reviews
"Good accounting teacher. C to A." —Data Man N, Google Reviews
16. Tutopiya
There are a couple of reasons why we think Tutopiya is also worth considering as far as home-based tutors are concerned. For one, they cover a wide range of subjects suitable for different levels and curriculums.
Unlike most home tuition agencies in Singapore, this one purely focuses on online classes, which may be a bummer for parents and students who prefer face-to face learning.
Despite this, they do have one of the most comprehensive online packages available, which include several hours of one-to-one live online lessons, lesson recordings, and many more.
If you aren't sure whether they're a good fit for your child, you can book 1-hour lessons for 2 subjects just to get a feel of their teaching style. There's no obligation to proceed with their services if you feel otherwise.
Tutopiya also makes a good choice if you've failed to reach the start term date that most tuition centres have. Your child can start lessons immediately depending on their availability—no more waiting needed!
Customer Reviews
Check out what a parent said about their services:
"Excellent online teaching system which has taken the stress out of running around half way across town. My son is really doing well with the sessions and increasing in confidence. Took half a lesson to get used to not having someone sitting next to him and now it is second nature!" —Nathalie O'Donohue
17. Happy Tutors Learning Centre
If you want your child to learn and practise their social skills at the same time, you might want to think about enrolling your child at Happy Tutors Learning Centre.
All classes are conducted in small groups of 6, which means that your kids get to have a decent amount of attention. This also means that they can engage with other learners their age, making learning more fun.
While Happy Tutors caters to most levels, we've noticed that this tuition centre is quite a big hit among primary school students.
That's because they also conduct non-academic activities like arts and crafts and even field trips to keep students engaged throughout their time in this tuition centre.
We also appreciate the fact that they also provide balanced meals to students. They even teach students how to wash their own plates after meals to encourage independence.
This holistic approach to teaching academic subjects and life skills is what made us include them on our list. And with many branches across the island, you're sure to find one nearest you.
Customer Reviews
Check out sample comments about Happy Tutors Learning Centre below:
"Ms serene teaches me science in tuition. She is vv nice and friendly! She often praise us when we improve in our science! Being in her class is vv fun as she shows us images and videos so we can understand better!" —Ng Xin Yi, Facebook
"My overall experience with Kornelius has been enjoyable. I feel happy and appreciative as his student. He is an engaging and responsible tutor. He makes sure each and every student is on the same page in terms of teaching and makes sure no one is left stranded with questions. He engages me, when I feel bored in his class, with jokes and different examples from my daily life (e.g. movies, shows and games) to make learning fun and interesting. He is a unique tutor that goes the extra mile to improve his students to become learners and people with good qualities. I feel that Kornelius puts his students as a priority as he is a caring and wholesome tutor. He would occasionally check in on me to make sure I don't lag behind in class or if I am going through sadness I may feel in my life. He would offer ideas and methods to counter those problems unlike other tutors I have encountered. On an interpersonal level, I find interacting with him is fun and relaxing. Kornelius will occasionally post memes on the tuition WhatsApp group to brighten our mood and relieve some tension our lives. Whenever I have a question about life or English, he will try his best to help me find the answer." —Sherwin Leow, Facebook
18. Perceptum Science
Speaking of primary students, here's another tuition centre specifically for those who have troubles with science. Perceptum Science is one of the very few tuition centres in Singapore that specialise in science subjects for primary students.
Run by Mrs. Sim, she has over 40 years of experience, teaching gifted and regular students alike. On top of that, lessons are available in English and Mandarin—perfect for bilingual or monolingual children.
Students also have the option to choose between onsite and online classes, both of which cater to a small group of students at a given time.
It seems that this tuition centre is in demand among sixth graders, seeing that their slots are full for this age group. So if this programme is what you're looking for, we highly recommend watching out for their registration period to secure a place for your child in any of their time slots.
Otherwise, there are plenty of vacancies for primary 3 to 5 students. Still, you might want to book early to get the time slot you prefer.
19. Mindlab
If your child's under an IBDP or IGCSE programme, then you might want to consider Mindlab should they need extra lessons. They're one of the very few tuition centres in Singapore that specialises in these programmes, actually.
In fact, their pool of tutors have undergone a rigorous vetting process to make sure that they're one of the best of the best to deliver IB subjects.
There are several programmes to choose from at Mindlab, which differ based on their frequency. For instance, your child can take customised one-to-one classes on a weekly basis should they need extra help on a specific subject.
Otherwise, you can also enroll your child in boot camp-style classes with other students for intensive practice test sessions. Either way, you'll have plenty of choices for your child in this tuition centre—it's certainly why they earned a spot here!
Customer Reviews
Here's a glimpse of what some students have to say about them:
"I have been attending Mindlab for the past 6 months. I like the option of 1-1 tuition lessons as group tuition does not suit me. My Physics tutor has taught me techniques that have helped me improve my understanding of the subject. If I don't understand something, she is very patient and explains concepts in different ways. Also, the reception staff are very friendly and professional." —Amelia, Google Reviews
"I was tutored by Mr David for Chemistry. At first, I had issues understanding Chemistry concepts and could not keep up with classes in school. However, under Mr David's guidance and the provision of comprehensive practices and notes, I was better able to grasp these Chemistry concepts and saw a large improvement in my Chemistry grade. The classes are tailored to suit your needs and tutors will ensure that they go at the right pace. Would recommend MindLab International if you are looking for tuition." —Natalie Koh, Google Reviews
20. Tutor Suzanne
Tutor Suzanne has gained a reputation of teaching math and science in a concise and easy-to-understand manner. It's precisely why she's a huge hit among primary students, and also why we think she's also worth a mention here!
Tutor Suzanne follows a structured programme that's worked so well for her students in the past couple of years. Essentially, she has broken down the PSLE into bite-sized lessons so your child can fully understand the topics.
Not to mention that Tutor Suzanne also developed her own learning materials and worksheets. She also holds regular diagnostic tests to monitor your child's progress.
We also like the fact that she's fully flexible to allow kids to switch between onsite or online classes. This makes her a great choice for children and parents who have unpredictable schedules.
While her schedule doesn't allow her to offer one-to-one lessons, she does encourage students to make use of consultations after classes—free of charge! Beyond that, her WhatsApp account is also open 24/7 for any questions or clarifications your kid might have.
These are just some of the reasons why she's one of the best tutors in Singapore. And you'll have to avail her free trial lesson to know why she's loved by many!
Customer Reviews
Some comments about their tutorial services include the following:
"Ms Suzanne has helped me tremendously with my Amath this year. She has tirelessly rendered help to me on a daily basis when i have trouble with school work or during my revisions. Her lessons are fruitful and she remains open to feedback and has specially change her lesson structure in order to cater to the needs of the students, which i am grateful for. Her continuous support and advices has helped me understand and improve my amath skills and im grateful to have met a teacher like her." —Fazila Olanyan, Google Reviews
"Ms Suzanne is a really helpful teacher. She help students understand school topics clearly and ensures that students have an idea on the topics they would be studying beforehand. She touches on topics earlier than in my school, this made me understand what was going on in school much easier and i could score much much better in school. During her lessons , she ensures that learning take place and would give students excellent understanding of each topic. She would also help students out of lessons, if there is trouble with school work she would be there to help." —Megane Chua, Google Reviews
21. Master Principles of Accounts
Master Principles of Accounts' Caleb Ho understands that accounting can be a daunting subject for all, regardless of age. That's why he offers personalised POA lessons for students and even working adults who wish to avail his services.
For students, he specialises in O-level and A-level tuition, perfect for secondary and junior college students struggling to keep up with their lessons.
Like most tuition centres, Master Principles of Accounts offers onsite and online classes to cater to students' schedules. For onsite classes, your child can attend regular weekly 1.5-hour sessions at any of their tuition centres.
Otherwise, your child can also jump in on a livestream of onsite classes should they prefer to study from the comfort of your home. On top of that, there are also plenty of learning resources and videos that are made available to them.
We would've liked to see them offering free trials for those who wish to get a glimpse of their teaching methods. There are paid trials though, which also includes a physical copy of their Master Principles of Accounts Study Guide mailed to your home.
22. Bright Tutor
If your child is still struggling with the same subject after trying out multiple tutors, then you might want to give Bright Tutors a shot. Similar to most tuition agencies, they'll match you with the most qualified tutor to fit your child's needs.
Their broad portfolio of tutors can accommodate children of all levels who need help with a wide range of academic and non-academic subjects. This makes them a great choice for parents looking to get multiple tutors for their children.
You can also consider them if you need a special education teacher for your child, which are surprisingly quite affordable compared to other tuition agencies! Whether your child's diagnosed with ADHD or dyslexia, rest assured that they're fully-equipped to handle your requirements.
We've noticed that they also have a fast turnaround time for their matching service, which normally takes about a day or two. No need to worry about agency fees are either, as those aren't included in the lessons you'll pay.
Customer Reviews
Here's what parents had to say about Bright Tutor
"Have gotten the second tutor from them for my second youngest child. Will say that the tutors they have recommended is really reliable. Thank you!" —Emma Johnson, Google Reviews
"Very recommended! The coordinator manage to get me a very suitable tutor for my girl, based on my expectation. Let them know what type of tutor you are looking for, and they definitely get you the best and right one." —Joey Kwan, Facebook
"Very recommend. Let them know what type of tutor you are looking for, and they definitely get you the best and right one." —Shuangxi Chen, Facebook
23. Our Learning Loft
If you're looking for more enrichment centres, Our Learning Loft is also a pretty solid choice. Their team of dedicated tutors crafted their own curriculum in line with MOE standards for primary and secondary students.
Presentations are also a regular part of their programme, which are great ways to boost your child's confidence. We think that this interactive facet of their curriculum is what makes them stand out from other tuition centres.
Classes also come in small sizes, with no more than 8 students at a time to ensure that they receive proper attention. If you have children who are both in primary and secondary school, you can enroll them at the same time here.
Now, seeing that this tuition centre has its own curriculum, they may not be suitable for students who need extra help with certain topics. However, we do recommend them for students who wish to review their lessons and learn certain topics in advance.
Customer Reviews
Bright Tutor has gained a lot of positive feedback from parents and students. Check out some of them here:
"Conducive and spacious learning environment with air-conditioned tutorial rooms fitted with classroom-sized tables and chairs. Ideal environment for learning!" —J Chen, Google Reviews
"What I benefited most from Our Learning Loft is that the notes and worksheets are HIGHLY relevant to what I am tested in school. I joined the centre 3 months before my EOYs and it already helped me achieve and overall grade of A1 for Science! I was previously scoring C5 and hence this is a huge surprise for me! During my regular lessons, I can see that my Science teacher was not just merely going through the motion of teaching. He exudes enthusiasm and passion in every lesson, and this has certainly helped me develop my own interest in the subject. He is very encouraging and often tells me that I am going to do well. He is undoubtedly the BEST Science teacher I have ever met. Well, I am so confident that I will continue to achieve good grades when I promote to Sec 2 in 2021. I also like how the centre is extremely clean and bright. It is a very ideal environment to study in. The snacks and drinks in the centre can help students learn and study better as they serve as refreshments after being tired from studying." —Travis, Website Testimonials
24. Punggol Tutor
Calling all Punggol residents, we have good news for you! There's no need to travel all the way to the city centre to enroll your child in a tuition centre because there's a reliable one at your corner.
Punggol Tutor is one of the area's go-to tuition centres for major subjects including math and science for primary and secondary students. Class sizes are bigger compared to most tuition centres though, with a maximum of 12 students per class.
What makes this tuition centre unique, though, is their specialised English writing class to prepare primary students for PSLE. In fact, founder of Punggol Tutor Khalid Bari is a former MOE teacher, who also holds a master's degree in English Literature.
If this isn't enough to convince you, you can ask them to pencil your child in for a writing trial lesson—free of charge! Since this is a specialised class, we highly recommend signing up early since slots fill up quickly.
Customer Reviews
Check out what parents have to say about Family Tutor through these online reviews:
"My daughter enjoys the lesson and is always looking forward to attend them. Her result shows as proof that Mr Khalid targeted children weak points to improve and observed the area of improvement for each children. Highly recommended!!!" —Siti Nursuhaini Selamat, Google Reviews
"Words alone cannot express my gratitude for all the time Mr Khalid spent tutoring my son. He was really struggling in Science and felt completely lost and discouraged. But because of Mr Khalid's incredible teaching style, my son now began to love science. Shaquille's results definitely improved under Mr Khalid's guidance." —ShazShaq's, Google Reviews
"My son has been attending Punggol Tutor for the last 2 years.. He has made exceptional progress in his results.. Mr Bari is a dedicated teacher who makes learning fun.. The class size is small, no more than 6 pupils, which makes it a win-win situation for me.. So far, I am highly satisfied with the center.. My son looks forward to each and every class ! What more a parent can ask for 👍🏻👍🏻" —Mahrukh Rakay, Google Reviews
25. IB Lounge
Finding the right tutor that can help your child prepare for an IB programme can be stressful work. Not all tutors are fully equipped with the right training to handle IB students, but that's where IB Lounge comes in.
Their small but dedicated team of tutors are holders of IB diplomas themselves. This also means that their team of tutors are fairly young as well, and can definitely empathise with the struggles that students face.
Apart from covering a wide range of subjects, we'd like to highlight one particular service that they offer: university guidance.
Under this service, junior college students may ask for help with their university applications. From learning how to craft the best personal statement or preparing for interviews, their team of experienced tutors will advise you on the best steps moving forward.
You'll be eligible for a 30% refund on the fees you paid initially, just in case you don't get a slot in the course you applied for. But seeing that their team members have all been admitted to prestigious universities including NUS and Cambridge, we have high hopes for this service.
Customer Reviews
Here are some examples of feedback posted by customers on Google Reviews:
"I really appreciate the way the teachers always try to communicate with us! They are very inviting and I feel welcome to discuss materials even out of class! Classes are also flexible to the materials I feel are most important at that moment. Teachers are very informed of the IB syllabus :)" —Mrclean, Google Reviews
"I attend the SL math and TOK classes at iblounge and it has been extremely useful. Rethik, the math tutor, is excellent at explaining math concepts, and as I was completely clueless about certain topics, he guided me through them in order to ensure that I internalised the concepts. The TOK classes with Hannah was also very useful, allowing me to gain a better understanding of TOK." —Ethan Lim, Google Reviews
26. Lessons.sg
Allow us to start off by saying that Lessons.sg is currently closed due to COVID-19. However, we think that they're also worth putting on your radar once they reopen.
Before the pandemic, Lessons.sg had earned a reputation for their fast and efficient home tutor matching services. They've received the same praises from parents and tutors alike, which is quite telling of the quality of services they provide.
Apart from covering an array of subjects for all levels, they're actually one of the very few tuition agencies that provide swimming lessons as well. Their team of swimming instructors can teach you at a public swimming complex near you.
But if you'd like lessons at your own condominium or private pool, that can be easily arranged, too! Not to mention that they also offer one of the most affordable rates for swimming lessons in Singapore, actually.
That said, you better keep an eye out for their reopening!
Customer Reviews
Check out some reviews by happy parents and students here:
"There was great communication and they were professional, they got me the best tutor that could understand and help with all my needs." —Yanqiao Ng, Google Reviews
"Agency provides quality tutors to match the requirements of parents. They sieve out only the best tutors and do not charge any extra fees. Would strongly recommend this agency to parents looking for tutors." —Sasiy Krishnan, Google Reviews
27. Glenn Lee Learning Centre
Students in Singapore are no stranger to stressful and competitive learning environments, especially when examinations are near. Tutor Glenn Lee knows exactly how it is, which is why he aims to provide the opposite of that at his tuition centre.
If your child is struggling with low motivation, then you might want to enlist the help of Glenn Lee Learning Centre. Tutor Glenn's students love him particularly for his positive attitude, as well as his drive to boost his students' confidence.
This is why it's uncommon to see why his former students consider him as their mentor, as well.
Math and science subjects are his strong suits. So if your child's worried about any of these subjects for their upcoming O-levels, then tutor Glenn can bring your child's worries to rest.
As far as classes are concerned, the tuition centre offers small-sized group classes with a maximum of 4 students. While the lack of one-to-one tutoring may be a drawback for some, students can approach tutor Glenn for consultations after class.
To see if they're a good fit for your child, you can come in for a consultation—free of any charges nor obligation!
Customer Reviews
Glenn Lee Learning Centre also received a perfect 5-star rating on Google Reviews. Here are some sample comments:
"If anybody needs a driving force in order to excel in O levels. Then Glenn and Desmond are the right tutors for you. I enrolled into Glenn's tuition centre in late May with zero motivation to study and having failed every subject except English with my worst being Maths and combine Science both being 13% and 22% respectively for Sec 4 mid-year. From day to night Glenn tirelessly went through with me the basics for math and science and making sure I understand the topics before doing assessments. Late into July I enrolled into Desmond's class who gave me outstanding techniques and methods to answer Literature questions along with Humanities and English. Prelims I still didn't do very well for Maths and combine Science getting 35%(F9) and 45%(D7) respectively. I also failed humanities and lit at D7 and F9 respectively. But Glenn and Desmond did not give up and continued to push me until the O level period. With that said for my O levels I received a C5 for E maths, A2 for combine science and A2 for both Humanities and Literature. I can happily say that Glenn and Desmond have changed my life and my future is now very certain and I cannot thank them enough for allowing me to excel in O levels. If you need help in any of your subjects, I highly recommend these two tutors that will impact you academically:)))" —Elisha Tan, Google Reviews
"I just wanted to take a moment to say a big thank you to a great and dedicated tutor, Glenn. I had never imagined myself getting an A for my Science since I had been failing since Sec2, from F9 to an A2 for my 'O' level! Thank you for your encouragement and creating an environment of enthusiasm for learning, your guidance has helped me tremendously. I truly enjoyed your teaching and the time spent with you. Just wanted you to know that you have made a big difference in my life!" —Ryan Wong, Google Reviews
28. Knovo
Knovo started out as "My Savvy Tutor" before rebranding. In fact, they just launched their new website in 2021, specialising in online classes for all learners regardless of location.
From the get-go, Knovo promises a wide variety of courses ideal for e-learners. But because they're a fairly new platform, we've noticed that their selection of courses isn't as wide as it may seem.
For instance, you'll only find a limited number of classes for primary students, seeing that there are only a few instructors available at the moment. But again, the platform is still fairly new, which means that there will be plenty more courses and tutors to come.
So if you're looking for a tutor for your child ASAP, Knovo may not be the best option for you.
Their platform is straightforward and easy to use though. And for that reason, we think that their collection of courses is still worth a browse.
For now, we can only recommend them for enrichment classes, just in case you find a course that your child might be interested in.
29. Tuition Family Singapore
Next on our list is Tuition Family Singapore, an online hub that connects students and parents to tutors.
A quick look at Tuition Family Singapore may not easily tell you why they're special. In our case, we're particularly impressed by how low their rates are, which are, in fact, among the lowest in Singapore!
If you're worried about quality, you can always change your tutor in your next session, thanks to their "no minimum lessons" policy.
Many online hubs have a certain number of lessons required, but Tuition Family Singapore can easily find you a replacement in case the one you've chosen isn't working for your child.
The online hub caters to students of all levels anywhere in the island. They have connections to full-time and part-time tutors who can teach different subjects, whether it's through face-to-face or online means.
All in all, Tuition Family Singapore offers a convenient way of getting in touch with tutors—an excellent choice for students and parents who don't want extra frills.
Customer Reviews
We've handpicked some comments by happy parents from their website and Google Reviews:
"My girl is very happy to have tuition with her. Overall her teaching method is good and easy to understand."
"Tuition is great. Just two lessons and I believe my boy made improvements."
"Kelly is the best coordinator I've met throughout my 10 years of tutoring. She is efficient and thoughtful. She will help you to meet your needs and so far I am very grateful for her to be on this journey with me! Thank you Kelly! ❤️
30. Learnable
At first glance, Learnable may seem like your next tuition agency platform but that's far from the case. Unlike most tuition agencies with matching services, you have the option to scan through their network of tutors yourself.
Their search engine automatically filters and ranks educators based on their teaching levels, your preferred budget, as well as designated location. This means that you can also book your chosen tutor yourself, removing the waiting time that most matching services require.
But if you don't have time to look for a tutor yourself, you can always request for a tutor at no additional cost. Either way, you won't have to worry about paying for agency fees since you'll only pay for the lessons you requested.
Another plus for Learnable is that there are no minimum lessons required. This would allow you the opportunity to get another tutor for your child's next lesson should you prefer a new one.
For parents, you might be glad to know that their system provides you with regular progress reports so you can monitor your child's academic performance. In fact, you can also earn rewards for booking a lesson, giving you some perks for your next transaction.
Customer Reviews
Check out what parents had to say about their services:
"The staff from Learnable are responsive and open to feedback. They are able to match students who are near my ideal location. This platform has good features like lessons manager and assignments manager. These features track when are my classes to prevent clashes and remind what are the homework given during previous lesson." —Cheng Dao Han Donaven, Google Reviews
"Thank you to Jovie from Learnable Education Centre for her recommendation to both wonderful tutors. From F9 to B3 for both Maths and Science was really a great achievement for my girl O Level results. BIG thank you to both Geraldine and Deionna for their effort, patient, guidance and responsible attitude. We are really blessed to have both of them as my girl tutor. Once again thank you!" —Sheela Ghafoor, Google Reviews

31. Tutor Chen
Tutor Chen has many years of teaching experience under her belt. As a former math and physics teacher at Raffles Girls' School, she's set up her own full-time practise for secondary and junior college students.
She has also coached students who have competed in the International Mathematical Olympiad. Rest assured that she knows her stuff, seeing that she was also a Singapore Math Olympiad gold medalist back in her day.
And the best part is that tutor Chen does most of the tutoring herself. She only handles a maximum of 6 students per class at a time to ensure that everyone's taken care of.
You can check her out and her team of tutors at Future Academy—a tuition centre that she co-founded herself. While they have 2 locations for onsite classes, you can also enroll your child at their online interactive tuition programme from the comfort of your home.
Now, what makes this online programme really special is that it doesn't just offer video conference classes. It's equipped with interactive features like a virtual blackboard to keep students engaged.
The only caveat is that there are no trial lessons at all. You'd have to book for a minimum of 4 lessons for your child, which can be a bit costly compared to others.
But whatever programme you choose for your child here, you won't be disappointed with tutor Chen and her tuition centre!
Customer Reviews
Here are some reviews about Tutor Chen:
"Ms Chen in a knowledgeable and amazing Physics teacher!She is a very passionate teacher who has helped me improve my grade from a B3 to an A1 in 6 Weeks ( 1 lesson per week ). She gives challenging questions that has given me a wider exposure to the different types of tricky and challenging examination questions. I would definitely recommend her as a tutor to anyone." —Theyva, Website Testimonials
""Ms Chen has been tutoring me for nearly three years now ever since my psle years back in 2012 after a recommendation from my neighbor. Starting with mathematics, I have not only improved academically, I have also gained confidence to challenge myself to even more strenuous questions which has allowed me to easily score an A in most of my topical tests. This was something I could only dream for before Ms Chen's coaching." —Alycia, Website Testimonials
32. Champion Tutor
Champion Tutor is another trusted tuition agency on the island, having provided Singaporeans with highly committed home tuition services for over a decade.
Thanks to their online database, you can also do your own search for tutors from scratch. Just enter your basic requirements and you'll find yourself a list of suitable tutors for your child.
What we like about their search tool is how incredibly easy it is to use their search engine. You'll only need to fill up a few filters and you're good to go!
And to make things more convenient, you can even see whether the tutor is available for online or home tuition services from the get-go. But if you don't have time to browse through their list, you can also submit your own requests so Champion Tutor can find a match for you.
Either way, there are no agency fees involved for using their services.
And the best part is that you can even schedule a free 30-minute session with your chosen tutor prior to hiring them. So if you have any questions about their qualifications and teaching style, you can bring them up at this session.
Customer Reviews
A lot of parents have raved about Champion Tutor's services. Check out some reviews here:
"At the moment I am happy with Teacher Khairun. She brings her own rough paper to illustrate the workings of the mathematical problems. She uses the modelling technique which I am familiar with. She shows more than one type of method to solve the problem sum and asks me to use the method that I am comfortable with. She shows understanding when I do not complete her homework because she knows that I have a lot of school homework to do as well." —Tricia Chew, Google Reviews
"Tutor Vernice is excellent, her communication with myself and my daughter is very good. I needed a young and fun tutor, not someone who will be too strict as my daughter will not respond to that method of teaching. Vernice helps her along, without giving away the answers, asks her to check her answers and find out for herself where she might have gone wrong." —Steven Francis, Google Reviews
33. Smile Tutor
Next up is Smile Tutor—another household name when it comes to tuition agencies. Unlike most tuition agencies, their matching service will involve a quick phone call consultation at first.
During this phone call, you can bring up all your special requests for your ideal tutor so they can understand your needs better. This makes them a good choice for parents who have specific requests for children with special needs.
After a day or two, you can expect a personalised list of tutor recommendations just for your child—simple as that!
They also have one of the largest portals for private home tutors in Singapore where each is personally interviewed by a professional coordinator. So whatever level or subject your child needs extra help with, Smile Tutor can find a suitable tutor in no time.
Of course, you can expect to only pay for the lessons you requested. That said, there are no minimum lessons required either, which means that you can freely change your tutor for the next lesson.
Customer Reviews
Here are some sample comments about Smile Tutor's tutors:
"Response time is very fast and efficient. I'm happy with Audrey Yow as I can tell that she is putting extra effort to help my girl. I'm definitely will share with friends that need the same service." —Janet Pon, Google Reviews
"Helan is power pack with PSLE knowledge. An experienced & a committed tutor who not only engages with her student but also shares invaluable information that drives her student to perform better. She is very punctual for her lessons and is very patient too . I can see my son always looking forward to her next lesson. She preps her lesson well and keeps a tab on the student performance in school too. As a parent, I can rest assure my son is in good hands under her tutelage." —Effy Hussain, Google Reviews
"Was recommended with 2 tutors. All are good and can teach my son well. They are professional and always arrive on time." —Dennis Wong, Google Reviews
34. Nanyang Tuition
At Nanyang Tuition, you can instantly find a tutor who fits your criteria. You have the option to fill up their online form to send in your requests.
Otherwise, you can also contact them for a free consultation, which also gives you the opportunity to tell them about any special requirements you might have for your child.
Important to note that they also have a team of tutors who specialise in providing private home tuition to children and adults with special needs. These tutors have undergone a strict vetting process as well to ensure that they're fully qualified to render these services.
We also like the fact that Nanyang Tuition doesn't have a contract binding policy. This means that you can immediately terminate your chosen tutor's services if you think they're unfit for your child.
At the end of the day, you'll only be paying for the lessons you requested, which, by the way, is normally due at the end of the month. This would give parents a bit of time to save up and set aside a budget, if needed.
Customer Reviews
Check out what parents and students had to say about this tuition centre:
"I like the 1 tutor to 6 students ratio. My daughter is able to have lessons geared towards what she needs. Highly recommended for their Maths and Science Tuition." —Chen Xy, Google Reviews
"I like the teaching methods over here. They are specific to what I need. I have been to other centres and they normally teach in a group and sometimes I find that it is not useful because some of it, I already learnt and I be wasting my time during the lesson. I joined Nanyang since Sec 2 for Math tuition. When I started last year, I did not passed my E Math and now I am in my Sec 3, My E and A Math result is always A1 or A2. I would highly encourage students to join their Math class as I seen improvement myself." —Haruka, Google Reviews
35. EduZ Tuition
There are so many reasons why EduZ Tuition earned a spot on our list. From primary school to junior college, their team of tutors can help students of different levels who are struggling in major subjects: English, Math, and Science.
While they don't offer one-to-one tutoring, their tuition centre is equipped with the latest technology, making it a conducive learning environment for students. Unique to them is that they provide students with tablets so they can easily refer to text and diagrams.
Having digital blackboards also means lesser tuition fees for you, since they don't spend on markers, chalk, and dusters. Not only that, but classes are recorded, too, so your child can easily refer to methods or notes that they missed.
The fact that class sizes are small in this tuition centre also means that your child will get ample opportunities to raise questions and engage in discussions. At the same time, your child can also opt for online lessons as an alternative to centre-based lessons.
Rest assured that you'll only pay for the lessons your child took, as there are no registration nor material fees involved.
Customer Reviews
Here's a glimpse of what parents and students said about them:
"My child is taking jc tuition at this cck branch because his school is near here. 2 years back he was at the woodlands branch. He managed to get a B for his mid-year exam which I really really appreciate because the school teacher said only 30% of the cohort passed." —Rushie Lin, Google Reviews
"I attended GP at EduZ Tuition. I was a constant "U" student for all my school exams. I was always scoring in the 30-35 marks range. Despite wanting to give up, the GP tutor Mr Chan guided me patiently. I got a "B" for my A level for GP. I am really grateful to him." —David Lin, Google Reviews
36. TheEconomics Tutor by Kelvin Hong
Established since 1998, TheEconomics Tutor by Kelvin Hong produces unbeatable results by as high as 80 to 90%. TheEconomics Tutor lives up to its name by being one of the best IB JC Economics Tuitions in Singapore.
As the valedictorian, Kelvin Hong obtained 1st Class Honours in Economics from the National University of Singapore. He has also received two Singapore Government Public Service Commission Scholarship Awards among his many recognitions and qualifications as an economist and tutor.
TheEconomics Tutor is no stranger to virtual classes as it has been providing Economics Tuition Online Classes to students in the United Kingdom for over a decade.
It prices monthly depending on the group size of its students. Mini groups with four to six students are priced at $480 to $640 monthly while small groups are priced at $395 every month.
Upon enrollment, TheEconomics Tutor offers quarterly in-person physical consultations in its locations in Bukit TImah, Bishan (Ascend Learning Centre), and Kembangan.
Customer Reviews
Here's a glimpse of some testimonies from their students:
"Great Mentor. Guides Us in Thinking & Leads Us to the Answers. From S grade to A!" – Xue Min, YJC

"Because of Mr Hong, I can answer Any Economics Question. Best Teacher in all my 12 years of Education" – Samuel Tay, HCI
FAQs about Tutors in Singapore
---
And that concludes our list of the best tutors in Singapore! We hope our guide helped you find your go-to tutor for your child.
If you think we missed other tutors who deserve a spot here, feel free to send us an email!
Think your child's spoken and written Chinese is a bit rusty? Well, we've also written about the best Chinese tutors in Singapore to help your kid out.