Where to Find the Best Chinese Tutors in Singapore
Have you always wanted to learn the Chinese language? If so, maybe now's the right time to consider hiring the best Chinese tutors in Singapore that can help you learn Mandarin, Cantonese, or even Shanghainese.
Since Chinese-Singaporeans constitute most of the island's population, there's a huge demand for the best Chinese tuitions in Singapore that offer the Chinese language lessons.
We scouted the entire island in search of language centres that employ the best Chinese tutors in Singapore. We even asked for recommendations from people who have recently enrolled in one.
Anyway, we made a list of the best Chinese tutors in Singapore that we believe are worth checking out. You'll get to know more about them here, their tutors, and what it's like to be in one of their classes.
Check them out below!
1. FamilyTutor
FamilyTutor helped numerous students and parents match their perfect Chinese Language tutors. They also build a good rapport and meaningful relationship with the student and even with the student's whole family!
With that, the FamilyTutor team believes that when they send a Chinese Language home tutor to a client's house, the client and their family members should feel comfortable. FamilyTutor wants all of their customers to feel good having the Chinese Language private home tutor over at their home.
They strive to put their clients in the good hands of their Chinese Language private tutors. Having great Chinese Language lesson for their clients means a lot to the team and do not compromise the quality of their service.
Highlights
Professional Chinese Language home tutor
Affordable sessions conducted at the comfort of your home
Up-to-date modules and teaching materials
Customer Reviews
Here is feedback from previous clients of FamilyTutor:
"My daughter took Higher Chinese with the help of Mr. Ben and FamilyTutor. I initially thought it was fine for her to be getting average scores in her exams. Her goal is to attend her dream school and she is required to have excellent grades in all of her subjects. Mr. Ben put in a great effort to help her with the subject and patiently reviewed her practice papers, so she knew what she was doing wrong or what she needed to improve in. Hopefully, Mr. Ben can follow through with her Higher Chinese in the future and continue to help my daughter improve her PSLE grades. Thank you, Mr. Ben and FamilyTutor for making my daughter's dreams come true." – Mr. Koh, Dad of P4 Chinese Student (Fail to A)
"Hi FamilyTutor! I just want to thank you for helping me find a good and reputable tutor to help teach me basic conversational skills so I could adapt in Singapore easier. With the recent move, I was greatly troubled with the possible language barrier as I did not speak Chinese. I needed to learn as soon as possible. Online websites and apps were no good as they left me in doubt of my pronunciations and can be sometimes confusing. But FamilyTutor recommended Ms. Lim, who was extremely talented in the language and patient with her students, worked long and hard to help me improve my basic conversational skills. Thank you, Ms. Lim, for helping increase my confidence in using Chinese." – Mr. Zhang, Adult Conversational Chinese Student (Improved Tremendously)
"Speaking and writing in Chinese has always been a struggle for me. With the help of FamilyTutor, I was able to hire a committed and patient tutor to help me get through this struggle. Ms. Angeline was dedicated Chinese tutor. She helped me in my Chinese and recommended various stories and even dramas that could help me improve my fluency and understanding of the language. With her help and constant support, I was able to handle the rigorous IB curriculum and I am extremely satisfied with my grades. Thank you FamilyTutor and Ms. Angeline for your support."- Ms. Joyce Lim, IB SL Chinese B Student (Grade 5 to Grade 7)
2.  Yi Mandarin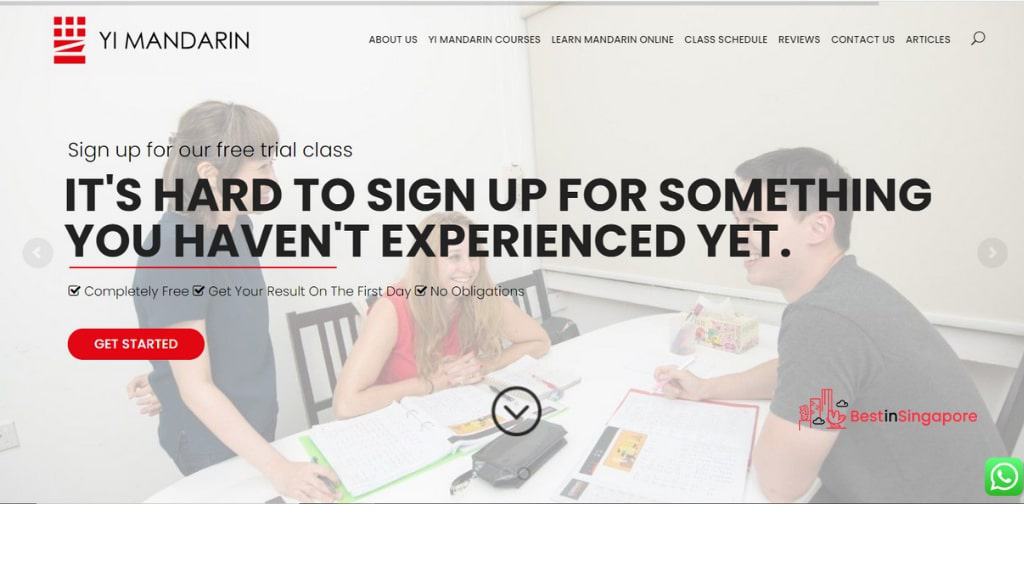 | | |
| --- | --- |
| BEST FOR    | Beginner, advanced and master classes |
| CLASSES | Conversational Mandarin, Business Mandarin, and Professional Mandarin |
| WEBSITE | https://yimandarin.com.sg/ |
| ADDRESS | 20 Kramat Lane #05-05, United House, Singapore 228773 |
| CONTACT DETAILS | +65 6589 8197 |
| OPERATING HOURS | Monday – Friday: 10:00 AM – 7:00 PM |
Considered one of the best Chinese tuitions in Singapore, Yi Mandarin offers three types of classes: conversational, business and professional. Each class is designed to cover every aspect of learning Mandarin, from speaking to writing.
Yi Mandarin is known for employing some of the best Chinese tutors in Singapore, all of whom have years of experience under their belts. It hires only professional and trained instructors to make sure that its students are in the best and capable hands.
Before being able to sign up for its classes, Yi Mandarin will have to check your proficiency in the language. If you know nothing about the language, worry not because its instructors will make it easier for you to learn the language.
Yi Mandarin offers both group and private classes. If you'd rather learn on your own, we recommend going for private classes because Yi Mandarin also employs the best private Chinese tutors in Singapore.
Interested students may avail of its no-obligation, free trial class to get a feel of what it's like to be part of its classes.
Highlights
Professional instructors
Online classes
Free trial class
Customer Reviews
Here are some comments posted on Google Reviews proving that Yi Mandarin has the best private Chinese tutors in Singapore:
"Yi Mandarin is the best language school for me! Now, I can express myself well when meeting with my Chinese-speaking business partners and our customers. I like it every time I attend the classes. There are no dull moments with the teachers as lessons are lively and interesting. I was not that confident learning Mandarin. I didn't even know how to pronounce even the simplest word. But since I studied here, I've become more enthusiastic talking to people in Mandarin."
"It's all worth it. This is how I describe my learning experience at Yi Mandarin. Aside from the reasonable enrolment fee, first-time students are treated to free trials. Even the time is so worthy. The school offers a flexible schedule that's ideal for employees and entrepreneurs like me. Now business schedules are sacrificed here. More so, not even a single minute was wasted because when there are no class discussions, students get to practice conversing with each other in Mandarin language."
3.  Mandarin Plus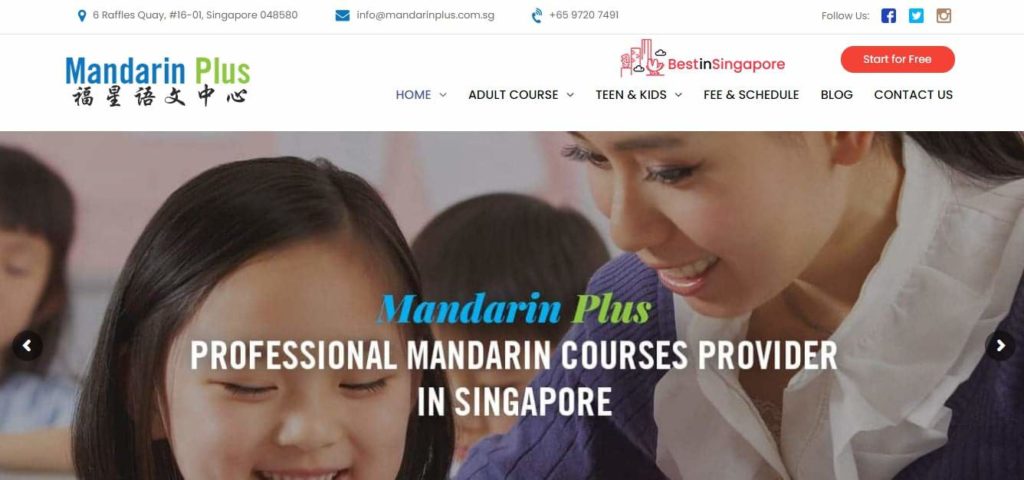 | | |
| --- | --- |
| BEST FOR    | Native-speaking teaching team |
| CLASSES | Standard Chinese lessons, business Chinese lessons, IB Chinese course, and Chinese oral |
| WEBSITE | https://mandarinplus.com.sg/ |
| ADDRESS | 6 Raffles Quay, #16-01, Singapore 048580 |
| CONTACT DETAILS | +65 9720 7491 |
| OPERATING HOURS | Monday – Thursday: 9:00 AM – 9:00 PM Friday: 10:30 AM – 7:30 PM |
With more than 10 years of experience, Mandarin Plus has grown into one of the most trusted Chinese language centres in Singapore. It's committed to helping children and adults learn different Chinese languages in the easiest and most convenient way.
Some of the classes offered by Mandarin Plus are standard Chinese, business Chinese, IB Chinese and oral Chinese lessons. Every course is taught by some of the best Chinese tutors in Singapore.
Speaking of classes, Mandarin Plus constructs its classes based on the varying proficiency of its students, supplemented with top-rated language resources.
Mandarin Plus also offers online Chinese lessons which are perfect for students whose schedules don't match with any of its physical classes.
Highlights
Native-speaking instructions
Effective teaching methods
Hanban-approved books
Customer Reviews
Mandarin Plus has an average rating of 4.8 out of 5 on Google Reviews, making it one of the best reviewed language centres on the island. Here are some comments:
"I started my online Mandarin classes in April2020. I found my weekly 2 hour HSK 1 zoom classes very effective. There were 3 students and our teacher Ms. Wang Cheng created a learning atmosphere that engaged and challenged us. It motivated me to learn to write the Chinese characters as well. The CB period pushed us to zoom classes and I have really enjoyed them. The big plus is I can do them from the comfort of my home and do not have to waste time travelling back and forth to class. Deon Joseph"
"I have been learning at Mandarin Plus for 5 months at classroom tuitions and online tuitions. Both are conducted by Ms.Selina effectively especially for oral practice. She is very patient and kind as well as professional.  I really enjoy learning Chinese now."
4.  Linda Mandarin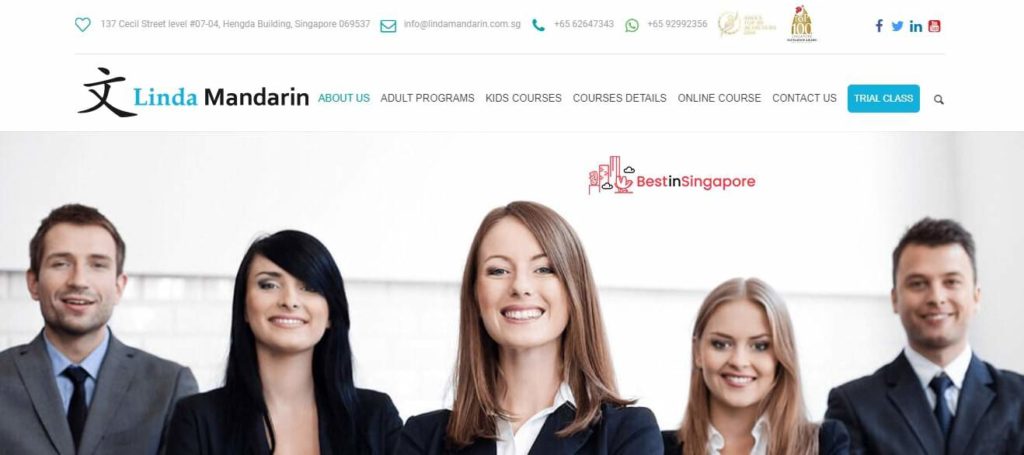 | | |
| --- | --- |
| BEST FOR    | Tailor-made learning programs |
| CLASSES | Conversational Chinese, business Chinese, and online Chinese lessons |
| WEBSITE | https://www.lindamandarin.com.sg/ |
| ADDRESS | 137 Cecil St, #07-04 Hengda building, Singapore 069537 |
| CONTACT DETAILS | +65 6264 7343 +65 9299 2356 |
| OPERATING HOURS | Monday – Sunday: 10:00 AM – 9:00 PM |
Linda Mandarin is a professional language centre that aims to help students of all ages learn Mandarin and the Chinese culture by providing top-tier language and cultural lessons. It caters mostly to expats who want to communicate better while working in Singapore.
One of the best Chinese tuitions in Singapore, Linda Mandarin makes sure that all of its instructors are equipped with the right skills to teach students how to learn Mandarin. It employs some of the best Mandarin tutors in Singapore, all of whom are bilingual and native speakers.
Many of Linda Mandarin's instructors are educated not only in Chinese language, but in literature, business, international accounting, and even foreign investment. There's no doubt that it houses some of the best Chinese tutors in Singapore.
Linda Mandarin uses different and creative methods in teaching students Mandarin, one of which is role-playing. It's one of the few language centres on the island that use this type of learning method.
Highlights
Experienced and licensed instructors
Convenient location
Access to online and printed resources
5. Yanzi Mandarin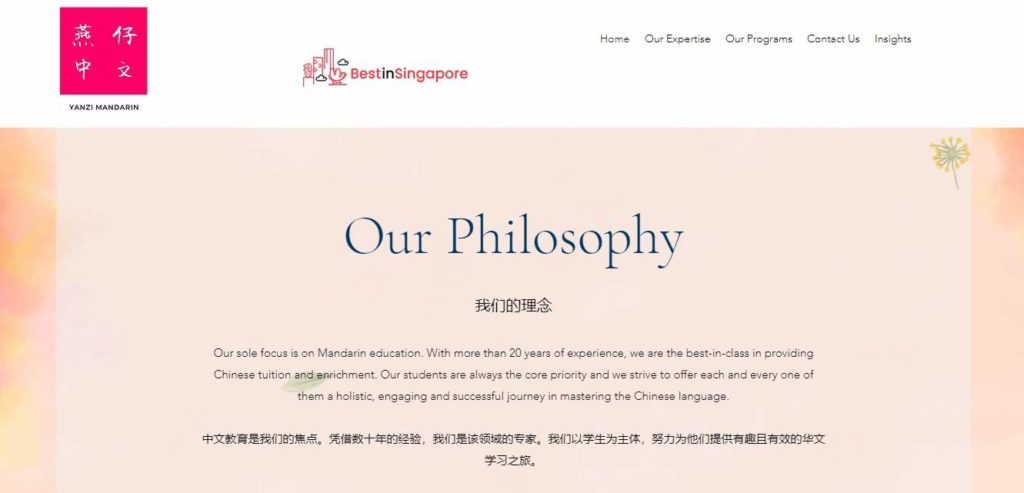 BEST FOR   
Young students
CLASSES
Group and private Chinese lessons
WEBSITE
https://www.yanzimandarin.com/
ADDRESS
865 Mountbatten Road #05-15 Katong Shopping Centre, Singapore 437844
CONTACT DETAILS
+65 9135 9889

[email protected]

OPERATING HOURS
Monday – Sunday: 8:00 AM – 10:00 PM
If you're after a language centre with an excellent track record, then we recommend checking out Yanzi Mandarin, tagged as one of the best Chinese tuitions in Singapore. It's produced over 2,500 brilliant, Grade-A students over its 23 years of operation.
Yanzi Mandarin mainly teaches young students who want to be fluent in Mandarin as early as their teen years. Its curriculum is designed to make every class as informative as possible, without putting stress on the students.
One of the reasons behind is success would have to be its team of the best Chinese tutors in Singapore. Yanzi Mandarin prides itself on the fact that its teachers have experience in teaching international students which brings the global perspective into their teaching.
Highlights
23 years of experience
Professional instructors
Global teaching perspective
Extensive language resources
6. mysavvy Tutor (MST)
| | |
| --- | --- |
| BEST FOR    | Online learning |
| CLASSES | Chinese, Advanced Chinese, English, Malay, Tamil, science, accounting, math, advanced math |
| WEBSITE | https://www.mysavvytutor.com/ |
| ADDRESS | 350 Orchard Rd, #15-08, Singapore 238868 |
| CONTACT DETAILS | +65 9670 7326 |
| OPERATING HOURS | 24/7 |
MySavvy Tutor (MST) is an online learning platform offering convenient online sessions. MST has connections with over 15 online centres to provide you with endless opportunities for learning.
MST caters to all types of student, from pupils in primary school to more mature university students. MST also offers its services to enthusiasts who just want to learn for fun.
You can choose among MST's courses, which include mathematics, advanced maths, accounting, and science. MST also offers a variety of language courses, such as English, Chinese, Advanced Chinese, Malay, and Tamil.
Highlights
15 online tuition centre partners
Language, math, science, and accounting courses
Convenient online learning
Easy connectivity with high-quality educators
Customer Reviews
Read these reviews to learn more about the first-hand experiences of MST's students:
"What a fun and creative new way to learn. With this app you can post any question you are struggling with anywhere you are and get prompt feedback from talented tutors right at your fingertips. I cannot wait for the launch!"
"I am really satified with the attitude of this team at here. I will continue to use and support for long."
7. Han Hai Language Studio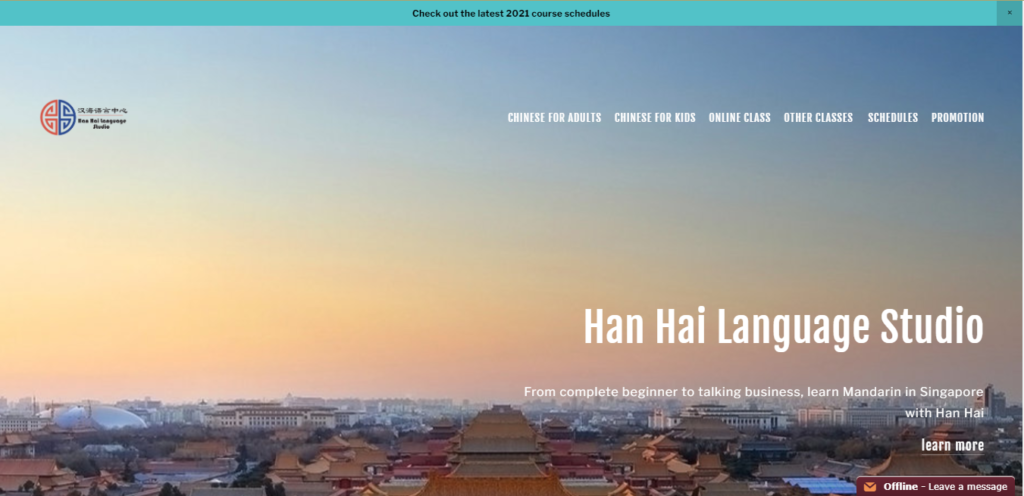 BEST FOR   
Business-level Mandarin
CLASSES
Beginner, advanced, and business Mandarin classes, namecard translation
WEBSITE
https://www.hanhai-language.com.sg/
ADDRESS
40A Orchard Rd, Macdonald House Level 3, 238838 
CONTACT DETAILS
+65 800 852 8111


[email protected]

OPERATING HOURS
Monday – Friday: 10:00 AM – 6:00 PM
Saturday: 10:00 AM – 4:00 PM
If you want to learn the Chinese Mandarin language because you need to communicate and connect better with your clients, then Hai Hai Language Studio can be the right choice for you.
Each of Han Hai Language Studio's teachers come from China and have sufficient teaching experiences.
The learning centre has private individual and group classes for everyone from beginners to business-level learners. Han Hai Language Studio also offers corporate classes for a wider reach.
To improve your skills on your own, you can also access Han Hai Language Studio's resources such as character stroke guides and self-assessment materials.
Highlights
10 years experience in TCSL (Teaching of Chinese as a Second Language)
Experienced and professional teachers
Online learning academy
Online Study Apps & AI technology in HSK testing preparation
Customer Reviews
Here are some customer reviews to tell you more about the quality of services Han Hai Language Studio can give you, should you choose to enrol to their classes:
"Mandarin Chinese has never been my strongest suit but with my work, it requires me to be fluent. Timothy has been very patiently going through our curriculum and my work material to make sure I'm as fluent as I can be at the moment! My clients & peers constantly praise my massive improvement but like what I tell them, it is really Timothy's credit!"
"I have no hesitation in highly recommending Han Hai language studio as the best Chinese language institute in Singapore. Grace and Timothy are very warm and conscientious individuals who truly care about imparting wisdom to their students. Studying Chinese with Timothy has made the task so much more fun and enjoyable and has also helped me develop a deep appreciation for Chinese culture."
8. Hua Jie Language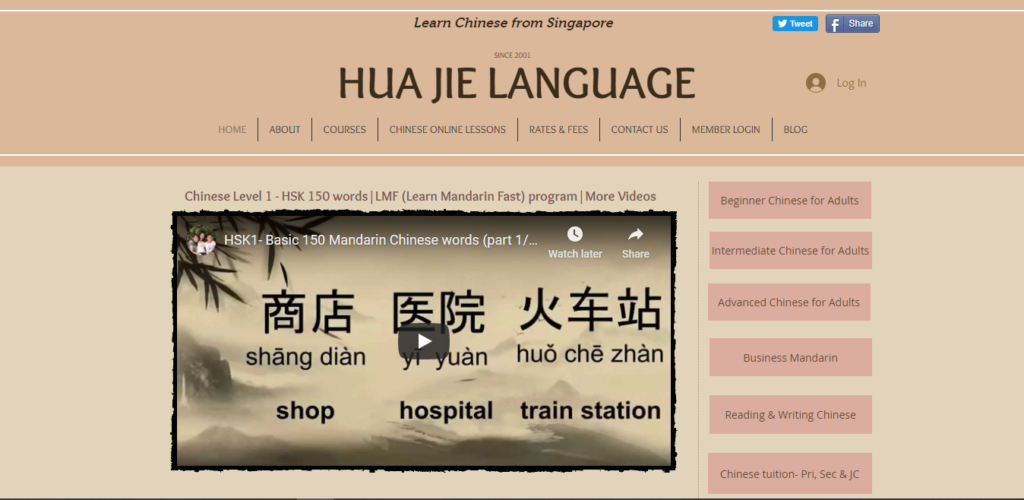 BEST FOR   
Fast learning
CLASSES
Learn Mandarin Fast (LMF), beginner, advanced, business, Chinese writing & reading
WEBSITE
https://www.learnchinesefastsingapore.com/
ADDRESS
10 Anson Road International Plaza #27-15 Singapore 079903
CONTACT DETAILS
+65 9199 6485


[email protected]

OPERATING HOURS
Monday – Sunday: 6:00 AM – 10:00 PM
If you have trouble finding the right time and schedule to learn Chinese, then say no more because Hua Jie Language has got your back.
This language tuition school offers the LMF or Learn Mandarin Fast program, which lets you learn to speak and understand the language in less than 30 hours. It uses words and situations essential in real life and your area of expertise.
Hua Jie Language has students from various industries, including finance, business, engineering, and medicine. So, they have room for everyone who wants to learn the language.
If you are still unsure, you can also avail yourself of Hua Jie Language's free trial lesson via Skype.
Highlights
Learn Mandarin in less than 30 hours
Diverse student population
Private and group lessons available
Skype free trial lesson
Customer Reviews
With Hua Jie Language's services, you may learn enough to be confident even in front of Chinese native speakers. Here's a review from a student named George to tell you more:
"Hua Jie Language taught me Chinese, thanks to their lessons I've now moved to Beijing living and working in Mandarin. Just last week, I gave a presentation to about 150 people all in Chinese. I really enjoyed learning with Hua Jie Language"
9. Chinese Edge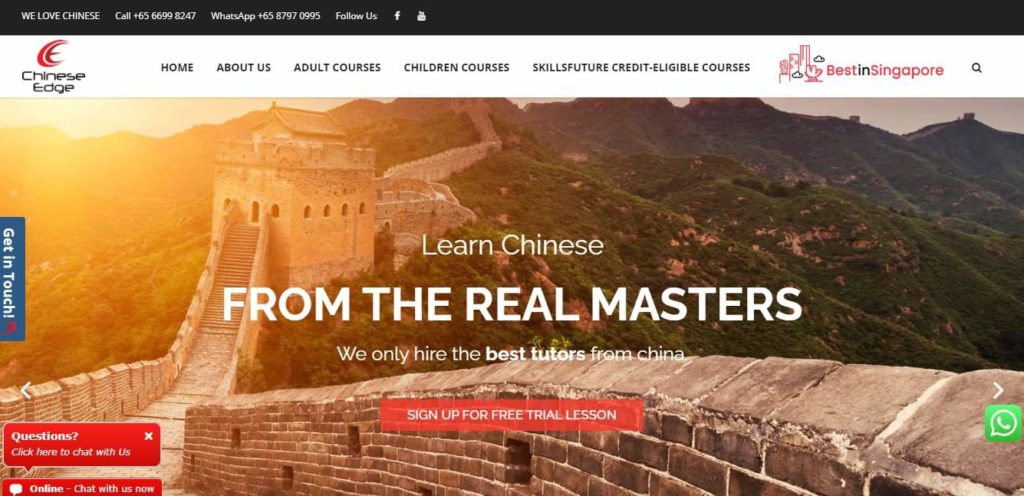 | | |
| --- | --- |
| BEST FOR    | Experienced language instructors |
| CLASSES | Chinese group and private courses, business Chinese, Chinese language lessons for children, and online courses |
| WEBSITE | https://www.chineseedge.com.sg/ |
| ADDRESS | 137 Cecil St, #07-04, Singapore 069537 |
| CONTACT DETAILS | +65 8797 0995 +65 6699 8247 |
| OPERATING HOURS | Monday – Sunday: 10:00 AM – 9:00 PM |
If you're looking for a language centre with the best Mandarin tutors in Singapore, then look no further than Chinese Edge. It's been around for over 15 years now and has helped more than 10,000 students improve their Mandarin.
Chinese Edge employs some of the best Chinese tutors in Singapore, most of whom are native Chinese speakers. Apart from being bilingual, all of its tutors are licensed and professionally trained to teach Mandarin.
Chinese Edge is known for using the Hanban curriculum which is from a public education institution connected to China's Ministry of Education. Its tutors will make sure that every student will have known how to speak, read, and write Mandarin by the end of the course.
Some of the courses offered by Chinese Edge are group and private lessons, business Chinese language and Chinese language for kids. You may also opt for its online courses if you don't have time to attend classes personally.
Highlights
Licensed and trained instructions
Hanban curriculum
Online courses
Courses for children
15 years of experience
Customer Reviews
Take a look at some of the comments shared by its current and previous students:
"My first experience in the school was for one month in February. I studied in the beginner class, at the end of the course I reached the next level. I decided to come back for another month in April, to study the next level. After a lot of lessons, I can say that the teachers are friendly and well-prepared. I really enjoyed going for lunch with everyone from the school, as a result this creates a family environment."
"Very helpful staff to get you started. You can do a free trial lesson before enrolling. The teachers are very patient and want you to succeed. You also get videos of the lessons and additional audio material to keep practicing outside of the classroom. Highly recommend Chinese Edge."
10. SLC Bishan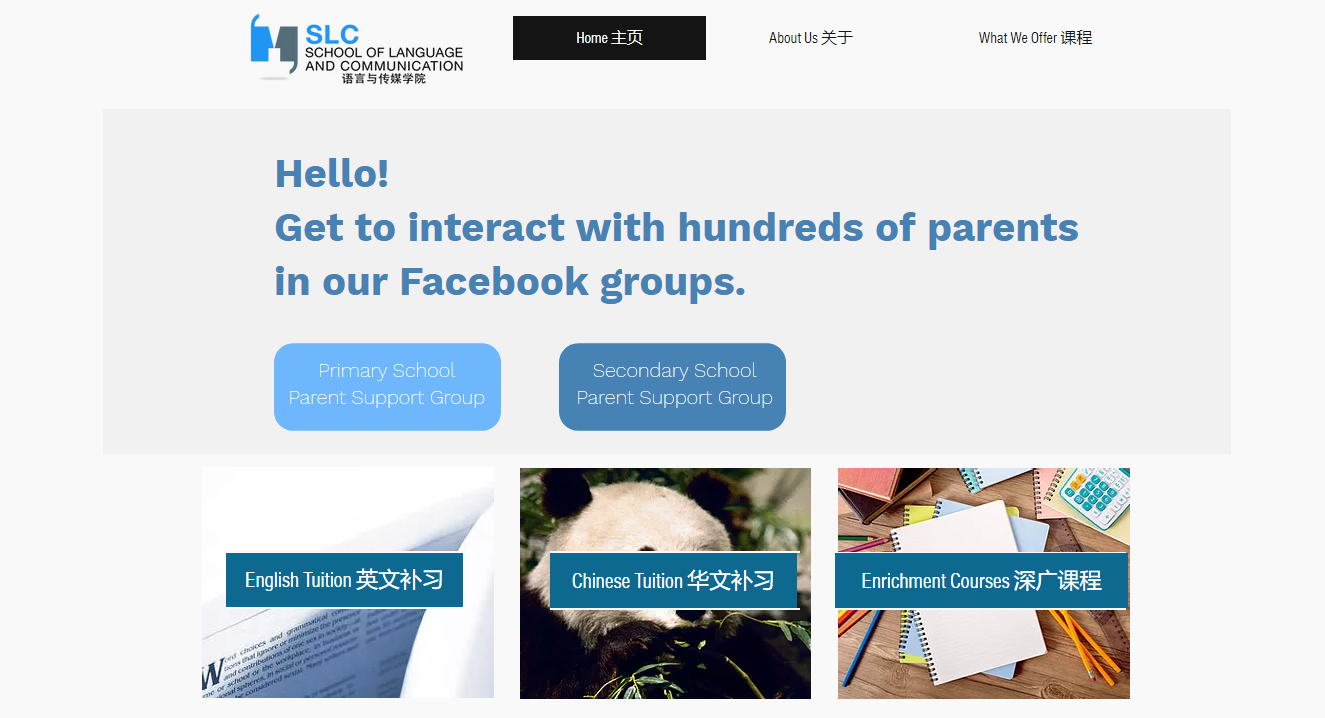 | | |
| --- | --- |
| BEST FOR | Mandarin tutoring |
| CLASSES | Primary and secondary Chinese |
| WEBSITE | https://www.slcedu.sg/ |
| ADDRESS | 38 Jalan Pemimpin #02-02 Singapore 577178 |
| CONTACT DETAILS | 9058 2091 |
| OPERATING HOURS | Contact for more information |
They specialise in English and Chinese tuition, serving students from all over the country. Their students come from high-quality schools all over Singapore.
As their classes are designed to suit the specific needs of any child, an arrangement for a diagnostic assessment would be very beneficial and they offer free assessments as well.
Their teachers from the English department possess a wealth of experience in teaching the English language. While keeping themselves abreast of the latest syllabus by SEAB for PSLE Primary English, they also incorporate a diversity of interactive teaching techniques.
Highlights
Proficient tutors
High-quality modules
Friendly teachers
Customer Reviews
Here is feedback from a previous client:
"Teacher Ben is a diligent, positive and kind teacher. He has a great sense of humor and is well-versed in English.I can learn a lot in our relax conversation. He will correct me if I made some mistake.It's my honor to have such a enthusiastic teacher."
11. Stag Match Education & Training Group 
BEST FOR
Tuition Centre
CLASSES
Language, Science, Maths, Robotics
WEBSITE
https://smet.edu.sg/
ADDRESS
1 Woodlands Road #02-10
CONTACT DETAILS
+65 66127165 / +65 98450665
[email protected]
OPERATING HOURS
Monday – Sunday, 10:00 AM to 10:00 PM
Stag Match is a tuition centre that's dedicated to offering the highest quality education to its students. It is not only a tuition centre, but also an enrichment centre, student care centre, and adult training centre.
Their first-class learning services are created with collegiate-level curriculums, so you can rest assured of their quality. It's not a consistent curriculum either — their curriculum is adjusted depending on their current student's skills and potential.
Their team is trained well when it comes to education, and they're well-equipped when it comes to their work. Best of all, their competitive prices ensure that you're getting your money's worth.
Highlights
Adult Training Centre
Science Centre Enrichment
Best Enrichment Experience 2015
Superior customer service
12. Le Xue Education Centre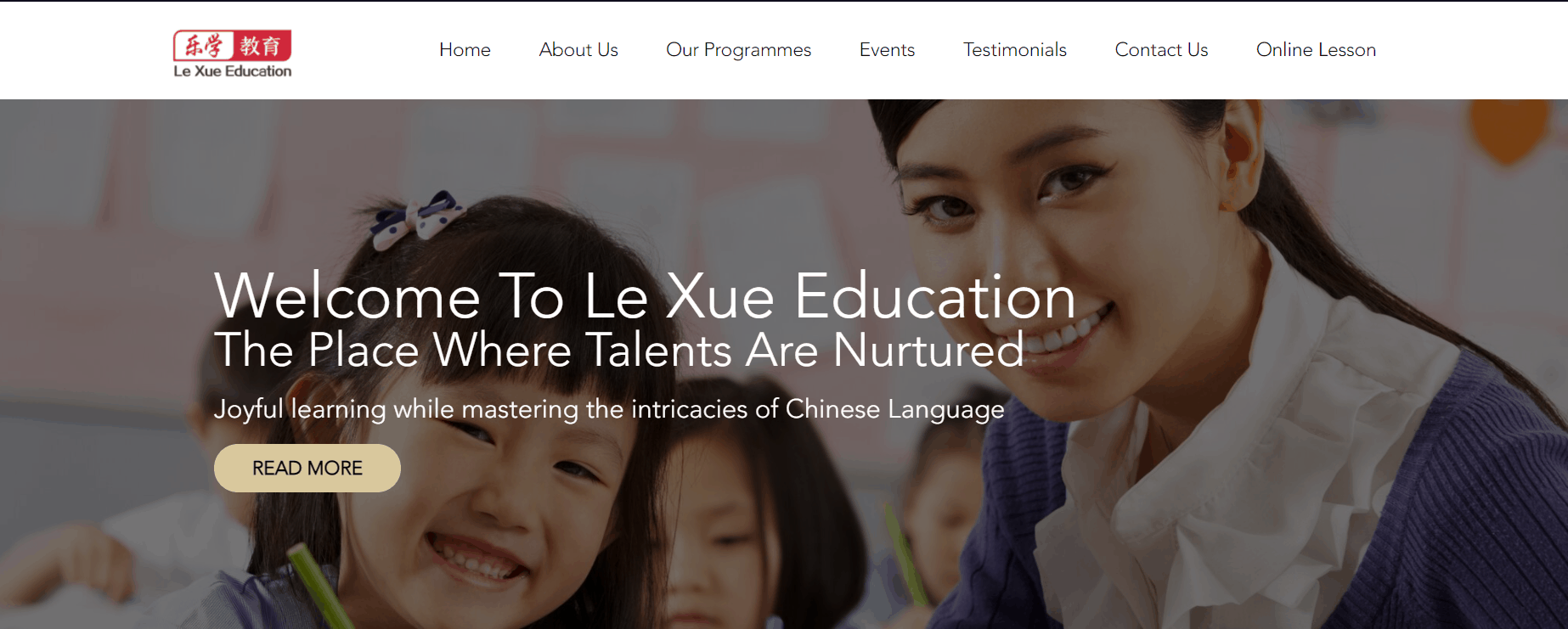 BEST FOR
Joyful Learning
CLASSES
Chinese lessons for:
Preschool N1-K2
Primary 1-4
Primary 5-6
Secondary 1-4
WEBSITE
https://lexueeducation.com/
ADDRESS
Bishan Branch
Blk 284, Bishan st 22, #01-199, 570284
Kovan Branch
Blk 203, Hougang st 21, #01-51, 530203
Queens Road Branch
Blk 4 Queens road, #02-123, 260004
Parkway Centre
Parkway Centre, #07-08, 1 marine parade central, 449408
CONTACT DETAILS
[email protected]
+65 6554 1683
OPERATING HOURS
Monday – Friday: 12 – 9 pm
Weekend: 9 am – 6 pm
Public Holiday closed
If you're looking to learn Chinese, or if your child needs help, then why not consider a centre that makes learning fun? Established in 2012 by one Vivien Le, Lexue Education strives to make learning Chinese as joyful as possible without sacrificing the quality of education.
To accomplish such a feat, the centre makes use of the 3R teaching method, which was developed by Ms. Le herself.
The 3R method stands for ""Roots, Remember, Read,"" and has students learning the Chinese language in three critical stages: Independent Reading, Joyful Learning, and finally, Composition & Oral & Comprehension. It all begins with the Roots, which has students recognising, remembering, and reading 1200-1500 characters independently; it is then followed by the Joyful Learning part.
The Joyful Learning part entails mastery of MOE school syllabus, grasping concepts of vocabulary, and training in comprehension exam skills to stay ahead of their peers. After finishing the Joyful Learning part, students then enter the final stage, Composition & Oral Comprehension, to end things off.
Here, students master the most critical exam skills: Plan, organise, and drive ideas in comprehension, oral, and composition to secure A*s and A1s.
All in all, the fun yet structured way of learning at Le Xue Education makes it one highly recommended centre for students who wish to improve upon their Chinese language skill level.
Highlights
Several locations island-wide
Teaches from preschool to secondary school
3R learning method utilised for a better learning structure
13. Ace Tutors 
Let's face it, finding the right tutor is one of the most exhausting and extensive search one can go on in this lifetime. After all, there are so many factors to consider, and just as many (if not more) tutors to choose from.
Fortunately, there are websites that make the search easy, like one Ace Tutors.
Ace Tutors is an online hub that connects students to tutors based on the subject that they need help in. One of the reasons why we recommend Ace Tutors is the website's rigid selection process.
All of the tutors connected to Ace Tutors have their certifications, ensuring that they'll be capable of teaching the students that they will be assigned with. Another reason is the extensiveness of their teaching catalogue.
Ace Tutors offers the help of tutors who teach languages, math, arts, and sciences for all levels, even including international teaching.
So, if you're looking for help for your child, it's likely that you may find the right tutor with the help of Ace Tutors.
Highlights
Tutors for every subject available
Offers tutorial help for all school levels
Easy to navigate site
14.  EduZ Tuition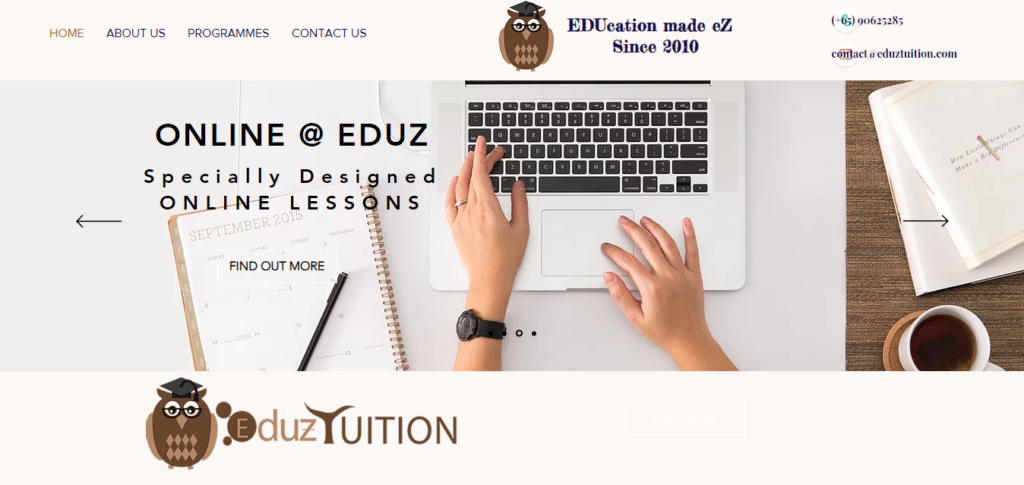 BEST FOR   
Accessible resources and classes
CLASSES
Chinese, Chinese creative writing, higher Chinese, English, math, science, economics, art
WEBSITE
https://www.eduztuition.com/
ADDRESS
Choa Chu Kang Central #01-237B Block 223, Singapore 680223 
CONTACT DETAILS
+65 9797 3786 | 

[email protected]

OPERATING HOURS
Monday – Friday: 2:00 PM – 10:00 PMSaturday – Sunday: 9:00 AM – 7:30 PM
EduZ Tuition has experts in English, creative writing, maths, economics, sciences, Chinese, and Chinese creative writing. It offers its Chinese classes for primary to secondary levels.
The tuition centre provides resources such as well-structured and detailed materials and audio recordings. It also has small class sizes to ensure your children receive the level of attention they need.
What makes EduZ Tuition unique is that it teaches students using digital whiteboards. It even conducts classes online for maximum accessibility, thus making education easy, just as its name suggests.
Another thing that sets EduZ Tuition apart from other centers is that its tutors have at least seven years of teaching experience. Thus, you can be sure that each one is an expert in their own field and pedagogy strategies.
Highlights
Experienced tutors
Online and physical classes
Reading materials and audio recordings
Customer Reviews
Here are some customer reviews to tell you more about EduZ Tuition's services:
"My son enrolled in EduZ Tuition Centre last year. He just got his O level results. I want to say EduZ Tuition Centre really helped him improve a lot. I am happy he can at least go to his preferred school."
"Eduz's teachers are very patient and caring. My children are very happy in class. Strongly recommended Eduz"
15. Panda Mandarin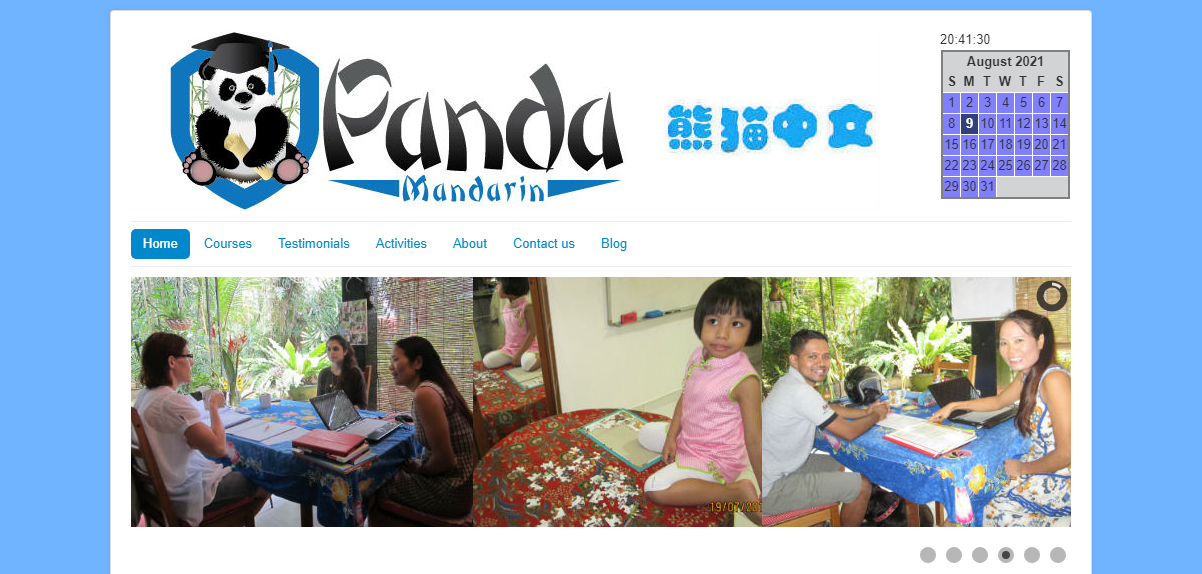 Panda Mandarin is owned and handled by Ms. Julia, a professional Mandarin tutor that is certified both in China and Singapore. She's a native speaker of over 20 years and offers experience unlike any other.
To further prove her expertise, she is also a Chinese Proficiency Test (HSK) trained teacher, which only a few certain people, like Ms. Julia, can achieve.
Panda Mandarin has varying courses available and a class made for different levels of proficiency in the language. They have sessions to learn Mandarin for daily conversations, for business, and even for IB level. These are also split into different age groups: for kids, teens, and then for adults.
In addition to their normal on-site classes, Panda Mandarin also caters to online tutoring, so you can still advance on your lessons even if you're away from the city or even the country!
Allow Ms. Julia and Panda Mandarin to guide you throughout your studies in Mandarin. You can book a session with them through the website, or offline in their location. Be sure to do so as early as possible as slots can be filled pretty quickly.
Highlights
Fun activities to learn Mandarin
Expert tutor
Lessons include both writing and speaking
Helps build up comprehension and vocabulary
16. Fun Learners' School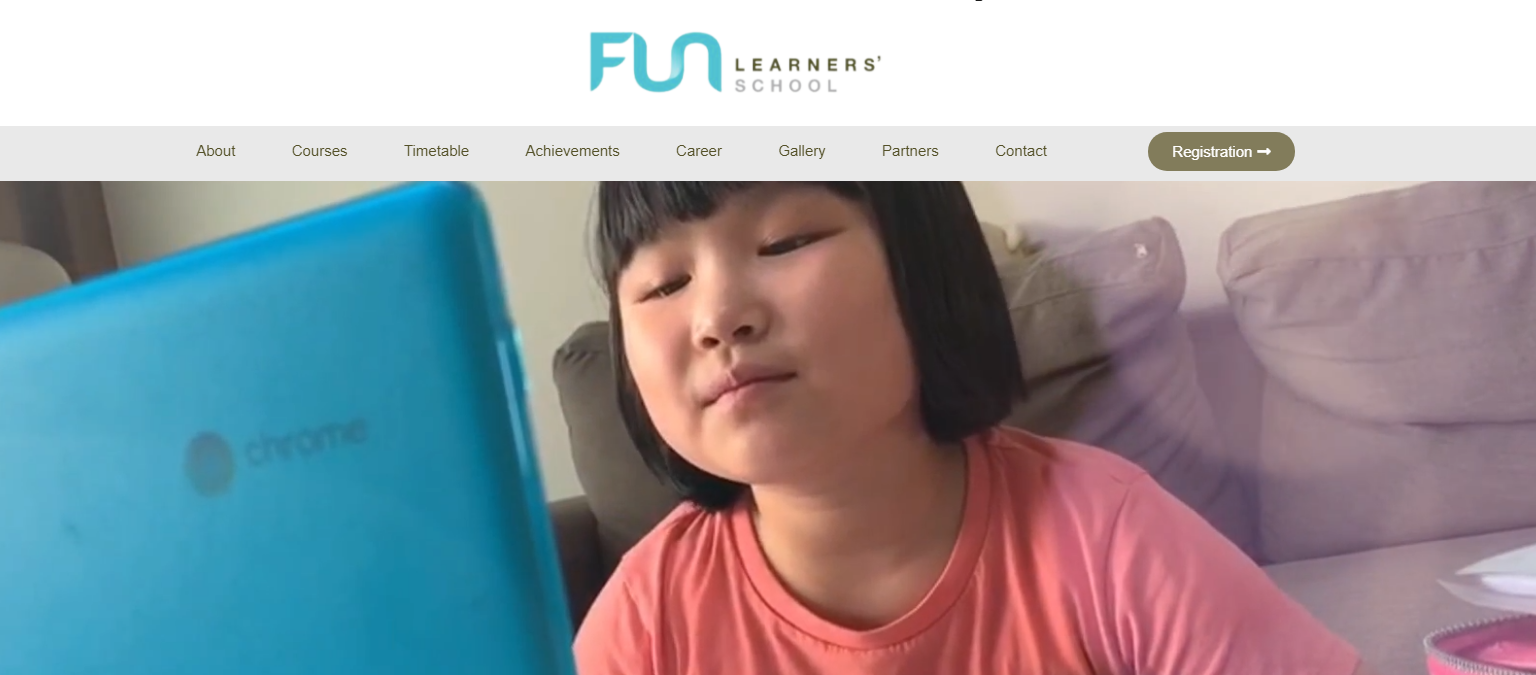 | | |
| --- | --- |
| BEST FOR | Physical classes |
| CLASSES | AEIS, PSLE, O Level, Primary & Secondary |
| WEBSITE | http://www.funlearners.edu.sg/ |
| ADDRESS | 371 Bukit Batok St 31 #02-328 Singapore 650371 |
| CONTACT DETAILS | 893 83689 |
| OPERATING HOURS | Monday- Sunday, 10AM – 10 AM |
As its name may suggest, Fun Learners' School endeavours to create a learning space that incorporates fun into the classroom.
This is because Fun Learners' School believes that doing so brings about a wide range of benefits, including positive attitudes toward learning, deeper engagement during lessons, significant improvement in performance, and ultimately, higher self-confidence to take on the challenges of life beyond graduation.
Aside from the aforementioned endeavour, Fun Learners' School also focuses on providing special courses, workshops and preparation camps for major exams. Through these programs, students train in studying strategies and exam techniques to attain peak academic performance.
Fun Learners' School offer academic training in the subjects of English, Chinese, Math and Science across primary (PSLE) and secondary levels ('N' and 'O' Levels). It's also worth noting that the school offers classes in AEIS, IB and iGCSE as well.
Highlights
Has taught over 13,689 students
Offers classes in English, Chinese, Math, and Science
Open seven days a week
And with that, we conclude our list of language centres with the best Chinese tutors in Singapore. Have you already decided which one to go with? Tell us all about it in the comments below!
If you know of other Chinese tuitions worth checking out, share with us their names, and we'll check if we can add them to our list.
If you're interested in learning Japanese as well, we recommend taking a look at our list of schools that offer the best Japanese lessons in Singapore. Our list features some of the top and well-known language centres on the island.
17. Tutor City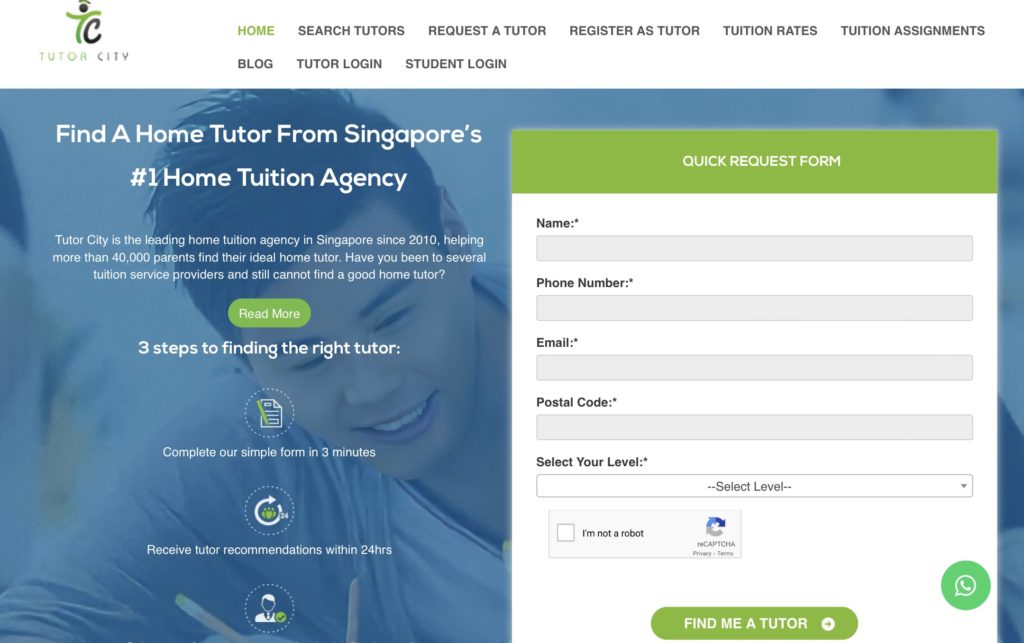 | | |
| --- | --- |
| BEST FOR | Examinations and Language Subjects |
| CLASSES | Primary School Tuition, Secondary School Tuition, JC Tuition, IB Tuition, IP Tuition, IGCSE Tuition, University Tuition, Online Tuition, ITE Tuition, JC Maths Tuition, Polytechnic Tuition, Preschool, PSLE Tuition, O Level Tuition, N Level Tuition, A Level Tuition, AEIS Tuition, GRE, GMAT, SAT Tuition, IELTS Tuition, Special Needs Tuition, Music Lessons, and Computing |
| WEBSITE | https://tutorcity.sg/ |
| CONTACT DETAILS | 90672547 |
| OPERATING HOURS | Mon-Sun 8am-11pm |
Tutor City, the Chinese tutor company, left an indelible mark on our pursuit of language proficiency. With a commitment to excellence, our engagement with Tutor City highlighted several commendable aspects that contribute to their standing in the realm of language education.
Time and again, Tutor City showcased EXEMPLARY TEACHING STANDARDS. The tutors we encountered were not merely instructors but educators who went the extra mile to ensure a deep understanding of the subject matter. The clarity and precision with which they conveyed complex linguistic concepts set Tutor City apart as a beacon of pedagogical excellence.
EFFICIENT MATCHING PROCESS defines Tutor City's commitment to tailored learning experiences. The company's ability to pair students with tutors who align with their learning styles and goals contributes significantly to the effectiveness of the educational journey. This personalized approach ensures that each student receives the attention and guidance necessary for their unique language learning path.
In the realm of ENGAGING LESSONS WITH WITTY INSTRUCTION, Tutor City proves that language acquisition need not be a dull endeavor. The tutors inject a refreshing dose of humor and creativity into their lessons, making the process not only informative but also enjoyable. Learning Chinese became an exploration of language with Tutor City, where each lesson was a step into a world of linguistic fascination.
Tutor City delivers EXCEPTIONAL VALUE FOR INVESTMENT. The quality of education imparted, combined with the personalized attention provided, makes every penny invested worthwhile. In a landscape where educational costs can sometimes overshadow the benefits, Tutor City manages to strike a balance, ensuring that the pursuit of language proficiency is both enriching and economically sensible.
Highlights
Exemplary teaching standards
Efficient matching process
Engaging lessons with witty instruction
Exceptional value for investment
18. EliteKid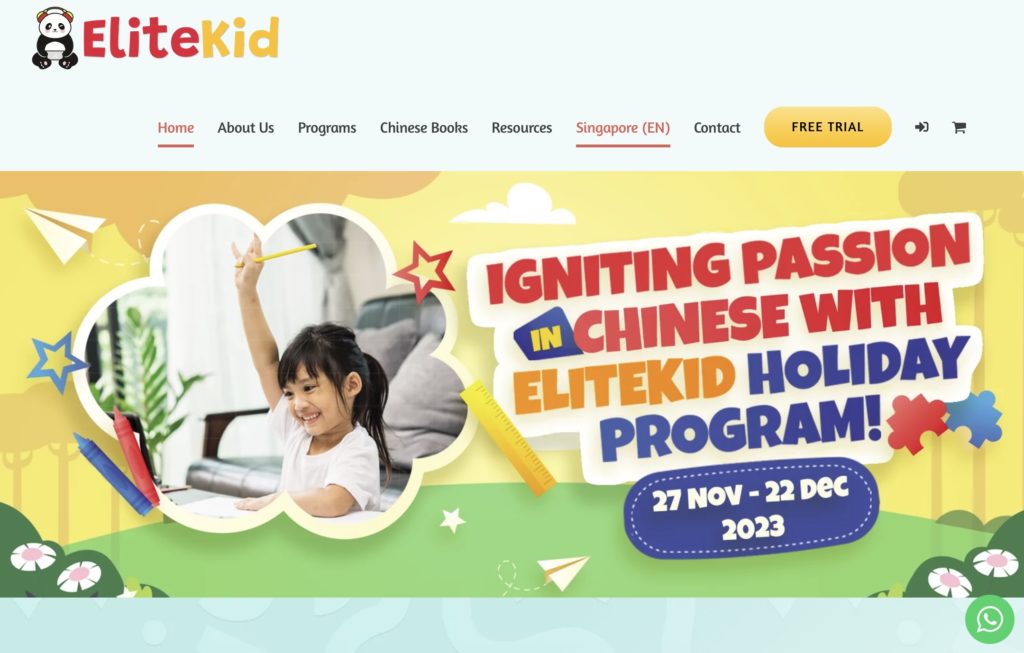 BEST FOR
1-To-1 Chinese Language Home Tuition (Children/Adults)
CLASSES
MOE Chinese, Panda Chinese, Sunshine Chinese, Holiday program, and Detective Chinese
WEBSITE
https://elitekid.com.sg/
CONTACT DETAILS
8831 8578 (Janice) for 4-8 yo
8884 9619 (Vanny) for 9-12 yo
OPERATING HOURS
By appointment basis
Our experience with EliteKid, the Chinese tutor company, left us both impressed and amused. From the outset, their services displayed a commendable blend of efficiency and professionalism. The streamlined process of matching students with tutors showcases their commitment to time management, ensuring a swift commencement of lessons.
In the realm of quality, EliteKid stands tall, delivering lessons that are not only informative but also engaging. Our tutor demonstrated an adept understanding of the subject matter, making the intricate aspects of the Chinese language feel as approachable as a well-crafted joke. It's not every day that one encounters a tutor who not only imparts knowledge but does so with a delightful touch of wit.
The efficiency of EliteKid extends beyond scheduling and into the heart of their teaching methods. The integration of modern technology into their lessons enhances the learning experience, proving that education can be both enlightening and entertaining. Our journey with EliteKid was a testament to the company's commitment to staying ahead in the ever-evolving landscape of educational tools.
When it comes to cost, EliteKid provides exceptional value for money. The investment in their services is justified not just by the improvement in language skills but also by the enjoyable learning atmosphere they foster. In the world of education, where costs can sometimes overshadow benefits, EliteKid manages to strike a balance that appeals to both the discerning and the budget-conscious.
Highlights
Exemplary teaching standards
Efficient matching process
Engaging lessons with witty instruction
Exceptional value for investment