The 9 Best Options for Violin Lessons in Singapore
If you've always wanted to learn how to play a musical instrument, maybe now's the right time to consider signing up for violin lessons.
Learning the violin isn't as easy as learning other musical instruments, but with the help of a great teacher in Singapore, you will be able to play an entire song in no time (maybe not no time, but in a few weeks).
Anyway, we're taking a look at which music schools offer the best violin lessons in Singapore. We included schools with a high number of successful students and experienced violin teachers.
Check them out below.
1.  The Happy Violinist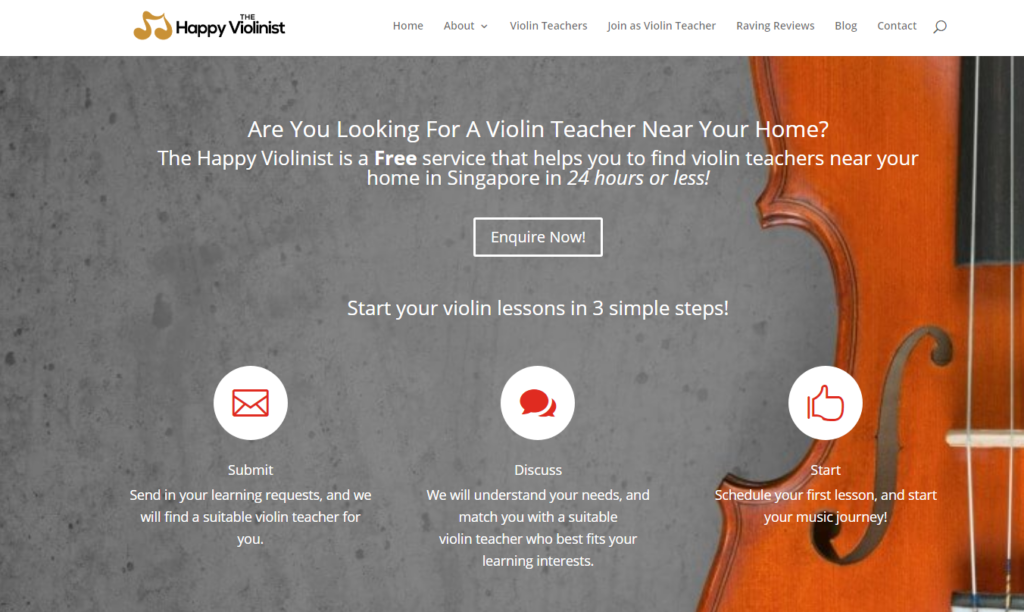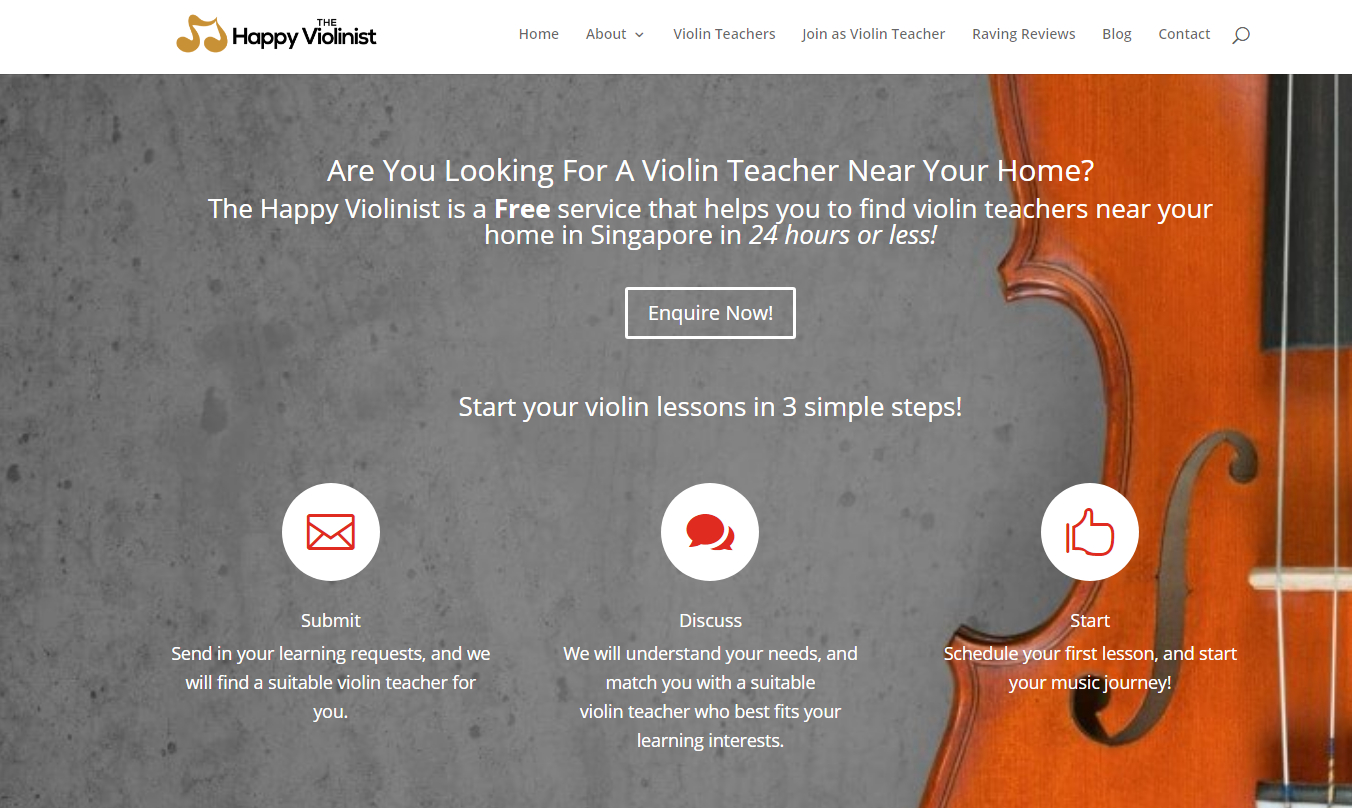 BEST FOR
Free violin tutor search
CLASSES
Adult Violin Lessons
Kids Violin Lessons
Graded Violin Lessons
Pop Violin Lessons
Piano Lessons
Guitar Lessons
Singing Lessons
WEBSITE
https://thehappyviolinist.com/bestinsg/
ADDRESS

Block 474 Pasir Ris Drive 6
Singapore 510474

CONTACT DETAILS

Telephone: +65 9809 8747

OPERATING HOURS
24/7
When it comes to finding Violin tutors, The Happy Violinist is the top choice. Unlike automatised sites, The Happy Violinist personally reaches out to students, noting down their current skill level and expertise before recommending violin teachers near the area.
The Happy Violinist partners with violin teachers for adults and kids. Those who specialise in pop violin or are in need of graded sessions need not look further either since The Happy Violinist can recommend teachers that specialise in either option.
Highlights
Free matching service
Private one-on-one lessons

Flexible schedules

Experienced violin

teachers
2. LVL Music Academy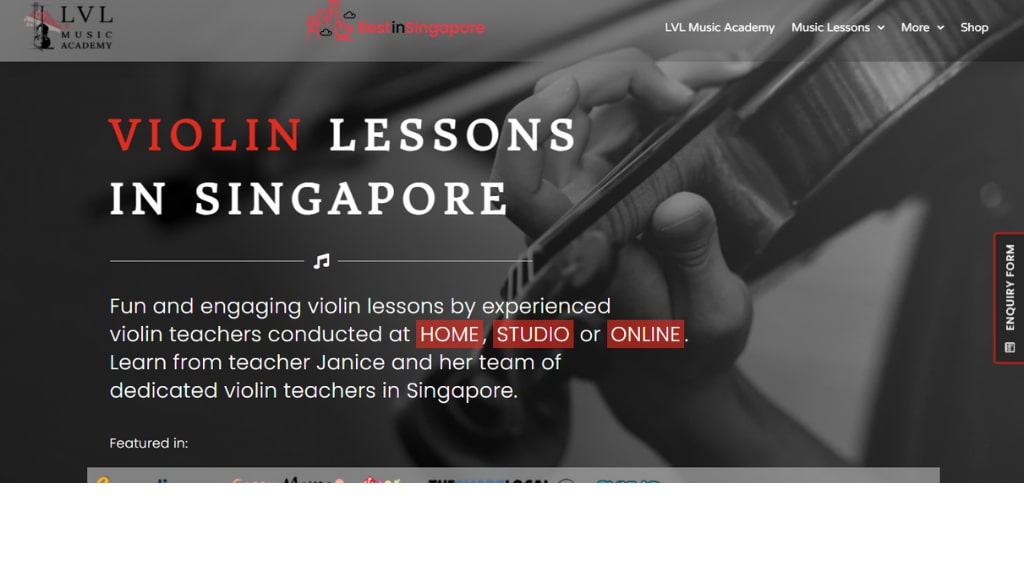 | | |
| --- | --- |
| BEST FOR | Beginner and advanced lessons |
| CLASSES | Violin lessons, piano lessons, guitar lessons, cello lessons, and music theory lessons |
| WEBSITE | https://www.learnviolinlessons.net/ |
| ADDRESS | 8 Burn Rd, Singapore 369977 |
| CONTACT DETAILS | +65 82004711​ |
| OPERATING HOURS | Monday – Friday: 9:00 AM – 6:00 PM |
LVL Music Academy is composed of some of the most established music instructors on the island, providing quality music training for students of all ages. It's founded and headed by Janice, a professional violinist and an experienced violin teacher.
Another thing worth noting about its musical teachers is that all of them have obtained musical degrees and diplomas. Its violin instructors, specifically, have years of experience teaching beginner and advanced students.
Apart from the best violin lessons in Singapore, LVL Music Academy offers guitar lessons, piano lessons, cello lessons, and even music theory classes. All of these are available for young and adult students.
You may opt for its online and home classes as well. If you'd rather learn at the comfort of your own home, LVL Music Academy is more than willing to adapt to that setup.
LVL Music Academy doubles as a shop for music instruments as well. You may purchase all types of instruments from them, such as guitars, cellos, ukuleles, and pianos, among others.
Highlights
Experienced music teachers
No agency fees
Home lessons
3.  Aureus Academy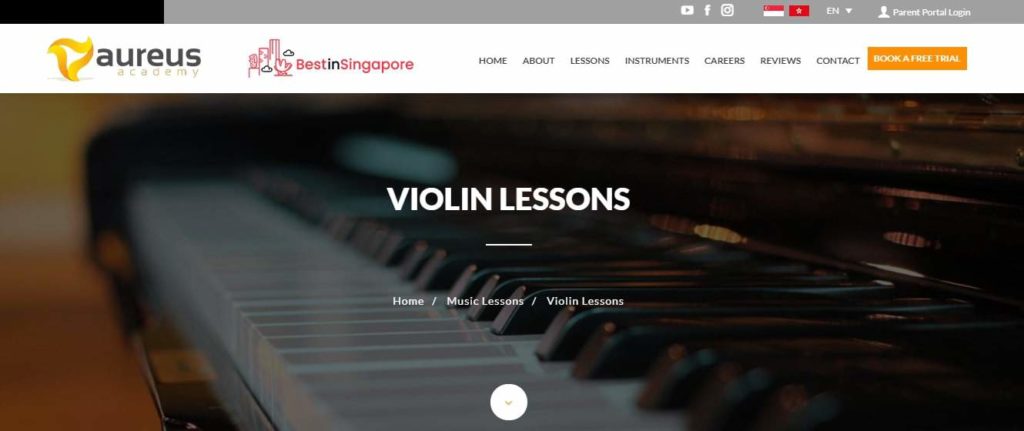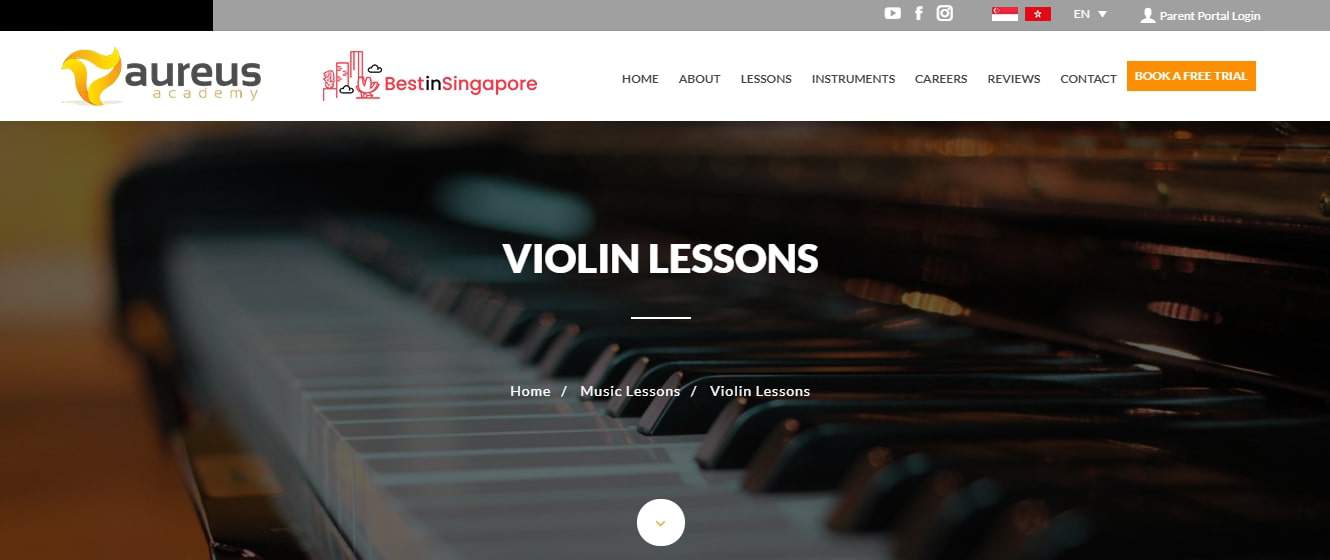 | | |
| --- | --- |
| BEST FOR | Music lessons for children |
| CLASSES | Violin lessons, piano lessons, vocal lessons, guitar lessons, drum lessons, and brass lessons |
| WEBSITE | https://www.aureusacademy.com/ |
| ADDRESS | 11 Tanjong Katong Road, KINEX #B1-23/27, Singapore 437157 |
| CONTACT DETAILS | +65 3165 5072 |
| OPERATING HOURS | Monday – Friday: 10:00 AM – 8:00 PM |
Aureus Academy is a music academy that specialises in teaching children how to play different instruments. If you want your child to grow up musically inclined, we strongly recommend signing up them here for a class.
Since its opening in 2013, Aureus Academy has taught over 10,000 young students. It has 20 branches scattered all over the island, with its Tai Seng branch being the biggest musical showroom.
Some of the classes that you can enlist your kids for are vocal lessons, piano lessons, guitar lessons, drum lessons, and of course, the best violin lessons in Singapore.
In fact, Aureus Academy is known for housing some of the best violin teachers in Singapore, all of whom are dedicated to helping children learn the art of playing the violin.
Highlights
7 years of experience
Professional music teachers
Online music lessons
Customer Reviews
Here are some comments shared by parents of students on Google Reviews:
"We have had a great experience with Aureus academy. My kids take vocal and instrumental lessons. The teachers are very professional and the learning happens in a fun and engaging way. I would highly recommend Ms Roselle, who has helped my daughter develop such great interest in piano and vocal lessons. She absolutely loves the classes and her teacher."
"My 2 daughters and I learn piano, violin and guitar at Aureus Academy and are very happy with the quality of learning offered. It has also been great to see how they have pivoted to offer virtual lessons for vocals and piano which my daughters are taking advantage of. Teacher Jo in particular is very popular with my daughter and is really pushing her to excel in her vocal and piano skills"
4.  Mandeville Conservatory of Music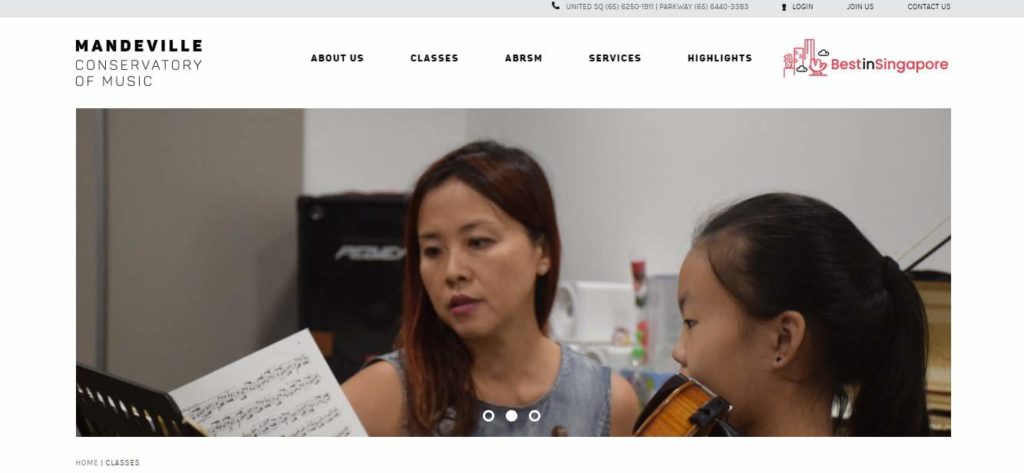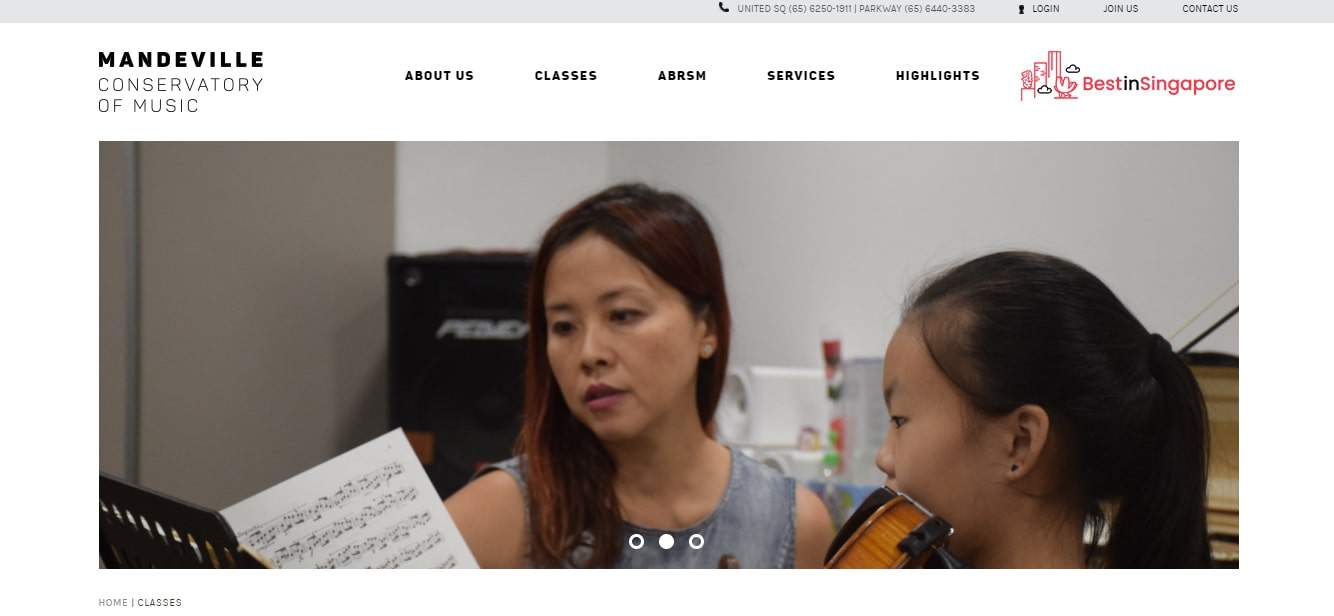 | | |
| --- | --- |
| BEST FOR | Holistic musical curriculum |
| CLASSES | Violin lessons and guitar lessons |
| WEBSITE | https://www.mandevilleconservatory.com/ |
| ADDRESS | 101 Thomson Rd, #03-20/21, Singapore 307591 |
| CONTACT DETAILS | +65 6250 1911 |
| OPERATING HOURS | Monday – Sunday: 8:30 AM – 9:00 PM |
Considered one of the premier music schools in Singapore, Mandeville Conservatory of Music provides a conducive environment to help students develop their passion and confidence in playing musical instruments.
If there's one thing that it can promise to its students, it'd have to be that its classes will never be boring. All of its classes will start by building a strong foundation to ensure that every student knows their basics.
Mandeville Conservatory of Music allows students to take their time in learning the process, while guiding them every step of the day. It aims to create a comfortable learning environment where students aren't pressured.
Another reason we consider it one of the top schools with the best violin lessons in Singapore is its roster of professional and experienced violin teachers. Its teachers apply their extensive knowledge and experience in every class they teach.
Highlights
Professional violin instructors
Conducive learning environment
Customer Reviews
Here's a comment shared by a parent whose son is a student of theirs:
"The teachers are highly qualified and inspiring. They ignite love of music and continuously find ways to help the child improve. My son enjoys his weekly violin lessons and has accomplished several musical achievements under the nurturing teachers. The school maintains an open communication and also provides a platform for overseas performances. At Mandeville, I am assured that my child is learning under the best to develop his life- long music skills. Highly recommended!"
5.  Wolfgang Violin Studio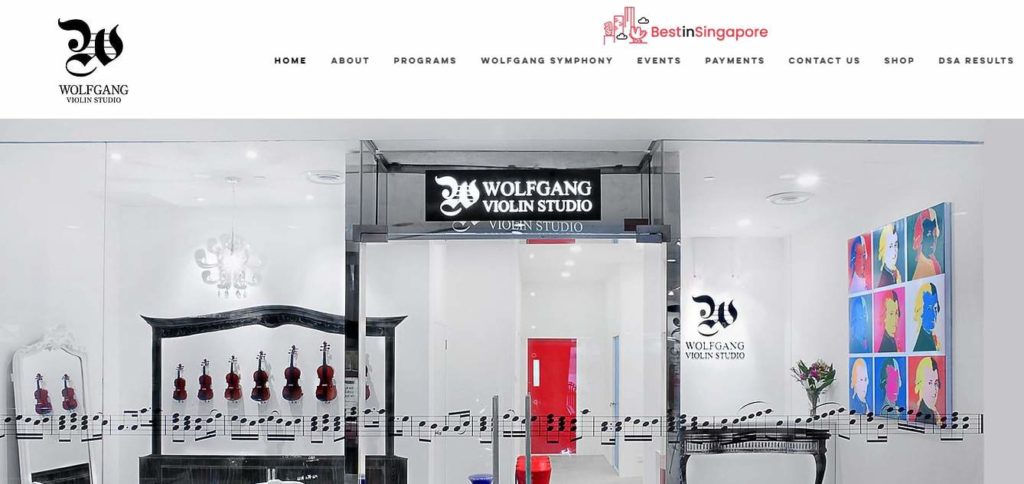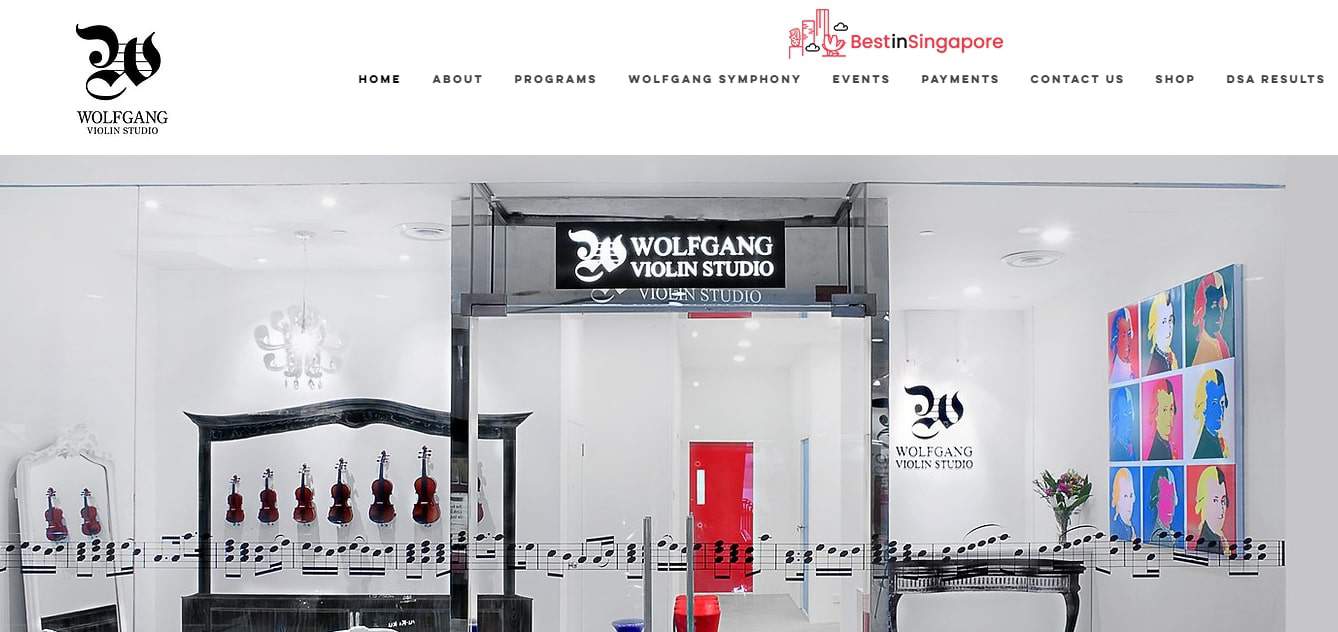 | | |
| --- | --- |
| BEST FOR | Comprehensive violin programmes |
| CLASSES | Violin lessons for kids and adults |
| WEBSITE | https://www.wolfgangviolin.com/ |
| ADDRESS | 81A Clemenceau Ave, 24/26, Singapore 239917 |
| CONTACT DETAILS | +65 6732 0138 |
| OPERATING HOURS | Monday – Sunday: 10:00 AM – 7:00 PM Closed on Tuesdays |
Wolfgang Violin Studio is another premier music academy that aims to teach students of all ages how to play the violin. Since 2009, it's trained thousands of students by providing them with holistic musical education.
Min Lee, a professional violinist, is the founder and programme director of Wolfgang Violin Studio. She was able to use her extensive experience in playing the violin to develop a comprehensive programme that develops both the technique and musicality of a student.
Another reason we consider it one of the top schools with the best violin lessons in Singapore is its large team of professionally trained and experienced violin teachers. Every class offered is mentored by its committed and patient violin teachers.
Highlights
Holistic musical education
Musical theory classes
Specific classes for talented young players
6.  String Vibes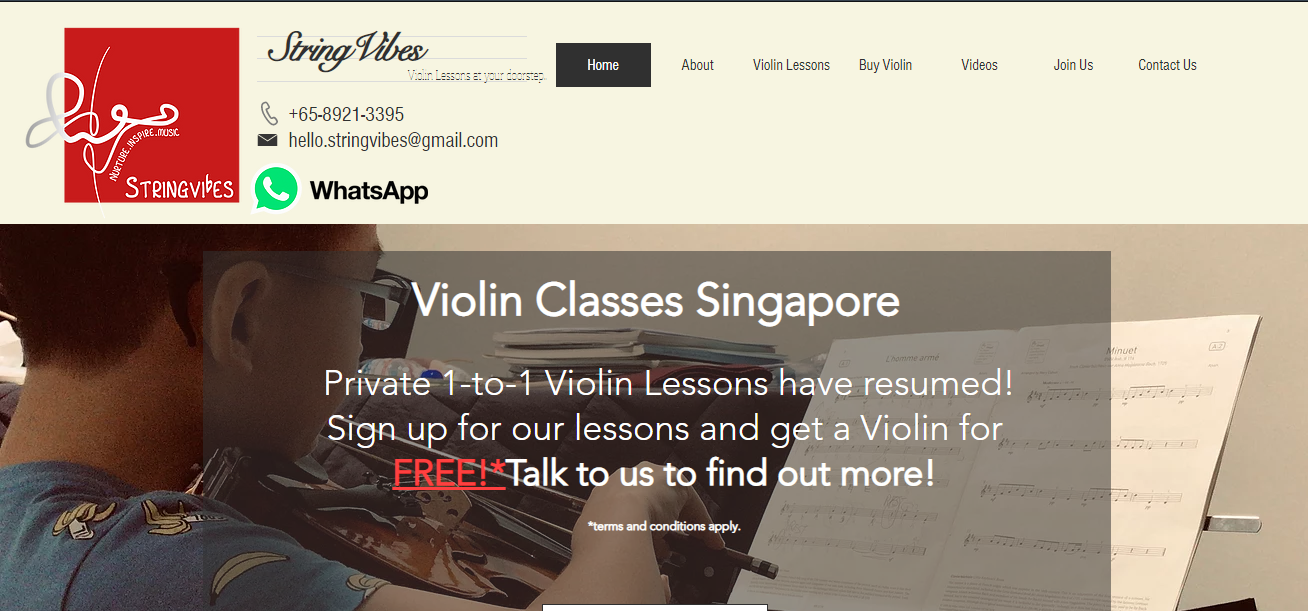 Everyone learns at their own pace, even when it comes to music. String Vibes makes sure to help each and every one of their students by fostering their interest in music and developing their skills.
Their team of teachers is composed of versatile music experts capable of adjusting their lessons according to a student's aptitude. With their high passing rate, they guarantee that any student that takes their lessons is sure to learn something new.
Highlights
Accommodates students of all ages
Versatile teachers
High passing rates
Lessons tailored to the individual's learning aptitude
7.  Belcanto Violins

BEST FOR
Violin Lessons
CLASSES
Violin Classes, Online Lessons, Violin Masterclasses, Ensemble or Group Training
WEBSITE
https://belcantoviolins.com/violin-lessons-singapore/
ADDRESS
ROBIN ROAD, ROBIN VILLAGE
CONTACT DETAILS
Mobile/Whatapp:+65 86942694 Email Customer Relations: [email protected]
OPERATING HOURS
Mondays to Sundays 8am to 8pm
(strictly by appointment + safe distancing requirements)
Belcanto Violins is a studio that offers comprehensive and in-depth violin lessons. They accommodate students of any skill level, may it be beginner, expert, or someone in between.
The director and founder is Vivienne, a skilled individual that has more than enough experience teaching people to play the violin. You can count on her to nurture your skill to her utmost best.
With their clear and concise learning objectives, it's guaranteed that you'll be able to pick something up from their lessons. Best of all, their fees are more affordable compared to most studios.
Highlights
More than 20 years of experience teaching
Clear and achievable learning objectives
Value for money
Lifelong learning experience
8. Violin Lessons Singapore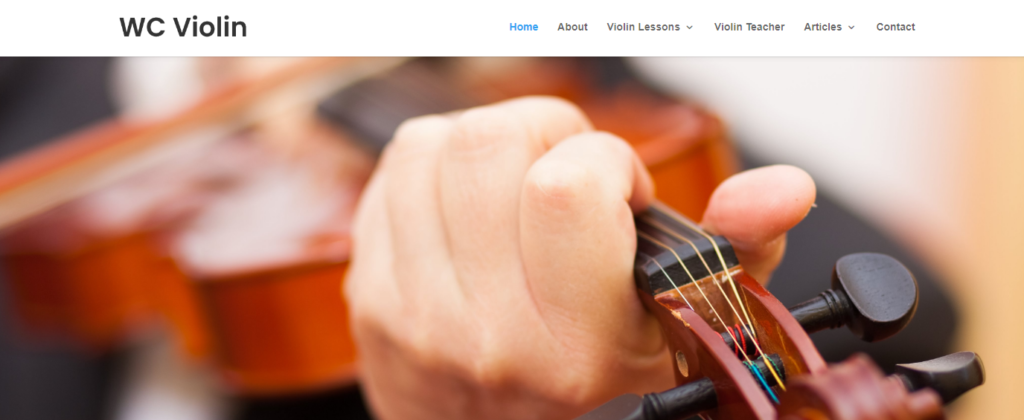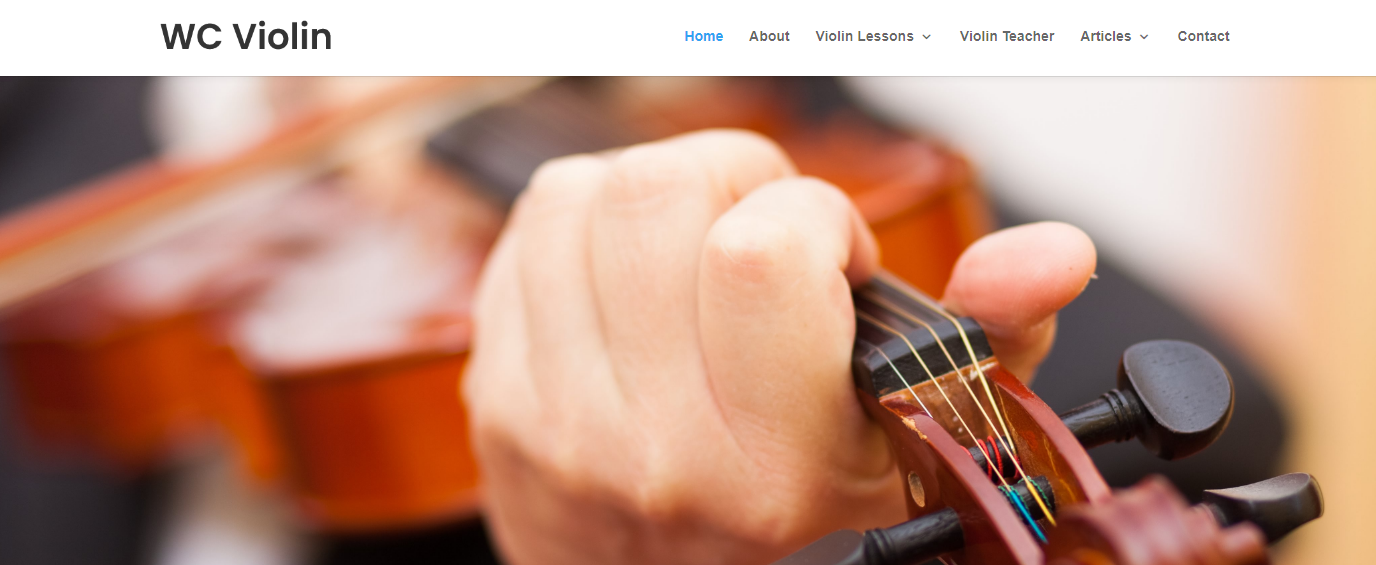 Violin Lessons Singapore was established to help violin enthusiasts of all ages learn the intricacies of playing the violin. Unlike most violin schools, Violin Lessons Singapore incorporates the suzuki method in their teachings, which focuses on giving loving encouragement to help students grow.
Another noteworthy thing about this school is that they encourage learning for leisure, to prevent frustrations that often come with competitive playing. As a result, students are able to learn at their own pace without having to deal with too much external pressure.
Adults and children alike can sign up for classes with Violin Lessons Singapore. This school also offers group lessons, private lessons, and of course, music theory lessons.
Highlights
Suzuki teaching method used
Caters to all ages and skill levels
Private and group lessons available
9. Violin Teacher Singapore


Next, we have Violin Teacher Singapore, a premier violin school that focuses more on serious young musicians and advancing young professionals.
Shao-Wen, the lead instructor of the school, is a Music graduate of Columbia University with a Master's in Choral Studies from the University of Cambridge. Shao-Wen takes on a comprehensive approach to teaching music, offering both extensive violin lessons and music theory.
Every lesson with Shao-Wen is specially crafted to suit the student's learning capacity and current skill level. While the school offers individualistic lesson plans, each class shares a commonality in that the instructor gives their full focus so that students adequately learn the skills and knowledge to progress in violin training.
Highlights
Violin lessons are delivered online due to Covid
60-minute and 90-minute lessons available
Caters to serious musicians
And that's it for our list of the top schools that offer the best violin lessons in Singapore. If you've already decided which school to go with, share your pick with us and the reason behind your choice!
If you know other music schools that offer excellent music lessons, share their names and we'll check if we can add them to our list.
If you're also interested in learning the piano, we recommend taking a look at our picks for the best schools that offer the best piano lessons in Singapore. Like the ones featured here, we included the schools with professional piano teachers!