The 12 Options for the Best Car Leasing in Singapore
Are you eager to drive a car but don't have enough funds to purchase one? Well, with the best car leasing in Singapore, you can rent or pay for your dream car through small monthly payments without the pressure of shelling out a huge sum of money in one go.
Instead of car loans, we highly recommend car leases to people because the agreements are more lenient and payment schemes are often more flexible compared to the former. It's also ideal for those who don't want to commit to the same car for a long period of time.
If you're clueless as to where to sign up for the best car leasing in Singapore, though, consider yourself lucky — we're making a rundown of the ones worth checking out.
So, without further ado, here's our list of where to get the best car leasing in Singapore.
1.  Bolt Car Leasing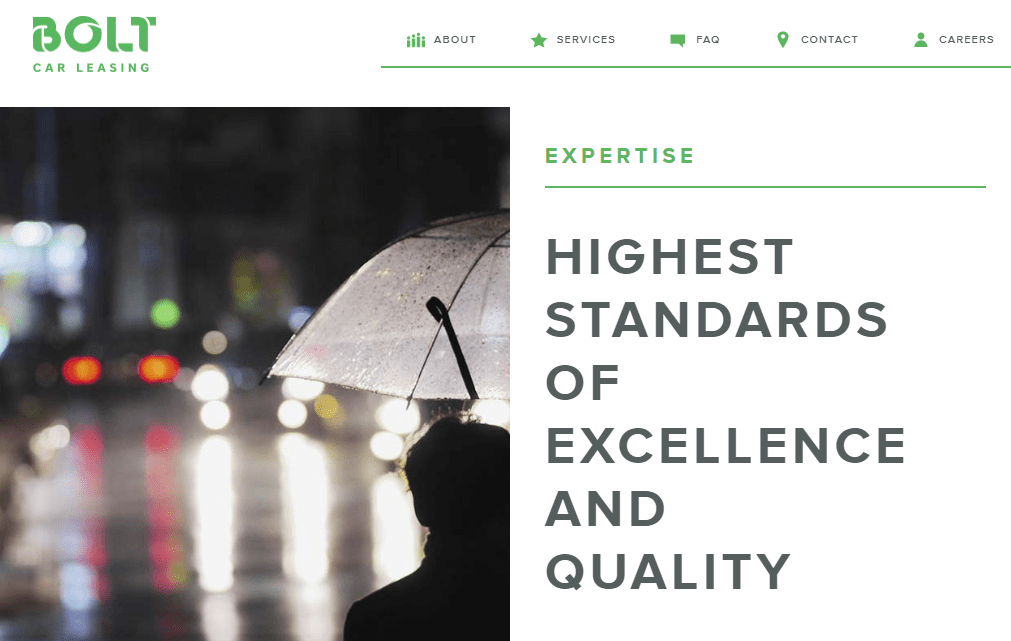 BEST FOR 
Affordable Car Lease
SERVICES
Long Term Car Lease, Short Term Car Lease, and Car Rental
WEBSITE
http://www.boltcarleasing.com/
ADDRESS
3 Hoy Fatt Rd, Singapore 159504
CONTACT DETAILS
+65

6472 2222

OPERATING HOURS
Monday – Friday, 9:30 AM – 5:30 PM
Who says that car leases have to make a hole in your wallet? Bolt Car Leasing can prove that driving your dream car doesn't need to come with too heavy a price tag and with a complicated application process.
Considered one of the top options for the best car leasing in Singapore, it offers both long-term and short-term car leasing, allowing clients to choose how long they want to pay for the car.
It's also one of the most trusted car leasing companies in Singapore due to its hassle-free application and reliable services.
Highlights
Roadside assistance
Unlimited mileage
Quality cars
Customer Reviews
Take a look at some of the comments posted by satisfied clients on Google Reviews:
"Rented a 2015 Toyota Corolla Altis from there. Very quick response and the car was clean both interior and exterior. Got a full tank upon collection as well. No issue when returning the car unlike what previous reviews said. Checked Facebook for reviews as well before renting and it was good. Highly recommended."
"I leased an Audi A6 for 3 years and switched to a BMW 318i for another 2 years. 5 years in total. Great company. Always at the back of my call 24/7. Would have stayed with them had I not needed to shift back to the States."
2.  Global Advance Leasing

BEST FOR 
Quality Cars
SERVICES
Long Term Car Lease, Short Term Car Lease, Commercial Vehicle Lease, and Limousine Services
WEBSITE
https://www.gal.com.sg/
ADDRESS
Singapore 539365
CONTACT DETAILS
+65 6100 0425 |

[email protected]

OPERATING HOURS
Monday – Friday, 8:30 AM – 6:00 PM
If you're searching for a car leasing company that offers different services, then consider checking out Global Advance Leasing. Among the services it provides are car leasing, car rental, commercial vehicle lease, and even limousine services.
With almost 20 years of experience, they have made a lot of Singaporeans' lives much easier through the best car leasing in Singapore. In fact, thousands of previous and current clients can attest to how dependable the services of Global Advance Leasing are.
More than this, all of their cars are properly maintained and taken care of, so rest assured that the car you will be getting is very safe and of high quality.
Highlights
Roadside maintenance
Unlimited mileage
Replacement vehicle
3.  Avis Singapore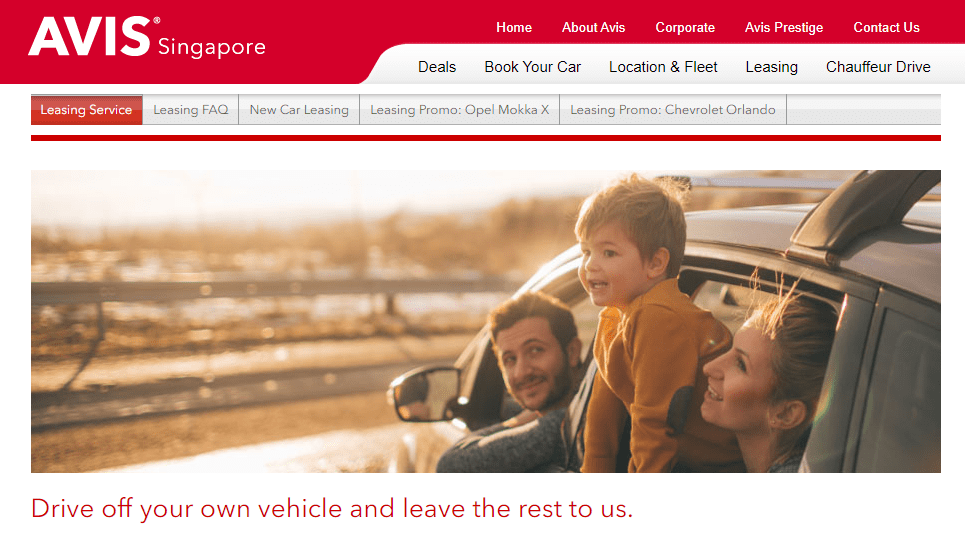 BEST FOR 
Excellent Customer Service
SERVICES
Car Leasing and Car Rental
WEBSITE
https://www.avis.com.sg/
ADDRESS
390A Havelock Road #01-07 Waterfront Plaza, Singapore 169664
CONTACT DETAILS
+65 6305 3199 |

[email protected]

OPERATING HOURS
Monday – Friday, 9:00 AM – 5:00 PM
Considered among the top car rental and leasing companies in Singapore, Avis offers reliable car leases without big down payments and large loan amounts.
Its goal as a company is to help people achieve their dreams of driving their own car without the added pressure of heavy monthly payments.
Another reason we name it one of the companies with the best car leasing in Singapore is its excellent customer service desk. If you have any questions regarding the leaser, all you need to do is call their hotline and you will be met by their representative who's more than willing to answer all your concerns.
Highlights
Affordable lease
Flexible payment terms
Reliable customer service
4.  Wearnes Car Leasing

BEST FOR 
Luxury Cars
SERVICES
Long Term Leasing and Car Rentals
WEBSITE
https://wearnesleasing.com/
ADDRESS
45 Leng Kee Rd, Singapore 159103
CONTACT DETAILS
+65 6305 3199 |

[email protected]

OPERATING HOURS
Monday – Friday, 8:30 AM – 6:00 PM
Established in 1979, Wearnes Car Leasing is one of the oldest car rental and leasing companies in Singapore. Over its years of operation, it has managed to earn the trust of thousands of clients that can vouch for its car services.
While it doesn't offer the cheapest car leases out there, we think that money spent here will be worth it. One reason behind this is that most of the cars it offers are high-end cars such as Jaguars, Land Rovers, Renaults, Volvos, and a whole lot more.
At any rate, it's not the end of the world if you're not into luxury cars — you can still opt for their much-cheaper sedans.
Highlights
High-end cars
Long-term leases
5. Island Car Rental & Leasing PTE LTD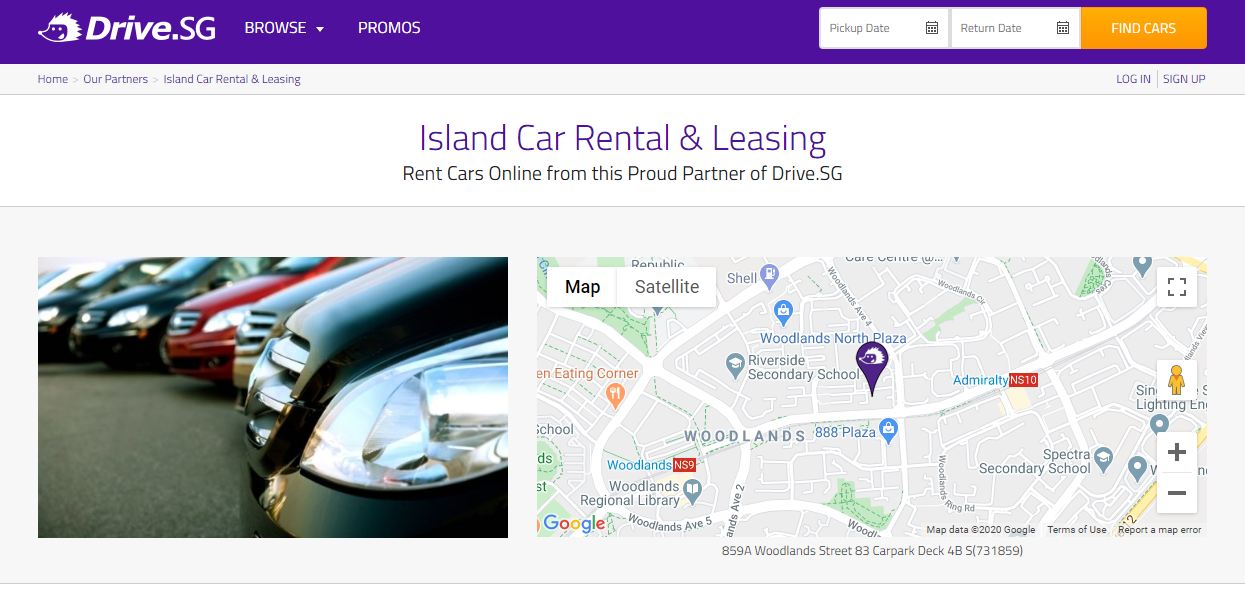 Searching for a luxurious car brand that you can have through a long term car leasing agreement? If so, then you should look through the services of Island Car Rental & Leasing PTE LTD!
They feature various high-end car brands such as Mazda, BMW, Chevrolet, Toyota, Nissan, and more! They offer accessible and the best car leasing in Singapore that start from less than $1,000 a month which is the lowest monthly rate possible that you could ever have.
You can use your chosen car for personal or corporate use, Grab, and other food delivery services. They provide more than 1-year leasing term – a very ideal option for those who are on a tight budget!
Highlights
Drive to Malaysia
Chauffeur service
Wedding car rental service
6. Black Eagle Rental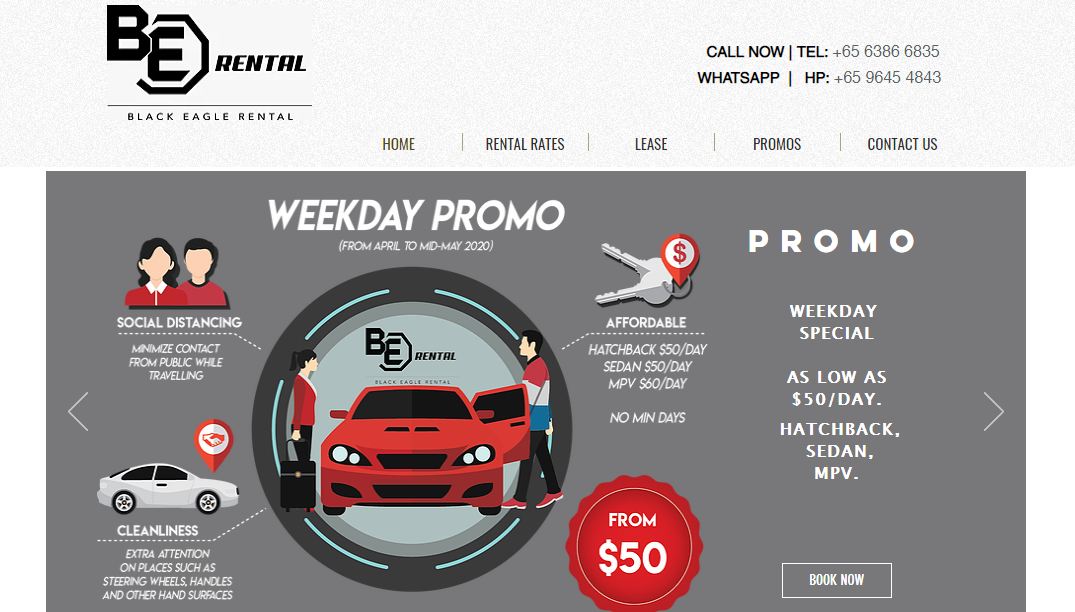 BEST FOR 
Car replacement and car sharing
SERVICES
Car leasing and car rental (daily and long term rental)
WEBSITE
https://www.blackeaglerental.com/
ADDRESS
25 Kaki Bukit Road 4 #05-80 Singapore 417800
CONTACT DETAILS
Tel:  +65 6386 6835 WhatsApp: +65 9645 4843
OPERATING HOURS
Monday – Friday 09:30 – 18:30

Saturday 09:30 – 16:00

Sunday Closed

Public Holidays Closed
At Black Eagle Rental, you can have flexible long term leasing transactions offered with reasonable prices. Just simply state your budget and choice of car and they'll give you the most suitable deal that'll fit within your means and preferences.
You can choose between a compact, SUV, midsize sedan, MPV, commercial, and even luxury cars. All of these selections come with car replacement and car-sharing services so you can have stress-free and long hours of fun road trips.
Highlights
Servicing provided
Weekday special promotions
7. Ride Now Pte Ltd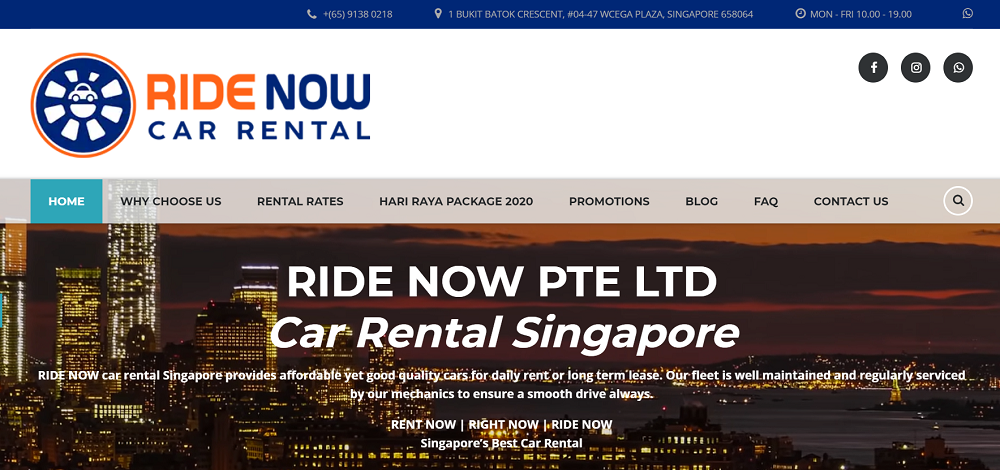 BEST FOR 
Car rental services
SERVICES
Long Term Car Lease, Short Term Car Lease, and Commercial Vehicle Lease
WEBSITE
https://ridenow.sg/
ADDRESS
1 Bukit Batok Crescent
#04-47 WCEGA Plaza
Singapore 658064
CONTACT DETAILS
TELEPHONE:
Office: +65 6734 3438
Fax: +65 6734 3478SALES:
+65 9138 0218
​+65 9138 1928HELPLINE:
Breakdown: +65 9668 8329
Accident: +65 9138 9629
OPERATING HOURS
Monday to Friday: 10am to 7pm
Saturday, Sunday & Public Holiday: Closed
Ride Now is dedicated to providing the best quality car rental service in all of Singapore. What sets them apart is their stellar customer service, beginning with their 24/7 customer support followed closely by their customisable car rental services. The latter of which is popular given how it takes into consideration the fact that every driver is unique — from car preference to budget.
Highlights
Daily car rental available
Large selection of vehicles to choose from
Round-the-clock helpline
8. MyCarRental Pte Ltd

BEST FOR 
Daily and monthly car rentals
SERVICES
Car rental and chauffeur services
WEBSITE
https://www.mycarrental.com.sg/
ADDRESS
Collecting Office:
50 East Coast Road #02-68. Roxy Square Shopping Centre
Singapore (428 769)Admin Office:
1 Brooke Road, #02-30 Katong Plaza Singapore (429979)
CONTACT DETAILS
+(65) 6348 0500 | [email protected]
OPERATING HOURS
—
MyCarRental is a business born out of the frustration with the vehicle buying and leasing system in Singapore. The people behind the brand wanted to redefine the experience, and they did and continue to do everyday.
The company is most known for their customer service, with their team going the distance to ensure that their clients can acquire their chosen vehicle (either through rental or purchase) with little to no obstacles in the way.
Their rental service is one of the best in the country, with their monthly option being popular to the money-saving crowd.
Highlights
Monthly rental services available
Flexible to changing car models
Hassle-free maintenance of vehicles
9. SG Cash N Cars
SG Cash N Cars understands the convenience that private vehicles bring to the average adult. This is why they made it a point to have their business surrounding this concept.
The company offers aid when it comes to financing, rental and leasing, and insurance. Leasing is their most popular service among the crowd. If you're interested in leasing a vehicle on a long-term basis, then SG Cash N Cars is your best bet. This is because SG Cash N Cars can take care of all the needs to come along with having a commercial vehicle on the road, such as road tax, periodic insurance renewals, regular check and change of vehicle wear and tear parts such as the tyres and brakes.
SG Cash N Cars' services are affordable as well. They have a large vehicle catalogue, which features small cars, luxury sedans, vans, and SUVs.
Highlights
Large catalogue of vehicle selection
Offers car leasing to drivers of sharing service companies
10. Precise Auto Service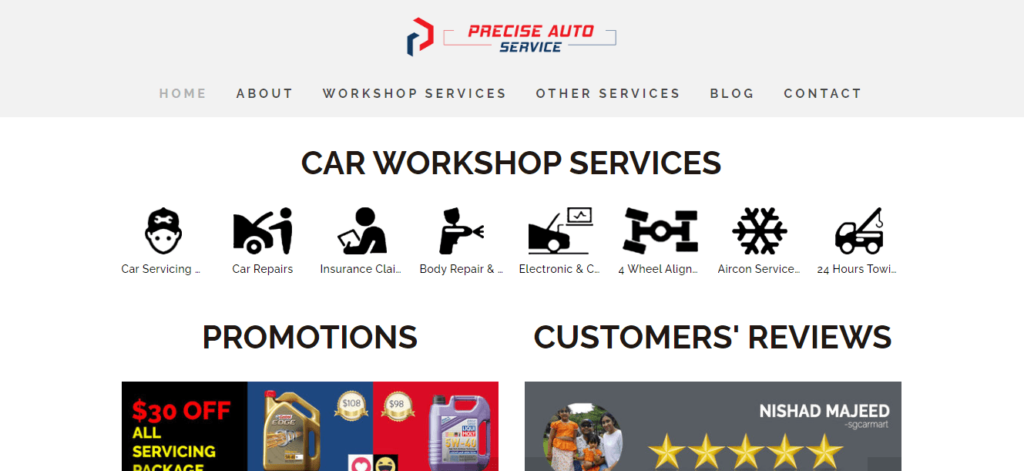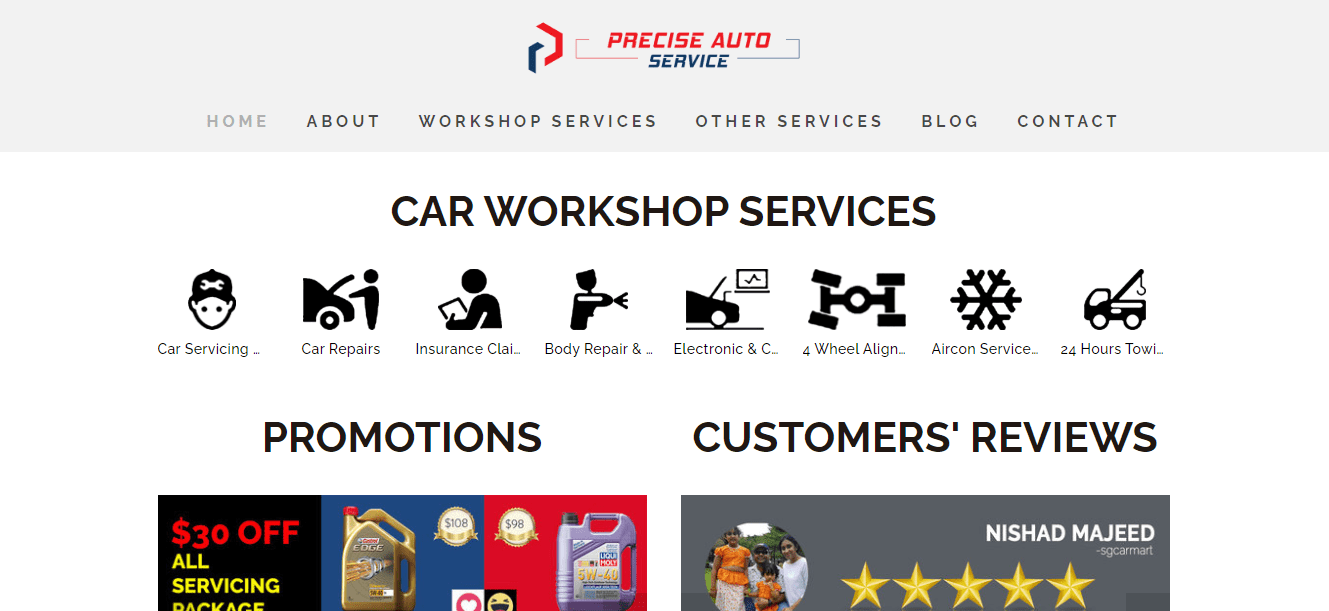 | | |
| --- | --- |
| BEST FOR  | Quality Car Services, Experienced and Skilled Mechanics |
| SERVICES | Car Servicing and Maintenance, Car Repairs, Insurance Claims, Body Repair and Spray Paint, Electronic and Computer Car Diagnostic, 4 Wheel Alignment, Aircon Service and Repair, 24-hour Towing Services |
| WEBSITE | https://www.preciseauto.sg/ |
| ADDRESS | 1 Kaki Bukit Avenue 6 #02-34/36, Singapore 417883 |
| CONTACT DETAILS | 674573670 | [email protected] |
| OPERATING HOURS | Monday – Saturday, 9 AM – 7 PM |
Founded in 1986, Mr. Eric Ong made sure that Precise Auto Service is well-guided by his 30 years of experience in automotive engineering. Customers are guaranteed to receive highly professional services as the founder himself makes sure to keep up-to-date with technological advances.
Precise Auto Services is run by a team of mechanics who fueled by the passion to work with cars and engines. This hard work will reflect in the results.
Highlights
2020 Sgcarmart Star Merchant Award for Repair and Servicing
11. CarTimes Auto-Rent

CarTimes Auto-Rent is one of the best automotive providers in Singapore. They offer high-quality car rentals, as well as a wide range of automotive solutions.
With their effort to constantly innovate and capitalise on their strengths, there's no doubt that they can continue to offer only the best to their customers. You can count on them to make your car leasing experience as pleasant as possible.
Highlights
More than 19 years of experience
 Full-suite of solutions
Constantly tries to innovate
Dedicated to their customers
12. Sixt Singapore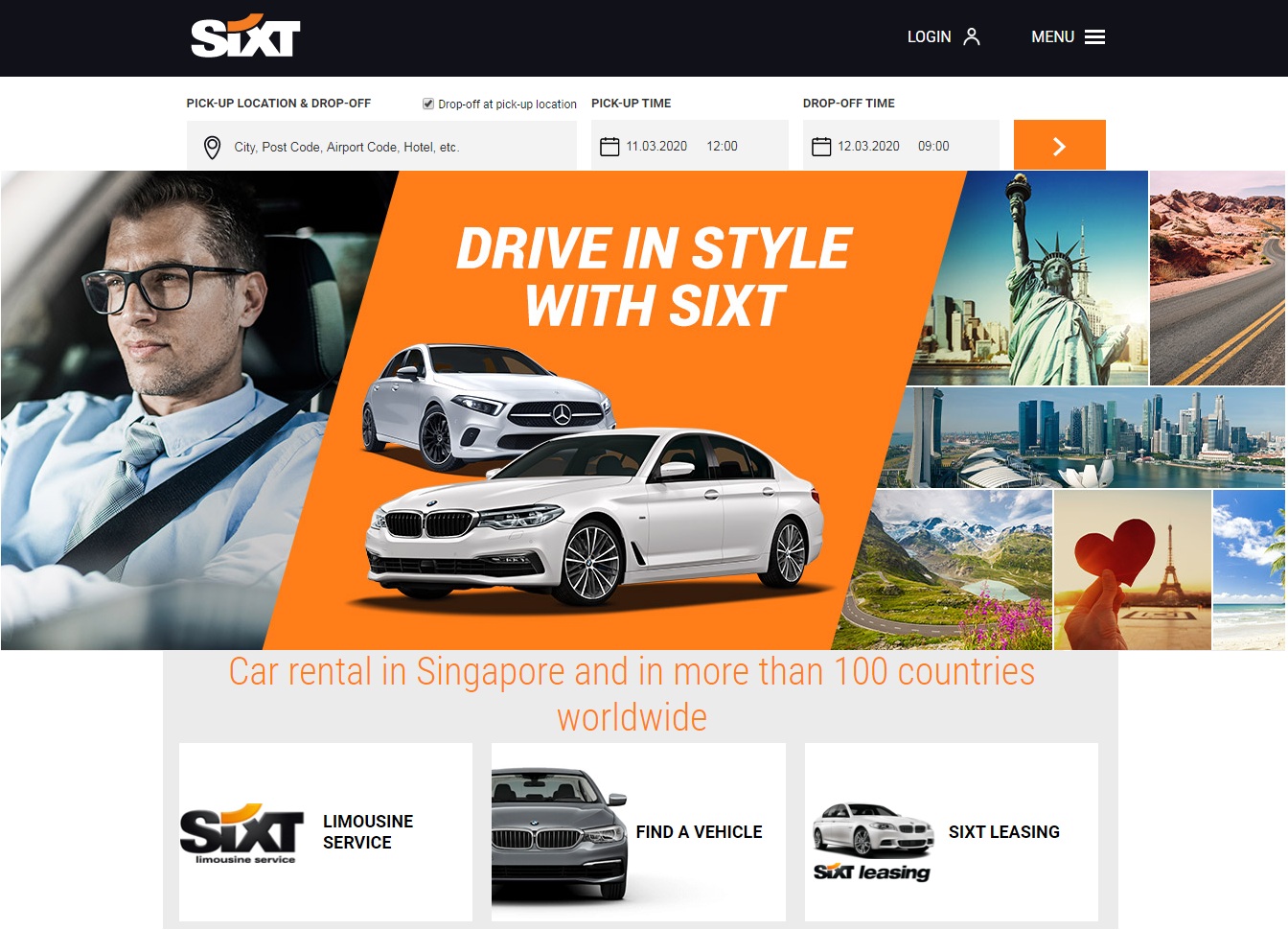 Do you need a chauffeur for an event you're attending? Let Sixt Singapore handle that for you. Not only will they provide you a limousine service but they also guarantee it to be your most luxurious drive.
Their limos are regularly checked for maintenance and repairs and made sure to be well groomed so it would perfectly go with your stylish events attire. They also secure you that their chauffeurs are well-experienced and properly identified for your safety.
Whether you need a ride going to and from the airport, a business meeting within the city, or a tour across the country, Sixt Singapore promises to offer your the most elegant limousine ride experience you'd ever have.
Highlights
Singapore's youngest and largest fleet of luxury chauffeur driven cars.
Instant confirmation when booking online
And with that, we conclude our list of the companies with the best car leasing in Singapore. If you know of other car leasing companies on the island, don't hesitate to share their names with us.
By the way, for more options, you might want to check out our list of the best car loans in Singapore. After all, car loans and car leases are fundamentally the same — they just differ in the conditions set by each company.